Sexy Designs With Matte Nail Polish
Matte nail polish is becoming quite the trend this year. With its sleek finish, it can either be classy and sophisticated or fun and edgy. It all depends on what kind of look you are going for!
Are you ready to try matte nails? We have put together a gallery of our favorite trendy ideas for matte nail art.
Whether you are looking for cute nail designs for summer fun or a more classic look, we have something for everyone!
1. Moonlight Magic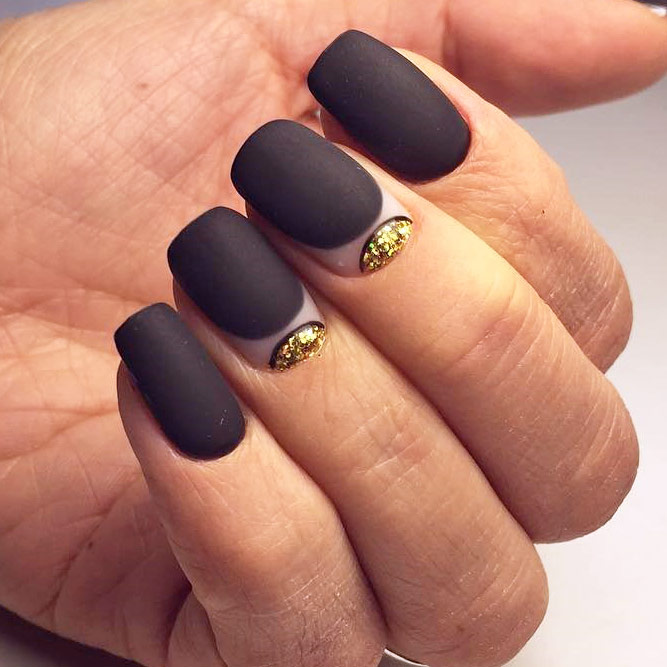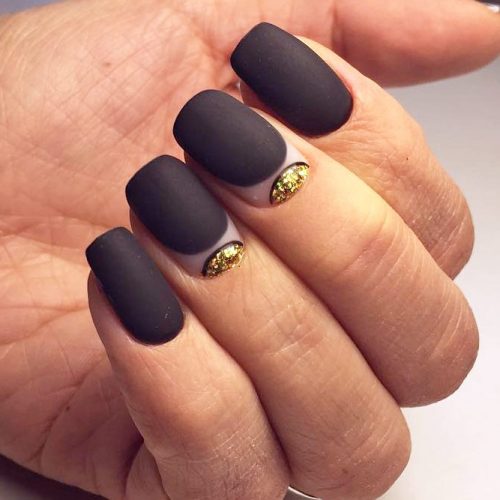 Source: daryariger via Instagram
This reverse French mani with a shiny gold half moon at the nail base and a gorgeous black matte base has a totally dreamy effect!
2. Shades of Gray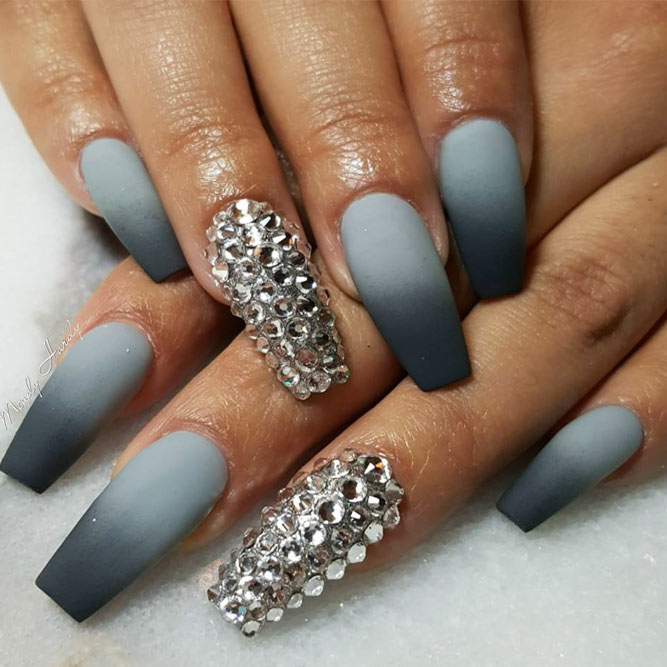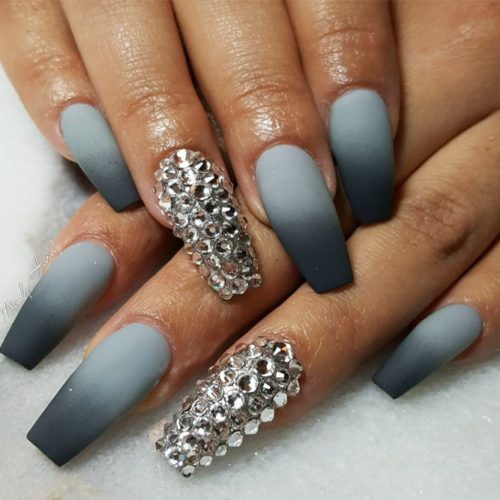 Source: mindyhardy via Instagram
We're only talking two shades of gray, not 50! This trendy take on the mani with a light gray base and smoky tips is smooth and sultry! Also you can do the glittery accent on the one finger.
3. Goth Girl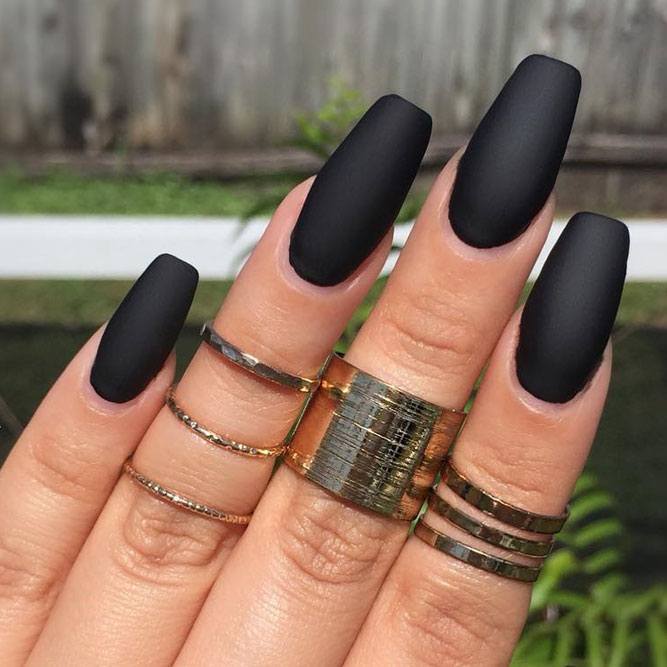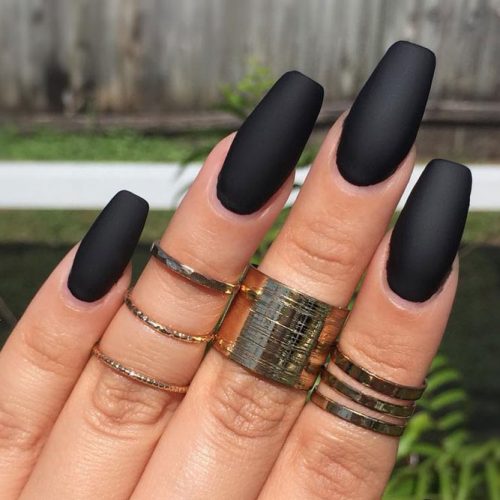 Source: glambymeli via Instagram
If you love black, you'll love this simple black matte look. Perfect for Halloween or to bring out your inner goth chic!
4. Two Toned Texture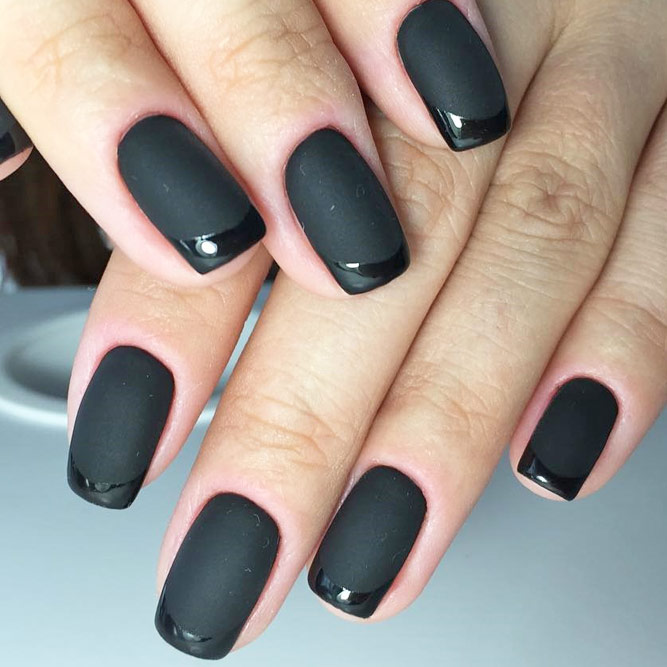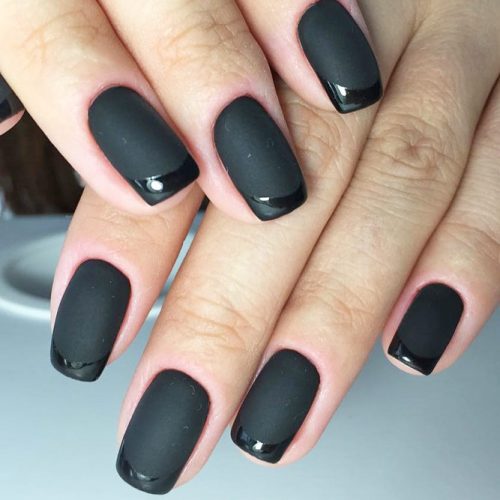 Source: kamilanails via Instagram
This mani on a black matte base with sparkly black stripes can easily be duplicated with nail art tape.
5. Galaxy Nails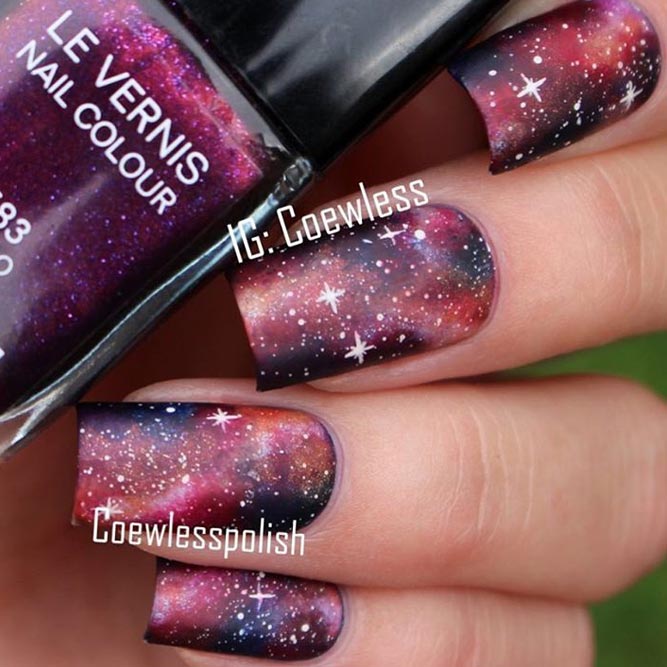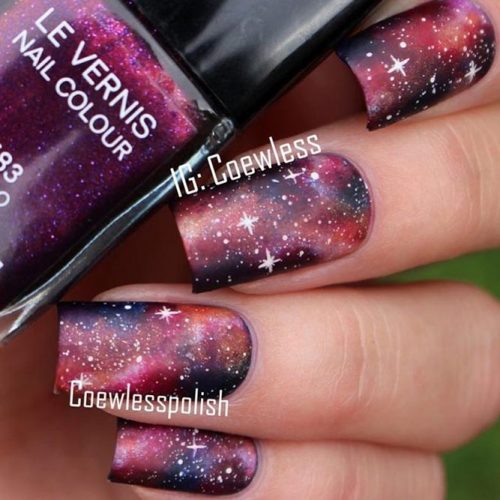 Source: coewlesspolish via Instagram
We think this Milky Way design with a few more polishes on a black matte base is out of this world!
6. Leopard Spots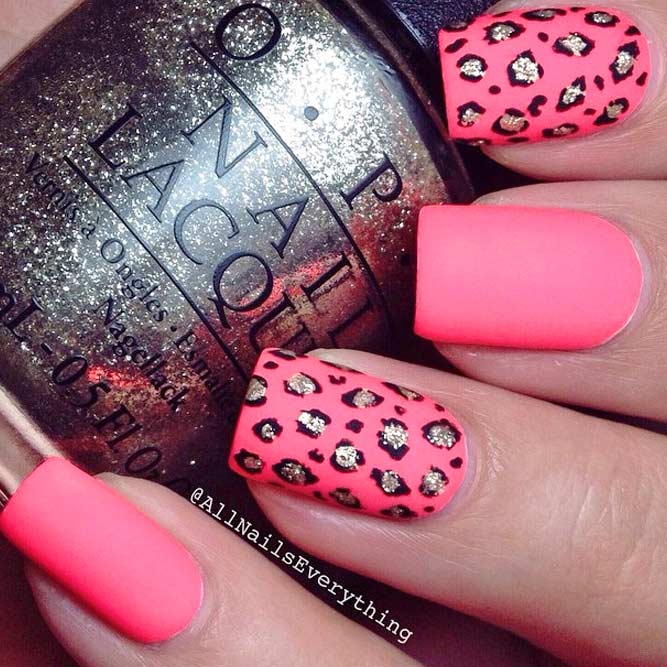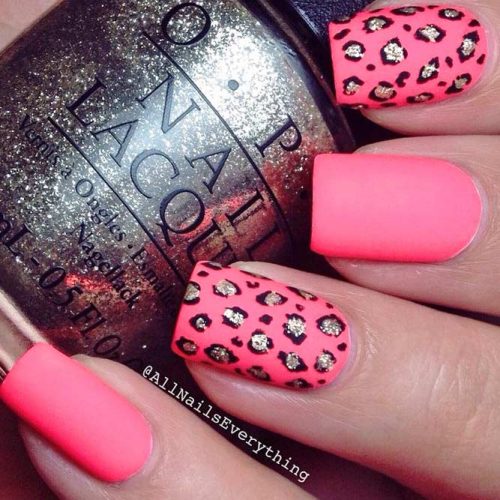 Source: allnailseverything via Instagram
This neon pink matte base with black and gold leopard spots is a bit sassy if you want to show your catty side!
7. Royally Blue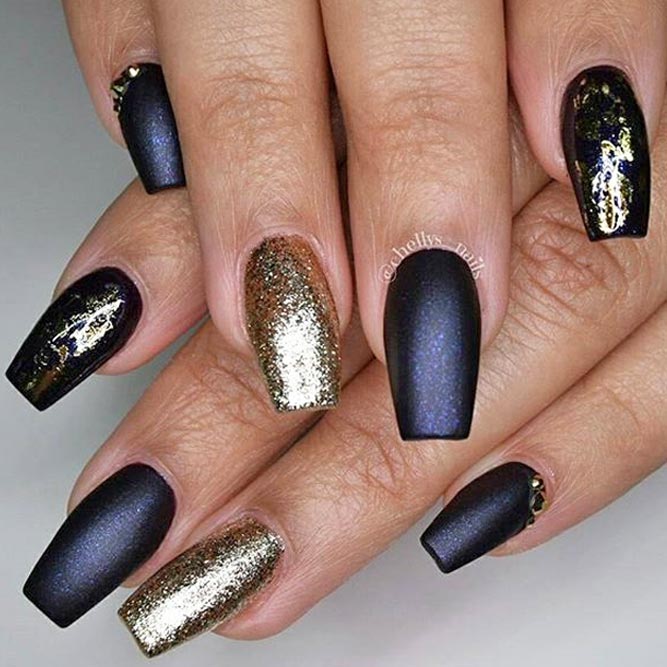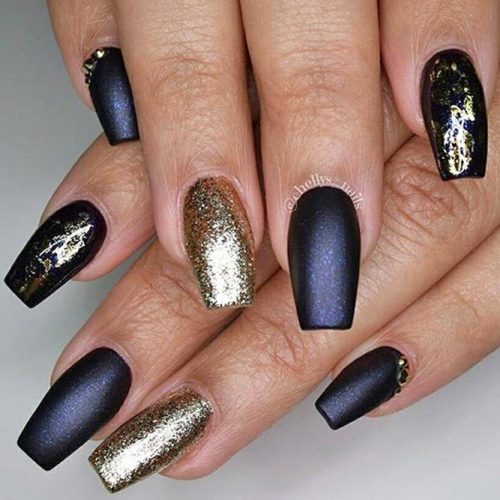 Source: chellys_nails via Instagram
This gorgeous deep matte blue with gold accents gives off a very regal vibe!
8. Summer Sun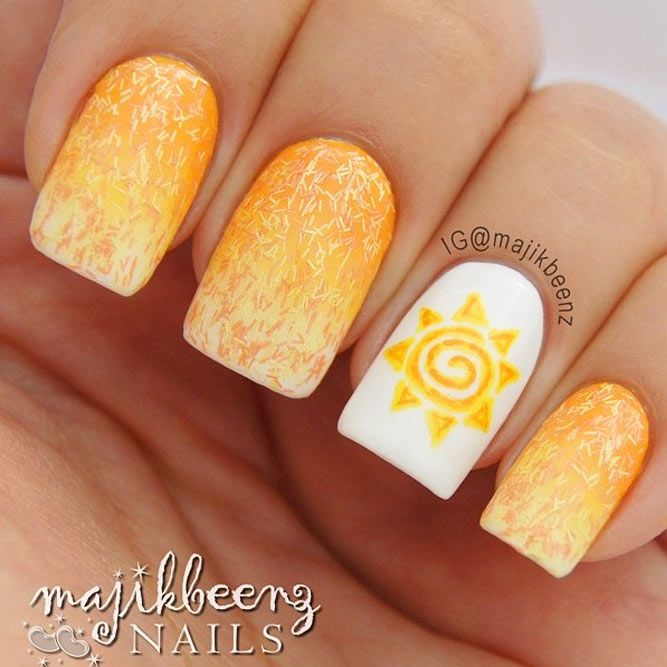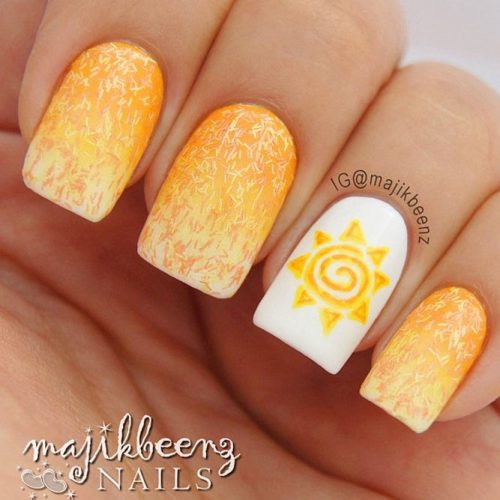 Source: majikbeenz via Instagram
This gorgeous yellow matte polish with gold flecks can brighten up anyone's day!
9. Pimped Out Plum
Source: nailsbymztina via Instagram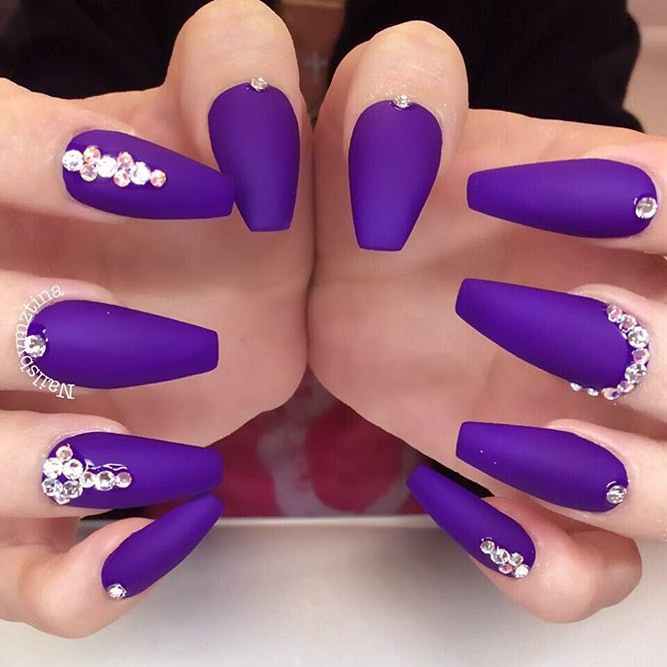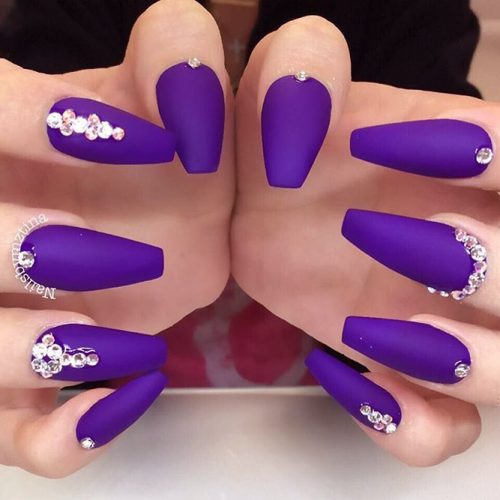 We love this striking deep purple matte with white rhinestones!
10. Swirls and Whirls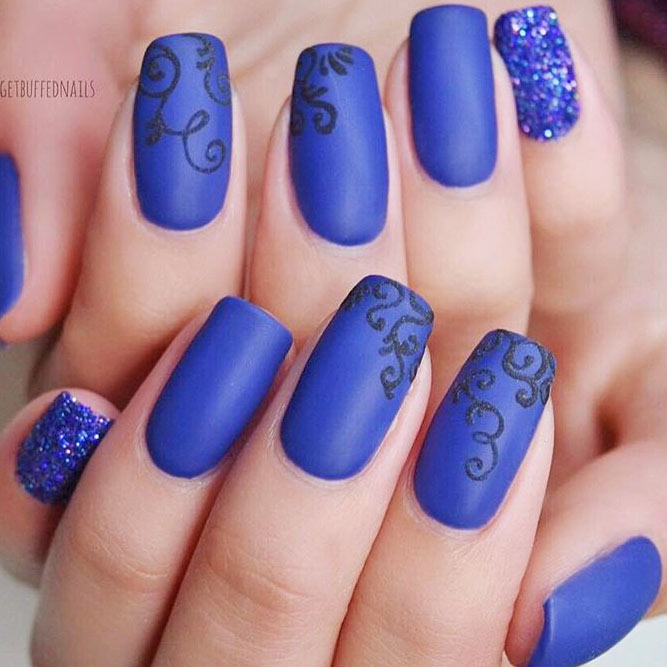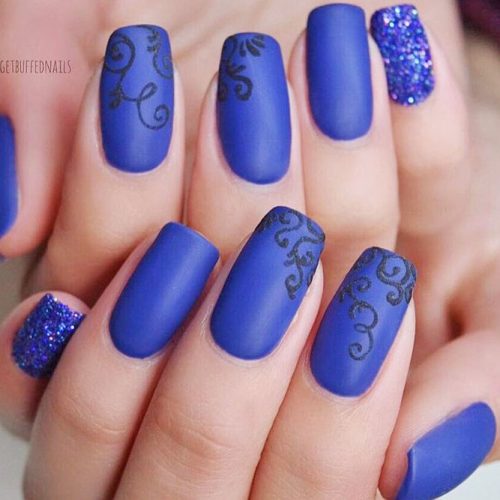 Source: getbuffednails via Instagram
We love this swirly effect with deep blue matte and gliterry black swirls which you can either draw with a toothpick or use swirly nail stamps!
11. Hearts Abound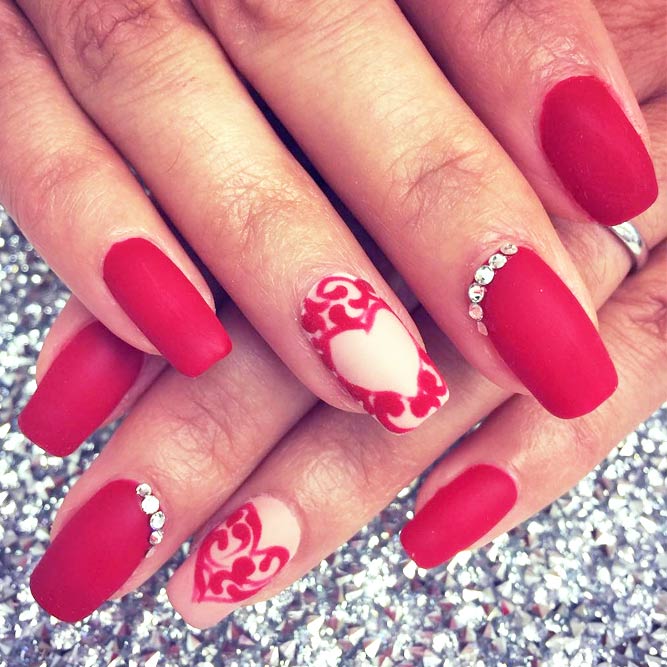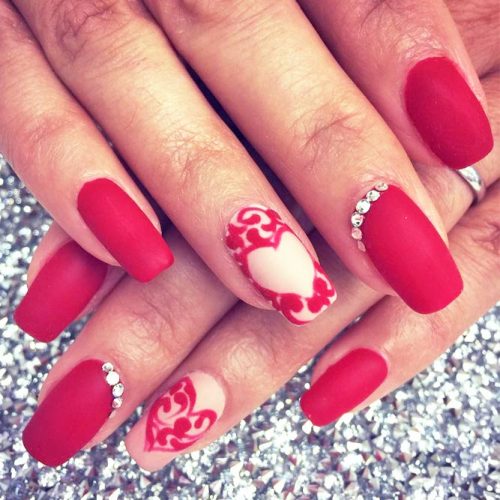 Source: riyathai87 via Instagram
Show your love with this deep red matte with a nude heart on one nail.
12. Sparkles Galore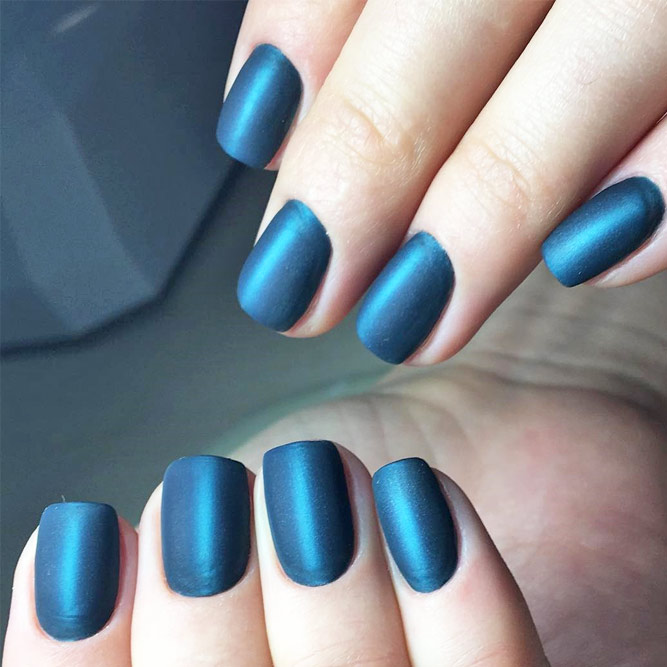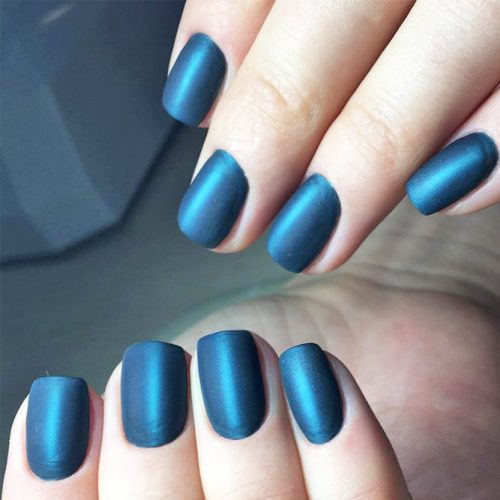 Source: aksutakarpova via Instagram
If you have shorter nails, you'll love this shimmery blue matte polish!
13. Glam Green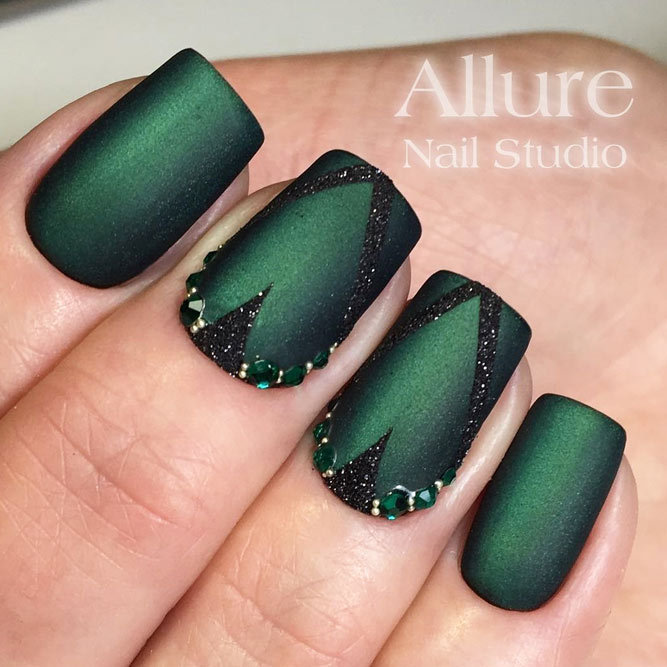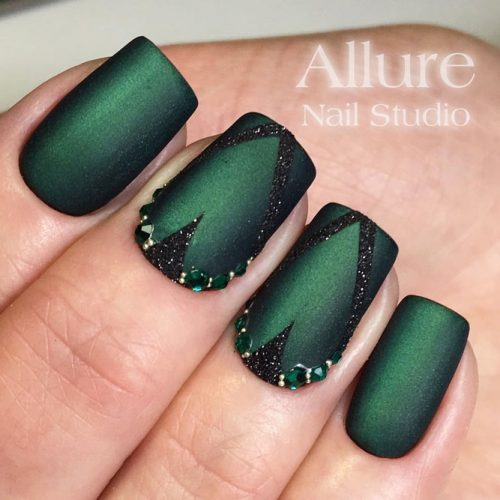 Source: allure_nail_studio via Instagram
We love these deep matte green colors with the funky geometric design on one finger!
14. Neon Rainbows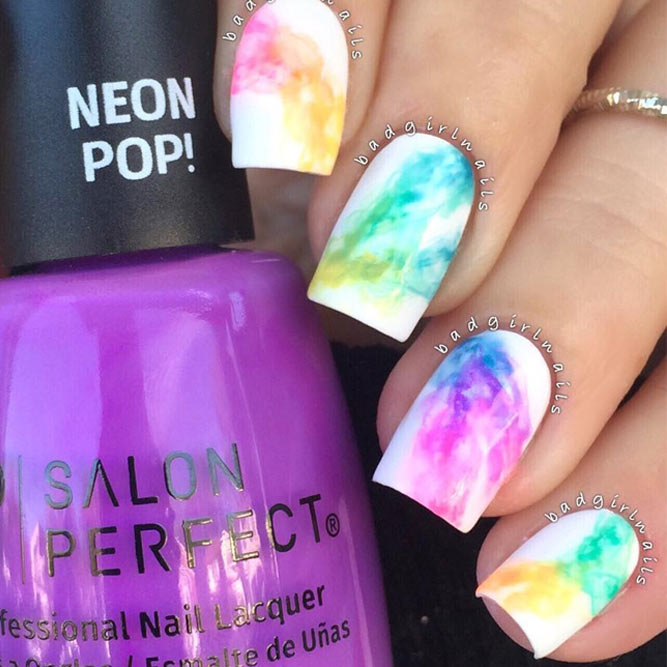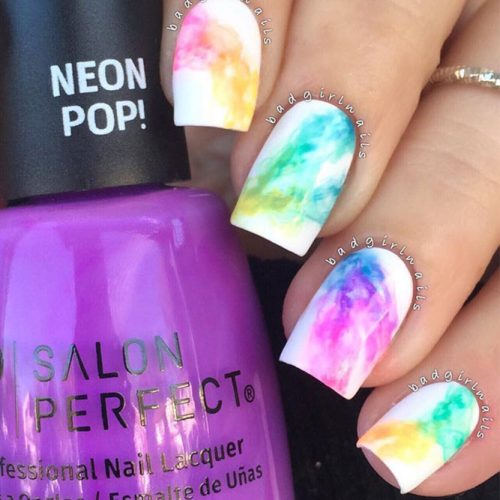 Source: badgirlnails via Instagram
This fun take on the white classic mani is a bit edgy with its matte rainbow effect. Paint two colors on each fingernail with just a bit of free space between the shades to mix it up a bit!
15. Polka Dot Explosion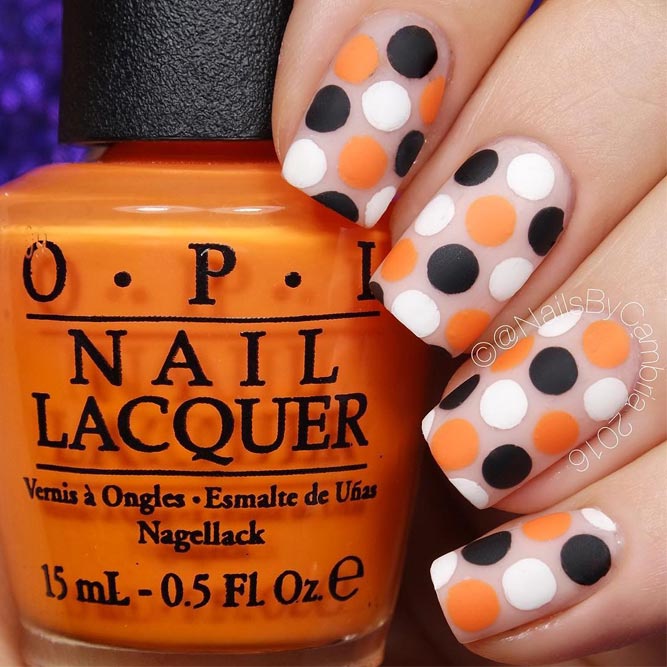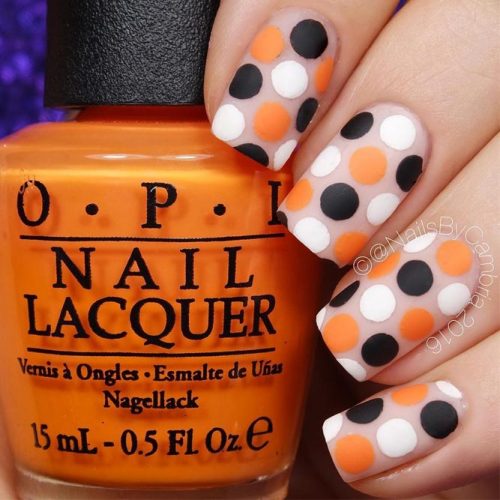 Source: nailsbycambria via Instagram
Polka dots are always fun and girly! And they look just nice with matte shades like this light purple base with dark purple polka dots. Or, mix it up with bursts of color on a black or white matte base!
16. Plaid Nails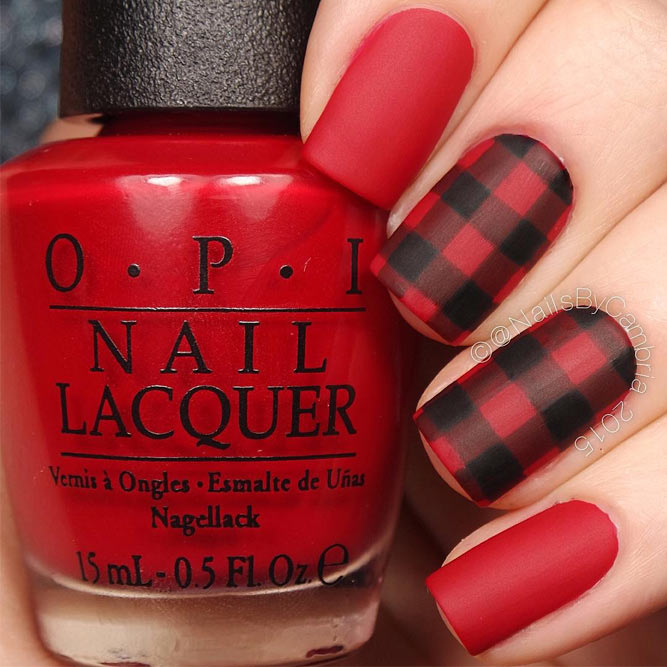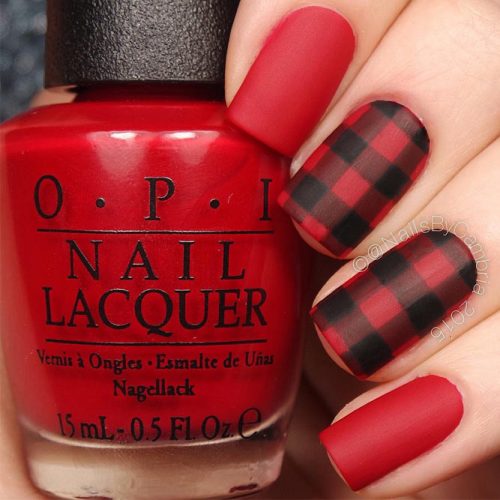 Source: nailsbycambria via Instagram
If you love plaid, you'll flip for this gorgeous red and black plaid matte effect!
17. Leather and Lace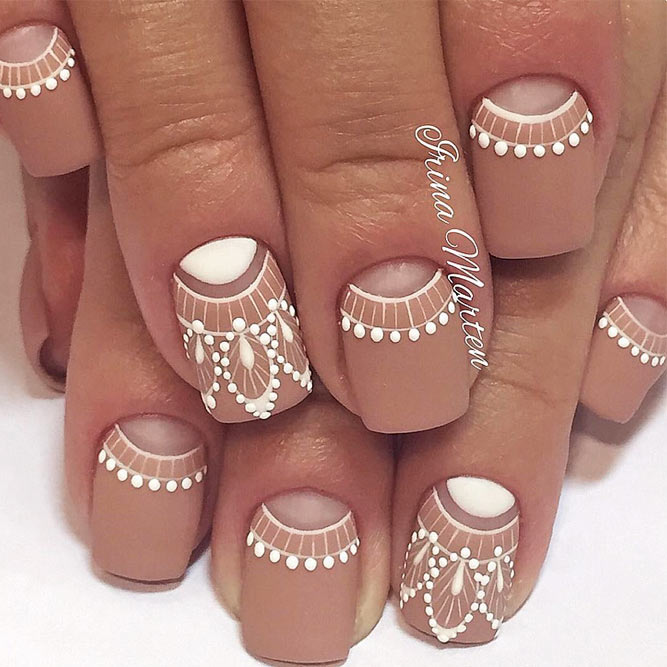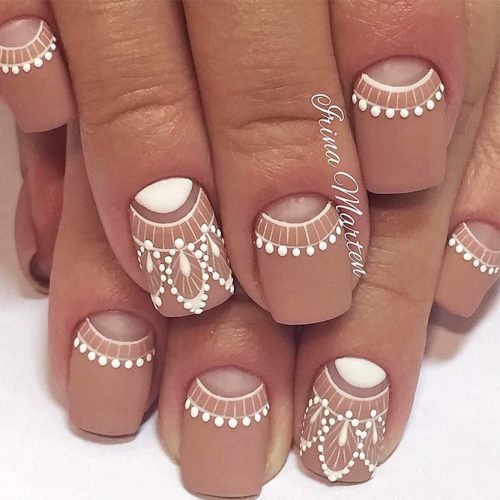 Source: nails_irinamarten via Instagram
We love this white lacy effect on a nude matte base. You can easily duplicate the lace look with nail stamps.
18. Christmas Nails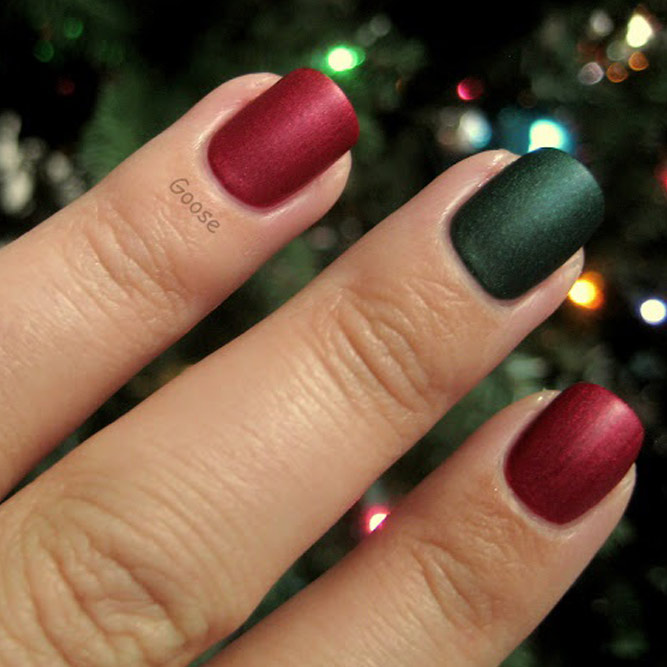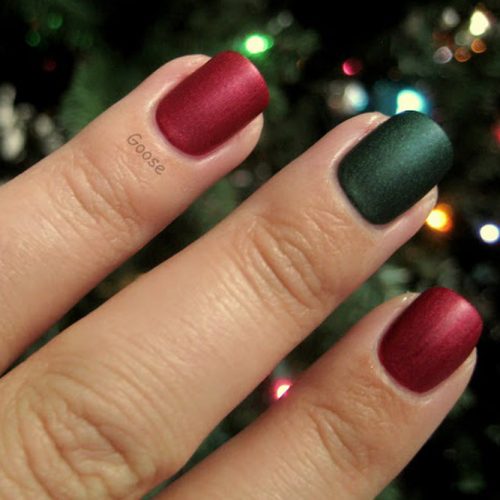 Source: Gooses Glitter
This alternating red and green matte nail combo just screams Christmas fun!
19. Flowers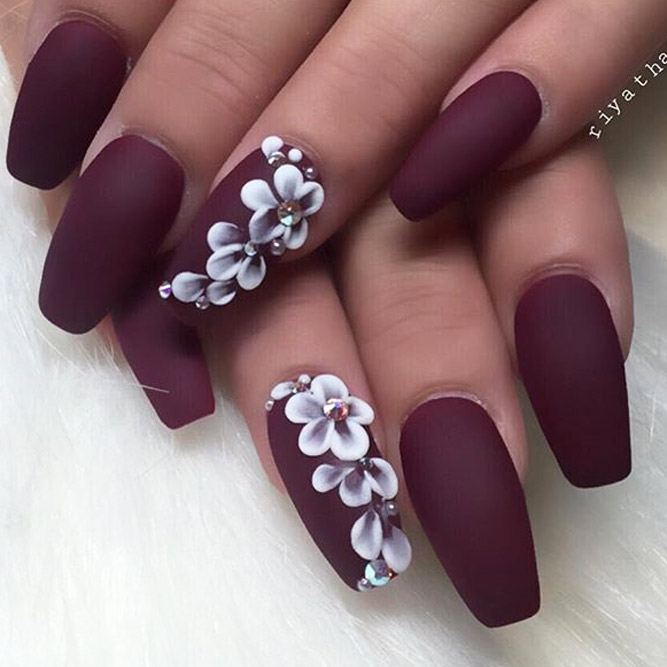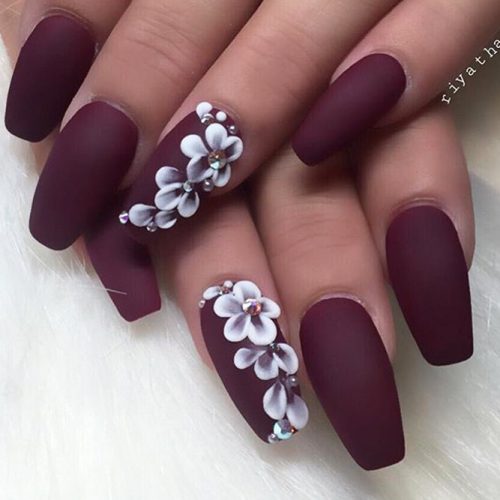 Source: riyathai87 via Instagram
We think this dark base with light matte flowers is totally girly and chic! The best part is that you can use any floral design to achieve this fun feminine look!
20. Pink Matte Mani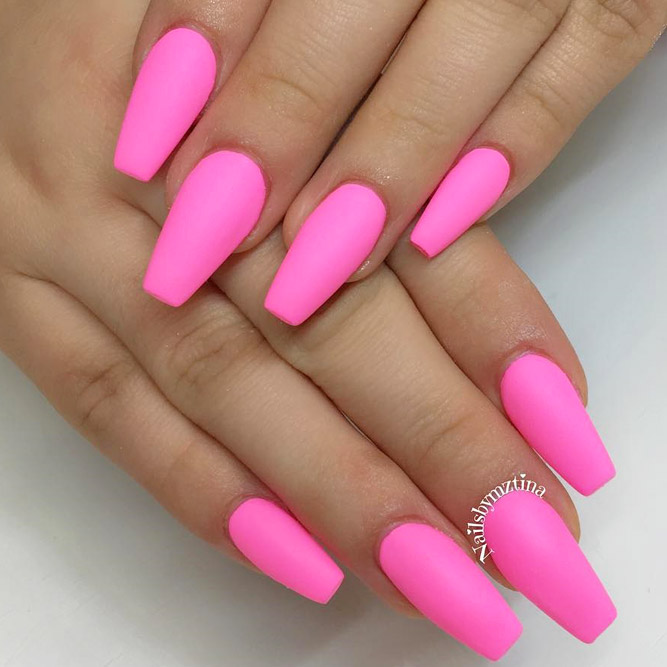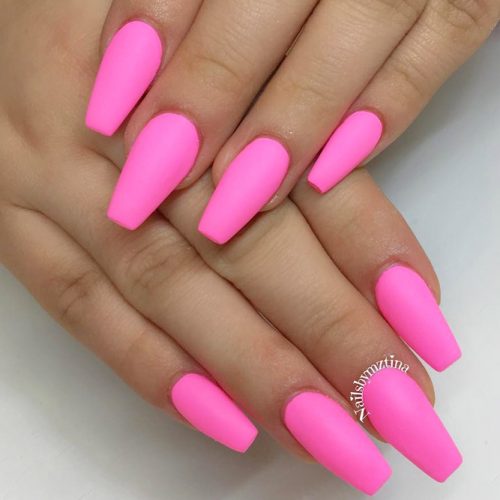 Source: nailsbymztina via Instagram
We know that every girl secretly loves pink. This pretty matte pink with its shiny pink stripe at the tip gives the look and feel of a traditional mani with an added burst of pink!
21. Black and White Tribal Matte Nail Art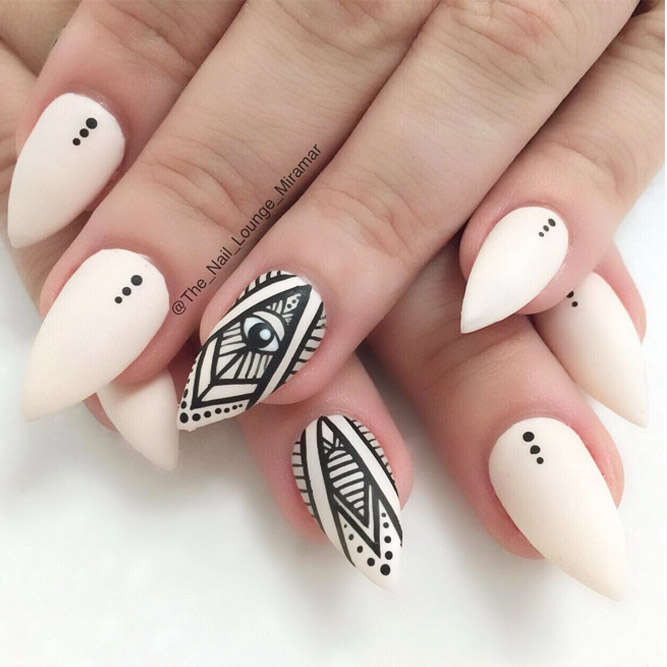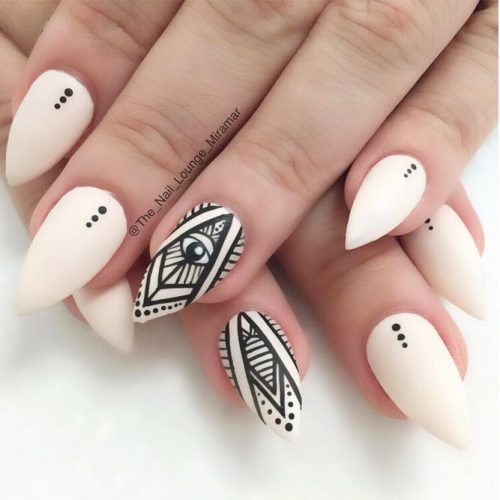 Source: the_nail_lounge_miramar via Instagram
Black and white nails are always classy but this black and white tribal design is edgy and playful.
22. Maroon Stiletto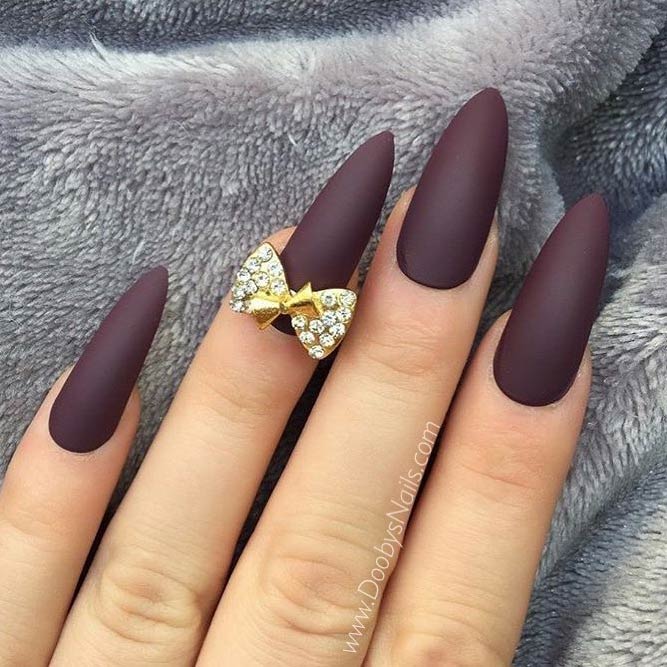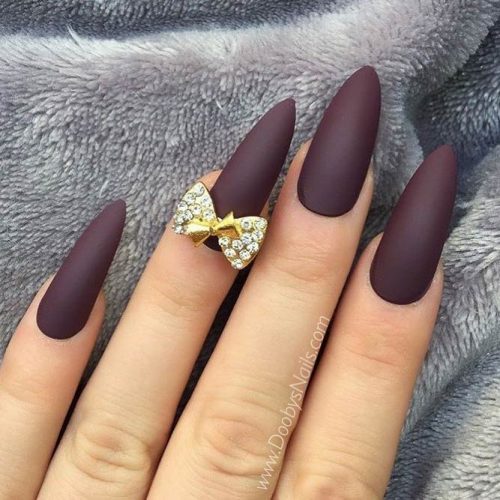 Source: doobysnails via Instagram
Oh so cute maroon matte long stiletto variation. Accent your ring finger with gold sparkly charm - your mani will be amazing.
23. Purple Ethnic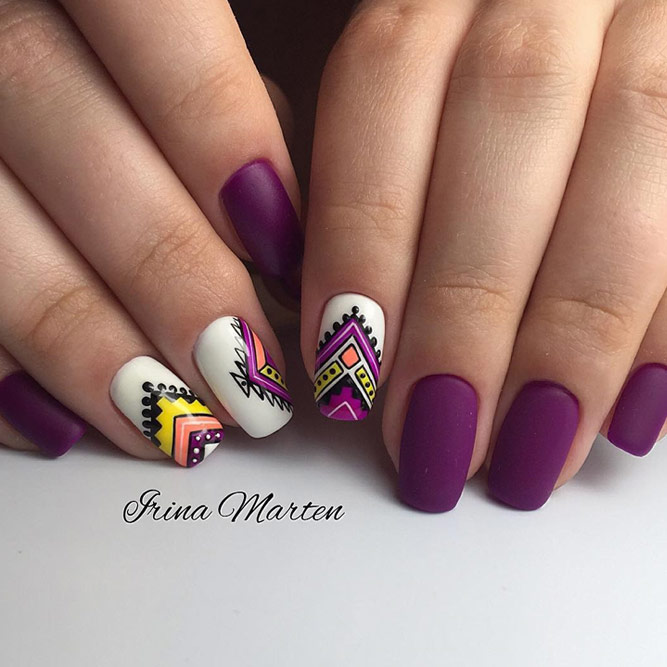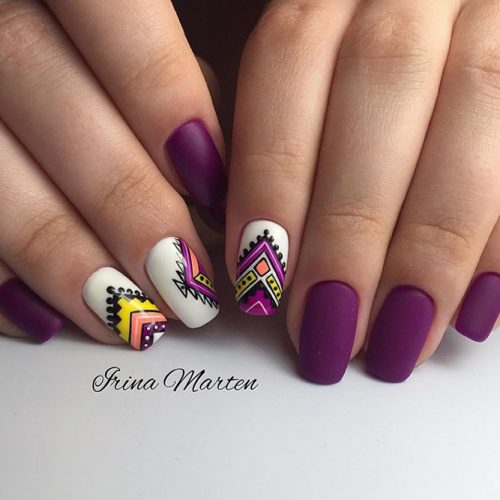 Source: nails_irinamarten via Instagram
Ethnic designs are very popular this season. A bright purple color with geometric patterns on several fingers are super modern.
24. Stripes Ombre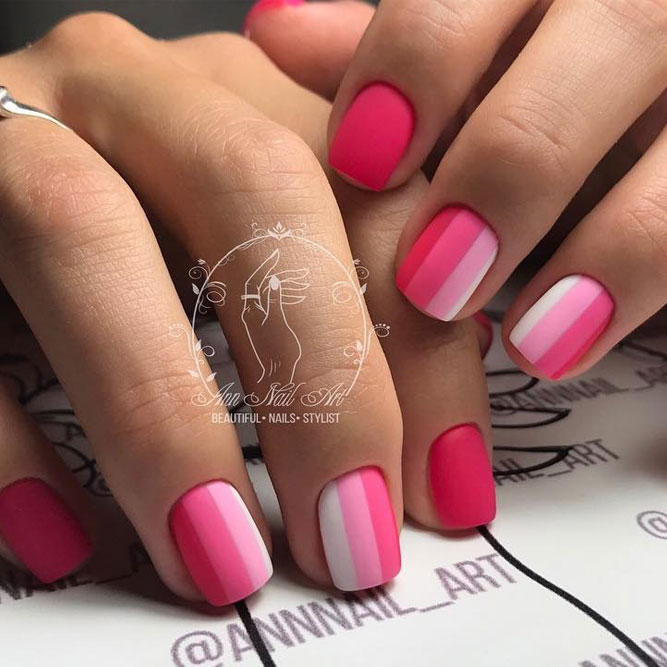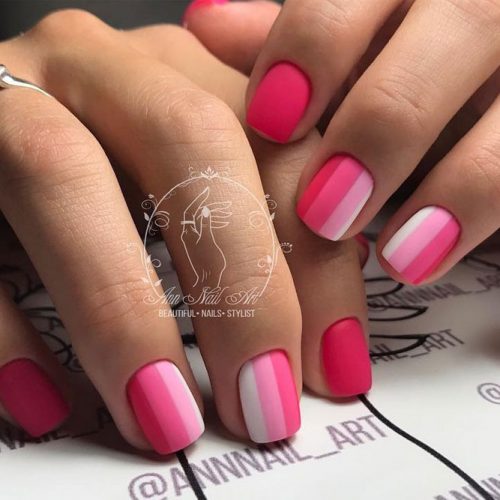 Source: annnail_art via Instagram
It will be fantastic to mix white and pink shades of nail polish on your nails. You can use almost all of your favorite colors to create this stripes ombre nail design.
25. Matte White Base with Color Hand Drawn
You can play with your nail designs every season! Look at this gorgeous fashion inspired designs. Here are winter style to make it during all cold month, a simple but beautiful style for early spring, and bold style for hot summer days.
Source: lieve91 via Instagram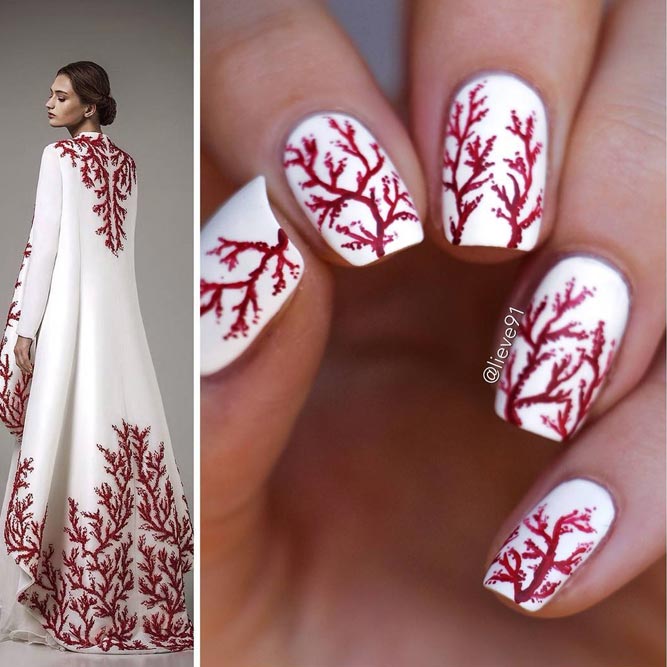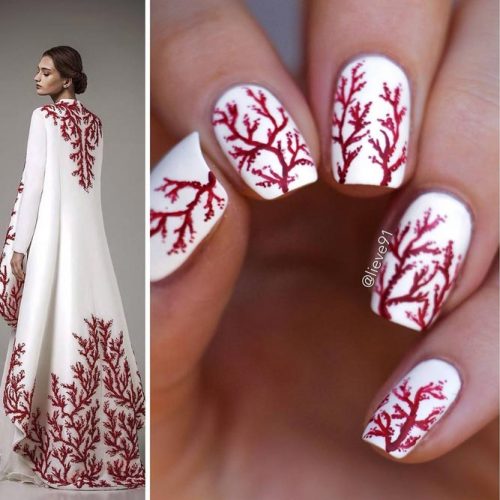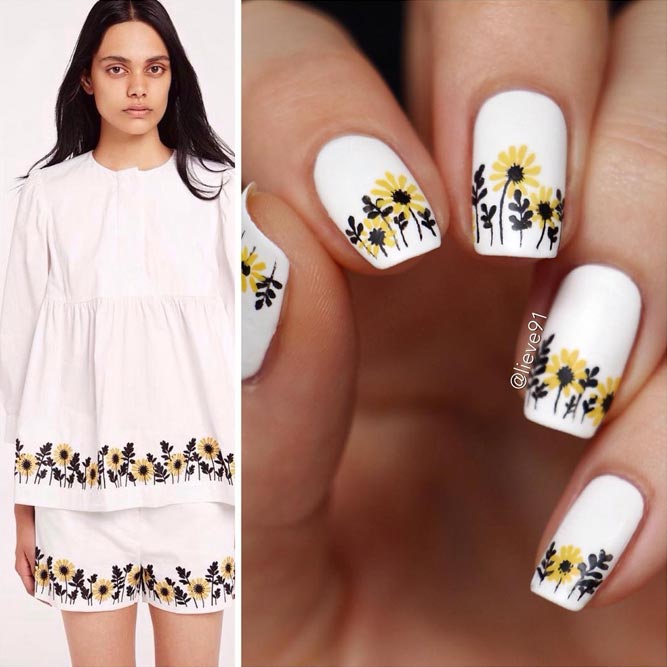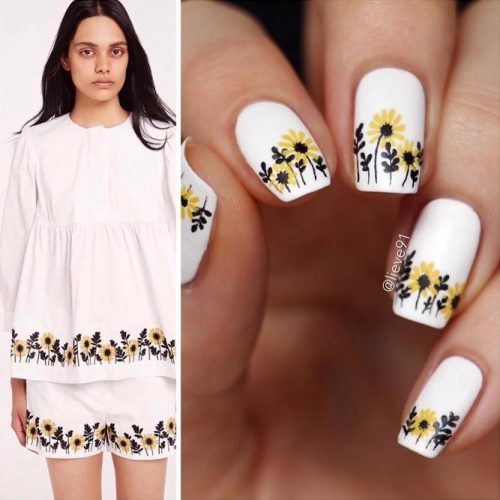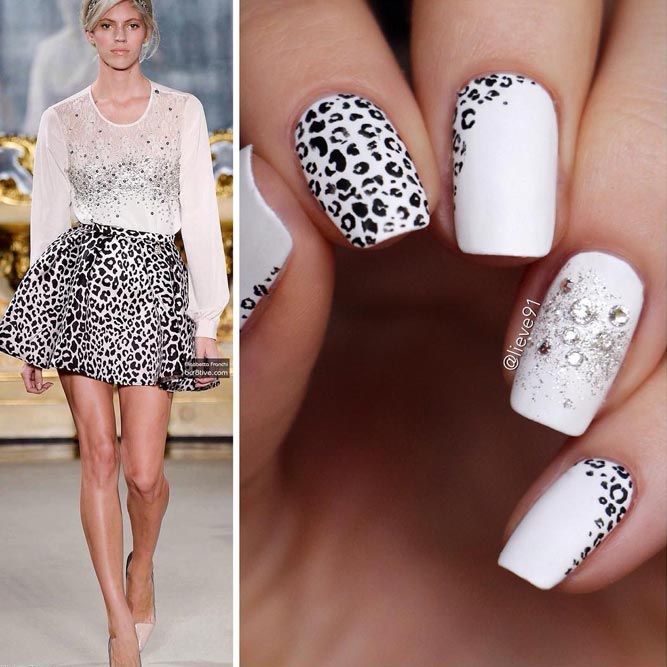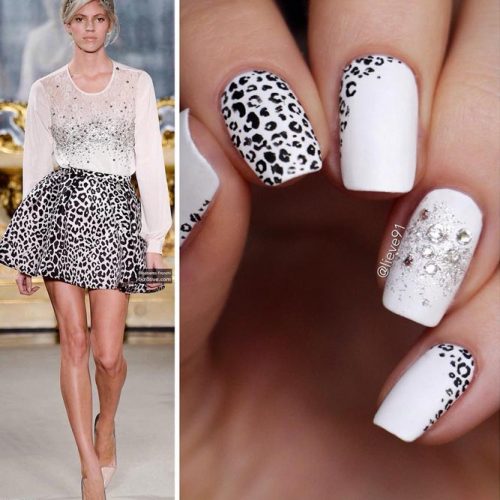 26. Baroque Flower Design
If you are obsessed with baroque style as much as we are then you definitely should try one of these styles. Use black or any other dark base to make a contrast to your flowered design and then add red colored flowers. Do not forget about leaves to finish your look. You can wear baroque nails all the time.
Source: lieve91 via Instagram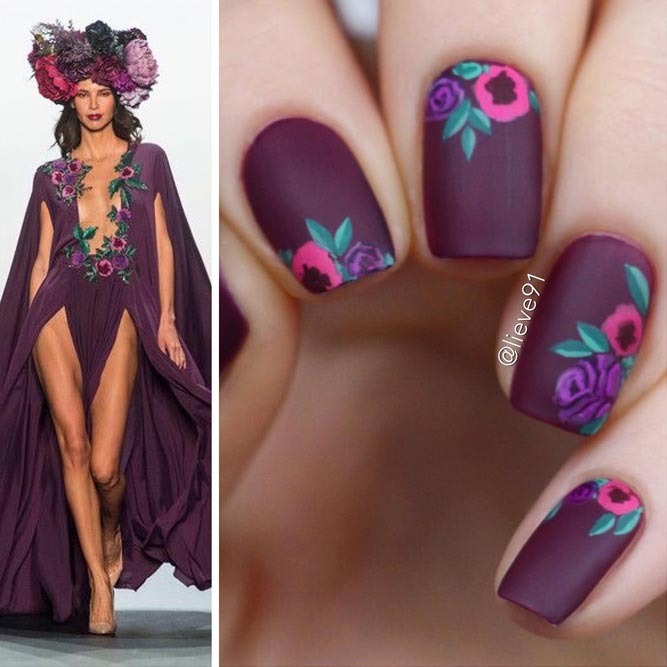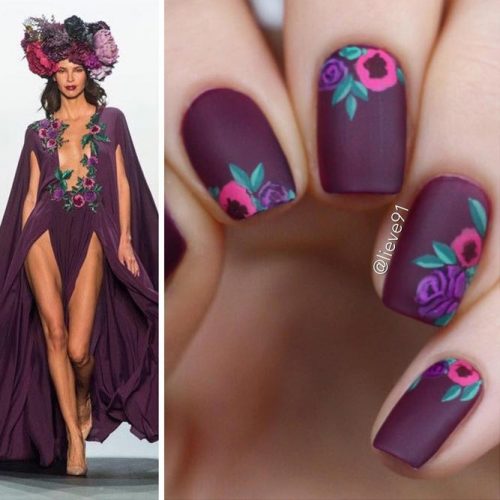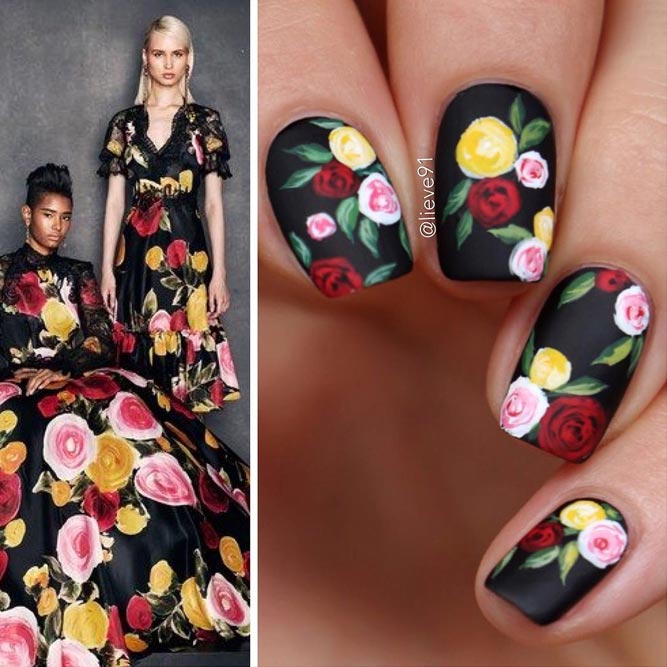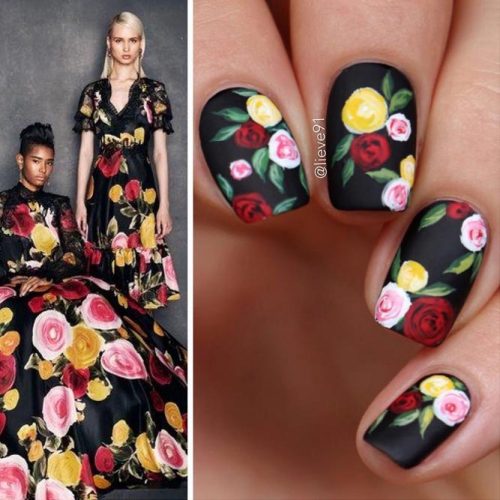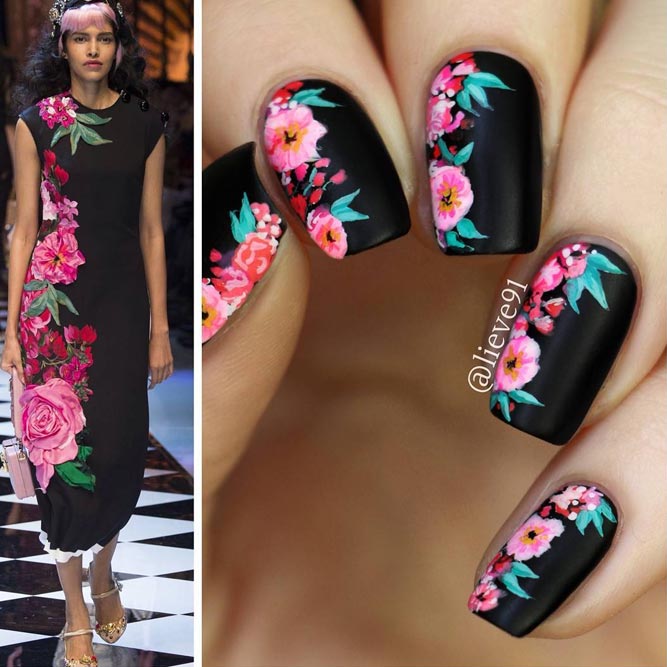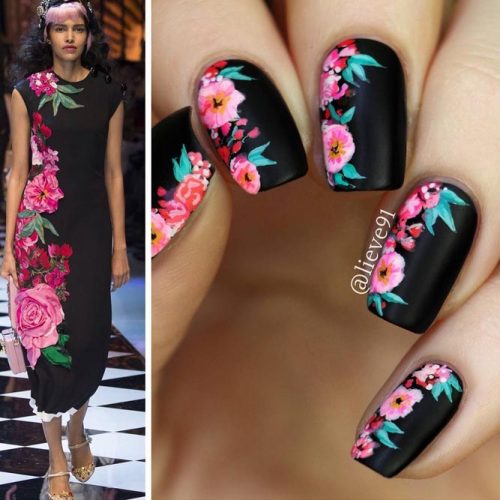 26. Acrylic Art on Nude Base
Nude nails are good for work, hot days, and even for date nights. You can add absolutely any hand art on nude base and get an amazing style! For winter use blue colors, flowered designs for spring and summer. If you need neutral but bright style use thin lines to make geometric forms.
Source: lieve91 via Instagram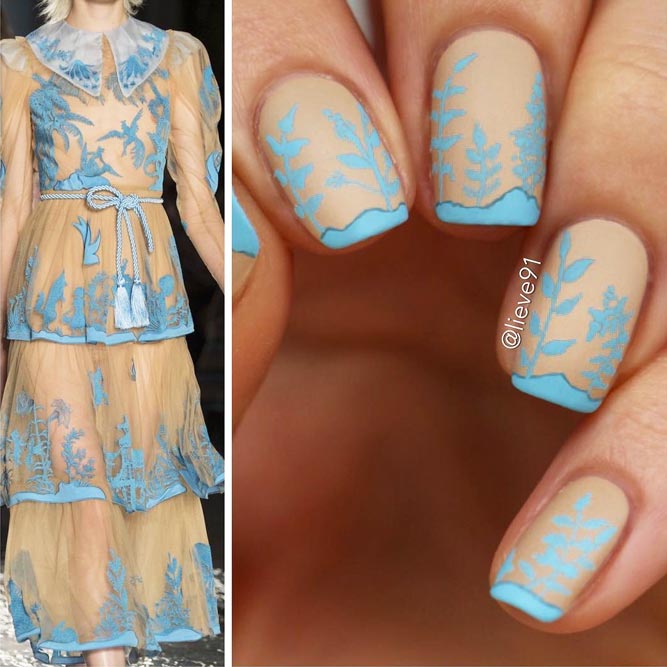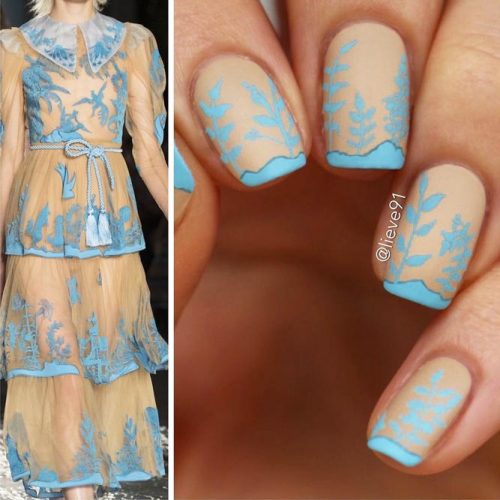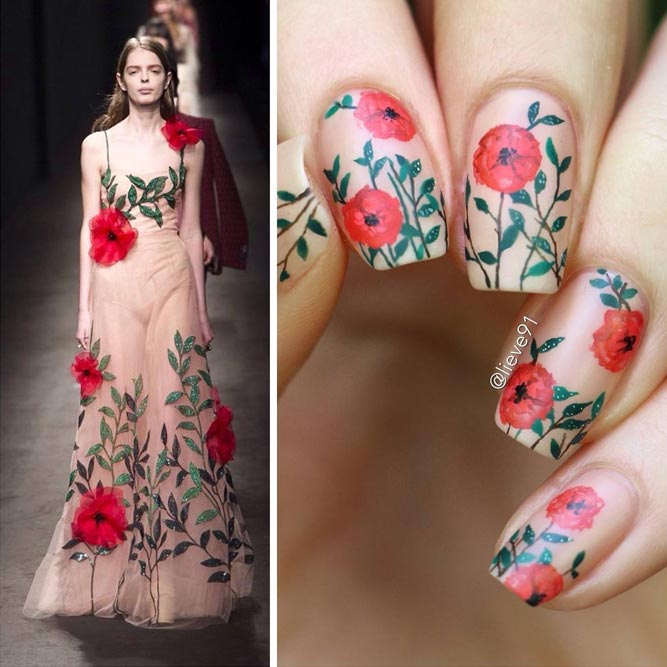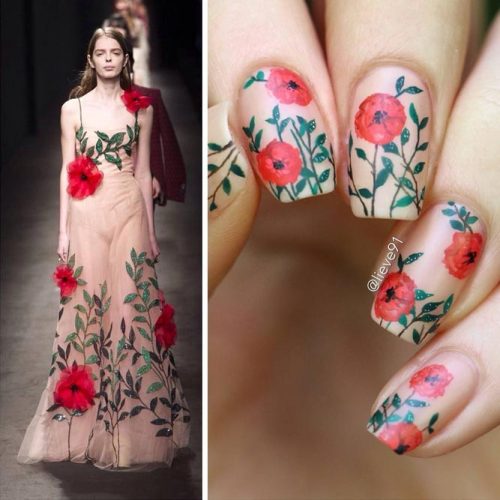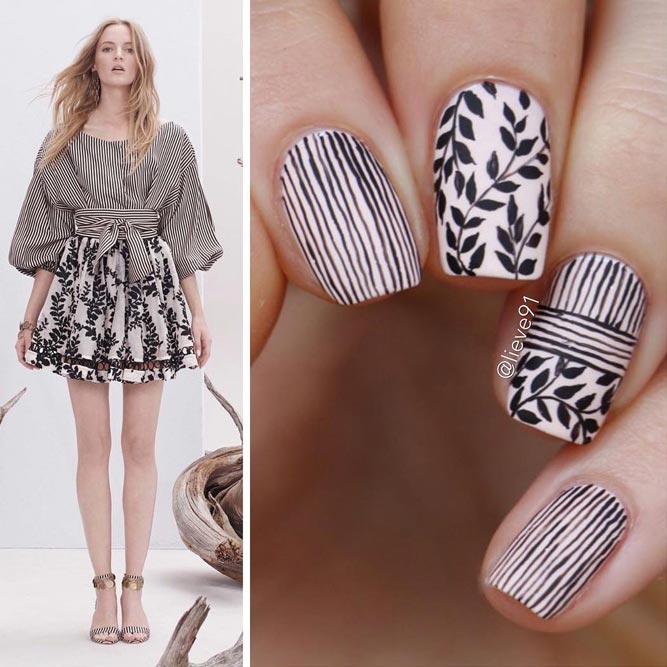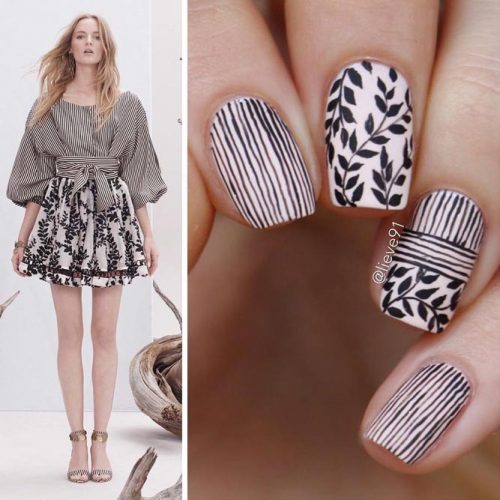 We hope you find these matte nail lacquer looks as tempting as we do! Find the one that suits you best and tweak it to match your mood and style!