Funky And Simple Nail Designs
Are you ready to see simple nail designs? No more spending much money on a fancy manicure at the nail salon! As a treat once in a while, it's not a bad idea. But if you are one of the millions of women who are addicted to getting their nails done, it can be quite costly. You can actually get that salon look at home with these designs.
Mix-n-Match Nail Art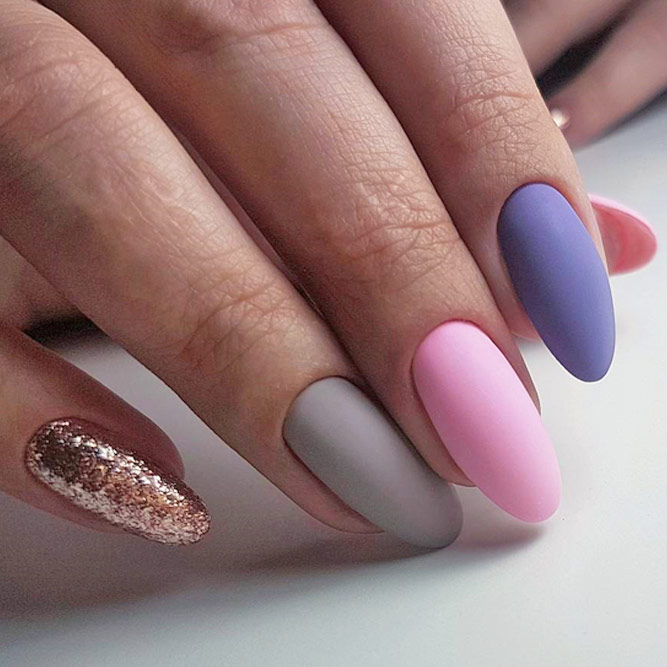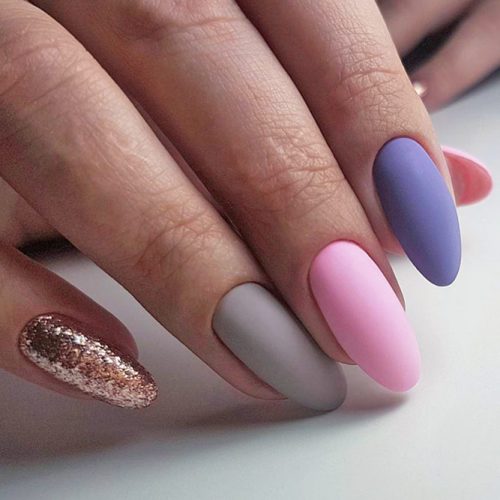 Source: odnails via Instagram
You can actually achieve that salon look at home with these easy nail designs. Sure, some of the fancier nail designs require some time and talent, but there are a lot of not difficult nail designs that you can duplicate at home. For those who don't have that skilled touch or a lot of practice, this colorful and fun look is probably the easiest to achieve on your own. And this look is great if you wish to go with a theme for a holiday or fun event. Simply choose different shades of the same color or different colors and apply them to your nails. You can mirror the effect on the other hand or reverse it if you like. The possibilities with this style are positively limitless!
Love Message Mani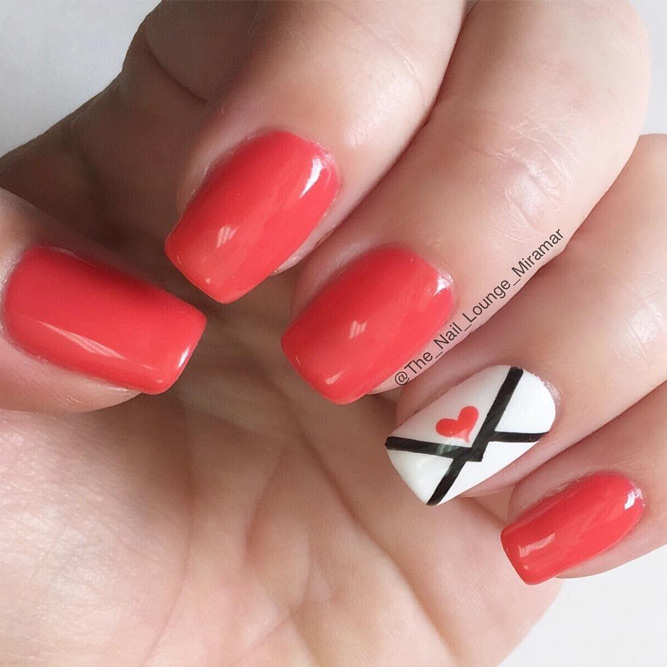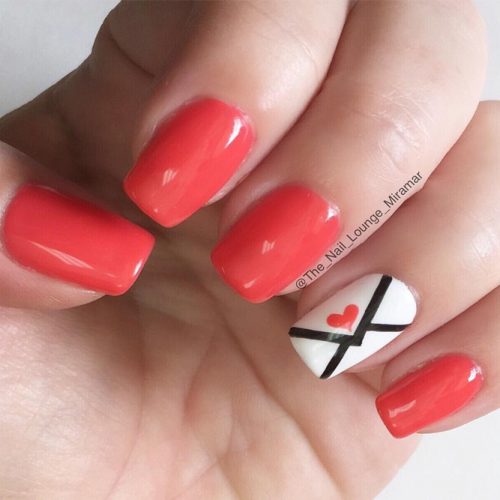 Source: the_nail_lounge_miramar via Instagram
Are you super shy and afraid to reveal your true feelings? Or are you looking for a fun and creative way to tell someone something? This "not-so-subtle" nail art message is a foolproof way to express your feelings! Use a red base and leave the ring finger a lighter shade (nude or pretty pink or beige) and write your message on your nails. What a great way to express your "love" or say I'm "sorry." Get creative and let your feelings out!
Butterfly Nail Art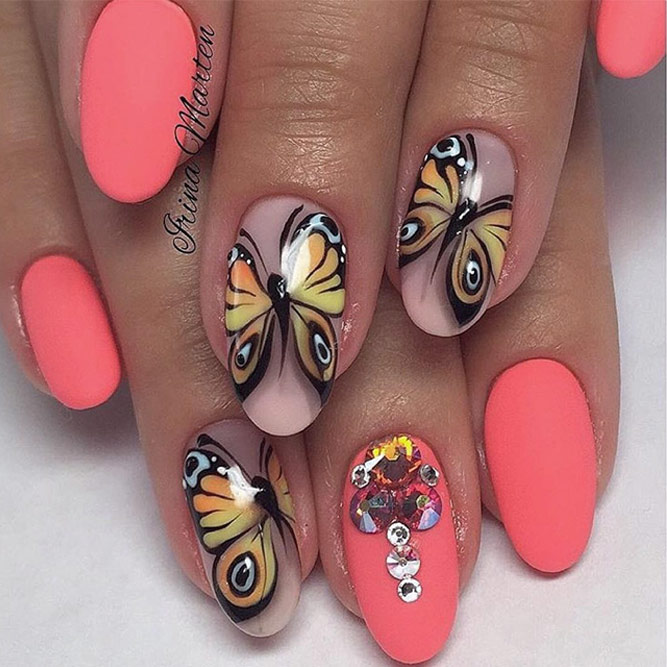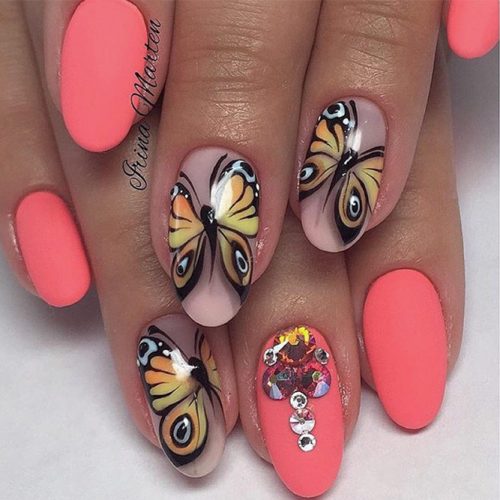 Source: nails_irinamarten via Instagram
While this beautiful butterfly looks complicated, it's really not. Simply pick two contrasting colors and use the lighter shade as a base. Then draw a butterfly on your ring finger with a fine nail art brush. If you want to be super-fancy, you can add colorful gems to the wings!
Glittery Tips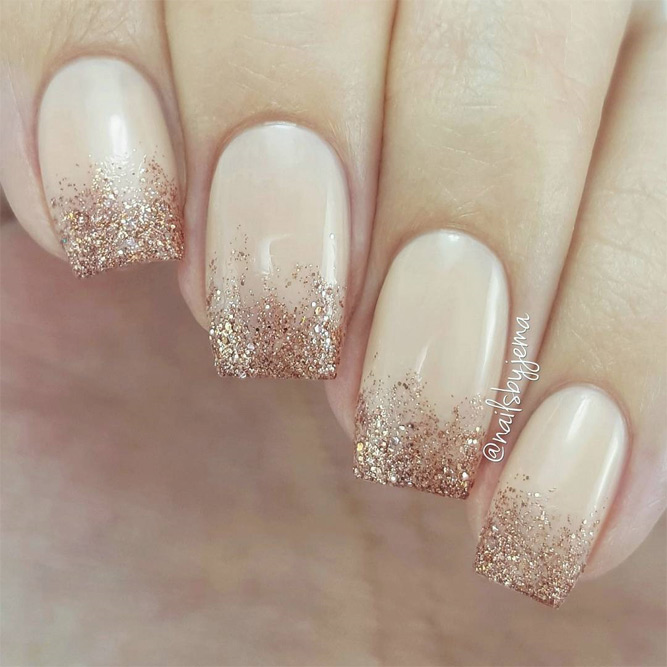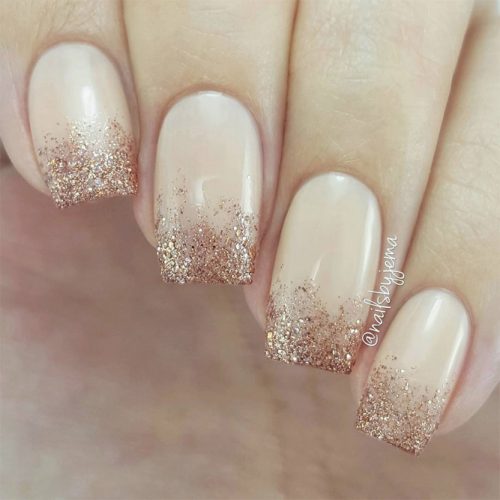 Source: nailsbyjema via Instagram
If you prefer the simple, yet elegant look of the French manicure, then this one is for you! Simply choose your favorite mani base and use a pretty glitter polish to create your French tips. This look is great for every day or a special occasion. Don't forget to seal your mani with a top coat for protection.
Sand Nail Art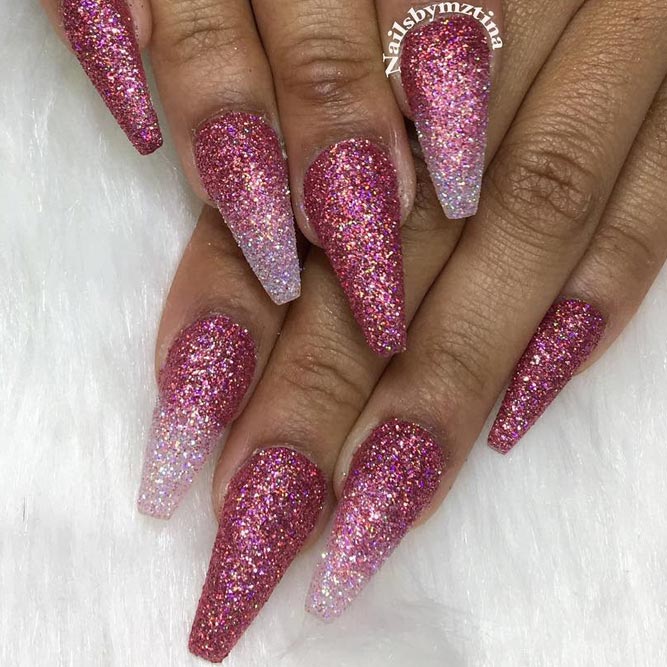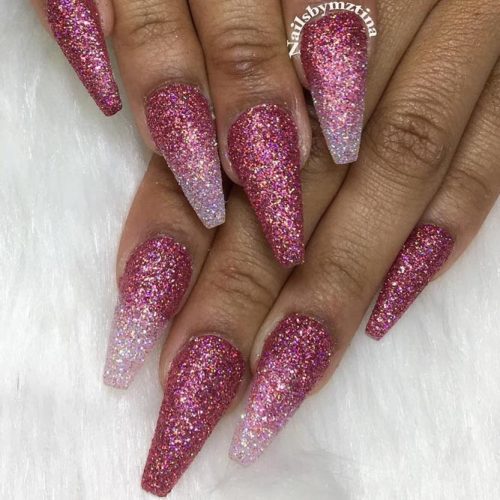 Source: nailsbymztina via Instagram
This style looks especially great on long nails. All you need to do is apply matte polish with glitter. And then top it with matte top coat. You will feel sexy and sophisticated with these glittery nails.
Rhinestone Nail Art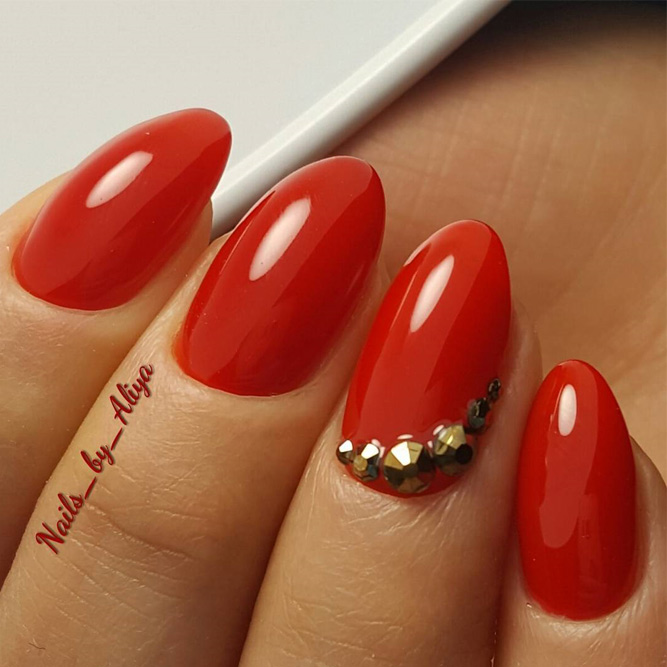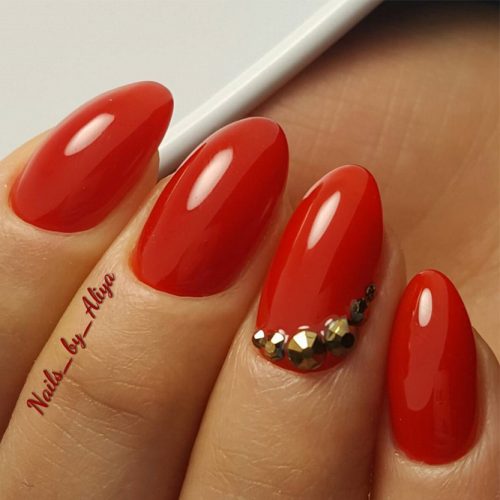 Source: nails_by_aliya via Instagram
If you want to draw attention to your nails, then rhinestones are the way to go. Choose a feisty shade, such as deep, sultry red and combine it with a gold and black rhinestone design. Or, black polish with silver rhinestones, which is always elegant.
Striped Nail Art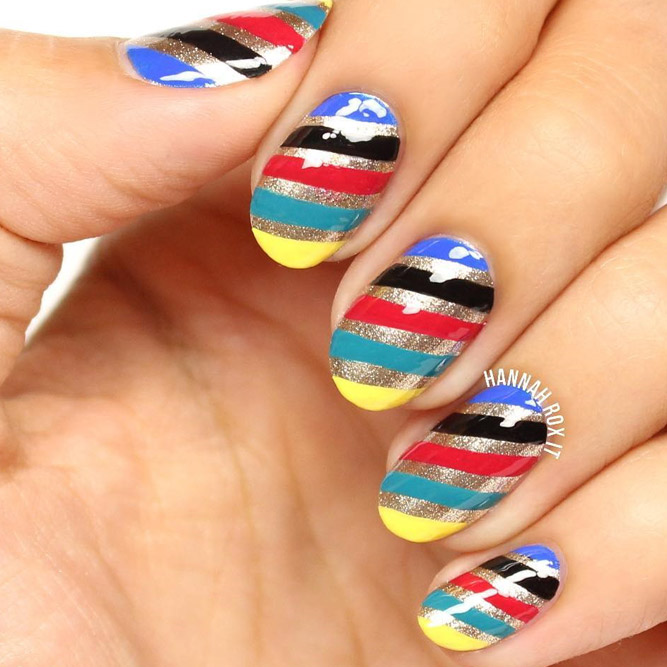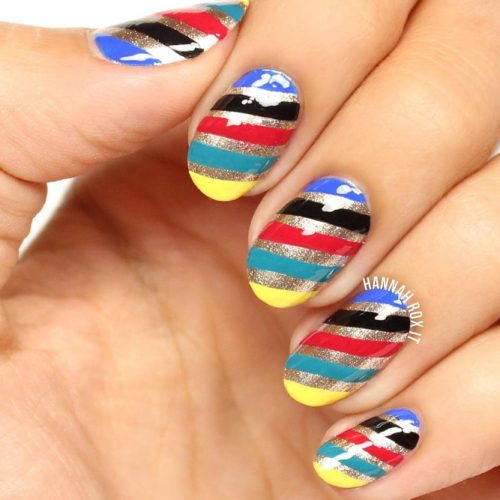 Source: hannahroxit via Instagram
If you want to dress up your everyday manicure, add some striped rainbows. All you need to do is apply base coat or white nail polish and then place a French tip strip and use a thin nail brush or striper to create a rainbow effect. If you don't like rainbows, you can choose any colors you want!
Wavy Manicure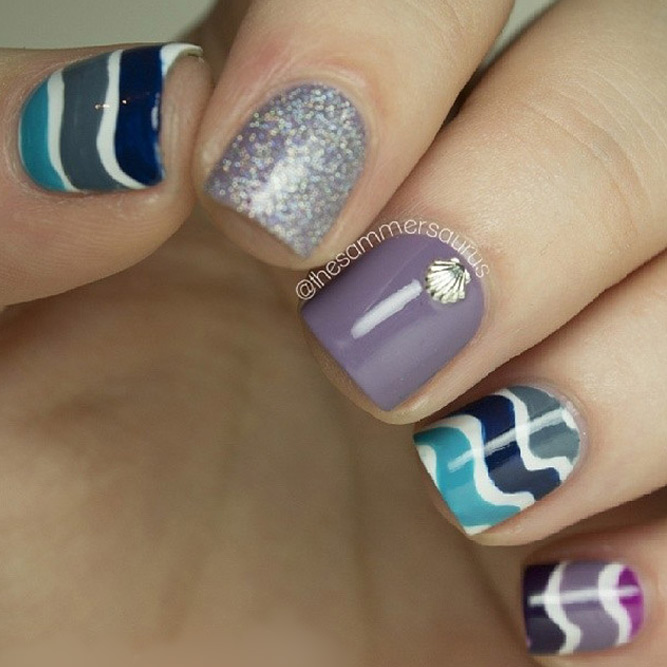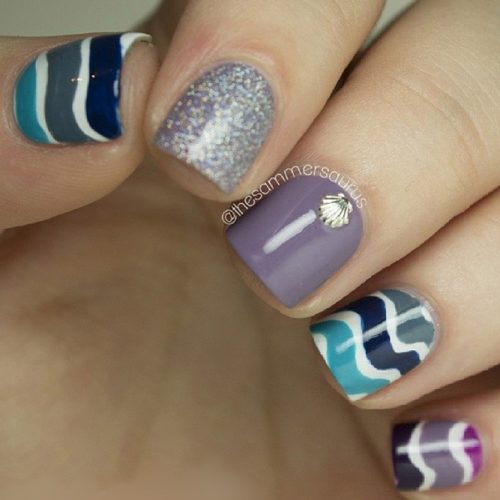 Source: thesammersaurus via Instagram
Do you like to color outside the lines? Do you find standard manicures boring? Why not add wavy lines to make it pop? All you need is your favorite color and a nail striper. Get creative and play around with different color options to really make this mani unique and fun!
Elegant French Manicure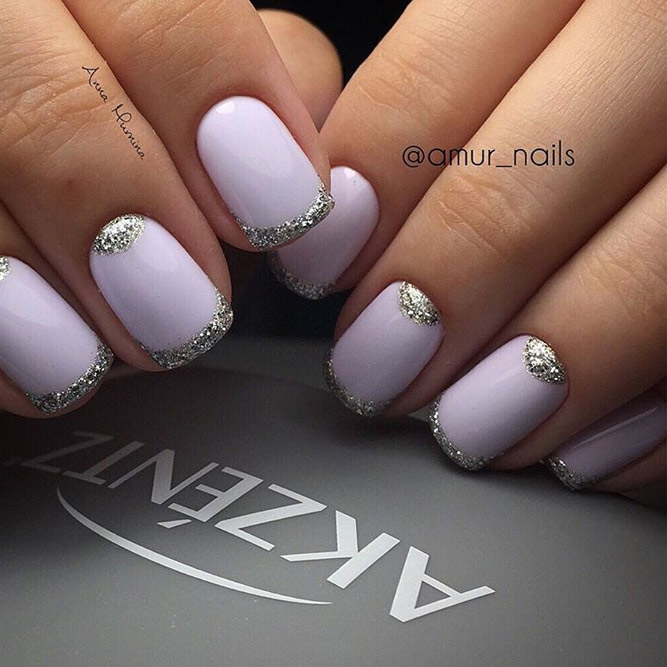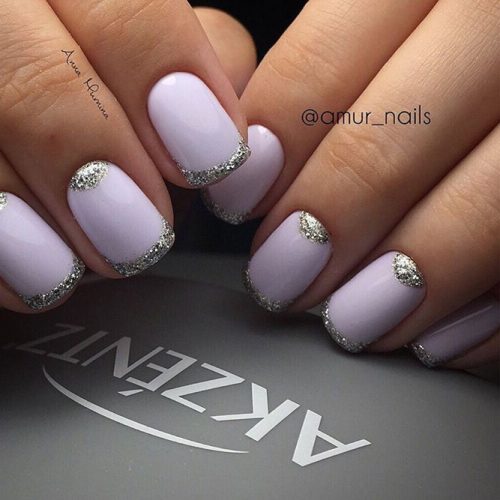 Source: amur_nails via Instagram
Tired of boring beige or nude French mani? Why not add a deep shade of purple with some elegant French tips. Or, a black base with white tips? There are nearly hundreds of options, so why limit yourself?! Get creative!
Gradient Nail Art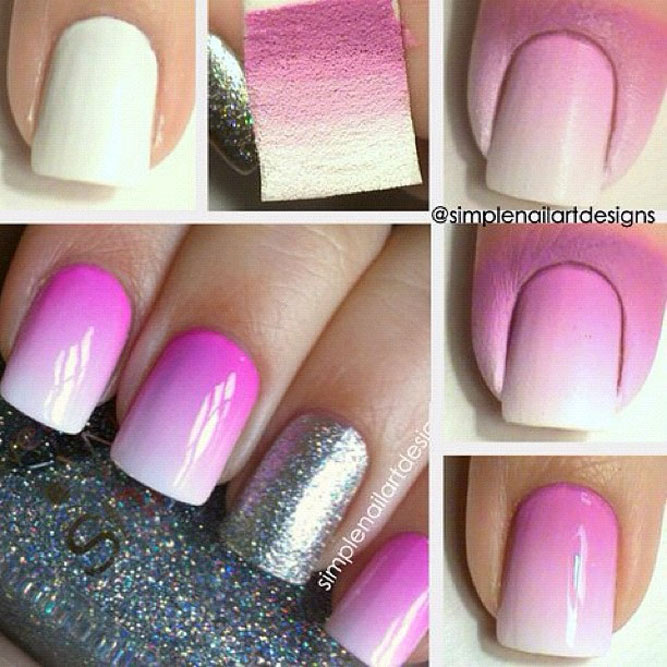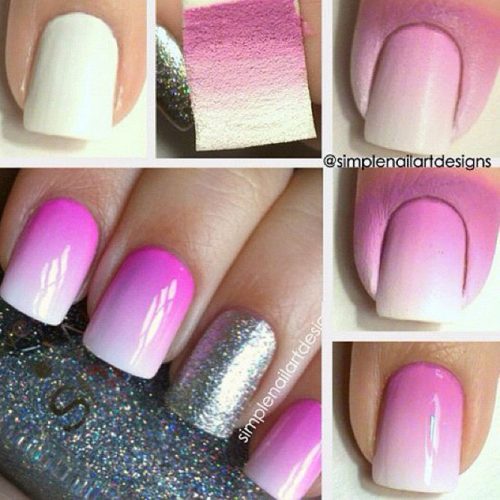 Source: simplenailartdesigns via Instagram
Gradients and ombres are all the rage this year, so why not create these simple nail designs? Pick two or three colors that go well together and paint them next to each other on a makeup sponge. Then dab it onto your nails for a cool ombre effect.
Feather Nail Art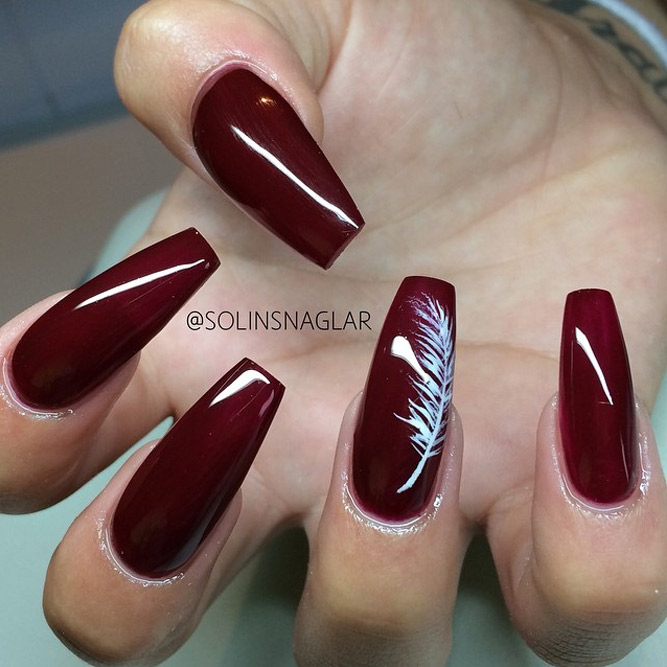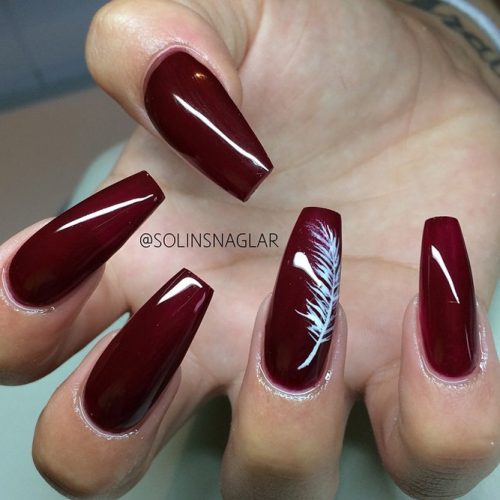 Source: solinsnaglar via Instagram
This pretty feather design is both fun and stylish. Pick a bold color such as deep burgundy or gold and draw the feathers with black paint.
What are you waiting for? Choose your favorite simple nail designs and get creative! The more you practice, the better you'll become! Soon you'll be creating your own cool and unique nail art designs. You'll be the envy of all your friends!
Matte Piercing Nails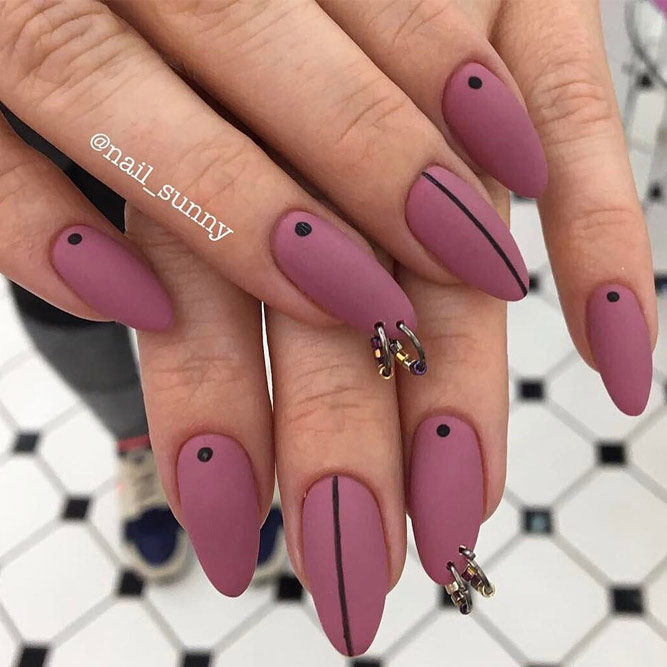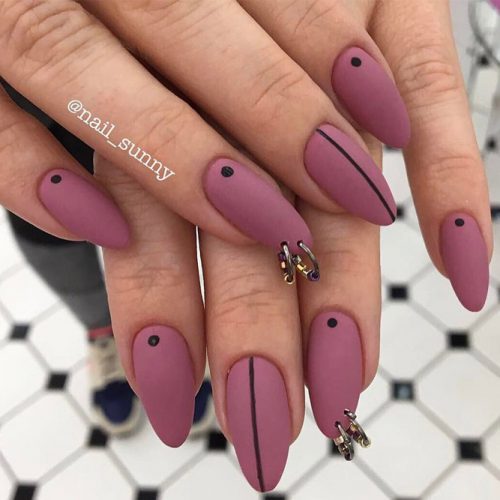 Source: nail_sunny via Instagram
A 90's trend becomes popular once again. Many women became obsessed with the idea of pierced nails. No matter what you think – you must agree that they indeed look extraordinary. All you need to remember – keep them simple!
Foil Nail Design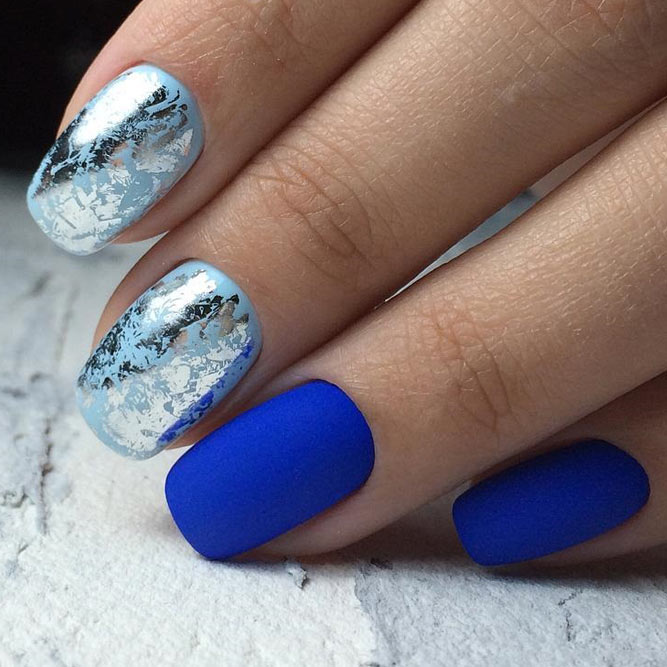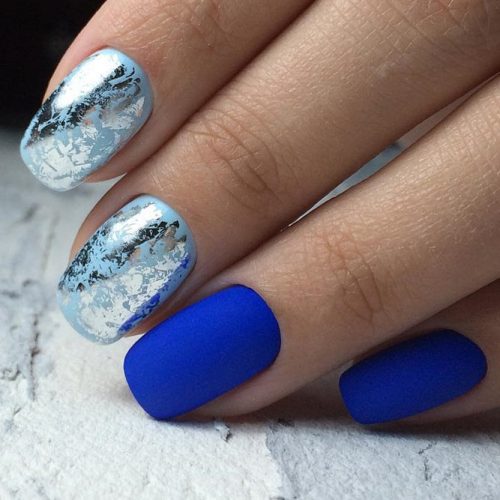 Source: miraten_nails via Instagram
If you are getting ready for some important event but still do not know how to get your nails done, try a foil nail design. It is easy to get done but the effect will be luxurious! It looks like diamond dust was spilt over this sky blue nail polish.
Bright Geometric Nail Design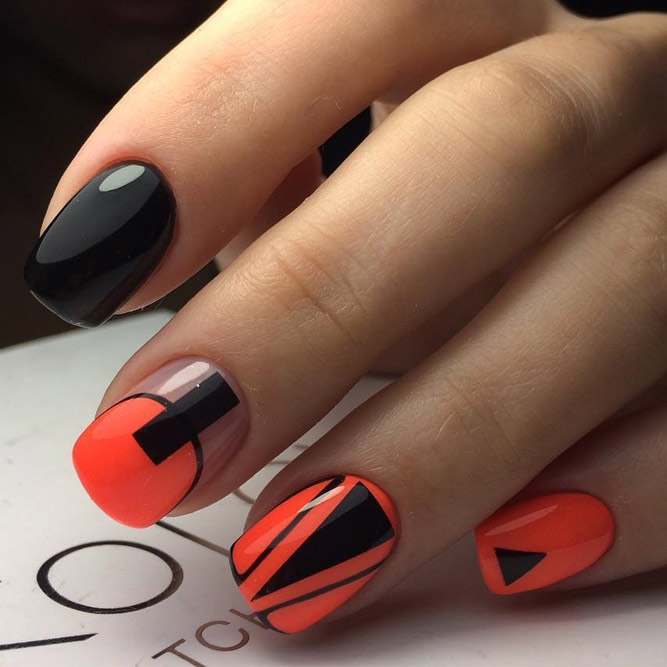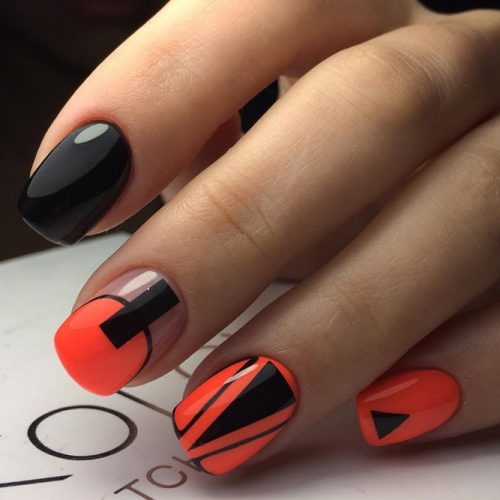 Source: irina_kapshuk.nails via Instagram
The cool combination of neon orange and black with the addition of some geometric figures is what you need for the upcoming summer. It takes some effort to achieve it but the effect will be worth it!
Nude and Glitter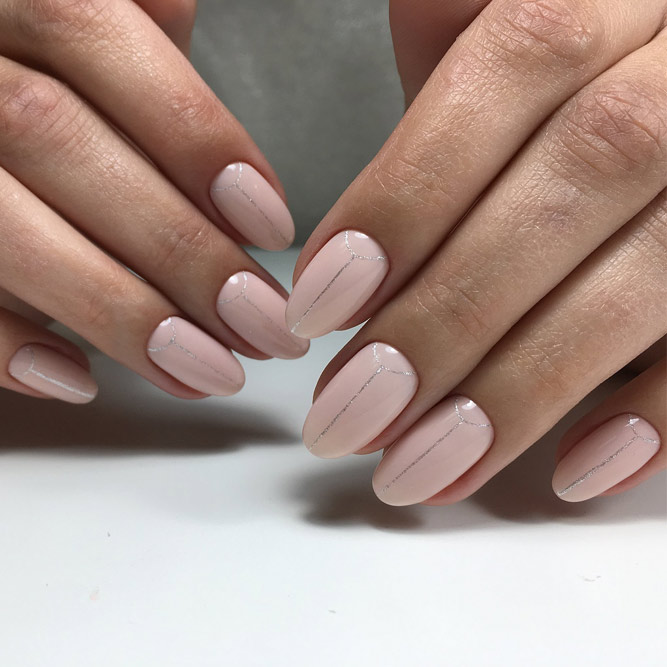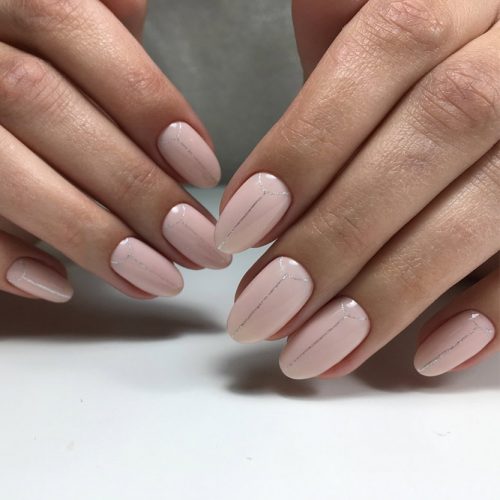 Source: o_dudkevich via Instagram
This nude nail design is perfect for any occasion. Choose a peach or natural pink base and paint thin silver stripes in the middle of the nail and a half moon near the nail bed. Your mani is easy and festive!
Black Heart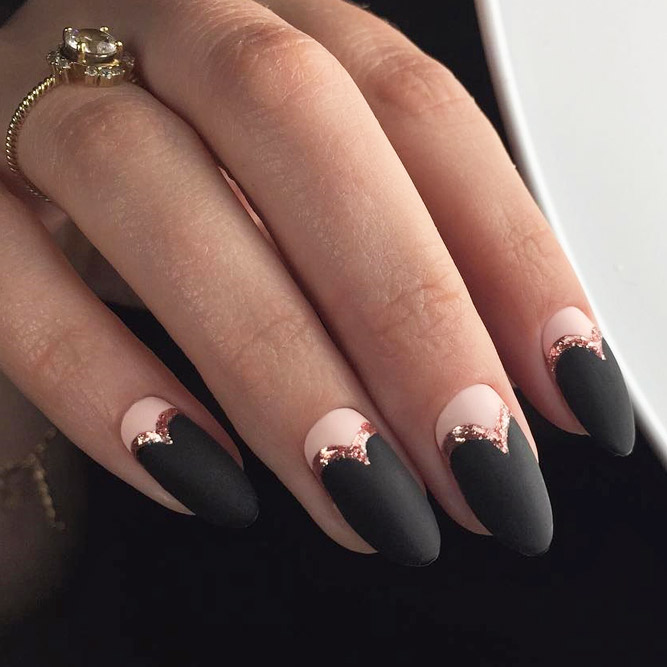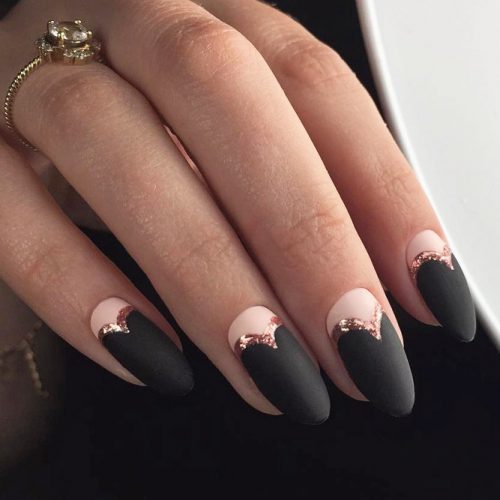 Source: mariapro.nails via Instagram
Black heart designs are ultra-modern and chic. But if you add some sparkly design to this mani, you'll feel extra girly and glam!