We have the best collection of Valentines Day nails, so you don't need to surf the net all day to find something flattering. This holiday is about passion and love. Every woman would want to keep her nails pretty for such a special occasion. We have found the most creative ideas possible. But if you want to create your nail design for Happy Valentine's Day, keep in mind that hearts, glitters and a red or pink color should be present in it.
Rhinestones Half Hearts
Credit photo: instagram.com/theglitternail
Do you want to be unique and creative with your Valentines Day nails? Then you should definitely take this manicure idea into account. Rhinestones are applied to two of your nude nails so that they shape up a heart when put together. Doesn't this mani look adorable?
Wild Heart Nail Design With Leopard Pattern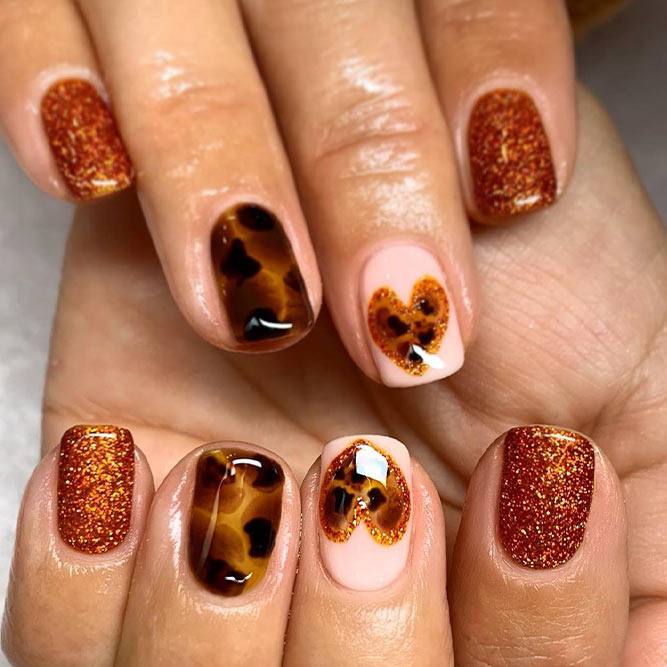 Credit: Instagram/charsgelnails_
Show him your savage side of personality by embellishing your manicure with leopard hearts nail design. You can also accentuate some of your nails with this patter to make the style more balanced and bold.
Black French Mani
Credit: Instagram/sara.pray
A French manicure remains one of the most elegant and sophisticated options no matter whether you are headed to a date or a business dinner. If you want to give it a stylish and fashionable touch, switch white tips to black ones. So that it matches the spirit of the festival, add tiny black hearts to the base of your acrylic nails.
Stunning Heart Nail Design With Rhinestones
Credit photo: Shutterstock
i
Credit photo: @nails.beautybyamelie
i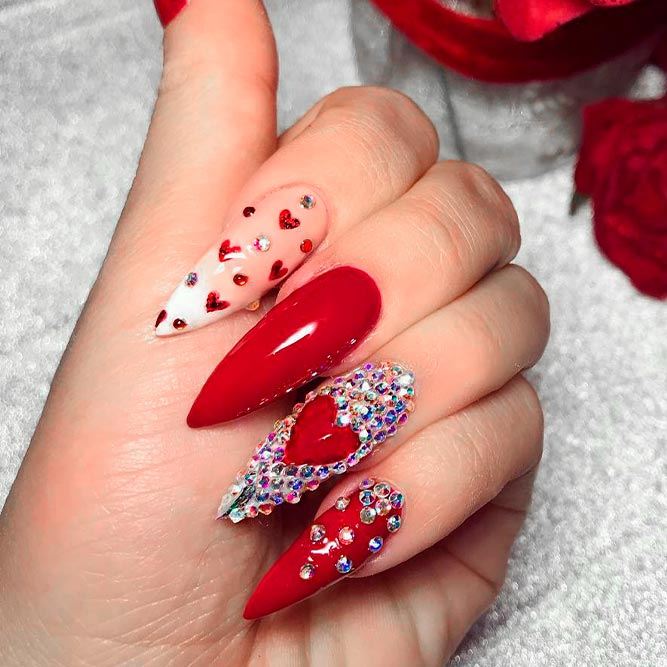 /
If you are not afraid to stand out in the crowd, then you will most likely fancy this Valentines Day nails idea. It is very eye-catching and absolutely stunning thanks to the combination of the shiny heart nail design with rhinestones and a red nail polish.
Black Nails With Silver Hearts
Credit: Instagram/unghiegel.it
Who said that black nails are not appropriate for Valentine's Day? This manicure, which features a glossy black base coat and a delicate silver heart nail design, looks tasteful and refined.
Cut Out Nail Art Design
Credit photo: @ayano_fukuoji
i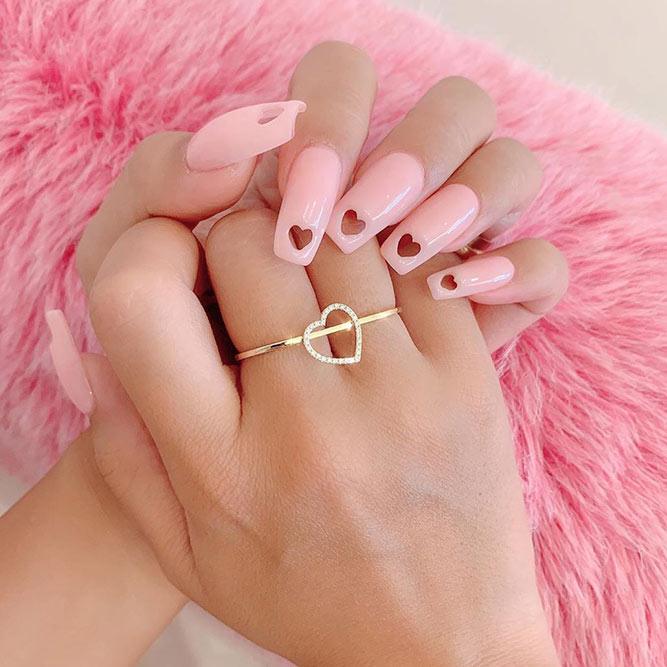 Credit photo: @dippycownails
i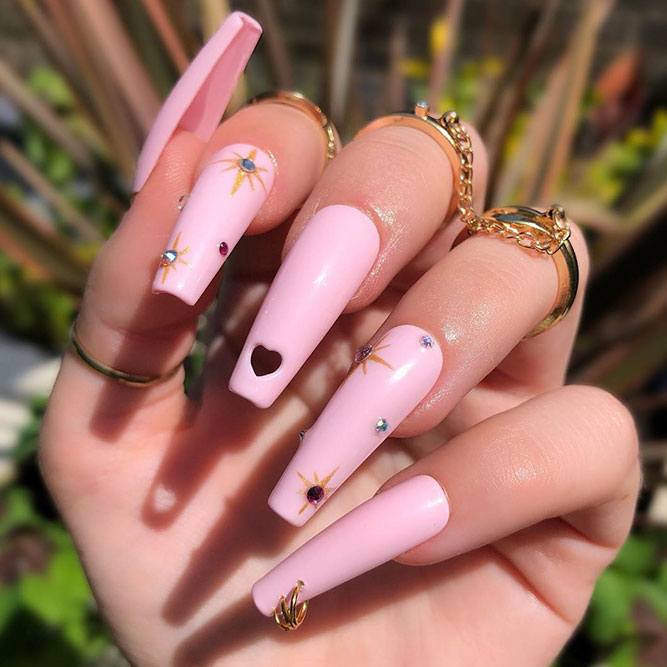 /
This cut out nail design requires the most fashion bravery, so not everyone will be able to pull it off. If you consider yourself daring enough to go for it, then you can rest assured that this nail style will keep you in the spotlight wherever you go.
Pink Valentines Day With Cute Hearts Design
Credit photo: Shutterstock
i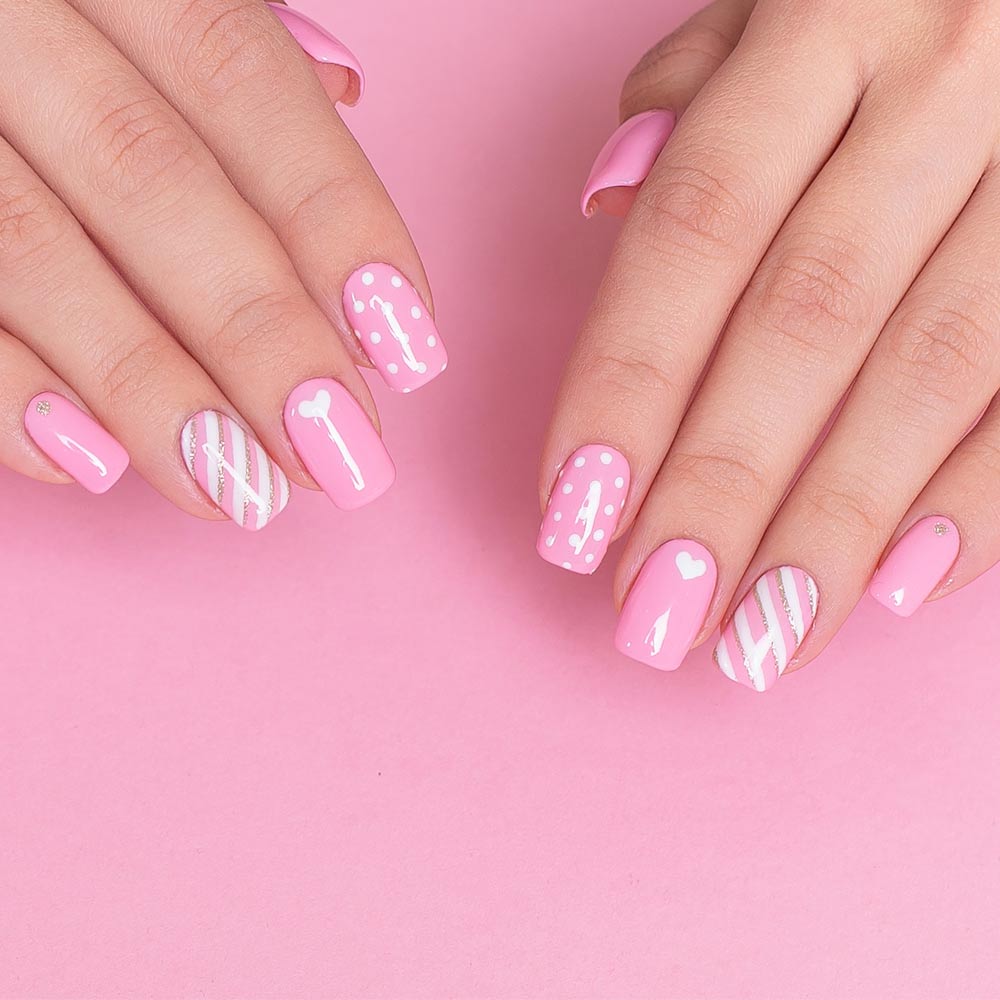 Credit photo: Shutterstock
i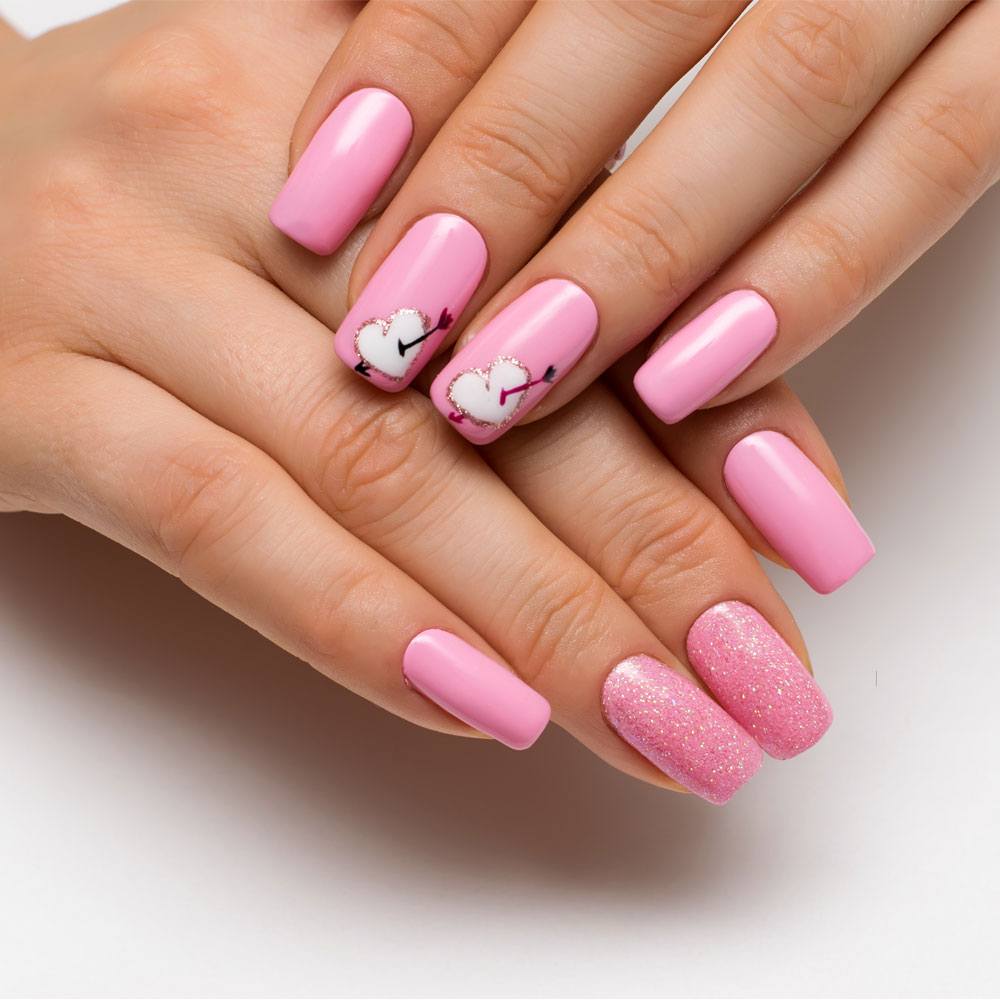 Credit photo: Shutterstock
i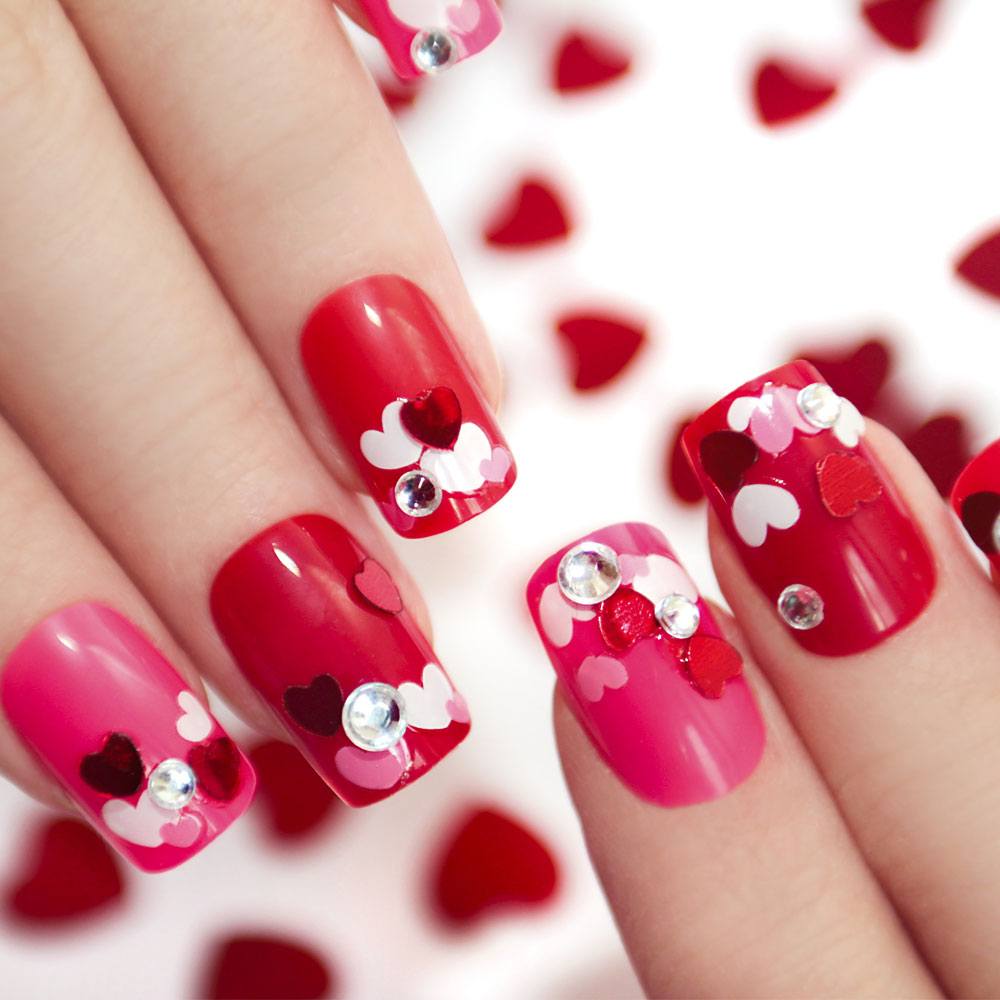 Credit photo: @nails.ninetynine
i
Credit photo: @rochas_nails
i
Credit photo: @nailsbycambria
i
/
At times when you wish to bring all the sweetness in you out – we suggest you think about suitable manicure in the first place. There is rarely anything lovelier than the mixture of pink colors and trendy nail art techniques. Let's not forget about that bling that cute hearts will bring!
Ombre Valentines Day Nails With Hearts Art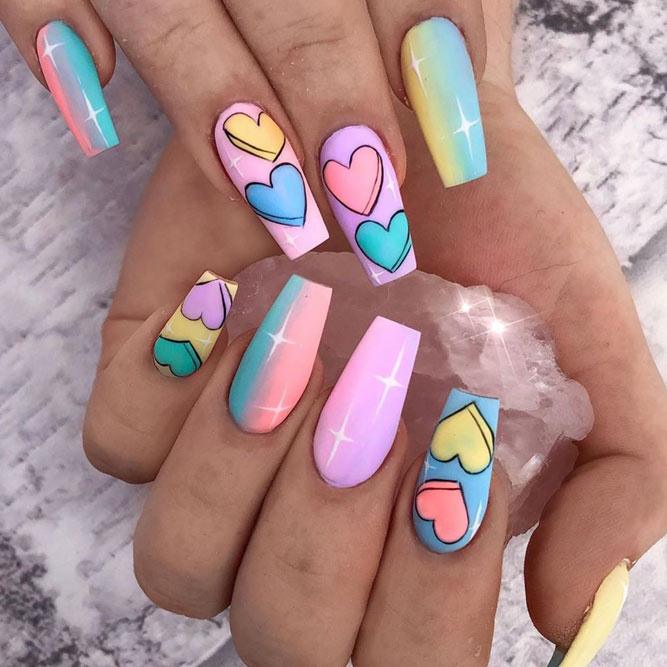 Credit: Instagram/onyxfiles
There are no boundaries as to how creative you can get before Valentine's. If usual pink and red tones are not your cup of tea – it is time to go full pastel. This extraordinary ombre with outstanding hearts all over is precisely what we have in mind!
Nude Coffin Nails With Heart Accents
Credit: Instagram/priscilla_nails
When bright manicure is not something you are willing to give a try to when the festivities are around the corner, you can spice the neutral art up. All you need to do is to add a few holographic hearts diagonally to your nude tips. We are more than sure that with a mani like that, you will look elegant and irresistible anywhere you are headed.
Dark Red Nails With Nude Ombre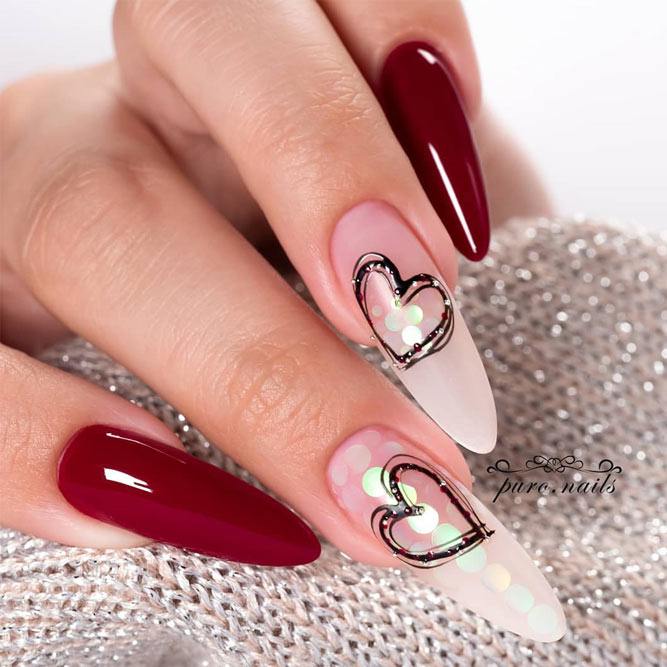 Credit: Instagram/puro.nails
Some ladies can't decide whether vibrant or nude they are willing to go when the holiday is approaching. If you belong to the category, then the balance of milky-white and wine-red is the one to pay attention to.
Red Colored Nail Designs with Hearts
Credit photo: Shutterstock
i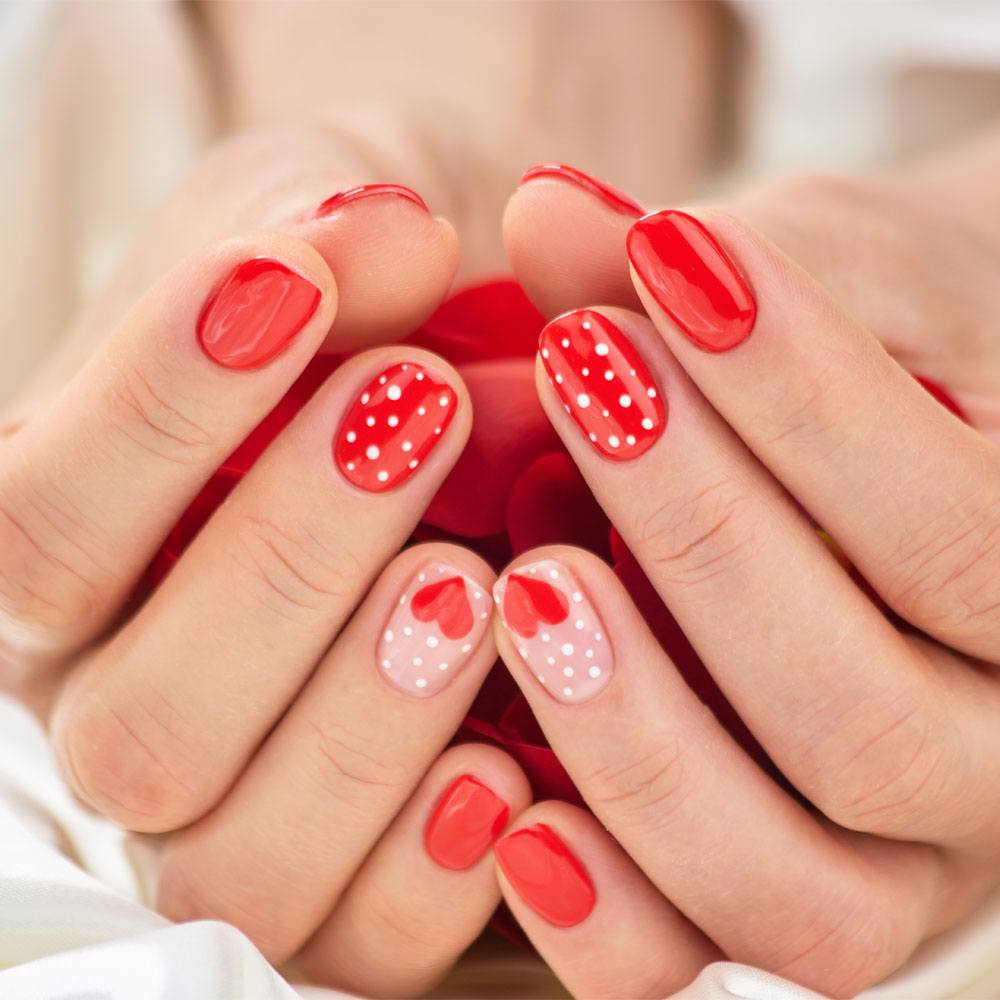 Credit photo: Shutterstock
i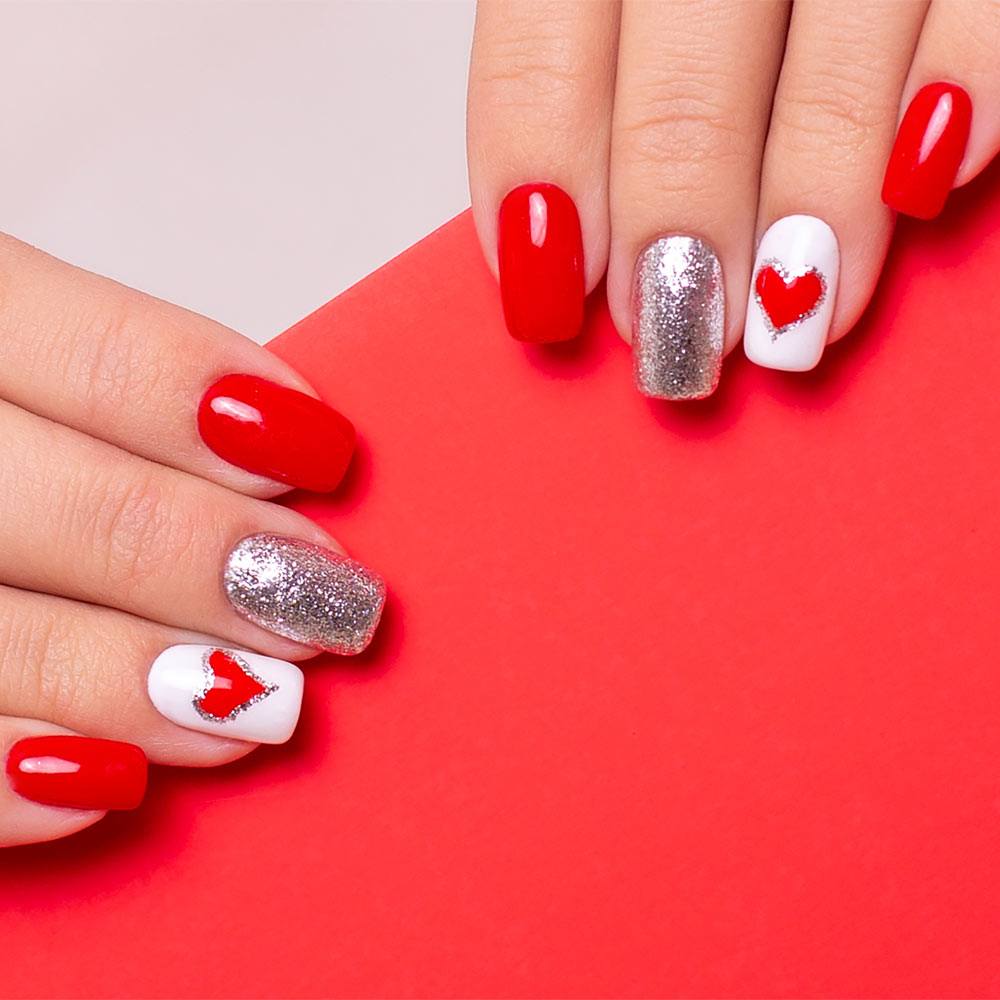 Credit photo: Shutterstock
i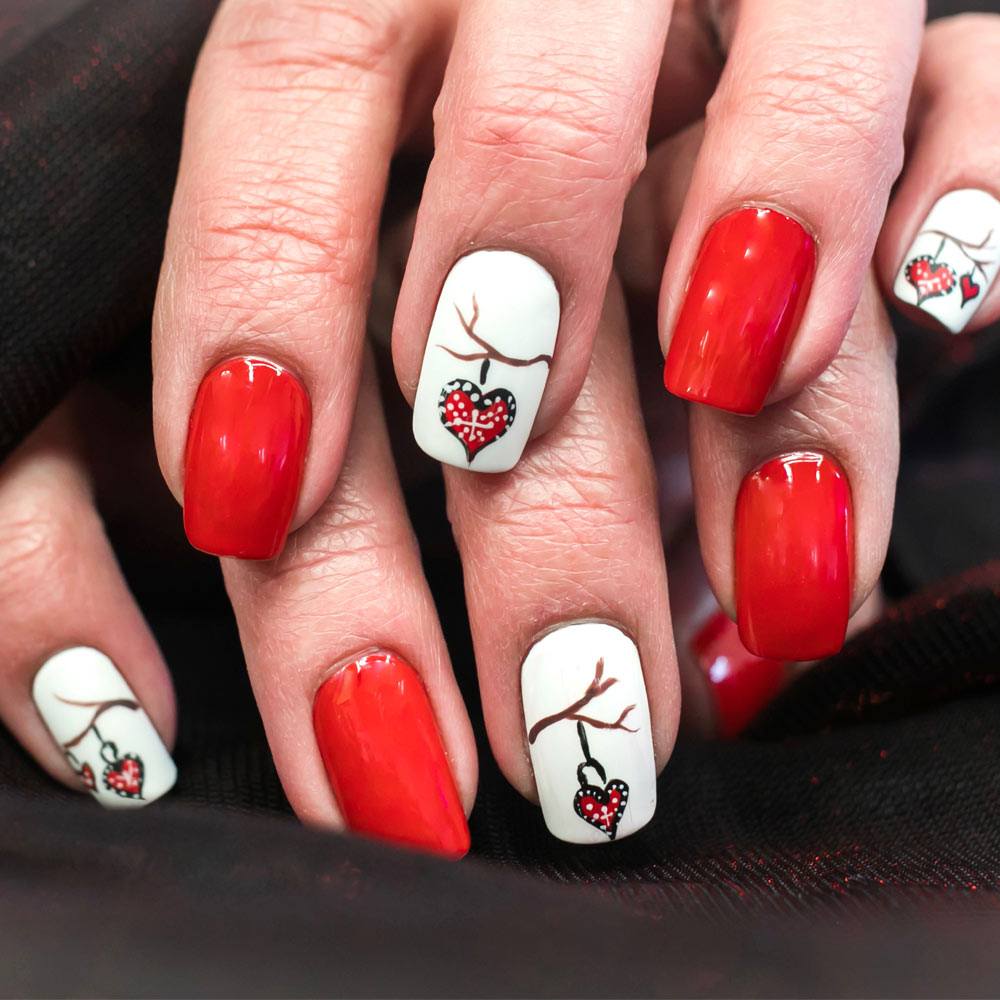 Credit photo: Shutterstock
i
Credit photo: @nailsbyjema
i
Credit photo: @doobysnails
i
/
The color red is still regarded by the nail care industry as a classic that never goes out of style. With red polish, almost all beautiful manicure ideas and patterns are possible, and valentine's day designs are no exception here. Nail salons now offer a wide range of unique components to brighten and spice up your nails. Feel free to include stickers with hearts, foil elements, sequins, and rhinestones.
Black Nails With Heart Art
Credit photo: Shutterstock
i
Credit photo: Shutterstock
i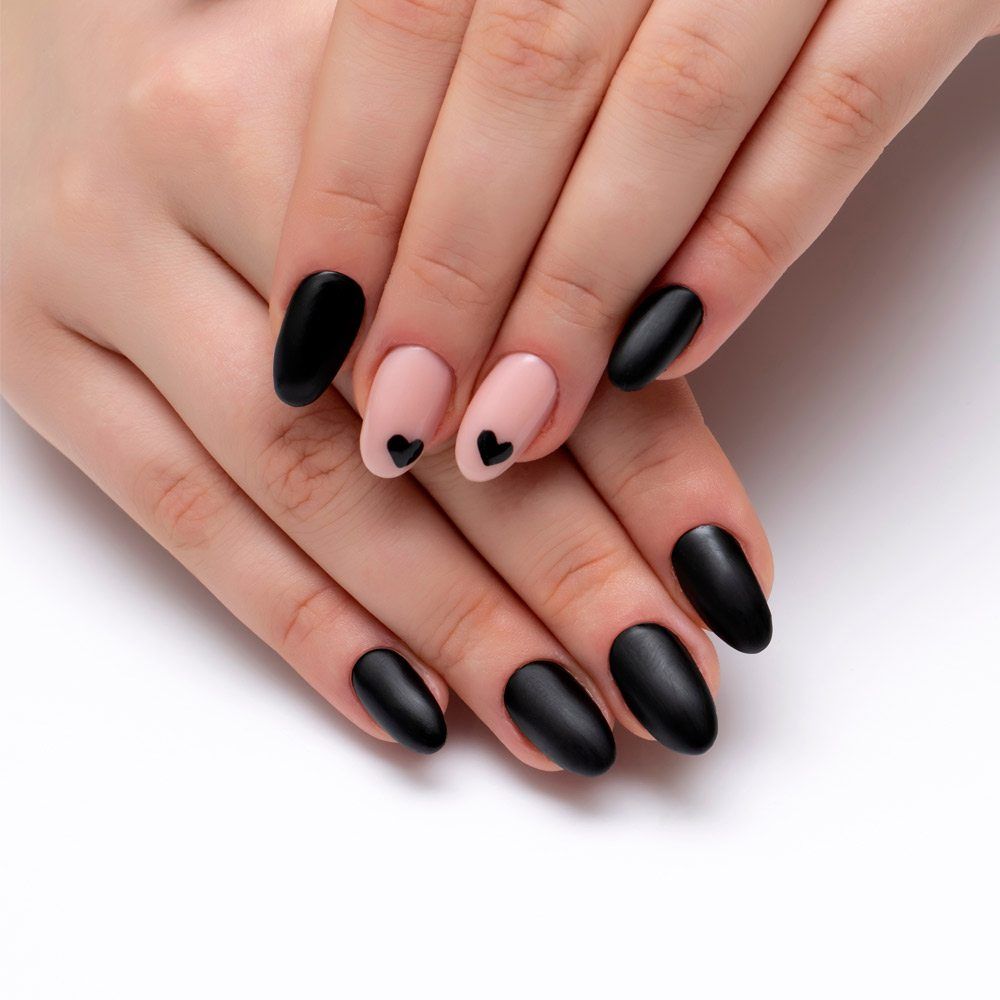 Credit photo: @priscilla_nails
i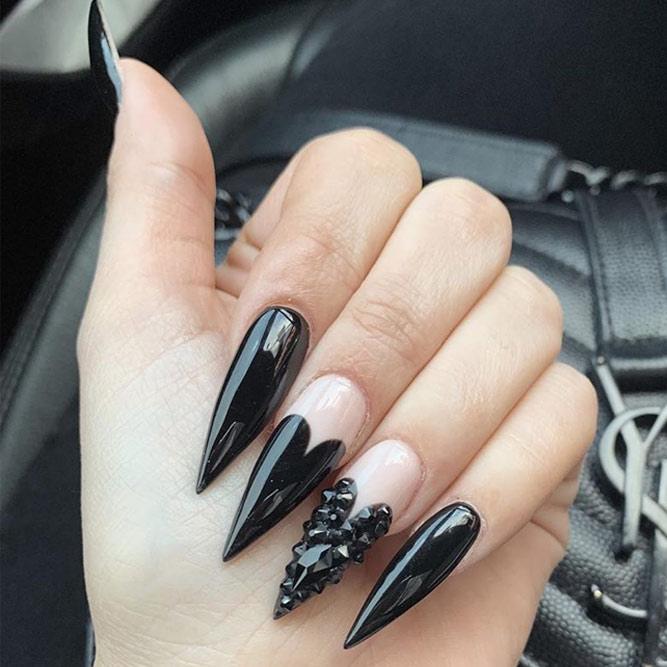 Credit photo: @nailsbyjema
i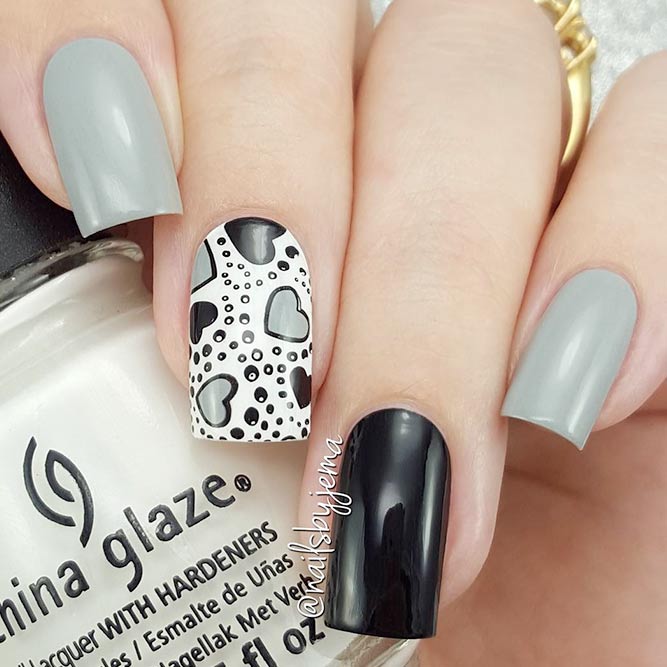 Credit photo: @nail_marina_disign
i
Credit photo: @lori_nails
i
Credit photo: @lori_nails
i
/
If you think that red is the only hue to apply to your nails when Valentine's day is on its way, you are mistaken. We say that even black nail art can be perfectly themed and fitting if you want it to. Black hearts are as cute as red ones but with a hint or dare to them. Any femme fatale would merely love it!
Red And Nude Valentines Nails Art
Credit photo: Shutterstock
i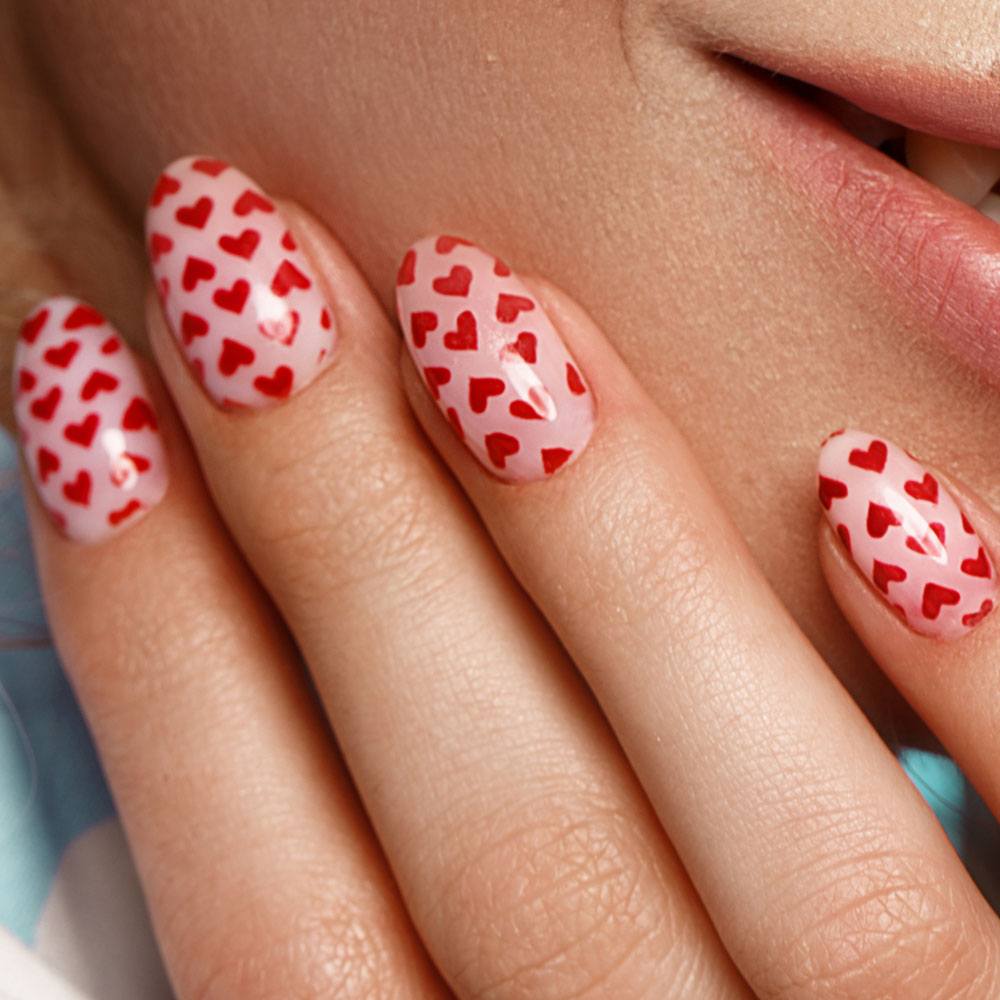 Credit photo: @shaniah.creations
i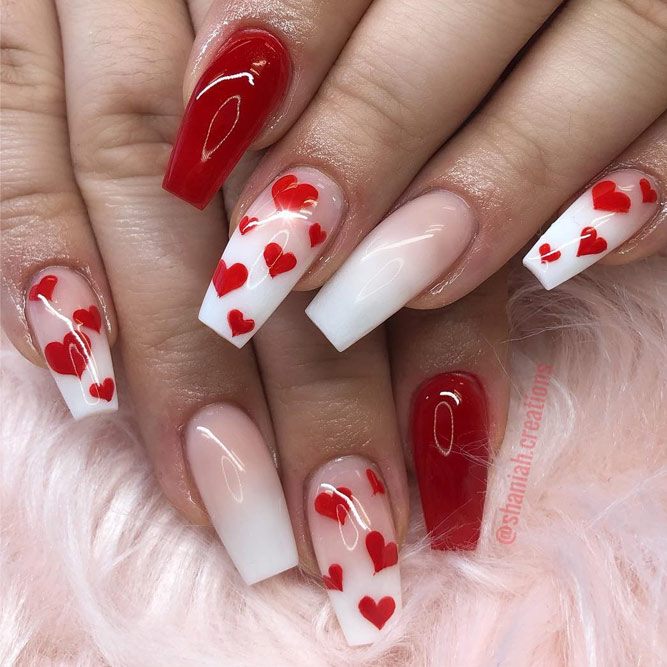 Credit photo: @sophielounge
i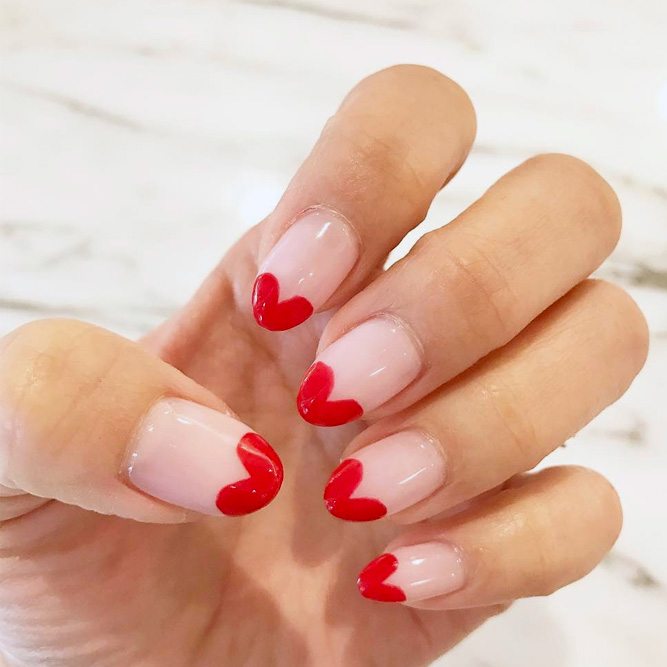 Credit photo: @lori_nails
i
/
There is barely any more elegant and timeless look than French ombre and classy red manicure. To add some more festive touch, you can sprinkle little hearts all over the ombre fade base.
Pink And Red Nail Designs For Valentines
Credit photo: @silvialace
i
Credit photo: @shoppricelessnails
i
Credit photo: @lemoney2
i
Credit photo: @swoonnails
i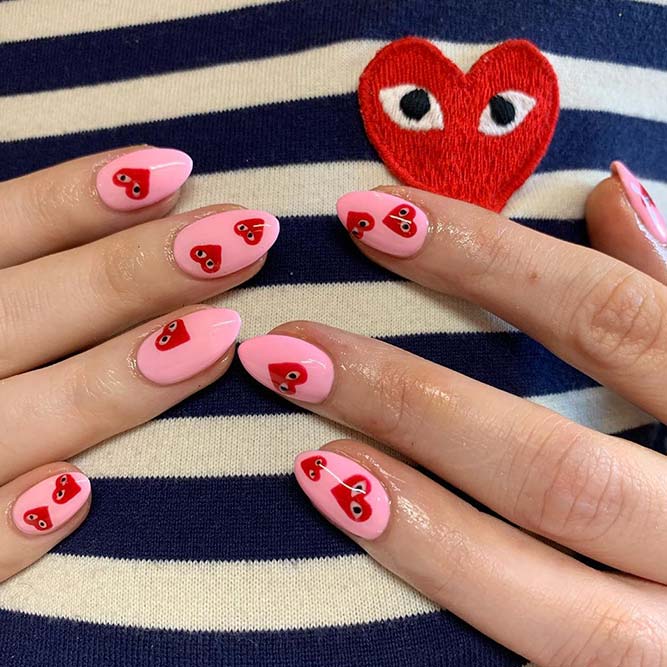 Credit photo: @aissandra
i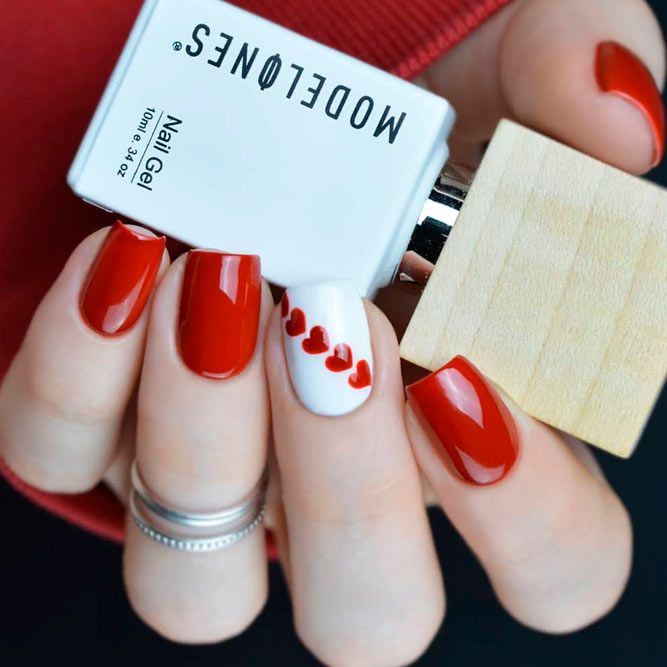 Credit photo: @mari_girl2203
i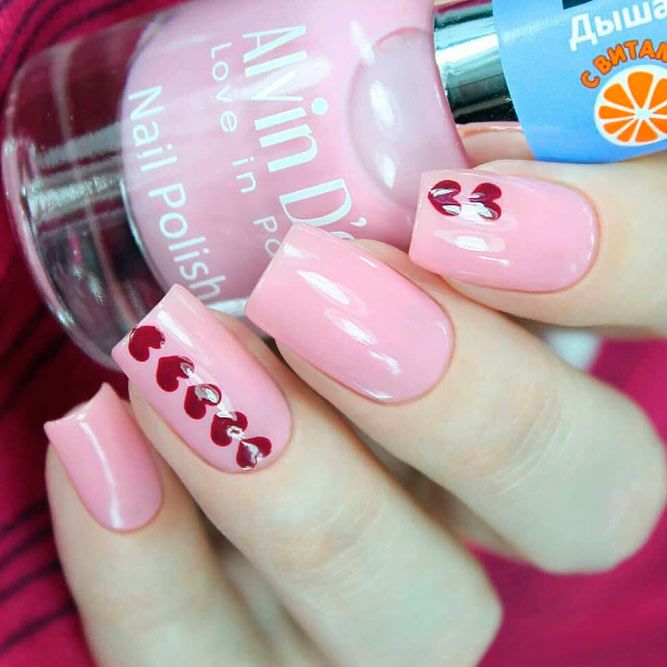 Credit photo: @nail_marina_disign
i
Credit photo: @just1nail
i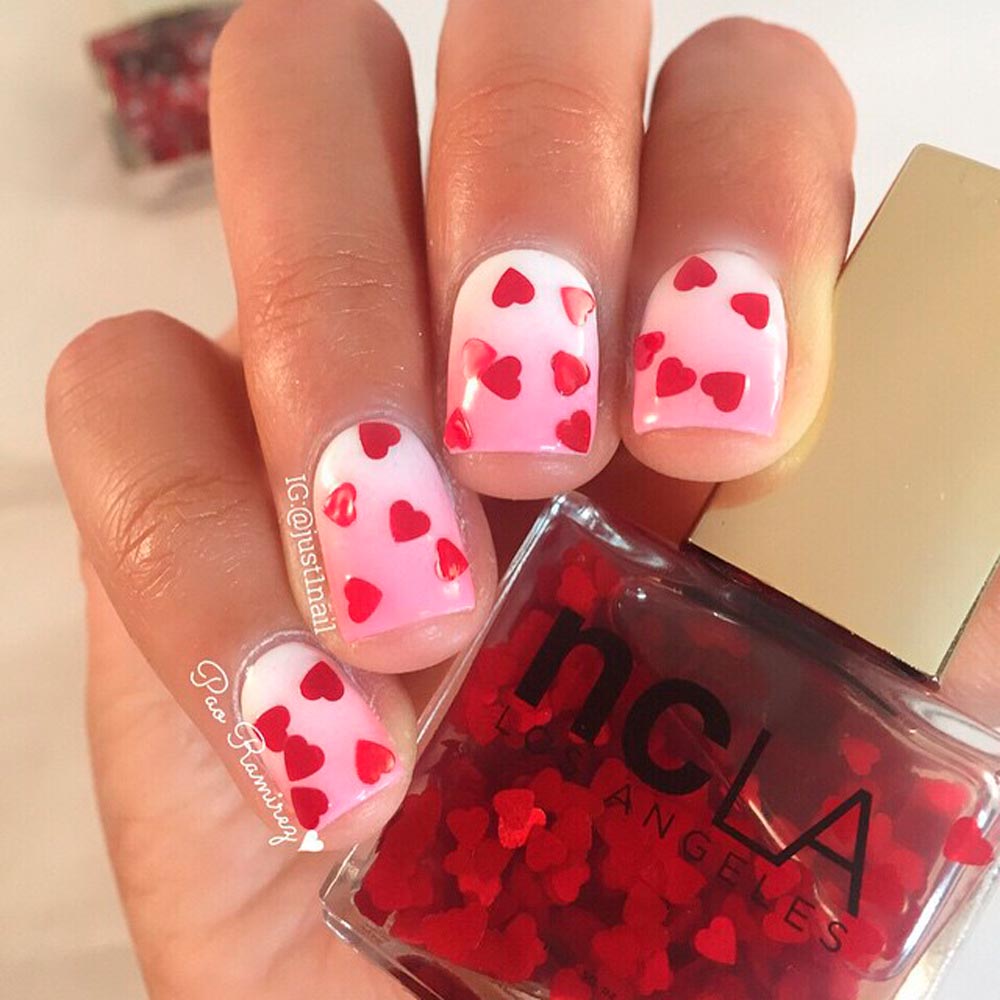 /
Undoubtedly, red and pink are traditional Valentine's Day colors. So why not take advantage of them and paint your nails in such sweet shades? You can combine them in one mani, creating a smooth ombre nail design. Besides, you can use them as accents paired with other colors, such as white or beige.
Polka Dot Valentines Day Designs With Hearts
Credit photo: @badgirlnails
i
Credit photo: @kimbernails
i
/
Adding flair to your look has never been so simple and enjoyable with polka dot nails! It's a great option for showcasing your romantic look in an original and elegant way. Polka dot nail design will definitely make you stand out of the crowd, whether you're striving for a modern or vintage Valentine's Day look.
Nude Shimmer Nails With Hearts Art
Credit photo: @nailartemarilia
i
Credit photo: @ira.nailart
i
Credit photo: @shannasnailadventures
i
Credit photo: @lori_nails
i
/
You can revive your traditional nude manicure, give it more depth and turn it into a true Valentine's Day masterpiece with just a thin layer of translucent shimmer! We love these soft twinkling holographic patterns... The shimmering in some of them is only visible under certain lighting conditions. This shimmer sometimes reads as nude on the nails, but it has a beautiful pearly shift that raises it a few notches. Thus, lovers of nude and/or matte nail designs have plenty of options to choose from on Valentine's Day.
Valentines Day Designs With Extra Glossy Lacquer
Credit photo: @joelyoceannails
i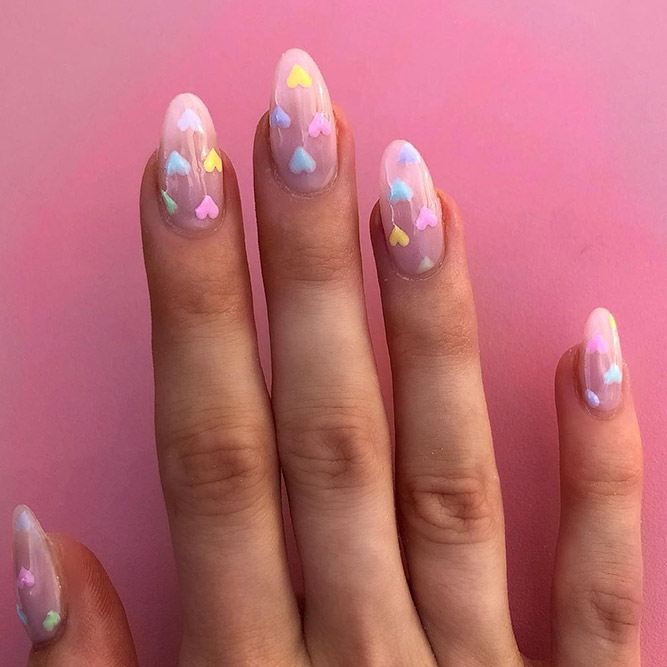 Credit photo: @nailsandtowel
i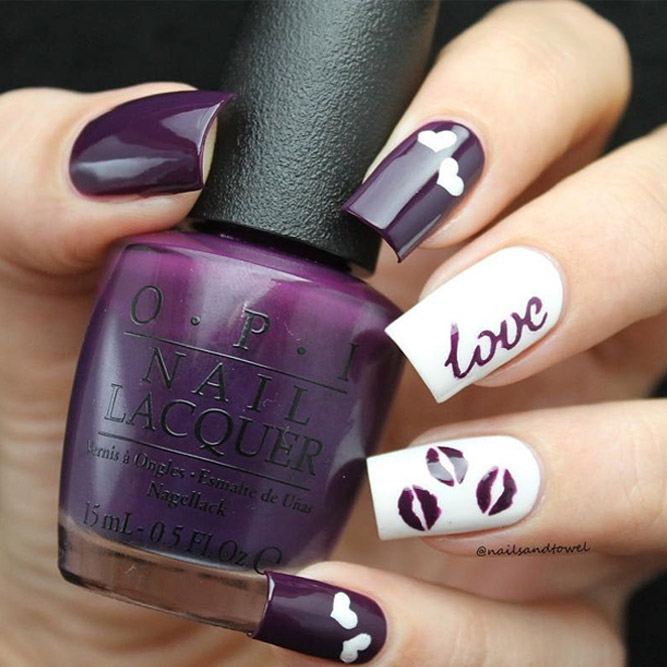 /
There are plenty of pretty nail designs that are worth trying for Valentine's Day. They will be a perfect accompaniment for your date night outfit, complementing it with a lovely and dreamy feel. Choose the style that speaks for itself and your date will certainly understand your feelings without any words.
White Base Valentines Day Nail Art With Tiny Hearts
Credit: Instagram/lackfein
Nail art can sometimes be pretty complicated. So, not every beginner would pull through and embody these pictures in life. Moreover, it requires some time to be done properly. But we are sure you will work it out with some efforts.
Cardiogram Valentines Day Nail Design
Credit photo: @badgirlnails
i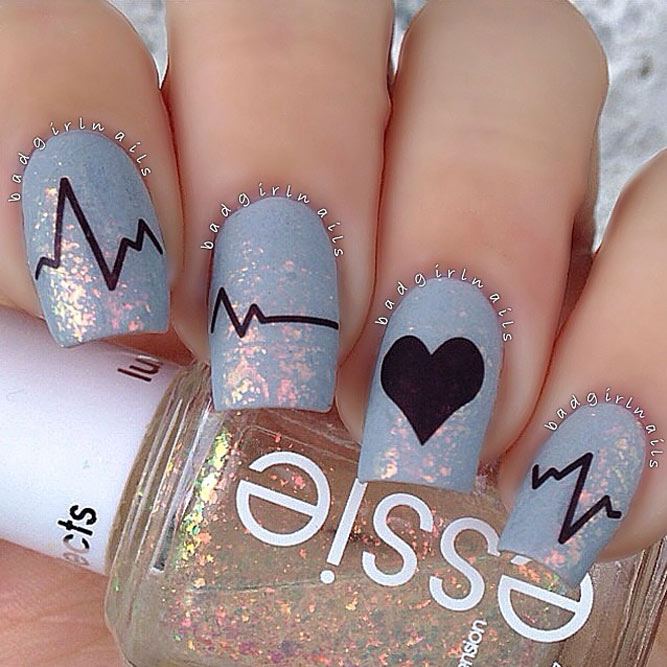 Credit photo: @iamdeliasnails
i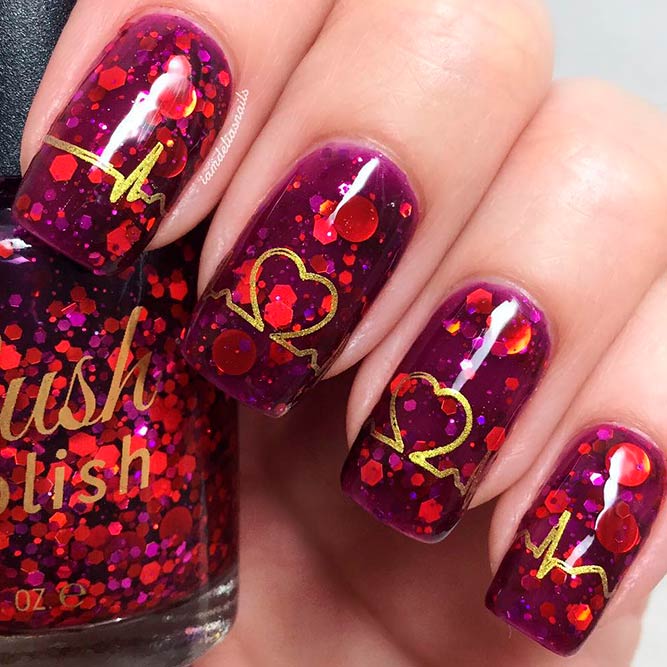 /
Cardiogram patterns are one of the hottest trends in romantic nail design and beauty world. As long as this design includes all the colors of rainbow, it will suit all your "lovey-dovey" looks perfectly. It may also be a nice option for Valentine's Day.
Nude Valentines Day Nail Design With Heart Shaped Sequins
Credit: Instagram/iloveyou432
This nude nail art may not only be your ideal daily look, but also a part of your gorgeous and inimitable Valentine's Day outfit, because it is both so discreet and still fascinating!
Tip: choose a hue of sequins that goes well with your base color if you want to look more sophisticated, or go bold and choose from directly opposite color shades. Also, note how long or short nails can both benefit from heart-shaped patterns, enhancing the beauty of your Valentine's Day nails!
Marble Valentines Day Nail Designs
Credit: Instagram/lori_nails
Marble nail designs are ones of our favorites! This romantic Valentine's Day marble nail design is so eye-catcing and inviting, which is what makes it so beautiful and lovely...Your nails will look trully special since they have that inimitable "sweet bit of punch".
Valentines Day Nail Designs With Romantic Messages
Credit: Instagram/just1nail
One of the best ideas to pull off for your Valentines day nails is a cute nail art design that features hearts of all sizes and colors harmoniously complemented by a sweet and/or cute love message. You can flaunt them as an accent or adorn each and every nail with them. Either way, you can rest assured that your mani will give off a sweet and romantic ambiance of the festival.
FAQ: Valentines Day Nails
How do you do heart art nails?
Soak the toothpick in silver lacquer and use the toothpick to outline the heart of each nail. When each nail is dry, apply a top coat to each nail and let it dry completely for another hour.
Is purple a Valentine color?
There are many legends in the tradition of celebrating Valentine's Day. Purple and lavender colors could still be used to make a meaningful Valentine's gift. They communicate the idea that the giver seemingly fell in love with the recipient. They also symbolize enchantment and originality.
REFERENCES:
What pairs best with chocolates, a teddy bear, or a bottle of wine? Valentine's day nails, of course—how else are you supposed to properly 'Gram your gifts? We present 35 nail art designs that are perfect to hold your loved one's presents or properly celebrate your singlehood, festively. Source
Valentine's Day is a holiday that happens on February 14. It is the day of the year when lovers show their love to each other. This can be done by giving flowers, chocolates, Valentine's cards or just a nice gift. Love notes can be given to one another. Source