The Collection Of Sexy Stiletto Nails
Stiletto Nails are becoming quite the trend for those who love elaborate nail designs! Thanks to celebs like Lady GaGa, Fergie and Rihanna for bringing back this popular style from the 1950's and 60's. More and more women are opting for this bold new look!
As far as nail art goes, stiletto style nails make quite a statement. They are basically oval shaped, but pointed at the top rather than rounded. They tend to be quite long and are therefore almost always fake nails. However, due to the fact that they are longer, they provide more options for detailed and intricate nail designs!
Acrylic nails are the best option for stiletto style nails as it makes them sturdier and they last long. That being said, if you're feeling daring, you can totally try to duplicate stiletto designs for nails on your own. If you don't feel comfortable with DIY nail designs, however, your favorite nail salon will definitely be able to help you out!
And for those who don't want super-long nails, stiletto nails don't have to be extremely long. You can alternate these stiletto designs to suit shorter nail lengths. The best part about this style of nails is that it is extremely versatile.
Glamorous Long Stiletto Nails With Nude Colors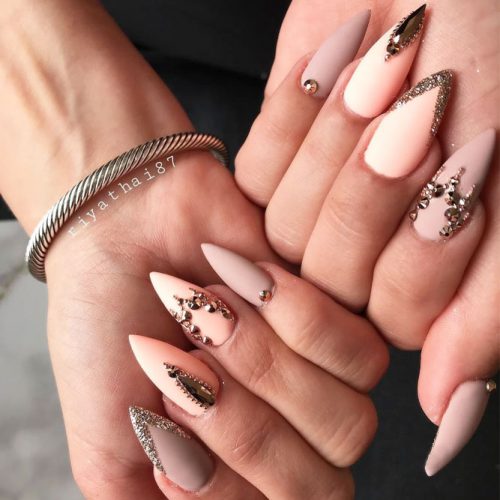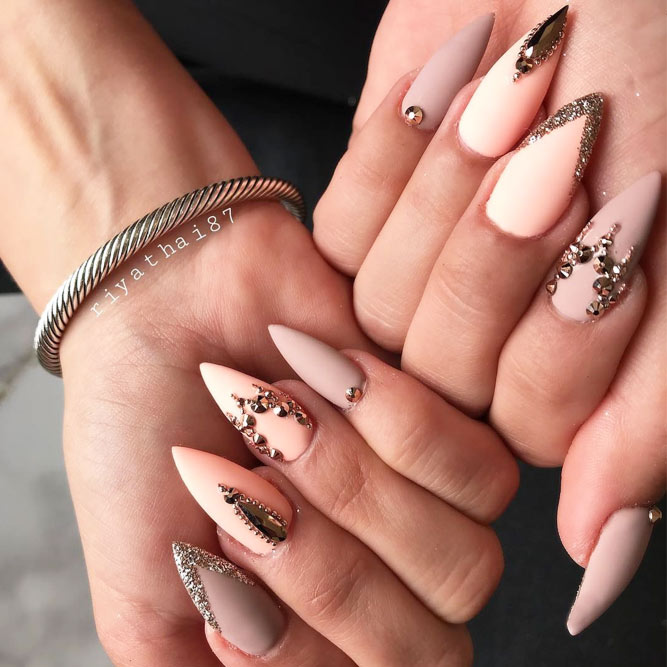 Source: riyathai87 via Instagram
One of the hottest trends in the fashion industry today is the nude stiletto nails. Pair this design with the matte nails design, and you're well on your way to a fashion statement. There are various embellishments that can add flash and flair to your nail design, but one of the most favorite additives are rhinestones. The nude color carries the French manicure accents into a new category, creating a fresh new look for these stiletto nails.
Long Stiletto Nails With An Ombre Design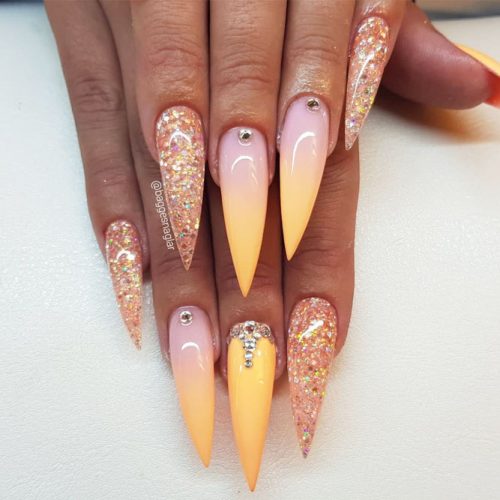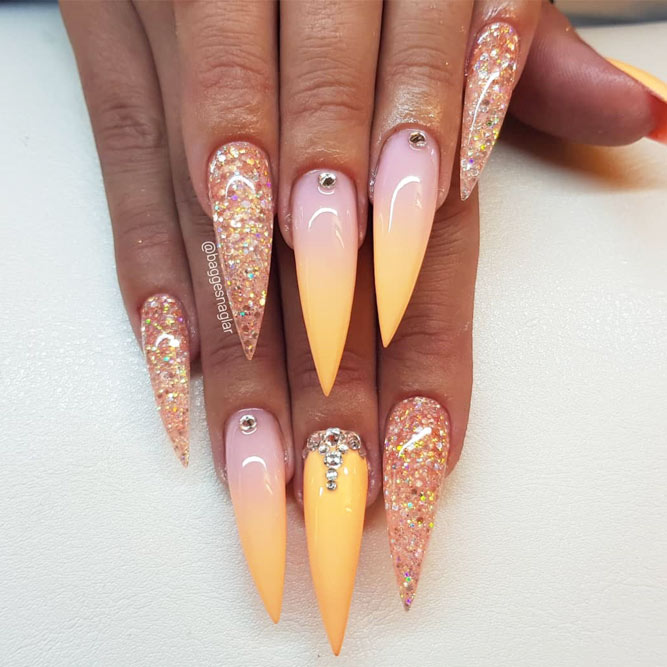 Source: baggesnaglar via Instagram
Delving further into the stiletto nail designs, we have this interesting combination of colors. This design has a little bit of everything. Glitter, rhinestones, and color are showcased in this stunning design. The pink to yellow ombre is a unique color combination that is a definite attention getter. The flashy glitter nails that act as bookends to this design add just enough flash to grab your attention without distracting from the detailed beauty of the centerpieces of the work.
Women have migrated from simply wanting a cute nail design to desiring elaborate and even extreme nail designs. The stiletto nails have even been classified as claws. And you can understand why they have obtained this classification – due to their appearance.
Stiletto Shaped Nails Design For A Special Occasion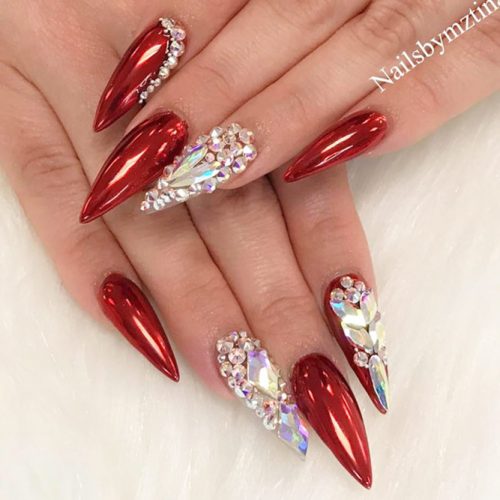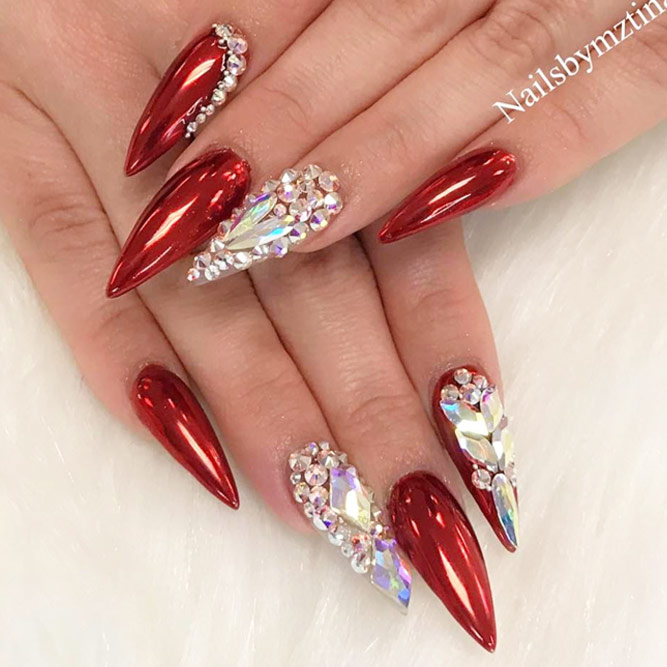 Source: nailsbymztina via Instagram
These shorter red stiletto nails have a deep, rich color that is red-carpet worthy. As opposed to long nails, this shorter version allows for beauty and lower maintenance. The accents of the rhinestone design on the nails keep the nails from being boring. This fashionable yet sensible style would be appropriate for virtually any occasion, whether formal or casual.
Black Matte Stiletto Nails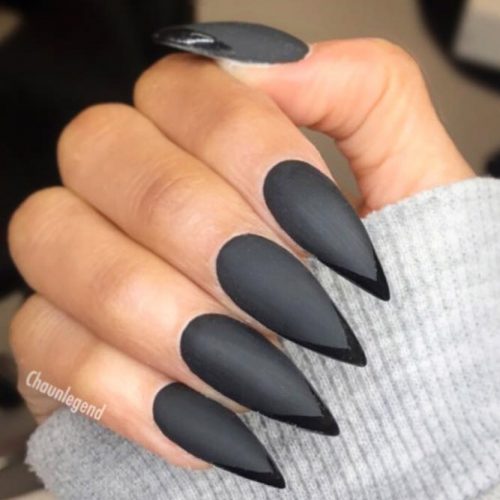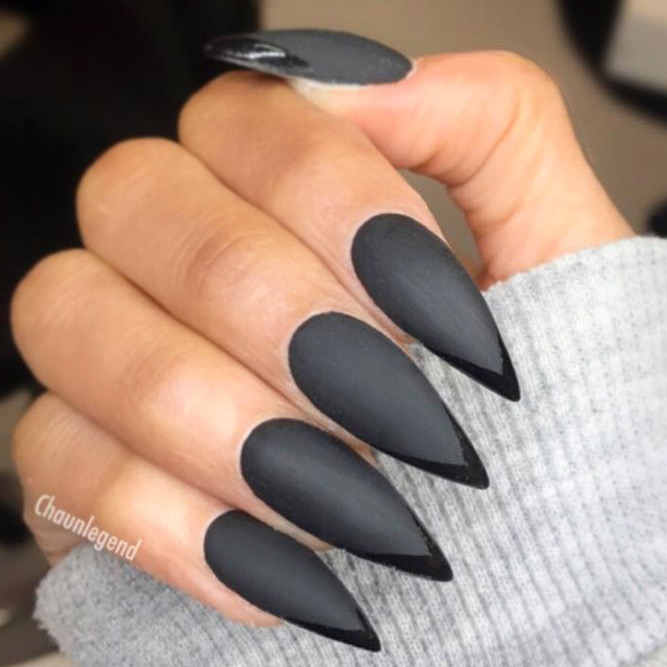 Source: chaunlegend via Instagram
Next, we will explore the stiletto nails matte polish. Typically, women prefer glossy polish on their nails, but matte has become increasingly popular lately. This model is wearing a black color which to some women may seem an undesirable color. But it has had resurgence in popularity. This nail job has a French manicure touch with the glossy black tips providing contrast.
Nails Design For Short Stiletto Nails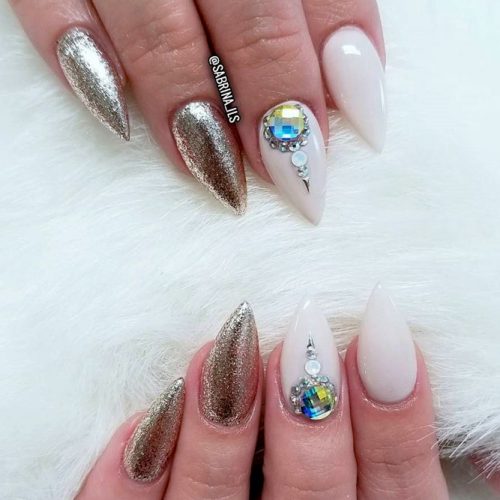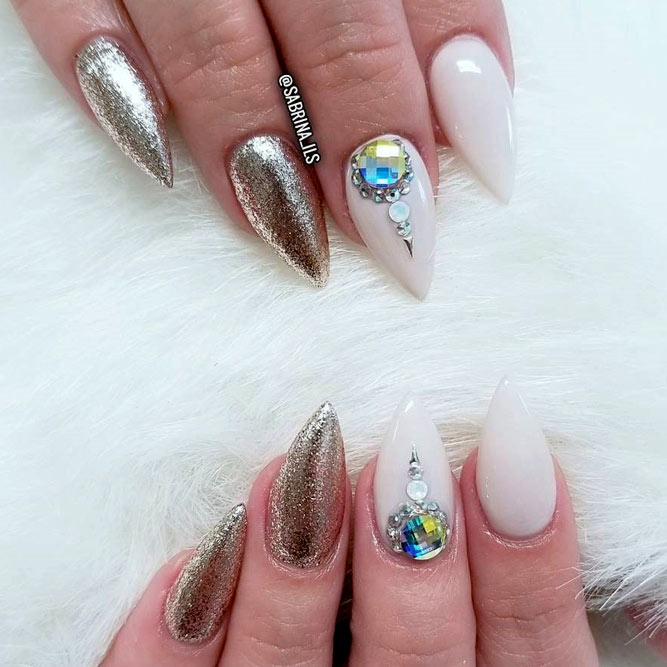 Source: sabrina_ils via Instagram
There are several lengths for stiletto nails, but the example in this photo is a short stiletto nails version. The gold glitter color provides an eye-catching shimmer and would be terrific as a single color. This nail design has incorporated a white color, which is also an unusual color by most standards. An additional flair has been added to this gorgeous nail design by placing rhinestones as the centerpiece of the nail design.
Beautiful Nails Design For A Classy Look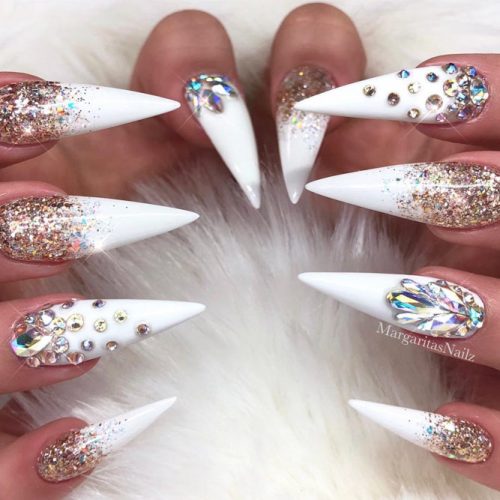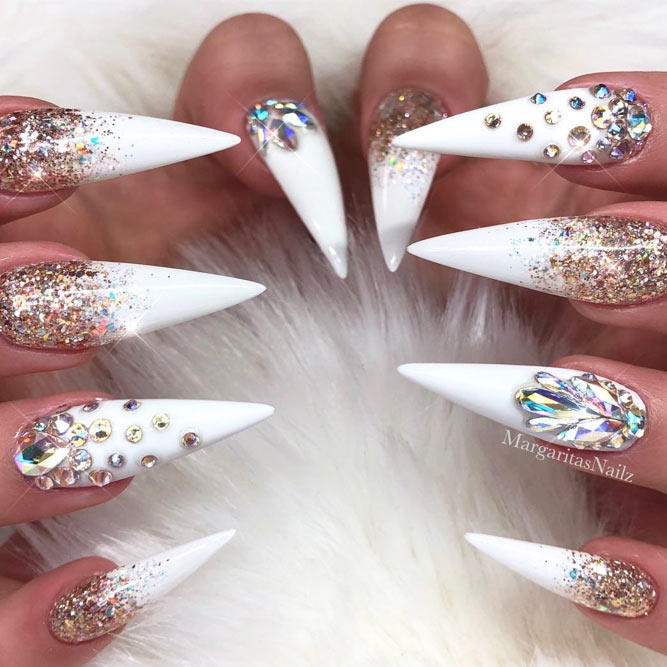 Source: margaritasnailz via Instagram
Believe it or not, these white stiletto nails are actually considered a classy design. These long length stiletto nails have a cat-like appearance. The gold glitter creates a beautiful contrast and is blended perfectly to create a great look. Rhinestones are incorporated to add more flash to this gorgeous look. The glitter polish is blended beautifully, and even the rhinestones have been placed in an ombre design.
Stiletto Shaped Nails Design For Every Day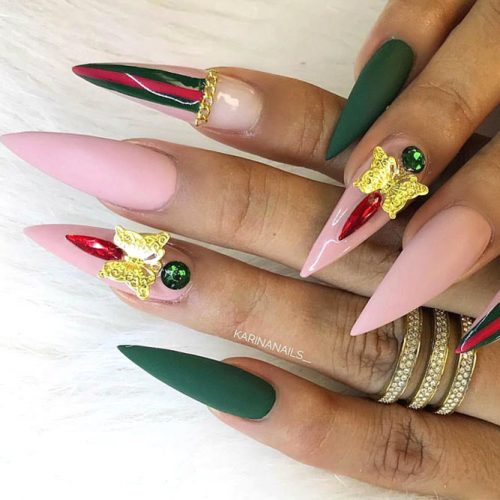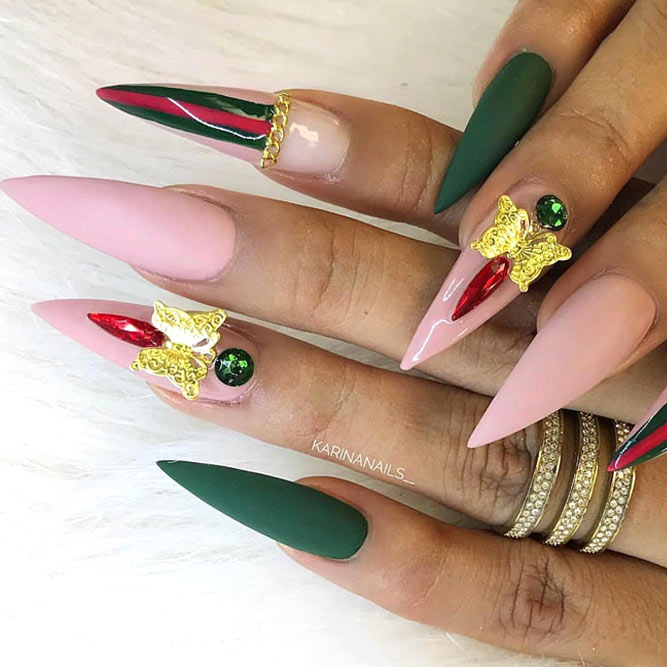 Source: karinanails__ via Instagram
While nails can be customized to suit any occasion, that doesn't exclude the fact that they can be worn every day like this example of matte nails. At first glance, you may not even notice the matte pink color. Due to the color contrast, your eyes almost automatically assume it is a glossy color. The green color on the pinky absolutely draws attention to this design. The increased surface area with the stiletto nails provides more space to be creative. Whether you choose to paint on or glue on embellishments, this type of nails offers plenty of room to decorate.
This type of nails, being more on the daring side, allows for more opportunities for women to express themselves in various ways with vivid colors and designs.
Nails Design With Purple Colors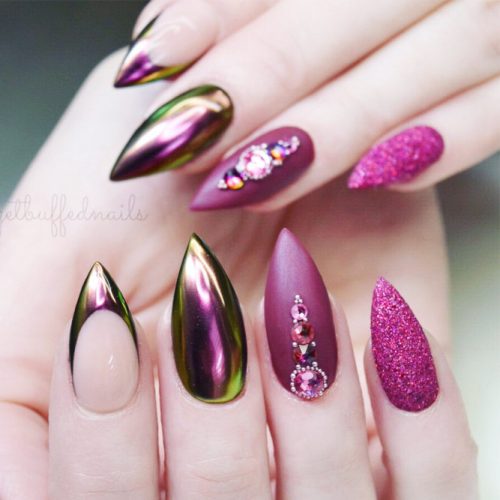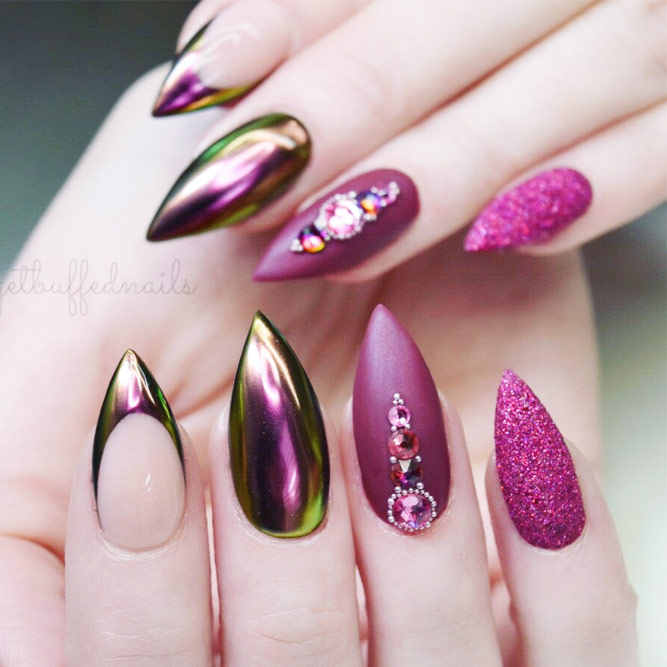 Source: getbuffednails via Instagram
This happens to be one of our favorite designs for medium stiletto nails. The chrome nails blend perfectly with the color choices. The French design on the index finger is also a nice touch to the overall nail design. The precise placement of rhinestones draws the eyes to the design. This is more of a medium length nail design which is usually easily maintained. The stiletto nails are considered one of the most extreme nail lengths for obvious reasons. With their sharp points that are more similar to daggers than fingernails, they could be mistaken for weapons. With a mid-length to a short length nail, you can perform daily activities with little to no interference from your nails. However, with a long length nail of this style, you will have to make some alternations to how you do certain activities to prevent damaging the nail finish and design.
Black Patterned Stiletto Nails Design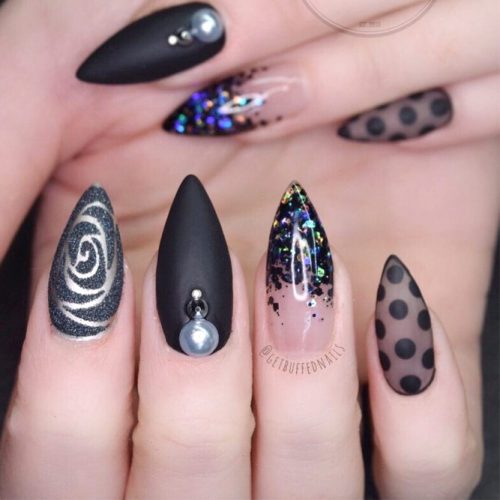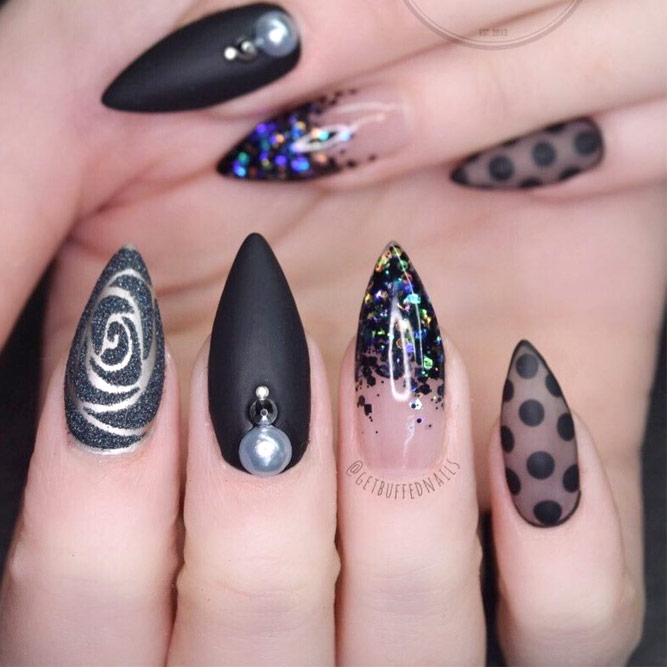 Source: getbuffednails via Instagram
Here we have another black stiletto nail design with various tones and even incorporated the black matte nails to blend with other finishes. The most adorable feature of this design is the polka dot design which is rarely seen in a matte finish. Another interesting concept of finish is the glitter ombre blending from a natural finish at the base of the nail to finish with a dark glitter color at the tip. Various types of designs can be placed on stiletto nails. Other types of nails are shorter and have a decreased surface area to polish. While black is becoming a more popular nail color, integrating designs and décor to the nail style has made the color even more popular. Amazingly, the base colors of black and white have become so popular that the typical bright colors that adorned nails in times past are becoming less common.
Bright Blue Nails Design With Glitter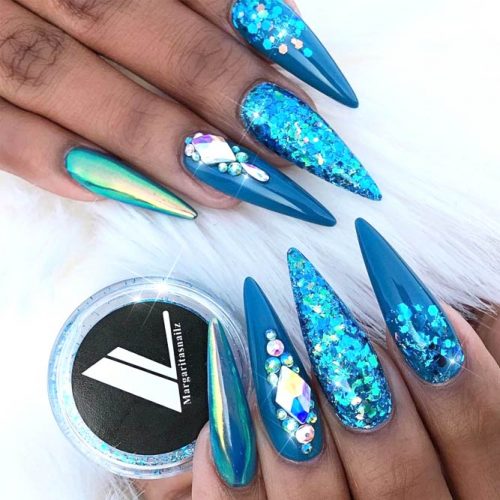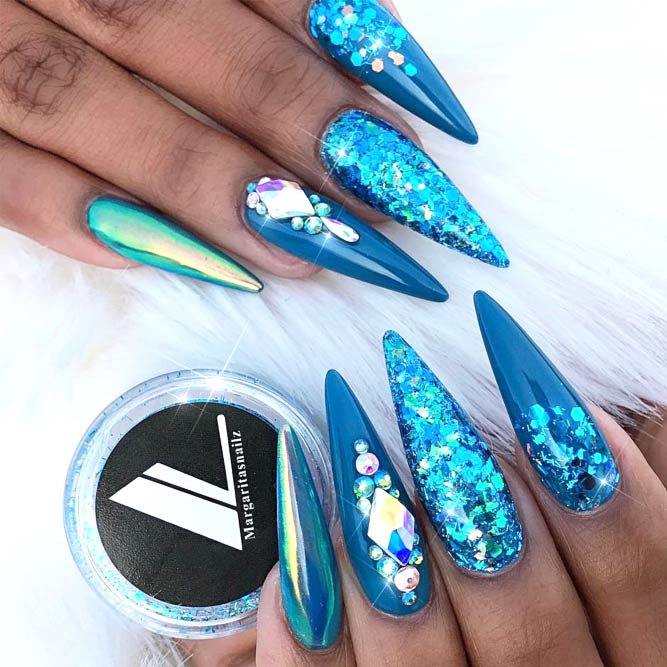 Source: margaritasnailz via Instagram
Next, we have a vibrant blue stiletto nails design that is stunning. The glitter ombre finishes add an interesting flair to the design, keep it interesting. The chrome design on the pinky nail blends perfectly with the base color choice. This extreme nail design could be classified in the category of costume jewelry, but women aren't wearing it for this purpose. They are wearing it as a fashion statement. Women choose to have elaborate designs and color schemes placed on their nails in order to accessorize their mood or specific taste. Vibrant colors always take a nail design up a notch.
Totally Tie-Dyed
Source: nailswag_bycathie via Instagram
This bright tie-dye design looks totally rad with these nail gems!
Princess Glitter
Source: _linadoll via Instagram
You'll look like you just stepped out of a fairy tale with these pretty nails that look as if they were delicately dipped in a pot of gold glitter.
Royally Regal
Source: laquenailbar via Instagram
This stunning purple with golden rhinestones will make you look and feel like a queen about to greet her court.
Kitty Claws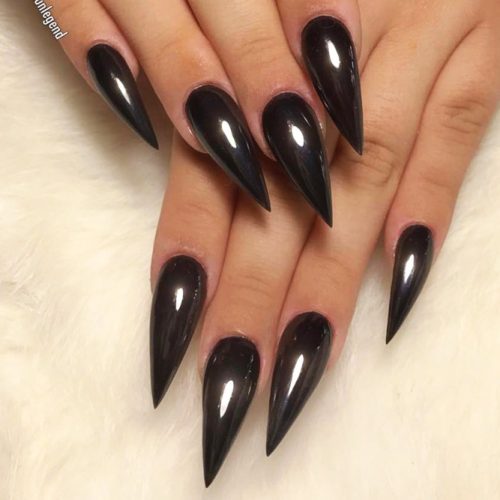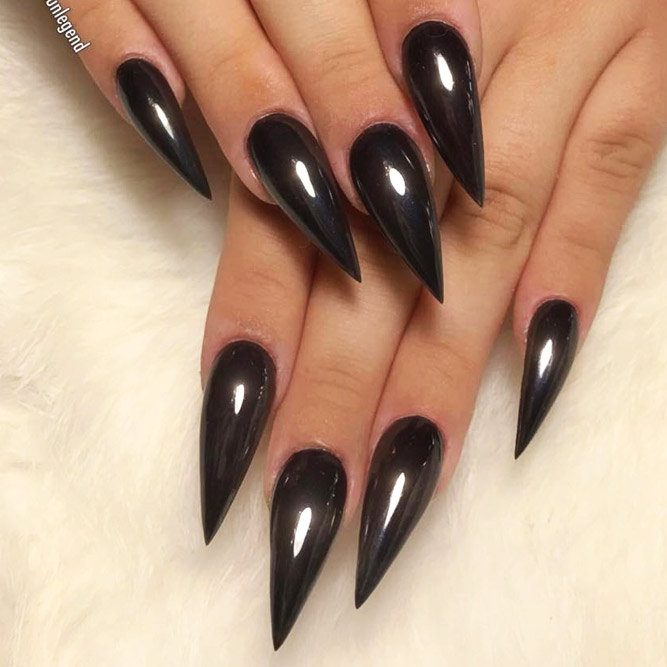 Source: chaunlegend via Instagram
This look is perfect for all those "Crazy Cat Ladies" out there. With this mischievous look, you will be ready to strike your prey at any moment.
Pretty In Pink
Source: fiina_naillounge via Instagram
These stunning pink solid nails are perfect if you want to show off your favorite ring.
Awesome Ombre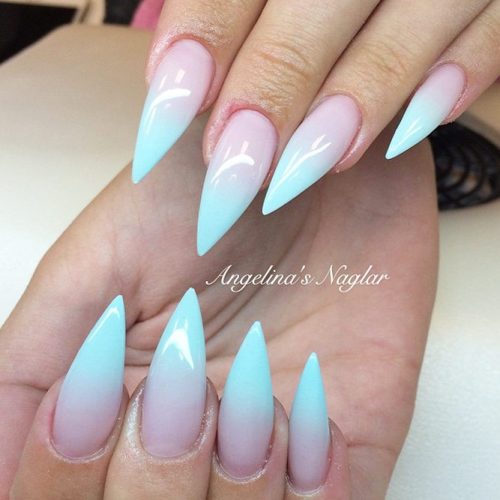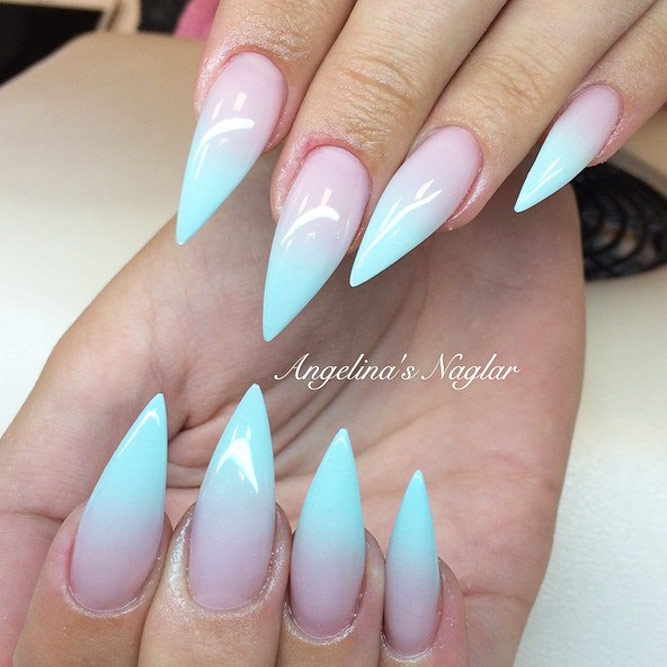 Source: naglargoteborg via Instagram
This fading ombre effect looks especially stunning on stiletto style nails.
Forever Flowers
Source: thenailboss via Instagram
This floral design is perfect for Spring and Summer!
Sand Art Nails
Source: nailsbyeffi via Instagram
This sand-art inspired design just screams for a day on the beach!
Dark and Moody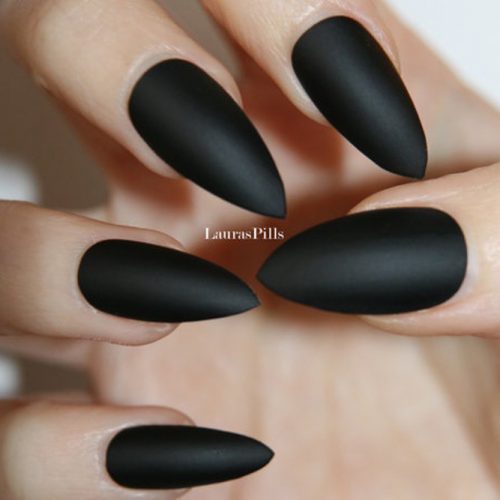 Source: LaurasPills via Etsy
This dark black matte look will show off your innermost feeling of darkness and gloom for a totally emo vibe.
Nail Bed Art
Source: laquenailbar via Instagram
With this stunning cluster of gems at the nail bed, you'll be ready for a fun night out on the town.
Simply deVine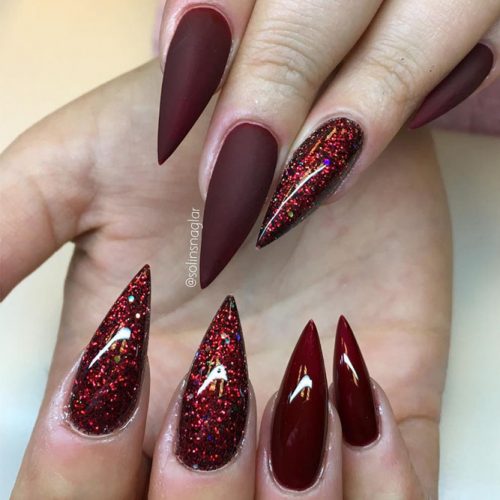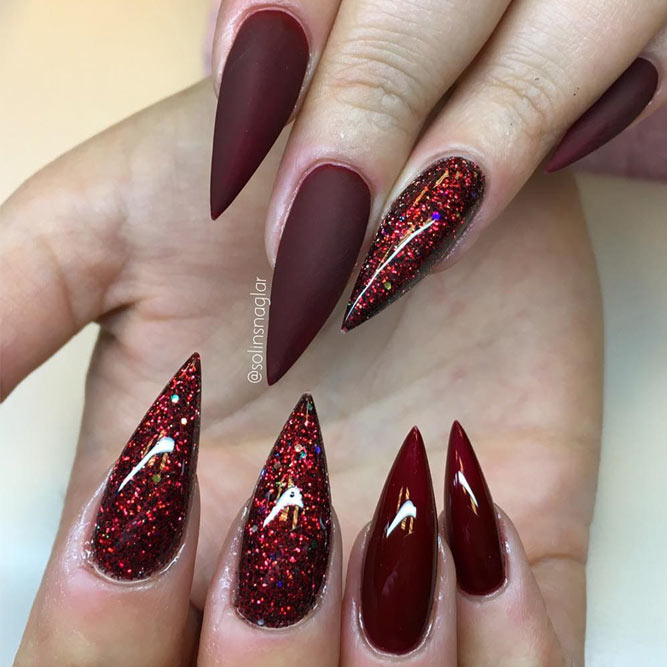 Source: solinsnaglar via Instagram
This intricate design of twisting vines is quite impressive
Ravishing Red
Source: laquenailbar via Instagram
These metallic red nails are perfect for Christmas or Valentine's Day.
Halloween Nails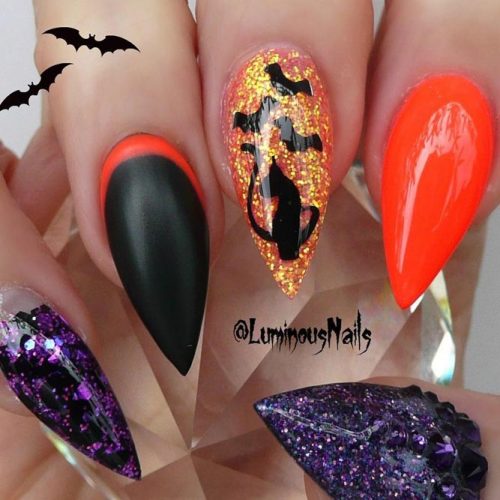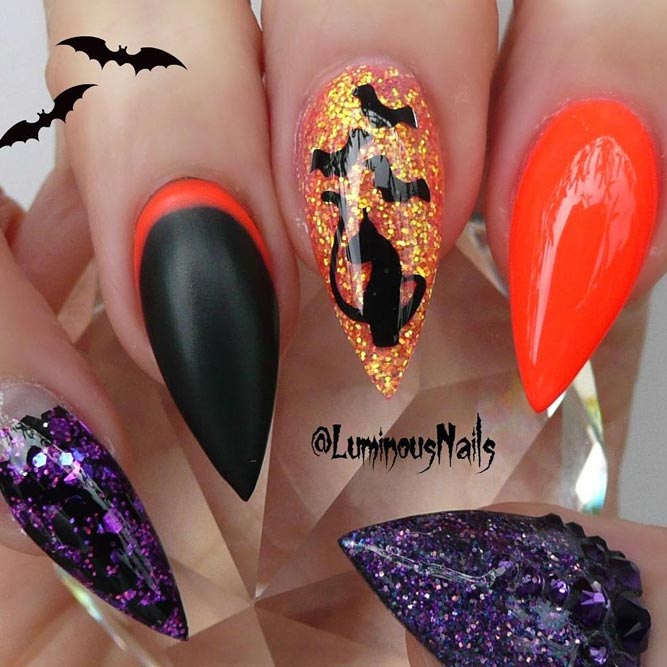 Source: luminousnails via Instagram
We love this alternating orange, purple and black design, especially the black cat on the ring finger. If cats aren't your passion, opt for a pumpkin, a witch's hat or a ghostly design!
Glitter Glam
Source: margaritasnailz via Instagram
This brilliant metallic glitter design makes quite a statement if you love bold colors.
Electric Blue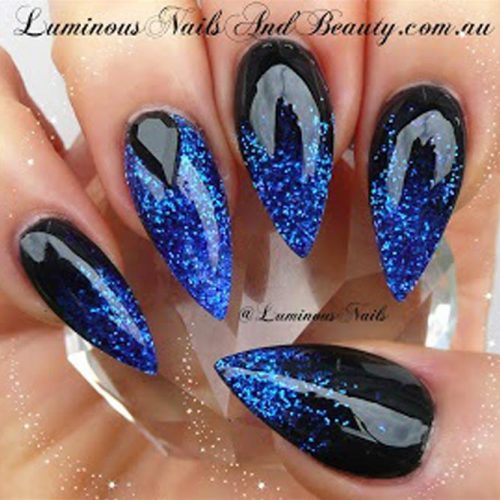 Source: Luminous Nails
These dark blue tips on a black base are quite elegant and stylish.
Pretty Pastels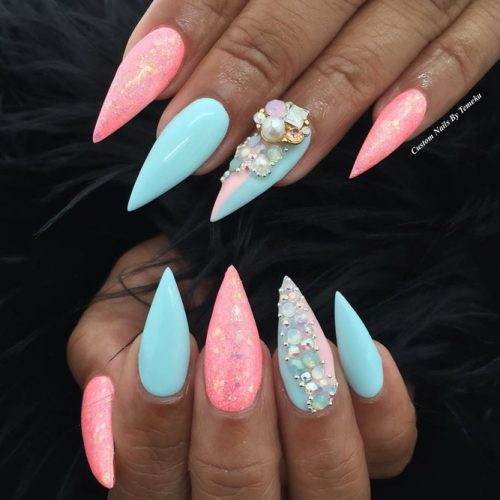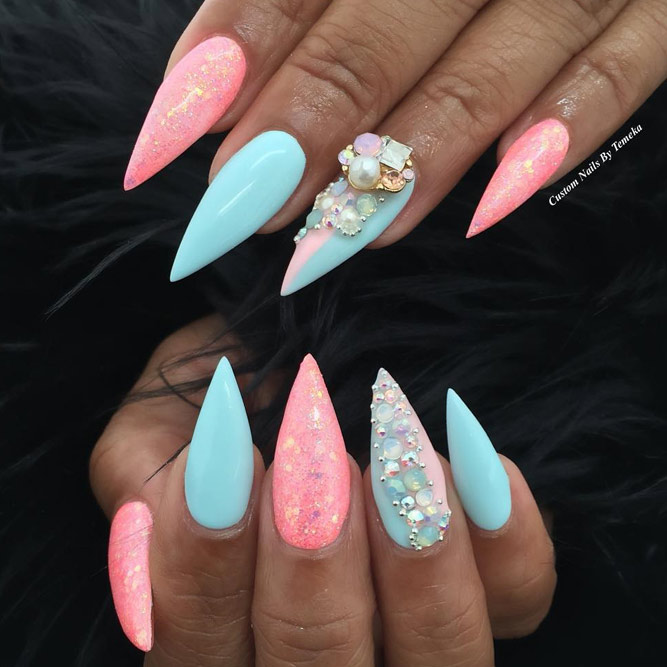 Source: customtnails1 via Instagram
Try a different pale pastel color on each nail for a soft and feminine look that is perfect for summer days.
Hearts Abound
Source: ivet_nails via Instagram
These heart tips on a soft nude base are quite romantic.
Leather and Lace
Source: laquenailbar via Instagram
This delicate black lace design on white nails is delightfully demure.
Golden Half Moons
Source: malishka702_nails via Instagram
These sparkly gold half moons on a soft pink base are just dazzling.
20. Black and White
Source: paulina_alaiev via Instagram
If you want a simple, yet elegant look, these black swirls on a white base are classy and fashionable for any occasion.
Purple Chrome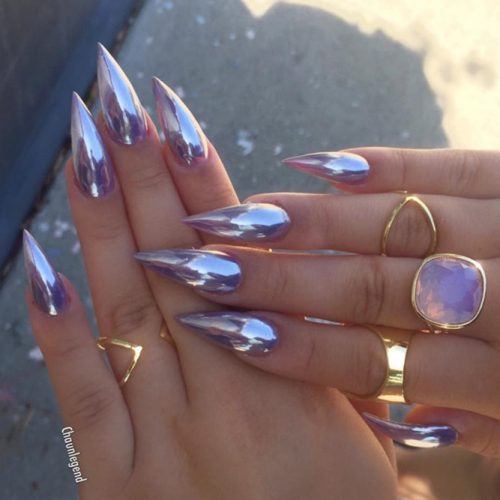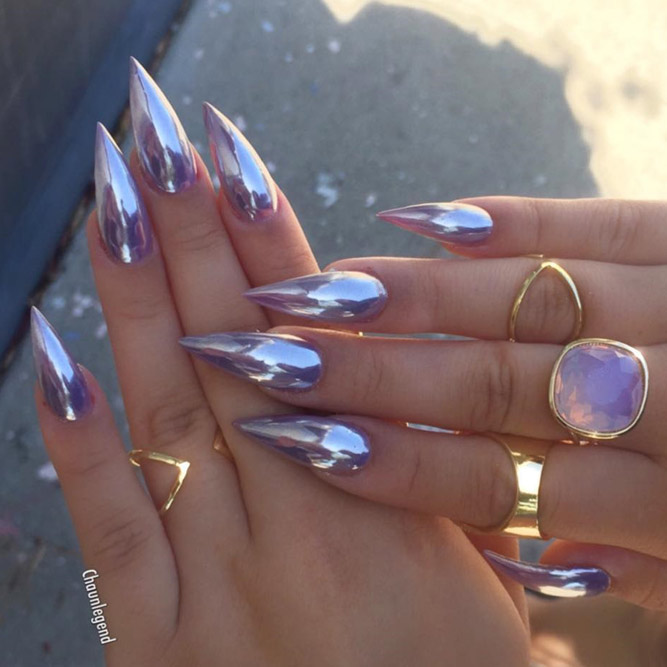 Source: chaunlegend via Instagram
Choose a magic chrome nail design that will demonstrate actual glamour and sparkle.
Mix Designs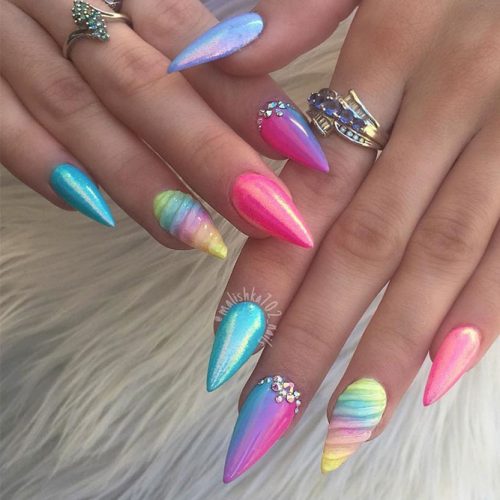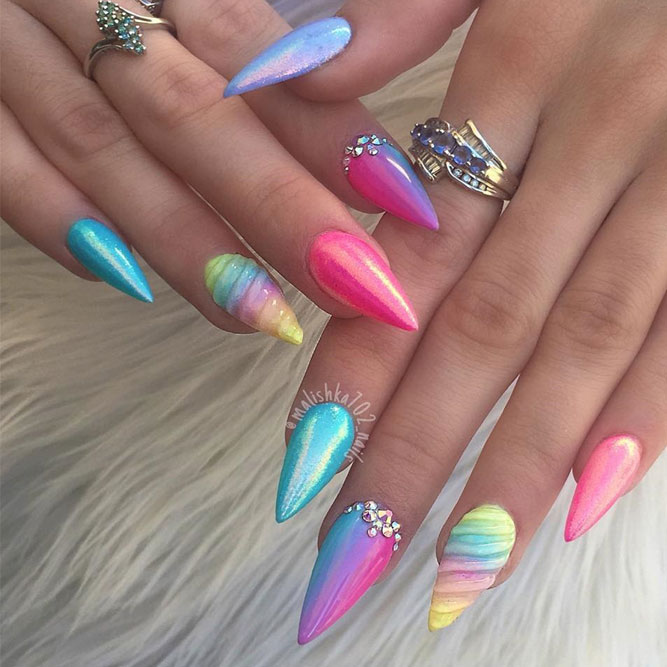 Source: malishka702_nails via Instagram
We love this mix of designs. Glitter, rainbow, chrome, ombre, unicorn - all these create the perfect mani for summer.
Black Cherry Mani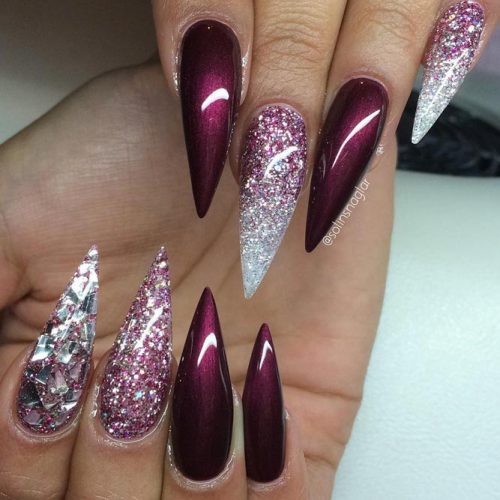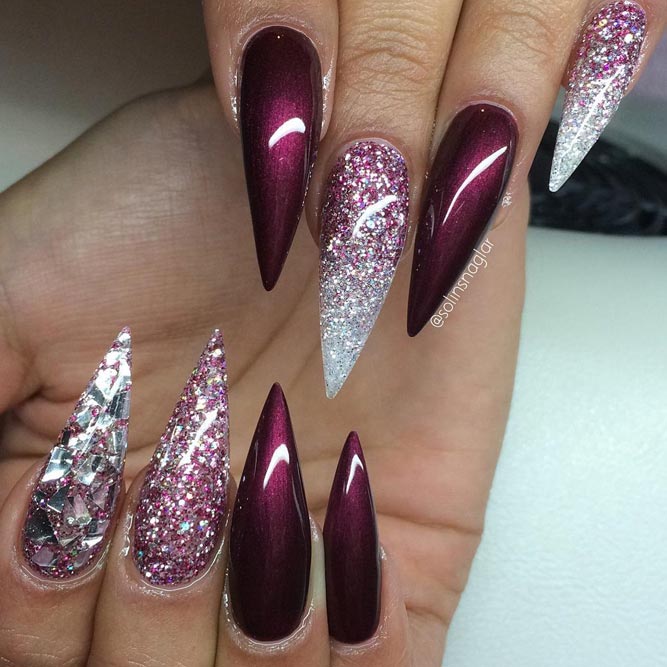 Source: solinsnaglar via Instagram
Perfect depp cherry color with blended glitter will make your mani amazing!
Glitter Ombre Nail Design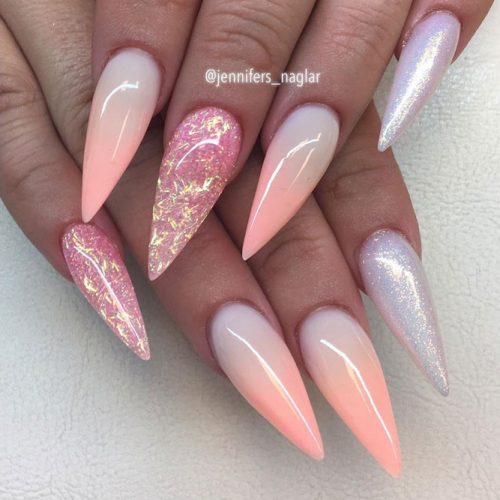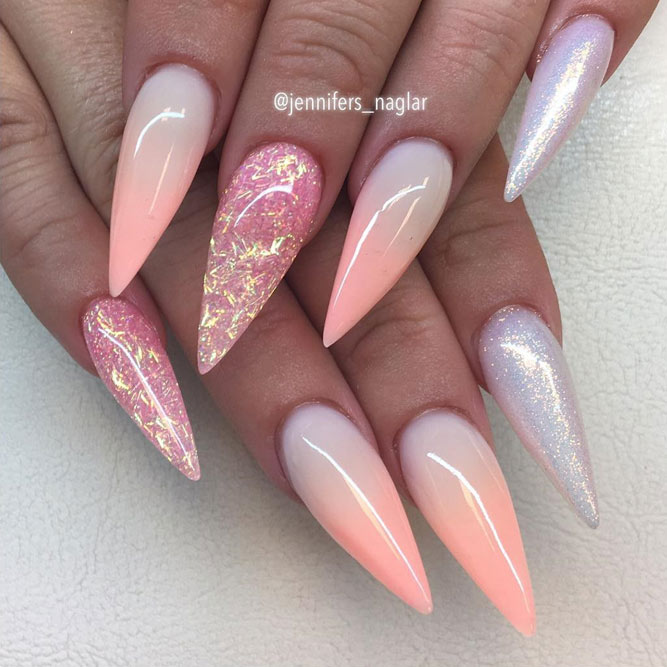 Source: jennifers_naglar via Instagram
If you like creative ombre nail design, you can add some fresh glitter to your mani. Pink frosted art is super modern this season.
Black Matte Stiletto Nails With Glitter Accent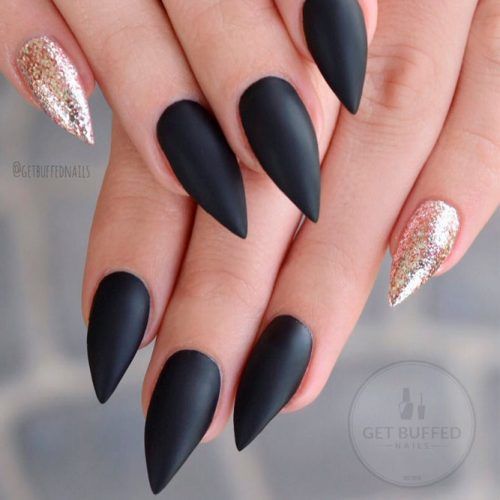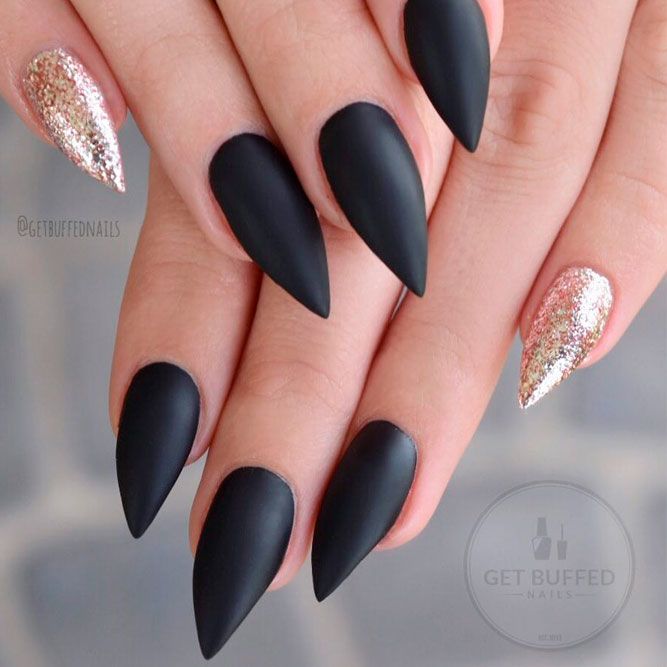 Source: getbuffednails via Instagram
Black stiletto nails break all the rules of a classic manicure, which state that you should only wear short nails in this bold color. Although painting stiletto nails black is rather a daring decision, it fully pays off with tons of compliments you are going to get left and right. Moreso, you can opt for a manicure with a matte finish, which has been all the rage for the last couple of years. If you find that matte black stiletto nails are a little too much for you, accentuate some of the fingernails with pink gold glitter, which will add a glamorous yet tasteful touch to your eye-catching mani.
Pink Stiletto Nails Design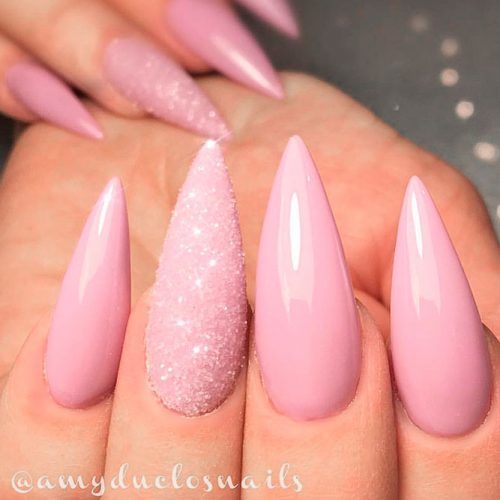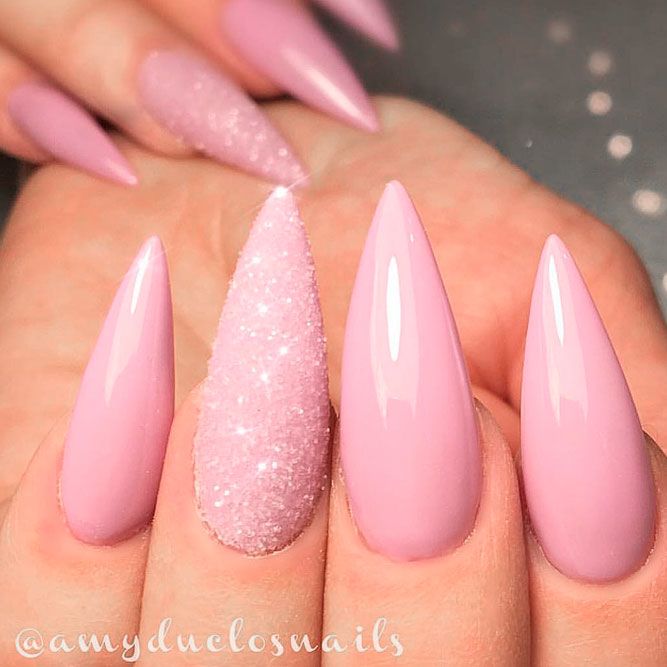 Source: amyduclosnails via Instagram
Have you always shied away from wearing a pink manicure because you have considered it too girlie and sweet? Not with stiletto nails though. With such a bold shape, any color gains sharpness and edge. Besides, pink stiletto nails offer you a wide range of options, as this pretty color has so many different shades, from powdery pink to crazy magenta, that you will definitely be able to find the one that matches your tastes perfectly. As now you should not be afraid that your mani will come out cheesy, you can go for basically any design solution, such as accentuating your nails with sugary pink glitter, for example.
Easy White Stiletto Nails Design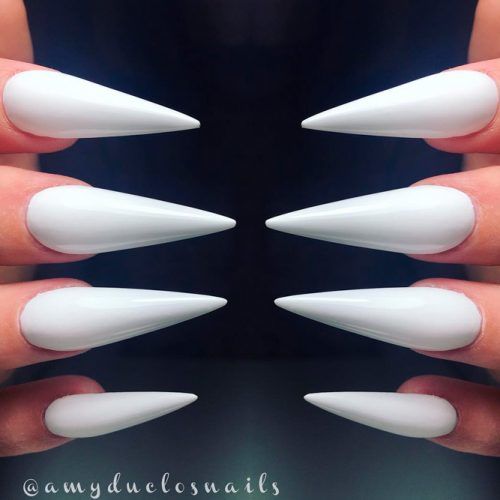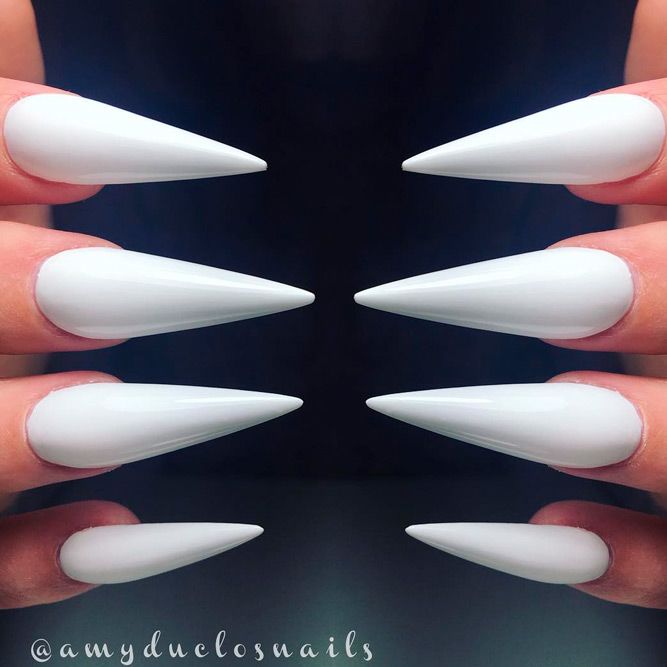 Source: amyduclosnails via Instagram
White stiletto nails clearly demonstrate simplicity in its finest. Even though this manicure doesn't feature any additional stiletto nails designs, it nevertheless seems elegant and attractive. A white mani is just like a little black dress. It suits any occasion and ambiance. And when pulled off on stiletto nails, it also makes a strong fashion statement. No matter whether you choose it to accentuate your beautifully tanned skin or welcome the holiday season, you can rest assured that your manicure will always look flattering and eye-catching. Besides, if you get bored of a plain white color but still want to commit to it, you can play around with the finish instead, choosing from high gloss to matte and everything in between.
Matte Red Stiletto Shaped Nails
Source: botanicnails via Instagram
Matte stiletto nails are obviously not a newcoming manicure trend. However, they are definitely a stayer. Thus, if you are planning on going for red stiletto nails, then why not opt for a matte finish too? Despite looking so flamboyant, matte red stilettos don't cross the border that separates them from being considered kitsch. The velvety finish instead adds an exquisite and even royal flair to your mani. People will not only want to get a closer look at it but also touch this heavenly texture. Again, if painting all of the nails in matte red is either too much or too plain for you, you can always get away with enhancing your manicure with an elaborate nail art design.
Nude Stiletto Nails With Rhinestones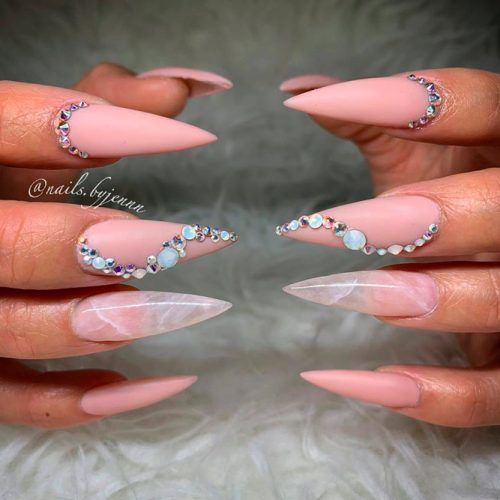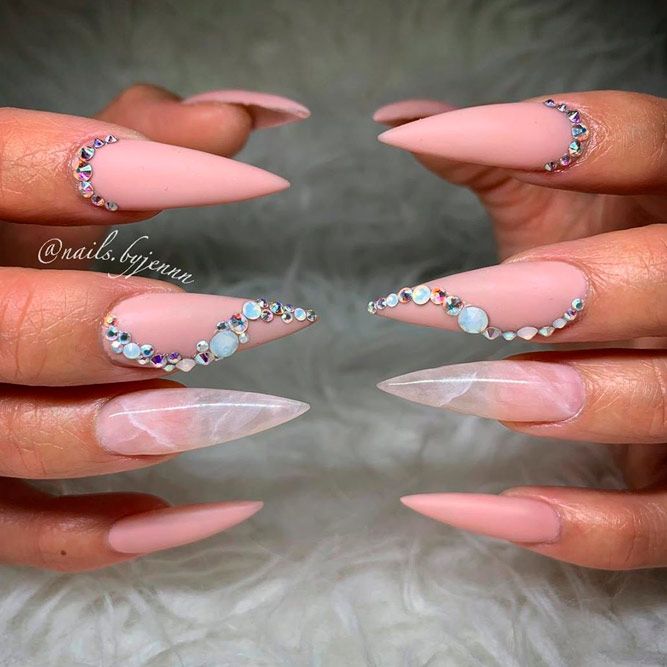 Source: helennails_yeg via Instagram
Nude stiletto nails have a number of advantages compared to other colors. First, this shade suits all situations no matter whether you're headed at a formal event or a night out with friends. Second, it's a highly flattering color solution, as nude stilettos make your fingers visually longer. Third, there are actually so many shades of nude that you'll easily find the one that either pops against your skin or complements it. Finally, it allows for a multitude of design options, being a perfect canvas for your most creative stiletto nails ideas. For example, for a glamorous and jazzy outcome, team nude stiletto matte nails with rose quartz design and varying rhinestones accents.
Stiletto Nails With French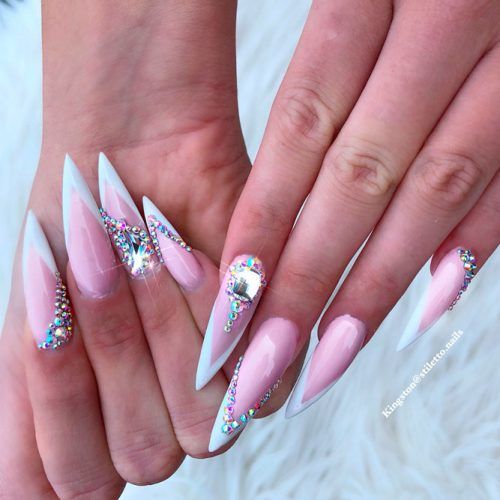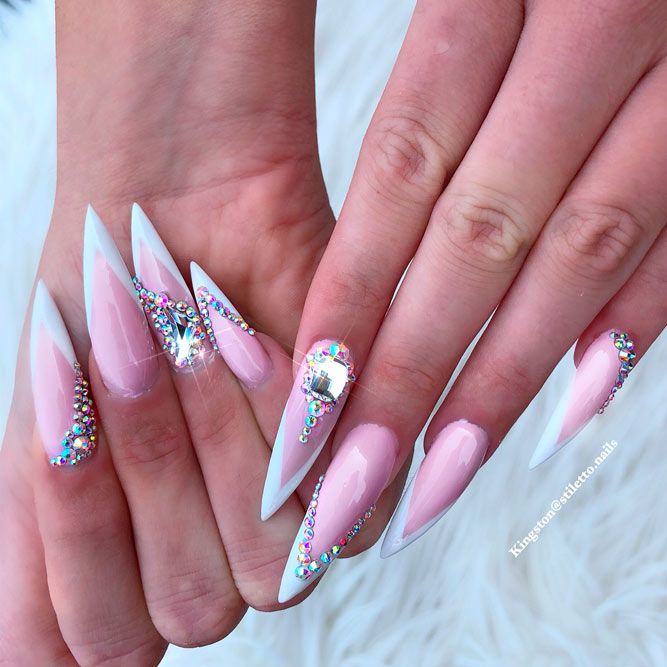 Source: kingstonnails via Instagram
This take on a traditional French manicure has nothing to do with the low-key and buttoned-up appearance that the original version has. French stiletto nails are surely a contemporary interpretation of classics. Of course, it doesn't come in one solution only. You are offered a plethora of design options, ranging in the shape and width of the tips, the color of the base and, obviously, the presence and variety of adornments. If you want a fresh idea for your French stiletto mani, try this one. Let the white tips eco the shape of your stiletto nails and embellish several fingers with rhinestones of different sizes.
Mermaid Blue Stiletto Nails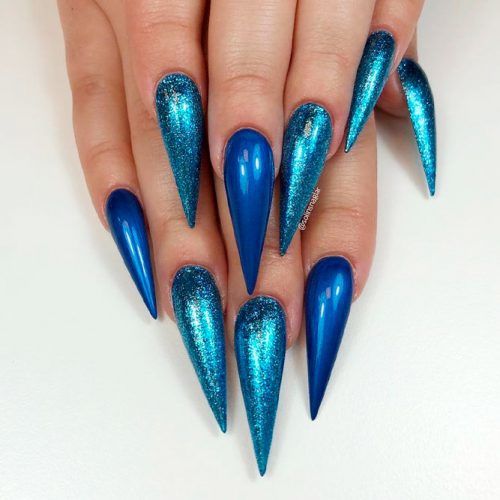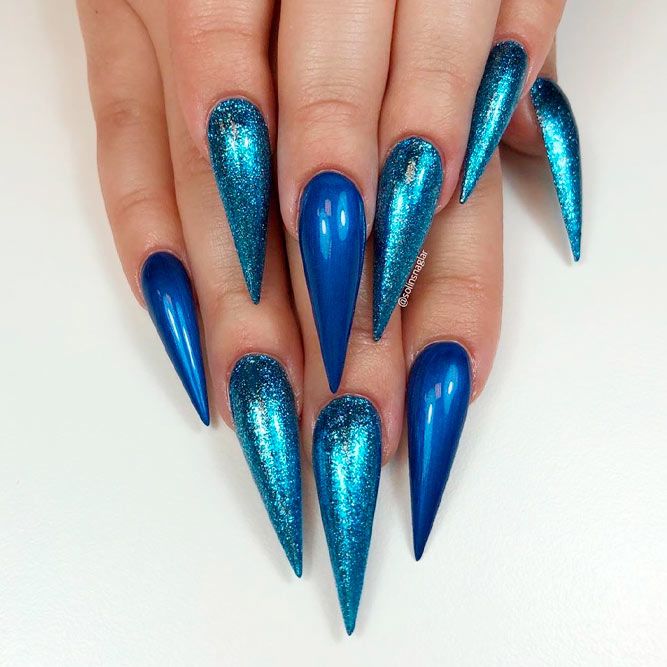 Source: solinsnaglar via Instagram
A stiletto mani looks out of this world itself. However, you can make it appear even more unearthly by going for blue stiletto nails. It actually does not make a big difference what exact shade of blue you're going to choose, be it pastel blue or royal. Though, to mimic the mermaid manicure, you need to turn to deep navy blue enhanced with turquoise or marine. To pull this color combo off, cover several nails in a shimmery blue color, which creates an impression of the bosom of the sea, and garnish the rest of the fingers with bright blue foil-like glitter.
Pink And Blue Ombre Stiletto Nails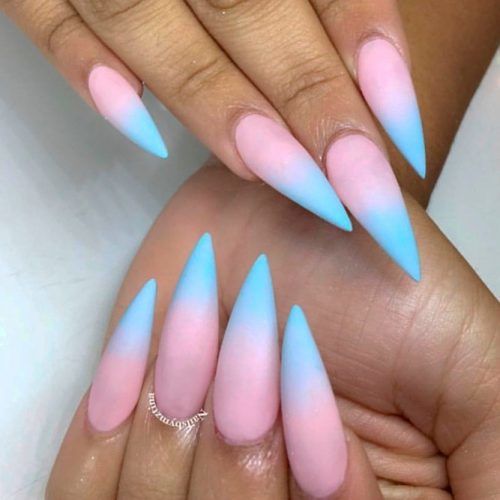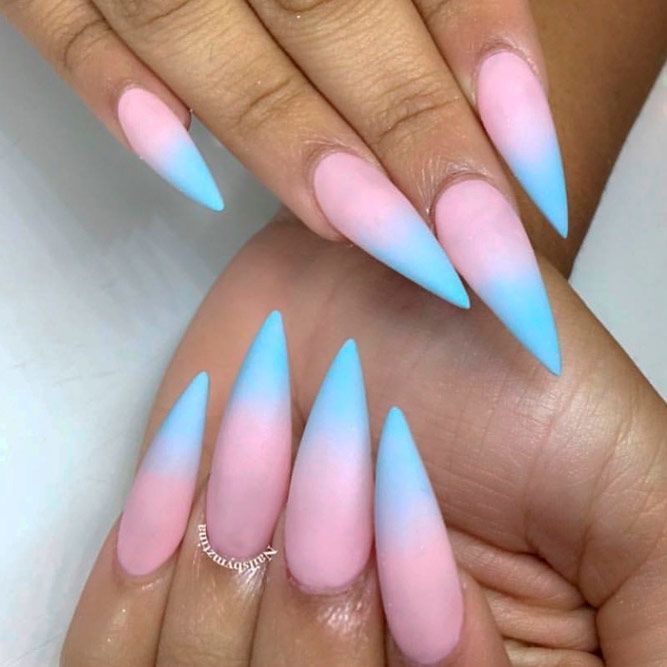 Source: nailsbymztina via Instagram
Undoubtedly, ombre stiletto nails already look eye-catching and vibrant. But, we are still so used to seeing ombre nail design in a couple of or several related shades from the same side of the color spectrum that it sometimes becomes a little boring. However, we have found an ideal solution. For a more striking and unusual effect, you should play around with opposing shades instead. Start with two colors first, such as pink and blue, for instance, and when you feel confident, you will be able to mix more shades. Ensure though that the transition between the colors is seamless, as, despite the contrast, these two shades perfectly merge into one another and create a really pretty marshmallow manicure.
Glitter Stiletto Nails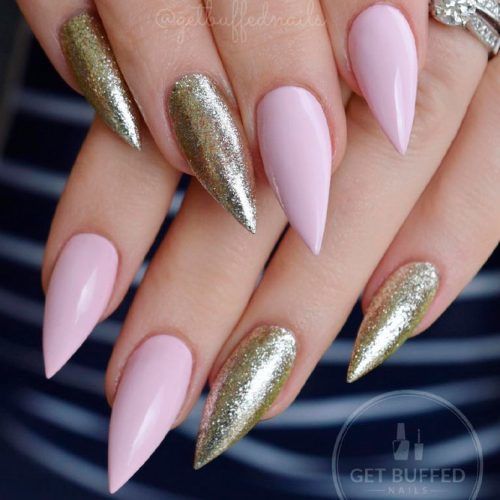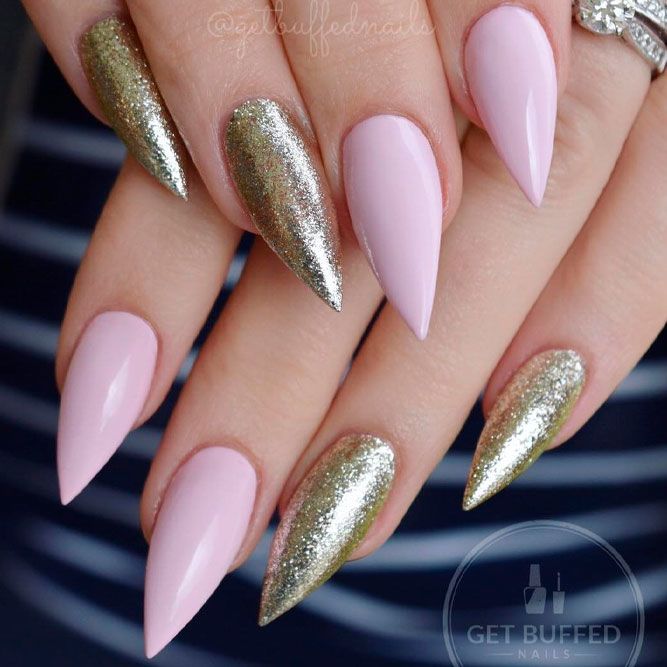 Source: getbuffednails via Instagram
Believe it or not, but you can adorn stiletto shaped nails with glitter and not look tacky. Of course, not all of the nails, as it will appear a little too much. However, if you use it as an accent for several fingers and paint the remaining nails in such a neutral color as baby pink, you will kill two birds with one stone – pull off a flashy mani yet making it suit any occasion. Also, you can experiment with finishes but not textures. If you embellish your nails with gold glitter, then the complementing color ought to be solid. However, should you decide to opt for a matte finish, you can equally choose it for all or some of the nails.
Short Stiletto Nails With French Mani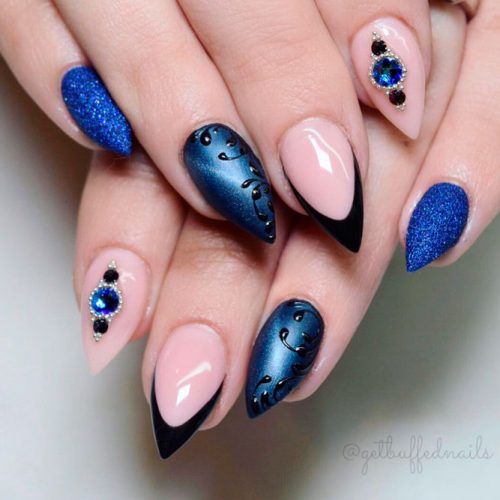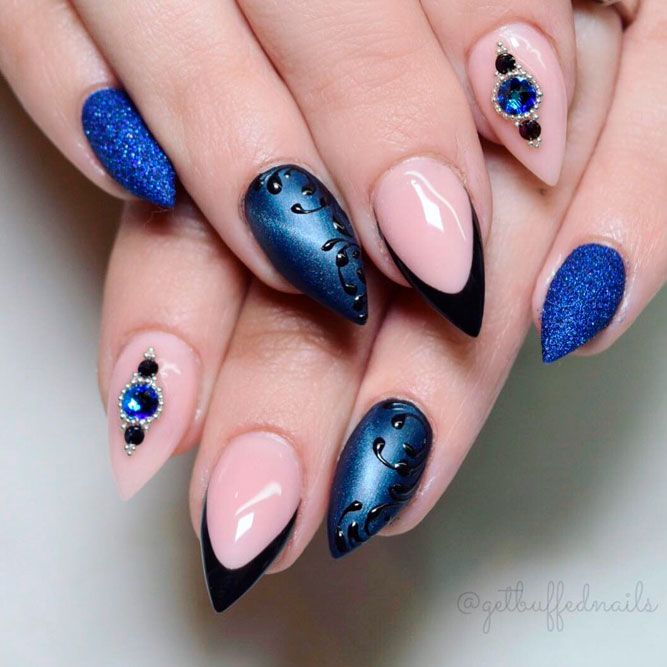 Source: getbuffednails via Instagram
Good news is if you are not really into having your stiletto nails long, you can easily have them short. Such a length offers you more freedom in terms of not only your everyday routine but also design options. When you have your stiletto nails short, it looks dapper and neat. Thus, if you enhance them with nail art, it will not make your manicure seem showy. Yet, very often short nails, even if it is stilettos, are not a matter of a personal choice but a matter of the dress code requirements. So, it's always safe to choose French manicure as a base and decorate it with rhinestones, nail design, glitter or everything at once.
Here are some tips/suggestions for stiletto designs for nails:
1. Solid color stiletto nails are a great starting point for beginners, until you become more experienced with design options. And solid color nails are always classy!
2. Stripes and polka dots make for a fun and playful look.
3. Rhinestones and nail jewels are a great way to make your stiletto designs pop!
4. Mix and match complimentary colors on alternate nails.
5. Matte nails are very popular at the moment.
6. Painting a design on one finger only adds a look of sophistication to this trendy style.
7. Add French tips to make any stiletto design stand out. Gold or silver tips are always an elegant look.
8. The "half-moon" look is making a comeback.
9. Change up your stiletto design to match your wardrobe or your mood.
10. Nail art tape is a great way to make all kinds of fun designs.