Along with other animal design patterns, a zebra print has made a huge comeback as a fashion trend. It's everywhere: on bags, shoes, clothes, accessories and, of course, nails. Zebra nail art design is a perfect way to make your fashion statement without any hassle. Of course, you'd like to know what your options are. For your convenience, we've compiled a collection of the best zebra nail art ideas and backed you up with a DIY tutorial.
Zebra Print In The Fashion Industry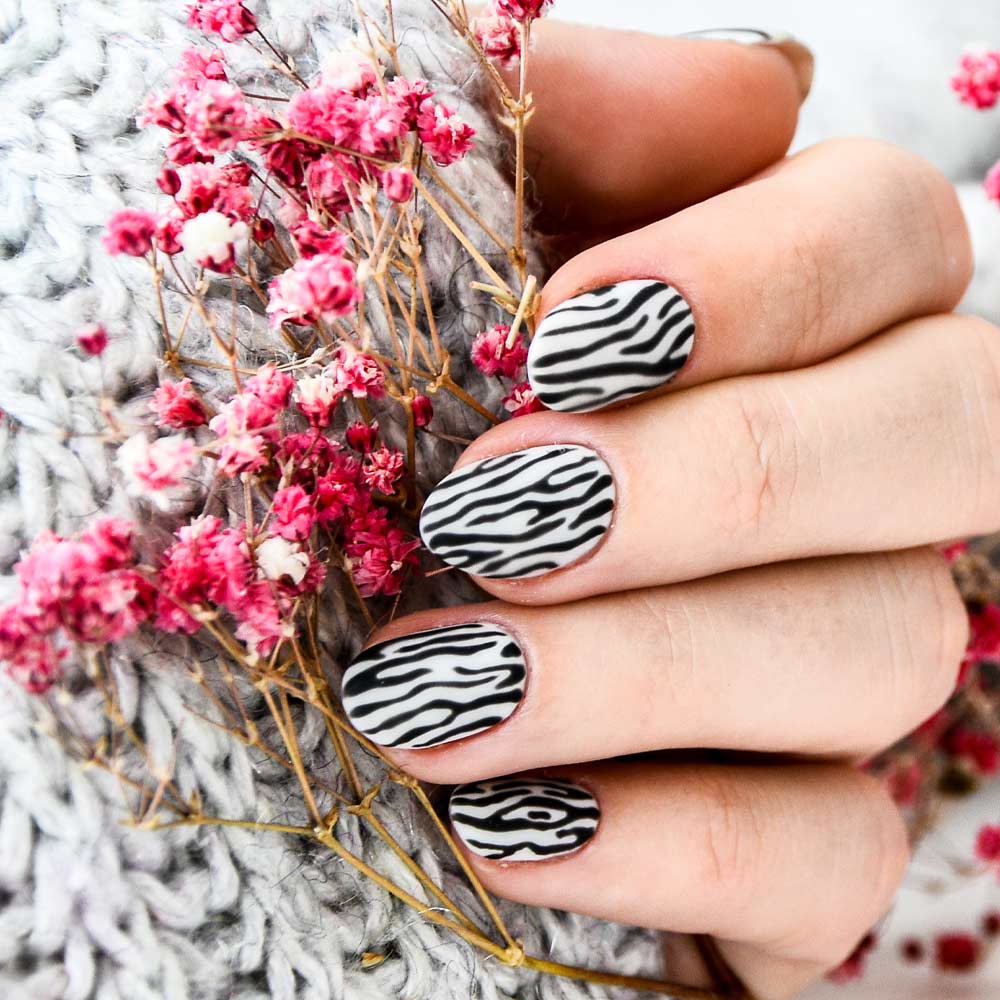 Credit photo: Shutterstock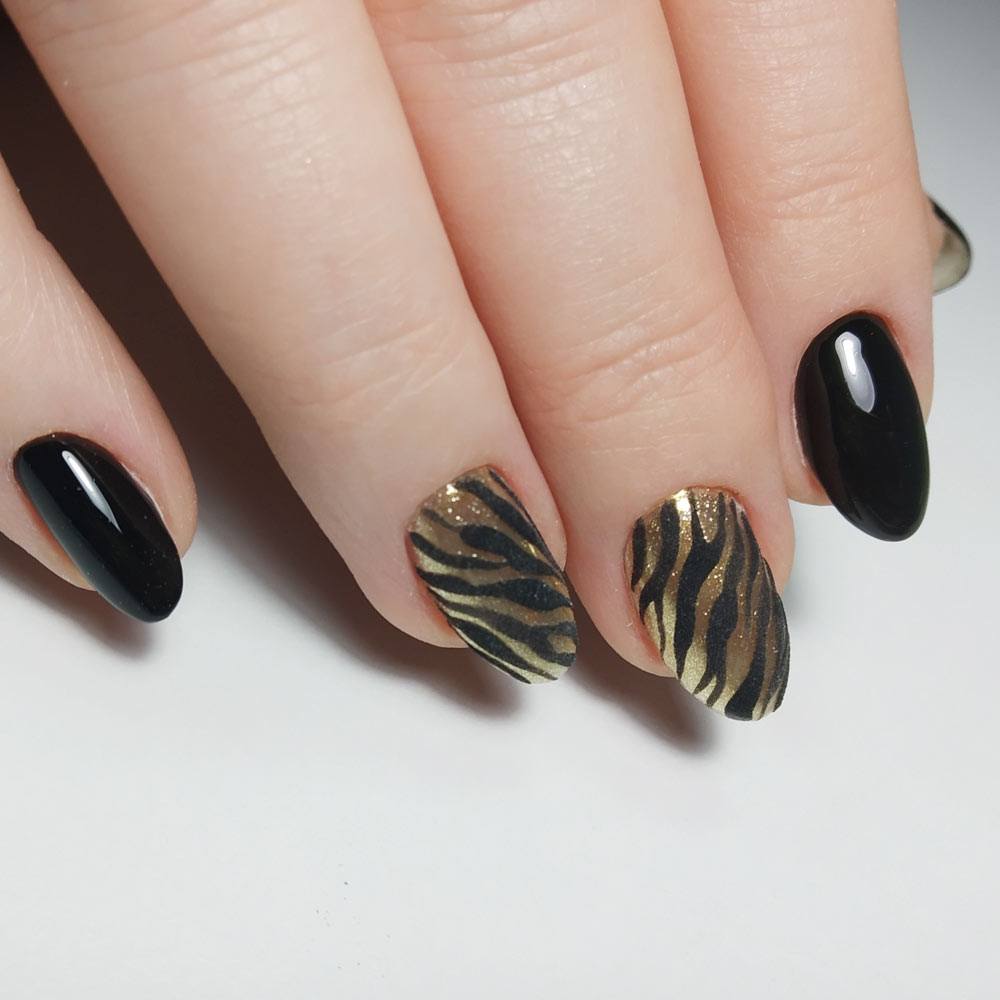 Credit photo: Shutterstock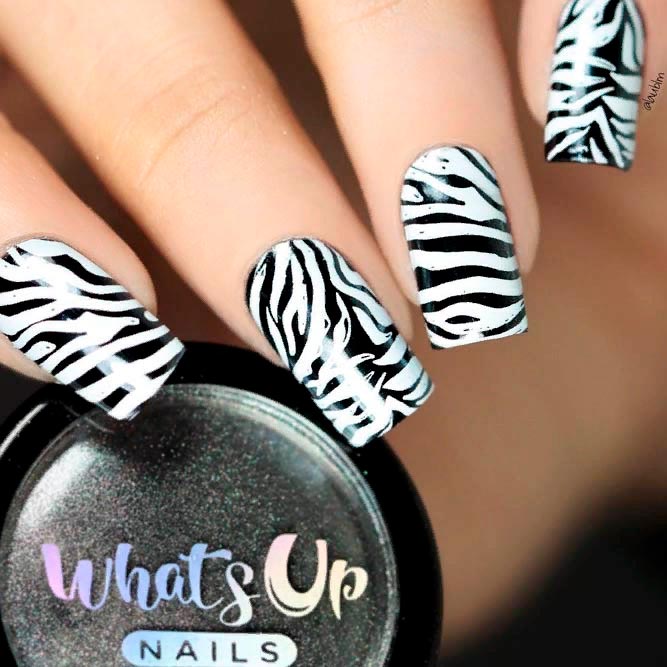 Credit photo: Instagram.com/laublm
"Why zebra?" You may ask. "Why not leopard or cheetah prints, which are so popular nowadays?" Exactly. Their popularity has brought them to the level where they have to balance between being a fashion trend and kitsch, which is not the case for a zebra print. Thus, opting for a zebra nail art design, you automatically become more unique yet trendy.
As zebra's natural habitat is Africa, its coat pattern often represents African couture. A zebra's stripy black and white body makes its appearance very interesting and eye-catching. The amusing fact about the pattern of zebra's coat is that it's always unique, like our fingerprints. Hence, adorning your nails with a similar print will give your manicure a dashing and savage touch.
How To Do Zebra Stripes Nail Art At Home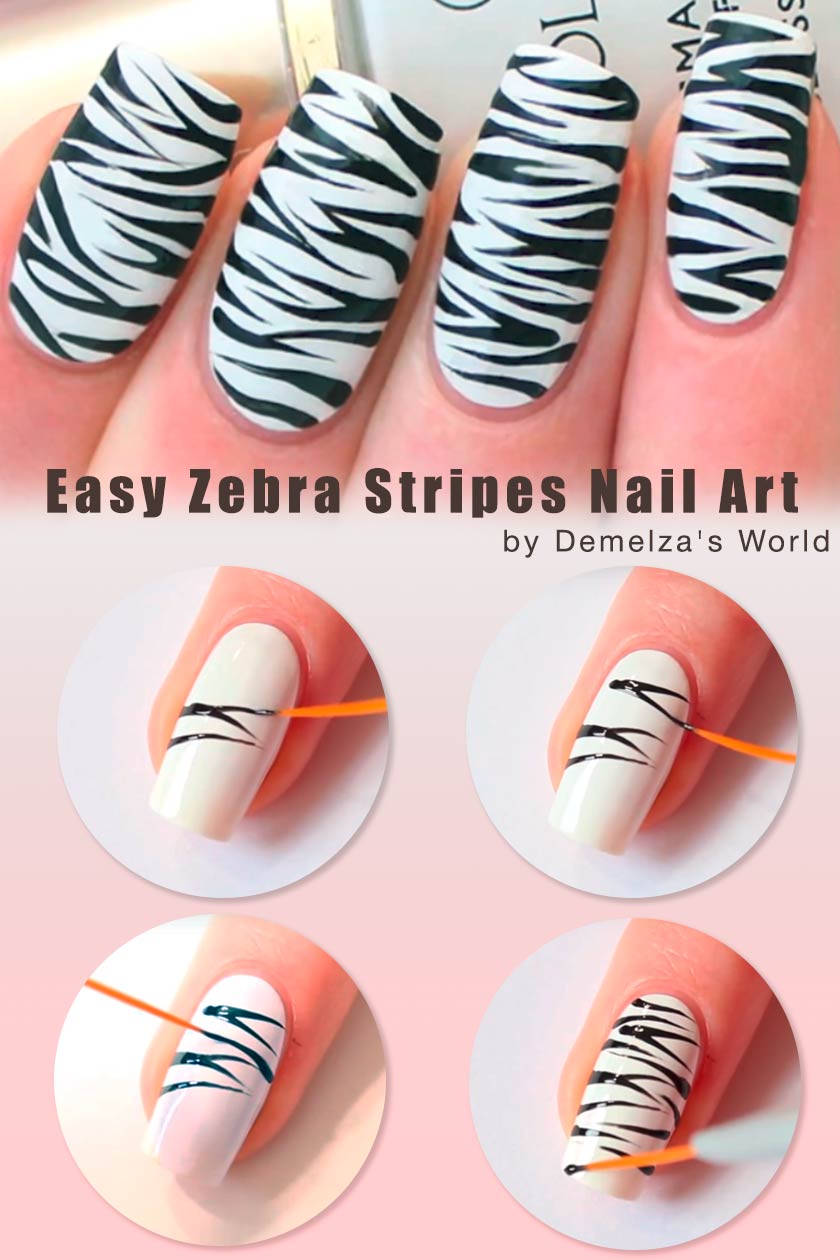 Credit photo: Demelza's World via Youtube
So that you could do them at home, here's our quick and easy step-by-step tutorial on how to do zebra print nails:
Apply a white nail polish. Wait until it's dry.
Drip a black nail polish on some surface and dip your striping brush in it.
Draw cross lines of different thickness on your nails.
Secure the result with a glossy topcoat.
Now, as promised, we're sharing some fresh and trendy ideas for zebra print nails.
Stylish Metallic Nail Art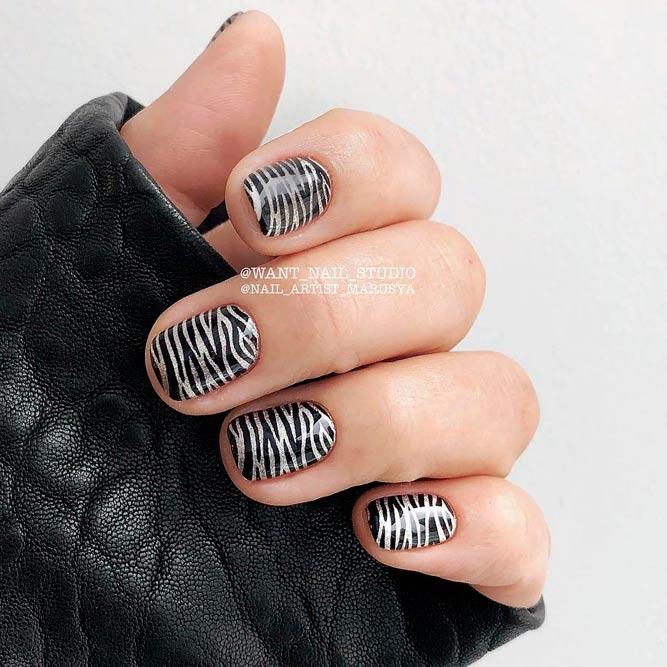 Credit photo: Instagram.com/nail_artist_marusya
If you think that zebra print on nails can only look cute and girlie, we're here to prove you wrong. Switching to a metallic nail polish as a base color will help you to embrace your inner, or maybe outer, rocker girl. This mani looks swag sported with a leather jacket.
Matte Zebra Pattern Nails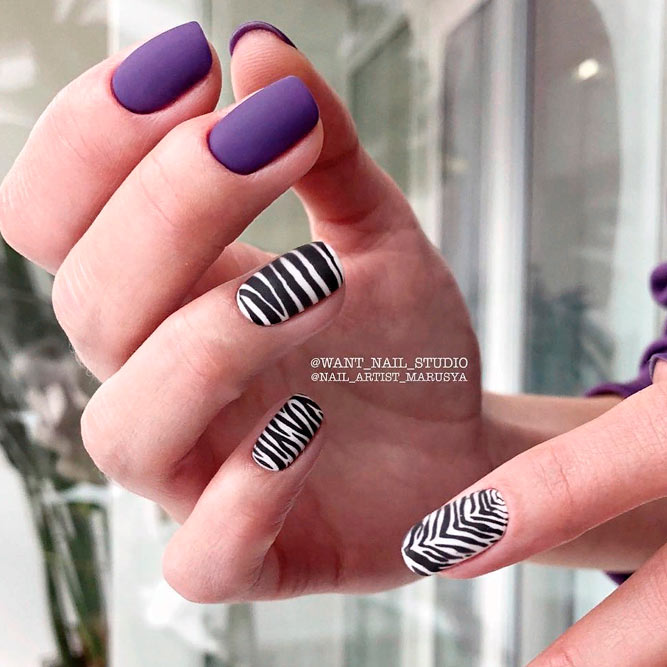 Credit photo: Instagram.com/nail_artist_marusya
If you want to give your zebra nails an unusual finish, consider applying matte coating atop. It will give your nails not only a velvet touch but also a very realistic effect, like a real zebra coat. In case you find it a bit too much, you can pair your matte stripy nails with a solid color.
Trendy Striped French Nail Tips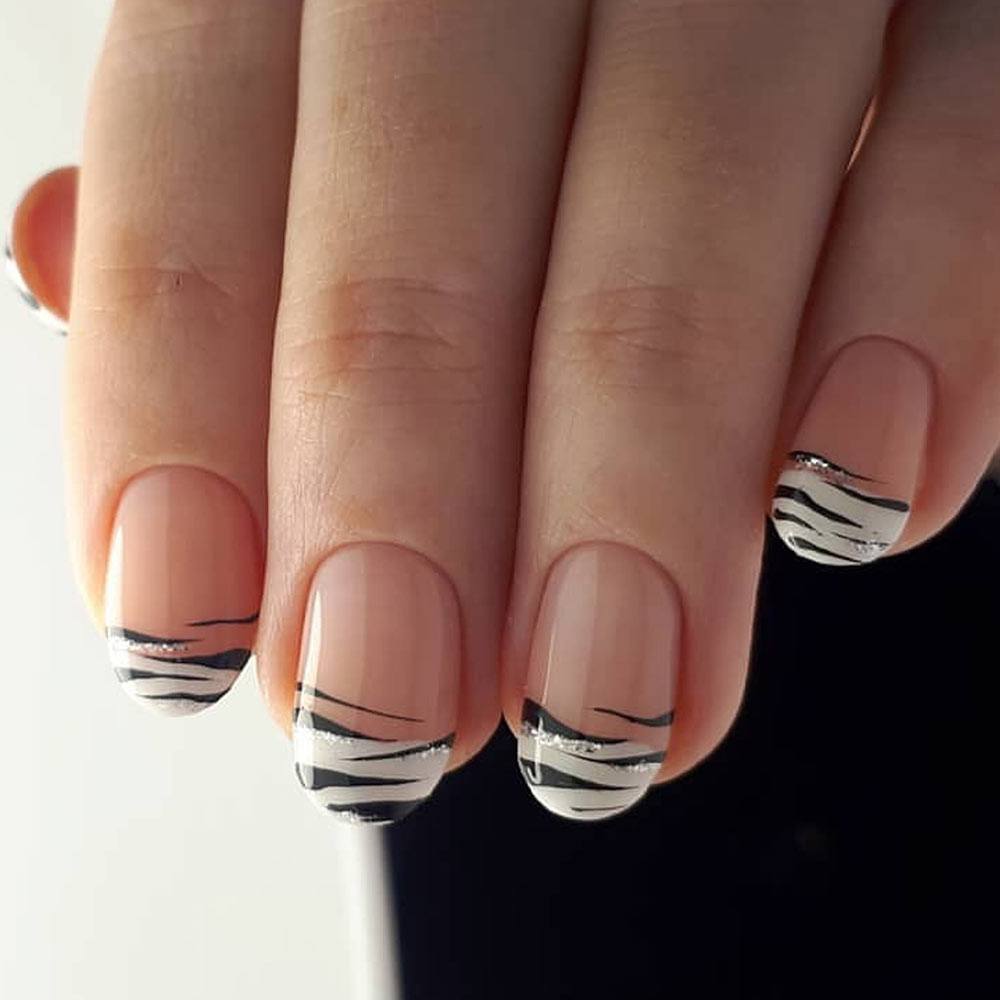 Credit photo: Shutterstock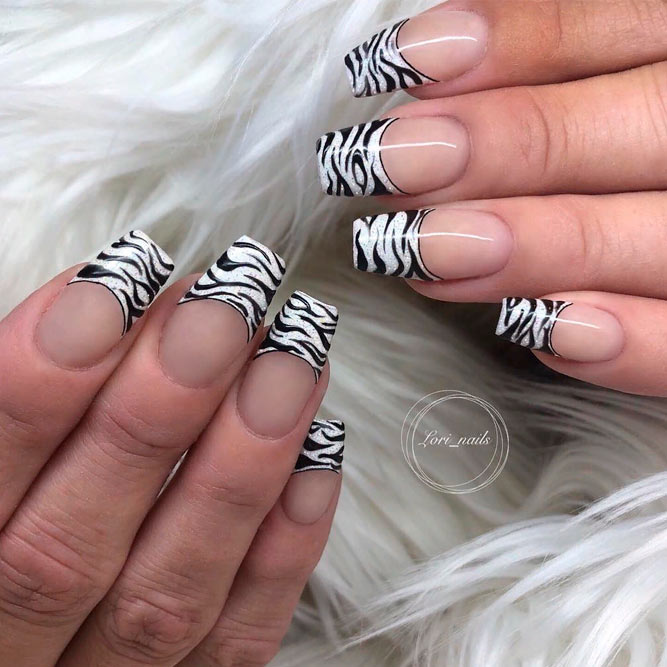 Credit photo: Instagram.com/lori_nails
French tips are another nail fashion blast from the past. Though today, it pays tribute to contemporary trends of living on the edge of a good and bad taste, leaving classic minimalist version behind. Thus, switching to a zebra pattern instead of white tips is a very smart fashion move.
Rainbow Holo Zebra Nails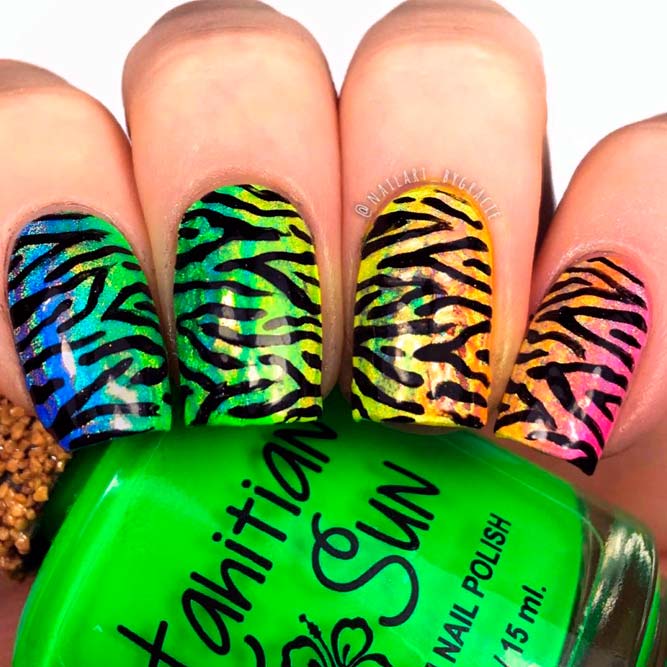 Credit photo: Instagram.com/nailart_bygracie
Who said that zebra print nails should necessarily be monochromatic? You're welcome to experiment with any base color you wish or all of them at once. Polish your nails in all colors of the rainbow, creating a gradual transition from one shade to another. A quick tip on how to make zebra nails stand out even more is to apply a holo hoop powder on top of the colorful coating.
Colorful Diagonal Blocked Nail Design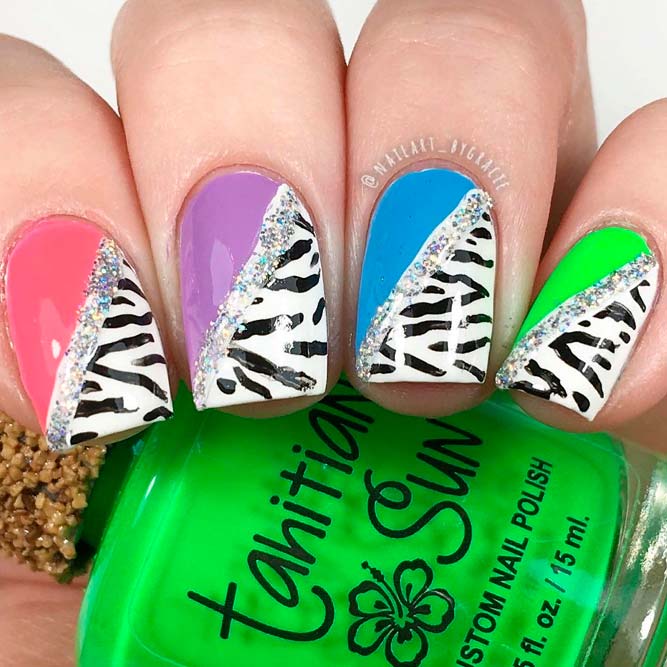 Credit photo: Instagram.com/nailart_bygracie
Color-blocked nails will probably never go out of fashion. However, you can upgrade your regular design by combining different colors, patterns, shapes and textures. Thus, use zebra pattern to block multi-colored varnish diagonally. For added emphasis, accentuate the border between them with a shimmery line.
Gradient Zebra Stripes Mani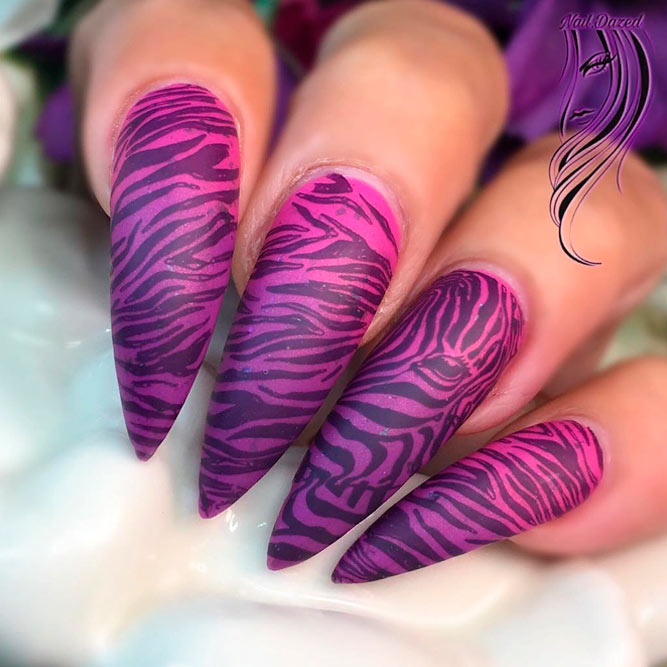 Credit photo: Instagram.com/nail.dazed
This design will be extremely favorable for stiletto acrylic nails, as the space allows having a splurge. If you feel skillful enough, you can recreate not only a zebra pattern but also a piece of an image. Besides, such length is perfect for the gradient, so go for it!
Shiny Holo Ombre Zebra Print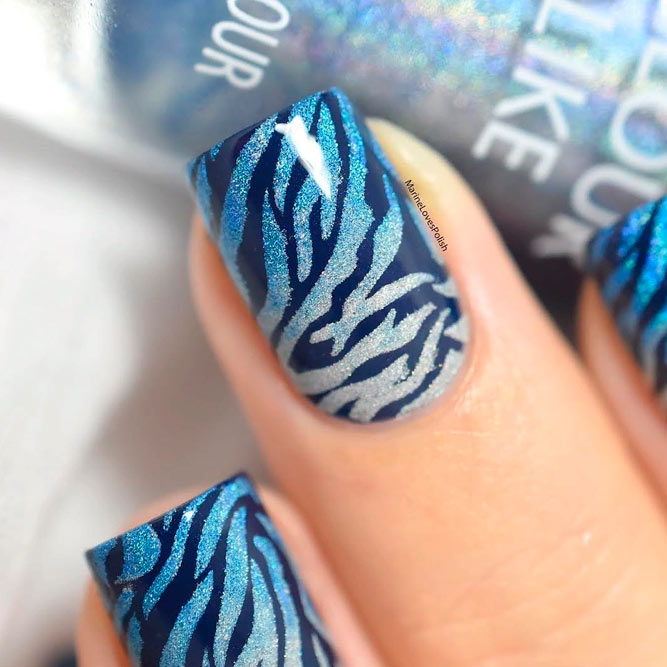 Credit photo: Instagram.com/marinelp91
A zebra print appears flattering for colorful base coats. In addition to hues, you can play around with textures and effects. Use two shades of holographic nail polish to create a cool, in all senses, ombre design, which will give your manicure a lit-from-within type of glow.
Animal Pattern Accentuated Finger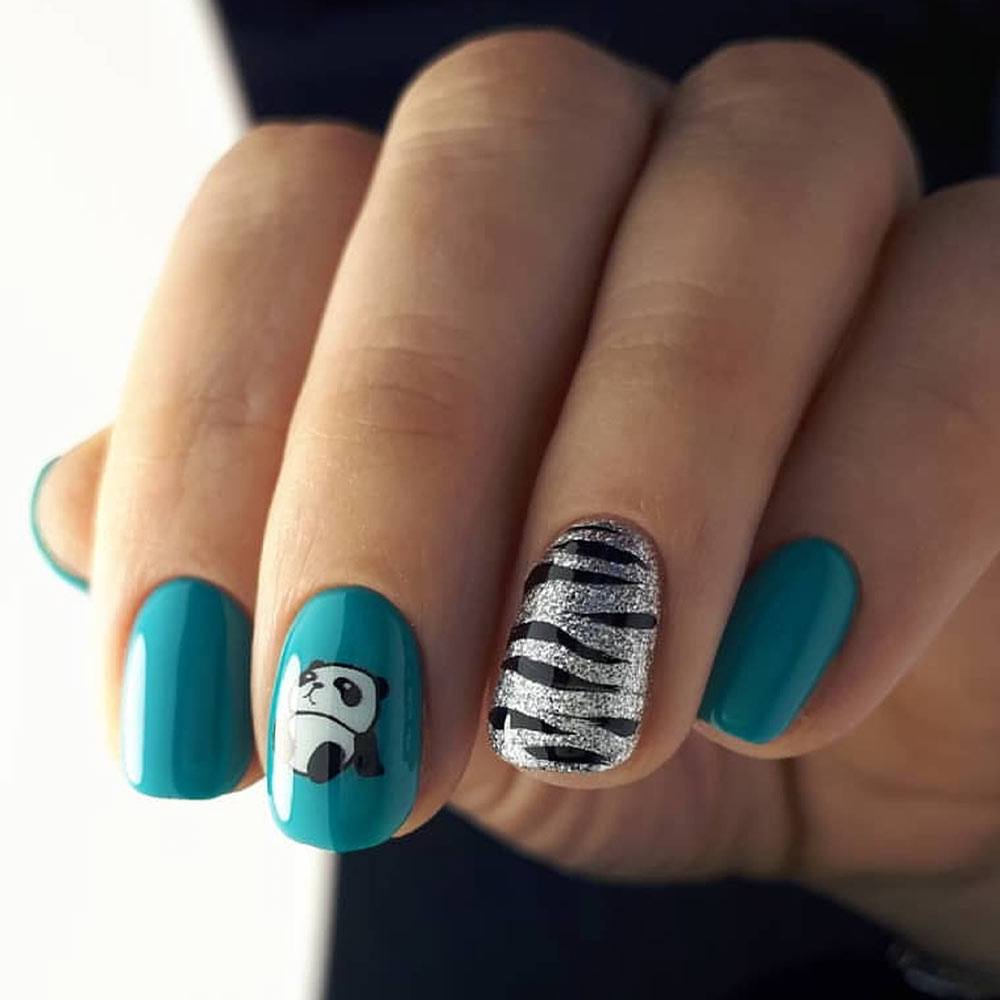 Credit photo: Shutterstock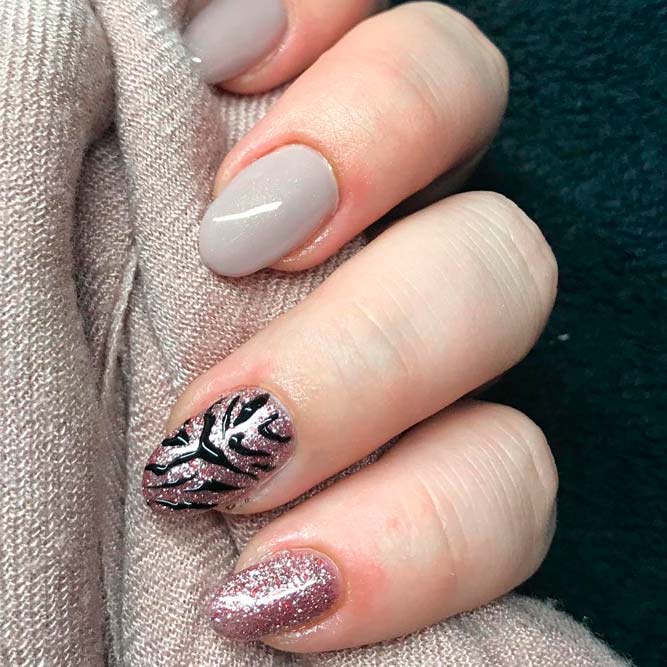 Credit photo: Instagram.com/dorothy_nails_
In case you want to keep things relatively simple, use a zebra print design only as an accent on a finger. This low-key manicure comes out quite appropriate even for a formal occasion thanks to a neutral base. Though, not to make it look too restrained, you can go with glittery and shimmery colors.
Glitter Zebra Nails Design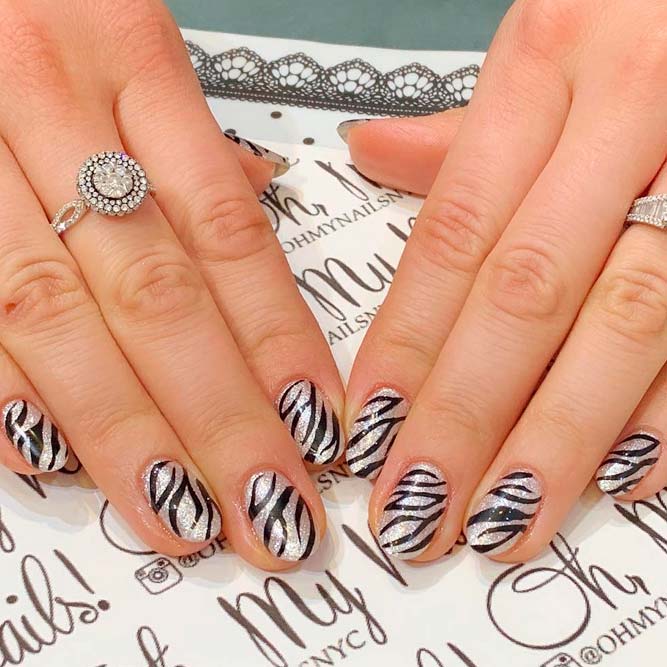 Credit photo: Instagram.com/ohmynailsnyc
Here's another great way to show off your inclination into a glittery side. Instead of a plain white base coat, go with a glittery one. It'll animate the modesty of the black and white combination.
Wild Animals Pattern Combo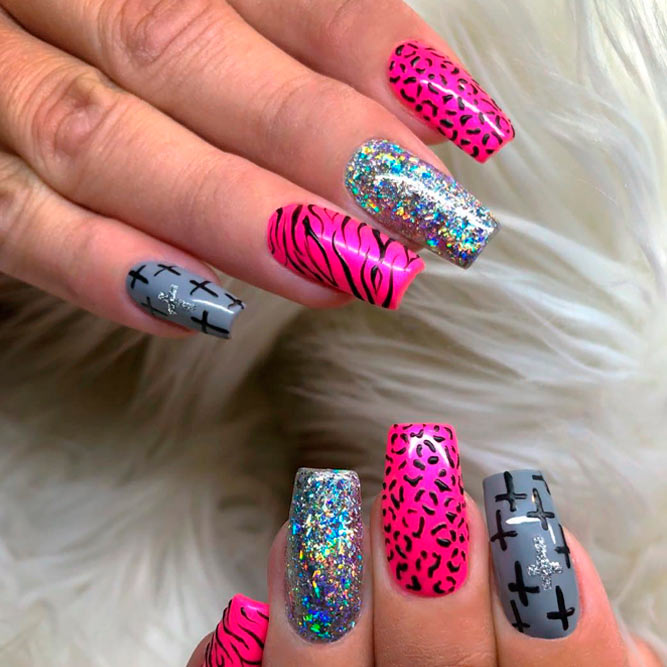 Credit photo: Instagram.com/lori_nails
Actually, you're allowed to go as wild with your manicure as you want. Along with combining colors and textures, you can combine animal patterns. A zebra print looks daring and provocative paired with a leopard one on a hot pink base.
Zebra Nail Art With Rhinestones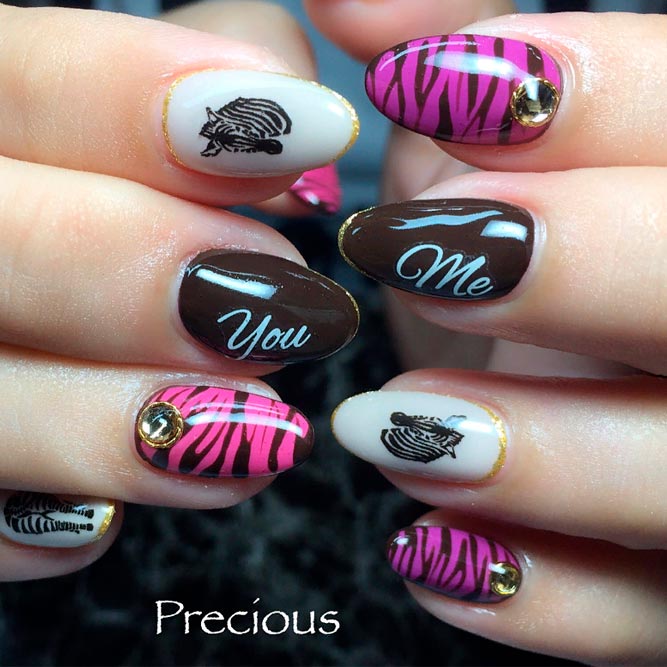 Credit photo: Instagram.com/precious_privatebeautysalon
A zebra print can be both used as an accent as much as accentuated itself. Rhinestones applied to the nails with the pattern add to this trendy design a glam touch.
Freehand Nail Art With Zebra Pattern Accents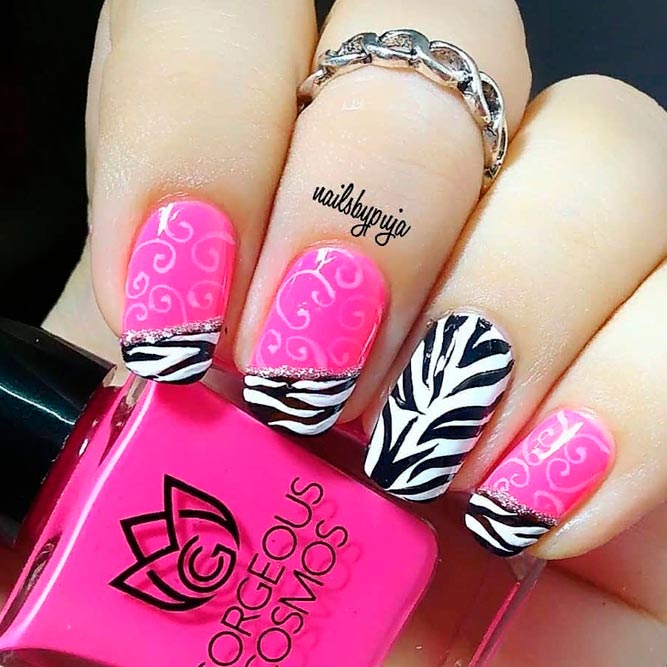 Credit photo: Instagram.com/nailsbypuja
Freehand nail art design also requires from you having some special skills. If you don't have much experience in freehand painting, start with something light. For instance, you can put the swirls and the zebra print in one full nail.
Half And Half Zebra Nail Design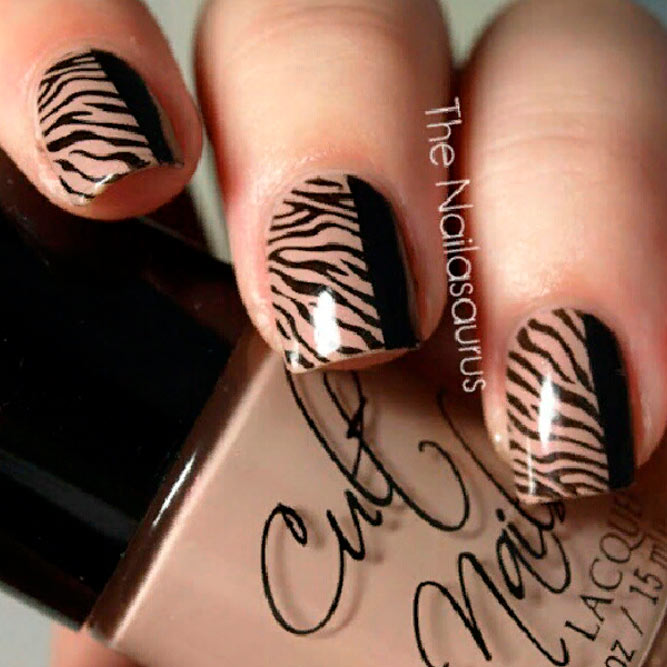 Credit photo: Instagram.com/thesammersaurus
If a full zebra nail is too much for you, you can opt for painting out a half of it with a matching solid color. For a less striking contrast, the base color can be chosen neutral.
Matte Green Nail Design With Gradient Effect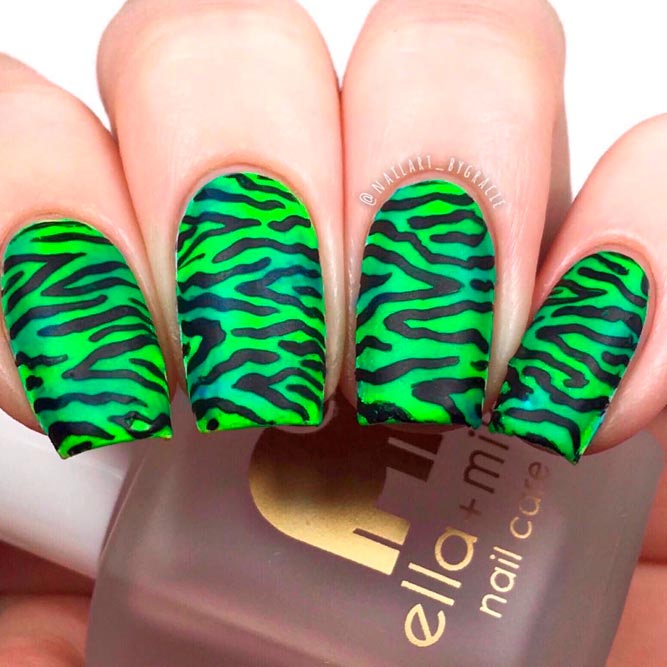 Credit photo: Instagram.com/nailart_bygracie
Mixing different shades of green in one design is like the voice of Nature for zebra nails. Create a soft transition from one hue to another to achieve a refreshing gradient effect. A matte topcoat will add a velvety touch to the nails, creating the jungle greenery feel.
Elegant Nude Zebra Nails With Glitter Sparks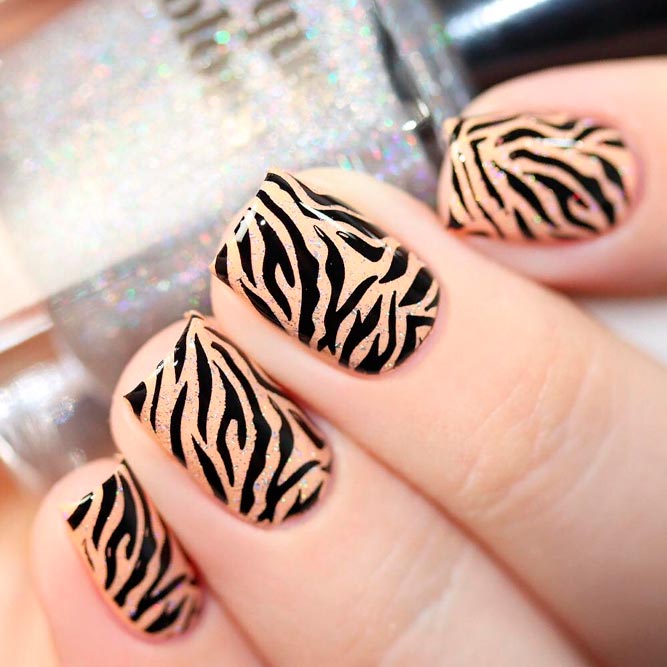 Credit photo: Instagram.com/bepinselt
A white base coat can sometimes look too contrasty with a black zebra pattern. To soften up the sharp difference a little, go with an off-white base instead. We can't think of a better option than beige. In case you want to add some movement to this elegant button-down design, apply a sparkling glitter topcoat.
Zebra Nails Combined With Colors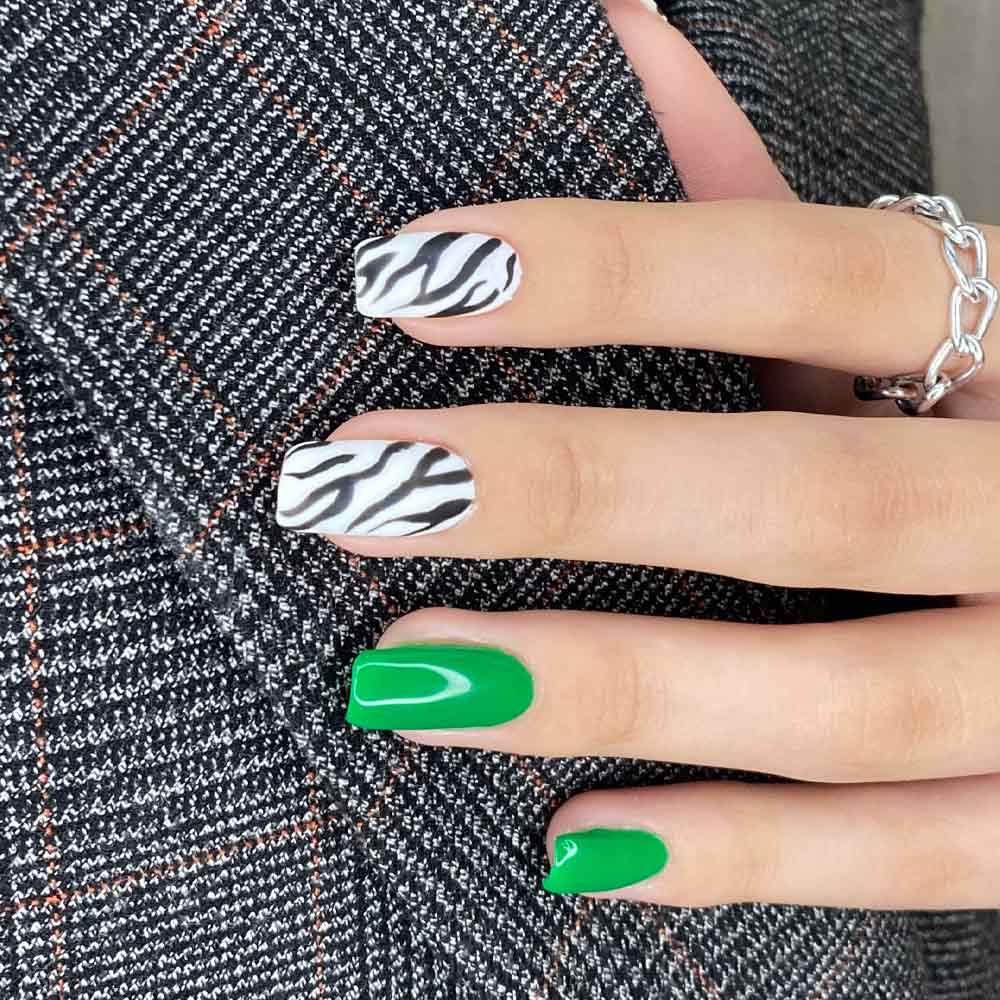 Credit photo: Shutterstock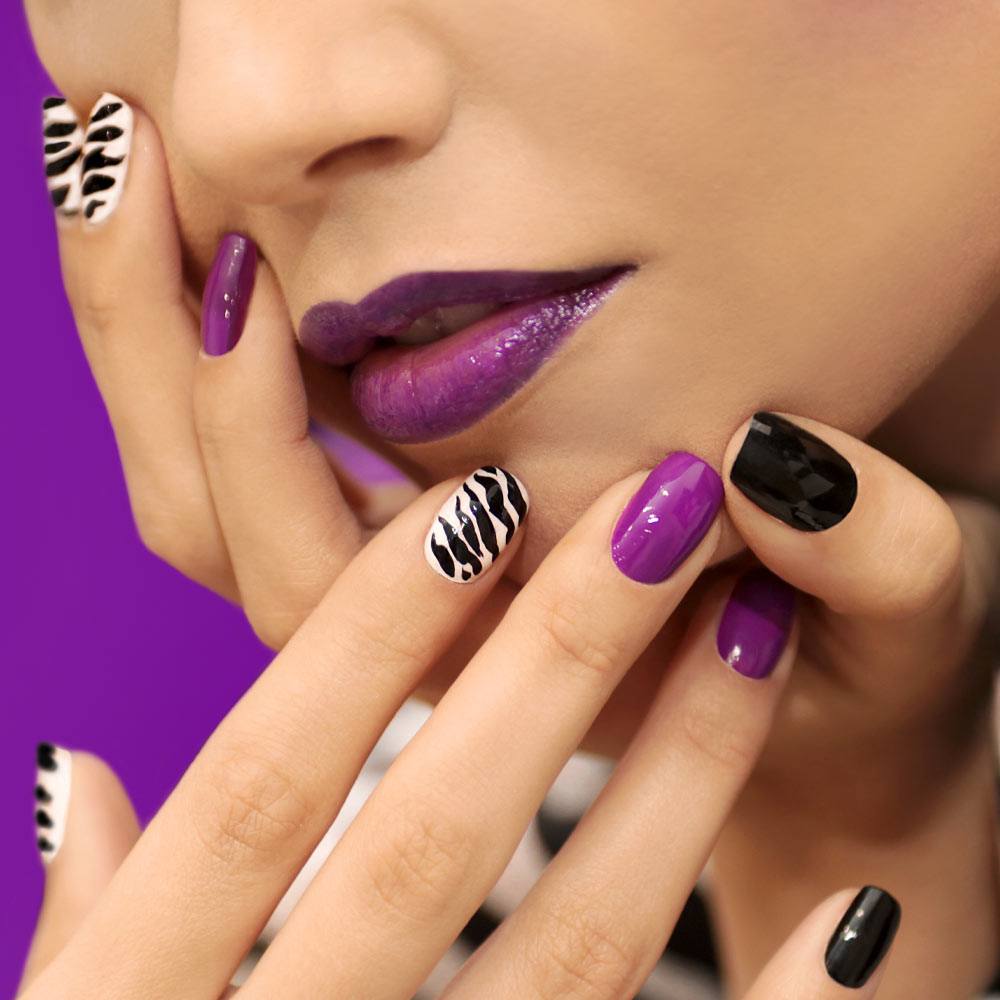 Credit photo: Shutterstock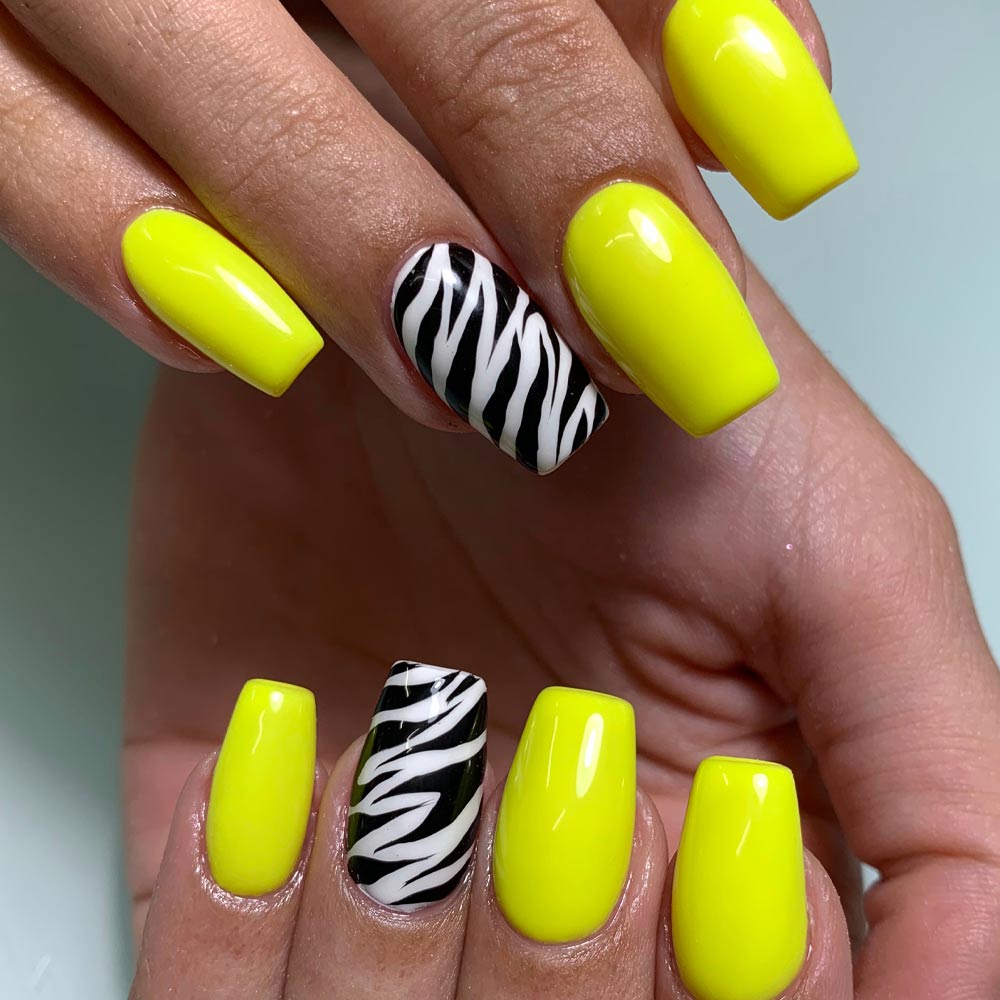 Credit photo: Shutterstock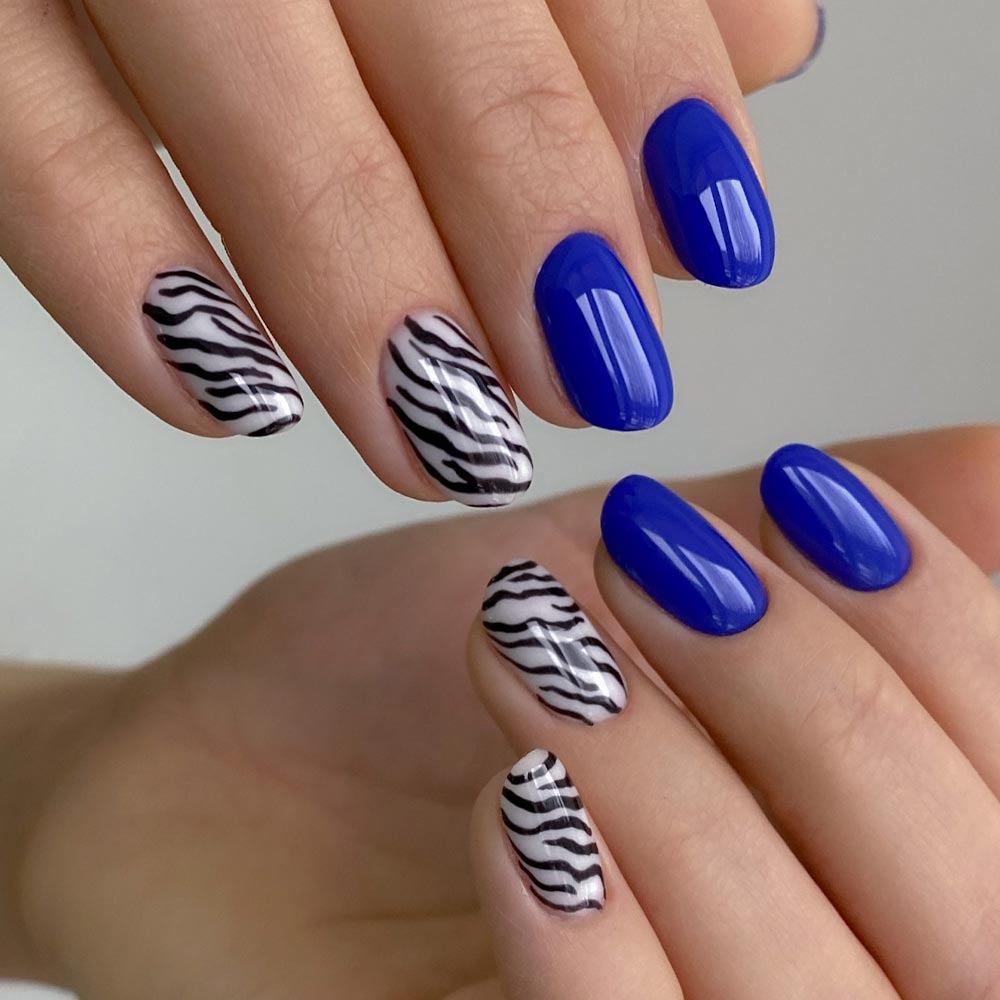 Credit photo: Shutterstock
A zebra print is a grand alternative to the shopworn leopard and cheetah prints. It appears unique yet trendy, allowing your imagination to create the most flattering combinations and designs. We sincerely hope that our collection of the best zebra print designs with a step-by-step tutorial will give you the ultimate inspiration for your beautiful creations.
FAQ: Zebra Print
Is zebra print fashionable?
Since the spring, zebra print has been making an appearance in a big way, from party trousers to tiny purses and shoes. We also saw a lot of zebra print in some of our favorite street style pieces during Copenhagen Fashion Week.
Is animal print elegant?
Animal prints are bold, elegant and instant style makers. They are very popular this season, but it's also a timeless fashion bestseller. And the best thing about this type of printing is that it is animal-friendly and completely artificial.
Can leopard print look classy?
When combined with something other than black, the leopard print can still look great. For example, a bright blue dress that needs something special to look more eye-catching…
Was this article helpful?