There is barely any woman in the world who can imagine her life without a collection of nail polishes. What is more, there is always a special place devoted to glitter nail polish. Holographic nail polish is that same old glitter polish but much fancier. That is why all holo polishes are so popular nowadays. Taking all into consideration we have come to the conclusion that a nice and complete holographic nail polishes compilation from the trending nail polish companies would be something that all the stylish ladies would appreciate. Enjoy!
Rainbows Effects On Your Nails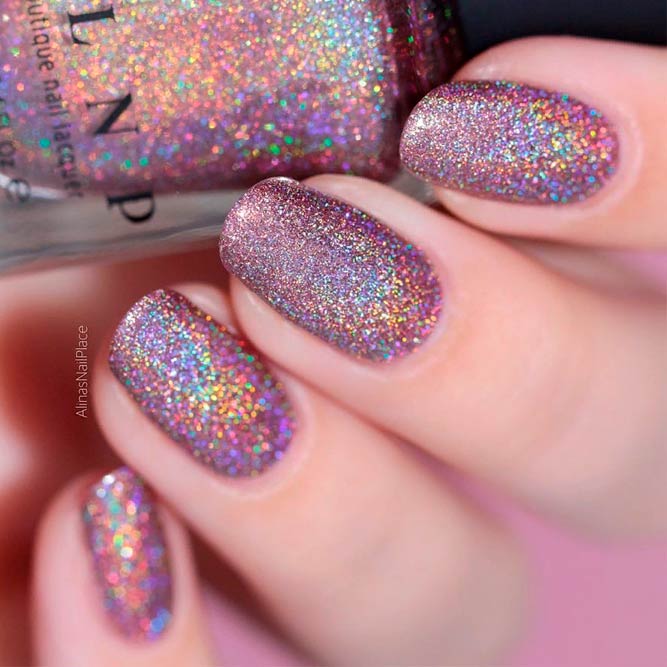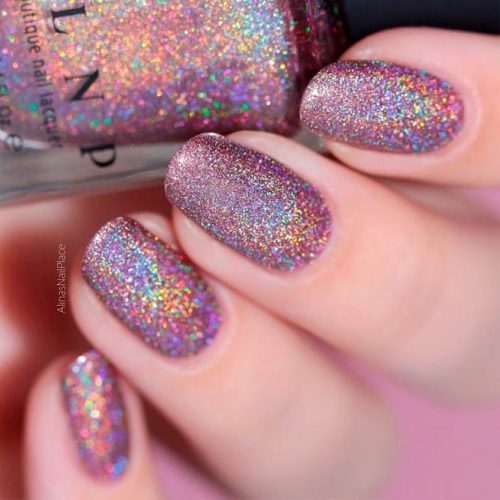 Source: alinasnailplace via Instagram
In case you do not know yet, it should be mentioned that glitter nail polish and holographic one differ. The main difference lies in the ways they reflect light. The thing is that while glitter polish simply reflects the light, holo one refracts it and thus such a rainbow effect is created. Now, when you know how things work, it is time to pick another holographic polish to be added to your collection. You can pick more than one, though – it is all up to you!
Beach House From The ILNP Ultra-Holo Collection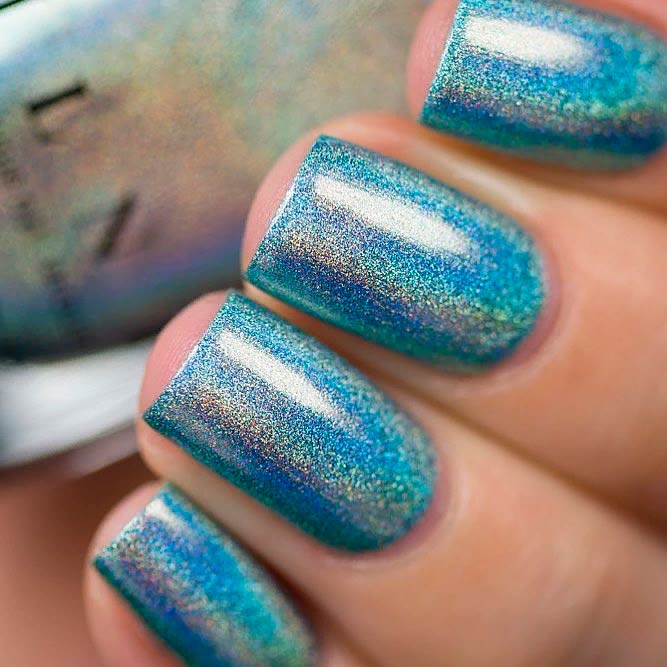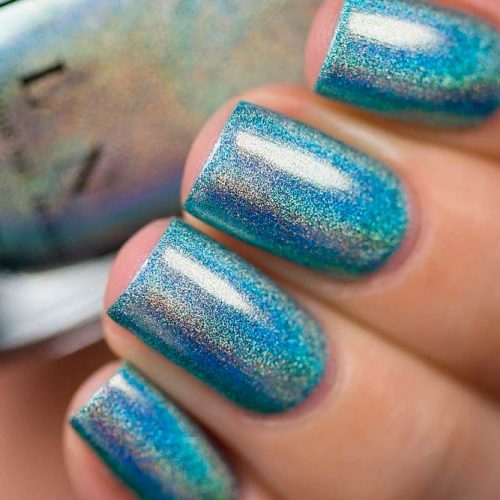 Source: lakkomlakkom via Instagram
Those of you who are in love with bright teal tints will simply fall for this holographic glitter nail polish from ILNP. It is extremely vivid so that just two coats will be enough to complete the manicure, however, if you like some more intensity you can use three coats of it. It should also be mentioned that this nail polish is very durable, but you should not forget about the base and top coat to increase it.
Color Kissed Ultra Holo, Rosewater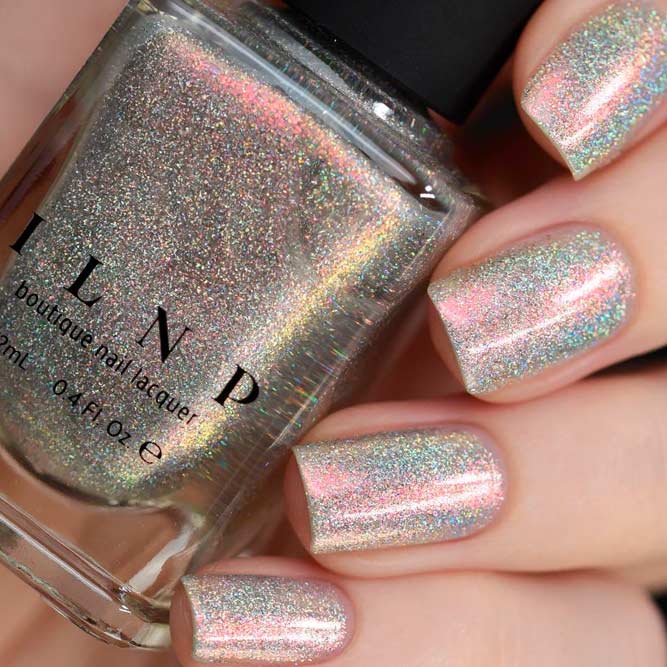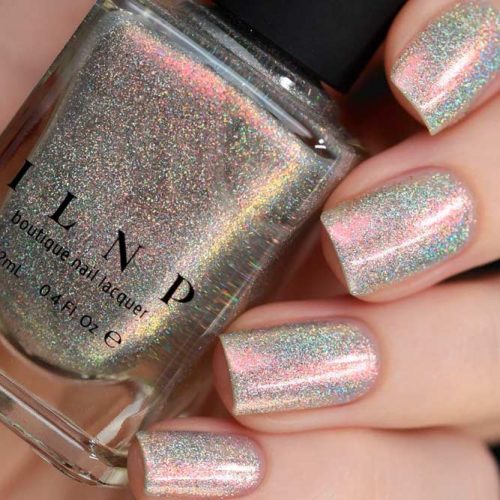 Source: ilnpbrand via Instagram
When it comes to Pink Holographic Nail Polish some of you may have mixed feelings about it. Yet, it seems that ILNP simply nailed it and there is no exaggeration here. This holo nail polish which mostly looks silver has a lot more to it. Apart from the smooth texture, the reflection of rose colors is simply breath-taking. If you are looking for kind of neutral nail polish with a secret within – Rosewater is exactly what you need. With this nail polish, your manicure will always look different depending on the lighting.
Charmed From ILNP Ultra-Holo Collection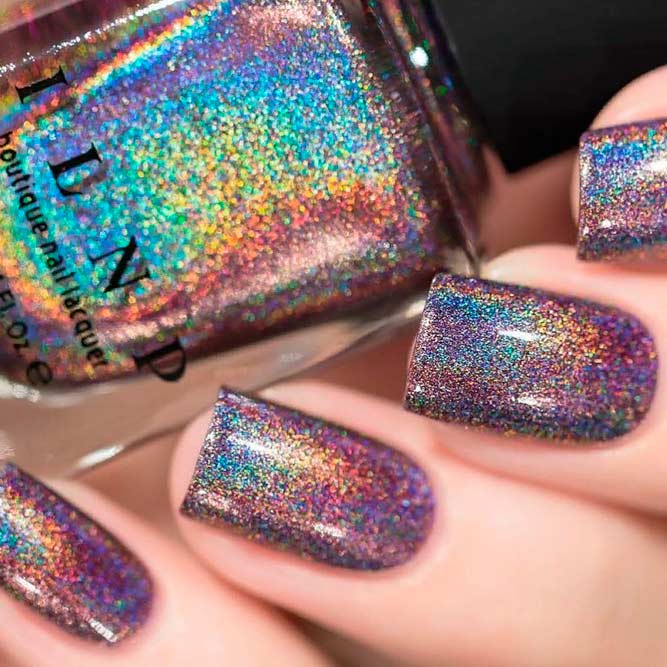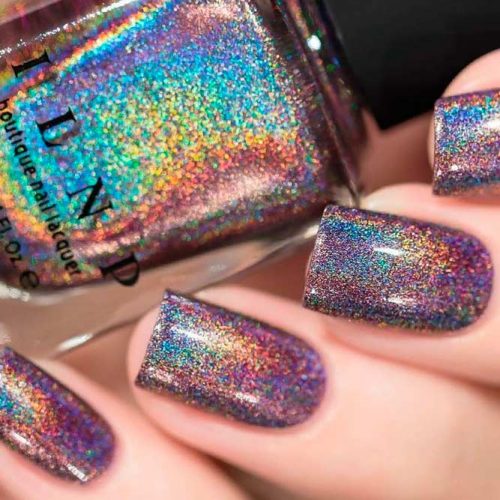 Source: rafinails via Instagram
Those of you who are looking for a holographic nail polish to be surprised with may be fascinated with the Charmed from ILNP. Even though the shade is considered to be plum-colored, depending on the lighting in the room, it will reflect some red and blue specks, and that can't simply be left unnoticed. What is more, just three coats of this polish and you will reach the level of even beyond depth and intensity. Once you try it out, you will not fall out of love with it, that is for sure!
Color Club – Over The Moon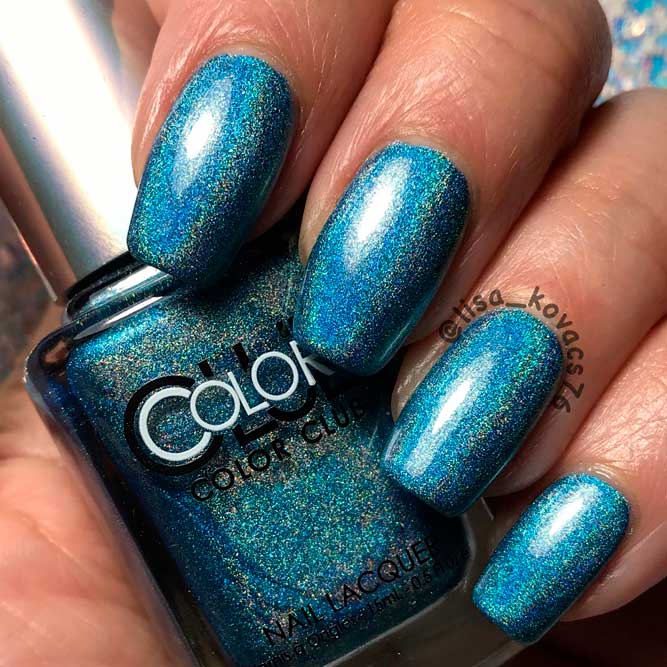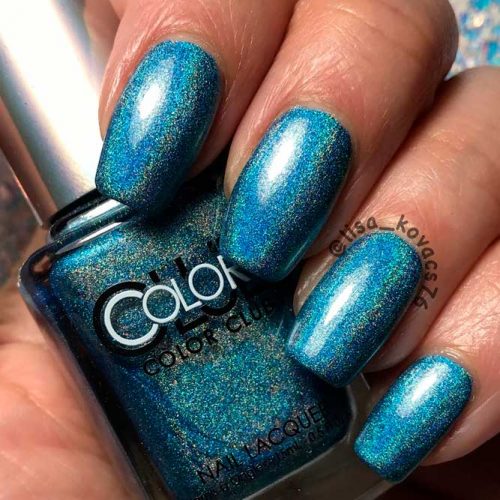 Source: lisa_kovacs76 via Instagram
It is true that not everyone is equally in love with colors that are too bright or catchy and that is something that Color Club took into consideration while working with Over the Moon nail polish. Even though it possesses bright blue shading, it is somehow smoothed out by the texture, so that it looks soft and gentle and that can't but win the hearts.
Angel Kiss By Color Club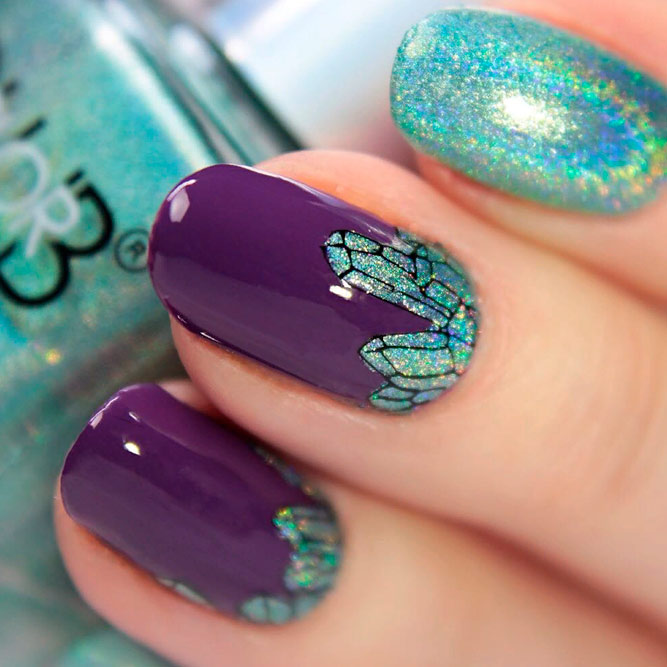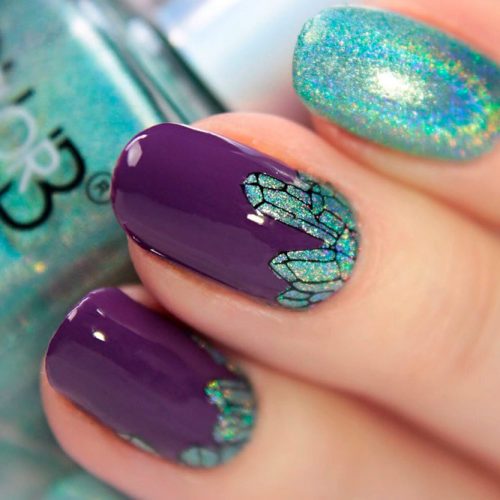 Source: tinesuchtnachmehr via Instagram
Angel Kiss from Color Club looks exactly the same as it sounds. If you could color a kiss of an angel, it would probably look like this nail polish shade. It is extremely gentle with its soft baby blue color, not to mention the breath-taking sparkle. If you are not a fan of solid holographic manicure, you can easily use this shade as a perfect addition to your accented manicure. See for yourself!
Color Club - Miss Bliss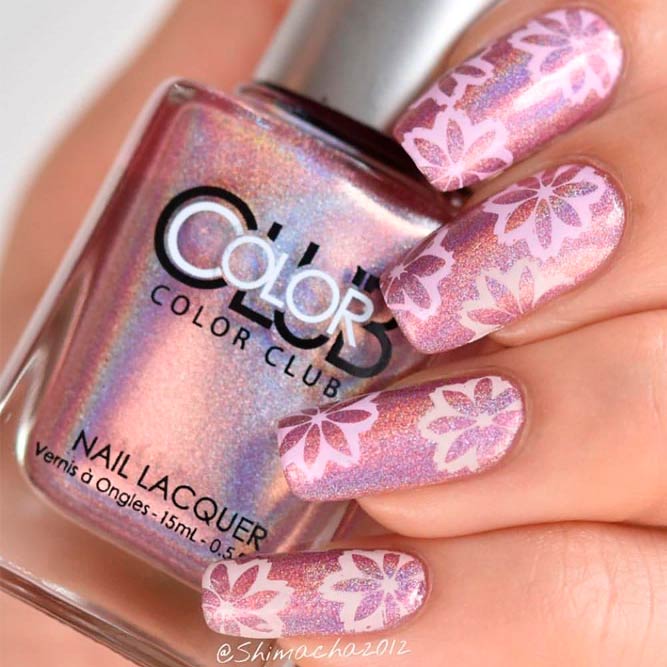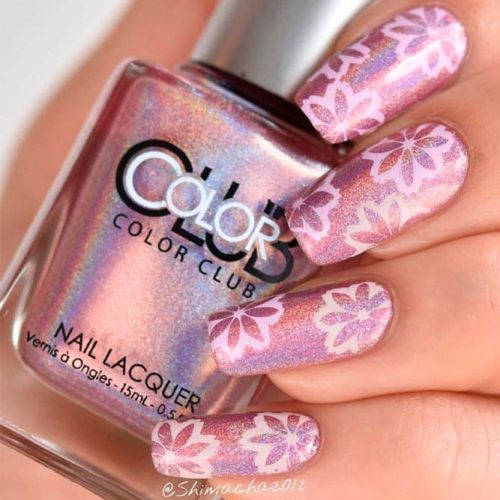 Source: shimacha2012 via Instagram
Pink hues can look fancy, gentle and feminine at the same time and Color Club has proved it with the introduction of their Miss Bliss holographic nail polish. This shade is extremely opaque and smooth; what is more, it is quite bright but not over the edge bright so that you can easily pull it off on its own or you can add some cute stamping to the design too. The choice is yours!
Garnet From the Cirque Colors Facets Collection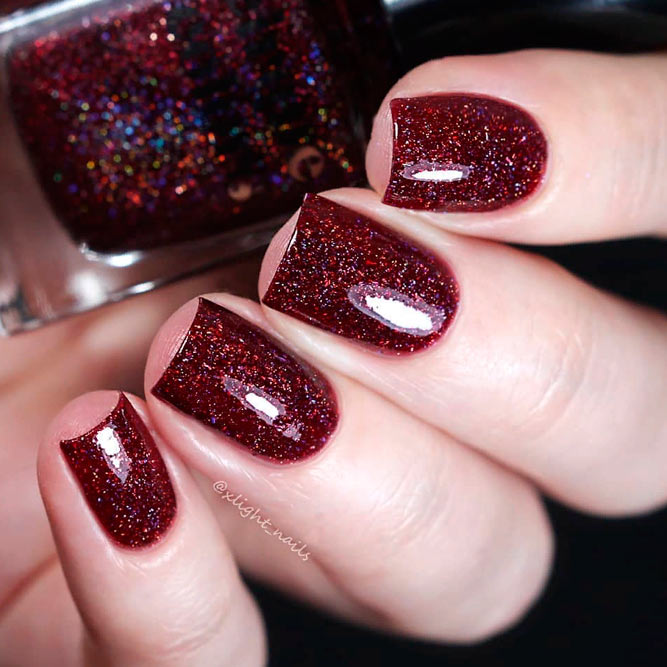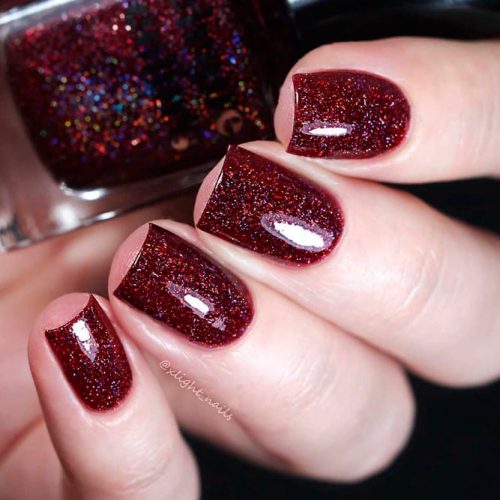 Source: xlight_nails via Instagram
Cirque Colors have proved that holographic glitter can be easily combined with classy dark colors. For example, Garnet here is the regular red wine hue with the addition of some glitter and if you think that the holographic effect makes it look any less bold or elegant – have a second glance. Just two coats of this nail polish and you are ready to rock and roll.
Morganite Cirque Colors Holographic Nail Polish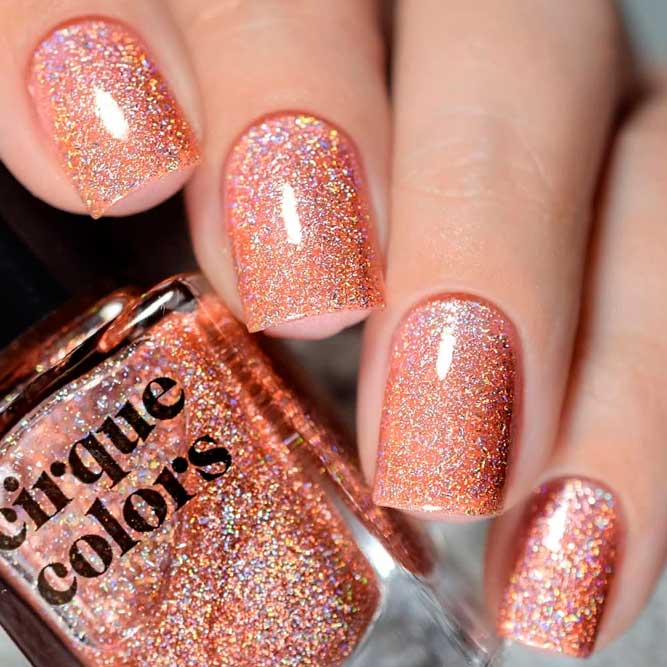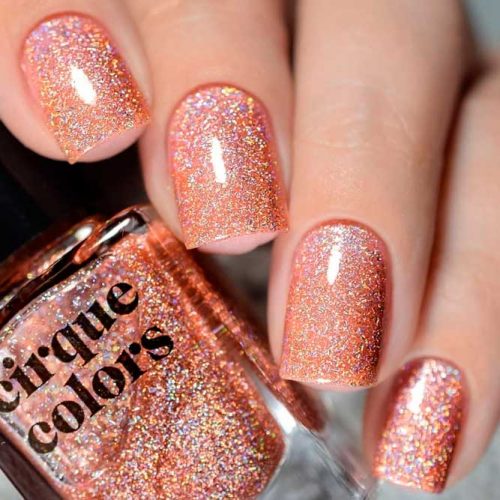 Source: nnailtasticc via Instagram
Morganite is one of those colors that are difficult to describe with just one word, since when you have a look at it, it looks pretty champagne-colored, but on a second glance you can notice the rose gold tints and that what makes this nail polish so perfect. It should be mentioned that despite the way it looks it is very easy to apply since that is not the actual glitter used but just the flakies. Also, it should be emphasized that two coats with this nail polish are more than enough.
Cirque Colors Dioptase From The Facets 2018 Collection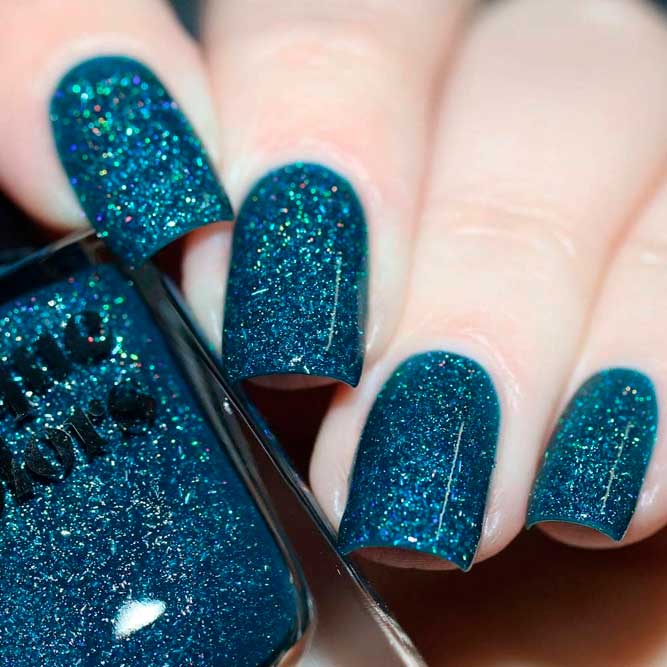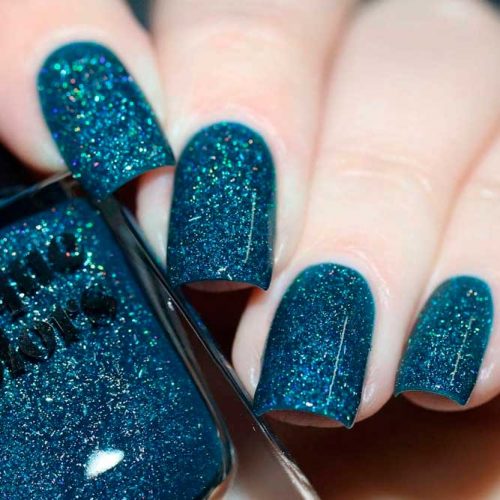 Source: chrisslypaws via Instagram
Since the hue itself is pretty deep and bold, the Cirque Colors decided to take it easy on the holographic effect. Truth be told – they made a right choice since a little bit more of holo might have ruined the whole idea. Dioptase would be a perfect option for those of you who are all about deep teal colors and not that much about the holo effect.
Men Are From Mars-ala By KBShimmer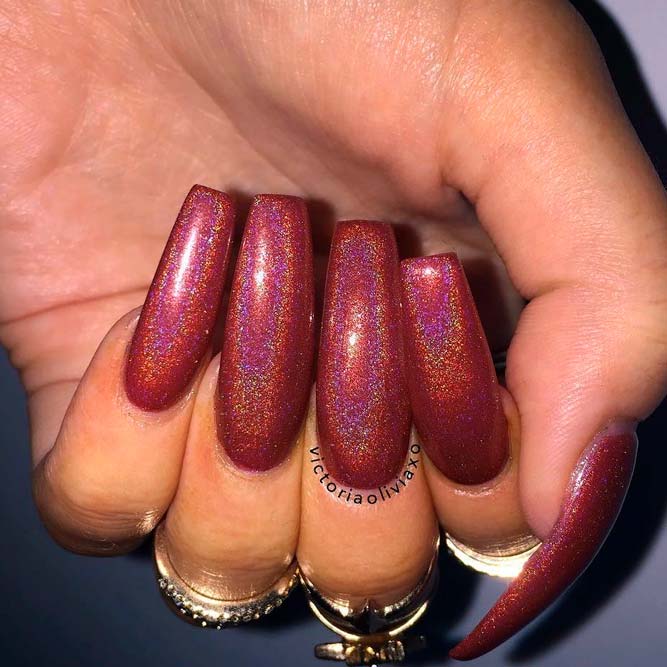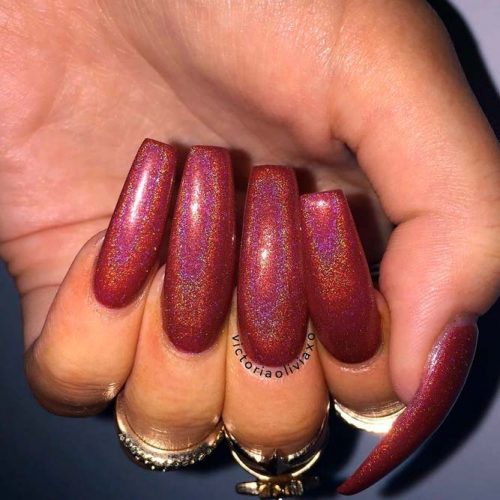 Source: victoriaoliviaxo via Instagram
Marsala is an interesting color and KBShimmer decided to use it to their advantage. The nail polish they come up with can't be truly compared with anything else. It is the perfect combo of brown and red taken to the whole new level with the help of holographic introduction. If you want to look both stylish and like no one else, then this is that nail polish designed for you specifically.
You're Brew-Tiful From The KBShimmer Holo-Day Collection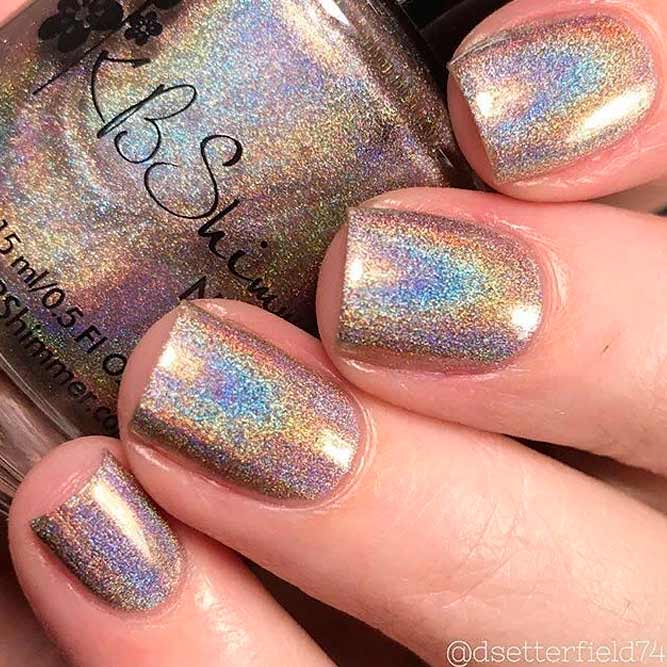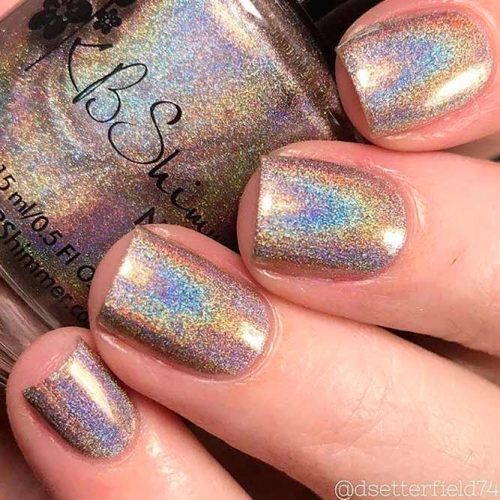 Source: dsetterfield74 via Instagram
Glitter and gold – these are the two elements combined by KBShimmer that result in a masterpiece. You're Brew-Tiful is a true invention that will drive many ladies crazy. We think that this holographic nail polish should be added to every lady's collection so that she can feel and look like a princess while wearing this extraordinarily beautiful shade!
Smashed Linear Holographic Nail Polish By KBShimmer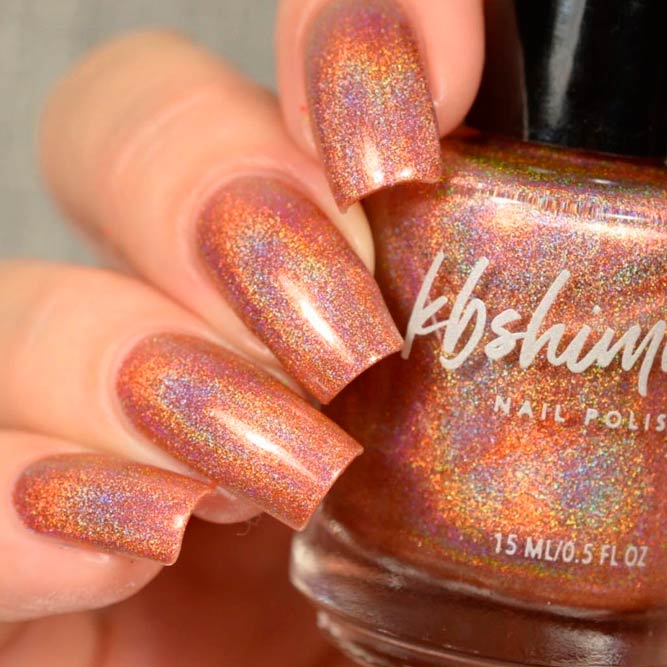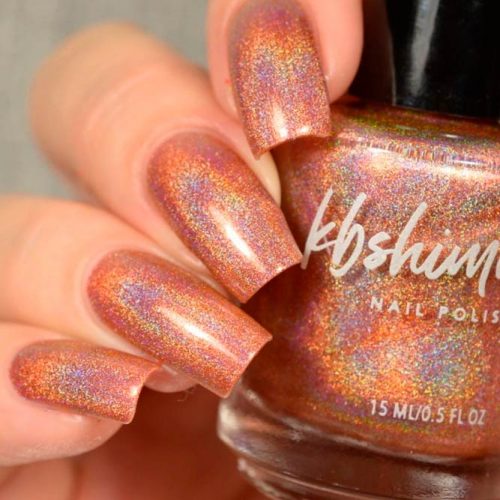 Source: kbshimmer via Instagram
Autumn is the season of fallen leaves, holidays and of course pumpkins. We think that KBShimmer were inspired by pumpkins when they created this Smashed holo nail polish. It is truly mesmerizing and gorgeous, even those of you who prefer subtler hues won't be able to resist the spicy temptation, that is for sure!
Essie Seeing Stars – Desert Mirage Collection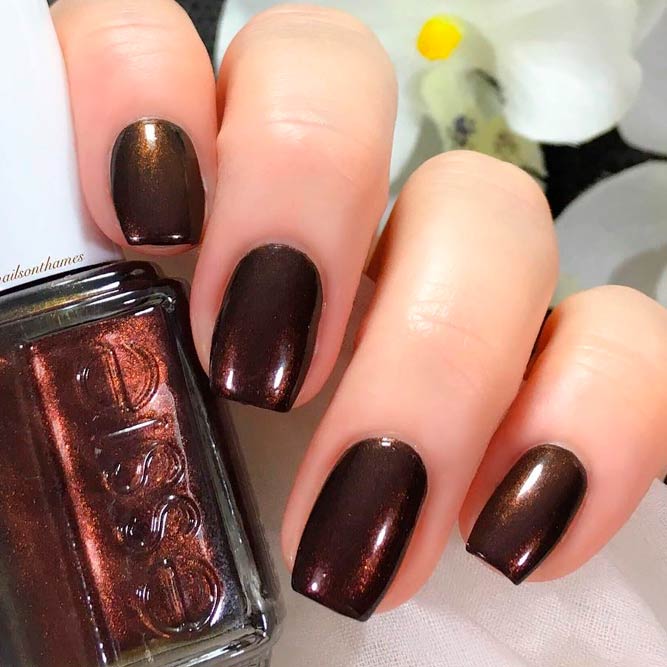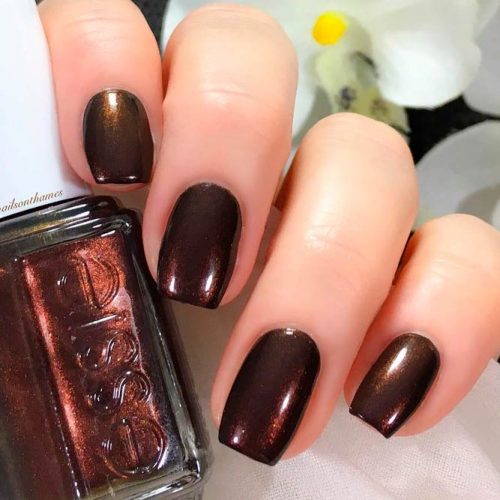 Source: nailsonthames via Instagram
Very often, it is considered that some things are just not meant for each other. However, in this collection, Essie proves that this is not true when it comes to a combination of brown hues and holo effect. They seem to walk just hand in hand, and we are sure that those of you who prefer darker shades will fall in love with this sparkly chocolate brown invention!
Turn On The Northern Lights From OPI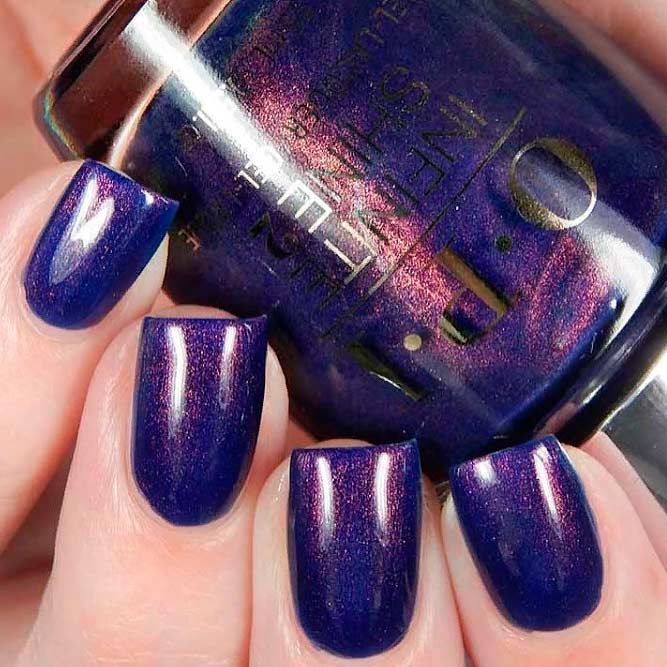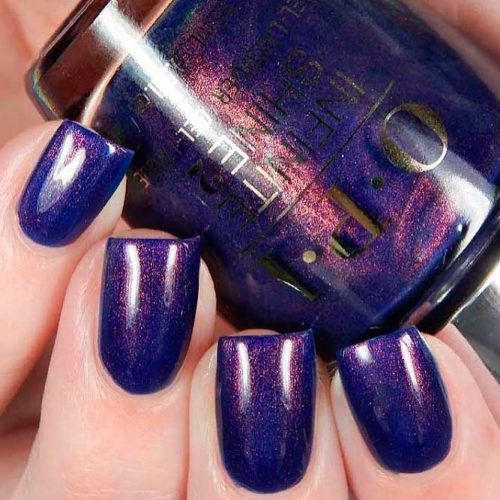 Source: cosmeticsanctuary via Instagram
OPI just knows how to surprise their fans and this time it is not an exception. The thing is that when you look at the bottle, it may seem like a regular indigo blue nail polish but wait until you put it on, that is when the magic starts. The tiny red and sparkly elements come alive when you put this nail polish on and that is merely breath-taking. See for yourself!
Wine Malaga By Born Pretty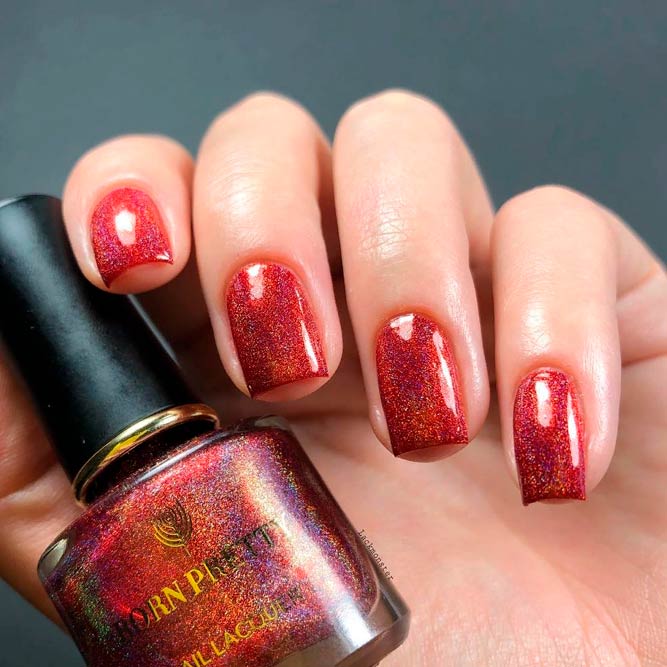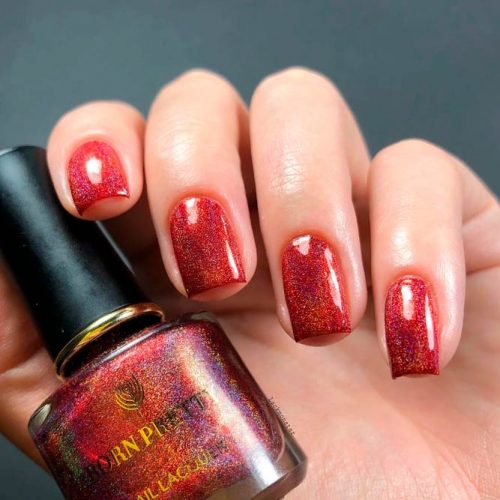 Source: lackmonster via Instagram
We all know that some colors suit colder seasons more than the warm ones and in the case with Wine Malaga, it is simply perfect for fall and winder. The color is so warm itself, but the addition of gold holo effect is what takes the impression to the whole new level. What is more, such a hue can be easily pulled off on a regular basis since there is merely nothing it wouldn't fit in with. Try it out, and you will not regret it!
Wavelength From LeChat Spectra Perfect Match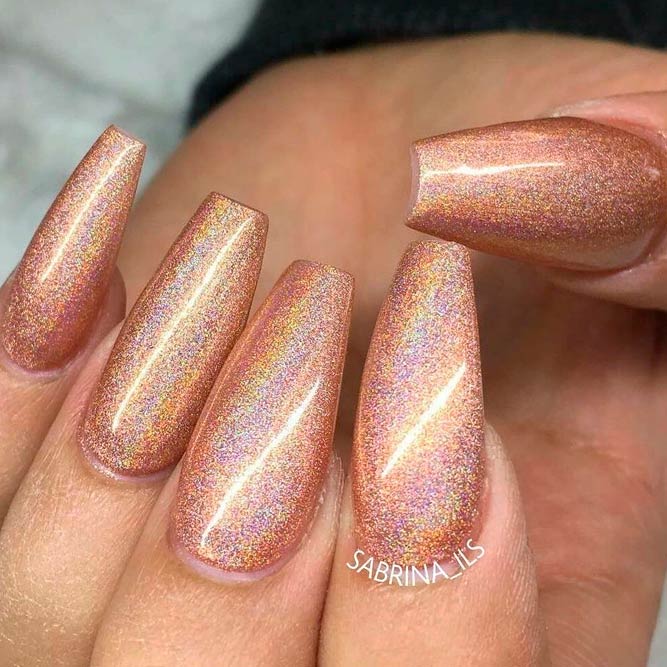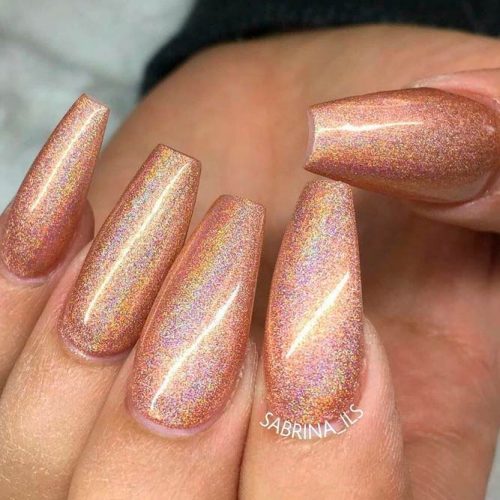 Source: sabrina_ils via Instagram
If you are looking for a pretty Holographic Nail Polish Gel formula – we may have something in store for you. This Wavelength from Lechat is what can be easily called a perfection. It is bold enough to stand out in the crowd and subtle enough to be worn on a daily basis, that is all granted by perfect soft terra cotta color combined with rainbow holo. It should also be added that the formula is as ideal and you can wear such a mani up to a fortnight. Pretty and convenient!
Maliboo-Boo By China Glaze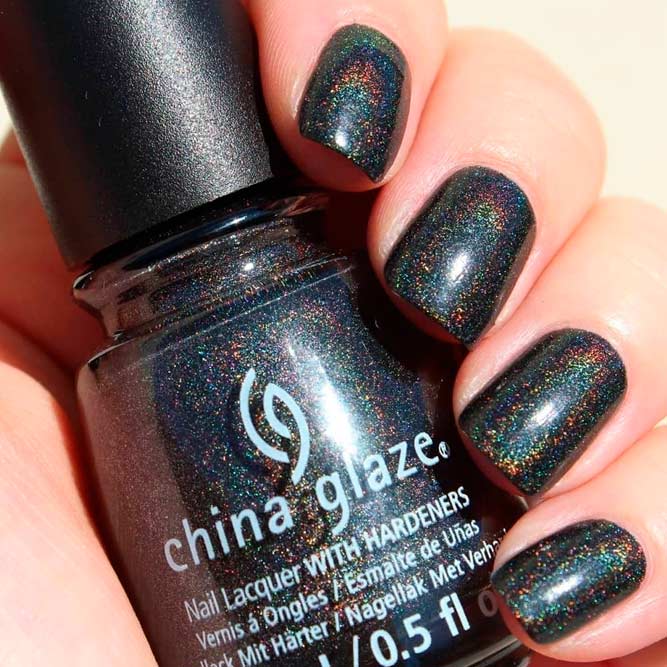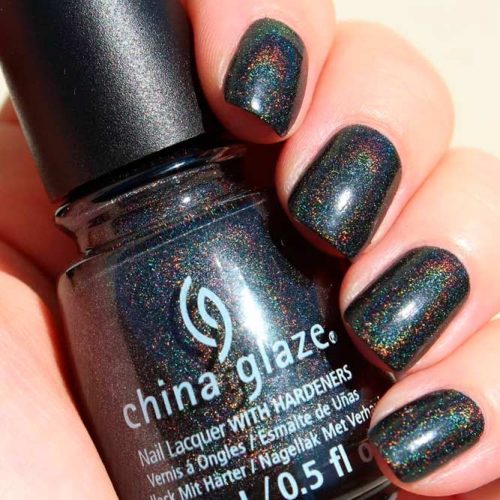 Source: phoebemoon14 via Instagram
Black holographic nails are not something you are going to meet on a regular basis, but one look at this black holographic nail polish from China Glaze will leave you speechless for a while. It looks like a tiny galaxy is captured in your nails, and that is what makes this polish so extraordinary and totally fab. What is more, it is so opaque that just two coats are enough to enjoy this masterpiece for quite a long period of time, since the formula is very durable.
Pulsar From The Starrily Holodescent Collection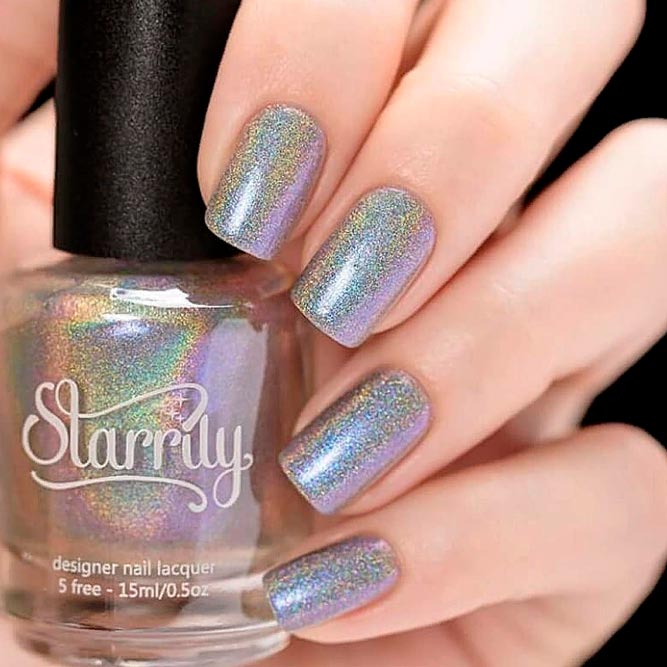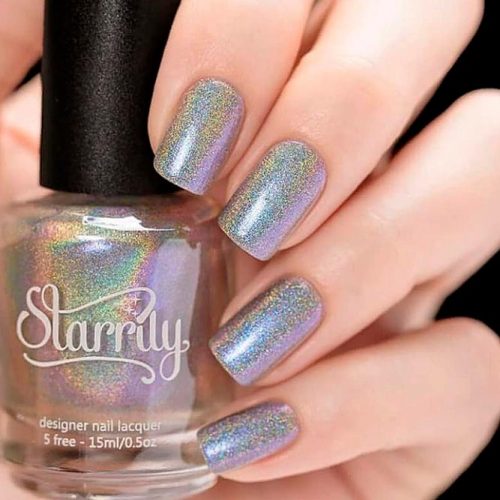 Source: starrilynails via Instagram
The beauty of the Pulsar holographic nail polish lies in its ability to be completely different every time you have a glance at it. However, to achieve that you may need from three to four coats applied. Of course, this may sound like a downside but after all everything perfect needs some time and effort applied, the result won't disappoint you that is for sure!
Holo Duochrome Nails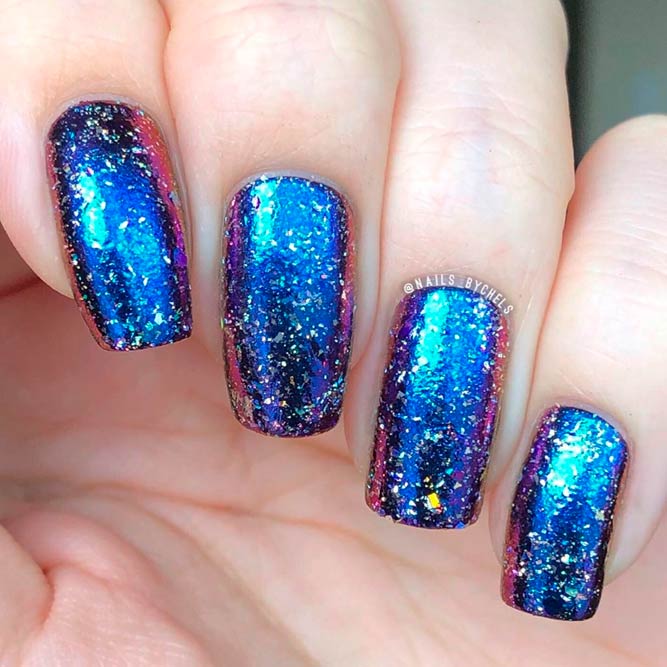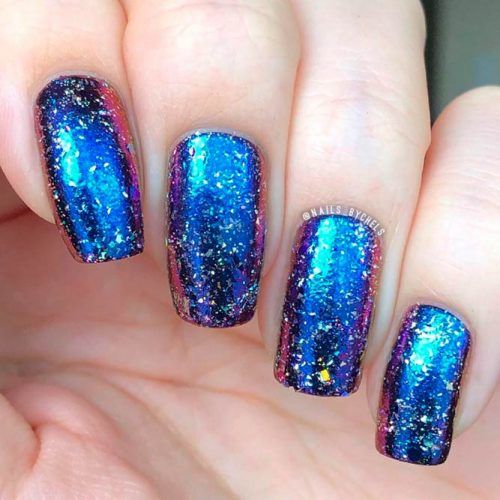 Source: nails_bychels via Instagram
Surely chrome nails always look impressive and tasteful. However, when a single chrome effect is not enough, you can opt for duochrome manicure. As you can see the effect is merely mesmerizing.
Dainty Flowers With Holographic Base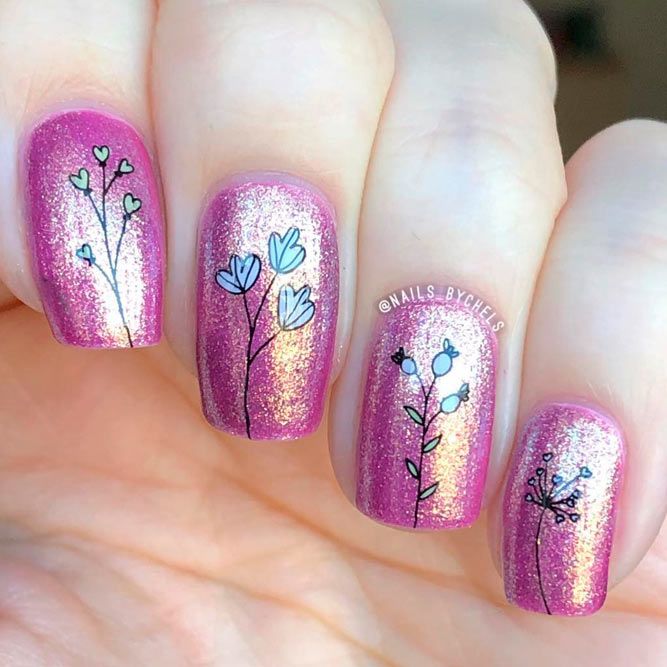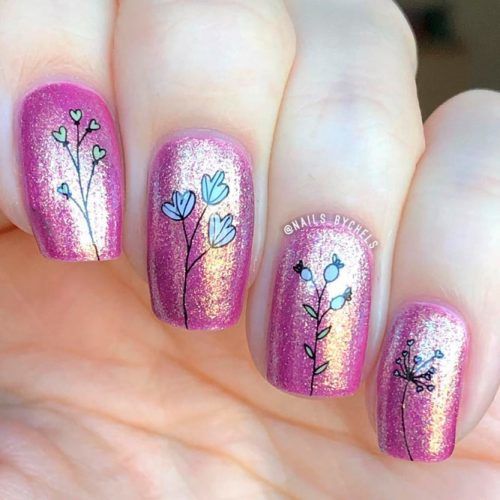 Source: nails_bychels via Instagram
Flowers and pink hues are the two definitive elements of feminine manicure. Nevertheless, if you use a lovely holo base and a cute dainty stamping on it, the result will be mind-blowingly beautiful.
Holographic Base With Animal Stamping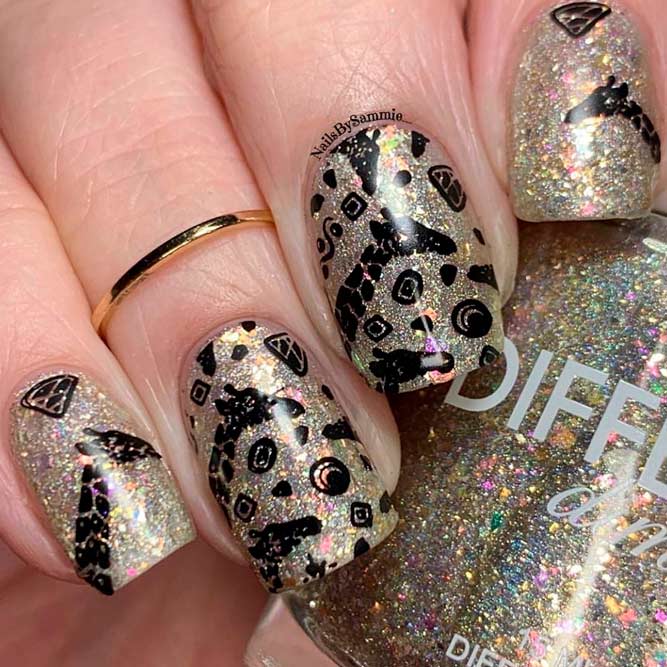 Source: nailsbysammie_ via Instagram
If floral stamping is not your cup of tea and lovely pink tones are not for, there is something else to opt for. In fact, the combo of holographic champagne base adorned with sweet giraffe print is precisely what we are hinting at.
Holo Accented Nail Art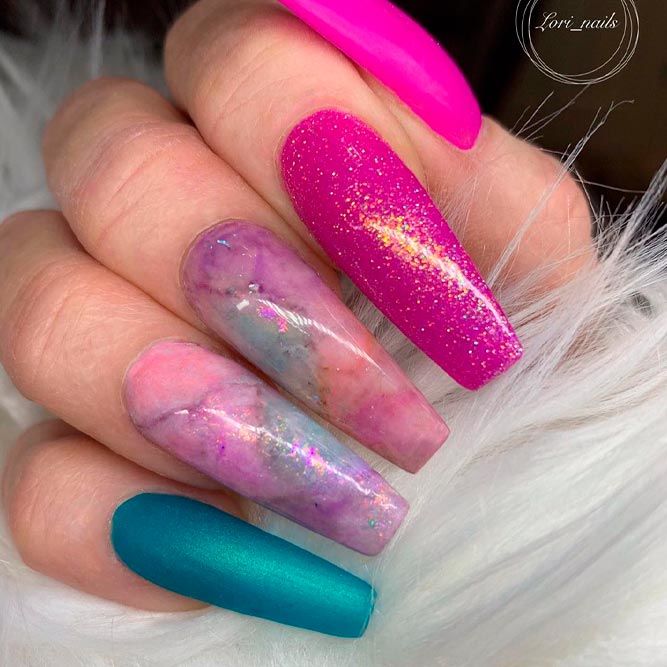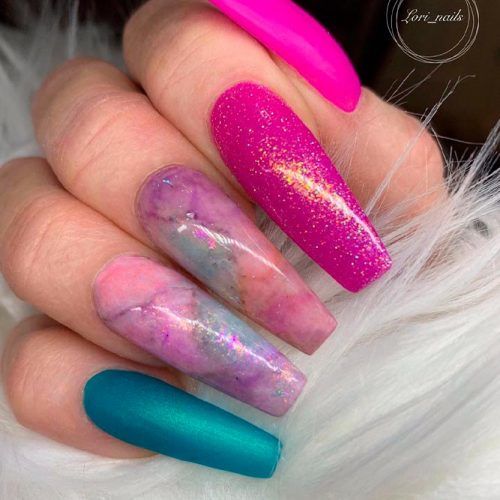 Source: lori_nails via Instagram
You do not need a full holo manicure to keep up with trends. There are times when all you need is the accent nail. This design proves the point completely.
Simple Holographic Nail Design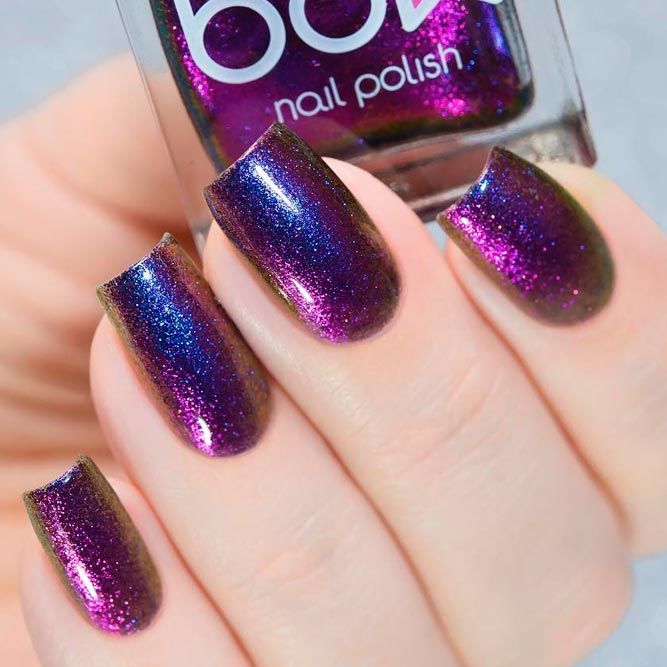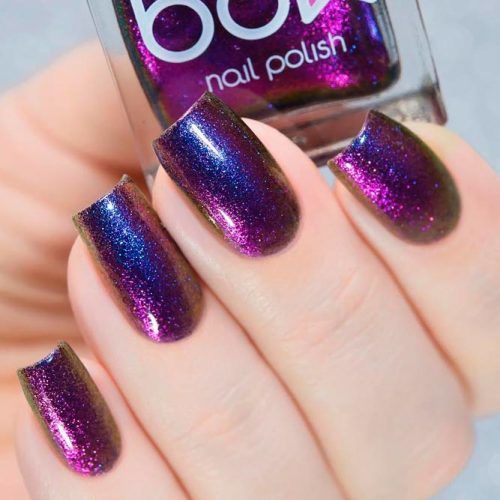 Source: sveta_sanders via Instagram
Some ladies prefer to keep things simple and stylish in terms of manicure. If you belong to the category, then this chameleon nail art is something you should at least consider.
Pink Holographic Nails With Accented Finger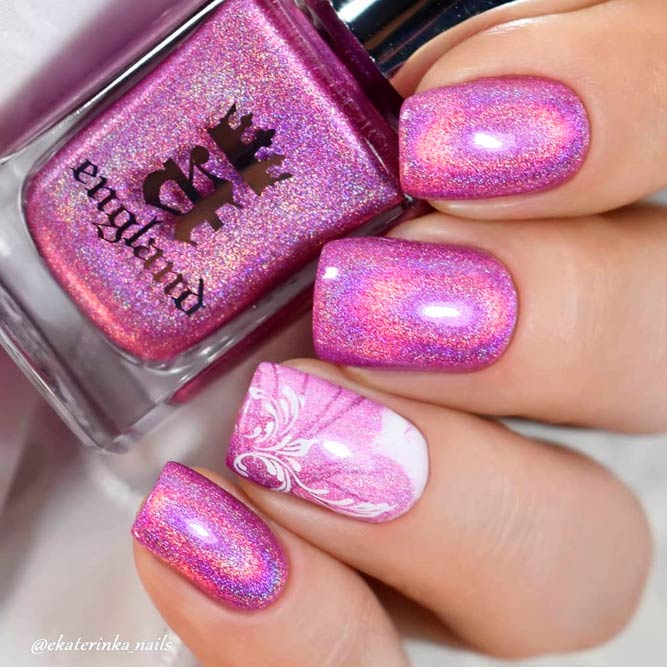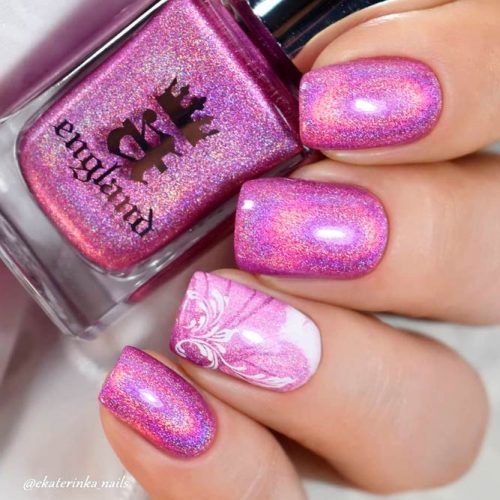 Source: ekaterinka_nails via Instagram
In times when holo accent nail is not an option, you can opt for a reversed option. What we have in mind is a single-shaded manicure with an accent nail. As simple as that!
Holographic Ombre Nail Art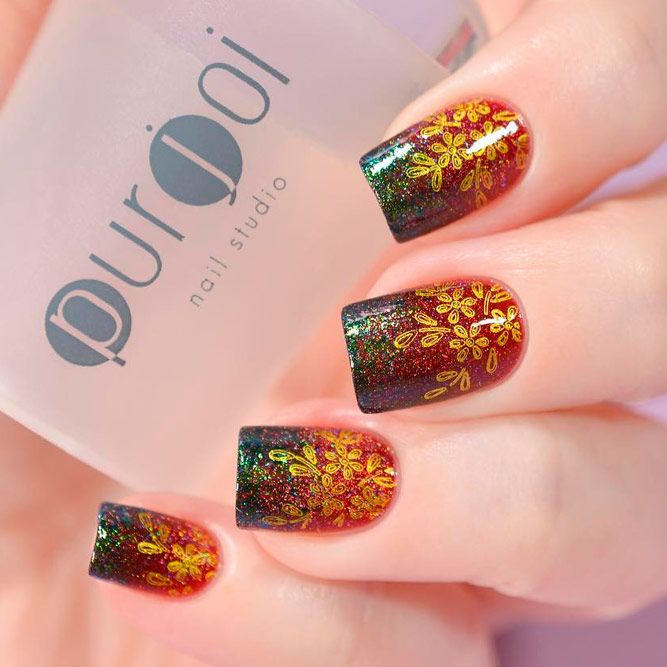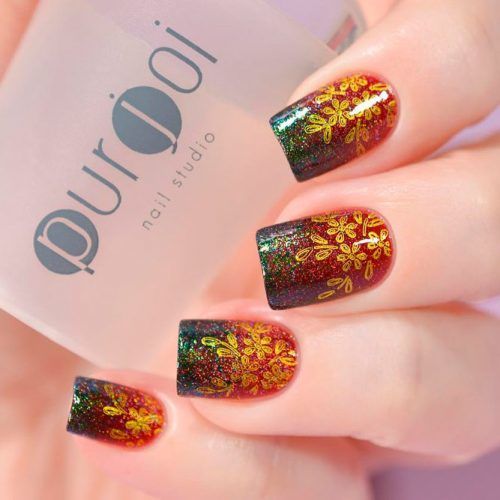 Source: tanya_wishvia Instagram
When you can't decide which holo nail polish to choose, you can combine the two. Luckily, ombre is that one nail art technique that allows you to succeed with that in style.
Easy Design With Two-Toned Nail Polish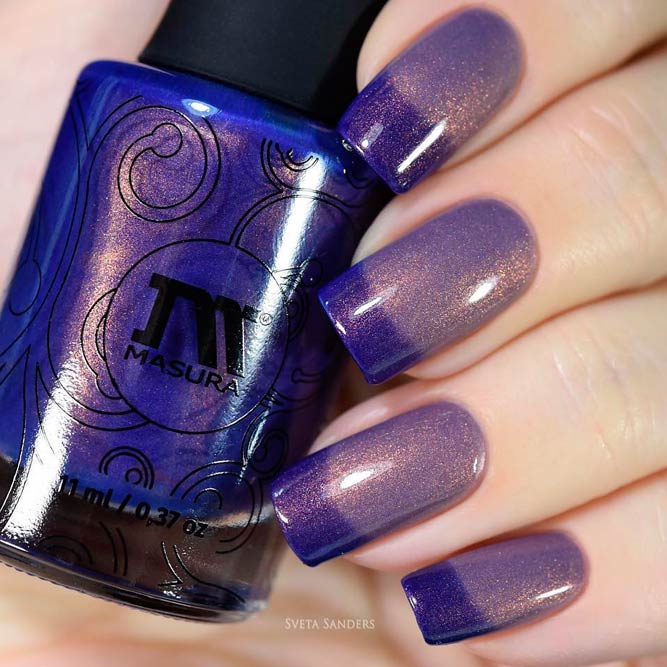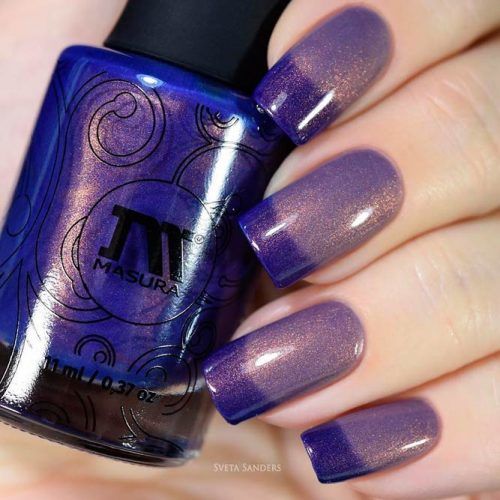 Source: sveta_sanders via Instagram
Those of you who are looking for something classy and simple to experiment with, we say go for two-toned nail art. It will resemble the classic French manicure while will remain trendy at the same time.
Warm Nail Art With Holo Polish And Foil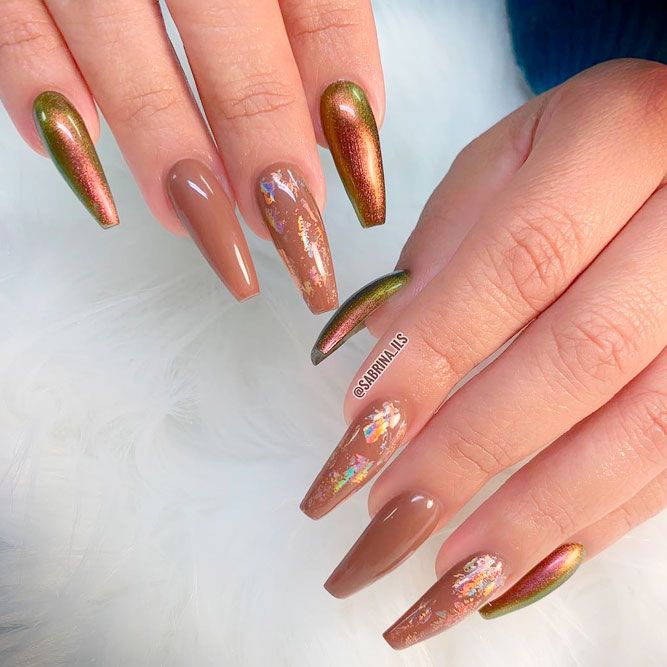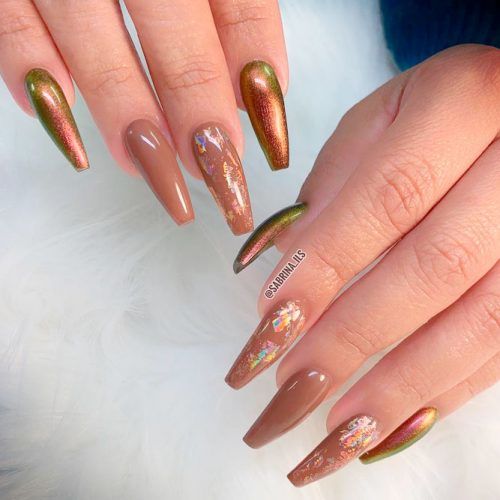 Source: sabrina_ils via Instagram
If you want to kill two birds with one stone, we may have an idea in mind. The fact is that that the combination of warm holographic nail polish and ultra-trendy transfer foil will result in the creation of sweet and gentle manicure with a hint of boldness to it.
Holographic nail polish is extremely popular these days. That is why we rush to bring all the freshest holo nail polish ideas to you in this complete compilation. Take a pick!