Every lady wants to look her absolute best no matter where she goes. Your perfect nails are that one essential component of your flawless look. However, not every woman can show off healthy and long nails granted by nature. That is why many of us refer to the miracle named: fake nails. There are many people who may believe that false nails are nothing but pure evil yet we decided that it is up to you to choose whether you should try or shouldn't try them out. We are going to have a closer look at all types of such nails in this article as well as we will provide you with a bunch of inspirational designs to at least consider.
Different Types Of Artificial Nails To Make A Perfect Choice
The world of fashion and beauty is constantly changing and when you think you know it all – a couple of new things appear. The very same goes for artificial nails, there are new types appearing, and it is time you learn them all!
Acrylic Nails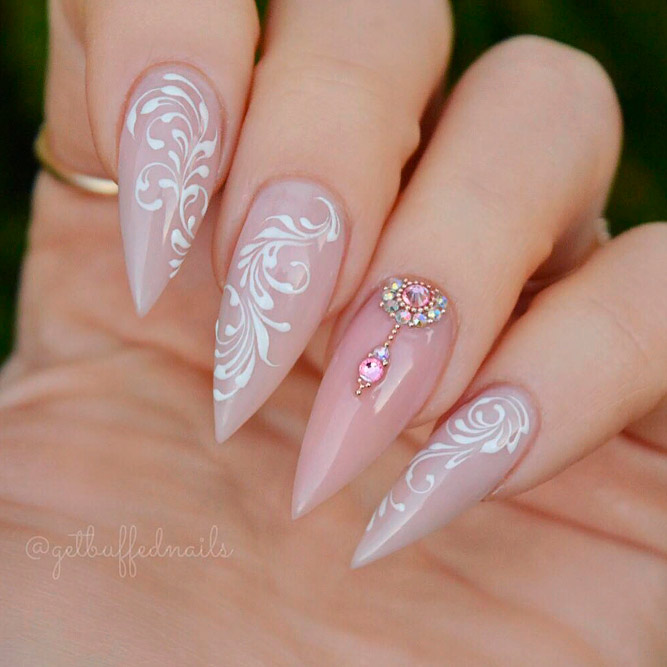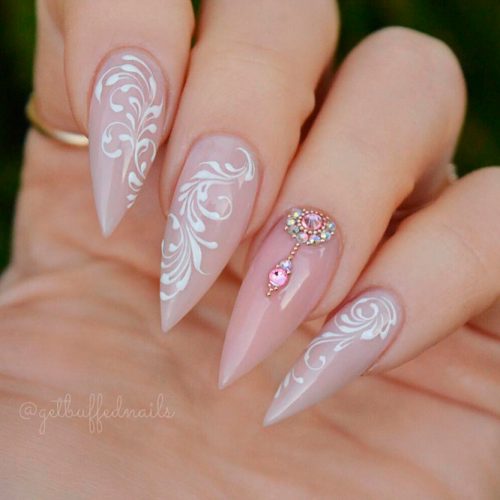 Source: getbuffednails via Instagram
Fake nails acrylic are the most commonly used type of fake nails. However, unlike all the other types acrylic nails are created with the help of particular substances which are applied directly to the nail. As a matter of fact acrylic nails are harmless to your nails, in most cases, the acrylic nails protect the brittle natural nail and help them grow out safely. This leads to the thought that your nails grow out faster and you need a refill quite often. To tell you the truth that is precise, but acrylic nails are very durable, and just an occasional refill will help them last up to half a year. When the time of removal acrylic – you should better leave it to the professionals to avoid any self-harm.
Advantages:
Fast growing
Durable
Long-lasting
Do not crack easily.
Disadvantages:
Costly
Takes time to dry them out
Some salons do not possess proper ventilation, and the smell inside can be pretty intense.
Crystal Nails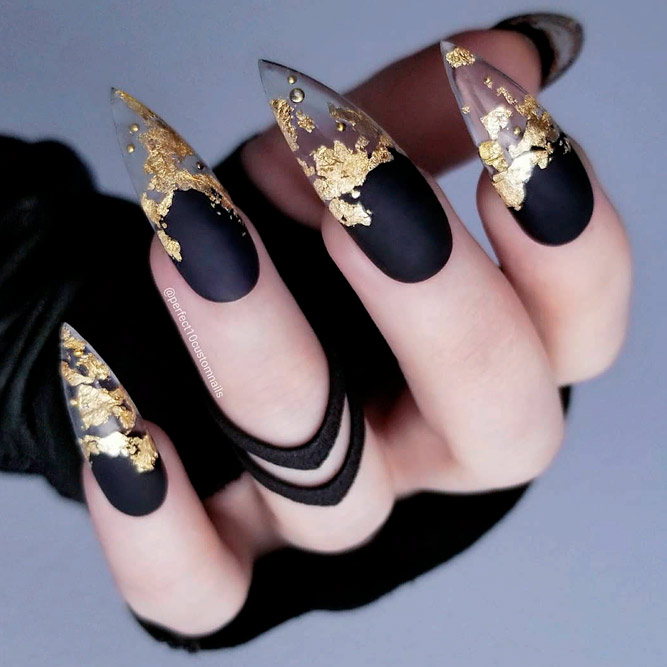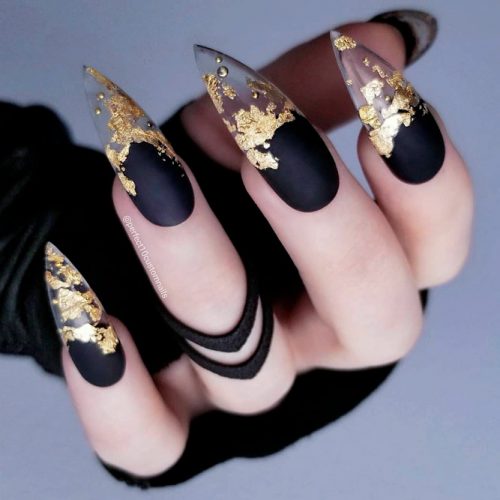 Source: perfect10customnailsvia Instagram
Among all the fake nails ideas crystal nails are considered to be super fancy and fantasy-like. The thing is that crystal nails are nothing special since the process they are created with is quite the same as when it comes to acrylic nails. The only and main difference lies in that this type of nails is totally see-through which makes them look like made of glass. As for the refill and removal processes - they are the same as for acrylic nails.
Advantages:
Durable
Long-lasting
Do not crack easily.
Disadvantages:
Quite expensive
Takes time to dry them out
Gel Nails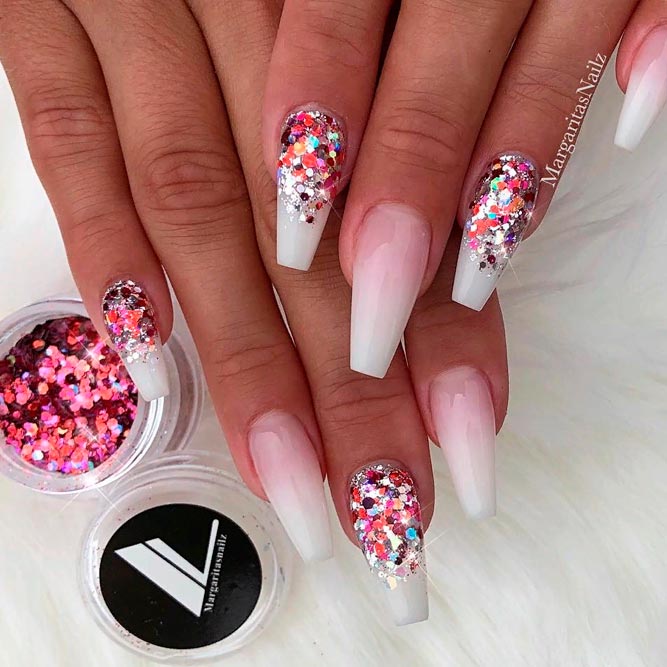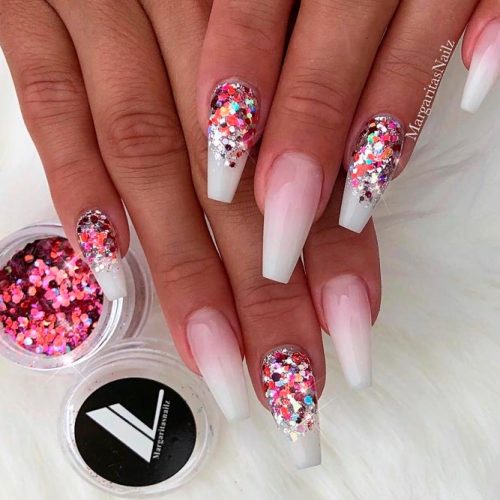 Source: margaritasnailz via Instagram
It is true that when it comes to gel nails, almost all of you are already used to them and rarely think of them as of false nails. The truth is that gel nails are the most natural-looking fake nails there are. What is more, this type of artificial nails is actually good for your nails if applied and removed properly. Besides, gel nails can be easily removed on your own with lots of means saved. There are many designs and colors to pull off with gel nails so that there is always something in store even for the pickiest customer. Not to mention the fact that some ladies easily learn how to apply gel nails on their own since all the products for the gel manicure creation are available almost anywhere.
Advantages:
Short time to dry
No smell.
Disadvantages:
Natural nails may become weaker
It takes up to two hours to get done with the application process.
Powder Nails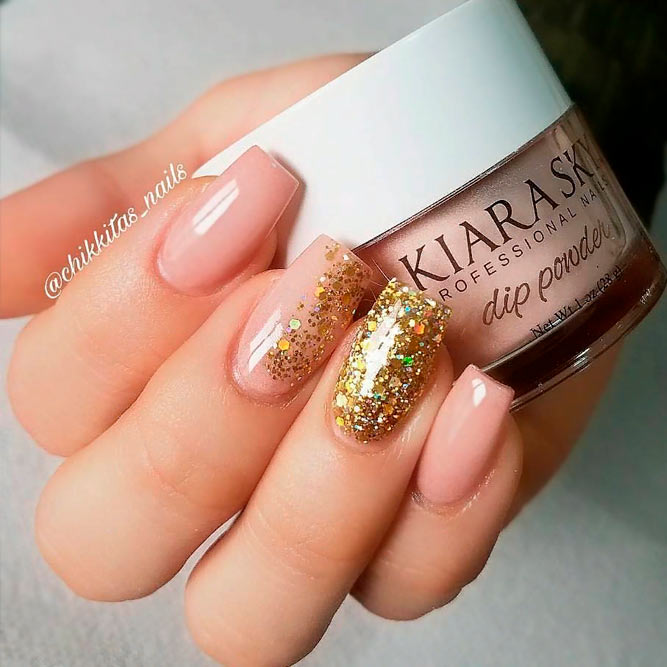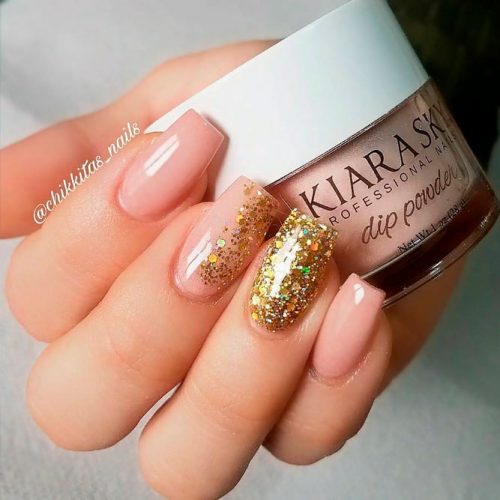 Source: chikkitas_nails via Instagram
There are types of fake nails that are highly advertised on social media, and dip powder nails are surely the thing these days. The process itself is pretty simple, all you need is a base coat and different-shaded powders. Even though you can easily apply powder nails at home, professionals advise doing that at the trusted salon for the best result. As for the removal, you can easily remove the powder nails at home the way you remove gel or acrylic nails or you can go to the salon.
Advantages:
Long-lasting effect
Instant dry
Easy to remove
Disadvantages:
Quite expensive
Press On Nails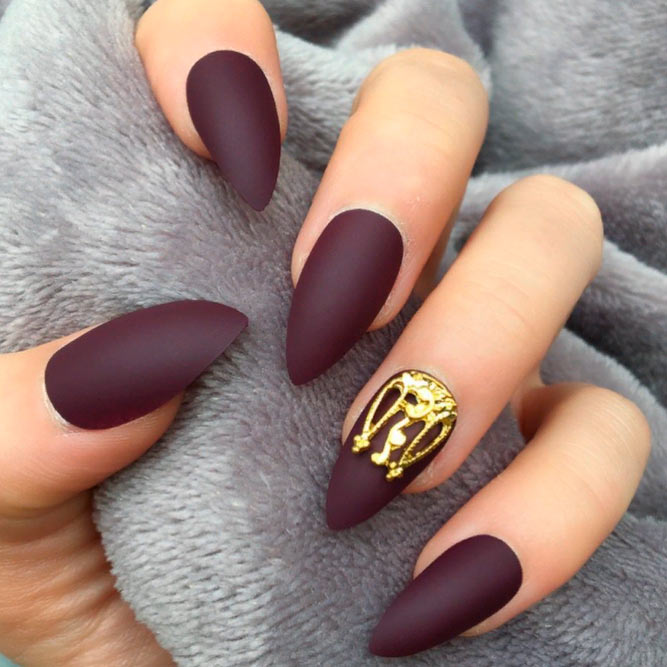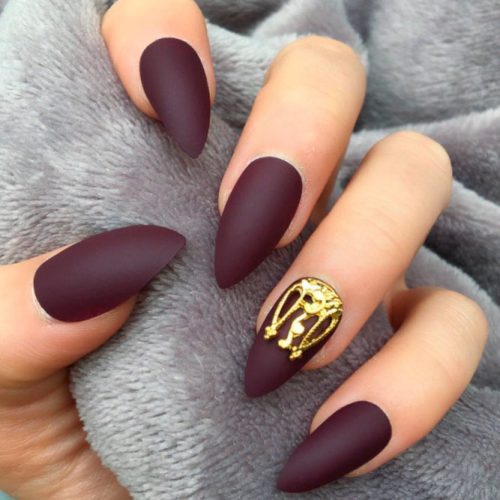 Source: doobysnails via Instagram
If you are a busy woman then press on nails are the best option for you. The thing is that you can find various shaded and designed sets of press on nails almost anywhere and the application will take you the least time possible. On the dark side, such a manicure won't last as long as other artificial nails.
Advantages:
Cheap
A wide variety of shades and designs
Easy to apply
Easy to remove
Disadvantages:
Short lifespan
Look fake
Silk Nails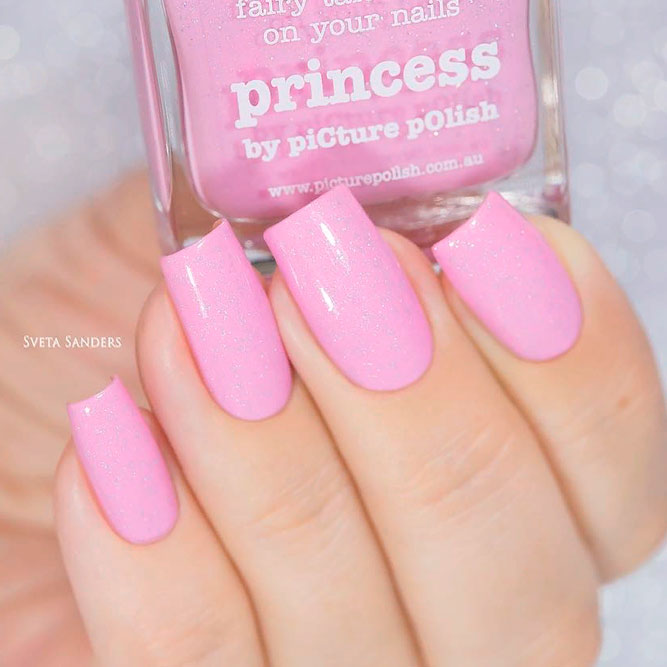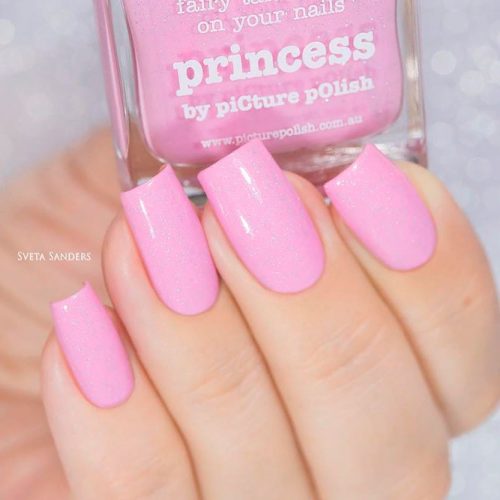 Source: sveta_sanders via Instagram
This type of fake nails is mostly used in order to strengthen your natural nail rather than to create an outstanding manicure. Silk fabric that is glued to your natural nails serves as protection and should be re-applied every two or three weeks.
Advantages:
Protect your natural nails
Low maintenance
Disadvantages:
Not durable
Short lifespan
Lack of designs to play around with
Bright And Stylish Fake Nails Designs For Any Seasons
Now when you know all about various types of fake nails, it is time you learn about some fancy designs you can play around with and get inspired from. What is more, we have gathered here ideas for all the seasons and occasions as well as tastes!
Nails Art Designs
Bright Nails With Rhinestone Half Moons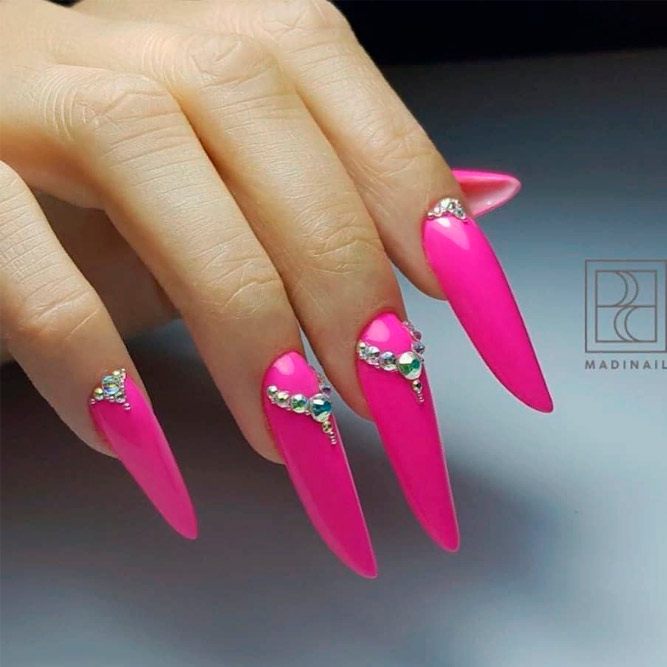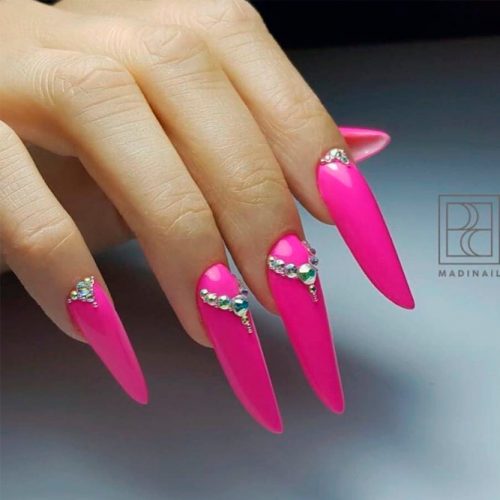 Source: madinail.art via Instagram
Even bold and bright nails can look elegant and stylish. One look at these bright pink nails adorned with rhinestone half moon pattern will prove our point.
Elegant French Mani With Rhinestone Accent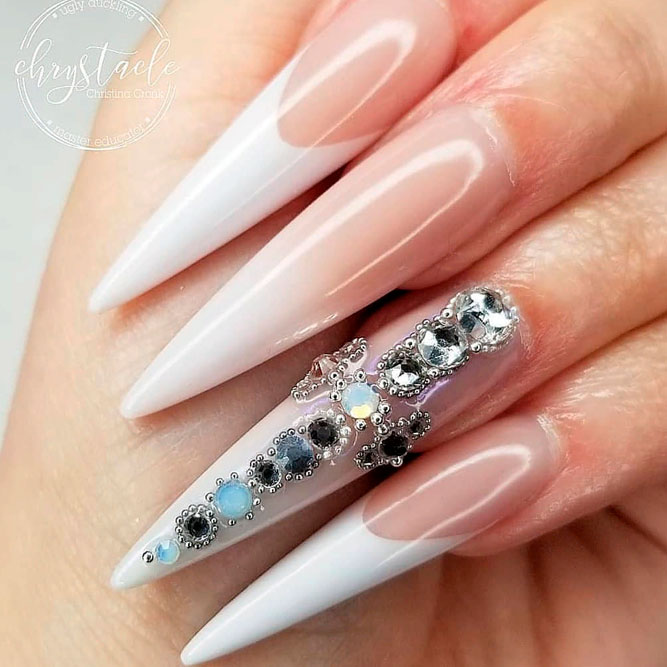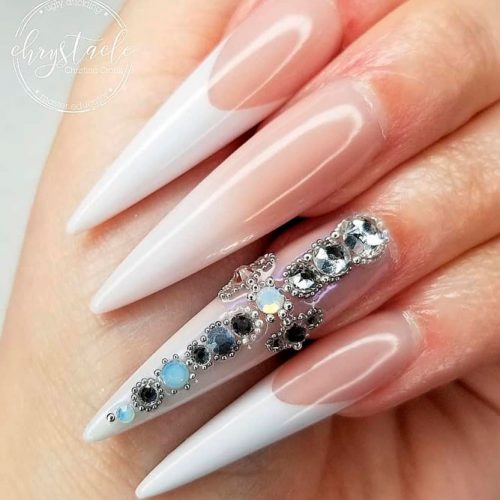 Source: chrystacle via Instagram
Long nails can look classy and elegant if you choose the design correctly. The combo of classic French tip and rhinestone accent are the best proof!
Rhinestone Accent Finger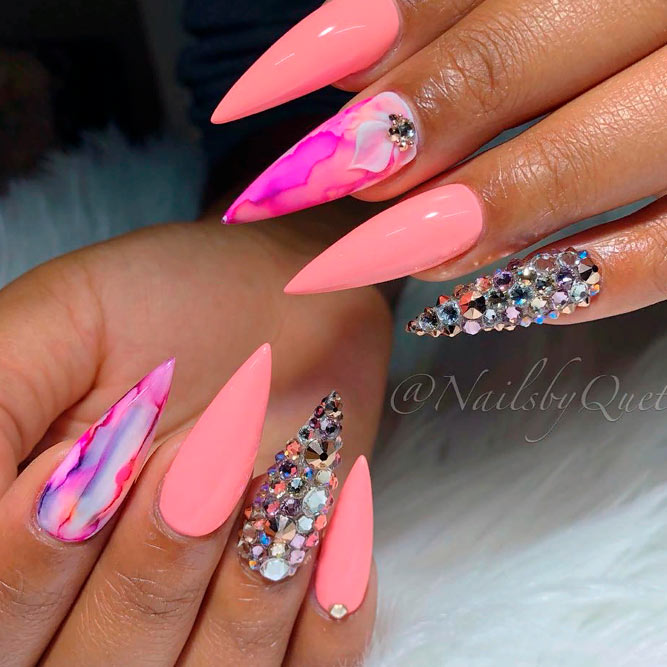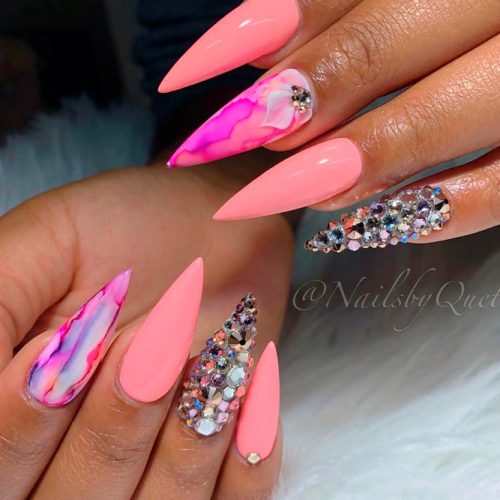 Source: nailsbyquetel via Instagram
Sometimes all you need for a perfect manicure is correctly chosen accent. When the bright watercolor design is not enough, it is time to introduce heavy artillery – rhinestone accent!
Amazing Nail Art With Marble Effect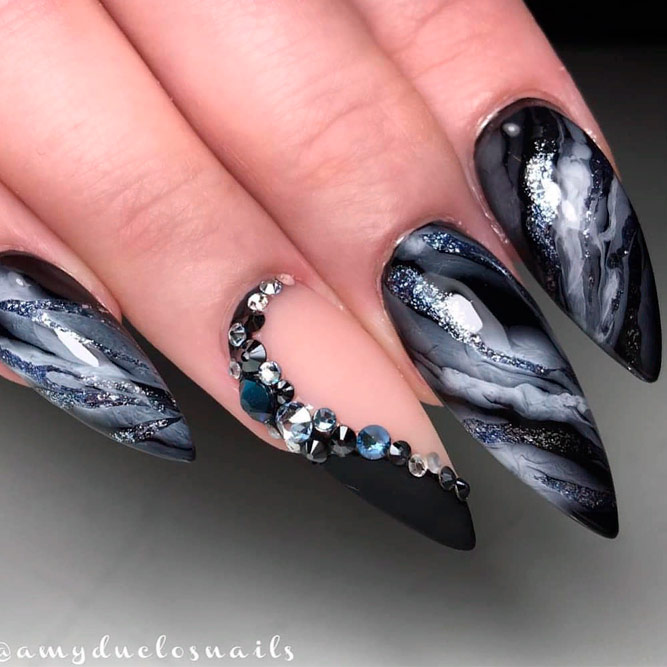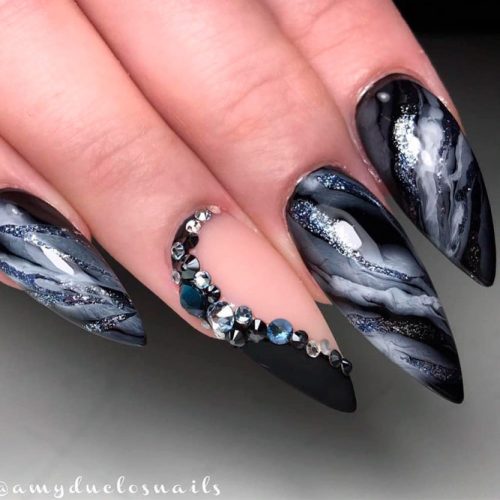 Source: amyduclosnails via Instagram
Marble stone patterns are all in this season and adding some trend to your manicure is a great idea. Daring black shades dissolved with gentle marble pattern will suit all the outfits and events, you can trust us on that!
Pretty Quartz Nail Design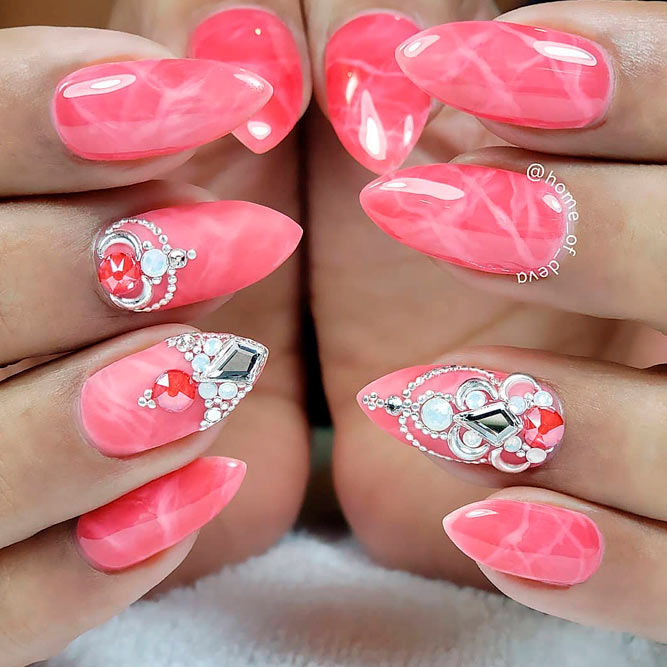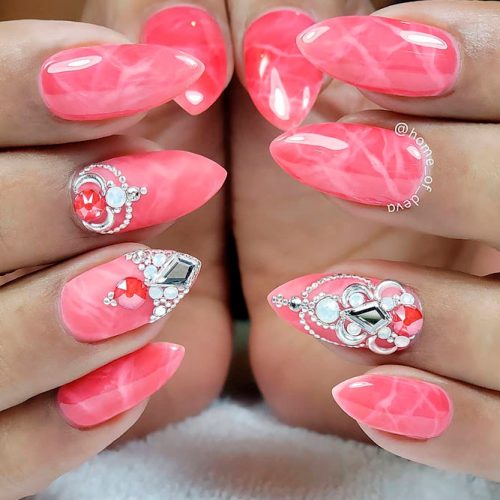 Source: home_of_deva via Instagram
If you are in love with quartz why not to show it off? Gentle pink quartz nails adorned with studded patterns look simply divine and feminine!
Stylish Turquoise Marbled Nail Art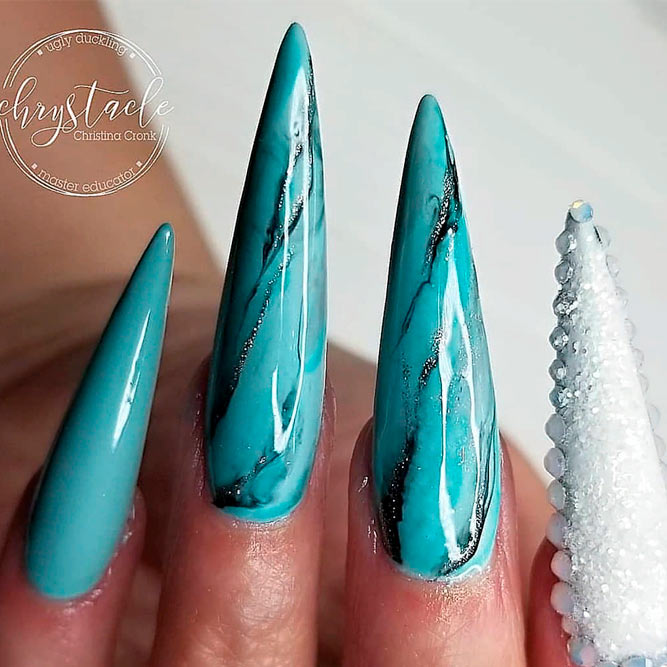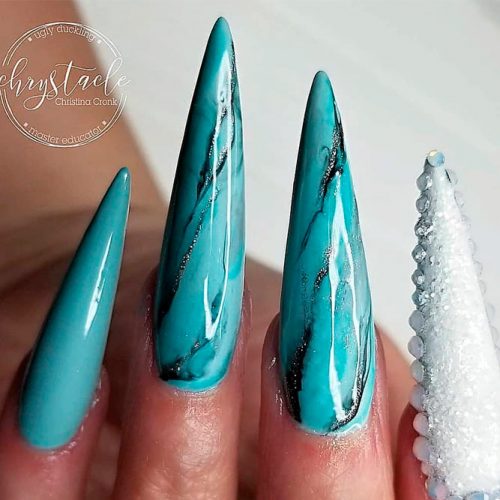 Source: chrystacle via Instagram
Very often in order to achieve a charming and memorable effect, you should pay greater attention to the way the shades correspond after that comes the combo of decorative element. We think that this turquoise manicure is the closest to perfection that the nail art has ever got!
Chic Matte Red Nails With Gold Stripes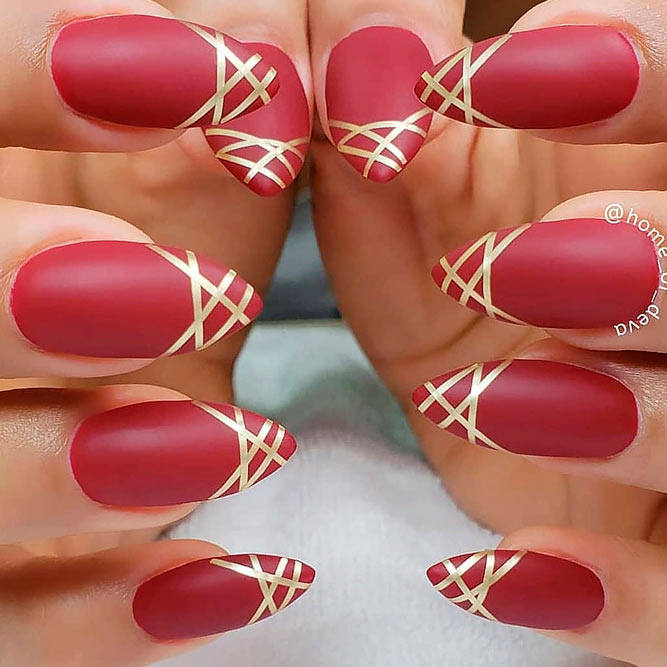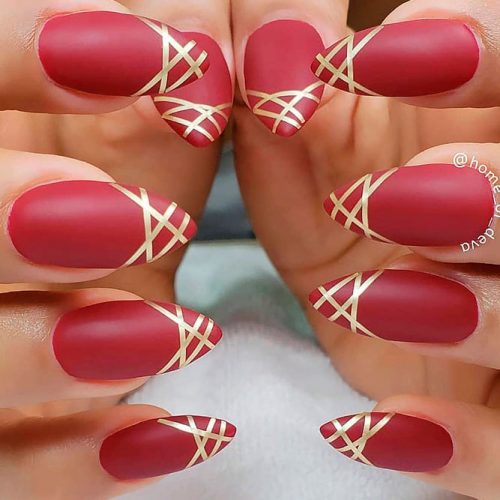 Source: home_of_deva via Instagram
Simple does not mean boring. For example, the combination of spiky matte nails in red shades with gold stripes added looks marvelous in its simplicity!
Turkish Pattern With Matte Accents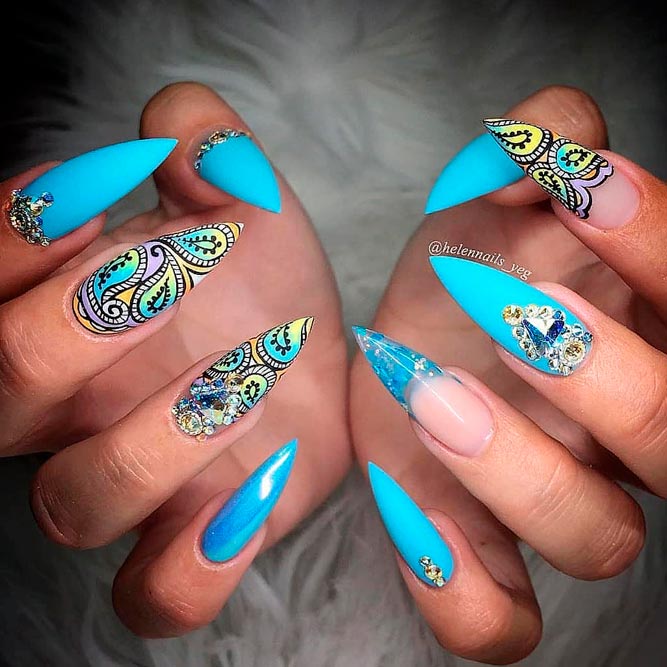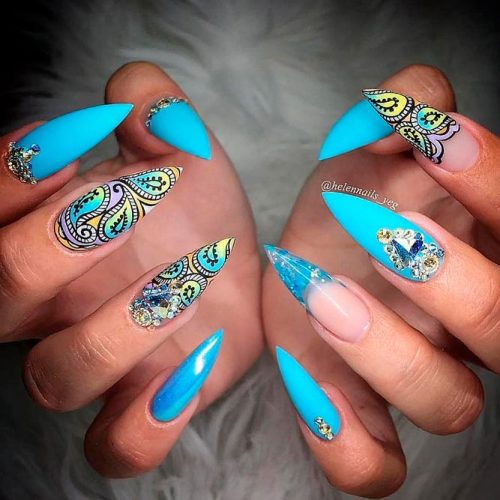 Source: helennails_yeg via Instagram
There are many patterns that belong to different cultures but are widely used in nails art. Turkish accents are not the exception, and one look at this nail art will help you understand why. The thing is that such an intricate pattern looks so harmonic with such bright shading not to mention matte coating!
Matte Top And Glitter – Perfect Combo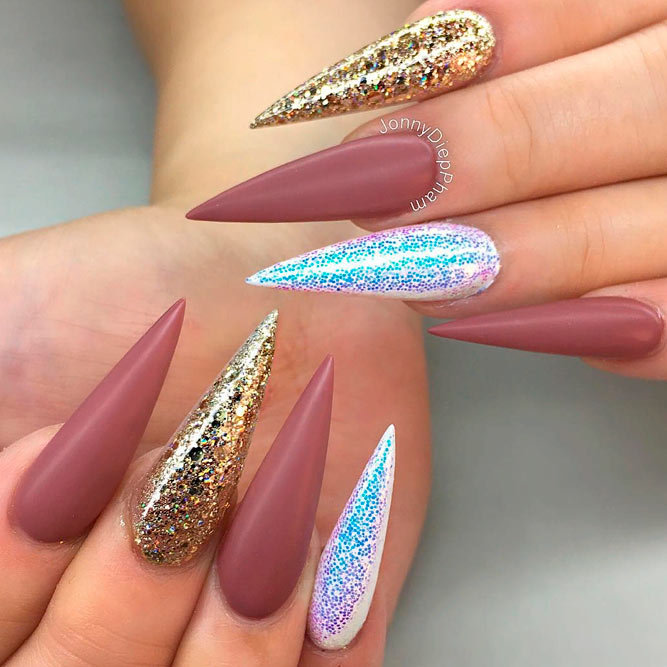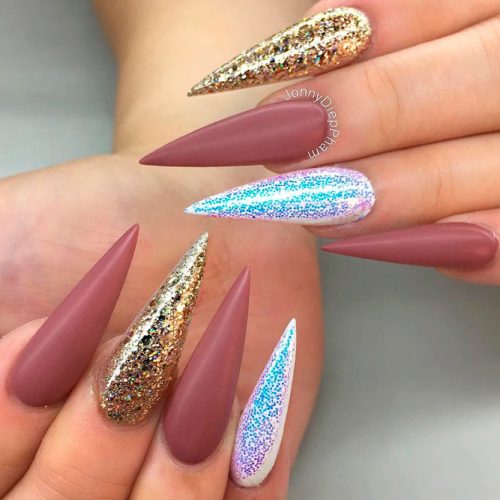 Source: jonnydieppham via Instagram
If you ever wondered whether glitter and matte coating could look good together – it is time you learn the truth! The look magnificent together, there is nothing out of place in this picture. Perfection!
Glitter Ombre Nails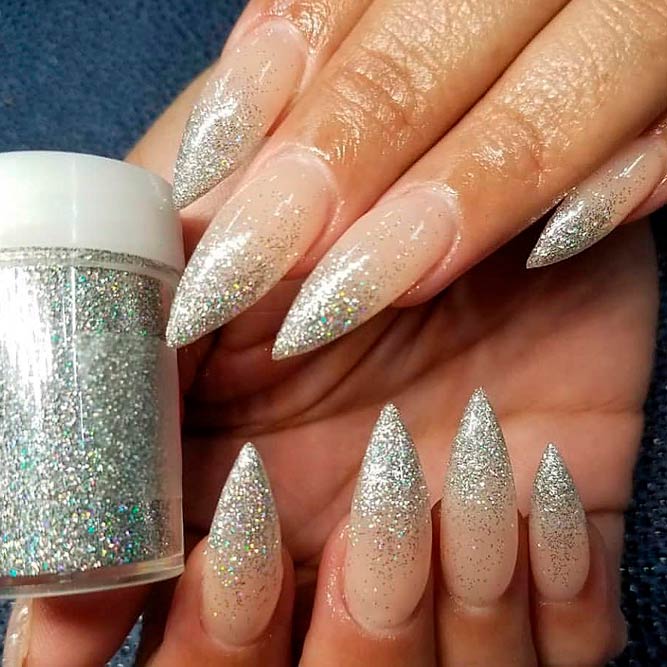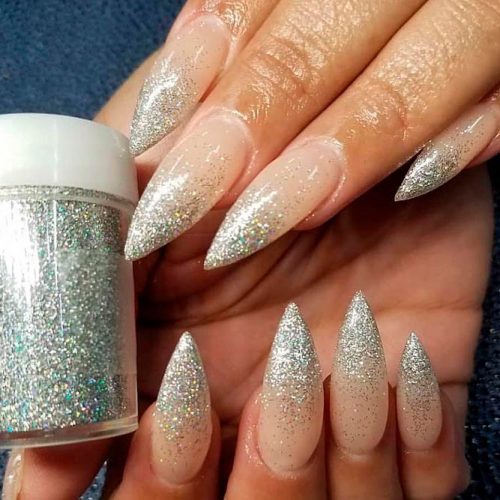 Source: laquenailbar via Instagram
Ombre technique has been trending for a while now, and it seems to keep it up. That is why there are so many nail art ideas involving this technique. Nude nails with glitter ombre is not the exception, rather an outstanding twist to the idea!
Sparkly Glitter Tips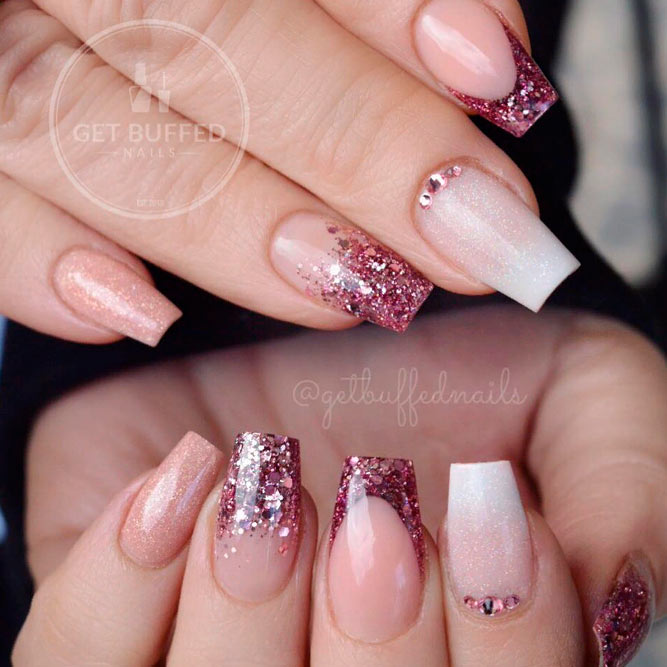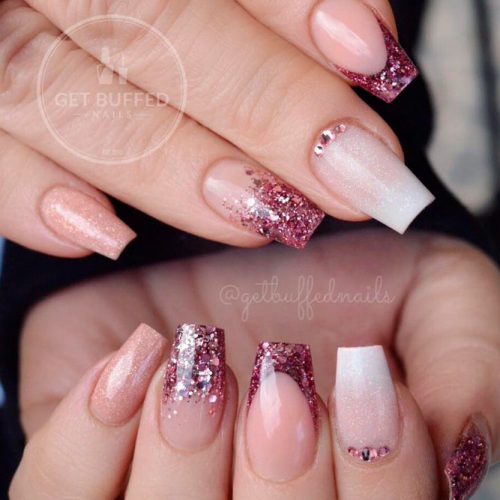 Source: getbuffednails via Instagram
When gorgeous ombre is not your cup of tea, but you can't resist the sparkle – there is a way out. We think mixing and matching would be just the perfect way out. See for yourself!
Stunning Shimmery Fake Nails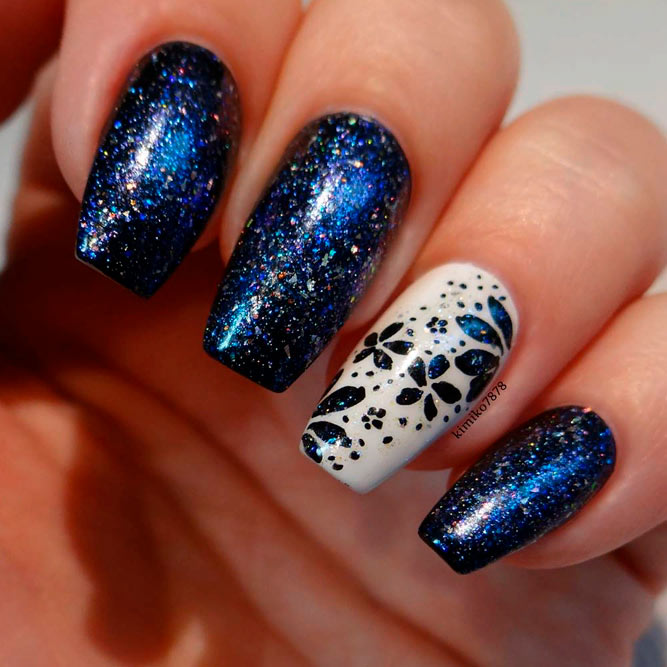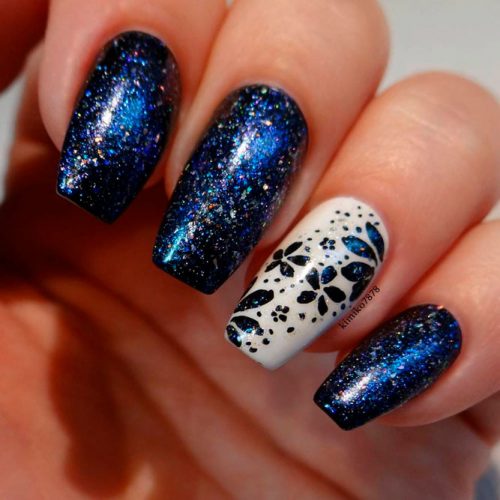 Source: kimiko7878 via Instagram
Galaxy nail art is on the edge of popularity these days but who could have thought that the trend can look so gentle and feminine! All you need to do is to add a neutral accent nail with beautiful flowers on it!
Now when you are aware of what you are about to give a try to it is safe to make your perfect choice! Now all the fake nails are similar; it is up to you to choose the best type for yourself!