Pink and white nails, have you ever wondered what is so special about this color combination? We have, that is why we would like to discuss this combo in detail today.
Pink is considered to be a feminine color, and many fashionistas are truly obsessed with this color, having practically everything in pink. As for the white color, it is often associated with wisdom, peace, purity, and innocence.
In the contemporary fashion world, white and pink can be seen a lot together, especially in trendy nail art. This combo grants a somewhat luxurious and sophisticated impression yet appears rather natural. And that is the effect we are often searching for.
Are you tempted to get a mani in white and pink? Discover our gallery of ideas.
Simple Pink And White Nails
Elegant Pure Pink Nails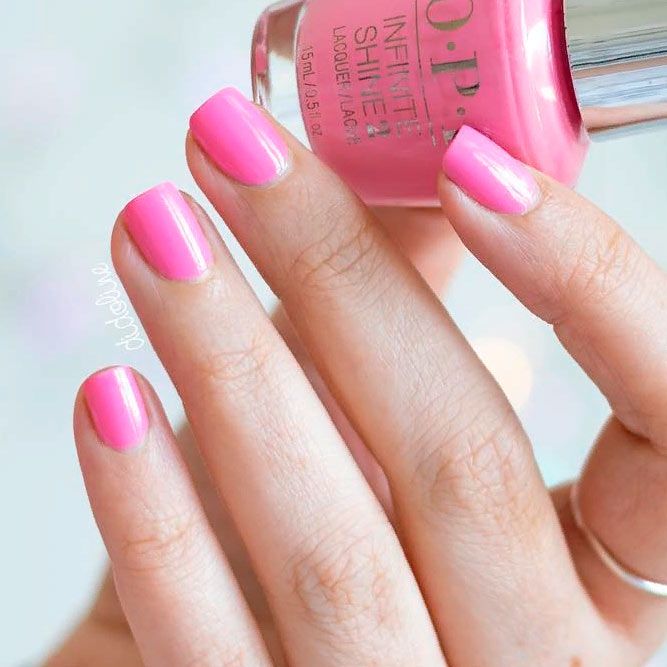 Credit photo: instagram.com/didoline
Did you know that to rock pink and white nails, you can get along with only one color? The trick is to choose the shade that is a mix of white and pink colors, a whitewashed pink if you will. Going with a solid color is a wonderful option if you're after an easy nails design or you have to follow a dress code. Pure pink manicure looks sweet and sophisticated. Apart from being an amazing color for spring, as it embodies pink blossom, it will also perfectly enhance your summer tan.
Pink Geometric Nail Design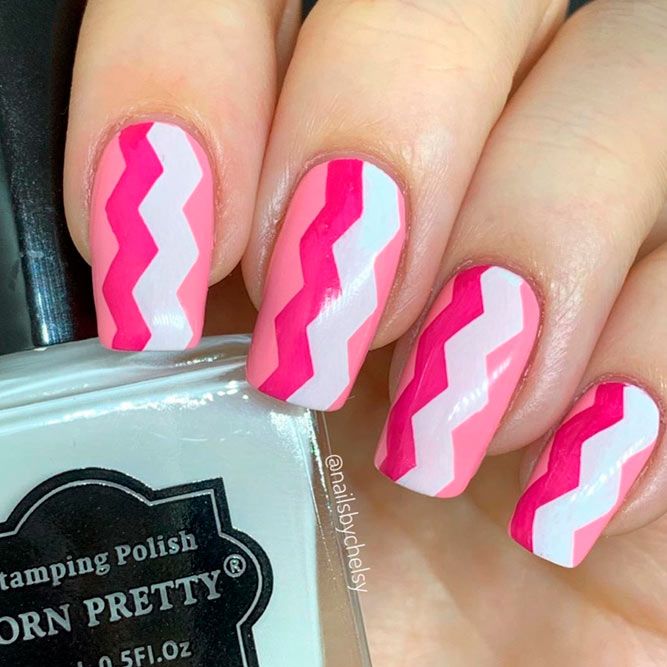 Credit photo: instagram.com/nailsbychelsy
Geometric nails are a fashion trend that will never go out of style. With the excellence of lines, shapes and patterns, it's real eye candy for a perfectionist. Try out a modern take on a geometric manicure with one of the trendiest elements, which is an ombre tale nail design. As a tribute to the upcoming season, turn to different shades of pink.
To pull it off, first, you need to create an ombre base that goes from the darkest color at the bottom to the lightest at the tips. Then, take a thin brush with white paint or varnish and draw the pattern that mimics tiles. Alternatively, you can get away with special decals that already have the pattern imprinted on them. Thus, you bring pink and white nails to the whole new level.
Classic Pink And White Ombre Nails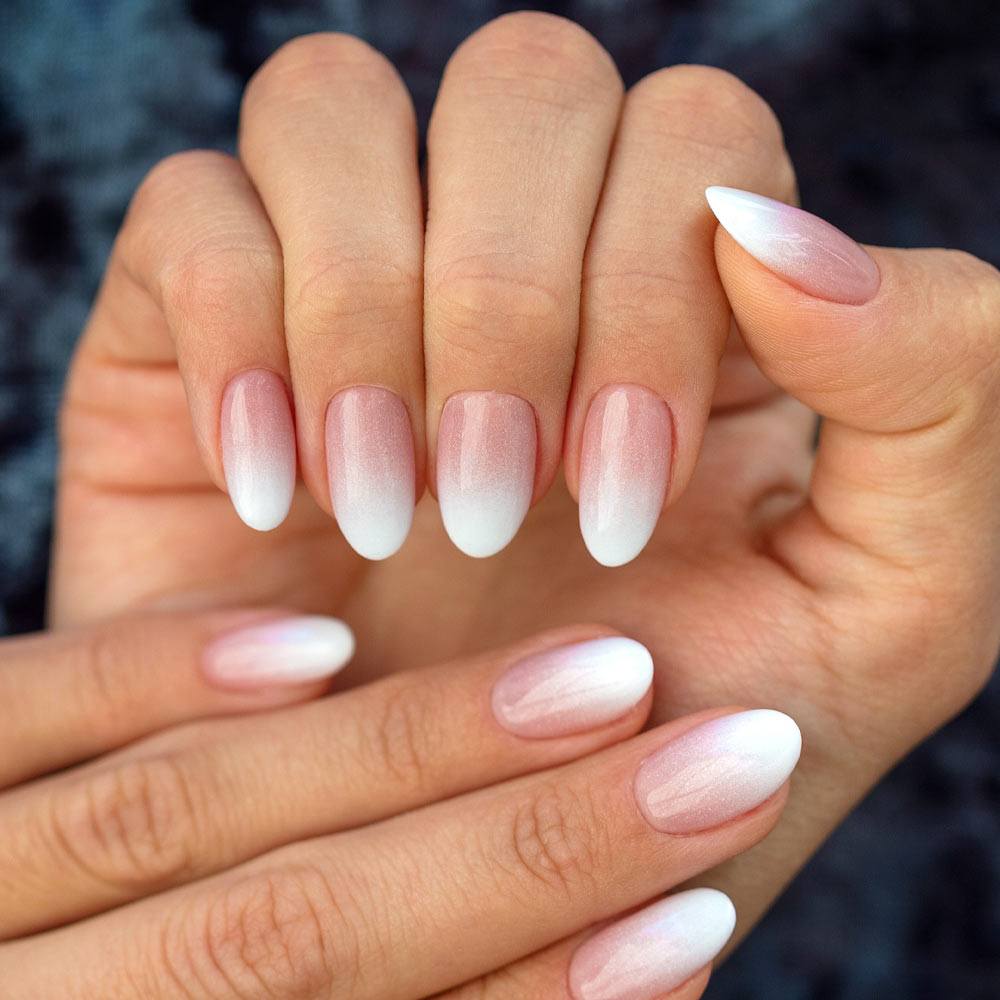 Credit photo: instagram.com/didoline, instagram.com/vlada_nails_74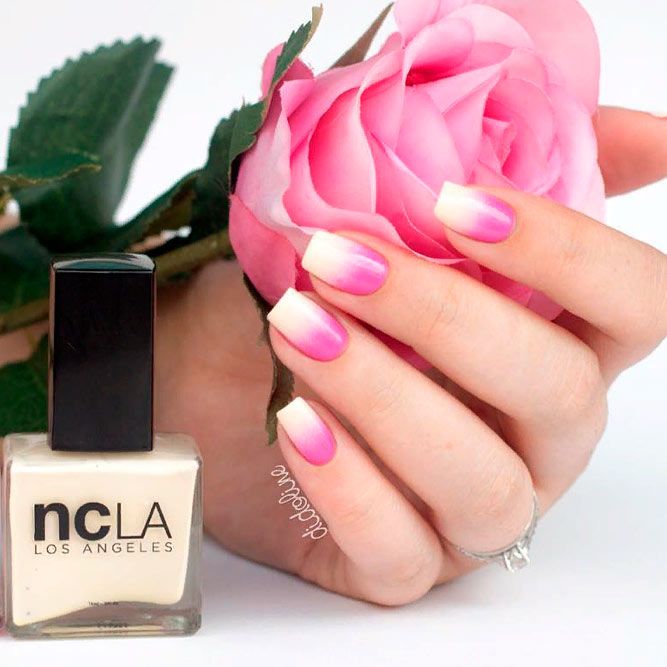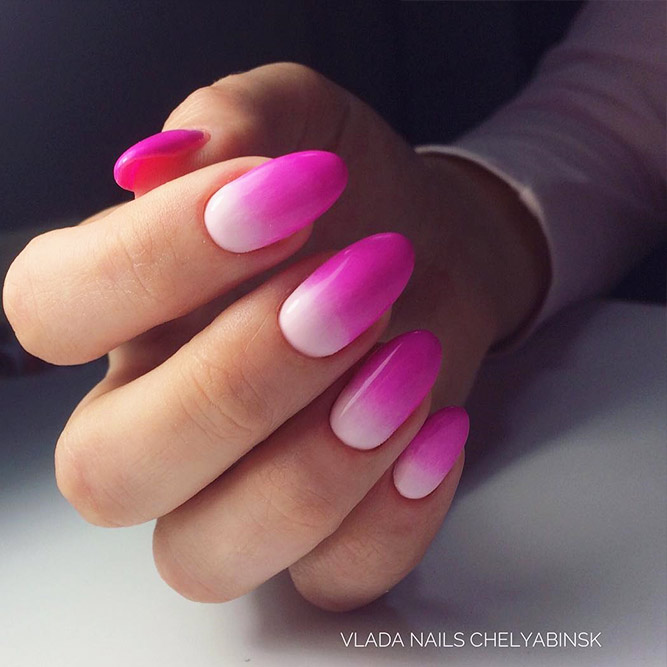 Credit photo: instagram.com/solo_nails, instagram.com/tkacheva_ekaterina_nail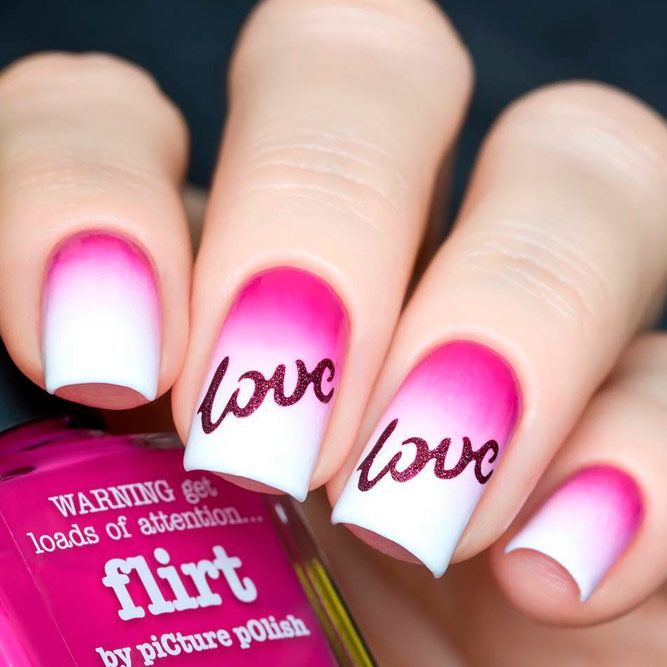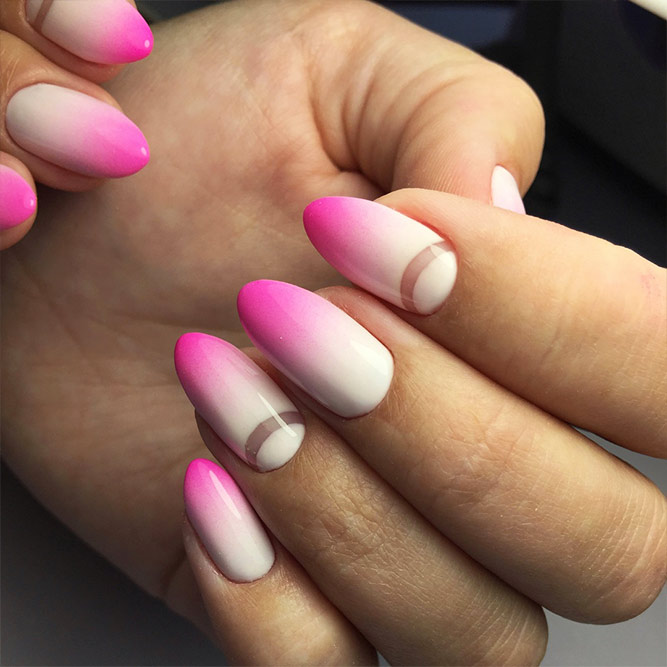 For those who have a relish for a more classic and elegant manicure, pink and white ombre nails are a perfect match. Although the colors create a rather contrasty combination, ombre is aimed at smoothing everything out. Such bold nail art allows wearing it without additional enhancement.
Pink And White Nails Designs With Glitter And Rhinestones
Beautiful Light Pink Nails for a Classy Look
Credit photo: instagram.com/inney_nails, instagram.com/margaritasnailz, instagram.com/getbuffednails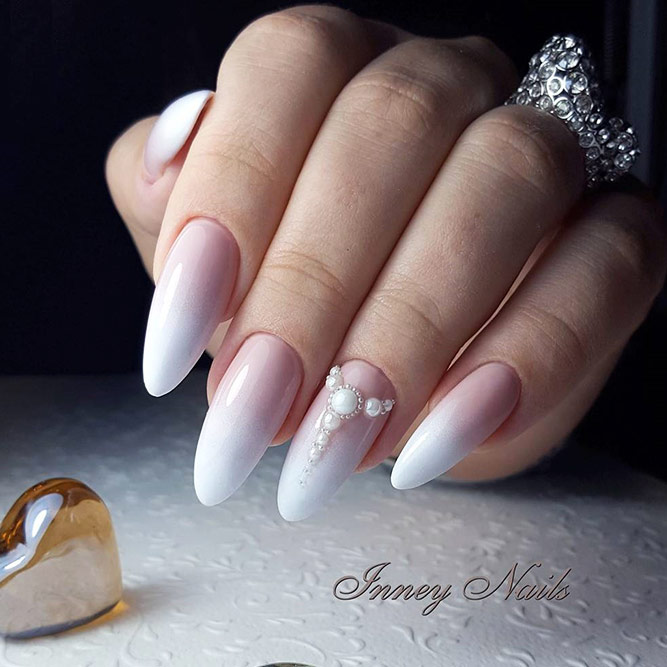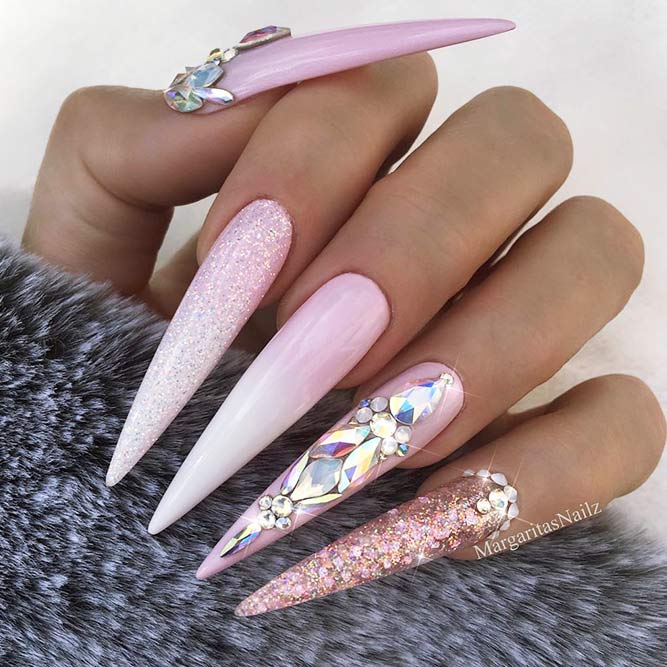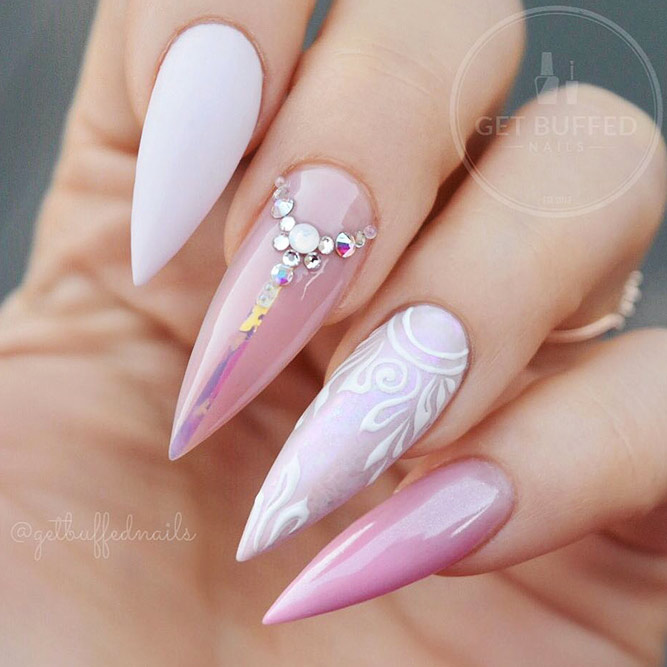 Credit photo: instagram.com/getbuffednails, instagram.com/aymehnails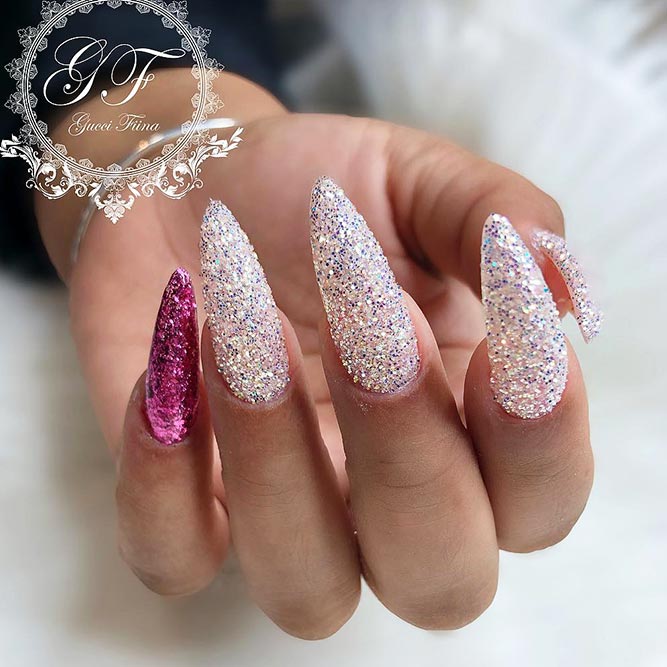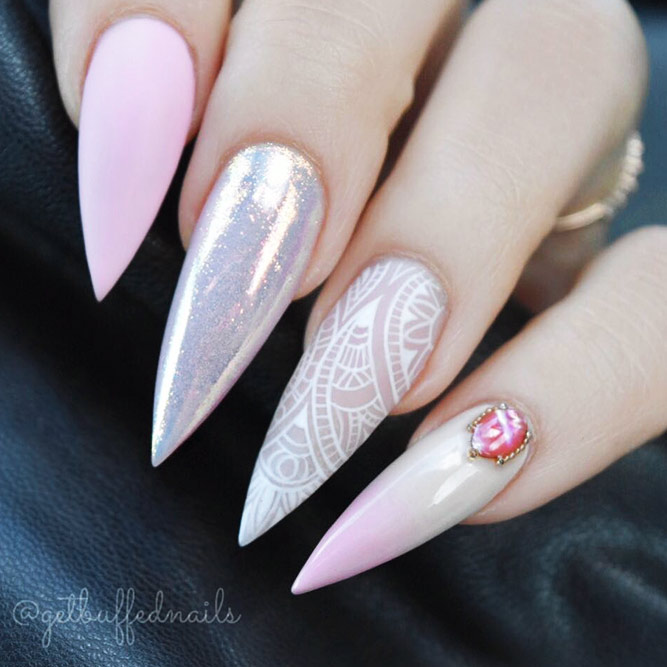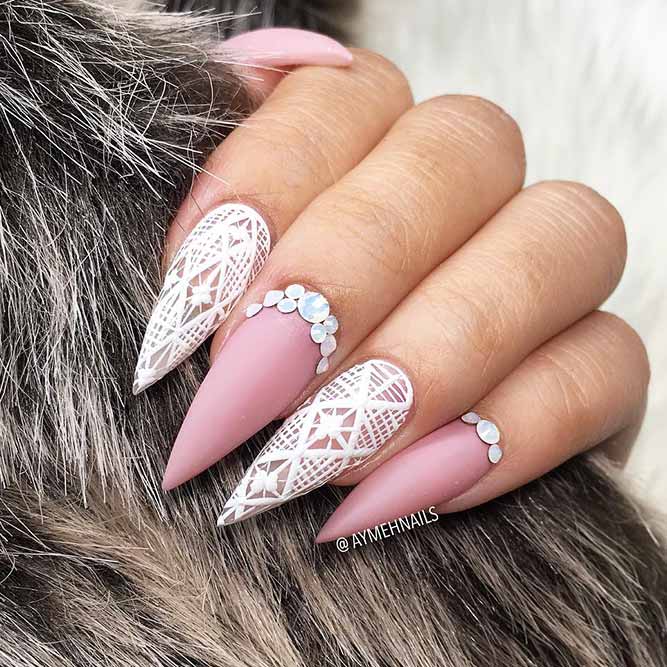 If you choose blush nails as your next manicure shade, you should consider something else. Pink acrylic nails look extremely hot and charming at the same time when combined with white shades and rhinestones.
Bright Pink Nails With Sparkly Accents
Credit photo: instagram.com/fiina_naillounge, instagram.com/merlin_nails
Patterned Pink And White Nails
Floral Nails With Pink Shades
Credit photo: instagram.com/mariya_shikhaleva__, instagram.com/marys_nails_
Credit photo: instagram.com/julyastrelkina, instagram.com/nailsbypuja
Ice Cream Nail Designs
Credit photo: instagram.com/themermaidpolish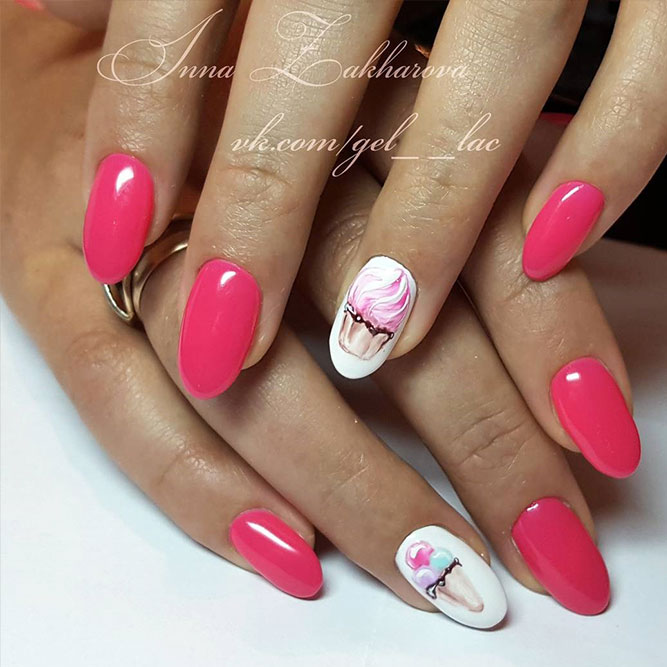 Credit photo: instagram.com/inney_nails
Have you been denying your sweet tooth of its biggest longings? We don't judge you. Nobody but us knows how good it is for your health and body and how difficult it is to get hold of yourself. Though, there's a nice approach to relieve your sweet cravings by simply flaunting them on your nails. In such a way, you kill two birds with one stone: give yourself a treat and keep your diet healthy. You are welcome to get as creative as you wish.
We suggest opting for an ice cream cone nail art. First, paint your nails with a milky nail polish that has a crelly formula with a lot of variegated glitter. It will give you the impression of the multicolored sprinkles we usually get on our ice cream. Then, switch to a pink varnish with a creamy formula and add drips to the tips of your nails. You can stop right there or go further and adorn one fingernail with a depiction of a real ice cream cone. Similarly, you can create sweet pink and white acrylic nails design.
Creative Water Marble Nail Art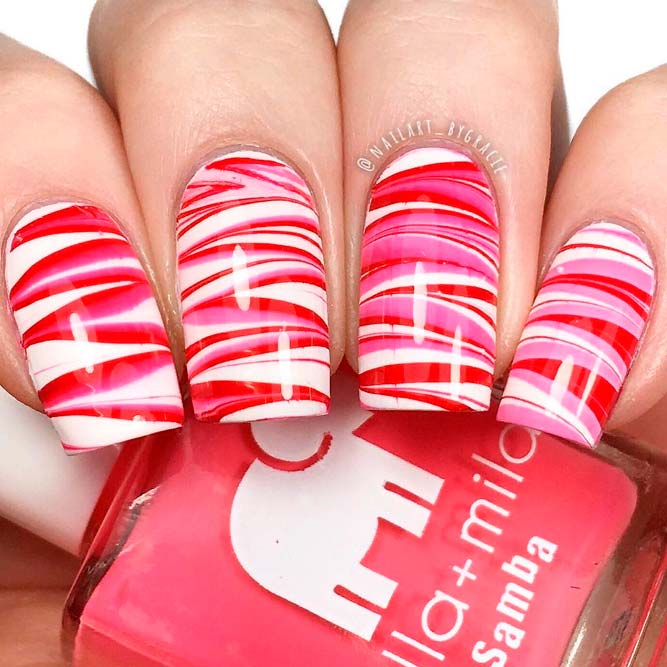 Credit photo: instagram.com/nailart_bygracie
Water marble nail art is always a good bet if you feel like creating something that would come out elaborate yet wouldn't take much time and effort. All you need are the right tools and a bit of practice. The best thing about a marble nail design is that each time you get an absolutely unique pattern. As for the colors, the possibilities are endless so it's up to you to decide. Though, let us guess. After a long and cold winter, your heart is longing for bright and vivid shades, are we right? To give it what it wants, use for your marble nails pink and white colors.
Rose Quartz Nail Art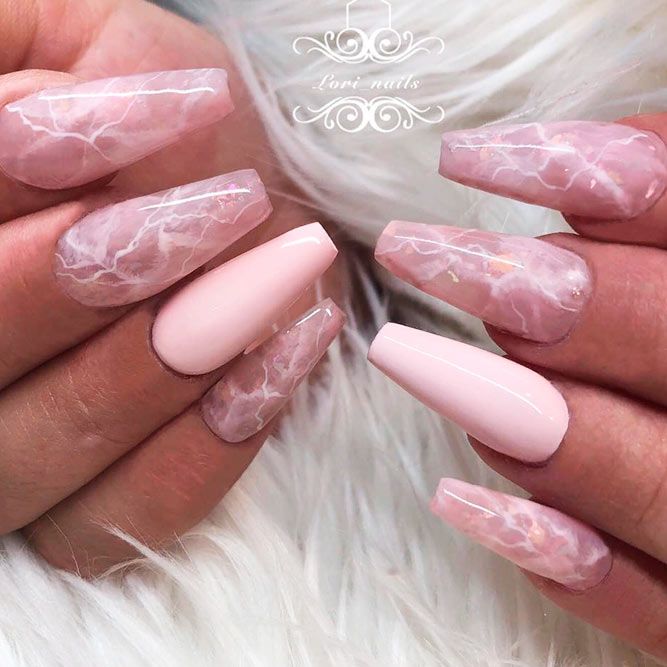 Credit photo: instagram.com/lori_nails
Pink and white gel nails are always a win-win combination, especially, when they are complemented with a rose quartz nail design. It's kind of an updated version of the bygone marble manicure. However, rose quartz nails look much more unusual and attractive. The effect of white veins grinning through the translucent gradient pink base refuses to let you look away. To create the illusion of real gemstones on your nails, you only need to have a striping brush and opaque white varnish. Everything else is a matter of practice and imagination.
Pink Butterfly Nail Art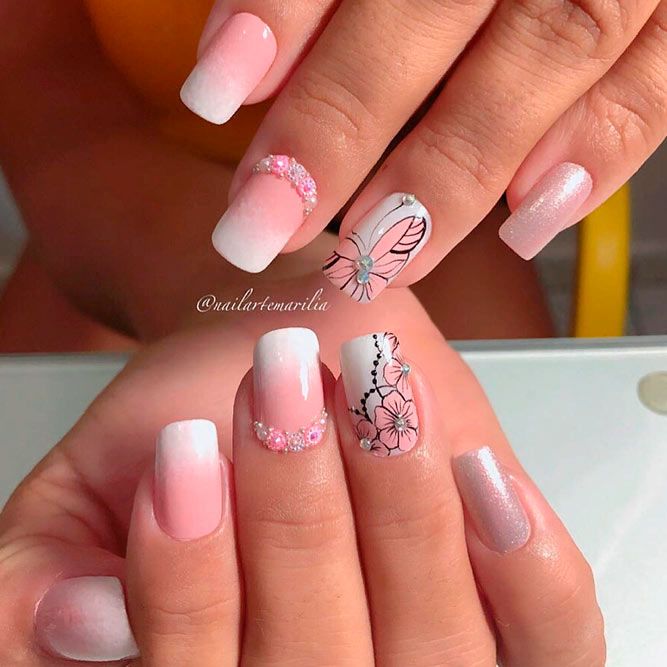 Credit photo: instagram.com/nailartemarilia
Butterflies are great not only in the stomach but also on your nails. To get such a dreamy manicure, you'll need to create a pink and white ombre nails base and paint pink butterflies on top of it. Not to make your manicure kitsch, embellish only a couple of nails or even just one with a butterfly nail design. The same finger of the other hand, you can enhance with a floral nails art, as well as the middle fingers' nail beds. To pull your pink and white nails art together, add rhinestones and beads to the butterfly and flowers.
Cute Minnie Mouse Nail Art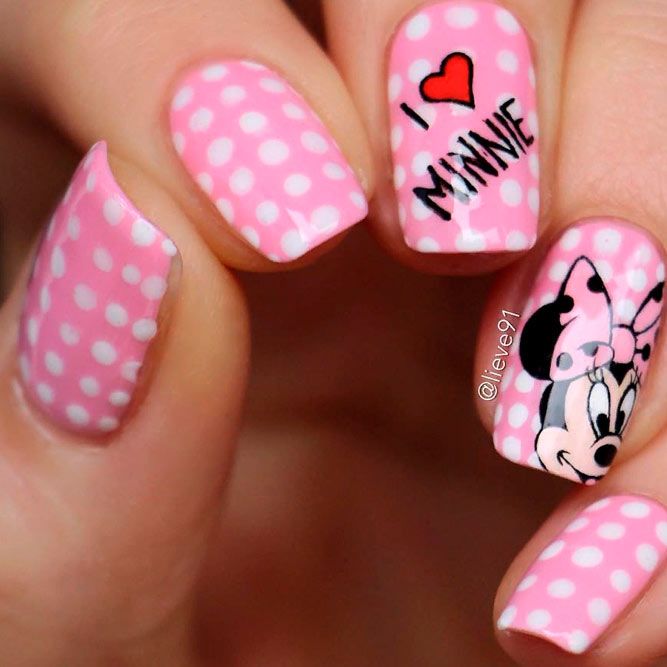 Credit photo: instagram.com/lieve91
Pink and white nails look cute and sweet themselves. However, if you want to make them even cuter, go for a polka dots design. White dots appear exceptionally charming on a pale pink base. Even though it looks as if you need to spend hours creating this quirky pattern, it actually takes a few minutes. Moreover, although it's much easier to place dots with a special tool, if you don't have one, you can still achieve the desired effect by employing a toothpick, hairpin or any other similar object. For a touch of fun and childishness, garnish a couple of nails with a playful wording and a depiction of Minnie Mouse.
Stylish Striped Pink Nails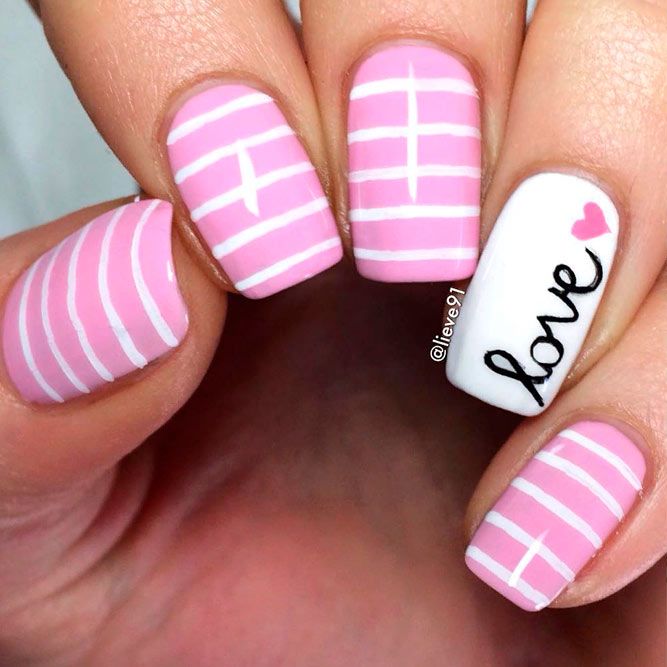 Credit photo: instagram.com/lieve91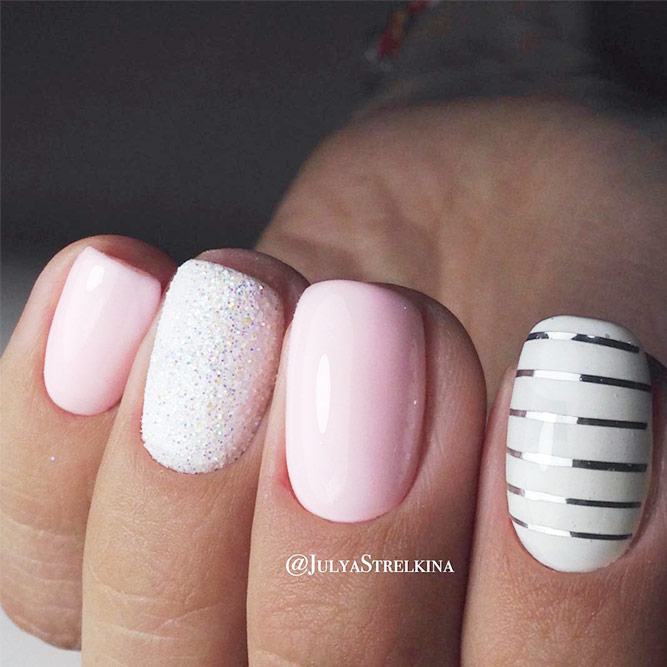 Credit photo: instagram.com/julyastrelkina
Striped nails are another fun idea for geometrically inspired nail design. Stripes can go in any direction: horizontal, vertical and even diagonal. If you fall for a romantic manicure, consider pink and white nails with stripes. This mani is very easy to get. All you have to do it to polish your nails with pink nail varnish and then add white stripes using a thin brush. For an added cuteness, accentuate one finger with a heart depiction and write something sweet, such as "love."
Candy Colored Pink And White Nails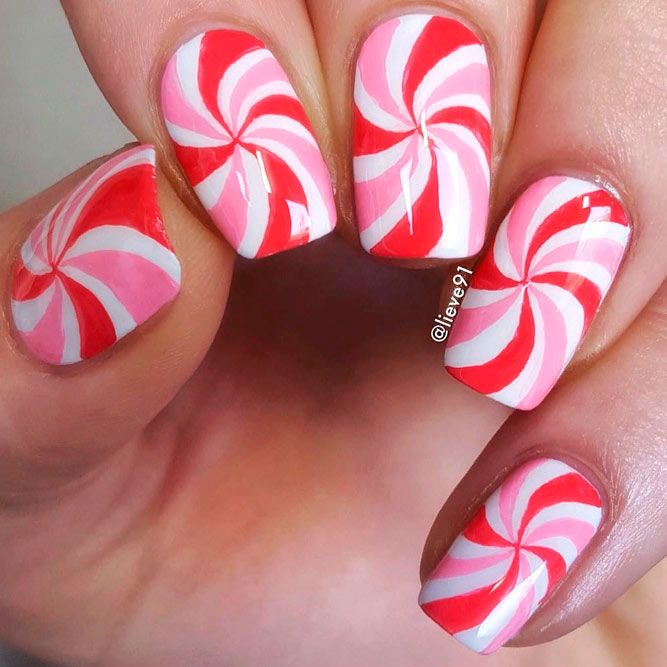 Credit photo: instagram.com/lieve91
Want some more zero-calorie sweets? Here's a fun candy swirl manicure for you to try. It offers tons of color combinations, but we choose pink and white mix for a more realistic effect. It may seem a bit too tricky to recreate. Though, if you get a closer look, you'll see that first, you apply a white nail polish as a base and then, alternate two contrasty shades of pink to add swirl sectors. We're totally hypnotized by this mani.
Pink And White Nails Designs With Leaves Pattern
Credit photo: instagram.com/solo_nails
Matte Pink And White Nails
Credit photo: instagram.com/mariapro.nails, instagram.com/tkacheva_ekaterina_nail, instagram.com/amur_nails
Credit photo: instagram.com/whiterabbit_beauty, instagram.com/an_krd, instagram.com/marys_nails_
Matte nude nails is something you should opt for if you prefer short nails. Do not forget about decoration in any case! Extraordinary geometric patterns carried out in white will suit perfectly!
Look at these modern and lovely pink and white nail designs. Some wonderful designs will inspire you to create new cool mani. Try and enjoy!
FAQ: Pink And White Nails
What is the difference between French manicure and pink and white?
Pink and White is the term that nail experts use when referring to artificial nails that look like French Manicure. It consists of artificial nails copying the French style through both pink and white colors of gel polish or acrylic. The main difference is that while the French Manicure is a style of nail polish application and the Pink and White is technique used on artificial nails.
What are the pink and white ombre nails called?
They are called "baby boomer nails", also some call them "French fade". This nail design has the same white tips as a French manicure but with a more gradual transition from pink to white.
Why are pink and white nails more expensive?
The reason behind is that some pink and white polishes take more skill to apply, they require more work and additional product. However, nowadays, there are more gel base coats on the market that enable easier application for achieving the perfect result.