It is not a secret to anyone that every fashionable lady spends a lot of time searching for all the perfect details to complete her outfit. It does not matter where you are headed to today, be it office or wedding your nails are bound to look fabulous. That is why we have compiled this fresh and trendy set of fancy nails ideas to fit any exquisite taste. We are sure that you will find more than one option to try out next here!
Stunning Rhinestones Accents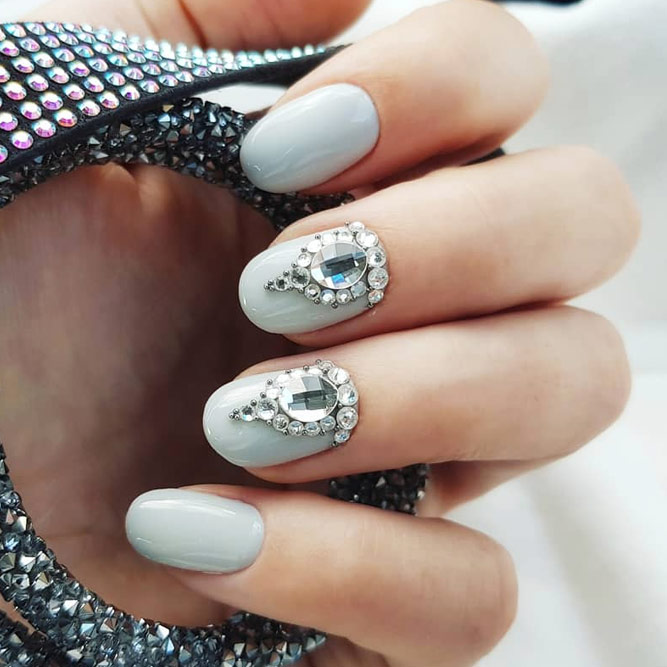 Credit photo: love_nails_emilia
It is true that very often what you need for the perfect manicure is the suitably chosen accent. The thing is that even the simplest pastel grey nail polish will look outstanding if you combine it with the exquisite rhinestone pattern. See for yourself!
Long Acrylic Mani With Refined Ombre Design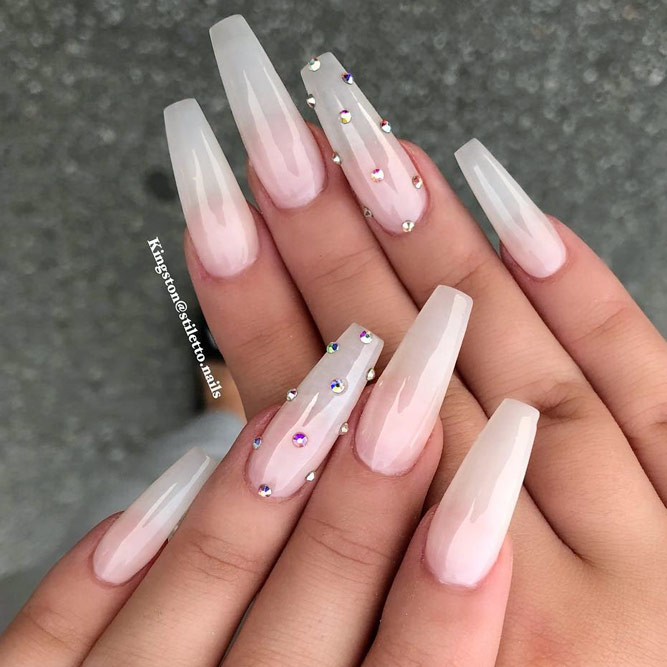 Credit photo: stiletto.nails
Adding to your fancy nail designs acrylic makes the task a lot easier when it comes to the creation of an elegant masterpiece. The truth is that with such length and shape all you need is a subtle milky white color and a touch of rhinestones for your acrylic nails to look marvelous.
Total White Nails For Special Event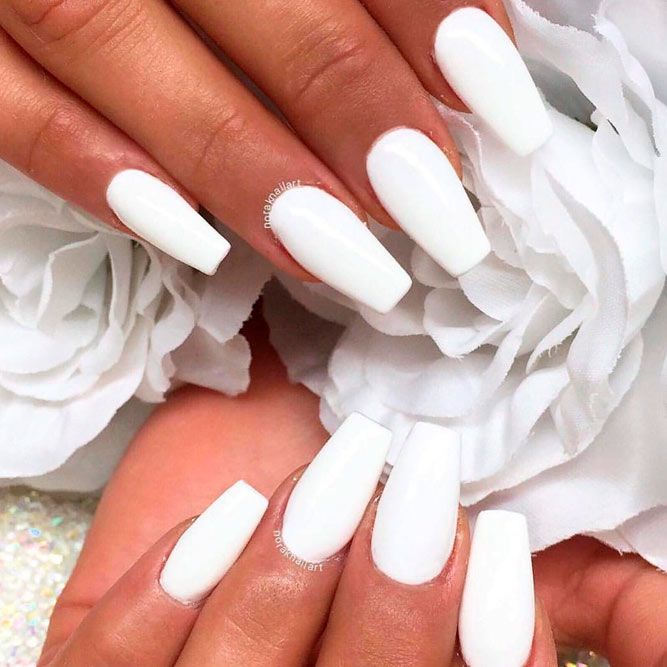 Credit photo: noraknailart
In case you are looking for the latest bridal nail designs, we have something special for you! This elegant white nail art will help you make the occasion special and unforgettable!
Fancy Nails With Black Floral Design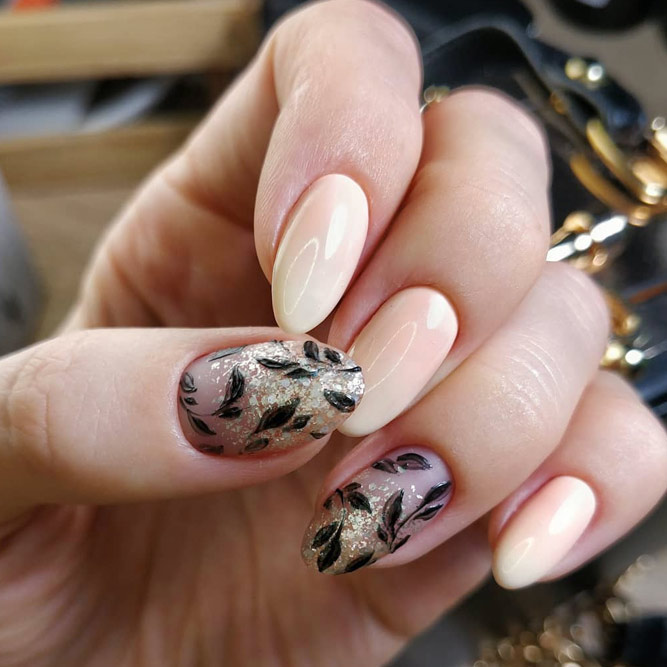 Credit photo: mashacreate.nails
Ladies love flowers that is the fact. That is why adding floral patterns to your manicure is one of the oldest traditions. However, trends are ever-changing, and there is always much to catch up with. In case you are a fan of neutral manicure you will surely appreciate this peachy nail polish with perfectly gentle black flowers added.
Gently Leafy Art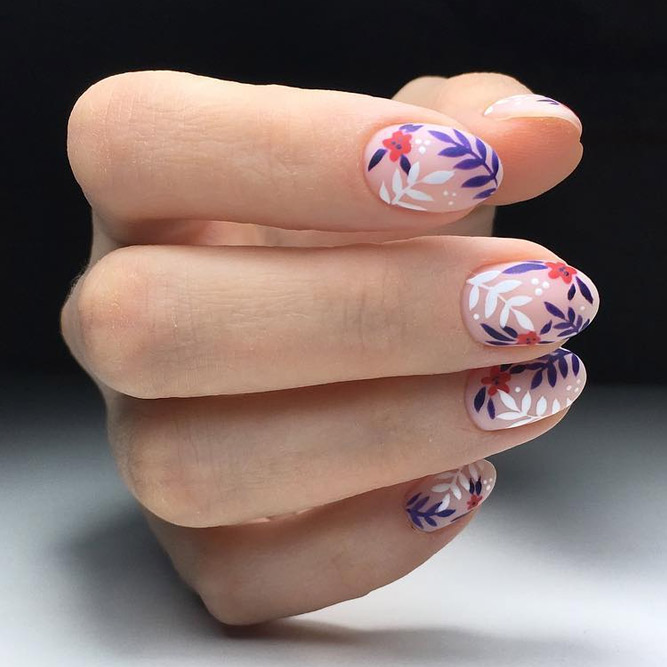 Credit photo: belnailsart
When it comes to fancy nail designs 2020 it is safe to say that they are anything but ordinary. Just one look at this gorgeous design will prove our point. The pale pink base contrasts with bright colors used for the creation of this outstanding leafy pattern, but the contrast is not too bold or daring – simply perfect. What do you think?
Stunning Mauve Mani Accented With Velvet Leaves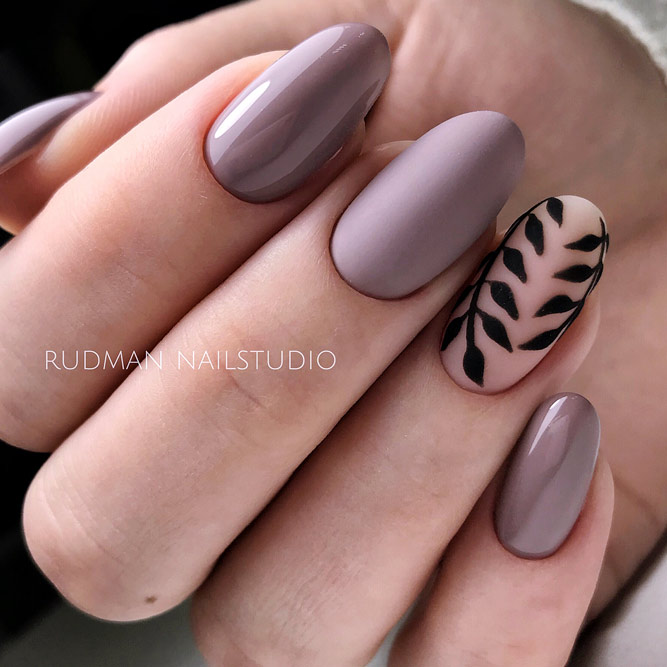 Credit photo: rudman_nailstudio_nsk
Not everyone is equally fond of too bright or too neutral manicure. If you are one of those picky users – we have something special for you! This mauve-shaded manicure adorned with leafy velvet design will conquer the hearts even of the pickiest of you!
Incredible Inky Nail Design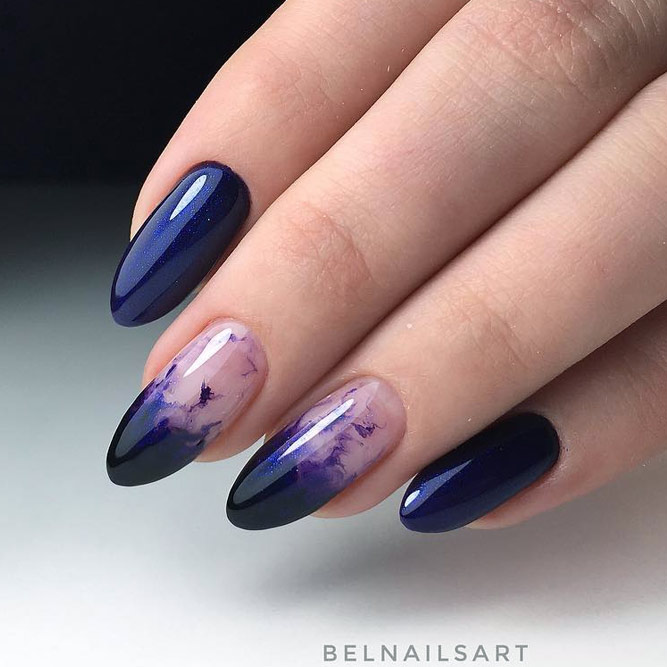 Credit photo: belnailsart
Royal blue shades on the top this season, however when simple blue is to dull for you and going over the edge is not about you – there is a gorgeous way out. All you need to do is to add two accent nails to your manicure. The accent lies in the way the blue base fades into negative space. The outcome is simply breath-taking! See for yourself!
Cute Nails With Polka Dots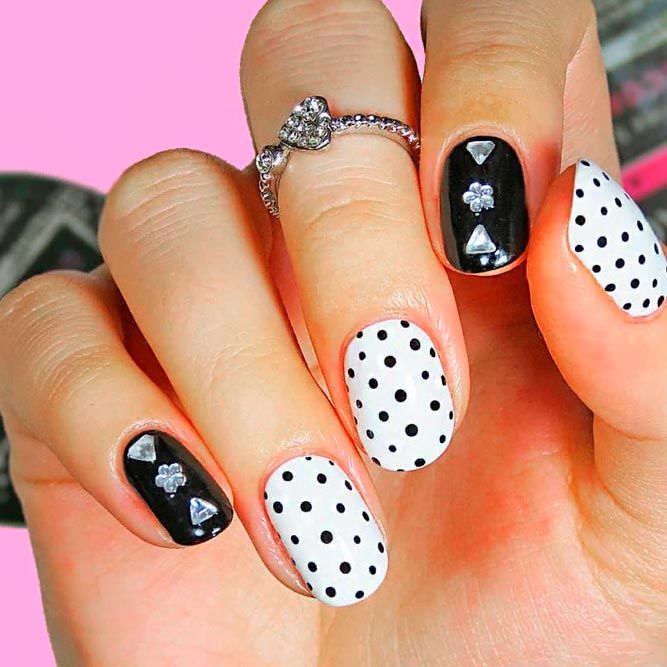 Credit photo: bydanijela
To create a cute nail design you do not need to be a professional yourself. Sometimes all that is required for the creation of a masterpiece is the dotting tool and white nail polish. You can add some rhinestones or studs to take this simple but mind-blowing manicure to the whole new level!
Low-Key Nails With Studs And Stripes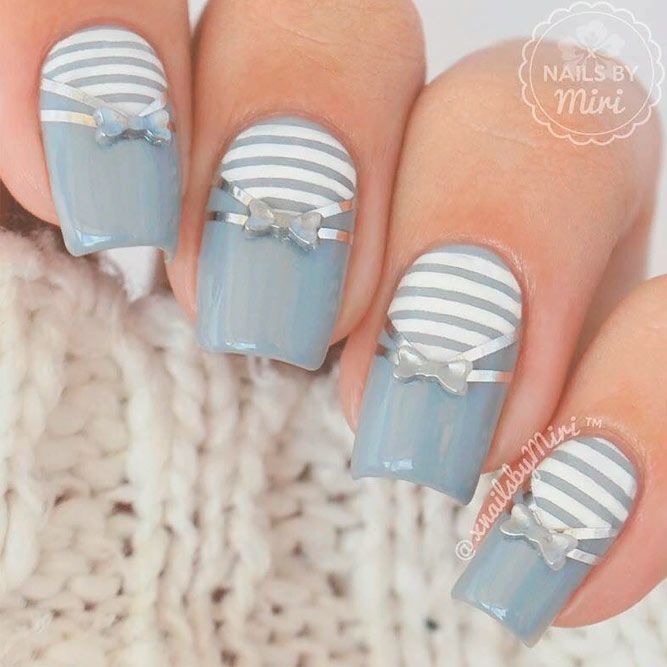 Credit photo: xnailsbymiri
Those of you with long nails sometimes look for a low-key design to show off the length in the first place. We happen to know about exactly what you need. This lilac base adorned with silver stripes and studs is quite minimalistic but nonetheless elegant and charming.
Contrasting Geometric Nail Art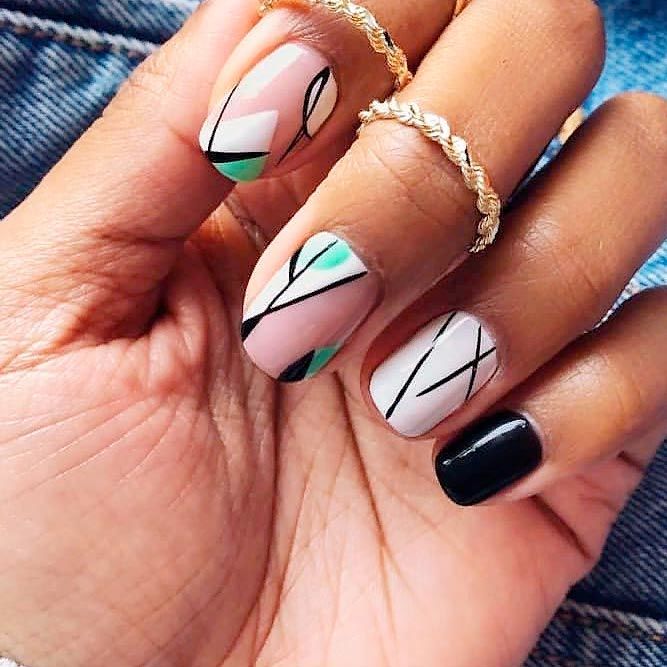 Credit photo: hannah.k.nails
There are so many fancy nail art images to get inspired with, and we are suggestion another perfect addition to your collection. This contrasting nude and black manicure with the pretty geometric pattern will add an unforgettable vibe to any outfit!
Lined Nude Manicure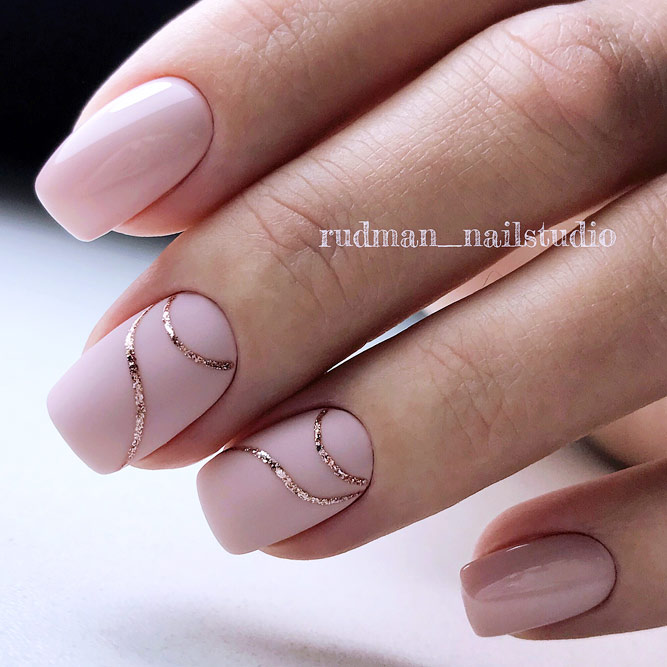 Credit photo: rudman_nailstudio_nsk
There is a false opinion that nude nail art cannot look fabulous. We are here to prove it wrong. Just look at the beauty of this lined nude manicure, and you will get the point!
Fabulous Nails In Classy Color Combination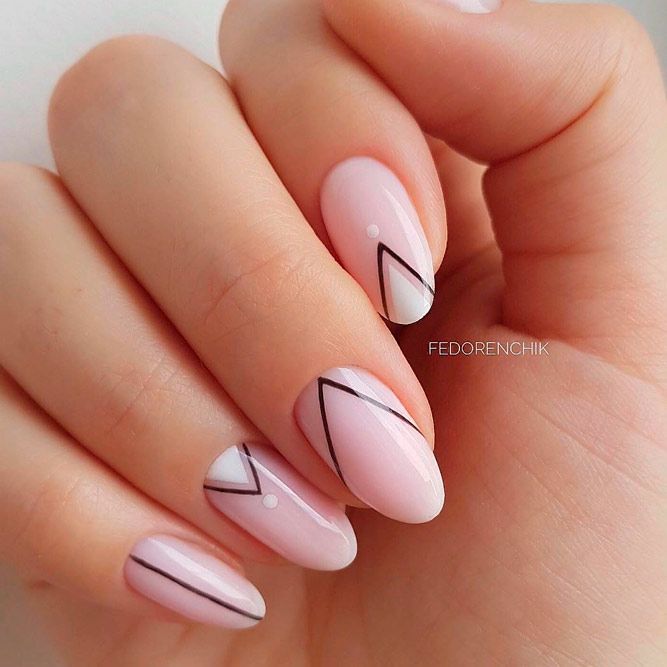 Credit photo: fedorenchik_nails
There are some color combinations that are considered to be classic no matter what. Nude and black are exactly the hues that we have in mind. They interact flawlessly with each other, and a unique geometric pattern only intensifies the impression.
Fancy Nail Design Decorated With Large Sequins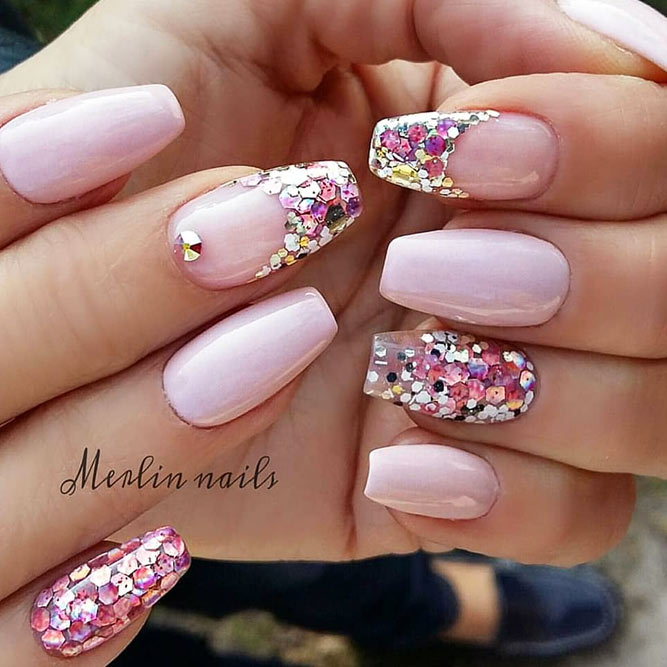 Credit photo: merlin_nails
There are always easy and beautiful ways to decorate your fancy nails which you can easily pull off on your own and adding sequins to your manicure is one of them. All you need to do is to create accents using sequins!
Elegant Manicure With Glitter Accent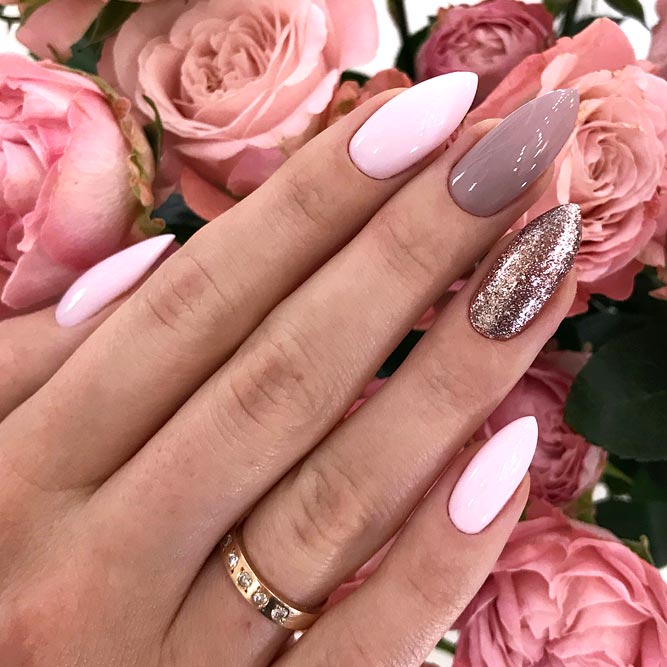 Credit photo: tami_tamichka
There are times when you need nothing more but correctly chosen shades to compose tempting manicure. This combo of the pale pink base, dark mauve one and glitter accent is definitely a killer one!
Glitter Ombre For Mesmerizing Manicure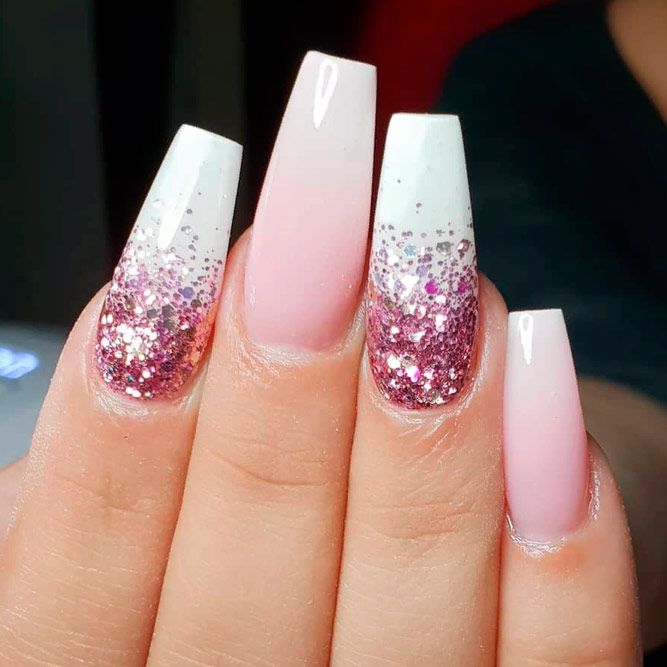 Credit photo: minkaabeauty
The truth is that to create a mesmerizing manicure all you need is the mixture of glitter and neutral base. What we have in mind is glitter to pale pink ombre with perfectly gorgeous glitter accent. Still having some doubts? See for yourself!
Matte Candy Nails For Sweet Girls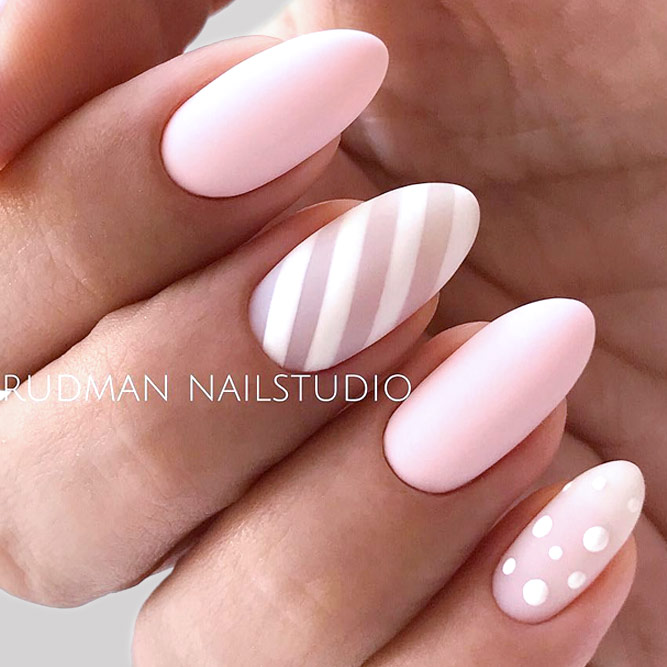 Credit photo: rudman_nailstudio_nsk
Sweet girls choose candy! In case you are worried about your figure add some candy to your fancy nails. Do not know how? See the example shown here. It seems that everything is just perfect about this design, the shading, the pattern and the finish.
Galaxy Nails Using Nail Foil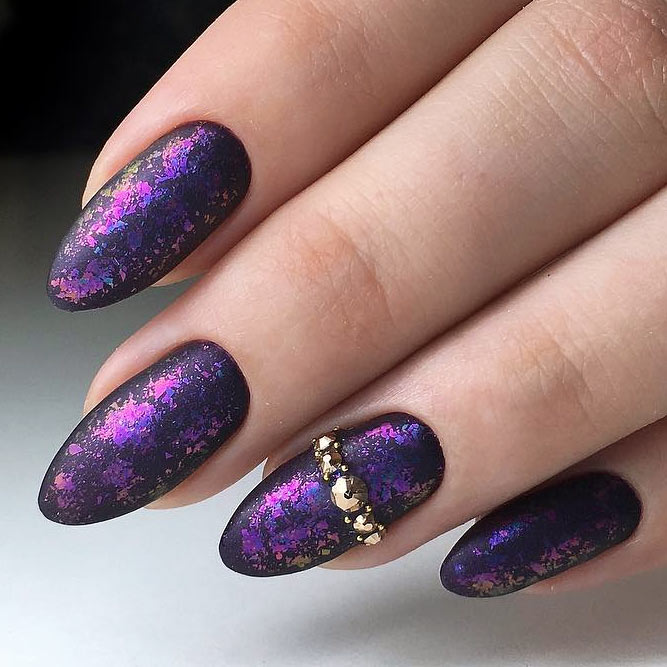 Credit photo: belnailsart
Galaxy nails are on the edge of popularity these days. The easiest way to achieve the look is to use transfer foil over a dark base. If that is not enough for you can easily spice things with the addition of rhinestone accent.
Gorgeous Matte Peach Ombre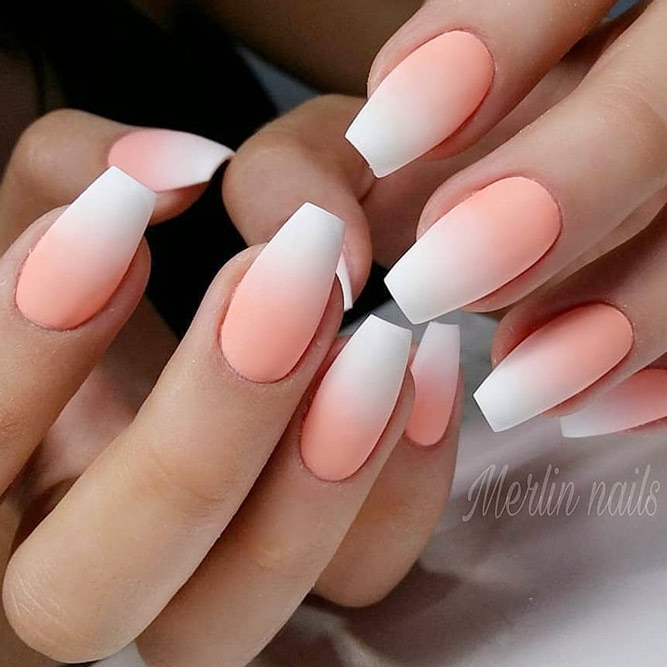 Credit photo: merlin_nails
Sometimes good old nude ombre may be a little too dull that is why we suggest you start experimenting with shading. The transition from white to peach covered with matte finish is clearly not the most common option, which means you are bound to try it out!
Fancy nails are many, and you are only one. That is why we dared to compile this fresh set with fabulous nail art ideas for you to enjoy and for your nails to look ravishing on a daily basis!