With Halloween knocking on your door, it is only natural to seek inspiration for breathtaking Halloween nail art ideas. It matters not if you are an all-horror classics fan or looking for intricate patterns to complete your holiday image. We have a ready-made nail art guide at hand. Want to capture the spirit of the season and showcase your creativity? You've come to the right place! We have just the inspiring creepy crawlers to boost your festive mode and point you in the right direction!
Glow In The Dark Simple Nails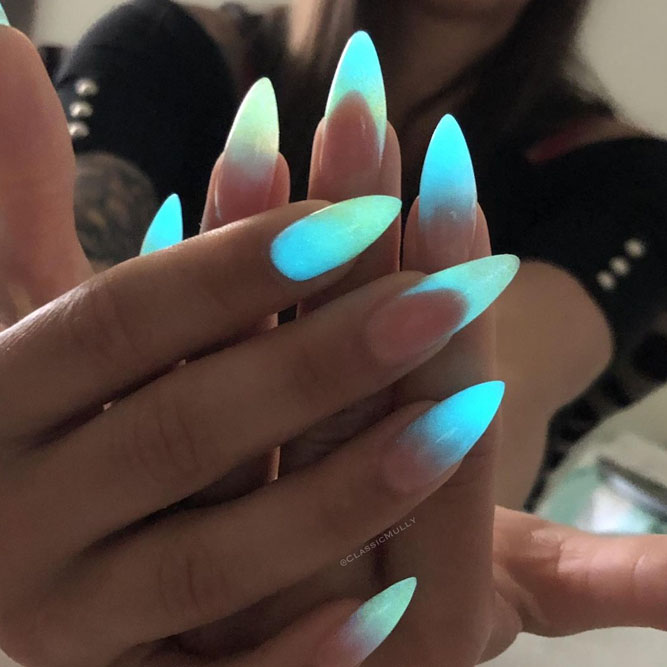 Credit photo: instagram.com/classicfiednails
If you are looking for simple Halloween nail ideas, we suggest you follow Cardi B's lead and experiment with the magic of glow-in-the-dark nail art. Such charming designs will be perfect for celebrating the scariest night of the year. Besides, you can sport such a classy manicure during the daytime without drawing unnecessary attention.
What color nails for Halloween?
How do you do comic nails?
How to do Halloween designs on nails?
How do you paint ghost nails?
Hypnotized Halloween Nails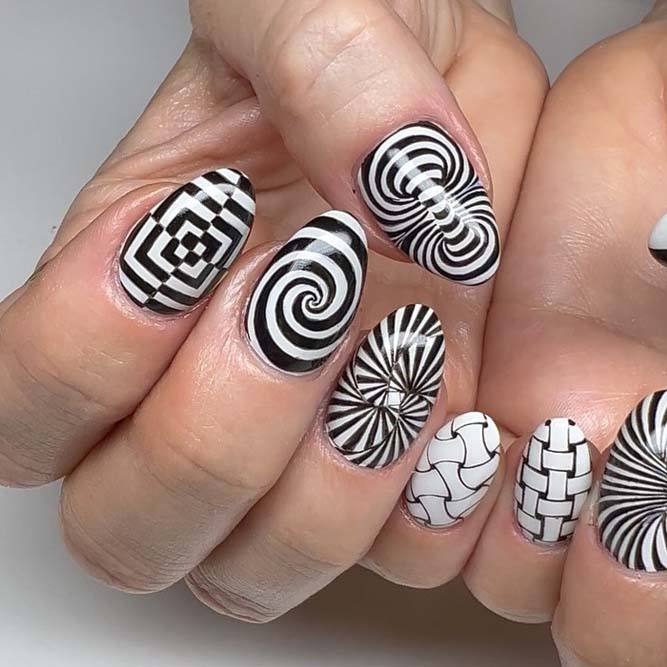 Credit photo: instagram.com/sweetandsavvynails
Halloween acrylic nails are all about uniqueness and style. You can impress the masses with quite an unusual trend – hypnotized nails. Swirls, spirals, dots, and stripes can be the source of inspiration. Moreover, no inspiration is too much.
Best Halloween Nail Ideas for You?
Anonymous quiz
Scary and dark art
Gothic
Cute
Funny
Thematic (movie, cartoons...)
Best Halloween Nail Ideas for You?
Thematic (movie, cartoons...)
10.71
Voted : 28
Monsters Art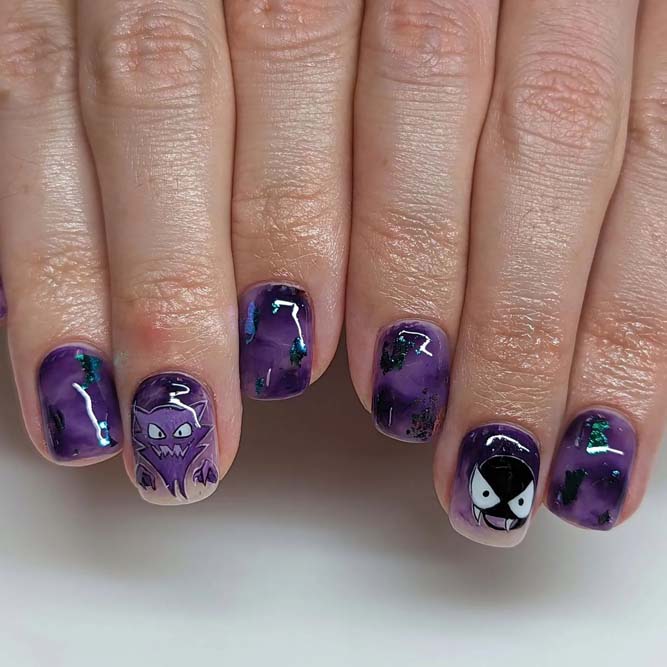 Credit photo: instagram.com/omsphoenix
How do you feel about unleashing your inner creativity(aka monster) with a tinge of playfulness to it? If you are on board, monster nails are waiting! You can choose from different monsters. Capture the true spirit of the holiday in a heartbeat, sealed in your manicure. OPI presents an impressive collection of purple colors you can choose from.
Halloween Witch Nails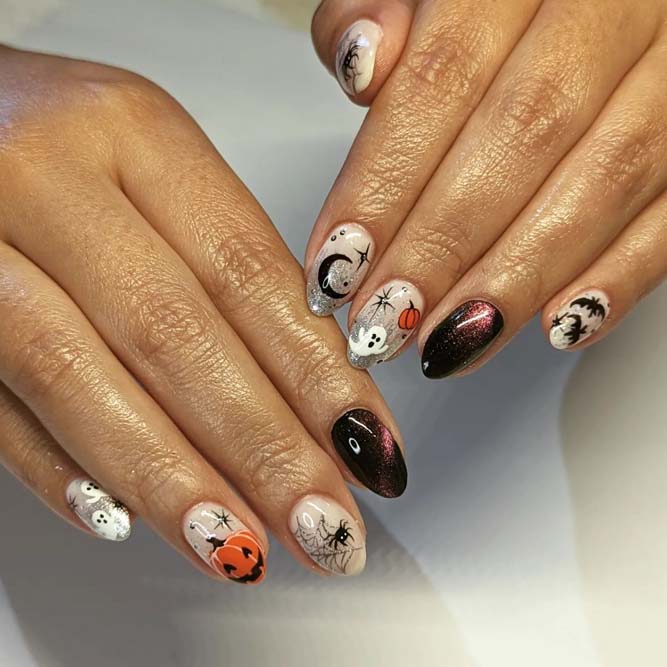 Credit photo: instagram.com/omsphoenix
The beauty of the Halloween season is that it is possible to bring all the elements that make you tick into a single design. Whether these are ghost nails design or Halloween witch nails, you can effortlessly combine the best of Halloween's attributes. Sally Hansen offers just a range of festive shades with nude undertones to make use of.
Checkerboard and Ghosts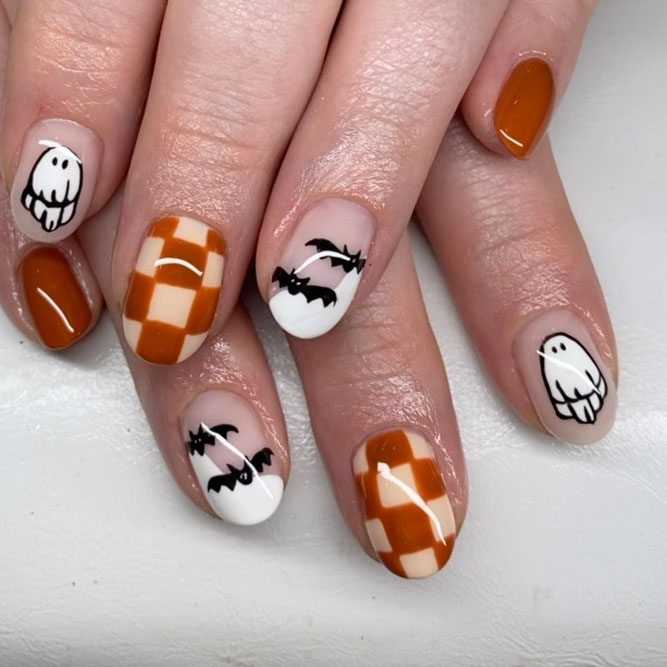 Credit photo: instagram.com/nails_by_dianna
Are you all in for an unusual ghost nails design? Then we suggest you keep up with a true mother of monsters nail art choice. Lady G's manicure usually combines the timeless appeal of Halloween themes spiced with eccentricity. Thus, matching checkerboard patterns with the otherworldly charm of ghost face nails looks like a plan, doesn't it?
Skeleton Hands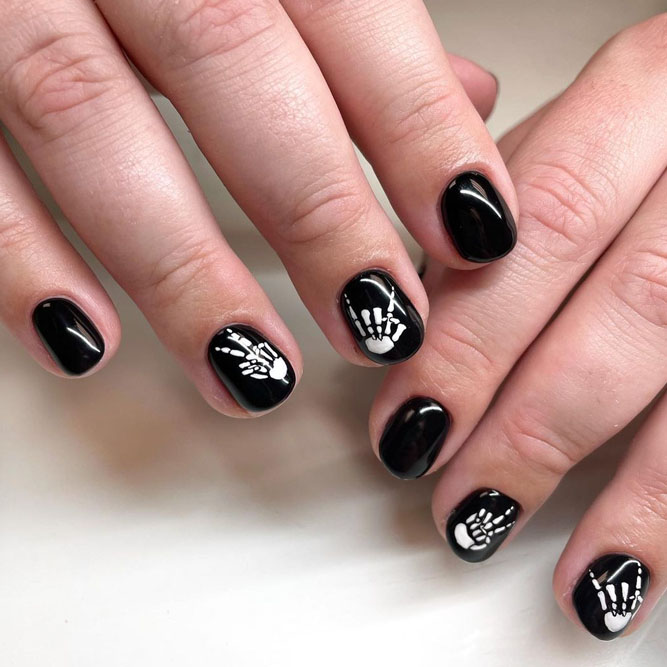 Credit photo: instagram.com/nails.byliz
Do you admire the rebellious vibe of Avril Lavigne's everyday look but are too shy to incorporate it into your style? Halloween grants you one-day permission to look just like her. Set aside your classy manicure and embrace the mysterious elegance of All Hallow's Eve with a nail design representing the bony appeal of skeleton hands. Just a black base and a skeletal hand imprint!
Boo Art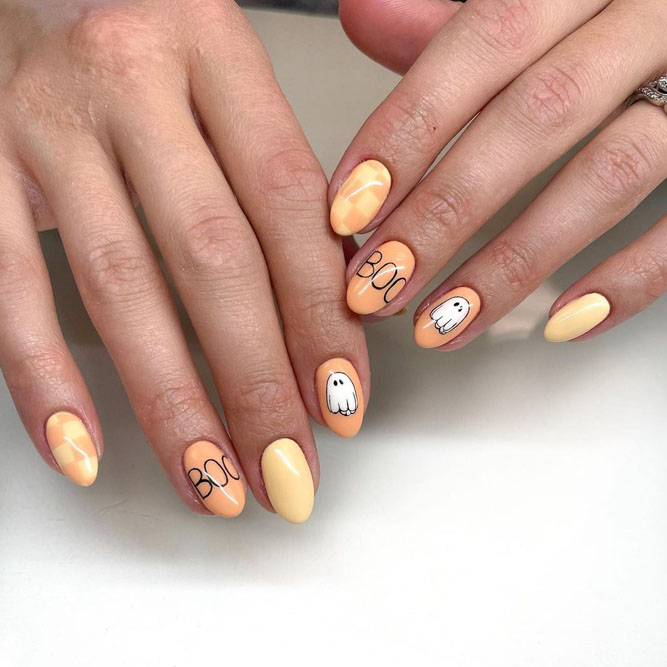 Credit photo: instagram.com/nails.byliz
Who hasn't used the classy Halloween's 'Boo!' to scare others during the holiday? Pay homage to the classy phrase and turn it into a creative manicure. You can play around with the lettering, experiment with colors and introduce a breathtaking background to stand out from the crowd.
Cute Ghosts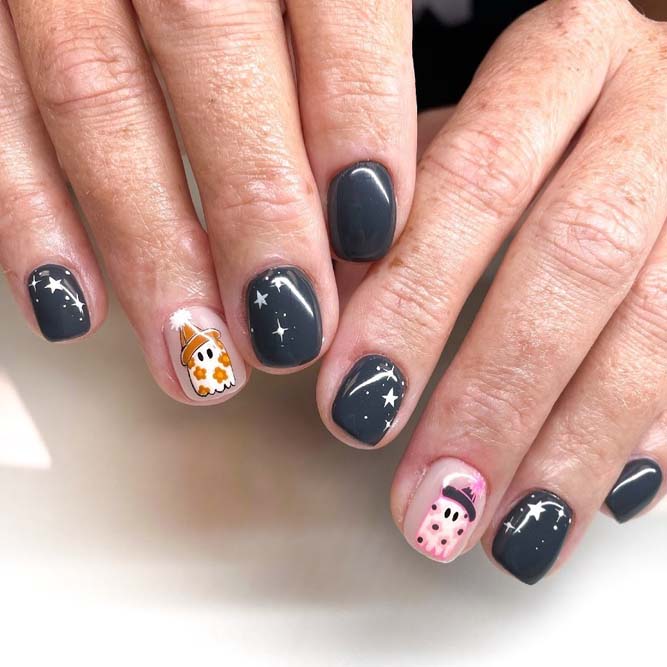 Credit photo: instagram.com/nails.byliz
Considering the most-known horror movie nails, a cute intake on the subject will transform your tips into a pure representation of Halloween creativity. Have a vague idea of where to look for inspiring nail polish options? Nails Inc offers presentable nude polished to cover your needs and preferences.
Black and White Halloween Nails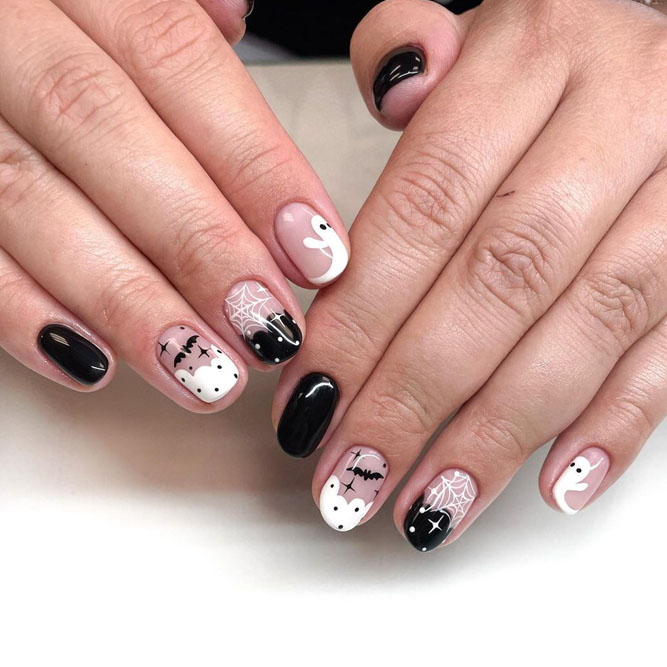 Credit photo: instagram.com/nails.byliz
Cartoon character nails for Halloween aren't for all. If you are a reserved and classy person keeping vibrant hues at bay seems like a sensible idea. Instead, we suggest you exploit the universal appeal of black and white so that you achieve a haunting and elegant outcome. Follow in Dita Von Teese's footsteps and celebrate vintage spookiness with unquestionable style.
Barbie Pink Halloween Vibe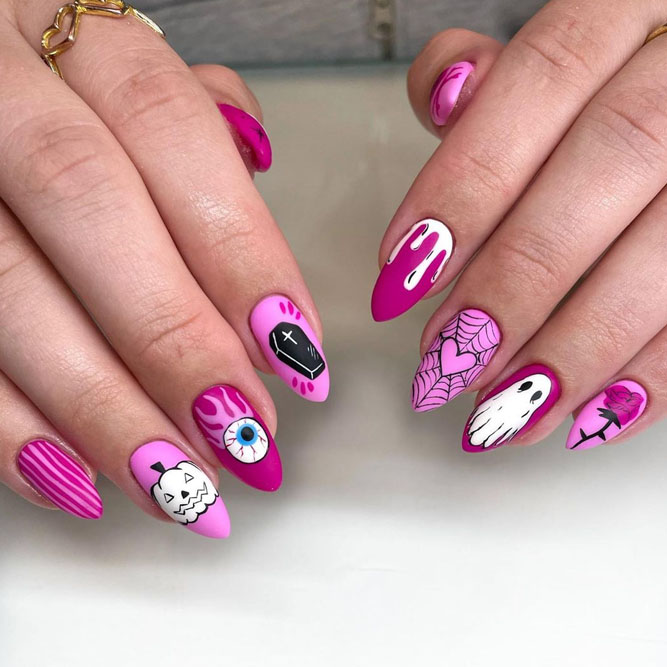 Credit photo: instagram.com/nails.byliz
If you aren't a fan of scary movie nails, the Barbie theme can surely save the day. Just a pinch of hot-pink vibrancy and a tad of playful elegance to make the Halloween festivities special. Care you channel the chic vibe that Paris Hilton is known for? You know where to start!
Halloween French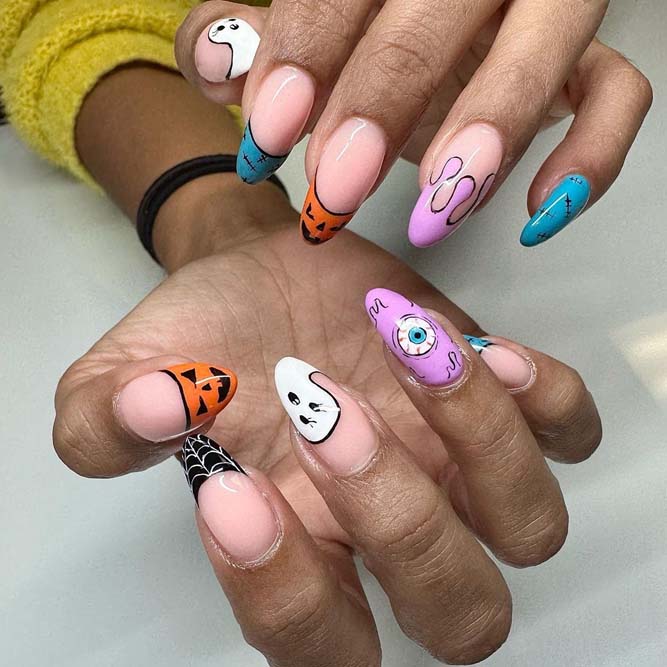 Credit photo: instagram.com/nailhavenct
Cartoon nails are fun and unique. However, balancing work and pleasure is necessary. Take an example from Rihanna and intertwine glamorous but gloomy gothic vibes with a classy French manicure.
Neon Halloween Look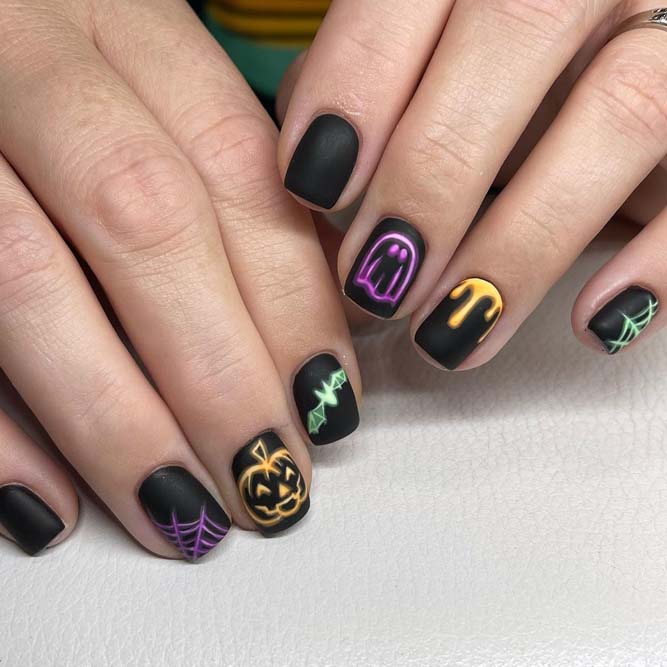 Credit photo: instagram.com/nailedbymal
If you are interested in Halloween nail ideas for short nails, neon nails are colorful and spiked with unquenchable energy enough to take a traditional holiday manicure and bring it to another level of spooky and cool. Not to mention that Zoya presents just the right range of black nail polishes to introduce into your collection.
Monochrome Halloween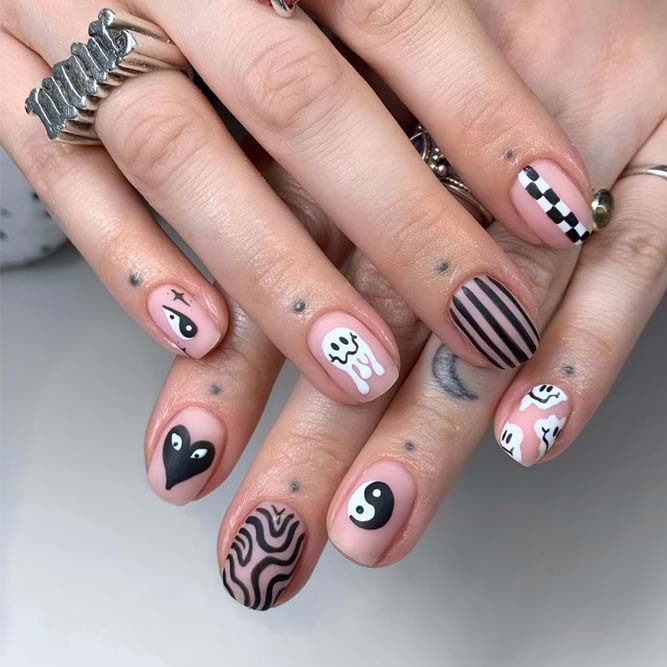 Credit photo: instagram.com/nailedit_beauty
The world of monochrome is enchanting and exceptionally sleek. You can create a black-and-white masterpiece featuring ghosts, spiders, and spiderwebs. Enhance them with checkered patterns and stripes so that no element looks out of place.
Red Spider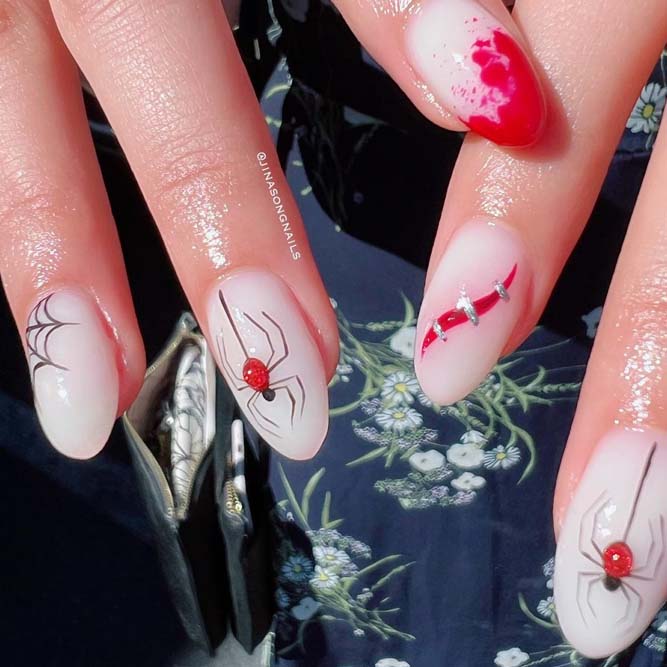 Credit photo: instagram.com/jinasongnails
Looking for a worthy alternative to witch nails? Check out the spider theme. Red spiders are haunting enough to take you through the Halloween season without taking it over the edge. By the way, Essie has different red hues to use for your festive manicure.
Witch Art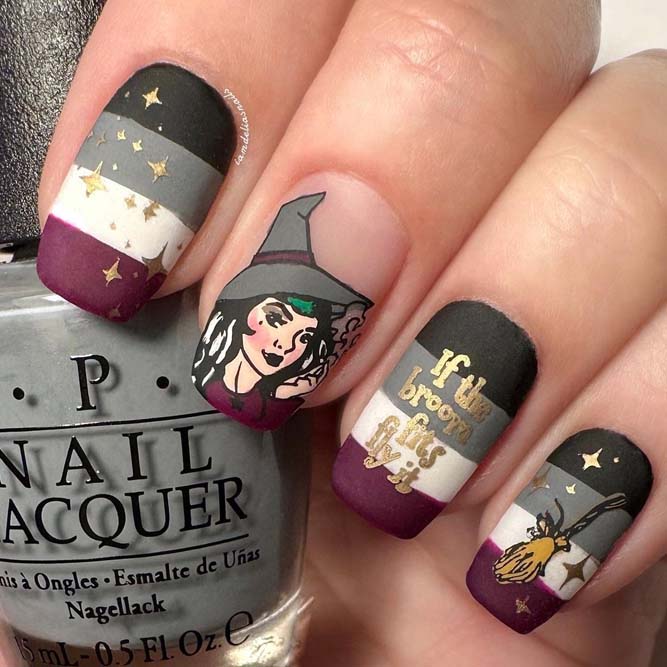 Credit photo: instagram.com/iamdeliasnails
Halloween witch nails are all the rage when the season strikes. You can channel your inner sorceress and capture the enigmatic flair through your manicure. At least once a year. Mix your love for the Harry Potter series and passion for magic and mystery in a delightfully charming way.
It Movie Nail Design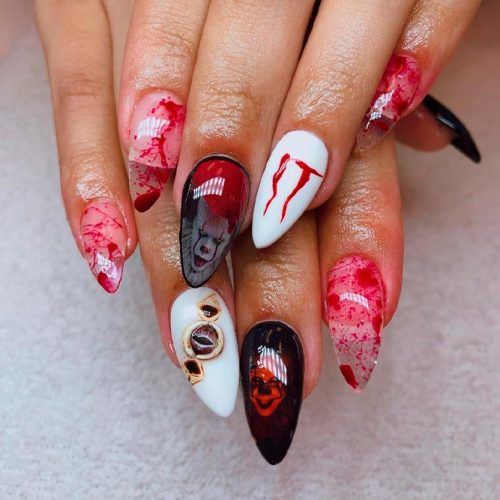 Source: txmanimuse via Instagram
Are there any Stephen King fans around here? In case there are – we have a fab manicure idea that you can inspire from when creating your Halloween look. Creepy clown and gore in one manicure – frightening!
Creepy Eyes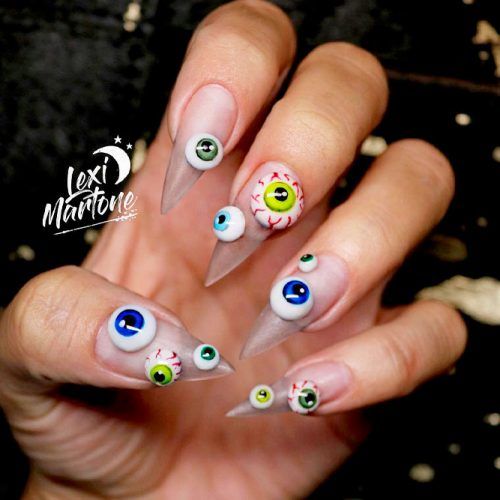 Source: leximartone via Instagram
Eyes are the mirrors of one's soul and no matter the eye color, eyes are beautiful and magnetic. But, add a couple of those to your nails, and you will end up with a creepy manicure.
Negative Space Halloween Nail Design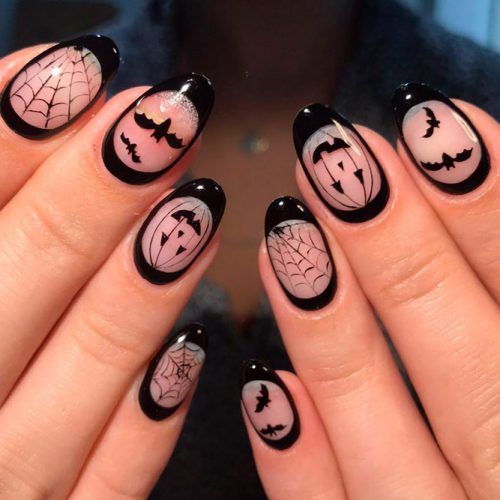 Source: vanityprojectsmia via Instagram
It is easy to leave one simple detail out when opting for your Halloween manicure. The truth is that themed nail art is just a part of the deal. There is a trendy party to deal with too. That is why we suggest you pay closer attention to this negative space nail art!
Matte And Glossy Halloween Nail Art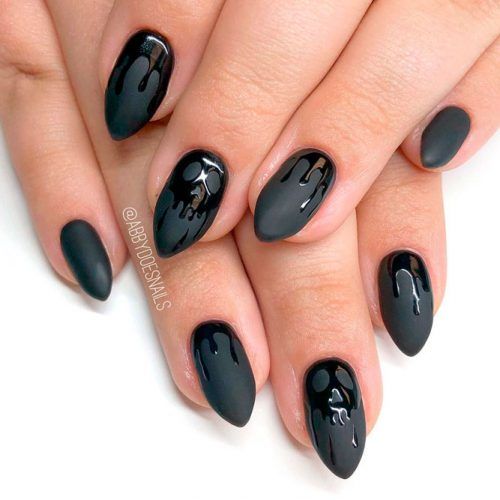 Source: abbydoesnails via Instagram
If you are not feeling like experimenting with lots of colors when it comes to your festive mani, we can't say that we do not feel you. That is why we offer this matte and glossy design as the best way out ever!
Sparkly Spider Nails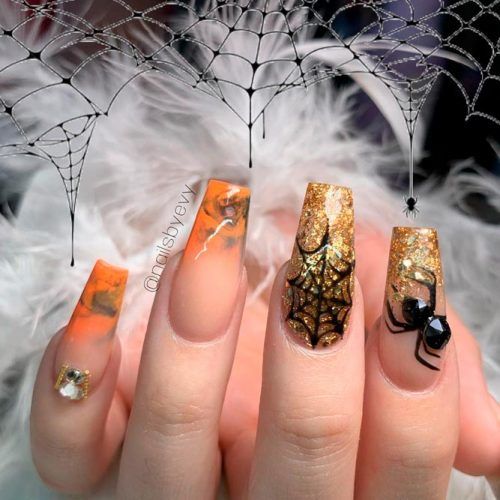 Source: nailsbyevy via Instagram
You will be surprised, but your manicure can be that perfect accent of your holiday look. All you need is a little 3D effect, some sparkle, and pumpkin hues. If you combine all the things in one, you will get this terrific sparkly spider nail!
Simple Ghost Nail Design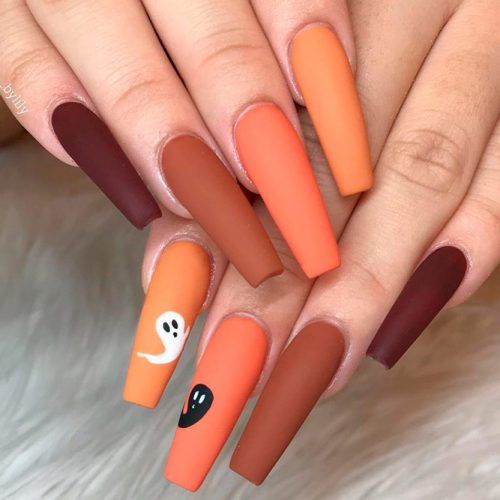 Source: nails__bylily via Instagram
It is amazing how easily something super simple can become that one thing that you can't stop admiring. All you need to od to achieve the effect is gather around all your autumnish hues and introduce them into your manicure. After that, just a couple of cute ghosts to the scene and the masterpiece is ready!
Bets Nail Art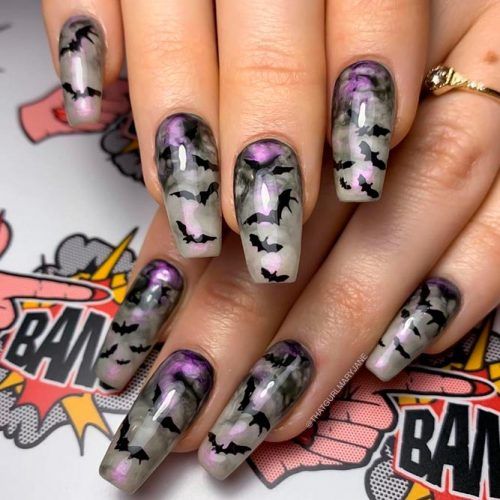 Source: fingerbangportland via Instagram
What can be scarier than a foggy night with the sounds of bat wings clapping above your head? Well, try to picture that and then depict on your nails. We must admit that it is not as scary as it sounds, but it is certainly marvelous!
Bad And Creepy Mickey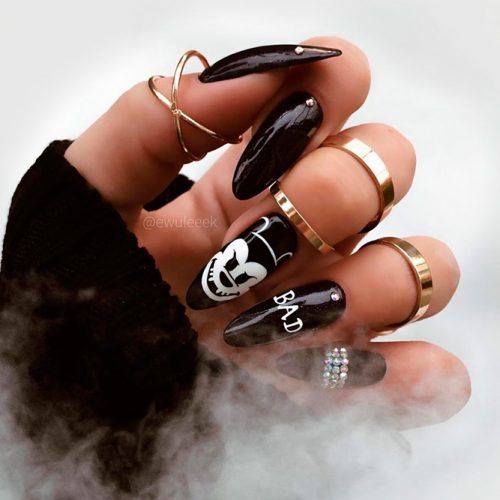 Source: ewuleeek via Instagram
Want to sport your mani to the office after the holiday is through? Easy! Just opt for a creepy Mickey Mouse nail art spiced up with black base color. It is not that simple to spot, but once seen it can't be unseen!
Fun and Scary Halloween Nail Ideas
Source: nailsbycambria
i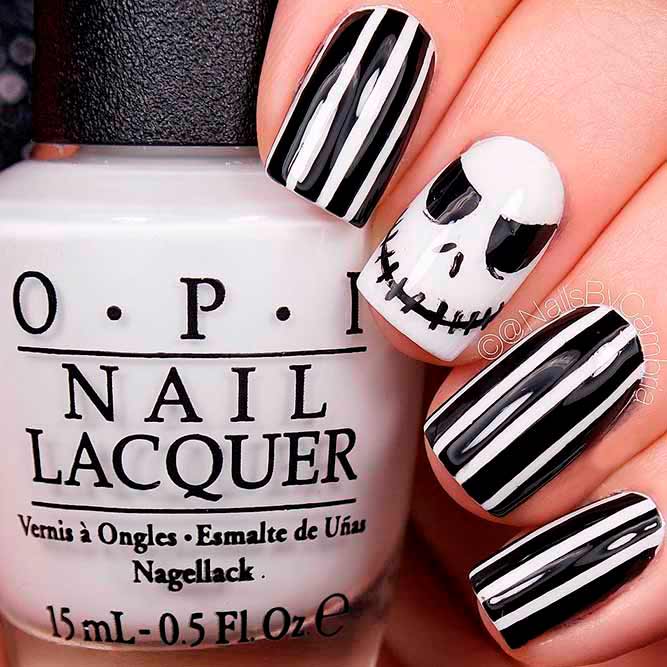 Source: nailsbycambria
i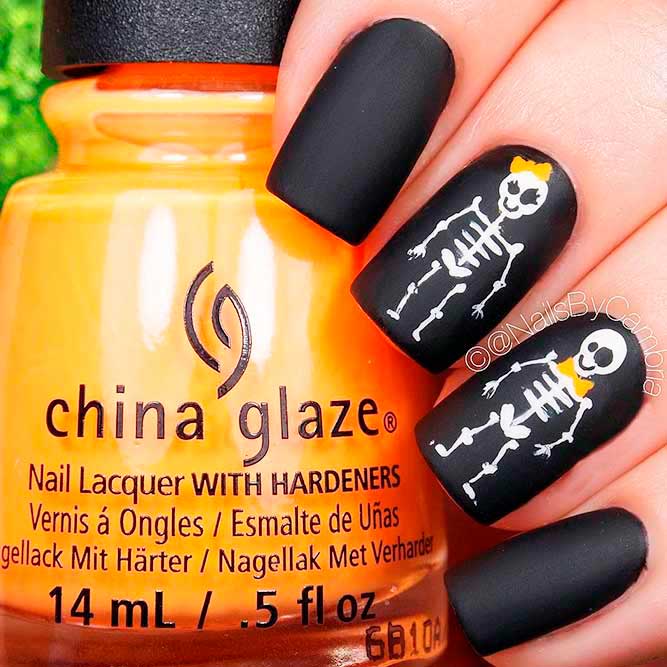 Source: ladyandthe_stamp
i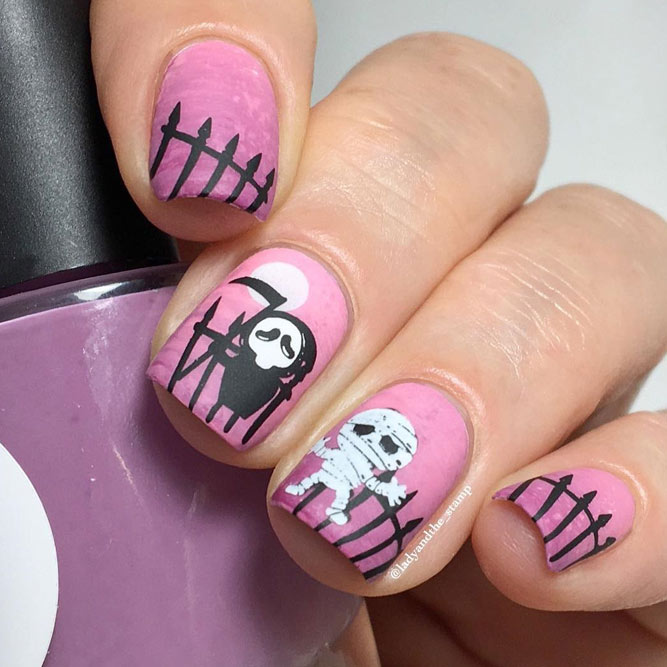 Source: kellimarissa
i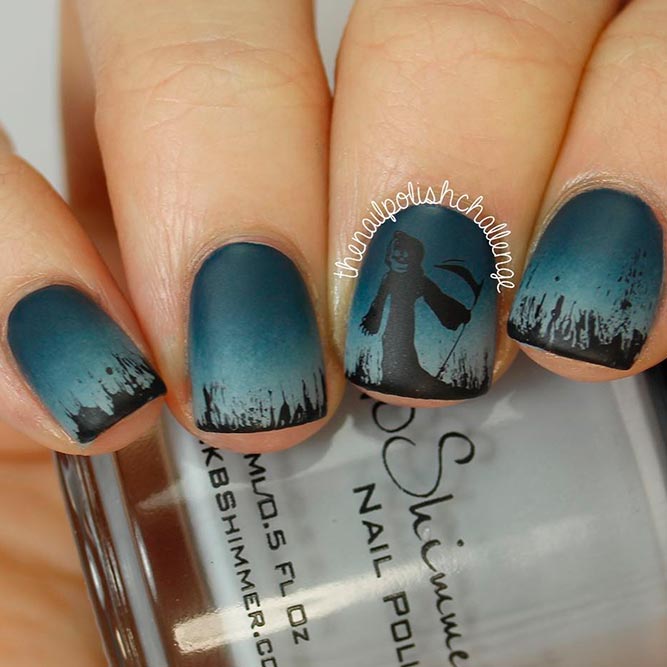 /
Halloween manicure does not necessarily have to be scary. Unusual, yes, scary – probably. It all depends on the way you decide to create your look.
Mix of Halloween Nails Ideas
Source: nailsbycambria
i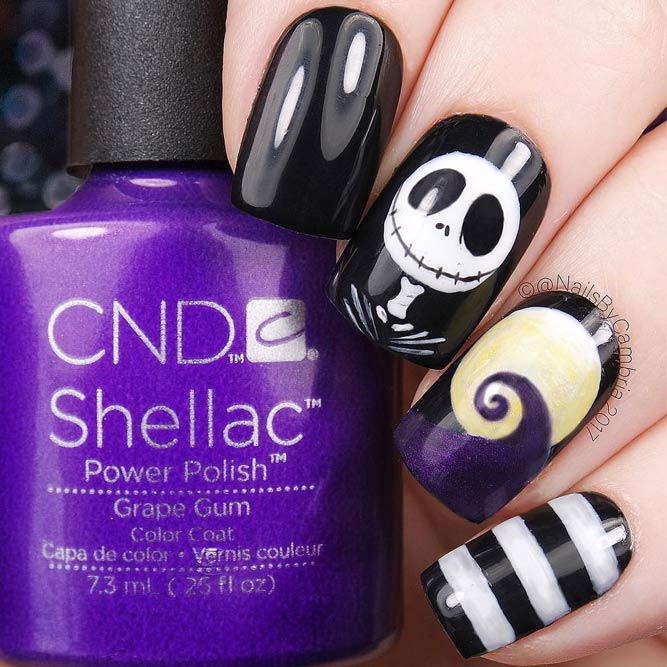 Source: smaltefy
i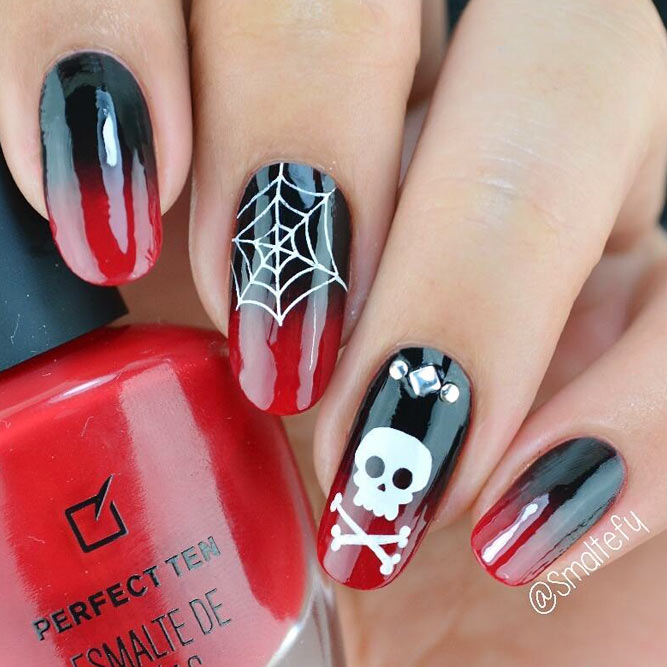 Source: nailartbyfrida
i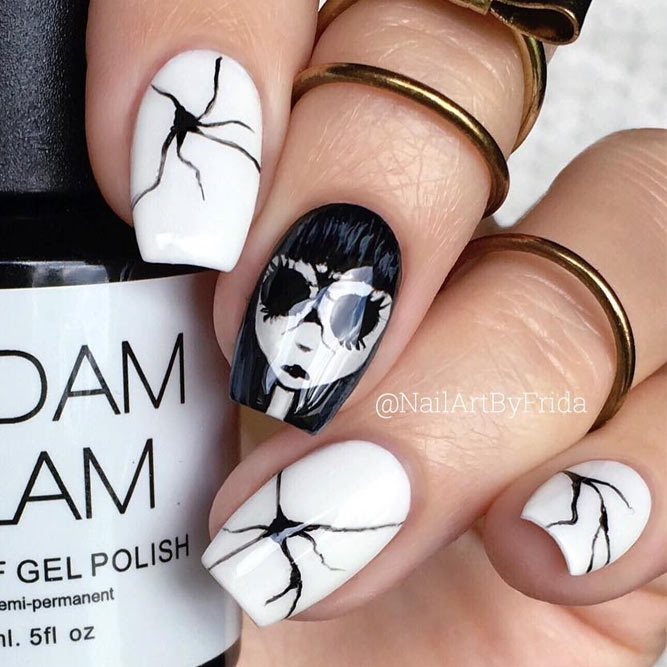 Source: upadaisynails
i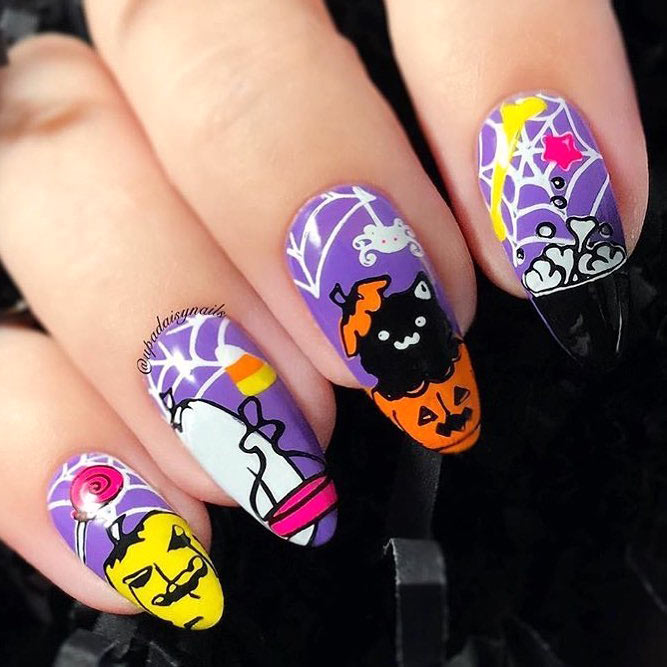 Source: badgirlnails
i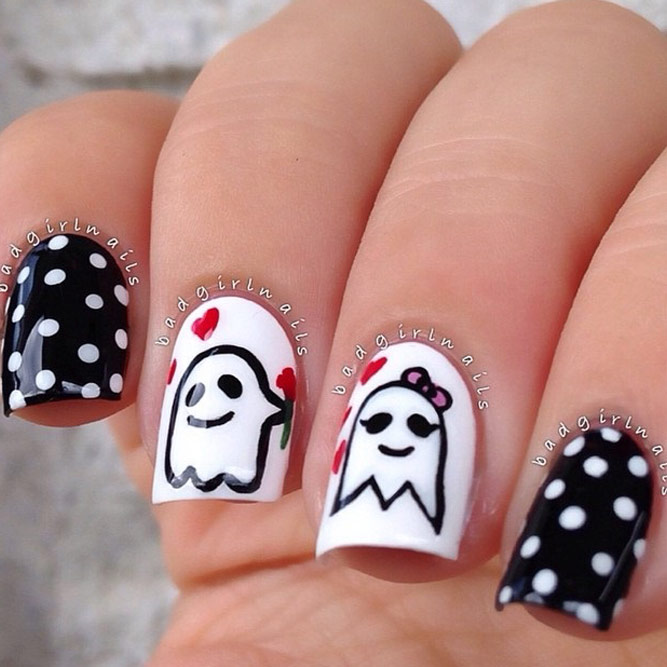 Source: sensationails4u
i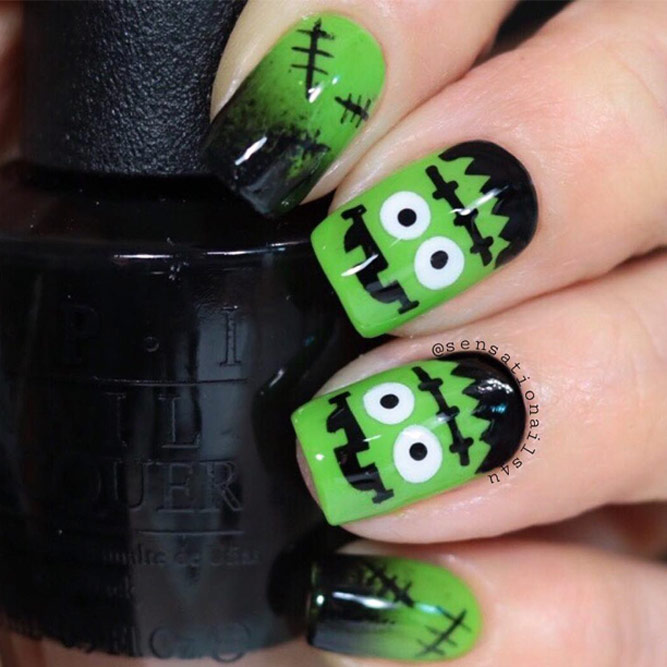 /
Those of you who in love with spooky cartoons will surely appreciate these Halloween nail art ideas. It is difficult to point out one worthy look since they are all pretty and special, so we are going to leave them here for you to make this uneasy decision.
Scary Blood Nail Art
Source: sassyshelly129
i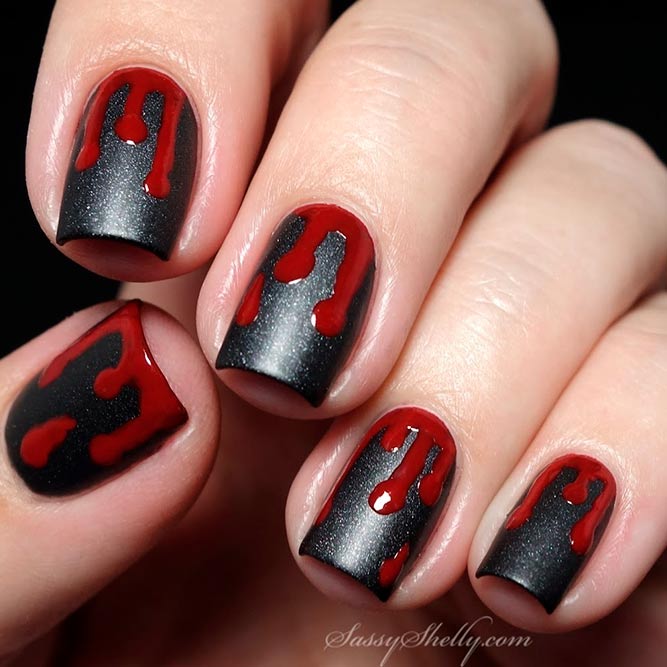 Source: marinelp91
i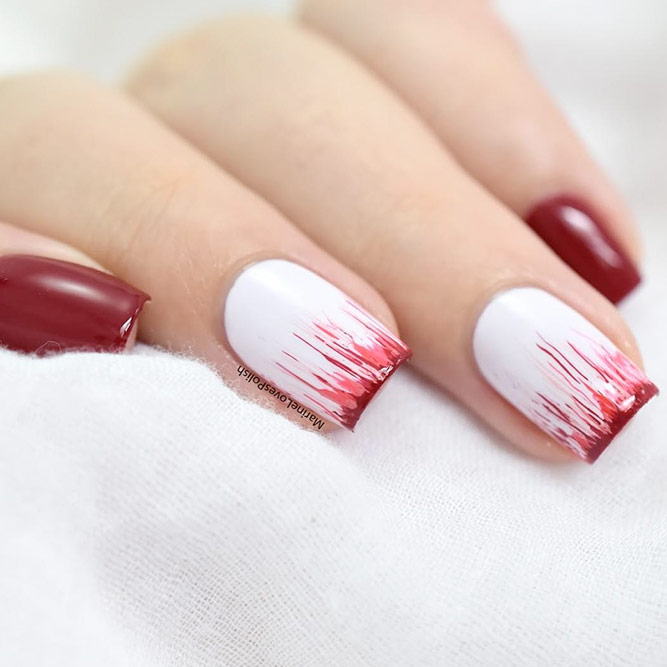 Source: lieve91
i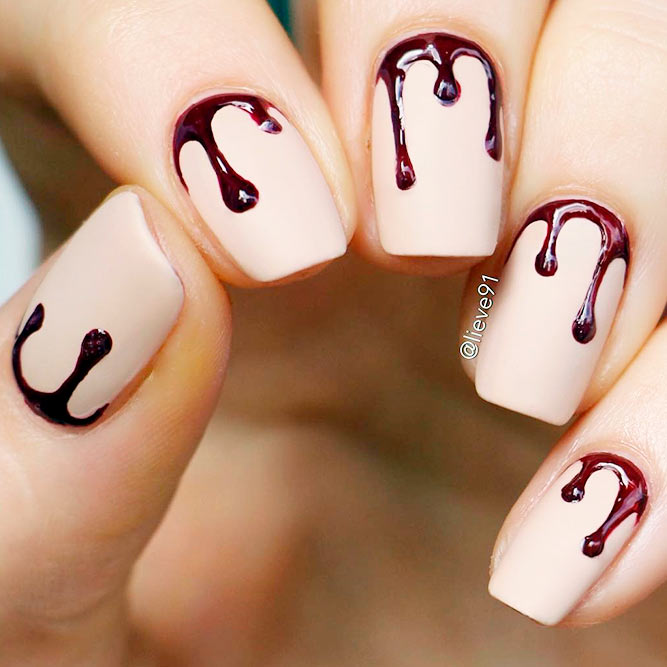 /
Bloody nails are not for weak-hearted. In case you feel strong enough to pull such a look off then these unique ideas are here to inspire you!
Halloween nail ideas are ultimately unique and come in a variety of shapes and sizes. Whether it is a simple nail accent or a full-scale manicure masterpiece – we've got your back. Choose your inspiration and make this Halloween a day to remember!
FAQ: Halloween Nail Ideas
Is it too early for Halloween nails?
Halloween is the time to try all possible kinds of designs on your nails. And it's never too early to start planning a visit to your nail technician.
What are some Halloween colors?
The main two colors used to decorate Halloween homes during this mysterious season are black and orange, with bright purple and red as the accent colors.
What is the name for the fear of Halloween?
Often described as a permanent and extraordinary unjust fear of Halloween, Samhainophobia is a term that originates from ancient pagan traditions, especially the Celtic Druid tradition. The Samhain Festival was celebrated 2,000 years ago to commemorate the eve of the Celtic New Year.
Was this article helpful?