We've prepared Halloween party ideas that won't leave anyone indifferent. From spooky to fun, these themes will make your guests remember your party forever.
Overall, when picking a theme for your Halloween celebration, your main task is to take into account your audience. Thus, when throwing the party for kids, focus on colorful decorative elements and sweets. If you are trying to impress teenage party-goers, it's the trickiest group. But our ideas will help. And in case you invite adults, practically any idea will do. Just don't forget to buy tasty food and drinks.
Now let's discover the ideas for the best Halloween party in your life.
Carnevil Halloween Bash Idea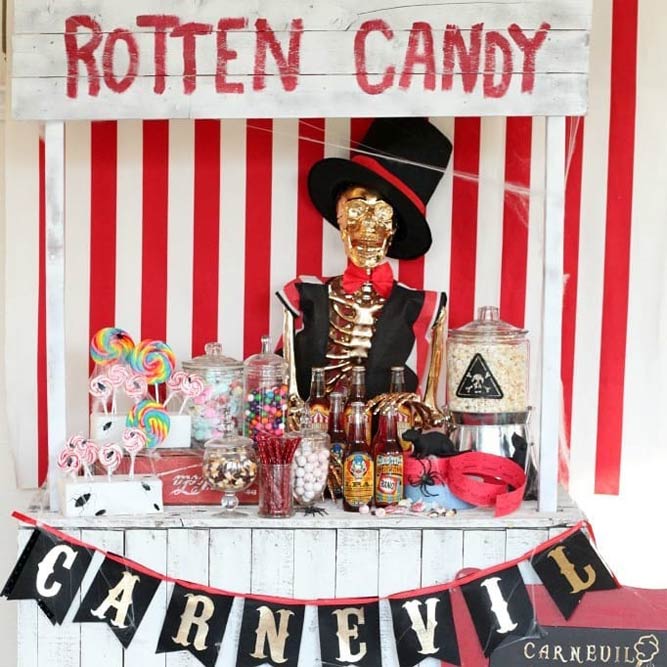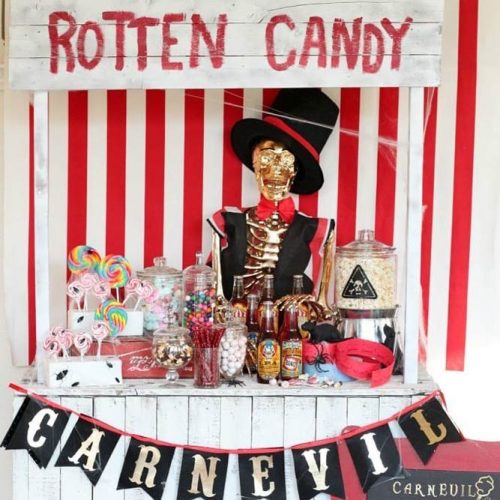 Source: giggles_galore via Instagram
This party idea for Halloween is reminiscent of a carnival, but with some evil flair. Hence its name – welcome to our Halloween Carnevil. Treat your guests to the rotten candy and drinks with the expiration date BC served by a bar tender from that epoch. Figuratively speaking, of course.
Luminescence Party Of Skeletons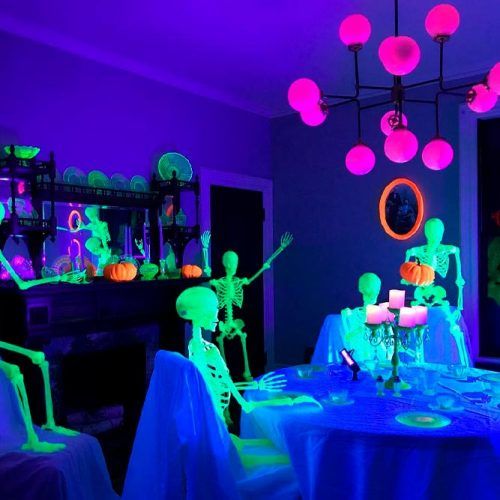 Source: purelysalem via Instagram
Things that glow in the dark always attract attention. However, it is Halloween that we are talking about, that is why you need to come up with something glowing but scary. Luminescent skeletons fit the goal just well.
Hotel Transylvania Themed Bash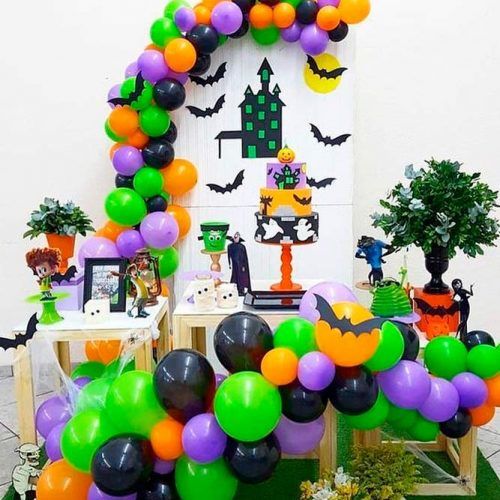 Source: babyshowerconnoisseur via Instagram
Kids love cartoons, and animated movies are loved by both children and adults. That is why if you are going to invite both kids and grown-up to your party, Hotel Transylvania bash is just the right way to go.
Monster Mash Party Decorations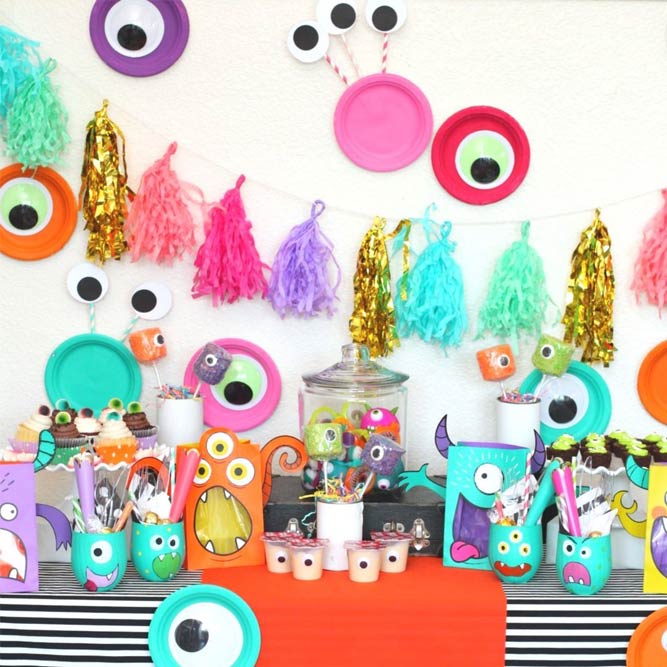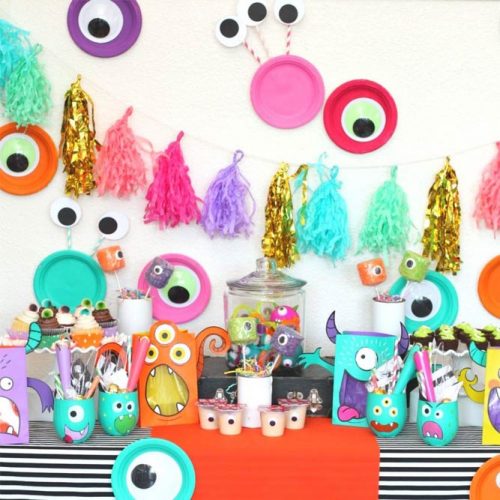 Source: mychinet via Instagram
It's one of the most colorful Halloween party ideas for kids we have ever seen. Halloween is all about monsters but who says that they should be creepy? Buy monster supplies – cups, hats, plates, etc. in different colors and create a monster nook in your apartment.
Minimalistic Halloween Decor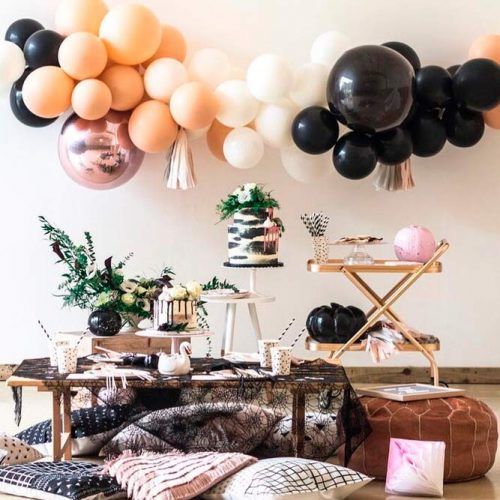 Source: thevenuereport via Instagram
There are times when a super decorated party is out of the question due to many reasons. In times like this, you can go minimalistic. Buy some balloons and tasty treats. Balloons will serve the decoration purpose while delicious Halloween food is never a waste too.
Black And White Themed Party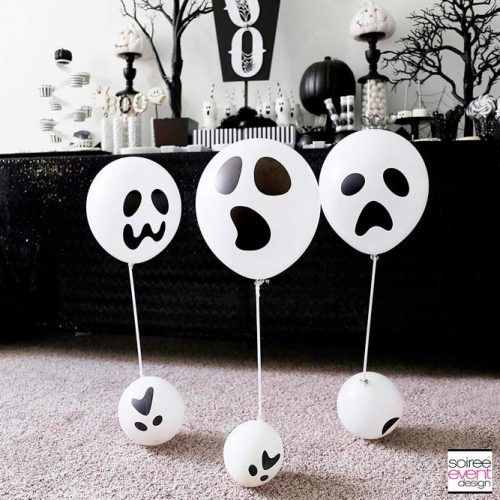 Source: soiree_event_design via Instagram
If you want to stick to the classics, black and white hues are always the best ones to choose. In case you are worried that such a party will look dull and boring – all you need to do is to have a closer look at this outstanding example.
Wicked Table Decorations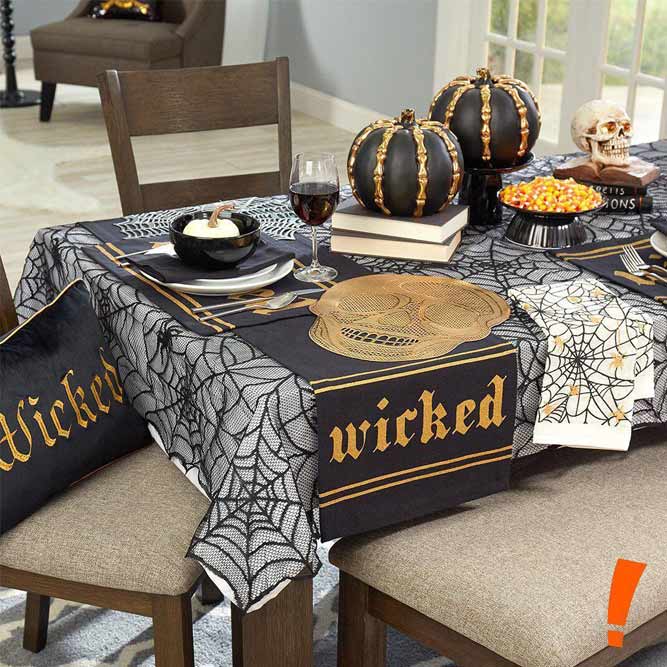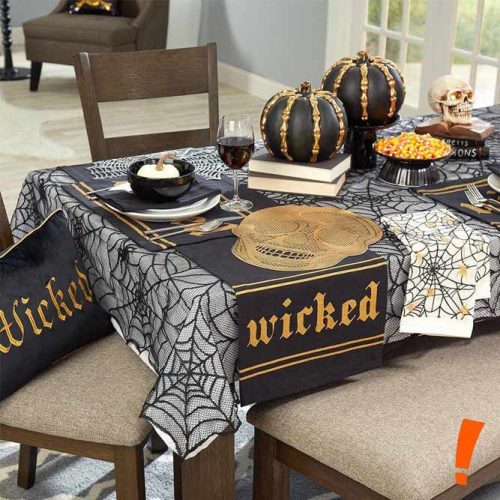 Source: biglots via Instagram
Have you invited the most wicked witches of the town to your Halloween party? Then they will definitely love a table setting like the one shown in this pic. Black and gold theme is spooky yet elegant, which is exactly what you gorgeous evil queens need. It's among the most sophisticated decorating ideas in our collection.
Glam Lilac Halloween Bash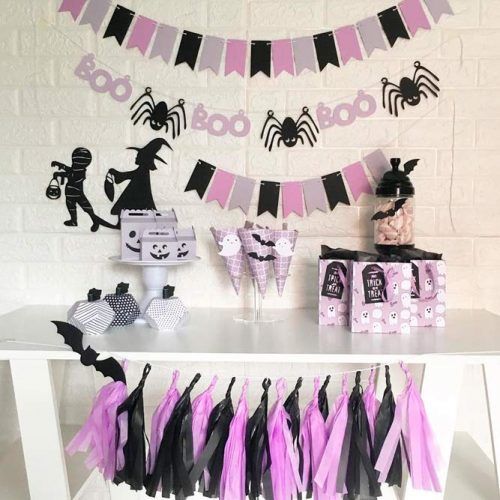 Source: criativacor via Instagram
When you are in need of a Trick or Treat bash to impress your kids, we may have a suitable one in mind. This super glam lilac bash is anything but scary, besides it contains everything that a good party requires.
Happy Halloween Table Décor Ideas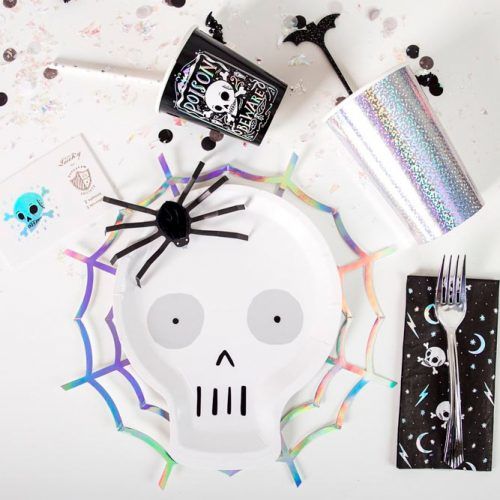 Source: thepartydarling via Instagram
For those who wish their Halloween party to whisper chic rather than scream scary, this might be a great solution. Let your guests feel special with the table setting shown in this pic.
Unusual Halloween Party Decorations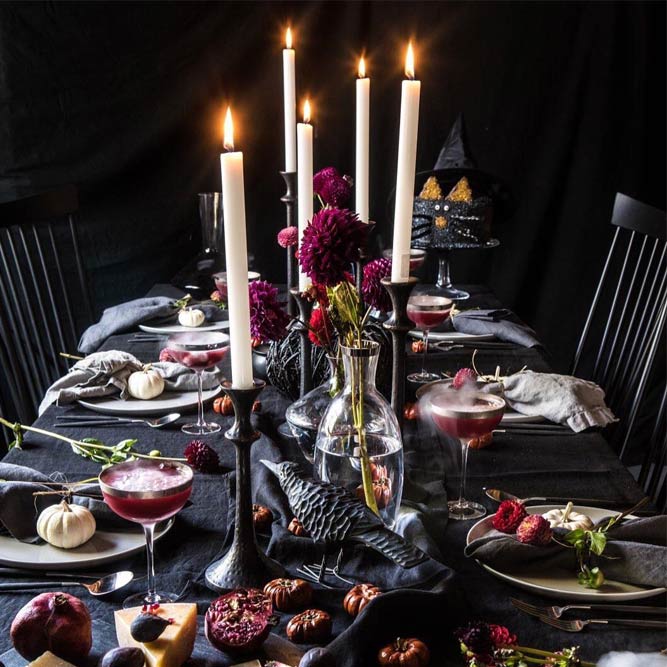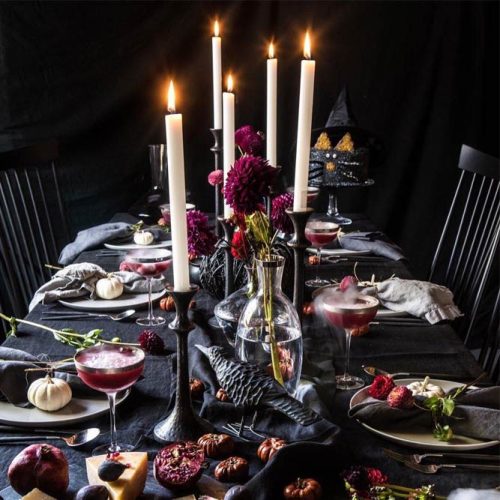 Source: crateandbarrel via Instagram
Halloween party ideas for adults decorations tend to be more glamorous these days. Look at this idea – the white and black theme with garlic, flowers, fruits, and candles looks mysterious and stylish. Add poisonous cocktails, and you get the party of the century.
Glam Skull Table Decorations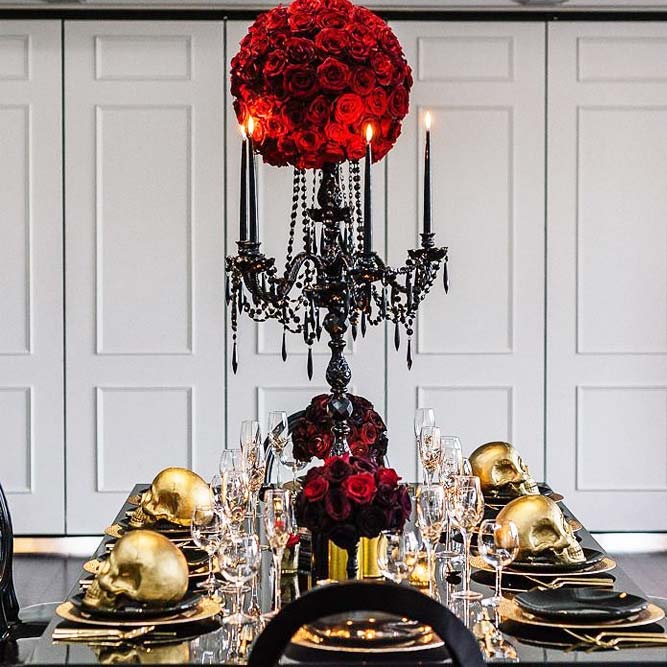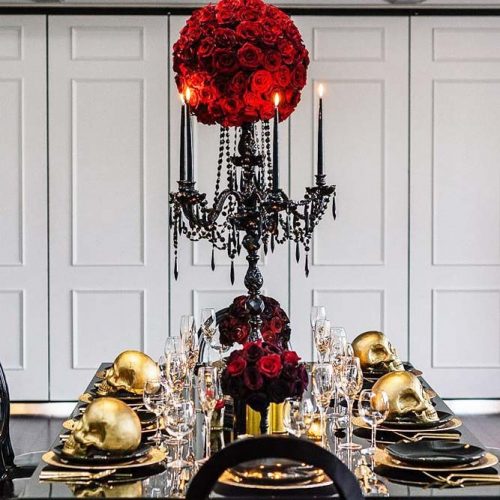 Source: dreamplanitevents via Instagram
In case you are looking for some Halloween party ideas for adults only, this option could be your best bet. To glam up your party for adults, add red and gold accents. This combination looks expensive and stylish when paired with black.
Vintage Halloween Table Setting With Webs And Flowers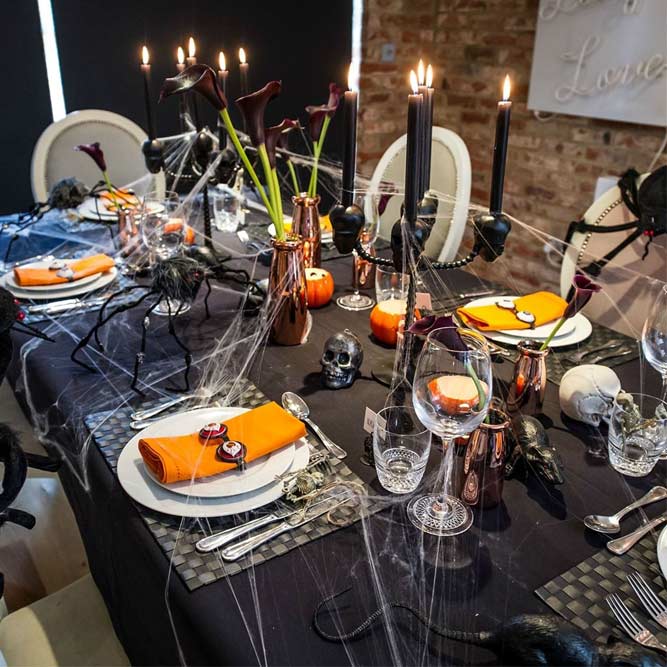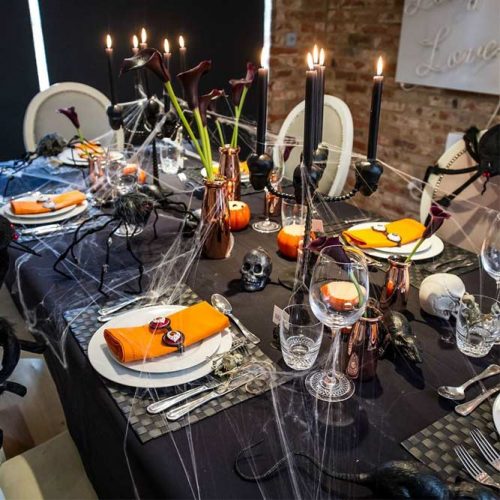 Source: nicolegazaloneil via Instagram
Vintage Halloween party decoration is a classy choice. Add some antiques for the atmosphere of a forsaken house and your guests will be truly amazed. Black candles, creepy spiders and the web all over the table will help you create the right flair.
Jack O Lanterns Pen Favors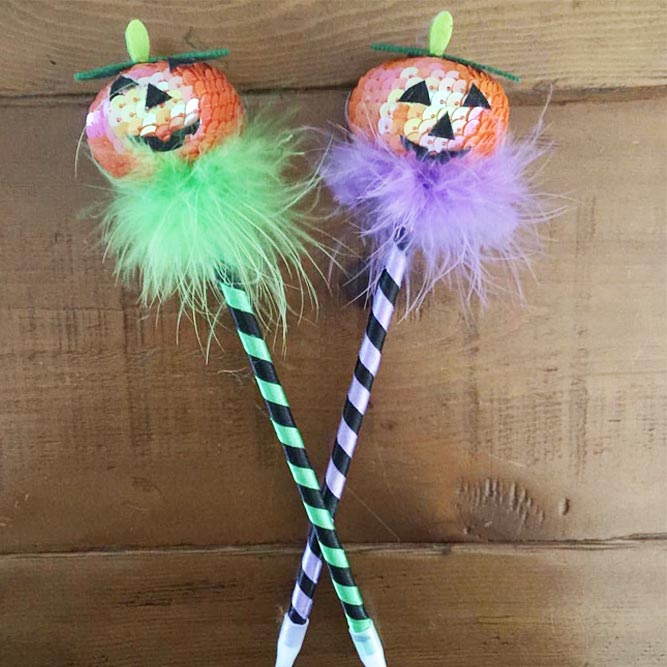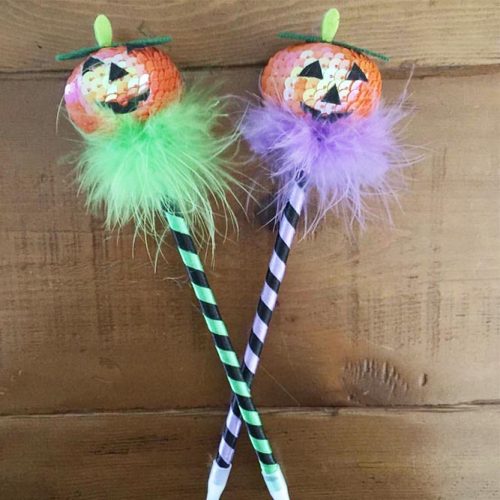 Source: tidbitscompany via Instagram
When planning the celebration, do not forget about the party favors! These pens are made so that they resemble Jack O'Lantern. Whether you have a party for adults or for kids, everyone would be happy to receive a pen like this.
Mugs Halloween Favors Idea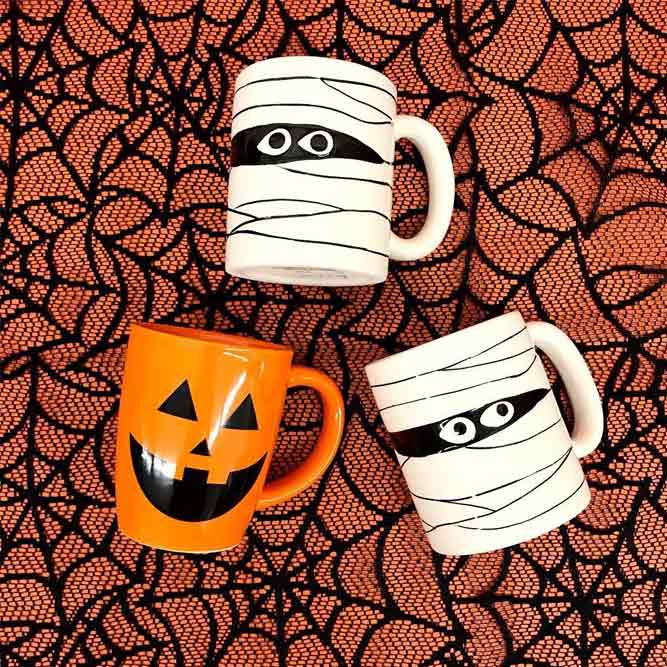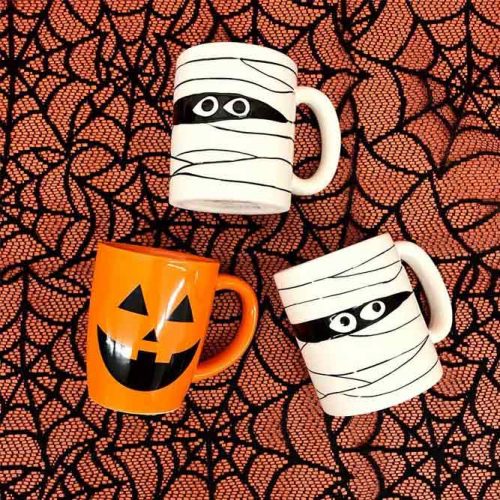 Source: rainbowgardensgifts via Instagram
We'd say that these mugs favors appear super adorable! Such ghost mugs will be perfect for a late evening after the celebration when your guests return home and switch on some scary movies. They could pour hot chocolate and enjoy the rest of the evening.
Halloween Bracelet Favor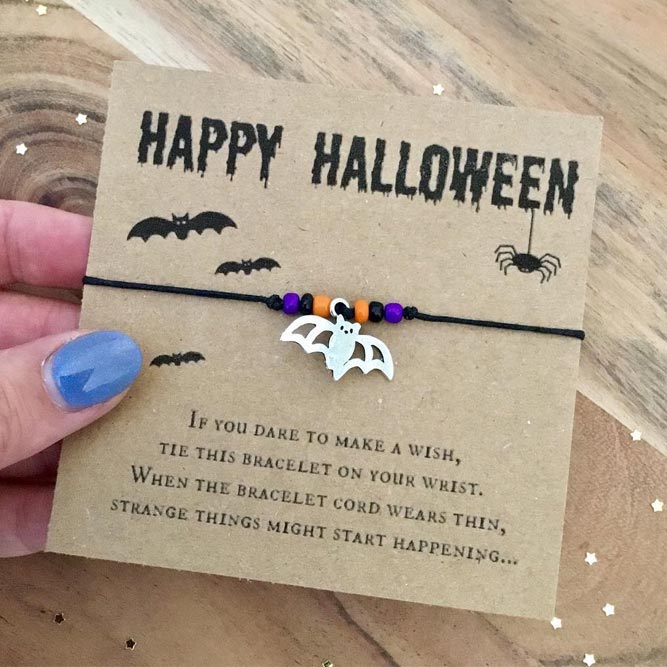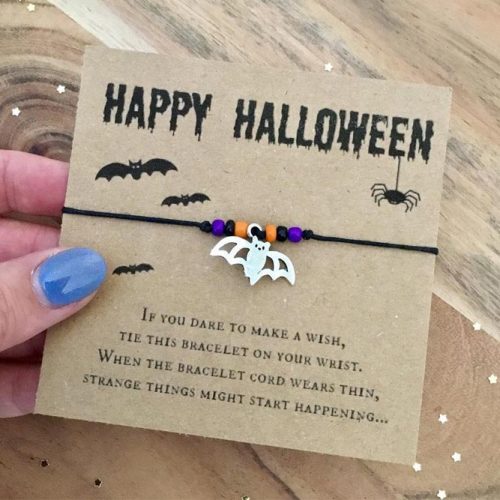 Source: bluejaysdesigns via Instagram
A cute and small Halloween bracelet will come to your rescue in case you wish to go for simple and inexpensive party favors. It's just perfect to convey some Halloween vibes and have fun at a party, especially if you celebrate with your girls.
Koozies Halloween Favors Idea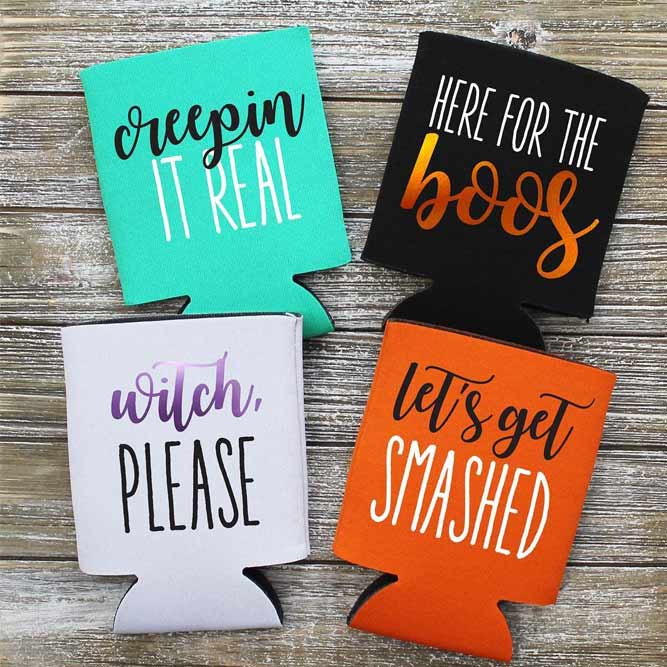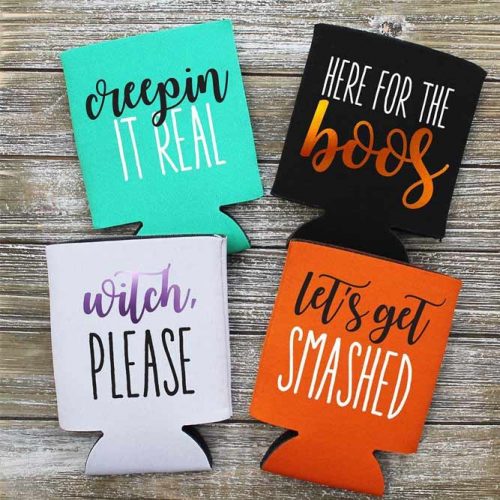 Source: homespunbykate via Instagram
If you are going to throw a Halloween party for adults, do not forget to buy koozies. Wrap the bottles with bright koozies that have cool signatures, and drinking will instantly turn into a game. By the way, koozies can be easily created – you do not have to buy them.
Lollipops Halloween Favors Idea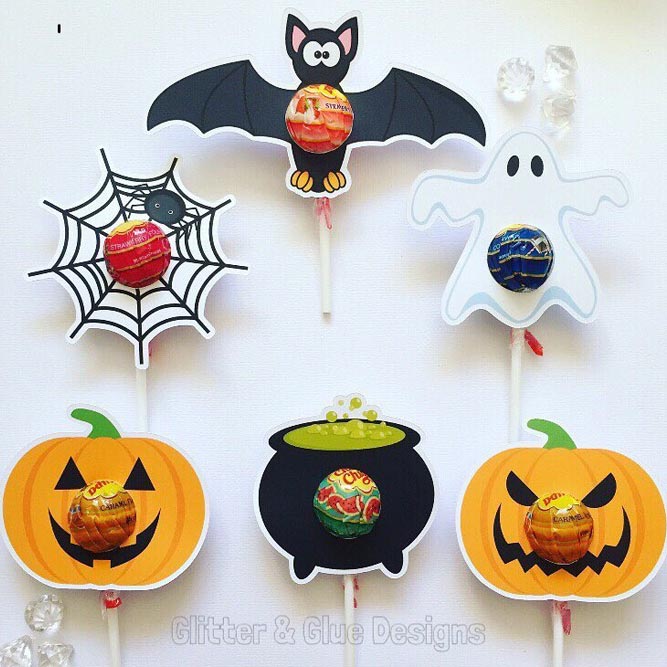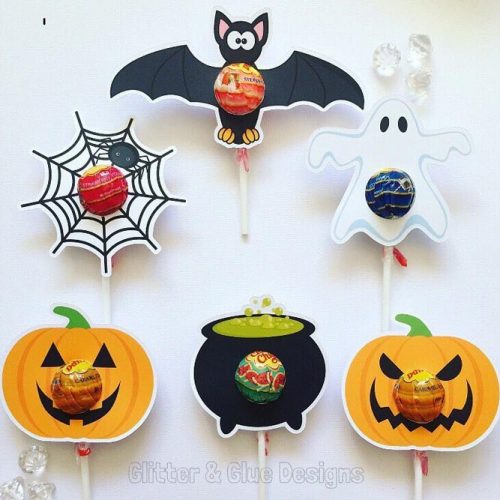 Source: glitterandgluedesigns via Instagram
When it comes to trick or treating, what can be better than a themed lollipop? Such favors are not only lovely-looking but also yummy. Let all of your guests enjoy the celebration as much as possible.
Sweet Treats Hallowen Favors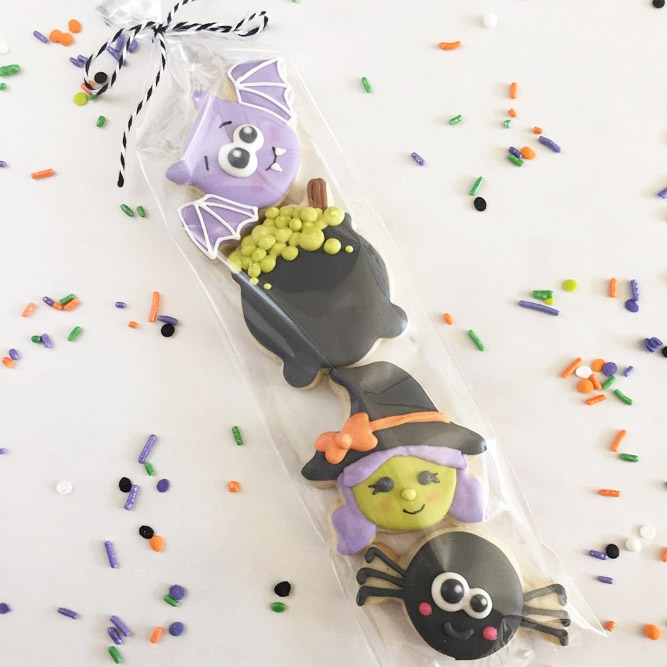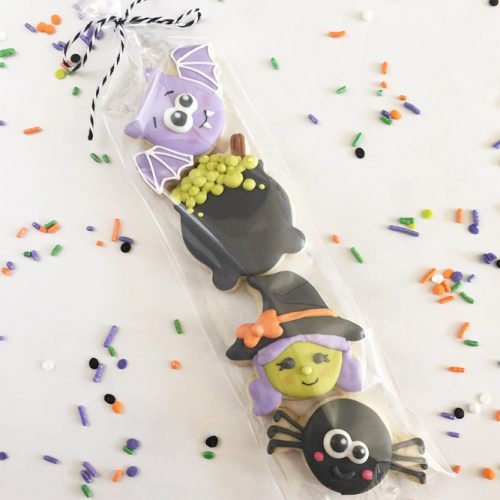 Source: shelbyandcobakery via Instagram
In case you are good at cooking, you can always bake some Halloween favors. And food coloring will help your imagination go wild. Your sweet treats could be not only tasty but also a bit spooky. Just a tiny bit.
Little Bat Table Cards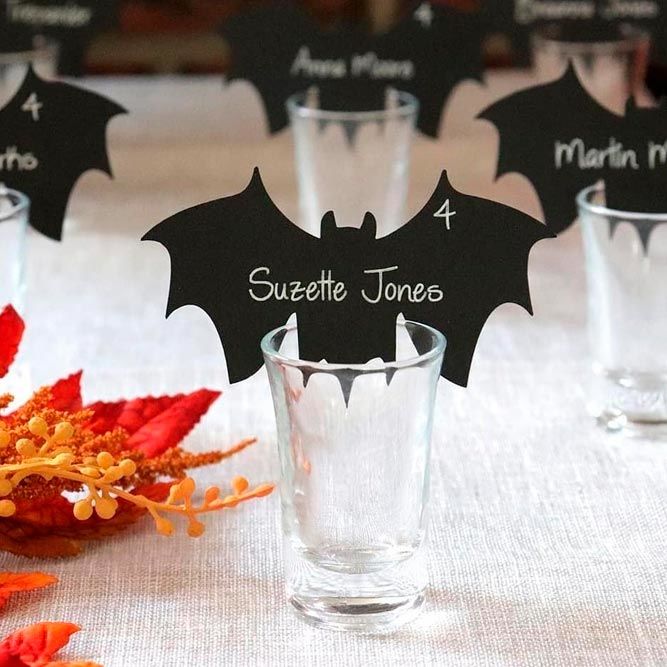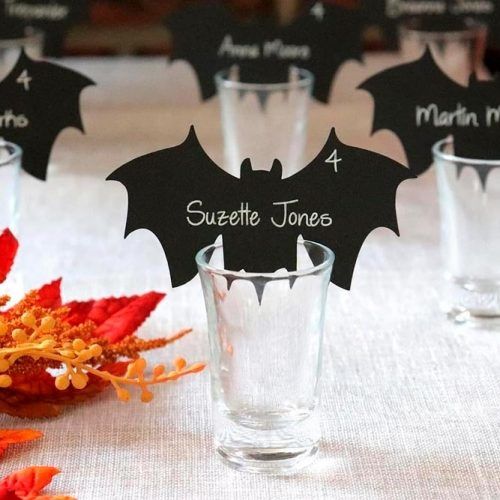 Source: elisabethmapaparties via Instagram
Having some guests over on Halloween? Make sure that everyone has a table card with a name on it. However, since it is the Halloween we are talking about, make the card in the shape of bats to add the holiday vibe.
Spooky Cinnamon Roll Spider Snacks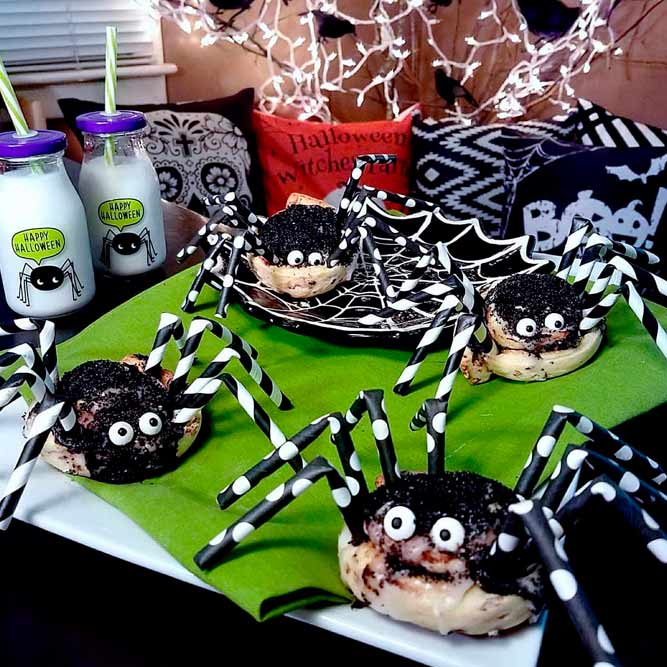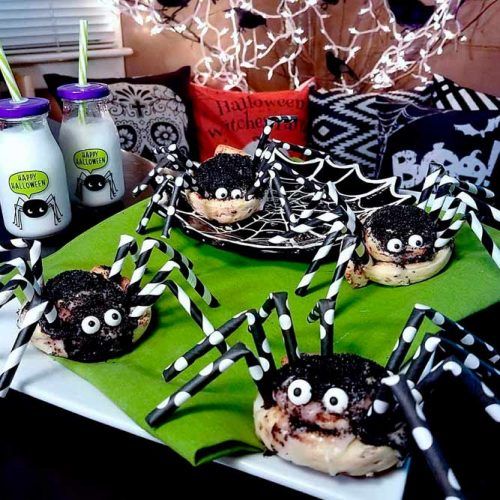 Source: littabits.party via Instagram
No Halloween party can go without tasty snacks and some spookiness involved. You can provide the two separately, or you can combine them! Spooky cinnamon spider snacks are the perfect example to follow!
Bright Halloween Décor For Kids Party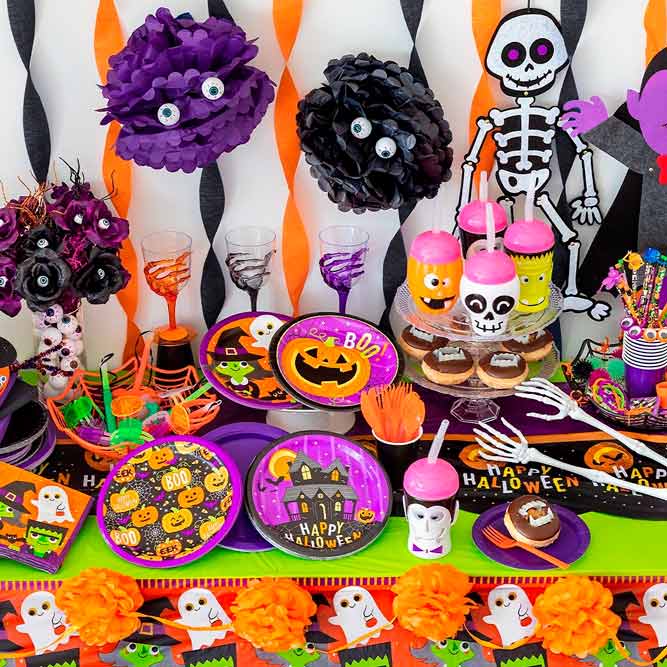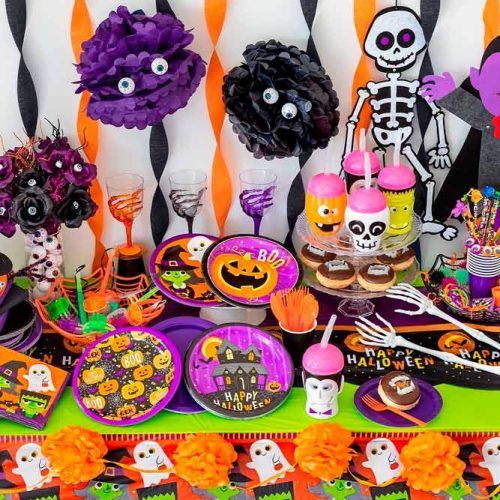 Source: dollartree via Instagram
When planning a kid's Halloween party, you have to be scrupulous with the décor since you can't go over the edge with scary stuff. That is why we advise you to play around with some colors and cartoon figures to come up with fabulous festive decorations.
Witches Party Table Decor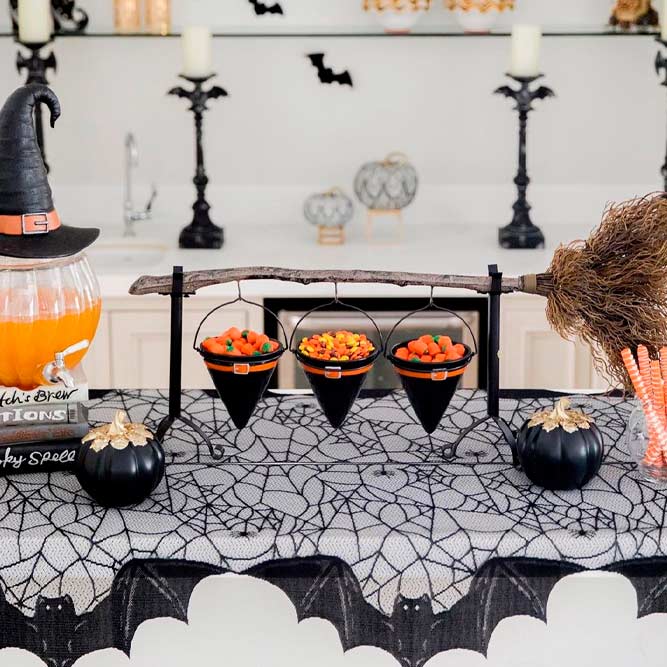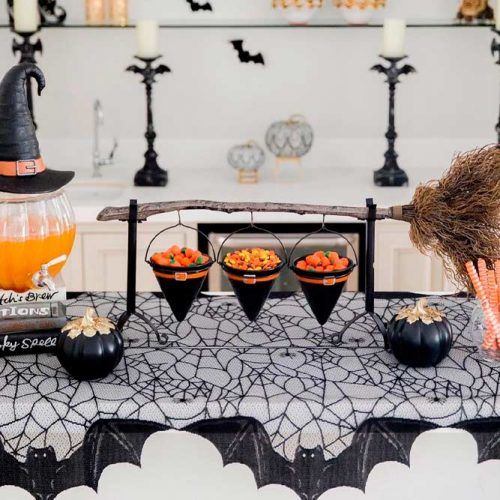 Source: fashionablehostess via Instagram
Having a girlfriend party on Halloween? Add some feisty black magic to the air as well as to your table! Brooms and witch hats to the table!
Balloon Garland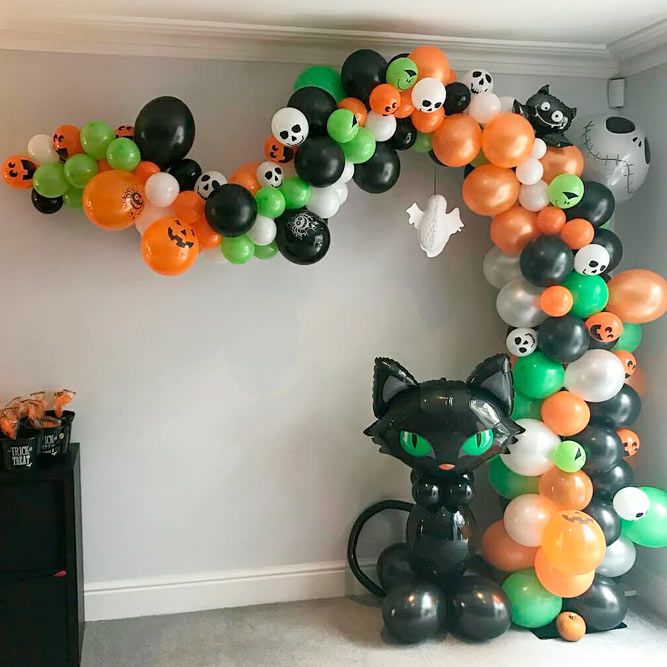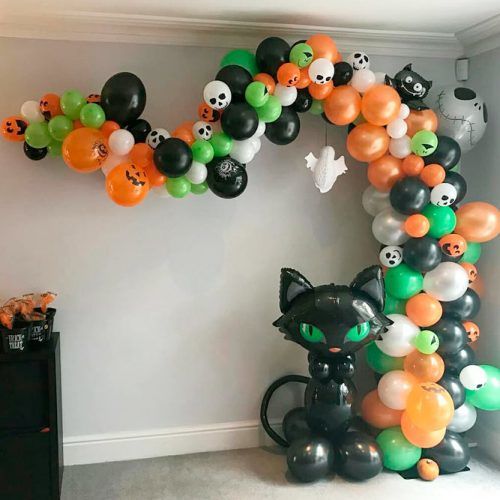 Source: twinkletwinkleid via Instagram
Is there a party attribute that both kids and adults are in love with? We think there is. How about holiday balloons? Add a balloon garland to your party and enjoy the excitement!
Ghost Themed Bash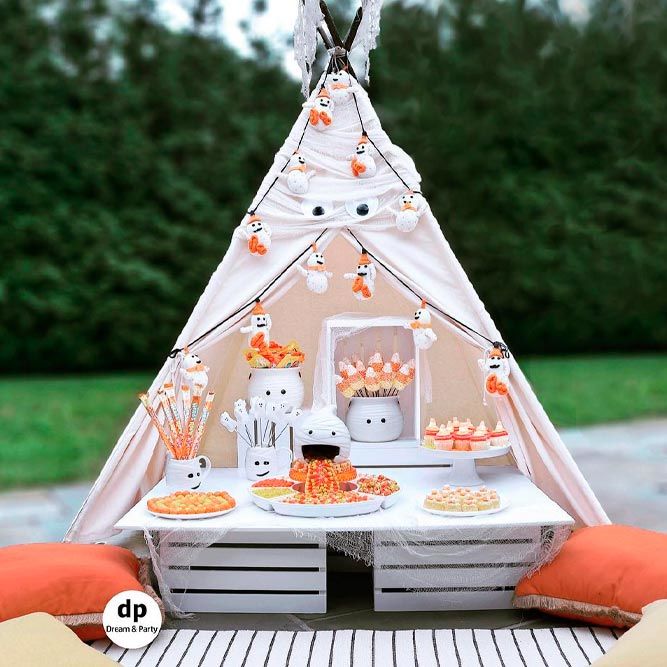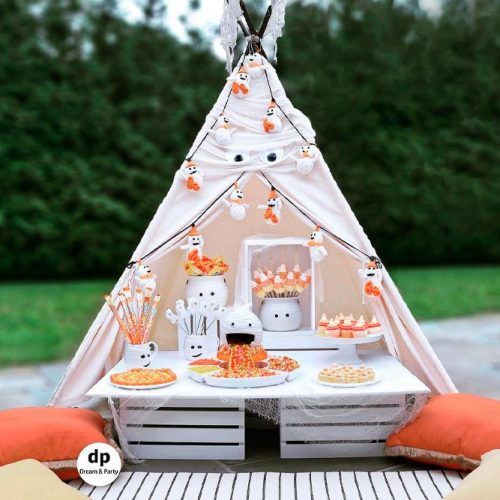 Source: dreamandpartyllc via Instagram
A themed bash will fit in any party perfectly, especially if it is Halloween that we are talking about. We think that going for a ghostly theme is your best bet. It is particularly suitable and not that terrifying if there are kids to be around.
Black Widow Themed Bash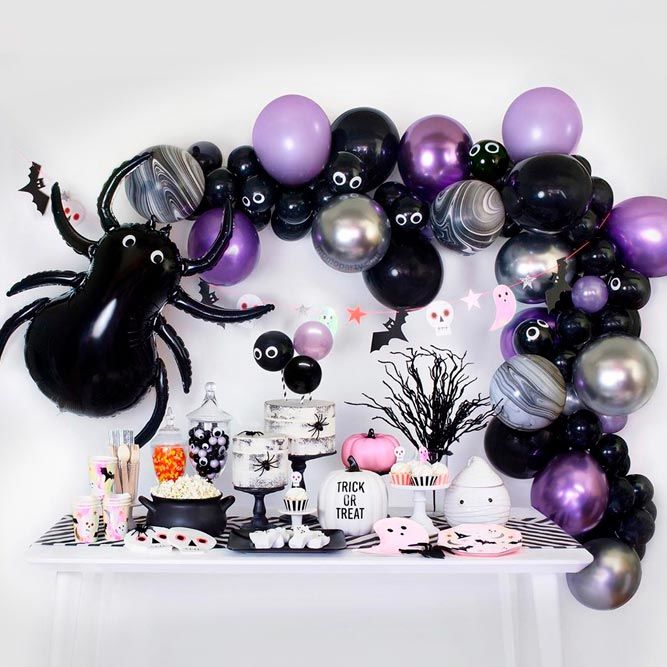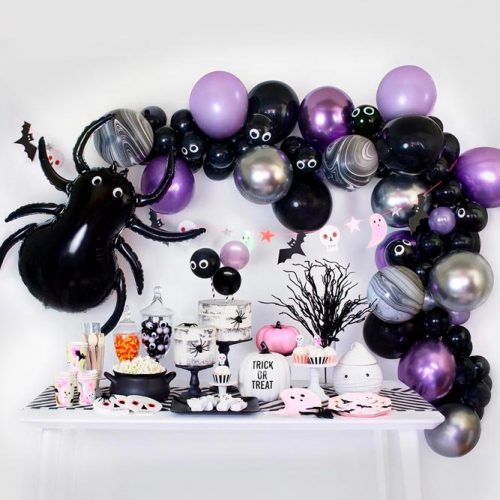 Source: momopartykids via Instagram
There are many monsters in real life too. If you take fauna – a black widow is not less a deadly monster than a vampire or a werewolf. That is why a thematic balloon bash may add that peculiar taste to your party that many long for.
DIY Paper Halloween Party Decor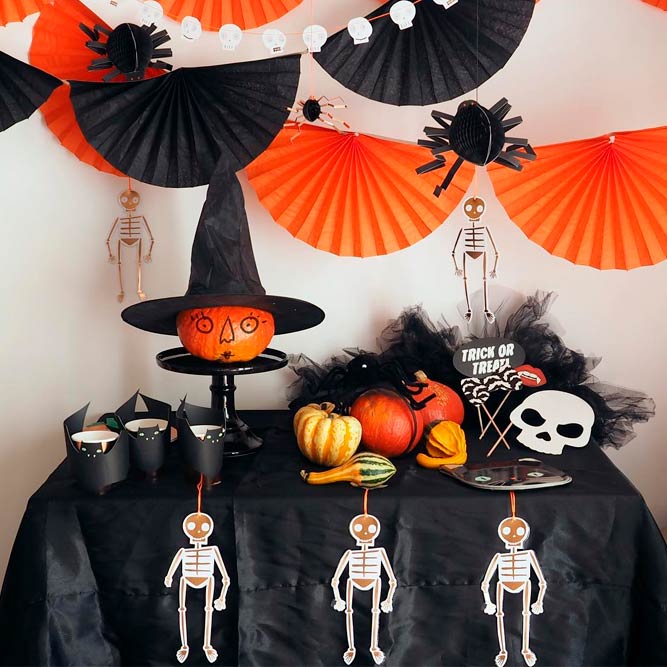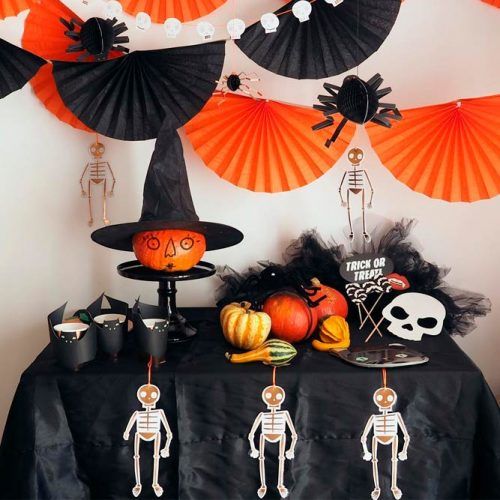 Source: sweetpartyday via Instagram
You do not need to spend a fortune on setting a great party. There are lots of things that you can easily do on your own. Think about these DIY paper party decoration elements, aren't they fabulous in their simplicity?
Trick Or Treat Yourself Food Board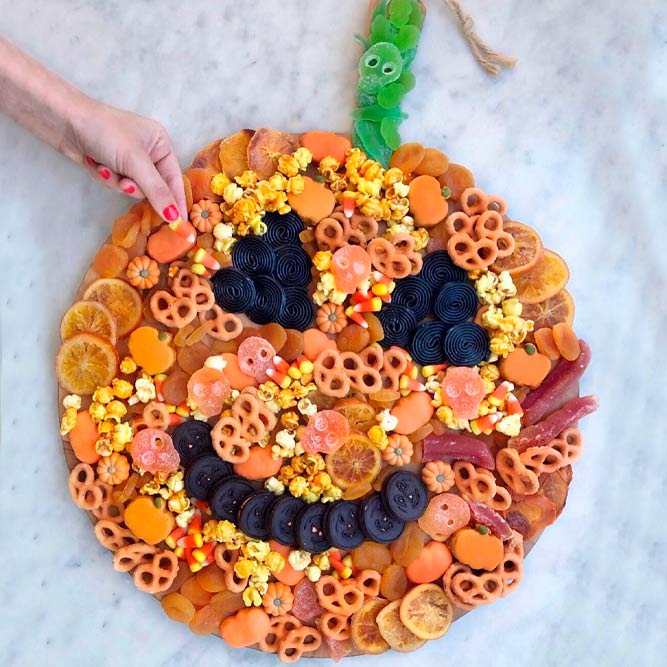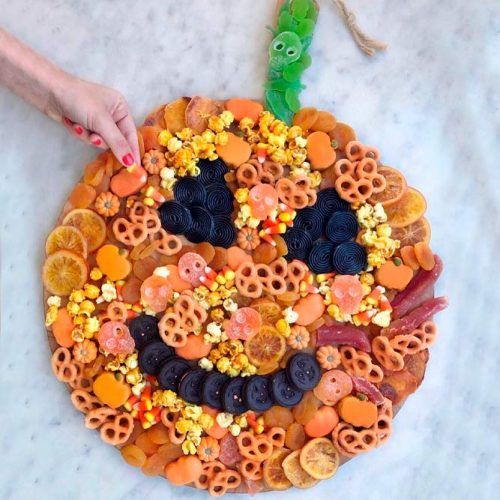 Source: ainttooproudtomeg via Instagram
What kind of party would it be if there were no tasty treats? However, instead of placing regular plates with all sorts of delicious things on, try to arrange the treats on a themed food board. We are more than sure that your guests will be in complete awe! You can even bring there halloween cupcakes to make it sweety.
Skeleton Table Decor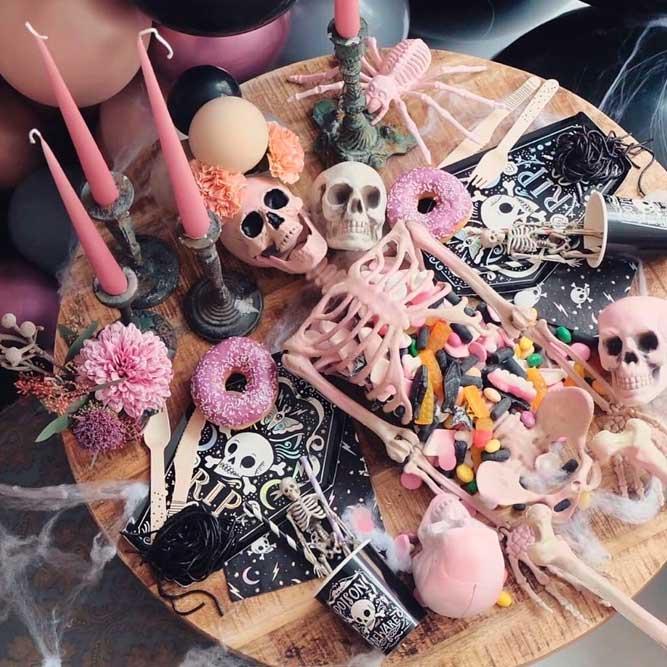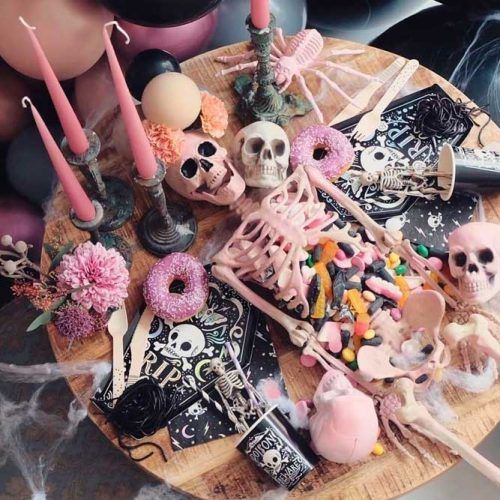 Source: daydream.society via Instagram
Want to send chills down the spine of all your visitors? We know a way! Get yourself a skeleton, paint it purple, and make it the center of your food table! Oh, and do not forget about same-shaded candles and delicious doughnuts!
Healthy Halloween Treats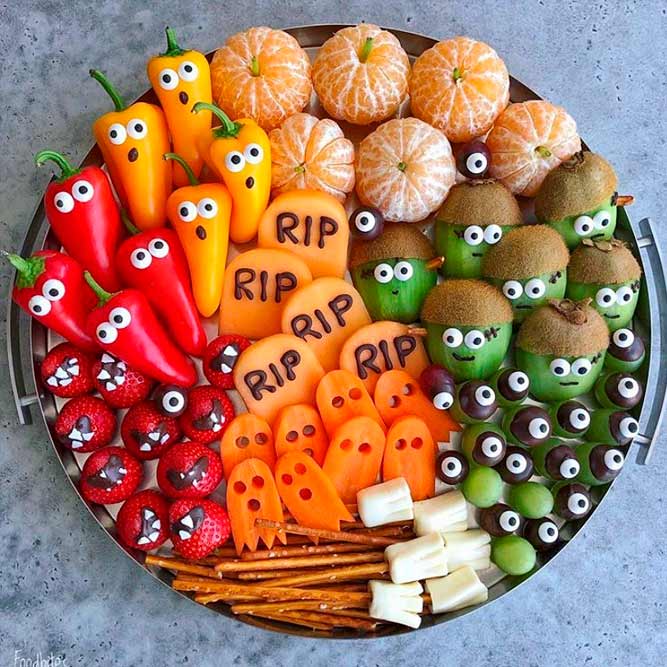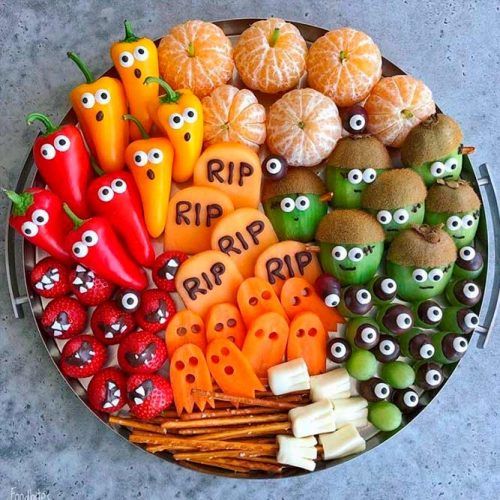 Source: confettiandwishes via Instagram
Are you all-in for a healthy lifestyle, and all the tasty but unhealthy treats are banned from the party table? Well, not a problem at all! The fact is that healthy Halloween treats are as appealing as the little less healthy ones!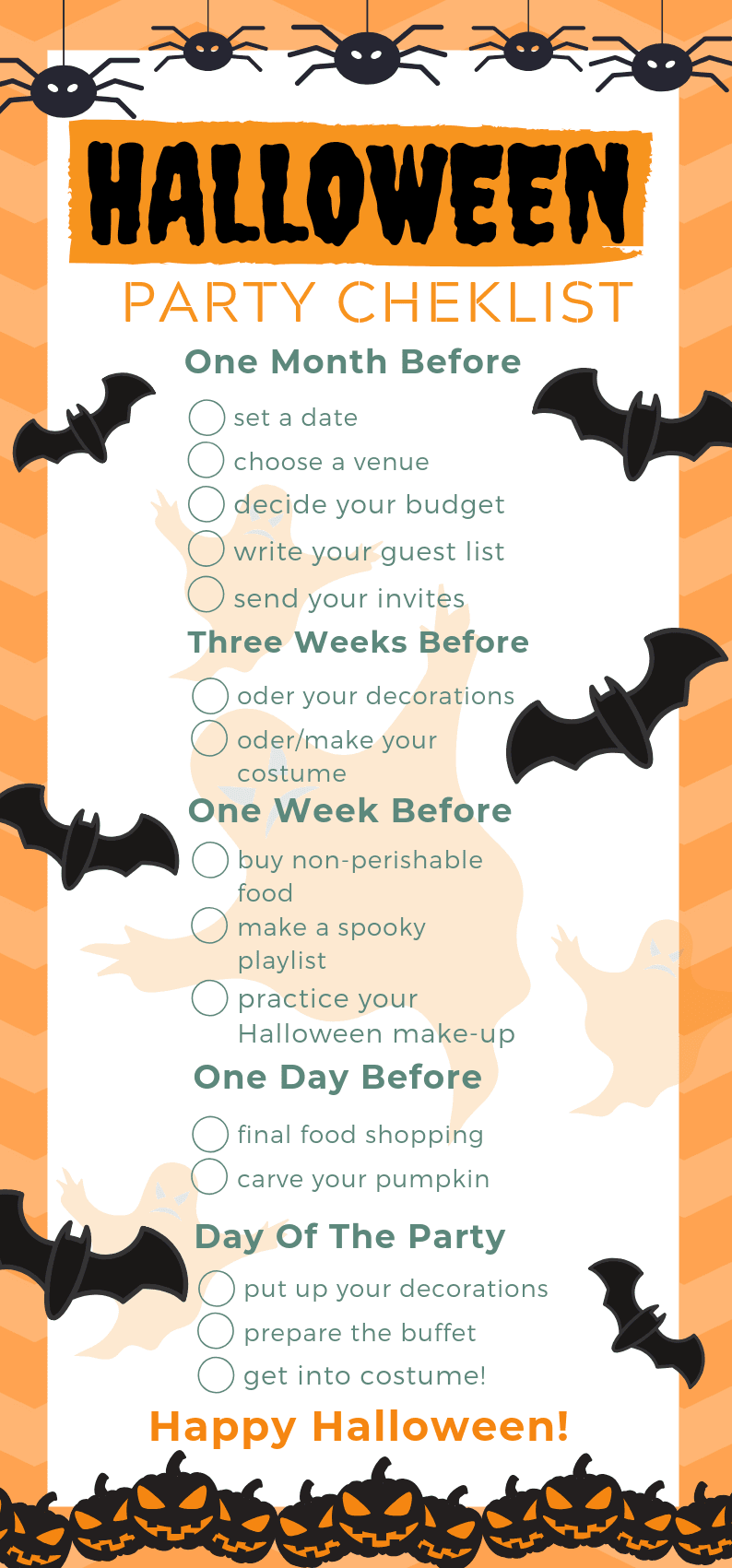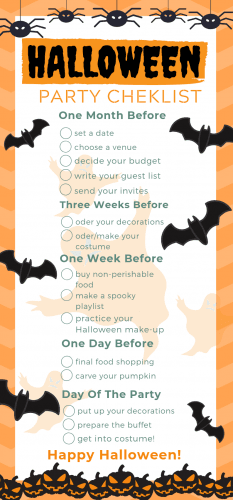 Save these creative ideas for your Halloween parties to be the best in the neighborhood! Your guests will be wowed! Discover more inspo on our blog. And don't forget about Halloween quotes!
FAQ: Halloween Party Ideas
What games do you play at a Halloween party?
You can spice up any Halloween party by doing Halloween face painting and introducing the following games:
Blow up some orange balloons, place some prizes inside and scatter across your backyard. Kids need to step on them to get the prize. Another variation is to glue them on the wall in a form of pumpkin and ley the kids pop them.
This toilet paper mummy game. The team that finishes their roll of toilet paper first making a mummy, wins.
Pin the Tail game can be modified into pin the face on the pumpkin game, or other Hallowing characters.
How do you make a Halloween party at home?
Create Spooky Invitations and figure out your party theme: what colors and Halloween characters will prevail in your décor.
Decorate the party space and the entryway.
Figure out Halloween menu to amaze your guests with spooky dish choices.
Add dry ice to your drinks.
Set up the mood by choosing the right lighting and music.
There are many adult Halloween games to keep everyone entertained.