Halloween cupcakes are the common party guests every year when we celebrate the holiday. But have you ever wondered why do we eat sweets on Halloween?
As it turns out, this tradition is about 1,000 years old. Back in the Middle Ages, when the predecessor of the holiday – "All-Hallows'-Eve" was celebrated, people left food at their front door. They did so to stay safe from the invasion of ghosts. And so-called "soul cakes" were among those protective foods. Later on, tasty cakes were given by wealthier people to poorer beggars in return for prayers for the prosperity of their households.
And today, cupcakes are typically made to treat guests and neighbors to some tasty dessert. Read on to discover the coolest ideas of toppings.
Chocolate And Vanilla Mummy Cupcakes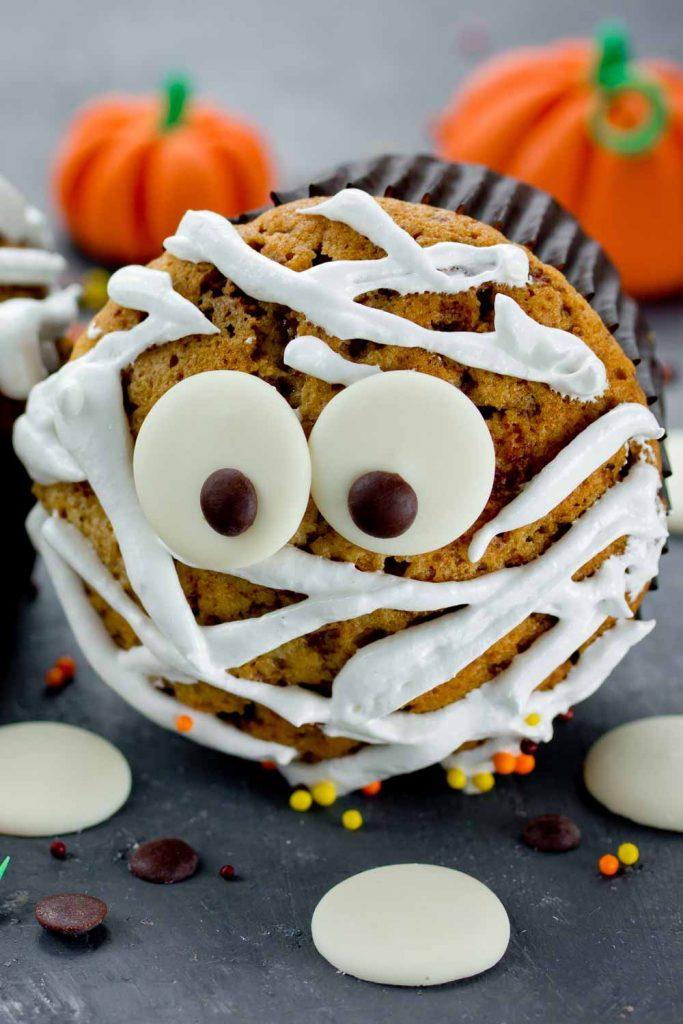 This dessert is super simple to make. You will just need a chocolate cake, white frosting for the mummy effect, a frosting bag, monster eyes, and a flat tip for frosting. Either make frosting or use some canned frosting.
Cauldron Cupcakes
The witchcraft is among the most popular Halloween party themes. Would you like to practice obeah this year? Then the cauldron Halloween cupcakes shown in this pic could match the theme perfectly. Don't forget about the monster eyes, bones, and bats décor pieces.
Monster Cupcakes
Decorating cupcakes with food coloring has recently become a thing. And we can tell you one thing: ask your kid for help, and he or she will have one of the best days in the life. It is so much fun! To get monster cupcakes, you will also need toothpicks, monster eyes, and cupcake wrappers.
Chocolate Pumpkin Cupcakes With Cream Cheese Frosting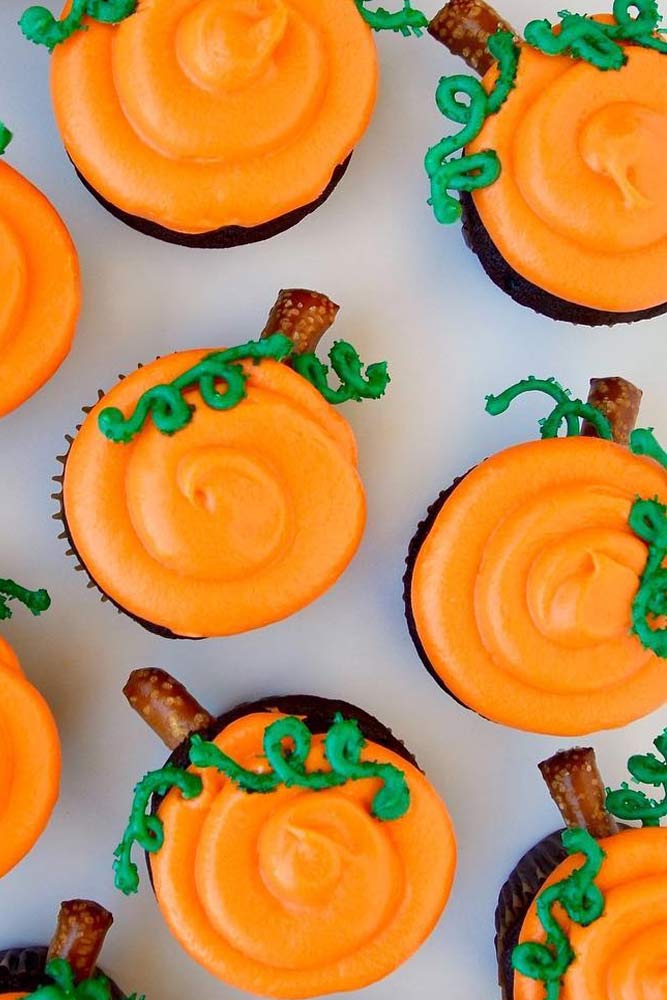 Credit photo: Instagram.com/justataste
These pumpkin spice cupcakes with cream cheese frosting are so bright that once we saw them, we wanted to eat them right away. Though we had to cook them at first, of course. This festive dessert made of chocolate cake and cheese creamy is super yummy.
Easy Halloween Cupcakes With Chocolate Spiders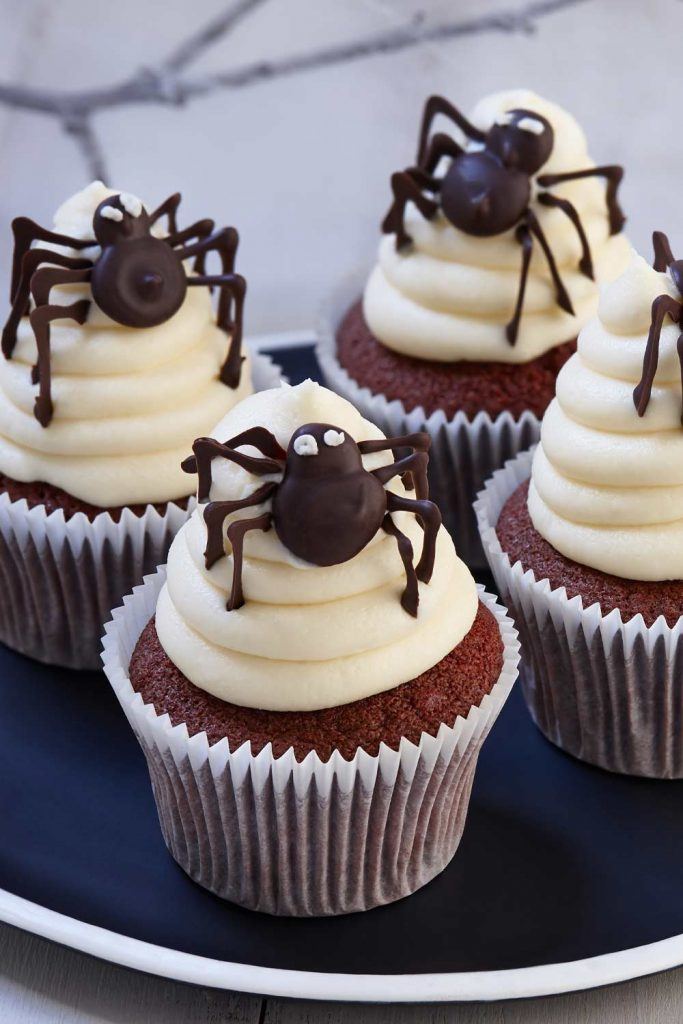 Actually, we often see spiders as Halloween cupcake decorations. And it is not surprising. Spiders are essential for practically any Halloween party. Look how comfortable these chocolate spiders feel, sitting on the cream frosting. And the monster eyes really pop.
Creepy Skeleton Hand Cupcakes
This decorating idea would amaze those who are searching for some creepy Halloween cupcakes for their party this year. Skeleton hands that are stretching out from under the chocolate ground appear super scary. This dessert would work awesome for a skeleton-themed party.
Wicked Witch Cupcakes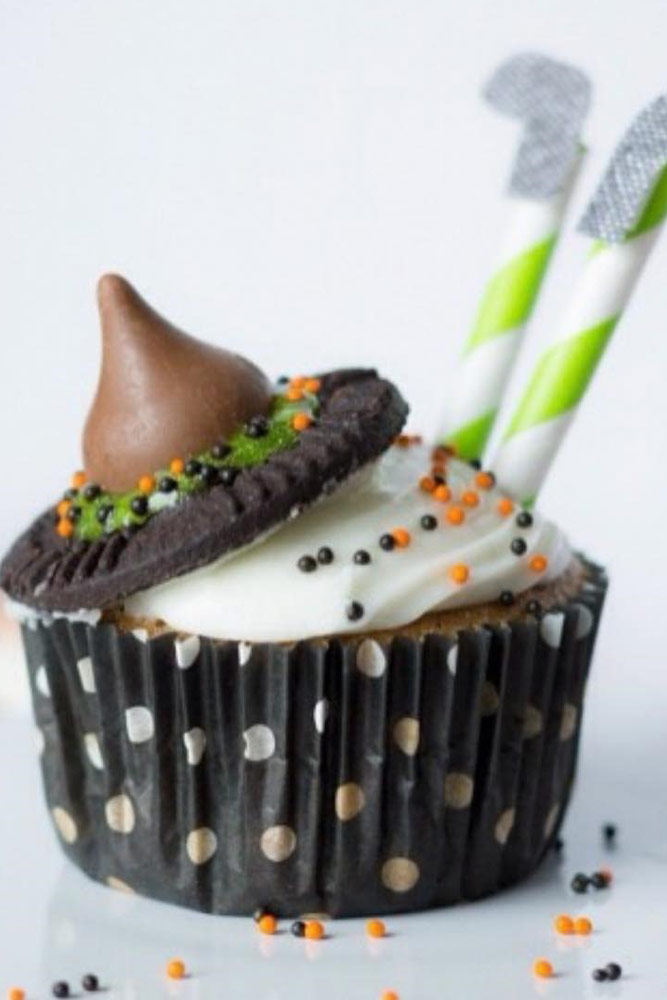 Credit photo: Instagram.com/madetobeamomma
This Halloween treat is friendly and so festive. You can use any cake mix you find in the store to prepare these amusing cupcakes that are reminiscent of wicked witches. Here the accessories is what does the talking, not the cake itself.
Vampire Bite Creepy Cute Cupcakes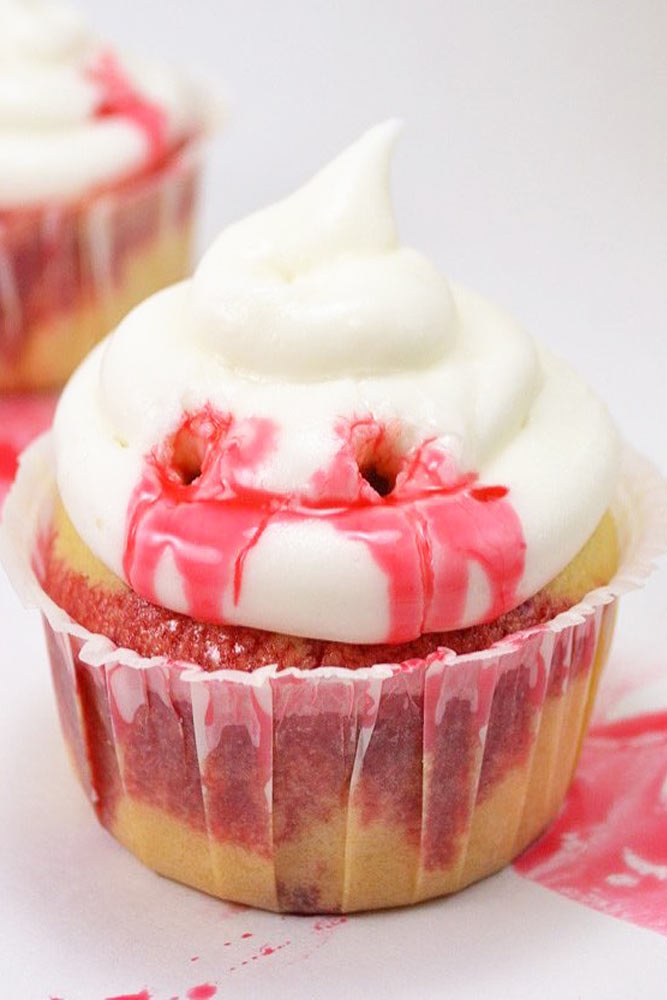 Credit photo: Instagram.com/dreamalittlebiggerblog
These Halloween cupcakes were bitten by a vampire that was passing by your party. That is how you can present this bloody dessert to your guests. The bite marks are very simple to make. Just make two holes in the frosting and pour some gem in them.
Web Cupcake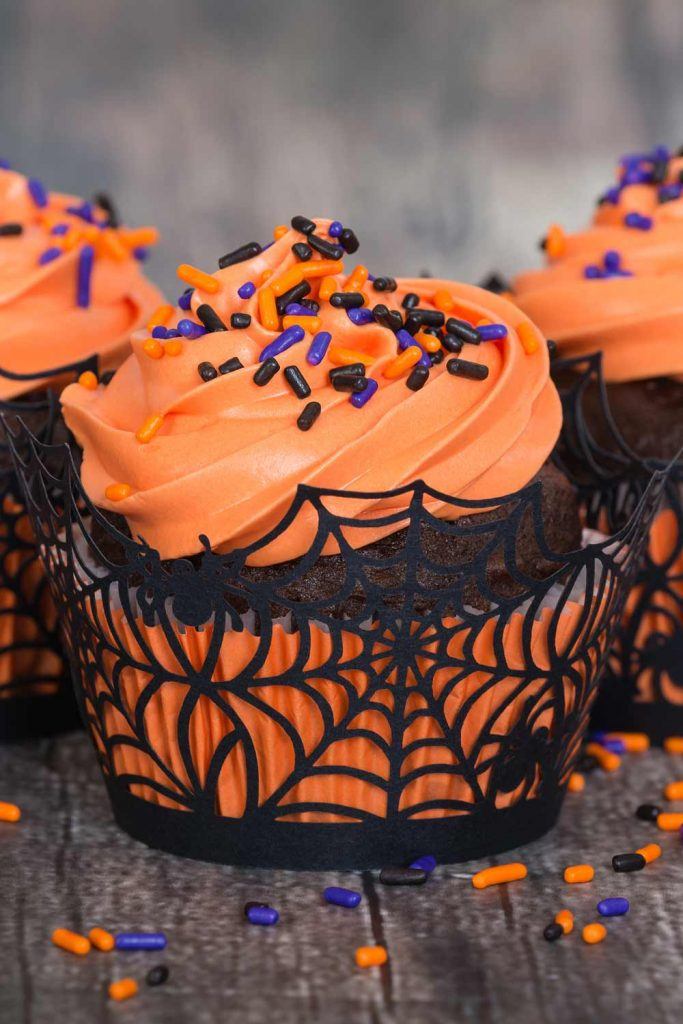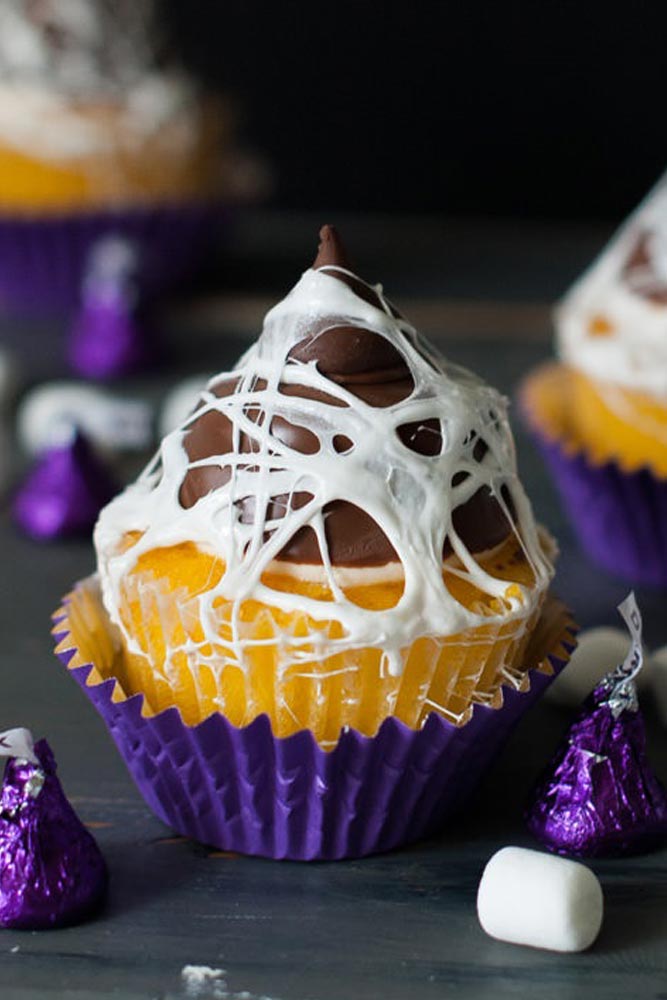 Credit photo: Instagram.com/handmadecharlotte
Let us check if your guests suffer from some sort of arachnophobia. Treat them to delicious cupcakes adorned with spider web. Rattle their nerves and surprise them with the exceptional taste of the dessert. To create the web, simply melt down white marshmallows.
Candy Corn Halloween Cupcakes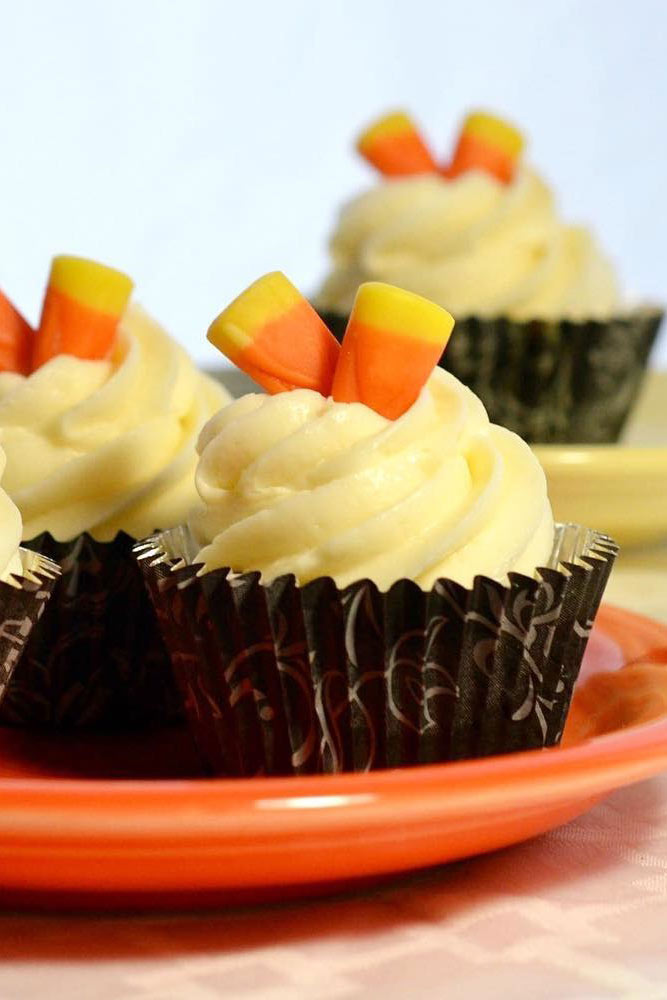 Credit photo: Instagram.com/thesugaryshrink
The pumpkin candy corn cupcakes that are shown in this picture taste so awesome. You can't see it because of the wrapping, but these cupcakes consist of a layer of brownies that is then topped with bright white cupcake batter.
Dirt Cupcakes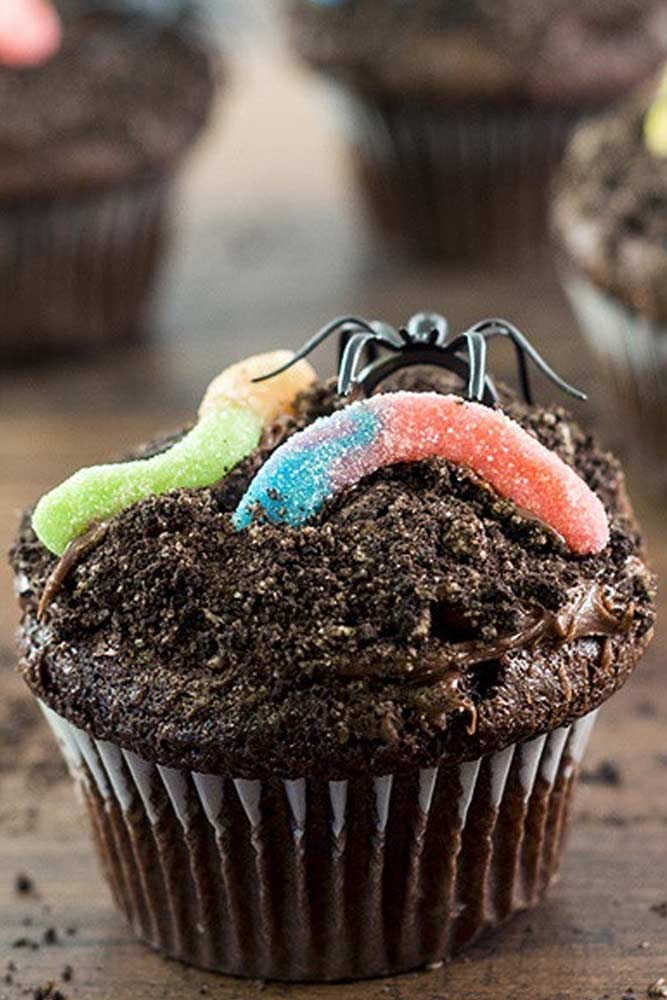 Credit photo: Instagram.com/lmldfood
Here are some easy Halloween cakes for your creepy party. The basis is a chocolate cupcake. Then it is topped with dark chocolate frosting, chocolate cookie crumbs, gummy worms. These are among the most nerve-racking Halloween cupcakes toppers we have ever seen.
Ghost Cupcakes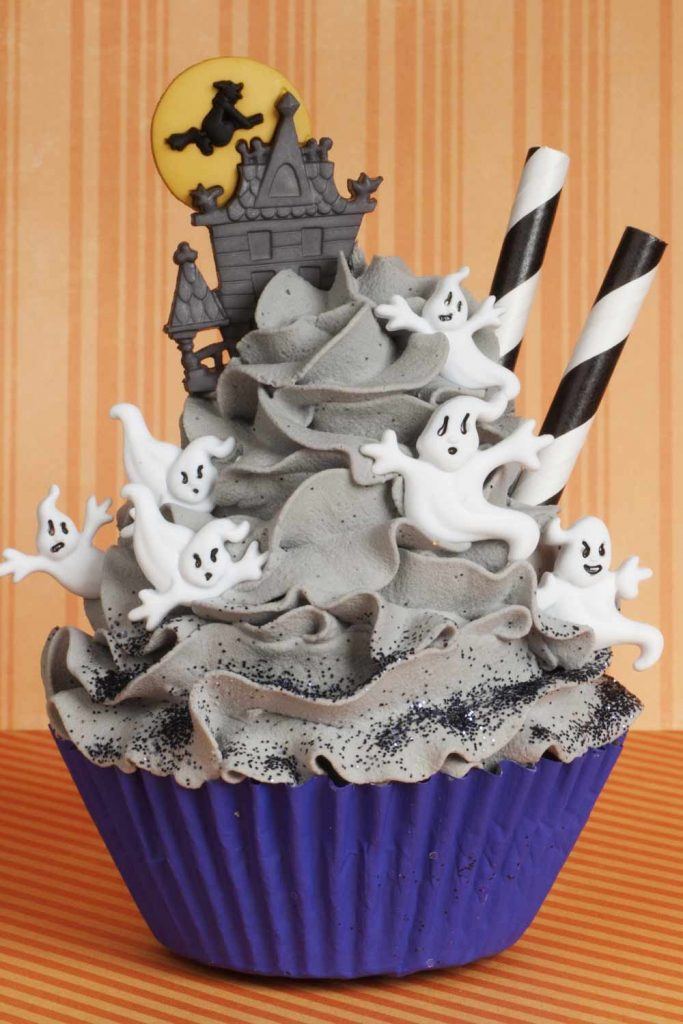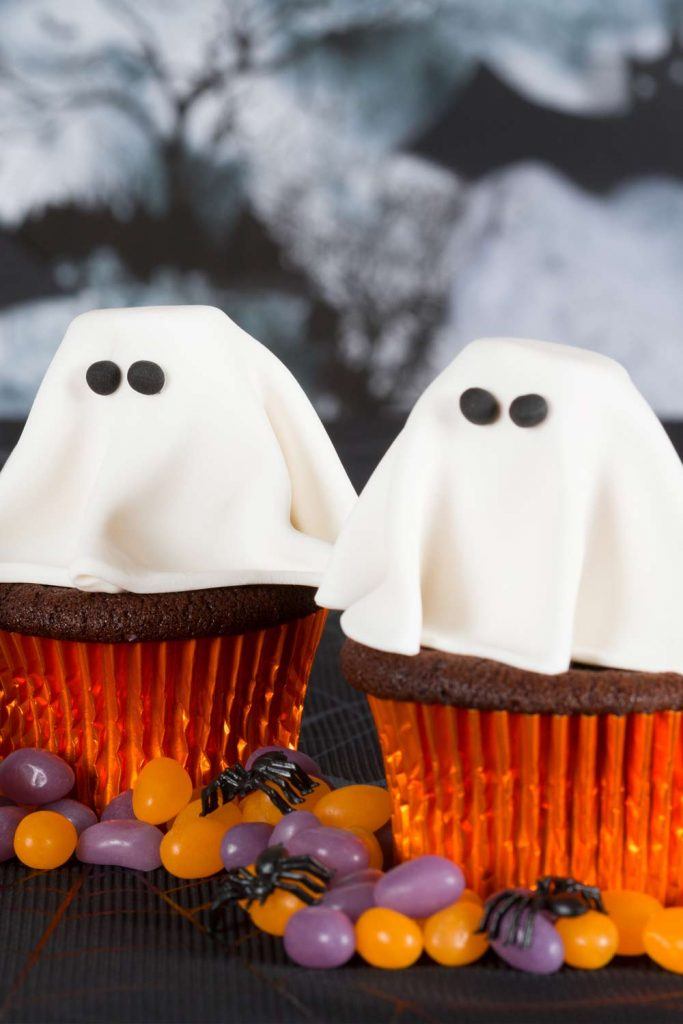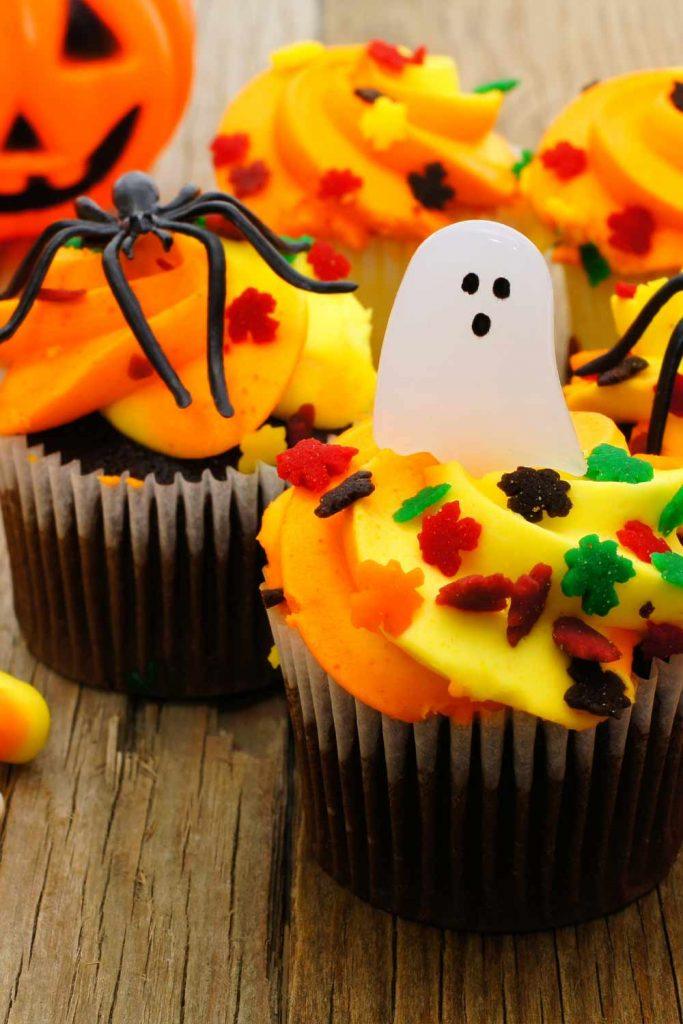 The dessert that you serve at a Halloween party should be not only appropriate for the theme but also to your guests' taste. And these ghost cupcakes are the best of both worlds. Let the 'ghosts' be of different sizes and shapes. Thus, they will appear more 'natural.'
Tombstone Cupcakes
It is a hair-raising dessert topped with chocolate. Halloween is probably the only occasion that can unite horror and entertainment. To create a sign that is a shortening for Rest in Peace, you can use white chocolate. Then the sign will be noticeable against the dark chocolate background.
Adorably Spooky Skeleton Cupcakes
Who says that spooky things can't be cute, too? The skeleton cupcake shown in this pic is proof that they totally can. We bet that this marshmallow head is super sweet. Would you try it?
Cute Little Bat Cupcake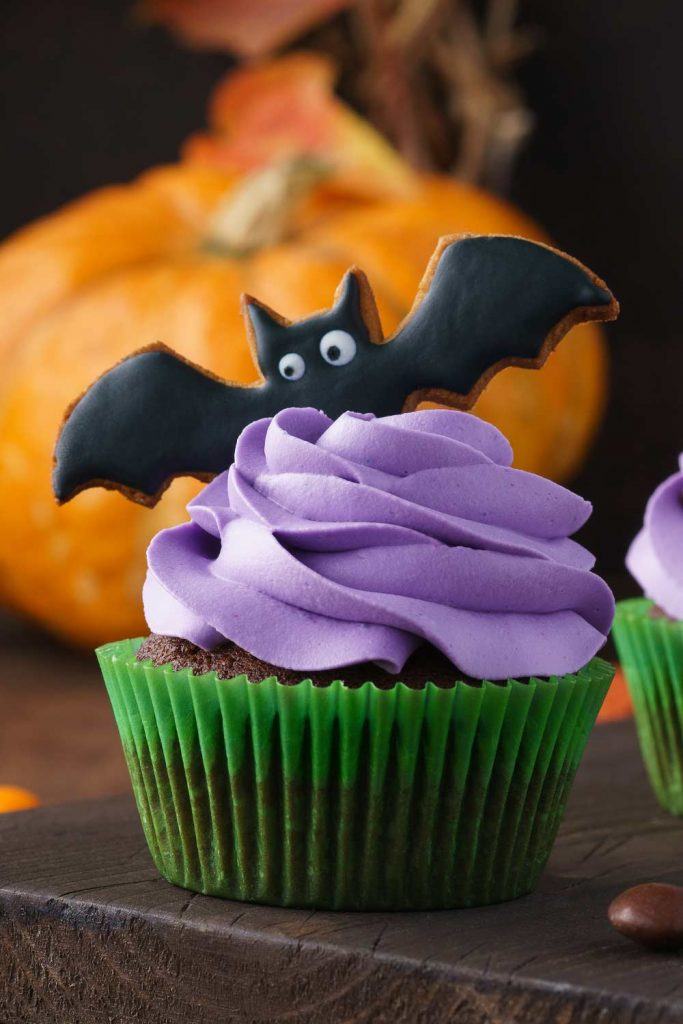 Halloween inspired cupcakes with bat décor elements can be seen all over the web. And we think that this purple figure of a bat looks not only lovely but also quite elegant. How do you think?
Chocolate Witch Hat Cupcake Idea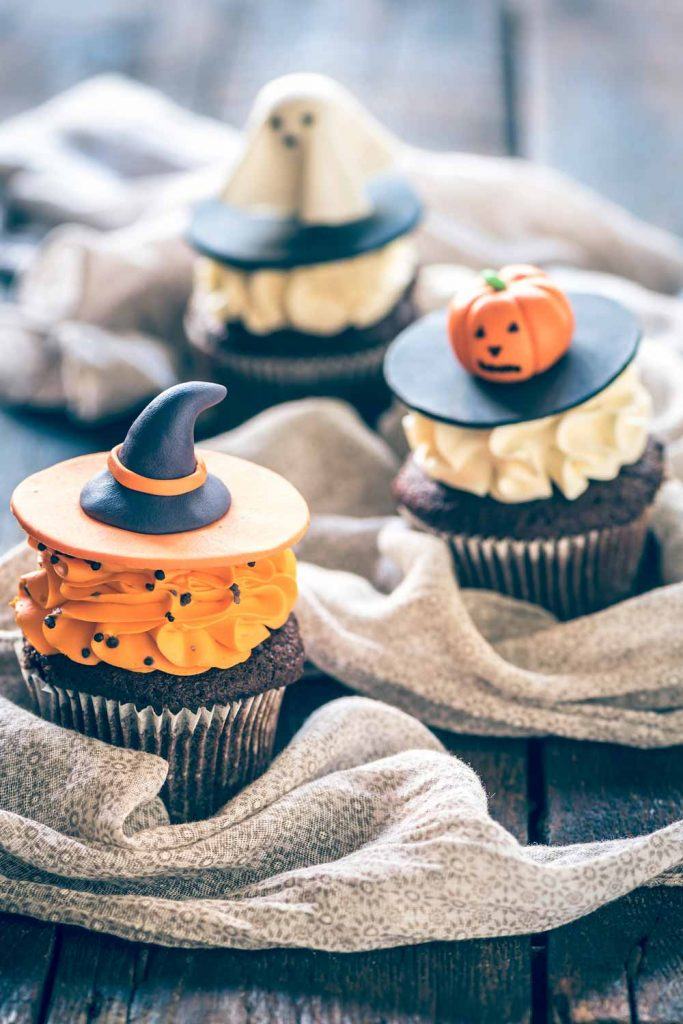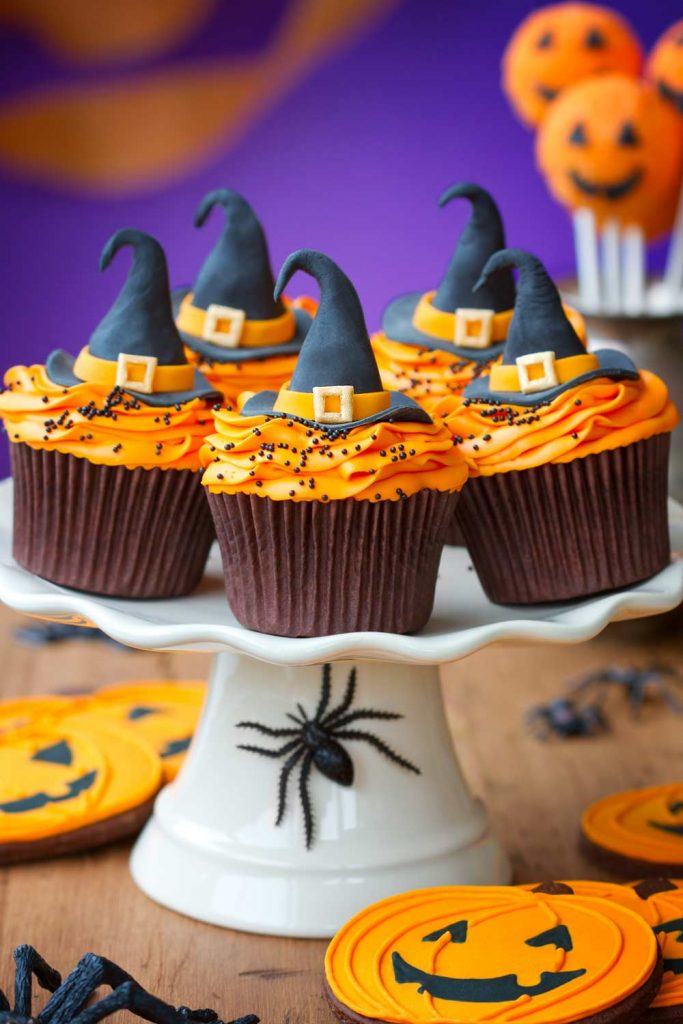 Witches are among the top totem creatures that rule the Halloween. If it happens so that you are a fan of those wicked ladies, we suggest you praise them with these tasty and colorful chocolate cupcakes!
Jack O Lantern Halloween Cupcake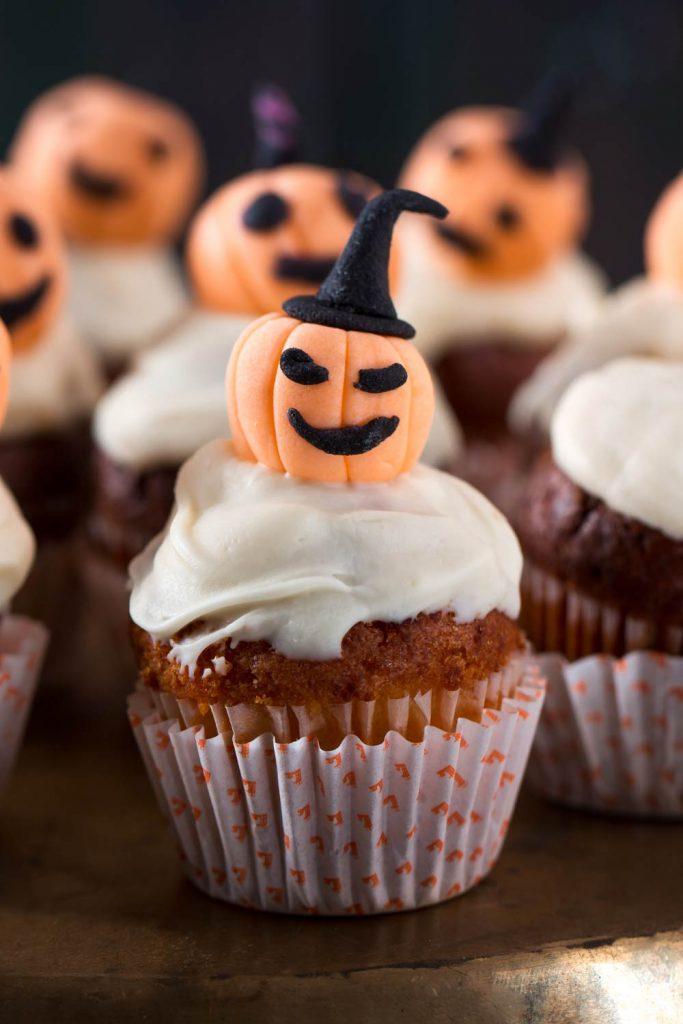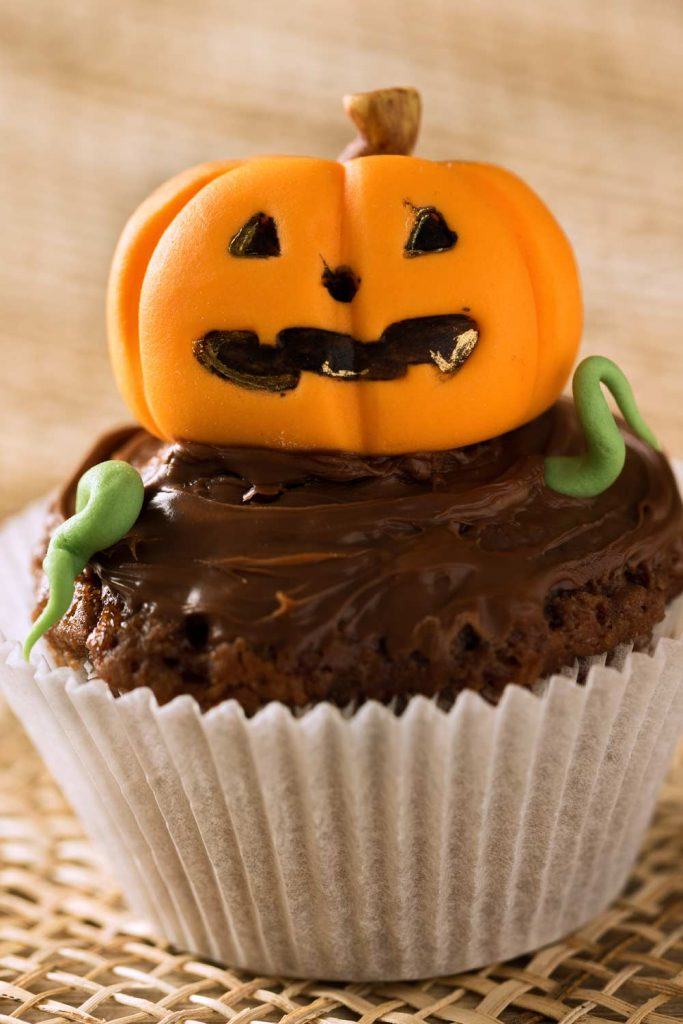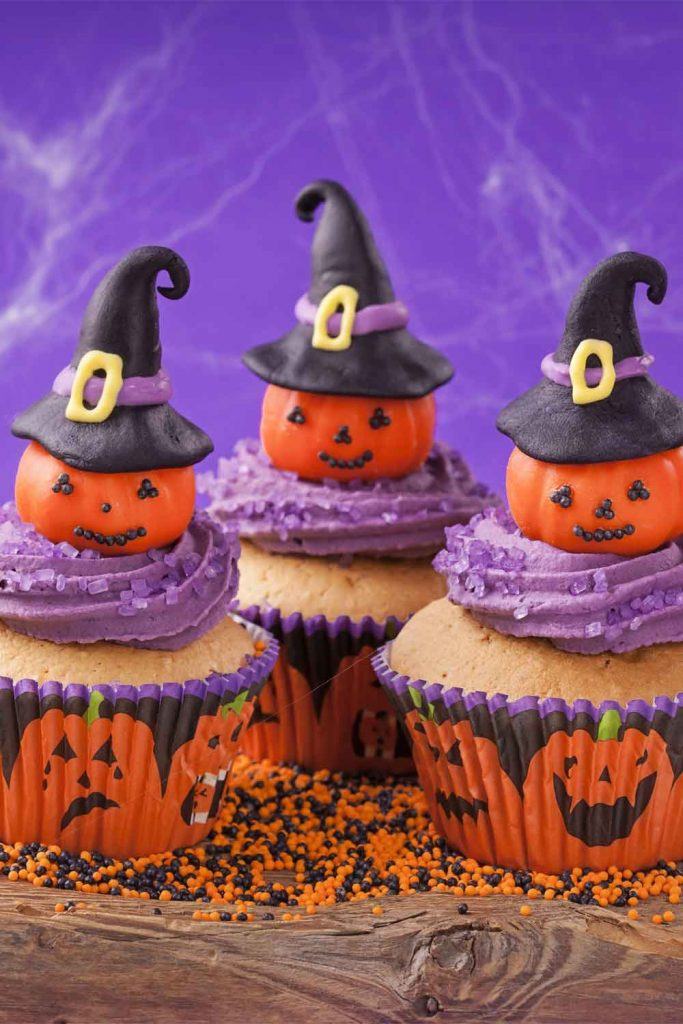 When you are getting ready for your Halloween party, you should in no case, forget about the most prominent symbol of the holiday – Jack O lantern. Chocolate and pumpkin cream cupcakes with the glazed Jack O Lantern on top should be on offer.
Eyeball Halloween Cupcakes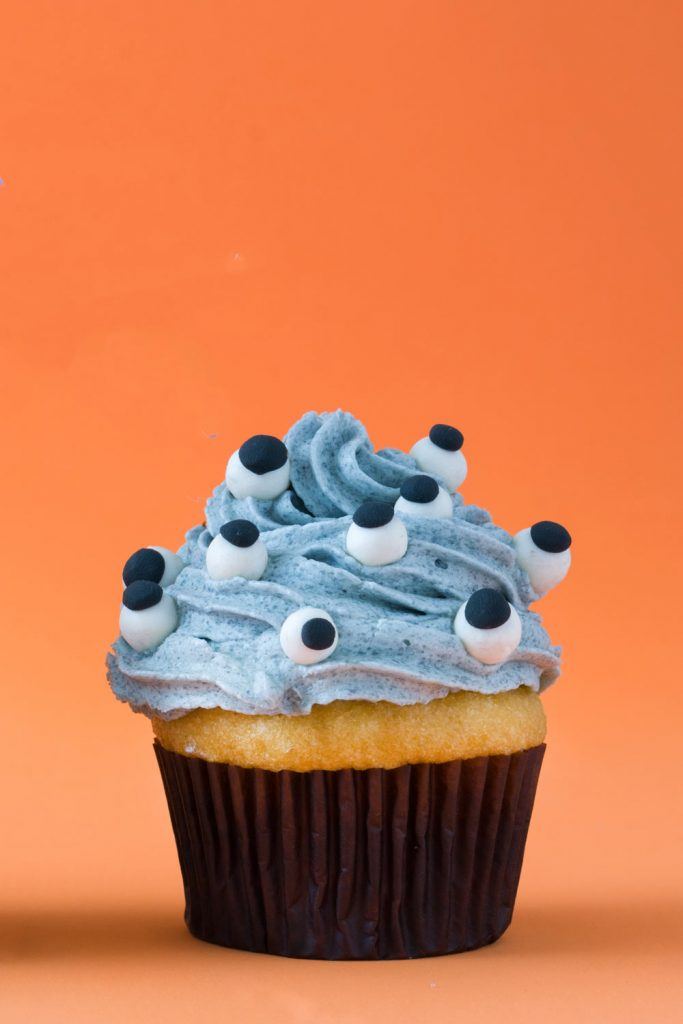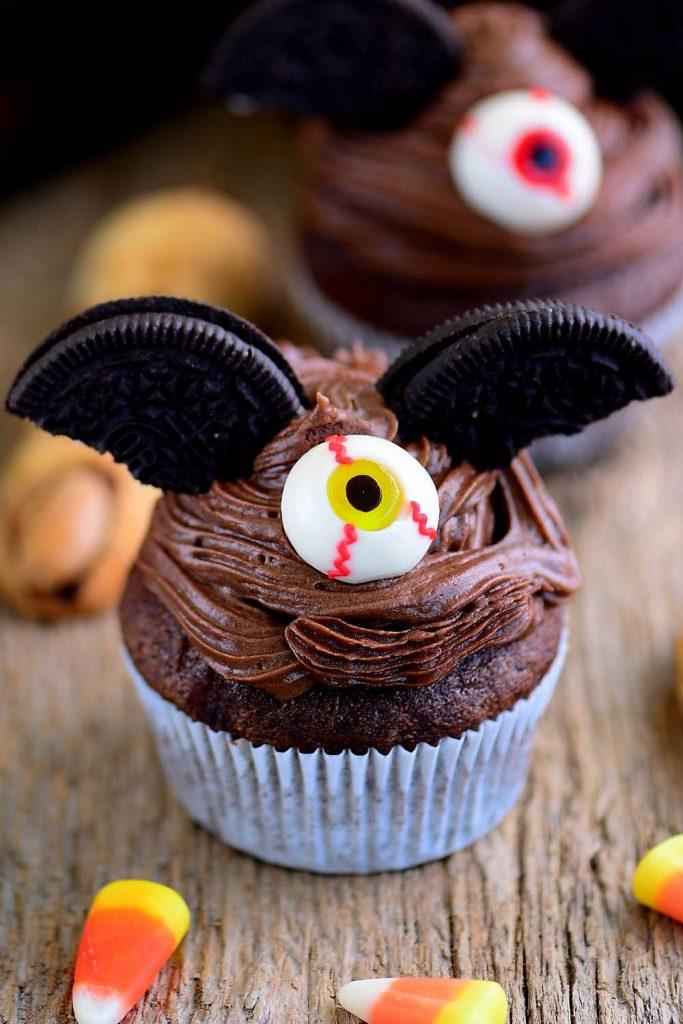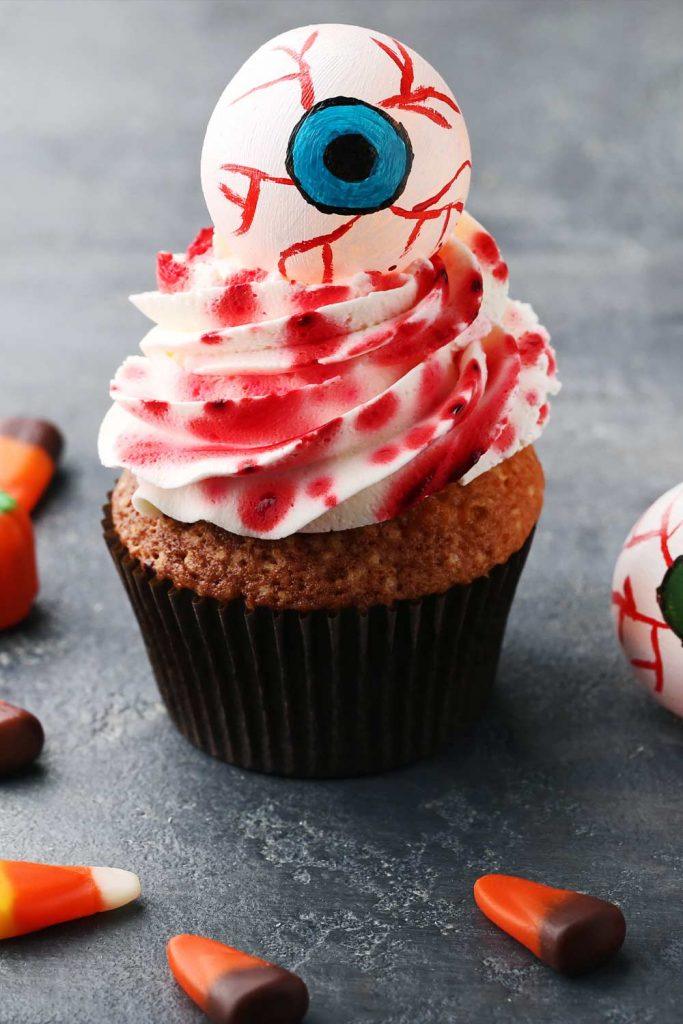 If you think that the creepier is the food on your holiday table – the better, we have an idea in mind. How about petrifying chocolate eyeball cupcakes? Surely, your guests will get the chills, but that won't stop them from grabbing a bite of those delicious creepy things!
Bloody Finger Halloween Cupcake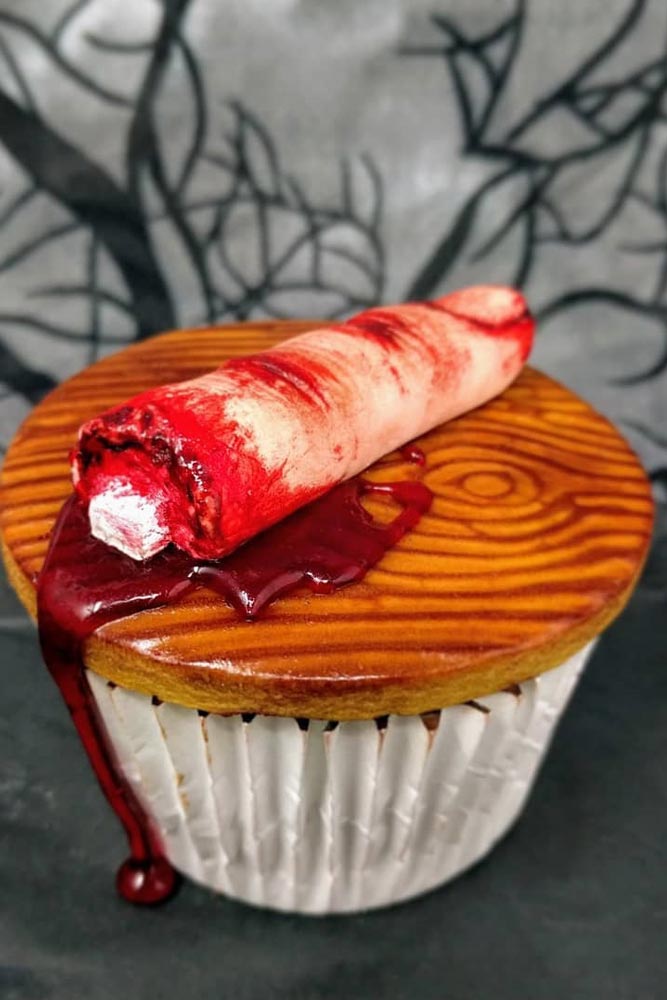 Credit photo: Instagram.com/sweetart.by.jules
Those of you who are more than good when it comes to baking, we have a suggestion to offer. A cut off bloody finger on a wooden cutting board both sounds and looks ghastly, but we know that the taste will be divine!
Black Butter Candy Corn Halloween Cupcake
In many cases, it is all about the details when we think Halloween cupcakes. Black cream on top of a regular cupcake bun will transform it into themed treat in no time!
Disney Ghost Halloween Cupcake Idea
There are times when you are a devoted fan of both Halloween and Disney cartoons. To show off your two passions, it is best to combine them in one. What we have in mind is a cupcake topped with cutesy Mickey ghost!
Black Cat Halloween Cupcake Idea
If there are witches and broomsticks, so there must be black cats. If you are looking for exquisite topping for your holiday cupcakes, we think that black cats will fit in perfectly!
Monster Pumpkin Cupcake Idea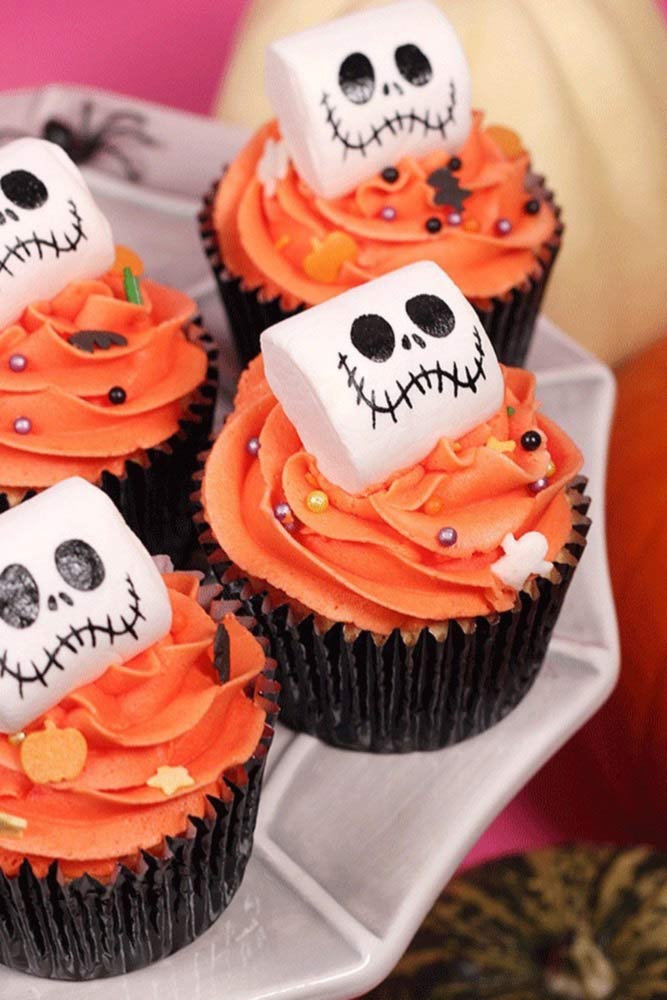 Credit photo: Instagram.com/cakey__goodness
Are you running out of time and can't dedicate a lot of time to cupcake decoration? We know a possible way out! All you need to do is to draw scary faces on delicious marshmallow and place them on top of bright orange cupcake cream!
Halloween Cupcake With Zombie Toppers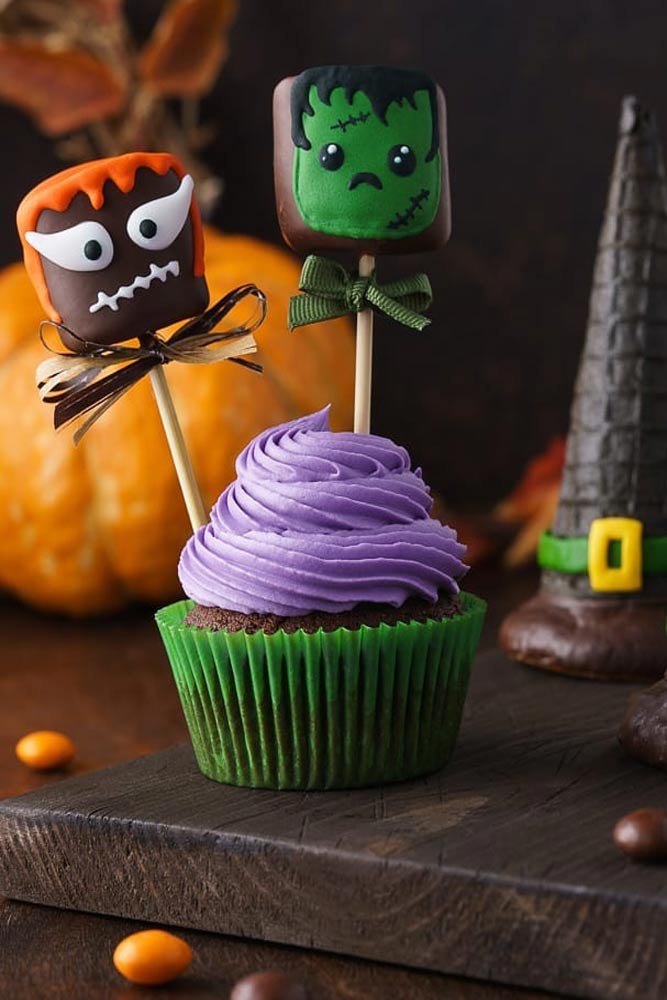 Credit photo: Instagram.com/deryabinka.89
It is more than important to choose proper hues when working with your cupcake desserts. That is why a light purple top combined with chocolate muffin suits the occasion perfectly. As for the toppers, you can get as experimental as you like, but we say that Frankenstein and zombie ones will fit in flawlessly.
Minnie Mouse Pumpkin Cupcake
The truth is that not all Halloween desserts are supposed to be dark and scary there is some room for fancy and gentle ideas too. For instance, this fantastic Minnie Mouse made out of pink marshmallow pumpkin is breathtakingly beautiful!
Pink Cute Halloween Cupcakes
When you are tired of the fair share of scary that real life brings in, it is time to center your attention on cute cupcakes. Indeed, Halloween is about spookiness, and these delightfully-created ghosties will introduce the just amount of it!
Halloween Cupcake Idea With Witch Legs Accent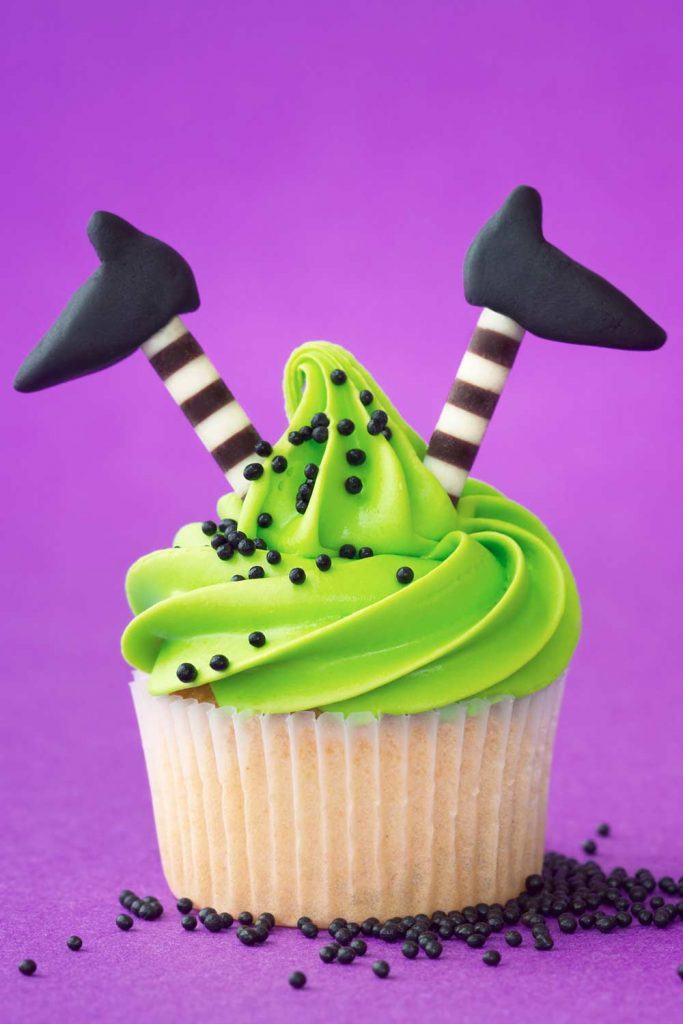 When you are tired of the fair share of scary that real life brings in, it is time to center your attention on cute cupcakes. Indeed, Halloween is about spookiness, and these delightfully-created ghosties will introduce the just amount of it!
When dealing with old-fashioned cupcake designs is not your cup of tea, it is time to set your imagination free. Has anyone ever seen a witch stuck in a cupcake? No? well, there is a ready-made idea to fulfill!
Blood Brain Cupcake Idea
Do you want all the cakes to be left for your beloved self? Then, the scarier – the better. We assure you that your guests will admire the disgustingly scary look of your cupcakes, but only a few will dare to taste them!
Devil Halloween Cupcake Idea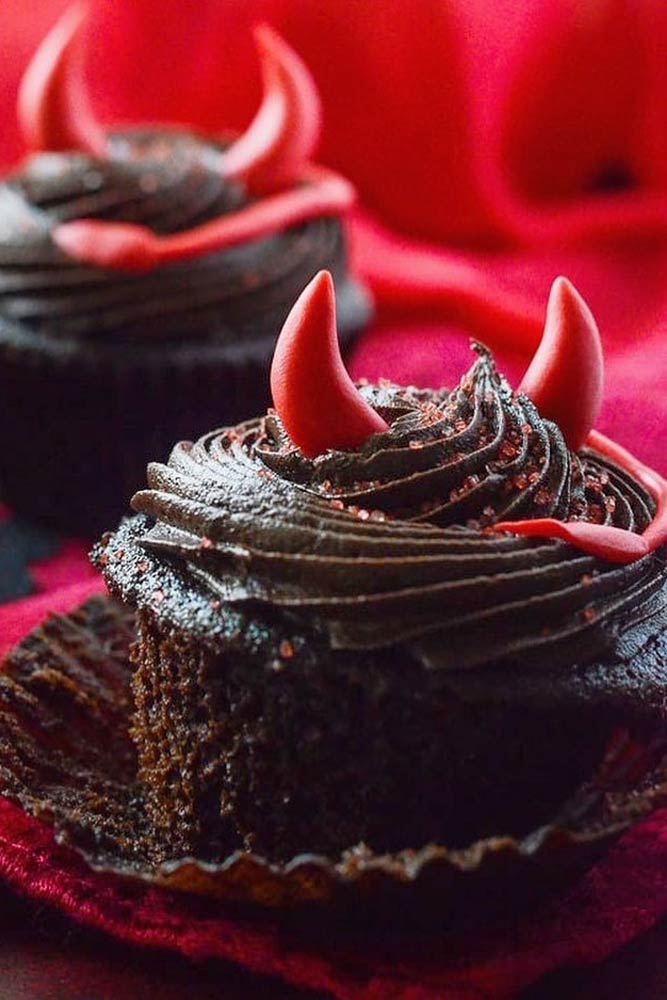 Credit photo: Instagram.com/singingbaker
It is incredible how a few attributes can transform lovely chocolate cupcakes into genuine Devil's invention, isn't it? However, no matter the devilish pretext, we say that the number of those who will wish to give it a taste will impress you!
Pumpkin Spice Cream Cupcake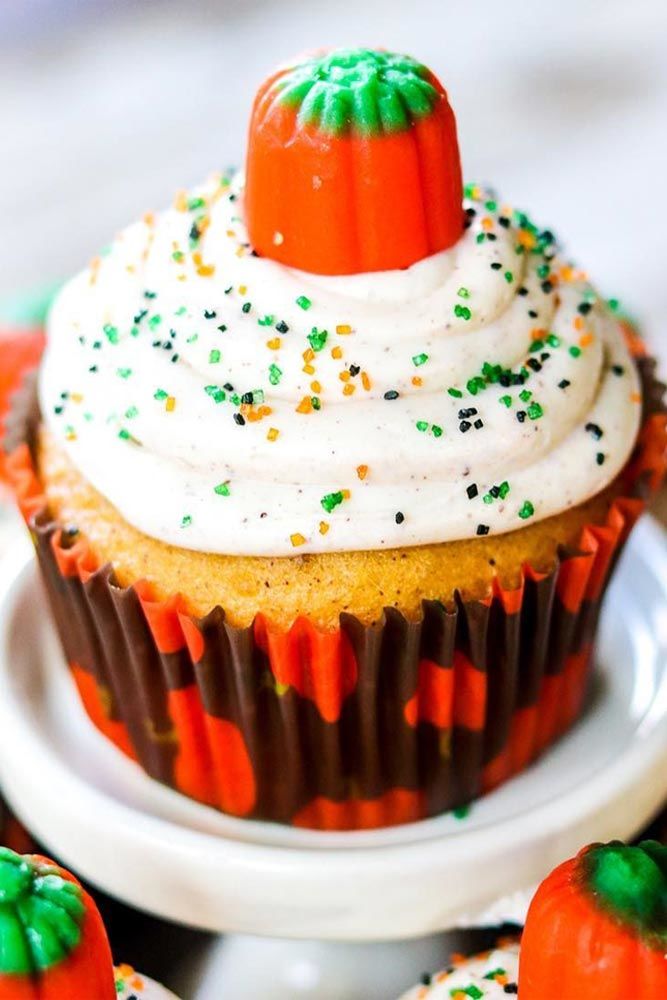 Credit photo: Instagram.com/dailydishrecipes
Sometimes all the supernatural is not you, like – at all. That is when mouth-watering pumpkin cupcakes come into the play too. Do not be afraid to show off your creativity and preferences, especially if you can create such a pumpkin spice masterpiece!
FAQ: Halloween Cupcakes
How to make edible glass shards for your cupcake?
In a pot measure out a cup of white sugar.
Pour over a few tablespoons of water.
Place the pot over medium high heat and stir until the sugar begins to boil.
When the sugar has come up to the boil, stop stirring and let it boil for around 3-5 minutes.
Have a baking sheet ready on a safe surface as it will get extremely hot.
As soon as you can see your sugar changing color, remove it from the heat and pour it straight on the baking sheet.
Leave it spread and cool on its own for at least 10 minutes before transferring it to the fridge for a few hours.
Remove it from the fridge and use a knife to get under the sugar to break it up into pieces.
Stick into your cupcakes and serve immediately.
How to make edible fake blood for your cupcake?
In a small bowl measure out half of a cup of light corn syrup or glucose syrup.
To the syrup add a tablespoon or cornstarch.
Use a spoon to mix it in as much as possible before pouring in a small amount of water
to thin it out (about 1 tbs).
Continue mixing until you're left with a smooth syrupy mixture.
Add about a teaspoon of red food coloring, add more until you have a deep red shade.
Add a few drops of blue food coloring to make the mixture darker.
Add water if needed.
Pour on your cupcakes and serve immediately.
Was this article helpful?