A sweater dress has become an essential part of every girl`s wardrobe this fall. Don`t you have it yet? If no, rush and get your perfect one. We will be glad to help you out styling it with our trendiest ideas. Be ready to catch amazed glances of people everywhere you go. Warm and good looking at the same time a sweater dress will become your Holy Grail piece of clothing for this chilly season.
A Classic Black Sweater Dress Design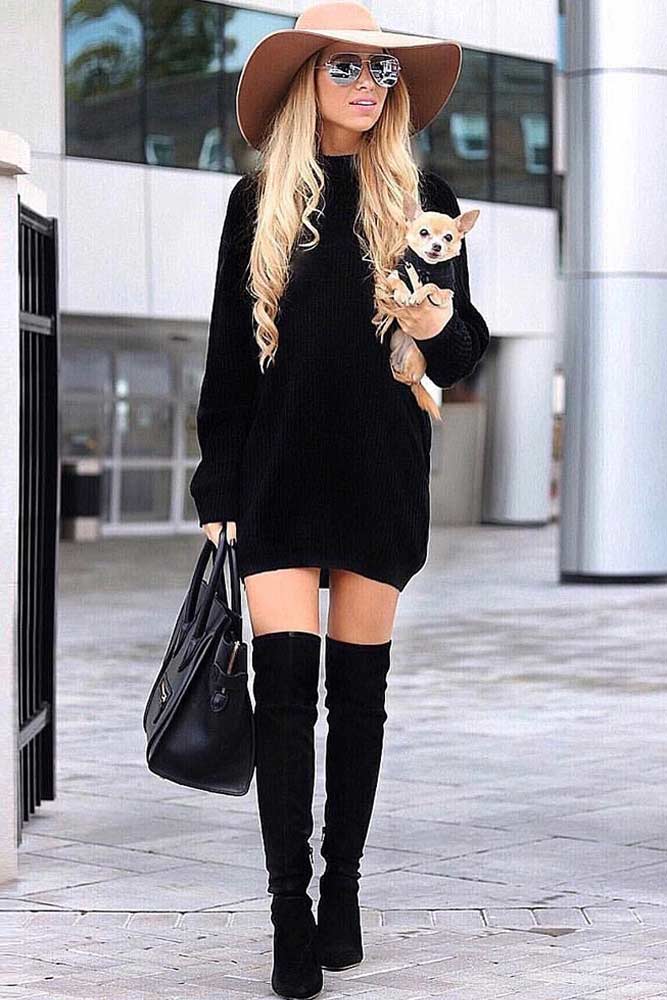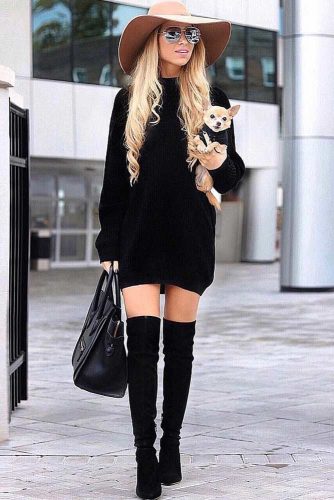 Source: styleitwithtrix via Instagram
Do you prefer subtle colors for fall clothes? A great choice, as they never go out of style. What about a black sweater dress outfit then? Simple but genuinely stylish, it will make any accessories you choose pop in contrast. Finish the look with knee-high boots, and you are ready to be the Queen of the day!
The Trendiest Monochromatic White Look With A Sweater Dress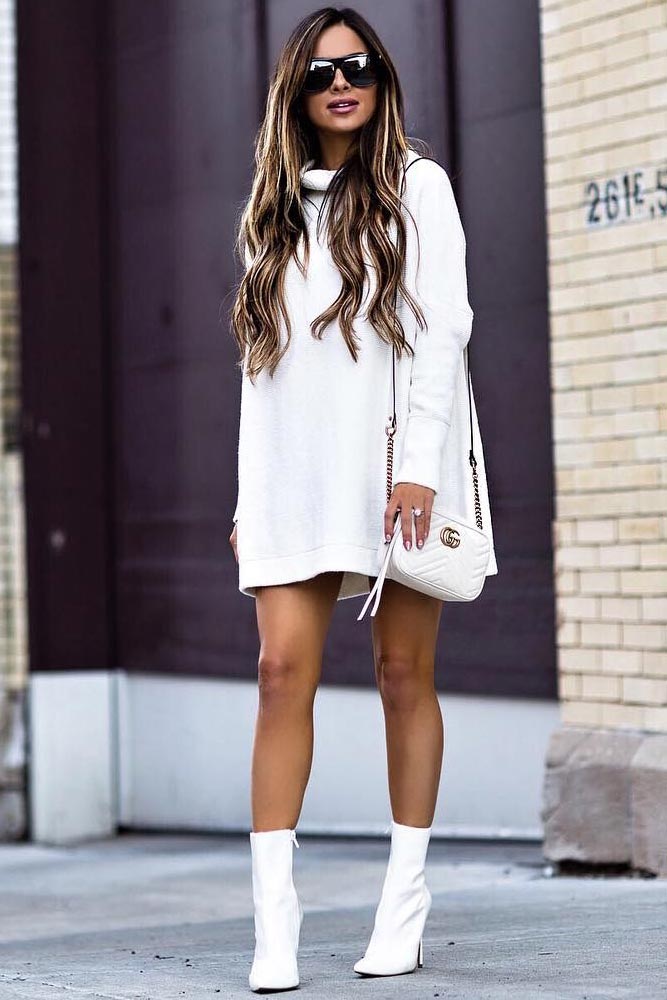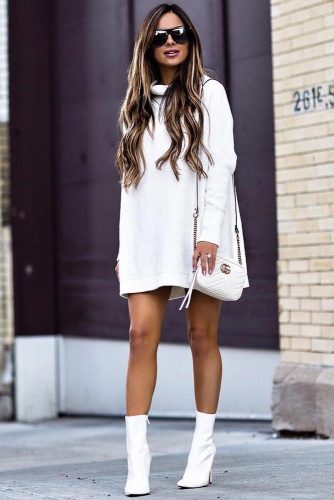 Source: miamiamine via Instagram
White mono looks have blown the fashion world this year. More and more fashion bloggers choose this basic bright color as the main one in their style. Would you like to join them? Then try on this gorgeous outfit. An oversized white hoodie will look so stylish in combination with the same colored sock boots.
A Camel Sweater Dress With An Exciting Tie-Front Detail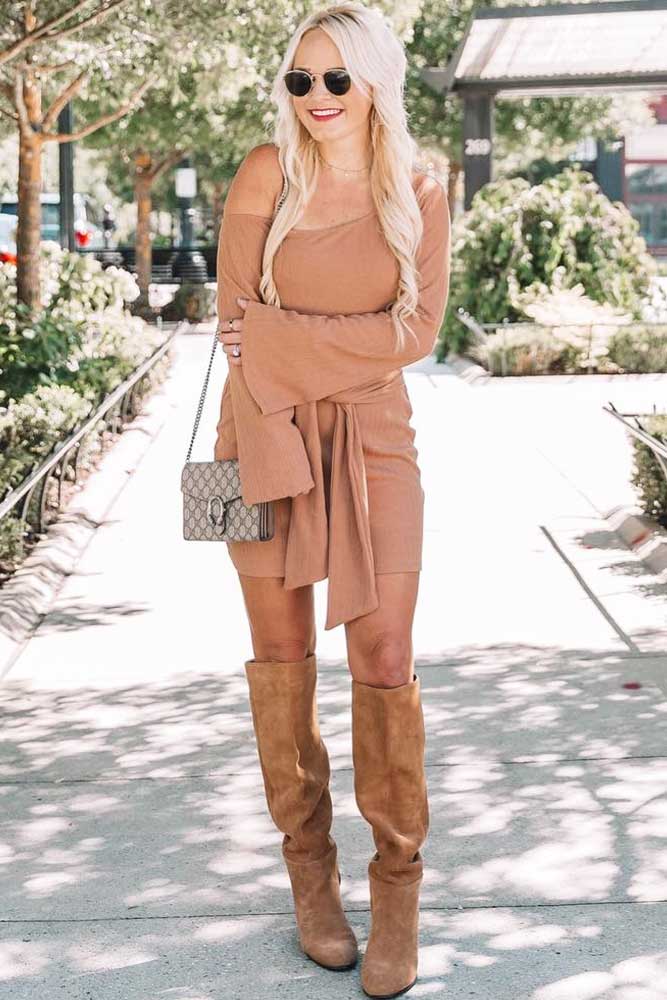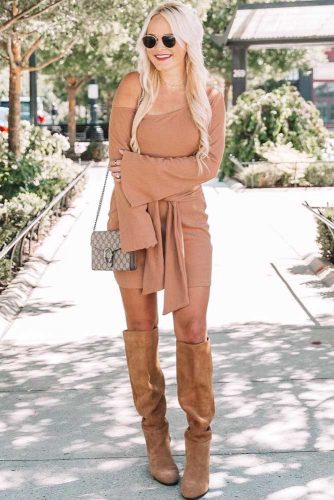 Source: urban.blonde via Instagram
Warm colors are perfect for fall, too. Choose a camel-colored sweater dress that goes so well with your fall mood. Imagine wearing it on a bloomy, rainy day. It will not only warm you up, it will also brighten up your whole appearance in the greyish surroundings. An off-shoulder element goes so well with a tie-front detail.
A Striped Sweater Dress Outfit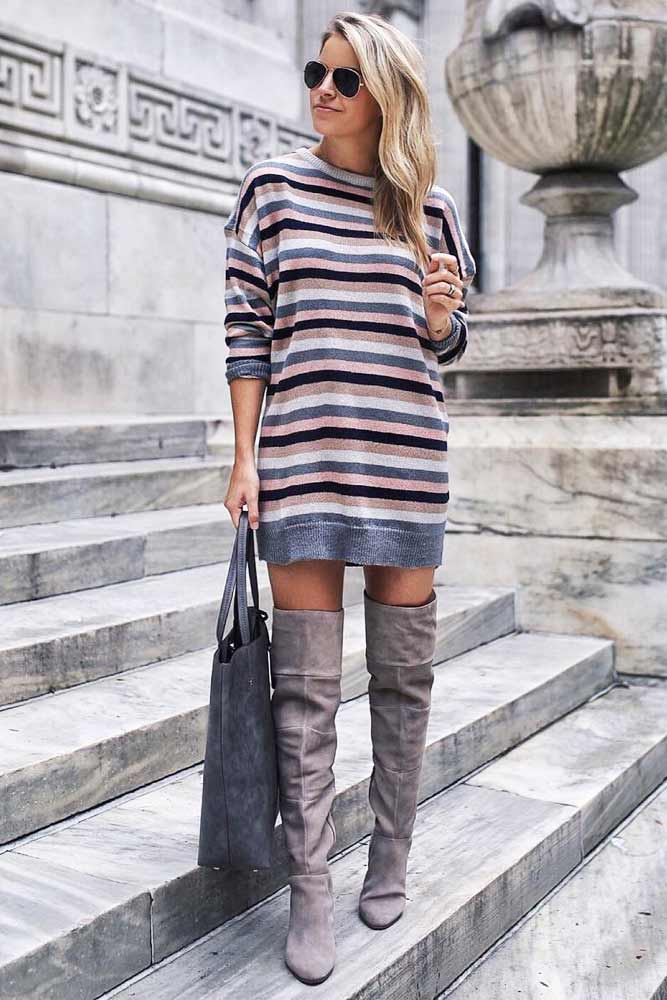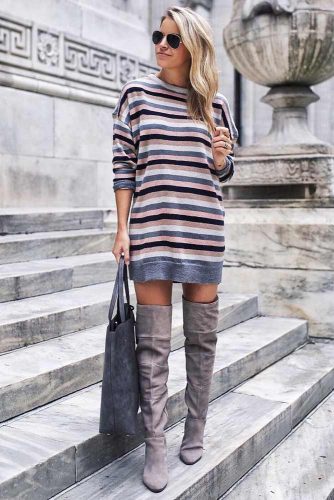 Source: styledsnapshots via Instagram
If you would like an interesting piece of clothing that will stand out from your basic wardrobe, this is it. A perfect combination of colored stripes will create a particular mood around the whole sweater dress with boots outfit.
A Plaid Turtleneck Sweater Dress To Warm You Up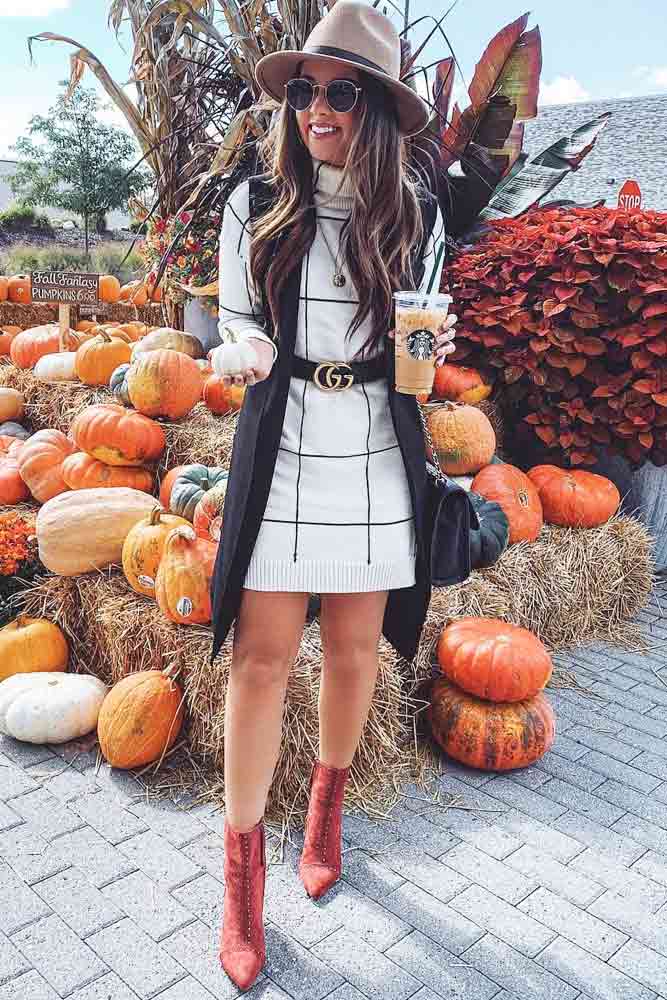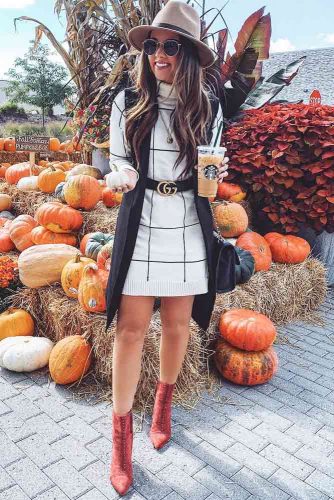 Source: fashionablykay via Instagram
What is better than a turtleneck sweater dress for fall? When the cold wind is blowing in your face, we promise you, that you will remember our advice to turn your attention to this outfit. Comfortable, warm and stylish, it will go so great with any accessories you choose.
An Oversized Patterned Sweater Dress Idea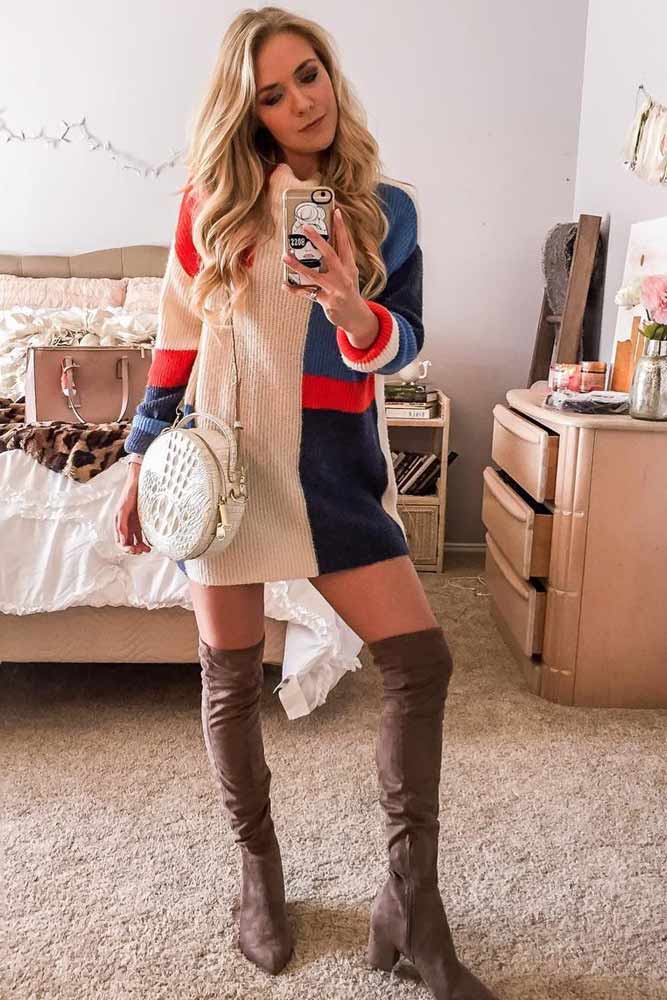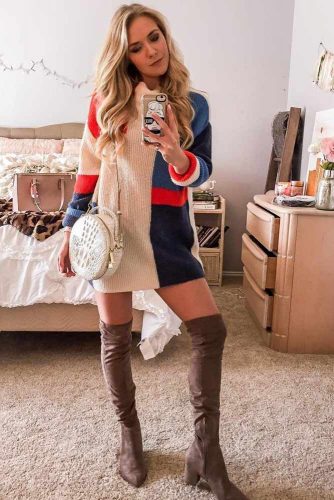 Source: theglamorousblonde_ via Instagram
The hype around oversized items is getting bigger and bigger this year, and there`s nothing weird about it. Super comfortable and pretty, they make every girl look cuddly and cute. Bring your attention to an oversized sweater dress that will have interesting, colorful details, and you will be the best-dressed girl everywhere you go, wearing it.
An Oversize Purple Sweater Dress For Your Wardrobe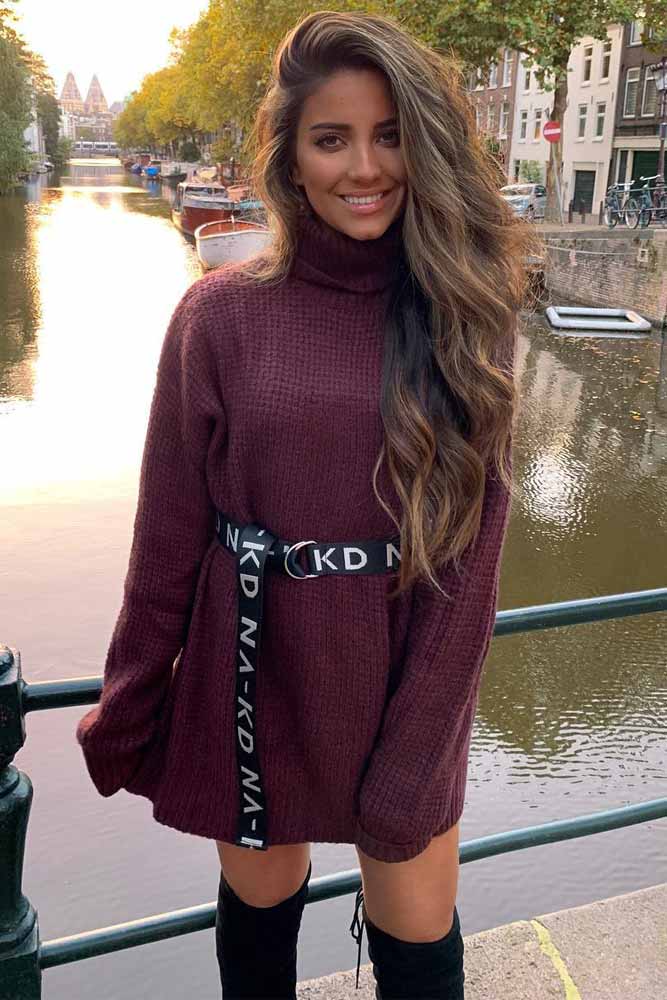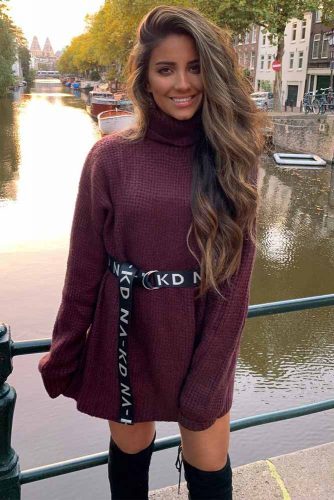 Source: stephsa via Instagram
Every woman needs a long sleeve sweater dress that she will gladly take out of the closet on cloudy days. They can not only warm up our bodies but our souls, too. Pick a warm purple color that will make such a fall outfit even more eye-catching and add a super stylish belt that will complete the look.
A Fire Red Plus Size Sweater Dress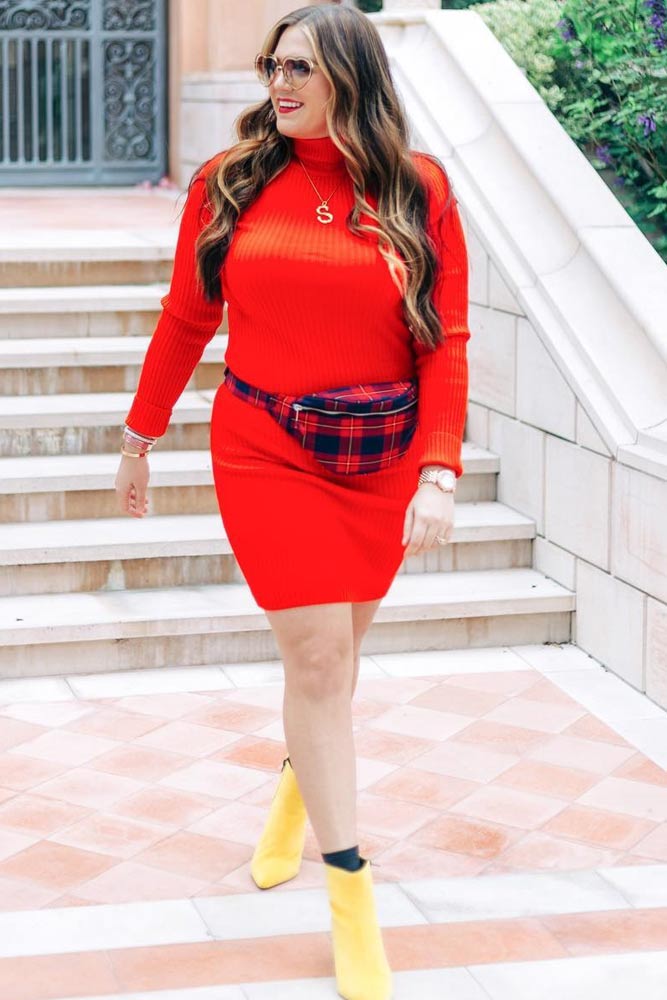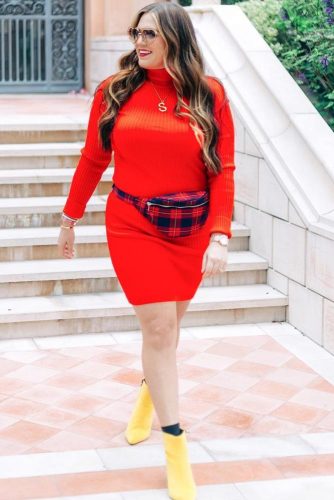 Source: sassyredlipstick via Instagram
A hot red color will help you to enhance the beauty of your curves. Are you up to try it this fall? Then wear a red sweater dress plus size and shine as bright as possible against the greyish background around you.
A Warm Neon Pink Sweater Dress With Long Sleeves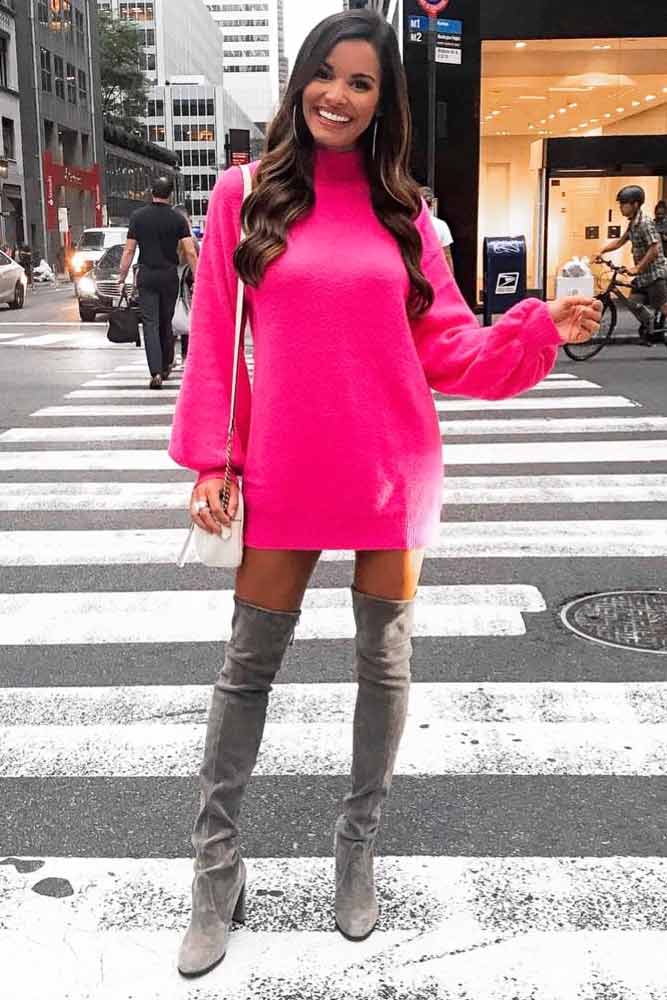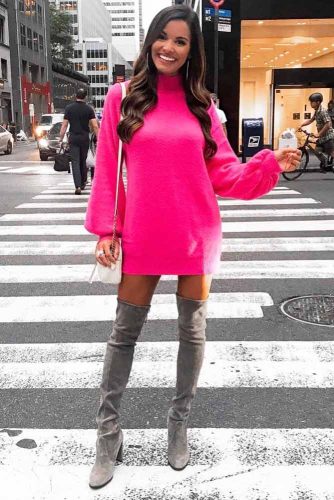 Source: mumuandmacaroons via Instagram
Bright colors are as perfect for fall as the basic ones. Do you prefer to blend in such bold shades as neon pink to the mix of dull grey colors around you? Then don`t stop! Pick a pink sweater dress with long sleeves, and you`ll be the most stylish person on the streets, especially after the comeback neons made this fall.
A Classic Sweater Dress For Work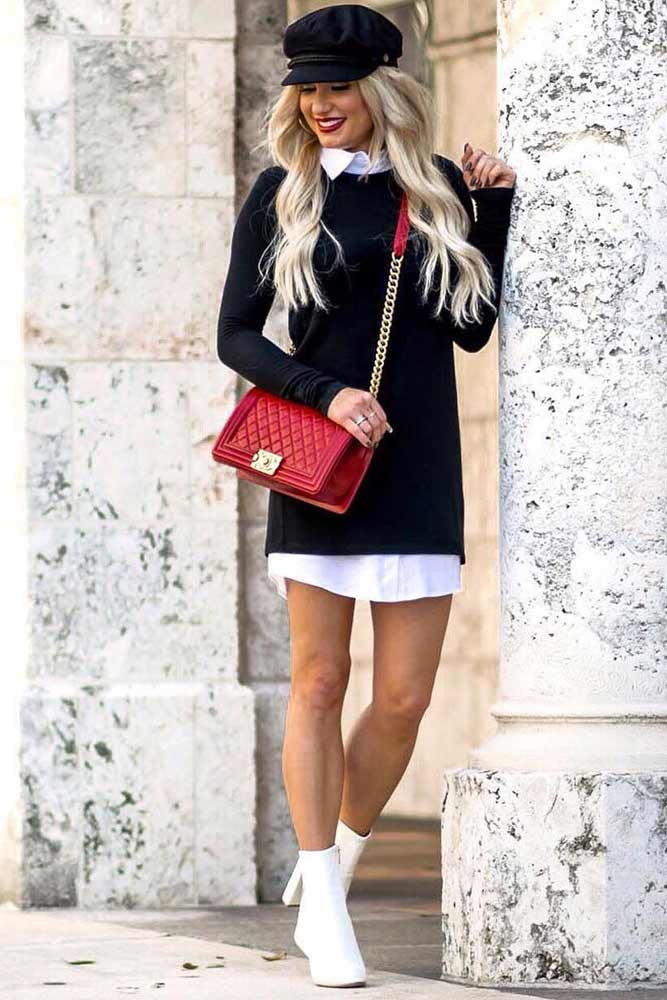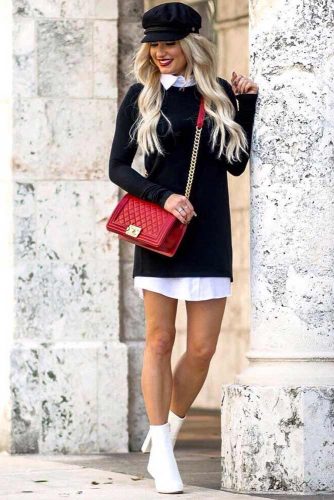 Source: christianblair_style via Instagram
Many women have to follow the dress code at work. Of course, there is still a desire for changes and something interesting that will still be appropriate for the office. We have a perfect solution to this problem. Try wearing a sweater dress of a basic color with an oversized long white shirt and be the trendiest at your working place.
A Sweater Dress With Motor Jacket Outfit Idea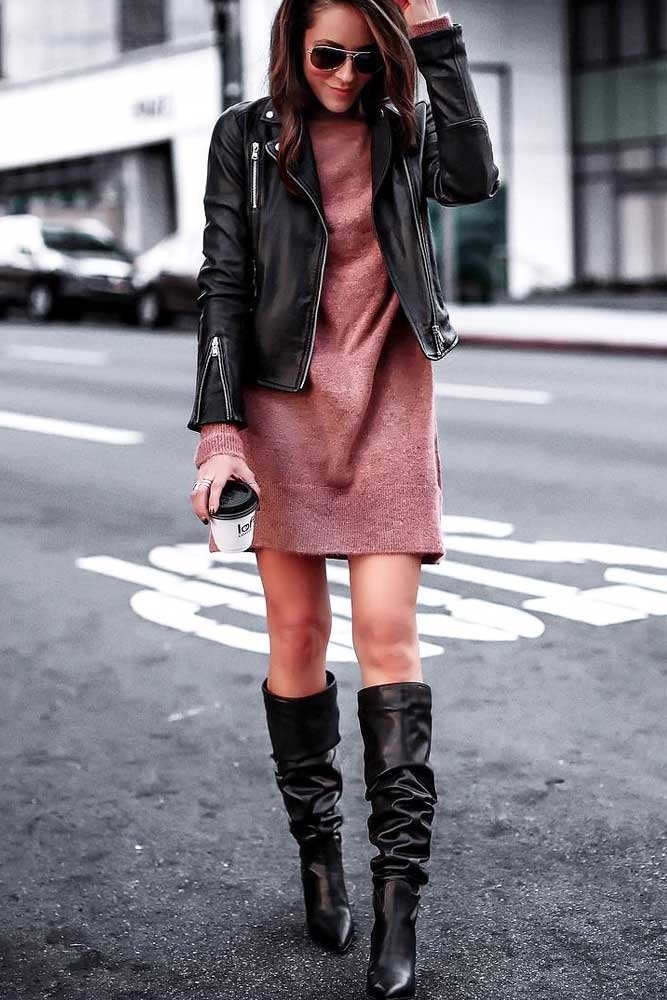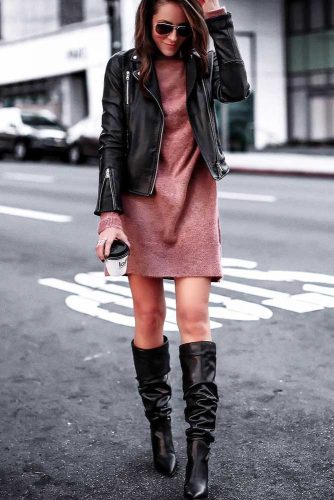 Source: lucyswhims via Instagram
Don`t think that sweater dresses are only for fall when the sun is still out warming us up. No, they are also great for a chilly season when you need something else to cover up. You can choose a leather jacket to wear on top, and we promise you, that you will be looking beautiful.
A Sweater Dress With Exciting Ruffles On The Sleeves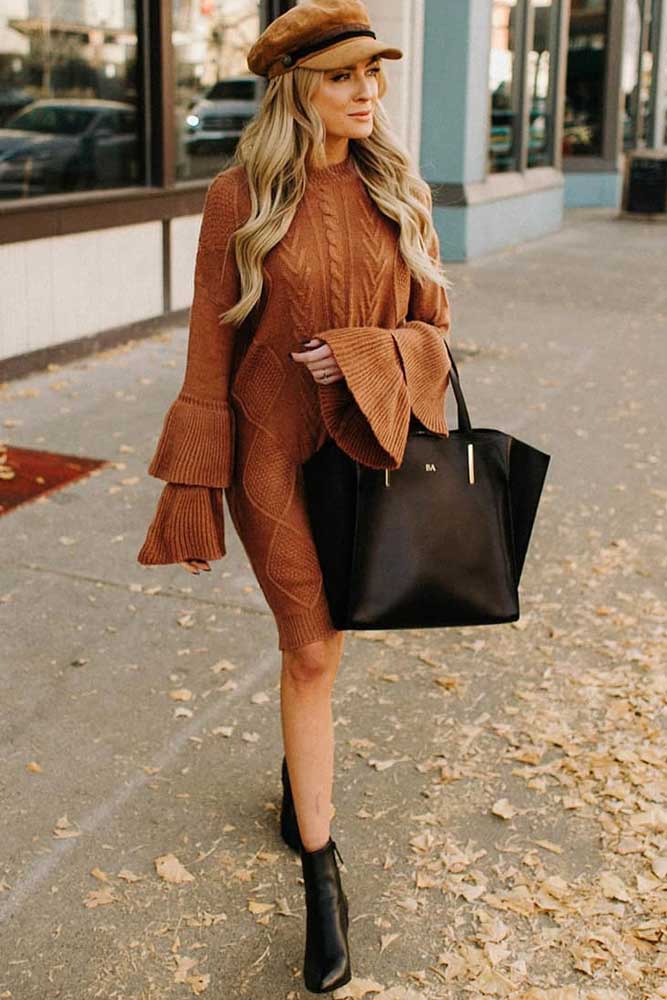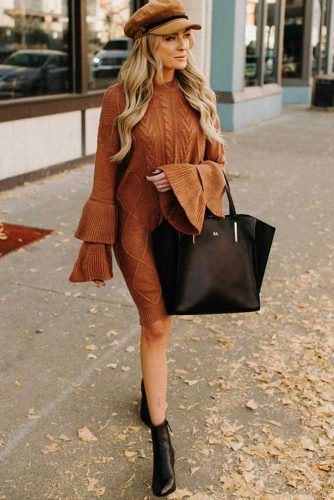 Source: lifestylecatcher via Instagram
We have always had a soft spot for knitted dresses with interesting details that make women stand out of the crowd. This sweater dress idea is for sure about it. A trendy sandy color that goes so well with the structure of the material it is made of and the interesting elements that are on the sleeves.
A Trendy Red Midi Sweater Dress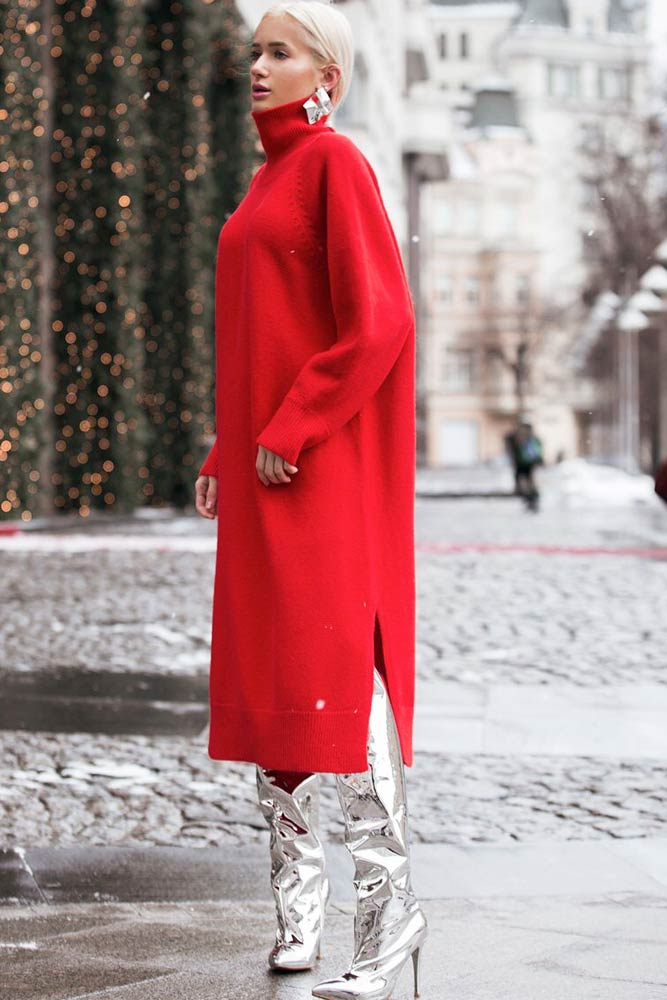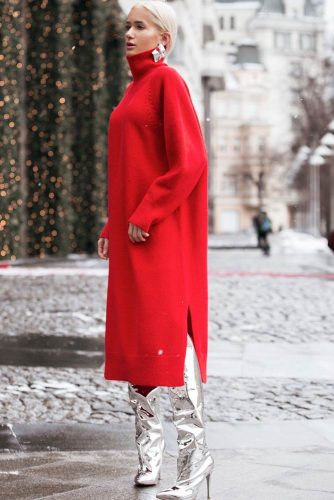 Source: bazilika.official via Instagram
As you have already understood from the previous looks, short sweater dresses are really good looking. Nevertheless, so are the midi ones. An oversized effect on the midi length will bring so much charm to your appearance. Add large earrings and the same high knee boots, and you will slay the street style.
A Long Creamy Dress Design For Fall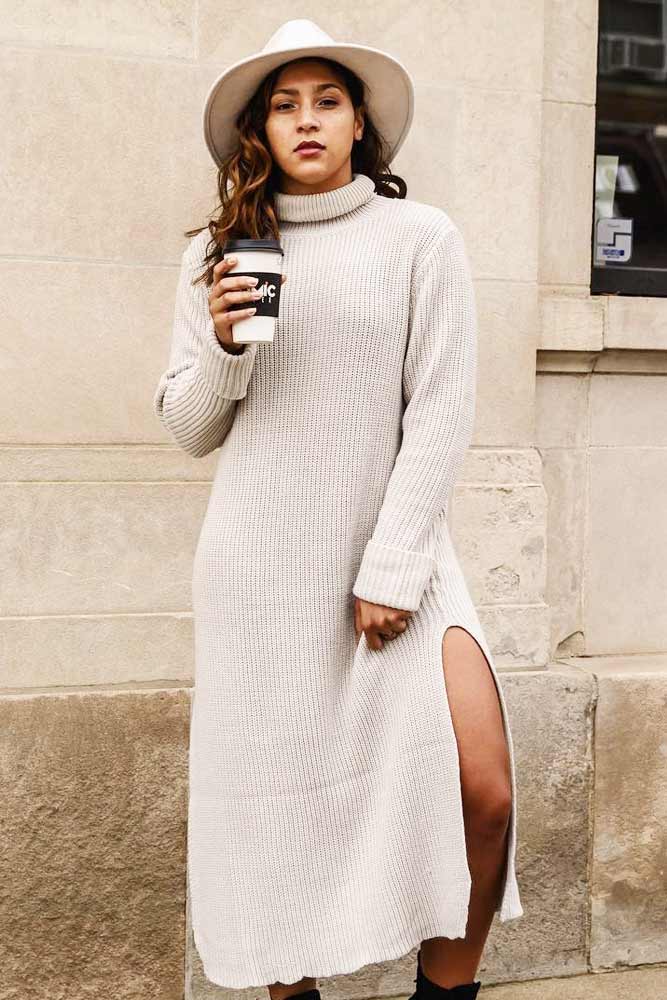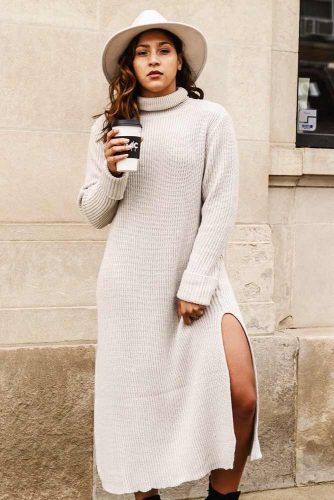 Source: bazilika.official via Instagram
Among other sweater dresses for fall, we would like to choose this one. Why? Its simplicity is the key to its beauty. Classy, comfortable and warm, it will become our favorite choice for cold days. Complete the look with accessories of any kind and rock the cold day.
A Long Oversize Stripped Dress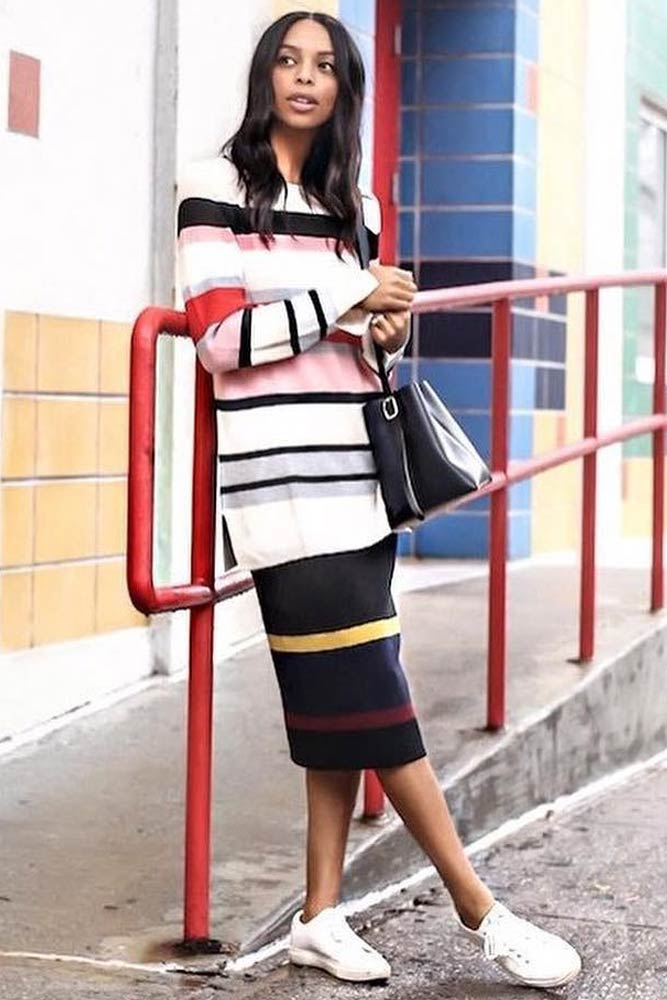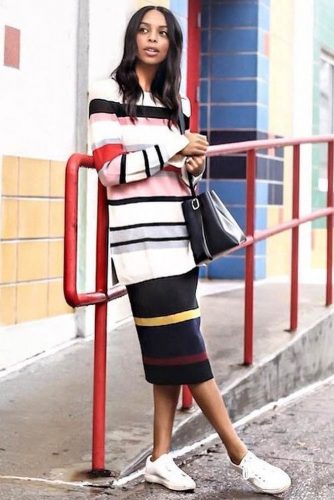 Source: waityouneedthis via Instagram
This midi sweater dress will break your heart. Look at these stripes of different width and colors. Isn`t that a miracle? A true example of how simplicity meets style at the perfect point.
A Short Knit Sweater Dress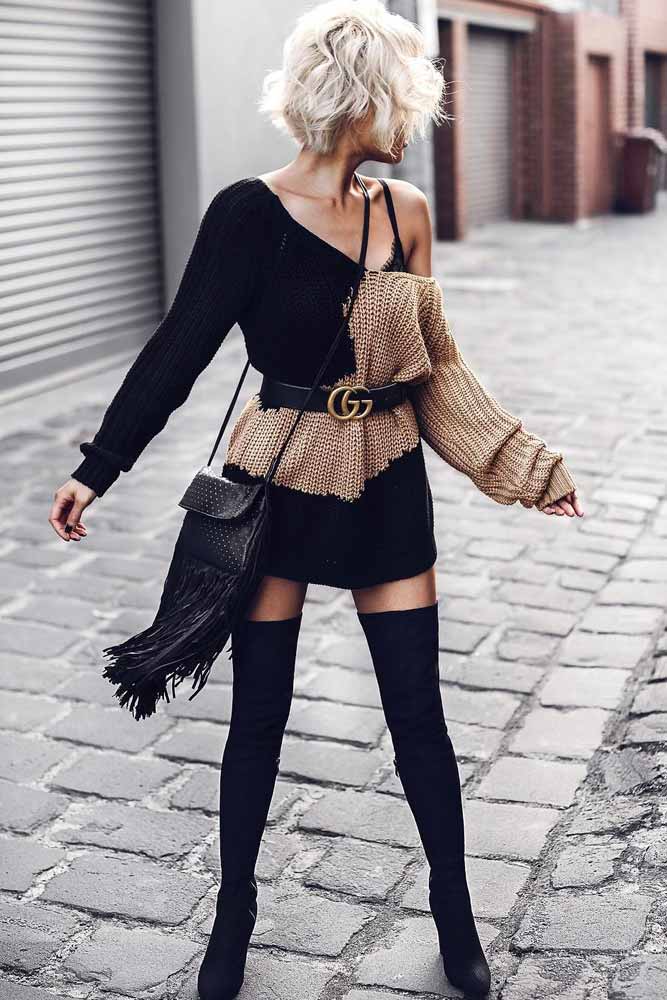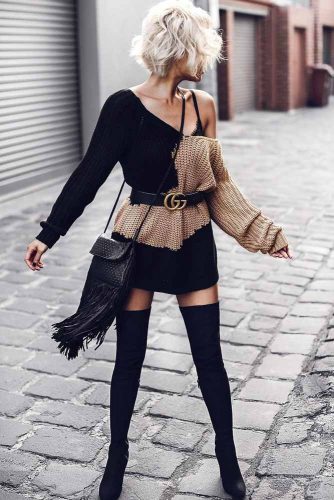 Source: micahgianneli via Instagram
Are you excited to experiment with a sweater dress? Bring in new ways of wearing it, and you won`t regret your choice. This mini sweater dress will for sure turn heads of people. Are you looking for such a reaction? It is a perfect combination of two colored prints and a short length.
A Cozy Oversize Sweater For The Cold Weather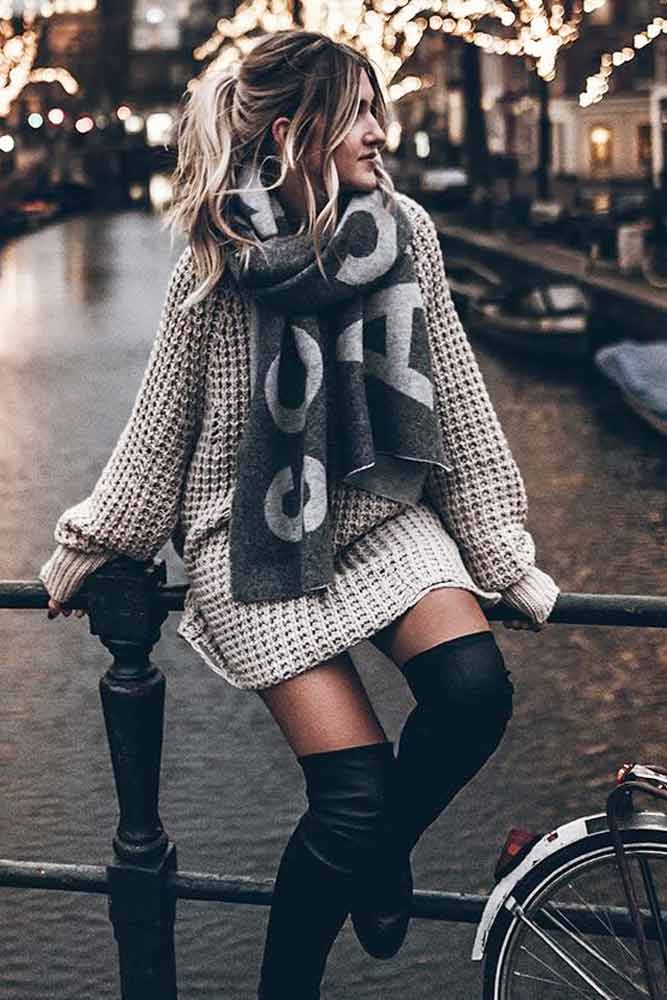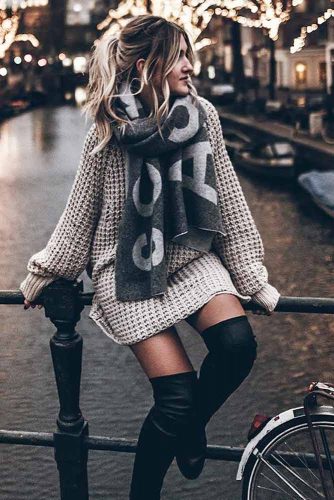 Source: mikutas via Instagram
We usually associate sweaters with warmth and coziness they bring to us on cold days. Are you ready to drown in that feeling? Pick a super oversized sweater made out of thick wool thread in a trendy color of the season, and you won`t want to take it off.
A Gorgeous Turtleneck Knit Sweater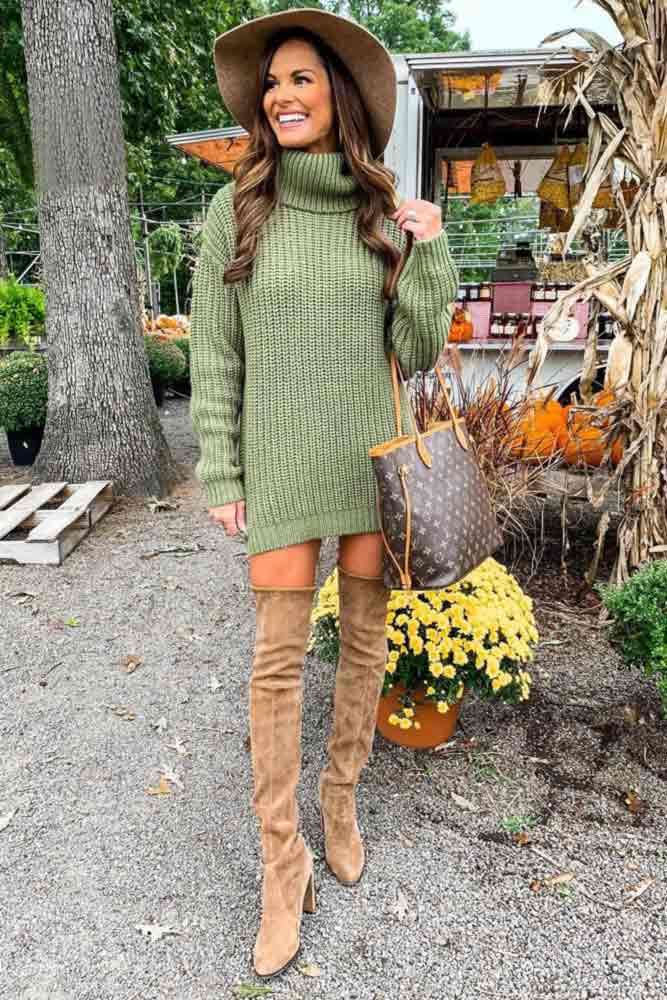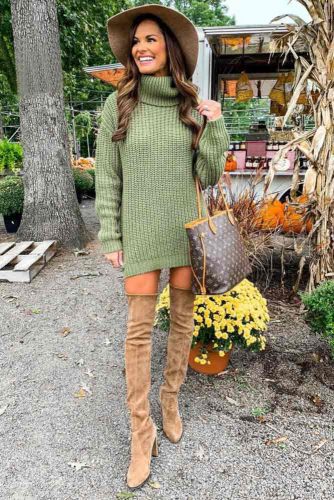 Source: mumuandmacaroons via Instagram
Turtleneck knit sweaters are getting more and more attention, so why don`t you try them too? Find the color that meets your preferences and get warm being beautiful and stylish at the same time.
White Ruffled Dress Design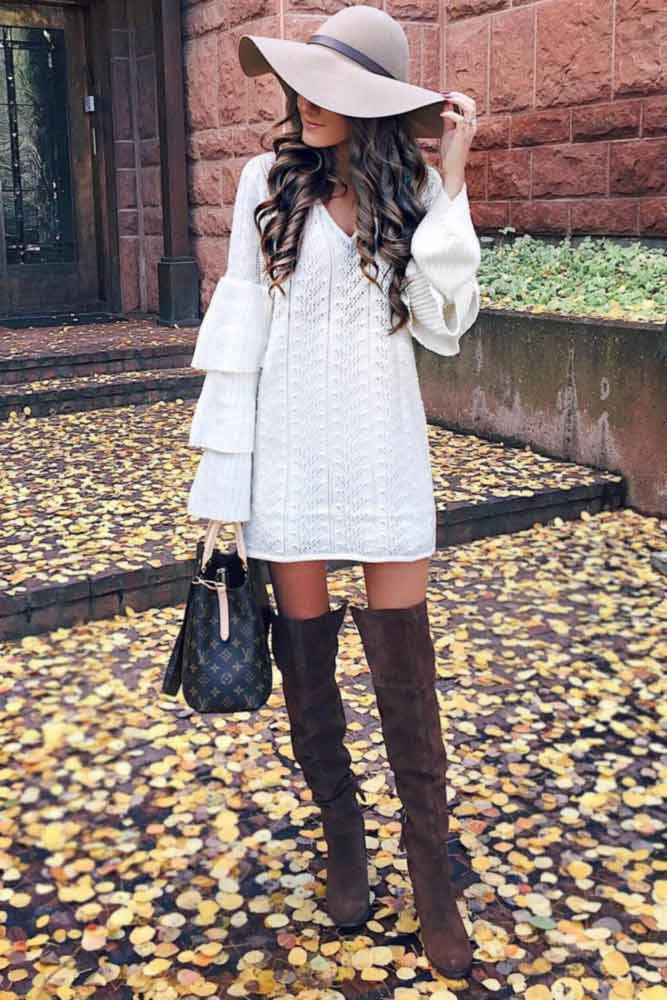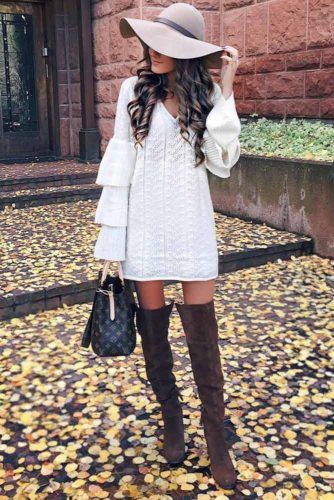 Source: cmcoving via Instagram
White is the color of elegance. That is why if you are in search of something gentle and floating, a white ruffled sweater dress can be it. Complete it with a wide-brimmed hat and a pair of OTK boots to impress everyone around you with your sense of style.
Striped Dress Design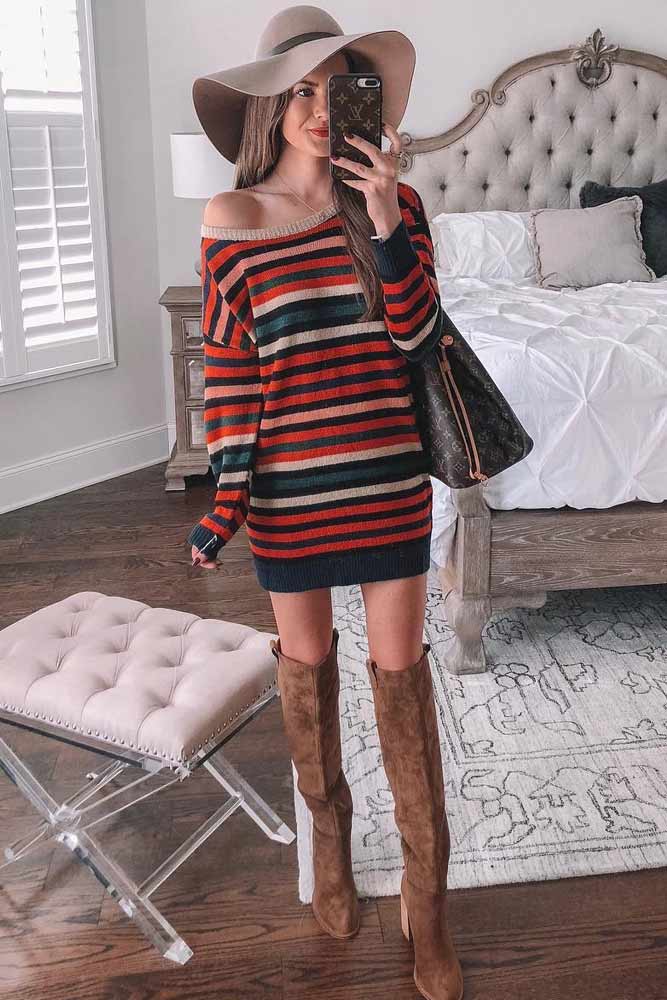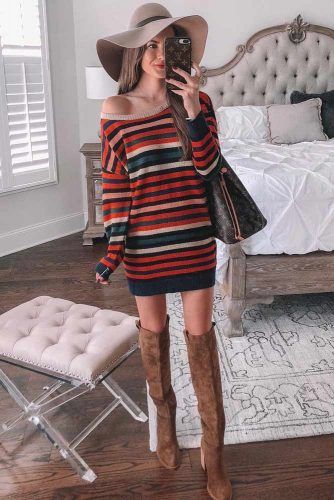 Source: cmcoving via Instagram
For a more casual look, we suggest you go for a striped dress. Such a dress will fit in any environment or even, be it a stroll through the city or dinner with a friend. Do not forget to keep your feet warm!
Monochromatic Outfit Idea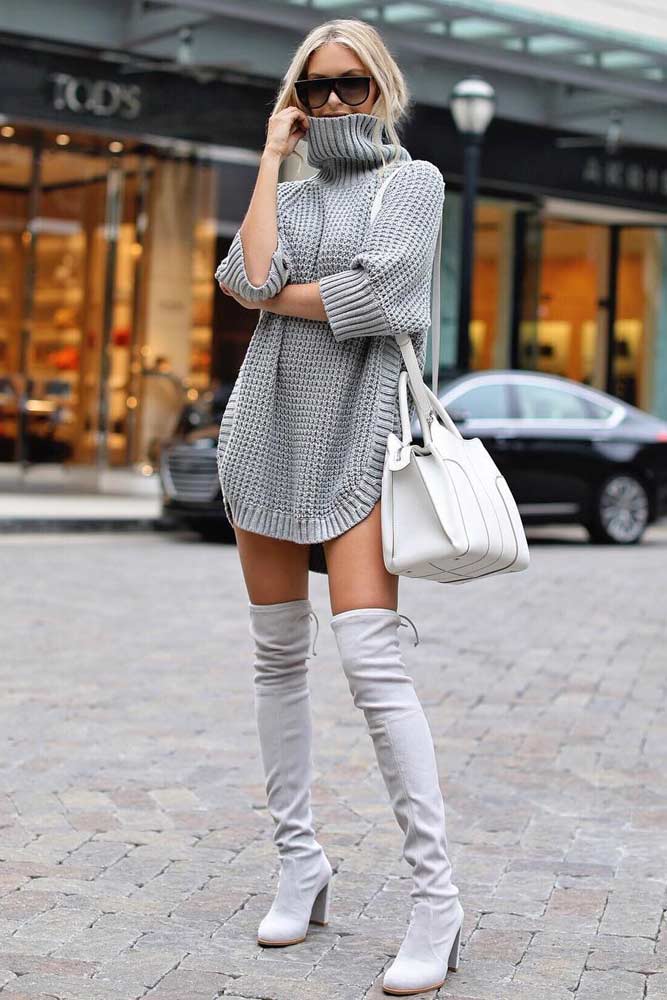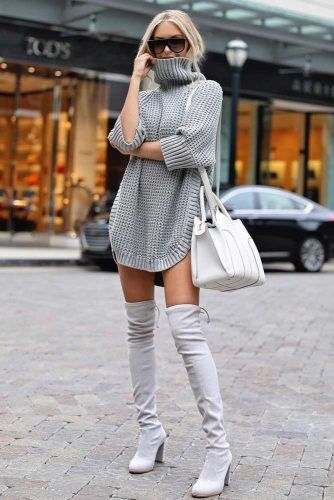 Source: macystucke via Instagram
There is a false assumption that monochromatic looks are dull. What can tell you – no, they are not. As long as you succeed with the right choice of tints and fabrics, any mono look will be gorgeous on you. Let's have a closer look at this grey one, isn't it just fab?
Short Green Dress With Black Boots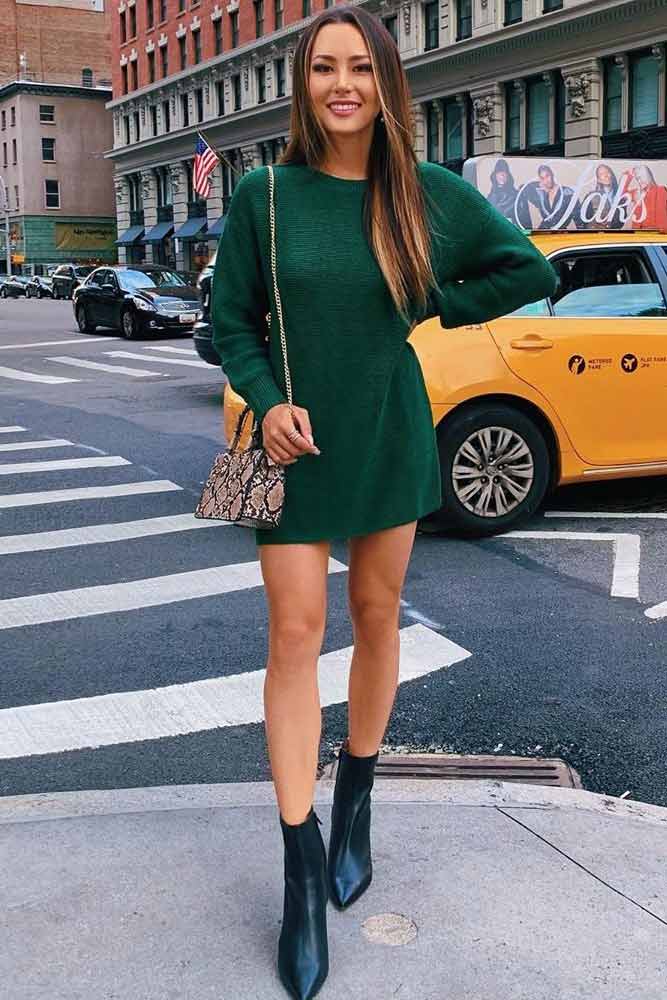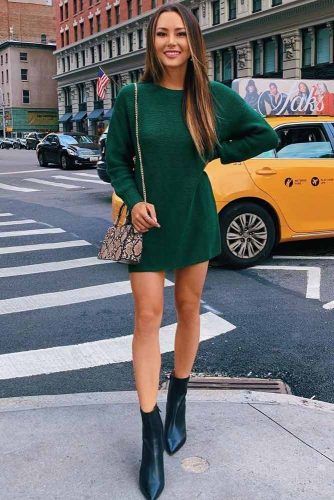 Source: hapatime via Instagram
Sweater dresses can be short too. If you are a mini-dress kind of chic, then this green one will complete your collection perfectly. Besides, it will keep you warm when the colder seasons hit.
Dark Gray Dress With Camel Boots Outfit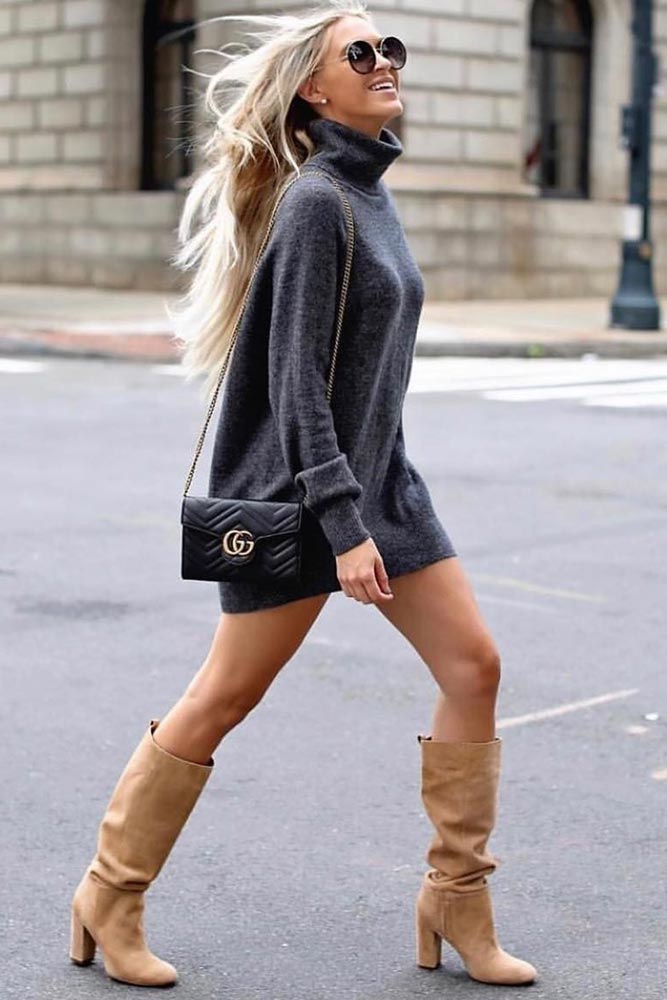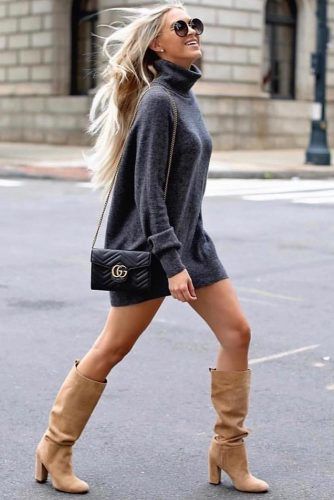 Source: macystucke via Instagram
Some shades can fit anyone, they are just subtle enough to suit any look while stylish enough to be paid attention to. Dark grey is just the tone that we are talking about. What is more, such a dress goes perfectly well with camel OTK boots.
Dark Gray Dress With Camel Coat Outfit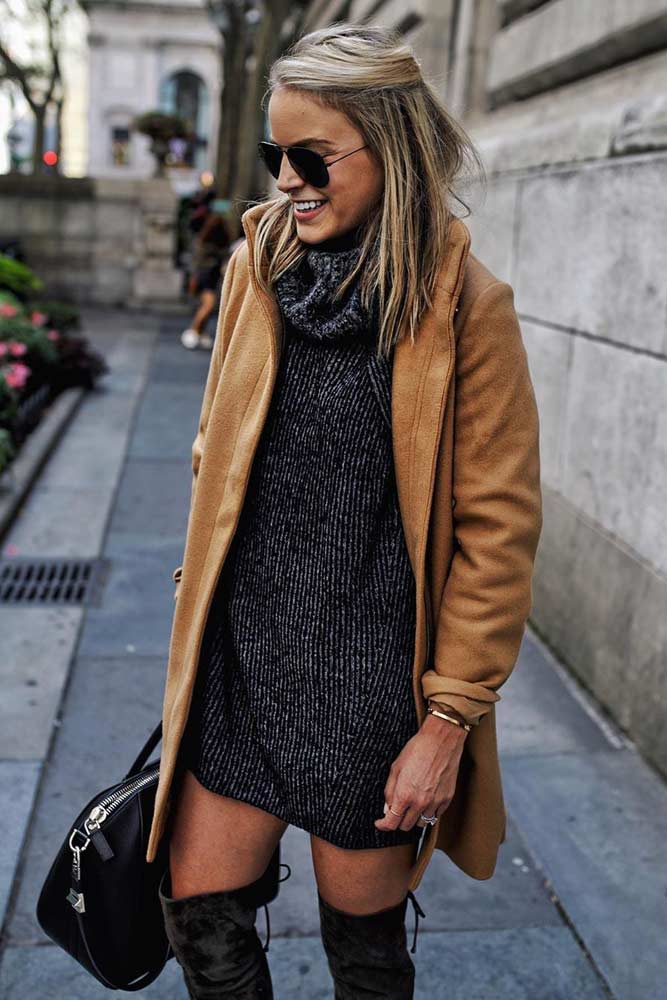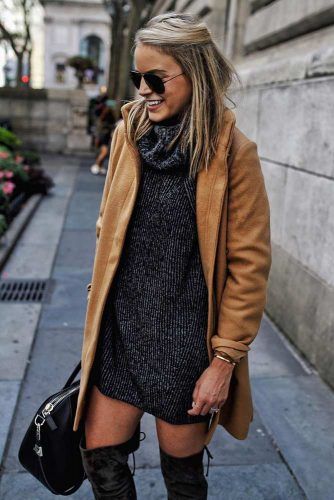 Source: styledsnapshots via Instagram
We have already mentioned it that dark grey pairs well with camel hues. Here is another variation – dark grey sweater dress and camel coat. There is no way you are getting cold while sporting an outfit like that!
Beige Dress With Ruffle Sleeves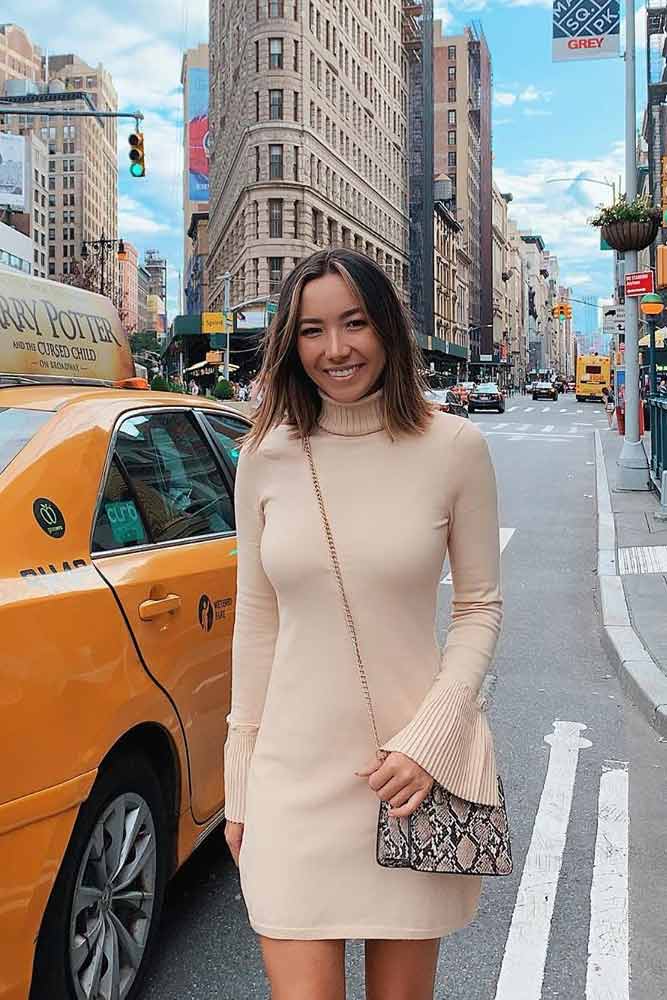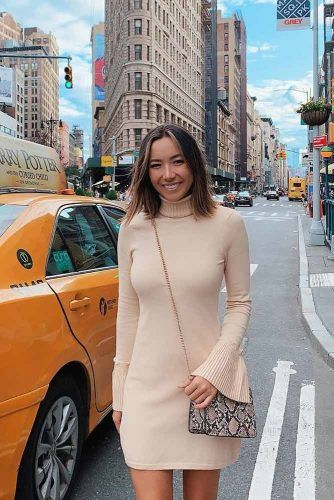 Source: lifewithjazz via Instagram
Ruffled sleeves are pretty retro-looking. In case a vintage look is what you are aiming at, then such a dress deserves a spot on your wardrobe. Besides, the light tone and the form make it accent the feminine curves just perfectly.
Gray Midi Dress With Cuts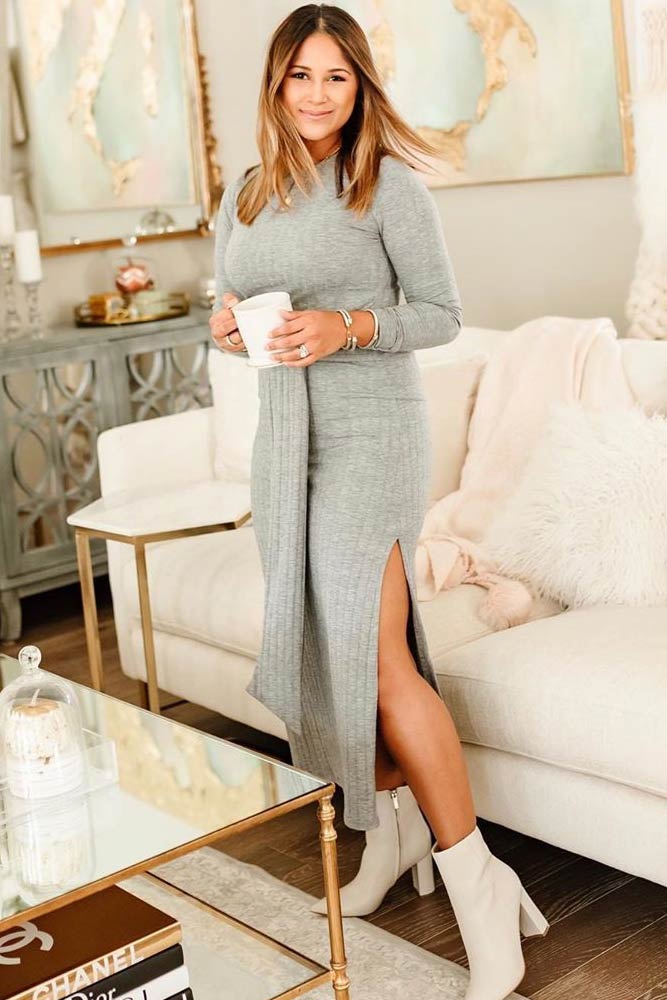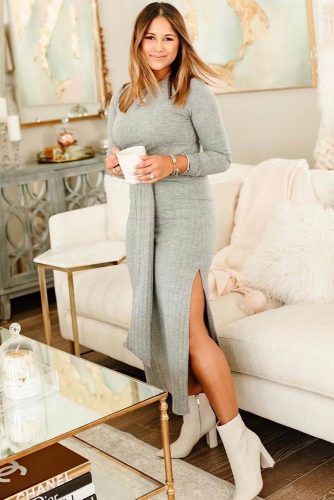 Source: hauteofftherack via Instagram
It may seem that a midi dress may limit your movement to some extent. If that is the case you are afraid of, then it is best to choose a dress with side cuts. This grey one is the perfect representative of the category.
Black Midi Dress With Belt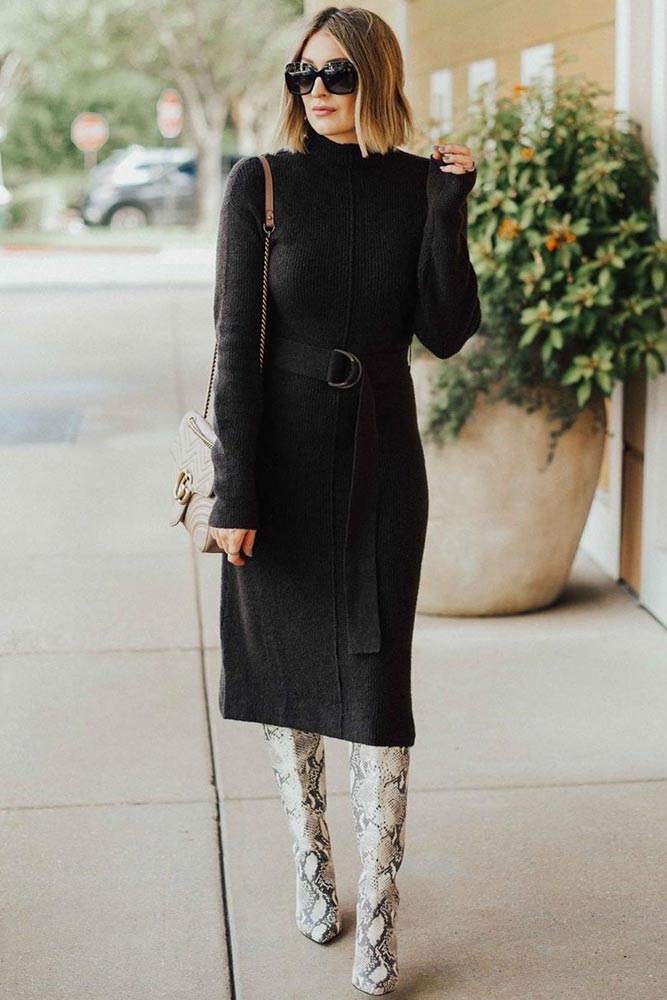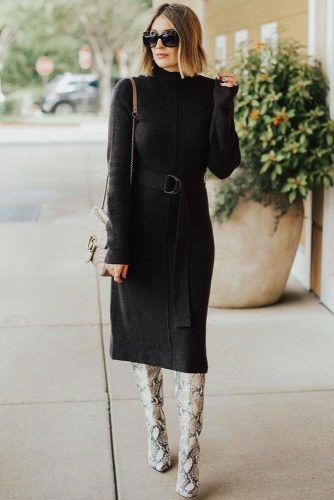 Source: wearandwhenblog via Instagram
There are times when sporting a black dress is a great option. Besides, it is easy to spice such a look up. The thing is that just a belt and a pair of printed boots will take the whole image to the next level of gorgeous!
Sweater dresses have blown up the market recently, and now you understand why. No other outfit idea will not only make you look stylish in seconds but will also bring so much warmth and comfort in fall. Add any details and accessories your heart desires, and you will be so beautiful anywhere you go.