Not everyone experienced all the fun of 80s fashion. However, not everything is lost. The thing is that all the modern trends are just old ideas given a fresh start. This means that nowadays when you look around, you will see that most people tend to wear modernized versions of all the popular trends that thrived during the 80s and 90s. Taking all that into consideration, it is essential that you are familiar with the ways to make yourself stand out. That is why we have compiled a complete set of trendy 80s looks for you to inspire from. Do not be afraid to experiment!
80s Style Little Black Dress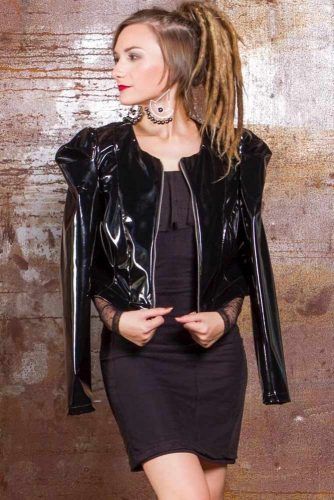 Source: lojasthithas via Instagram
There are such fashion elements that are trending no matter the decade or century outside. Little black dress is precisely one of those elements. However, in order to grant the LBD, some 80s fashion women opt for leather jackets with shoulder pads. Such a lot can easily fit in any party or even a formal occasion.
Floral And Neon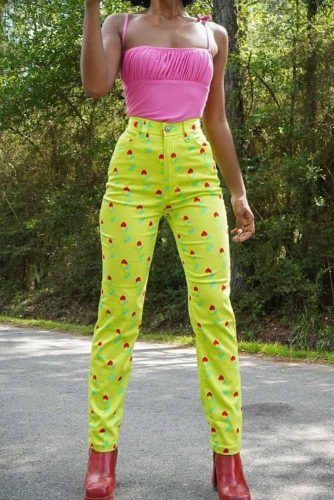 Source: masha_jlynn via Instagram
Almost everyone knows that 80s fashion trends involved lots of neon colors and floral elements. That is why if you wish to replicate one of the 80s significant looks, you should better combine the floral pattern with bright neon coloring. For instance, such a pair of yellow pants with flowers all over will suit a bright pink top like bread and butter.
80s Workout Fashion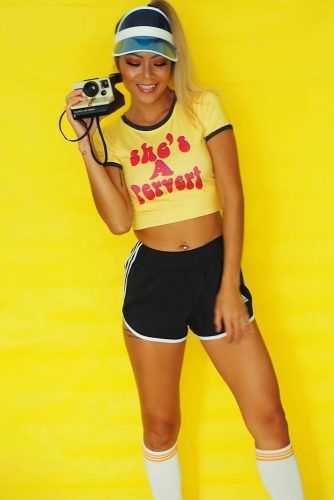 Source: sukanya_roguevogue via Instagram
These days when you are heading to the gym, a simple T-shirt and a pair of leggings would make your workout outfit. However, 80s fashion girls would surely consider such a look as too simple and boring. There was no room for subtleness in the 80s fashion even if you had sportswear in mind. One look at the outfit depicted here, and you will get the point.
Printed Blouse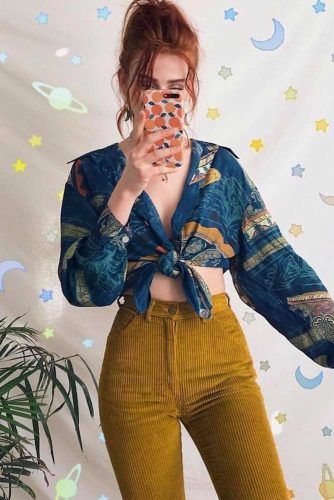 Source: liberty.mai via Instagram
The truth is that even 80s casual fashion wasn't that casual when you have a closer look at it. The thing is that a printed blouse combined with a pair of high-waisted pair of pants looks quite extraordinary and pompous to us, while during the 80s it was something close to an everyday look. Prints and over-sized clothes were all the rage at the time.
High Waisted Denims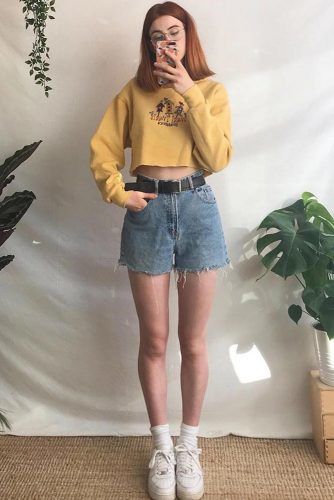 Source: paulspulse via Instagram
One of the main trends that has made its way back from the 80s into the modern world is high-waisted jeans. However, during the 80s not only jeans but also jeans shorts were all high-waisted. To complete such an exquisite look, all that was needed was a crop top.
What is more, even if you made it on your own, it still counted. Quite convenient, don't you think? Tired of your sweater? Make a crop top out of it!
Jacket With Shoulder Pads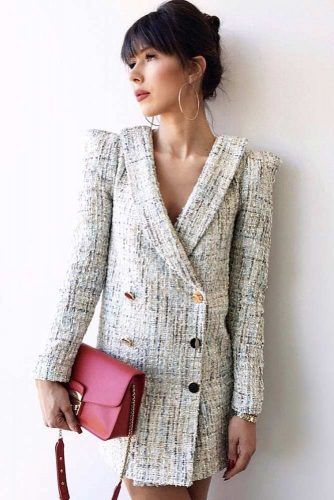 Source: stepbystepfashion via Instagram
In case you wonder whether there were formal looks to replicate these days – there certainly were. The thing is that any coat, jacket, or blazer with shoulder pads was considered to be formal wear. You could have easily paired such a jacket with leather pants or dress, or even a skirt – what mattered were the shoulder pads!
Striped Pants And Boots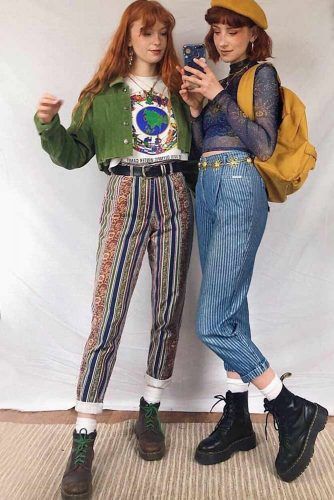 Source: liberty.mai via Instagram
If you think about the most popular 80s outfits for a while, you will come to realize that women during that time were obsessed with stripes and boots. That is why a combo of striped pants and ankle boots were so popular at the time. Truth be told this notion has made its way into modern fashion as well.
Polka Dots Dress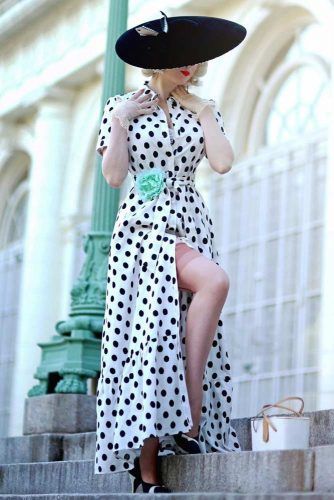 Source: michellemiauu via Instagram
All of you may already know that polka dot is a print that defines retro looks. To be honest, not only the 60s were about polka dots, 80s as well. Surely, when compared to all the neon and denim clothing, it may seem unbelievable that something as elegant was required too. However, the truth remains that polka dot dresses were hit clothing during the 80s.
Bandana Fashion Trend
Source: la.petite.bun via Instagram
Accessories were essential during the 80s. When we say accessories we do not mean only the jewelry or purses – think bandanas as well. The fact is that all the women at the time had a vast range of bandanas to choose from to wear on a different occasion. That is why if you wish to dive into the 80s fashion, you should better invest in a few bandanas.
Denim Jacket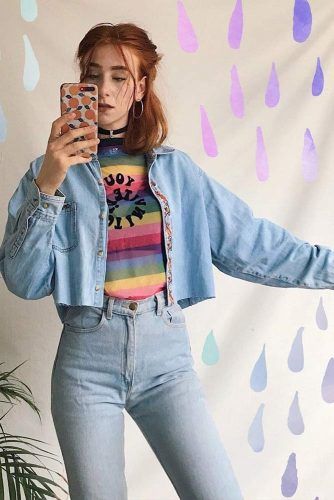 Source: liberty.mai via Instagram
As opposed to 80s neon fashion denim jackets were a must-have for every fashion girl during the 80s. There was nothing that a denim jacket couldn't have been combined with. Be it a dress or a pair of jeans you put on, the denim jacket was the perfect element to complete the look.
80s Fashion Accessories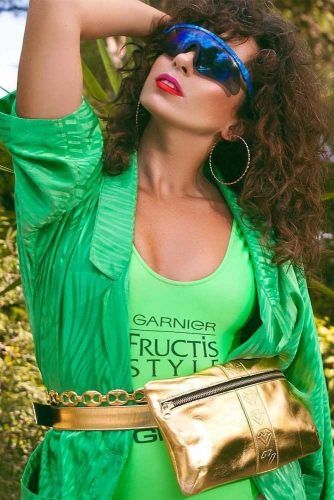 Source: morrisandgrantvintage via Instagram
Purses were on the top of popularity during the 80s since it was that one accessory element that made your look stand out. That is why if you want to accent your outlook like the ladies in the 80s did, you should better choose a purse that stands out. For instance, this green-hued outfit, paired with a golden purse is the best-representing example.
Sequin Jumpsuit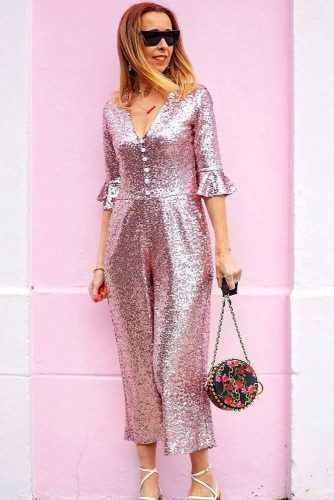 Source: mrsmlmode via Instagram
Apart from neon colors, bling 80s clothes were on the edge of glory. In case you wonder where from modern jumpsuits came from – straight from the 80s. However, if nowadays the jumpsuits are more reserved, during the past decade there has been nothing to stop you from sporting such a glowing sequin suit.
Leopard Print Trend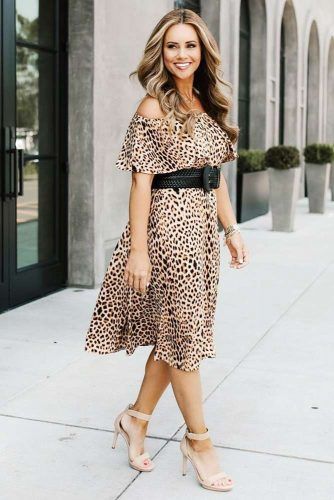 Source: kbstyled via Instagram
Most of you may already know that animalistic prints are the ones that never go out of fashion. For example, the 80s style would be incomplete without a leopard print. The truth is that these days wearing a leopard print is a sign of taste and fashion. Such a fabulous dress can be easily worn even to the most formal event.
High Waisted Skirt And Ruffle Top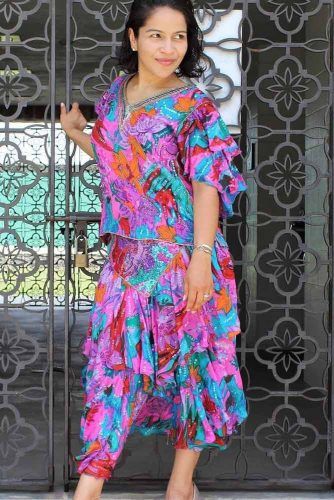 Source: mezcalandleather via Instagram
The more, the better – that was the motto of 80s fashion. More colors, more ruffles and you get the flawless 80s outfit. In case such a wild combo does not scare you, then you were born to help all the trends from the 80s live on!
Oversize Shirt With Denim Shorts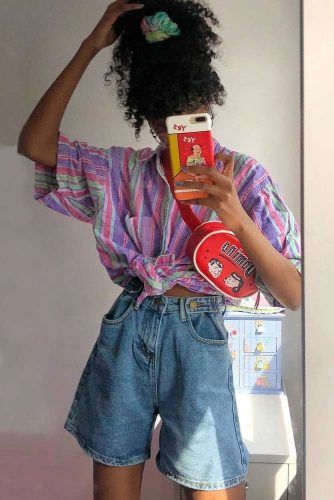 Source: gorillaagirll via Instagram
Oversize was another significant detail about 80s fashion. You could have easily sported your father's favorite shirt without anyone even suspecting that it wasn't yours. Besides, if you combined such a shirt with high-waisted jeans shorts, you would be considered a true fashion icon no matter where you went!
Overalls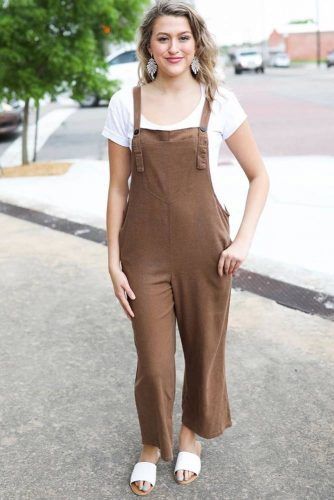 Source: rebelrootsboutique via Instagram
There are many advantages to overall. They are simple, convenient, and fit all the figures. That is why all sorts of overalls were so common throughout the 80s. Throw on your fav t-shirt, put the overalls on and you are ready to rock and roll!
Maxi Print Skirt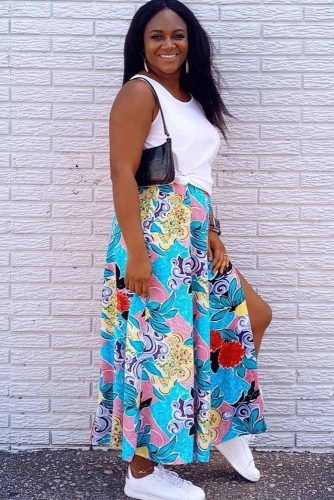 Source: being__andrea via Instagram
When you think about the vintage fashion, it may occur to you that maxi dresses and skirts were beyond trendy. However, what makes 80s maxi skirts stand out are the mind-blowing prints. If you like to pull off colorful looks and attract people's attention, then such a skirt must be in your closet!
80s Fitness Fashion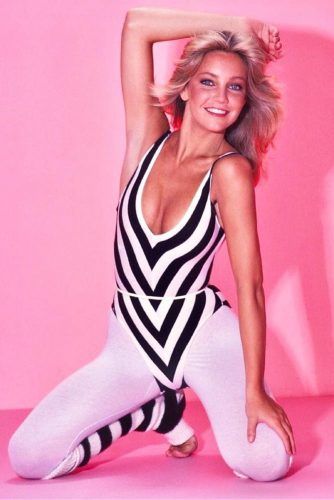 Source: bimbetteactive via Instagram
Fitness fashion in the 80s deserved special attention since it was much more complex than something we are used to. A swimming suit, leggings, and knee-high socks were an essential attribute of every fitness outlook. Besides, the colors should have been bright, and all the element had to match.
80s fashion is not that simple as you may have thought. What is more, it is having a major comeback these days. If you wish to keep up with fashion, you should better read through this article!
High Knee Socks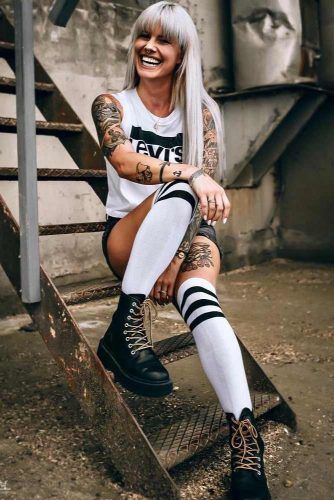 Source: piatillmann via Instagram
One of the most welcoming 80s womens fashion trends for us is high knee socks. Today, they can be paired with basically any outfit, from skimpy shorts to a calf length skirt, without looking irrelevant or old-fashioned. The trick is that these socks are not overly revealing yet look sexy thanks to the emphasis they put on your legs.
Logo Hoodie Fashion Trend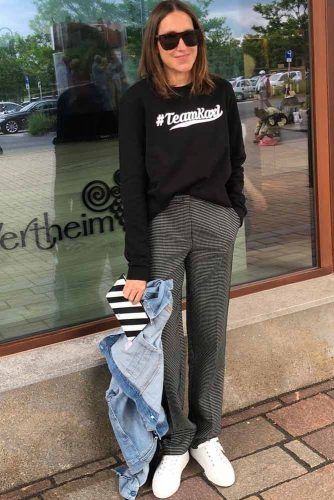 Source: nettiweber via Instagram
One of the most common staples of 80s fashion style is a logo hoodie sweatshirt. Now, it is a highly versatile item of modern 80s fashion that can be equally successfully paired with both a pleated skirt and boyfriend ripped jeans. As a rule of thumb, you should remember that the more logos it features, the better.
Members Only Jacket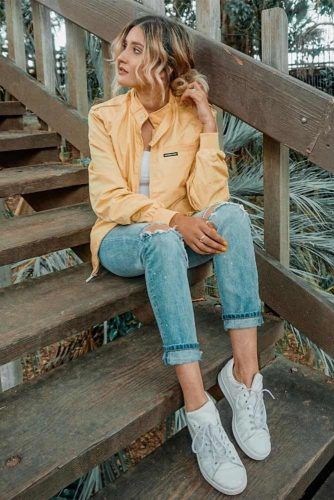 Source: membersonlyusa via Instagram
No matter whether you saw it in the 80s fashion pictures or even sported one yourself, a Members Only jacket is considered a hugely trendy outwear item even nowadays, not least owing to the popularity of the Stranger Things series. As to what to style this jacket with, there are no restrictions. You can either opt for a casual outfit with distressed jeans, a white tank and plain sneakers or go for a smarter look.
High-Rise Tech Jogger Pants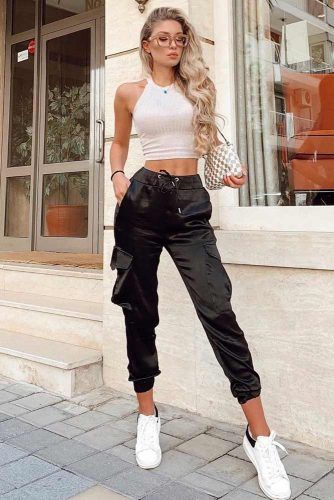 Source: ozgebeykoylu via Instagram
Bet, you will recognize the sound of these iconic pants with your eyes closed. Parachute pants are a must-have trendy clothing article that the 80s fashion for girls introduced to us. Today, they allow for a multitude of styling options. But, we would most eagerly go for them to complement an outfit with sandals, a denim jacket and a cropped T-shirt.
Oversized Blazer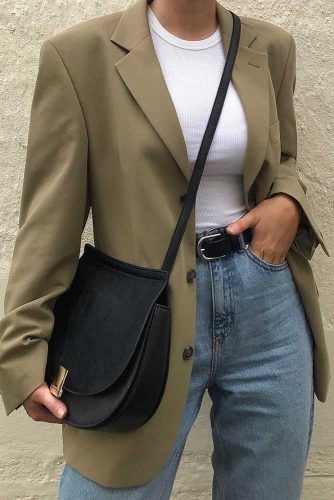 Source: mon.agar via Instagram
Such an essential wardrobe item of every modern girl as a blazer is nothing but a blast from the 80s casual fashion. Yet today, we opt for an oversized model while partnering it with a pair of skinnies or a cropped romper and a slim fitting bodysuit for a balanced look inspired by the fashion of the 80s.
FAQ: 80s Fashion
How do you make an 80s outfit?
Blazers and blouses with shoulder pads, over-sized sweatshirts, high-waited acid wash jeans, parachute pants, leg warmers, big neon jewelry — all of that was essential for creating an 80s outfit. Possibly your parents still have those iconic pieces. Look through our article for some inspo.
What shoes did they wear in the 80's?
Reebok pump,sair jordans, la gears,filas, doc martens, saucony jazz, vans classic, jellies, converse, moccasins, were everywhere in the 80s.
Did they wear fanny packs in the 80s?
The fanny packs were popular in the 80s, because they weren't considered fashionable. However, fanny packs were rather worn by a lot of people for practical purposes. Initially they were worn around the waist with the bag situated in the back.