Cashmere Sweater Season Looks To Win All Hearts
It is not a secret to anyone that when it gets colder, it becomes a lot more difficult to maintain your fashionista image. Well, at least until you get to know all the ways, you can experiment with a cashmere sweater. The thing is that cashmere sweaters are not only warm and nice to feel, but also come in handy when you need to experiment with your cold season looks. Today we are going to have a closer look at all the basic as well as experimental looks with the cashmere sweaters involvement. Get ready to be amazed at how versatile your season outfits can become!
V Neck Oversize Sweater
Source: ericbompard via Instagram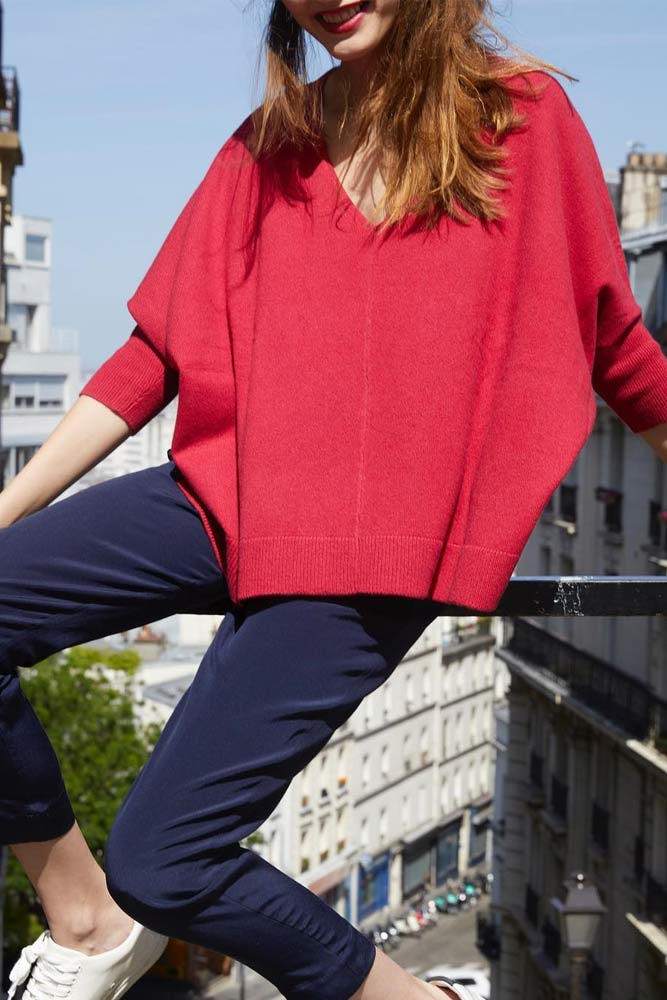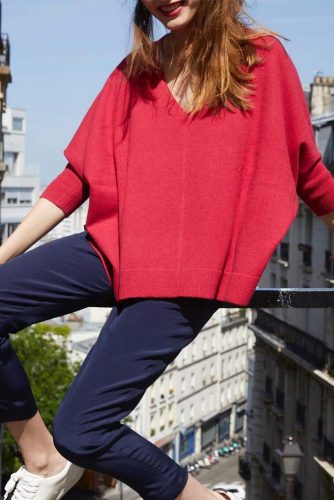 One of the trendiest cashmere sweater womens looks these days is the oversized V-neck one. If you opt for such a sweater in red, you will add another universal piece to your wardrobe since due to the color and the shape you can mix and match it with many things. For example, this look will suit those of you who prefer casual, everyday looks. Such an outfit will help you look cool and feel warm at the same time!
Grey V-neck Cashmere Sweater
Source: fashionedchicstyling via Instagram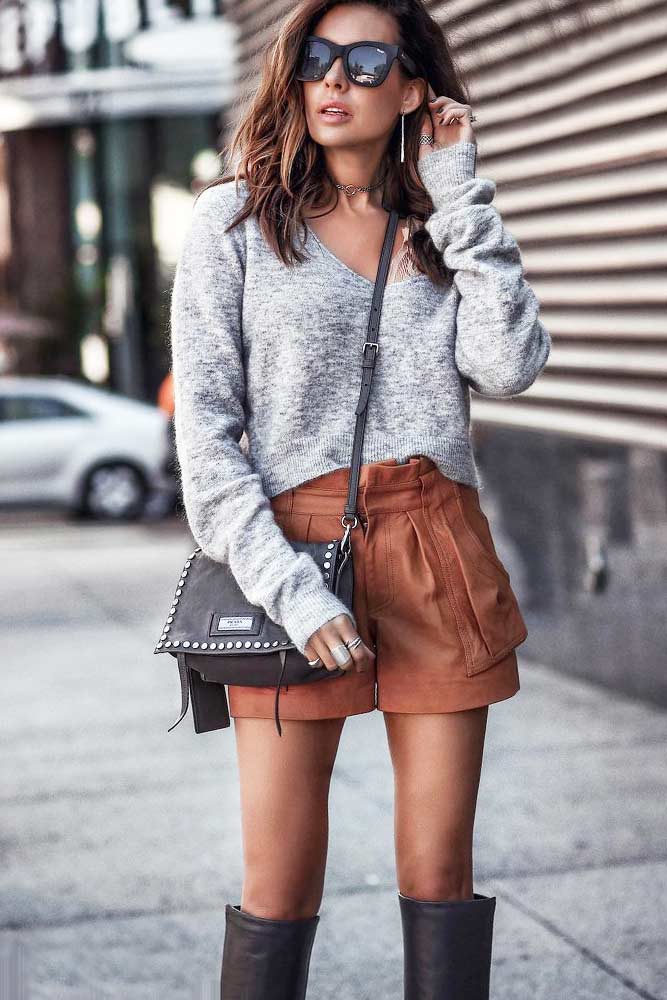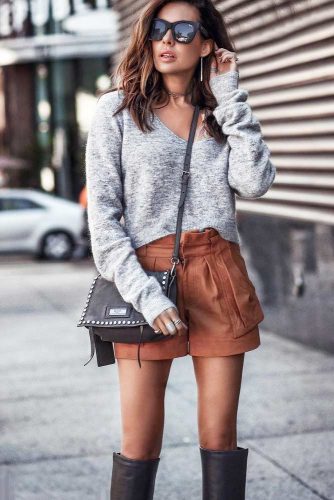 Those of you who are looking for cashmere v neck sweater women's look to pull off on a daily basis may as well appreciate this stylish idea. The thing is that when it is not that cold outside but a little chilly in the morning a nice cashmere sweater will save the situation. What is more, you can easily wear a sleeveless top beneath, in case it becomes too hot and you will take the sweater off.
White Cozy V Neck Sweater
Source: fashionedchicstyling via Instagram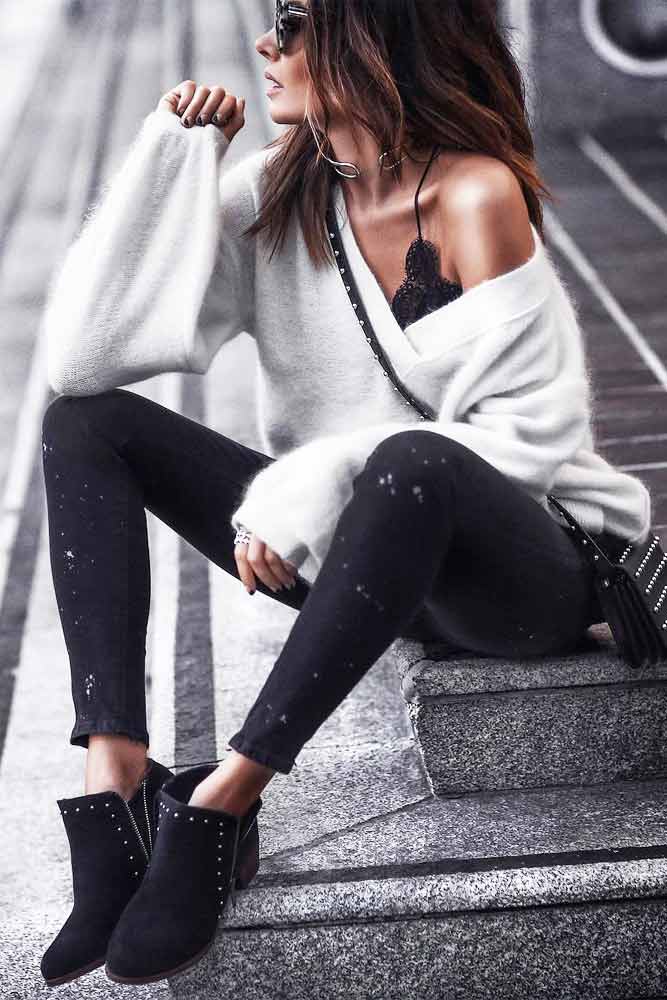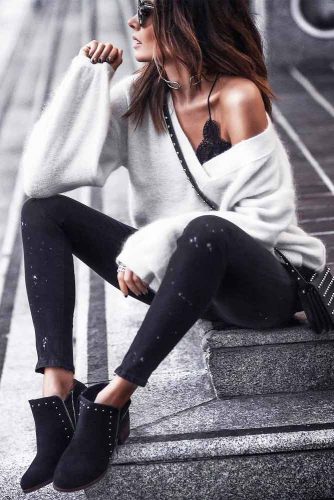 If you prefer to stick to the classics when choosing the outfit items, then white V-neck cashmere piece will surely come in more than handy. The thing is that you can easily pair such a sweater with edgy black jeans and a pair of suede boots, while the lace top underneath will add that necessary feminine touch to your look.
Red Turtle Neck Cashmere Sweater
Source: songofstyle via Instagram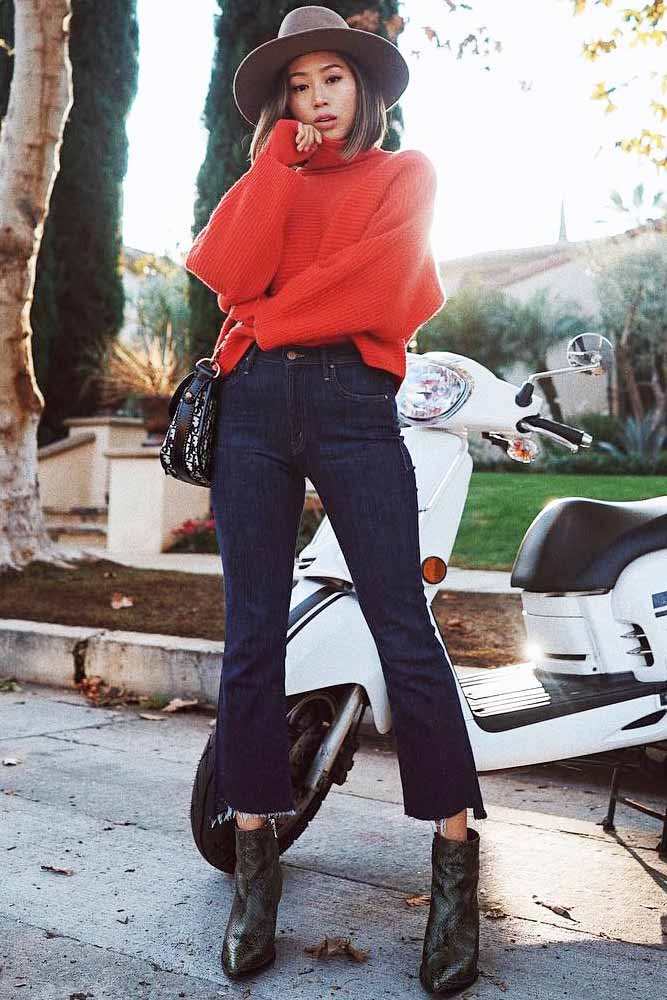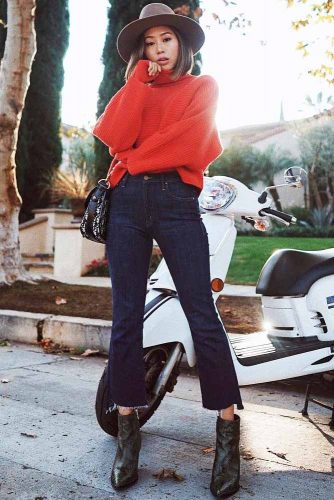 When it gets colder with every day, do not fall apart, there are still many fresh looks to play around with. If you have a nice red turtle neck sweater in your closet, it is time to take it out and pair it with dark jeans. Cowboy boots and a hat on the same color palette will spice up your look like nothing else. As a result, you will look super stylish, and you will feel super warm, it is a win-win situation!
Turtle Neck Sweater In Neutral Color
Source: fashion_jackson via Instagram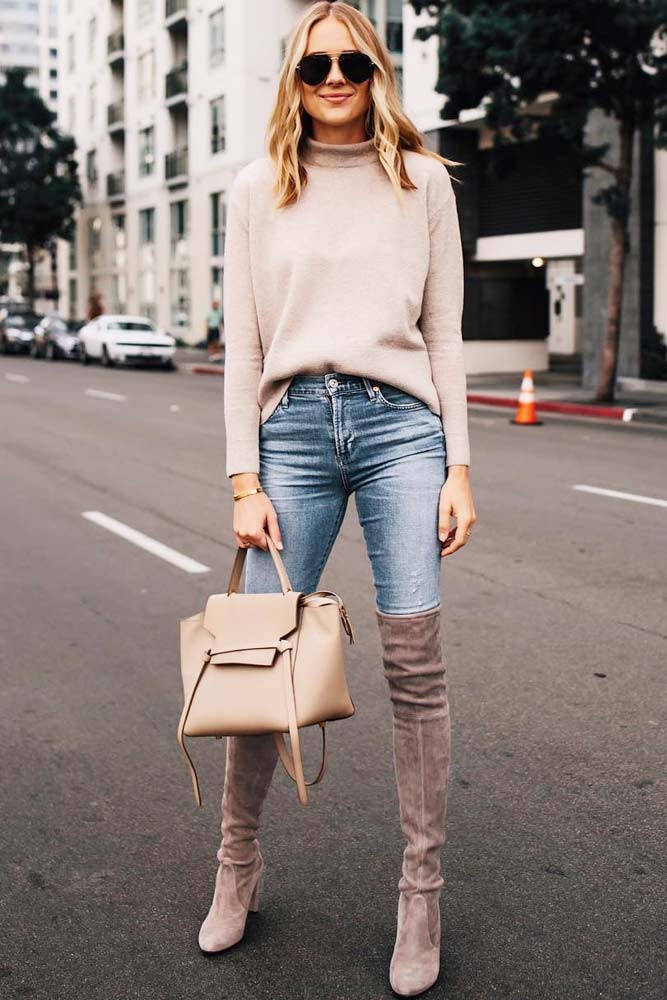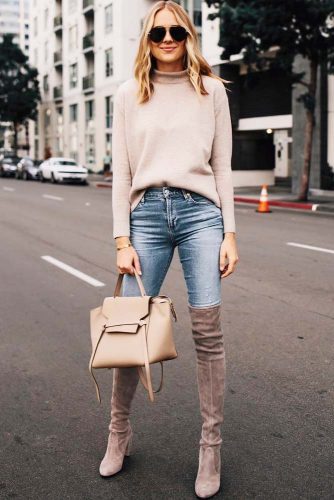 There are times when looking super bright is not an option, and in times like these, a neutral-shaded cashmere turtle neck will come in more than handy. To add some trendy vibe to your look, you are going to need to take out a pair of same-shaded long boots and introduce a matching purse in. Simply perfect don't you think?
Brown Turtle Neck Sweater
Source: dilettamenta via Instagram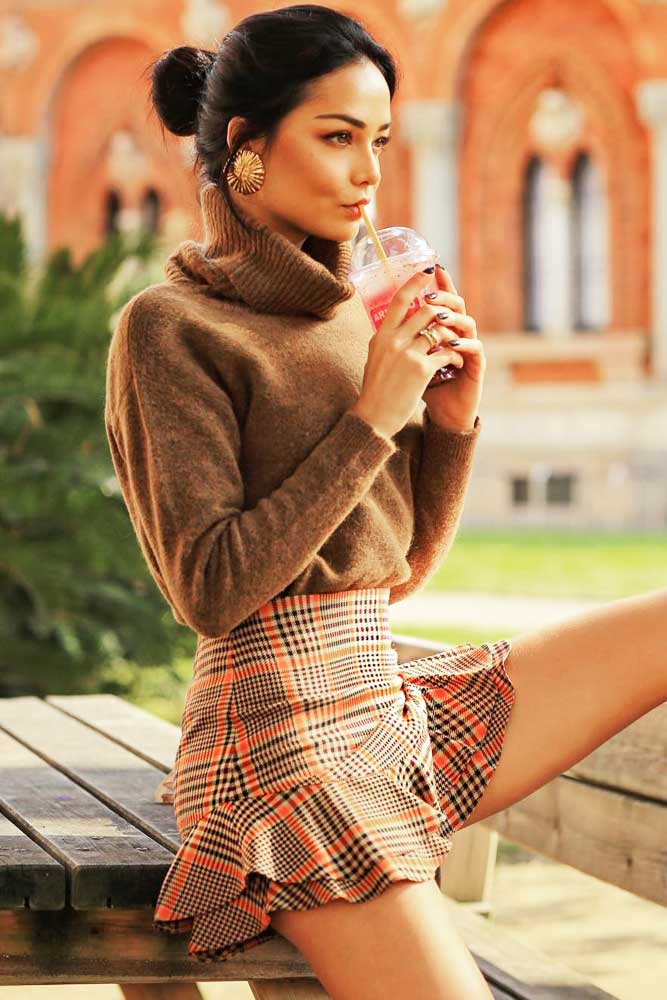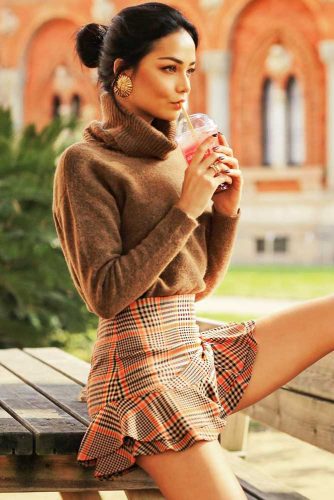 Very often we combine warm sweaters with jeans or pants, or shorts, but there is something else that is left out. The combination of a cashmere sweater and a short skirt looks as great as all the other combos, if not better. The trick lies in finding the matching skirt. For example, a cinnamon brown cashmere turtle neck looks gorgeous combined with a plaid skirt in the same color palette.
Cashmere Sweater Design With Round Neck
Source: andicsinger via Instagram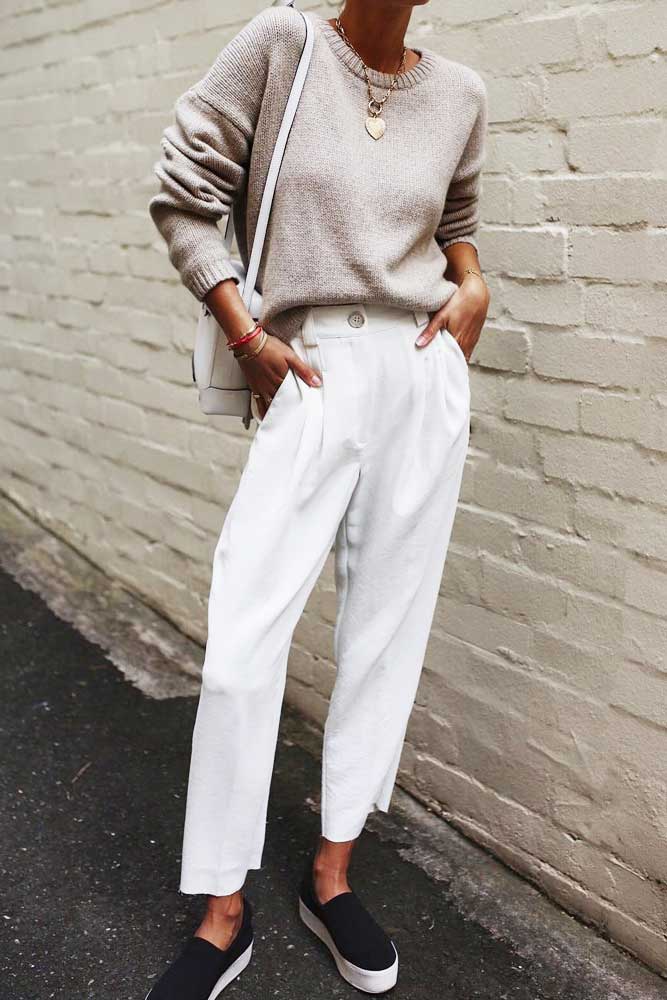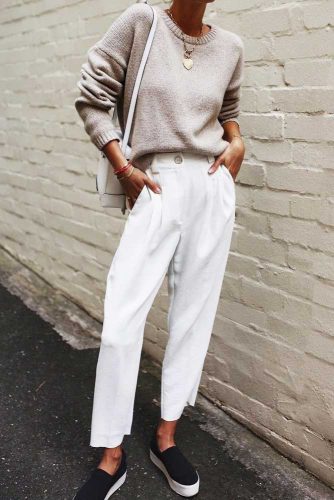 Cashmere sweaters with round neck are that one form that is supposed to bring out all the feminine lines in your look. When you have a closer look at the picture, you will understand the reference. What is more, to create the most gentle and carefree look with the help of a warm sweater is to pair it with white, loose pants. Black sneakers will complete the outlook.
Striped Cashmere Sweater With Round Neck
Source: prettyproperquaint via Instagram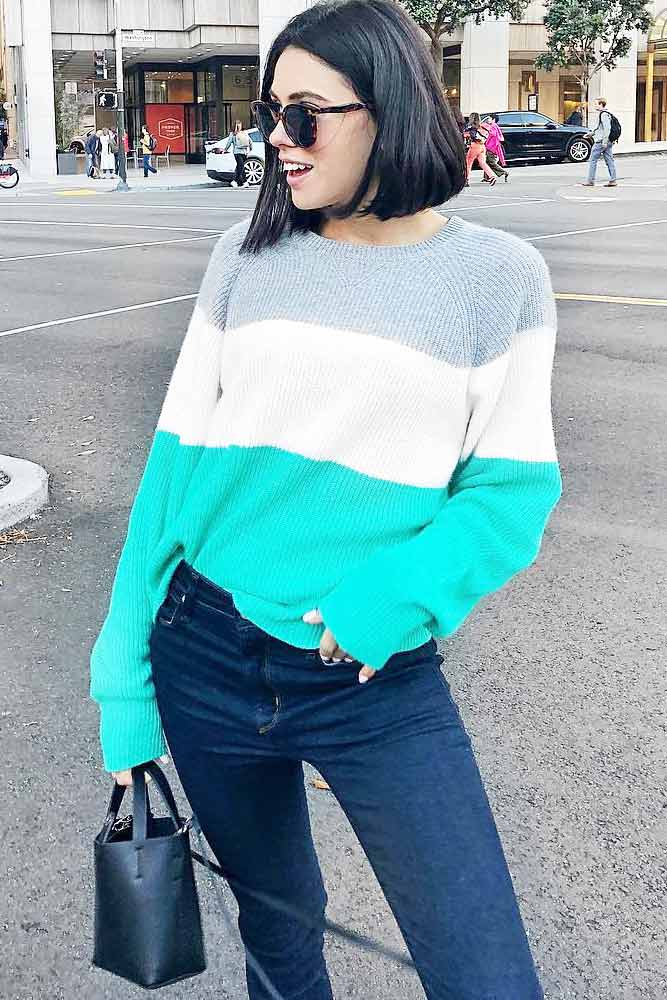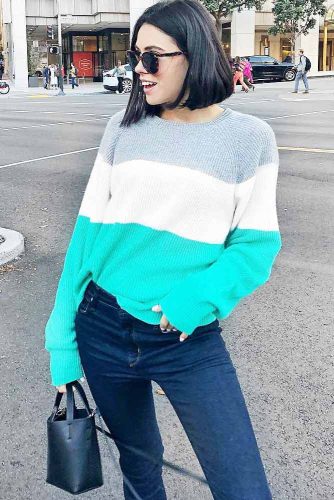 Those of you who are not huge fans of solid coloring – worry not, there is a special and trendy outfit for you too. The thing is that cashmere sweaters come in not only in classic shades, such as grey, red or white – striped options are available too. Such a nice, colorful striped sweater will complete your casual look like nothing else. See for yourself how well it goes with jeans!
Red-Pink Ombre Cashmere Sweater With Round Neck
Source: heartbreaker_fashion via Instagram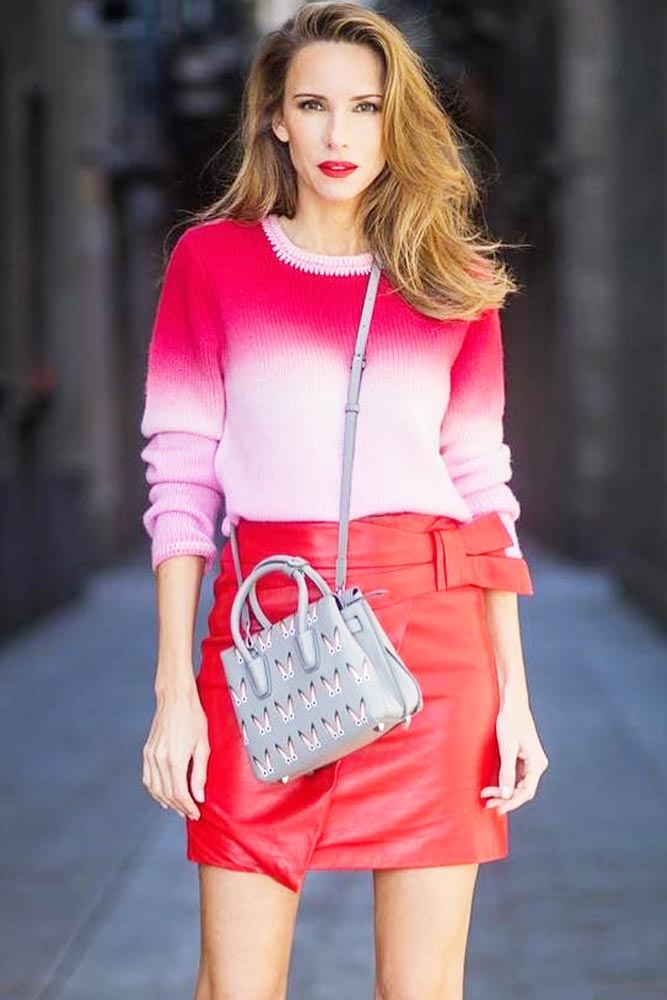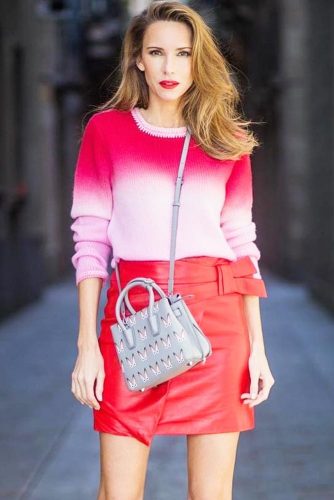 These days ombre can be found trending anywhere, and fashion is surely not the exception. This red to baby pink ombre sweater is truly a masterpiece. However, despite the coloring, it does not look too bright and can be easily worn anywhere. What is more, if there is a need to add some edgy vibe to your look, we suggest you at least consider red leather skirt paired with such a unique sweater!
Shoulder Off Cashmere Sweater With Short Sleeves
Source: anjaforsnor via Instagram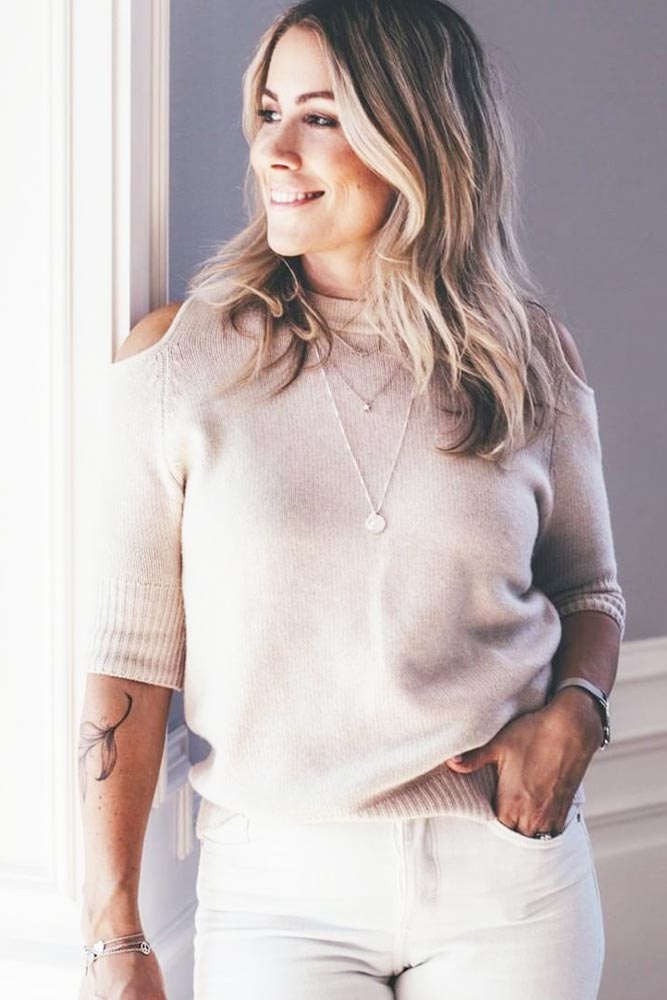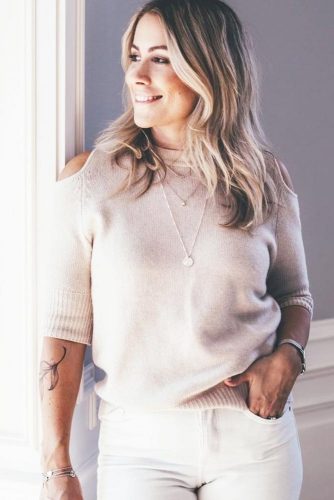 A sweater with short sleeves is that one perfect option when you are unsure whether too cold or warm it is going to be outside today. What is more, such an off-shoulder beige-colored cashmere sweater will add up to your gentle look if you pair it with white jeans and some stylish jewelry.
Sand Colored Cashmere Sweater With Short Sleeves
Source: styleinbeta via Instagram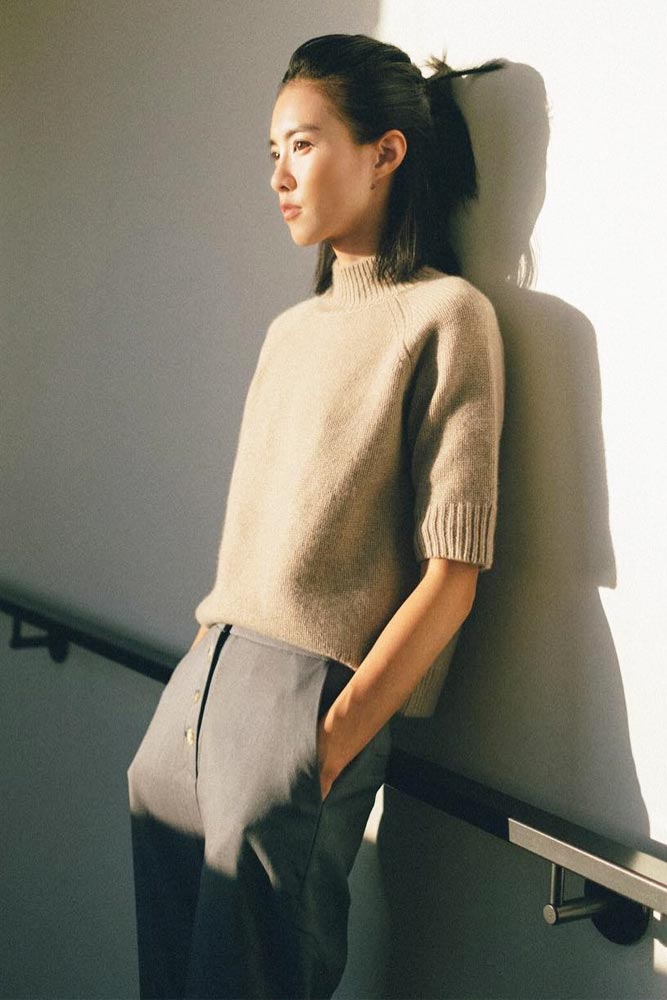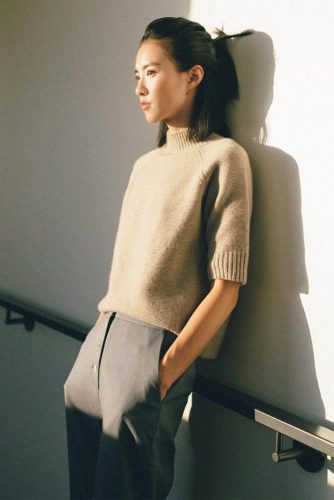 Short sleeve cashmere sweater can be a real savior at times. When you are looking for a simple everyday combo that will look stylish as well, then we may have a suggestion in mind. The thing is that such a sand-colored short sleeved sweater will suit a pair of casual pants perfectly.
Burgundy Short Sleeve Cashmere Sweater
Source: docketclothing via Instagram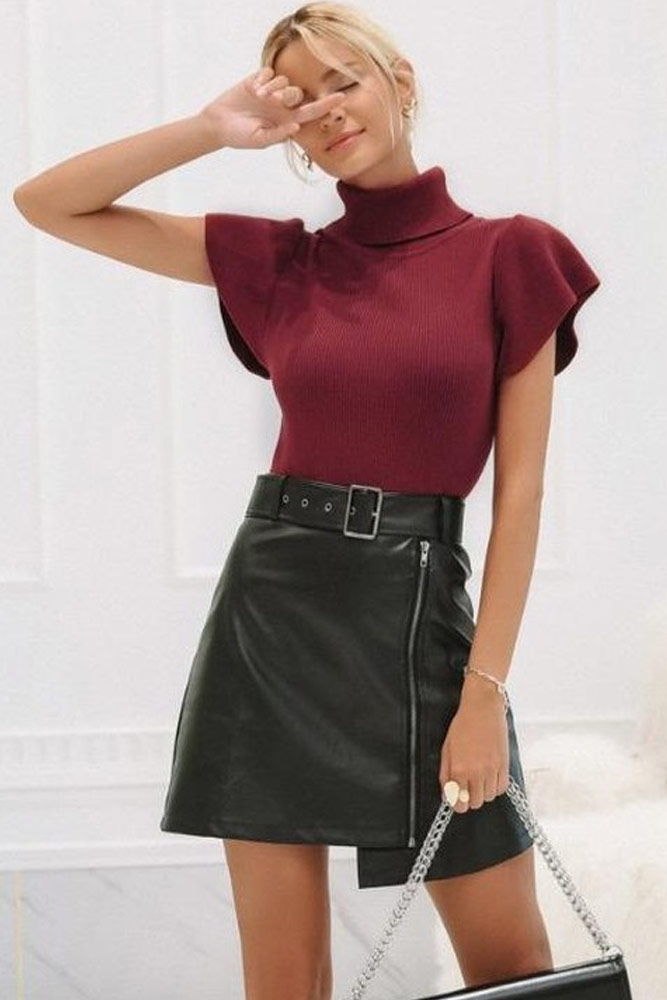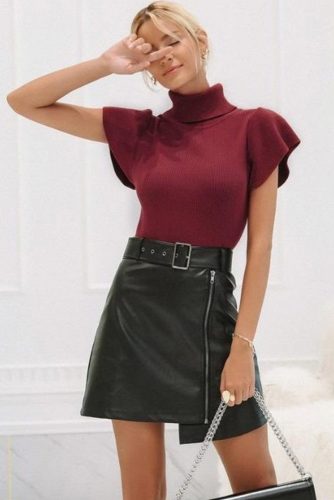 Burgundy is a very required shade these days no matter what we think of, and sweaters won't be the exception. That is why if you are looking for a nice cashmere sweater with short sleeves to combine with your daring leather skirt we suggest you buy it burgundy. What is more, a turtle neck and loose sleeves will add that gentle touch to your outlook in general.
Red Shoulder Off Sweater
Source: shortstoriesandskirts via Instagram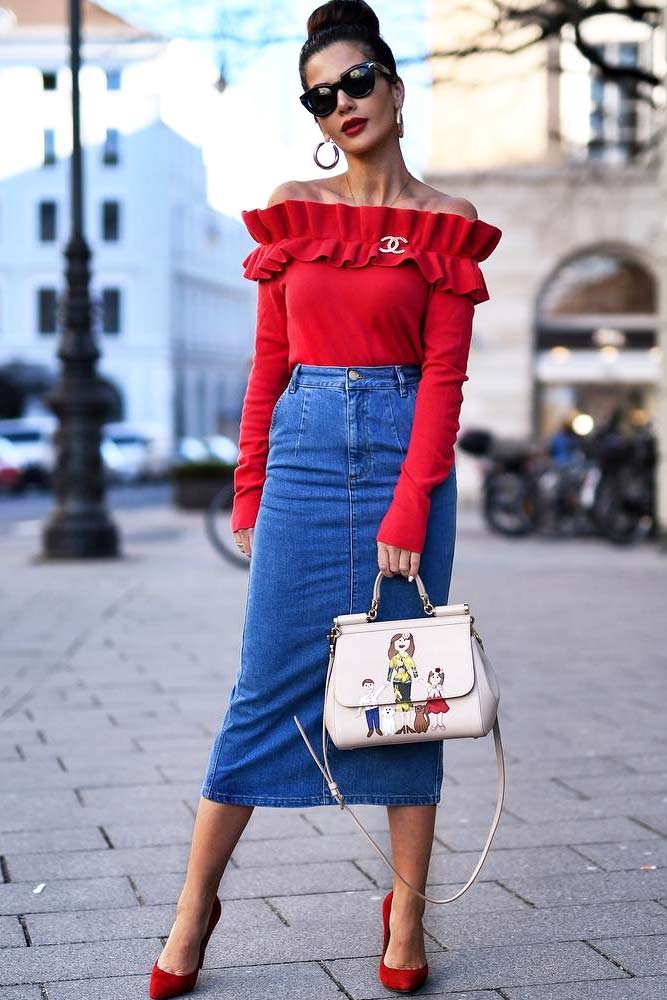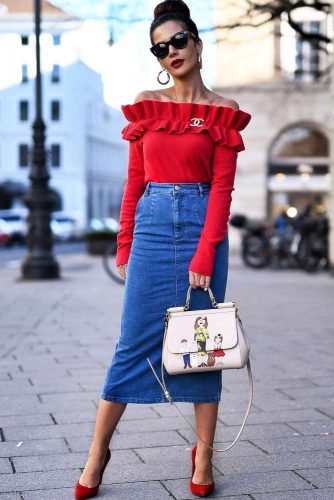 Surely red cashmere sweater is classy but what takes it over the edge of unique and elegant is the off-shoulder style. Such a sweater will take any outlook to the completely new level of stylish and sweet. Midi jeans skirt and red suede heels will complete the look like nothing else, you can trust us on that!
Grey Cozy Shoulder Off Sweater
Source: lolariostyle via Instagram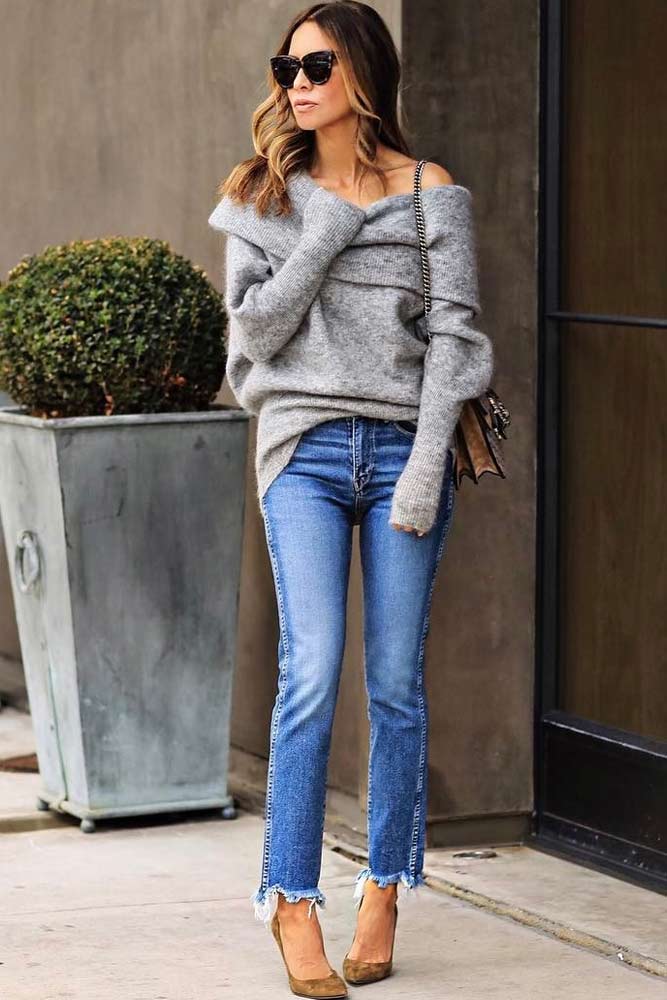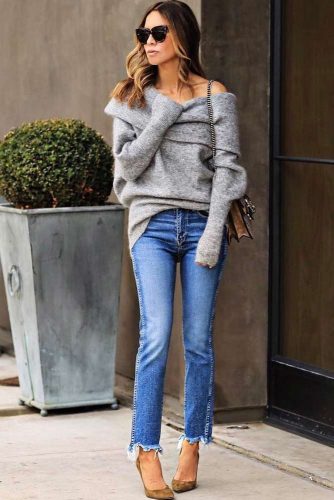 Off the shoulder cashmere sweater can add that intricate and exquisite touch to your outlook if you know what to combine it with. It is true that the combo a sweater and a pair of jeans is definitely not new and may seem like nothing special. However, when you have an oversized, warm cashmere sweater in mind and you add a pair of heels to the image – things acquire a fresh taste, don't you think?
White Shoulder Off Sweater
Source: catherine.grey via Instagram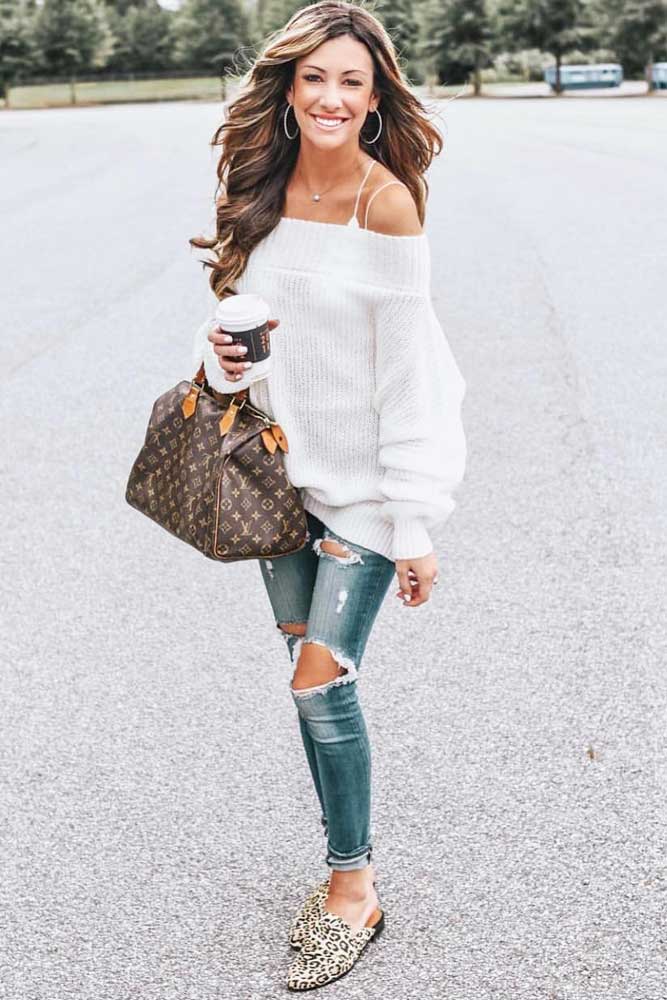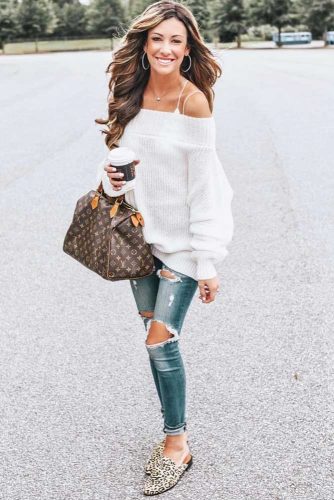 A long cashmere sweater is that one clothing item that many women prefer and the rest simply hates. Well, the truth is that like anything else a long sweater is supposed to be paired with the rest of your outlook correctly. For example, the mixture of white off-shoulder cashmere sweater and jeans completed with feline print shoes might have looked out of place in your mind, but they don't in real life. The key point here lies in the mixture of something oversized, ripped and elegant!
Oversized Pink Sweater With Hood
Source: asiascora via Instagram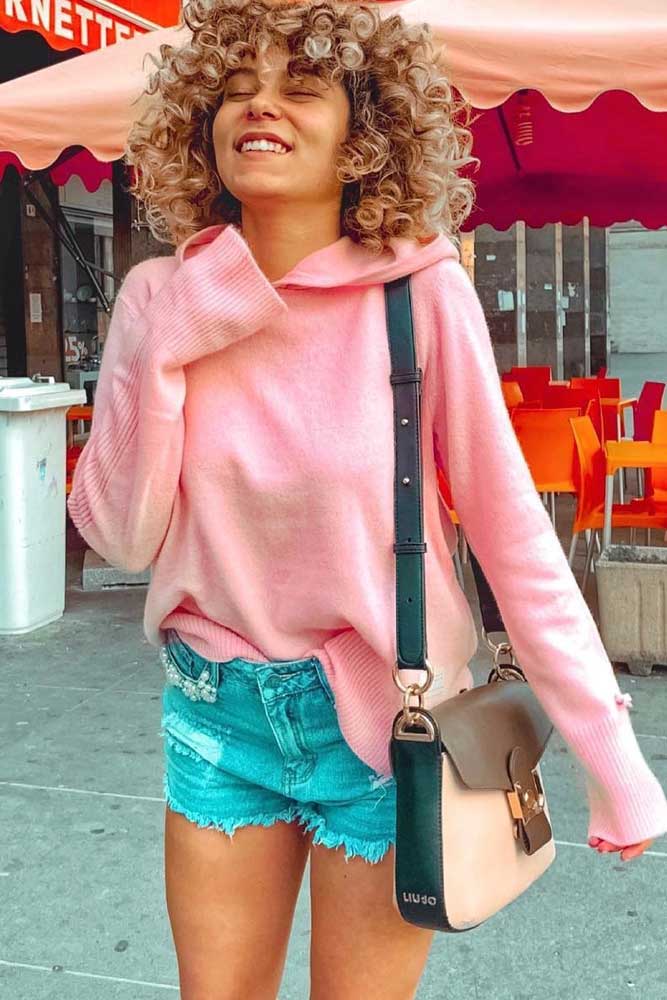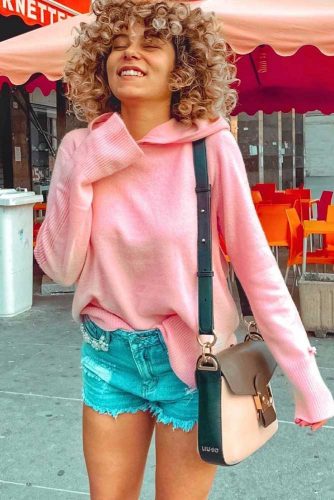 A pink cashmere sweater is not something that every one of you would pull off on a regular basis. However, we have a stylish suggestion in mind. The thing is that this pink cashmere sweater with hood matches a pair of short jeans like they have been created for each other. Who could have thought, right?
Black Oversize Sweater
Source: andicsinger via Instagram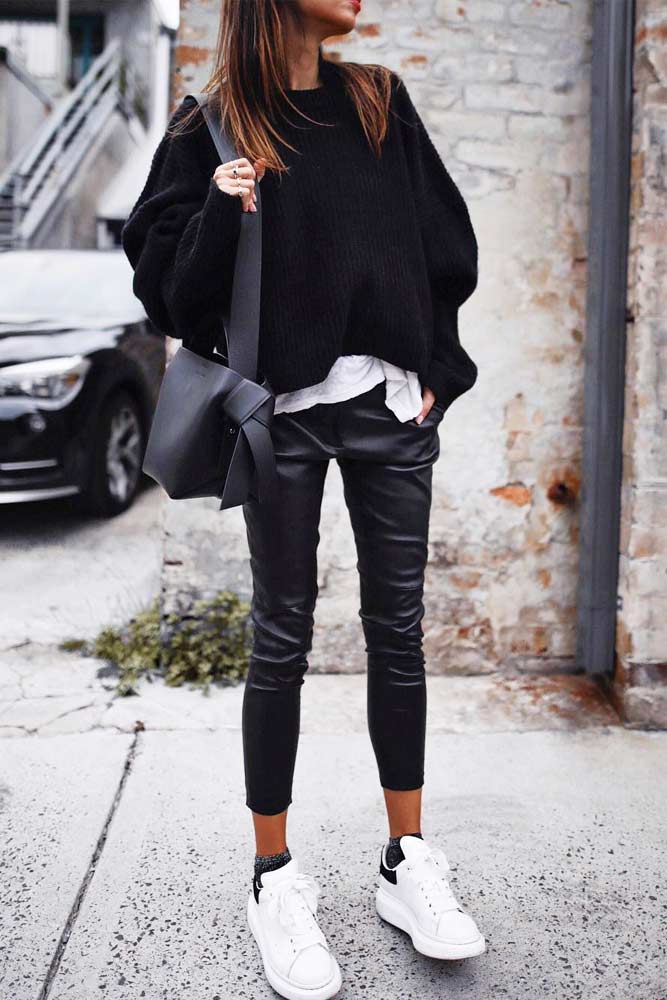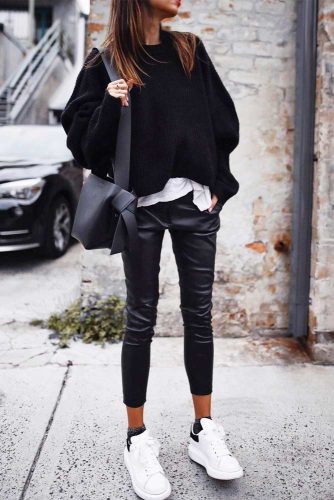 So far we have discussed and looked through many cashmere sweater options, but there is one type still missing - black cashmere sweater. The truth is that like almost everything black, this one is pretty bold and daring, but if you are in search of an edgy look, this one may just be it. The combo of a black sweater and a pair of leather pants looks exquisite together. However, the introduction of a white t-shirt and white sneakers smooths the boldness out a little and that is a good thing.
Soft Yellow Cashmere Sweater
Source: andicsinger via Instagram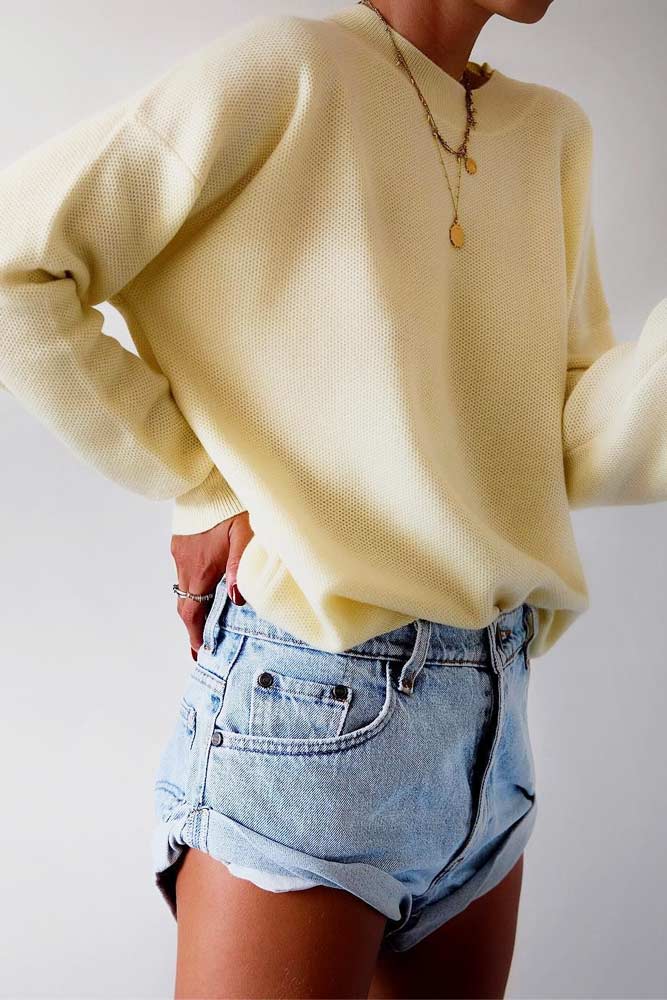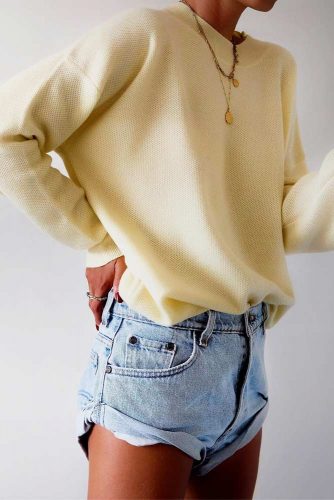 Pastel hues are on the edge of popularity for a while now and we can't but bring this pastel yellow sweater look in. It looks so smooth and light when combined with a pair of trendy jeans shorts. Such an outlook would be perfect for an evening stroll with your friends or a loved one, don't you think?