Hot Plus Size Models To Be Familiar With
There are too many clichés when it comes to fashion. Those stereotypes seem to linger in fashion since the beginning of time. However, this era brings in something entirely different – body positivism. This means that women start to embrace themselves for who they are no matter how they look like. In case you think that natural is always more beautiful than artificially induced – you have come to the right place. Today we are going to talk about the most famous plus size models. Whether you like it or not, those women are perfect, and they do not fall into society's understanding of a body type at the same time. Read on to learn more as well as to get your dose of plus size inspiration!
Ashley Graham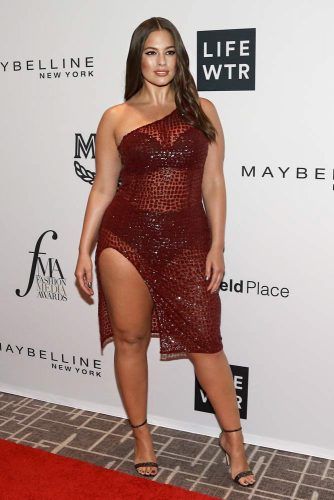 One of the most famous plus size models and one of the most recognizable ones is Ashley Graham. She is a supermodel who became a plus-size model on Sports Illustrated cover. It needs to be mentioned that her success was so great that she was asked for three more covers. Her name is associated with such magazines as Vogue, British Vogue, Cosmopolitan, and many others. She is that woman who decided to change the perception of a perfect woman body and she is quite successful in it.
Source: Debby Wong/Shutterstock via Instagram
Fluvia Lacerda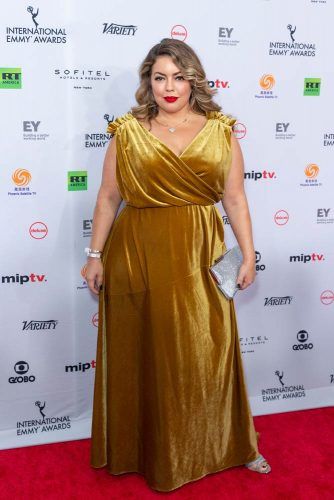 Another known representative of top plus size models is Fluvia Lacerda. This Brazilian lady is not like all the other models, and one look at her will erase the slightest hint of doubt in you. However, despite her curvy and non-standard forms, she became the first plus-size model on the cover of Playboy Brazil. Once she started down that path, she hasn't made a single stop, and she continues to conquer the world of fashion. Truth be told all the representatives of plus size brands simply adore her.
Source: lev radin/Shutterstock via Instagram
Candice Huffine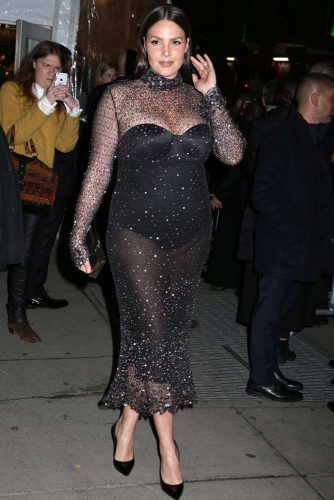 Another place among beautiful plus size model goes to Candice Huffine. The fact is that she has been in the business for over a decade now, this means that she was following her path without it being a trend yet. She was the first plus-size model on the Elle cover, taking into consideration the time – that was more than bold of her, but she loved her body instead of being ashamed of it. She is the one who wants to prove that curvy ladies can also be fit and supports all possible marathons for plus size women. Apart from that, she is the founder of plus size lingerie brand since feminine body deserves to be beautifully decorated no matter the size.
Source: JStone/Shutterstock via Instagram
Iskra Lawrence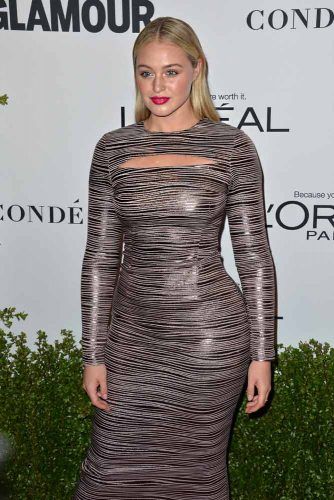 In case you wonder who is the hottest plus size models of all, we dare to assume that would be Iskra Lawrence. Apart from looking over the edge hot, this British model took part in Aerie's unretouched campaign. Starting from then she became Aerie's AerieREAL Role Model. Besides, she is also a brand ambassador for the National Eating Disorder Association. In 2016 she was included in the Top 100 Most Influential Women list.
Source: Featureflash Photo Agency/Shutterstock via Instagram
Hunter Mcgrady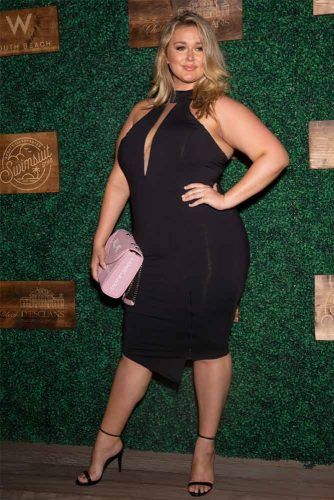 Those of you who think that plus size models are born that way – that is not always true. The thing is that Hunter Mcgrady comes from a modeling family. Her grandmother, mother, and aunt were into modeling, so did Hunter plan. However, starting off as a straight model she comes to the conclusion that being a plus size model is her true calling. So she becomes one, featured in Sports Illustrated's Swimsuit Edition in 2017. After that, she comes up with the idea that plus size women deserve to have a wider range of swimsuits at their disposal too and she launches a curvy swimsuit line.
Source: Ovidiu Hrubaru/Shutterstock via Instagram
Hayley Hasselhoff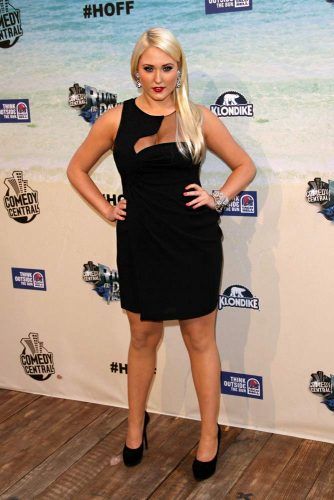 Even though Hayley Hasselhoff is the daughter of famous Baywatch actor and producer David Hasselhoff that hasn't saved her from being bullied for being slightly overweight in school. When she became 14 she decided that she was going to change the perception of female beauty, so she did. She was on the cover of SLiNK, a U.K.-based magazine. Today she is a famous plus-size model in the industry as well as the CEO of her own plus-size collection.
Source: s_bukley/Shutterstock via Instagram
Denise Bidot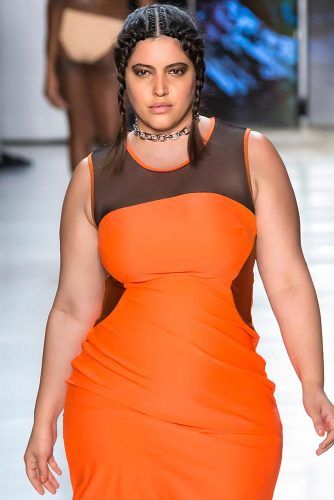 This Puerto Rican-Kuwaiti model who lives in the USA dared to change some crucial standards in the runaway industry. In 2014 she walked in multiple runways at New York Fashion Week. After that, she has done the same all over the USA and Europe.
Source: Ovidiu Hrubaru/Shutterstock via Instagram
Tara Lynn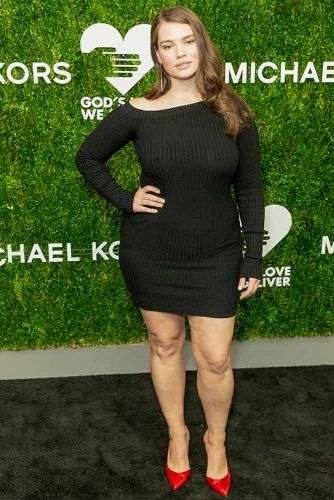 Tara Lynn is one of plus size models who is dedicated to lingerie, can't say we blame her. She took part in Elle and V fashion shoots. It should be mentioned that those shoots were the ones that brought her recognition.
After that, she was on the cover of Time magazine, Elle-Québec, Vogue Italia, Glamour, Lucky Fall Jeans' promotional magazine. She says that her goal is to make women see how beautiful they are despite their body size.
Source: lev radin/Shutterstock via Instagram
Tess Holliday
To begin with, it needs to be mentioned that Tess Holiday is the first plus-size model signed for a major modeling agency. She has been modeling since 2010, and in 2013 she started her own beauty positivity movement. After that, she wrote a book 'The Not So Subtle Art of Being a Fat Girl: Loving the Skin Your In'. Tess is a happy mother of two, and she does not stop to remind women of all sizes that being a mother does not mean being fat or skinny. Plus size mothers are just the same mothers as all the fitter women are.
Source: Kathy Hutchins/Shutterstock via Instagram
Precious Lee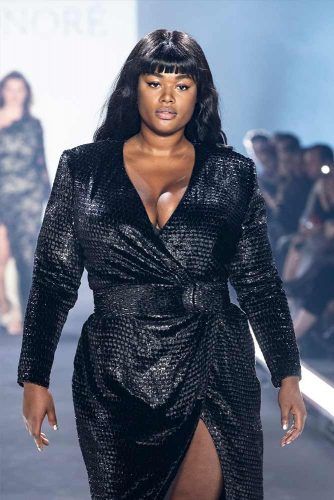 Unlike all the other models, Precious Lee is the first black skin plus size model. This means that she had to fight against two stereotypes instead of one. However, Precious Lee is a tough lady and she managed to win over all the related clichés.
She is the first black skin plus-size model to appear on the pages of Sports Illustrated and American Vogue. Her example proves that you do not need to stick up to every society stereotype but make your own rules.
Source: lev radin/Shutterstock via Instagram
Plus size models are not as famous as their straight sized colleagues. That is why we decided that it is time to change that. These women deserve not only attention but also an appreciation for their strong will and courage. Follow their example and learn to accept yourself for who you are instead of for what society wants you to be!
FAQ: Plus Size Models
What size is considered plus size?
The fashion industry dictates that plus size clothing starts from size 14 to size 26 and above. Sometimes you can see sizes 1X-6X and extended size as 7X and up.
What size is considered curvy?
Identifying curvy deals more with a proportion rather than size. A woman is considered curvy if her waist size measures 27 inches or less and a hip size measures 36 inches. A hip size of 46 inches and a waist size of 34.5 inches or less is also considered curvy.
Was this article helpful?