There is barely a person who does not enjoy a slice or two of good pizza on a particular occasion. That is why a great pizza party is never a waste to celebrate any event. You can throw such a party when your birthday, anniversary, graduation, or anything you see fit for a family and friends celebration takes place. However, it is not enough to just order a pizza for everyone if you wish your party to be remembered. We are going to guide you in the right direction towards hosting a party that is going to be hard to forget!
What Is The Pizza Party?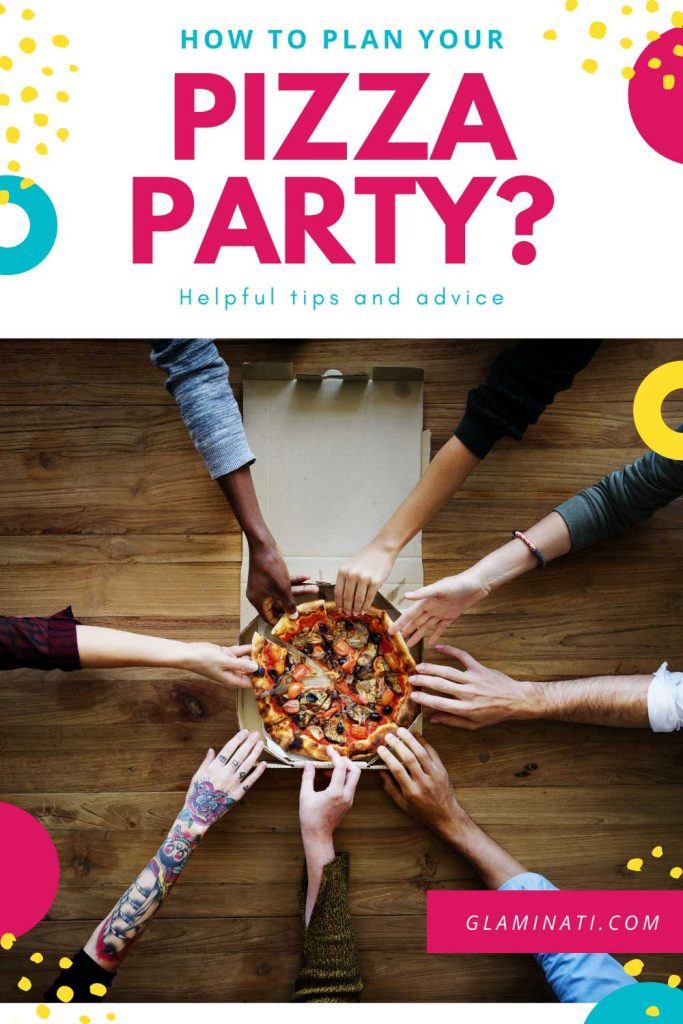 Just before we proceed with awesome pizza party ideas, you need to be aware of what the notion stands for. As a matter of fact, it is all pretty simple. They define a pizza party as a social gathering regardless of the occasion. It goes without saying that the main food at such a party is pizza. On the one hand, it is quite convenient since you can leave it to the professional pizza-makers to do their job while you take care of other things related to the festivity. On the other, no one said that you couldn't try your own pizza making skills and surprise your guests. What is more, you can always serve the pizza base and offer those who are invited to create their custom-made pizzas. The options are limitless, you can trust us on that!
Picking The Right Location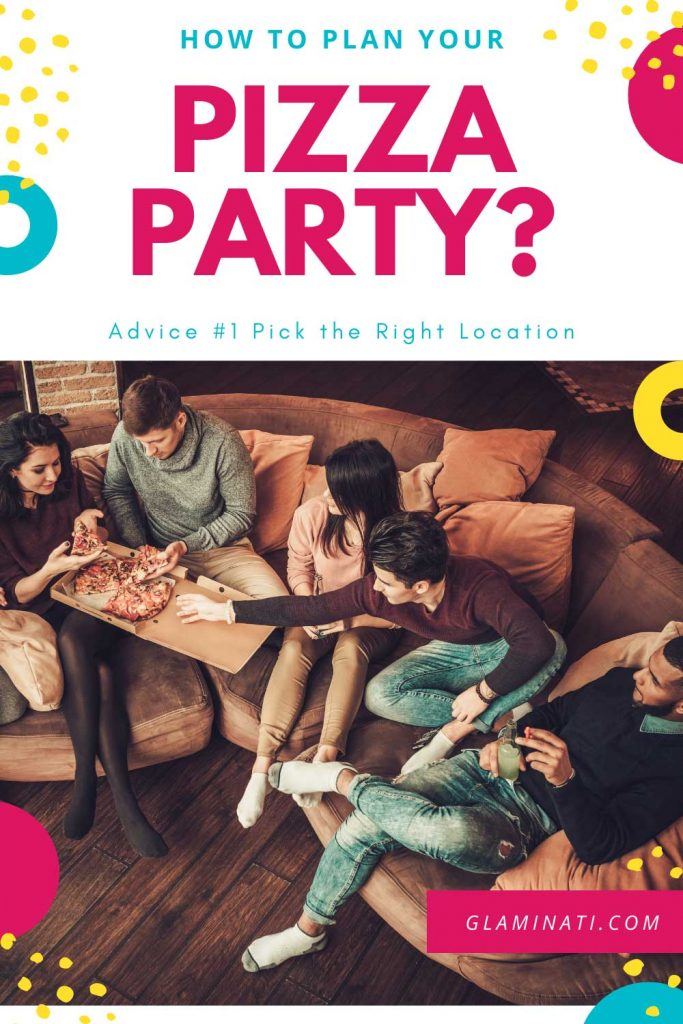 When you decide to make your own pizza party, there are many details to consider. Of course, it all depends upon the occasion that you are willing to celebrate, but where you are going to celebrate, it matters too. For instance, if it is your birthday that you are going to celebrate, then a location with many other activities would be a wise option. However, if it is the 4th of July celebration, then your backyard fits perfectly. It goes without saying that if you are gathering to watch a game or a movie, the big screen and lots of sitting room is required.
A word of advice would be to consider who your guests are going to be. If it is a kid's party and your house has just been renovated, throwing a party at home wouldn't be the wisest option.
Choosing The Time For Your Pizza Party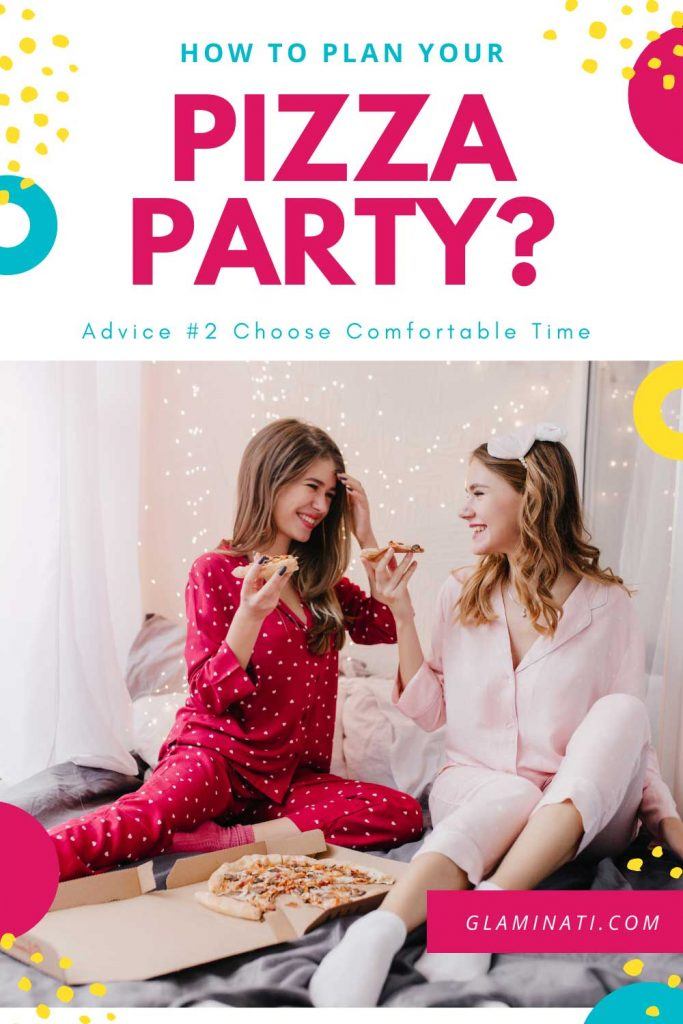 When you are set on the location, it is time to think about when you are going to host that party. As a matter of fact, you can enjoy some delicious pizza at any time of the day. However, if it is a party for kids, then earlier in the day would be a good time, while adults will always appreciate a late-night pizza. Also, when you are having a party you need to be sure that all of your guests will be able to attend the gathering, so the weekend is the best time for a party in our opinion.
How Many Slices Does A Party Pizza Have? - Order Enough Food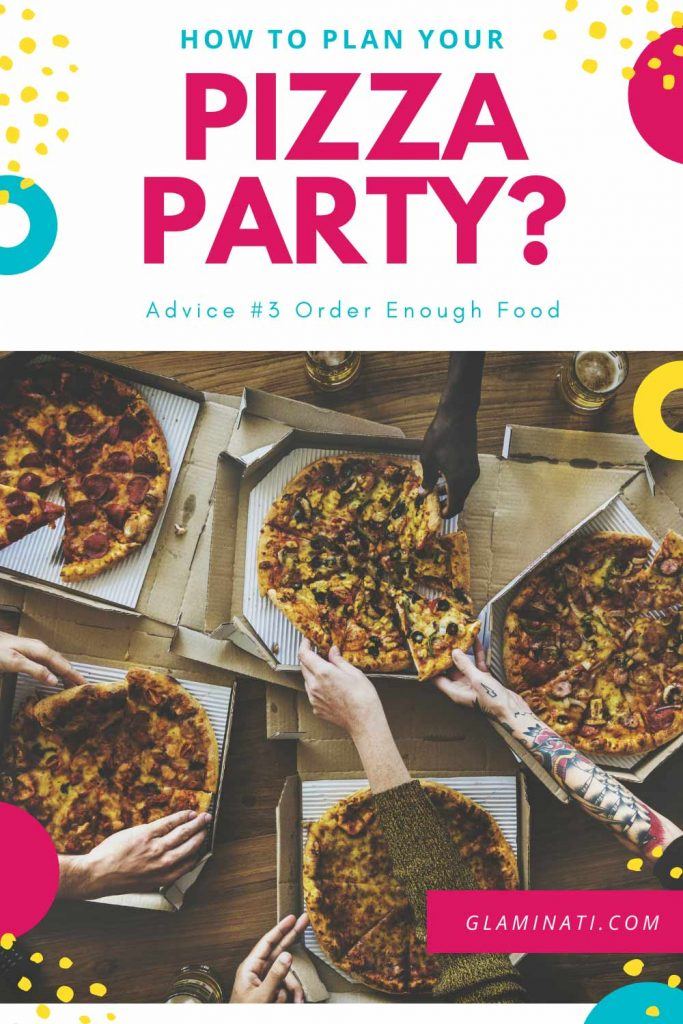 Whether you're planning a luau party with awesome Hawaiian drinks and decorations or you and your girls are throwing a sleepover, the food is key to making it perfect. There is nothing worse than to plan the best pizza party menu only to figure out that there is not enough pizza for all. What is more, there is another side to the coin – you can turn out to be with too many leftovers at hand. How would you come up with something in-between so that there is enough tasty pizza for all and there is almost nothing to bring back home? To tell the truth, there is no golden rule, but there is something that we can help you with. The statistics say that an average adult eats three slices of pizza while a kid eats only too. This is how you can calculate approximately how many pizzas you need.
Of course, you will say that the pizza sizes differ. That is true, a small one usually has 6 slices, while the medium gets to 8, large – 10 slices, and extra-large has 12 slices. Now, you can do simple math and count how many pizzas your celebration will require.
Choose The Best Pizzas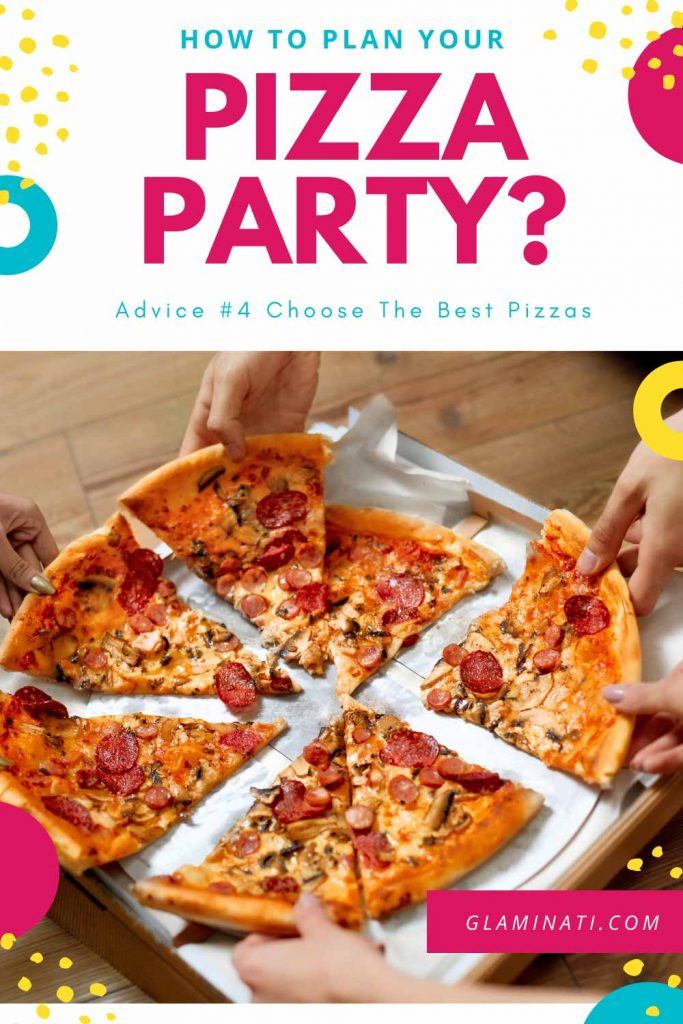 We know that your pizza party menus are no less responsible tasks than the ones described. That is why we are going to share a list of tips with you that may help you succeed in choosing the best menu ever.
First of all, opt for cheese pizzas. There is hardly anyone that does not enjoy a plain cheese pizza.
Go simple on the toppings, not all the people are equally fond of olives and anchovies, keep that in mind.
Do not leave deep dish and thin crust issues out. While some guests may prefer the latter, others will enjoy the former.
You should not forget that some guests may be vegan, gluten-intolerant, allergic to lactose, etc. So, you need to figure these peculiarities in advance and provide pizzas for all.
Lastly, it is always best to ask every guest about his or her favorite pizza and just provide those.
Other Food Items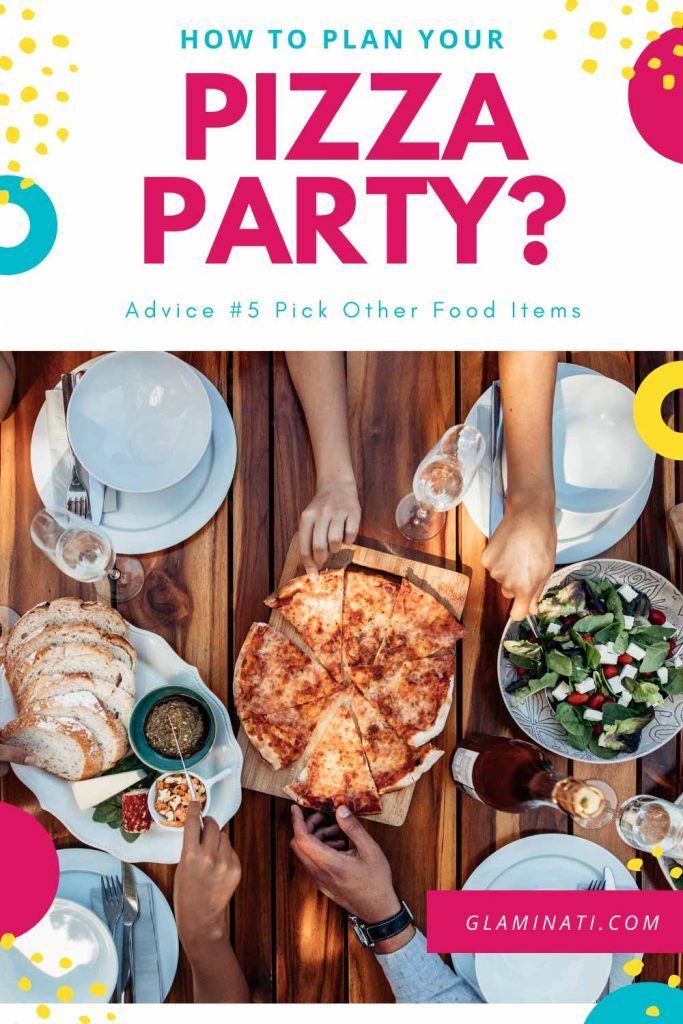 Just before we proceed with party supplies, there is one more thing to consider when it comes to the party menu. The fact is that even though it is a pizza party, there is a great chance that your guest will not say no to something other than that. This is when you need to think about side dishes as well. we say that these side dishes go best with pizza parties:
Garlic bread
Hot wings
Meatballs
Salads
Pasta dishes
Subs and sandwiches
Chips
Lastly, it may seem enough, but we think that a light dessert is an option to brood on too.
What Goes With Pizza For A Party? - Utensils And Other Supplies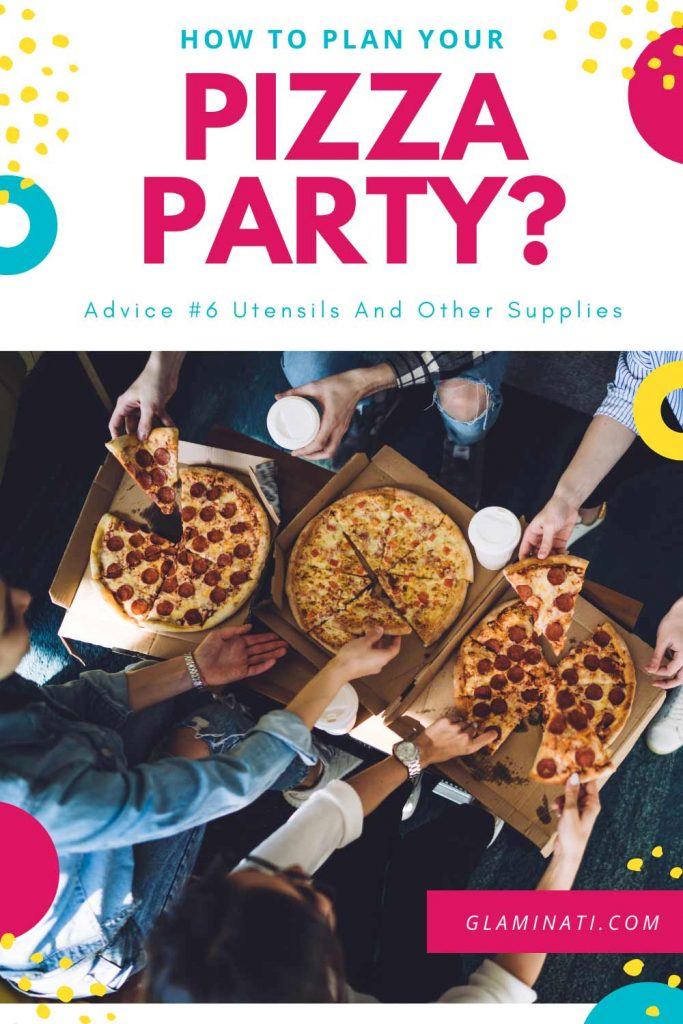 If you think that choosing the right location, date, and menu is enough for your party, then you are missing one thing out - pizza party supplies. There is a list of necessary things to include into your shopping list. These would be:
Knives and forks
Wet wipes and tissues
Plates and cups
Spoons for salad dressings
Spoons for pasta
Tongs for salad
It is essential that you get some extra supplies, too, since you never know who will drop a fork or a knife and how many times that can happen.
Don't Forget The Drinks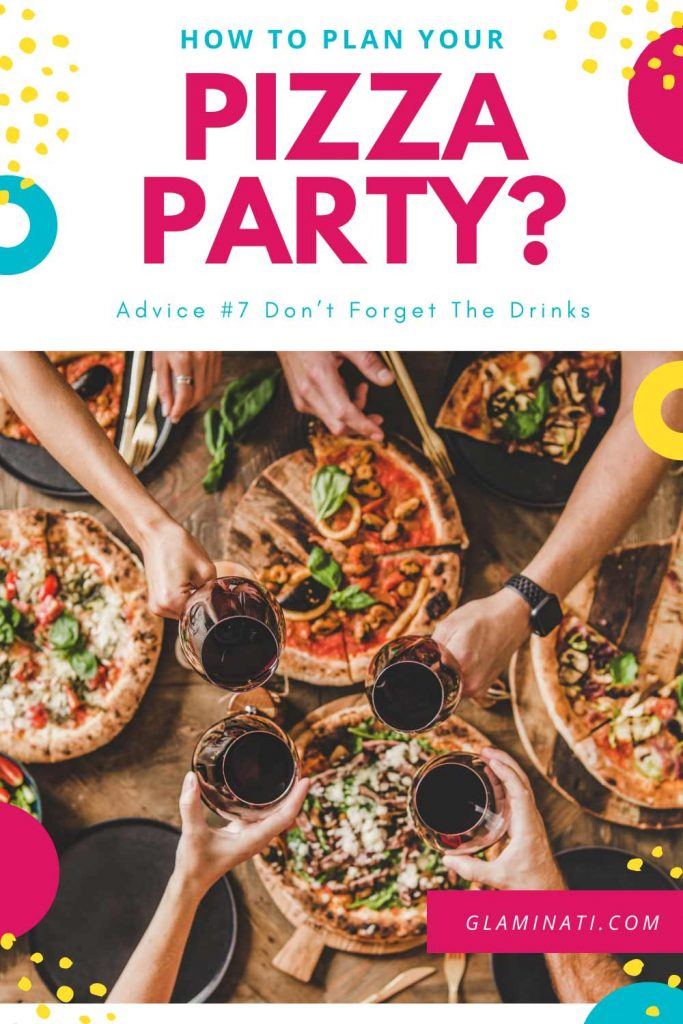 It is very easy to forget about the beverages when planning your pizza party. However, those are essential too. When it comes to choosing the beverage for your party, it is best to offer a variety of those. You can provide soda, water, and lemonade while the guests can bring some beverages they prefer to enjoy on their own.
Pizza Party Decorating Ideas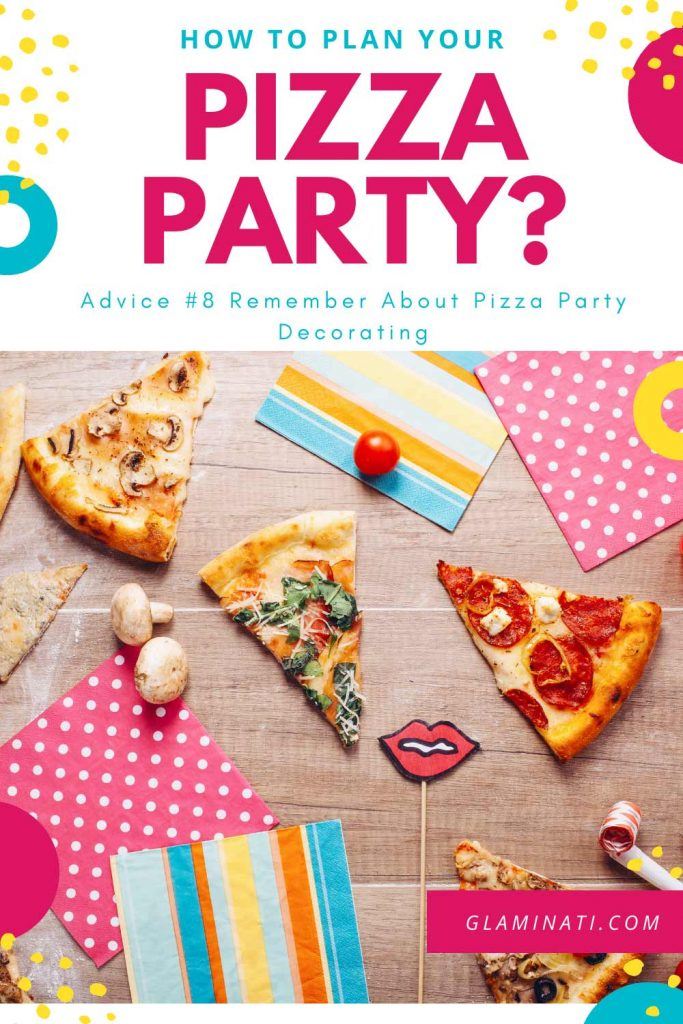 When it comes to pizza party decorations, you can get as experimental as you want, playing around with different TV or college party themes. It is you who is throwing a party so that you are the one who comes up with a theme. It can be something overly simple, or it can be all too complex with banners, balloons, and whatnot. However, if you set a specific theme and you are ready for a dress code, you need to make sure that all the invited guests are aware of it. Besides, if some fun activities are going to take place during the party, they should correspond to the theme too.
Pizza Party Invitations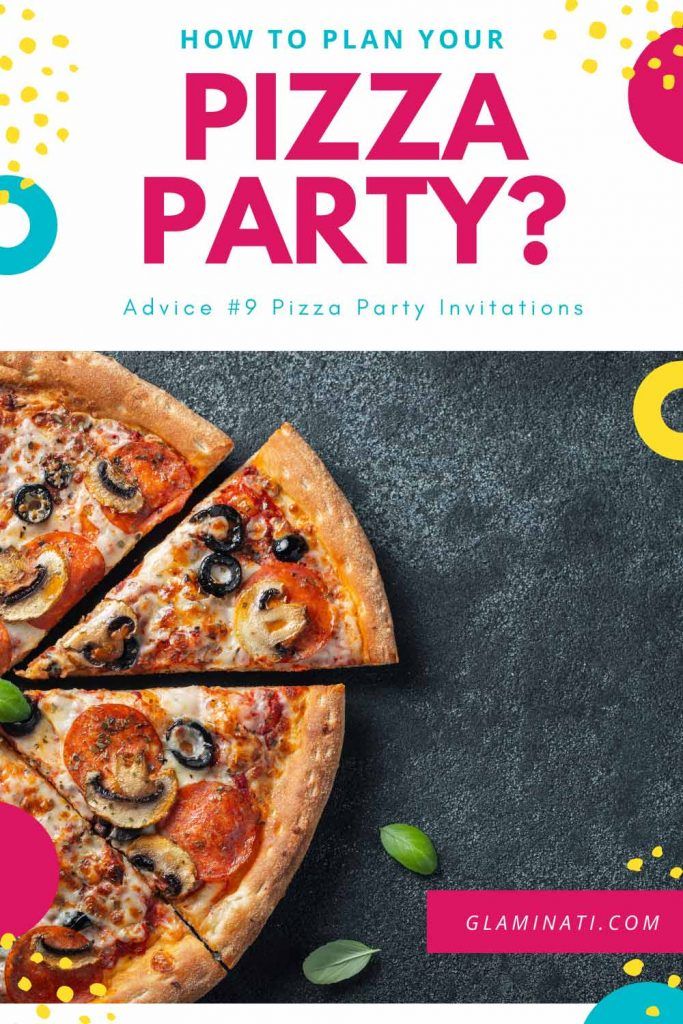 When your house party plan is ready, it is time to invite your guests. The truth is that you can get as creative with your initiations as you like. If there is a theme, style the invitations according to it. You can send the invitation the regular way, or you can use social media and email for that – the choice is yours. However, there is a list of things that should not be left out at no cost:
Time and date
Location
Dress code
Things to bring
Reservation information, if someone is not able to make it, it is best to ask them to warn you in advance.
Food preferences
Allergies if any
Pizza Party Game Ideas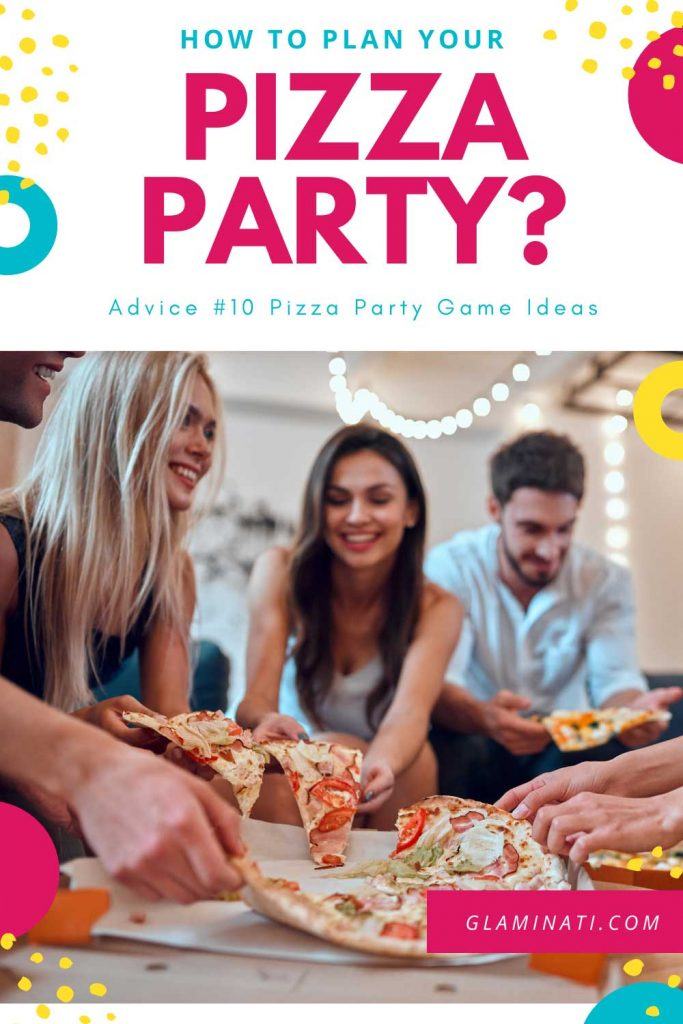 There is not a single chance that when there is a party, you are going just to sit there and eat. After you are full of pizza, it is time to embrace some fun activities.
Make your apron
When you are waiting for the pizza to arrive, and there is not much to do, try to design your apron. All that is needed is a plain fabric that is the cheapest and a set of markers or paints, glitter, stencils, etc. While you are busy with creating your apron piece of art, you won't notice how the time flows and how fast the pizza arrives.
Create dessert pizzas
There are plenty of simple dessert pizza recipes to be found online. If you know that the main course is not the only one, involve your guests in dessert making as well.
Pizza Box Puzzle
You can make some teams that compete against each other, trying to finish the puzzle first. All you need to do it to take the top of a pizza box and cut it into small pieces.
In fact, the list of games and activities that you can anticipate in is unlimited. All you need is your creative imagination!
Have you ever dreamed about hosting a pizza party? We are going to help you make your dreams come true! With such a precise plan, your party will never go sideways!
FAQ: Pizza Party
How do you entertain your guests at a pizza party?
You can set a make-your-own-pizza station. For this you are going to need a six-and-a-half-ounce ball of raw pizza dough, 10-inch perforated pizza pans, set out various ingredients out on the table and let people assemble as they wish.
When placing the pizza dough down onto the plate just rub a little bit of olive oil down on the plate first, stretch out your dough and add toppings.
When you are done, preheat your oven 450 degrees and bake for 12-15 minutes until the cheese melts and your dough comes up a little bit.
How do I host a zoom pizza party?
Get pizza, join a zoom conference call where all your friends are. You can change your Zoom background to a pizzeria setup to create an atmosphere. There are several apps that allow you to sync-watch movies with others from a distance. You can play a game all together like Cards Against Humanity or UNO.
REFERENCES:
* Since pizzas can include a very wide variety of toppings, one particular type of pizza party allows the party-goers to create their own custom-made pizza, using a selection of ingredients from among the toppings provided by the party's host.
Source.
* Pizza is a savory dish of Italian origin, consisting of a usually round, flattened base of leavened wheat-based dough topped with tomatoes, cheese, and often various other ingredients (anchovies, olives, meat, etc.) baked at a high temperature, traditionally in a wood-fired oven.
Source.
Was this article helpful?