Summer is the time of parties and holidays, and luau party couldn't fit the season more. In case you do not know, the other name for luau party is Hawaiian one. You can suit it to any occasion that takes place in your backyard and not only. Be it a birthday or a pool party, a wedding or a cookout – luaus are what you should at least consider. That is why we have gathered here all the best themes, decorations, food, and drinks for you to give a thought to. Let your summer or winter be exotic, bright, and entertaining!
Luau Party Themes
Luau Kids Party Theme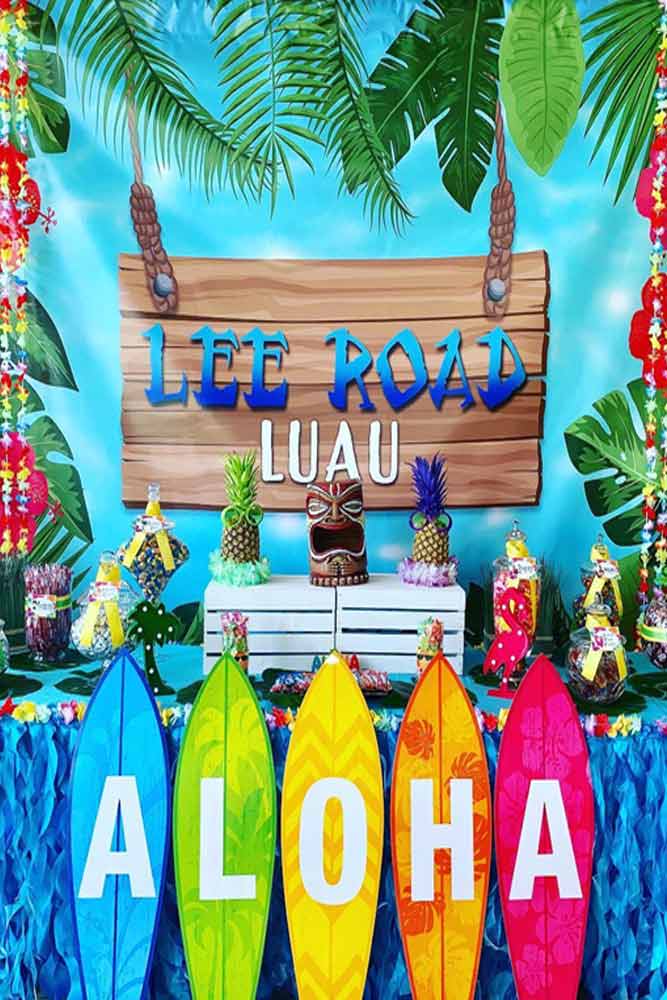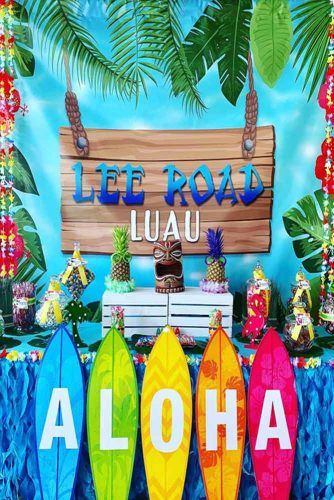 Among all the luau party ideas you can choose those that fit in kids party best. Make sure that you involve all the bright elements and do not forget about the matching banners and garlands. Besides, a traditional Aloha sign is a must too. Pineapples and other tropical fruit will make the best food for the kids to enjoy.
Source: joannscreativecreations via Instagram
Pink Luau Party Theme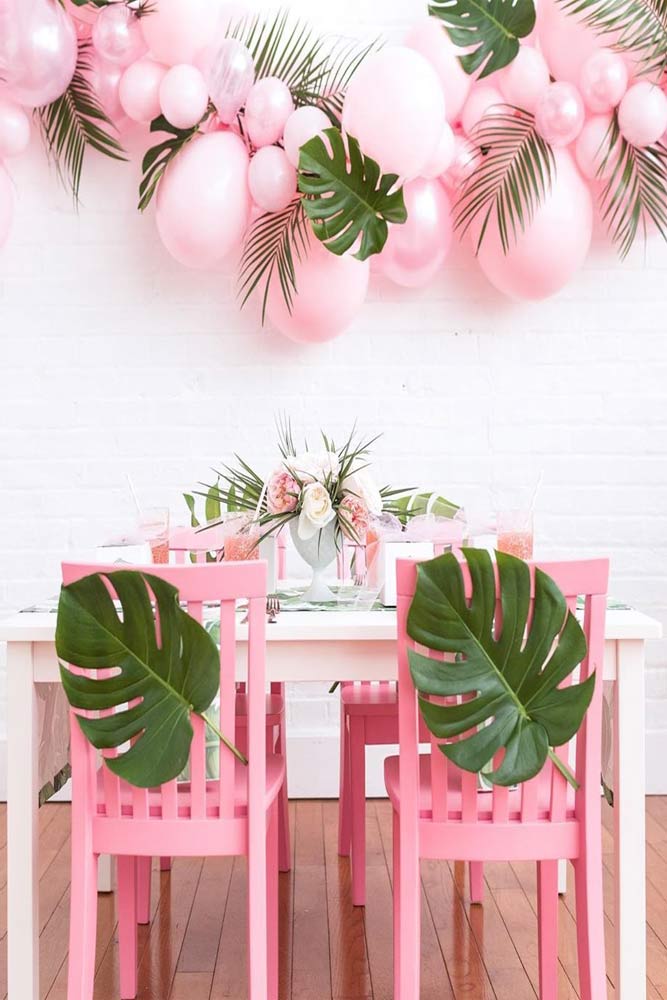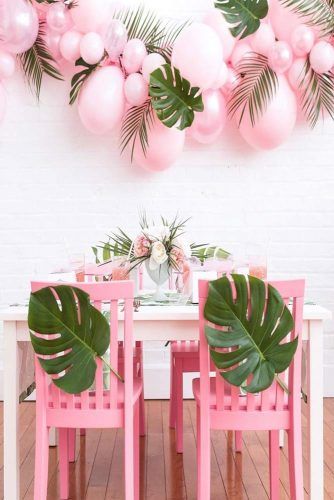 When over the edge Hawaiian luau party is not your cup of tea, you can get a little experimental. Use the balloons and palm tree leaves to decorate the area. However, it is best if the balloons match the other interior. So, if your chairs are pink, it is best if the balloons are of the same shade. You can also play around with the shape of the balloons to succeed with one of a kind décor ideas for your tropical party.
Source: onestylishparty via Instagram
Tiki Theme Decorations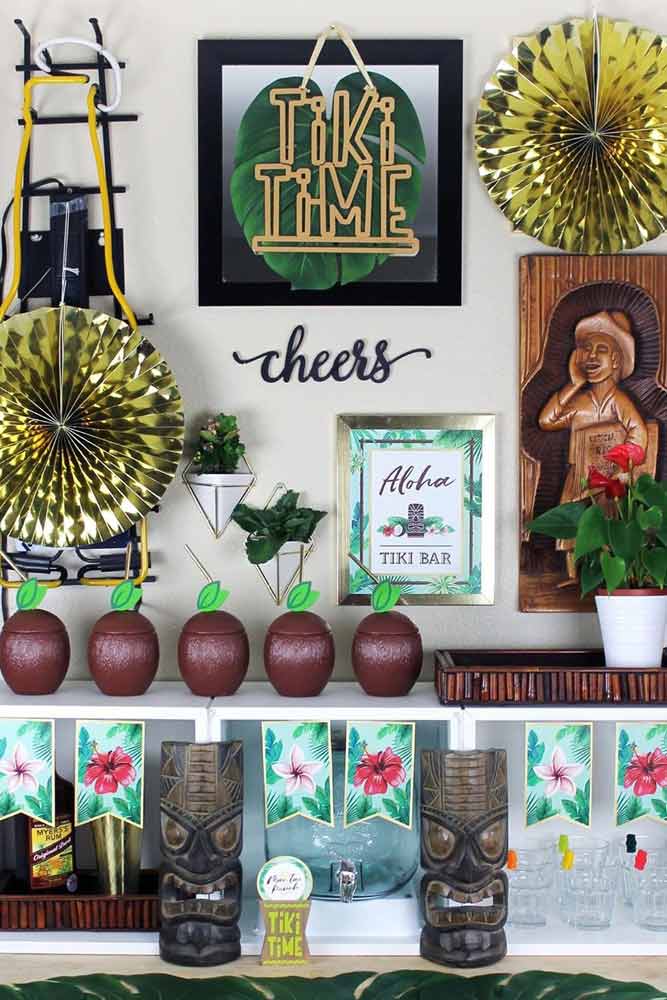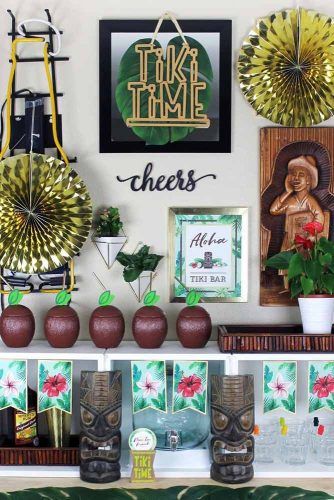 No luau party can go without a Tiki bar. That is why it is so important that your luau party decorations involve some tiki vibe. You can easily succeed with the vibe by adding exotic-looking drinks and decorations to your Tiki Bar. Corresponding signs, old-fashioned masks, and drinks served in a coconut shell may be exactly what you need.
Source: pixelsandpop via Instagram
Table Decor Ideas
Table Setting Décor With Aloha Accent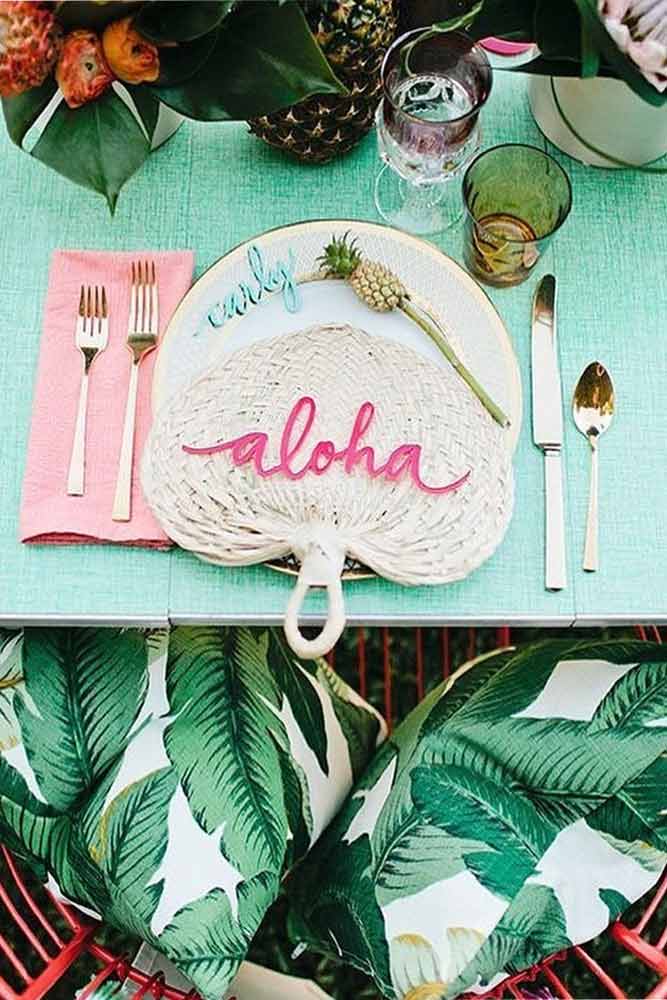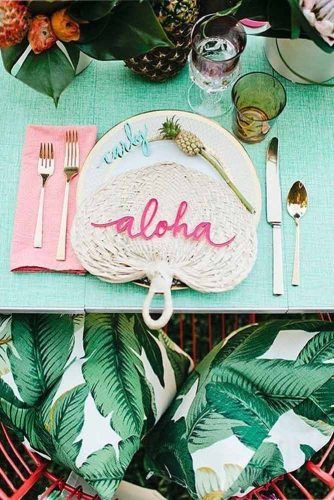 When it comes to most Hawaiian luau party ideas, the primary accent is always left to the table serving. That is why if you host luau party you can't leave the fact out. Add lots of pineapples to the table, smaller and bigger ones. Also, napkins with the Aloha sign would fit in the party perfectly.
Source: 100_layercake via Instagram
Palm Tree Pattern With Tropical Table Decor
If pineapples are not enough to come with the ideal luau themed party, it is time to bring heavy artillery in. What we have in mind are palm trees and palm tree leaves. If you can invest some more into your party, you can easily purchase palm tree leaf decorated plates. What is more, you can also place some real palm tree leaves underneath the plates to add that extra tropical touch to the table décor.
Source: pizzazzerie via Instagram
Tropical Flowers Table Decor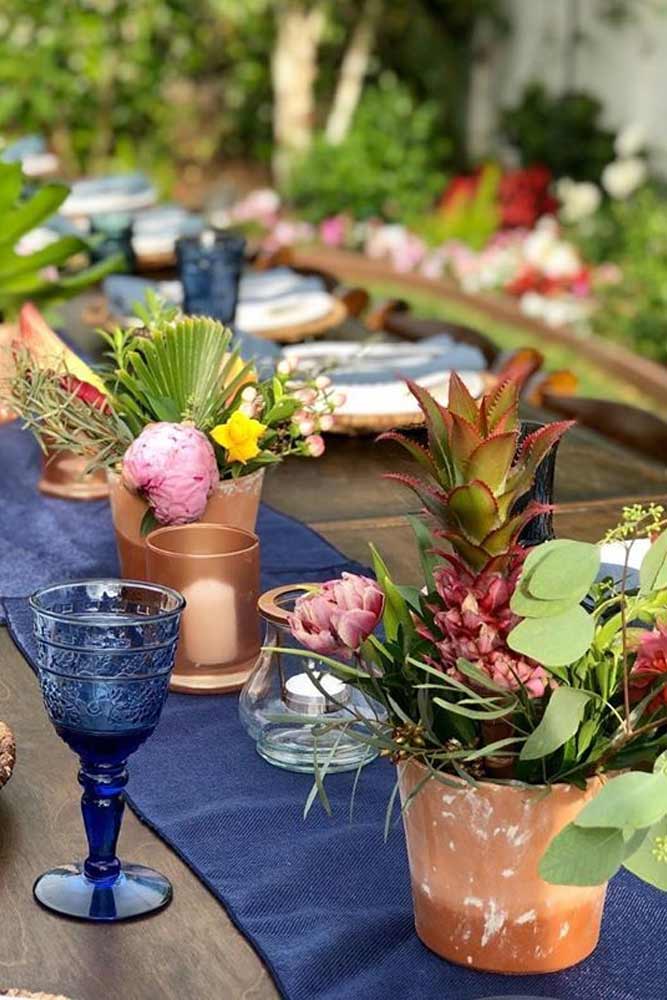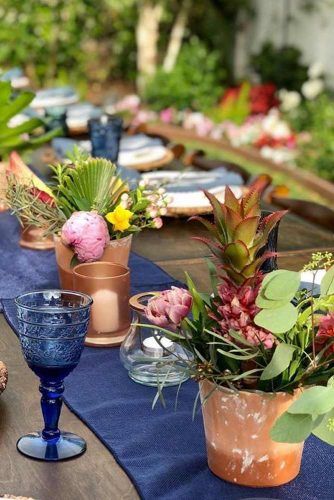 There are times when you come up with your Hawaiian party out of nowhere, and there is not that much time to devote to proper decoration. This is when you can improvise. Set the regular table, use your favorite plates and glasses but fill in the table with vases full of tropical or related flowers. We are sure that such a table decoration will be not only fitting but also gorgeous-looking.
Source: joannscreativecreations via Instagram
Drinks Holder Design For Luau Party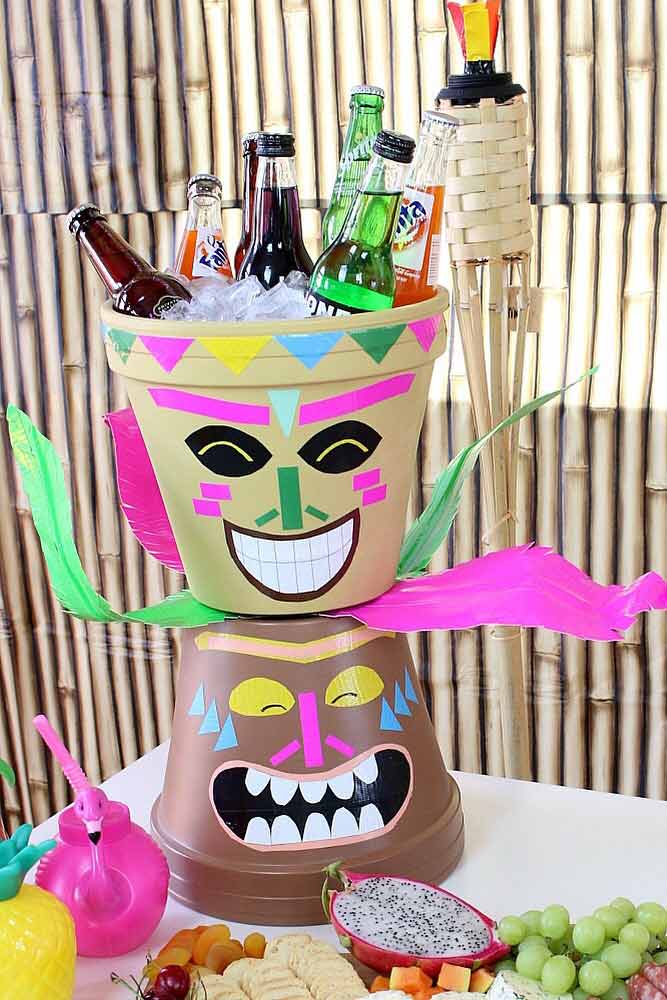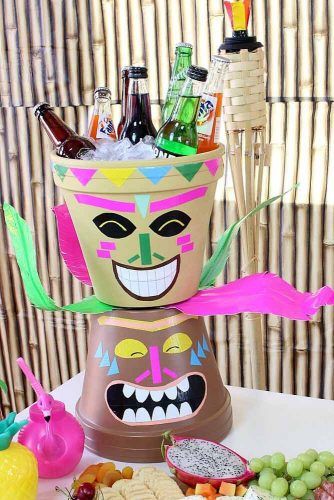 Let's not forget about the fact that all the drinks at your luau party should be cool if not cold. That is why you need suitable drink holders filled out with ice. If you do not have a proper holder, you can easily create one. All you need are two flower pots decorated according to the party theme. As simple as that.
Source: hoosierhomemade via Instagram
Hawaiian Jars Design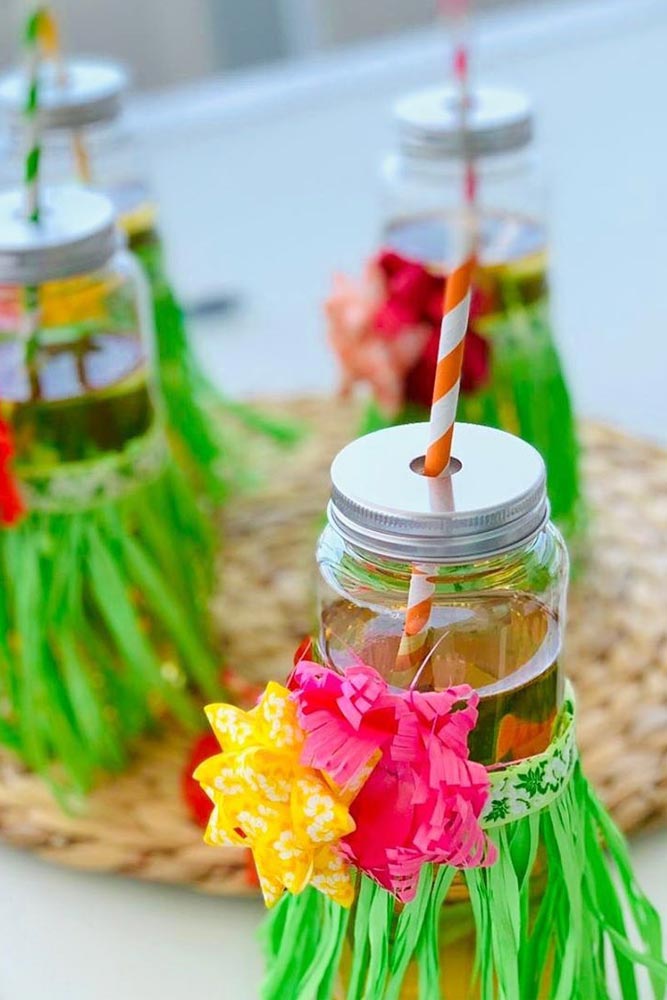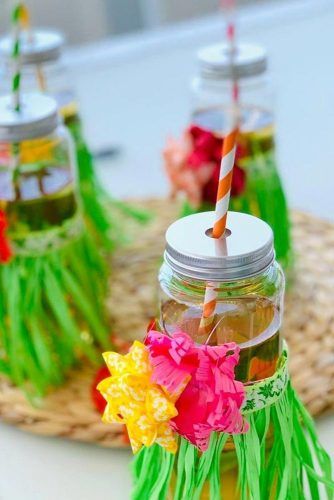 Another appropriate drink holder can be created with the help of a mere mason jar dressed into hula skirt. It is not going to take you long to dress the jars up, but the effect will surely be worth it. What feels as good as a trip to Hawaii? The trip to your backyard decorated like the exotic island with a chilling drink in your hand.
Source: officina_creativa_25 via Instagram
Tropical Centerpiece Idea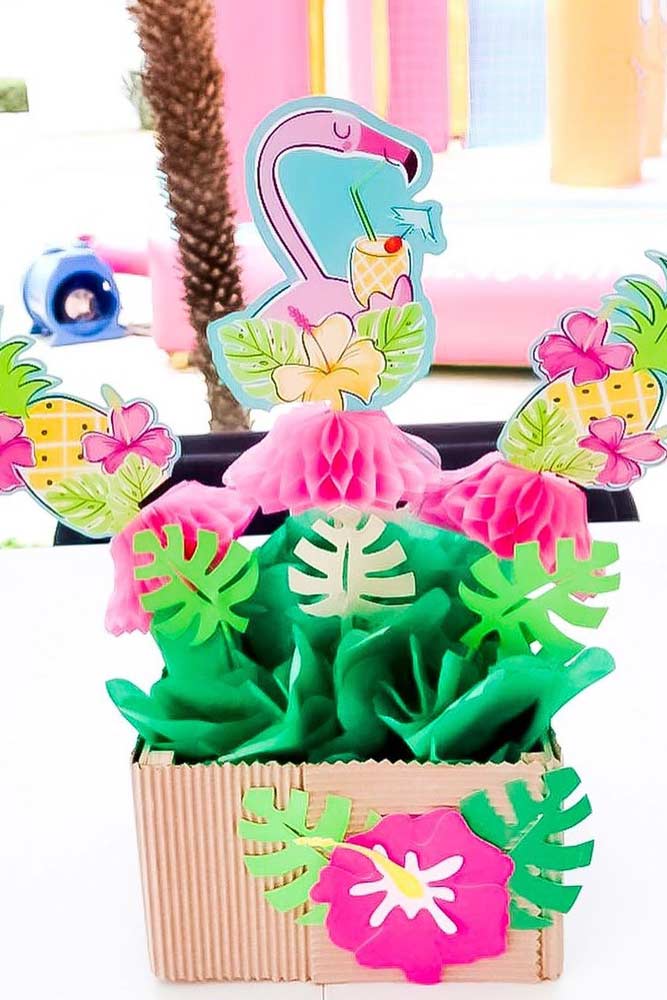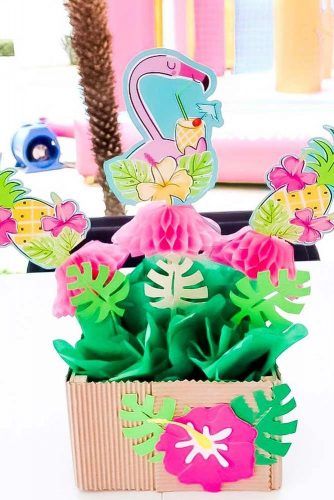 When you plan any party, you need to consider all the details, and the luau party is not the exception. That is why when you are thinking about the table décor, you need to consider a centerpiece in the first place. Even though the centerpiece is extremely important, you can easily create one on your own. If you do not trust us, just have a closer look at the ideas presented here!
Source: tuttipartyrivieramaya via Instagram
Luau Party Food Ideas
Luau Cookies Ideas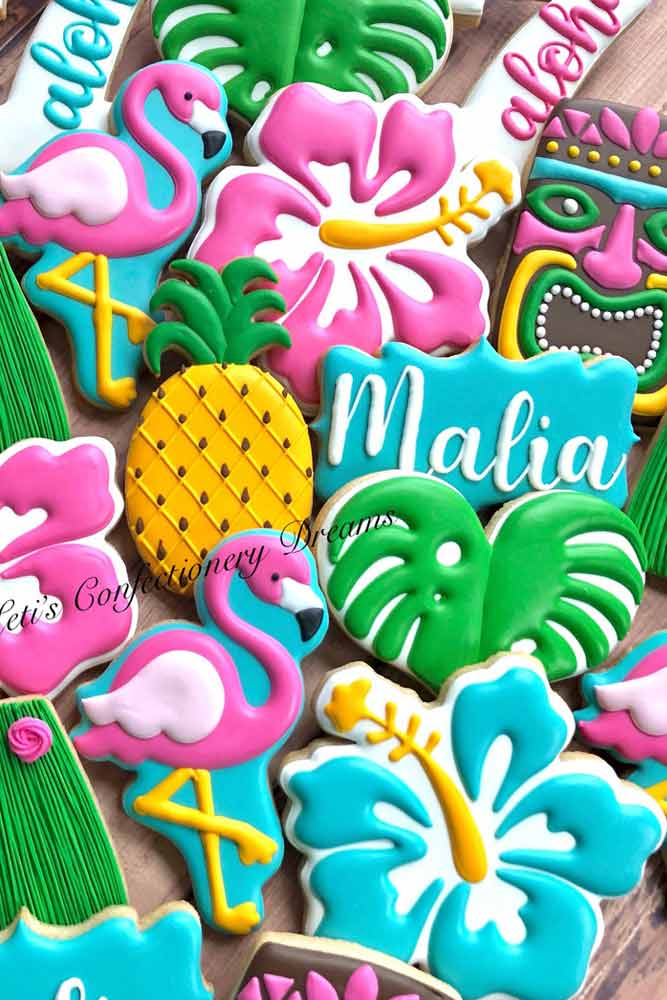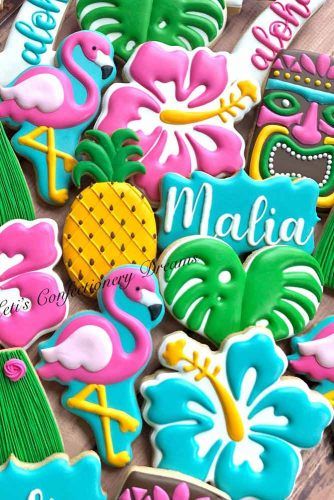 There are no limits when it comes to luau party supplies. Anything you consider fitting – fits. However, if you want everything to be perfect and according to the rules, you need to spend some extra on the food. Surely, such thematic cookies will cost you a little extra, but your guests will be in complete awe. Some may even say that it is a blasphemy to eat something as flawless and beautiful as these cookies.
Source: letisconfectionerydreams via Instagram
Pineapple Donuts Idea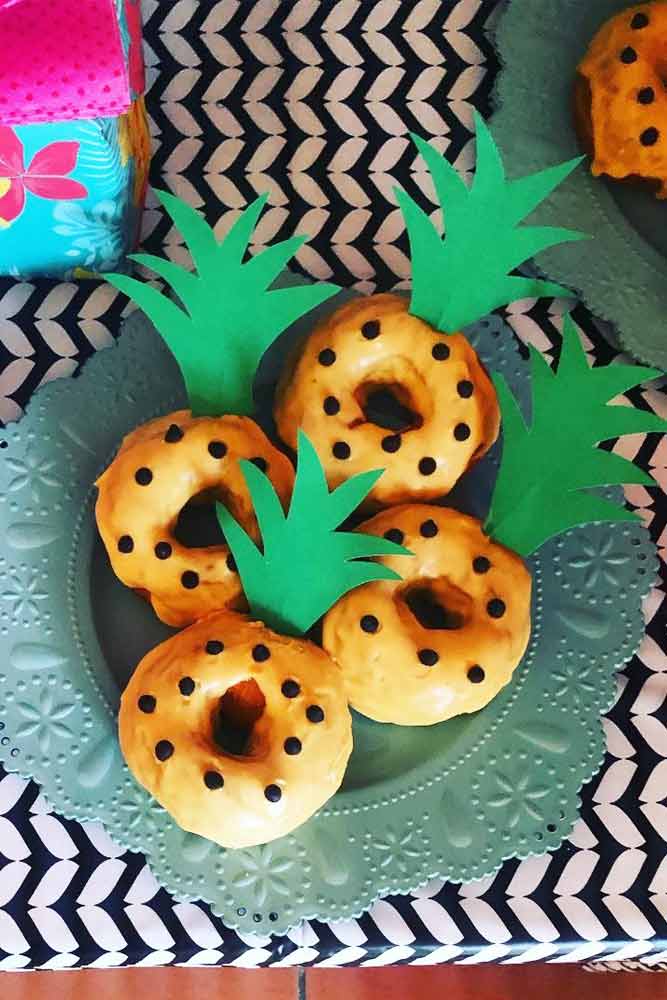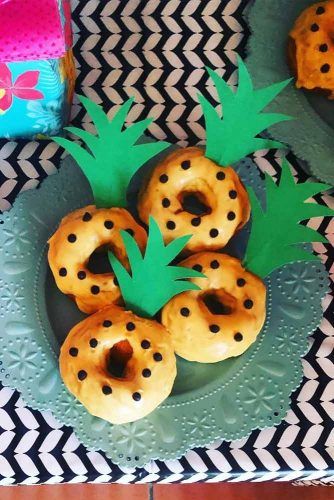 Whether you like it or not but in most cases all the luau party food is about pineapples. You may not need to involve real pineapples, but you can clearly introduce some pineapple doughnuts in. Or you can combine fresh pineapples with doughnuts and make your friends drool!
Source: caroalberts via Instagram
Luau Cake Idea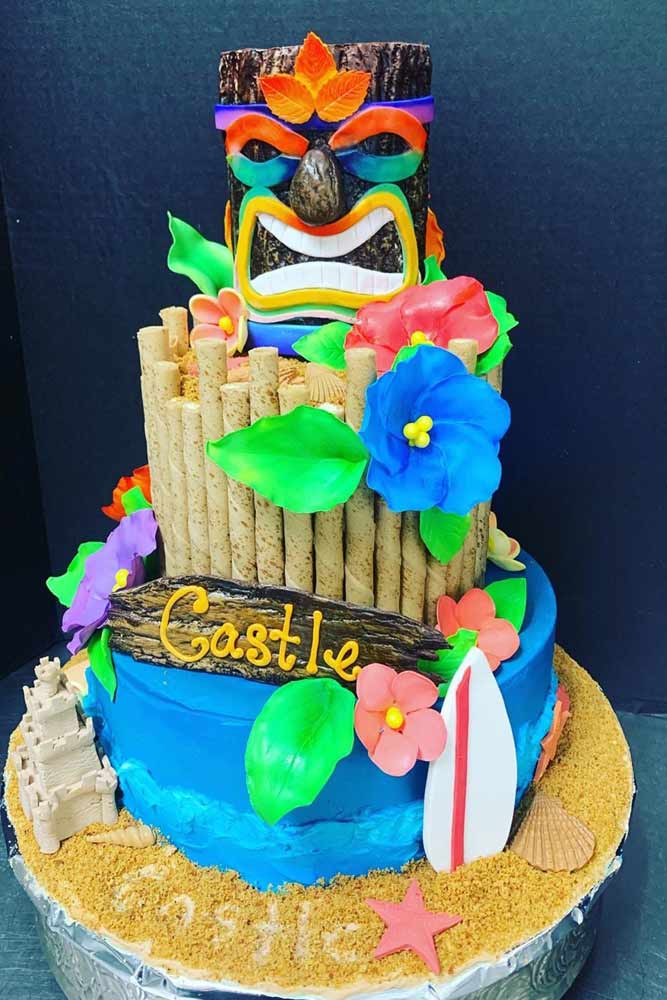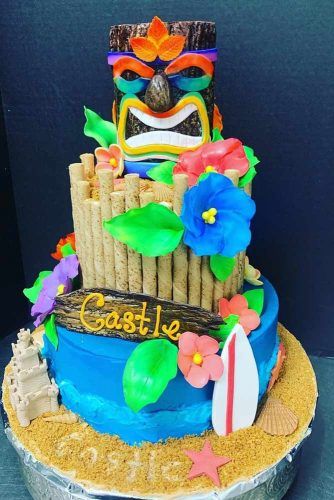 There are times when you throw a party, and you want everything to be super perfect. In times like this, you may need a cake idea to help you succeed with the intention. Nothing speaks louder than a hand-made cake. If you like the idea and you are sure that your cooking skills are that fancy, use this cake idea to your advantage.
Source: exclusivecakeshop via Instagram
Tropical Party Decorations
Balloon Frame Decoration For Luau Party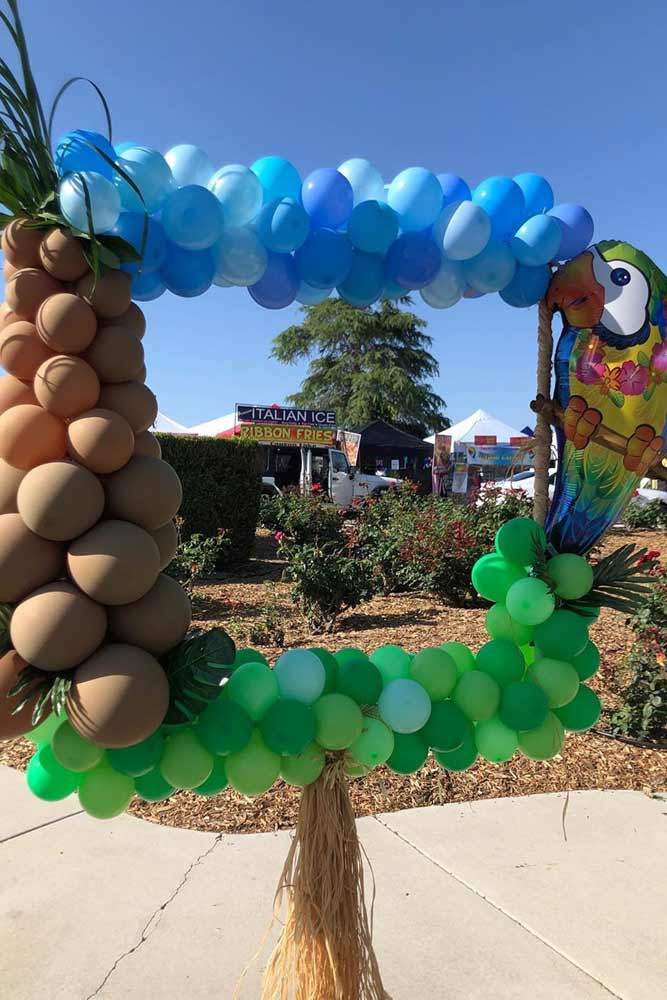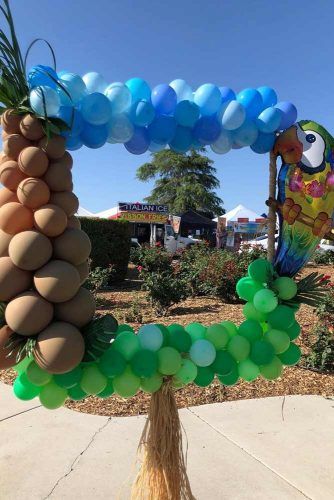 Among all the party decorations that fit the luau party, balloons are in the first place. It does not take a genius to create such a colorful and thematic frame. The frame can serve both as a general decorative element as well as a photo area. Win-win option!
Source: balloonzandtunes via Instagram
Luau Piñata Idea For Hawaiian Party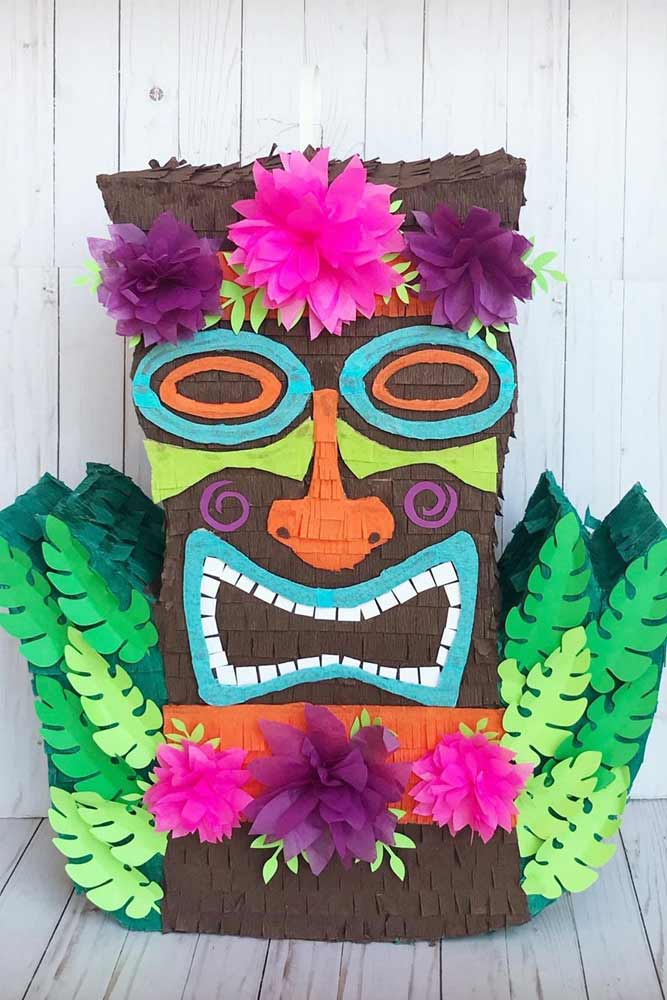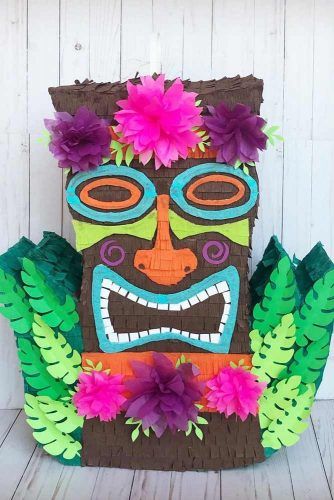 If you are seeking for some fun and entertaining luau party ideas decorations – we have a perfect one in mind. The thing is that not only kids are in love with piñatas, but adults also. Add one to your party and the holiday mood will surely increase.
Source: valleysweetspinataco via Instagram
Tropical Photo Booth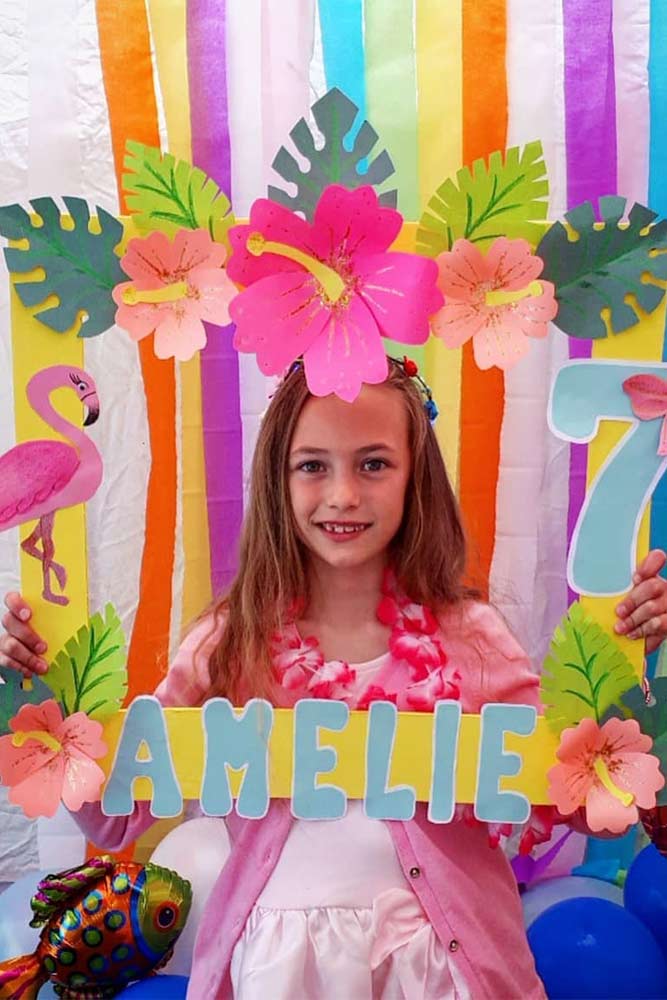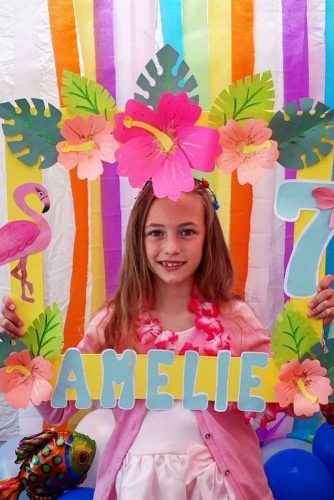 In case you plan to combine the birthday party and a luau party in one, then you need a photo booth that is for sure. Birthdays are the occasions to remember no matter whether you are a kid or a grown up. Add a colorful and tropical photo frame to the list because you are going to need it as the party moves on, you can trust us on that!
Source: greta_smartie via Instagram
What To Wear For Hawaiian Party
Tropical Shirt For Luau Party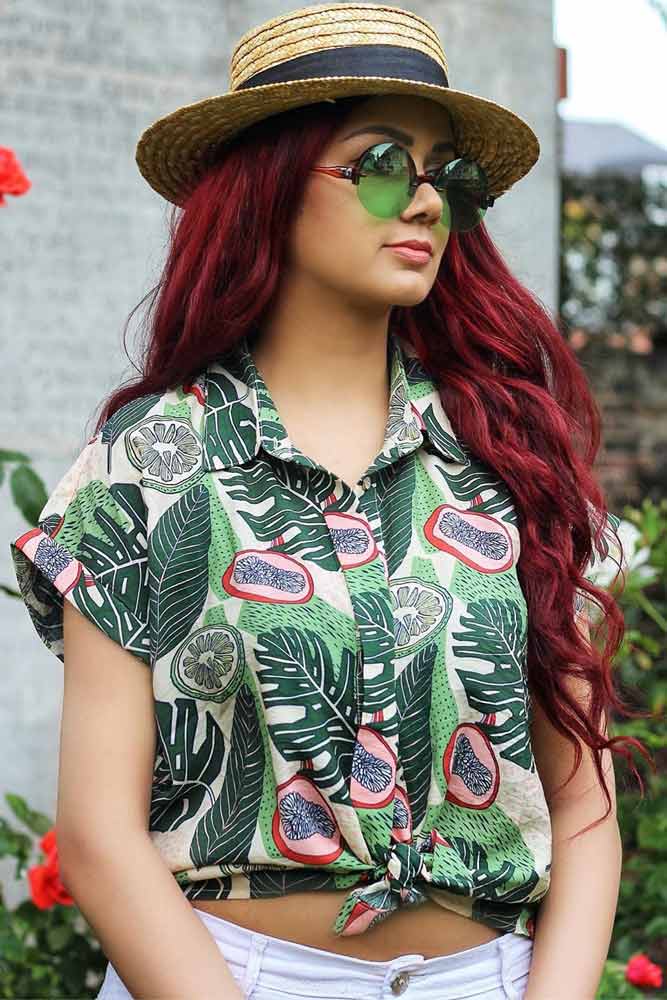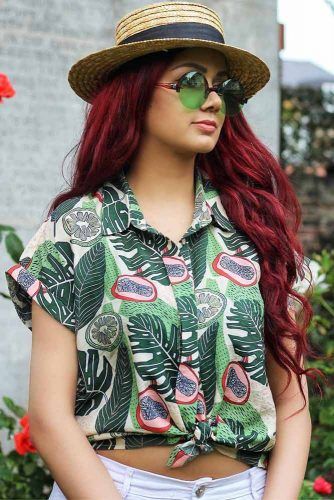 Very often, the question arises - what to wear to a luau party? We have it covered for you too! Of course, a tropical shirt is number one on the list. You can sport it on other occasions as well, besides you can easily add it to almost any outfit. A pair of jeans or shorts, a skirt or over a summer dress, all possible. Think about it!
Source: stylegrimoires via Instagram
Hula Skirt With Flower Leis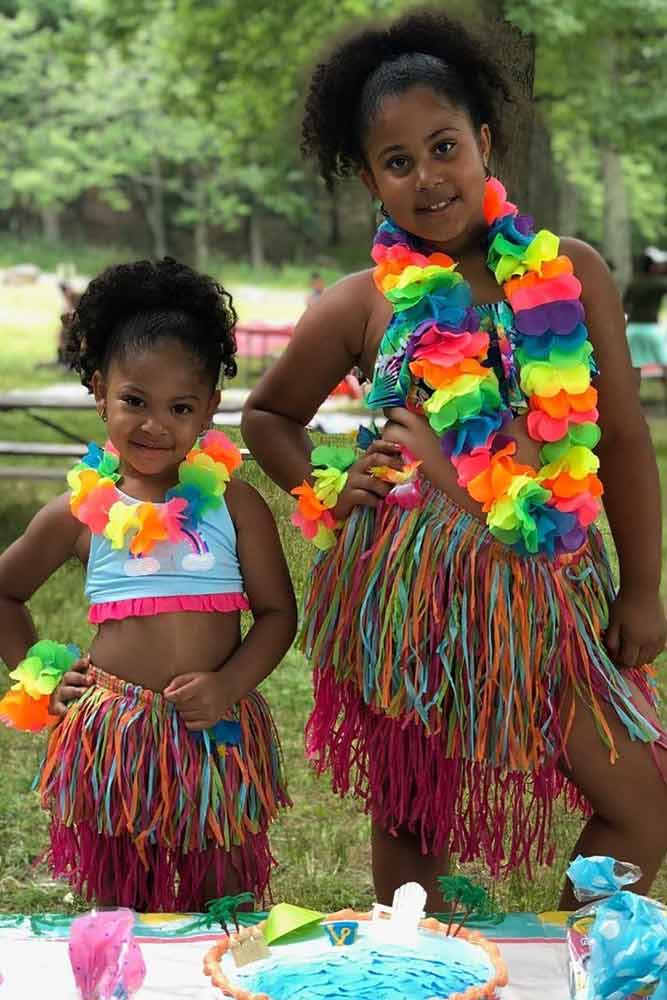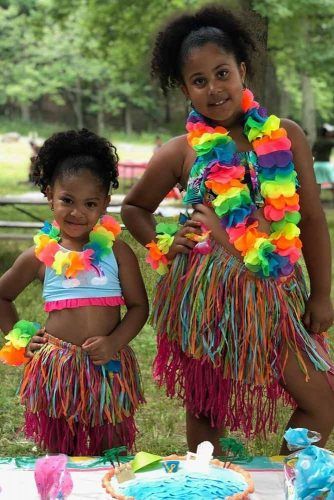 If you are looking for a more traditional luau party outfit, then you need a hula skirt. It is super easy to make on your own as well as to find it at the store. Pair the skirt with flower leis and the outfit is ready. As simple as that!
Source: younique_makeup_by_kathy via Instagram
Coconut Bra For Luau Party Look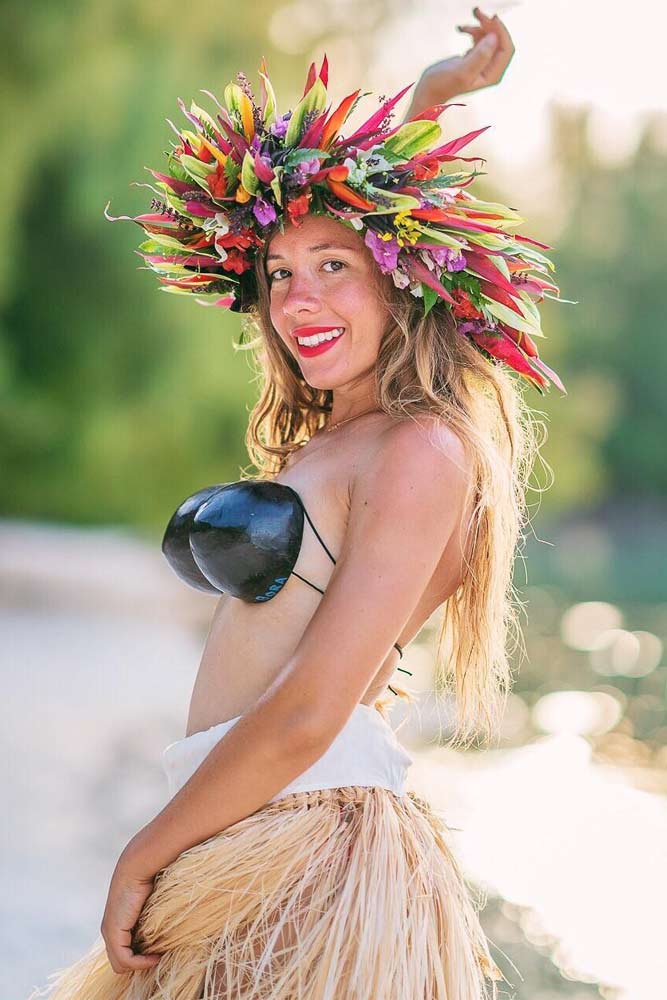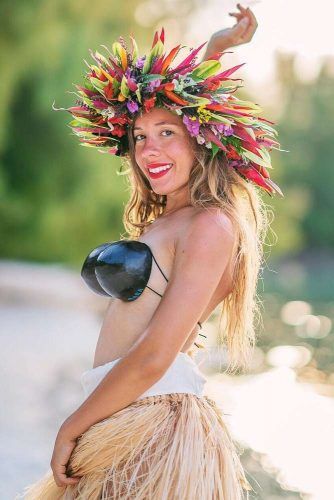 There are many luau party ideas for adults as well. However, when it is super-hot outside, and you are planning your party to take place near a lake, ocean or pool, then we have an idea to suggest. Instead of wearing your usual bikini bra, opt for a coconut one. Surely, such an outfit will be both fitting and authentic, and it will be hard to take the eyes off you!
Source: chloe_penderie via Instagram