Sleepover is that one type of party that all the girls adore no matter how old they are. That is why when you happen to host one you wish yours to be the best, the most interesting and surely unforgettable. Luckily, we have compiled this article for you! We have it all covered starting with the invitations, clothing, and fun activities to participate in. You can even turn this article into your perfect birthday party ideas guide if your birthday is coming up and you do not want to leave the flat to celebrate it. With our guide any party you are about to throw will turn out to be unique, you can trust us on that!
Sleepover Party Invitations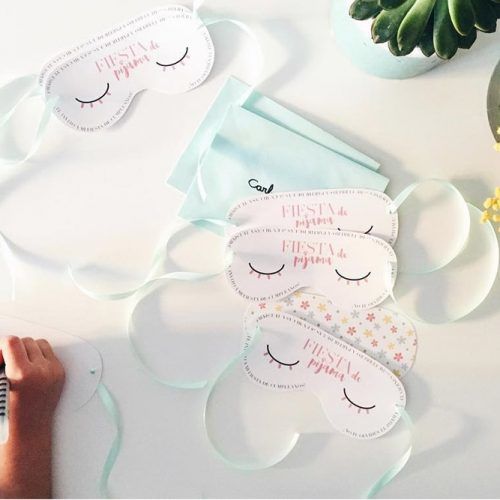 As you start with your sleepover ideas, you should keep it in mind that invitations matter since they create the first impression. It may take you a while to come up with a personal invitation to your sleepover, but in the long run, the result will be worth the effort. We suggest you make the same-looking invitations in the shape of sleeping masks, state the date and the address and send them or give them to the friends you want to invite.
Source: clarabmartin via Instagram
Personalized Sleepover Squad Masks Design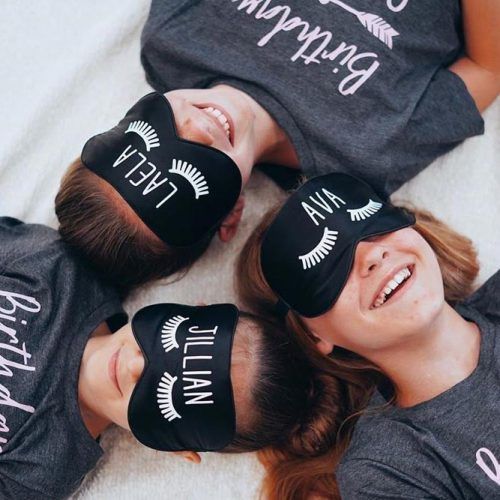 No slumber party can't go without sleeping masks; they're like a party hat for a birthday! That is why you need to make sure that you have enough of those at your disposal. It will be even better if all the masks that you have are personalized and have the name of your particular friend on every mask. We are sure that your girls will appreciate the effort and care!
Source: up2ournecksinfabric via Instagram
Matching Pajamas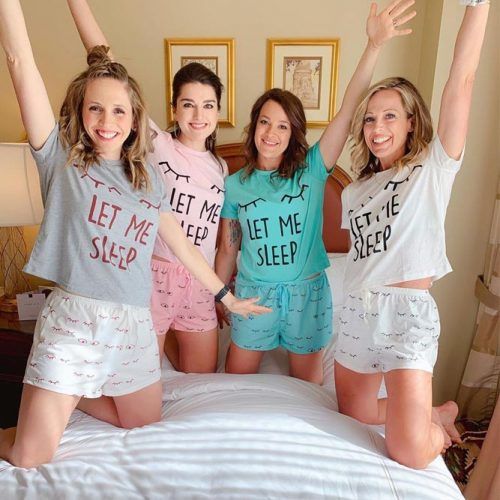 You may already know it that when there is a teen sleepover in the plan, there is a need for pajamas to be involved. Surely, every girl can bring in her own pajamas, but it will be a lot interesting if they are the matching pajamas. It may cost you a little extra, but the outcome will not let you down. You can experiment with the hues, though, so that the design is the same, but the colors differ.
Source: stylemelauren via Instagram
Teepee Sleepover Party Idea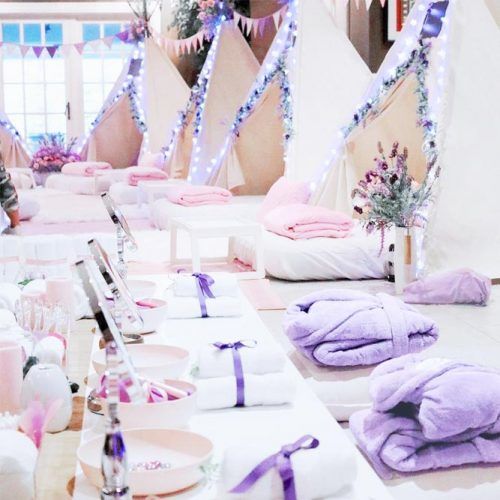 It is not only important to know what to wear on your sleepover, but also you need some interesting things to do at a sleepover. How about fixing a cute teepee for every guest? Of course, it may take you a while to succeed with a decoration like that, but we are sure that the effort won't go unnoticed. Besides, having your little but personal space is always a good move.
Source: dreamandpartyllc via Instagram
Slumber Party Food Idea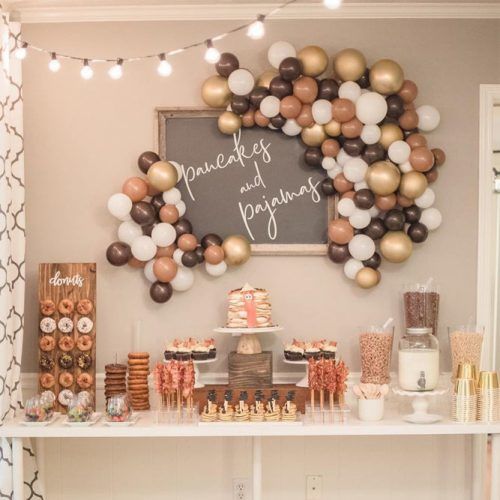 Whether you like it or not, but a sleepover can't go without some tasty food involved. It is bad to eat a lot before sleep, but what can we say – it is a slumber party, so the exception rule works here. Tasty doughnuts, delicious cupcakes, and warm milk or hot tea will fit in the occasion perfectly. No one will be disappointed by the choice of food like that!
Source: sweetwoodcreativeco via Instagram
Hot Cocoa Bar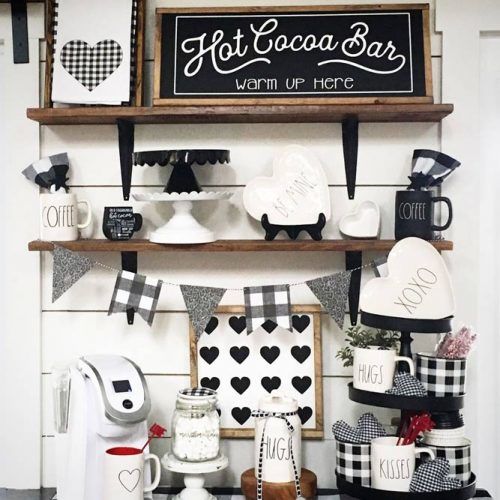 If you plan your sleepover to take place on a long winter night, then a hot cocoa bar is a mere necessity. There is nothing better than having a cup of hot cocoa in hand on a winter night while sharing your secrets with your close friends. Do not forget about the marshmallow and some other tasty treats to include in your bar.
Source: gramsfarmhouse via Instagram
Blanket Fort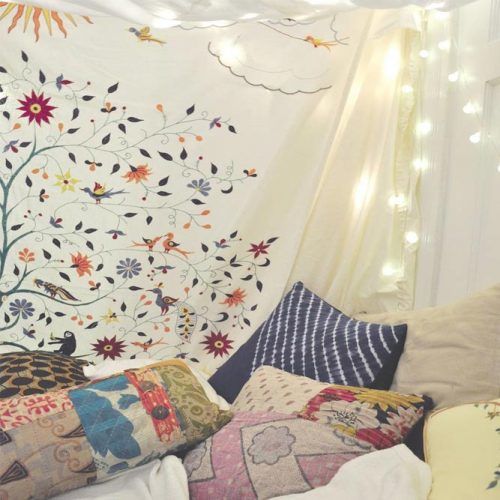 There is one more thing that a good sleepover party can't go without – a blanket fort. No matter how old you are blanket forts are always exciting and fun. They create the illusion of solitude and comfort. When you are surrounded by your close friends, there can't be anything better than that, can there? You can play games, tell stories, or watch movies in your fort, the range of activities is close to being unlimited.
Source: tenthousandvillages via Instagram
A Holographic Stripes And Balloons Slumber Party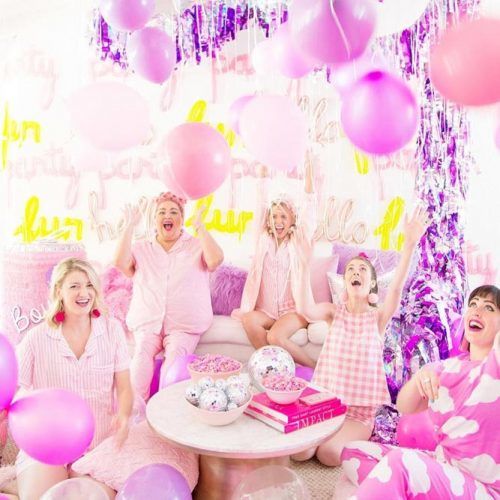 In order to succeed with a magical sleepover, you need to put a lot of thinking into the preparation. If you wish your party to stand out, then you need corresponding decoration ideas at hand. However, if your budget is a little tight, we know a perfect way out. All you need is a whole lot of different-shaded balloons, a few holographic stripes, and your fun spirit.
Source: studiodiy via Instagram
Photo Booth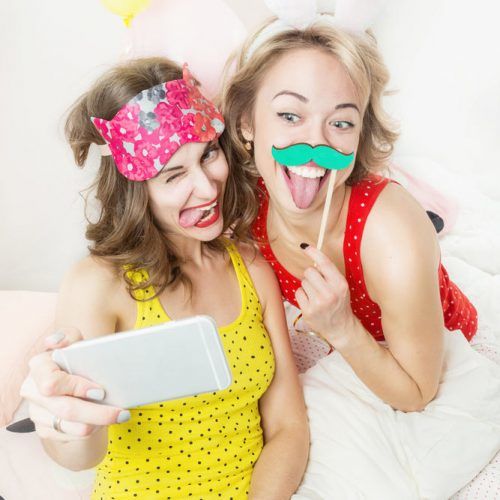 If we are talking girls sleepover here, you are inevitably going to take lots of selfies while partying. That is why you should not leave the photo booth out. Come up with some interesting images and depict yourself while having fun. We are sure these will be the memories you would like to hold on to, no matter how old you get.
Source: Kalamurzing via Shutterstock
Movie Night Party Idea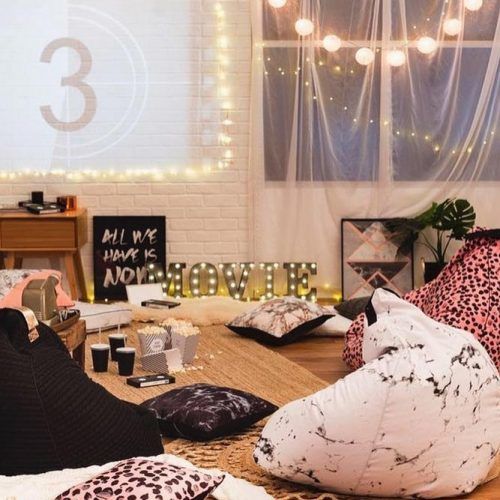 There are lots of fun things to do at a sleepover, as well as tons of amazing party themes; it all depends upon your desire to be lazy or active. If you prefer the former, then a movie night is what you need. Gather up your favorite movies, make a cozy watching area, and invite your friends over. However, keep it in mind that all of you should be interested in the same movies so that no one feels bored or left out. Besides, you shouldn't forget about some tasty things to chew on while watching the movie.
Source: elena_diary1 via Instagram
Popcorn Bar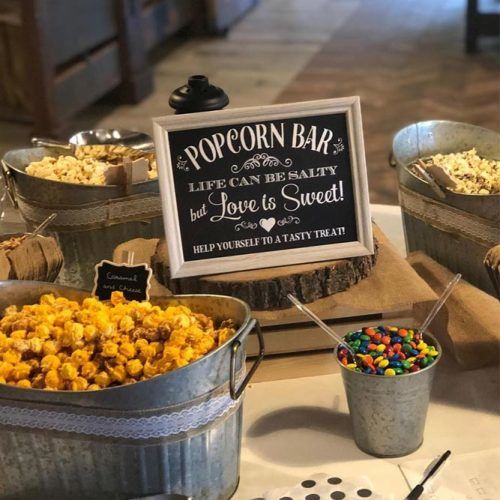 Very often a sleepover movie party is the one that most girls host. If you are a movie fan as well as your friends – go for it. But you need to keep one thing in mind – every movie séance requires popcorn. That is the rule. So that we suggest you treat your guests not only with an interesting movie choice but with a proper popcorn bar!
Source: thestables_events via Instagram
Home Spa Party Idea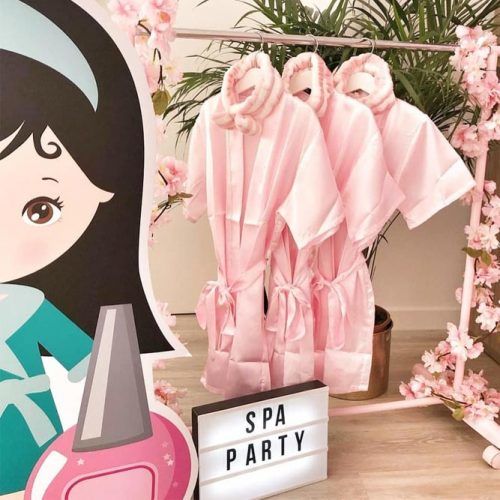 Every girl wants to look her absolute best on a regular basis. That is why a sleepover party can be a fun way to take care of yourself. A spa party means that you and your girlfriends will spend the evening doing all possible beauty procedures and having fun. There is rarely anything better than looking your best after a slumber party.
Source: kidspartypalaceuae via Instagram
Game Night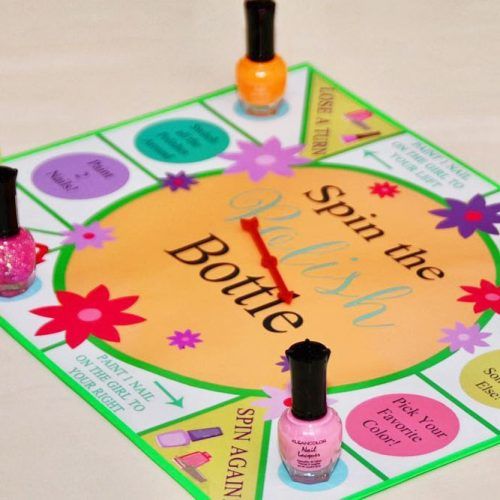 There are dozens of sleepover games out there. However, we think that those that turn out to be useful are the most interesting ones. You can make any activity look exciting and fun if you switch your imagination on. Spinning the nail polish bottle game is surely fun besides, you will surely end up with a fresh and unique manicure after the game like that!
Source: kidzloungeny via Instagram
DIY Spa Mask Kit Slumber Party Activity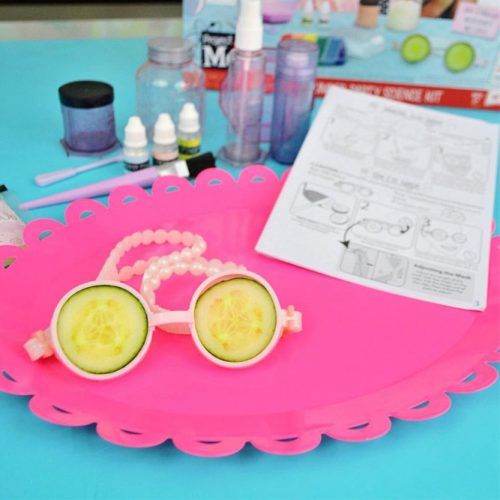 The best way to look perfect regularly is to let your beauty rest. That is why a spa mask kit is something that you are bound to introduce into your slumber party. It may seem that such activity is quite dull, but after you try it out, you will change your mind. What is more, there are dozens of other activities to take part in after you are done with your spa hour.
Source: projectmc2 via Instagram
Truth Or Dare Game For The Sleepover Party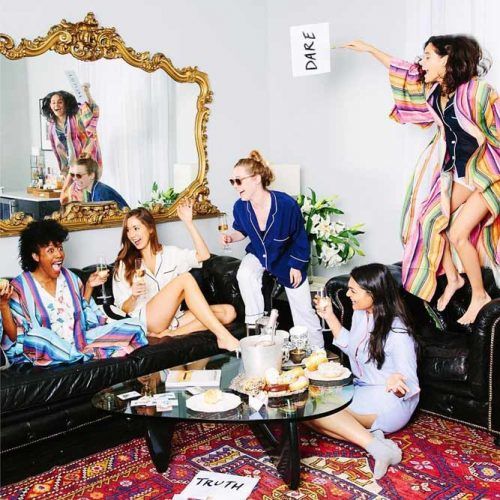 If we are talking about an adult sleepover, usually the question arises – what to bring to a sleepover? The older you get, the longer the list becomes. We suggest you take some treats and your good mood and the rest will come over on its own. As for what to do when you are planning an adult sleepover, we think that playing truth or dare will fit in just perfectly.
Source: camillestyles via Instagram
Karaoke Night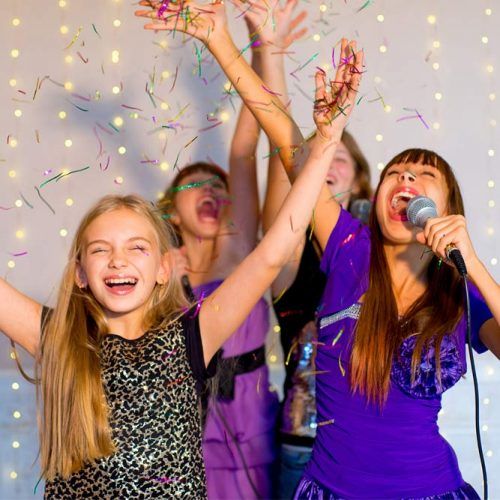 Who does not like to sing? Make use of that when preparing for your slumber party. If you have a karaoke system at your disposal – why not to make use of it? We are more than sure that a karaoke night will suit every guest's taste. You won't even notice as the evening goes by.
Source: Elena Nichizhenova via Shutterstock
Own Pizza Party
Some dishes are almost mandatory when it comes to any party. Pizza is surely the first on the list. However, just before you rush to order some pizza, how about making it on your own? Not only you will end up with more versatile options, but also it will cost less to make it on your own. The amount of fun that you are going to have in the process is difficult to count, so you certainly won't go wrong with a pizza party!
Source: mandarinco_ via Instagram
Pillows Fight Sleepover Party Activity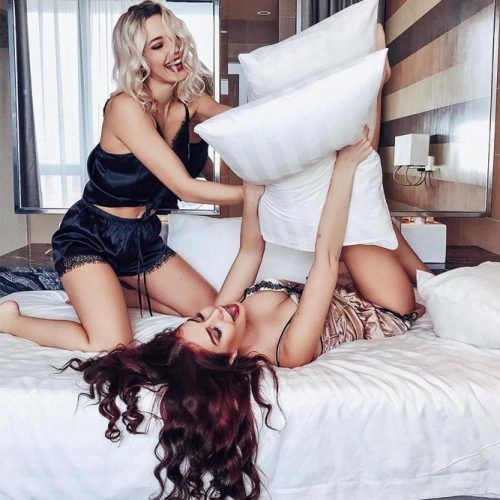 There are some activities which are simply classy and unavoidable when you are at a slumber party. As you may have already guessed, we are talking about a pillow fight. Let out your energy and have a good laugh while fighting your friends with pillows!
Source: ineserbus via Instagram
Sleepover party is a nice way to spend some quality time with your close friends. Whether a kid or an adult, everyone loves a good slumber party. We are going to help you plan an unforgettable one!