The truth is that when the spring is about to end, it is time you think about graduation. It is not a secret to anyone that graduation is surely one of the most important life events for many. That is why you are bound to make one of a kind so that the graduate will never forget it. Those of you who are looking for some fresh graduation party ideas – we have a readymade compilation to share. And don't forget about the graduation cake! With ideas like the ones gathered here, your party will surely be unforgettable and fun. Let's have a closer look at what we have got here! Graduation party decoration is one of the most important parts of the graduation party.
Graduation Candy Table Decorations
Candy Table Decorations In Red Color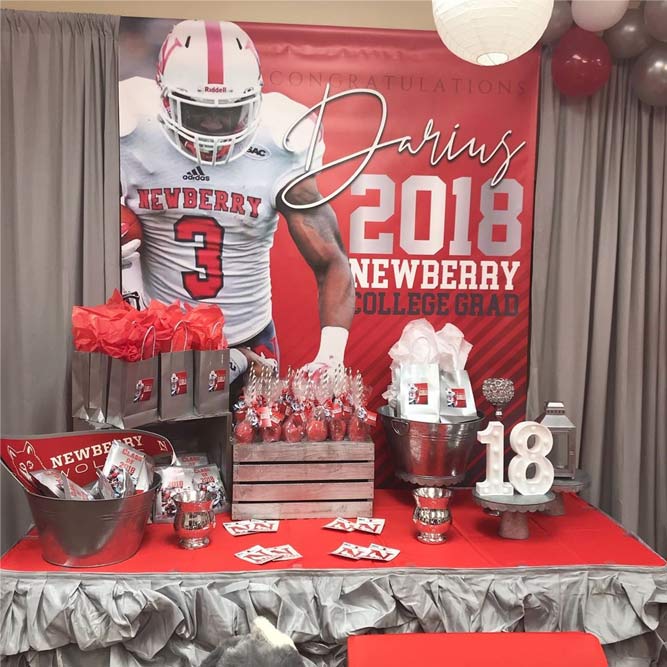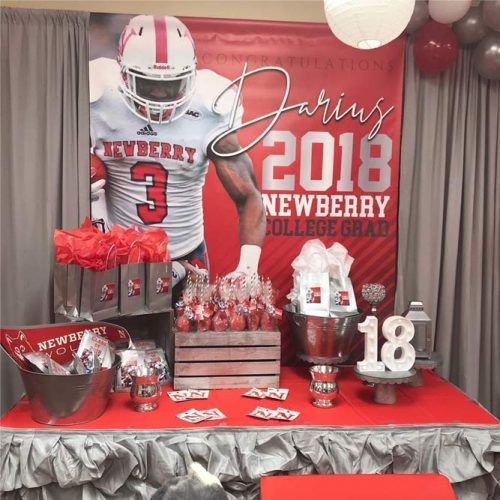 It needs to be mentioned that your graduation party decoration ideas should definitely involve some bold colors. That is why red is one of the best options to consider. What is more, you should in no case forget about the delicious candy. Make sure, that there are different kind to choose from. Besides, do not underestimate the power of the year of graduation. Place the suitable year somewhere for everyone to see it.
Source: thatssobrisha via Instagram
Gold And Black Colors For Candy Table Decor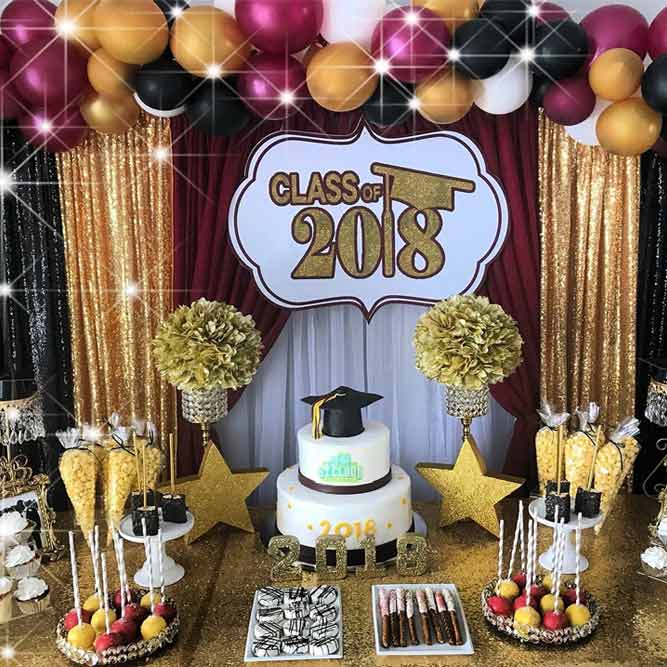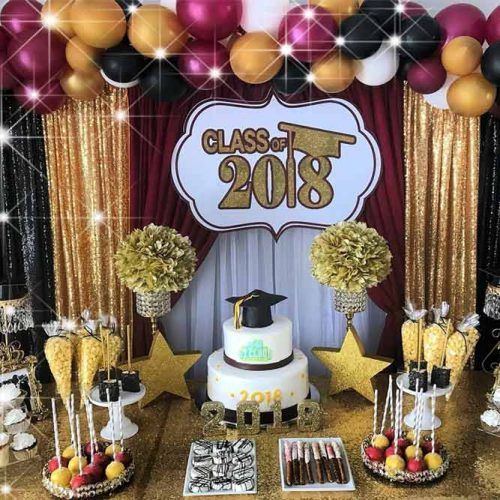 When it comes to high school graduation party ideas, many people are at a loss for a suitable color palette. We tell you what – you should always seek for the trendiest hues there are and then mix them together. Gold, black, and burgundy go hand in hand so why not to give them a try? As you can see, the outcome can be pretty impressive. Stars and flowers will also add up to the atmosphere, so you can introduce them too.
Source: standingoutandmore via Instagram
Candy Table Décor In School Colors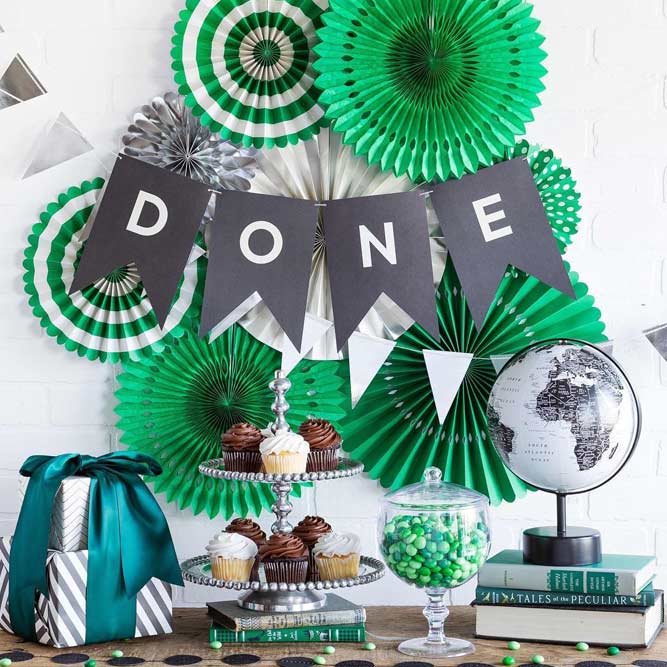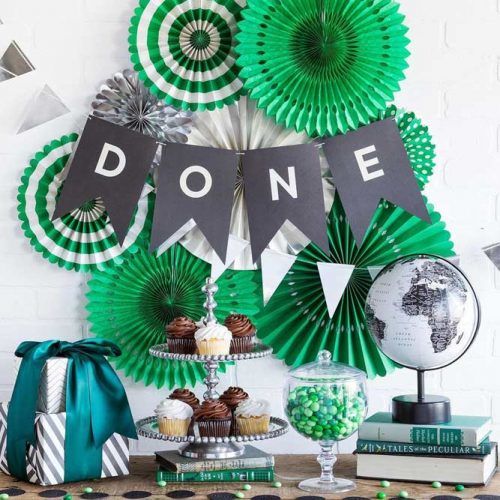 The fact is that very often graduation party theme ideas depend greatly upon the school colors themselves. If your colors are green, white and silver – mix them all together to create an unforgettable table décor for your grad. To intensify the graduation vibe, you can add a globe and lots of books to décor to inspire the grads to discover the unknown.
Source: mymindseyeinc via Instagram
Grad Centerpieces
Sport Graduation Centerpiece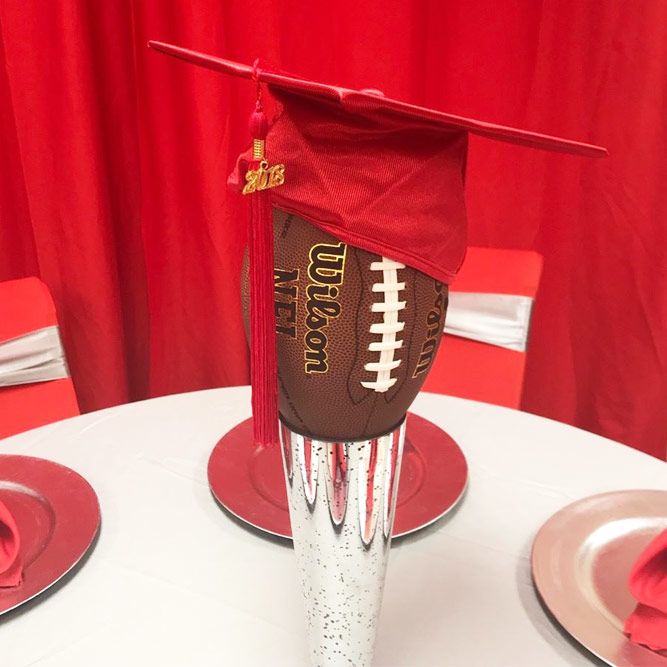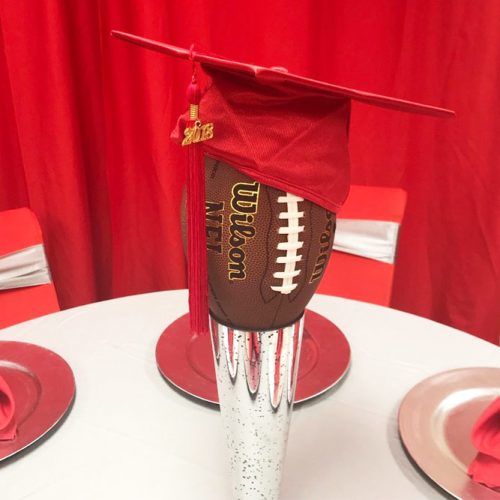 When it comes to graduation party ideas for guys, you need to keep their main preferences in mind. In case, you are looking for a perfect sport-related centerpiece – this one may be the perfect one you have been looking for!
Source: thatssobrisha via Instagram
Centerpiece Design For Girl Graduation Party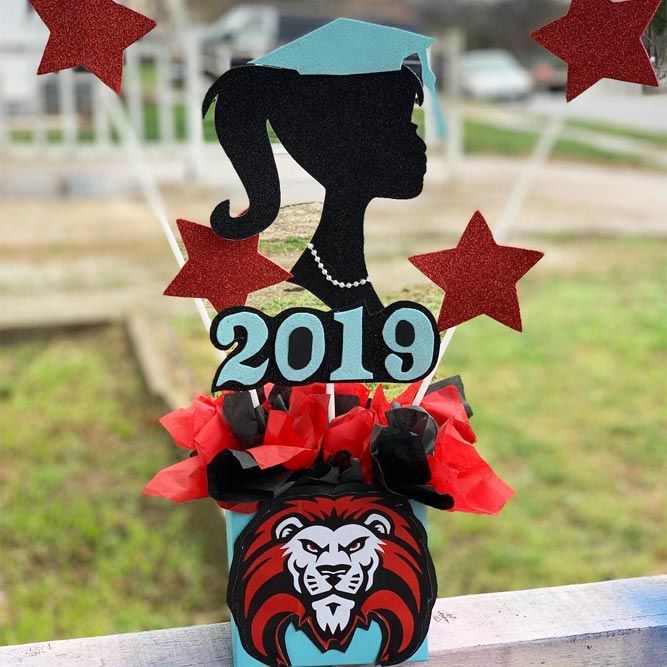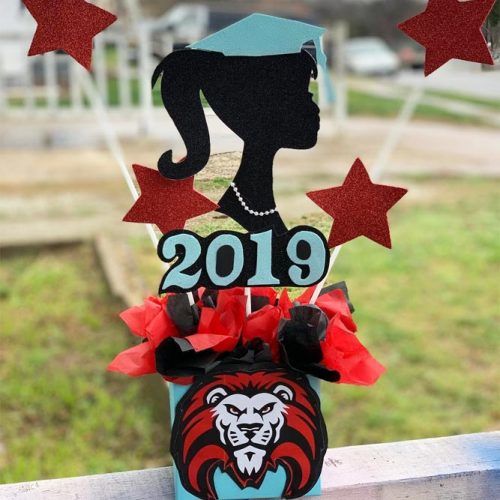 Needless to say that centerpieces ideas for graduation party for a girl should be totally different no to mention trendy and glam. A lady silhouette with a graduation cap and graduation year combined in one decorative element will take your festive centerpiece to the next level.
Source: bedazzleforevercreations via Instagram
Flowers And Sticks Centerpiece Idea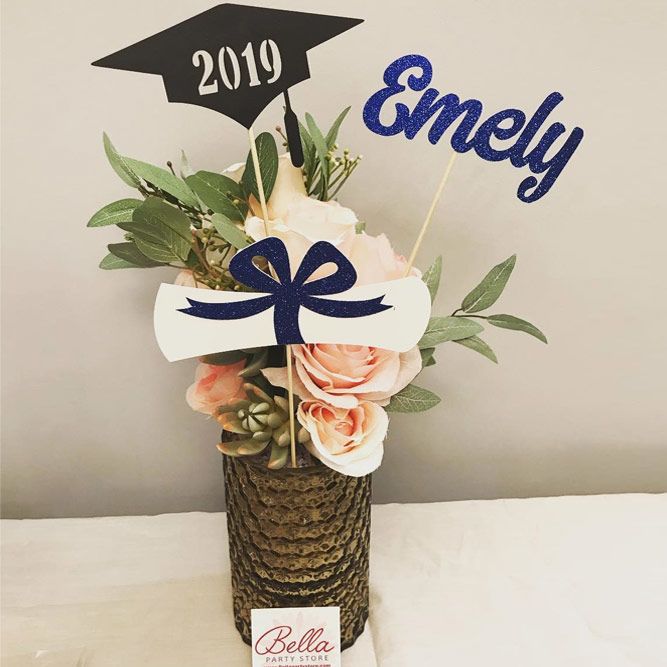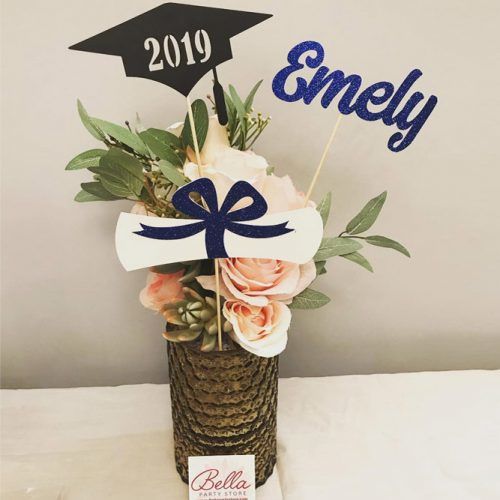 There are times when you do not feel over the edge creative, and there is nothing wrong with it. The fact is that you can use flowers as decorative elements no matter the occasion. To accent the event, you can use themed decoration stick to the bouquet, and the centerpiece is ready.
Source: bellapartystore via Instagram
Graduation Sweets
Candy Apple Sweets Ideas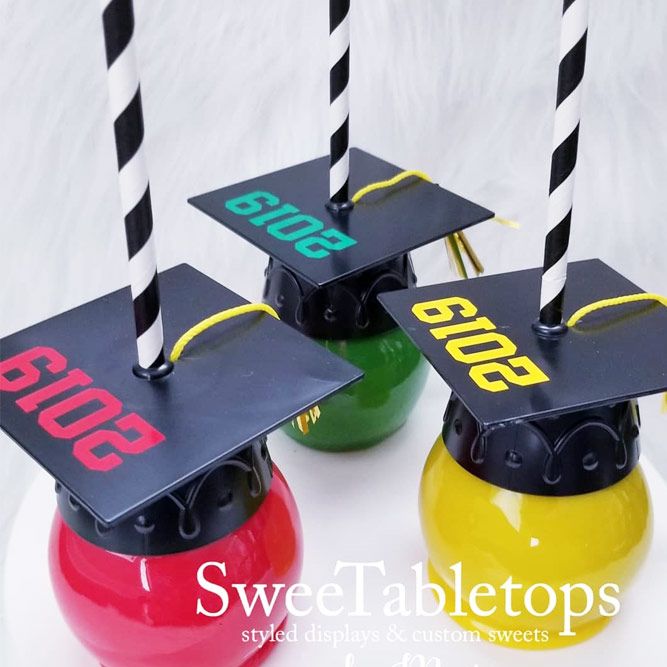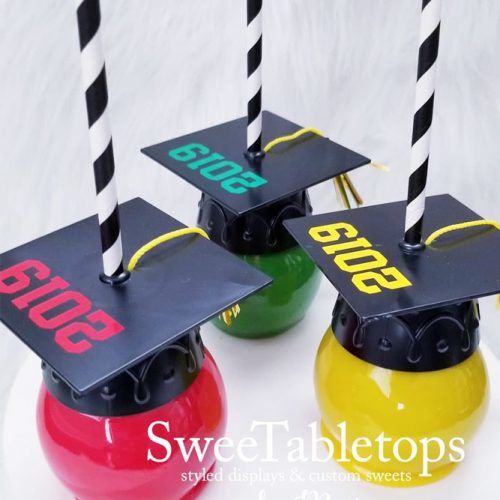 No graduation party can go without food. That is why, when you are thinking about graduation party food ideas we suggest you center your attention on sweets. However, regular candy is not acceptable. While candy apples can fit in the occasion flawlessly!
Source: sweettabletops via Instagram
Graduation Cookies Idea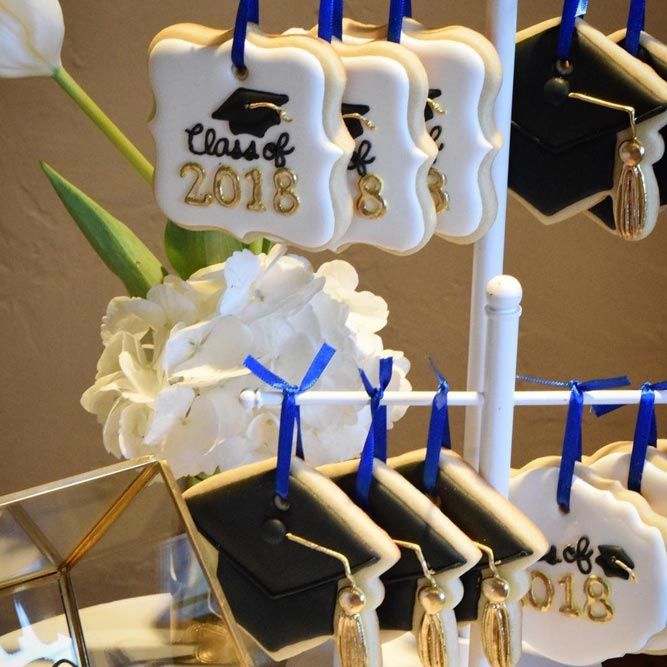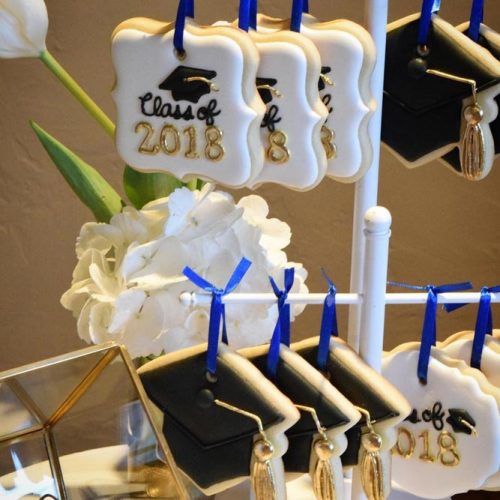 When candy is not your cup of tea – there is always another way out. The thing is that when it comes to sweet food ideas, whether you like it or not, but there are barely any limitations. If you rule the candy out – add the cookies in! Yet, make sure, that they are properly designed, in case you lack ideas – use this one to inspire from!
Source: hello.mecupcake via Instagram
Confetti Graduation Cupcakes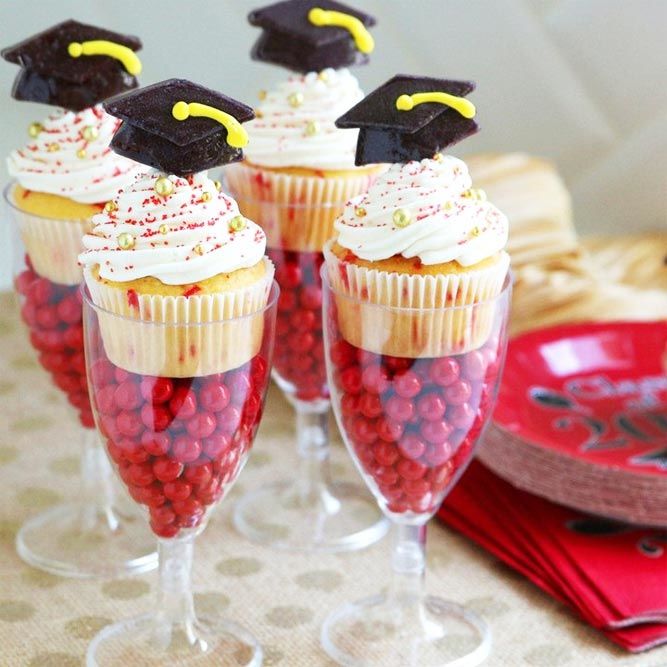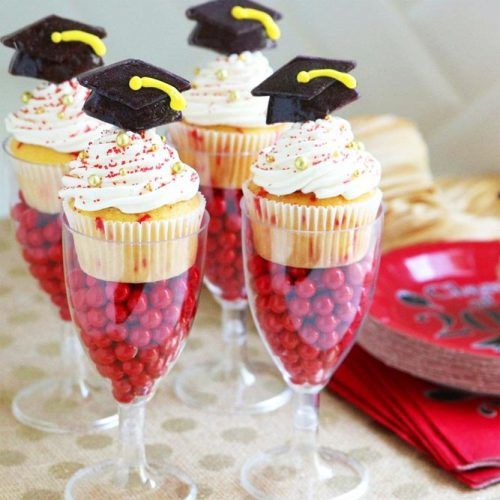 Even though there is no champagne – champagne glasses are surely not forbidden, and they can serve as perfect decoration. Fill the half with candy and place a themed cupcake on the top and a marvelous graduation desert is ready. As simple as that!
Source: livinglocurto via Instagram
Grad Favors
Customized Graduation Koozies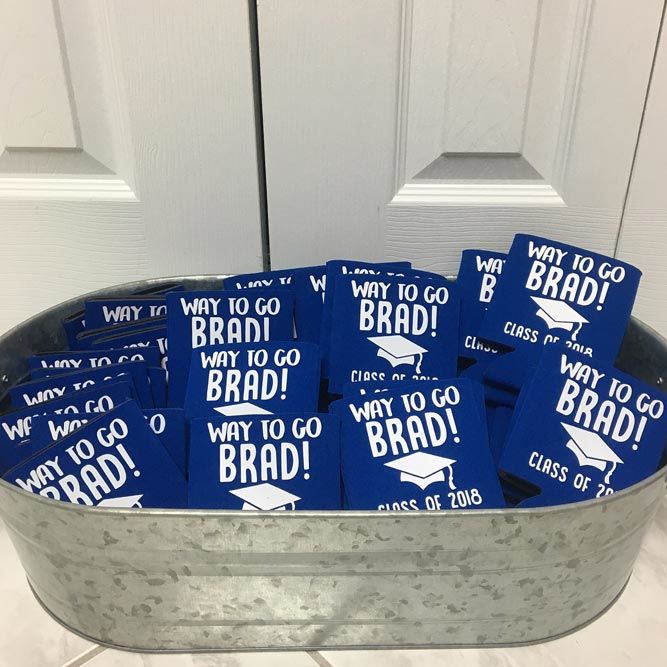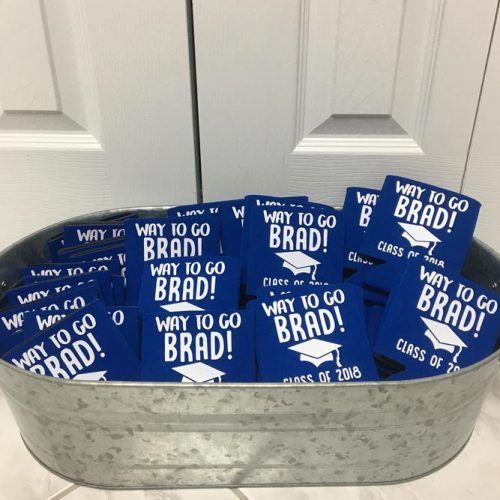 The truth is that there are many various graduation party favor ideas to choose from. However, while most people choose something edible – you can go a little further. What we have in mind is the set of customized graduation koozies. Unusual isn't it? Yet, such favor is surely to be highly appreciated by your grads.
Source: asprinkleofkindness_ via Instagram
Sweet Graduation Favors Idea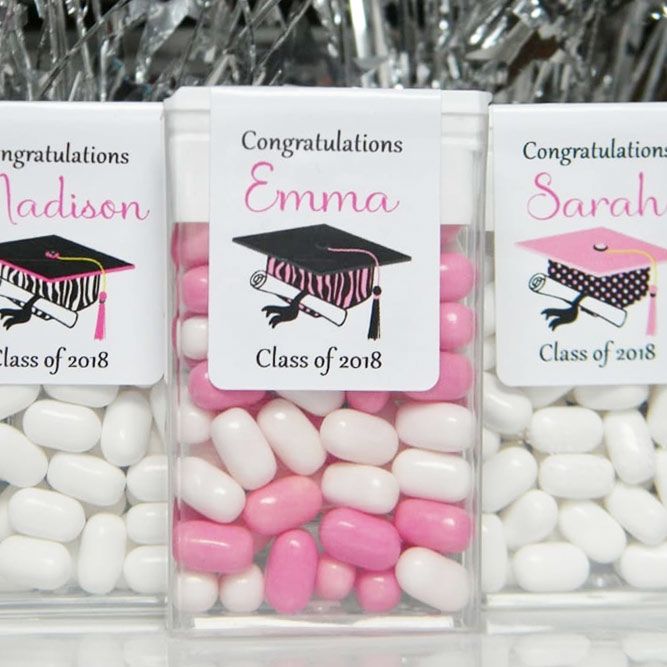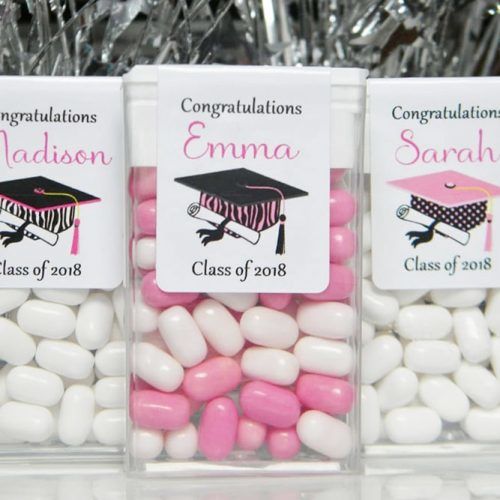 As it has been already mentioned, very often favors involve something edible. In most cases – these are candy. Nevertheless, we offer you a unique way of presenting those sweet candy favors. A personalized pack of tick-tac will make many grads happy!
Source: thatsawrapfavors via Instagram
Personalized Graduation Cups Gifts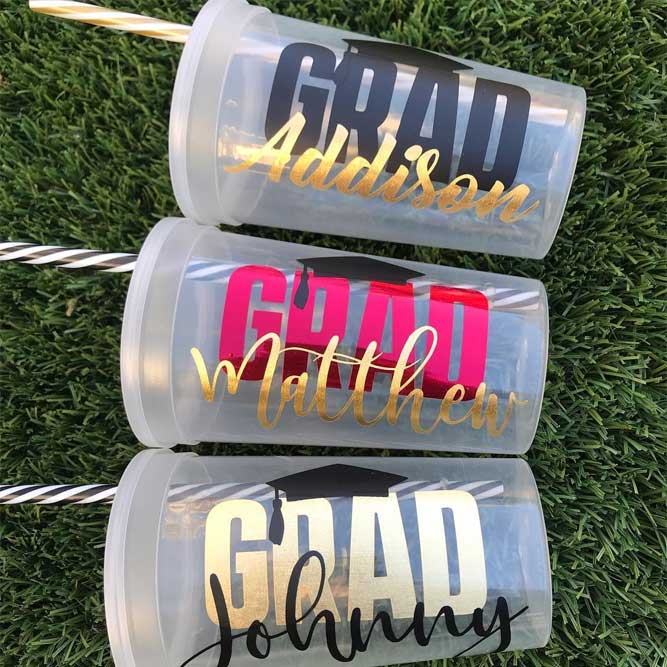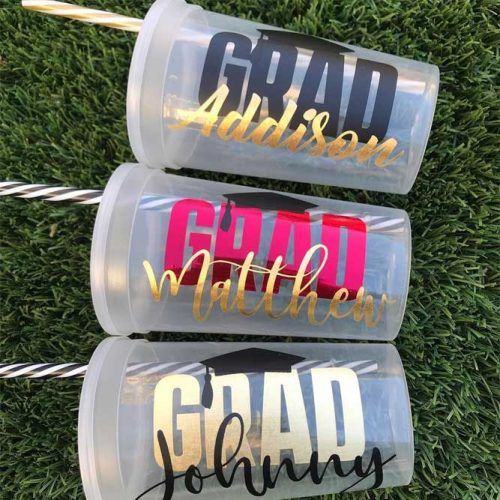 When neither edible or wearable favors do not fit in your taste, there is always a third option. What we have in mind are personalized cups. Such cups are not only unique but also very convenient so that your grads will appreciate your effort; there is no doubt about it!
Source: blueberrysprinkleshandmade via Instagram
Graduation Card Boxes
Vintage Graduation Card Box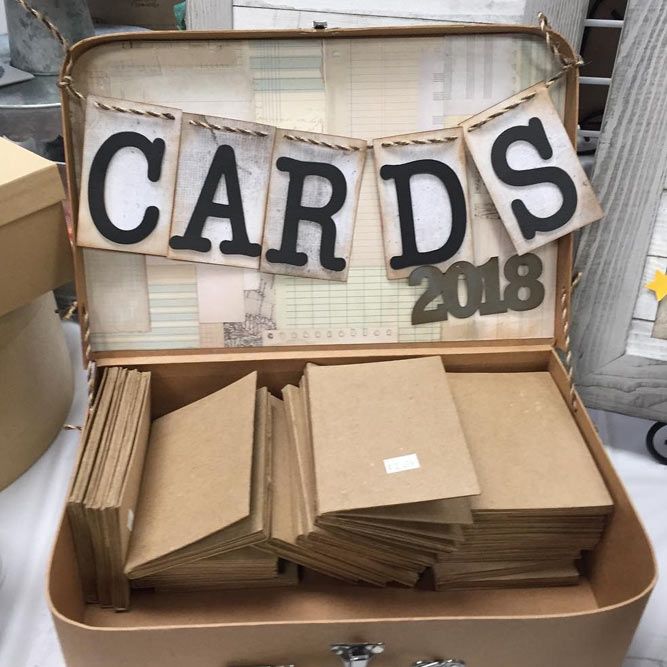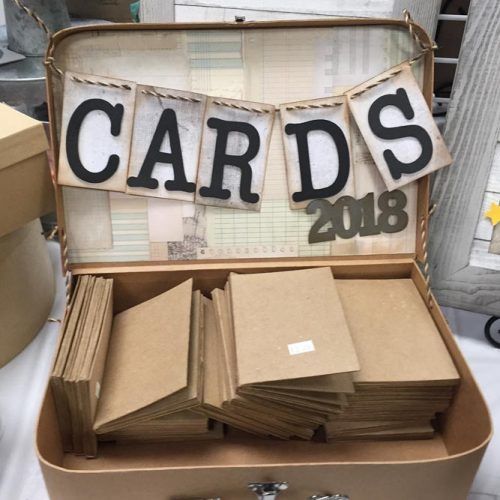 Surely there are many ideas for graduation party but what about graduation card boxes? Of course, you can't skip the step with warm wishes for the grad. That is why you need to organize a suitable card box. In case you are positive that vintage style is what your grads likes above all – use this idea to your inspiration.
Source: memorybound via Instagram
Cap Graduation Card Box Design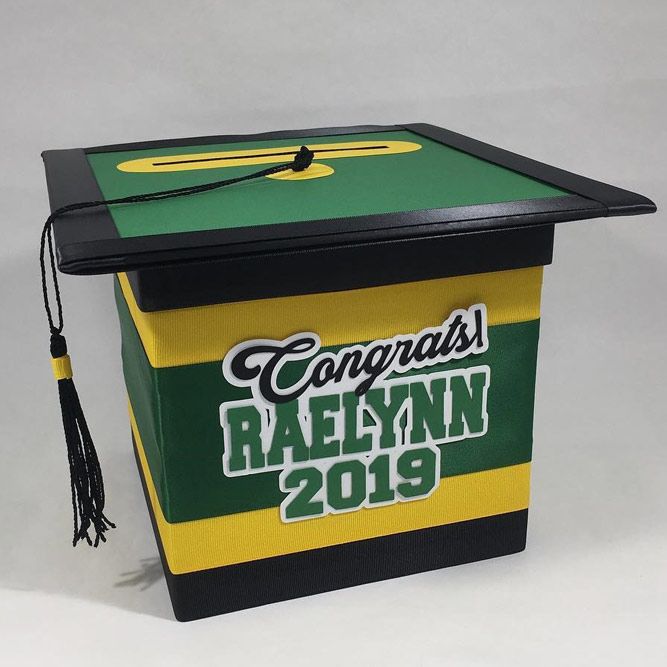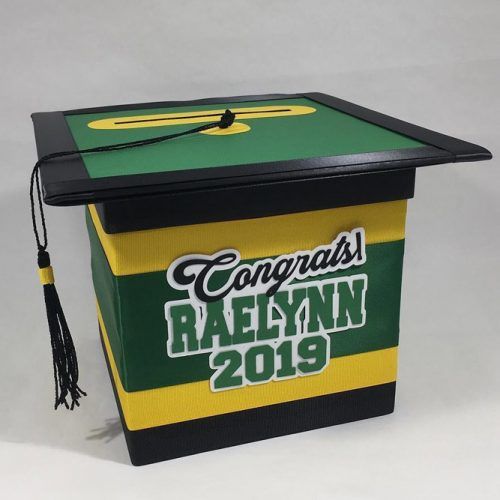 We are talking about graduation here that is why a card box should be appropriate-looking. What can be more suitable for the event than a graduation cap? Use the school colors to make it fit in the occasion seamlessly.
Source: chic_baby_cakes via Instagram
Black And Silver Glitter Card Box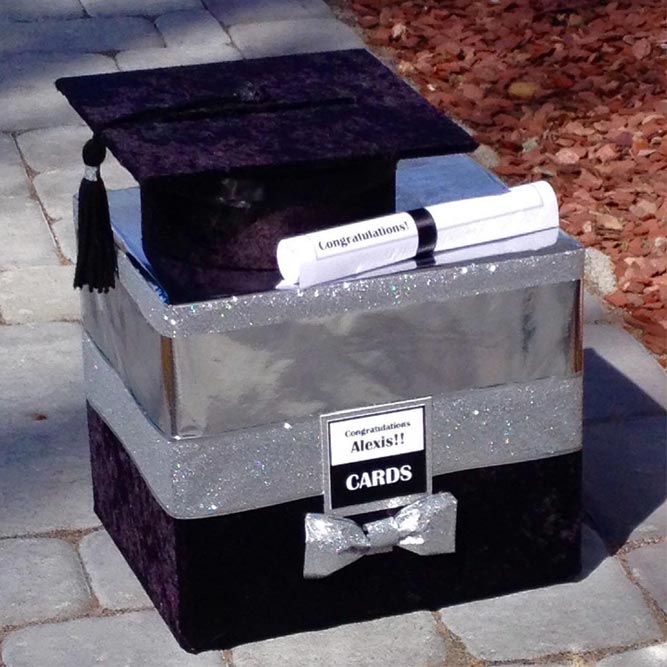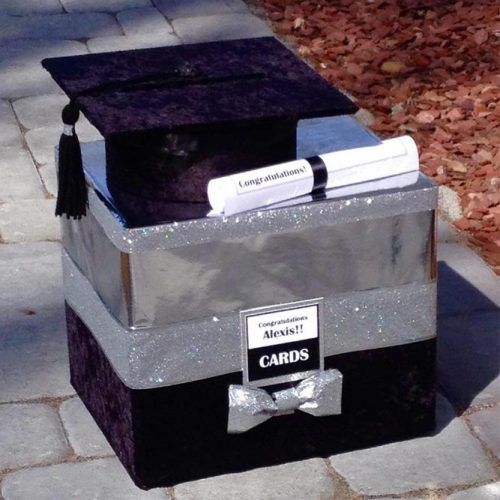 Those of you who are searching for graduation party ideas for daughter – we have it covered for you! Black and silver glitter are created for each other and the themed decoration added to the box will make your little grad scream with adoration!
Source: allthebestcardboxes via Instagram
Graduation Canvas And Banners
Fabric And Burlap Graduation Banner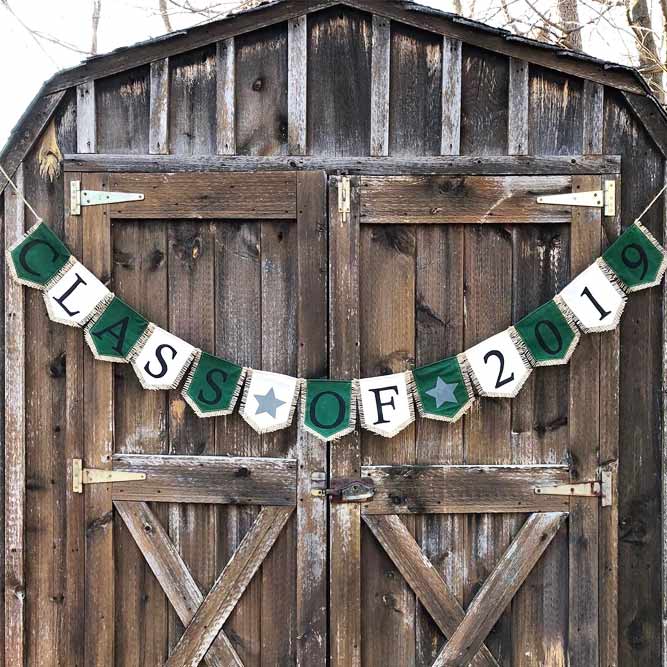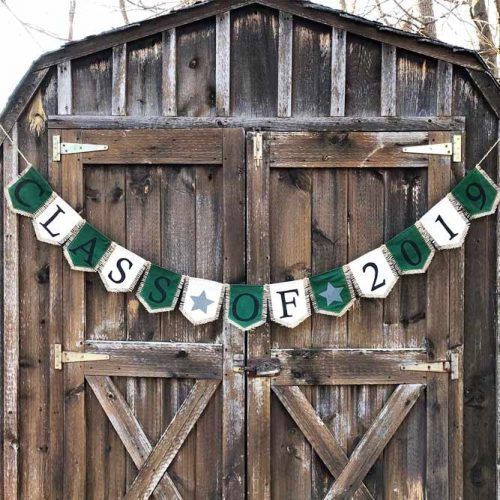 Graduation banners are a must when it comes to any graduation party; that is why you should in no case leave canvas graduation party ideas out! Use the appropriate colors together with the graduation year to decorate your fabric and burlap graduation banner, hang it where everyone can see it.
Source: bestdaybanners via Instagram
Custom Graduation Canvas Design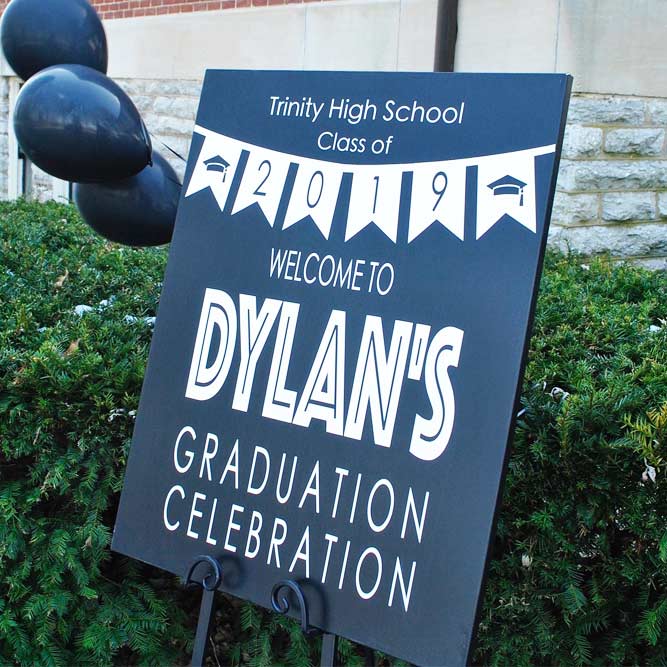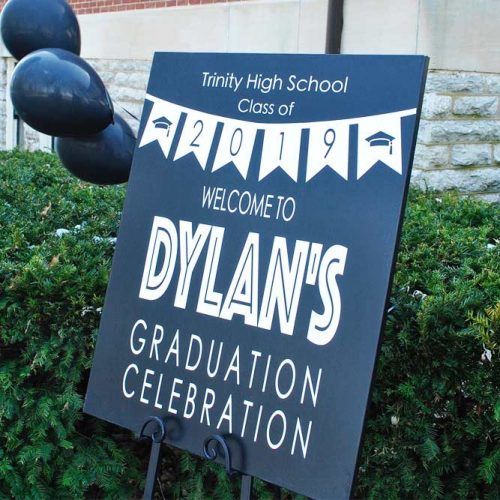 If you do not have a suitable spot to hang your banner – place it at the entrance. Make sure that all the necessary information is depicted on the canvas. It does not need to be over the edge intricate and complex, informative and simple is what you need.
Source: fwm112 via Instagram
Photo Graduation Banner Design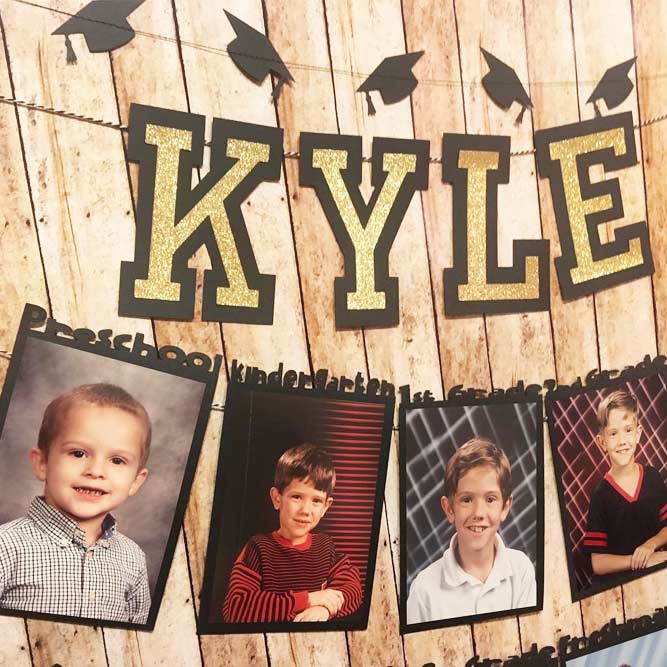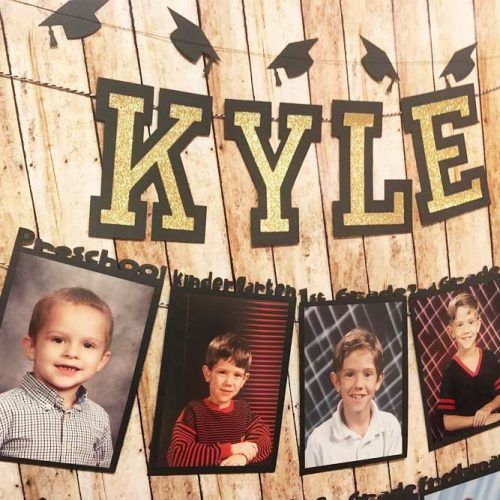 Some people like to get truly creative when it comes to the graduation party organization. If you have lots of time and means not to mention inspiration at your disposal, then you can create a masterpiece of a graduation party banner. Add photos to the banner, each depicting a certain period in the life of the young grad, do not forget to sign the photos.
Source: pennant_parties via Instagram
Graduation season is slowly approaching; that is why you need to have a full arsenal of graduation party ideas at your disposal. Use this article to help you succeed with an unforgettable and unique party that your grad will remember through the years!