When the graduation season hits, there are so many things to take into consideration. The graduation party, not to mention the fabulous outfit. However, you should not forget about graduation cakes in no case since they are those elements that make them even sweeter. If you thought that a simple graduation cake is enough when the occasion hits – we need to disappoint you. The truth is that there is a huge variety of such cakes and you are bound to give them at least a thought. To make your life easier – we have gathered here all the best fitting for graduation cakes ideas. Take a pick and make sure that your graduation party will be the one to remember!
Graduation Cakes For Girls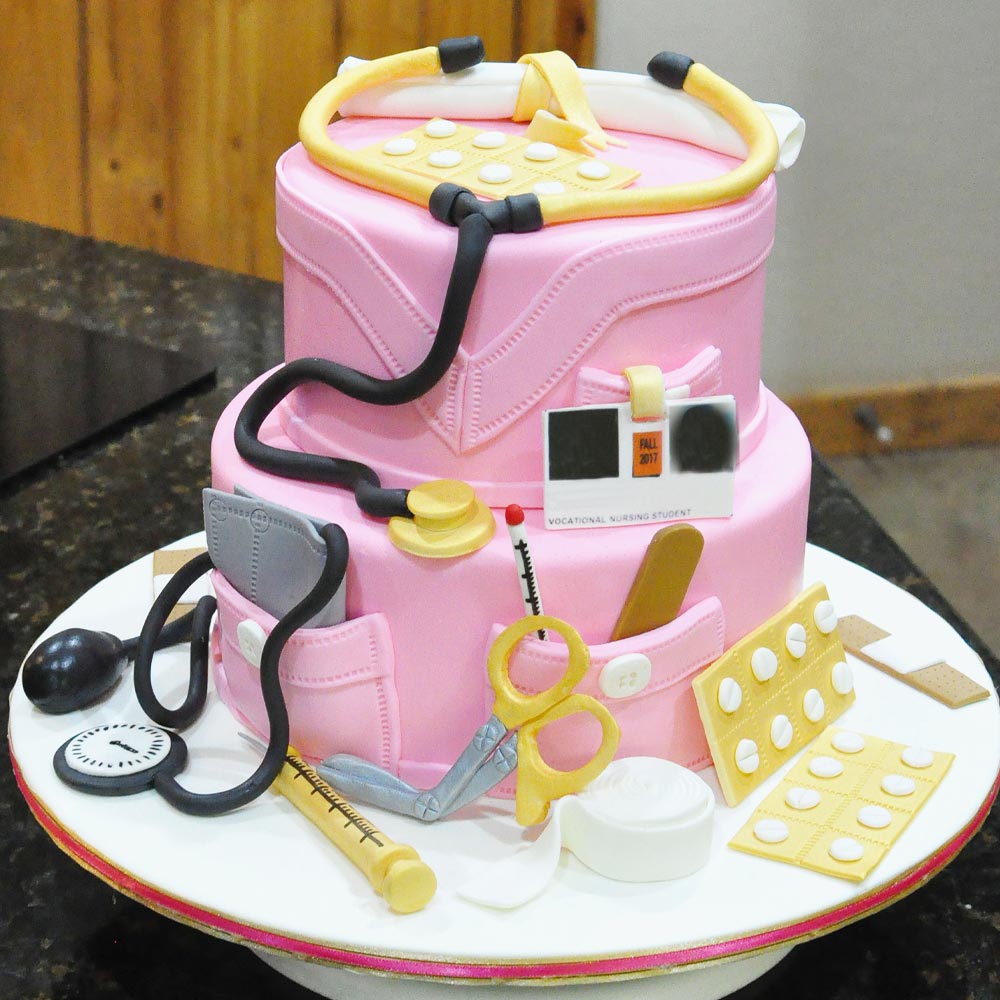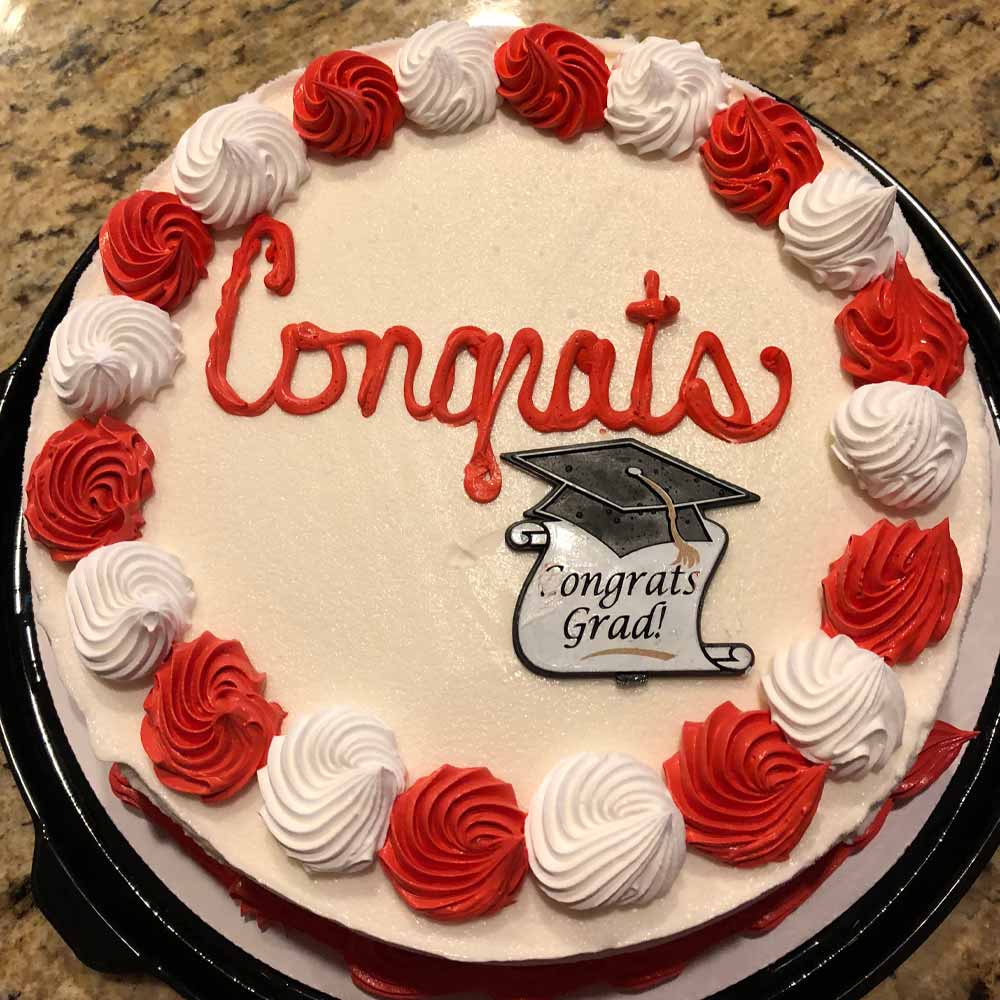 White And Gold Graduation Cake For Girl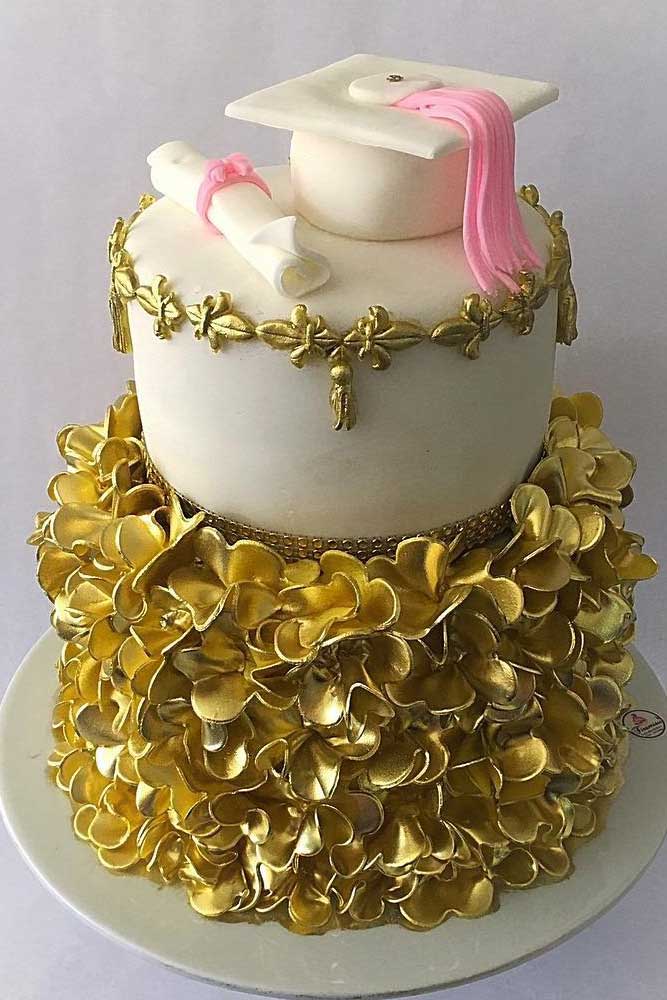 Credit photo: Instagram.com/tiramisubakery
The truth is that there are many graduation cakes ideas; however every girl is special and such must be the cake for her graduation. What is more, it is supposed to be not only delicious but also gorgeous looking. If that is precisely what you are looking for, then this beautiful gold and white cake may help you end your search with a fitting idea at hand.
Black And Pink Graduation Cake With Floral Decorations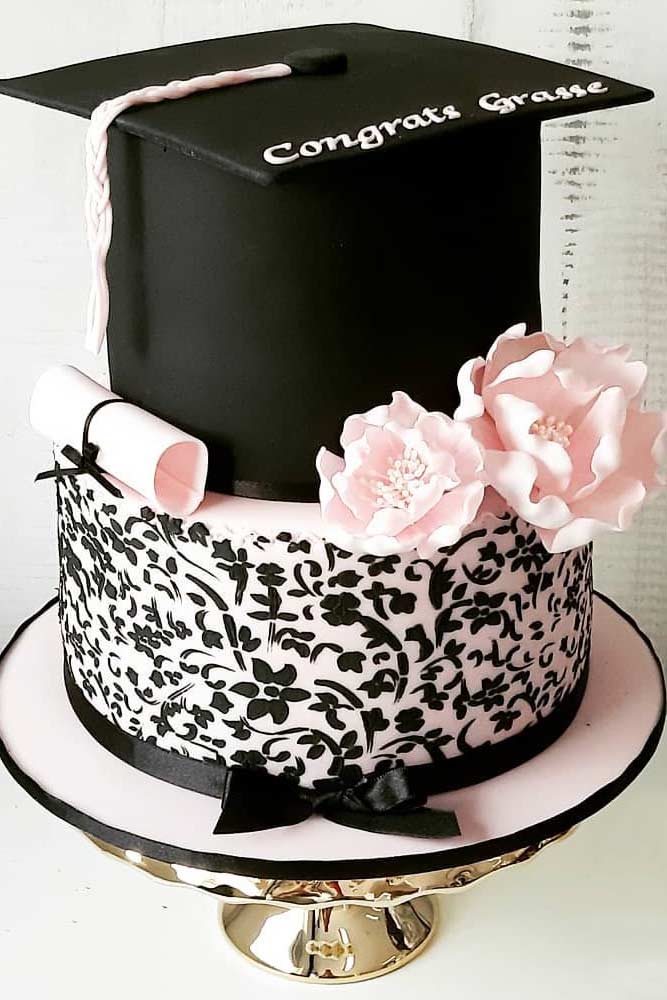 Credit photo: Instagram.com/deilseperu
There are more reserved graduation cakes for girls and this black, and pink one is the best proof to the point. However, the fact that it is a little more reserved does not mean that it is any less fabulous looking. Sweet pastel flowers and graduation cap make a perfect match together. Besides, you can easily personalize such a cake with a written congratulation on it. Don't you agree?
Two Tiers Black And Gold Grad Cake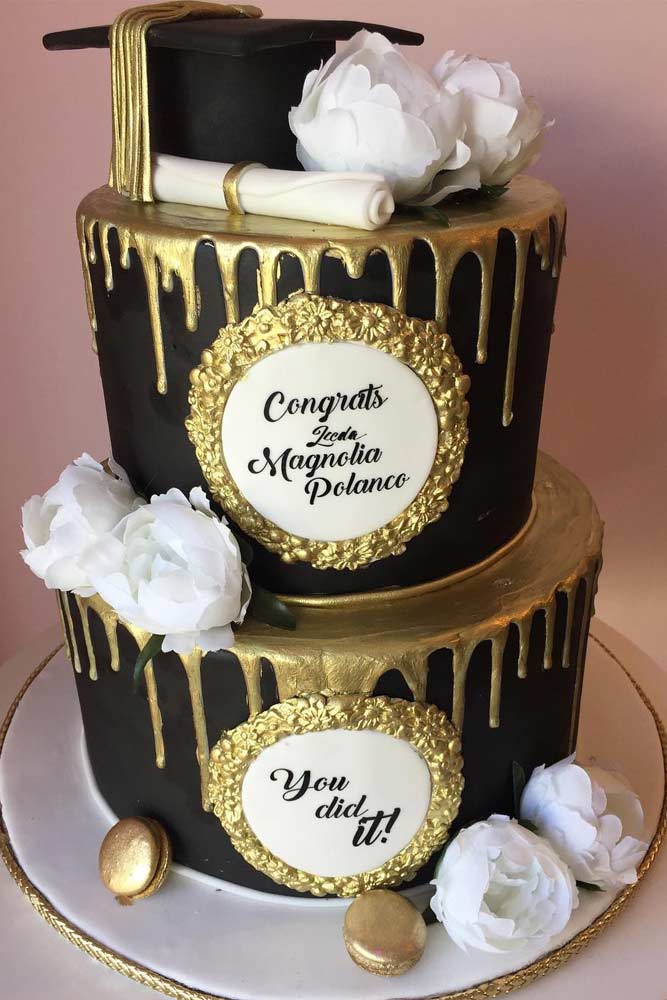 Credit photo: Instagram.com/pasticceria_
If you wish to take your graduation party to the next level you need to start with an unforgettable cake. When it comes to black and gold graduation cakes this one is truly a masterpiece. Everything seems perfect about it. Starting with the color combination and design. Besides, two tiers it comes in will ensure that everyone will grab a bite of this miraculous cake.
Rectangle Tall Cake With Fresh Flowers And Gold Leaf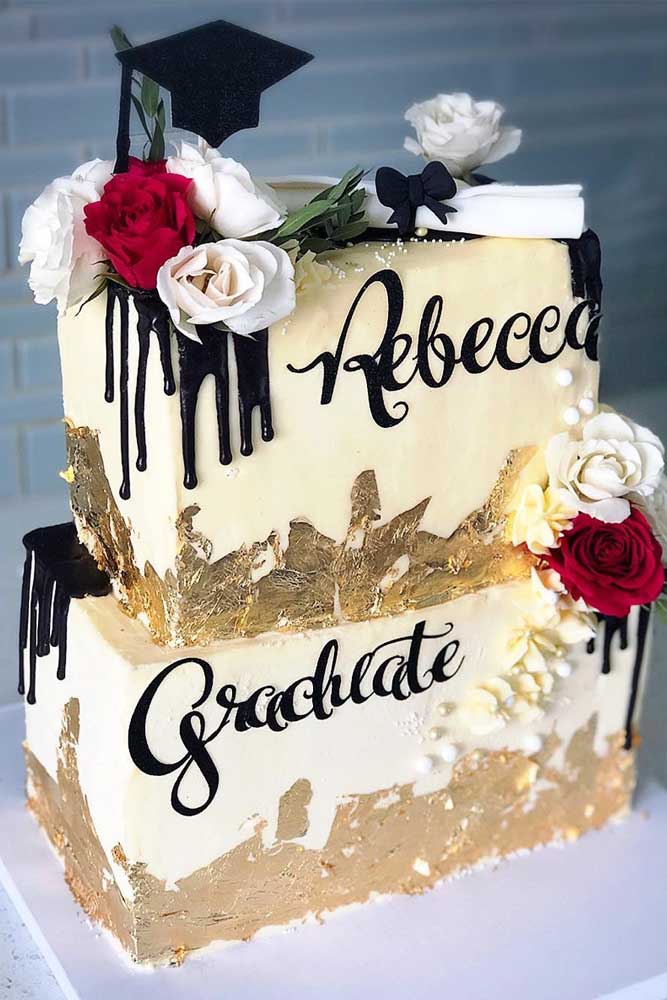 Credit photo: Instagram.com/valentinasweets
There are people who wish to have everything uniquely designed according to their wishes. In case you are one of them, we have a perfect idea in mind, and we are willing to share it. The thing is that if usual round cakes are too dull for you – why not give a try to a rectangular one? Besides, you can elegantly decorate the cake with fresh flowers instead of artificial ones. With an approach like that, you will make sure that your cake is one of the best unique graduation cakes anyone has ever seen!
Pink Graduation Cake Design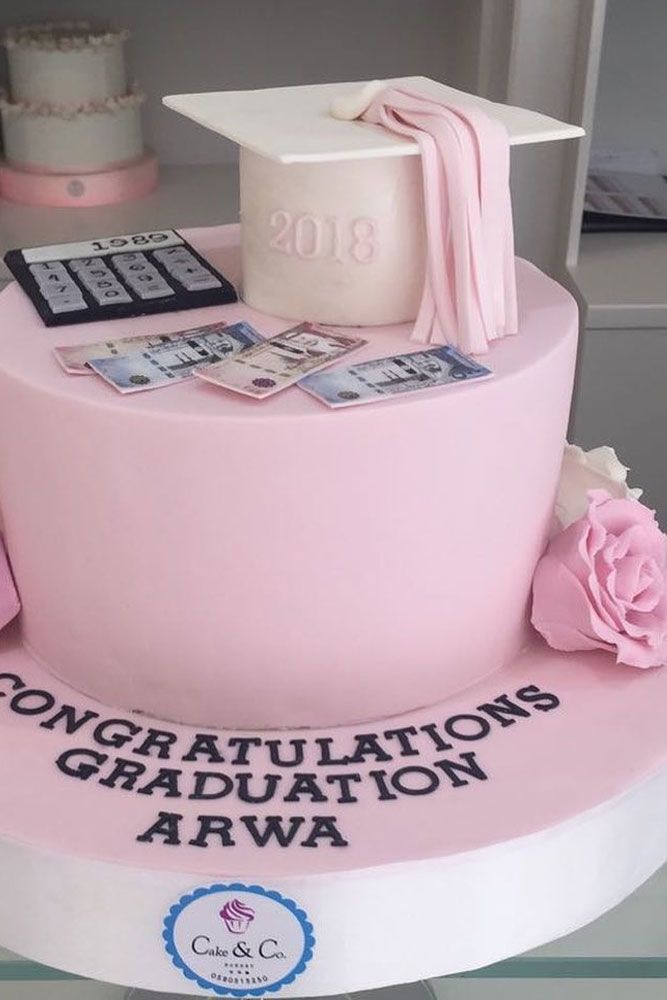 Credit photo: Instagram.com/cakeandco__
It will not surprise anyone if we say that a perfectly girly cake comes in pink hues. You do not need to take the design over the edge to make your cake look gentle and sweet. Just a couple of suitable decorative elements and a pastel pink coloring will do everything necessary to make your party cake stand out.
Funny Pink Cake Design With Edible Bitmoji For Girl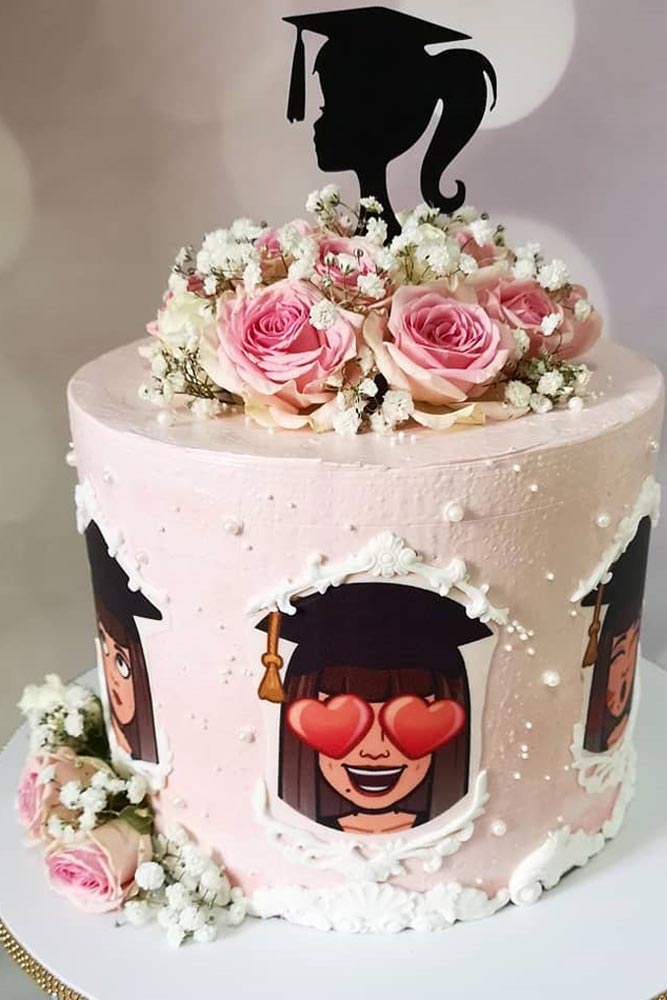 Credit photo: Instagram.com/yumzee_cakes_sohar
It would be inappropriate to forget the time we live in when it comes to graduation. The thing is that the era of technology, social media and emoji has taken its toll even over graduation cakes. That is why if you are searching for funny graduation cakes this pink one may be just it. It needs to be pointed out that it is perfectly edible and this fact makes it even more appealing, doesn't it?
Graduation Cakes For Boys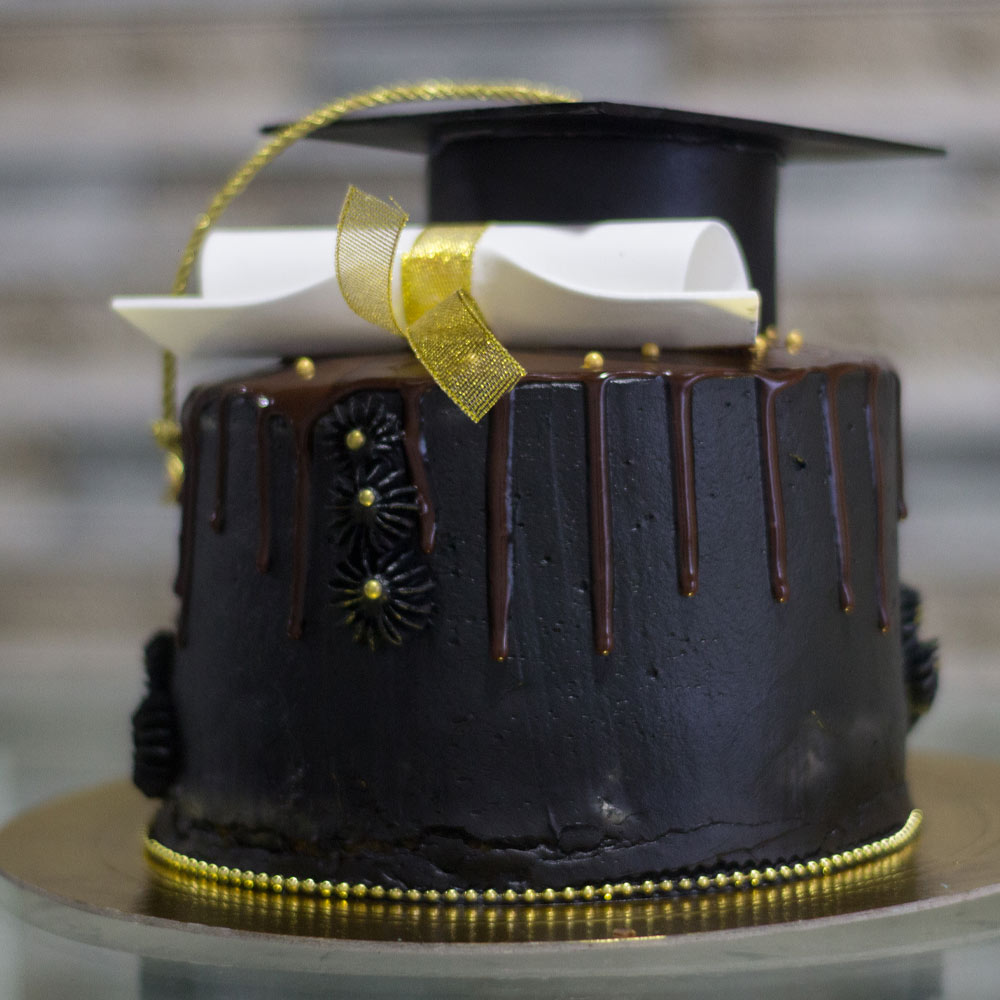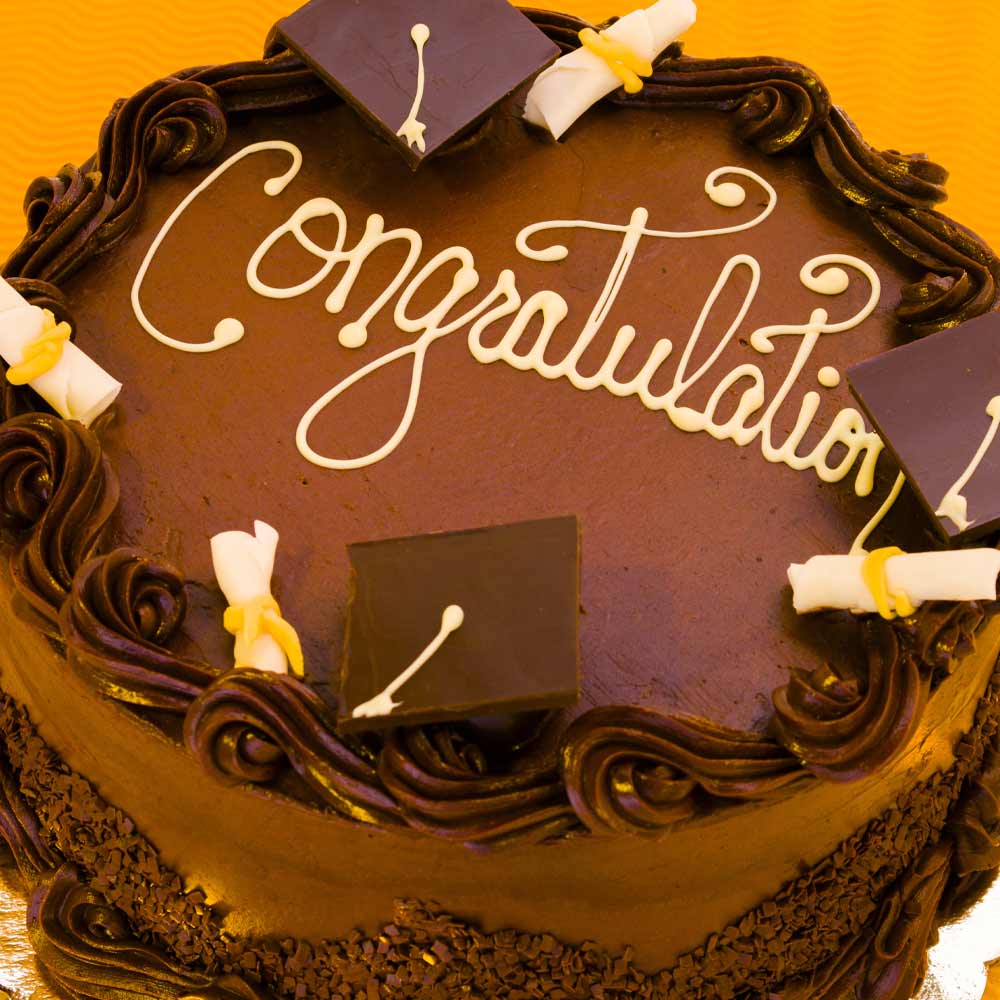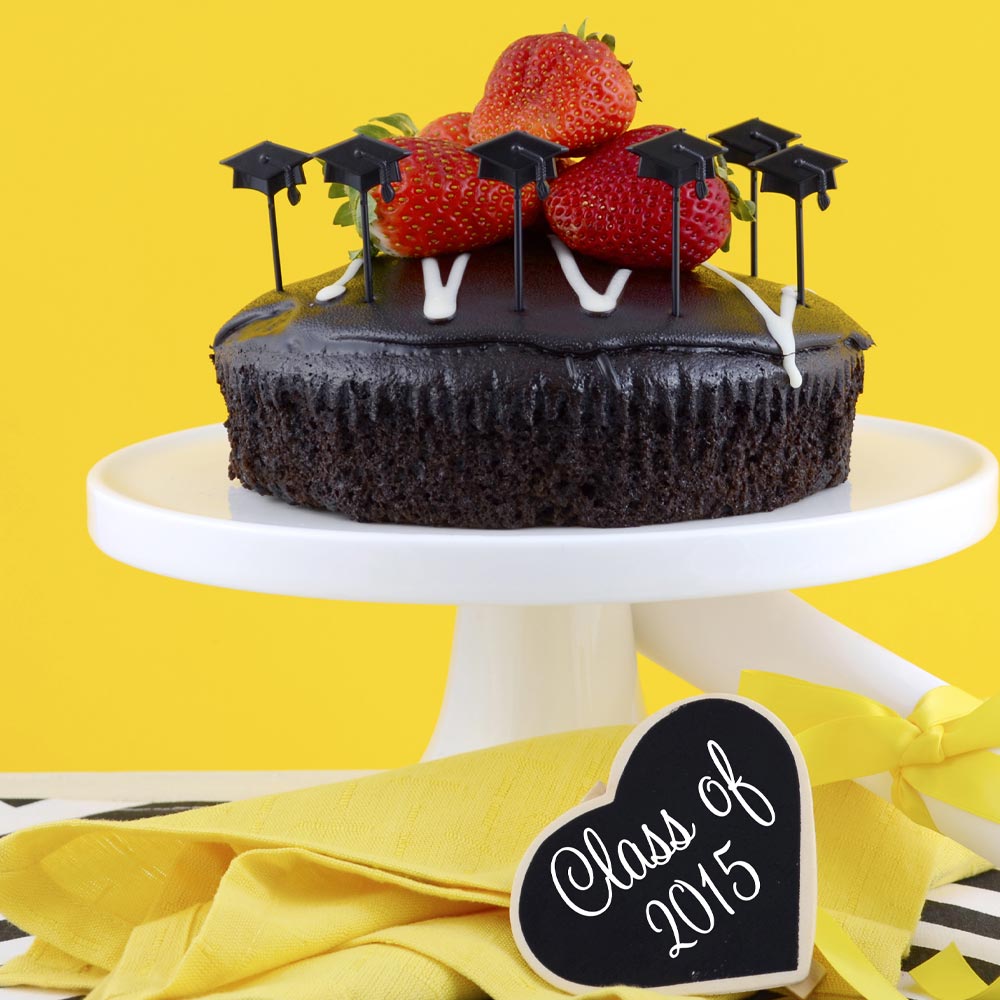 White Two-Tiers Cake Design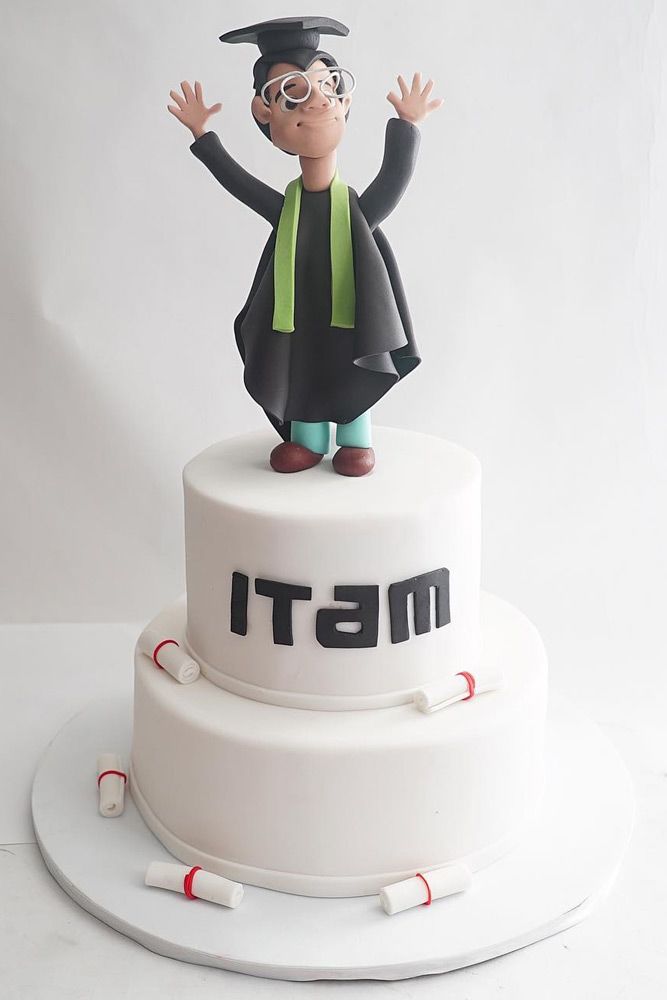 Credit photo: Instagram.com/montequillamx
As we have already discussed cakes for girls, it is time to pay attention to graduation cakes for boys. This may come as a shock to you, but boys love sweets as well as girls. Of course, cakes for boys do not need that much fab and style introduced into the design. A simple white cake with a graduate figure on the top will be highly appreciated by the male team, you can trust us on that!
Marine Corps Graduation Cake Design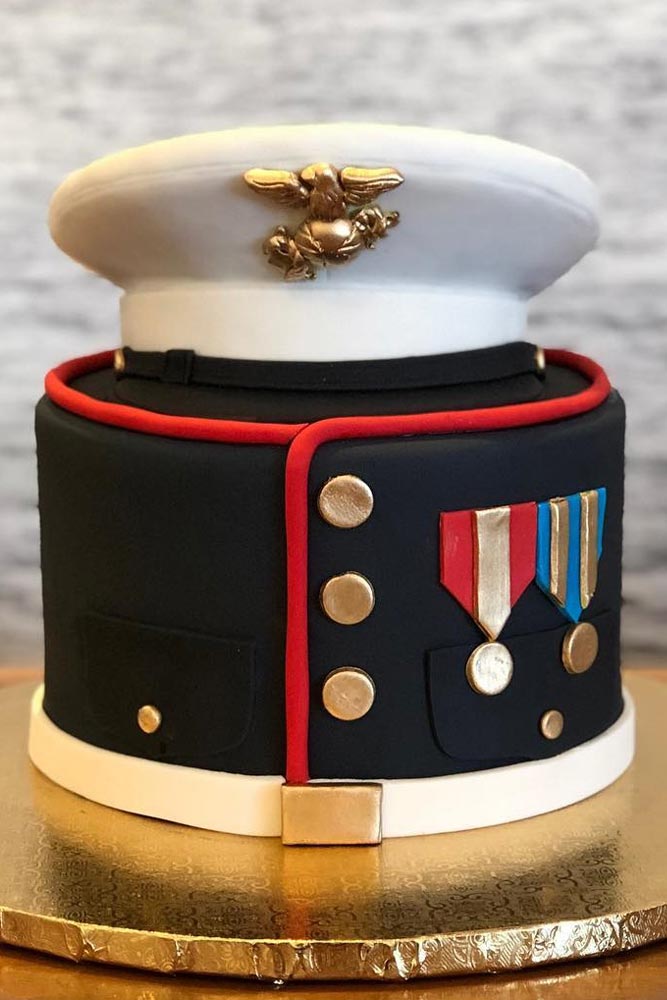 Credit photo: Instagram.com/rayvizcaino
The truth is that the best graduation cakes are the themed ones. For an instant, if you are throwing a party for a marine make sure that the cake is correspondingly looking. Of course, it may take some courage to slice a cake like that, but your effort will certainly be appreciated.
Striped Blue And Yellow Graduation Cake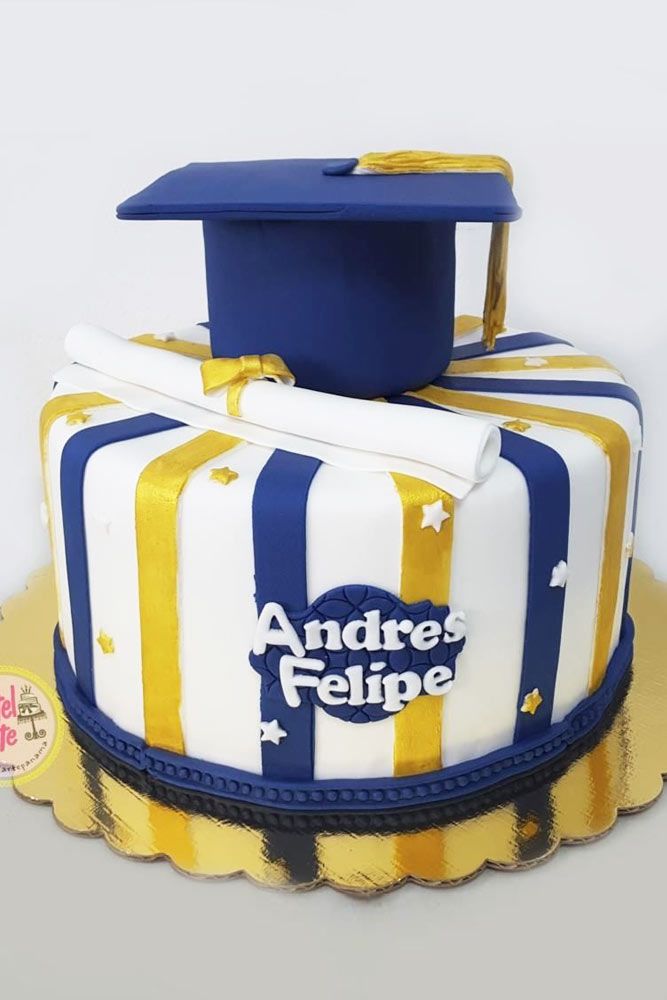 Credit photo: Instagram.com/pastelartepanama
There are times when cakes for graduation are just too pompous. If you do not want yours to be one of such kind, take it easy on it. Striped yellow and blue cake with all the necessary attributes involved will fit in no less than any other creative and pompous cake.
Black And Gold Simple Cake Design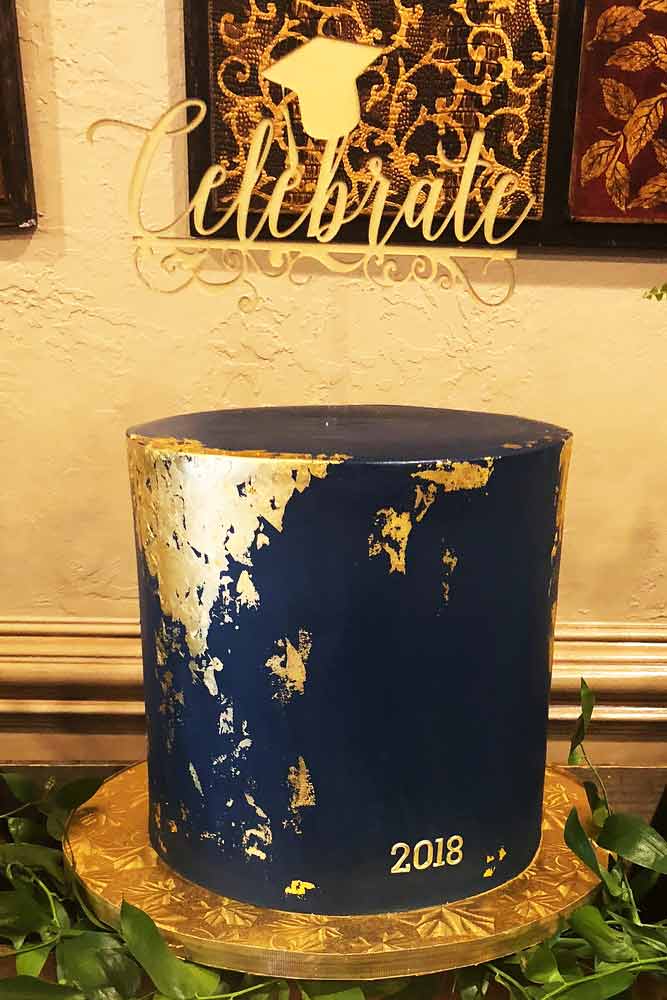 Credit photo: Instagram.com/dazzlemecakes
Some people may think that simple graduation cakes are too boring even to consider them. However, we beg to differ. The thing is that there are many times when a simple cake looks a lot more appealing than the over the edge complex one. This blue and gold cake proves the point ideally. There is nothing out of place about it as well as there is nothing missing. Pure perfection!
Three-Tier Blue And Purple Cake Design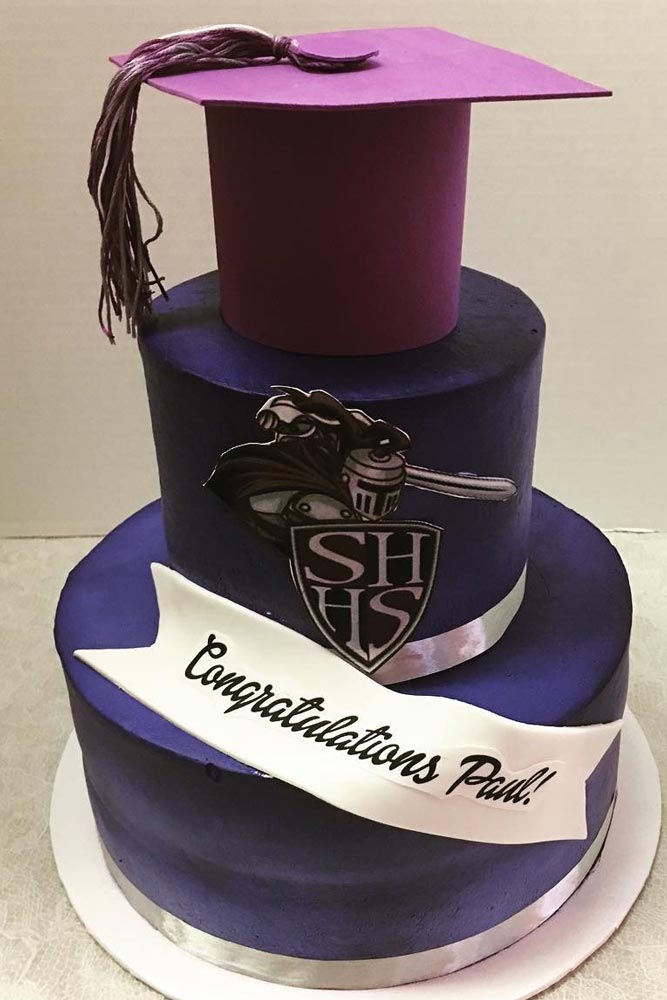 Credit photo: Instagram.com/gabyscakes
When one tier is not enough people opt for two-tier cakes, but what if we tell you that two tiers are not the limit? You can easily order a three-tier cake for graduation and set your creativity free. You can not only match elements and notes but colors as well. Isn't it fancy?
Personalized Cake And Cupcakes With Photo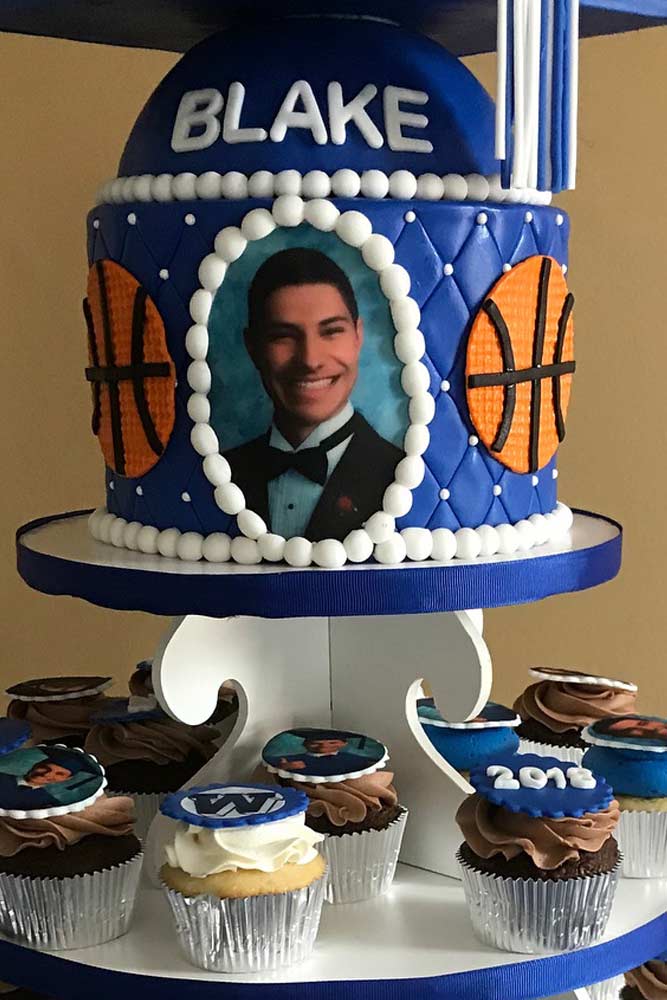 Credit photo: Instagram.com/platinumhouseofsweets2012
Those of you who are looking for over the edge personal cake – we have something in store for you too. The fact is that there can't be anything more personal than a cake with your photo on it. What is more, you can order even similar cupcakes to complete the sweet party. We are sure no one will ever forget a cake like that!
Common Group Cakes And Subject Cakes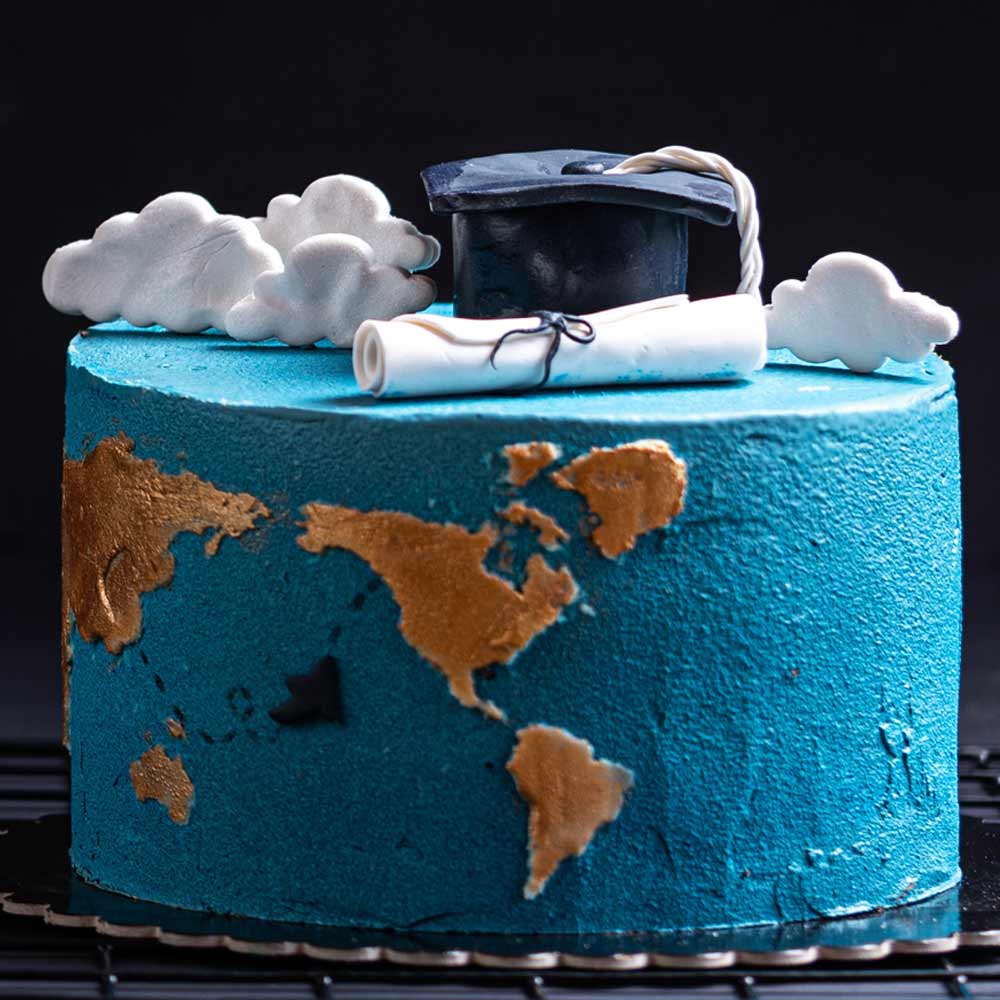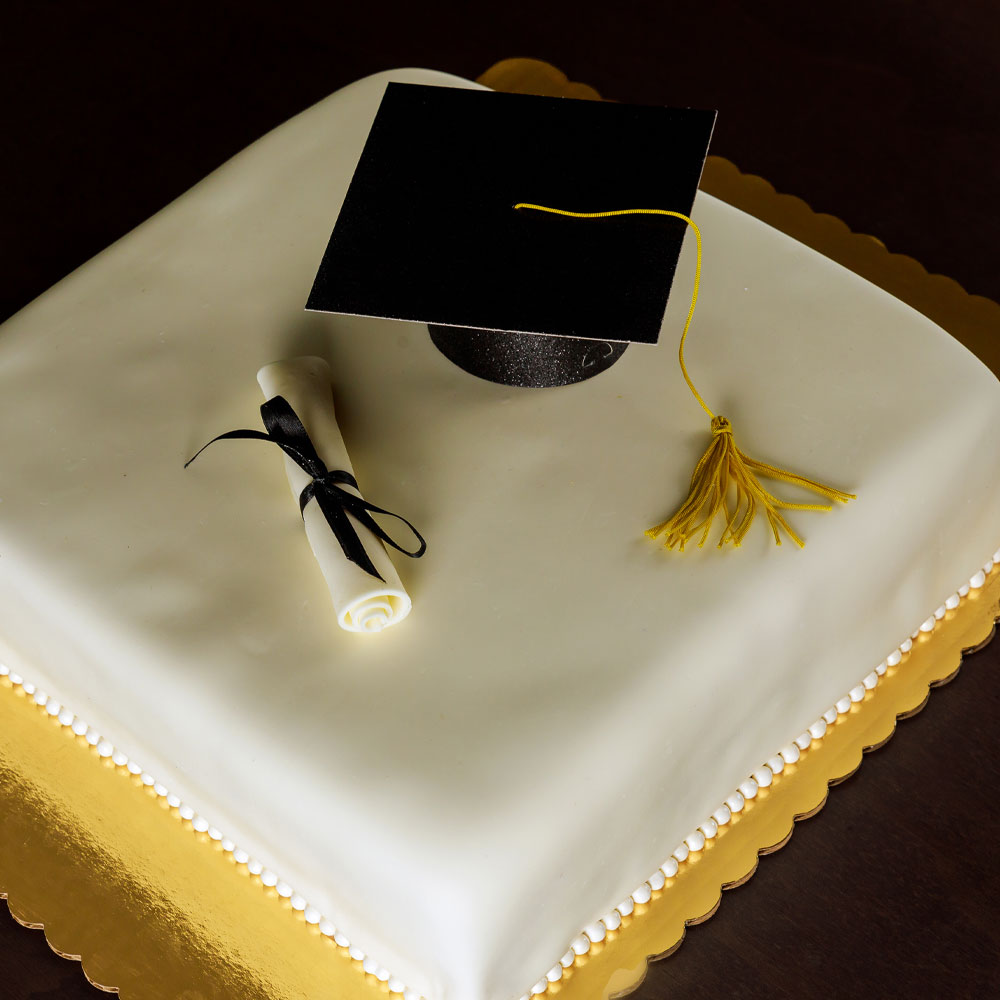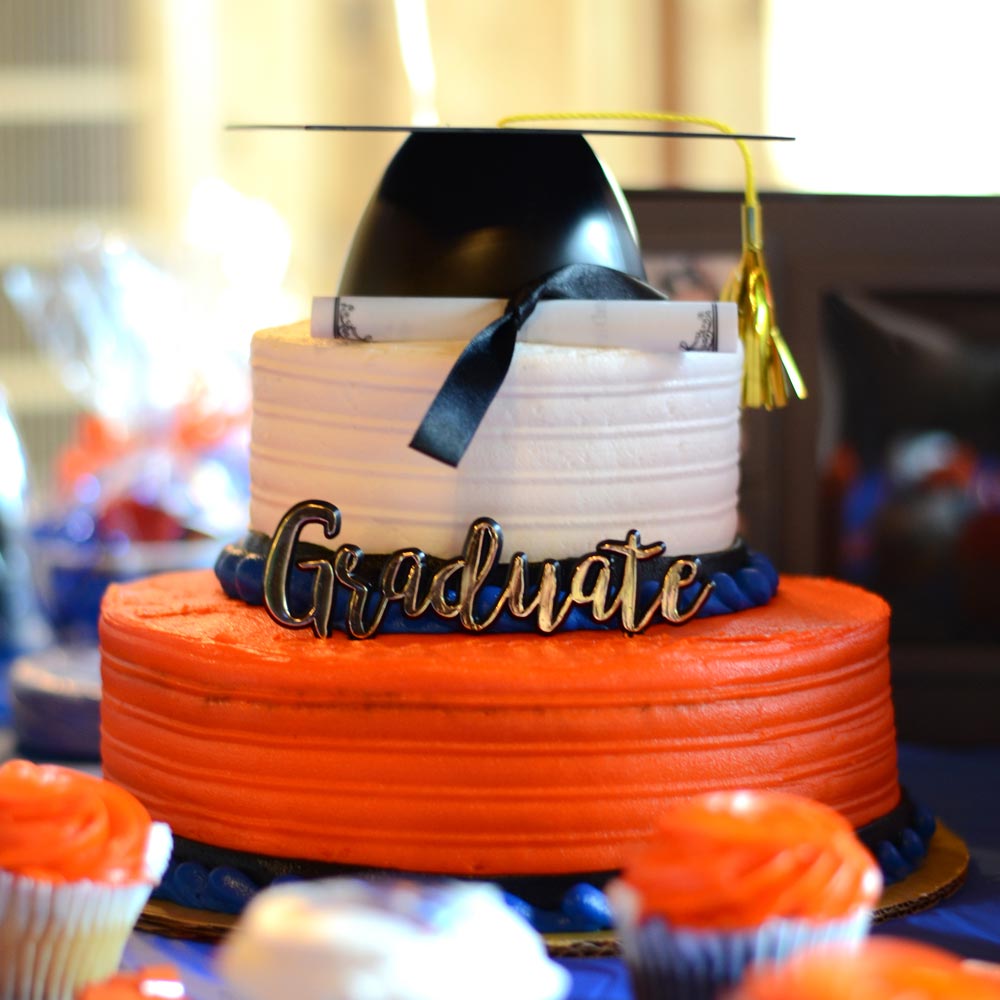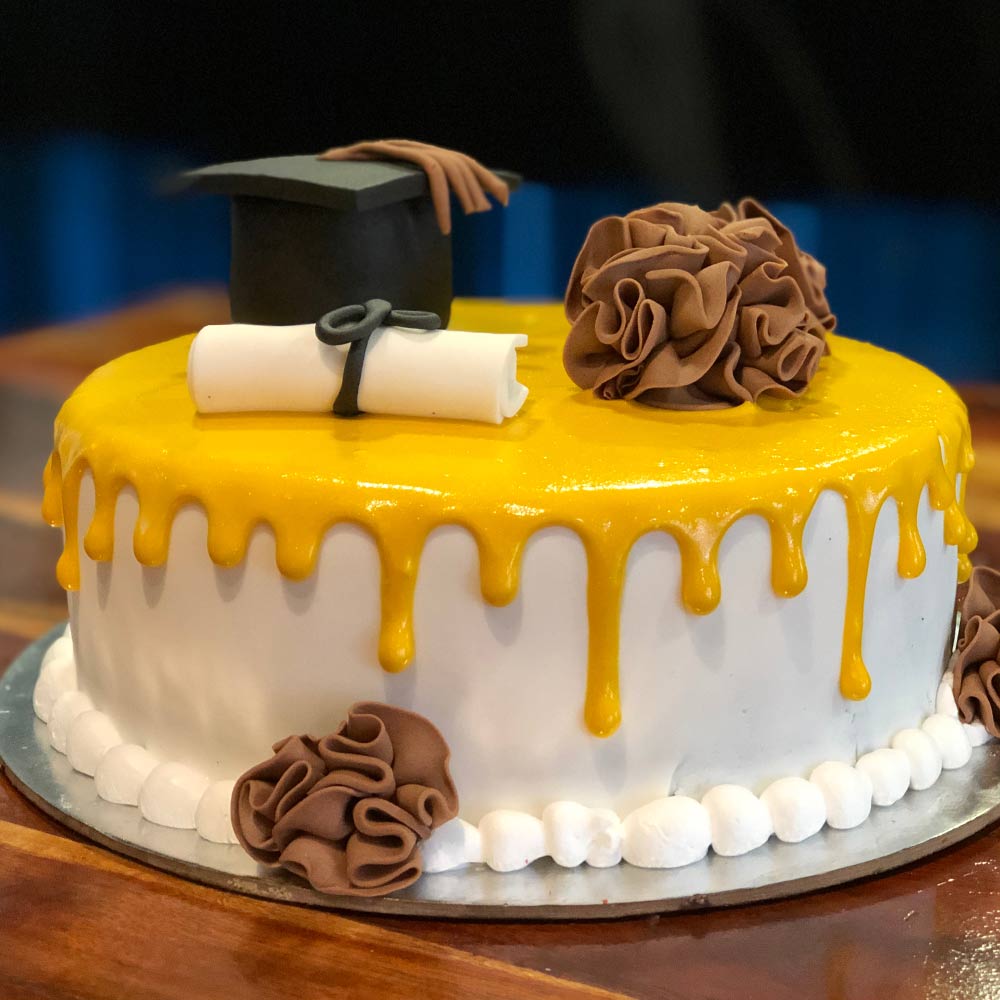 Colorful Pencils Cake Design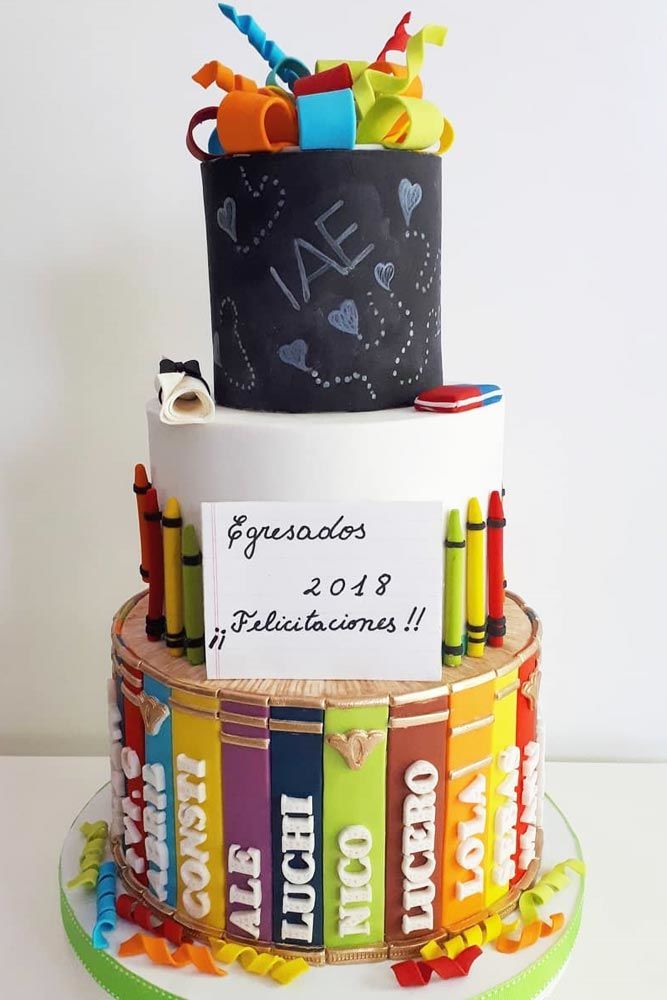 Credit photo: Instagram.com/veroquintelacakemills
There are times when personal graduation cakes are just too many. It is obvious enough that you can't eat a cake yourself so that too many cakes would be just a waste of products. In times like these, you can opt for group graduation party cakes. For instance, this colorful pencil cake with names on it will serve its purpose while nothing will go to waste. Fancy, practical, delicious!
Custom Cake For A Law Graduate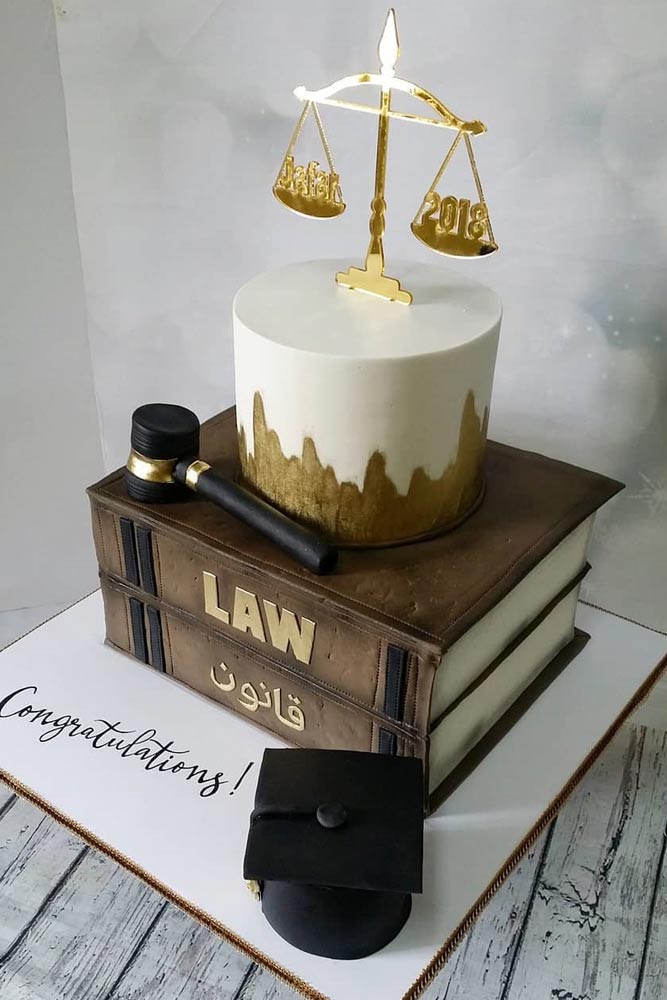 Credit photo: Instagram.com/yumzee_cakes_sohar
It is true that themed custom cakes are the ones that offer a lot of room for creativity of the baker. For example, if you are a law graduate this cake with law books and scales will represent your profession like no other. Besides, it is hard to say that such a cake lacks style simply because it does not!
Sociology Graduation Cake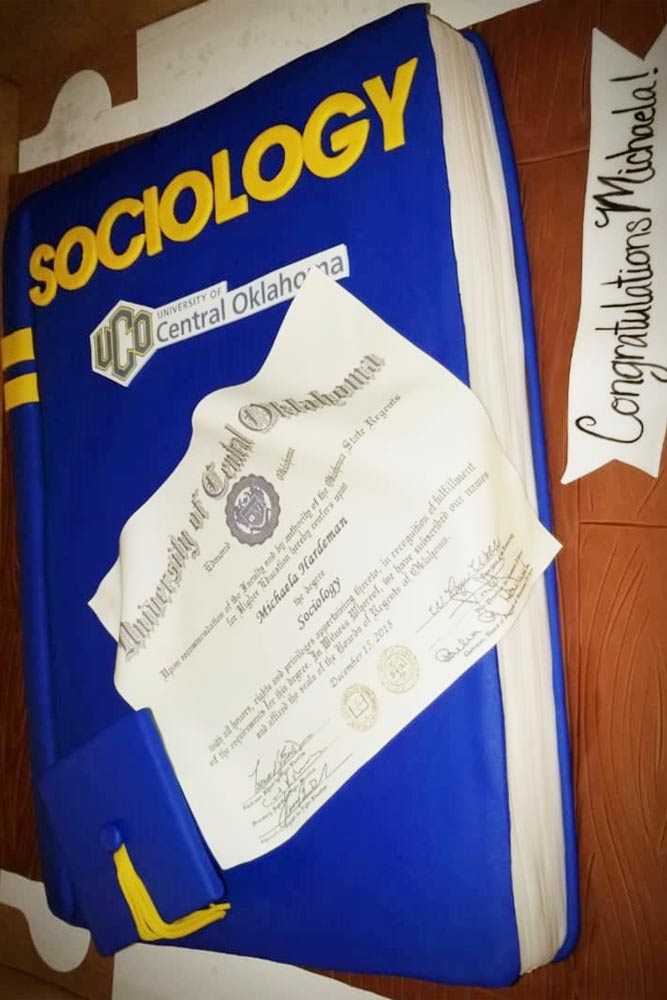 Credit photo: Instagram.com/bakemeacake
This cake for sociology graduates has gone even further in its creativity. The thing is that aside from the fact that it is made in the shape of a study book, there is also a diploma sheet attached to it. Of course, you can eat this tasty diploma copy with no worries!
Purple Graduation Cap Cake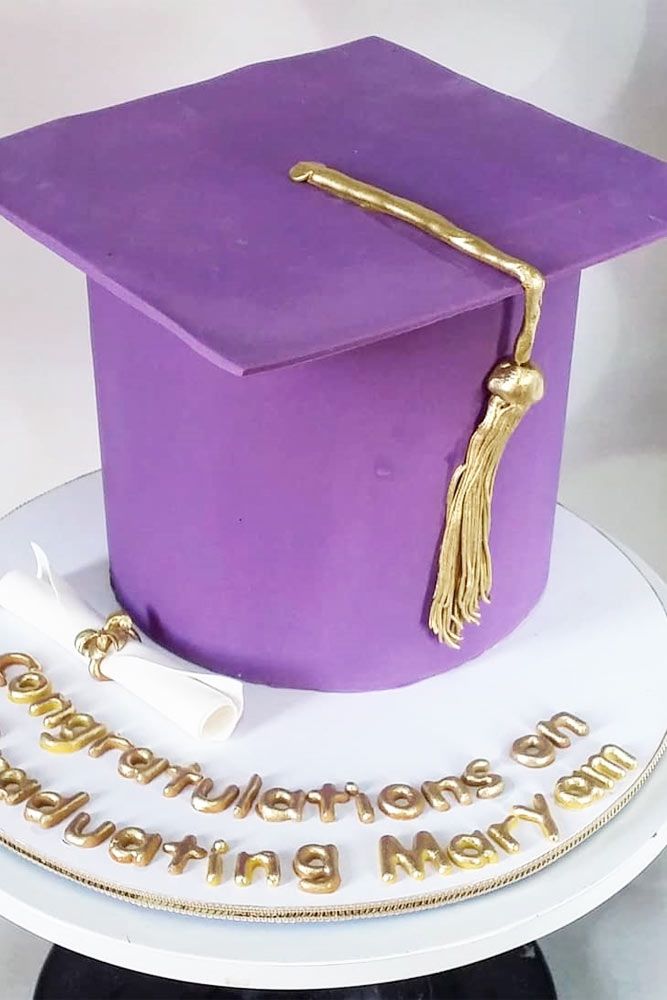 Credit photo: Instagram.com/yumzee_cakes_sohar
Beauty comes in simplicity we all know that. If you want your cake to be just what it is supposed to be – this purple one is precisely the one to consider. The diploma scroll, graduation cake and the congratulation note – all in place, so that nothing is missing. Besides, purple hues are trending right one. It is a win-win cake from any perspective.
Medical Graduation Cake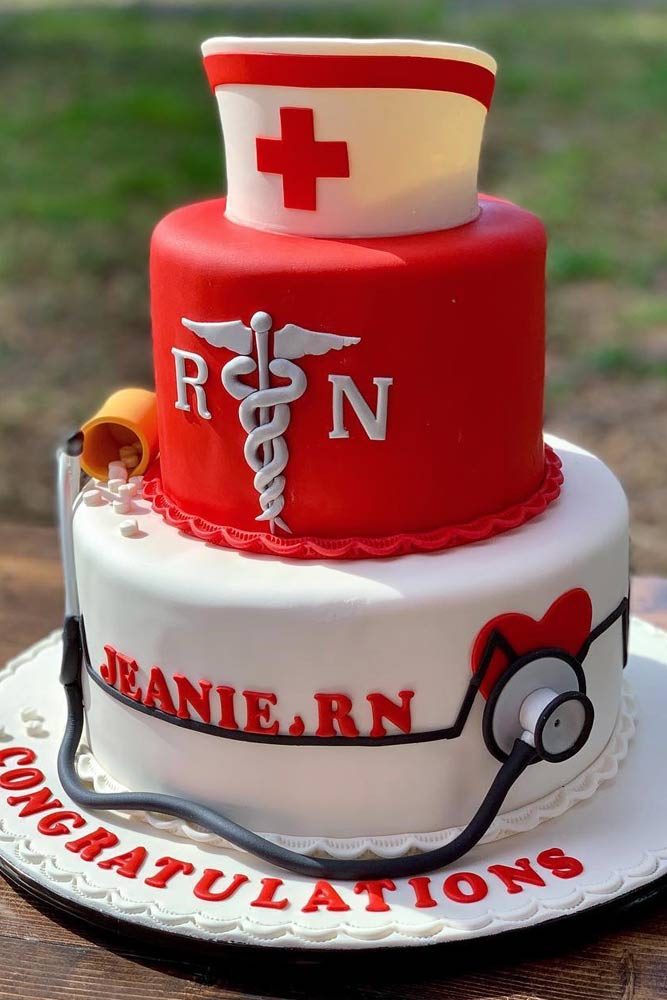 Credit photo: Instagram.com/cakesbyjenhavenar
Just like law graduates, medical ones surely deserve a cake that is representing the area in the best way. That is why you need to make sure that nothing is missing from the cake's decoration. A bottle of pills, a stethoscope, a nursing cap – all these are the attributes you should in no case leave out when it comes to medical graduation cake. Take a closer look at this example, so that you do not miss out even the tiniest detail.
FAQ: Graduation Cake
What do you put on a graduation cake?
You can put a simple and sweet message on your graduation cake. Something like "Congratulations, Graduate!", "Class of (Graduation Year)", "You Did It!" or "Congratulations" followed by the grad's name. An inspirational quote like "Be bold, be courageous, be your best", or "Follow your heart" can be a great option as well.
How much does a graduation sheet cake cost?
Bakers will usually charge $30- $50 for a half sheet cakes. A half sheet cake from a bakery is 15 inches by 11 inches or even as big as 16 inches by 12 inches, a home half sheet cake will likely measure 13 inches by 9 inches.
Was this article helpful?