Being a woman is not an easy task, especially a stylish one. There are so many trends to follow, and they change at rapid speed. It may seem that when the next season comes, it is time to throw all the clothes out and load the closet with new ones. However, no matter how appealing that may sound that is not always the best possible way out. That is why we are going to reveal an important secret for you. The thing is that no matter the season or year, at that point, – denim jacket remains in fashion. This means that you need a fresh range of ideas to pull it off with style. That is precisely what we have prepared for you here!
What Color Denim Jacket Should I Get?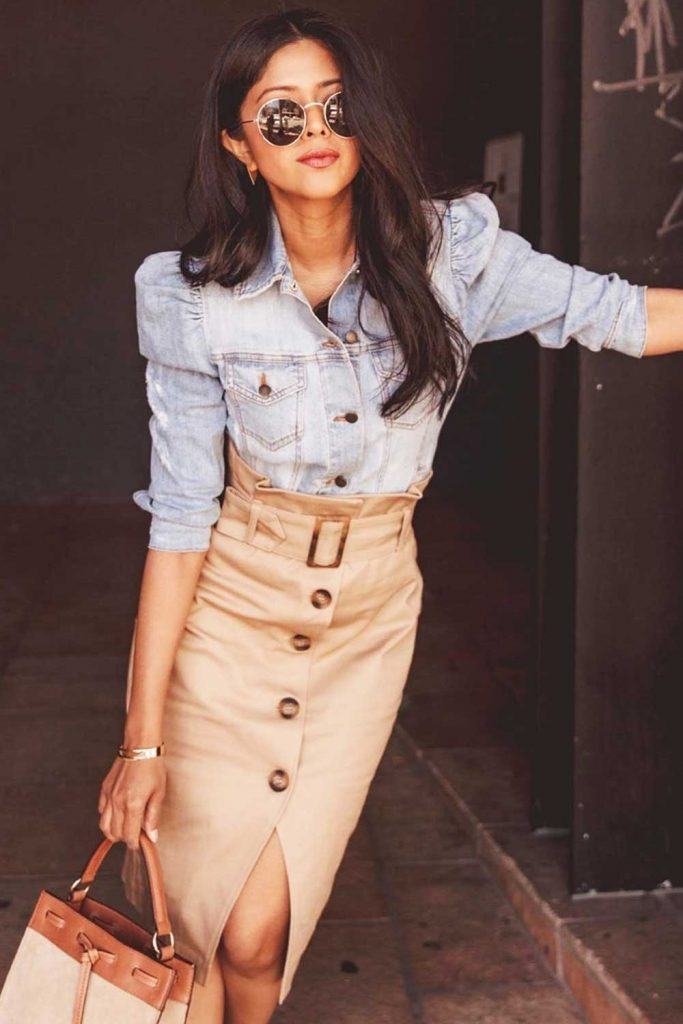 Source: Instagram/walkinwonderland
There are a few basic shades of denim jackets. They are blue, black, white and grey. Depending upon the shade, there are some rules to bear in mind, and we are going to share them with you.
Blue – there are various tints to blue jackets too. That is why summer is the best fit for lighter hues, while colder months require deeper and darker blue tones.
Black – such-hued denim jackets are probably the most versatile of all. There is basically no look that you wouldn't be able to rock with a jacket like that. Be it smart or casual – black denim jacket has it all!
White or grey - these are surely the rarest denim options, but that is an advantage too since you can create your ultimate unique look just like that sporting just a jacket of unusual color.
Can You Wear A Denim Jacket With Jeans?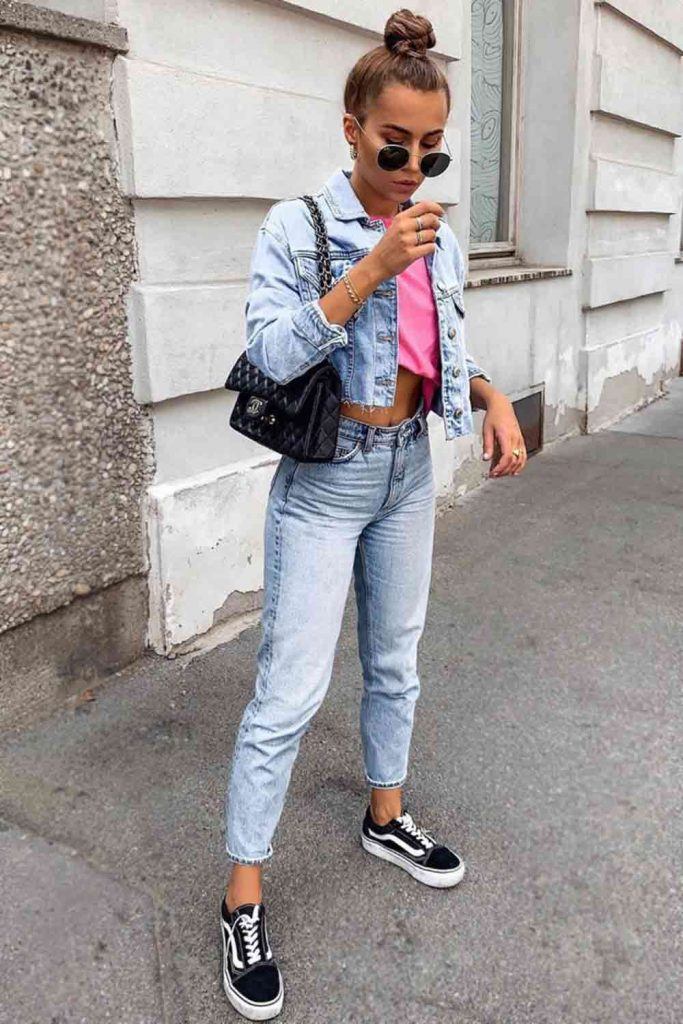 Source: Instagram/anunanna
Even though both jeans and jackets are made of the same material, matching them may a trickier task than you imagine.
Yes Contrasting jeans
No Matching jeans
It is simple math, in fact. Keep these simple rules in mind, and you will always look great!
Are Denim Jackets In Style?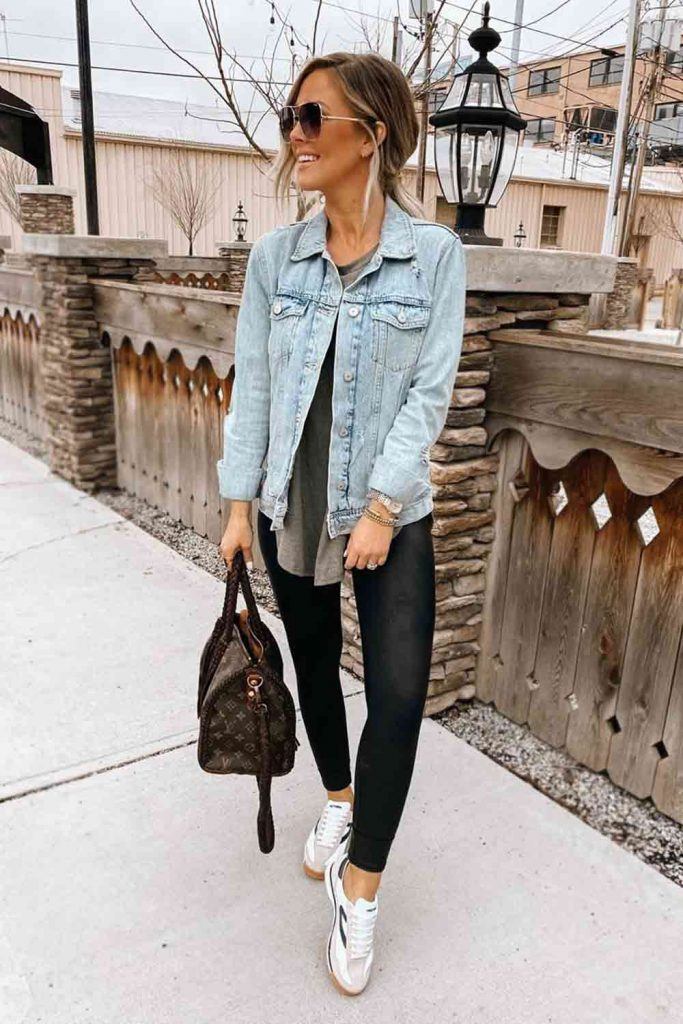 Source: Instagram/almost_readyblog
One of the most challenging issues that women have to face despite the age that they live in – fashion and ever-changing trends. It is true that these days trends change one another at the speed of light. Not only is it hard to follow them up, but updating your wardrobe every time something new appears on the radar is quite costly too. So, what should you do? Well, we would advise you to have a couple of timeless items in your closet so that you can experiment with the trendiest looks without significant investment into it. A denim jacket is precisely that one classy and stylish item that we are talking about. If you have those in a few shades and style – you are set for life!
Denim Jacket With Joggers Outfit Ideas
Beige Joggers With Oversized Jacket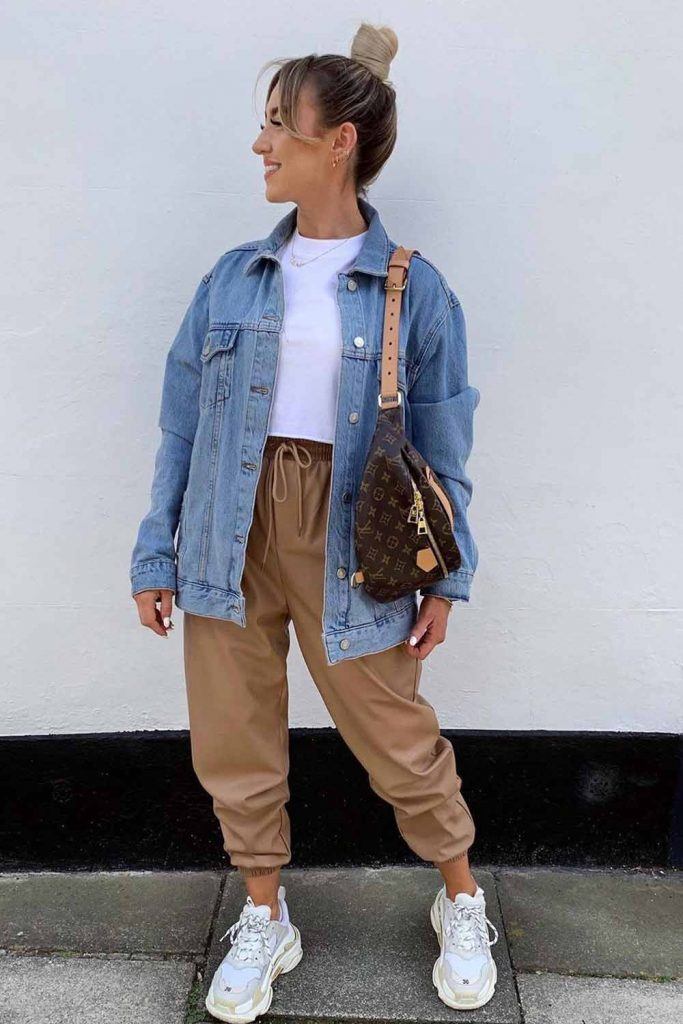 Source: Instagram/freyakillin
Many fashion critics claim that more than one oversized item in your look will make you seem shapeless and puffy. However, that is not always the case. The truth is that an oversized denim jacket and joggers seem to complete your sporty look perfectly.
Black Joggers With Embroidery Jacket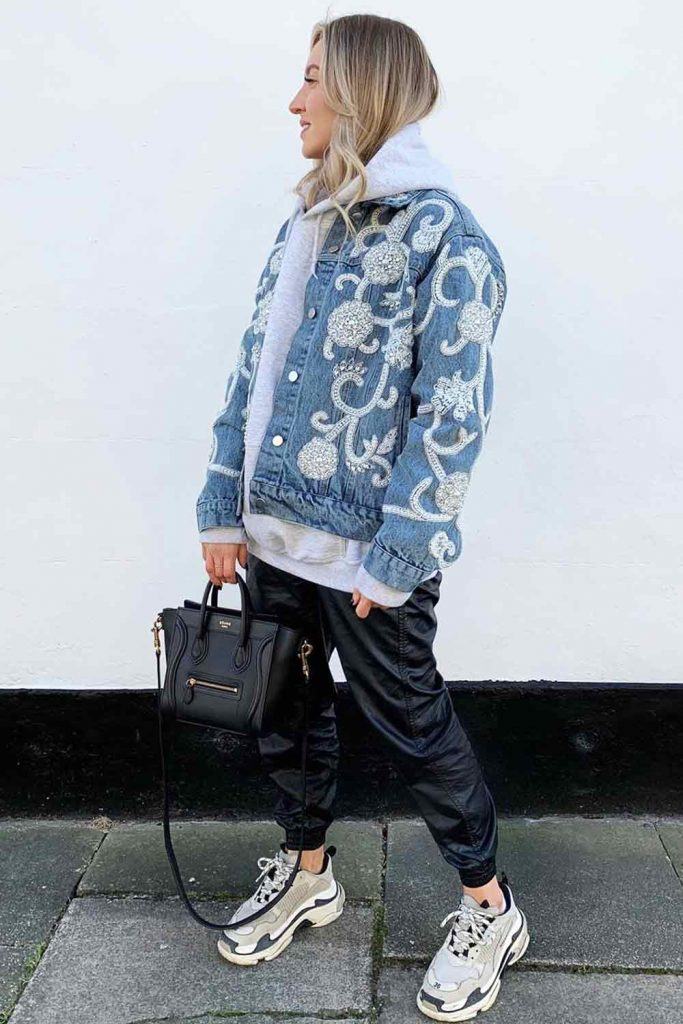 Source: Instagram/freyakillin
A decorated denim jacket is one of the best ways to add a touch of elegance and femininity to your casual style. No matter how different the items are, the look turns out more than harmonious.
Denim Jacket With Jumpsuit Outfit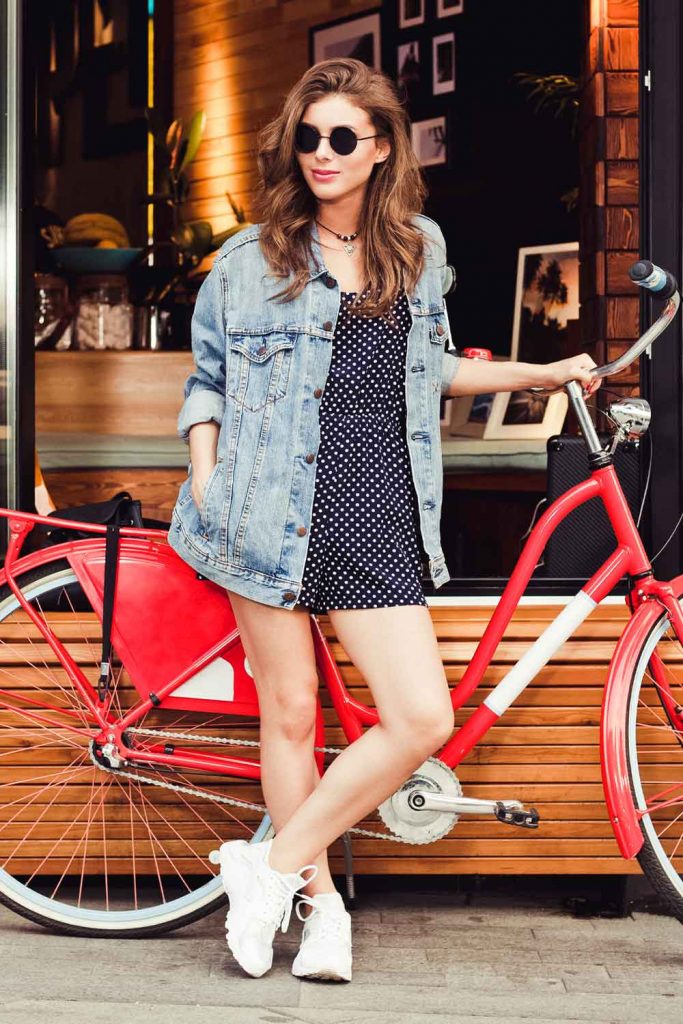 Summery Jumpsuit And Denim Jacket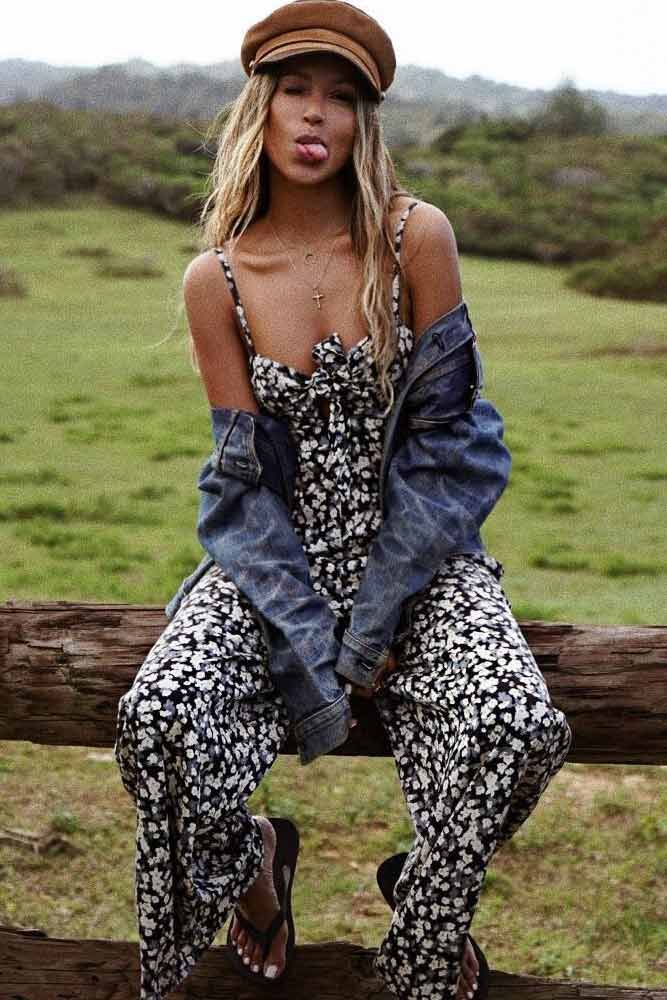 Source: Instagram/sincerelyjules
Summers can be cold as well. Even if they are not, it does not matter that you need to forget about a denim jacket once and for all. The fact is that you can easily take things to the new level with a summer jumpsuit and a light denim jacket.
Black Jumpsuit With Denim Jacket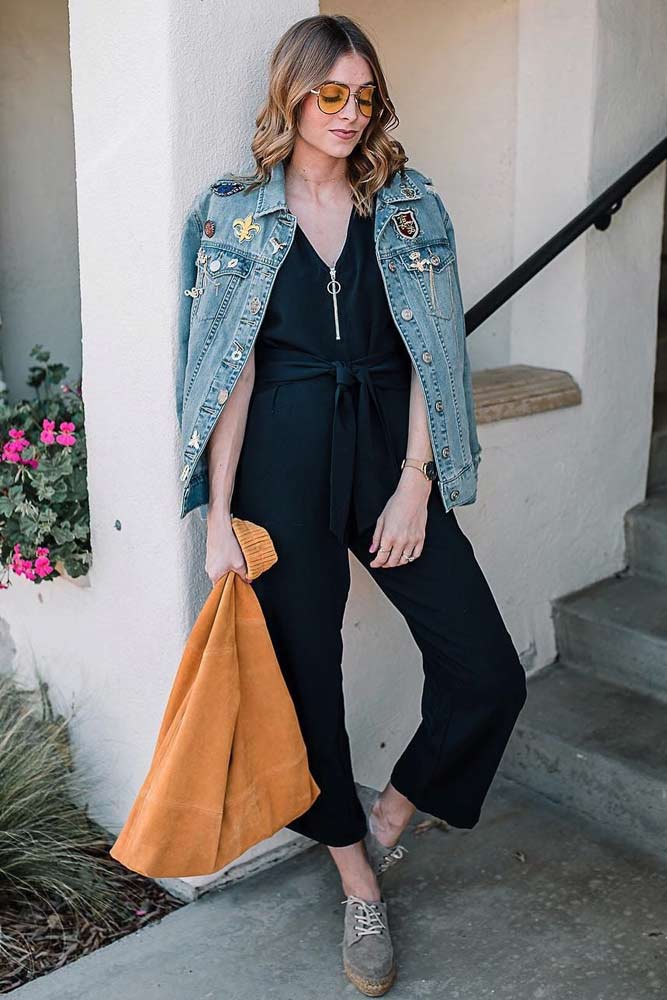 Source: Instagram/navygraceblog
The jumpsuit is another required item when the warm season hits. Nevertheless, there are times when you feel that your stylish black jumpsuit looks somehow incomplete. When the introduction of accessories does not change the situation, a denim jacket will. You can trust us on that!
Polka Dots Jumpsuit With Jacket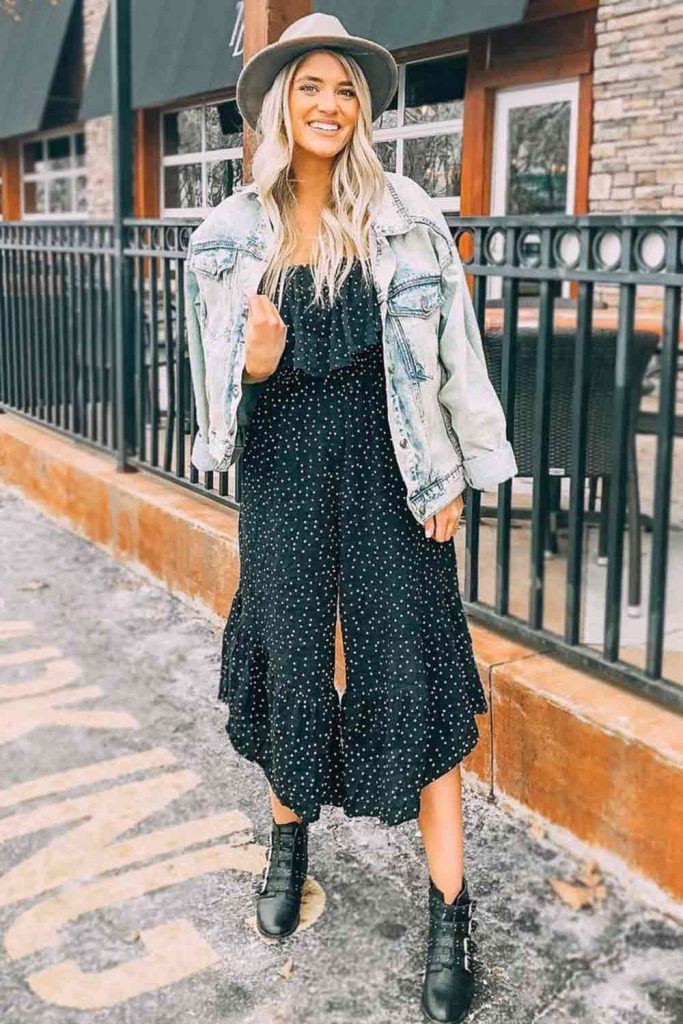 Source: Instagram/samanthakatew
There are times when you need to wear something light, but the weather is quite moody and unpredictable. To complete your elegant and flowing jumpsuit outfit, we suggest you introduce a denim jacket in. The stylish result is granted!
Denim Jacket With Leggings Outfit
Black Oversized Jacket And Leggings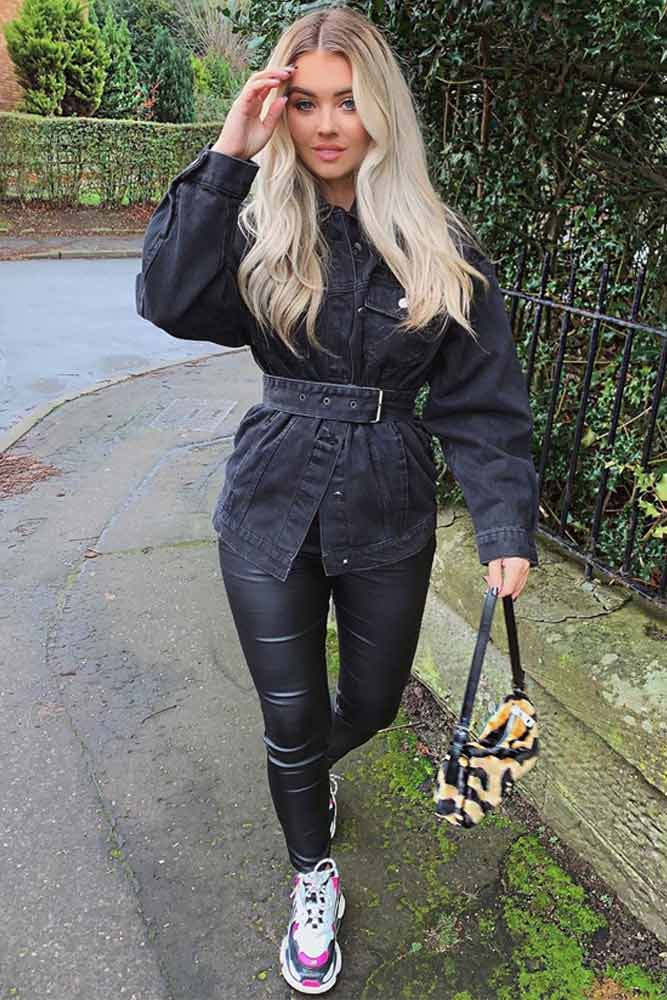 Source: Instagram/abbieblyth
The truth is that there are many denim jacket outfits available, but we are going to begin our survey with the classiest match. The fact is that a jacket and leggings match each other perfectly. Besides, if you combine leather and denim, you will get not only a good-looking outfit but also a trendy one.
Crop Denim Jacket With Black Leggings Outfit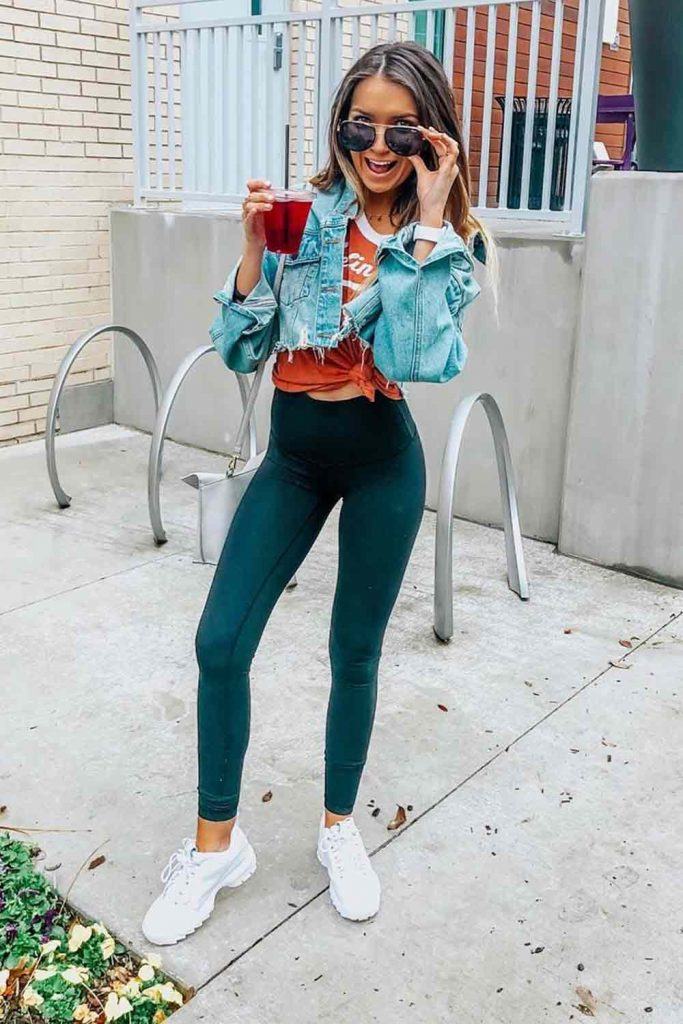 Source:Instagram/lizstarr18
Another stylish and casual look that you can pull off almost anytime is the mixture of black leggings and a T-shirt topped with a cropped jacket. Trendiness overloads!
Denim Jacket With Shorts Outfit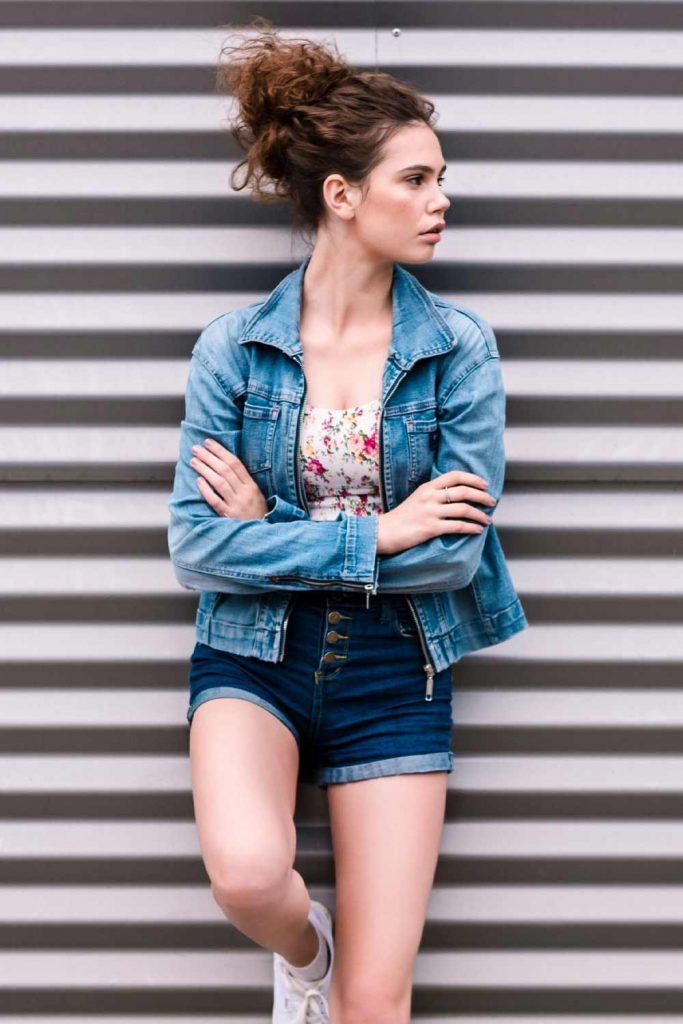 Oversized Jacket With Shorts Outfit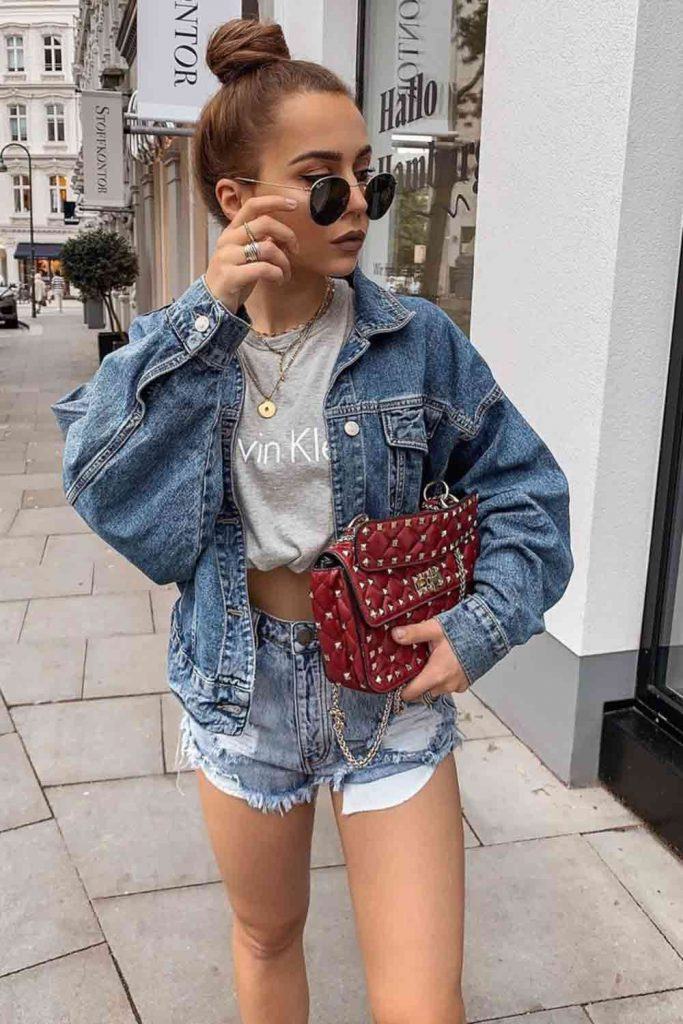 Source: Instagram/anunanna
The best way to keep your sassiness on sight but not to let it go over the edge is to match those ripped shorts of yours with an oversized denim jacket that is a tone darker.
Long Black Denim Jacket With Shorts Outfit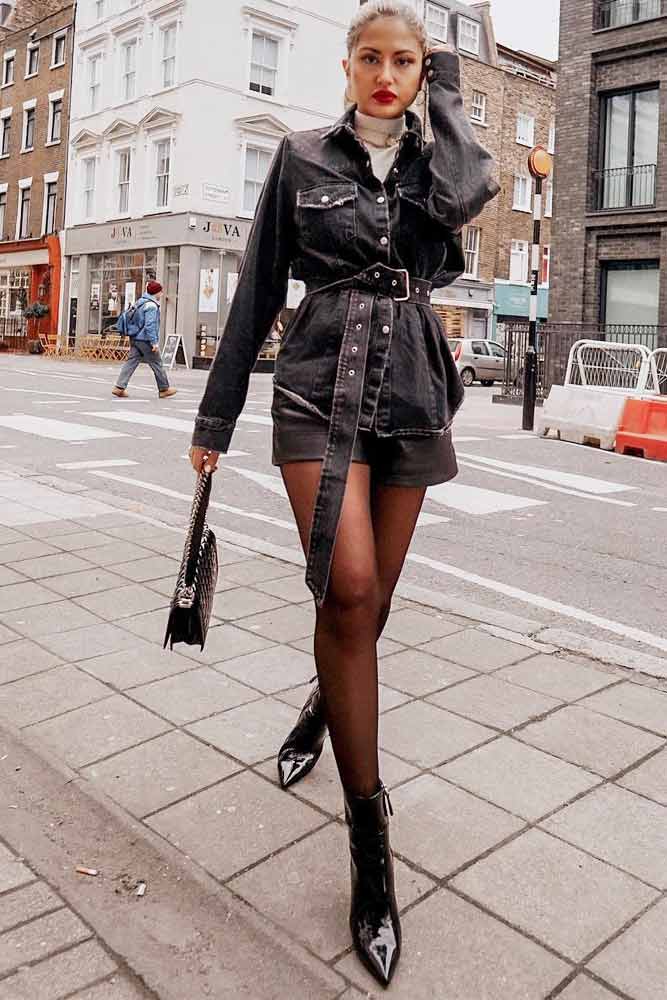 Source: Instagram/fashionismyfortee
Most of you when you hear something about a denim jacket you imagine regular blue one, however, there are some other variations as well. For instance, the black denim jacket will help you succeed with the extraordinarily stylish and extraordinary look, no matter what you pair it with.
Outfit Ideas With Skirts Outfits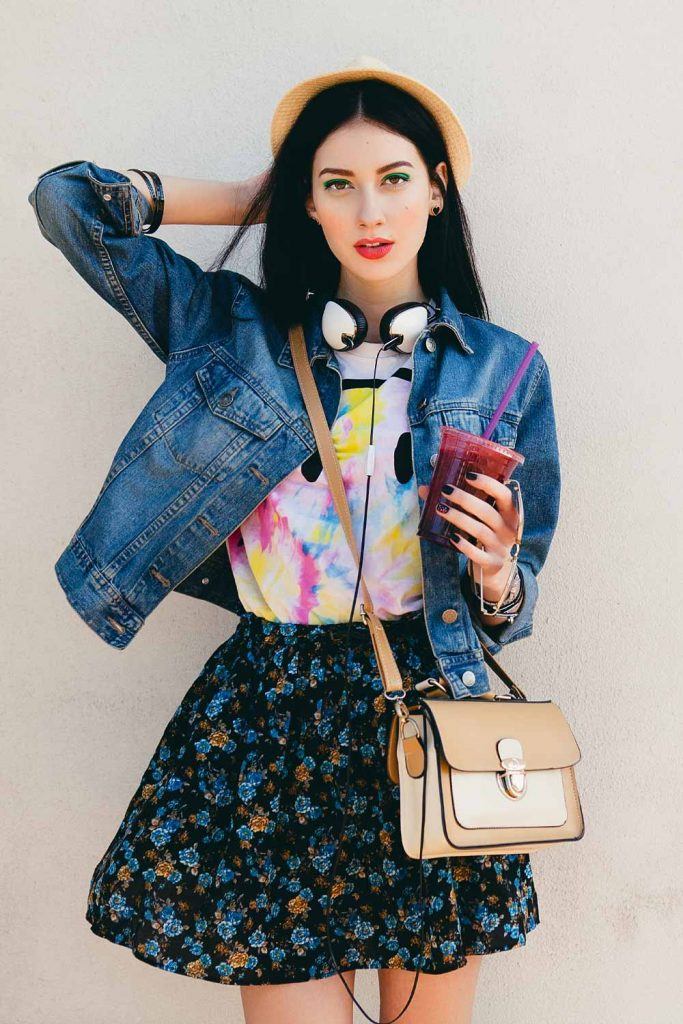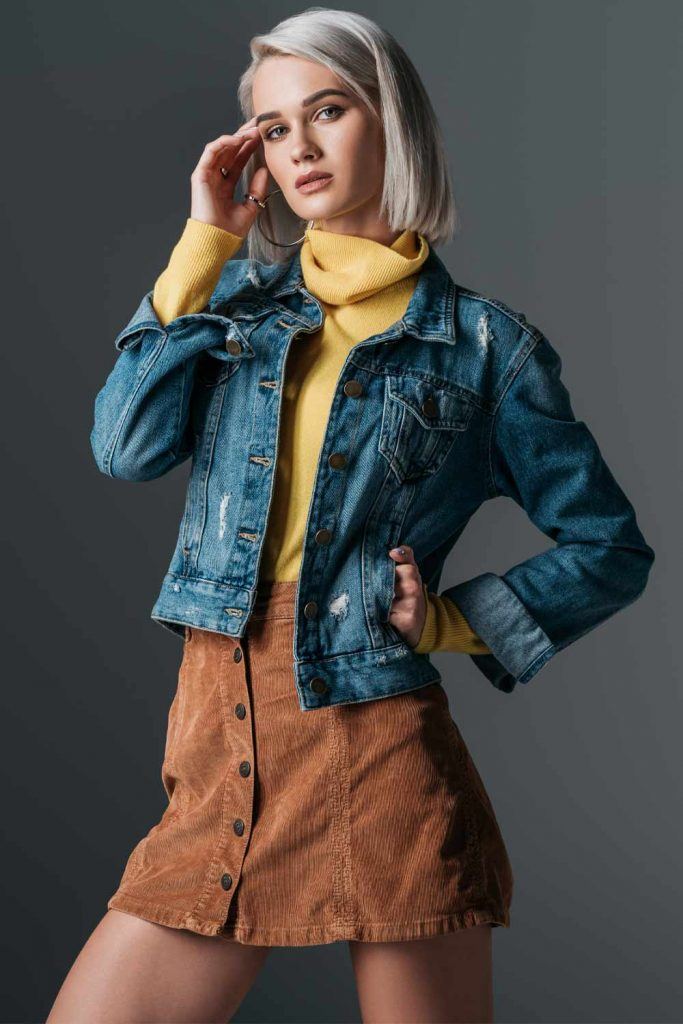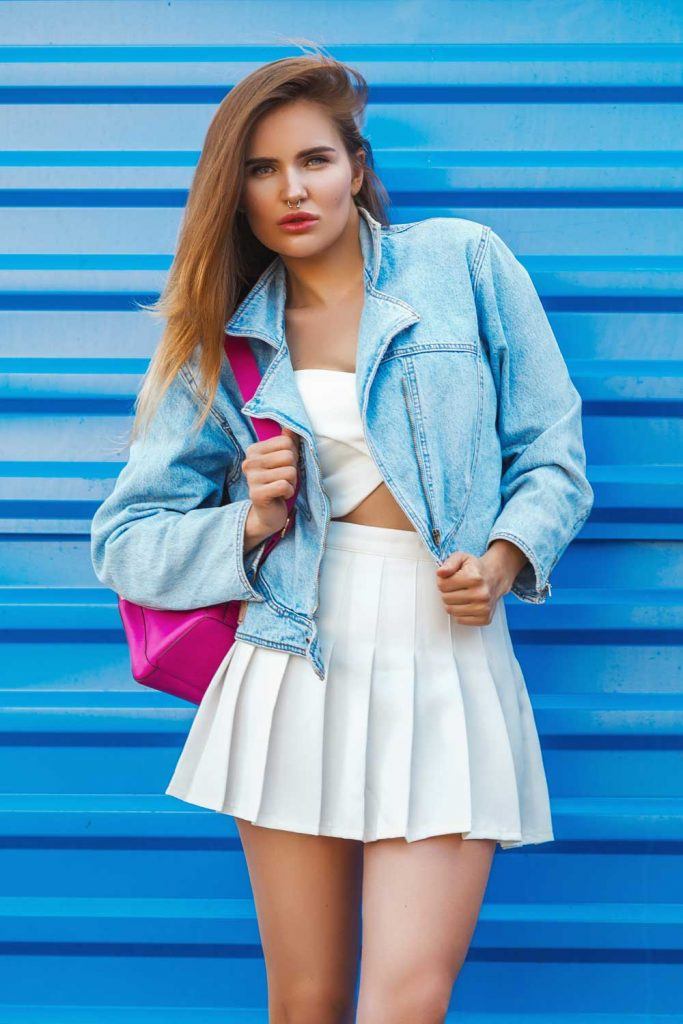 Denim Jacket With Graphic Top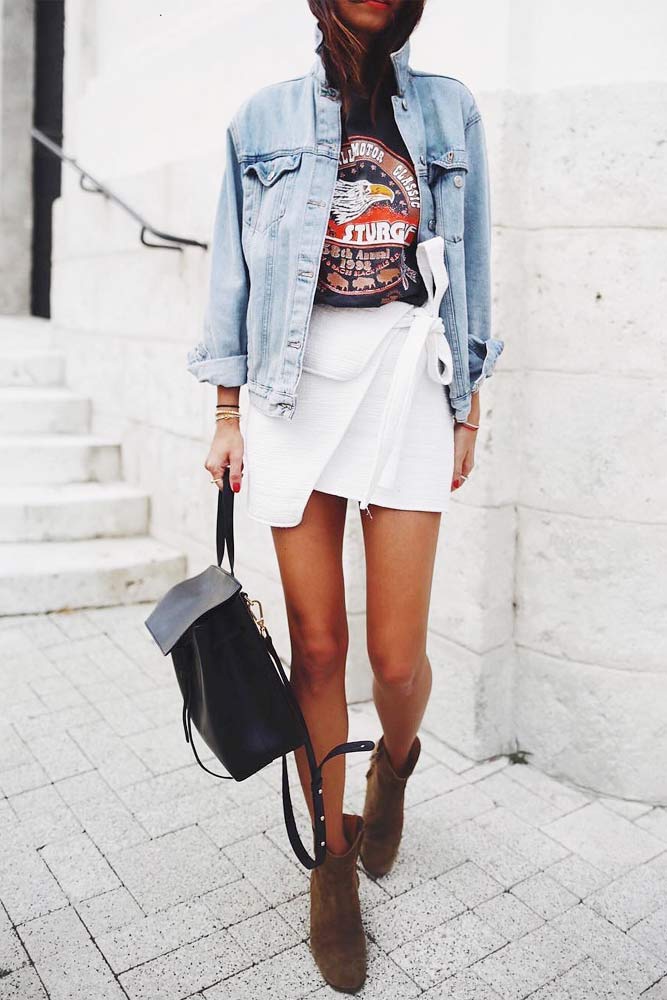 Source: Instagram/andicsinger
If you seek a more rebellious but trendy look, we have something in store for you. The thing is that in this look every detail matches the other, even though they seem to be quite the opposite on their own. A graphic top, a lovely white skirt, and a universal jacket make this image complete.
White Crop Top And Denim Jacket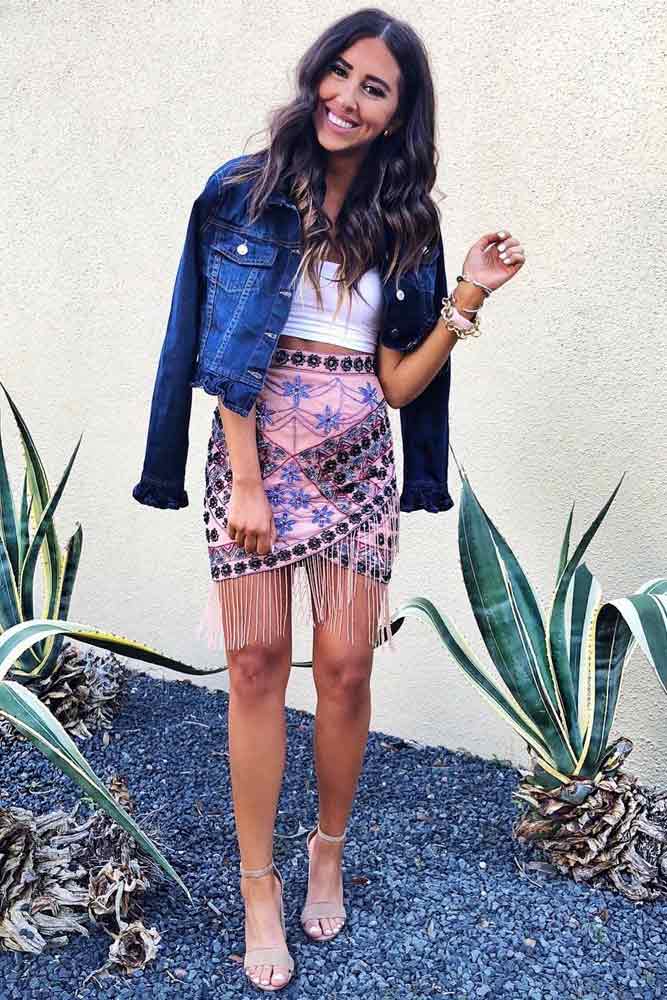 Source: Instagram/dressupbuttercup
When warm season hits crop tops will surely gain their popularity. However, no matter the temperature outside it may get cold in a matter of minutes. If you need a safe way out – denim jacket it is. It not only emphasizes the beauty of the crop top but will also keep you warmer when needed.
Oversize Denim Jacket With Mini Skirt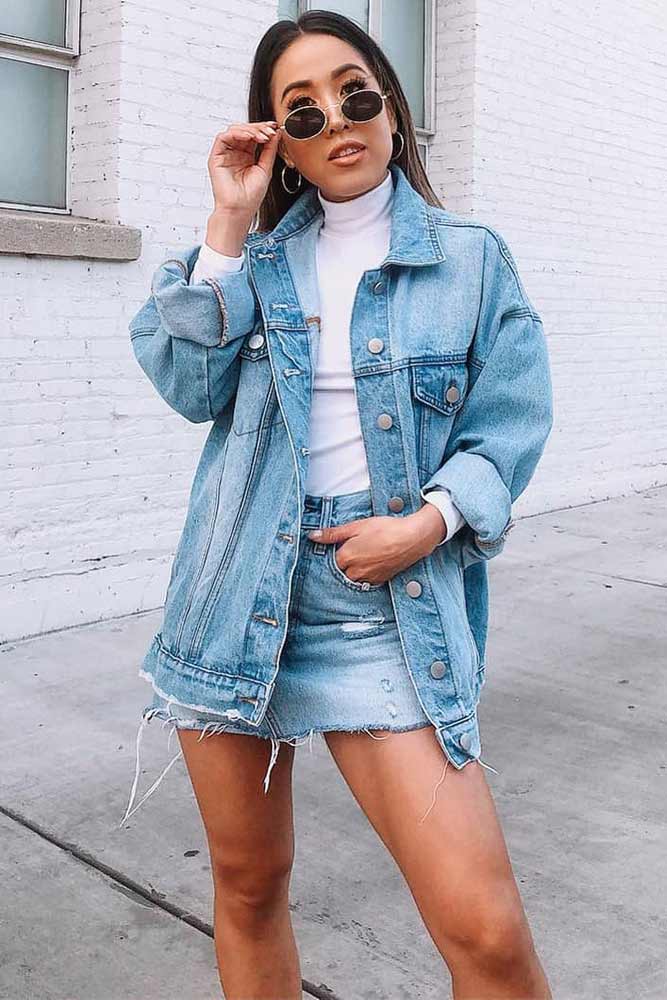 Source: Instagram/jessthrowiton_
The oversized denim jacket is on the edge of popularity these days. However, it is not enough to just purchase it and introduce it to your collection. It is essential that you at least have a clue as to what to pair it with. We think that such a jacket goes absolutely well with a mini skirt. What is more, the mini denim skirt will only add up to your stylish outlook.
Black Leather Skirt And Jean Jacket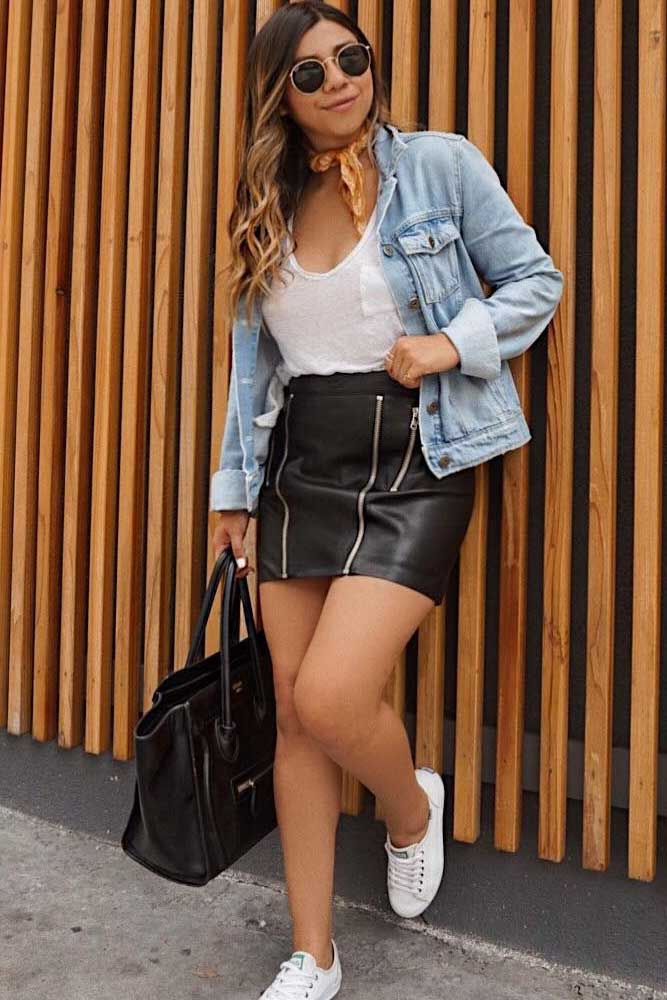 Source: Instagram/lovelennyy
To tell you the truth a leather skirt is as universal as the jacket. You could think that a leather skirt will suit only leather jacket but denim jacket looks the same perfect! This brings us to the conclusion that matching these two items together is a lovely idea. You can wear a simple white t-shirt underneath to complete the look. As you can see, the result is astonishing!
Long Skirt And Denim Jacket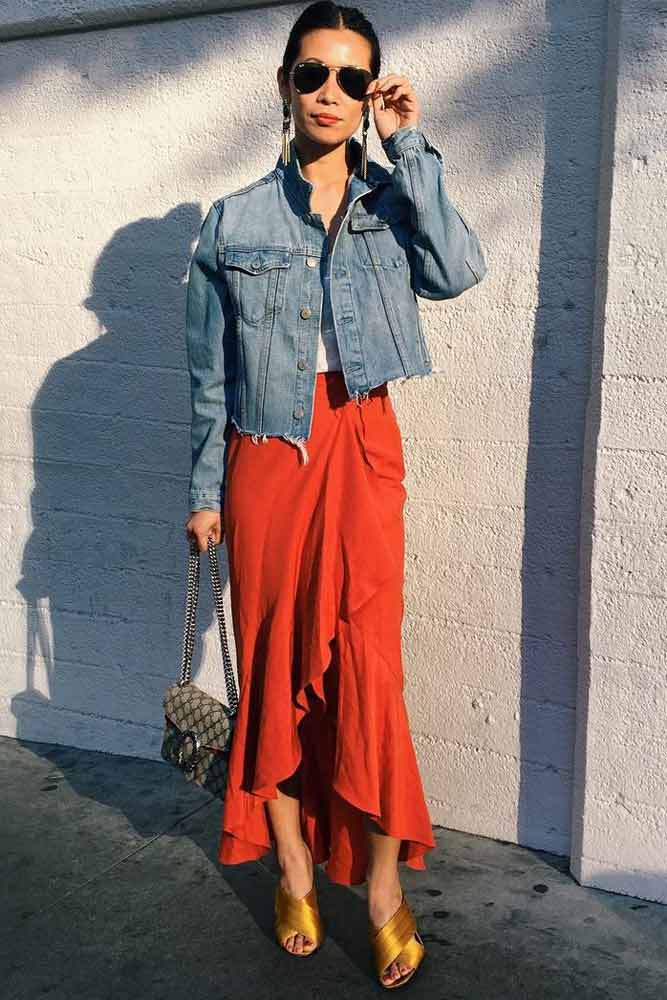 Source: Instagram/raissagerona
The truth is that when it comes to a long skirt, we rarely think of a denim jacket as a matching item. However, you need to brood on the idea for a while since, in fact, the two match each other. The thing is that no matter the length or color of the skirt the jacket has the ability to enhance the look and take it to the whole new level of stylish.
Denim Jacket With Jeans Outfit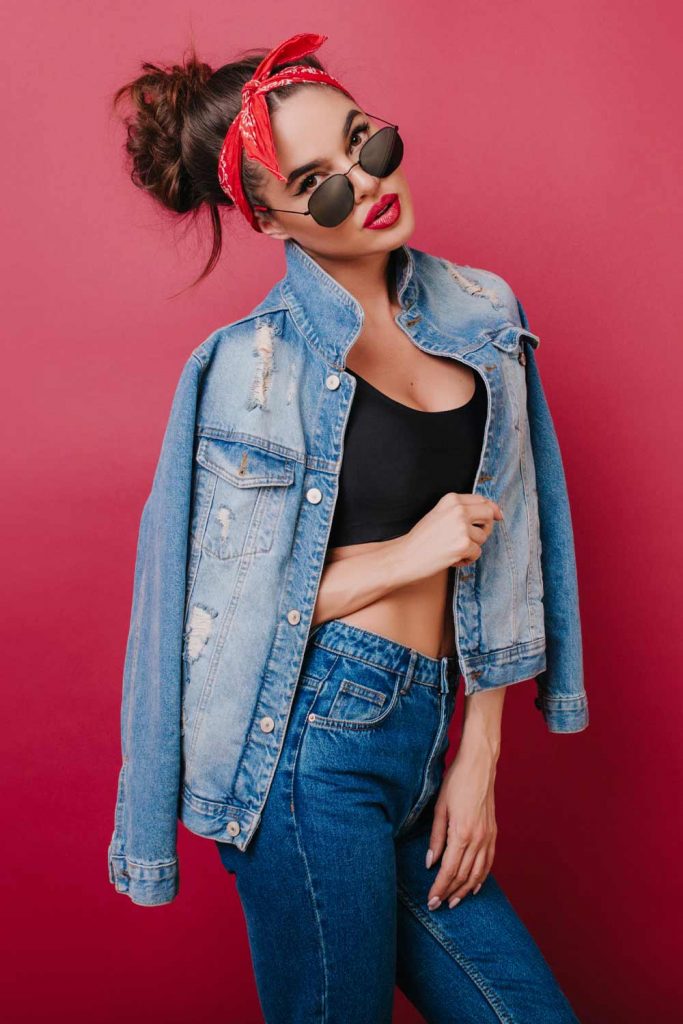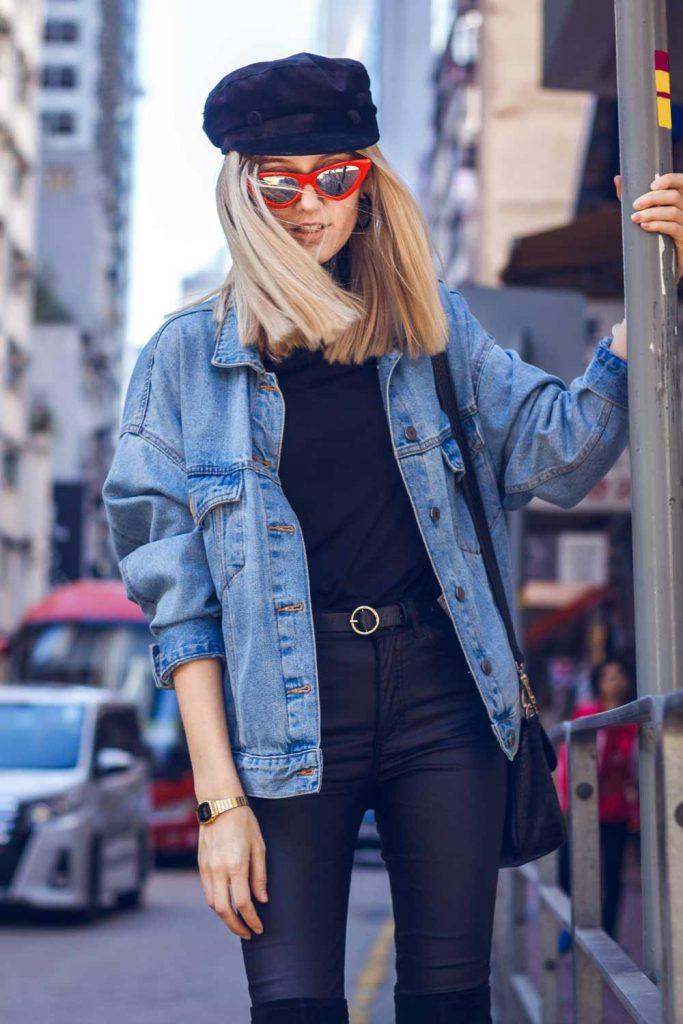 White Jeans And Oversized Jean Jackets For Women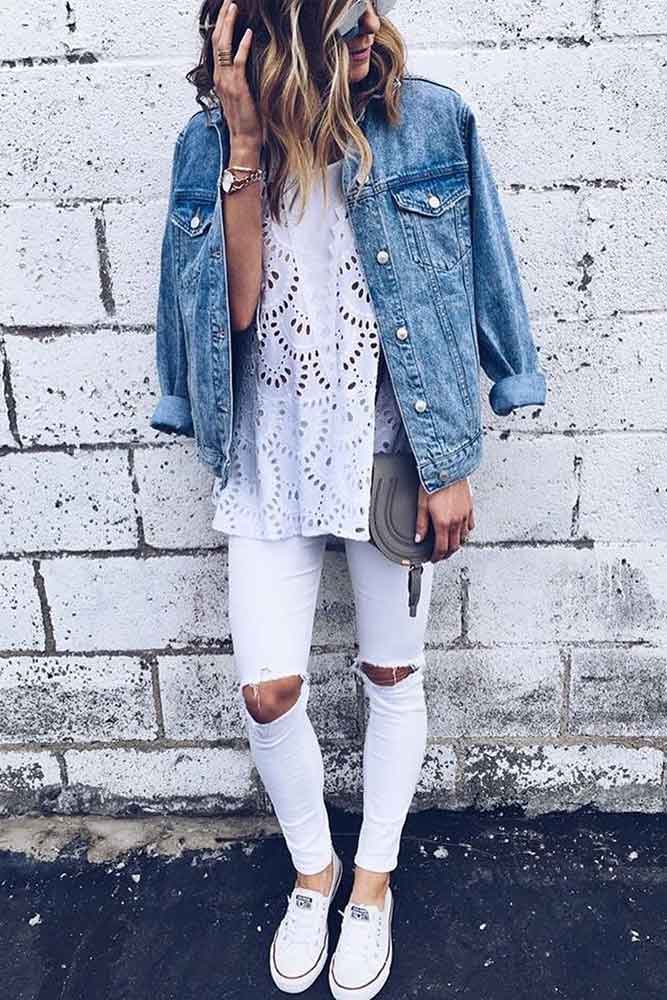 Source: Instagram/cellajaneblog
White jeans, especially torn ones are on the edge of popularity these days. However, the fact is that such a pair of jeans may seem too blank to create a proper image. What we suggest you is match such a pair with an oversized jacket. There is no way such a match wouldn't look balanced, and stylish.
Light Washed Denim Jacket And Jeans Outfit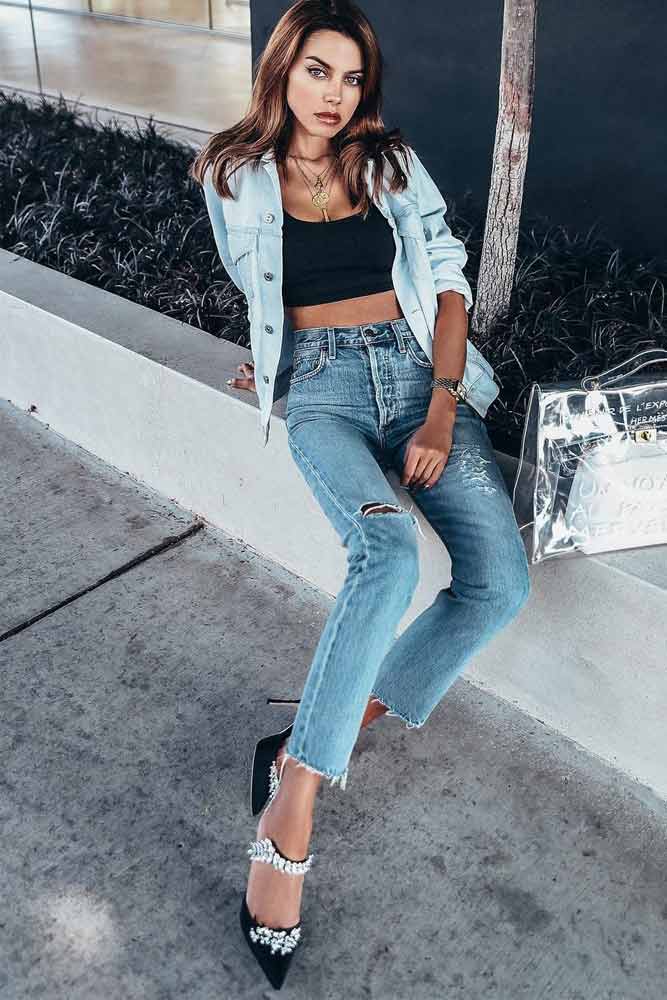 Source: Instagram/vivaluxuryblog
It is not a secret to anyone the best matches come out when you combine things that may seem unmatchable. Of course, there is nothing wrong with a pair of jeans and a top combined with a washed jacket. But the exact center of attention and fantastic heeled shoes. Strangely enough, they seem not to be out of place, don't you think?
Crop Jacket With High Waisted Jeans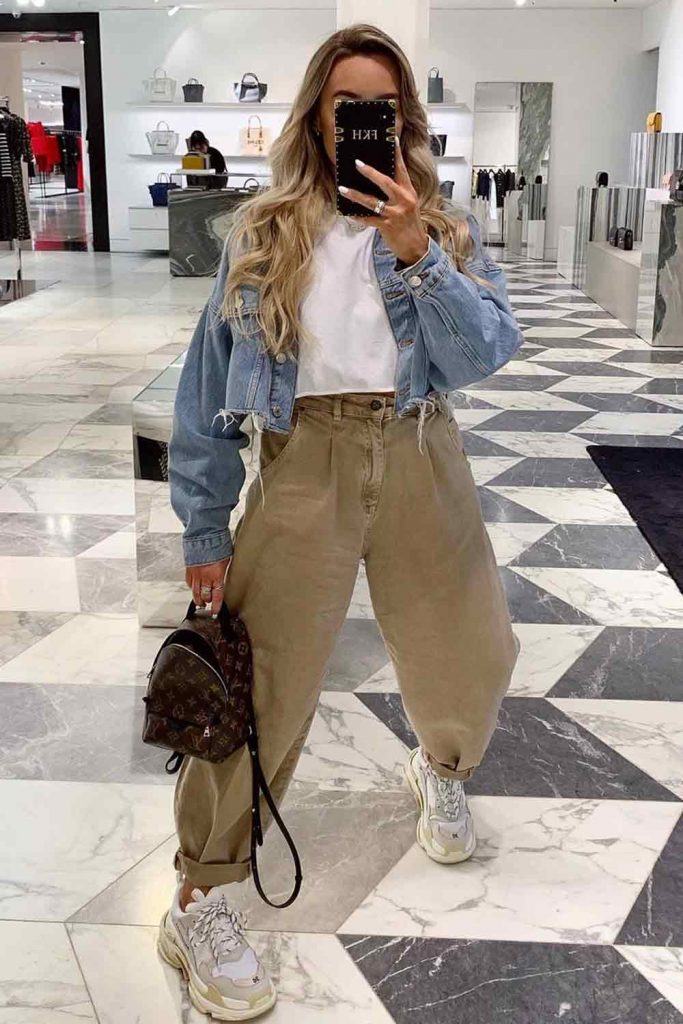 Source: Instagram/freyakillin
If there is any other jacket that works better with joggers than an oversized denim jacket, it is a crop denim jacket. Beauty comes in simplicity, and style comes in detail!
Dress With Jacket Outfit Ideas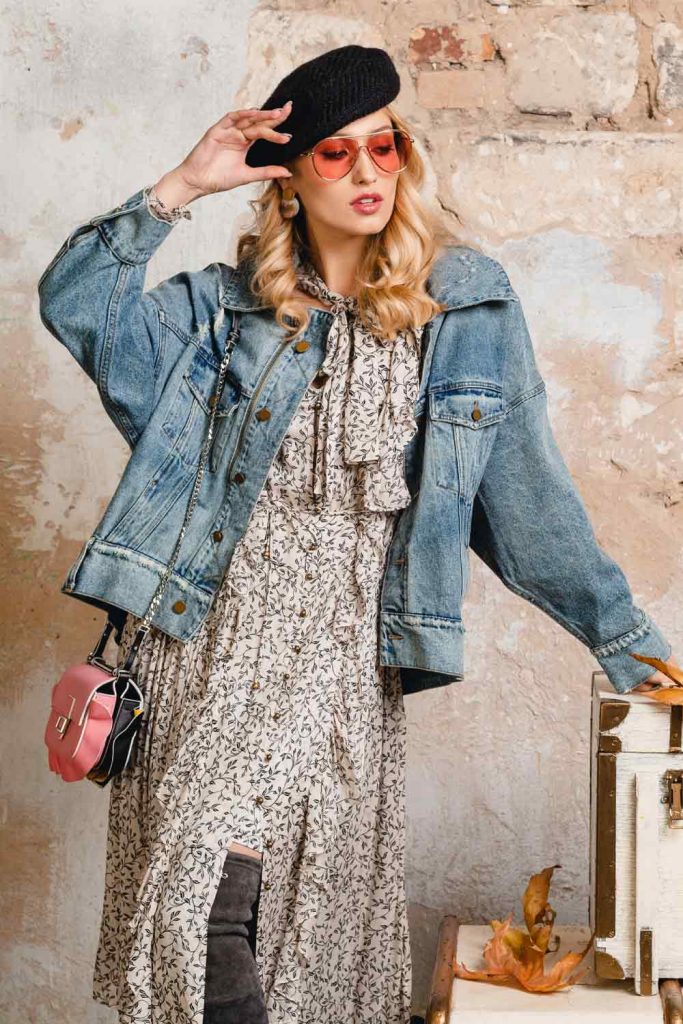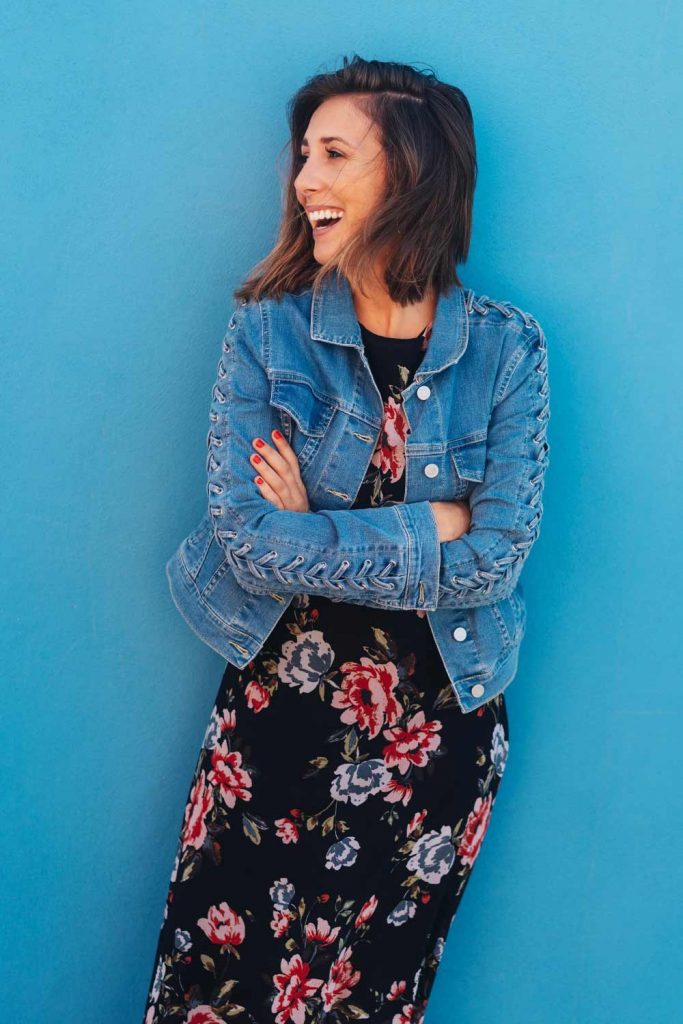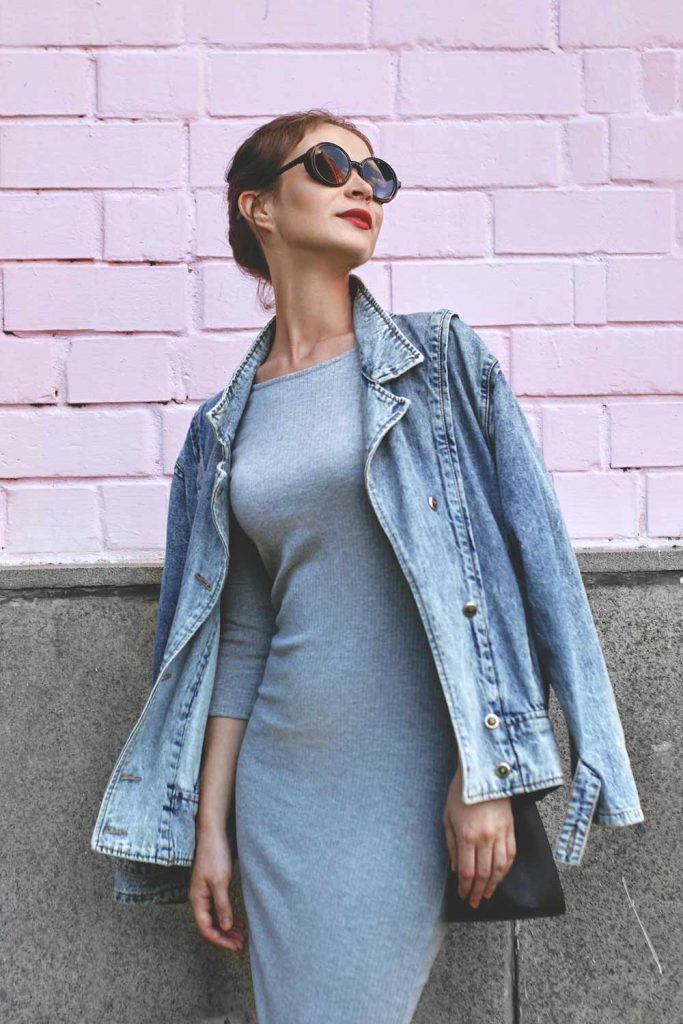 Knitted Dress With Denim Jacket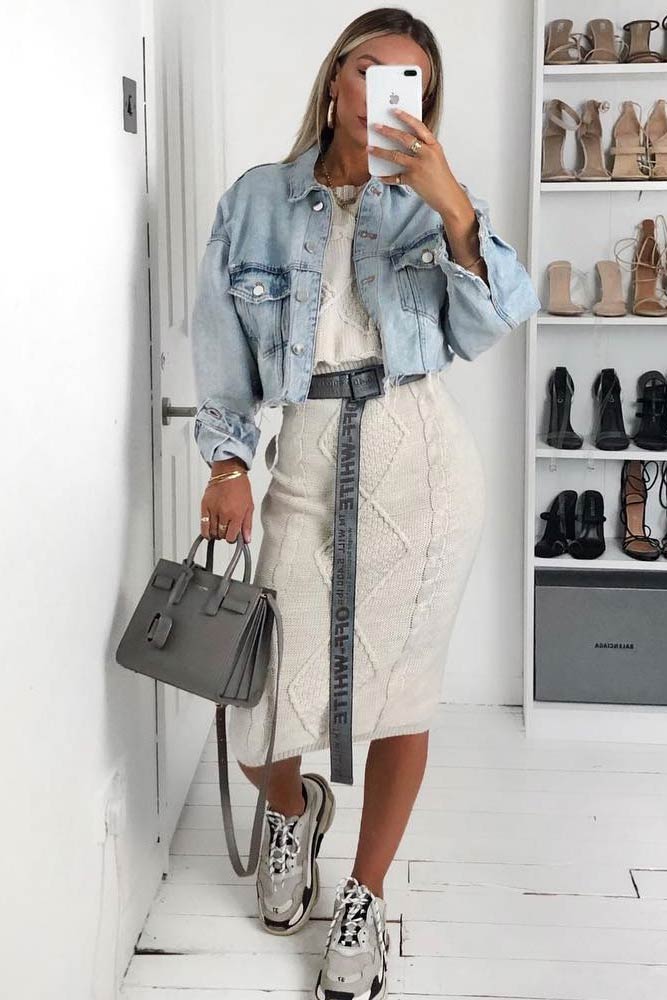 Source: Instagram/emilycocklin
Truth be told denim jackets are not to be reserved for warm seasons only, you can involve such a jacket even if it is cold outside. However, it matters greatly what you put under such a jacket. As you can see, a knitted dress looks marvelous with a cropped denim jacket. Do not forget about a suitable pair of shoes!
Evening Dress With Jacket Outfit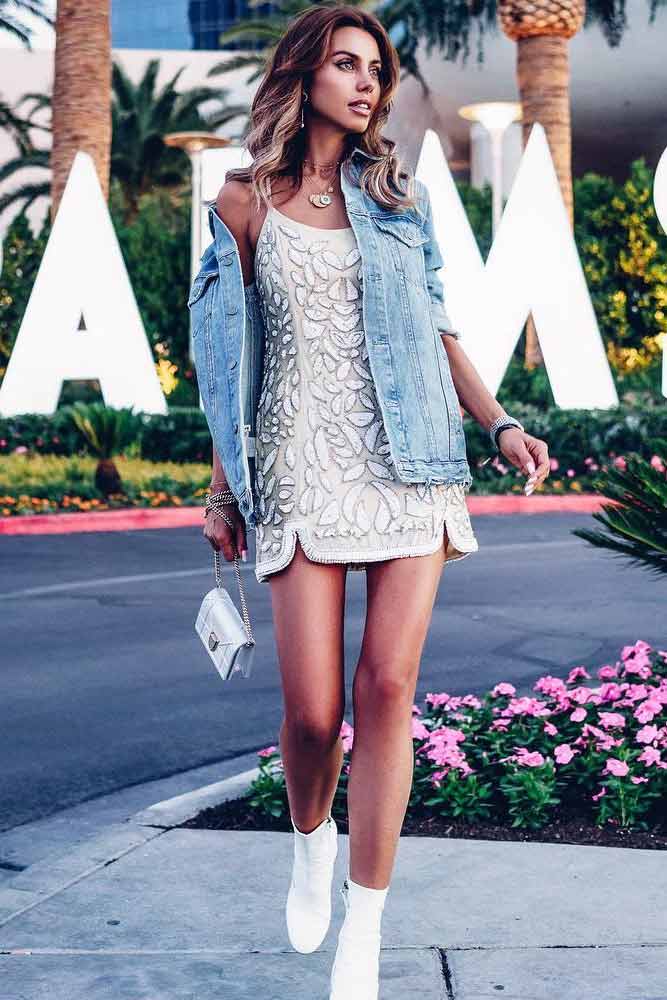 Source: Instagram/vivaluxuryblog
Very often we come to a conclusion that denim is for casual looks only. That is where most of us are mistaken. The truth is that denim jacket can fit in evening dresses as well as casual ones. It matters greatly not what you wear but how you wear it. This means that a gorgeous evening dress will look not less impressive with such a jacket over it.
Bodycon Dress And Denim Jacket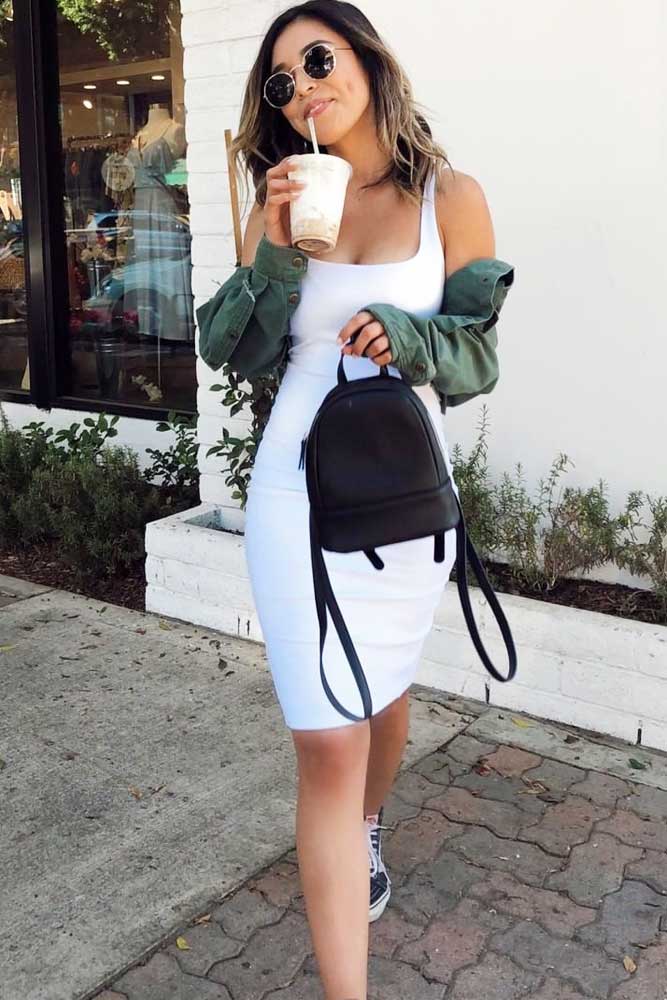 Source: Instagram/radruuby
The white bodycon dress is fabulous on its own, but just as in the case with white jeans it may seem too dull. It is true that you can use some accessories to spice things up, but we think that a denim jacket will add up to the look just perfectly. What is more, it will surely take it to an entirely new level of stylish.
T-shirt Bodycon Dress With Jean Jacket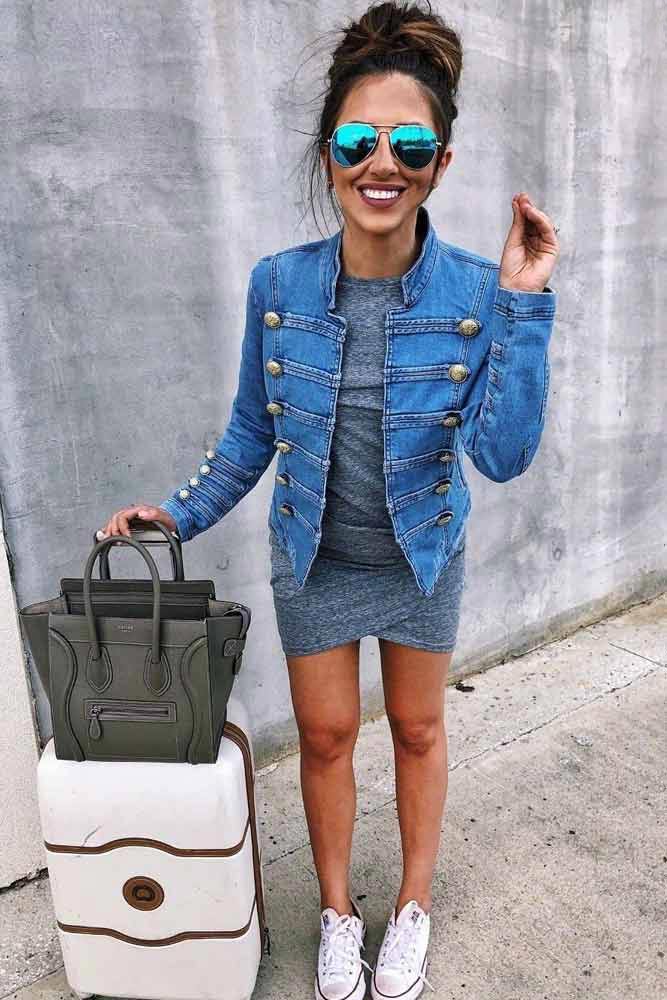 Source: Instagram/dressupbuttercup
It is true that bodycon dresses are all the rage these days. However, not everyone feels equally comfortable wearing just a dress. The fact is that for some of us it may seem like walking around almost naked. If that is your case, a jacket is your true savior. Besides, there is no way such an outfit will go unnoticed.
Long Slip Dress And Jacket Outfit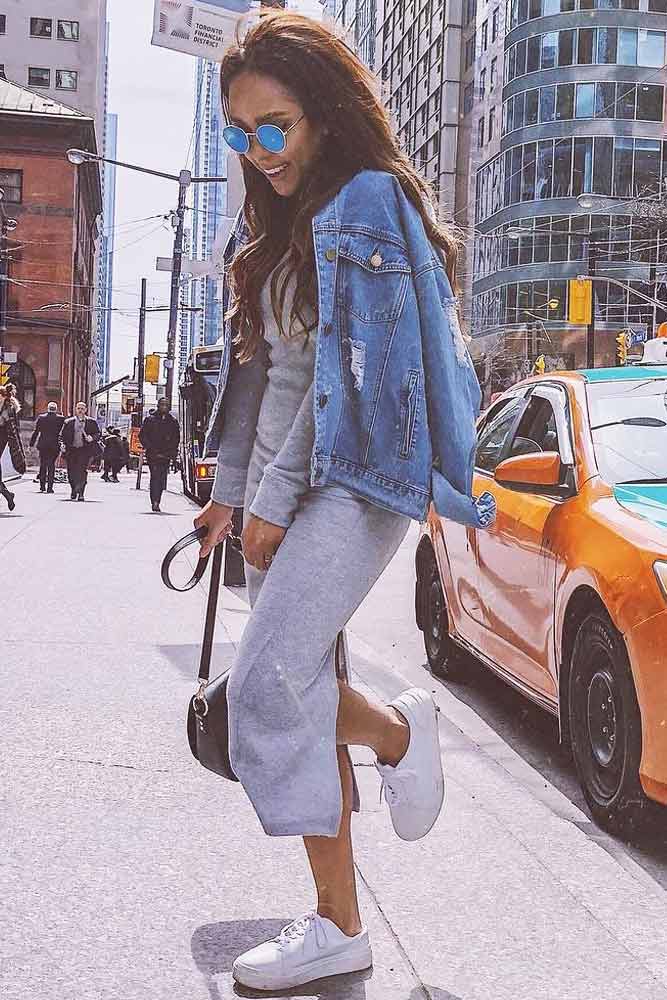 Source: Instagram/laurenevasheriff
Long slip dress has the ability to underline all your feminine features in the best way. However, there are times when it seems or feels that maxi dress alone is not enough. What should you opt for in that case? The truth is that there may be a range of options to choose from but as you can see the match of such a dress and a denim jacket seems flawless!
Midi Printed Dress With Jacket And Hat Accent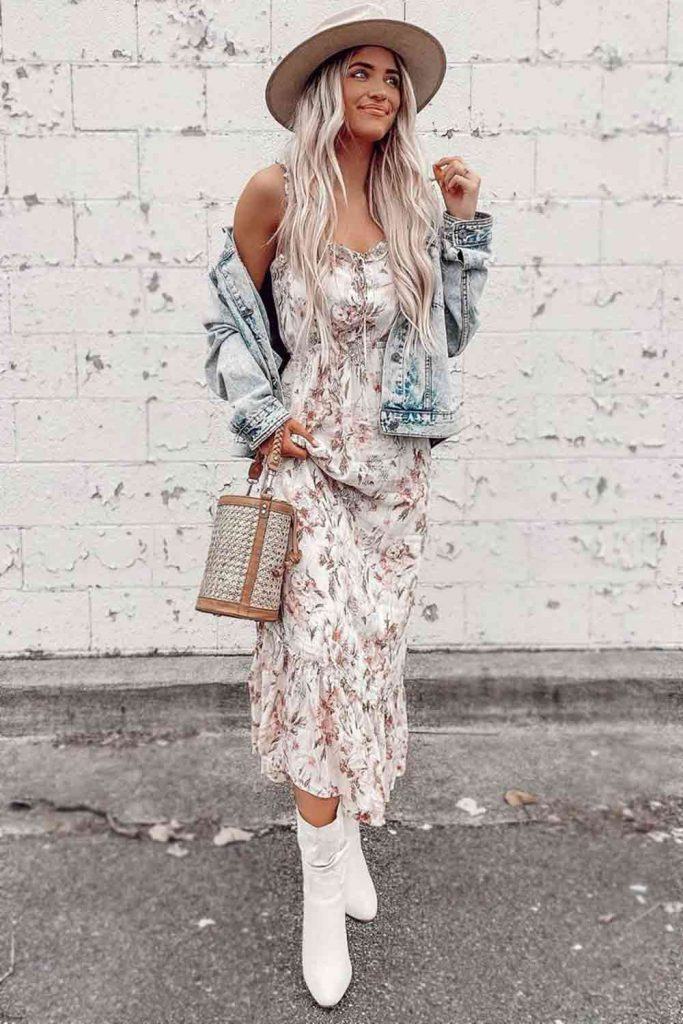 Source: Instagram/samanthakatew
Boho style seems to be created for summer, and you just can't get enough of those gorgeous floral dresses, can you? Well, we have a surprise for you! Do you know what goes well is an excellent boho dress? A great denim jacket!
Polka Dots Dress With Jean Jacket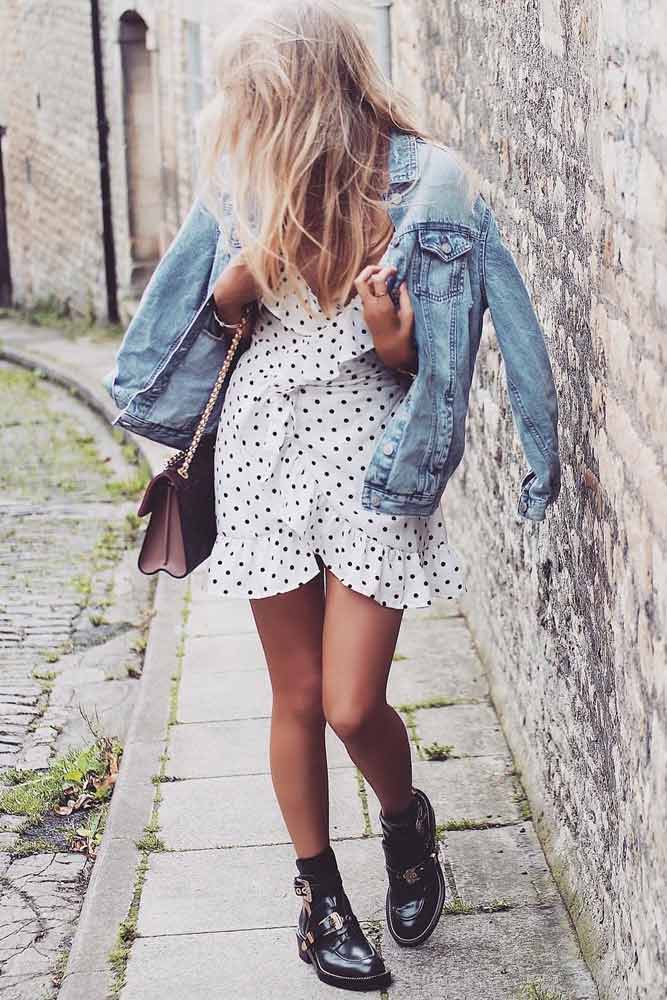 Source: Instagram/sineadcrowe
Those of you who prefer retro style when it comes to your outfits will undoubtedly appreciate this look. Even if you are not into that style at all – it may seem nice to give it a try at least once. The thing is that both the polka dot and denim jacket date quite far back. This means that when you match them together, you will get a nostalgic retro look with a hint of modernism to it.
Floral Dress With Jacket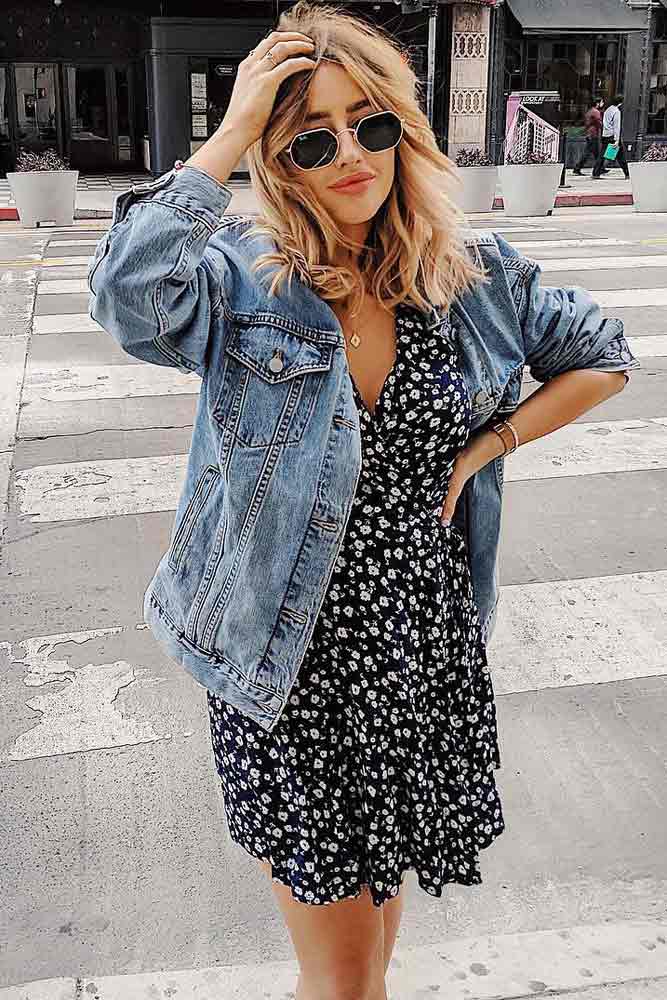 Source: Instagram/sophiemilner_fs
It is not a secret to anyone that flowers are all about the sunny weather and feminine vibes. However, when you are afraid that you may take it over the edge with the floral dress, we know a possible way out. The truth is that long denim jacket can balance the floral touch in the best possible way.
Fashion changes at a rapid speed however there are things that remain trendy no matter the year outside. A denim jacket is one of those things. That is why if you wonder how to spice your lookup with such an item – help yourself!
Denim Jacket with Pants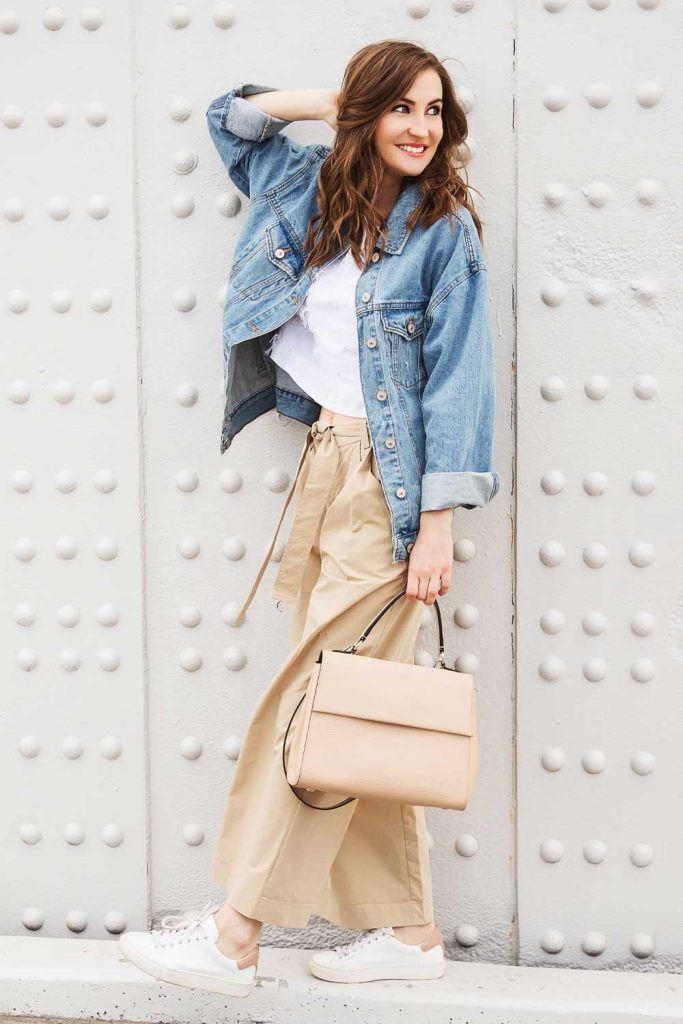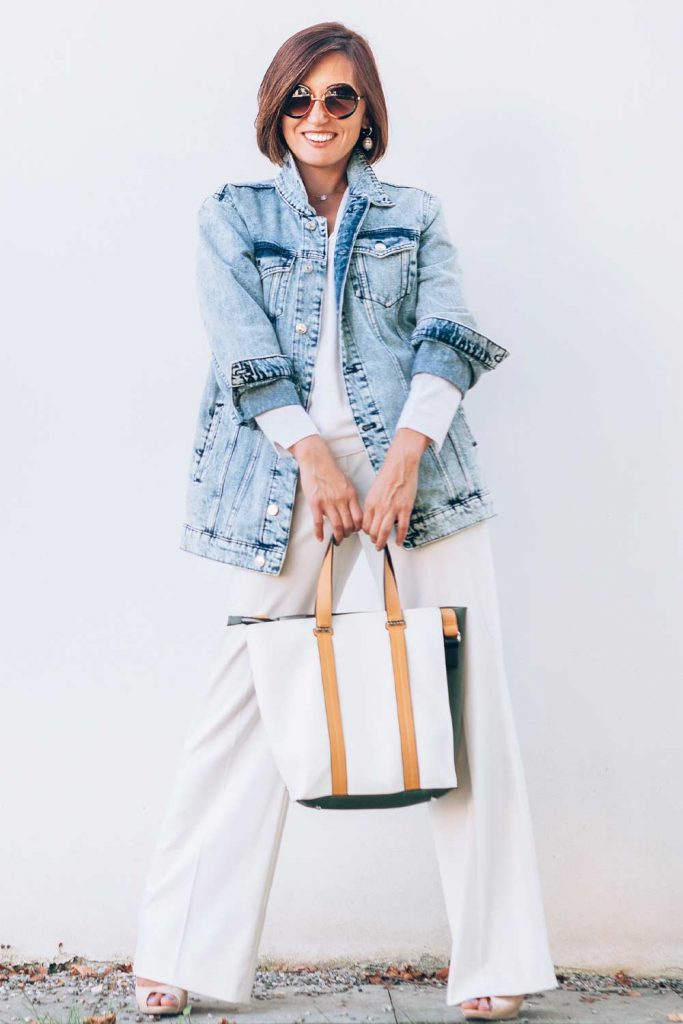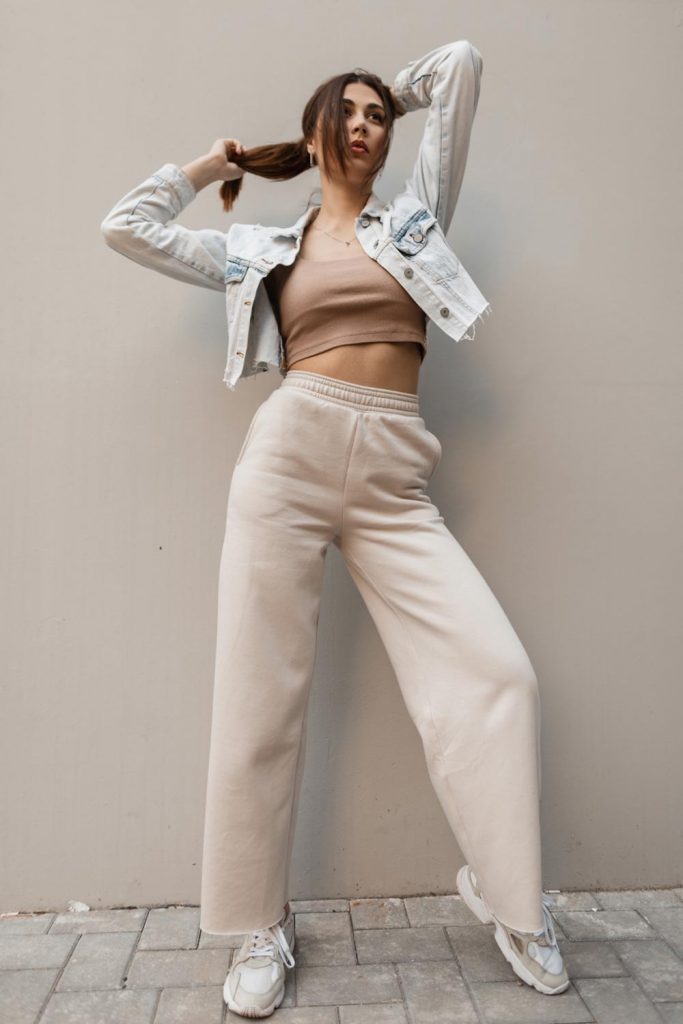 Denim jackets are perfect for layering in the spring and fall. Learn how to style a denim jacket with pants for a put-together look. This outfit is great for work or play!
FAQ: Denim Jacket
Who should wear a denim jacket?
To reduce the formalness of the dress, combine it with a denim jacket and sturdy boots. This is the great way to make everything look more relaxed. Two-tone denim can be worn on any dress, and a black denim jacket can replace the classic blazer.
Why are denim jackets so expensive?
Today, indigo is mainly made synthetically, but more expensive indigo is also available from fermented plants. It's environmentally friendly, although it pushes costs up and can be a big part of why denim jackets are costly.
Which country makes the best denim?
Japan is famous for making the best denim in the world. The most popular denim comes from Japan, because they care more.
REFERENCES: