Combat boots are very often underestimated since most people think that they are suitable for edgy looks only. Today we are going to show you the versatility of styles that these boots can easily complete. It should be mentioned that the boots are not only super-required at the moment but also timeless and durable. Once you get yourself a pair, you will rarely regret the investment.
Main photo
vivaluxuryblog
Maxi Dress With Black Boots Outfit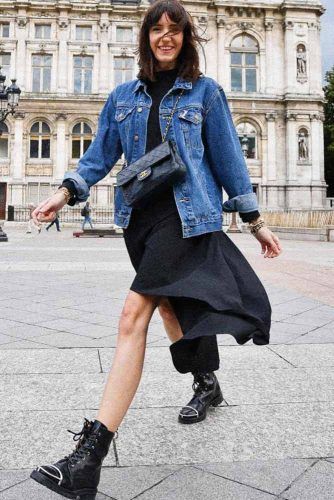 Source: laugh_of_artist via Instagram
If you are looking for a feminine look with a hint of edginess to it, we may have an idea in mind. A black maxi dress paired with combat boots looks stylish and cute. If you are worried that weather may change and it gets colder outside, your fav denim jacket will save the situation.
Leather Skirt With Black Boots Outfit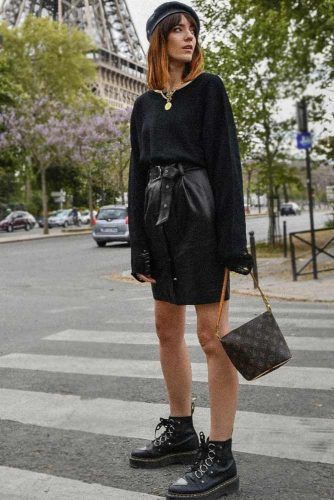 Source: laugh_of_artist via Instagram
Black combat boots are classy. That simple fact means that you can easily fit them into any image. The easiest way to succeed with a flawless match is to combine the boots with pencil leather skirt. A black sweater and a designer purse will come in useful too. Besides a large necklace would be enough to carry out the accessory part.
Maxi Skirt With Combat Boots Outfit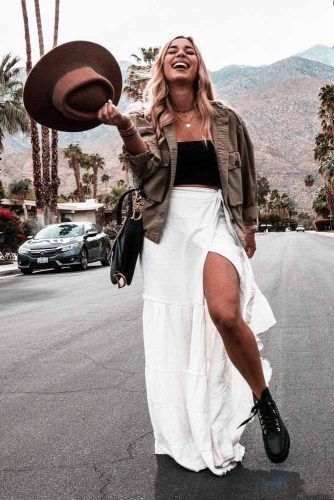 Source: stephaniedurant via Instagram
You may be surprised how many combat boots for women there are. However, it matters not which type you opt for, it matters how you introduce it in your look. It may seem that it is impossible to match combats with a maxi boho skirt, yet the reality proves otherwise. If you are getting ready for a music festival or a concert such a mix will come in more than winning. Contrasting crop top and a wide-brimmed hat can be added to the list too.
Moto Jacket With Combat Boots Outfit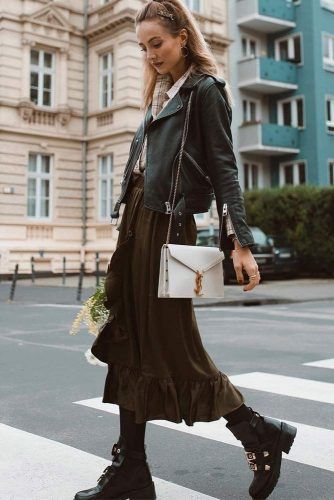 Source: carmushka via Instagram
One look at this image, and it may seem like all the wardrobe elements belong to different styles, yet somehow they look harmonic together. Is it a leather jacket or combats that make the outfit balanced and worthy of replication? We think that the two combined result in such a mysterious edgy and fragile harmony. If you want to look girly but also strong enough to stand your point, this would be a look to add to your collection.
Print Jacket With White Boots Outfit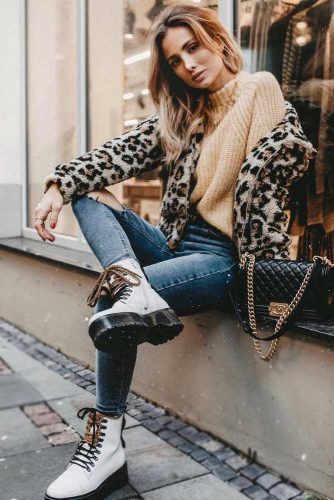 Source: carmushka via Instagram
If you think that women's combat boots come in black shade only, we may disappoint you. These days you can find almost any shade you need of those boots. However, if you would like to sport a pair of white combats, we know what you should put on together with them. If it is a fall we are talking about, then a pair of your fav skinnies and a light sweater finished with a printed jacket will do.
Monochrome Black Outfit With Plaid Jacket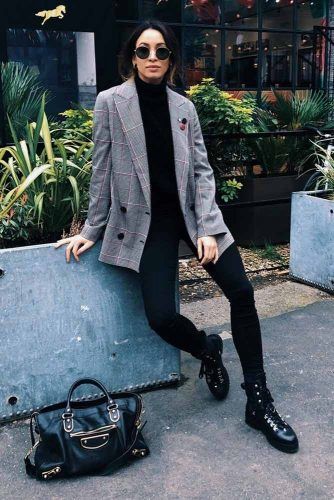 Source: daniellepeazer via Instagram
Did you know that you can easily make a statement with just one element of your wardrobe? Even the best combat boots need something to complete. If you prefer to sport an all-black outfit, we have nothing against it besides combats fit the image just perfectly. Yet, there is one accent that you should in no case leave out – plaid jacket. Whether you like it or not but the jacket adds that certain spice that a flawless look needs.
Boho Outfit With Combat Boots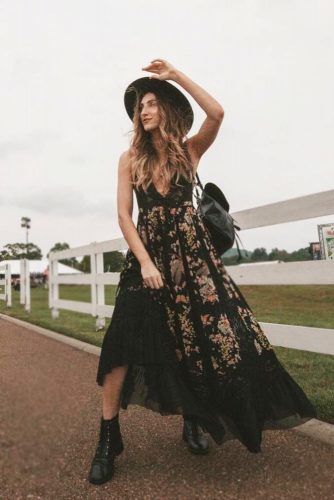 Source: eastcoastfox via Instagram
Those of you who wonder whether it is possible to find such a pair of girls combat boots that would fit your floral boho dress – it is. These combat boots are a little milder looking, and they blend in with a dress perfectly. Besides, with combats like that, you can always be confident that you look ultra-stylish and lovely at the same time!
Black And White Outfit With Combat Boots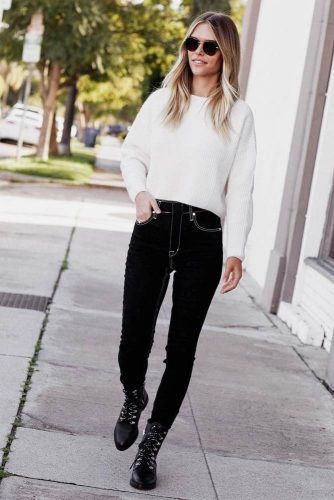 Source: laurenscruggs via Instagram
In case you are looking for a combat boots outfit that is both elegant and stylish not to mention simple, we may have an idea in mind. The truth is that a mixture of black and white is classy and very often it is thought that the footwear is supposed to be as classic. However, combat boots change the course of fashion history forever. This means that adding a note of edginess into your elegant outfit is a must.
Denim Overall With Boots Outfit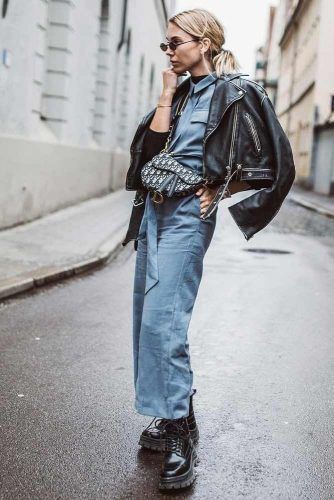 Source: constantly_k via Instagram
Overalls are beyond trendy these days. However, very often, the question arises which shoes to put on to look great not out of place? In a time like this, there are two main suggestions – sneakers and combat boots. While sneakers will result in a sporty look, combats will introduce some boldness into the style.
Wild Print Dress With Combat Boots Outfit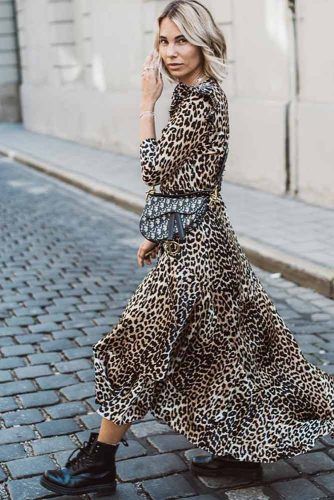 Source: constantly_k via Instagram
There are ladies who constantly question themselves - how to wear combat boots if you want to look both gentle and feminine but ultra-stylish at the same time? The answer is simple – wear combats with anything you see fit. To prove the point, we show you this match of leopard printed light dress and combat boots. It would have seemed impossible to look good wearing something like that, but as a matter of fact, the image looks gorgeous!
Cargo Pants With Combat Boots Outfit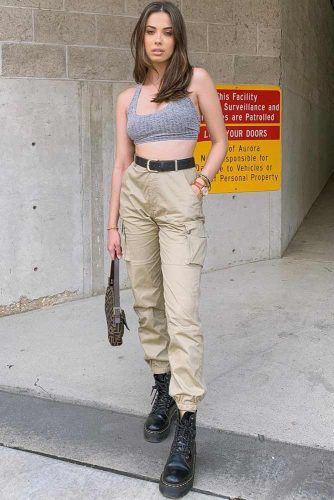 Source: hello.thalita via Instagram
When regular combats are not fancy enough, you can easily opt for platform combat boots. A pair of those can easily fit in a dress as well as a combo of military pants and a cute crop top. If you are looking for an image of a confident and sporty lady, this would be it!
Mini Black Dress With Combat Boots Outfit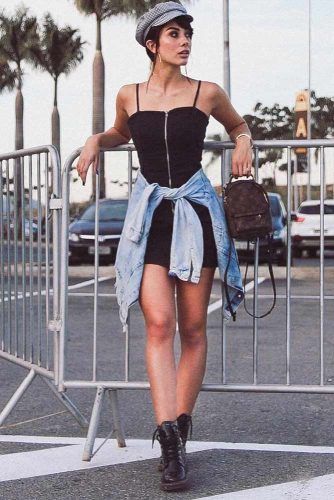 Source: hello.thalita via Instagram
The beauty of combat boots lies in the versatility of outfits that suit. Surely, there are many women boots out there, but not all of them will look equally awesome with a mini dress and well as a pair of overalls. Combats suit each option perfectly while bringing in that special vibe, different for every outfit. A little black dress is an element of classy style, add a pair of trendy combats, and it transforms into casual wear just like that!
Oversize Sweater With Combat Boots Outfit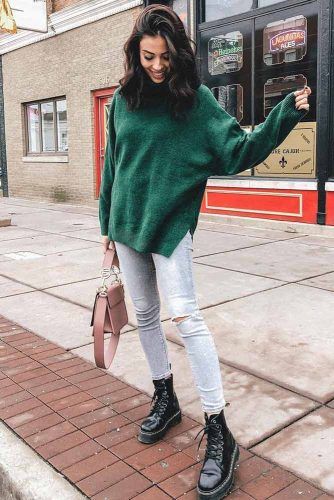 Source: hello.thalita via Instagram
Looking for something simple and comfy to wear? Put on your fav oversized sweater and fitting skinnies. If you need some more grunge added to the scene – platform combat boots will take care of it seamlessly!
Classic Sweater With Sleek Boots Outfit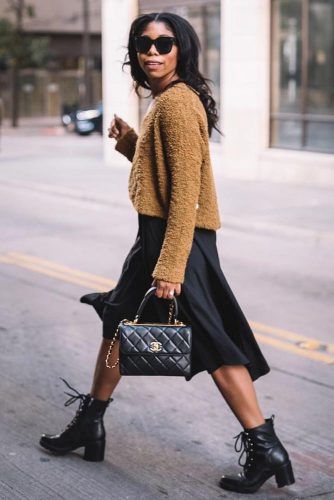 Source: stephtaylorjackson via Instagram
Combat boots are sleek and elegant. Do not trust us? Have a look at yourself! Heeled combats paired with a midi skirt and a loose sweater can be easily worn to the office or any other more or less formal occasion. We think that business ladies will appreciate the idea!
Comfy Coat With Combat Boots Outfit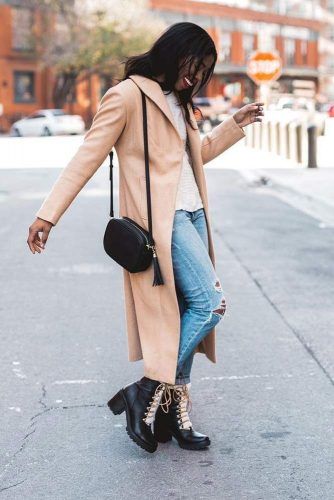 Source: stephtaylorjackson via Instagram
If you are looking for something more casual but no less stylish, we have an idea in mind. All you need is your favorite coat and a pair of ripped jeans completed with combats. However, in this case, we say opt for combats with heels. Yes, they also exist!
Denim Shorts With Boots Outfit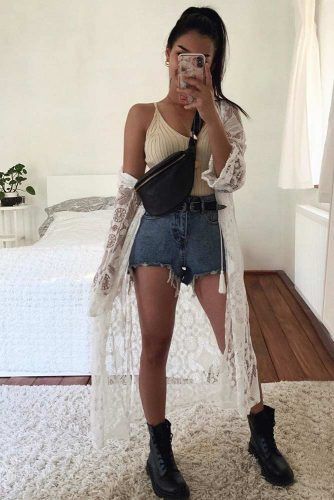 Source: thanyaw via Instagram
We have already mentioned it that combat boots rarely have something in common with winter ones. That is why it is super easy to introduce them into your light denim shorts and top outfit. While the look, in general, is quite fragile and feminine, the boots add a hint of confidence and strength to it.
Oversize Jacket With White Boots Outfit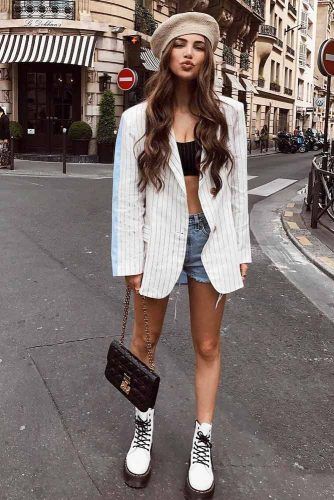 Source: negin_mirsalehi via Instagram
White combat boots may look a little different as the regular black combats. However, the color does not change the vibe that the boots carry. If you are deciding upon whether or not to put on that oversize jacket together with combats or maybe it will be too much – do it! As you can see from the image below the model looks simply amazing sporting a look like that!
Sundress Outfit With Combat Boots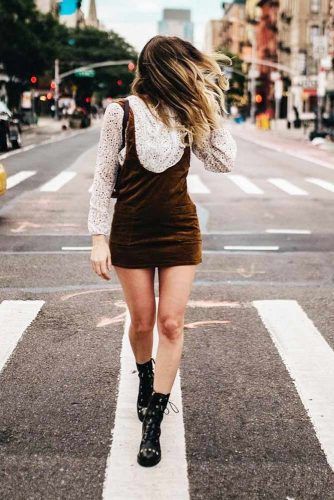 Source: eastcoastfox via Instagram
You shouldn't confuse combats with winder boots. Very often, women make that mistake and feel reluctant to wear boots during the summer. The thing is that leather combat boots can be sported all year round. You shouldn't worry that it may be too warm to put them on as long as they are made of quality material such as leather. Besides, these boots can complete even a sundress outfit like they were invented for the purpose.
There are many sides to combat boots. Once you see the compilation we have made for you, you will head straight to the store, unless you already have a pair of those at your disposal!