We have been told so very often that camo pants are for men. Men are the soldiers, men are strong, men are tough, and so on… Well, it is time we fight back and show that came pattern is fit for both men and women. What is more, after you are through with our article, you will realize that camouflage looks a lot better on ladies than it does on gentlemen. 2020 is going to bring in entirely unexpected streams into modern fashion. However, we are going to make sure that you are always a step ahead. So, where did we stop? Oh, it is time to rediscover good old camouflage pants fashion!
Guide To Camo Pants Style
What To Wear With Camo Pants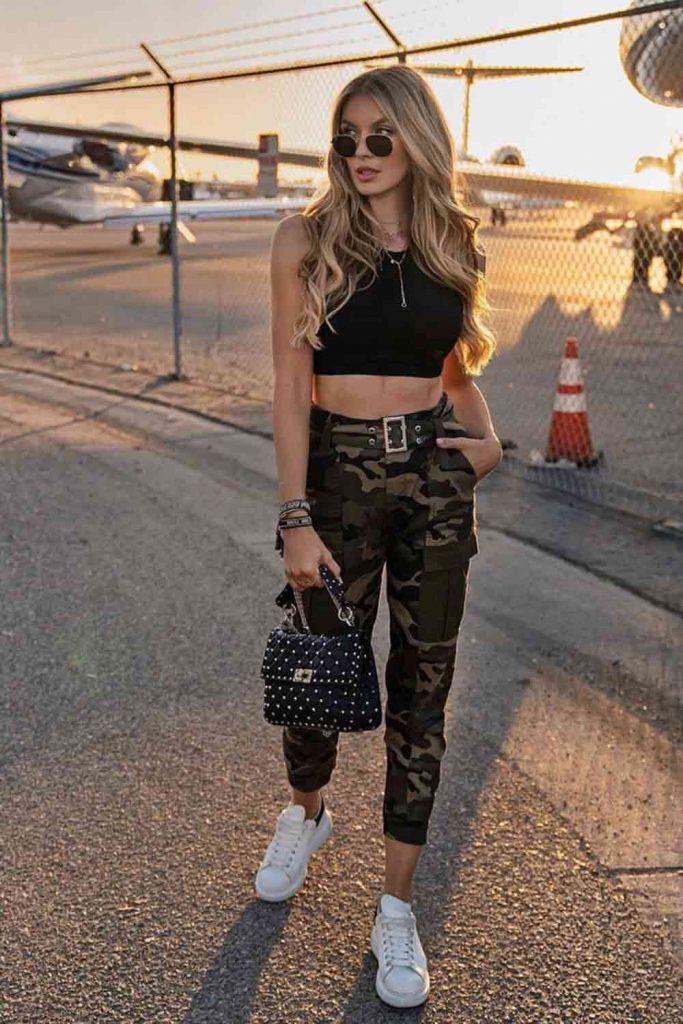 Source: Instagram/paulinakurka
It goes without saying that the first thing that bothers you is the question of how to wear camo pants. To tell you the truth, there is nothing ultra-complex about the trend. However, there are some general principles that you should better stick to when you choose to sport those trendy camouflage pants for women:
One item at the time – if you are wearing the pants, no camouflage jacket or accessories are allowed, the rule applies to all the mentioned details.
The single-hued top is enough for a casual look.
Adding contrast to the upper part will result in a brighter look in general.
Neutral looks should include black and grey tones for the best outcome.
Feminine tops are no longer a taboo.
Sparkly tops fit camo pants and can be worn to dates.
It is best not to combine camouflage print with other wild and contrasting patterns.
As long as you stick to the mentioned rules, you will always look great in those camo pants of yours!
What Colors Go Well With Camo?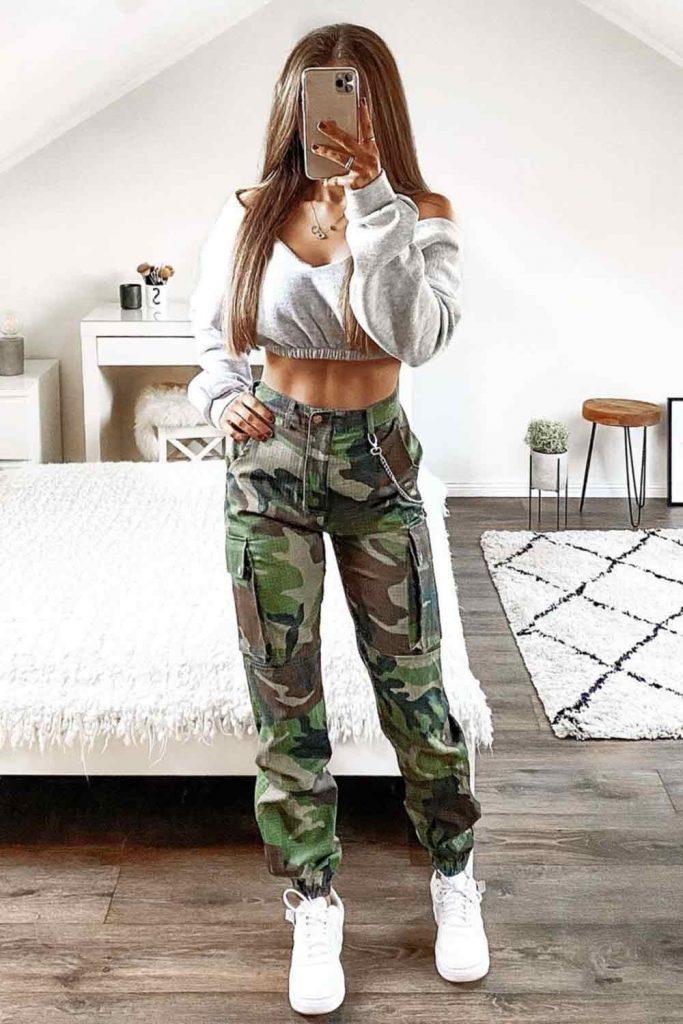 Source: Instagram/sophiegsa
Not so long ago, we couldn't have imagined that camouflage can be work with heels and nightlife outfits. These days it is a trendy reality, and the more you know about, the better and the more unique you will look. Keep these tips in mind and switch your creativity on:
Accessories – if you do not want to look a bit boy-like, you need to consider accessorizing your camo pants look. Simple metallic accessories will work for your look best but do not try to look over the edge, or you will end up looking too girly and even ridiculous.
Bright color – you may already know that classy neutral and contrasting hues work more than well with camo pants patterns. However, so do bold and bright colors too, try something neon on, and you will fall in love with the match.
Showing your skin a little – it is never a waste to add a pinch of sassiness to the style too. Keep things fit – the looser is the camo item the worse it looks, that is why keeping pants fit is a must. Nightlife – there are so many glittery and sparkly items that will take your look to the next level of gorgeous but throw in a pair of camos on, and you are golden!
Is Camo Still In Style?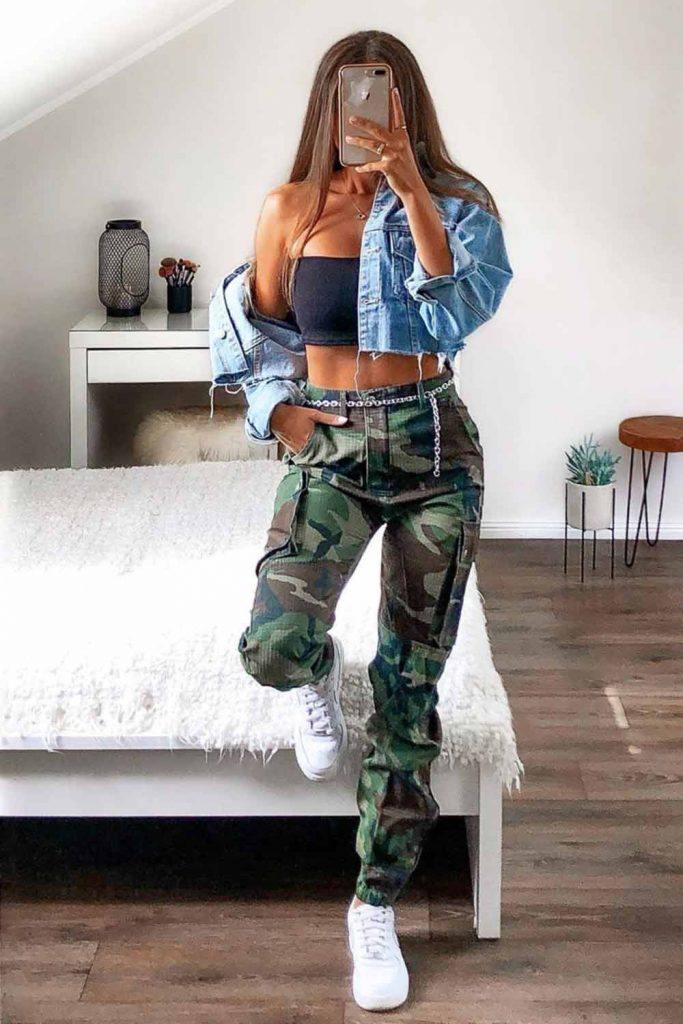 Source: Instagram/sophiegsa
Some items like denim jacket, for instance, are merely times. These days we get to know that camouflage belongs to the group too. Men can wear it in the military, but women are sporting those beautiful camo pants looks on the runaways non-stop too. We are talking here big names, girl, such as Valentino and Nicole Miller! If you still do not have a camo pair, it is high time you run to the store and get them in a few shades and styles!
Outfit Ideas With Camo Pants
Outfit Ideas With Sneakers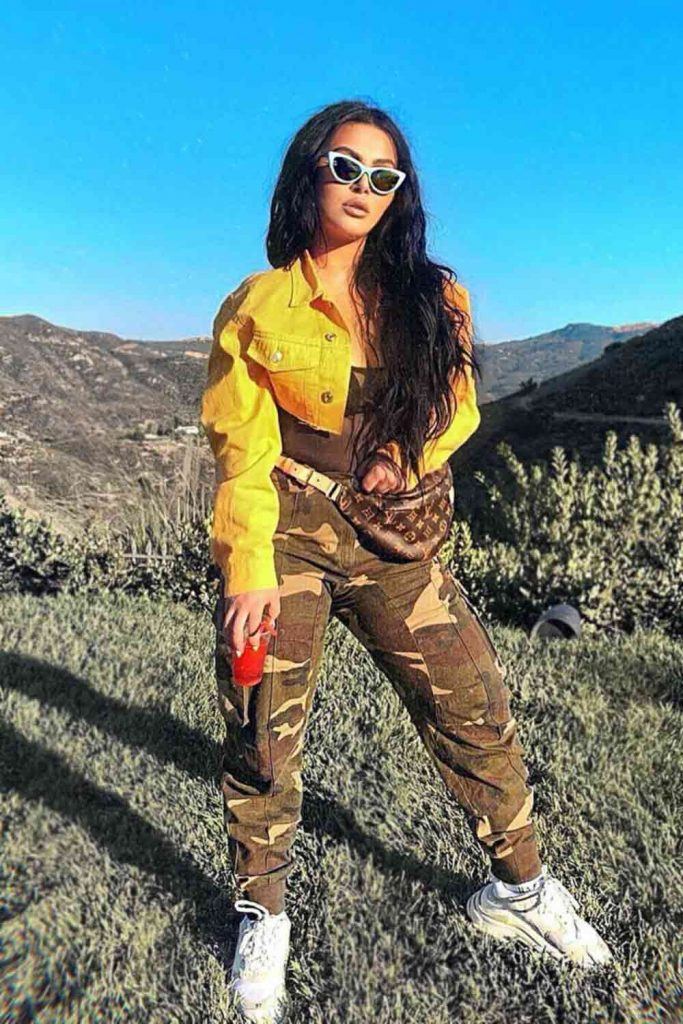 Source: Instagram/styledbyhrush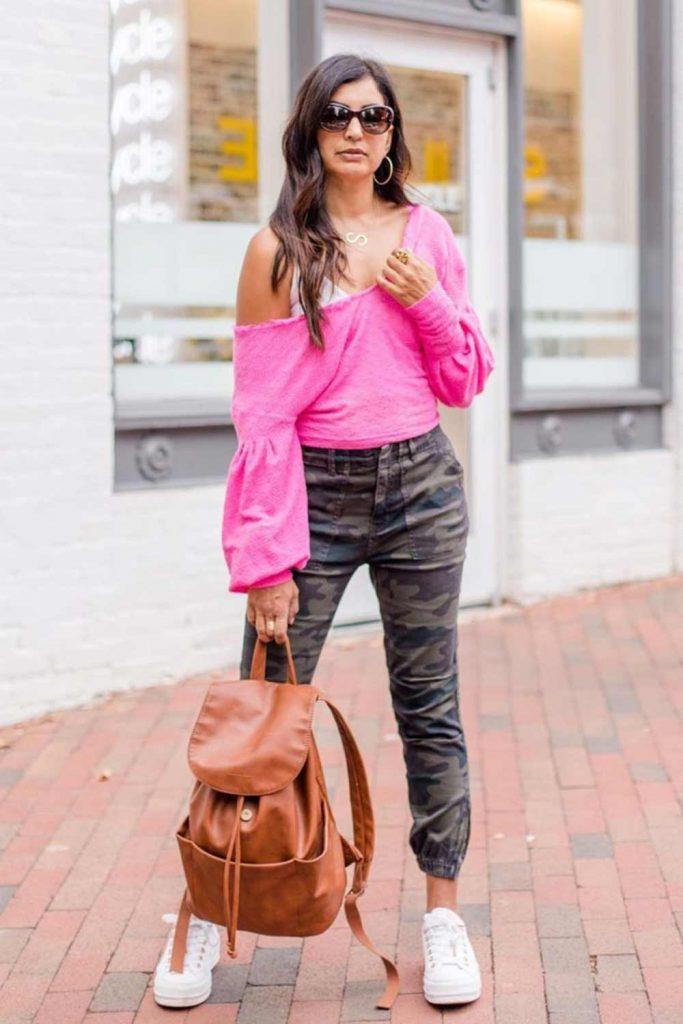 Source: Instagram/lunchwithagirlfriend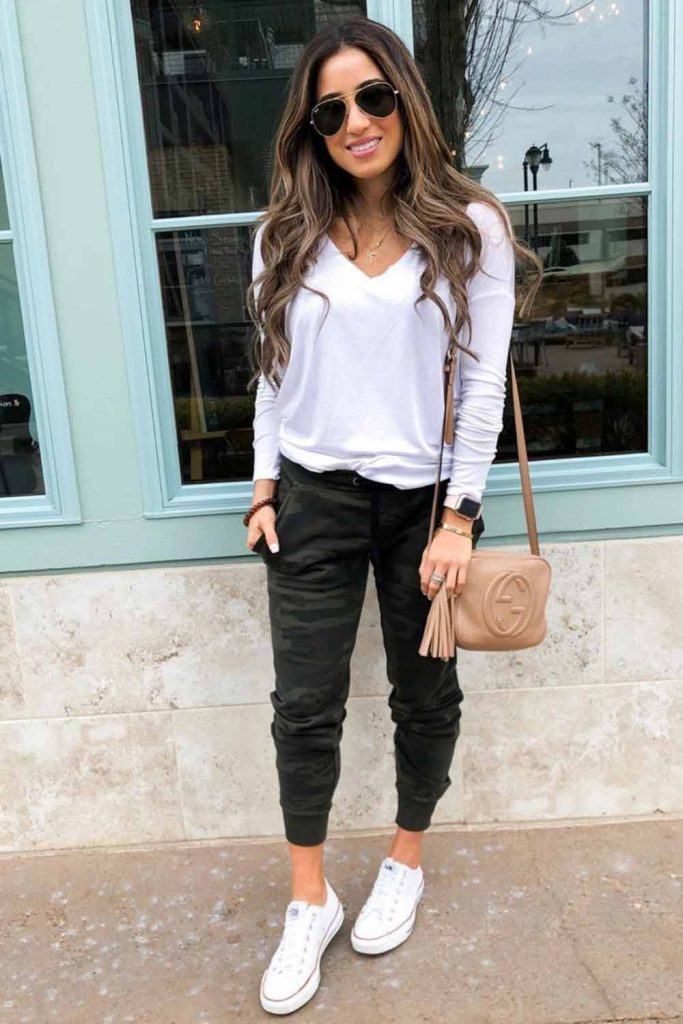 Source: Instagram/samanthabelbel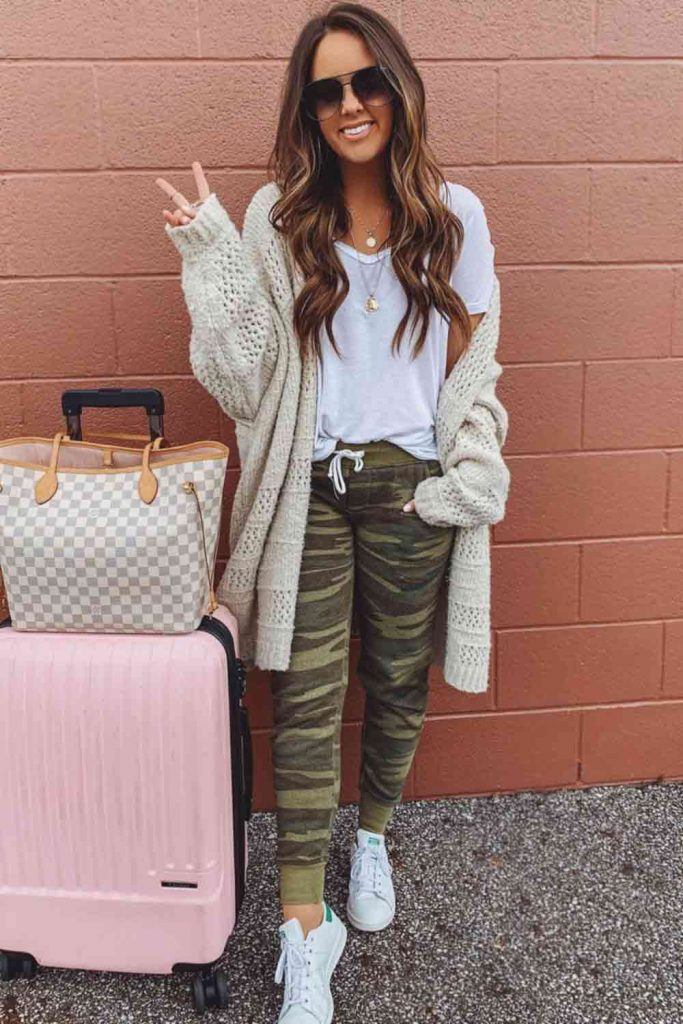 Source: Instagram/fashionablykay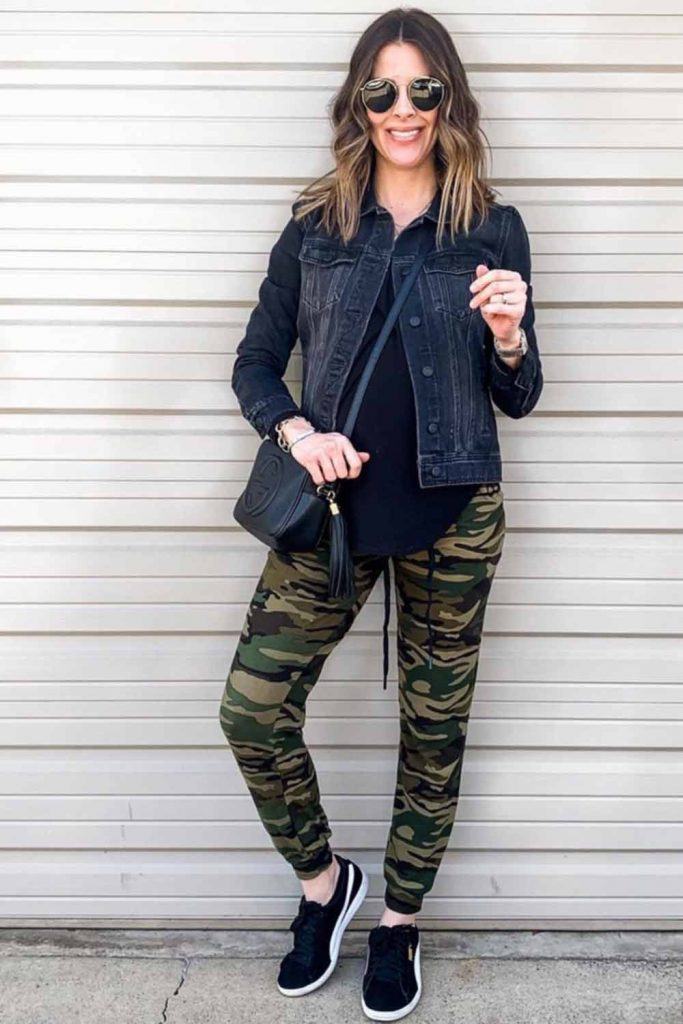 Source: Instagram/hellowagsworld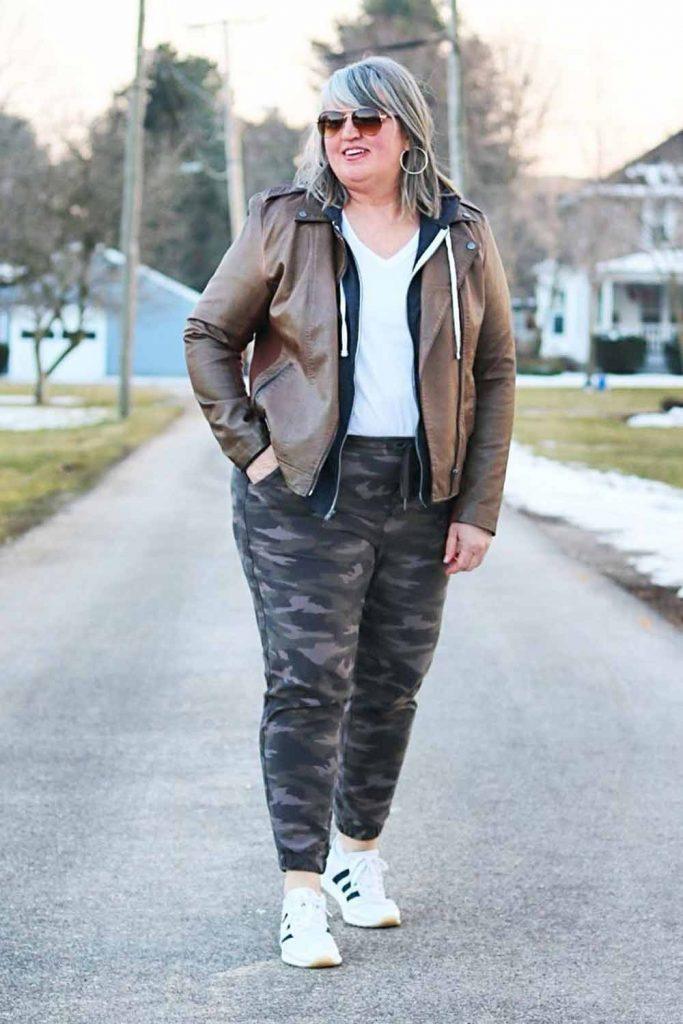 Source: Instagram.com/dimplesonmywhat
The beauty of every camo pants outfit lies in its versatility. The fact is that you can plan your casual leather jacket or cardigan look sporting the same pair of pants – camo pants. Apart from the fact that these pants are very comfortable, they can go with almost anything. No matter a T-shirt or bright blouse – you can pull it off!
Outfit Ideas With Heels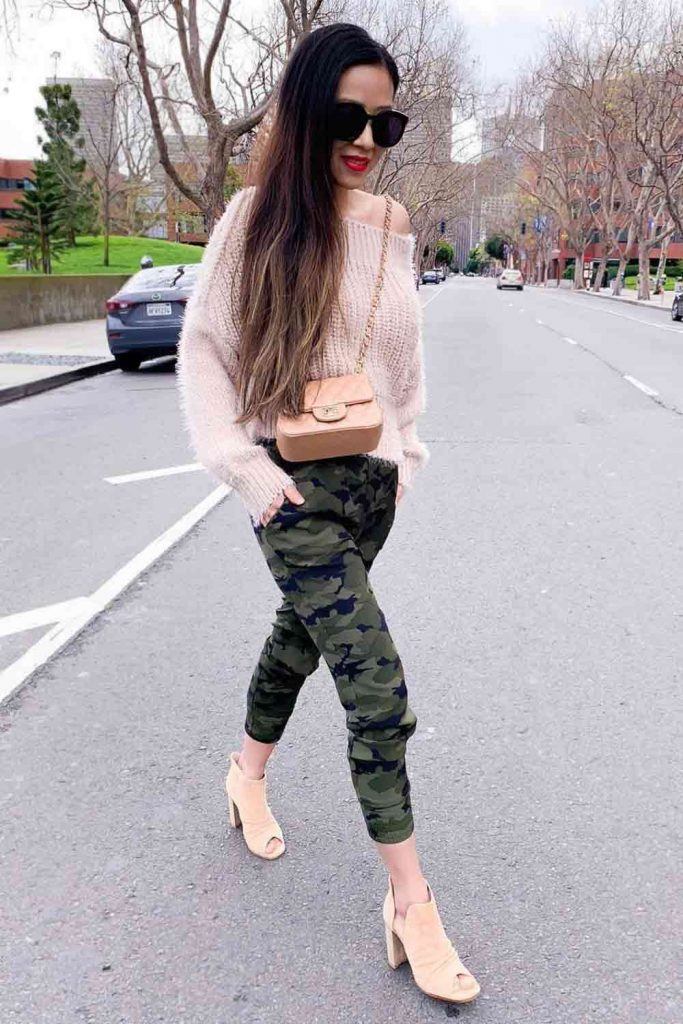 Source: Instagram/shallwesasa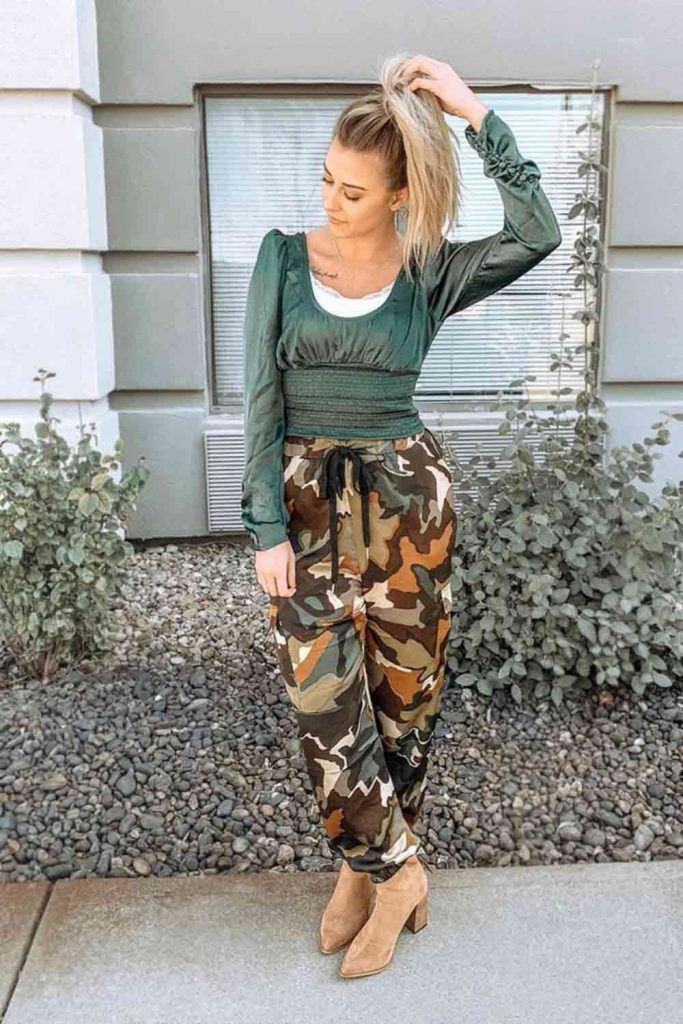 Source: Instagram/kali_roberts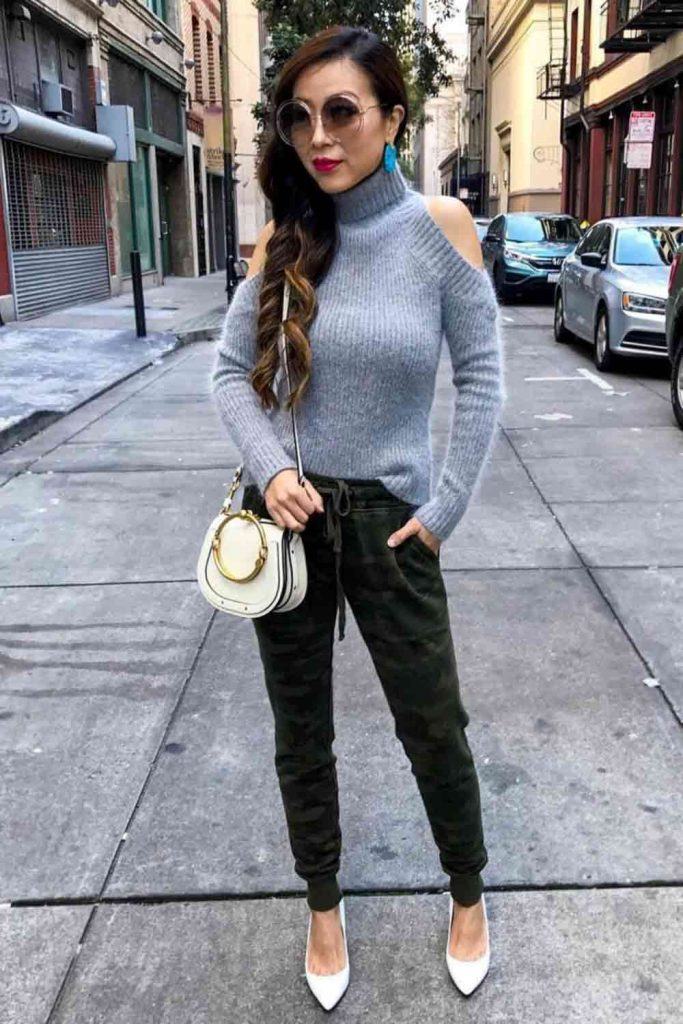 Source: Instagram/shallwesasa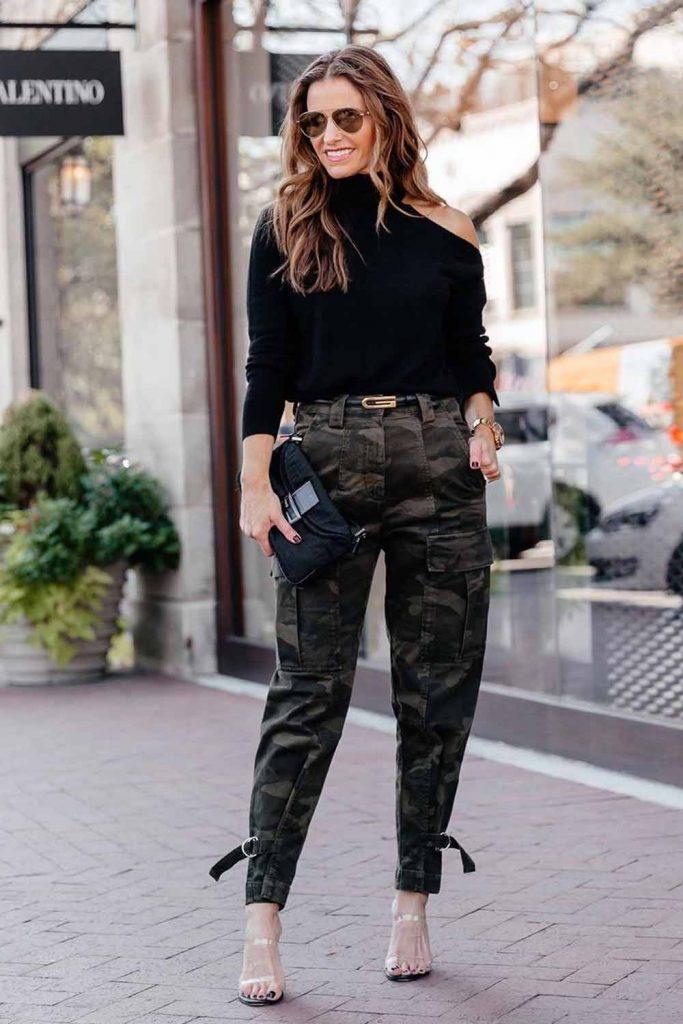 Source: Instagram/streetstylesquad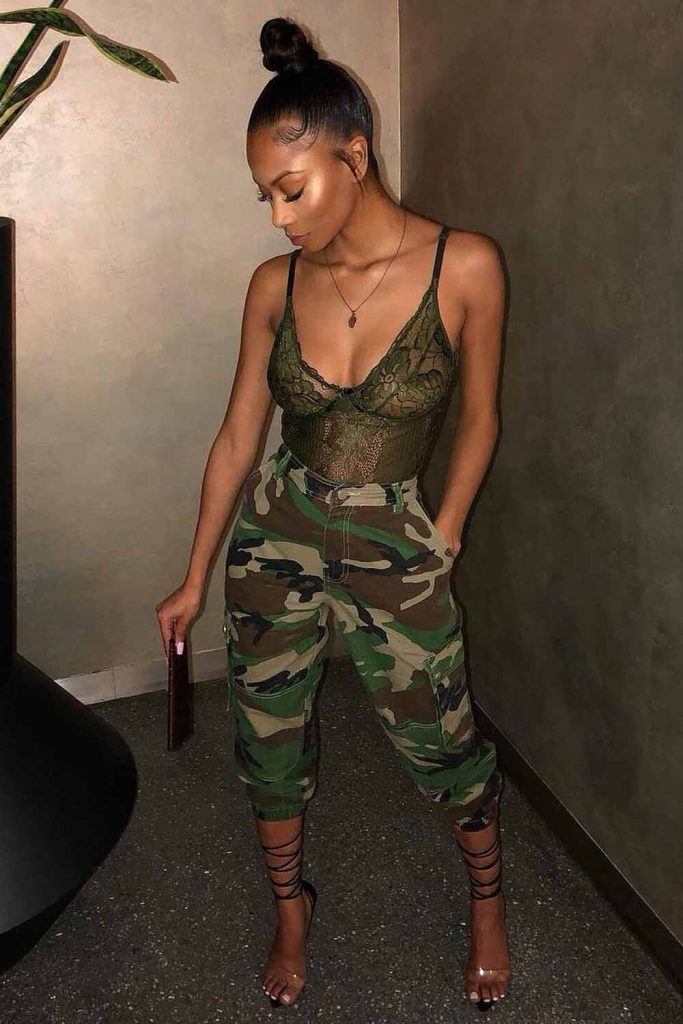 Source: Instagram/jojocarterr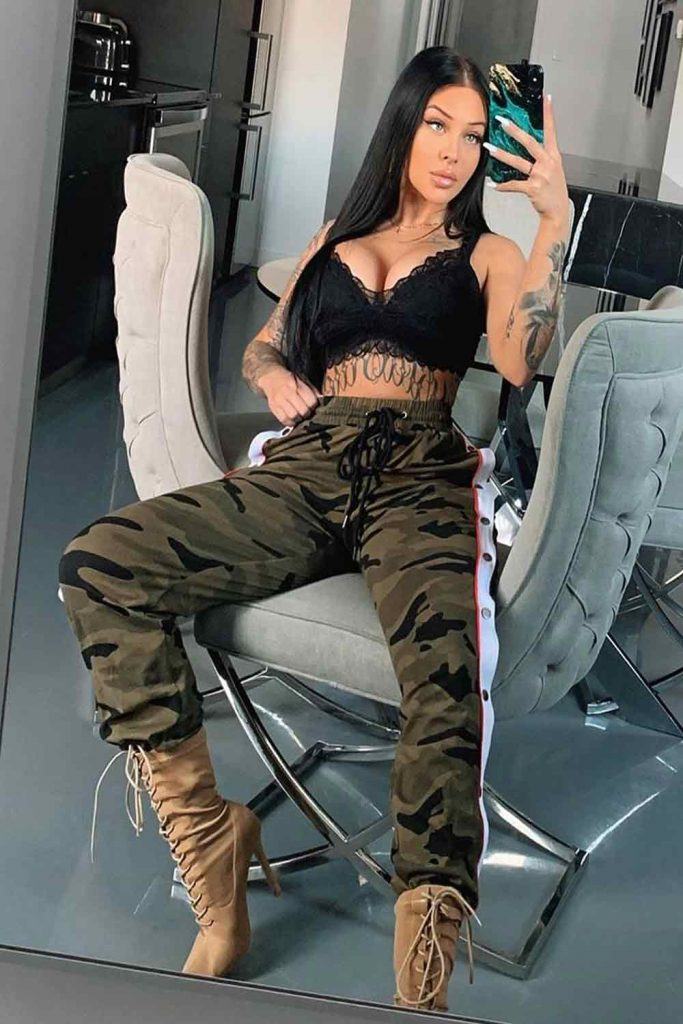 Source: Instagram/valerie.c_
There are a couple of reasons why camo pants are the hot pants of the year. It is true that the number of casual looks to create sporting those are limitless. However, there is something else. Heels! We know, a couple of years ago, it was something unimaginable to even think about, but these days, all the celebrities rock the look. We are sure that after some evaluation, you will come to a conclusion to switch your sneakers for fancy heels when putting your camos the next time.
Colored Pants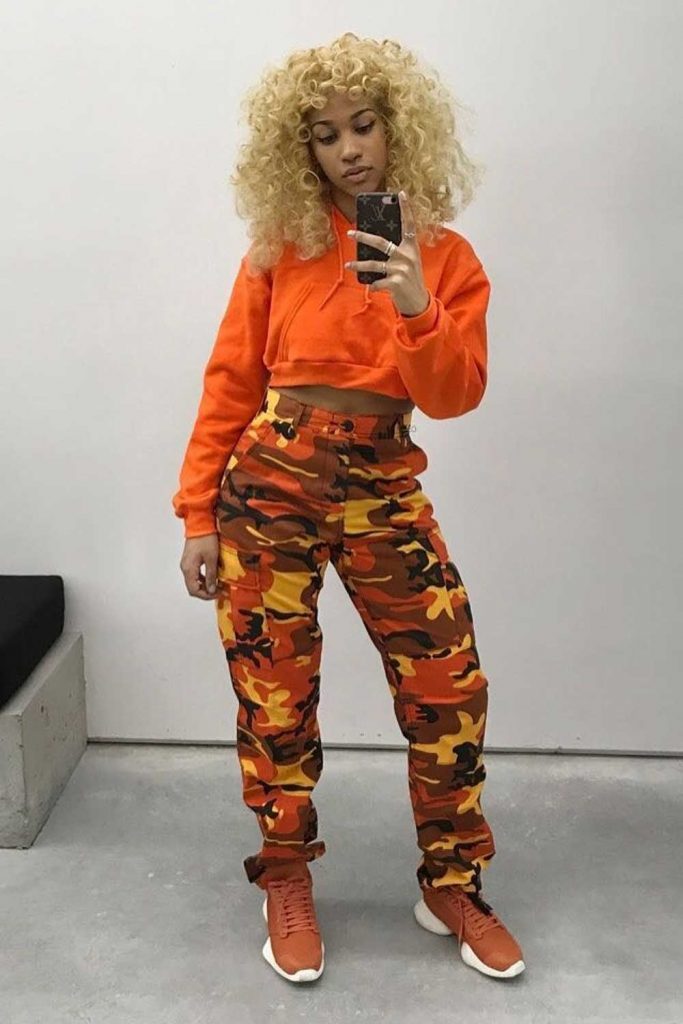 Source: Instagram/theprolificshop
There may be a misleading assumption circling that coloured camo is non-existent. However, if you are feeling like wearing orange camo pants – you go for it! The same goes for pinks and blues in camouflage. You can put on your fav crop top and sport any shade of camo-patterned pants!
Do you think that camo pants belong in the military only? It is time we open up new horizons on front of you! With the ideas gathered here, your wardrobe will become even more stylish than it has been before!
FAQ: Camo Pants
Can you wear camo pants in public?
A pair of camo leggings or a US Army jacket can be worn by anyone, so, wearing a military uniform may not be considered rude.
Why do soldiers wear their uniforms in public?
Uniforms are worn by troops to help them identify with their fellow soldiers and their civil service. Their outfits also provide significant protection and, in some cases, camouflage to assist them in doing their job.
Where can you not wear camouflage?
You can't wear camouflage in Antigua, Grenada, Jamaica, Barbados, St. Lucia, St. Vincent and the Grenadines, and Trinidad and Tobago (all Caribbean countries). It's also prohibited in Oman and on a cruise line-organized African river cruise or safari tour.
REFERENCES:
In the US in the 1960s, military clothing became increasingly common (mostly olive drab rather than patterned camouflage); Source
How to Style Camo Pants. When you think of camo, you likely first think of hunters and soldiers. However, you can easily style camo pants for casual, stylish, and authentic looks. Source
Was this article helpful?