Amazing And Stylish Gold Heels To Pair Any Outfit
Metallic shades are certainly on the top of popularity these days. We are talking not only about those motifs in nail art and clothing – the fact is that the trend has reached the shoe world as well. Gold heels are no longer a rarity, rather a necessity to end up with an elegant and stylish look. That is why we offer you this complete compilation of gold shoes to choose from and introduce into your collection.
Braided Gold Sandal Heels
Summer is coming, and you certainly need a new pair of sandals to add to your collection. Gold high heels sandals with braided straps all over them will add that tiny bit of charm that every woman needs to look like a queen.
Source: lillyskloset via Instagram
Rose Gold Closed Toe Heels With Leafy Patterns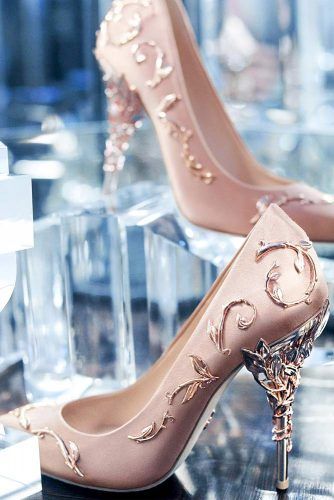 In case you are looking for a pair of shoes to finish your look designed for a special occasion – we may have something in store for you. These rose gold heels are not only gentle and elegant looking but also exquisite due to the unique leafy design they are decorated with. With a pair of those, any look you pull off will be flawless.
Source: ralphandrusso via Instagram
Gold Blocked Ankle Strap Sandals
The fact is that a pair of shoes does not need to be over the edge complex to be perfect looking. These gold sandals prove the point. Just two straps and a block heel combined together result in reserved perfection.
Source: lillyskloset via Instagram
Chunky Gold Sandals With Transparent Straps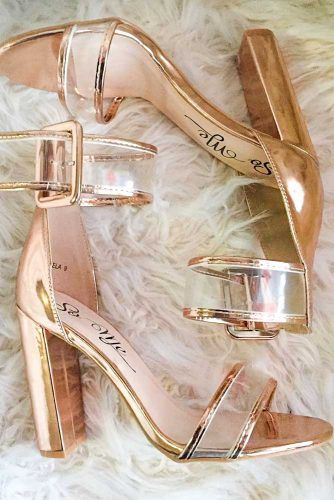 When you are looking for a pair of shoes to look one of a kind – we have something in store for you too. These rose gold sandal heels are extraordinarily looking due to few reasons. First of all – the color. However, as if that is not enough, the designer decided to introduce ultra-trendy transparent straps into the look. What can we say – the result is breath-takingly stylish and beautiful.
Source: theconsignmentplace via Instagram
Closed Toe Gold Pumps With A Bow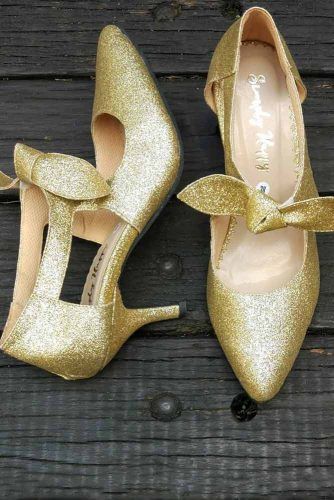 The truth is that not every woman wishes to look trendy beyond belief. Some ladies prefer classics to all the modernism. If you belong to the category then these gold glitter heels pumps will steal your heart, there is no doubt about it!
Source: simplyhappyweddingshoes via Instagram
Gold And Cream Sandals With A Side Bow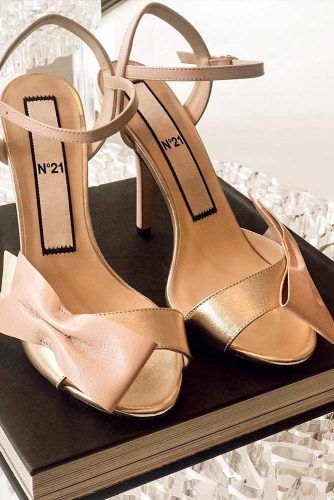 There are times when you do not wish to attract too much attention to your look, but you would still prefer to wear something stylish. That is when the combo of nude and gold comes in more than handy. These sandals look perfectly neutral and elegant. However, the gold strap grants them that modern charm mentioned.
Source: pinklagoon via Instagram
Gold Red Bottom Heels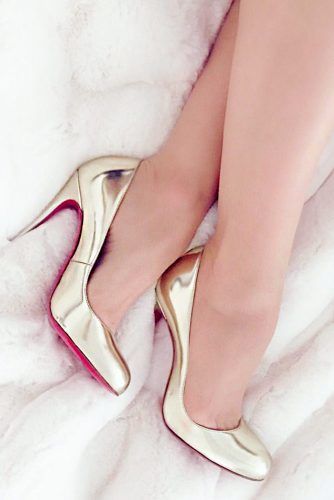 Gold close toe heels are going to become a combination that will soon become a definition of elegance and style. However, even a classy look requires something peculiar about it. The red soles of the shoe are precisely that defining element that will make you remember the pair forever.
Source: charlotteolympia via Instagram
Blocked Gold Heels With Double Straps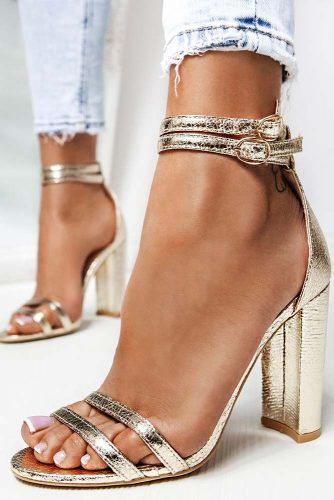 Gold strappy heels are both pretty looking and convenient. The block heel will ensure the stability while the straps will fix your foot. Such an approach allows you to wear these sandals on a regular basis without the fear of twisting your ankle.
Source: deezeeshoes via Instagram
Closed Toe Gold Heel With Animal Print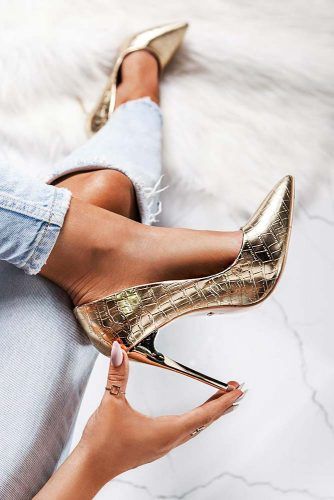 When regular gold closed toe heels are not your cup of tea, we offer you something entirely different and out of the ordinary. The thing is that gold heels with animal print look in no case extravagant but gorgeous. Such a pair will add up fashionable vibe to either casual or occasional look.
Source: deezeeshoes via Instagram
Gold Sandals With Sparkly Stones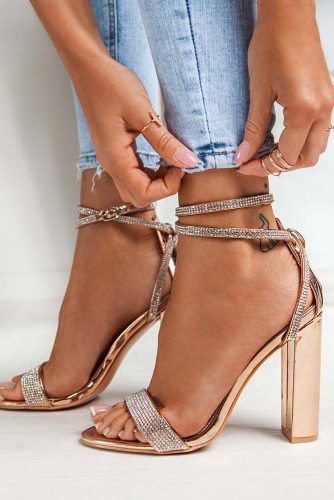 Very often, where there are sparkles and gems, the shoes are designed for a certain event only. However, in this case, these gold block heels with toe and ankle straps decorated with rhinestones look nothing but elegant and quite casual. An evening out with your friends would be the best appropriate occasion to pull them off.
Source: deezeeshoes via Instagram
Classy Closed Toe Stiletto Heels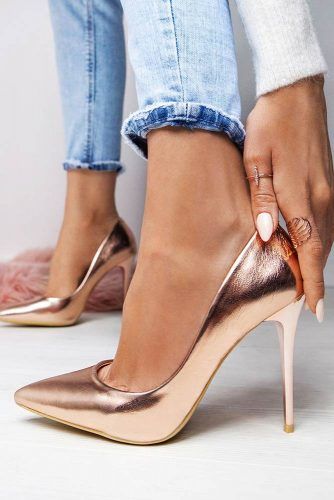 If you happen to be in search for classy stiletto heels to add to your collection this season – we have something hidden up our sleeve for you. The fact is that these rose gold stiletto heels are perfectly classy and elegant despite the glow.
Source: deezeeshoes via Instagram
Blocked Gold Ankle Strap Heels With A Fringe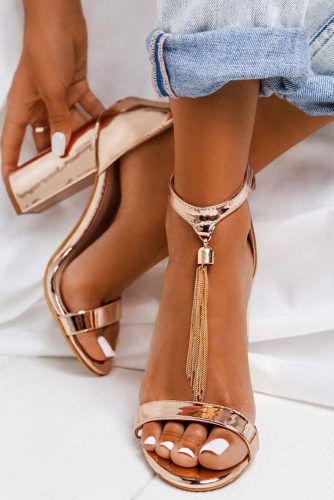 It has been already mentioned that even though block heels are very comfortable, they are also on the edge of glory these days. That is why it is always a nice option to kill two birds with one stone. When it comes to this particular pair, what makes it stand out is a fringe element attached to the front. Such a beauty won't go unnoticed, we can tell for sure!
Source: deezeeshoes via Instagram
D'orsay Sparkly Gold Heels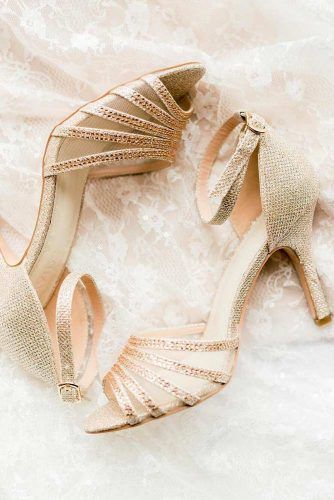 Those of you who wonder how Cinderella's shoes must have looked like – we have a suggestion in mind. These D'orsay sparkly heels fit the category perfectly. If you ever wish to feel like a real princess, then you are bound to own a pair of those!
Source: davidsbridal via Instagram
Classy Ankle Strap Closed Toe Heels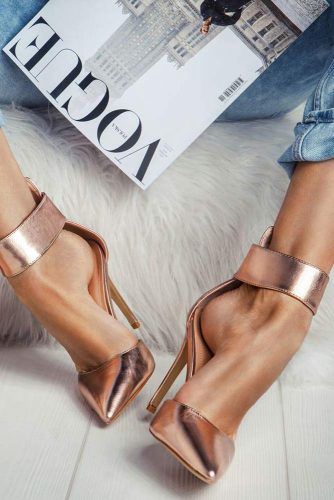 When you want to combine class with elegance, we may know a way or two how to achieve that. In this case, the combo of closed toe heels and an ankle strap is clearly a killer one. Such a pair will look more than fitting no matter jeans or maxi dress you are about to wear.
Source: deezeeshoes via Instagram
Gold Ankle Strap Sandals With Chain Mail front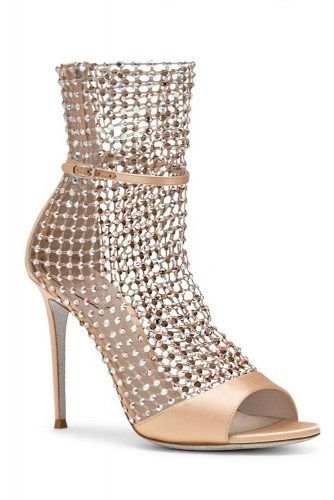 Sometimes all of us are in need of such a pair of shoes that can leave anyone in awe. These sandals with chain mail front are precisely the pair that can grant you that admiration. Besides, the gold hue is so gentle that the sandals do not look over the edge extravagant.
Source: renecaovilla via Instagram
Gold heels are no longer a pair saved for a special occasion. This season is going to prove that the mixture of gold heels and casual outfits has the right to exist. So, choose the pair that suits you most in order to keep up with fashion.