Summer Outfits That Every Lady Needs To Add To The List
Warm weather is something that most of us are waiting for during the months that are not summery ones. However, when the time comes, it turns out that the trends have changed and when it comes to your summer outfits – you have nothing to wear! Worry not! There is no need to panic since we have it all under control. We are going to share with you a fair share of summer outfits 2018 that will make you look irresistible no matter where you go. Are you ready?
Summer Dresses
When it comes to summer, it is safe to say that summer dresses are the best. The thing is that there is no limitation to the style, material or length – you can pull them all off! As a matter of fact we are going to show you a few examples to prove the point that summer dresses can be extremely versatile and there is no occasion that a dress wouldn't suit!
Long Blue Dress With Floral Pattern
Source: vivaluxuryblog via Instagram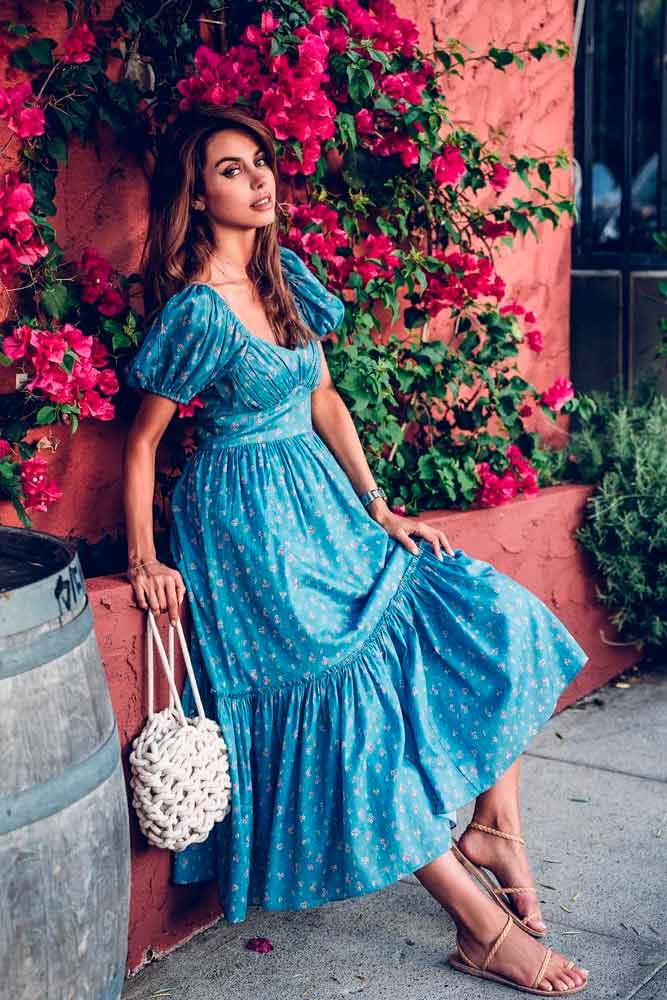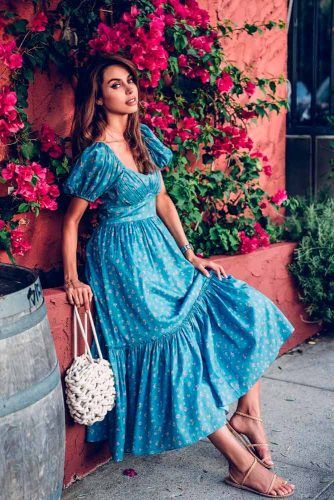 If you like maxi dresses, then this one is totally worth your attention. Apart from a flowing design and cute pattern, such a dress is surely stylish. Besides, you can put it on casual walk around the city or to your friend's birthday party; it will fit in anywhere seamlessly.
Short Summer Dress With Tropic Floral Print
Source: wewlasnymstylu via Instagram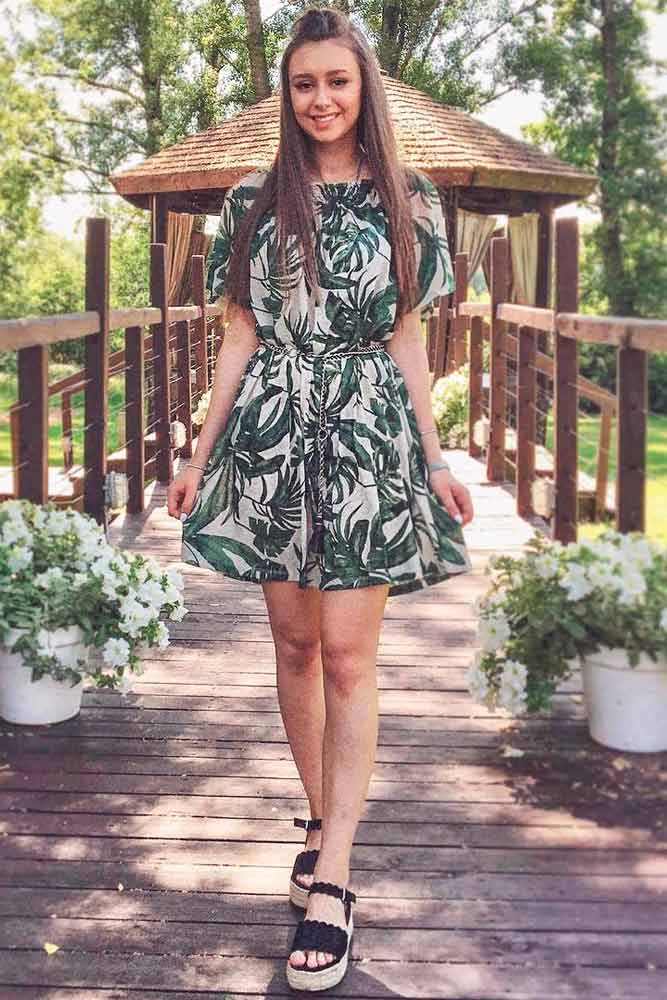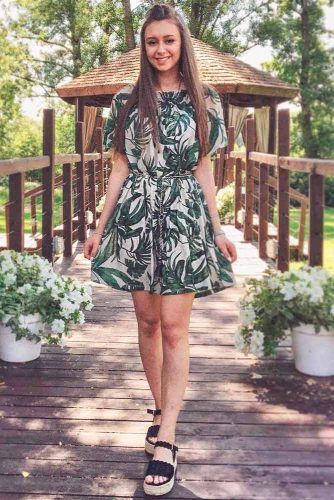 Short dresses define summer. However, you should not leave the pattern out. This tropical pattern is one of the details that make the dress stand out among all the others.
Elegant Casual White Dress
Source: veronika_klimovits via Instagram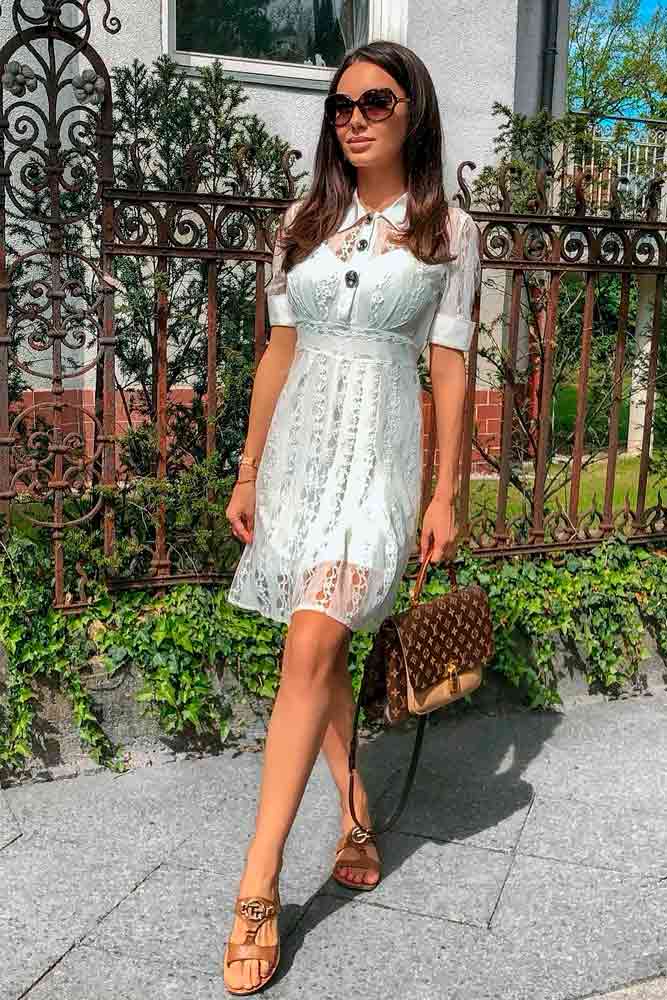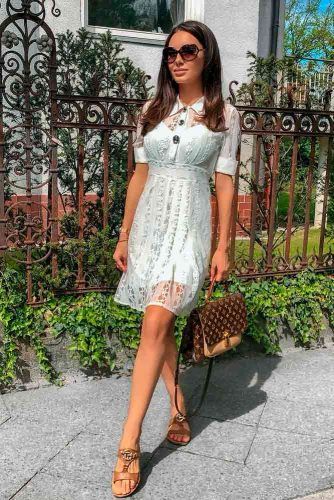 Some dresses can be both elegant and seasonal at the same time. This gorgeous white dress is the best proof to the point. It seems that everything is perfect about it, starting with the reserved design and ending with fabric it is made from.
Jumpsuits
Jumpsuits are both a blessing and damnation. The thing is that with a correctly chosen jumpsuit, you can kill all the birds with one stone but on the other hand, you have to be precise with what you are opting for. That is why we are going to share a few classy and sassy ideas so that you always end up looking gorgeous!
Chambray Linen Romper
Source: mumuandmacaroons via Instagram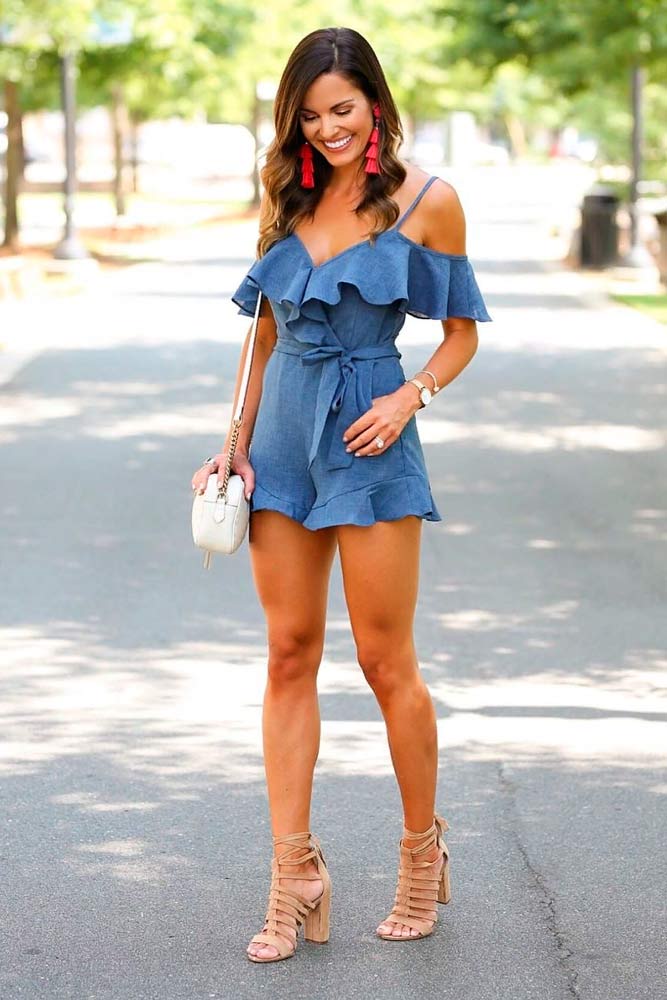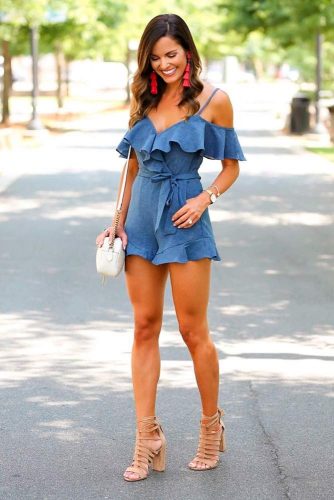 Among summer outfits ideas linen rompers are the best to deal with the heat. What is more, something like this can be worn anywhere – from the beach party to the night out at the club.
Striped Linen Jumpsuit
Source: cmcoving via Instagram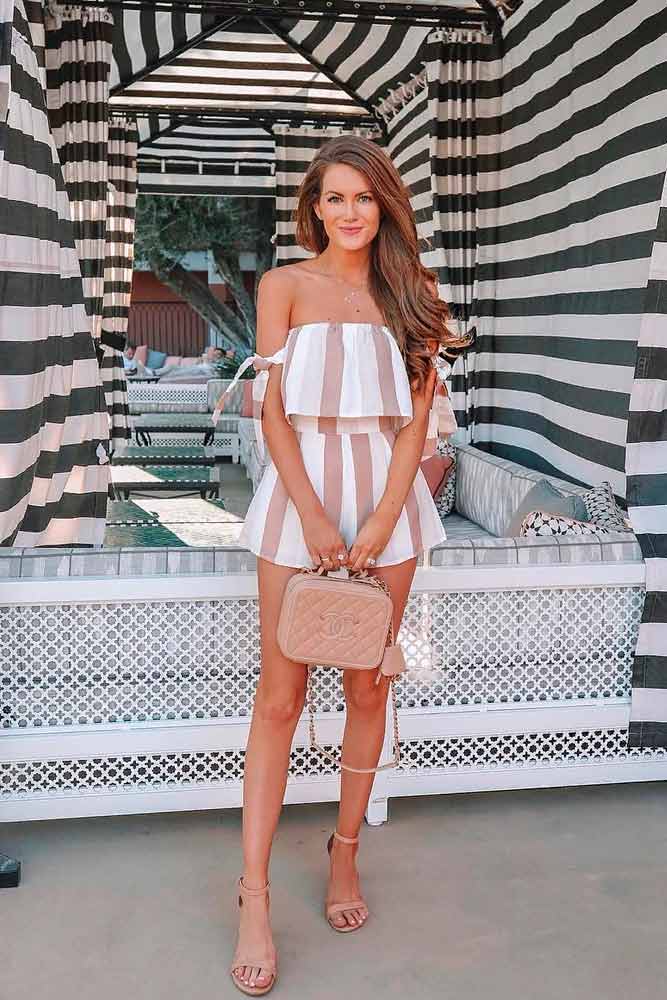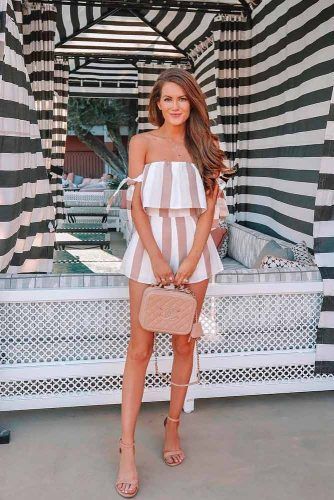 Jumpsuits are the perfect invention in women fashion that has been trending a couple of seasons already. This striped jumpsuit is extremely elegant and cute looking, not to mention the fact that it is made of linen.
Chic Bare Shoulders Jumpsuits
Source: shiraleecoleman via Instagram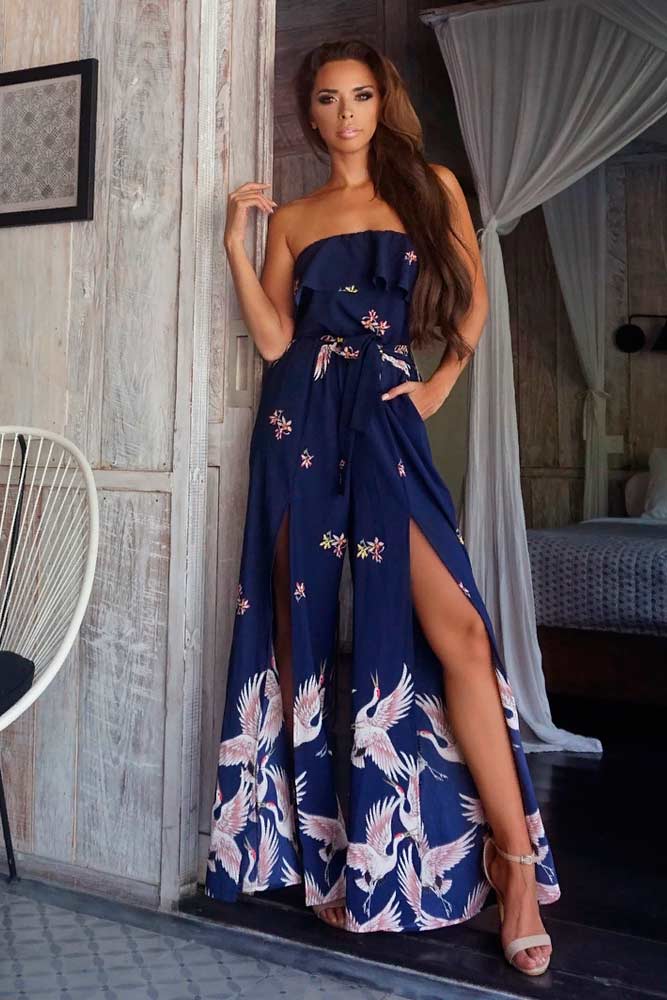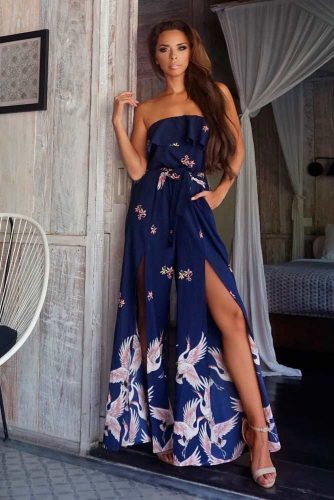 There is exceptional versatility when it comes to jumpsuits especially during the summer. The thing is that there are some jumpsuits, which indeed do not seem to be the one until you have a closer look. For example, this wide leg, strapless jumpsuits looks like a perfect summer evening dress, don't you think?
Denim Outfits
It may seem that when it comes to denim, it should be left waiting for cooler seasons to come. We are going to prove to you that this is where you are mistaken. There are so many looks you can create with a pair of jeans or denim shorts that it is hard to imagine, besides there is probably nothing more comfortable than a pair of jeans. Let's have a look at these few possibilities to try out!
Torn Shorts And Ruffle Top
Source: emilyrosehannon via Instagram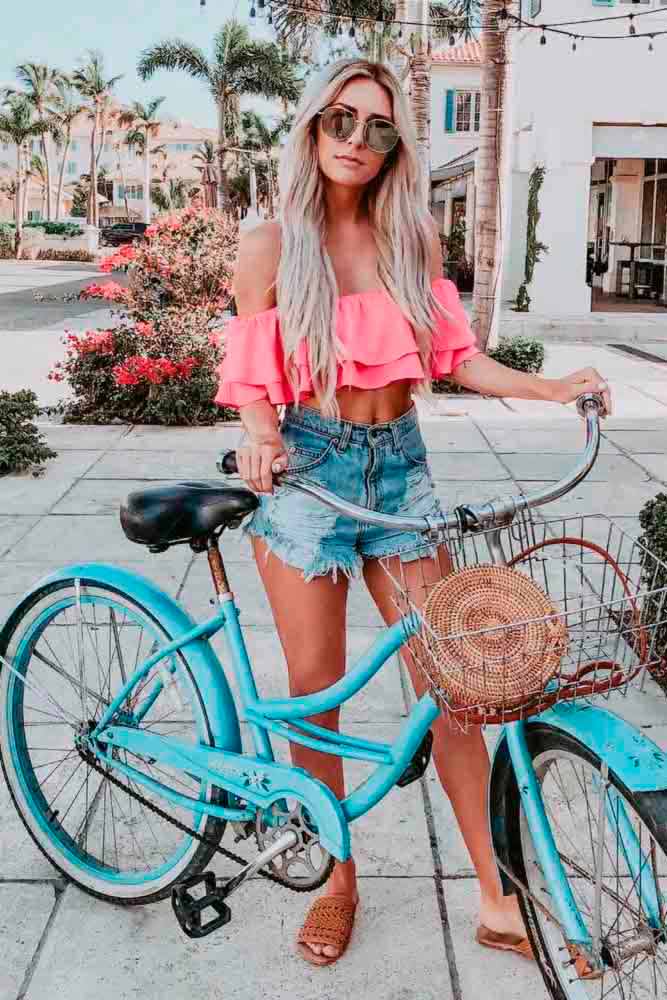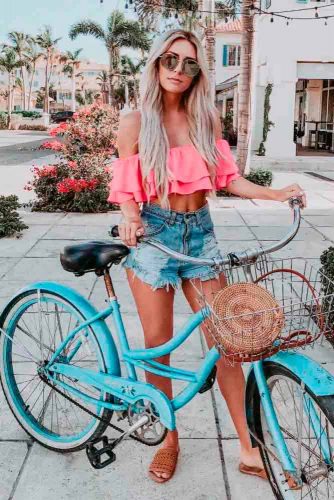 Summer is clearly about shorts, and denim ones wouldn't be the exception. To grant this ragged look some more femininity, we suggest you opt for cute pink ruffle top.
Shortened Jeans And Pure White Blouse
Source: nadiaanya__ via Instagram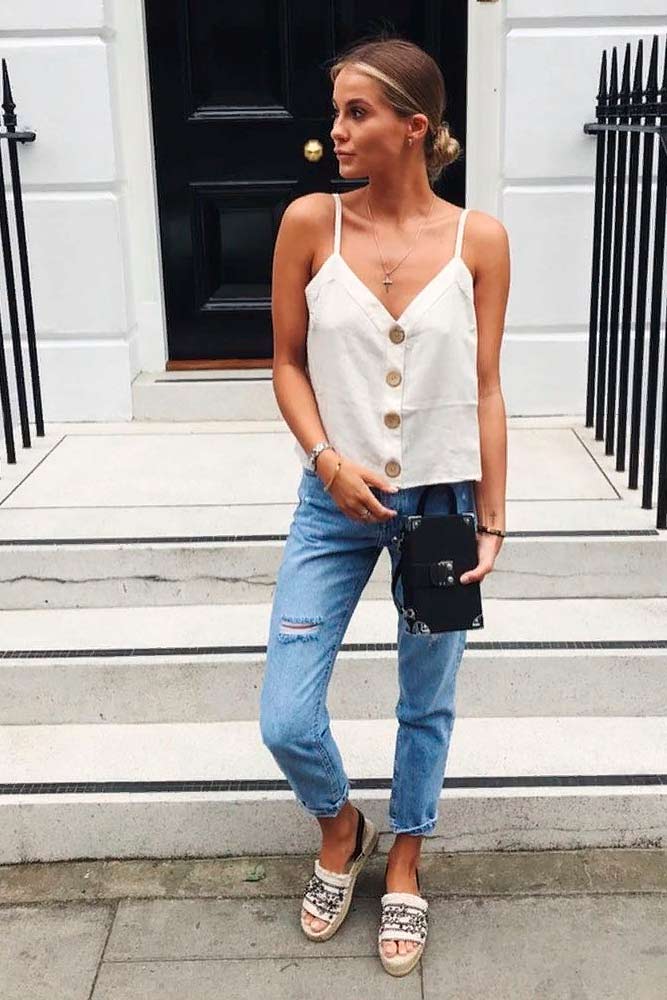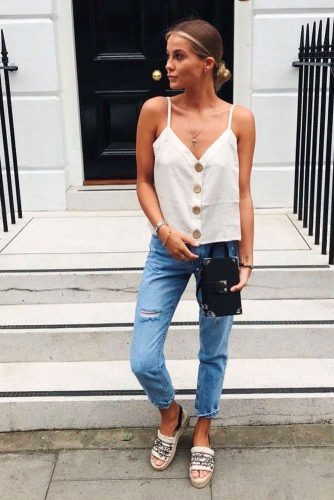 Regular jeans have a way to go too. All you need to do is to come up with a proper upper part. White strapped blouse fits in perfectly!
Jeans Shirt And White Trousers
Source: littleblondebook via Instagram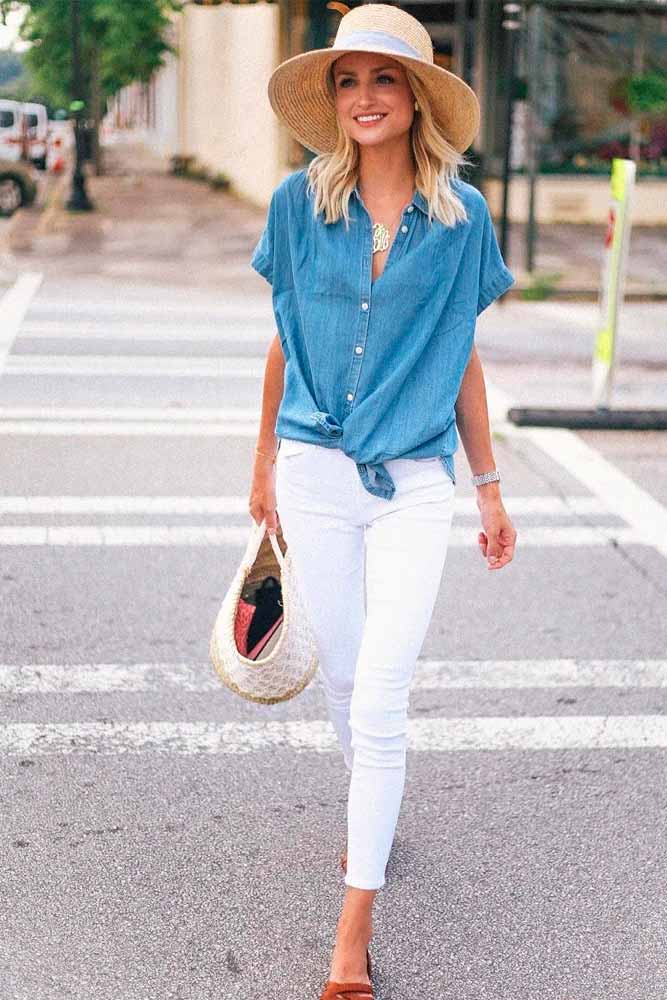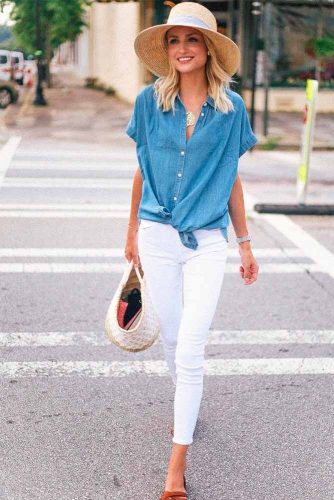 Summer outfits with leggings are undoubtedly casual, but that does not make them look less elegant or cute. If you are headed for a walk on the beach, a pair of white denim leggings and a loose shirt with a cute hat will create an unforgettable look.
Pants & Shorts
It is true that not all the ladies are equally fond of skirts and dresses, that is why if it is precisely about the type of woman you are – we have a few tricks up our sleeve. The thing is that there is a vast variety of trendy shorts and pants looks to pull off during the summer too. It should be mentioned that pants and shorts are not only for work or for leisure – there are fancier occasions to fit in with a suitably chosen pants look.
Torn Jeans Short With Halterneck Top
Source: veronika_klimovits via Instagram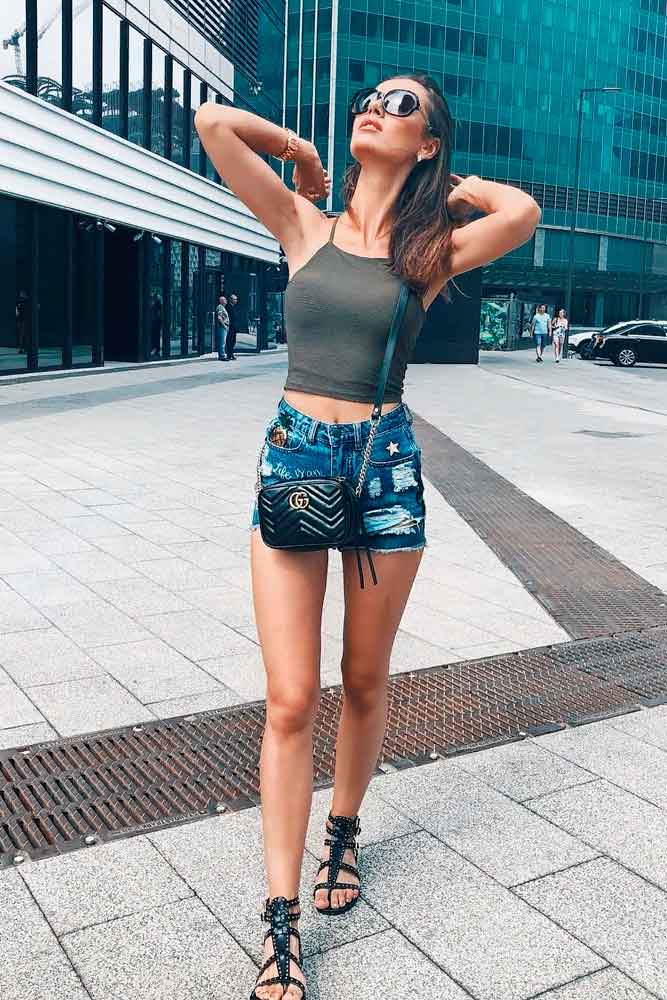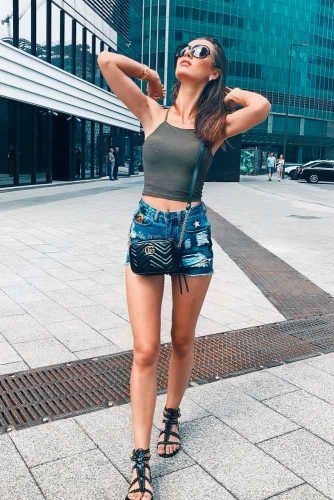 If you are looking for the most casual and simple look to pull off when it is super-hot outside – we have something for you. The thing is that everyone has a pair of torn jeans shorts somewhere in the closet. Complete the shorts with a halterneck top, and you are ready to rock and roll.
Striped Top And White Jeans
Source: cmcoving via Instagram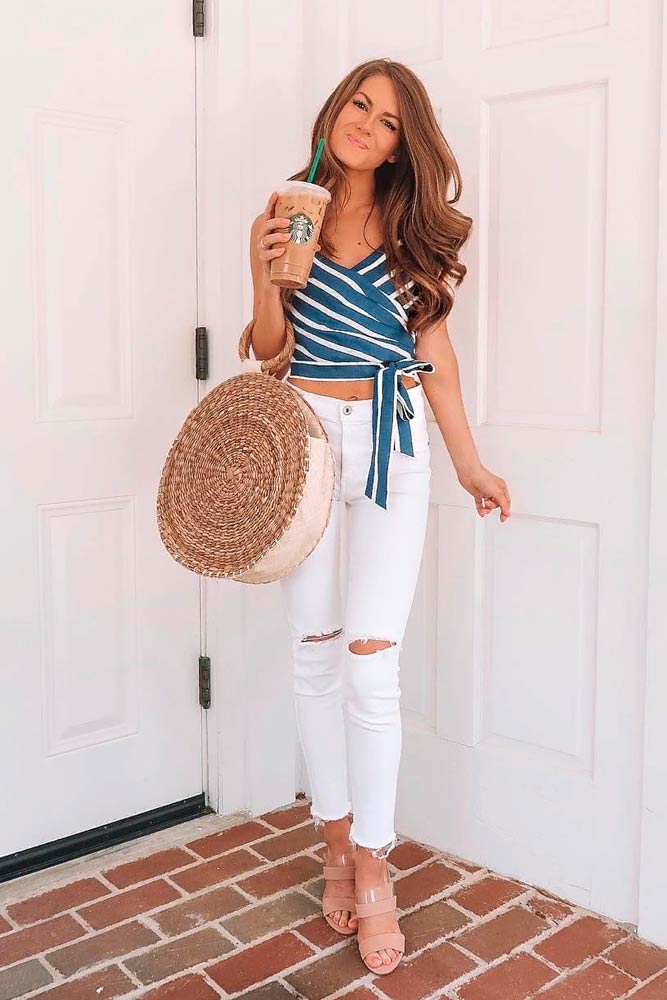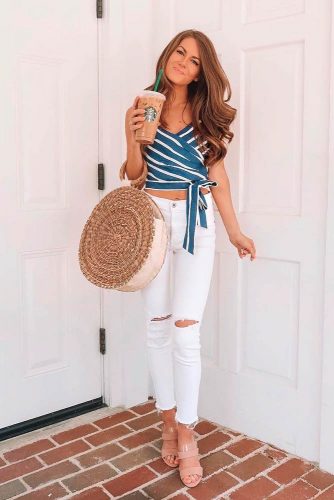 It is easier than easy to come up with cute summer outfits if you have a pair of white jeans in your closet. Add up a blue striped top, and the look is ready. Besides, blue and white go well not only with each other but also they are the best colors for the summer heat.
Linen High Waist Shorts
Source: mangorabbitrabbit via Instagram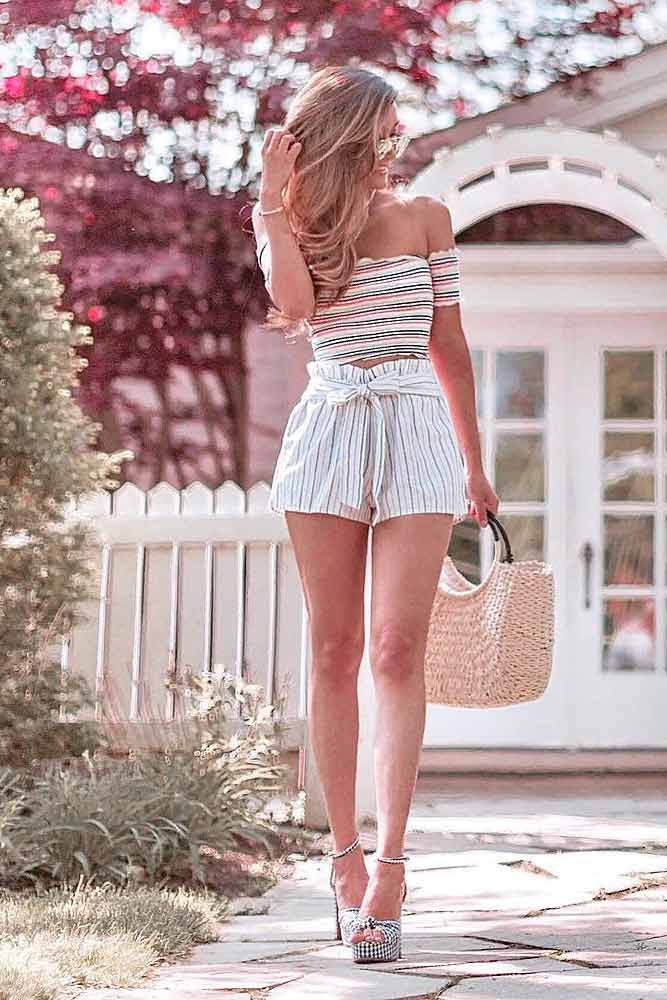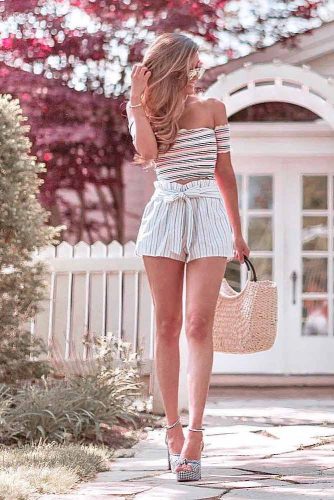 Shorts are not only about denim, linen shorts are also a great option when the sun shines a little too bright. A beautiful strapless top adds up to high waist shorts just fine.
Bright Tops, Blouses And T-shirts
We have discussed the bottoms thoroughly enough, but the tops are in priority too. That is why it is best that you know that summer is not about t-shirts and tops only, there are some other options also, especially when you are headed for a formal meeting. As you may have already guessed, we have blouses in mind that is why we present to your attention a list of possible summer top pieces to get inspired with!
White Crocheted Top
Source: emilyrosehannon via Instagram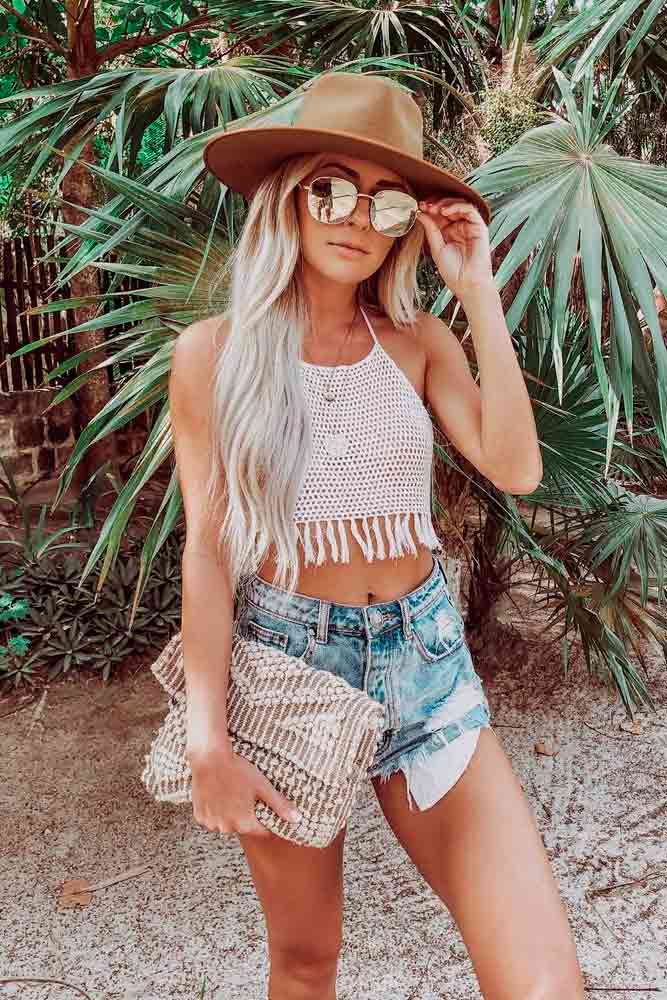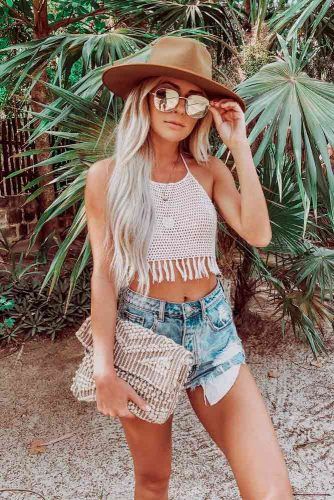 When headed to the beach, you wish to look ultra-stylish but simple at the same time. A pair of jeans shorts and a crocheted top can help you achieve the goal. Do not forget about the glasses and a hat too.
White Blouse With Bare Shoulders
Source: mangorabbitrabbit via Instagram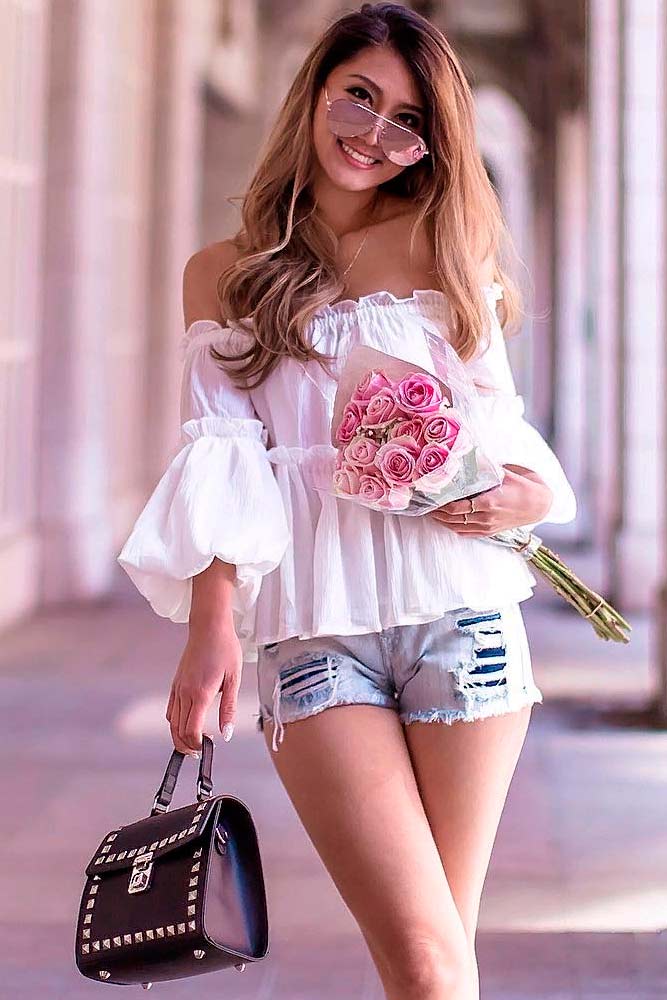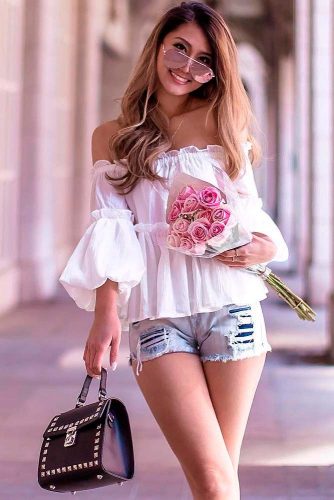 If you are looking for something less formal, this embroidered summer blouse is something that will complete your denim shorts look perfectly!
Classic T-shirt Variations
Source: littleblondebook via Instagram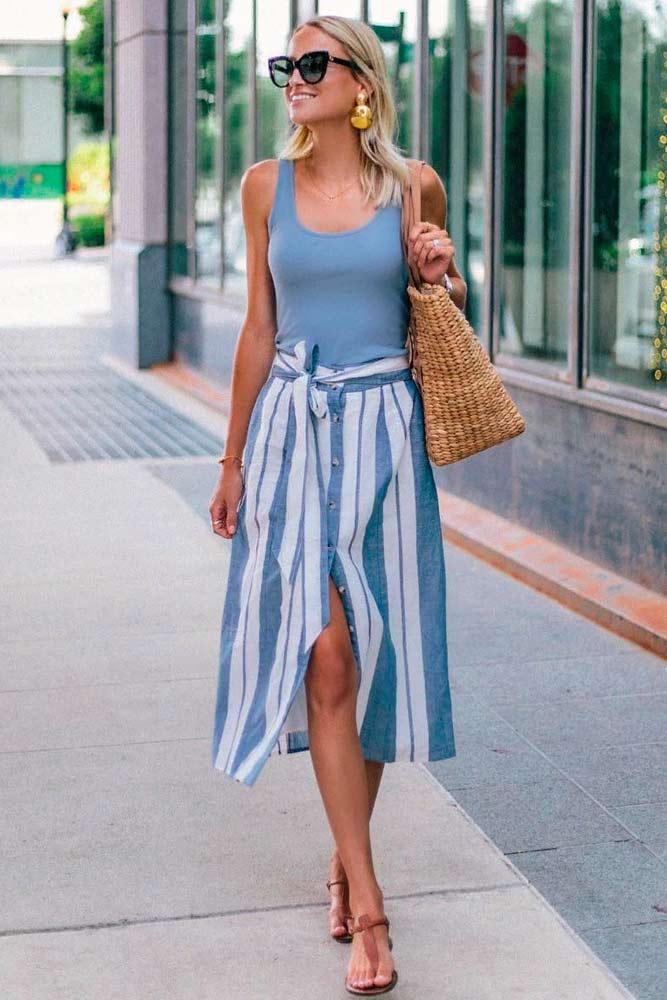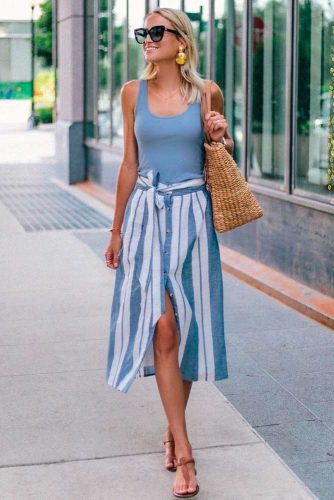 Even a simple t-shirt can help you create an unforgettable and stylish look if you know what to pair it with. For example, a solid and sleek blue t-shirt accompanied with loose striped skirt look gorgeous together and will fit for an evening stroll any time.
Summer Suits
The summer outfits collection would be incomplete if we didn't mention something as trendy as summer suits. It is true the notion of summer suit is a little bit different from the classic one but the two-piece part remains. Therefore, the best definition for a summer suit would be the combo of a top and shorts/skirt/pants, and here we will have a closer look at possible options.
Bare Shoulders Top With The Skirt
Source: emilyrosehannon via Instagram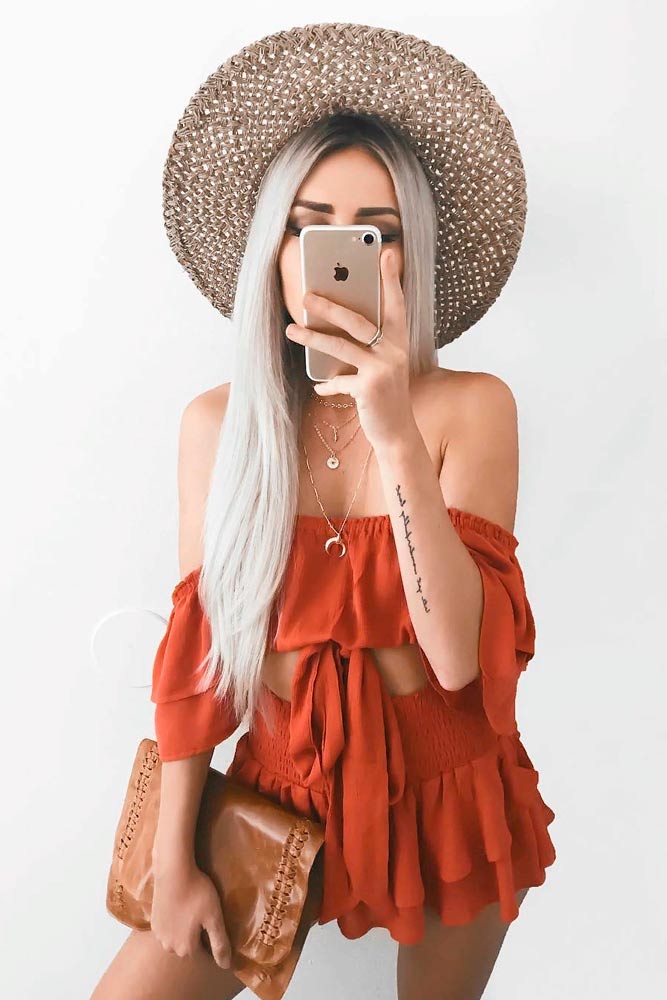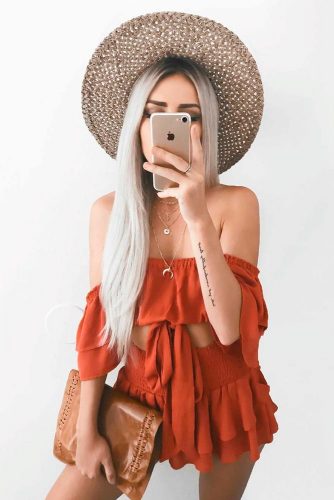 Minimum clothing is the motto of any hot summer and the best outfit to suit the description would be this lovely suit. It is true that it is quite revealing, and you won't be able to attend anything formal in it - but a summer party is the best place to wear it that is for sure.
Green And White Suit With The Skirt
Source: vivaluxuryblog via Instagram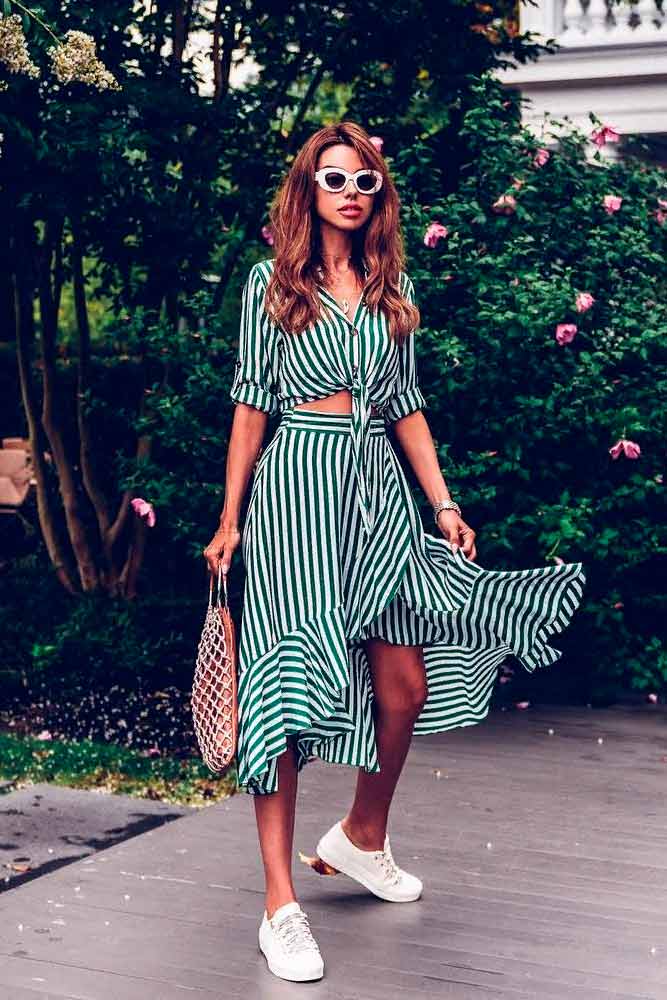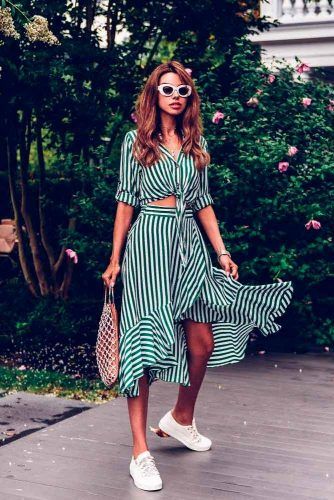 Stripes are the exact perfect pattern that slims your body down. If that is the purpose, this suit is your ideal summer outfit option there is!
Deep Blue Striped Top With Shorts
Source: shoppriceless via Instagram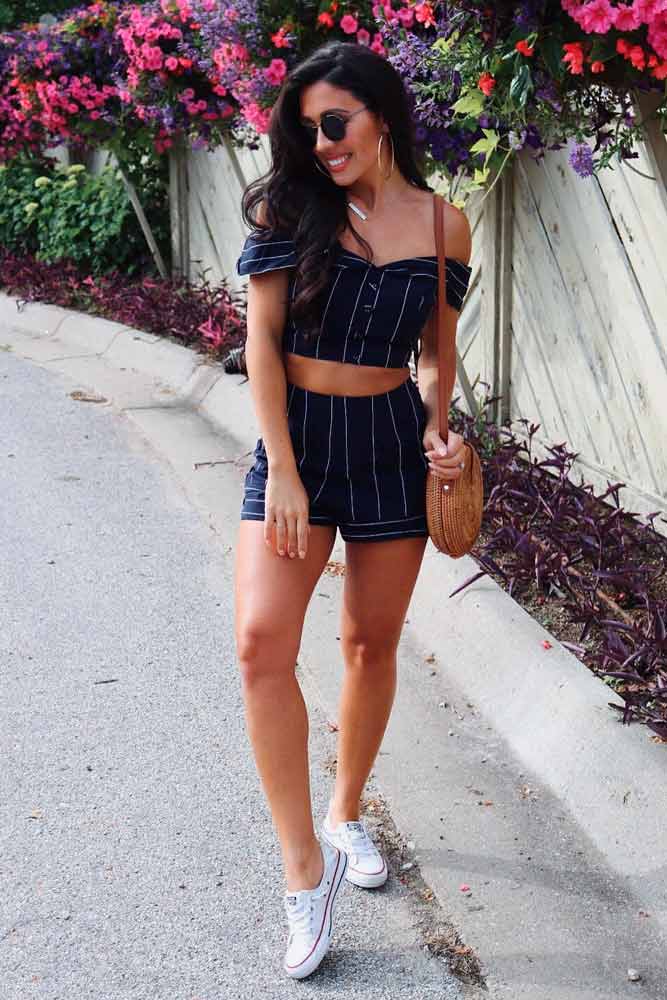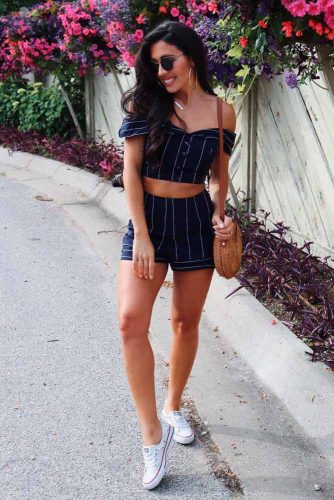 Sometimes the simpler is the outfit, the better. This top and the shorts suit is simple enough to wear in anywhere however, it also possesses that class required to look irresistible and tempting but reserved at the same time!
Summer Outfits With Skirts
Can you possibly imagine your summer wardrobe without a skirt or two? A skirt lets you show off your beautiful legs and makes your image more feminine.
White Lace Top And Mini Skirt
Source: beginningboutique via Instagram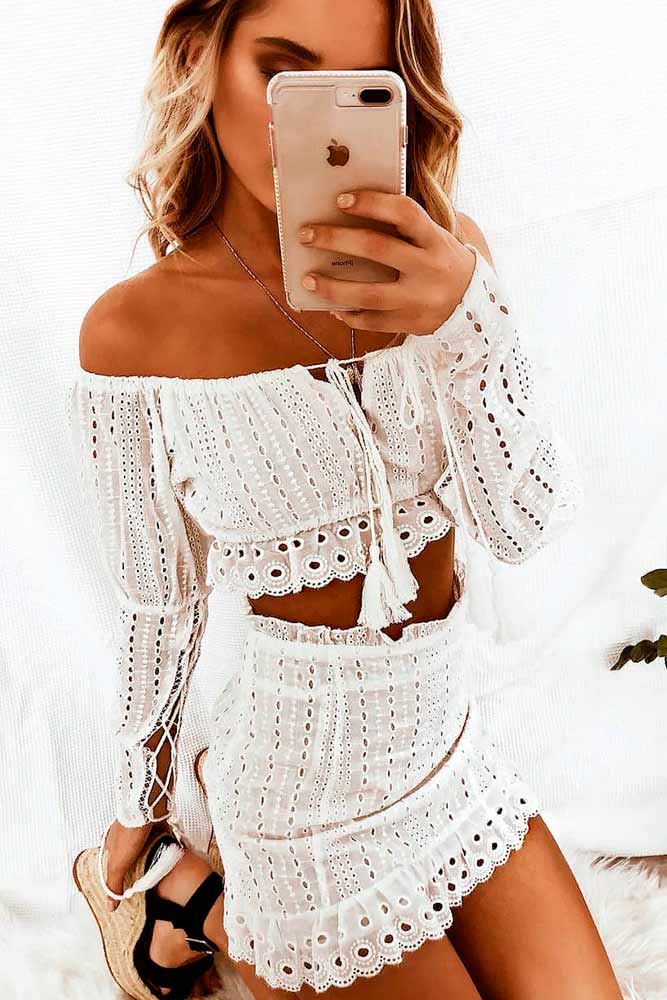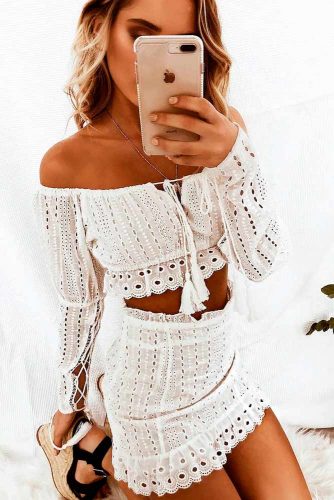 Add some bohemian vibes to your summer. This white lace top paired with a mini skirt will make your image more playful. And the light weight material is a true life savior.
White Top With A Peach Asymmetrical Skirt
Source: cmcoving via Instagram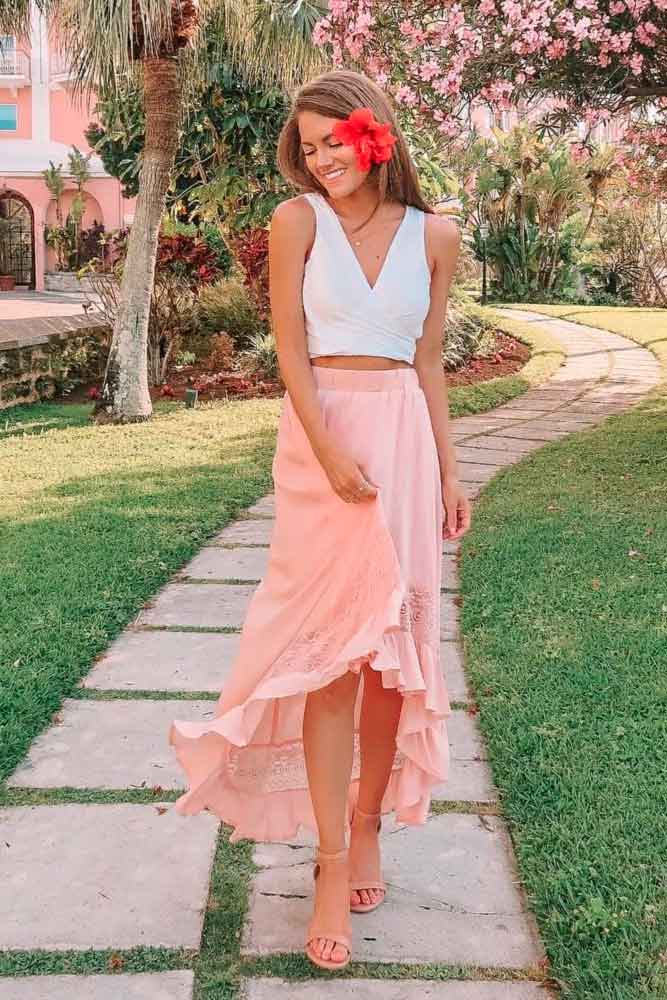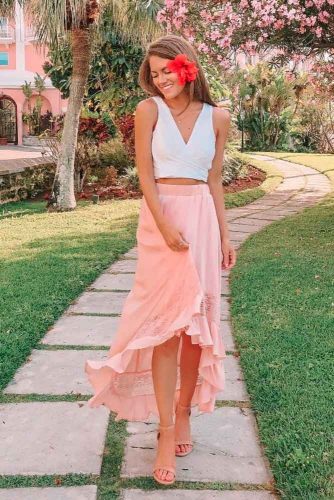 White and peach is an awesome color combination for a summer outfit. And this asymmetrical skirt is so fun. This outfit will work great for a day on the beach.
Ruffle Top With Jeans Skirt
Source: cmcoving via Instagram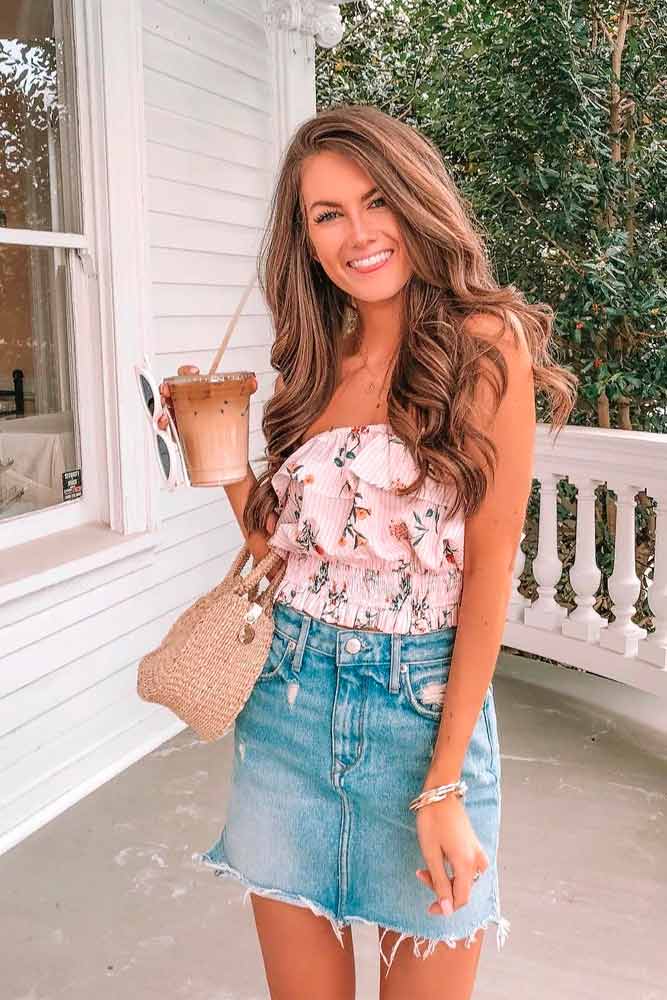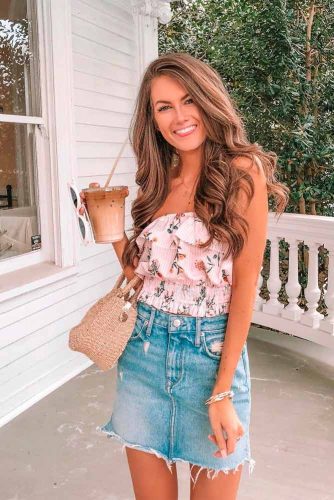 A jeans skirt can be called timeless without any hesitation. Pair it with a ruffle top with a floral pattern like shown in this picture, and you will get the image that is reminiscent of the 90s.
Bright And Stylish Summer Outfits
Summer is about having fun – there is no doubt about that. These outfit ideas were chosen with that in mind. Each of these outfits will work awesome for a day poolside or partying on the beach.
Elegant Floral Shorts And Top Set
Source: veronika_klimovits via Instagram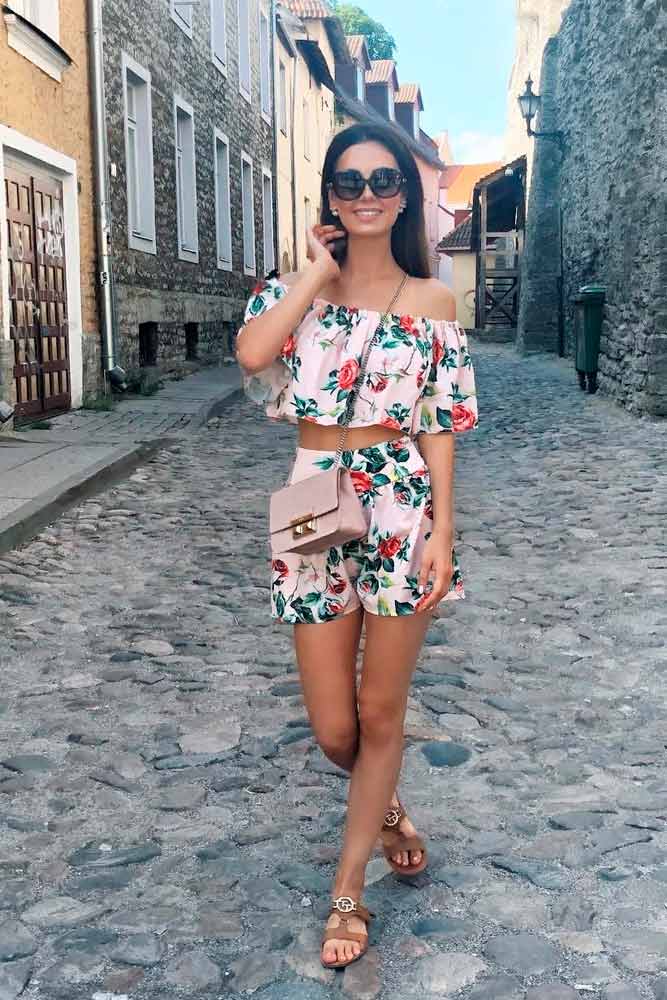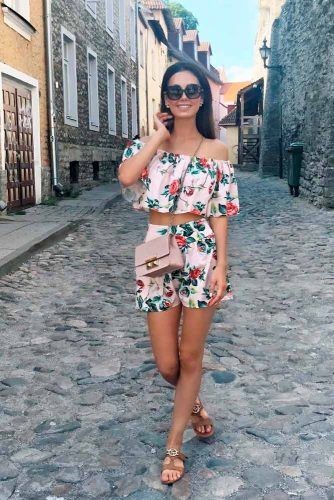 There is a false assumption that shorts can't be an element of the elegant suit. This is the perfect time to prove it wrong. One look at this gorgeous floral shorts and the top set will make you get the point.
Shoulder-Off White Mini Dress
Source: okaspen via Instagram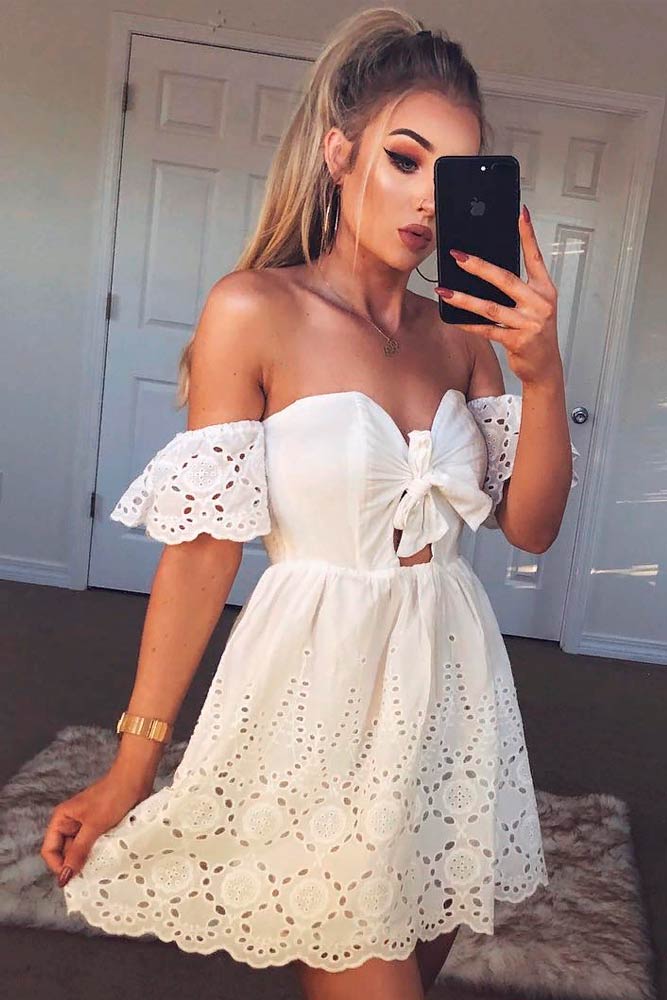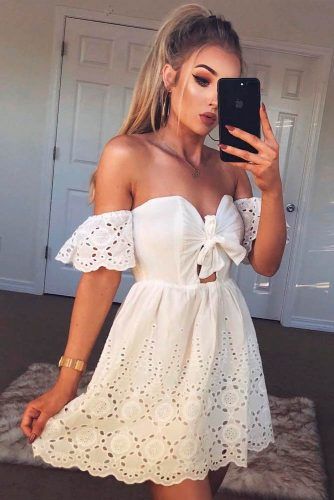 Lovely white summer dress will make you look gorgeous no matter where you are headed. The shoulder-off design and beautiful pattern add up and intensify the elegant vibe it produces.
Floral Dress With A Long Skirt Piece
Source: cmcoving via Instagram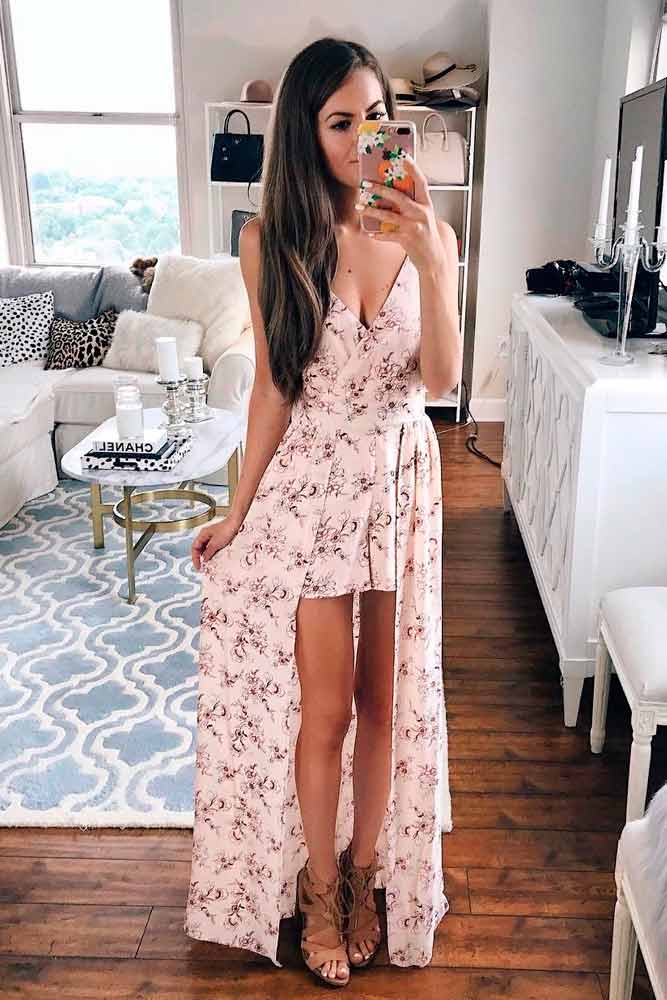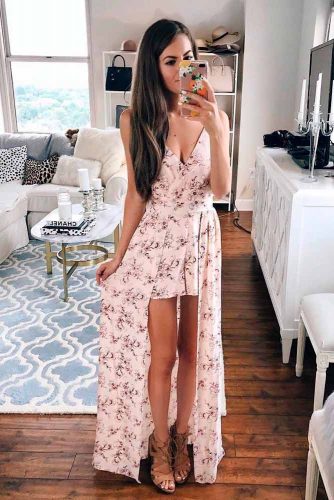 This dress has an interesting, unconventional design. It could be a cool and hip option for those who would like to stand out from the crowd. Pair it with heels to appear more elegant.