A bralette is a soft cup bra that comes in the following sizes, from XS to XL, it's the modern undergarment that looks especially pretty. If to compare this item of clothing with a bra, it is usually wireless, softer, and more easy-going. Bralettes are more suitable for ladies whose breasts are not big and require comfort, shape, and definition rather than support.
Considering that this undergarment typically has no padding or wire, ladies with large and heavy breasts tend to avoid (though not always) wearing it because their size requires more support. Some time ago, this piece of clothing was quite popular among teenagers or pre-teens, while today ladies love sporting it at any age.
Bralettes come in various shapes and designs: a push-up bralette, bralette plus size, strappy bralette, high neck bralette, bralette halter or bralette aerie, bralette top, etc. And if you are interested in wearing bralettes instead of bras, the choice of brands and prices is pretty wide, and you can shop for a bralette Victoria's Secret, bralette Forever 21, bralette Target, bralette H&M, bralette Walmart, halter bralette Amazon, bralette Kohls, etc. And these items of clothes are made of various smooth and soft materials such as microfiber, cotton blend, or lace. But all of them have one characteristic in common, and that is a comfort. And the great news is that you can wear this sexy item of clothes in many ways. If you have few ideas on what to pair it with, you can explore that here and now.
*We may earn money from affiliate links on this page. Please check out our disclosure policy for more details.
Bralette Types
Bralettes are a popular lingerie item that have gained widespread popularity in recent years due to their comfortable and stylish design. They come in a variety of types, each with its unique features and benefits. In this paragraph, we will explore some of the most common types of bralettes available in the market.
Cotton Designs
Source: Instagram/kuznetsova__alena_shop, Instagram/loungeunderwear
Cotton designs appear quite casual and simple, yet, they are not less sexy. Bralettes made of cotton are considered to be the most comfortable due to the soft feel of the material and plain designs. You can combine a bralette made of cotton with casual or workout clothes.
Sexy Lace Designs
Source: Instagram/bluebellaofficial, Instagram/elcyclothing, Instagram/kuznetsova__alena_shop
Lace bralettes are sexiest among all bralettes. Such item will definitely make you appear very feminine. Some designs are sheer lacy, while others are trimmed a bit in lace. You can wear it under a gown or simply under a shirt, which makes this item ideal for many occasions.
Crochet Bralette Designs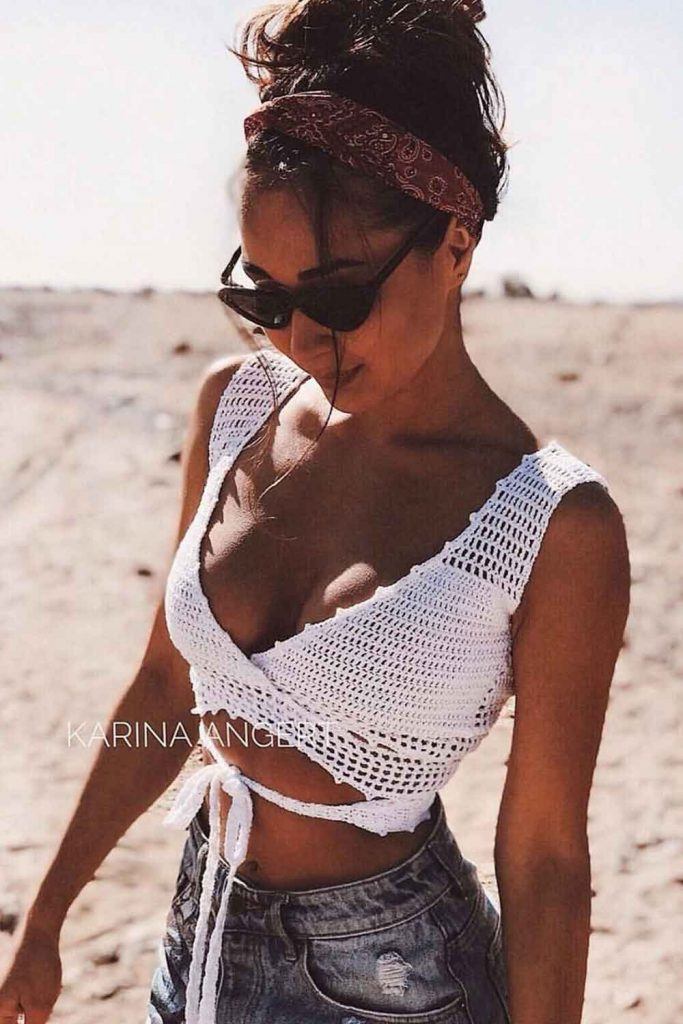 Source: Instagram/polinakraynova, Instagram/elizavetaboyko747, Instagram/karina_angert
If you are tired of all the usual fancy bralettes and you wish there has been something else to experiment with – there is! In case you are a beach-addict and a bit handy yourself, you can make your very own bralette. The fact is that crochet bralette is going to be a major hit this summer. It is time you get to improve your crochet knitting skills!
Floral Lace Designs
Source: Instagram/elcyclothing, Instagram/fashioninflux, Instagram/elcyclothing
Lace bralette indeed is one of the most requested for and versatile forms there are, but have you thought about the lace pattern? It turns out that floral ones are ladies' absolute best. One look at these pieces of lingerie art, and you will get the point!
High Neck Bralette Designs
Source: Instagram/kuznetsova__alena_shop, Instagram/kuznetsova__alena_shop, Instagram/safarova_lingerie
The first thing that comes to mind when you hear about a high-neck clothing item is that it is something classy and reserved. With these fabulous halter bralette types and other lacy, and not only, alikes, you can break the rules. Would you dare to walk on the edge between innocence and seduction?
Longline Lace Bralette
Source: Instagram/kuznetsova__alena_shop, Instagram/kuznetsova__alena_shop, Instagram/nel.trikotag
Some ladies wonder whether there are things defined as bralette tops if you belong to the category you will be pleased to hear that they do. Such lacy longline bralettes are extraordinarily gentle and feminine. If you are looking for some sexy lingerie to fit the most special night of yours, these models would be your perfect bet.
How To Choose A Bralette Plus Size
Source: loungeunderwear.com, Instagram/bluebellaofficial, Instagram/missdollycastro
What if my breasts are heavy and large but I still want to sport a trendy plus size lace halter bralette? Here is a good piece of news: whichever design you choose, a plus-size high neck bralette or aerie high neck bralette, or plus size caged bralette, you can wear it because plus size bralettes are designed specifically for larger breasts. Which means that you can still rock this undergarment. All you need to do is pick a suitable design for your size. Also, it is advisable to look for a plus-size bralette with underwire, shoulder straps that are adjustable, and little to no push-up.
Styling Your Bralette With Accessories
Source: Instagram/taliacupcake, Instagram/elcyclothing, Instagram/hildeee
If showing off your neckline in the flirtiest way possible is your aim, then 'bralette how to wear' is the question to ask. This piece of clothing will define your neck and breasts. But if you wish to accentuate the top of your body even more, add some accessories, little or heavy, to this piece.
Choose A See-through Top To Wear Over
Source: Instagram/emmazoeyroche, Instagram/fashioninflux, Instagram/fashioninflux
If you wish to show off your pretty undergarment, try pairing it with a see-through top. Thus, you won't feel that naked like you would without any top. Any design of top and bralette will work for it.
How To Wear A Bralette As A Top
Source: Instagram/tigermist, Instagram/fashioninflux
You can put on a bralette without any shirt on. Yes, you read it right, no one will fashionably judge you if you wear this piece on its own. Solid bralettes will work better for such wear. Pair it with pants with a high waist, jeans, or a skirt. Such an outfit will be ideal for a day or night out.
The Basic Reasons Why Ladies Prefer Bralettes Over Bras
Source: Instagram/kuznetsova__alena_shop
Here are the basic reasons why ladies prefer bralettes over bras:
Conventional bras are less comfortable;
Bralettes are more body-revealing than bras;
A bralette does not hide a woman's natural shape of breasts;
Bralettes provide more freedom;
One day a regular bra fails to make a lady feel as sexy as before.
Cool Bralette Designs For Anyone
Source: Instagram/asosmarketplace, Instagram/carmsunfiltered, Instagram/forever21
One of the best things about those ever-popular bralettes is that they can fit anyone. It is not like there is a one-for-all option to sport, but there are countless shapes and designs to suit to your personal preferences. Sporty or hot – the choice is yours!
We hope that the question What is a bralette bra used for is clarified now. Come back for more useful info and inspiration!
Frequently Asked Questions
What is the difference between a bra and a bralette?
You definitely are aware of the fact that bralettes are a major thing these days, and there are many reasons for that. However, if you ask yourself occasionally what is really the difference between the bras and bralettes, it may seem that they are basically the same thing that comes in various variations. In fact, that is partially true. However, bras are particularly designed for support, while bralettes are more about freedom and style. There are indeed many styles, forms, and shapes that brass come in, but with bralettes, there is almost an indefinite range of possibilities to sport them. For instance, there is not a chance that you are going to wear a bra on top of your shirt, but it is possible with a bralette. Besides, bralettes are merely a blessing with those with smaller boobs. All in all, it is more a matter of preferences and style. Both options offer various range of support and comfort so that any lady can have a broader list of possibilities to opt for daily.
Is It OK To Wear A Bralette In Public?
We tell you what, with the invention of a bralette, it has become possible to wear your underwear on. So, it is safe to say that you can totally rock your fav bralette in public if you know perfectly what to pair it with and if you are feeling comfortable enough in it. Besides, there is a list of options that you may choose trying this season:
Pair it with an off-top shoulder for support and improved style;
Put in under a sheer top;
Combine it with your favorite jacket or blazer;
Update a chunky cardigan with a trendy bralette;
Complement your jumpsuit with a fitting bralette;
Throw on a denim jacket over a lace bralette for a stylish and feminine look;
Wear it as your crop top;
Complete your white shirt look with a gorgeous bralette on, repeat the idea with a close-fit turtleneck;
Combine a leather bralette with a pair of high-waisted jeans;
Cover the cleavage with a bralette;
Pair a fancy bralette with an open-back top.
REFERENCES:
There are a great many brassiere designs that are suitable for a wide variety of business and social settings and suitable to wear with a variety of outer clothing. Source