While a classic short pixie cut is known to be a bold, statement-making move, a long pixie cut has something more to offer. Of course, short hair has never limited ladies with styling ideas. Yet, once you let your pixie run wild and become a bit longer, you will reveal the new angles of its potential.
Remember how many times you felt dissatisfied with your look? Well, now you can forget about it once and for all. A long haircut from the pixie universe can change your styling life and appearance for the better. How? There's no better answer than today's pics. Whether you want to work on your facial features or to amp up your hair type, just leave it up to a longer pixie. See how the styling freedom and beautifying power of the cut work!
Long Pixie Cut With Undercut
Amazing Long Pixie For Your Stylish And Dramatic Look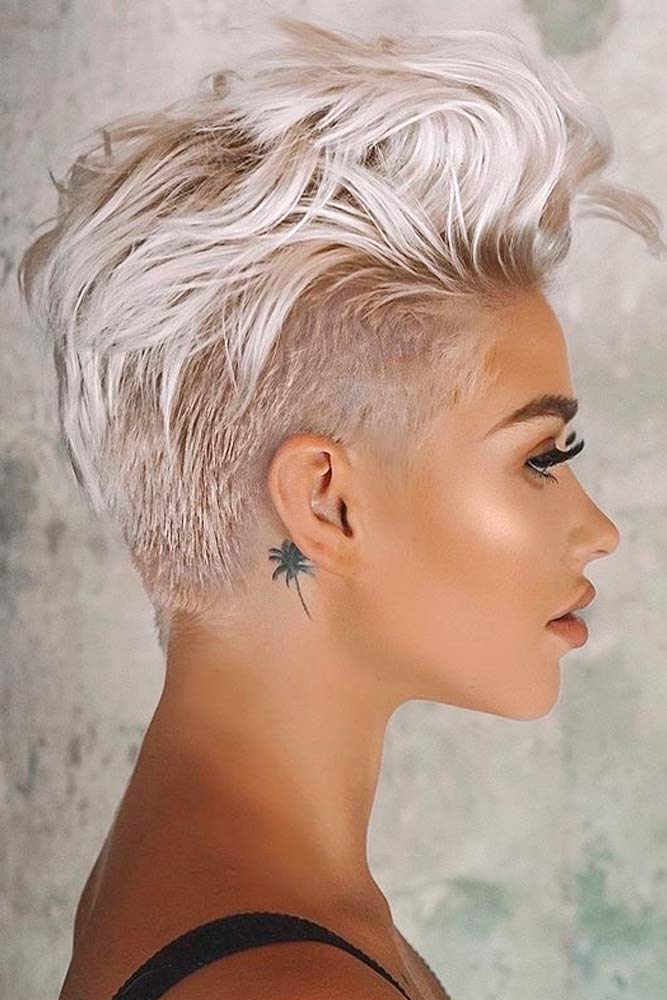 Credit photo: instagram.com/autumnhartt
There are countless reasons for making your pixie cut long. And the most crucial one is the eternal space for styling experiments. Obviously, the longer the top is, the more ideas you can bring to life. The good news is, your haircut will still be short and pretty significant. By adding some length on top, you just enlarge the canvas for your imagination. For example, look at this bold and super voluminous pixie. It's punky, sassy, and, most importantly, attention-grabbing due to the full and textured top.
Long Pixie Cut For Fine Hair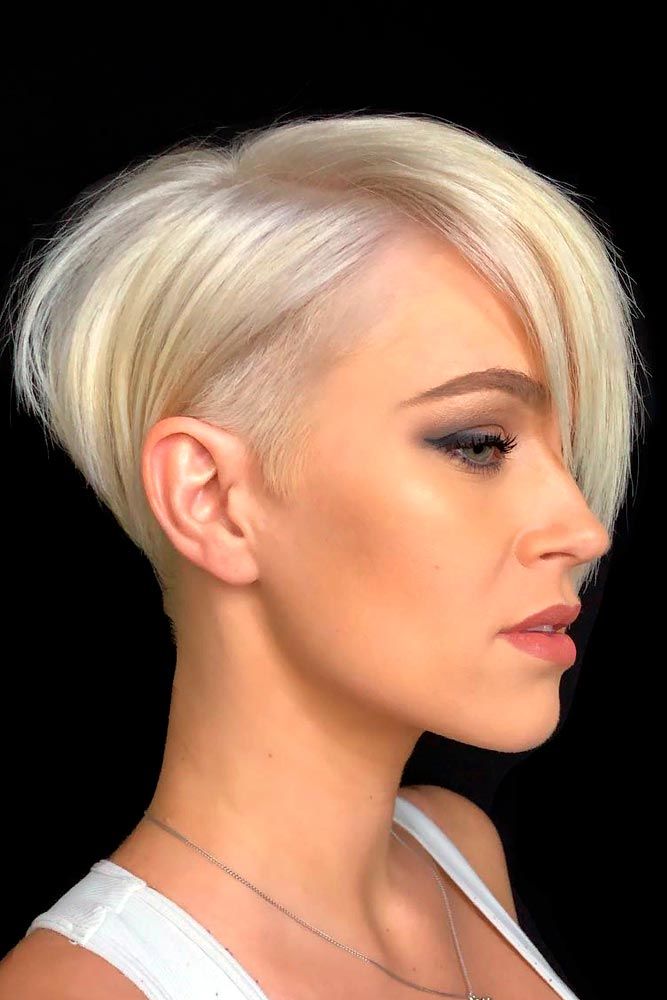 Credit photo: instagram.com/de.ja.hue
Don't you forget that there's a pixie for everyone! So if you think that the cut won't suit you, that means your hairstylist did a bad job introducing it to you. The truth is, even though it's pretty short, it can adapt to your individual preferences and facial features. Here you can see how a customized long pixie cut for fine hair takes the texture to the next level. The slightly shaved sides highlight the longer top, thus balancing out the whole look. Volume, harmony, and a perfect silhouette of the outweighed sides are a dream come true.
Long Pixie Cut For Thick Hair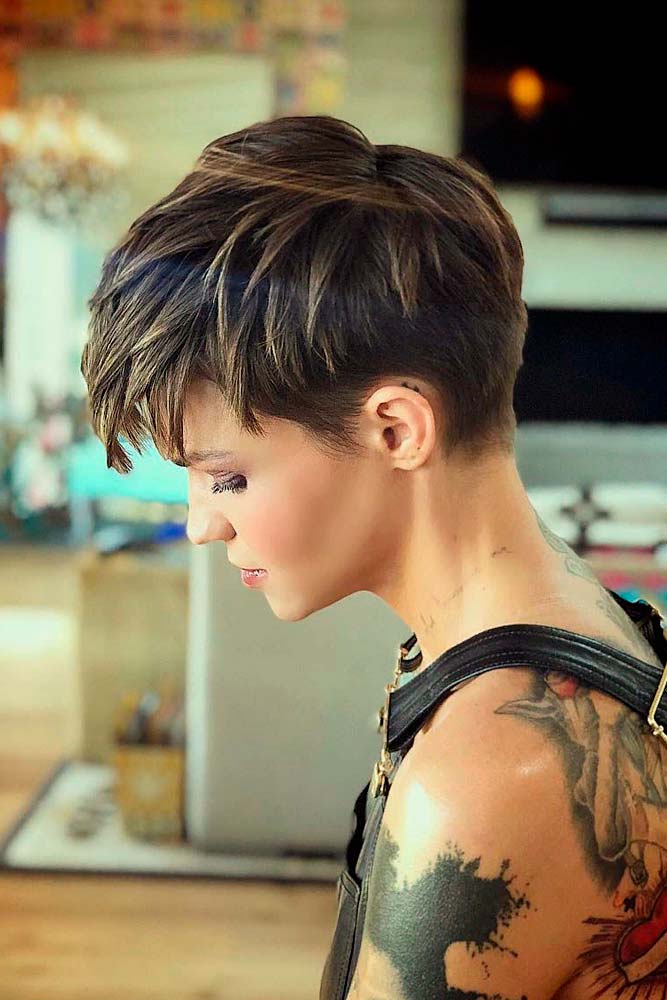 Credit photo: instagram.com/rubyrose
Since thick hair stands out for its unruly behavior, it needs a special approach. That's why a long pixie cut for thick hair has nothing to do with the previous idea. This time, it features choppy layers that lighten up and enhance the texture at the same time. In this way, even the thickest mane can get into a well-balanced shape. A gradual taper is a good company for such a cut, isn't it?
Long Pixie Cut For Thin Hair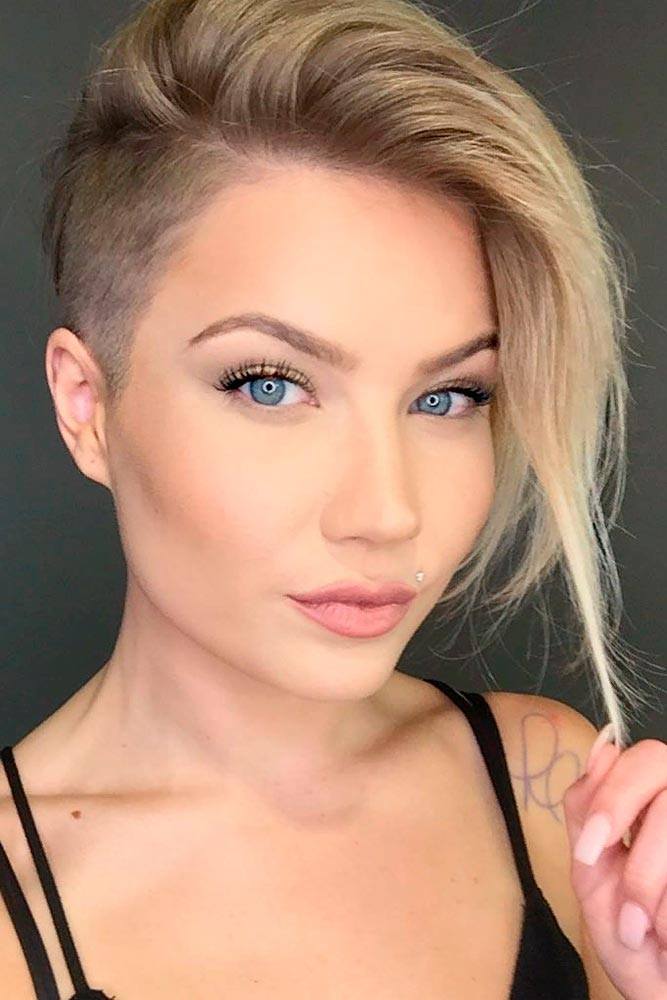 Credit photo: instagram.com/sky_eyes_
As for a long pixie cut for thin hair, it has many faces. Some ladies make their weak locks appear fuller with layers and accurately tapered sides whereas others do it the easy way. Well, there's nothing bad about shortcuts, mainly because one can't go wrong with universal ideas. And the idea we're talking about is showcased in the pic. The sides and back are shaved to one length while the top sweeps to the side. In this way, with the help of the length contrast, the top appears unbelievably voluminous.
Pixie Cut + Shaved Design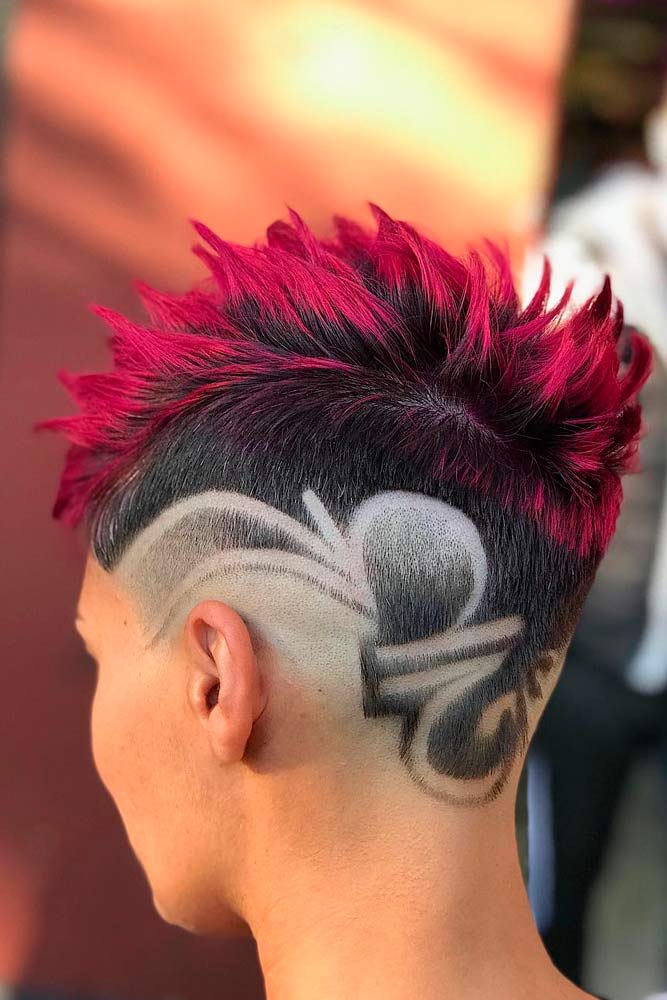 Credit photo: instagram.com/ema_medinaok
This angular, choppy pixie is here to remind you that your imagination has no bounds. It's still a short haircut, which means you can play around with the shorter or shaved sides. Ladies who love standing out in the crowd go for shaved designs that are actually pretty popular these days. Why don't let your creativity sign your pixie with a cute shaved stripe?
Long Pixie Cut With Shaved Sides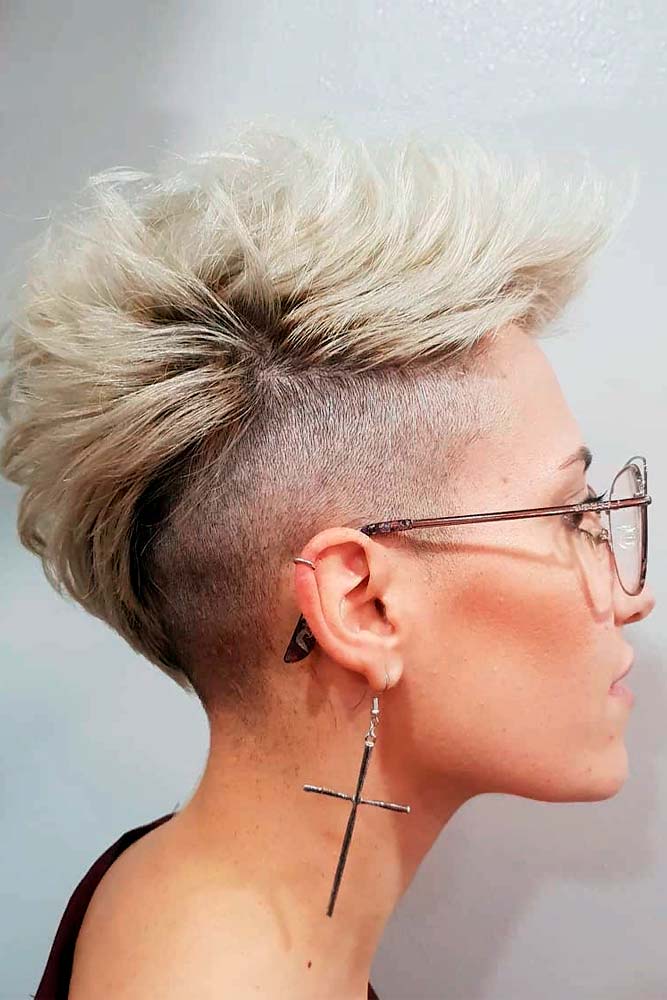 Credit photo: instagram.com/soni_254
Getting your sides shaved is the best way to enhance the volume and movement on the top. Moreover, pixie cuts offer loads of options to choose from: it can be anything from clean fade to a gradual taper. The point is, when you shave off the sides, the top gets into a spotlight. So if you love to play with textures, look no further.
Mohawk Pixie Hairstyle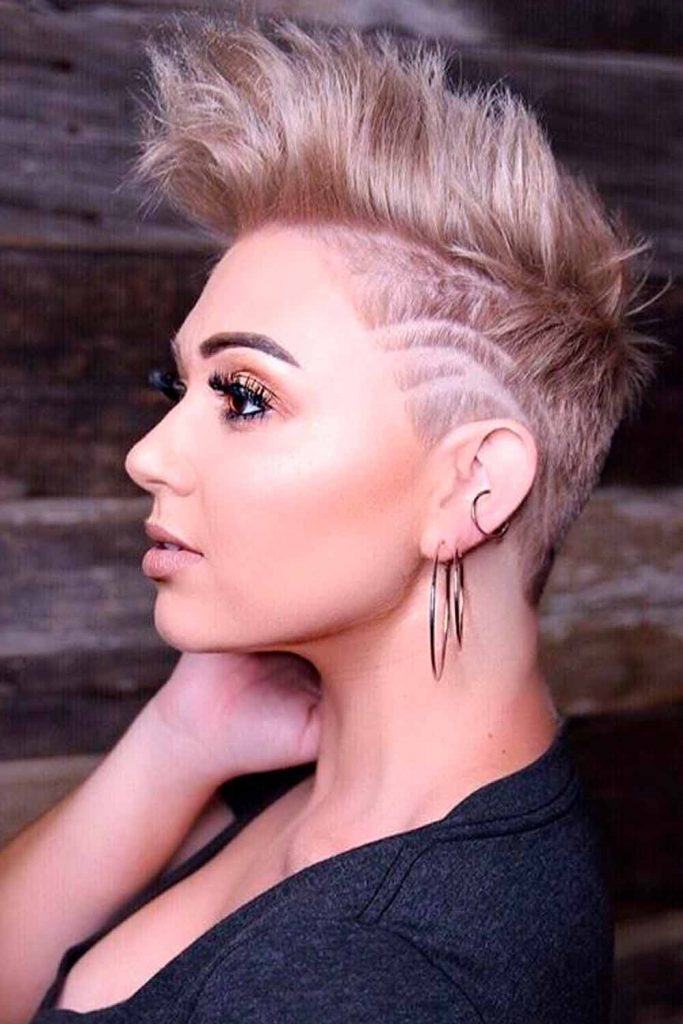 Credit photo: instagram.com/short_n_sweet823
Pixie is as feminine as it's daring, so don't worry: you will surely reveal your best sides with this cut! It's short enough to keep your look edgy and low-maintenance, and long enough to let you experiment with lots of styling choices. Also, if you want to reveal your punky side, then you can customize the sides of your pixie with a hip shaved design. This mohawk embraces courage and sexuality, which is a great combo for a modern woman!
Pompadour Hairstyle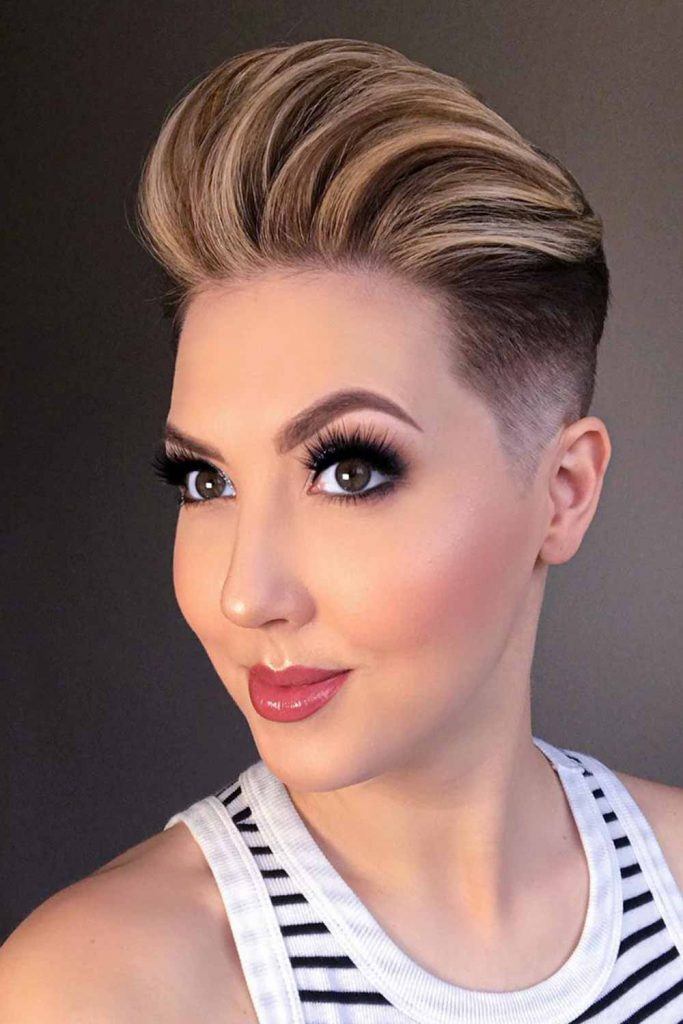 Credit photo: instagram.com/catetorrealba
Some rock 'n' rolling flare won't hurt your look, especially when you want to brighten up your days. Despite being a men's hairstyle originally, women of now have already adopted the Pompadour. And, needless to say, girls pull it off successfully! This haircut is neat and balanced due to the cleanly tapered sides and gently teased styled top. To recreate the look, make sure to work with good styling gel and a comb. First, work your way backward with hairdryer, then, apply the product and create texture.
Long Textured Two-Toned Pixie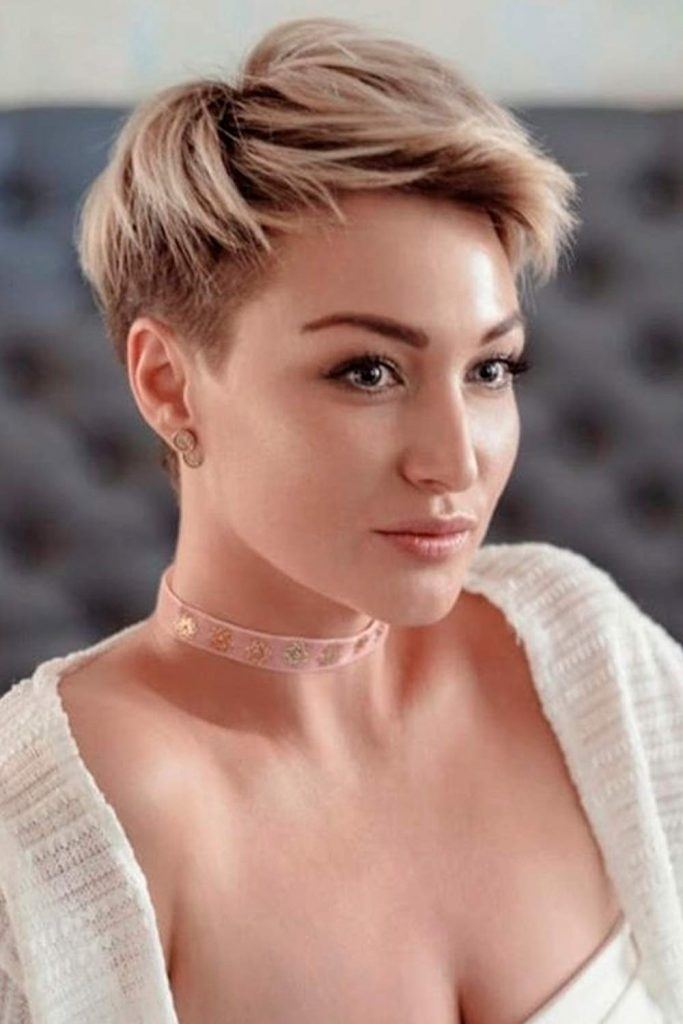 Credit photo: instagram.com/natik.vorobey
A long pixie doesn't always fall as a long fringe. It can be long yet sharp and accentuated with shorter layers throughout the length. Here, besides a ravishing layered structure, the cut also features a two-toned coloring. The darker color sits at the tapered sides, while the highlights enhance the movement on the top. Together, they create a one-of-a-kind pixie look that will nicely bring out your beauty.
Long Pixies With Different Variations of Bangs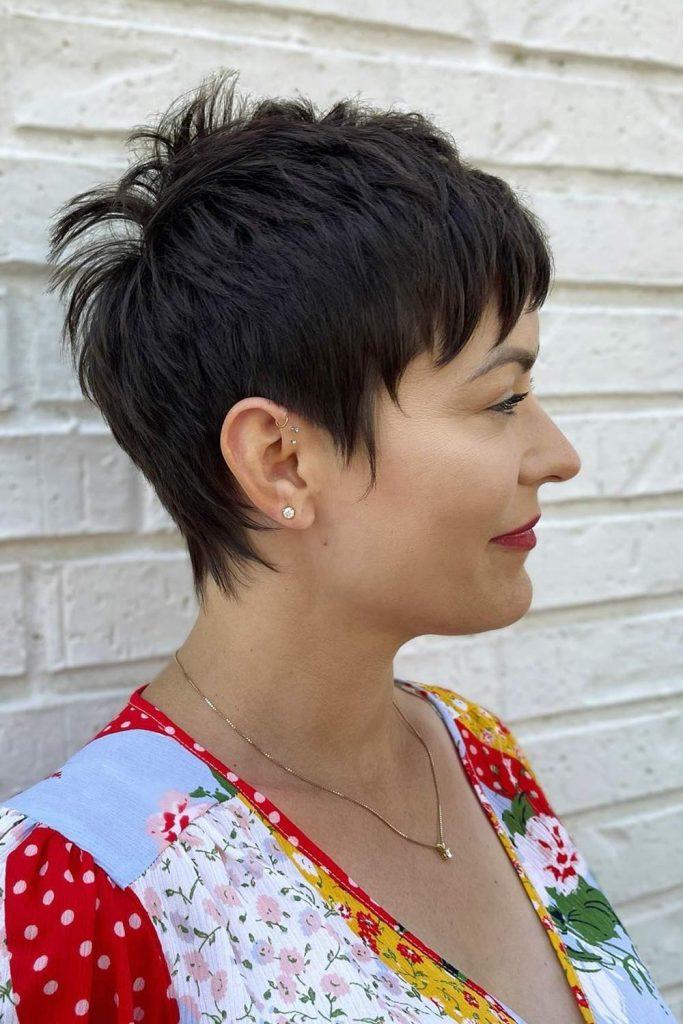 Credit photo: instagram.com/soraverly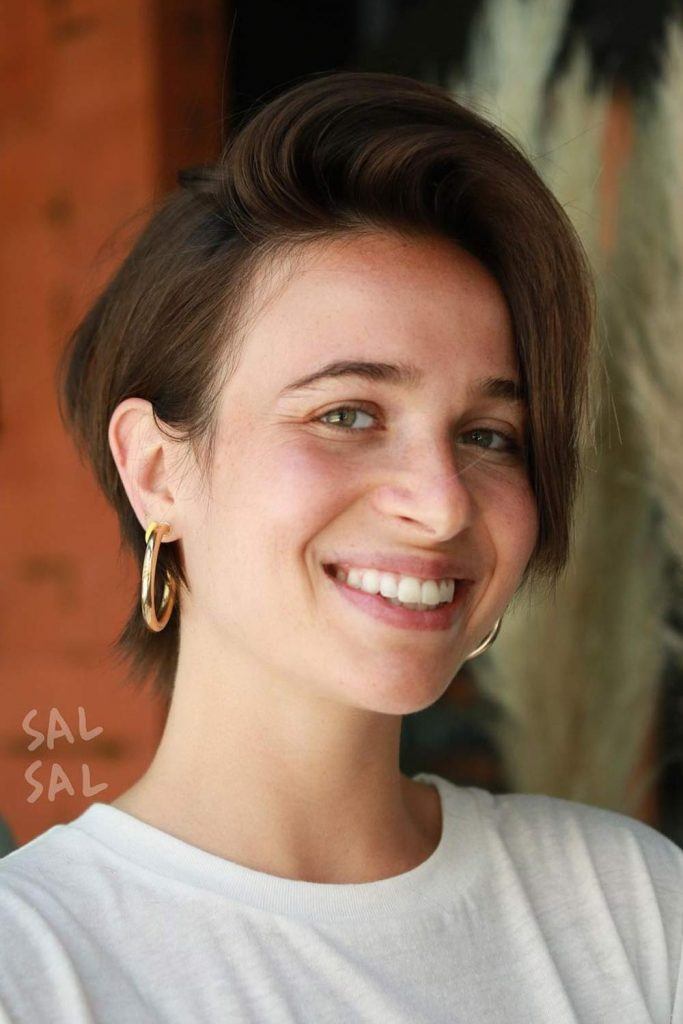 Credit photo: instagram.com/salsalhair
Shaggy Side-Swept Pixie Cut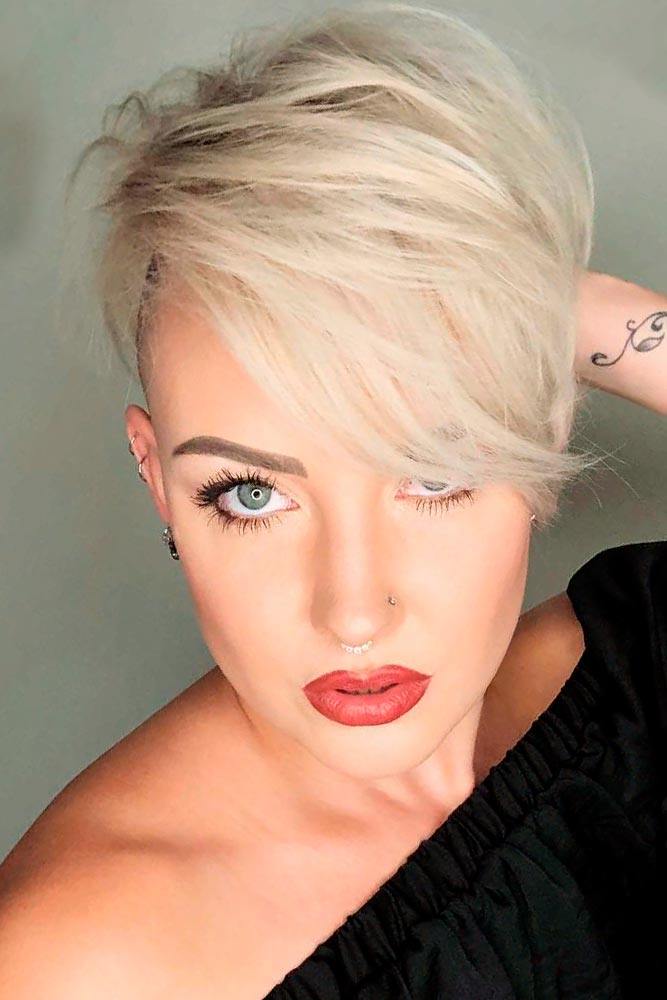 Credit photo: instagram.com/jacquelynmarieh
If a pixie is shaggy and layered, it's a pixie to remember. Nothing can compare to the dimension and volume created by layers, and the same goes for carefree shags. When a woman is about to rock an effortless and a bit messy look, shaggy layers will be there for her. Whatever face shape of hair type you have, this idea is magic that works for all girls!
Side-Swept Pixie Haircut With Tapered Nape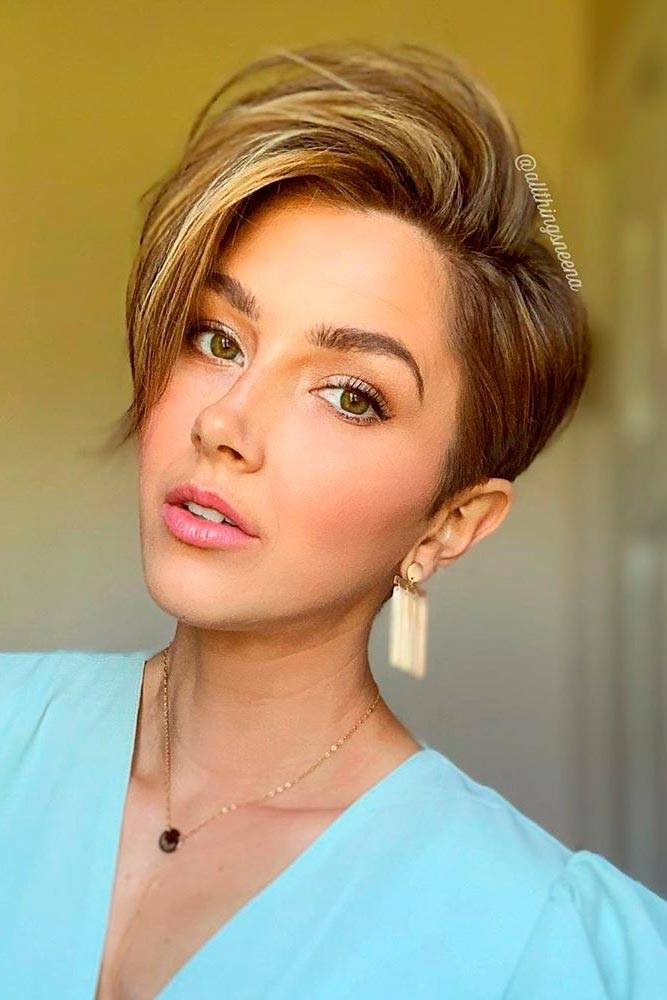 Credit photo: instagram.com/allthingsneena
As we've mentioned before, tapers have no limits. You can regulate the thickness as well as the areas that your taper will hit. To be more exact, you can give your hairdresser the instructions on how you want your pixie to look, as this cut is not the best base for learning how to cut your own hair. Besides a striking appearance, such details have one more advantage: they give a light feel to your head, which is a win-win for girls with heavy textures. Comfy and classy, who could ask for more?
Long Pixie Haircut With Bangs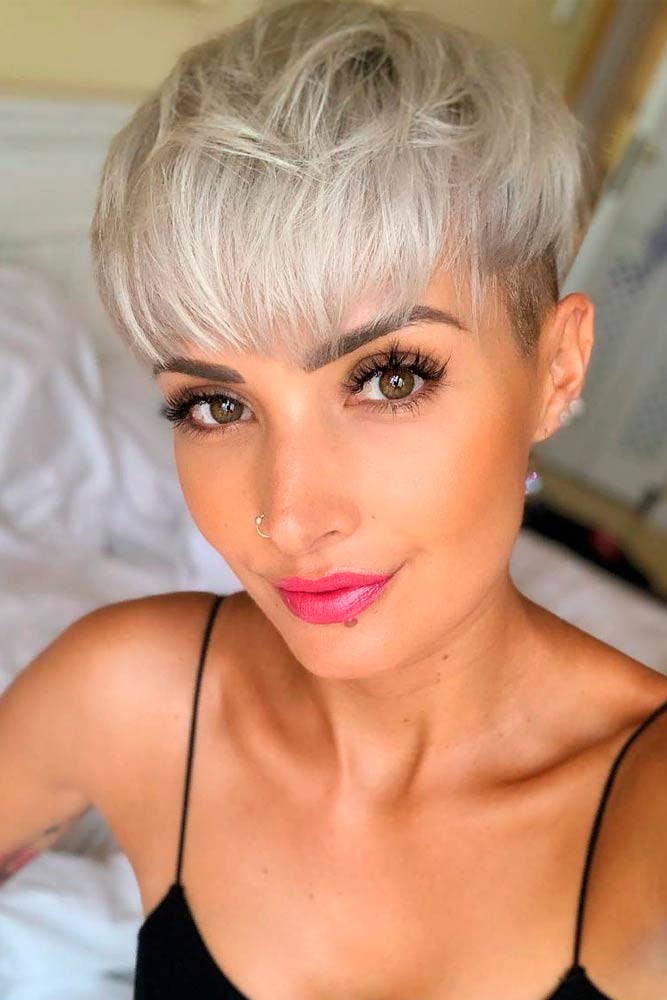 Credit photo: instagram.com/jejojejo87
When it comes to a long pixie cut with bangs, you simply dive into an endless space of ideas. Yes, bangs can be different, just like pixies. This idea features a textured fringe that falls on the forehead, yet without overlapping the brows. In fact, it's a perfect option for girls who'd like to hide up their broad forehead. Also, this pixie is evenly connected with bangs, looking like a modern variation of the bowl cut.
Asymmetrical Pixie Cut With Long Bangs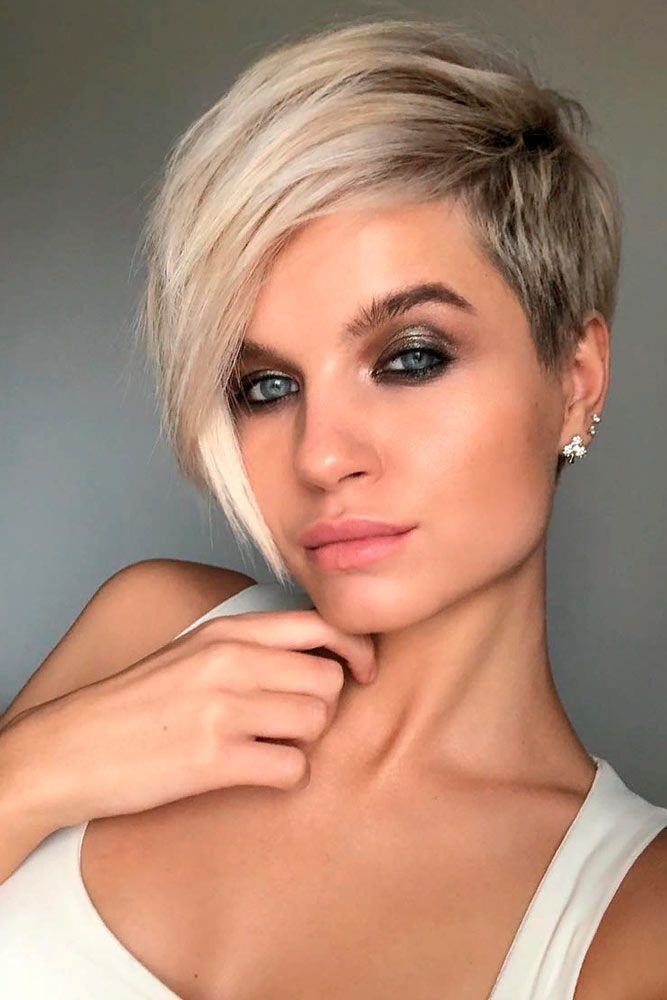 Credit photo: instagram.com/juliana.key
Alongside the beautifying feature, bangs can come in handy when you want to add some more volume. In this case, they're slightly longer than the top, and that's what makes the silhouette look that full. Make sure that your fringe blends seamlessly with your pixie, and the result will be to die for. And to tell you the truth, there's no a pixie cut long bangs can't complement.
Long Pixie Cut With Swoopy Layers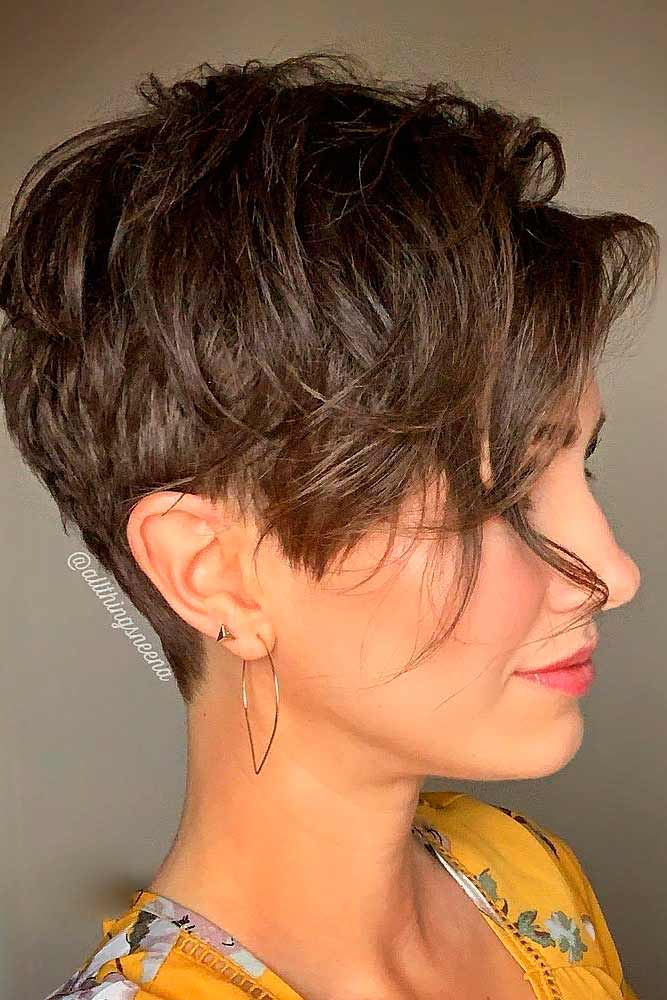 Credit photo: instagram.com/allthingsneena
Layers can be different. It seems like there's no way you won't get a perfect pixie, because, as a matter of fact, there are so many details you can customize. To create swoopy layers, your hairstylist will alleviate the thickness of your locks, giving them a curvy shape. And when the cut is done, it will look lively and cute as if you've just left the beach.
Feathered And Tapered Pixie Style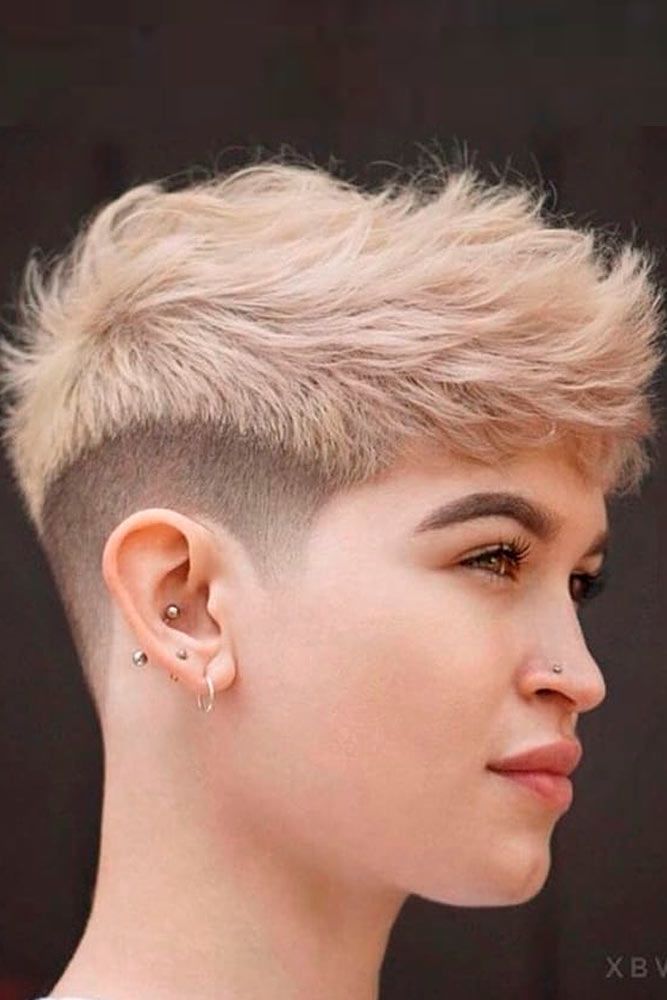 Credit photo: instagram.com/nneversettle
Feathering is another layering technique that gives a dimensional and lifted look at the same time. Unlike regular or swoopy layers, feathers are shorter and thus edgier. It's always hard to take eyes off haircuts featuring such a magnificent texture. Well, who can resist a ton of natural volume and edgy charm?
Long Pixie With Dimensional Layers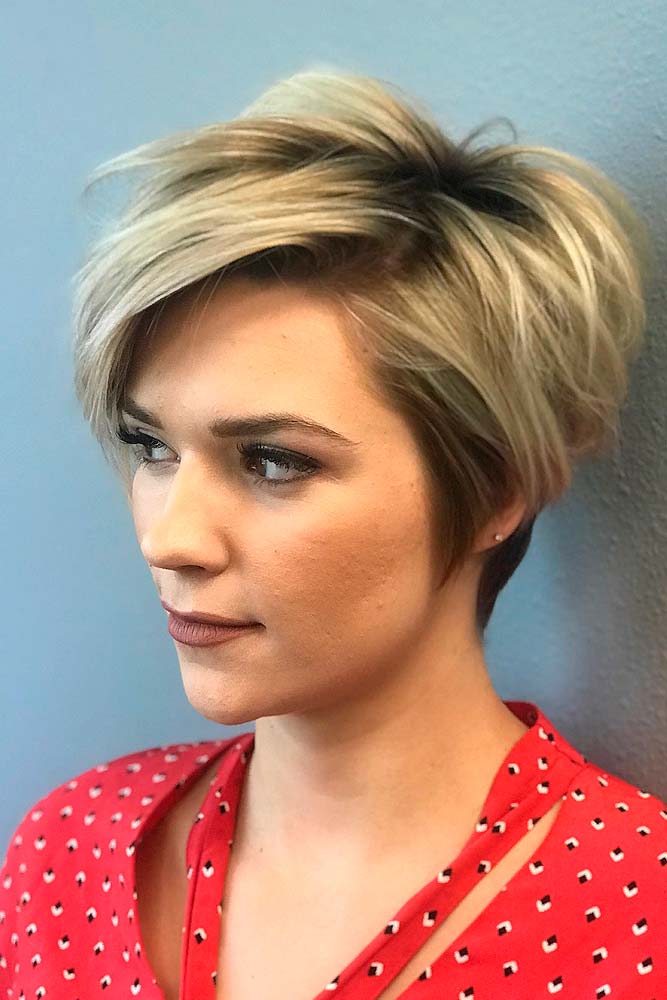 Credit photo: instagram.com/wherezashdoinhair
If you wondering how classic layering looks like, this pixie is here to satisfy your curiosity. Not only does the cut give a volumetric body but also create a balanced and well-groomed silhouette.You can't go wrong with this haircut as, apart from enhancing the volume, it can get the most out of your face shape.
Uneven Shaggy Pixie Cut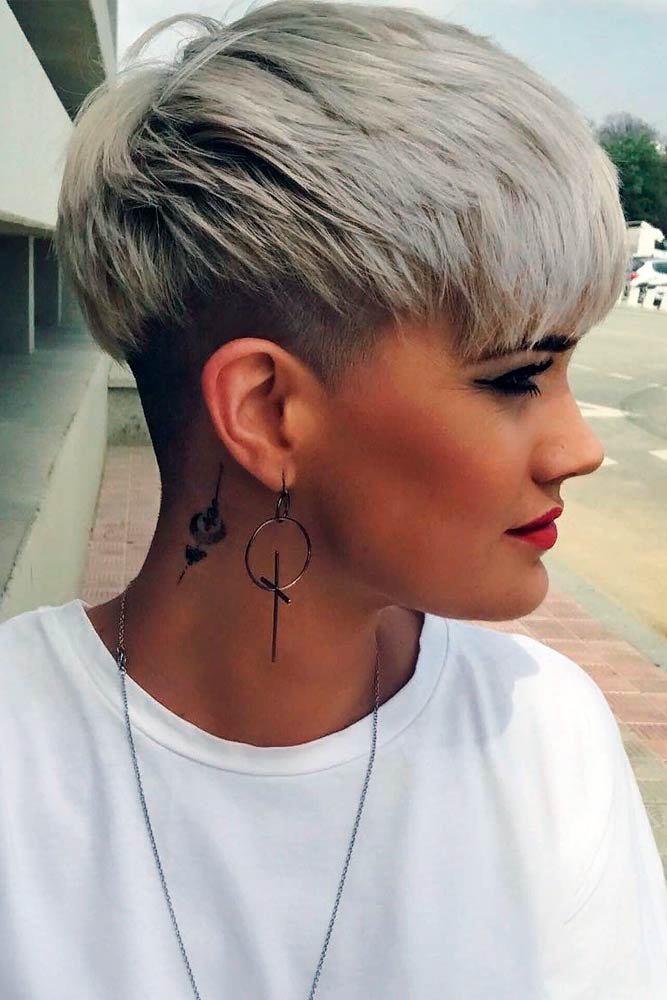 Credit photo: instagram.com/sandra_sinh
Love jumping from one extreme to another? We understand you, girl. Truly creative souls can't do without experiments, so meet the idea you can't help but recreate. A rough contrast that stretches throughout the mane, disconnecting the top from the sides. Isn't that a fantastic way to steal the show? Uneven doesn't mean bad; it means different.
Tapered Pixie Cut With Long Top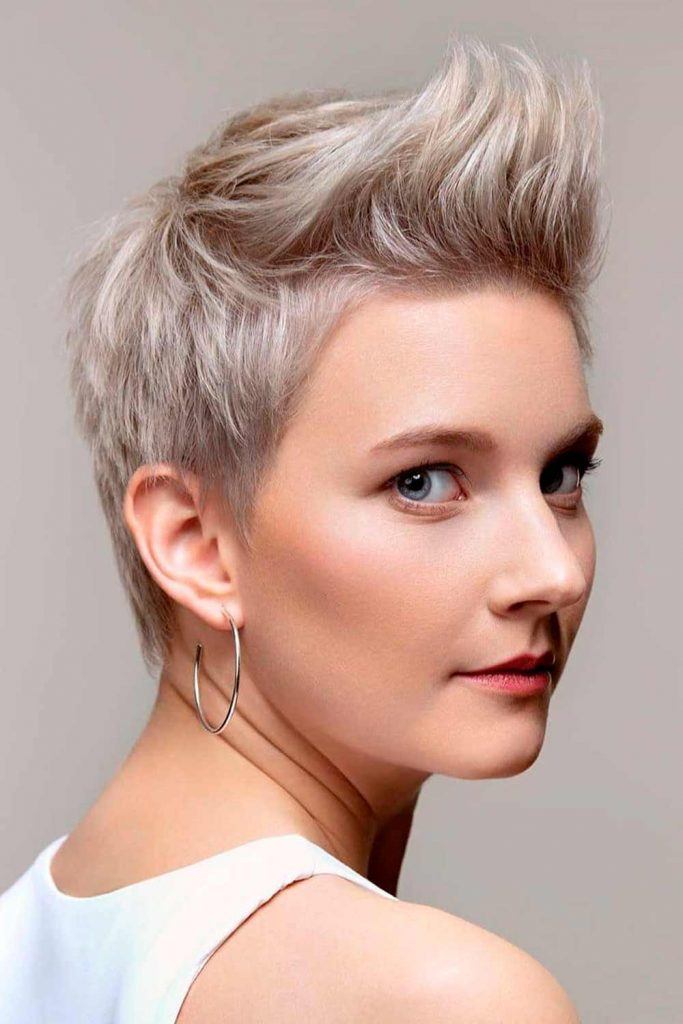 Credit photo: instagram.com/sanja_carica_karasman
A taper is always a good addition for a pixie, as it gives pleasant length graduation with a nice textured finish. Besides, if you have thin hair, some movement of texture will give you the needed visual fullness. As for the volume, you have a long top with a long list of hairstyles to try! Here's a pretty simple but striking idea that you can achieve by applying hair wax or pomade in an upward motion. Fresh and modern at once!
Pixie Cut With Longer Curly Bang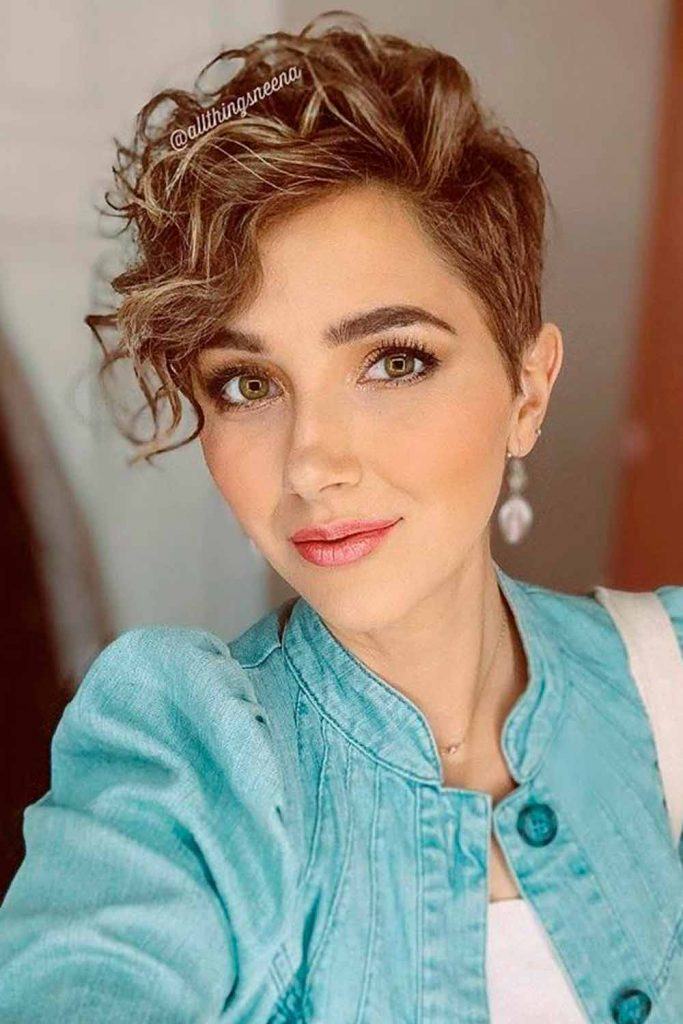 Credit photo: instagram.com/allthingsneena
Pixies help women see their textures in a brand new light. And when it comes to curly hair, you can finally reveal the perfect curly pattern of your locks, putting it in the spotlight by pairing your cut with long bangs. To spice things up, you can get your sides cut straight, thus creating balance out of contrasting textures.
Pixie Cut With Long Straight Bang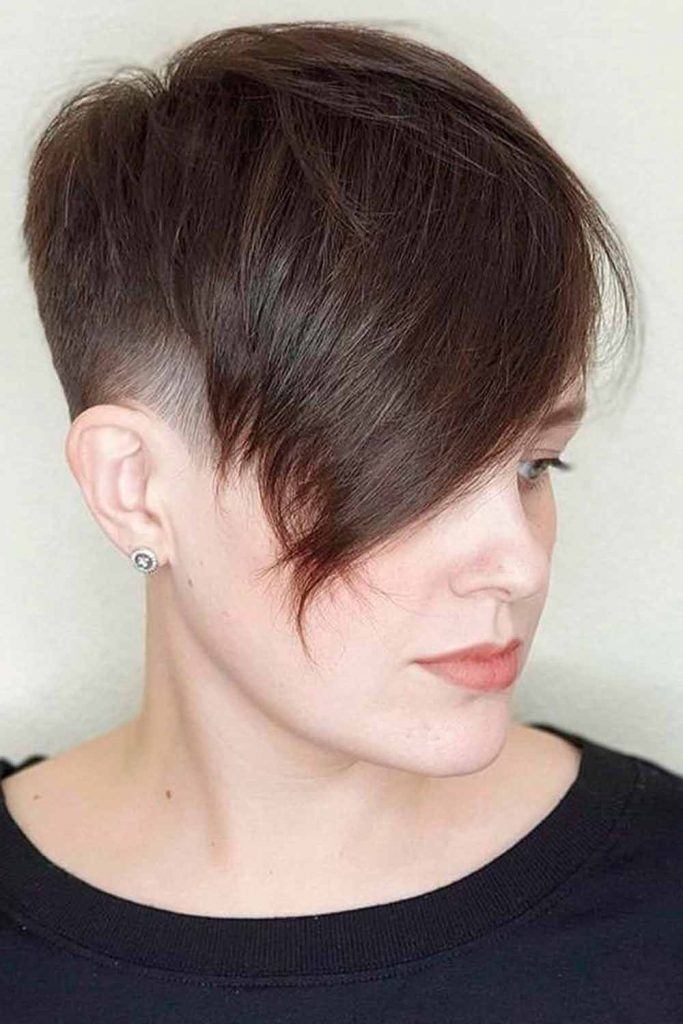 Credit photo: instagram.com/korti
We love this approach to cutting straight bangs! Wearing a fringe straight is a thing these days, so making it unique gets harder with each day. Well, this idea goes beyond any expectations with its cascading angular bang falling across the forehead! If you want to give a shot to this idea, ask your stylist to make the bang heavy while layering the rest of your locks. In this way, you will ensure the bangs always fall in this position.
Hottest Styling Ideas For A Long Pixie
Now, it's all well and good that you've got to know the amazing variety of long pixie haircut. But what about styling options? Don't worry, we're not going to leave you without the latest styling ideas. Let us show you how to keep up with your pixie through your daily routine!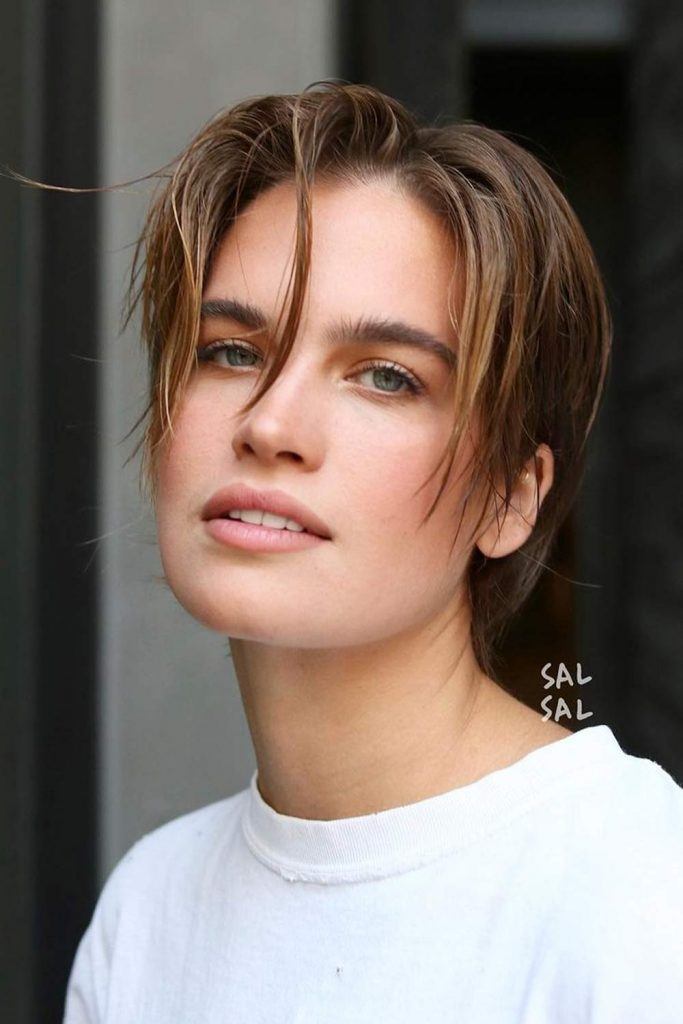 Credit photo: instagram.com/salsalhair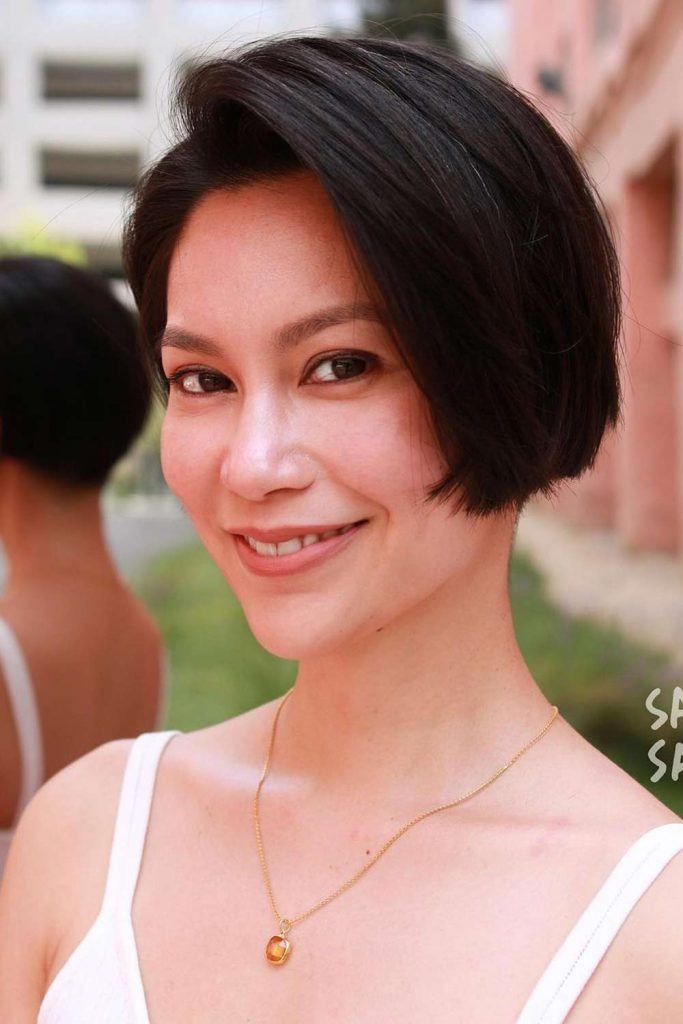 Credit photo: instagram.com/salsalhair
Classy Straight Pixie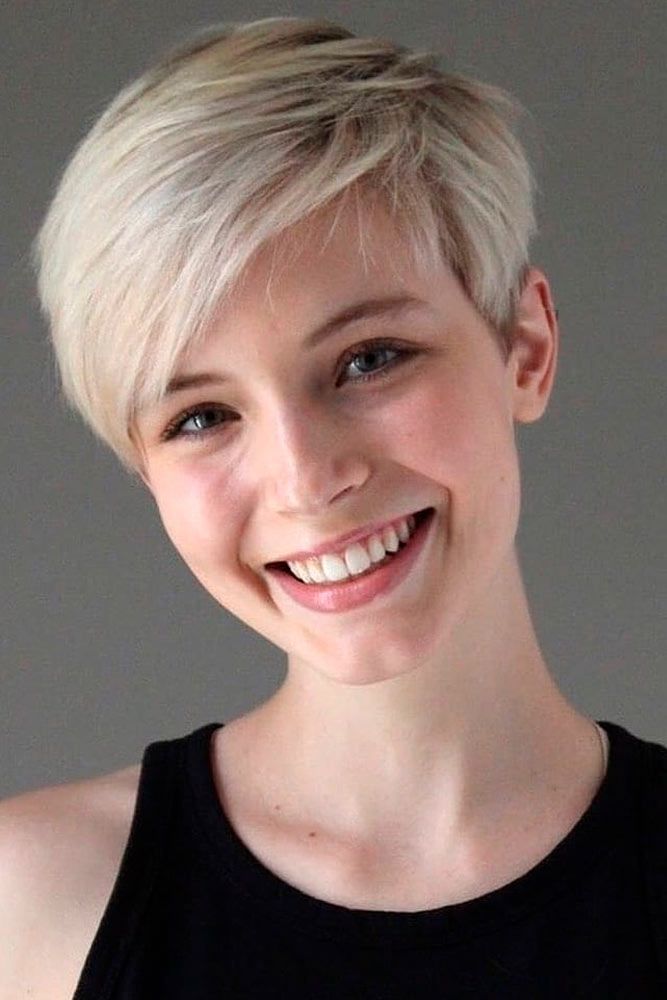 Credit photo: instagram.com/gracieliaa
The perfect styling arsenal for dealing with pixies isn't really big. But, in case you have no idea what to start with, don't forget about a blow dryer coupled with two attachments. And last but not least, it's always cool to have a couple of styling products at your fingertips. To achieve a decent look for a straight pixie, all you need is to blow dry your hair, holding your brush with the other hand. Voila! A look worth stealing is ready.
Cute Curly Pixie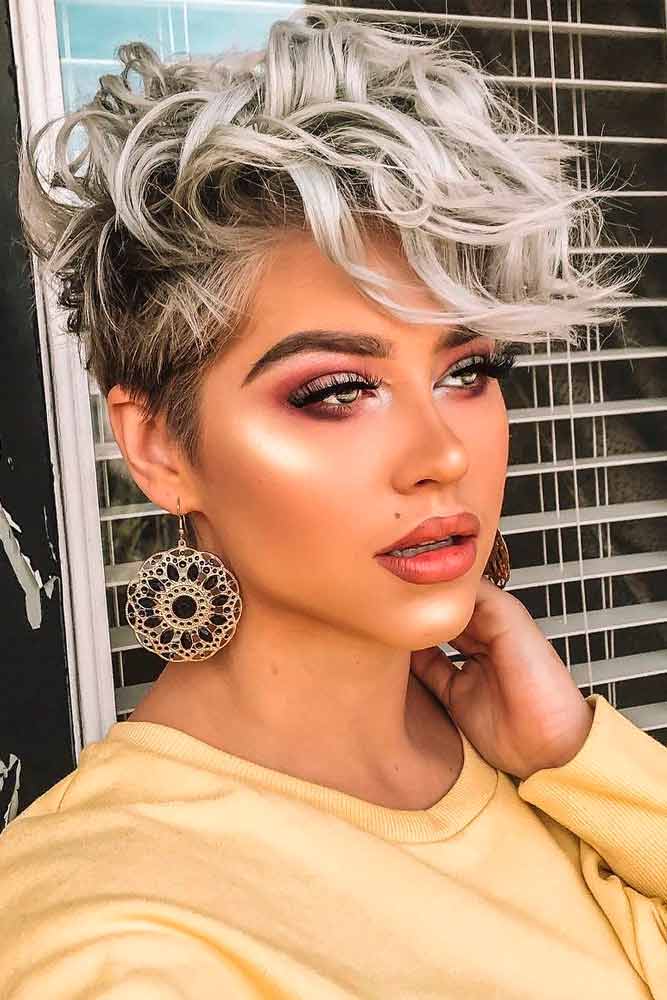 Credit photo: instagram.com/autumnhartt
For curly styling, the most important things you should be equipped with are curling foam and sea salt spray. To achieve a natural and steady look, you need to work the spray into your locks and scrunch your wet hair thoroughly. Then, apply the cream, slightly curling your locks with your fingers. P.S. Curls will look at their best on a pixie cut with long bangs.
Edgy & Messy Pixie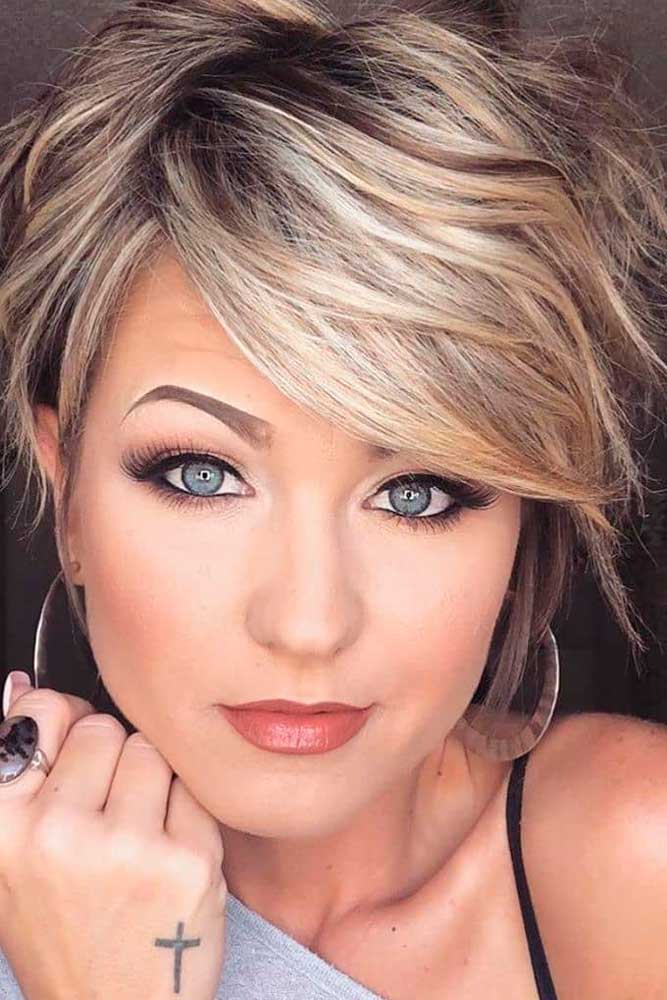 Credit photo: instagram.com/mygiulia
Is there a girl who doesn't like those trendy messy looks? If you still don't get the point, here are the reasons for going messy. First, they built a ton of volume in a trice. Second, such looks work well for all outfits. And you know what? They're so easy to get that, apparently, we've got another reason! Just make sure you have salt spray.
Chic Swept Back Pixie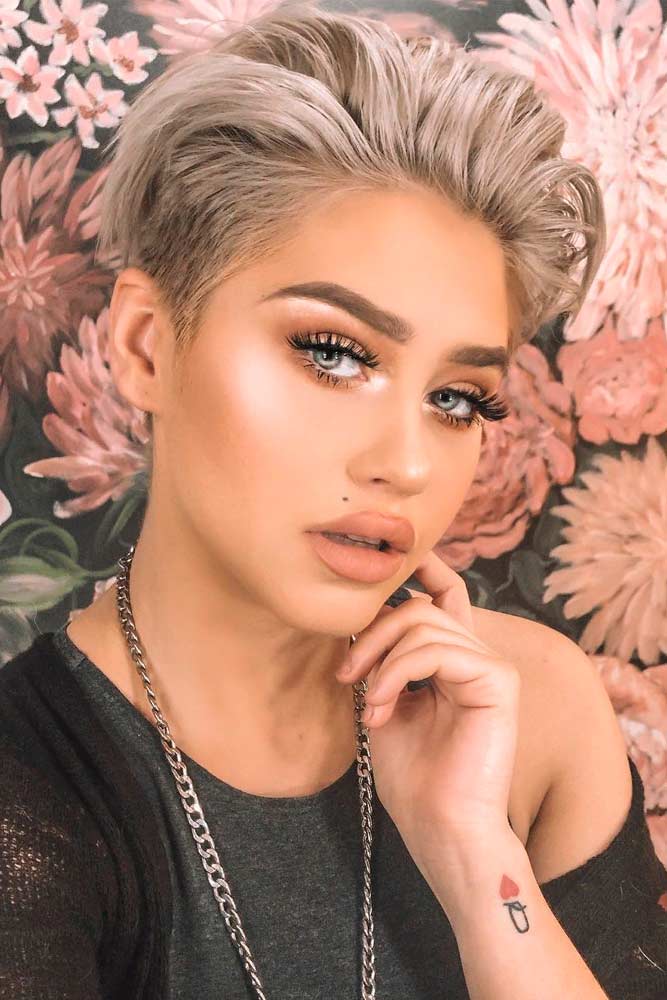 Credit photo: instagram.com/kaci.lashgeeks
The top of your long pixie cut can turn into anything you want. It's no secret that most pixies are side-swept or side-parted. How about you to diversify the common idea and show up with a dramatic swept-back pixie? Medium-hold, no shine hair gel is the key to making the look real.
Tapered Choppy Pixie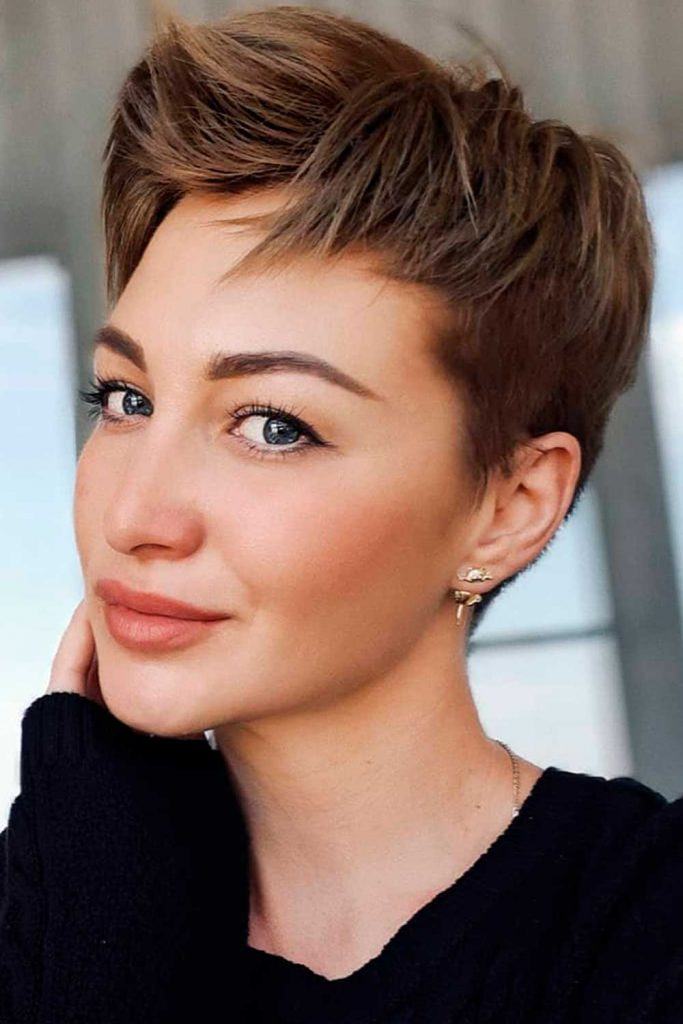 Credit photo: instagram.com/natik.vorobey
How do you like this carefree hair vibe that enlivens the whole look? The hair is chopped and softly tapered, creating a neat finish at the sides and providing absolute control under the top. With a small amount of lightweight hair wax, you can part your hair in several directions, creating lively movement and volume in your locks. As a result, the style is clean and effortless, which is perfect for any season.
Classic Long Pixie Haircut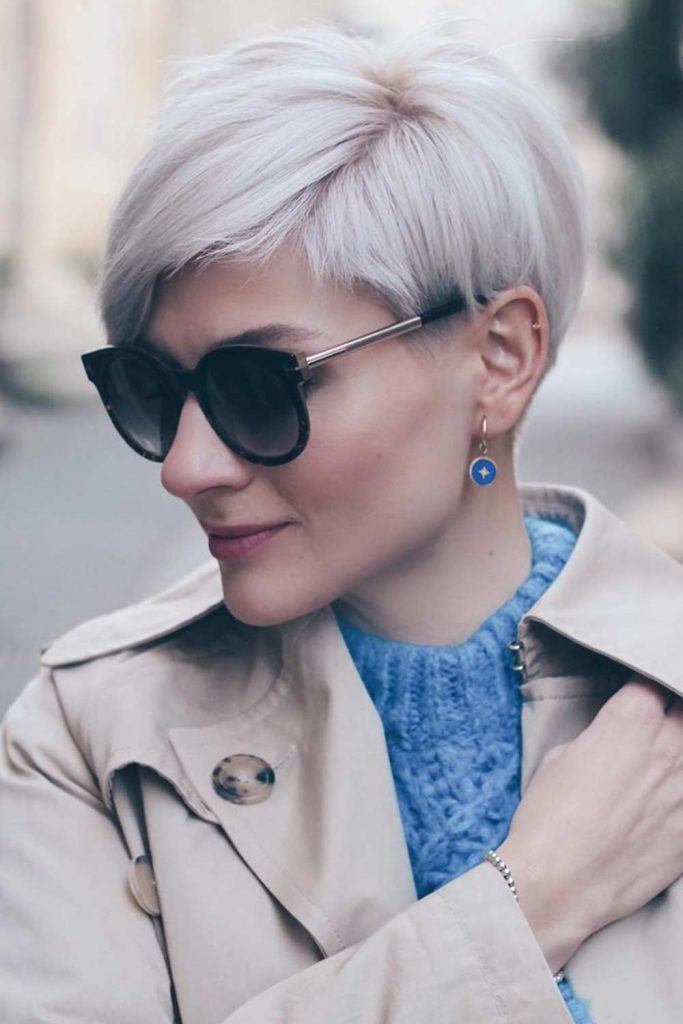 Credit photo: instagram.com/irinagamess
Women who love simplicity in every way opt for classics. If you're the one who keeps everything simple but significant, then you should try the classic long pixie cut. It doesn't feature sharp details, contrasts or length graduations. Still, it gives a smart sophisticated look with its balanced curvy structure. The good news is, styling it is also very simple: just brush your hair while blowdrying it.
Messy Layered Pixie Cut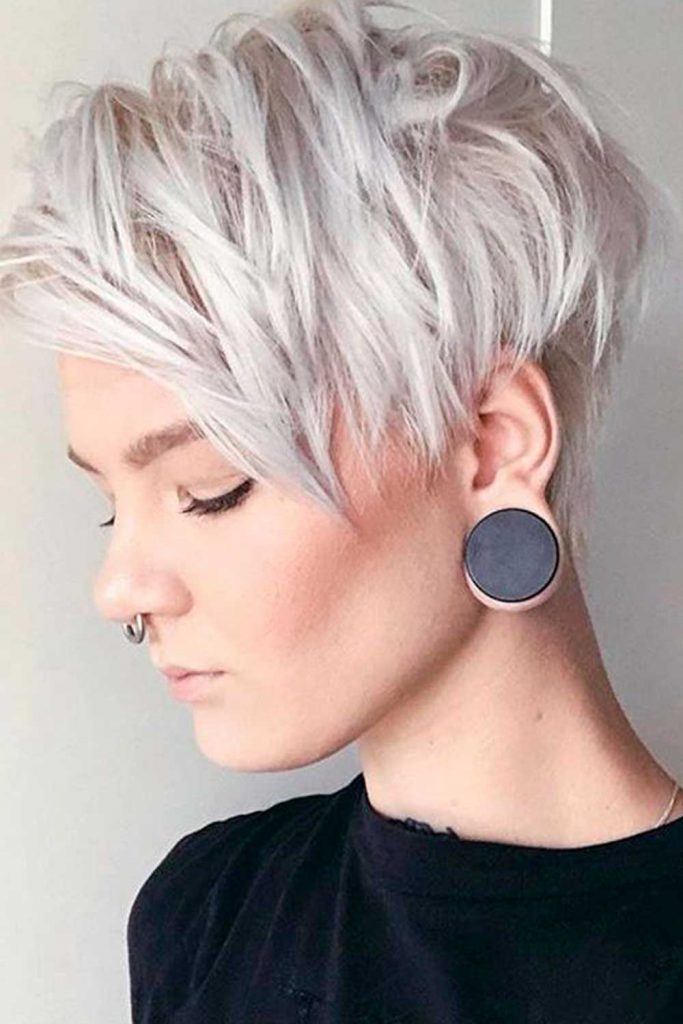 Credit photo: instagram.com/katrinberndt
The ways to add a messy touch to a pixie are countless, but this idea certainly takes the biscuit! Here, every single layer is edgy and defined while doing its own thing — that's how you can show your character through your hair. For this hairstyle, you need to get a choppy layered cut first. Before blowdrying, apply sea salt spray to damp hair and tousle it up.
Long Pixie Cut With Feathered Layers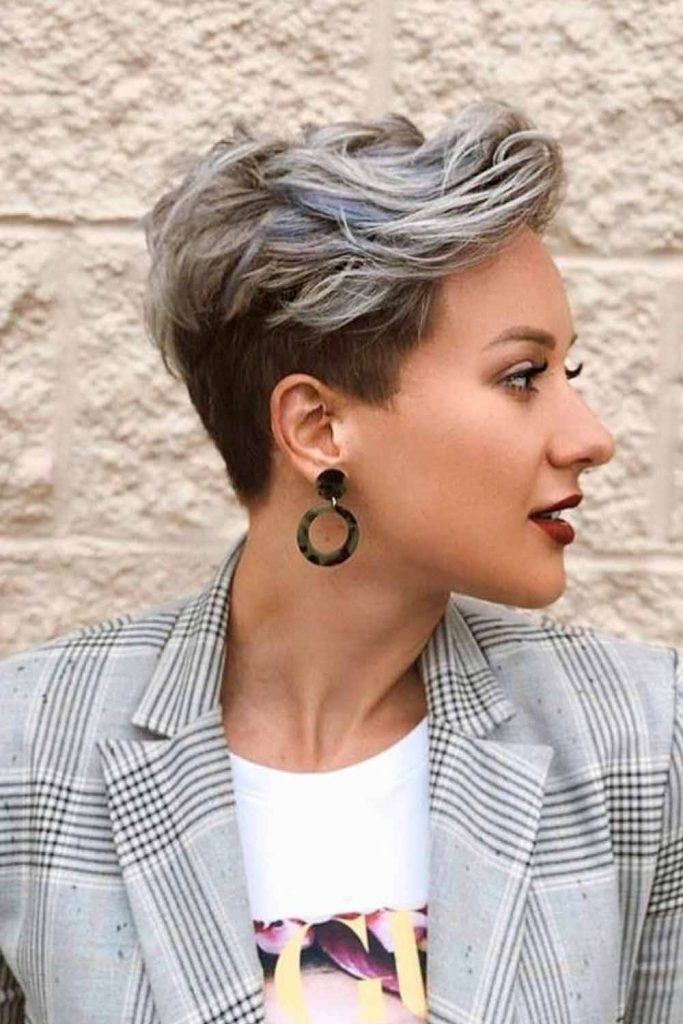 Credit photo: instagram.com/npc_elenasoboleva
There's nothing like feathers when you want to add more body and dynamics to your pixie. On short hair, feathering gives lightweight yet sharp finish with a curvy silhouette, which does remind us of feathers! To show off such a texture at its best, make sure to pair it with tightly shaved sides. Of course, such a style takes the guts to pull it off. And that's the point!
Asymmetrical Pixie Bob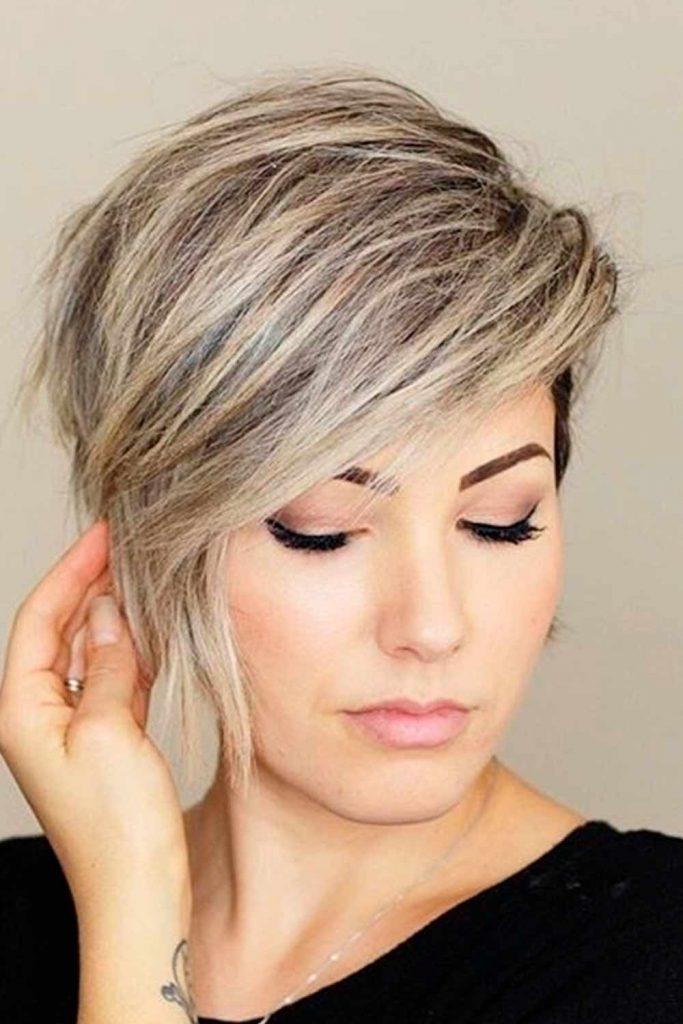 Credit photo: instagram.com/ChloenBrown
Asymmetry is the new black when you want to update a pixie. Girls love the way a little bit imbalanced silhouettes give a fresh take at their short haircuts. On top of that, you can work on a broad forehead with such a cut, as it slightly overlaps the top portion. For a pixie bob, asymmetry would also be a good highlight that will balance out the voluminous back.
Long Pixie With V-Cut Layers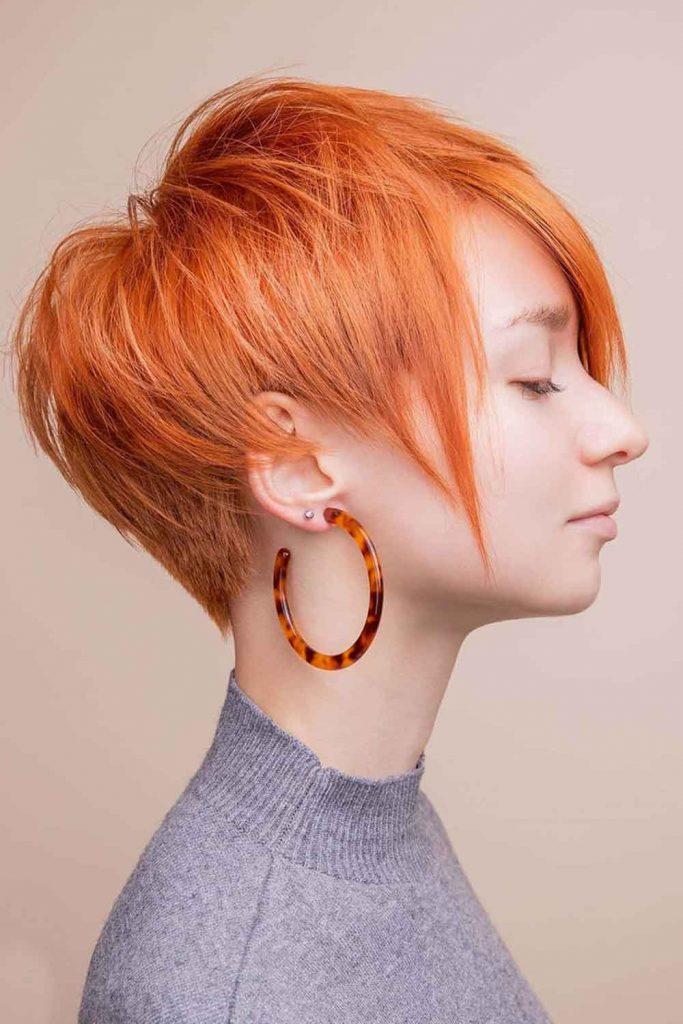 Credit photo: instagram.com/demetriusschool
One of the greatest things about layers is that they allow for various customizations. That is to say, if you have a clear picture of what you want your cut to be, then layers will be your canvas for any experiments. Here you can see how thick and sharply cut V-shape layers accentuate a daring pixie. That's a truly creative approach to designing a pixie though!
Blonde Pixie Bob Haircut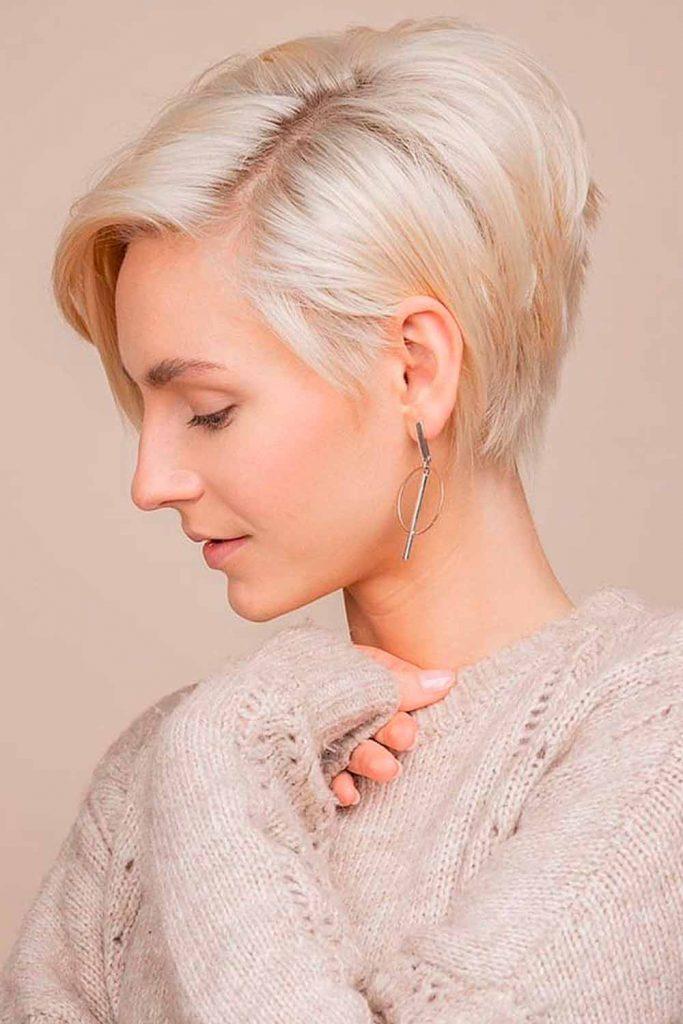 Credit photo: instagram.com/demetriusschool
Just like chameleons, pixies can adapt to any shade possible. However, we want you to pay attention to its baby blonde version. Such a subtle shade goes fantastic with softly tapered sides and longer front, giving the haircut a regal character. If you already rock a short haircut and thing of a color change, don't miss this hit. P.S. It's a must for those with fine hair.
A long pixie haircut is a fabulous combination of stylishness and freedom. One of the greatest things about them is the versatility that can adapt to any face shape, hair type, and image. And, in conclusion, every lady should try a pixie at least once in her life. Don't know where to start? Our ideas are your guide, girl!
Long Pixie: Celebrities' Choices
Anne Hathaway with Long Side Bangs Pixie Cut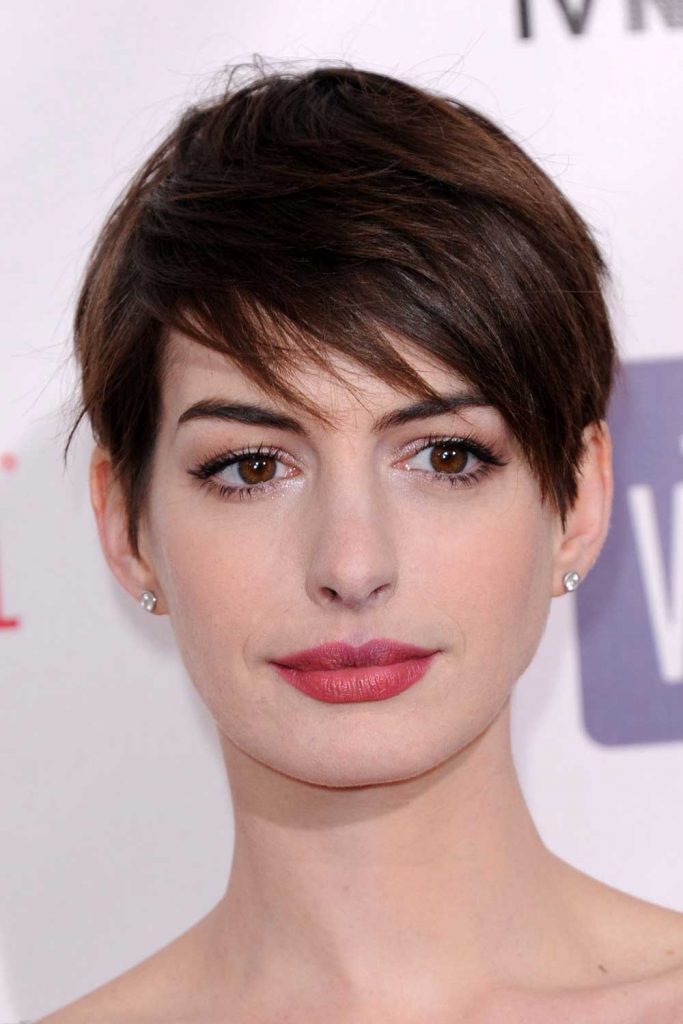 Credit photo: DFree/Shutterstock
Anne Hathaway opts for a pixie haircut longer in the front and shorter in the back. Despite looking stylish and bold, styling such a cut is pretty effortless. The bangs are pushed to the side to add interest to her look, while the rest of the hair is slightly disheveled.
Julianne Hough with Blonde Side Pixie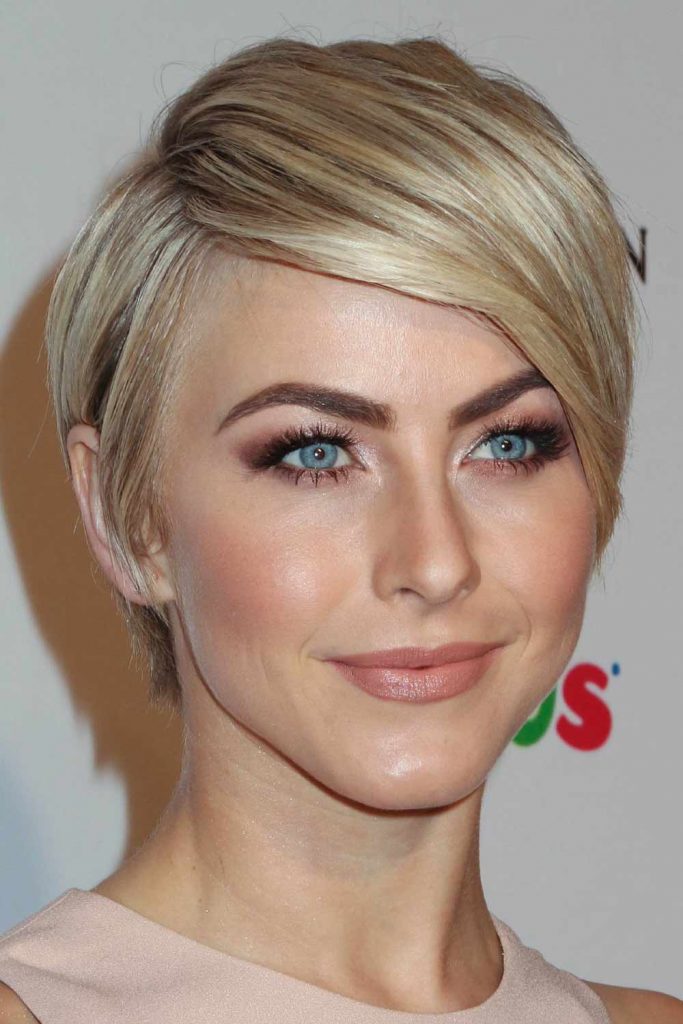 Credit photo: Kathy Hutchins/Shutterstock
When Julianne Hough chopped off her gorgeous blonde locks, it made everyone gasp. Yet, the new haircut the famous dancer and actress introduced to the whole world was received very cordially and no wonder. As she chooses to wear her blonde pixie side swept, Julianne's hair look comes out polished and refined, which makes it a failsafe option for a Red Carpet event.
Charlize Theron with Sleek Long Pixie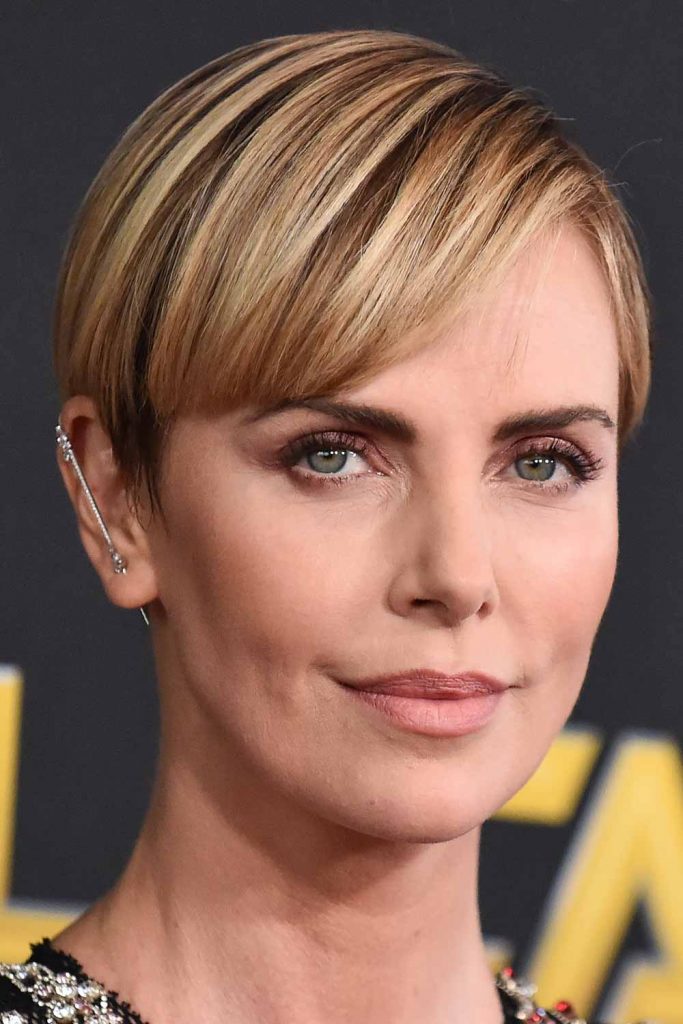 Credit photo: DFree/Shutterstock
Charlize Theron is one of those lucky women who look fabulous no matter whether their hair is long, short or even shaved off. The popular actress seems to know it well and often experiments with her haircuts. For one of her outings, she picked out a sleek long pixie, which guaranteed that her hair appeared impeccable.
Viola Davis' Dark Pixie with Brown Highlights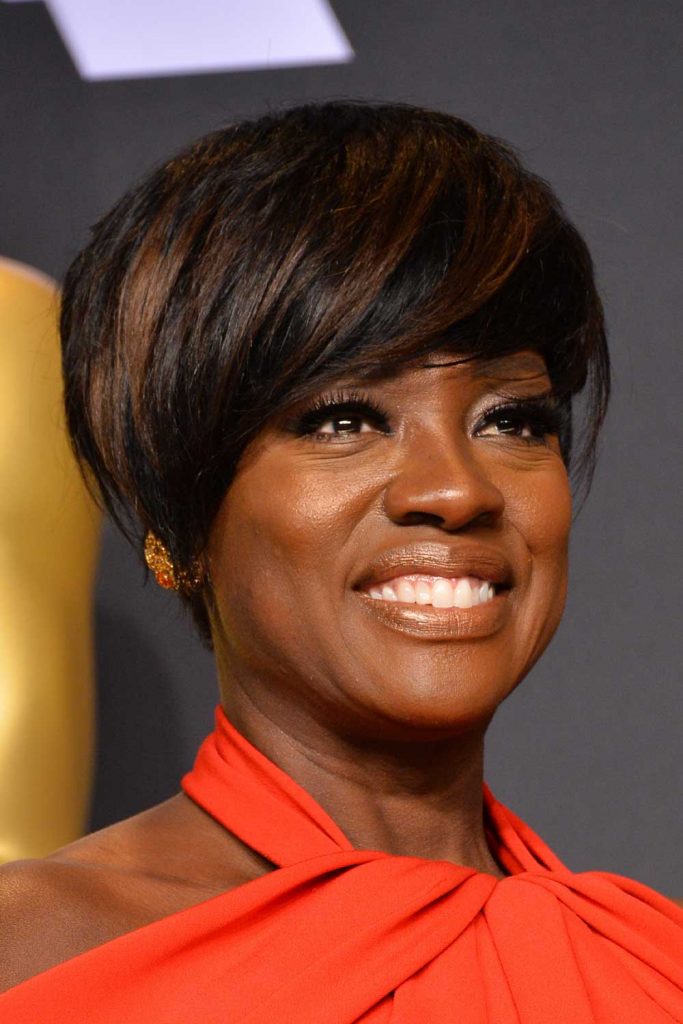 Credit photo: Featureflash Photo Agency/Shutterstock
There are many ways to play up your pixie haircut. If you naturally have deep brown locks, you can draw inspiration from Viola Davis. The talented actress accentuates her dark pixie with highlights several tones lighter than her main hair color. In this way, it makes her hair gain another dimension and instantly stand out.
Ruby Rose Choppy Long Pixie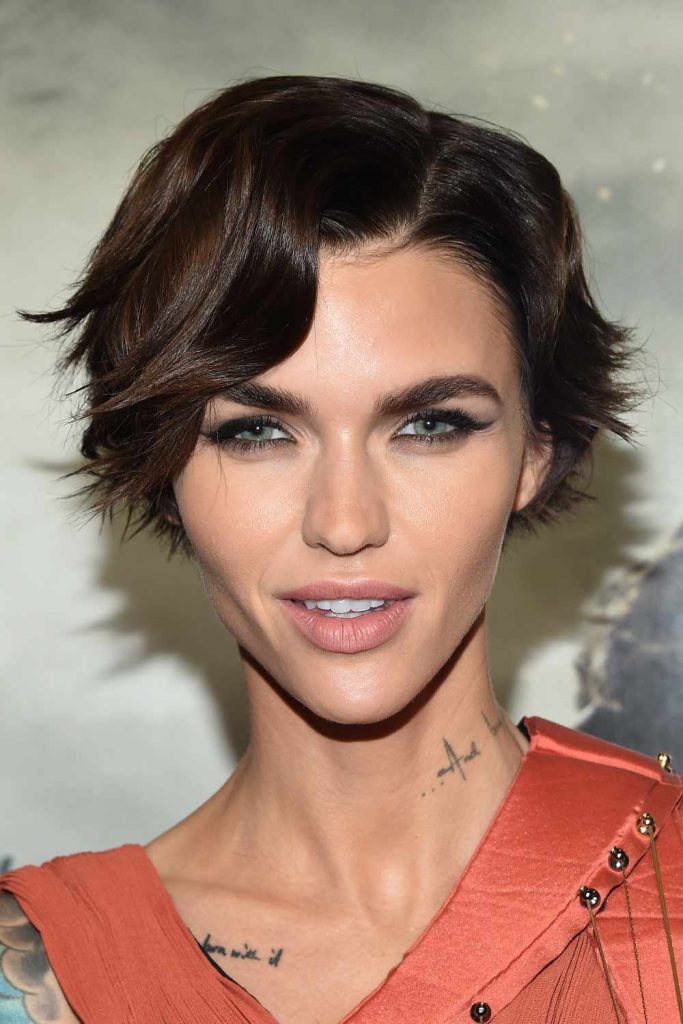 Credit photo: DFree/Shutterstock
Girls with thin hair that lacks volume should take a closer look at Ruby Rose's choppy pixie. Extended layers create an illusion of a full head of hair, especially when you style your locks using a powerful blow dryer and a round brush. Though, if you do not want to enlist the help of extra tools, you can simply tousle the strands with your hand and allow them to air dry.
Scarlett Johansson with Wavy Dark Pixie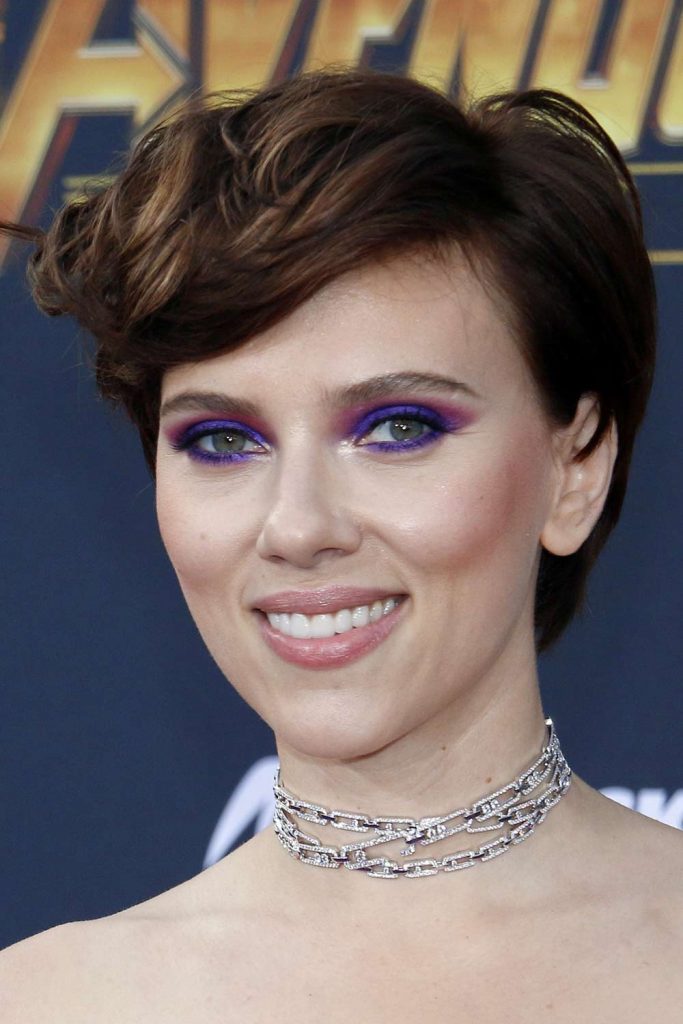 Credit photo: Tinseltown/Shutterstock
Although Scarlett Johansson is one of the most recognizable blondes in Hollywood, her dark pixie could not leave anyone indifferent. Because the strands are wavy, the hairstyle looks movable and dynamic. To complete the look, the Avengers star goes for bold and dramatic makeup, which turns out amazing with her rich chestnut locks.
Joey King with Long Curly Pixie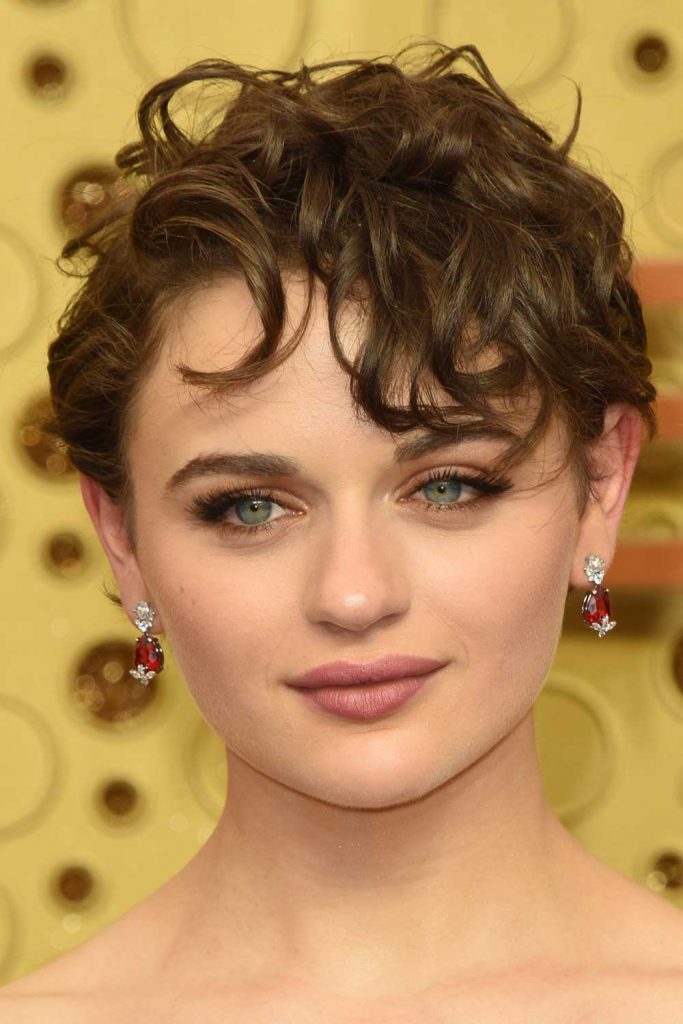 Credit photo: Kathy Hutchins/Shutterstock
If you think that a pixie haircut works only for straight hair, Joey King, who pulls off a pixie on curly locks with ease, will prove you wrong, The key to success is that the actress leaves a slightly longer top with the side being neatly trimmed. This allows her to show off her intricate hair texture while retaining the aesthetic of a pixie cut.
Jada Pinkett Smith with Dark Sleek Pixie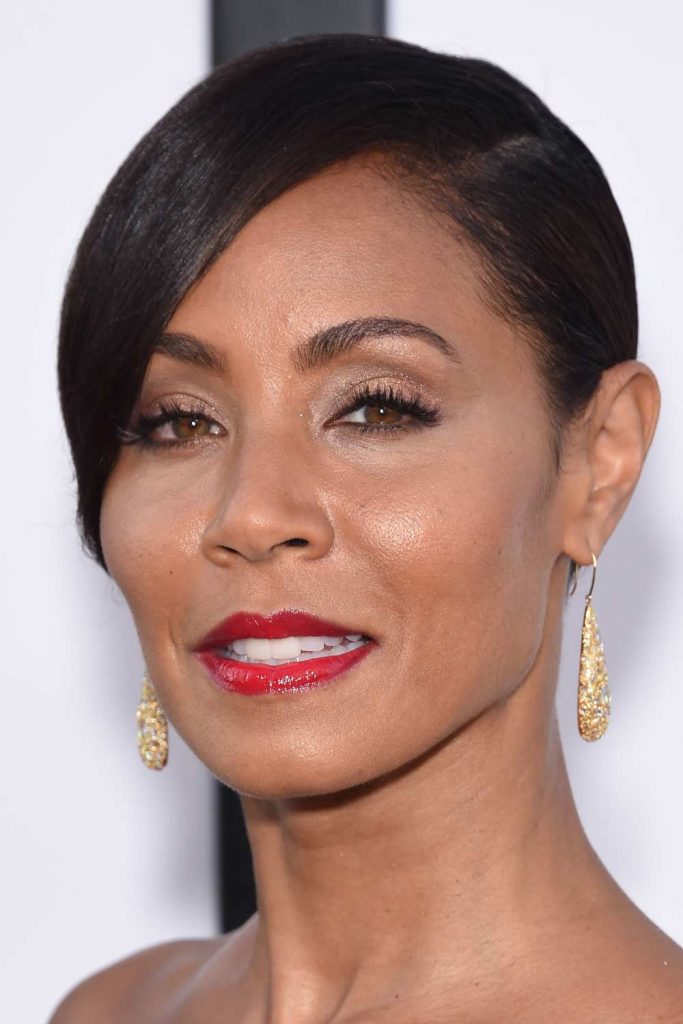 Credit photo: DFree/Shutterstock
Jada Pinkett Smith always looks camera ready and her dark sleek pixie is not an exception. The smooth strands reflect light like no other, thus looking breathtaking in the spotlight. And thanks to quite a short length of her hair, Jada's enviable facial features stand out even more.
Jennifer Lawrence with Messy Pixie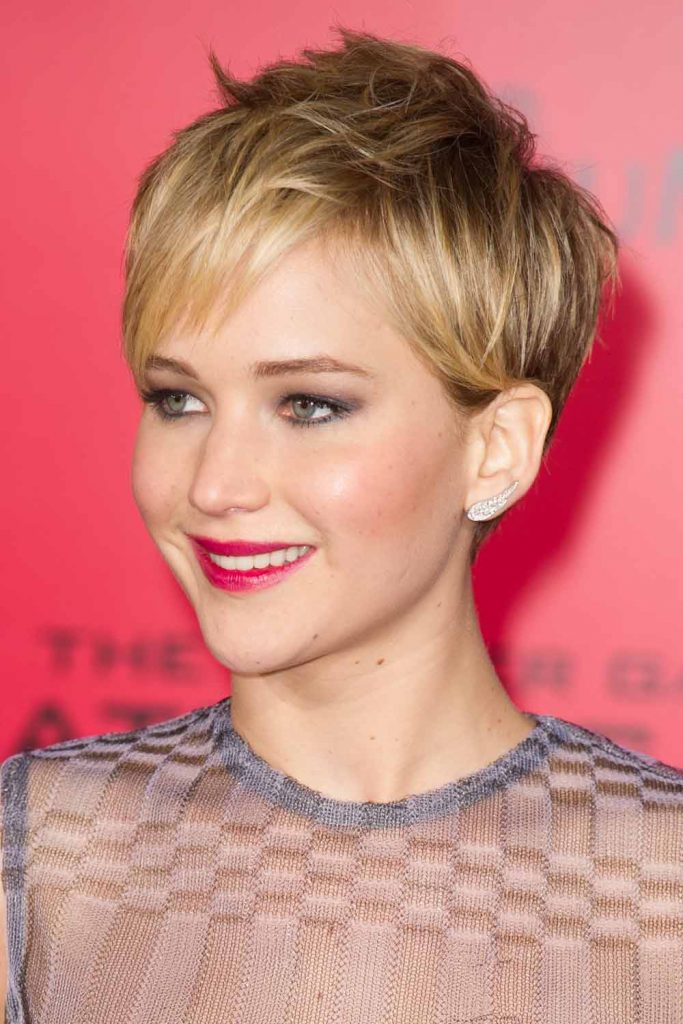 Credit photo: Christopher Halloran/Shutterstock
Jennifer Lawrence has stunned everyone when appeared with a long pixie haircut after sporting Hollywood locks. The multiple awards nominee sticks to the rule that simplicity is the ultimate sophistication. So, she cannot be bothered with styling her hair elaborately and simply dishevels her strands for a carefree messy pixie.
Halsey with Black Layered Pixie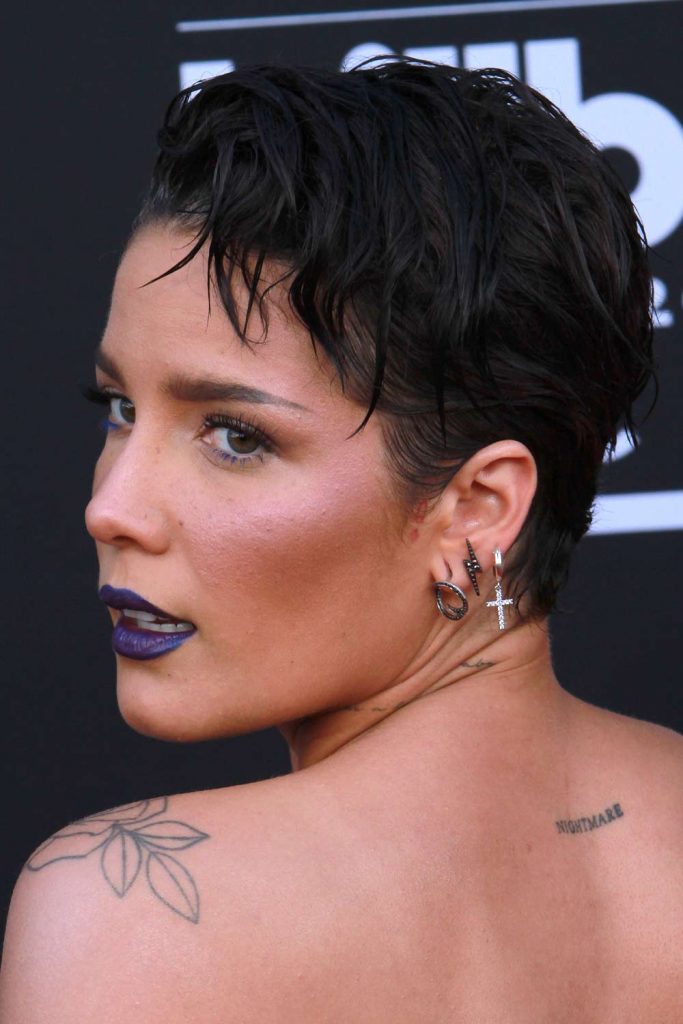 Credit photo: CarlaVanWagoner/Shutterstock
You can never go wrong with a long layered pixie. Do not want to take our word for granted? In that case, just look at Halsey's haircut. It is stylish, edgy and daring. To enhance the structured finish of the look, the singer generously applies a texturizing hair product. And the black hair color is what gives her appearance a grunge vibe.
FAQ: Long Pixie Cut
How do I stop a pixie cut mullet?
Keep hair at the back of the neck short, while hair on the top of the head grows out. This process takes about 6 to 8 weeks. Then allow the rest of the hair to grow, add layers to even things out adding to your new look some structure as a bonus.
If your back hair grows faster, you can also pin them down, another option is doing curls/waves. During this time go in for trimming and shaping every 6 to 8 weeks to keep the process under control.
Is a pixie cut all one length?
Pixie cut is a women's haircut about half an inch to 3-inches long. It may either be cut one-length or be shorter on the back/sides and longer on the top. You are welcome to browse our gallery to find which one suits you best.
REFERENCES:
A pixie cut is a short hairstyle generally short on the back and sides of the head and slightly longer on the top and very short bangs. It is a variant of a crop. Source
Short hair is much easier to take care of, and it can be both beautiful and fun. Source
Was this article helpful?