Every lady knows what a smokey eye look is that is for sure. However, not all of you may know that this look dates as far back as to Ancient Egypt, so it safe to say that Egyptians invented this sassy look. Truth be told, there is not that much left of the original design, but it is safe to say that this makeup technique became only better over the years. These days smokey eye makeup can be worn even on an everyday basis, all you need to do is to come up with a proper set of color to use. What is more, today we are going to reveal all the best smokey looks that are going to rock in 2020. Do not miss it!
How Do You Do An Easy Smokey Eye?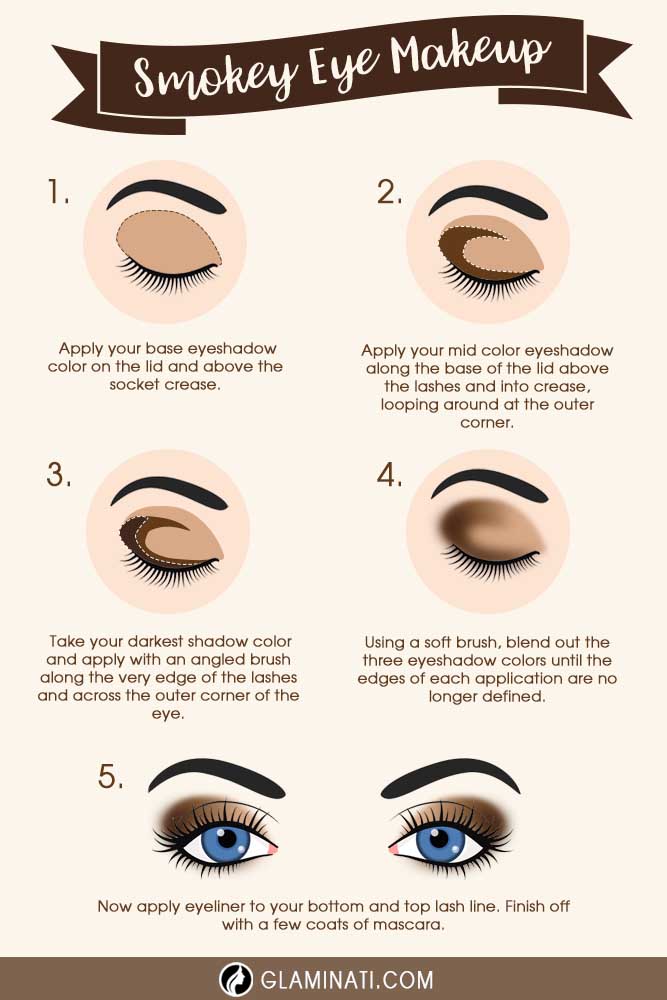 You may be surprised when we tell you that trying to achieve the flawless look is a bad idea. But that is true. No matter how weird it sounds, but perfection lies in the slight imperfection.
Smokey Eye For Hazel Eyes - The Best Ideas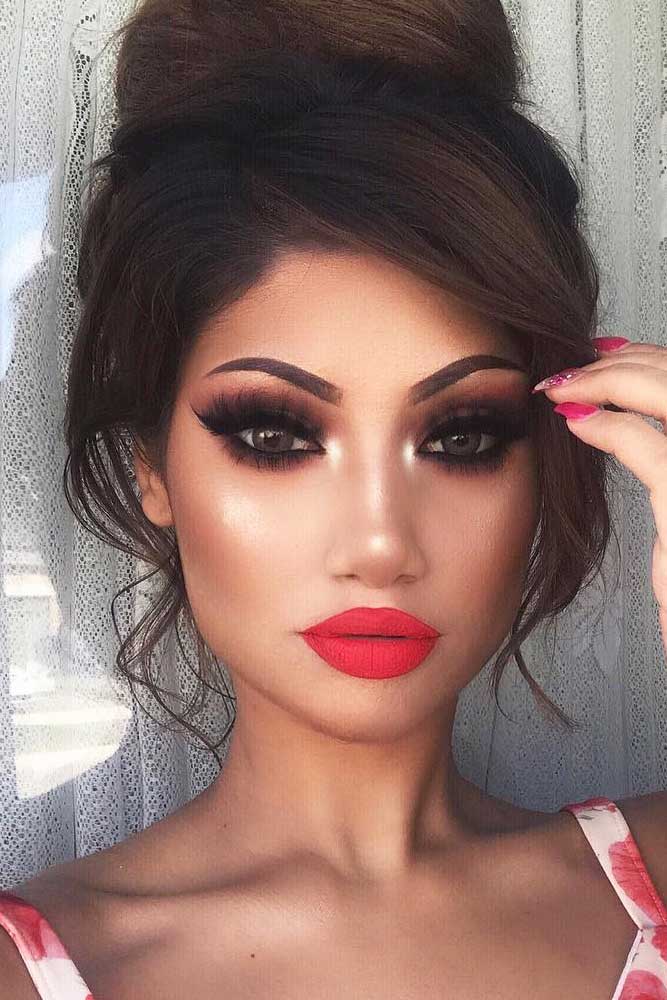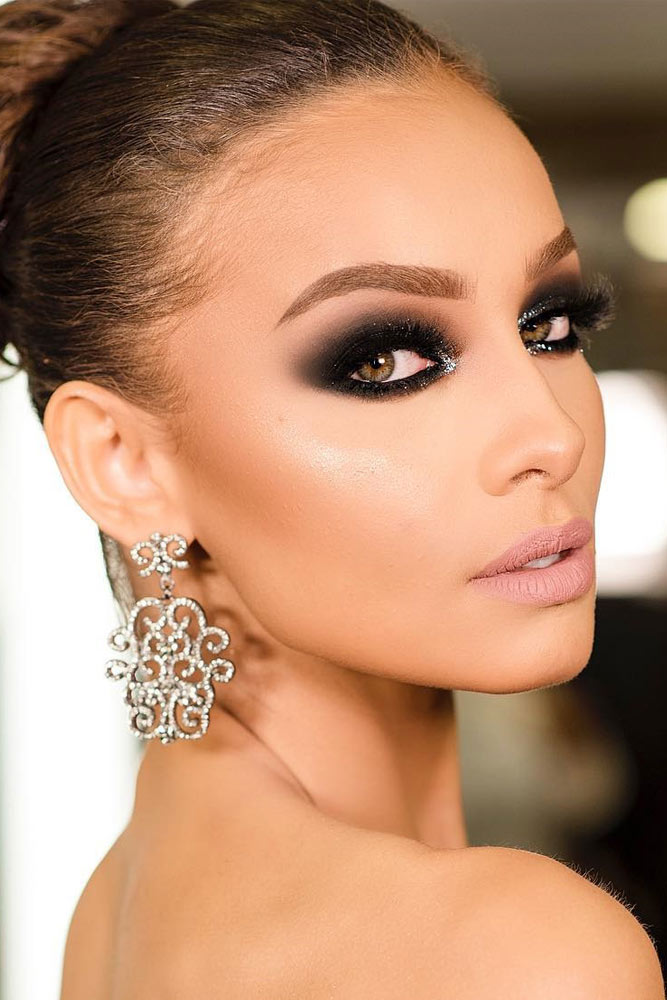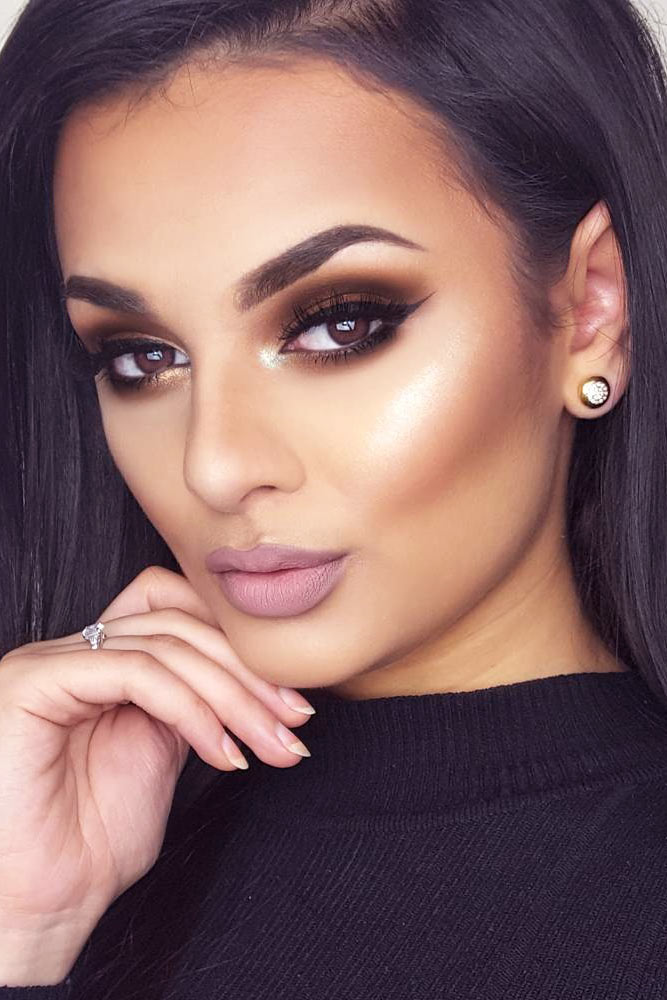 Credit: Instagram/makeupbyalinna, Instagram/alcantaramakeup, Instagram/justrosh_
These days not only classic smokey is trendy. You can always add a modern twist by using some brighter eyeshadow. For example, purple smokey will perfectly represent the summer mood.
Hot Smokey Eye Ideas For Blue Eyes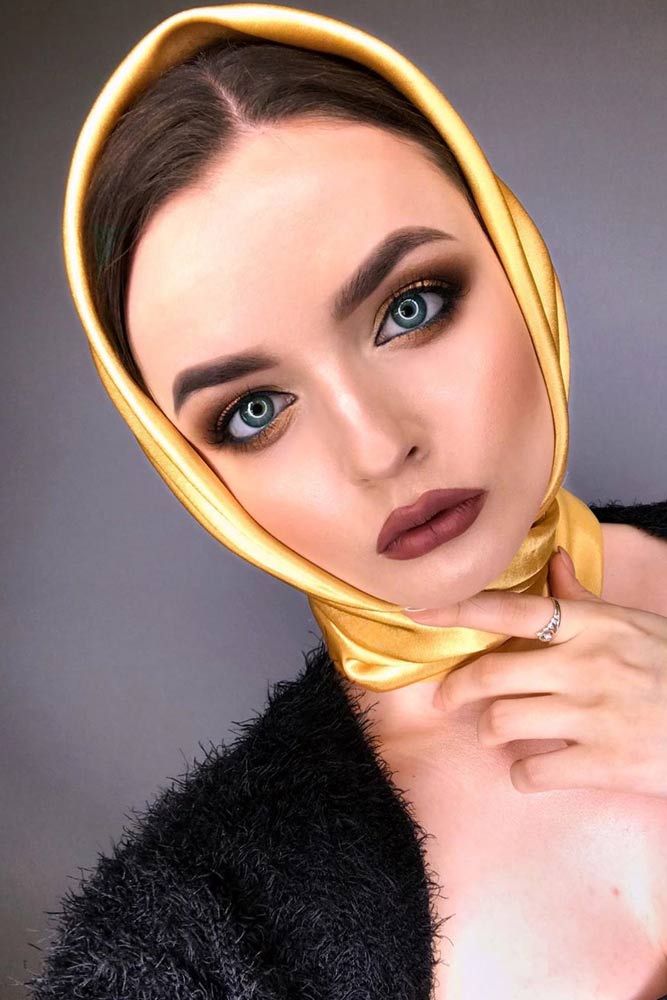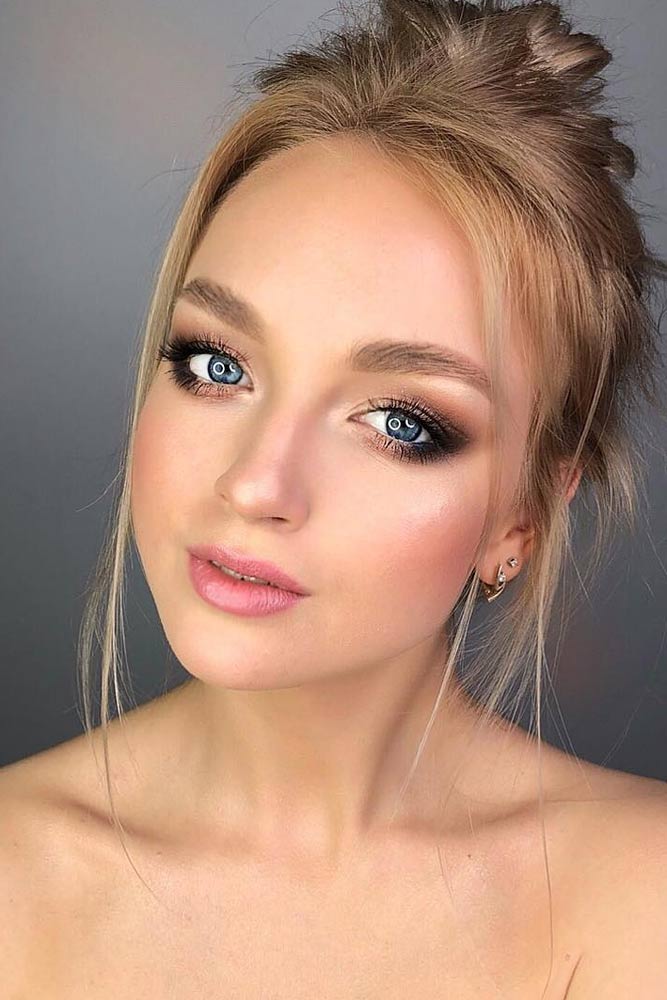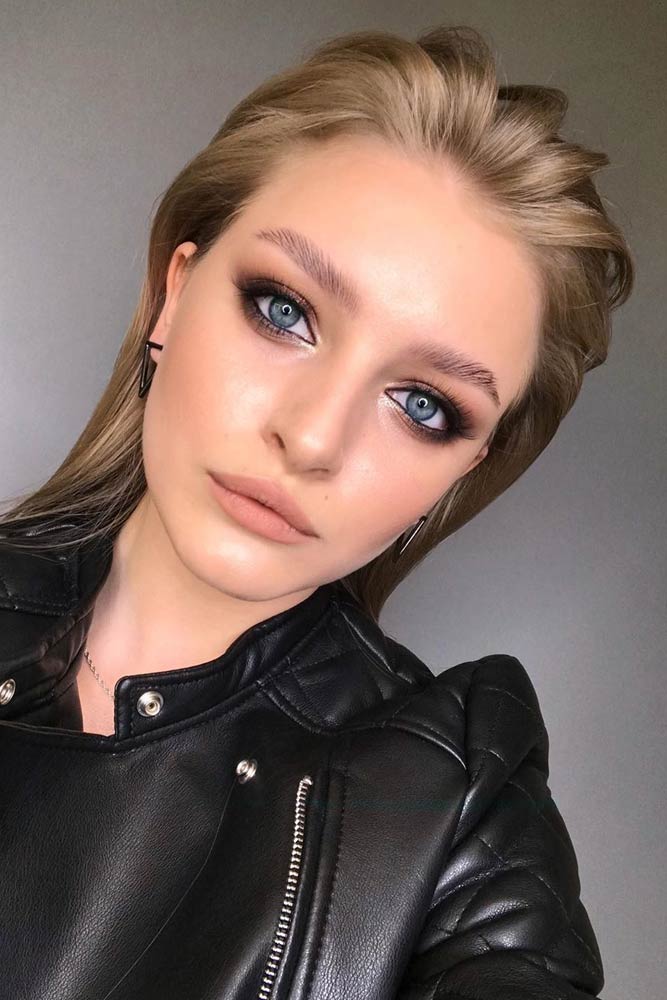 Credit: Instagram/olga.balkova, Instagram/anastaciaacmakeup, Instagram/olga.balkova
Green Eyes Color And Smokey – Perfect Mix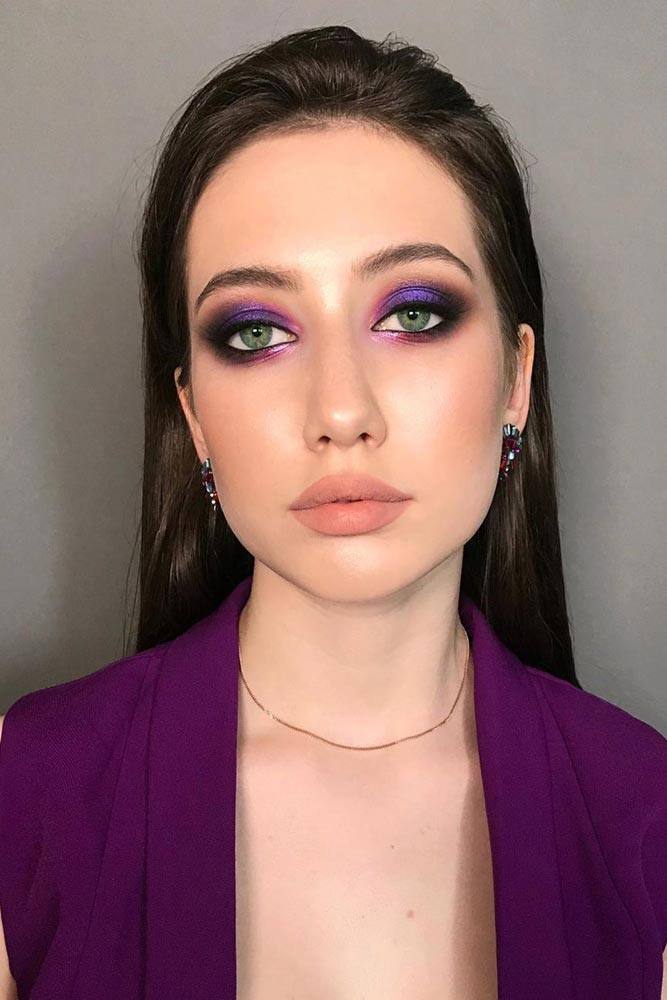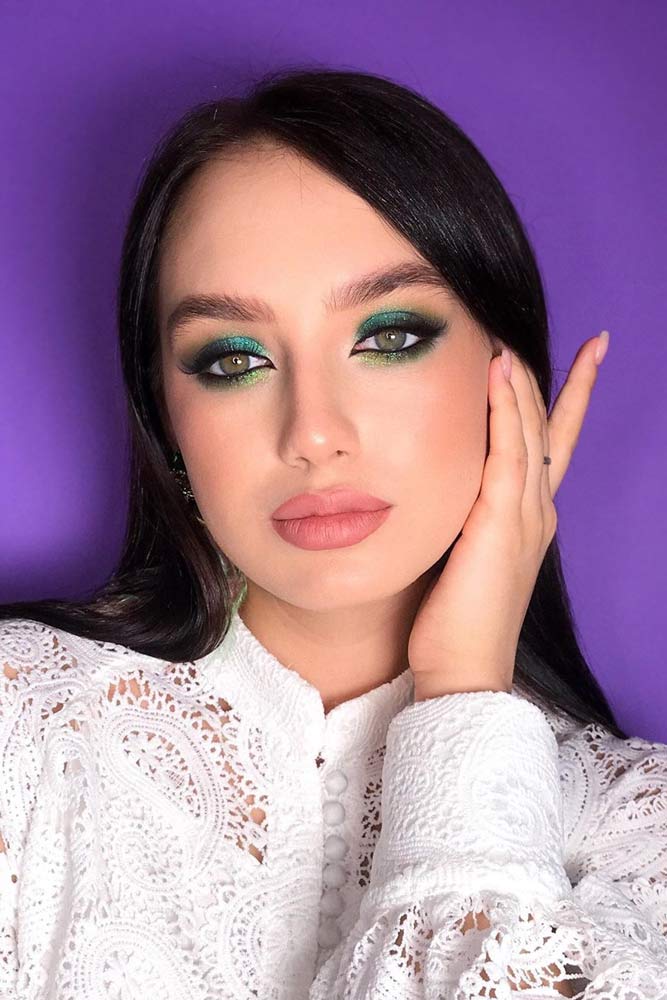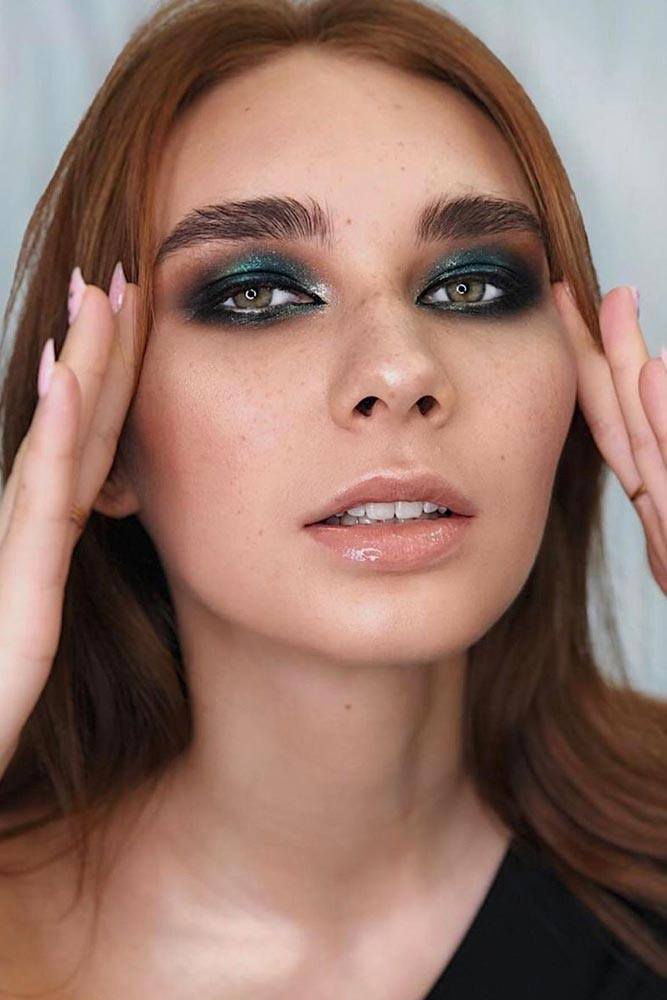 Credit: Instagram/olga.balkova, Instagram/surkova.makeup, Instagram/nikolaeva_mua
Bold Smokey With Different Lipstick Colors
Purple Lipstick Shades With Smokey Eyes Makeup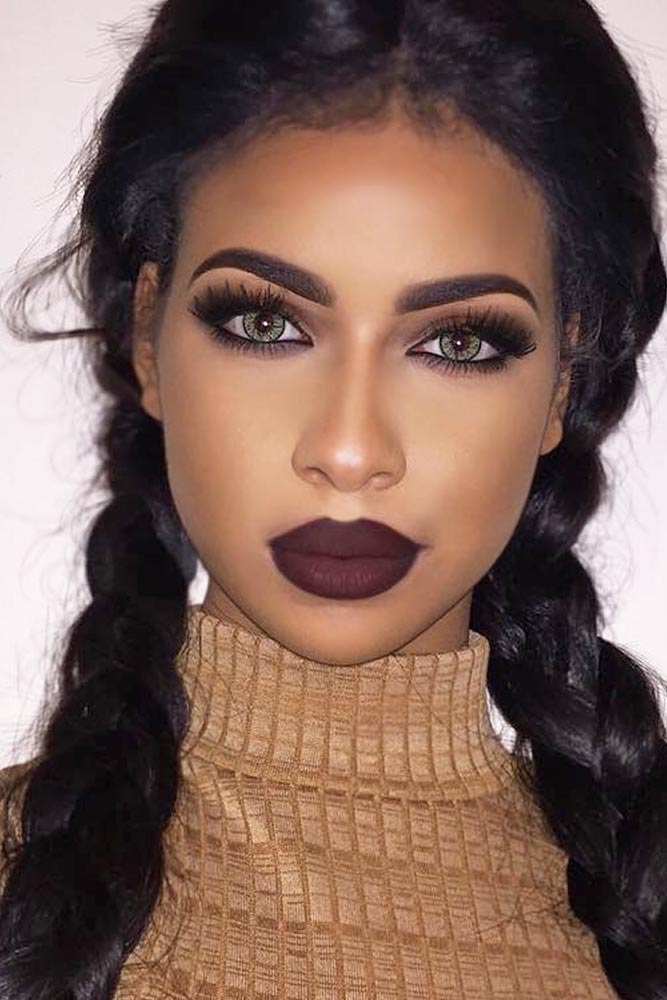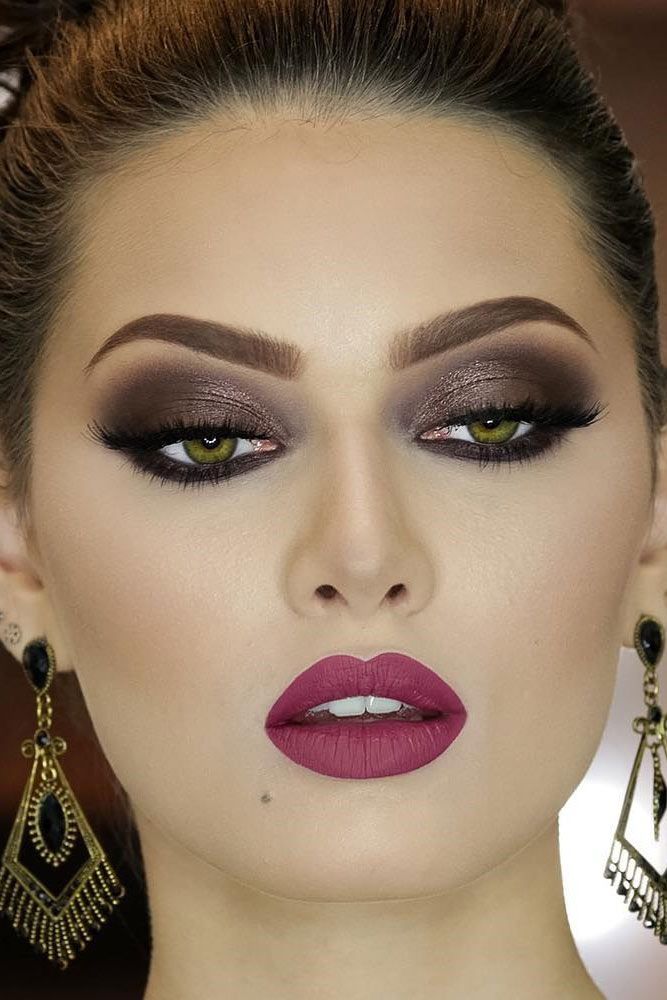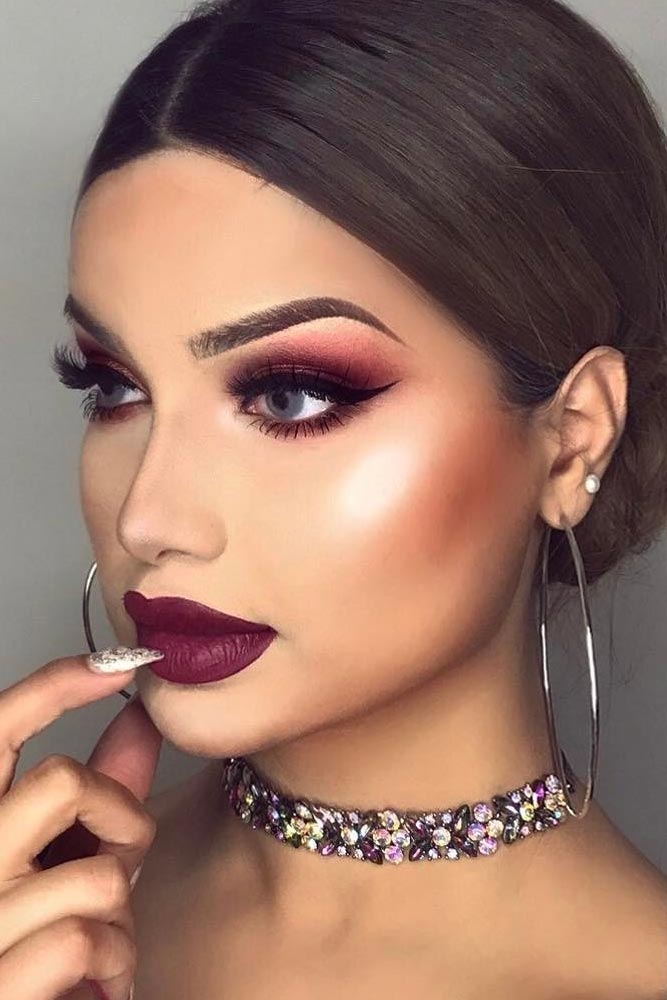 Credit: Instagram/lemybeauty, Instagram/heldermarucci, Instagram/cakeyconfessions
If you have the urge to intensify your smokey look, then this hack is totally for you. Use the eye pencil as a base. Smudge the black pencil over the lid, add the eyeshadow and blend.
Bold Smokey Eyes Makeup Ideas With Nude Lips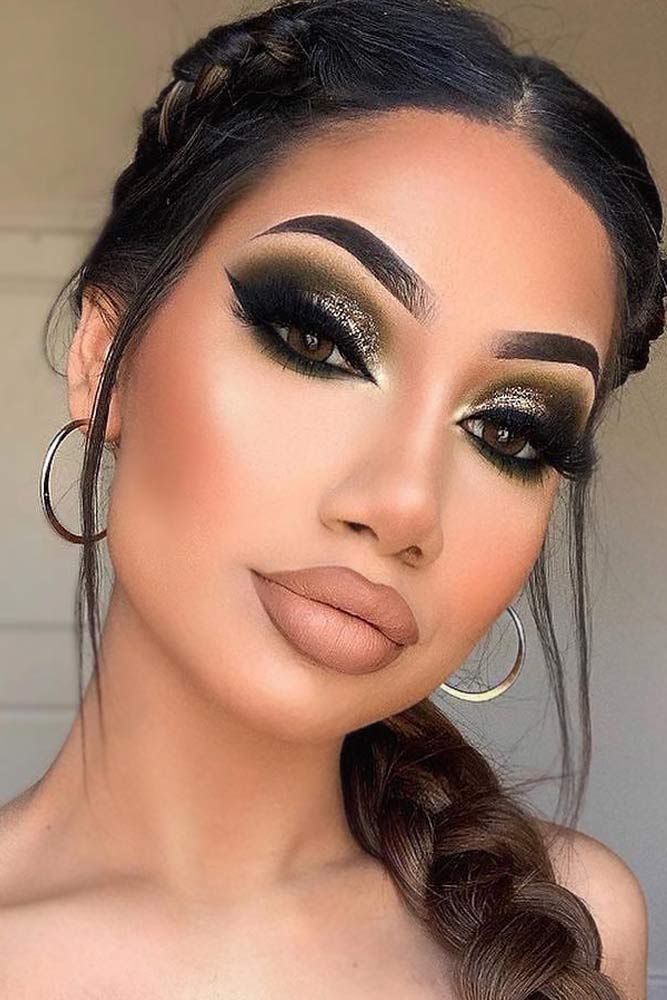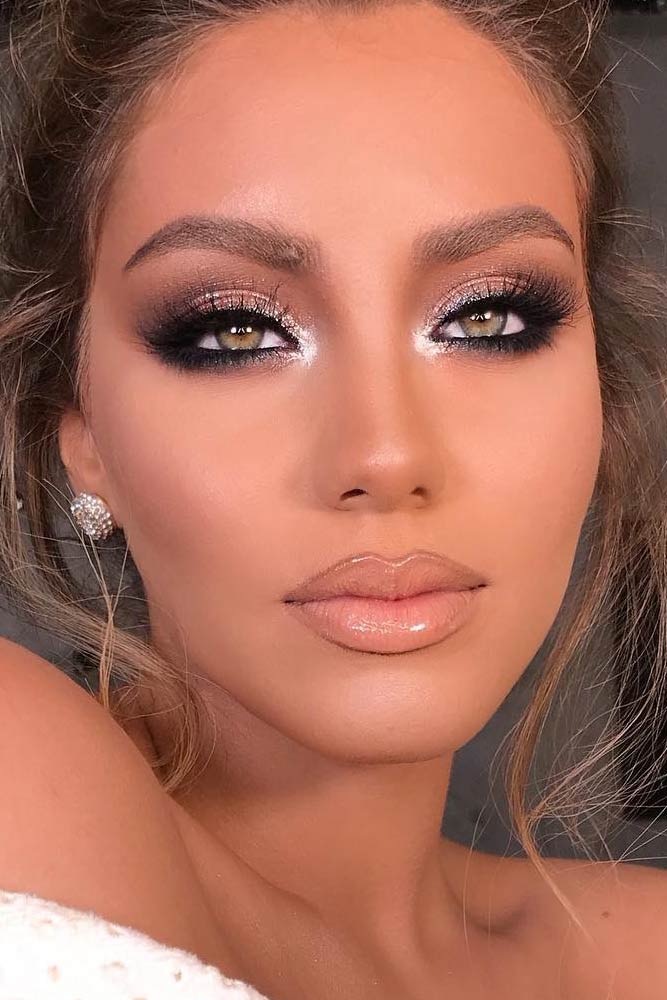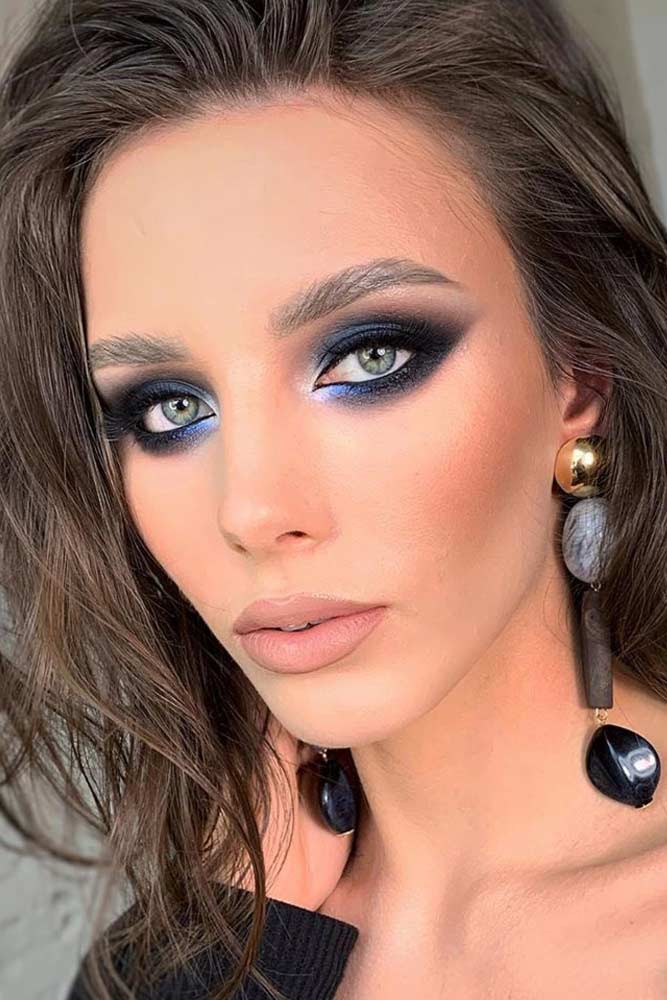 Credit: Instagram/makeupbyalinna, Instagram/heldermarucci, Instagram/grishina.viktoria
In the Middle Ages, dark eye makeup went out because powdered wigs and pale complexion came in. And then this trend could be relegated to the dustbin of history but, luckily for us modern fashionistas, it was saved by performers in the theatre. Performers used vivid makeup to be seen from afar. Then such makeup was imported into motion pictures.
Smokey Eyes Makeup Ideas With Bold Lips Colors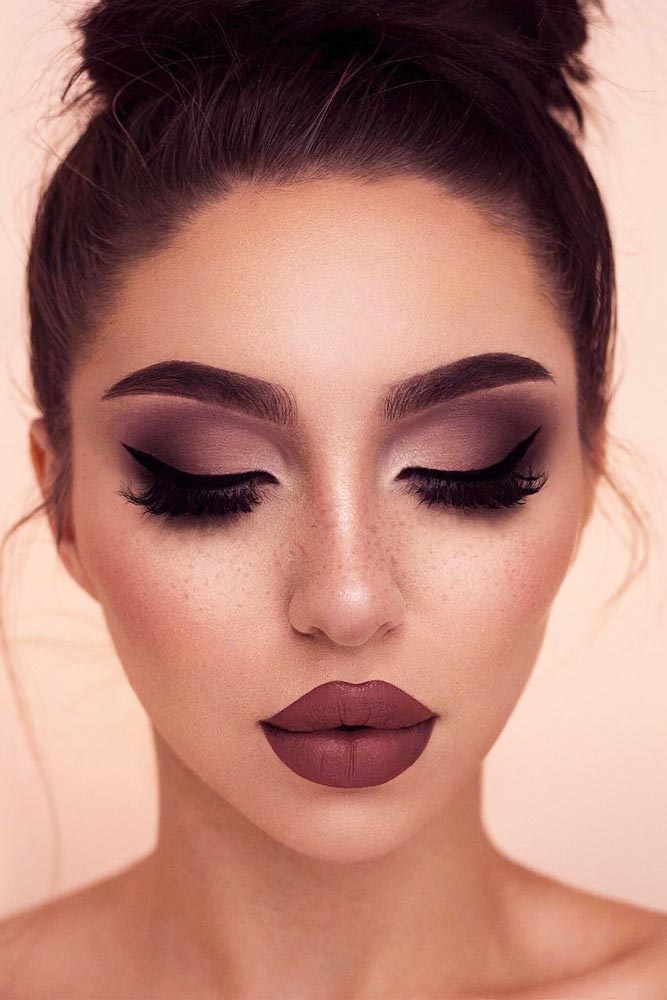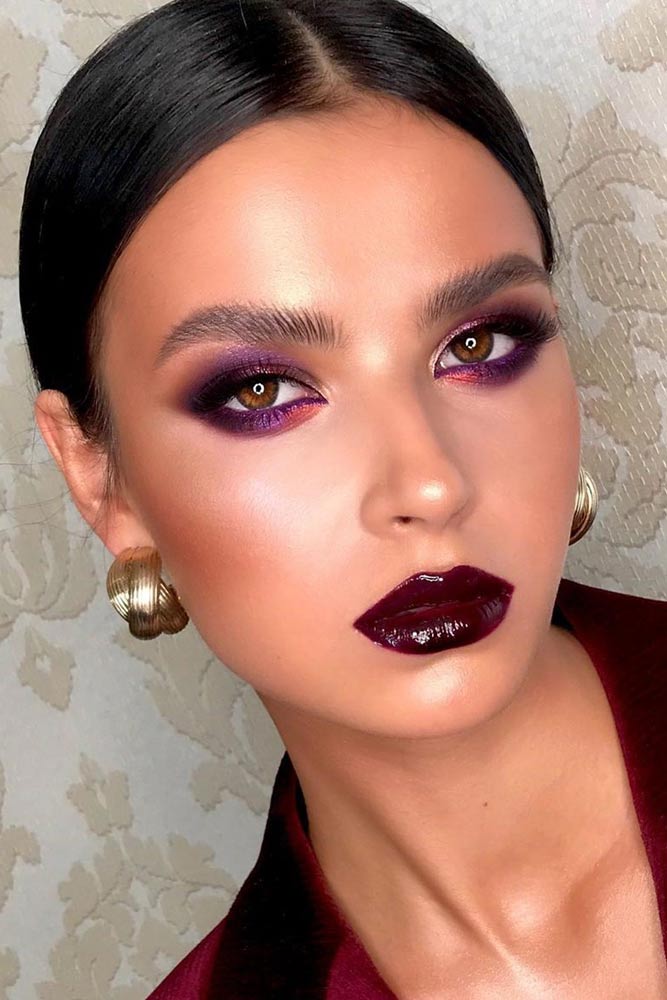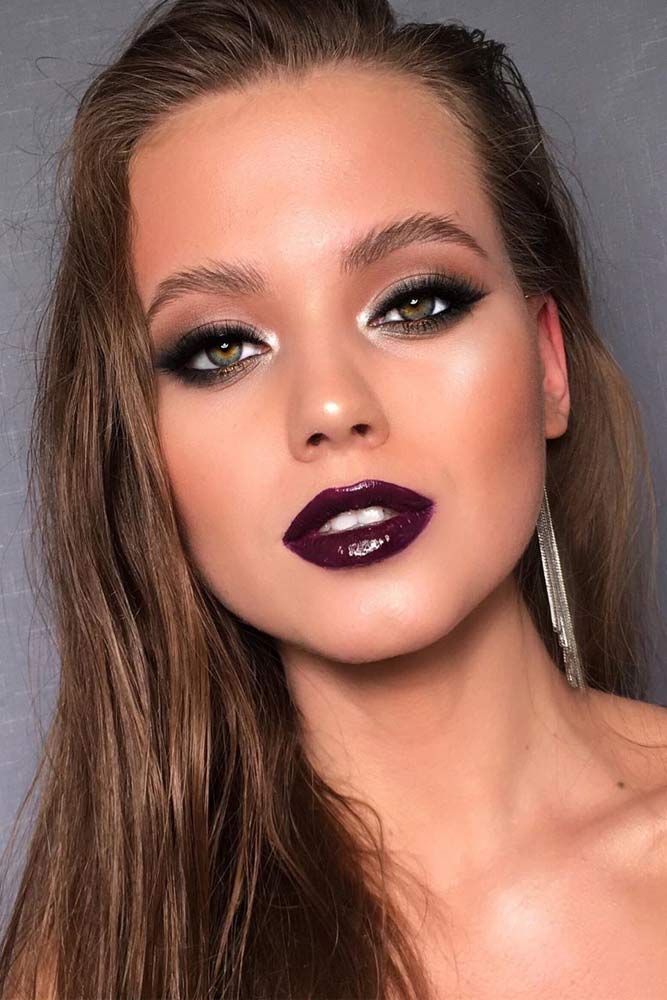 Source: Instagram/swetlanapetuhova, Instagram/pekarskayamakeup, Instagram/alexeeva_victoria
Brigitte Bardot became the first icon of the smokey back then. And due to Mary Quant's lipsticks and eyeshadow collections, women had a possibility to copy their favorite smokey look.
And the smokey look as we know it now appeared in the 1990-s and stayed in ever since.
As you can see, the history behind the smokey look is quite exciting. And we got so inspired that we created the whole photo gallery with the trendiest smoky eye looks of today. Let's explore them!
Glitter Smokey With Pink Shades Lipstick Ideas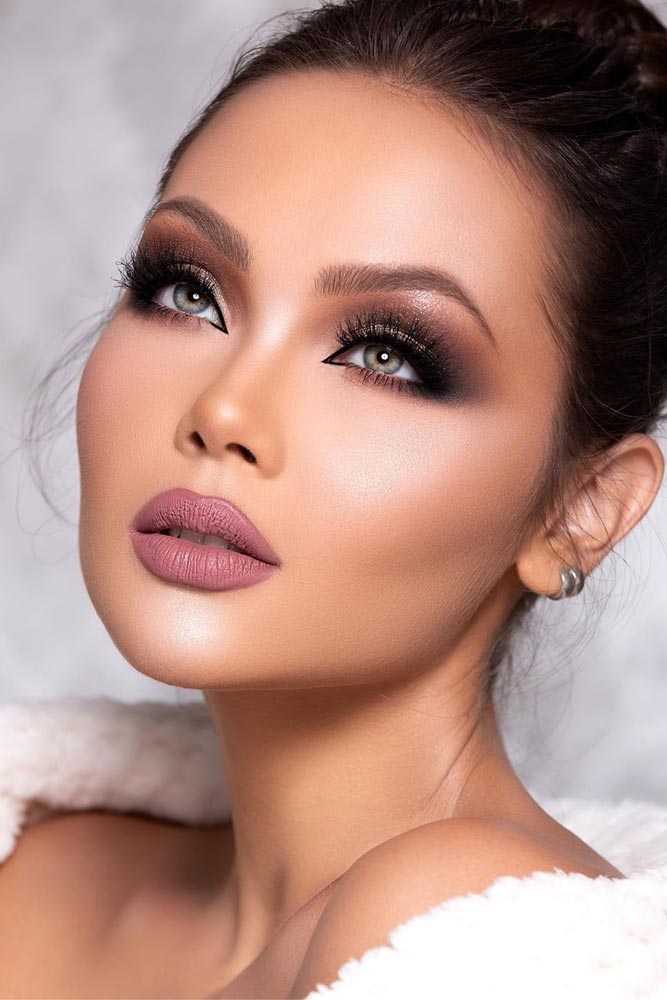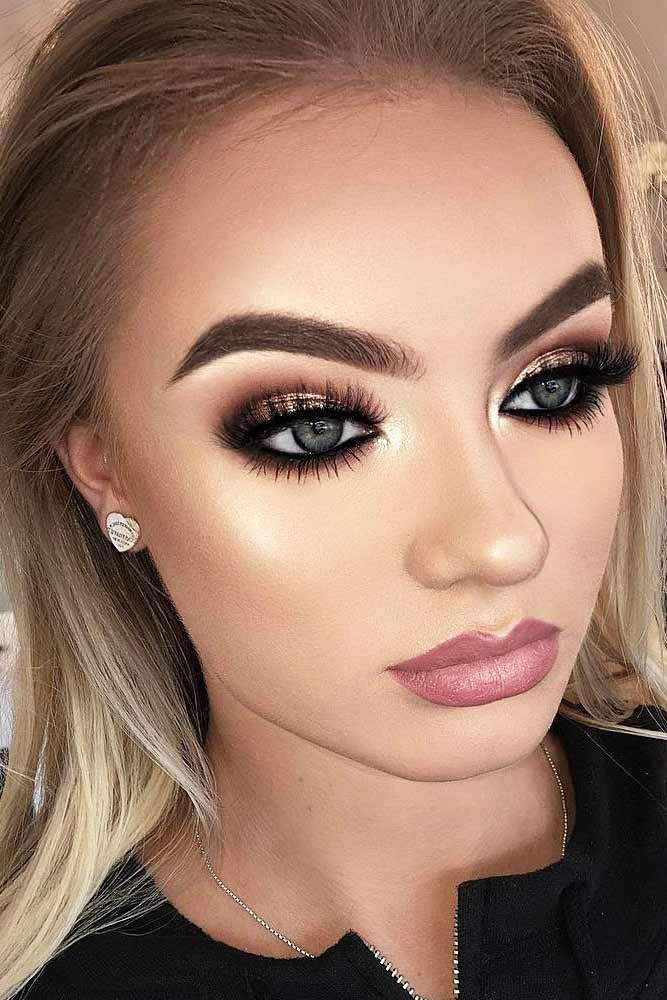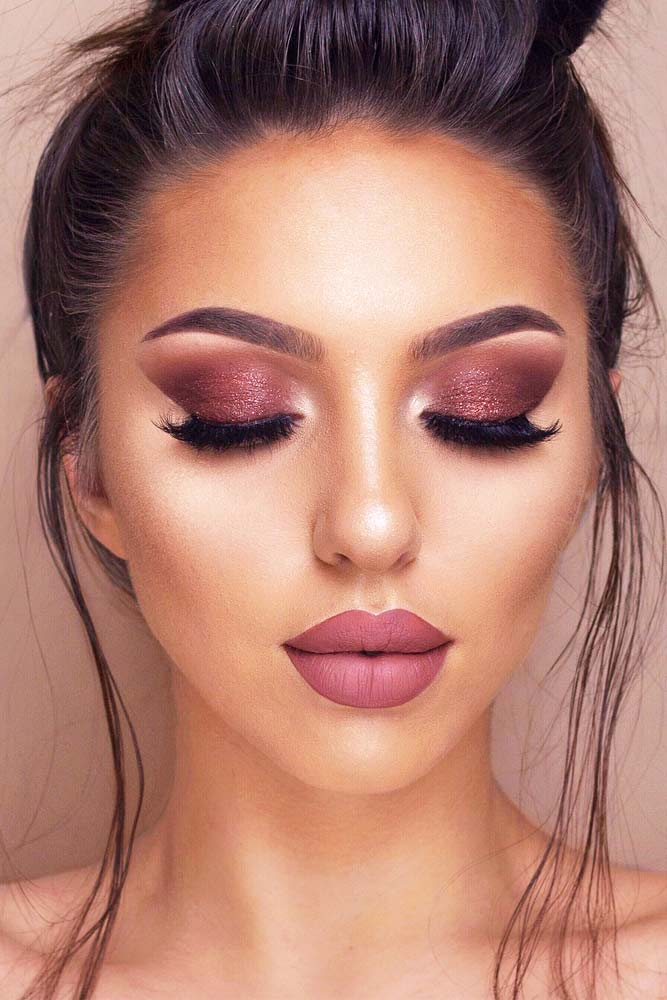 Credit: Instagram/heldermarucci, Instagram/branalunan, Instagram/swetlanapetuhova
In the beginning of the 20s century, a young guy Max Factor improved the quality of beauty products and invented our beloved word – "makeup."
Matte Eyeshadow For Smokey Eyes Makeup
Matte Smokey Eye Makeup With Eyeliner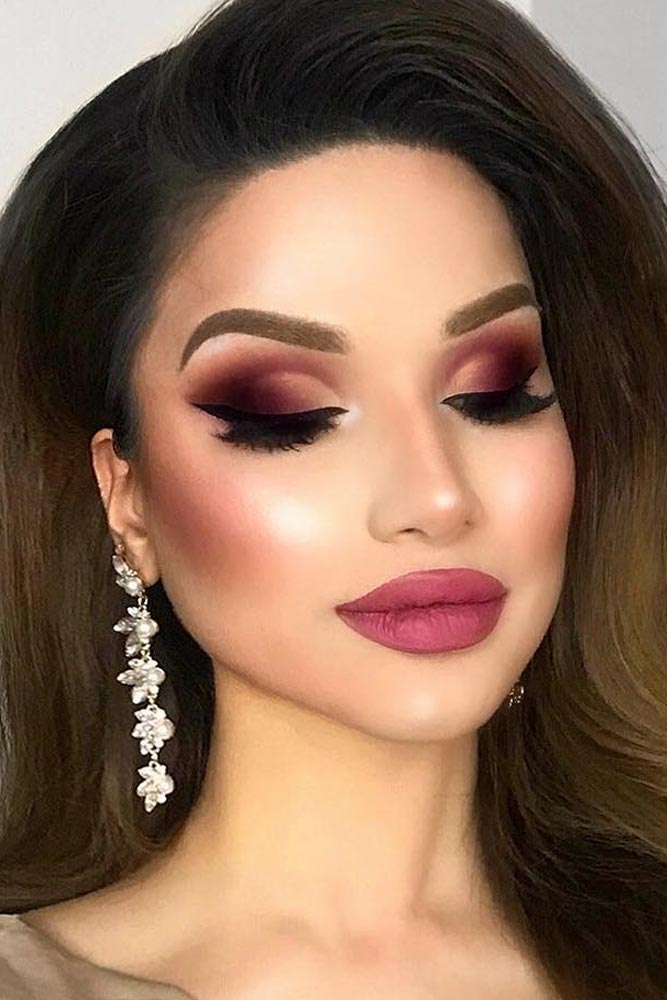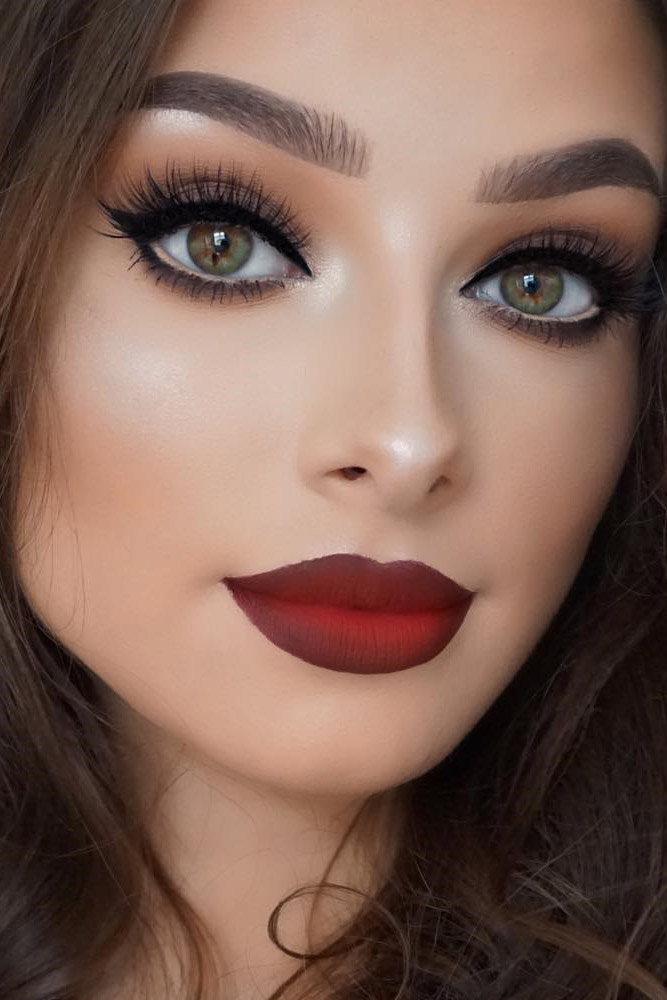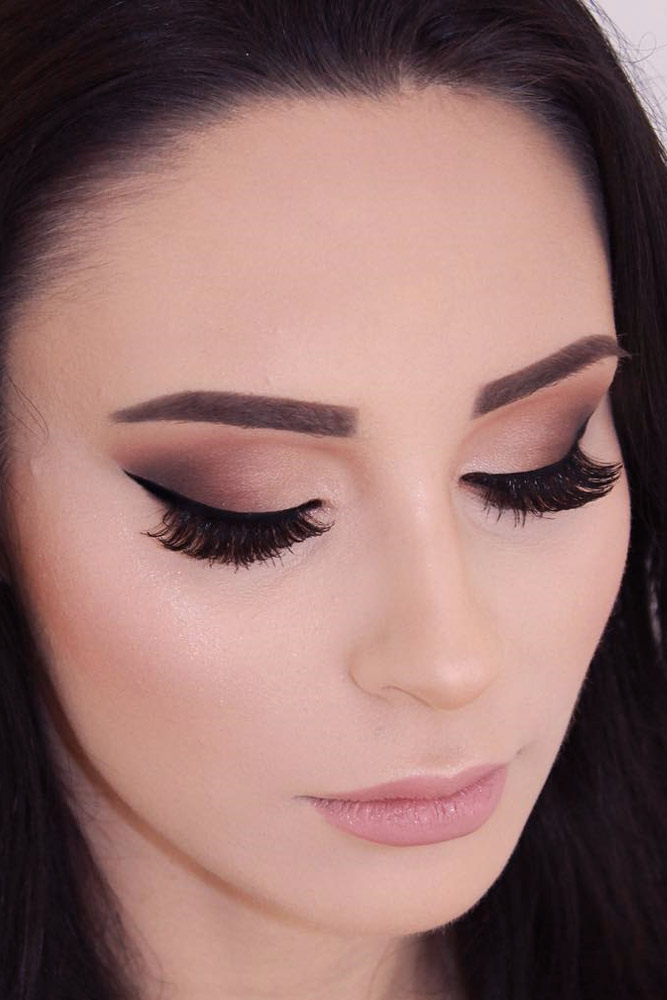 Credit: Instagram/cakeyconfessions, Instagram/jessicarose_makeup, Instagram/naturallyfake
Remember that there are no limits when it comes to makeup. Of course, there are basic shades that are considered to be classic, but who sets the limits? Don't be afraid of experimenting!
Matte And Glitter Smokey Eye Makeup Ideas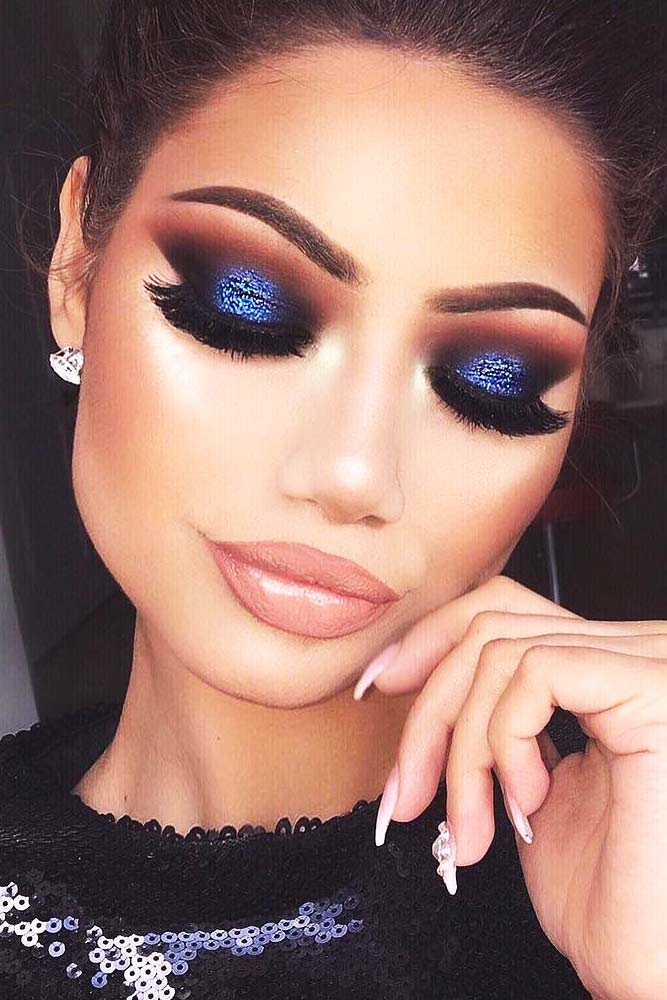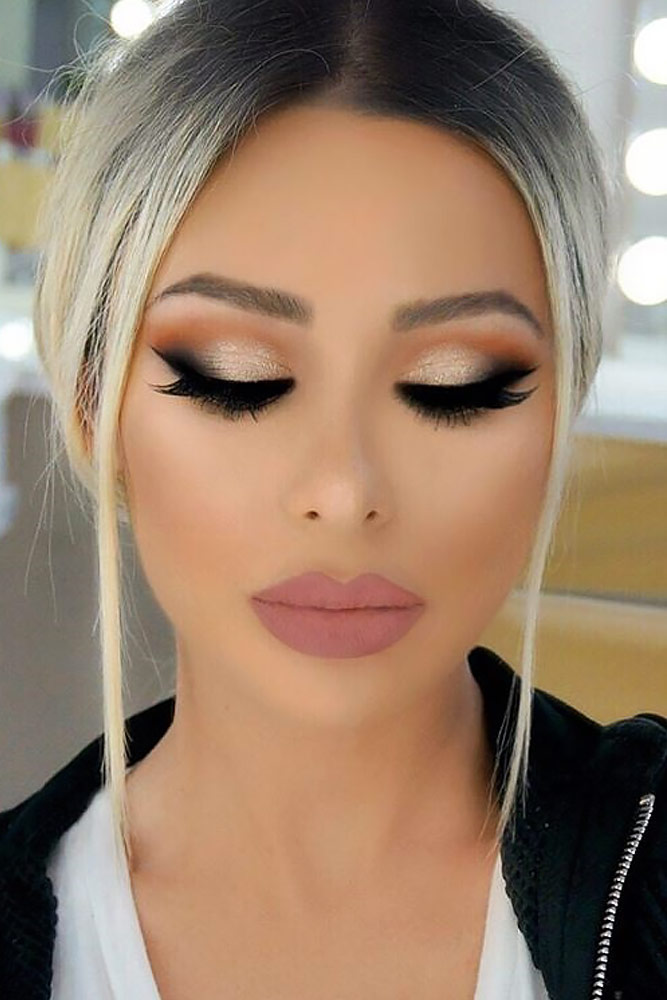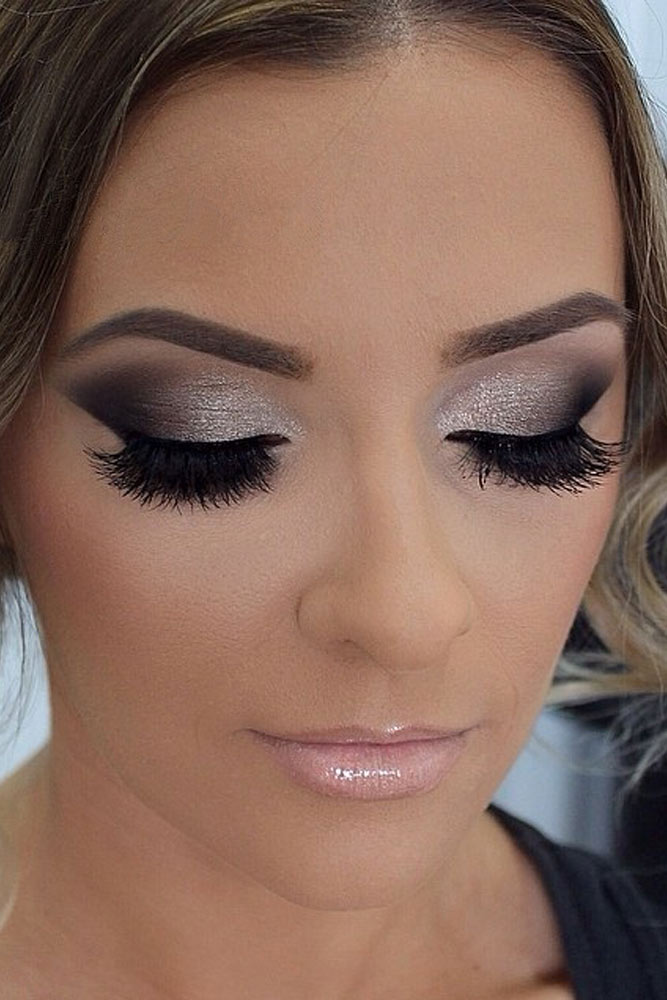 Credit: Instagram/makeupbyalinna, Instagram/vanitymakeup, Instagram/naturallyfake
We all have different eye shapes. That is why consider the smokey makeup that flatters your shape. Replicating something alien to your shape may lead to a bad result.
Glitter Smokey Makeup Ideas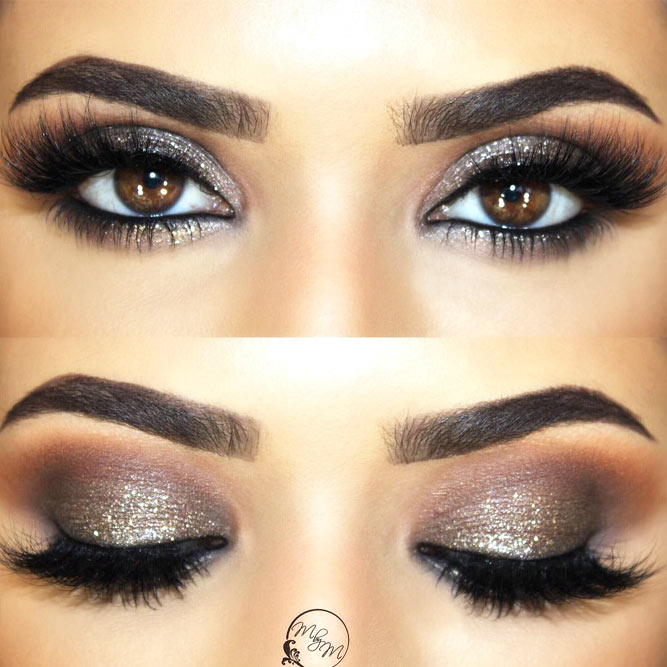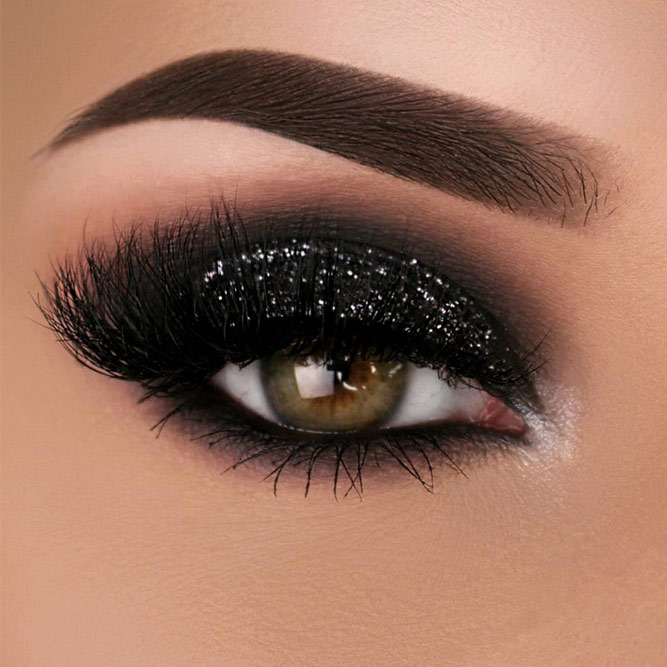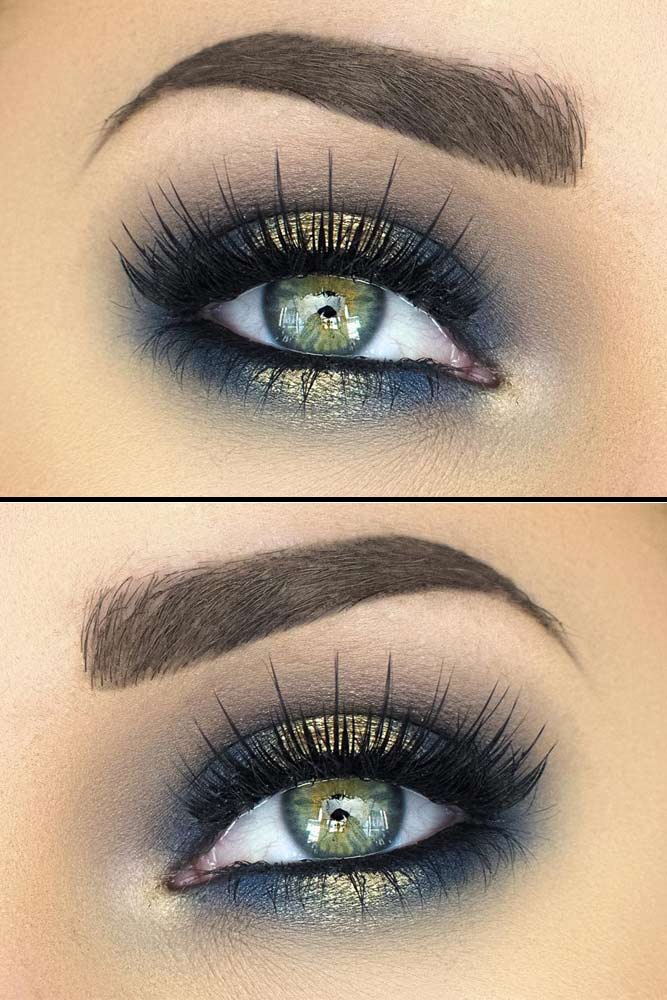 Credit: Instagram/makeupbymeggan, Instagram/vanyxvanja, Instagram/c_flower, Instagram/makenziewilder
You shouldn't forget that the waterline matters. Do not restrict yourself with only black or white waterline. Depending on the makeup shades, you can go for any suitable color.
Smokey Eyes Ideas In Nude Shades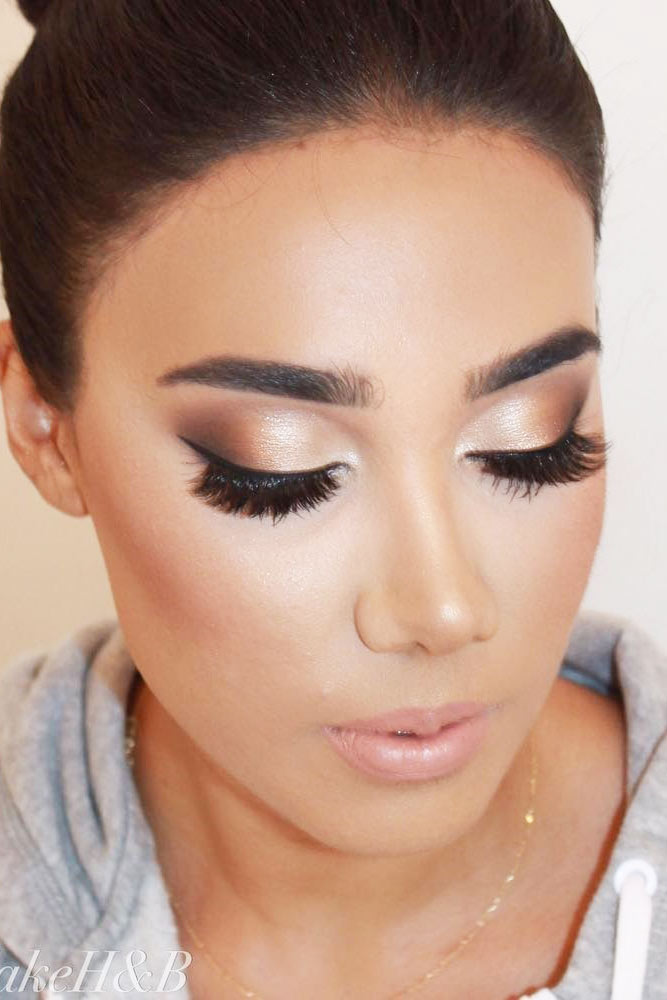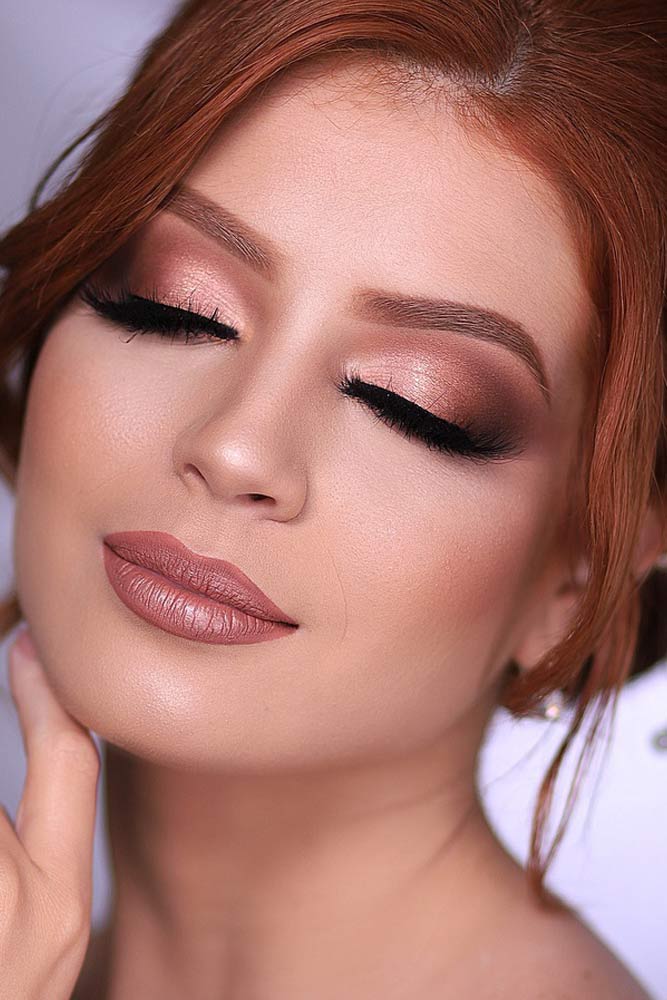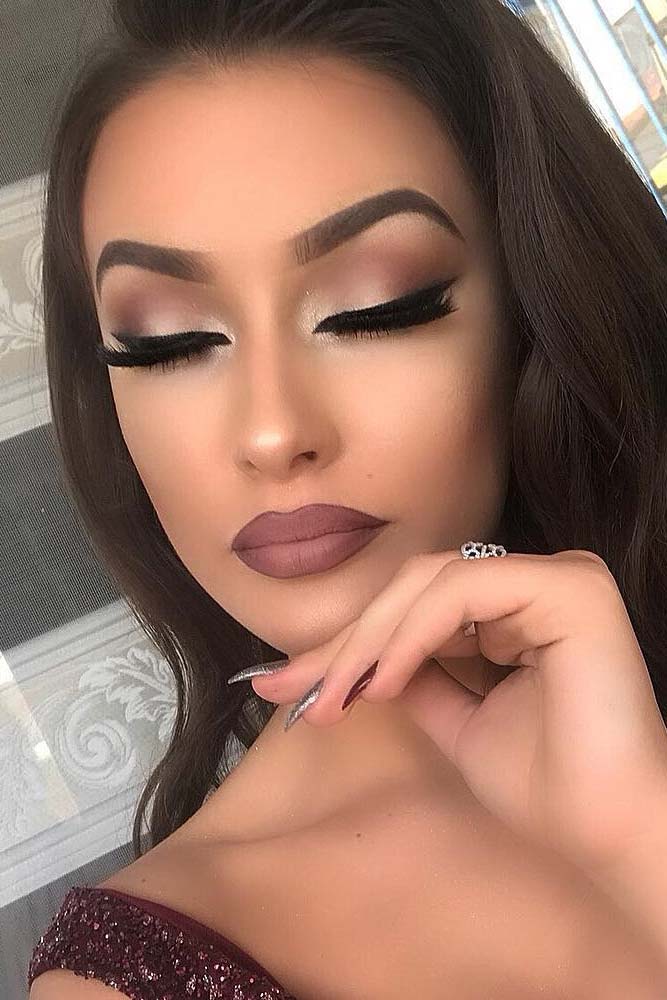 Credit: Instagram/naturallyfake, Instagram/anaveigga, Instagram/beautysalonbeesa
At the peak of the popularity of silent movies, women began to copy the beauty trends they observed on the screen. At that same time, scientists discovered the Tutankhamun's tomb, which led to the emergence of Egyptian-mania. Thus, in the 1960-s, dark eye makeup experienced a huge comeback.
Smokey Eyes Makeup With Eyeliner
Shimmer Smokey Eye Makeup Ideas With Bold Eyeliner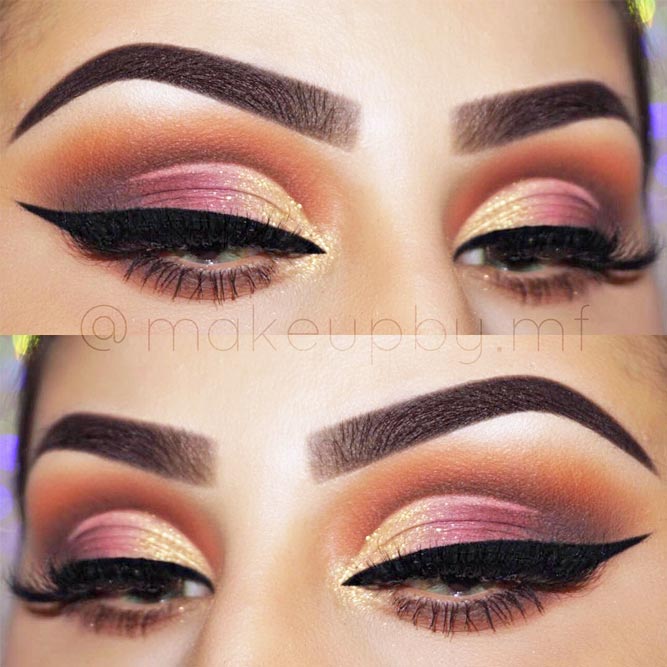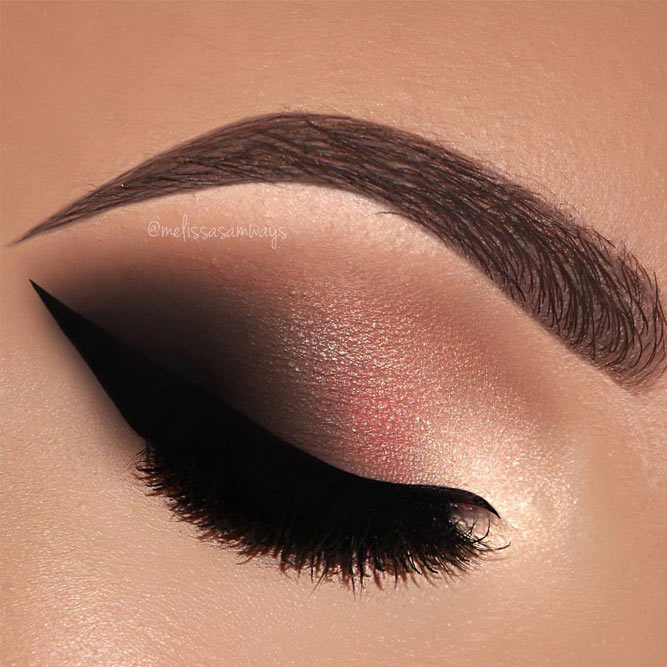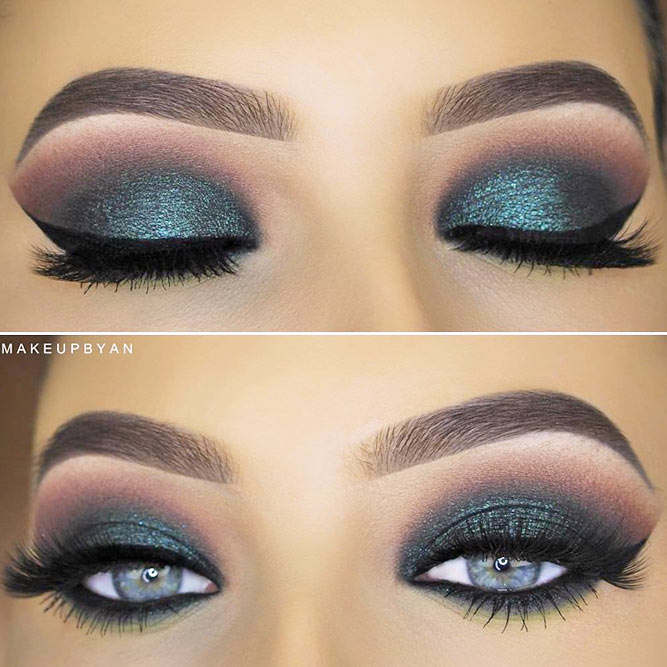 Credit: Instagram/makeupby.mf, Instagram/melissasamways, Instagram/makeupbyan
When working on your smokey look, bear in mind not to rush. Sounds silly, but it is really important since a rush move can force you to re-do the whole thing. Keep calm and work slowly.
Smokey Eye Makeup Ideas With Arabian Eyeliner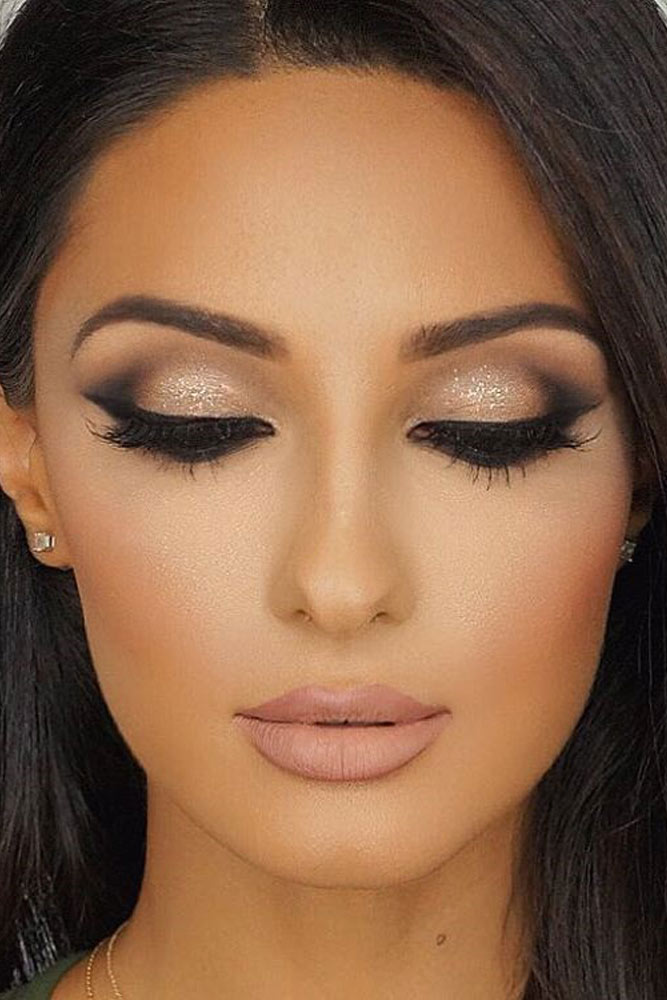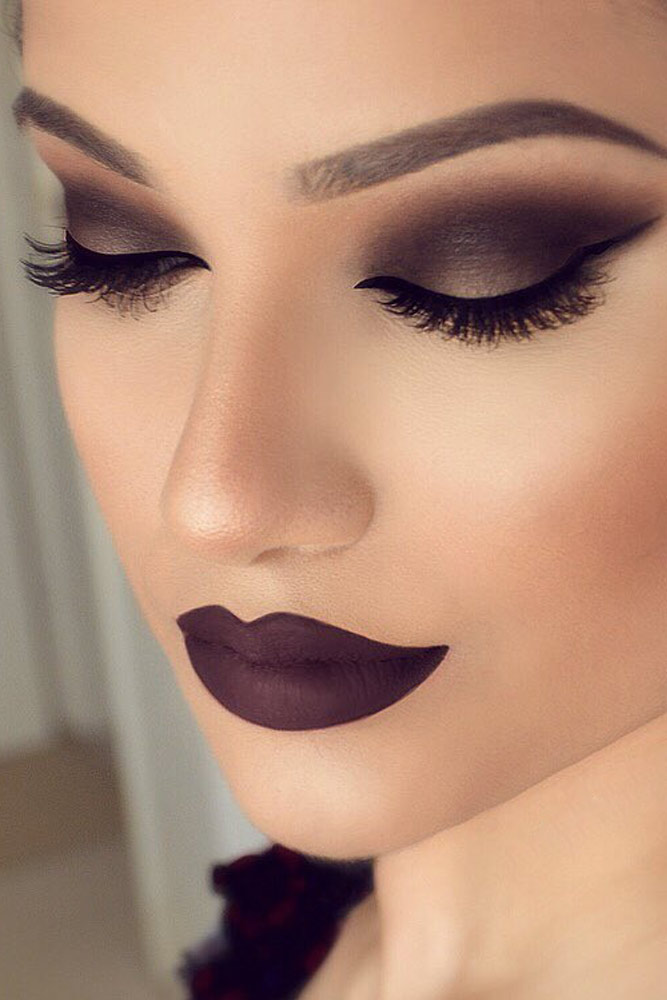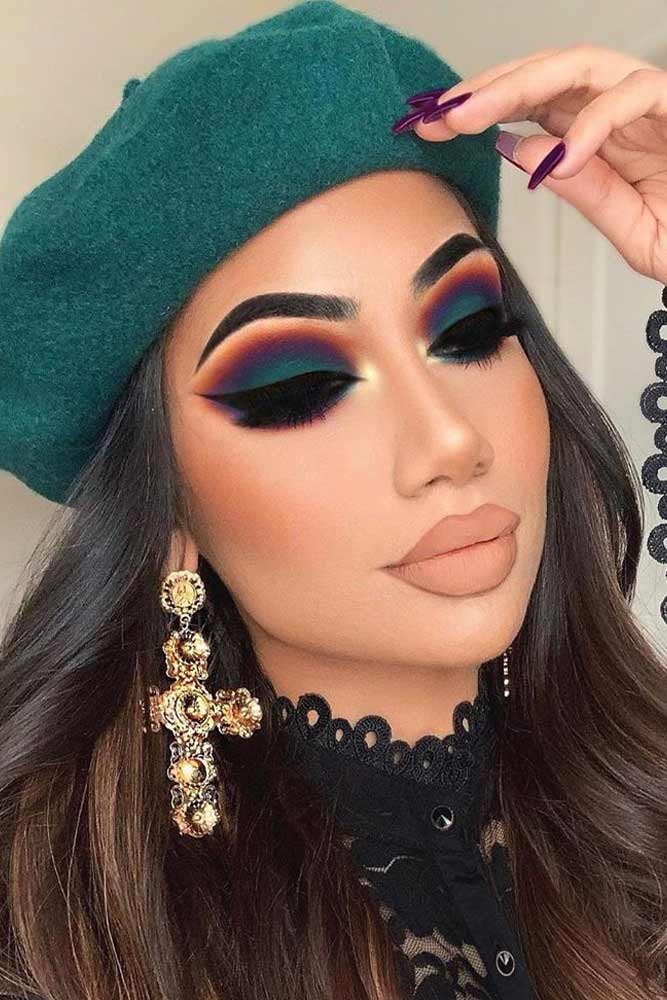 Credit: Instagram/dressyourface, Instagram/cakeyconfessions, Instagram/makeupbyalinna
First of all, you need to know how to get rid of dark circles as they can ruin the whole magic of your makeup. A bit of concealer will help to erase the unnecessary dark circles under your eyes.
Black Smokey Eye Makeup Ideas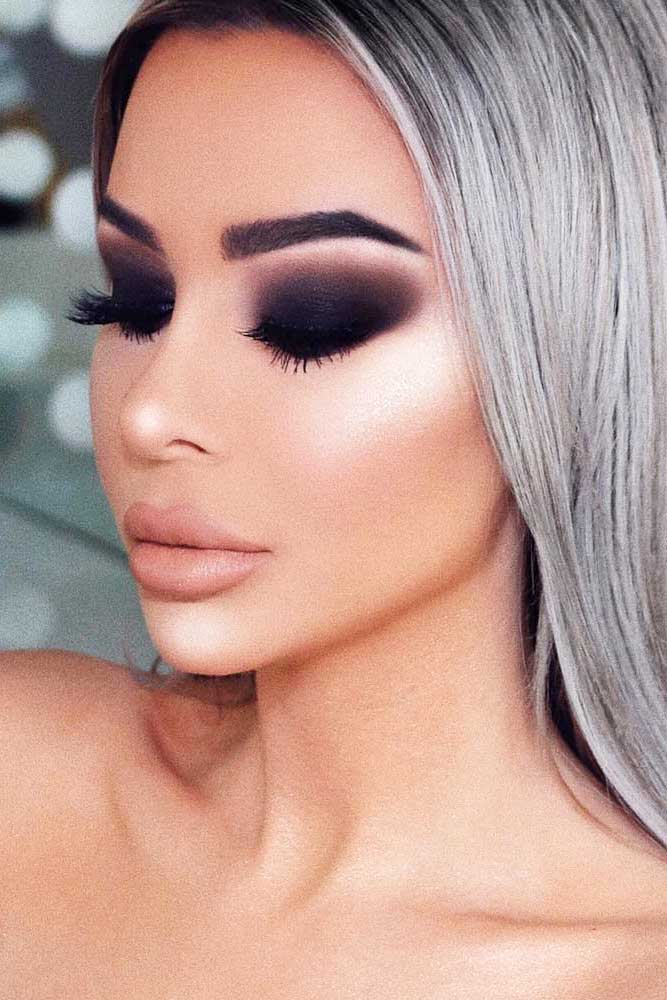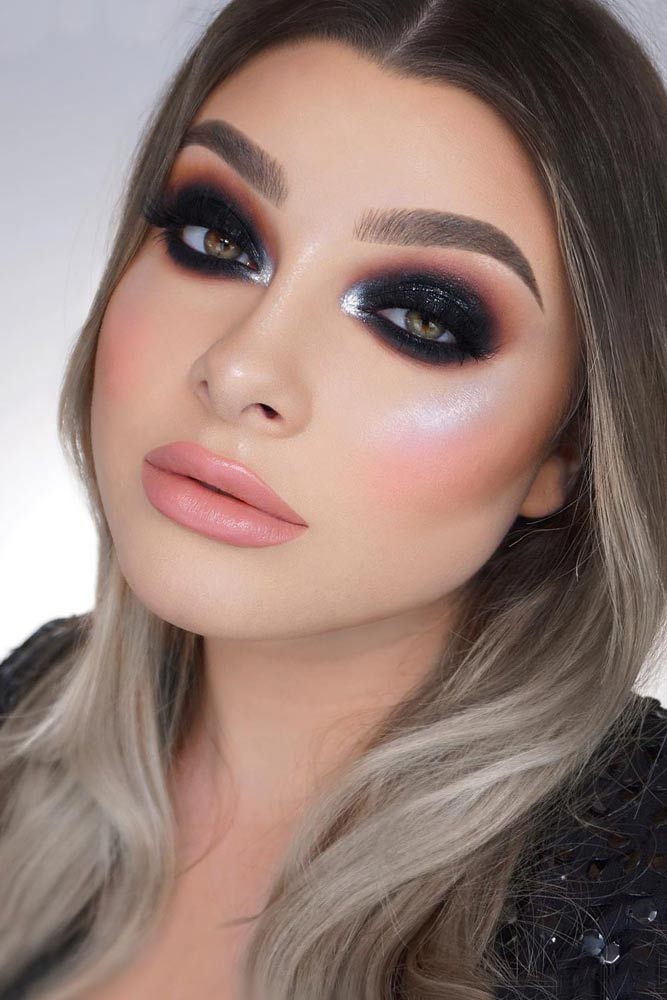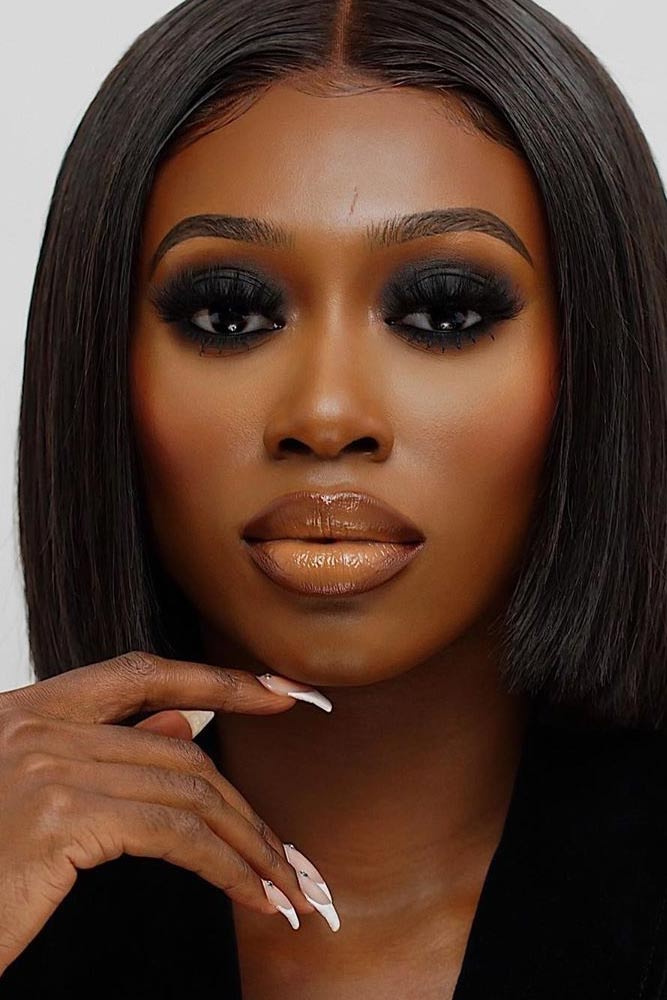 Credit: Instagram/jessicarose_makeup, Instagram/vanitymakeup, Instagram/vanessa_gyimah
Even natural makeup requires using the correct products. Luckily, for the perfect smokey, there are not so many tools required. A large blending brush, a smaller one, and a flat brush. That's it!
Celebrities With Smokey Eyes Makeup
Soft & Shimmery Smokey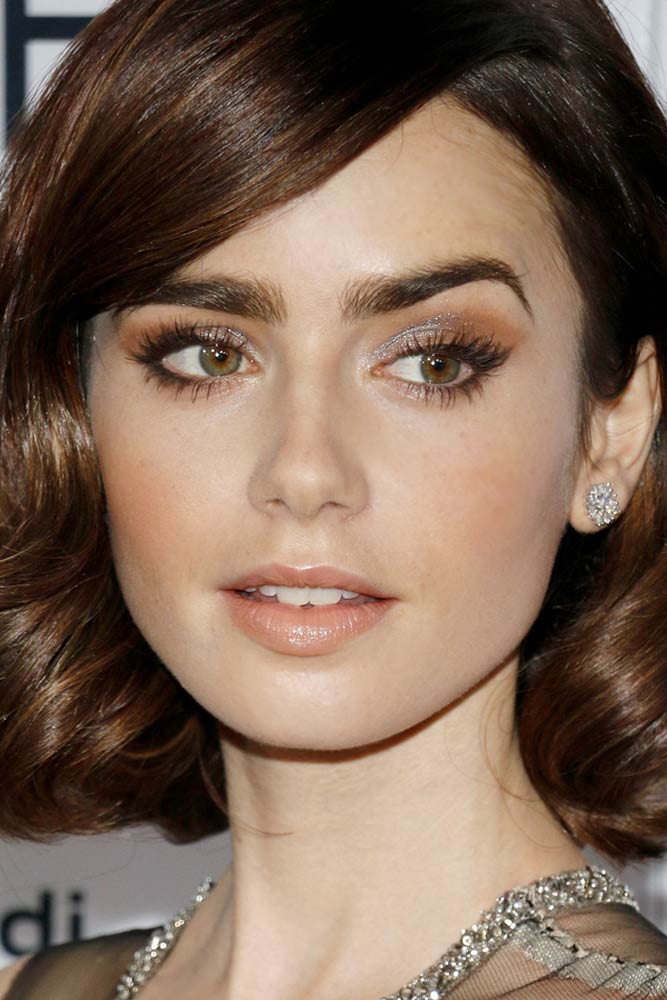 Source: Tinseltown/Shutterstock
Our favorite celebrities will always be the best source of inspiration. Isn't that wise to steal the looks of those who always look flawless? Let's take a soft smokey look of iconic Lily Collins! Two matching brown colors that gently blend with one another and get finished with a shimmery touch. Not only does the look accentuate her elegant outfit but also enliven her eyes.
Classic Black Smokey Eyes With Nude Lips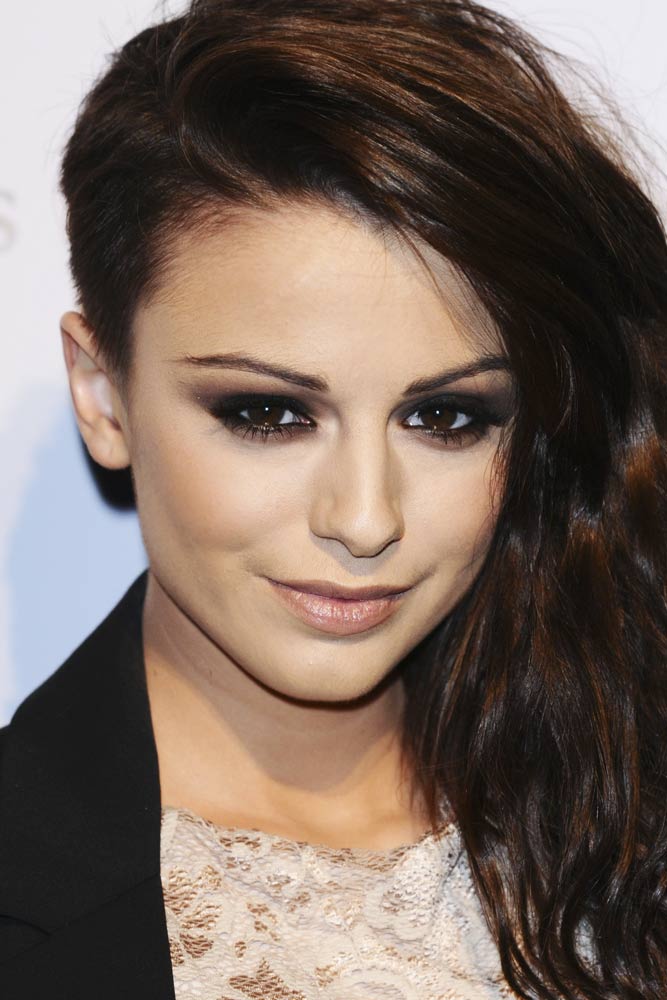 Source: Featureflash Photo Agency/Shutterstock
When going for classics, it's very important to keep the look balanced and authentic. Well, Cher Lloyd's makeup artist is undoubtedly familiar with this smokey rule. The classic idea of black smokey eyes is kept minimalist and restrained with the help of nude finish. In this way, the singer focuses on her perfectly blended, precise makeup while looking punky yet harmonic.
Subtle Brown Smokey With Black Eyeliner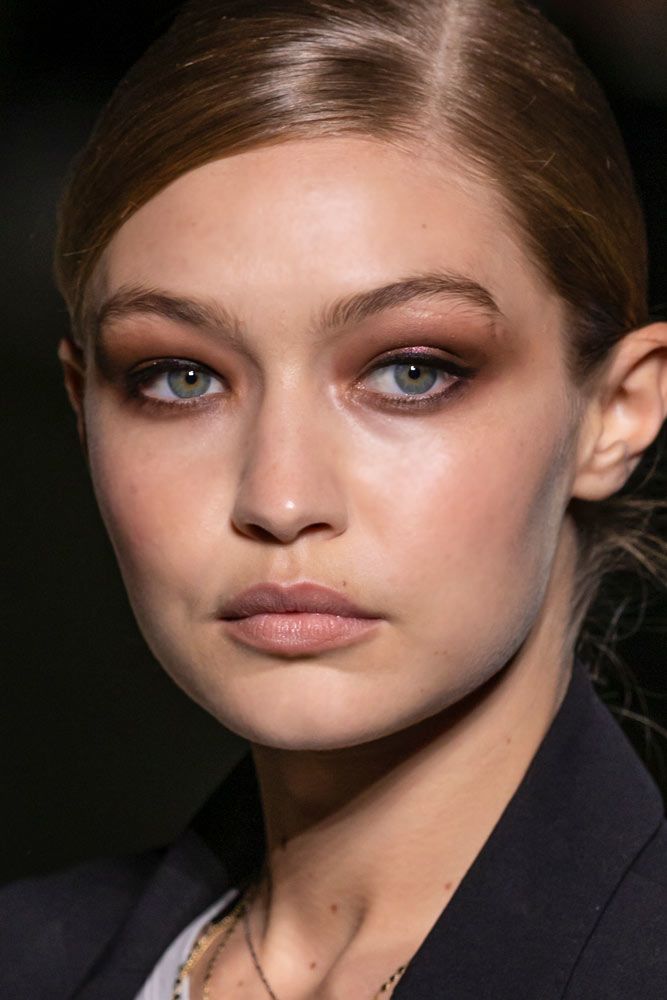 Source: Ovidiu Hrubaru/Shutterstock
Let's be honest, Gigi Hadid is a living example of makeup perfection. The model loves looking natural, and her subtle brown smokey look does stick to the effortlessness. To enhance the look, she finished her subtle play of brown eyeshadow with a slight touch of eyeliner.
Blue Smokey Eyes With Black Smudge Line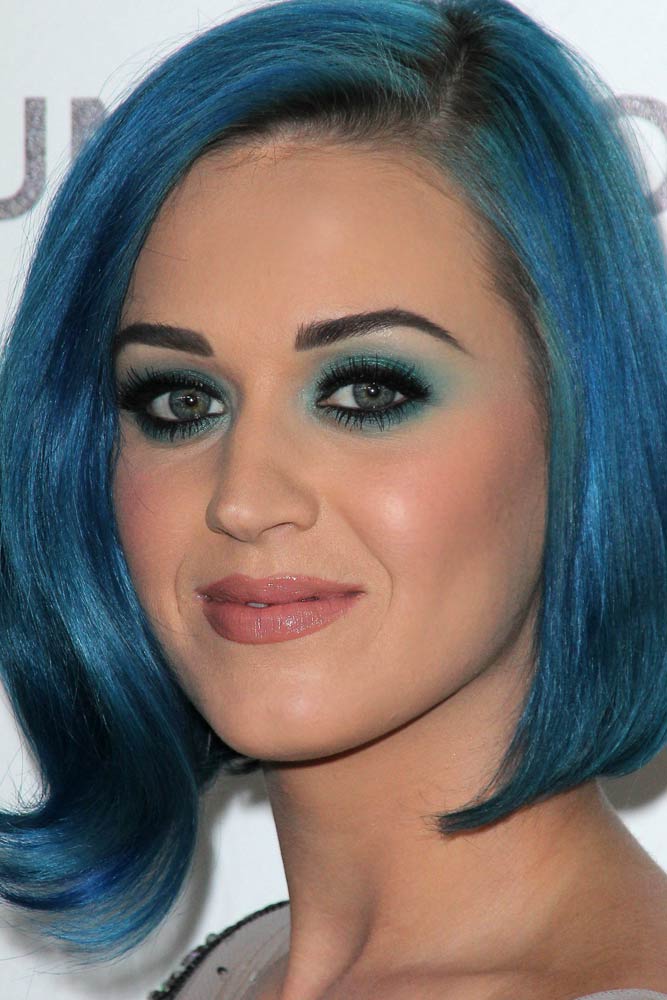 Source: s_bukley/Shutterstock
You can always play around with colors, remember? Needless to say, Katy Perry never forgets about that. This blue smokey is very affectionate and distinctive at the same time, thanks to the black smudge line. So as not to make her eyes look smaller with a light blend of vivid color, she went for the black finish, thus accentuating the whole look as well.
Cat Eyes Smokey With Red Lipstick Makeup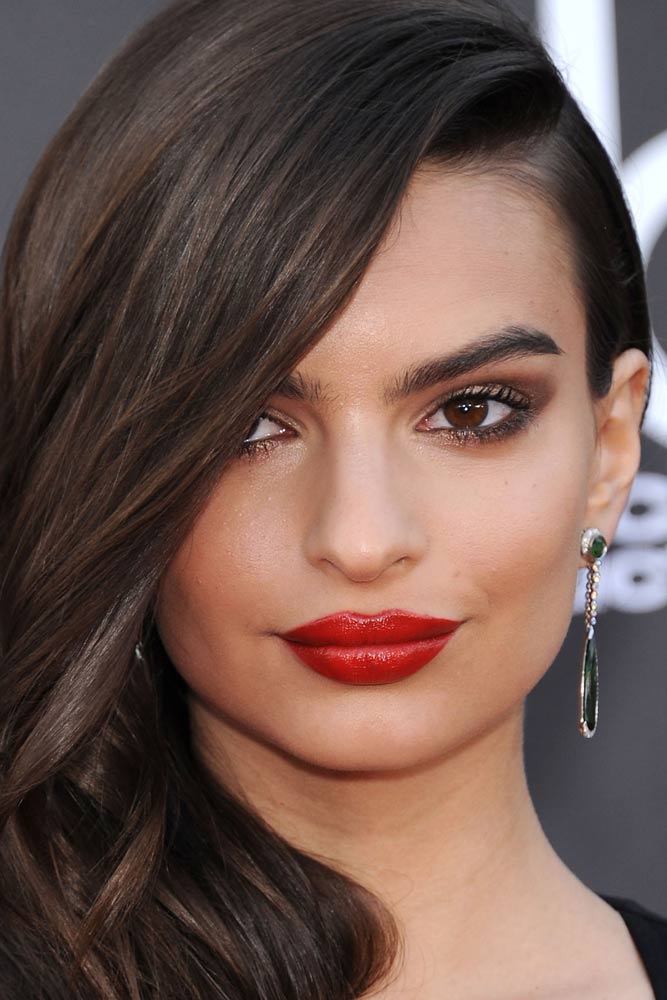 Source: DFree/Shutterstock
Emily Ratajkowski goes on impressing us with unbelievably sexy looks. And the same goes for her makeup looks, of course! The smokey eyes that hit her crease forming a cat-eye shape go ravishingly with her classy red lipstick. Simple and breathtaking, who could ask for more?
Shimmery Smokey Eyes With Eyeliner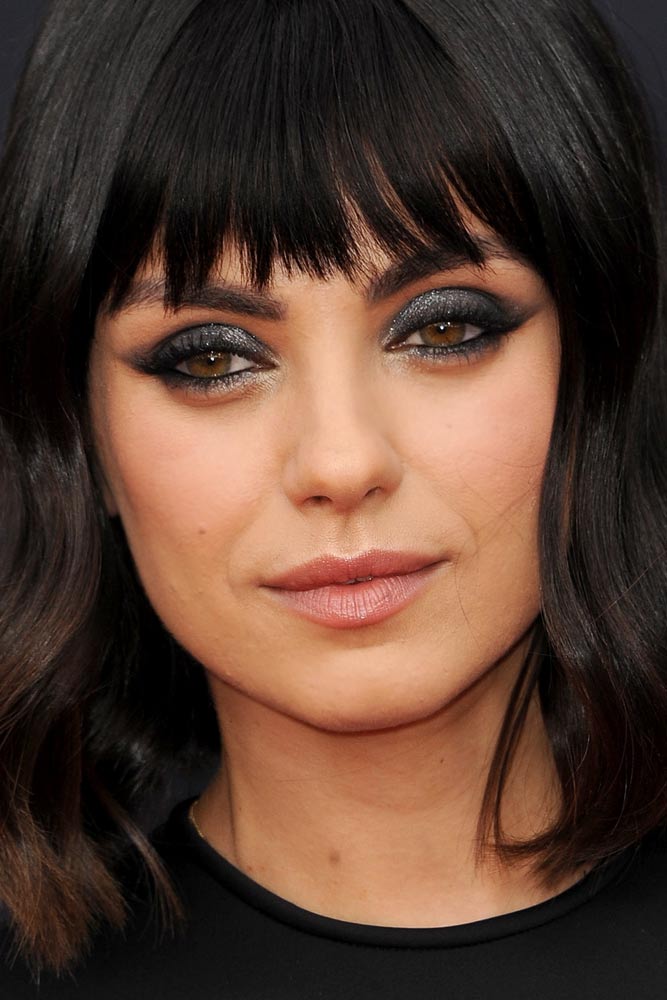 Source: Tinseltown/Shutterstock
Many people wonder how to do eye makeup like Mila Kunis because her eyes are always so gorgeous, whatever movie is on. Here you can reveal one of her secrets: her makeup artist enhances her look by focusing deeply on her crease. As for this particular look, it's stunning for many reasons: it's precise, shiny, and it really suits the actress's eye shape!
Shiny Smokey Eyes With Nude Lipstick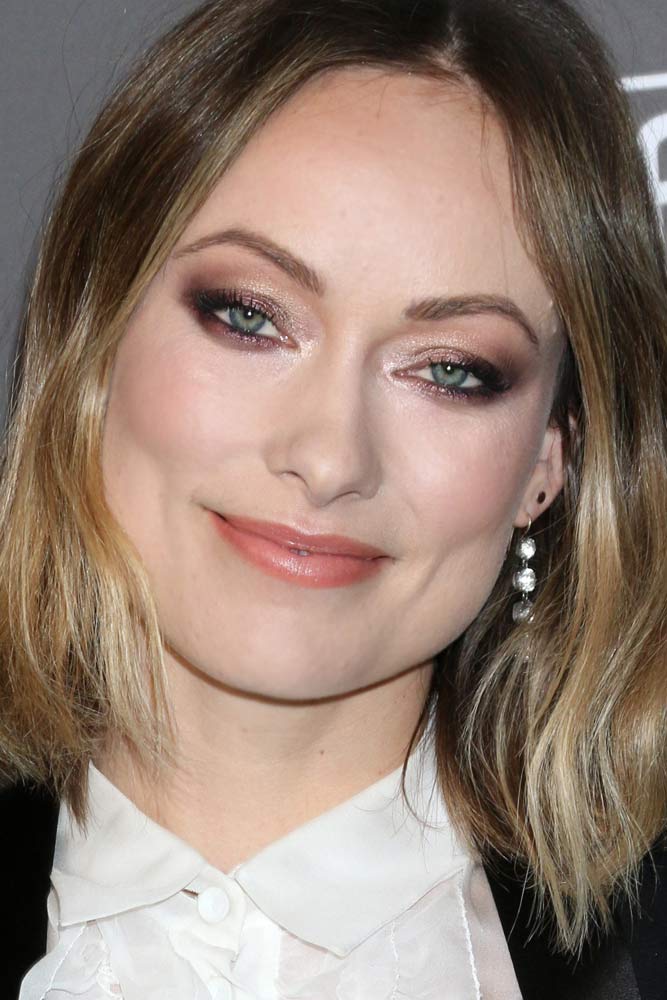 Source: Kathy Hutchins/Shutterstock
Olivia Wilde's eye shape allows her to slay cameras with a seductive glance. And it's not hard to notice that most her looks feature smokey eyes: this eye makeup idea knows how to get the most out of her appearance. Here you can see her wearing a shiny caramel-inspired smokey with a soft black smudge and feminine nude finish on her lips.
Matte & Burgundy Smokey Eyes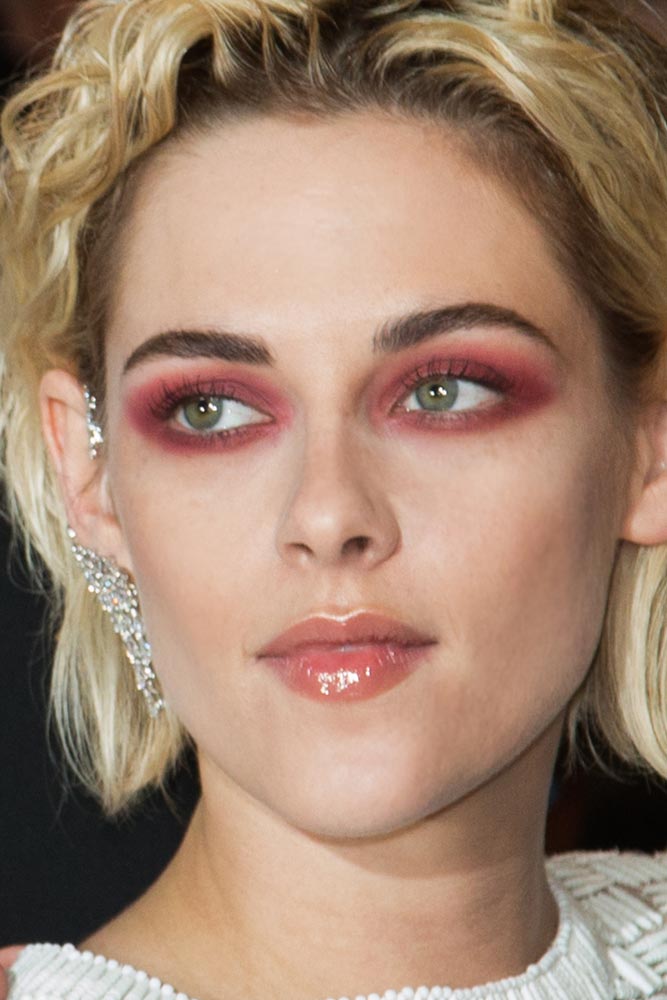 Source: magicinfoto/Shutterstock
Kristen Stewart never loses an opportunity to rock a smokey look, as it appears to be very flattering to her eyes. And this time, she decided to go different by showing up with a matte burgundy smokey as the main and only color. Bold and gold, huh?
Glittery Smokey Eyes Makeup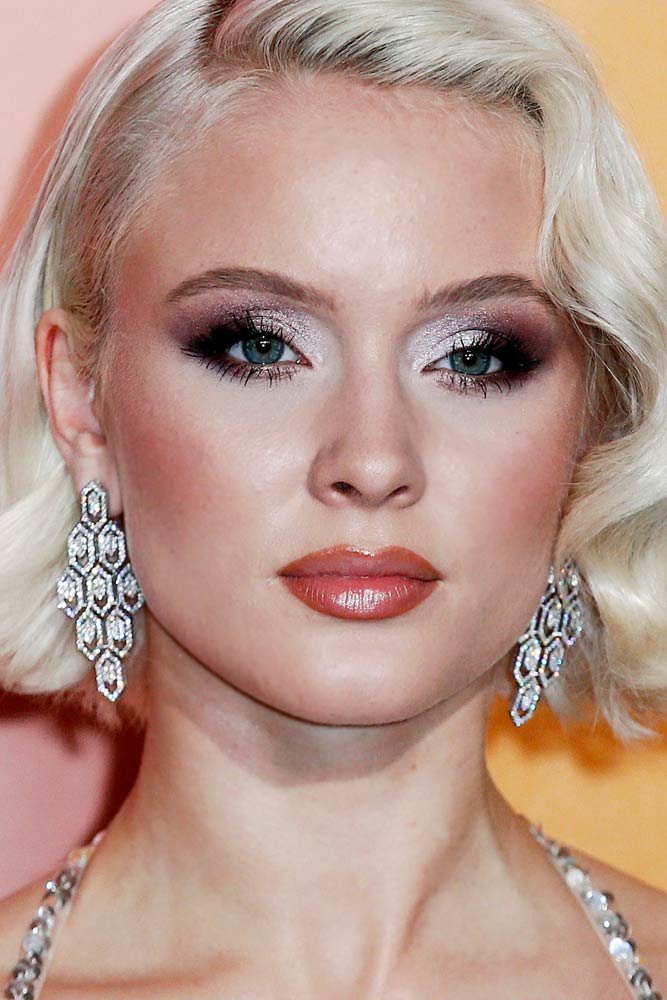 Source: Andrea Raffin/Shutterstock
A red-carpet smokey look. Why not? When some special occasion is just around the corner, and you want your look to be posh and rich, smokey eyes will be there for you. Make sure to copy this Zara Larsson's look: her pointed, glittery eye makeup with saturated black smudge is to die for.
Sparkly & Glam Smokey Eyes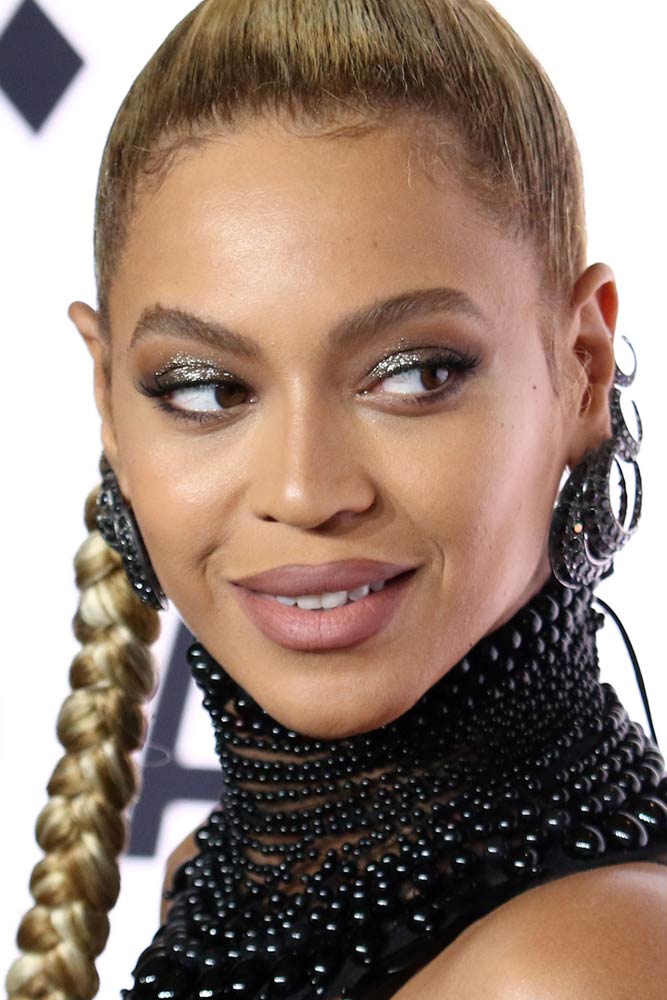 Source: JStone/Shutterstock
Beyonce is a real queen. A queen who knows that when she's about to wear an updo that keeps her face open, the right eye makeup is crucial. And this striking glam smokey with sparkles give the needed definition to her eyes, making the whole look simply perfect.
FAQ: Smokey Eye
How do you do smokey eyes with hooded eyelids?
After you did all the usual steps of prepping your eyes for makeup, apply a light eyeshadow (of a similar to your main color) directly to your crease and a bit higher so you can still see it when your eyes are open.
Apply concealer to your lid. Next, apply a darker color to the same spot slightly above our crease.
Blend in two colors moving outwards to make your eyes look lifted. Take a smaller brush to wing it out.
Put the same dark eyeshadow right on the outer part of your lower lash line and slightly blend it in. Don't drag it all the way to the outer corner.
Apply a very thin layer of black eyeshadow instead of an eyeliner. Keep main accents in the inner and outer corner.
Finish off with mascara and apply highlight on your brow bone.
What colors make Smokey eyes?
You can use any color to create a smokey eye. Choose a dark color to create depth, a lighter hue of this color to blend the edges and a very light, matte or shimmery one to create an accent in the inner corner of your eyes. Popular combinations are black and grey, dark and light brown, you can easily use shades of blue, green, purple, combine glitter and matte eyeshadow, create a dramatic or a softer look.