Choose Your Beautiful Sunflower Tattoo With Us
A sunflower tattoo is a great idea if you want to choose your design from the floral theme. Why? Well. It is original and not so popular so your tattoo will stand out from others. Also, it can be done in so many great techniques that will make it look in its own interesting way. What do you think? We love how colorful and meaningful this tattoo option is. Are you curious to know more? Then read below to get to know more about it. We have prepared the best tattoo ideas for you!
Source: debrartist via Instagram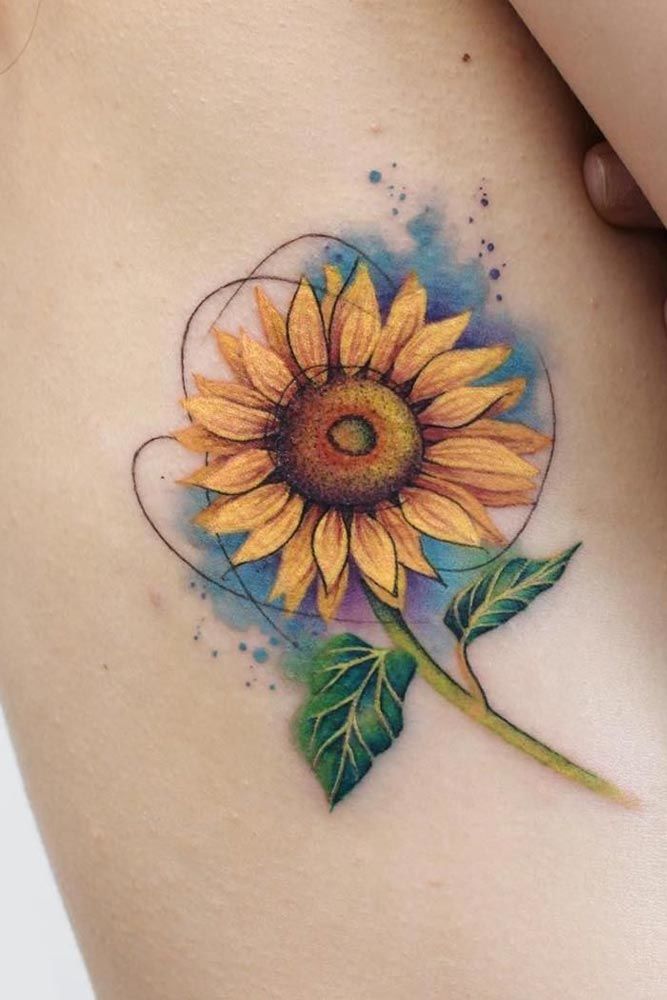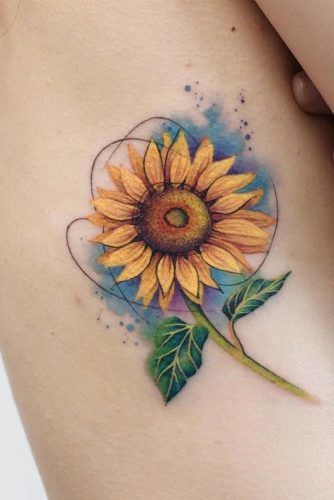 What do you know about the meaning of such a beautiful flower tattoos? There are so many. However, the most popular one is, of course, connected with love. A sunflower is believed to be a love symbol if to talk more precisely it is thought to save your love towards the person till the end of your days. It is undeniable that in different cultures they are seen differently. For example, Chinese people have seen luckiness, happiness, and longevity in it, while Christians connected this yellow flower with their belief in God.
You can also come across a belief that a sunflower tattoo is a symbol of rebirth. The person who has it is seen as the one who enters a new period of life, opening a new chapter in their book of destiny. People usually think that this tattoo will inspire them for greater things in life, motivate to move upwards.
Nowadays it is heard more and more that a sunflower tattoo symbolizes devotion and thankfulness for the life that is waiting ahead. Size matters as well. So choose carefully. If you want a bigger tattoo, it will show the dedication you have in life. If the smaller size is your cup of tea, then it will symbolize worship and your belief in the supreme.
Significance of a Sunflower Tattoo
Source: uyenle.tattoo via Instagram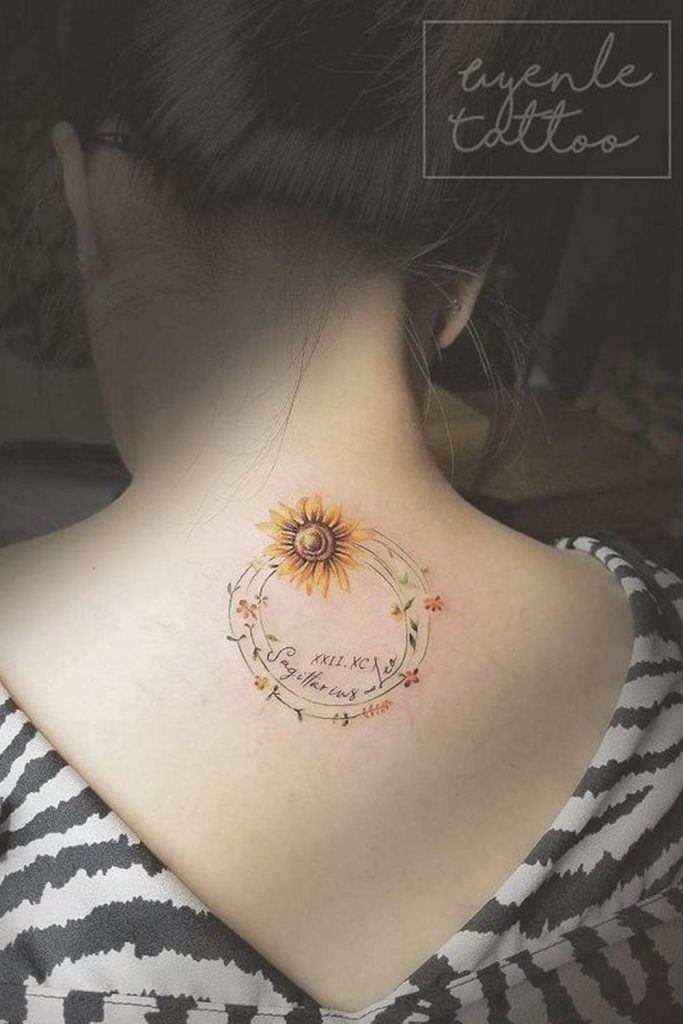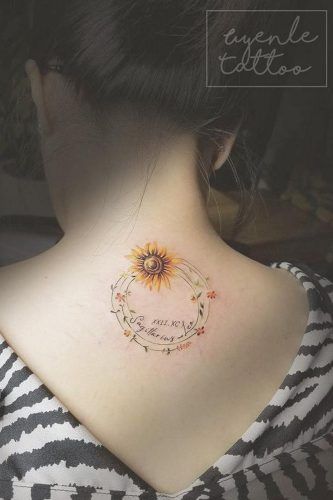 Sunflower tattoos for women are usually taken for their positivity in life. Usually, people see it as their positive outlook, inner world, and emotions. Also, a sunflower tattoo is often used to show remembrance. Those who want to show the world that they are in love can choose this flower for a pair tattoo. What do you think? Some people prefer to decorate their sunflower tattoos with different details like dates and phrases. These make the tattoos stand out from other sunflower ideas.
Sunflower Tattoo Ideas
Simple Sunflower Tattoo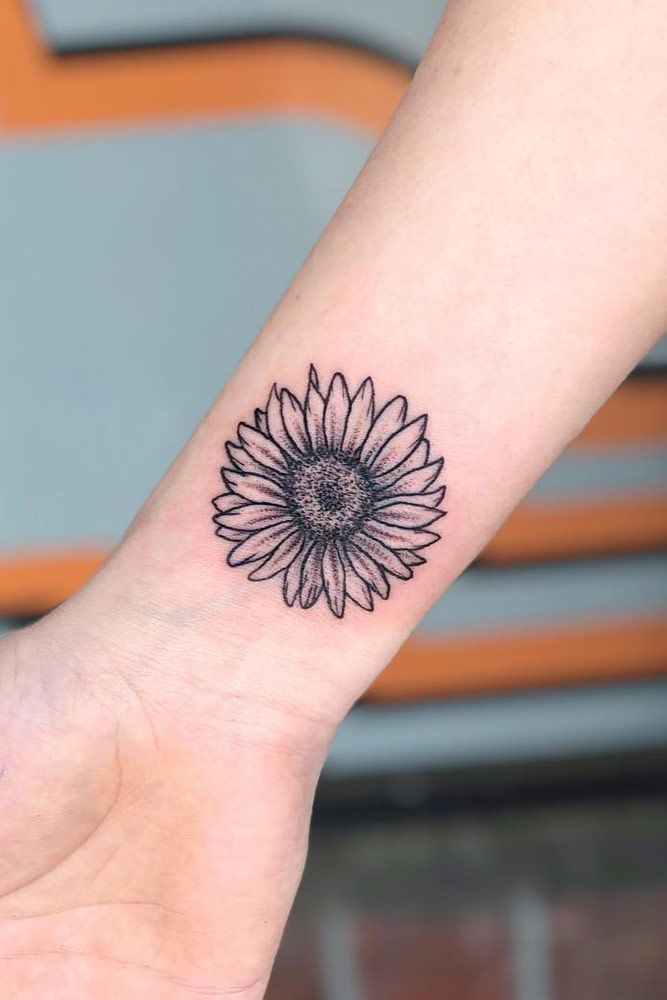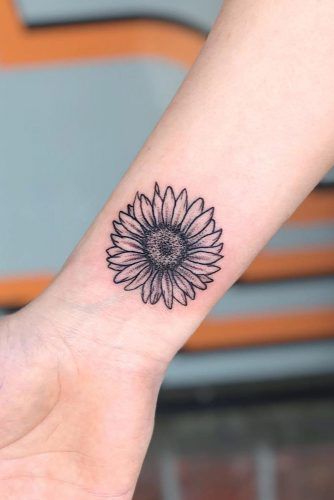 A simple sunflower tattoo is a beautiful choice for those who think that simplicity is the key to beauty. Use a different thickness of the lines to make it look different and the coloring won`t be necessary.
Source: beccabootattoos via Instagram
Sunflower Tattoo Design With Geometric Elements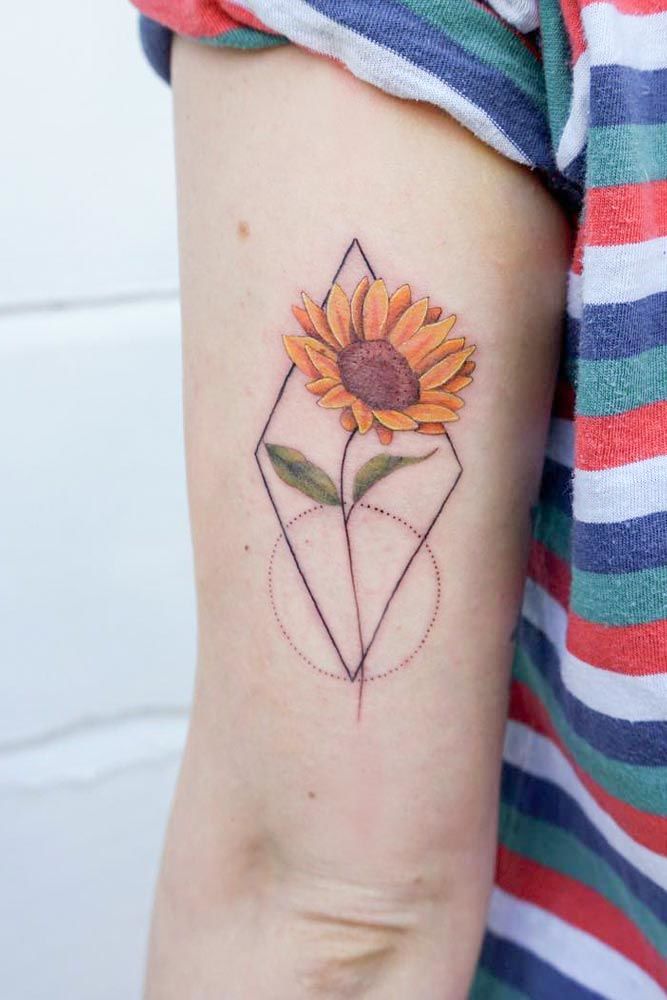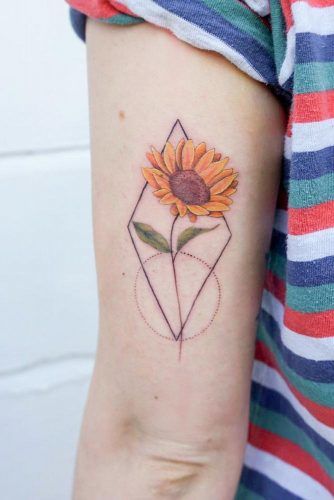 Geometric elements recently have started to gain popularity and we understand why. They alone look super exciting and extraordinary but paired with something they look even better. What about combining a sunflower tattoo with a geometric figure?
Source: miamelleo_tattoo via Instagram
Geometric Sunflower Tattoo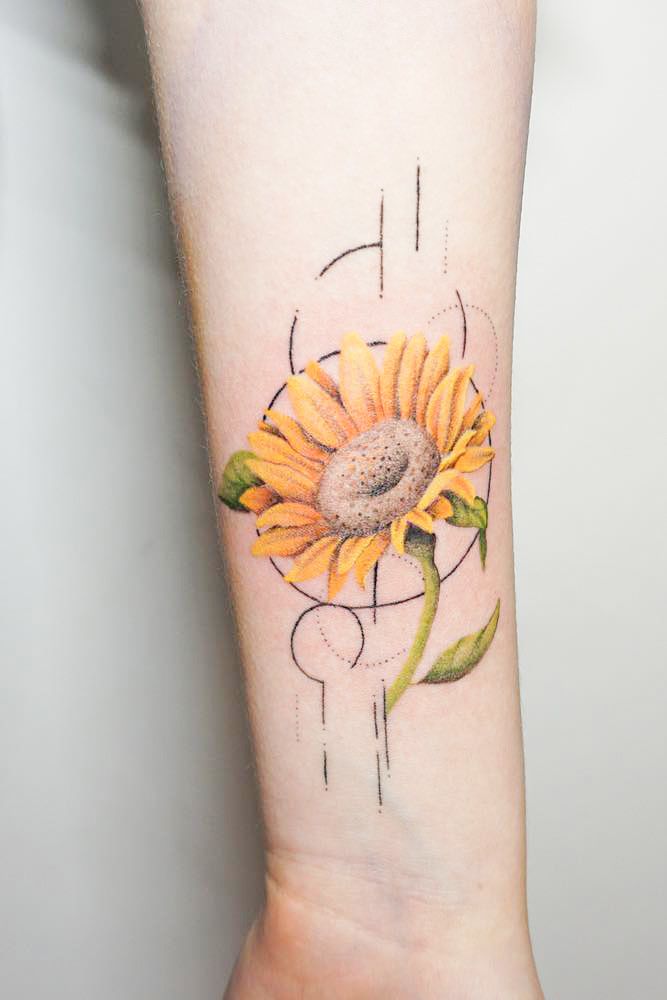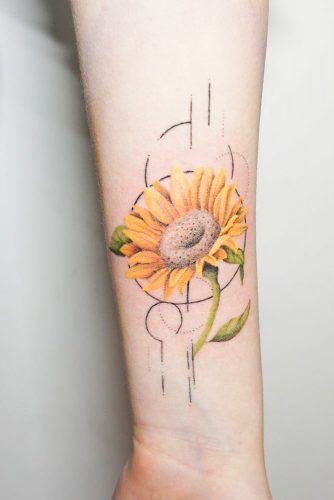 Another idea is a geometric sunflower tattoo idea is about creativity. Just add some lines to your design and your idea will look completely different from the beginning. Modern and good looking it is the reflection of today`s world.
Source: miamelleo_tattoo via Instagram
Black And White Sunflower Tattoo Idea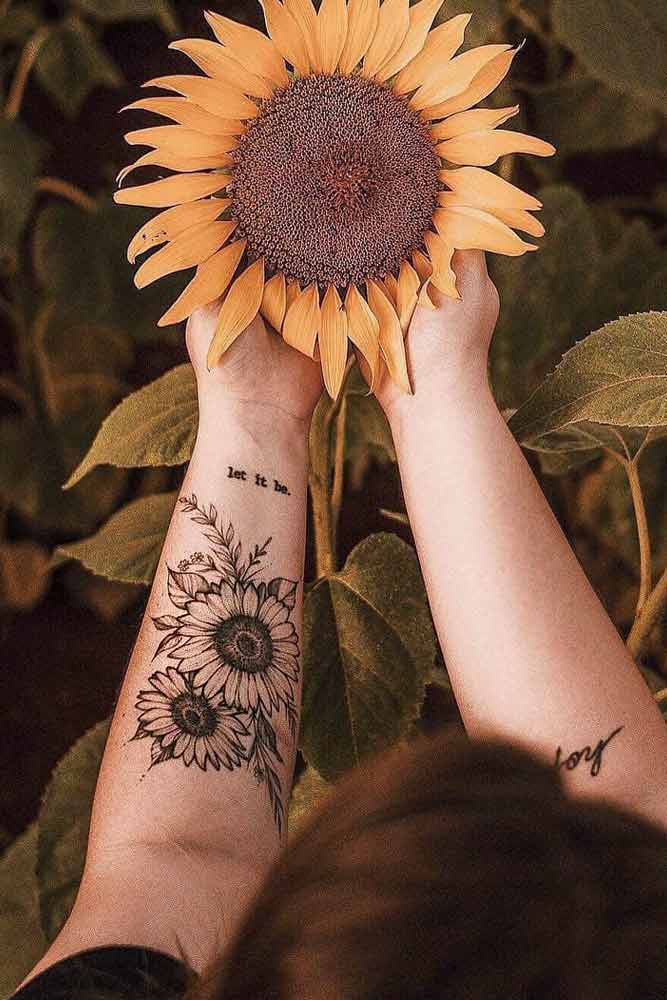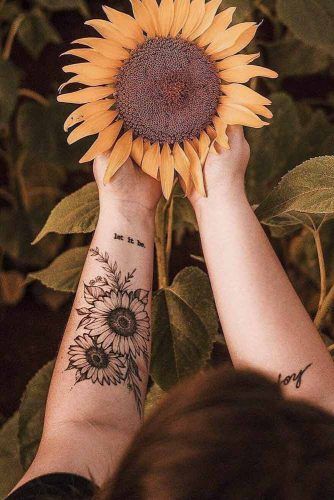 A black and white sunflower tattoo is a wonderful idea for those who don`t like colorful tattoos. Simple, minimalistic and super good looking it will be suitable for any time.
Source: amandapelegriinivia Instagram
Small Sunflower Tattoo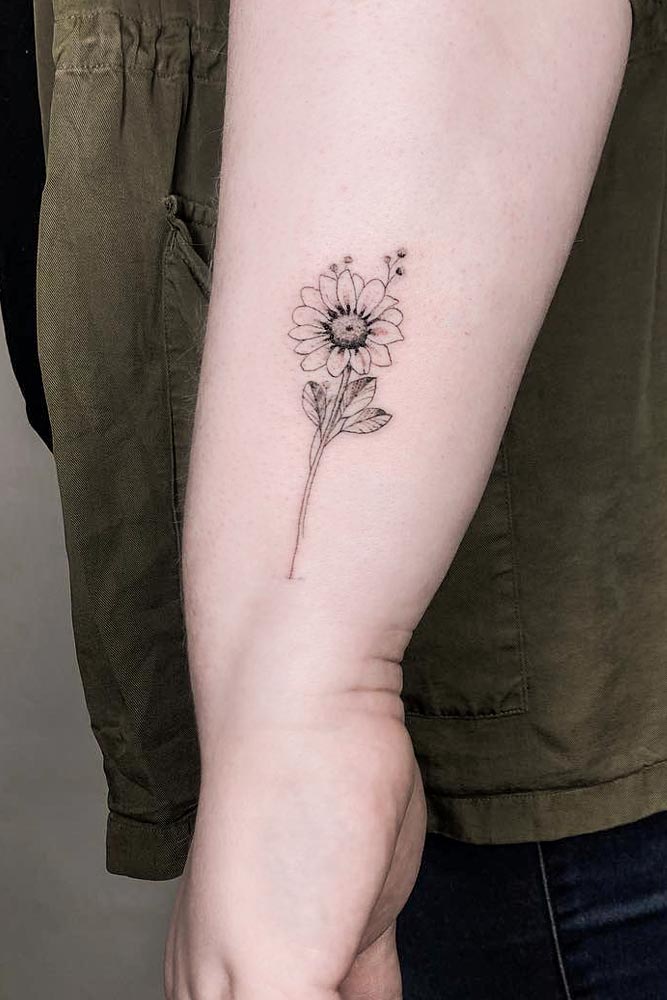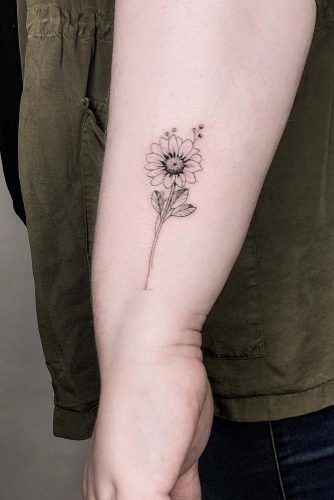 A small sunflower tattoo will look so good! It is a wonderful idea for those ladies who prefer tiny designs. Sometimes smaller tattoos have more history than bigger ones.
Source: dagmarderksen via Instagram
Watercolor Sunflowers With Butterfly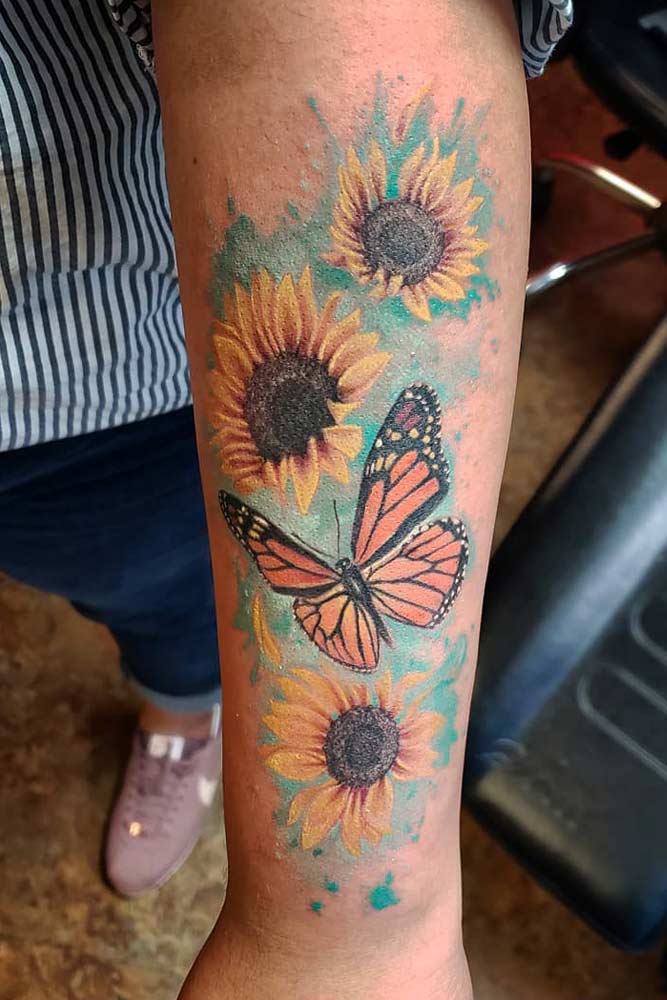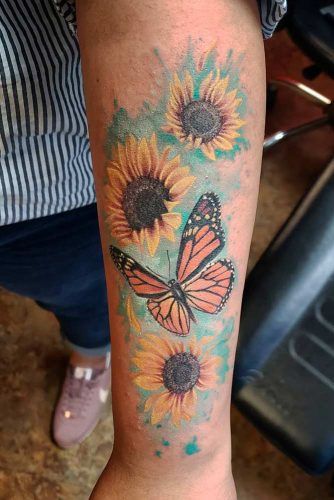 A butterfly is naturally looking with any floral ideas. Have you considered adding it to your sunflower? It will look so innocent and gorgeous there that you will fall in love with this idea. Add colors and you will be won over!
Source: birdtattoos via Instagram
Flower Bouquet With Sunflowers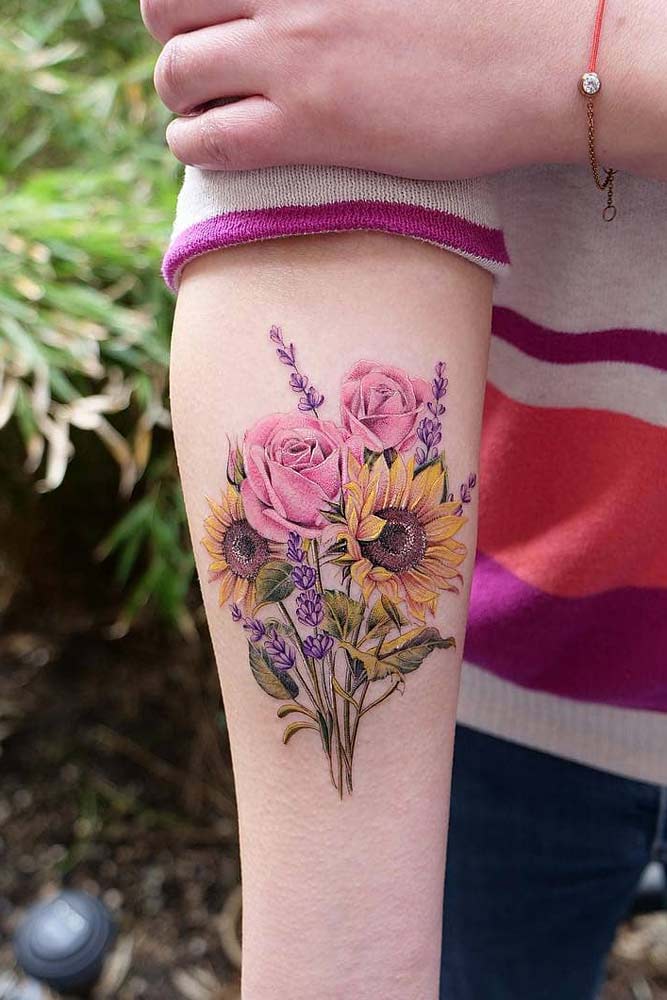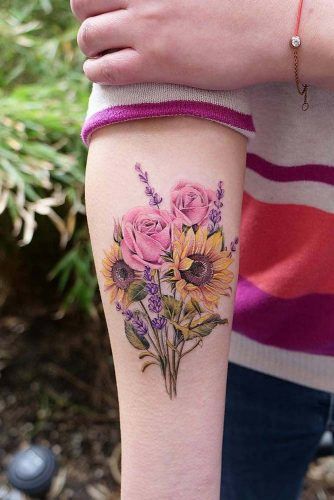 A flower bouquet will look amazing. Carefully and thoughtfully choose the type of flowers you would want to be there and don`t forget to put in a sunflower for more color.
Source: rosaseternascuenca via Instagram
Geometric Black And White Sunflower Tattoo Design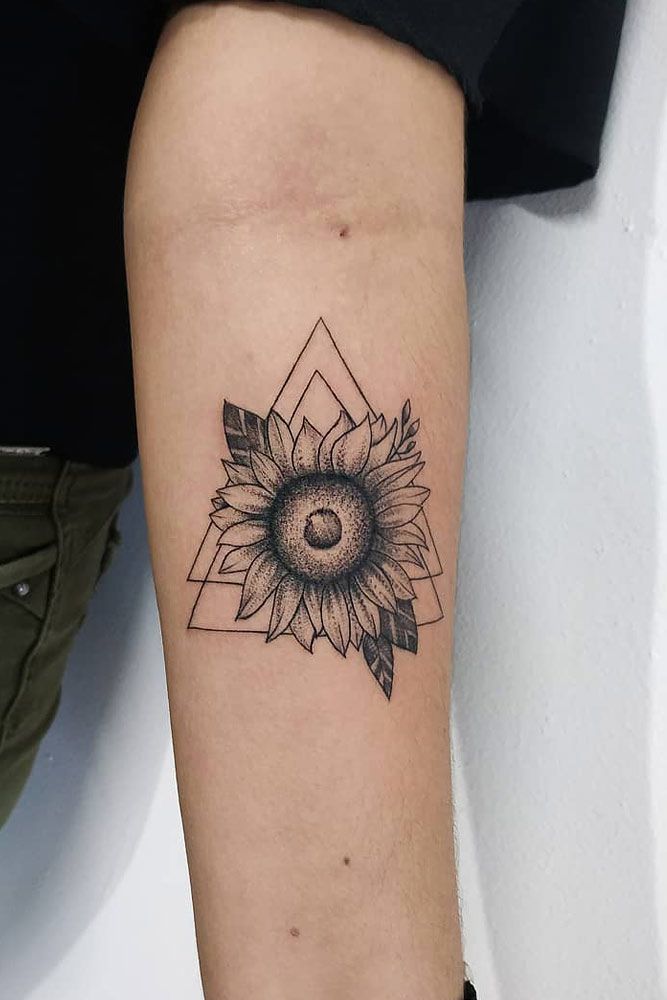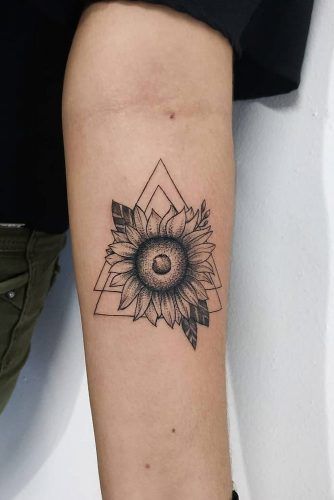 Wow is all that we think about this geometric idea. Another figured tattoo that will win your heart. A flower looks so great with thin fragile lines.
Source: crenca13 via Instagram
Sunflower Tattoo Small Design For Arm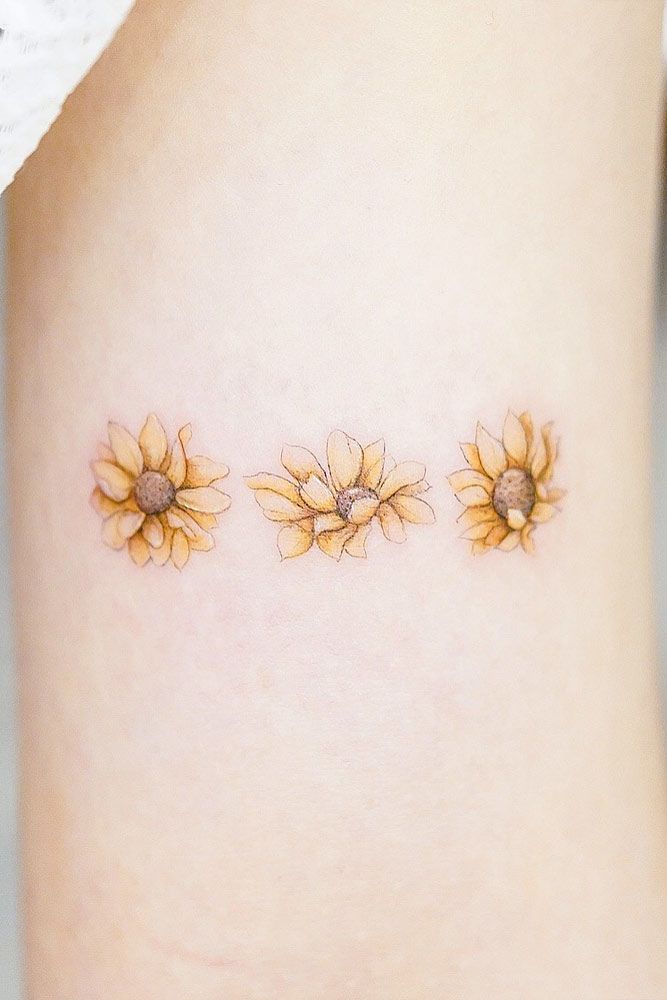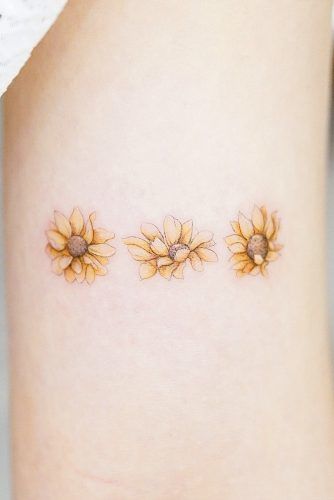 If tiny tattoos are your definition of beauty then don`t hesitate and put in your skin some color with the help of sunflower tattoos. Make them really small and you will love the way they will turn out to be.
Source: mini_tattooer via Instagram
Watercolor Sunflower Tattoo Design For Shoulder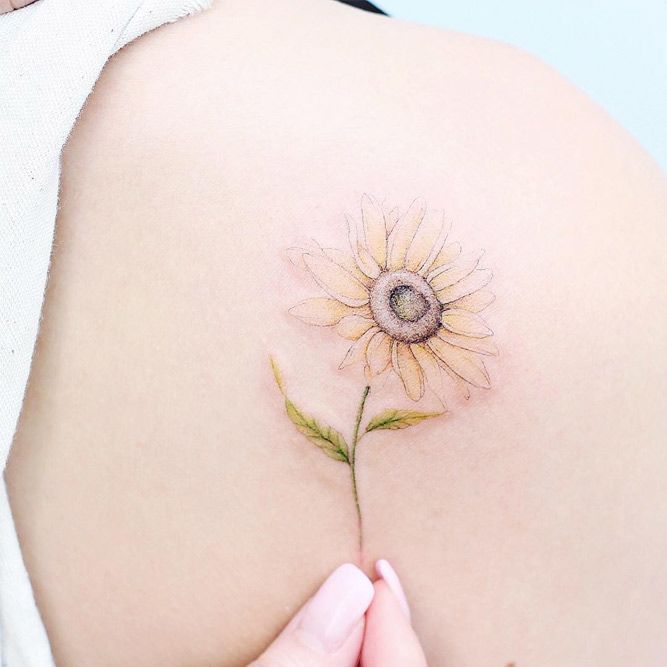 A watercolor tattoo is a pure definition of creativity and beauty. Really thin lines and blurred colors will bring a special atmosphere to your flower tattoo.
Source: mini_tattooer via Instagram
Traditional Style Sunflower Shoulder Tattoo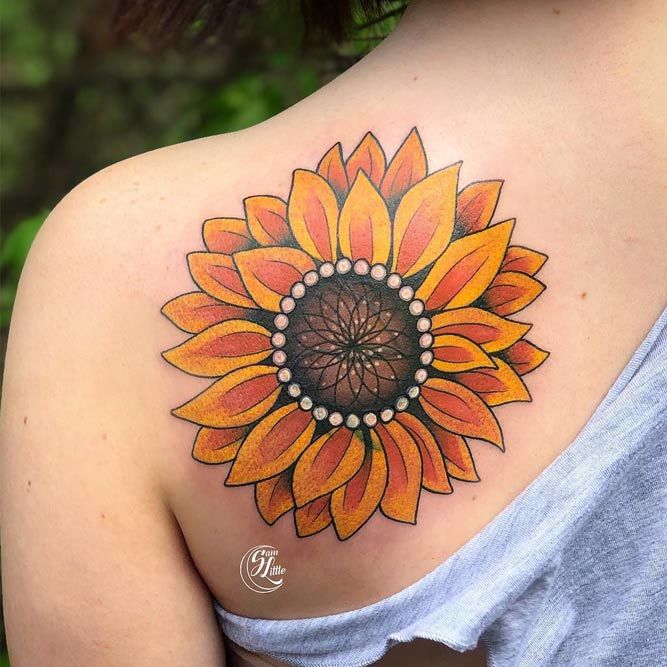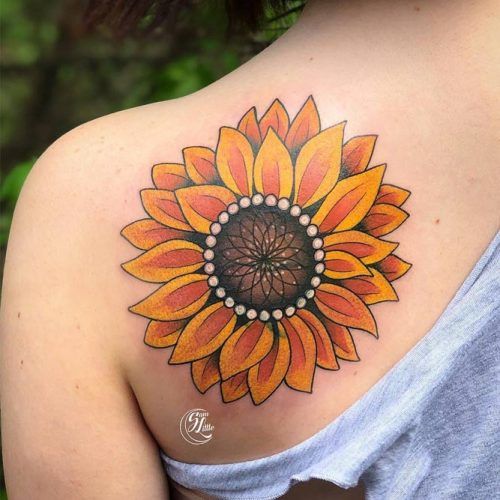 The back of your shoulder is a place for creativity. You can easily cover it or it will pick through your clothes intriguing people around you. Make the tattoo colorful and bright! Bring colors to your life forever and you will love it every day.
Source: samjlittle via Instagram
Sunflower Thigh Tattoo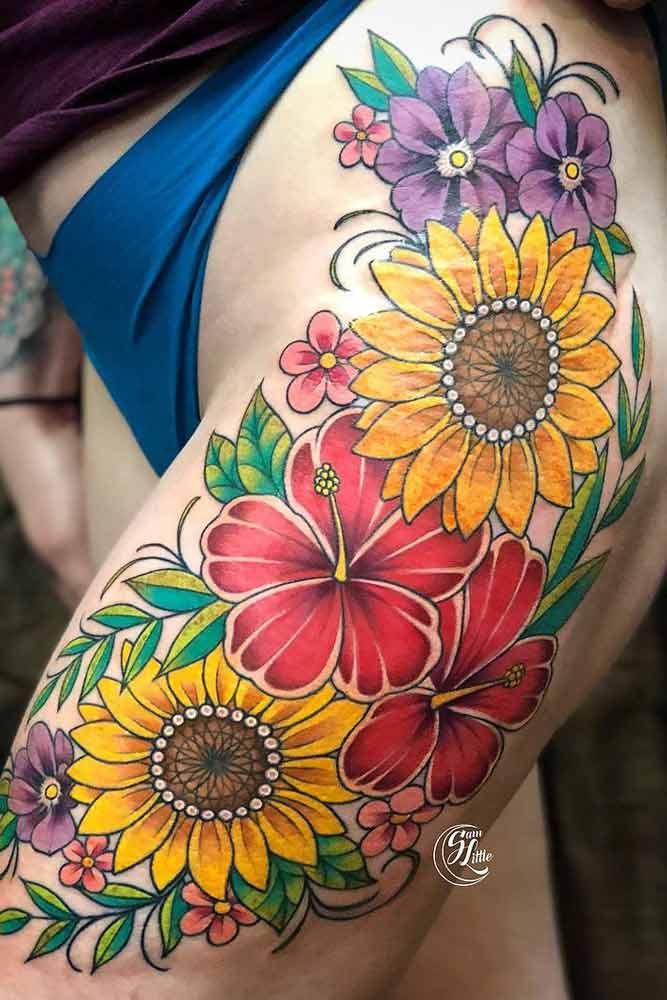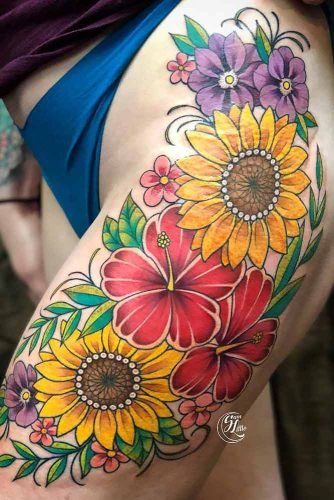 Thigh tattoos usually are of a bigger size and of course more creative because of the larger space. We love how colorful you can make your tattoos here and how gorgeous it will make your body look.
Source: samjlittle via Instagram
Small Minimalist Sunflower Tattoo Idea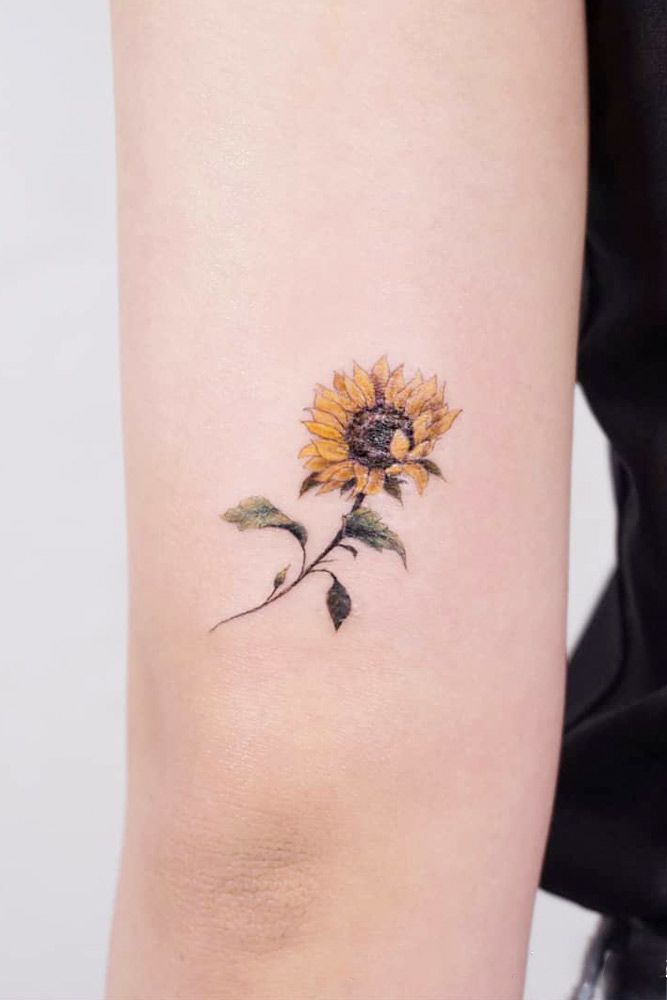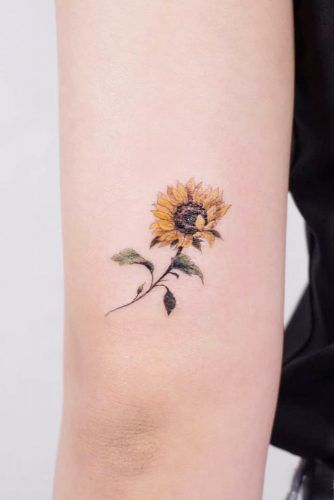 A small and minimalistic sunflower tattoo idea will for sure bring into life the tenderness and atmosphere that you associate with a sunflower. What do you think about such a beauty?
Source: handitrip via Instagram
Small Simple Sunflower Tattoo For Leg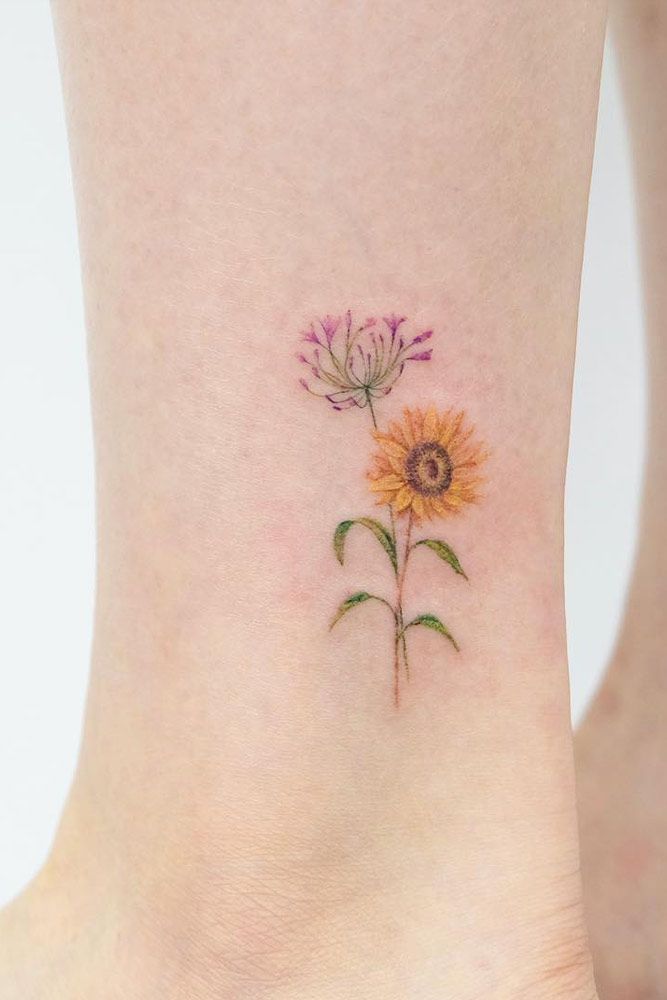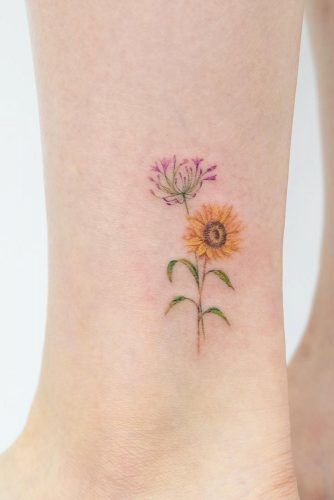 The ankle tattoos look so fragile and cute, especially if they are really tiny. What do you think about placing a sunflower tattoo there?
Source: siyeon_tattoo via Instagram
Big Sunflower Tattoo For Arm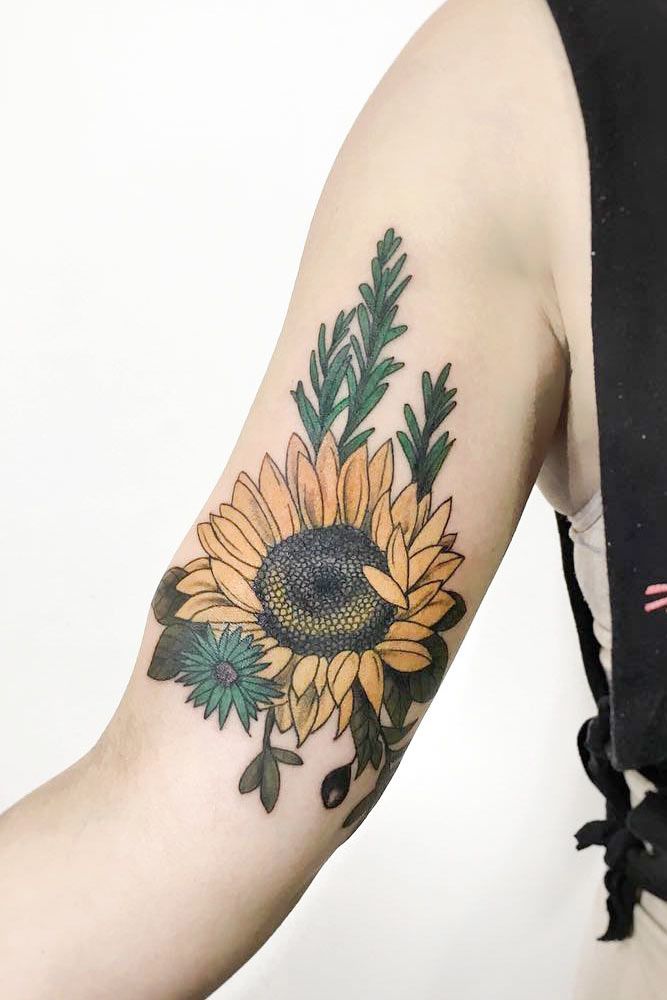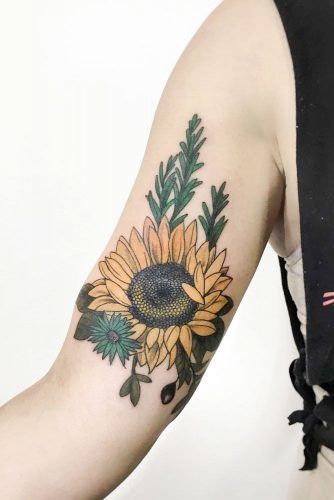 An arm tattoo can be of big size as well. What technique do you prefer? The massive size and ticker lines will look stunning in that placement.
Source: naleak_tattoo via Instagram
There are so many various sunflower tattoo ideas that will make your heart beat faster. Have you chosen the one for yourself? We bet there is one for you for sure in this collection.
FAQ: Sunflower Tattoo
Are sunflower tattoos Basic?
Sunflower tattoo can be performed in various techniques from minimal to complex designs. You don't see people get those tattoos often. Sunflower tattoo bears a clear execution and you can tell what the artist has depicted from the first glance.
Do yellow tattoos last?
Sun exposure and skin thickness affect how well it can last. A vibrant tattoo that is frequently exposed to the sun, can only last for a few years. To prolong the durability of it, you need to put on sunscreen and keep it moisturized. Moreover, the size of it matters, the smaller tattoo is more likely to fade away faster.