A sunflower tattoo is a great idea if you want to choose your design from the floral theme. Why? Well. It is original and not so popular so your tattoo will stand out from others. Also, it can be done in so many great techniques that will make it look in its own interesting way. What do you think? We love how colorful and meaningful this tattoo option is. Are you curious to know more? Then read below to get to know more about it. We have prepared the best tattoo ideas for you!
*We may earn money from affiliate links on this page. Please check out our disclosure policy for more details.
Different Interpretations of a Sunflower Tattoo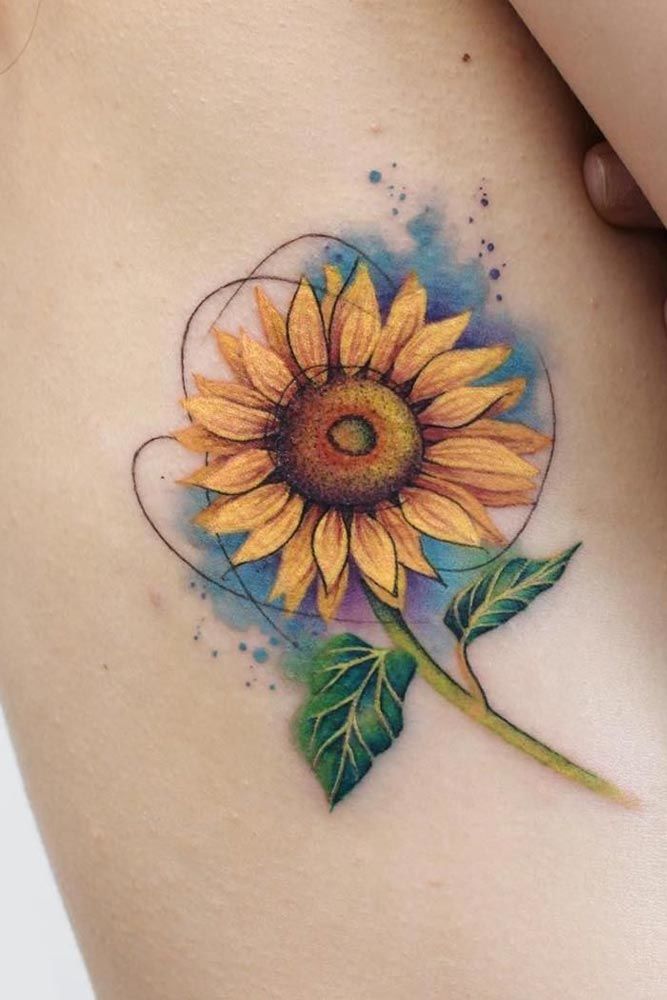 Credit photo: Instagram.com/debrartist
What do you know about the meaning of such a beautiful flower tattoos? There are so many. However, the most popular one is, of course, connected with love. A sunflower is believed to be a love symbol if to talk more precisely it is thought to save your love towards the person till the end of your days. It is undeniable that in different cultures they are seen differently. For example, Chinese people have seen luckiness, happiness, and longevity in it, while Christians connected this yellow flower with their belief in God.
You can also come across a belief that a sunflower tattoo is a symbol of rebirth. The person who has it is seen as the one who enters a new period of life, opening a new chapter in their book of destiny. People usually think that this tattoo will inspire them for greater things in life, motivate to move upwards.
Nowadays it is heard more and more that a sunflower tattoo symbolizes devotion and thankfulness for the life that is waiting ahead. Size matters as well. So choose carefully. If you want a bigger tattoo, it will show the dedication you have in life. If the smaller size is your cup of tea, then it will symbolize worship and your belief in the supreme.
Sunflower Tattoo's Unique Significance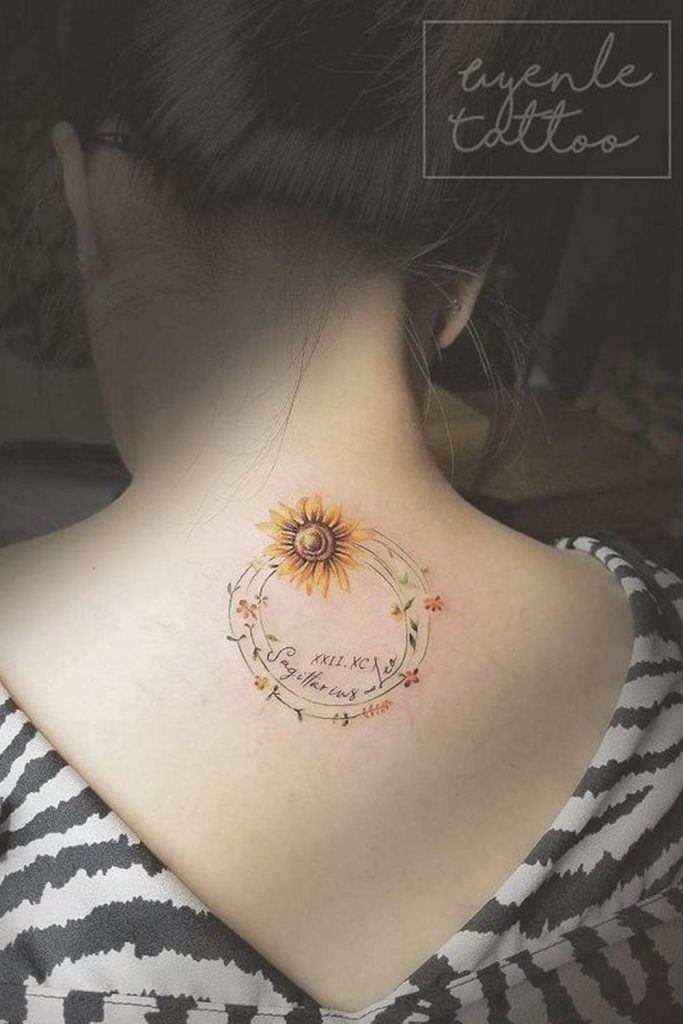 Credit photo: Instagram.com/uyenle.tattoo
Sunflower tattoos for women are usually taken for their positivity in life. Usually, people see it as their positive outlook, inner world, and emotions. Also, a sunflower tattoo is often used to show remembrance. Those who want to show the world that they are in love can choose this flower for a pair tattoo. What do you think? Some people prefer to decorate their sunflower tattoos with different details like dates and phrases. These make the tattoos stand out from other sunflower ideas.
Useful Sunflower Tattoo Aftercare Tips
Credit photo: instagram.com/josiesexton
i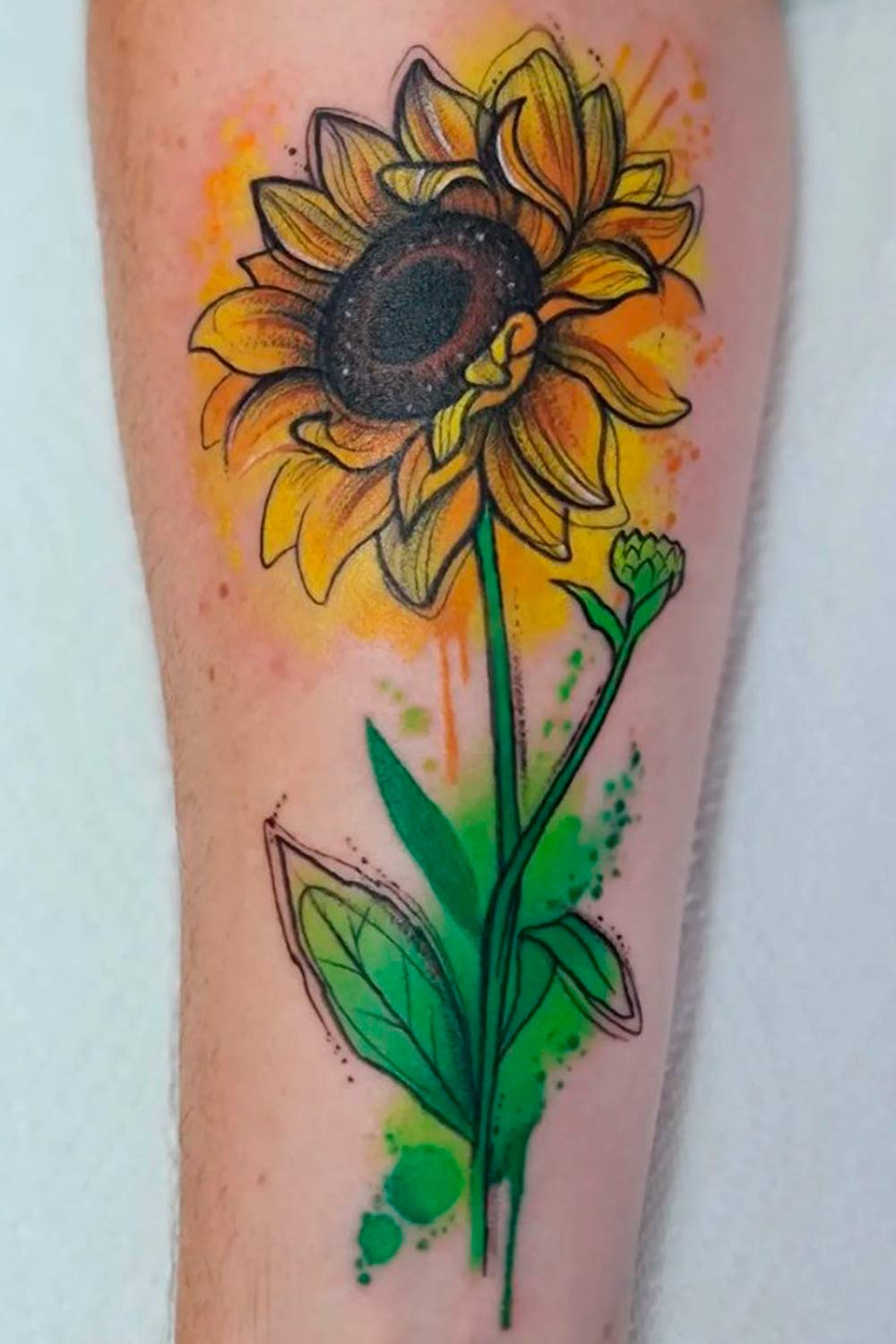 Credit photo: instagram.com/tattooist_banul
i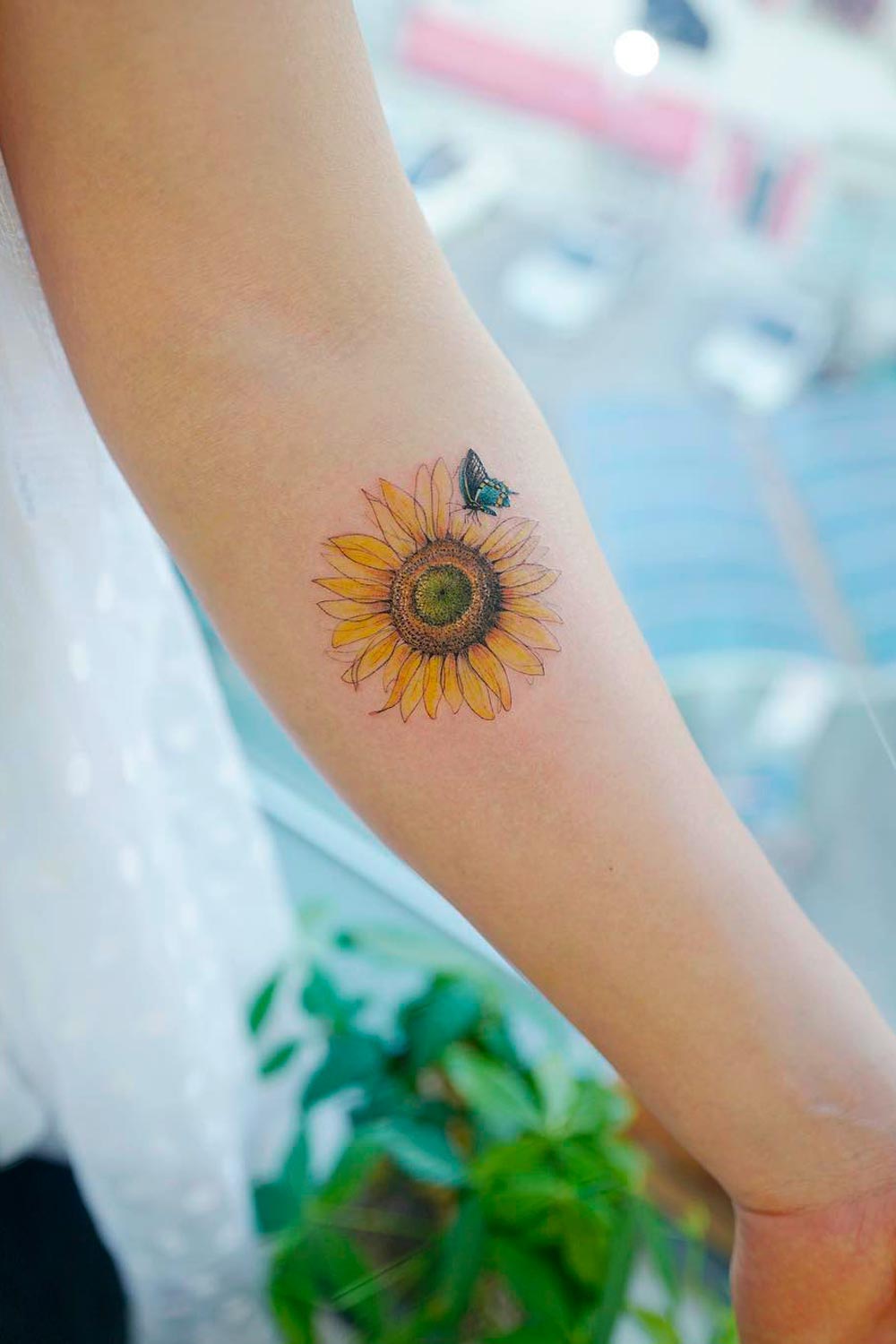 /
Heading home after the tattoo session makes you feel like the deal is sealed. However, your design is finished only after the tat is fully healed, and it takes proper care to prevent infections. Use these tips to succeed with the task effectively:
Keep your design clean. Use mild soap without scent for the purpose. Pat the area dry.
Don't soak in water after getting tattooed. Avoid swimming pools, baths, and ocean water for at least a fortnight after the last session.
Don't go into the sun with your tattoo uncovered. UV rays have a harmful effect on the ink. Use sunscreen when it's impossible to keep the design clothed.
Don't scratch your tat, no matter the itch.
Where do flower tattoos look best?
How should a tattoo look after 3 days?
Can a tattoo fully heal in 3 weeks?
Sunflower Tattoo Maintenance
Credit photo: instagram.com/playground_tat2
i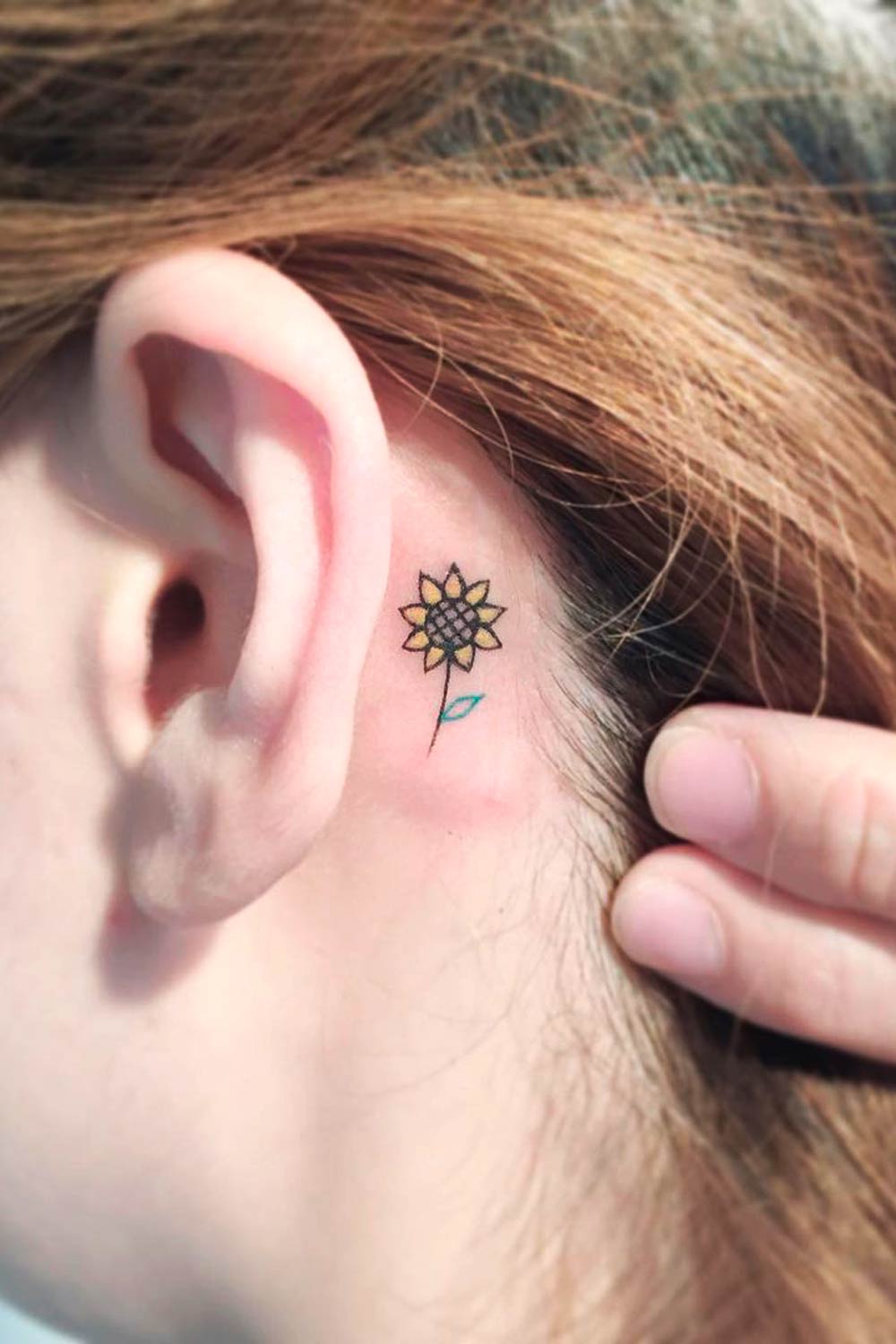 Credit photo: instagram.com/uyenle.tattoo
i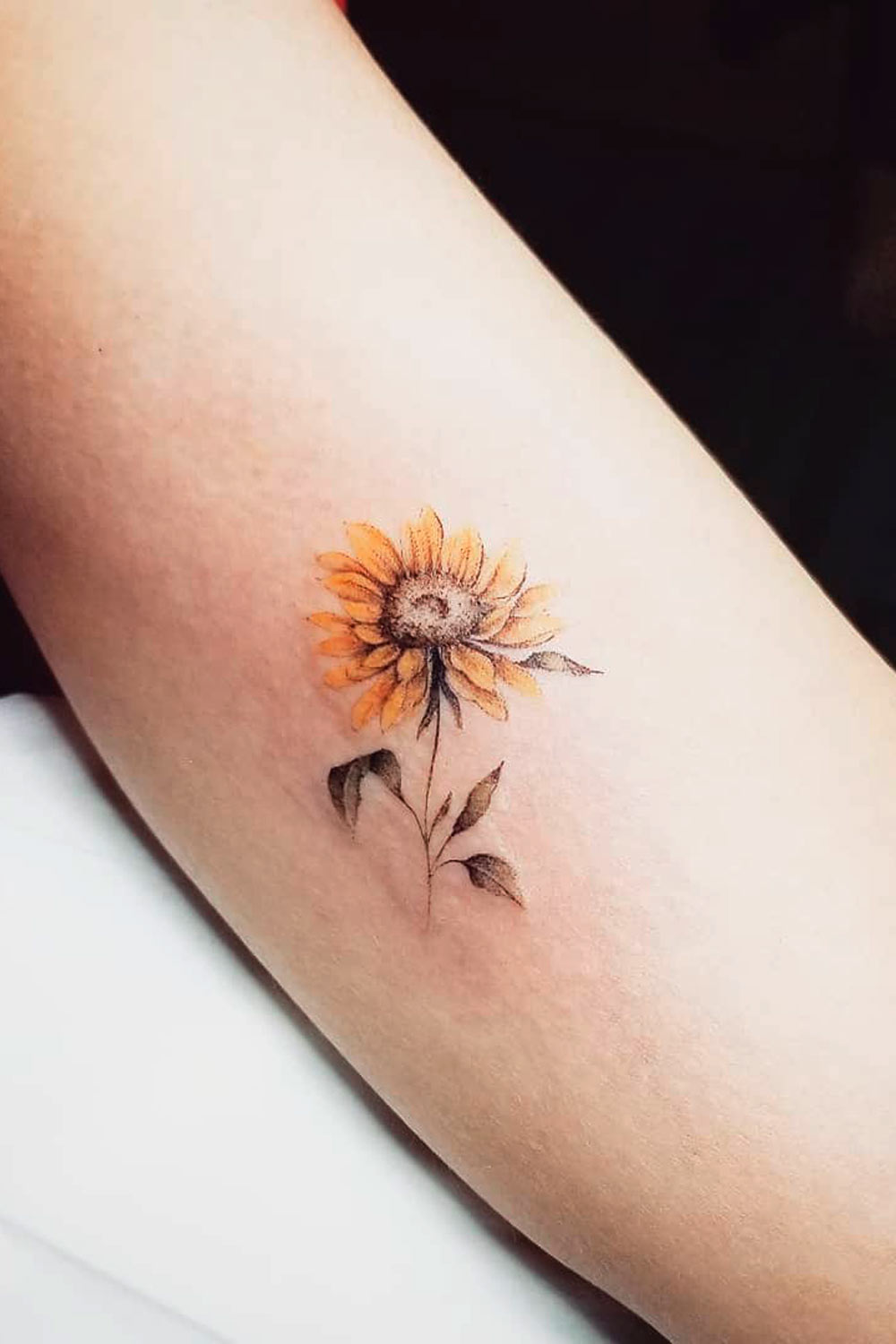 /
There are also long-term maintenance routines to stick to even after your tattoo is healed.
Keep the area well-moisturized. Use a special hydrating ointment to keep the design vibrant for years to come.
Keep SPF protectant at hand to prevent the ink from fading.
Tend to any irregular change, be it increased fading or irritation. Ask for professional assistance from your dermatologist or the tattoo artist.
Your tattoo is a life-long commitment, and the better you care for it, the better it will look throughout the years.
Average Sunflower Tattoo Prices
Credit photo: instagram.com/playground_tat2
i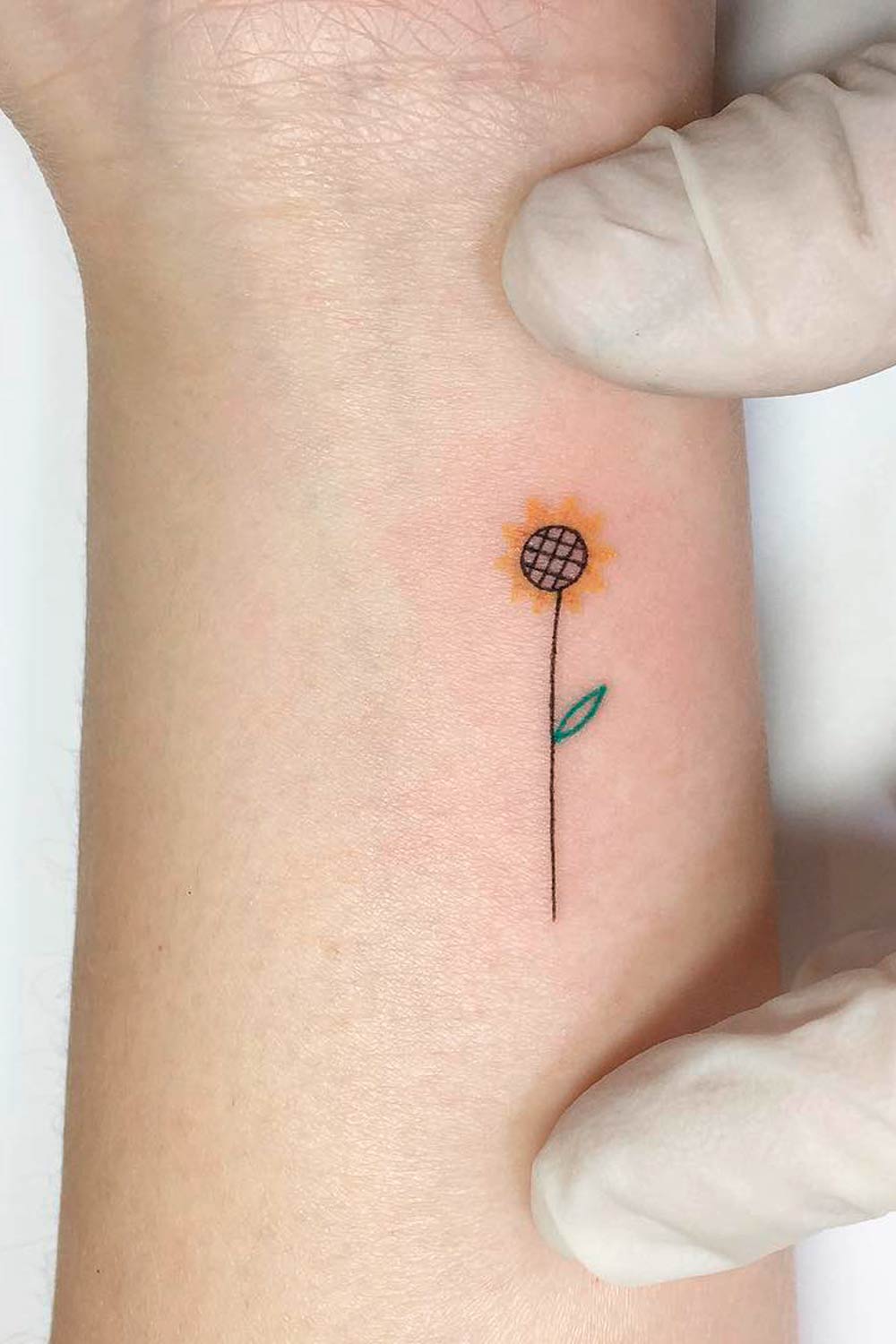 Credit photo: instagram.com/uyenle.tattoo
i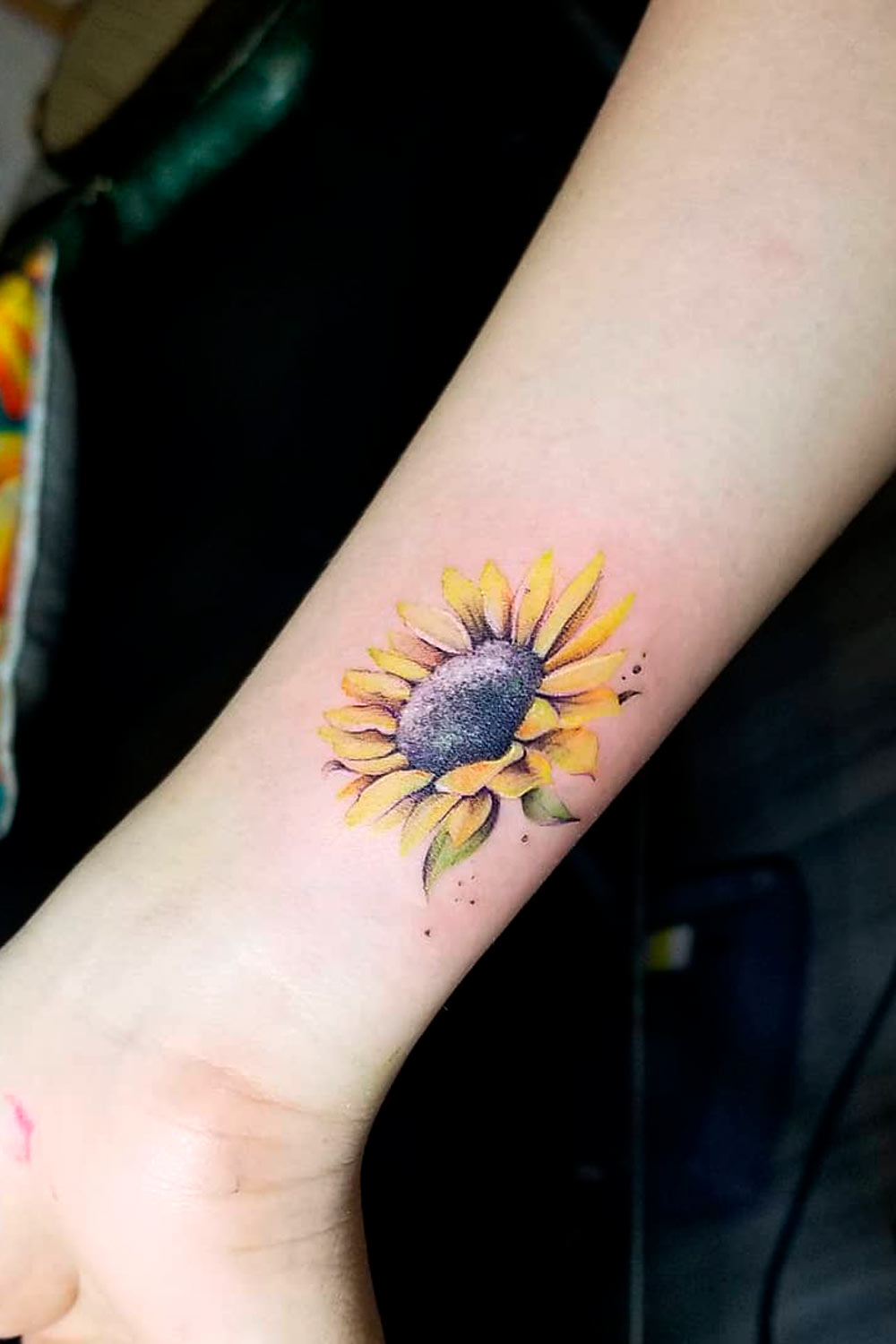 /
With a wide variety of sunflower tattoo ideas available at the moment, it's hard to put a precise tag on the matter. However, you can expect to spend around $70-$300 on a smaller tat, while a mid-size one may cost up to $700. Keep in mind that aside from the size and complexity of the design, the artist's experience plays a major part in the price policy. High-end tattooists change around $110-$180 per hour, and some tats require a few sessions.
Sunflower Tattoo Ideas
Enough with the practical guidelines. Let's proceed with a more inspiring part. Use these impressive and beautiful sunflower tattoo ideas to come up with a fresh idea for a new ink.
Sunflowers With Cigarette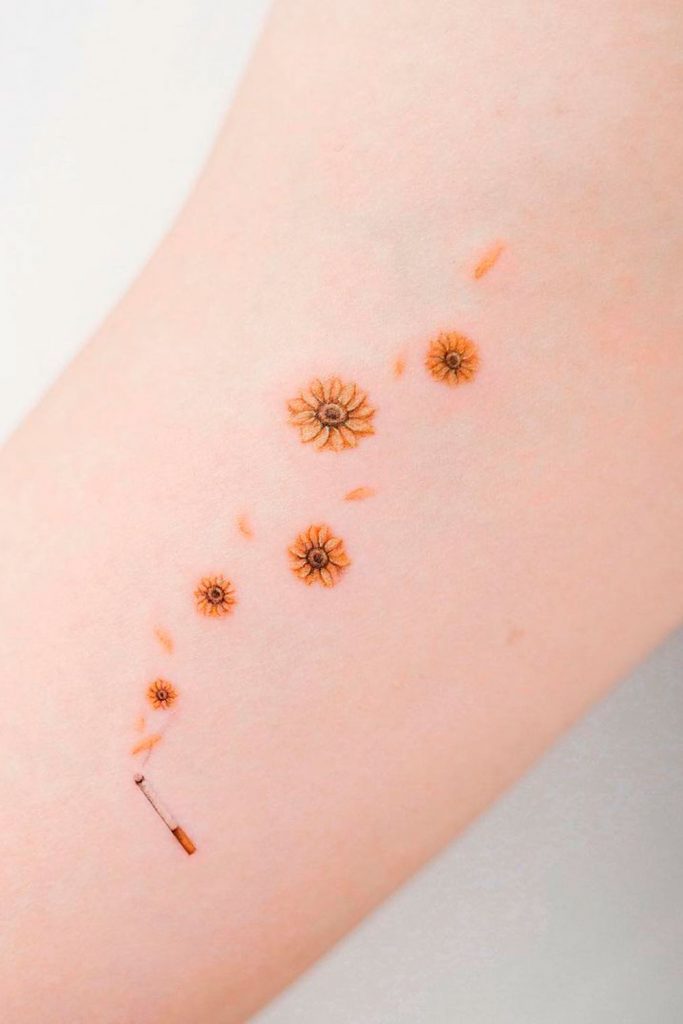 Credit photo: Instagram.com/mini_tattooer
One would find the combo of sunflowers and cigarettes quite extraordinary. Yet, as you can see, the union looks more than complimentary. Imagine how many unique meanings such design can project!
Behind The Ear Sunflower Tattoo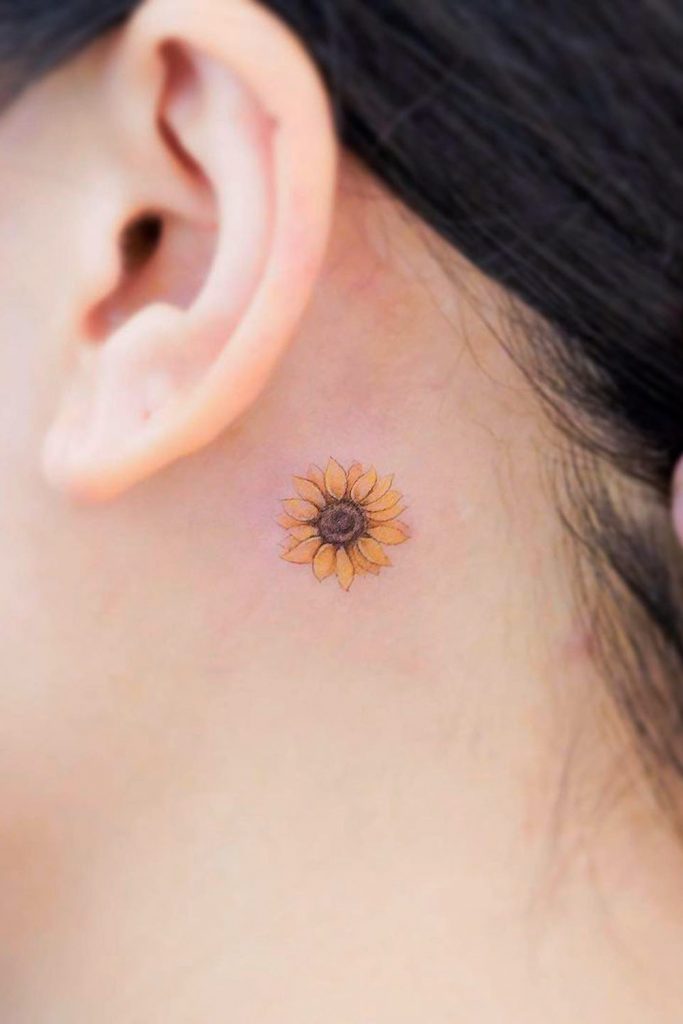 Credit photo: Instagram.com/mini_tattooer
If you don't want your ink to be easily noticeable, you can place it in such a secluded area as behind your ear. A skillful tattoo artist will come up with a perfect minimalistic sunflower design like the one shown in the photo.
Sunflower Tattoo Designs With Lettering
Credit photo: instagram.com/uyenle.tattoo
i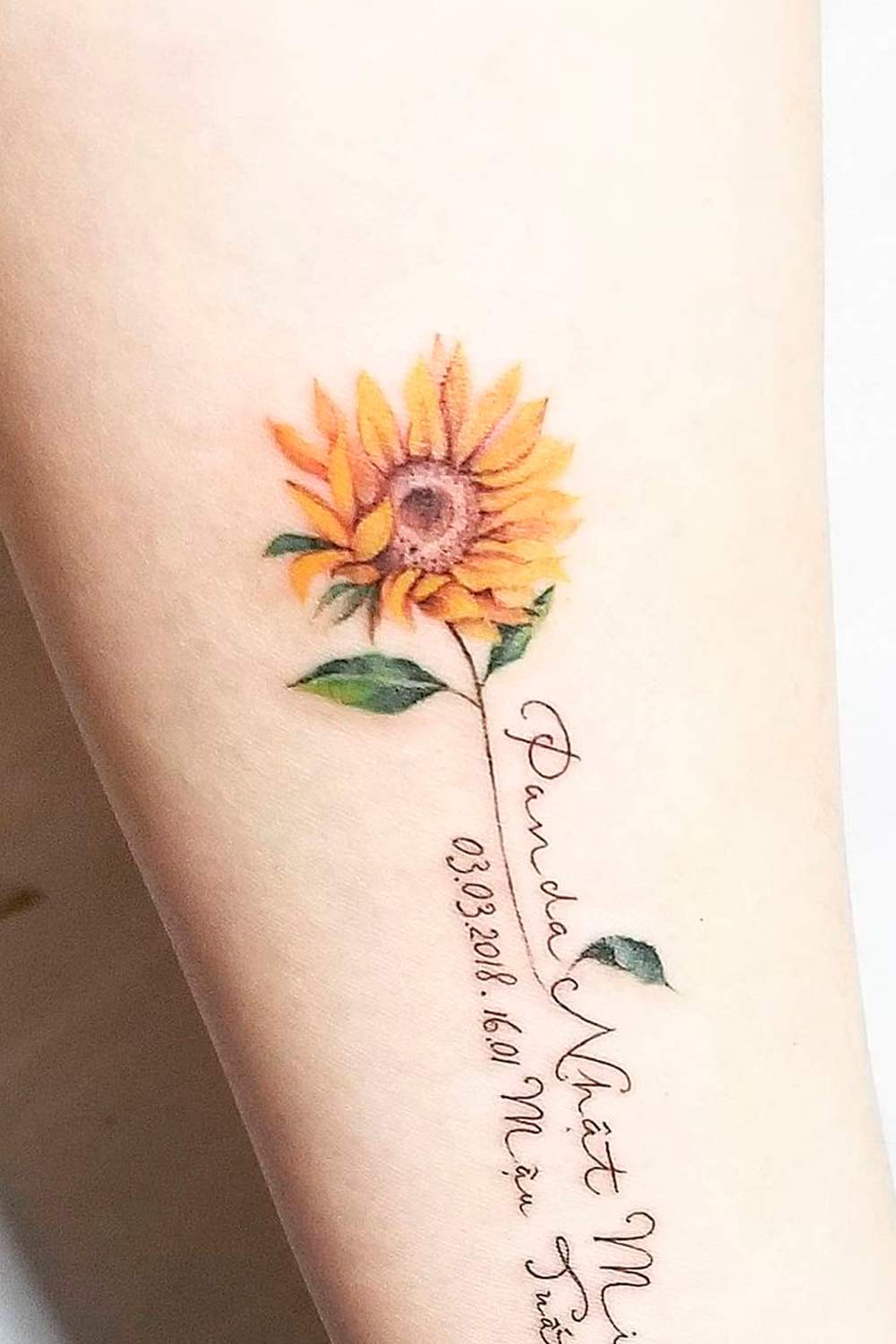 Credit photo: instagram.com/uyenle.tattoo
i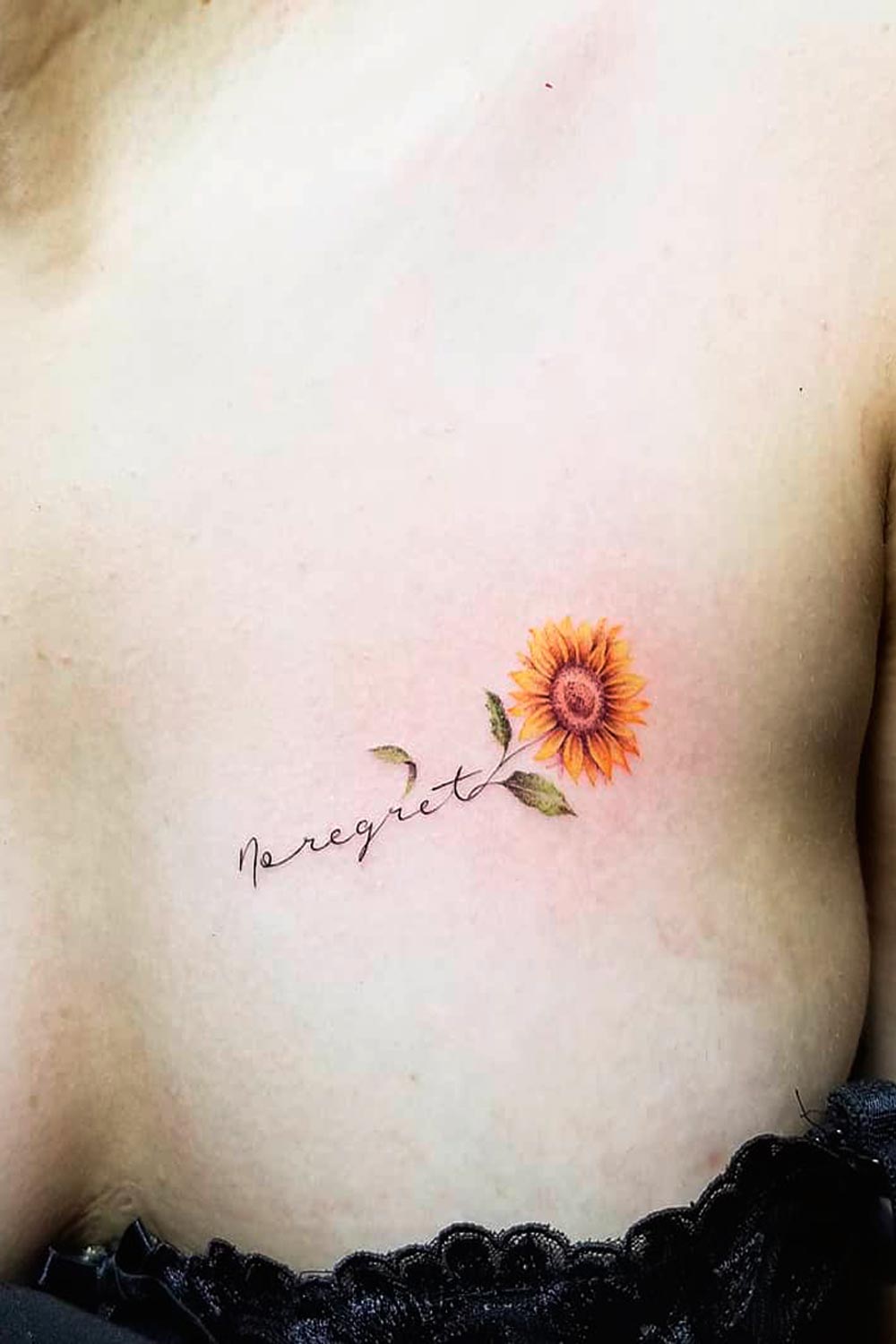 Credit photo: instagram.com/amanda.mypreciousink
i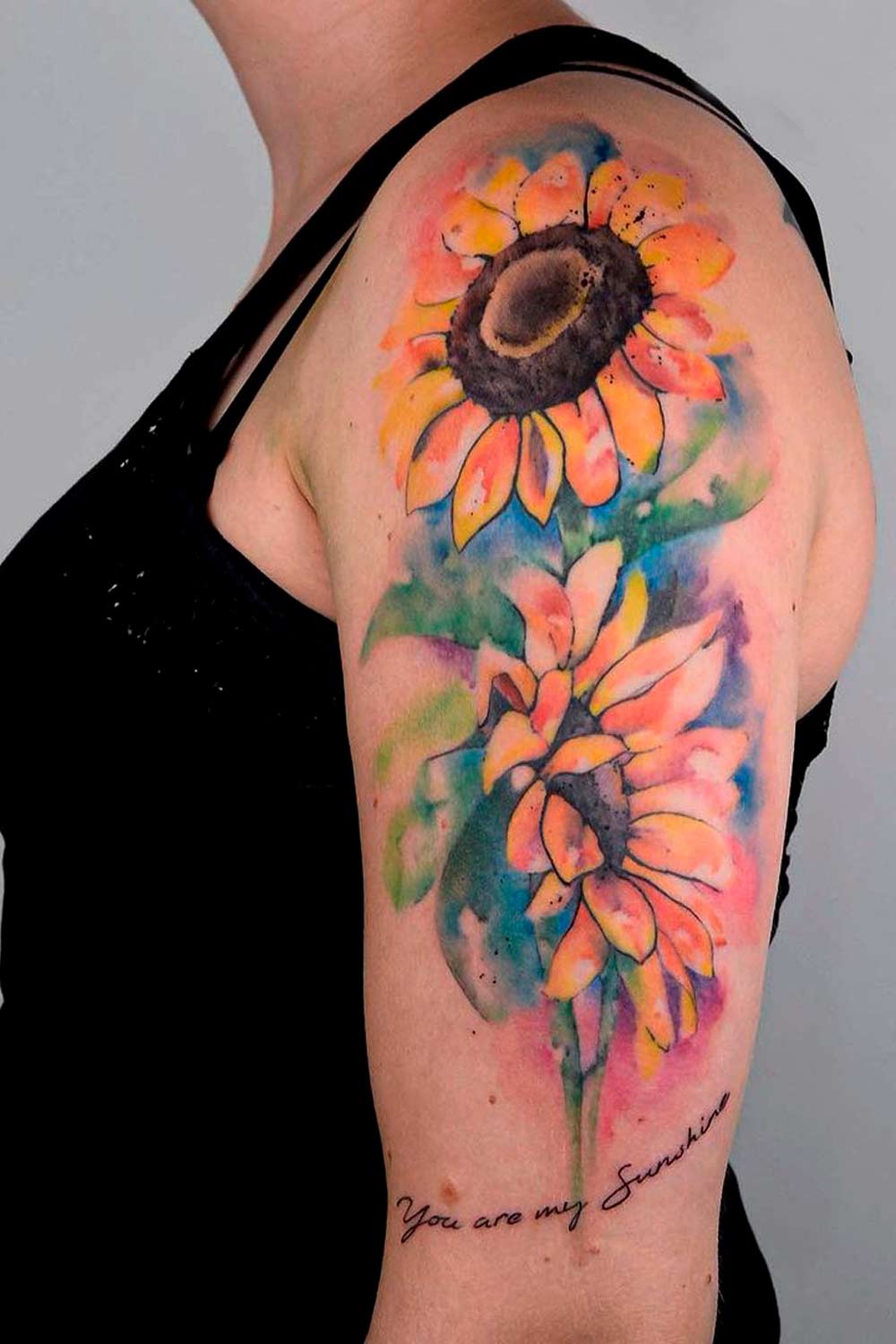 /
While a sunflower tat is filled with a significant meaning of its own, you can take things a little further and add unique lettering to the scene. Make the ink as symbolic as you want, and let your ink help you through happy and difficult moments.
Sunflower In a Bouquet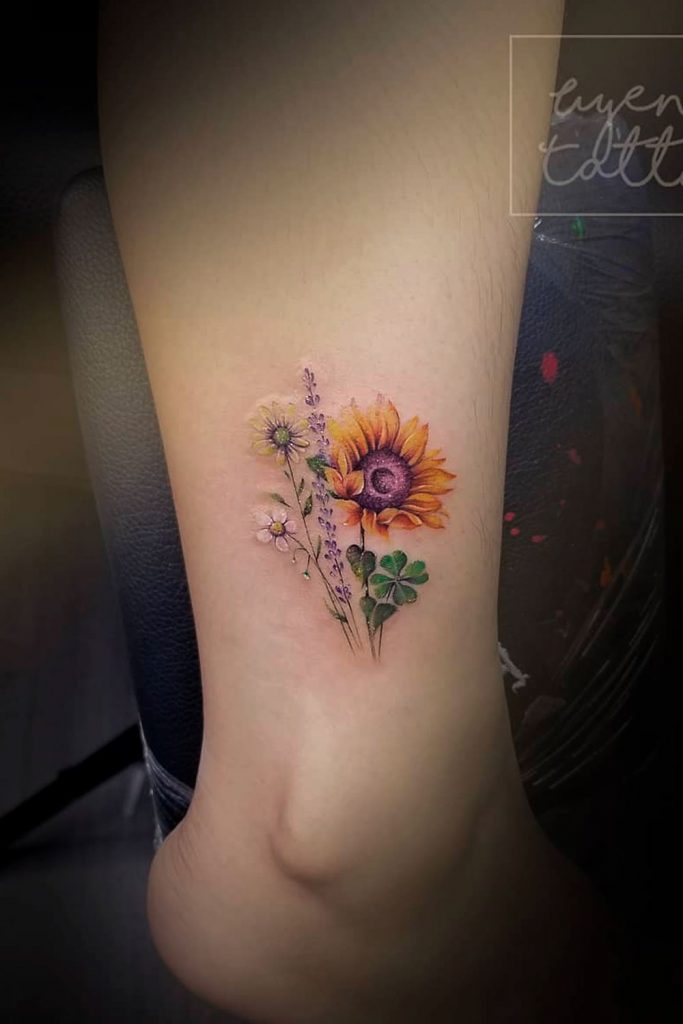 Credit photo: Instagram.com/uyenle.tattoo
Feel like a lonely sunflower isn't precisely your cup of tea? Well, put it into a magnificent bouquet so that it makes the perfect accent. To make the ink even more meaningful, you can compile flowers with those meanings that speak to you and make your day.
Half-Color Sunflower Arm Tattoo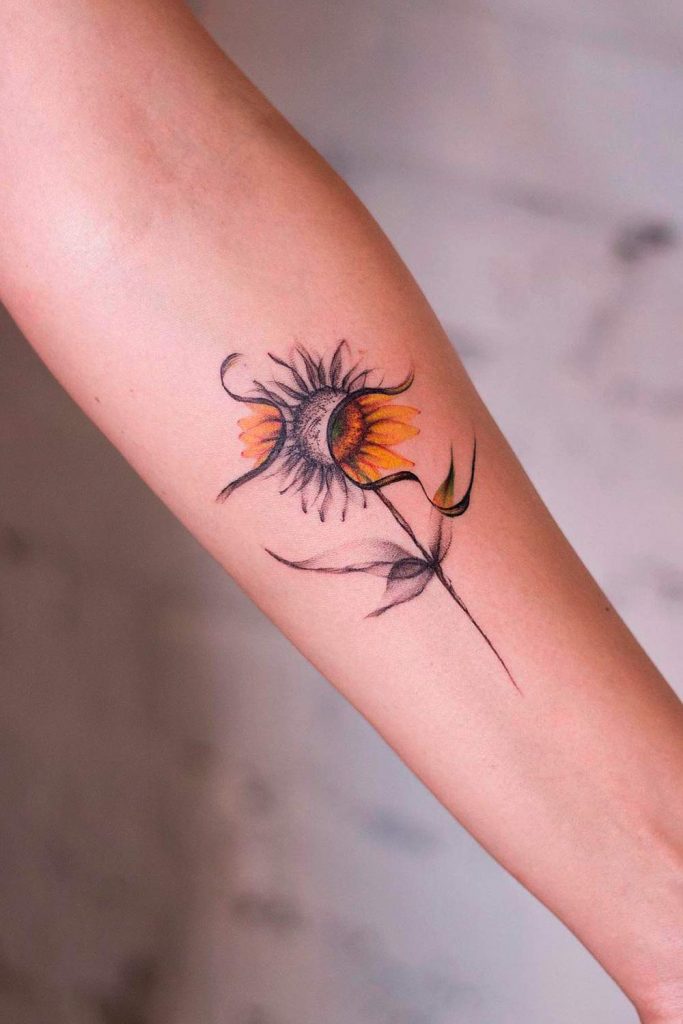 Credit photo: Instagram.com/kottattoo.studio
Some of you may be under the impression that sunflower tattoo ideas are all about bright colors, but there's always something in between. Thus, a half-color sunflower ink may be worth your consideration.
Simple Sunflower Tattoo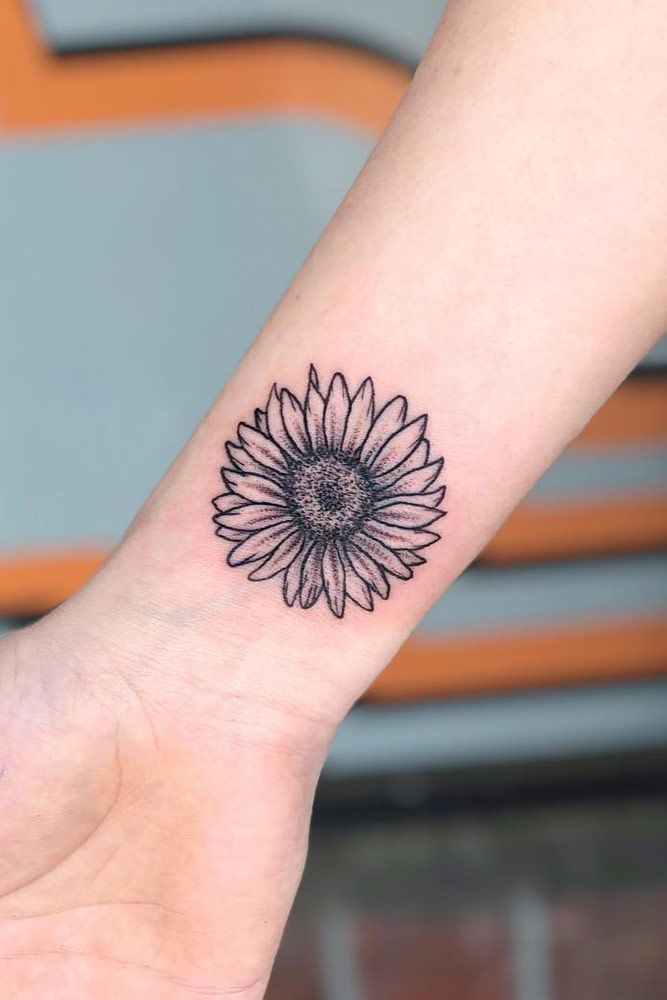 Credit photo: Instagram.com/beccabootattoos
A simple sunflower tattoo is a beautiful choice for those who think that simplicity is the key to beauty. Use a different thickness of the lines to make it look different and the coloring won`t be necessary.
Sunflower Tattoo Design With Geometric Elements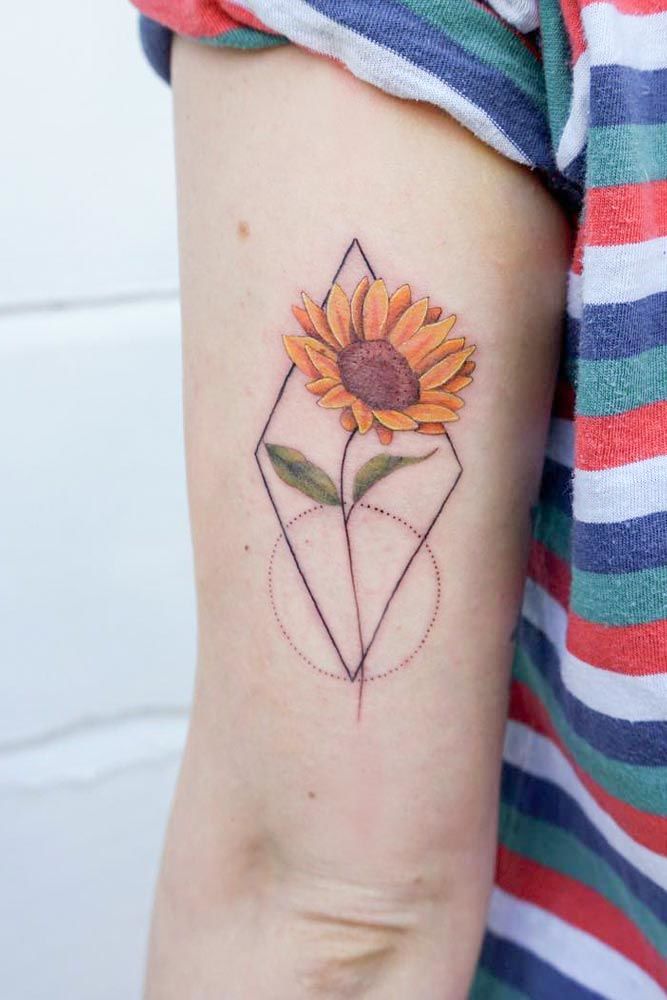 Credit photo: Instagram.com/miamelleo_tattoo
Geometric elements recently have started to gain popularity and we understand why. They alone look super exciting and extraordinary but paired with something they look even better. What about combining a sunflower tattoo with a geometric figure?
Geometric Sunflower Tattoo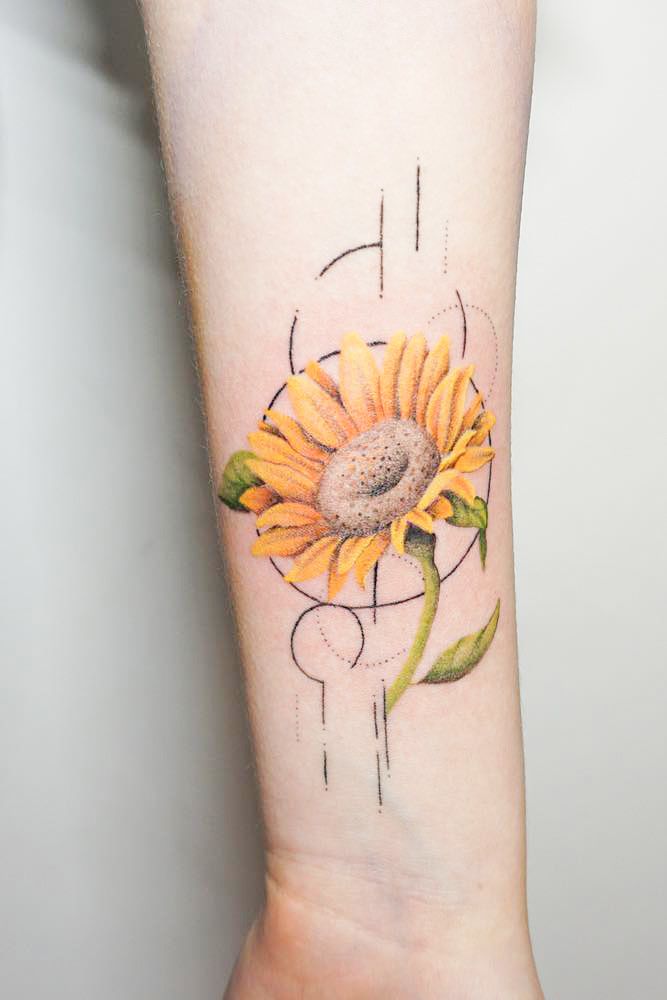 Credit photo: Instagram.com/miamelleo_tattoo
Another idea is a geometric sunflower tattoo idea is about creativity. Just add some lines to your design and your idea will look completely different from the beginning. Modern and good looking it is the reflection of today`s world.
Black And White Sunflower Tattoo Idea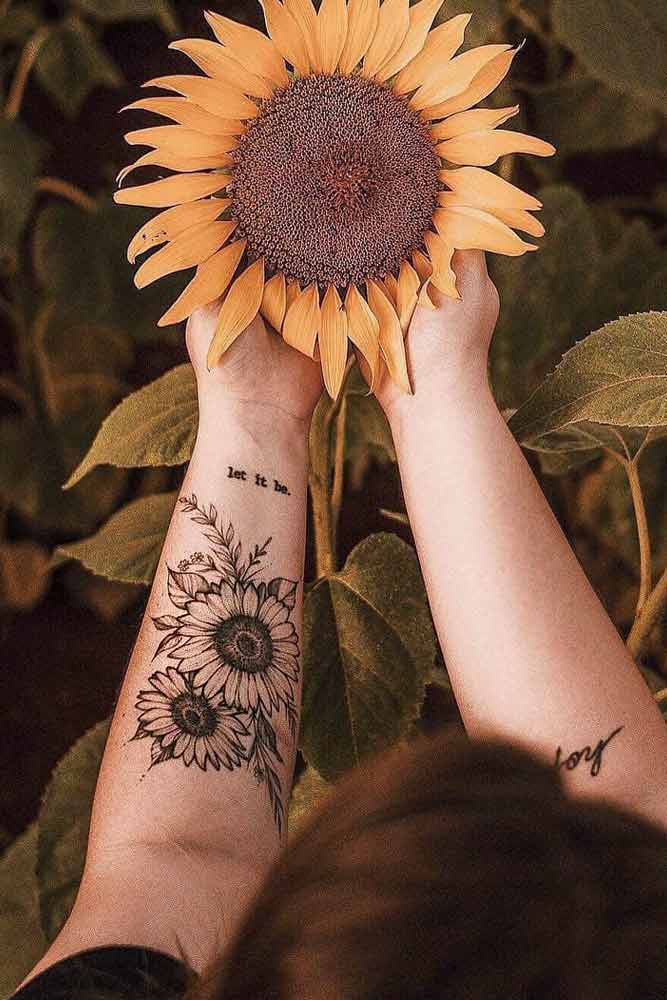 Credit photo: Instagram.com/amandapelegriini
A black and white sunflower tattoo is a wonderful idea for those who don`t like colorful tattoos. Simple, minimalistic and super good looking it will be suitable for any time.
Small Sunflower Tattoo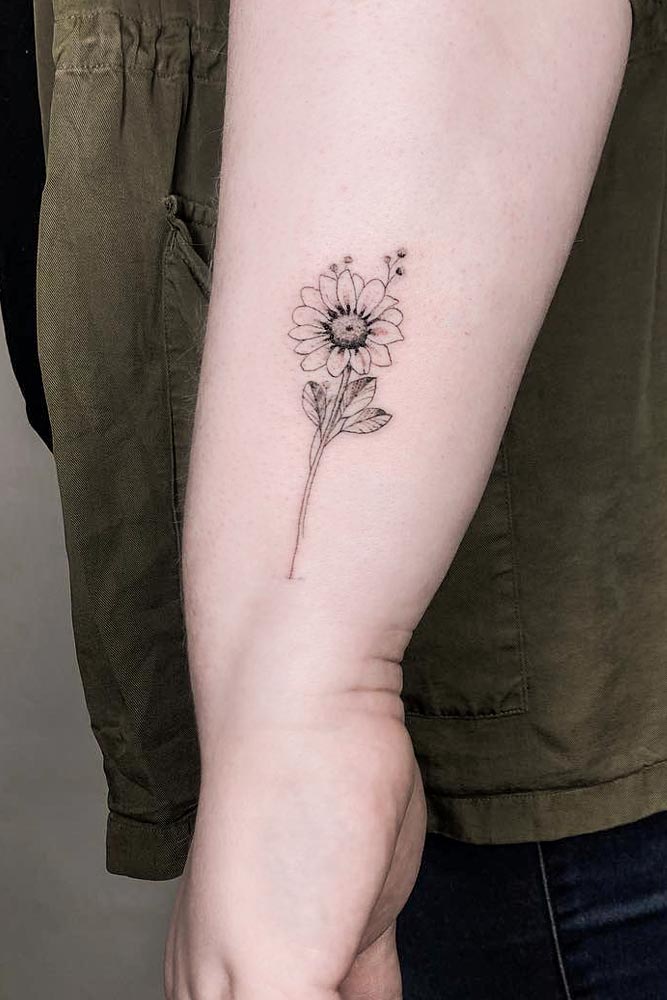 Credit photo: Instagram.com/dagmarderksen
A small sunflower tattoo will look so good! It is a wonderful idea for those ladies who prefer tiny designs. Sometimes smaller tattoos have more history than bigger ones.
Watercolor Sunflowers With Butterfly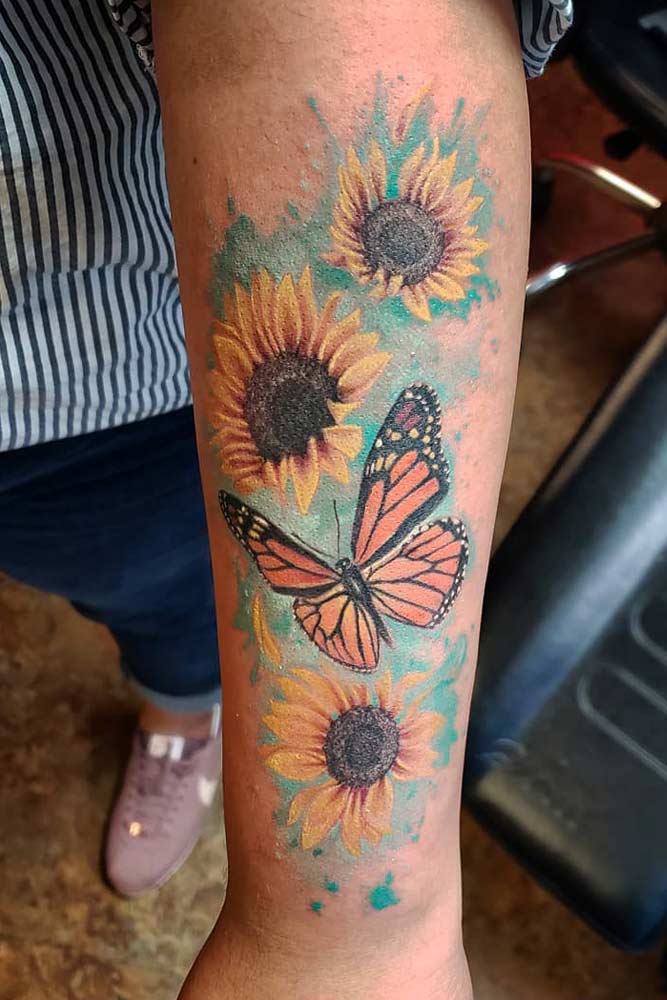 Credit photo: Instagram.com/birdtattoos
A butterfly is naturally looking with any floral ideas. Have you considered adding it to your sunflower? It will look so innocent and gorgeous there that you will fall in love with this idea. Add colors and you will be won over!
Flower Bouquet With Sunflowers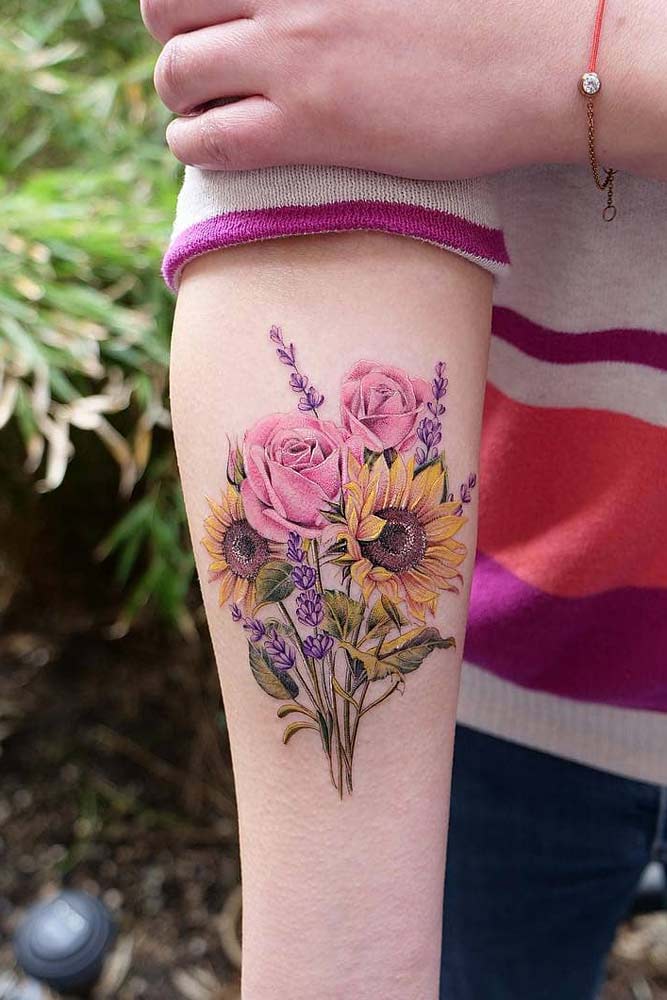 Credit photo: Instagram.com/rosaseternascuenca
A flower bouquet will look amazing. Carefully and thoughtfully choose the type of flowers you would want to be there and don`t forget to put in a sunflower for more color.
Geometric Black And White Sunflower Tattoo Design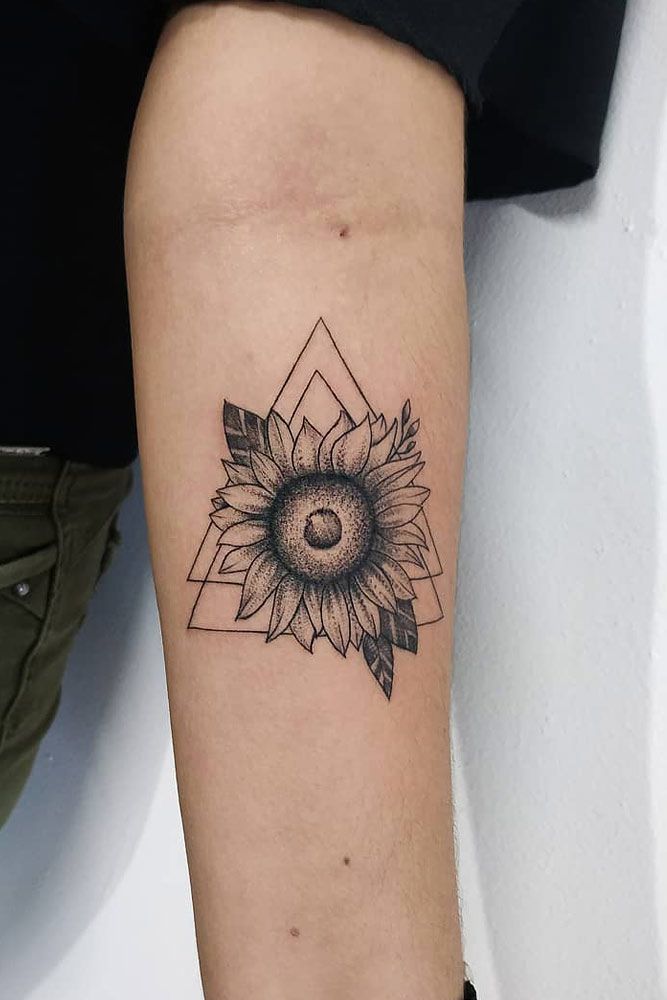 Credit photo: Instagram.com/crenca13
Wow is all that we think about this geometric idea. Another figured tattoo that will win your heart. A flower looks so great with thin fragile lines.
Sunflower Tattoo Small Design For Arm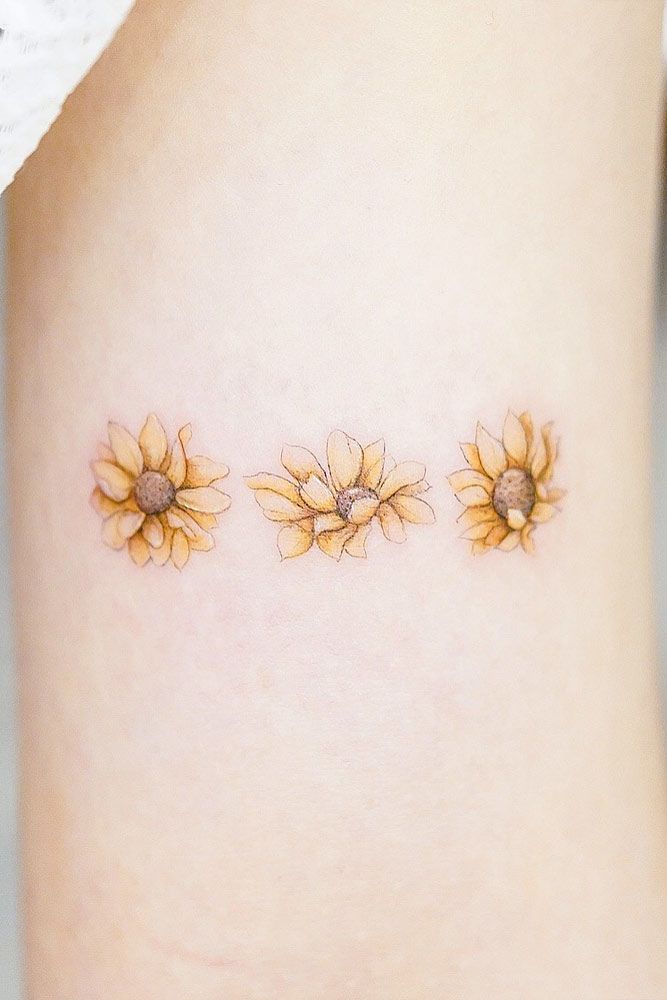 Credit photo: Instagram.com/mini_tattooer
If tiny tattoos are your definition of beauty then don`t hesitate and put in your skin some color with the help of sunflower tattoos. Make them really small and you will love the way they will turn out to be.
Watercolor Sunflower Tattoo Design For Shoulder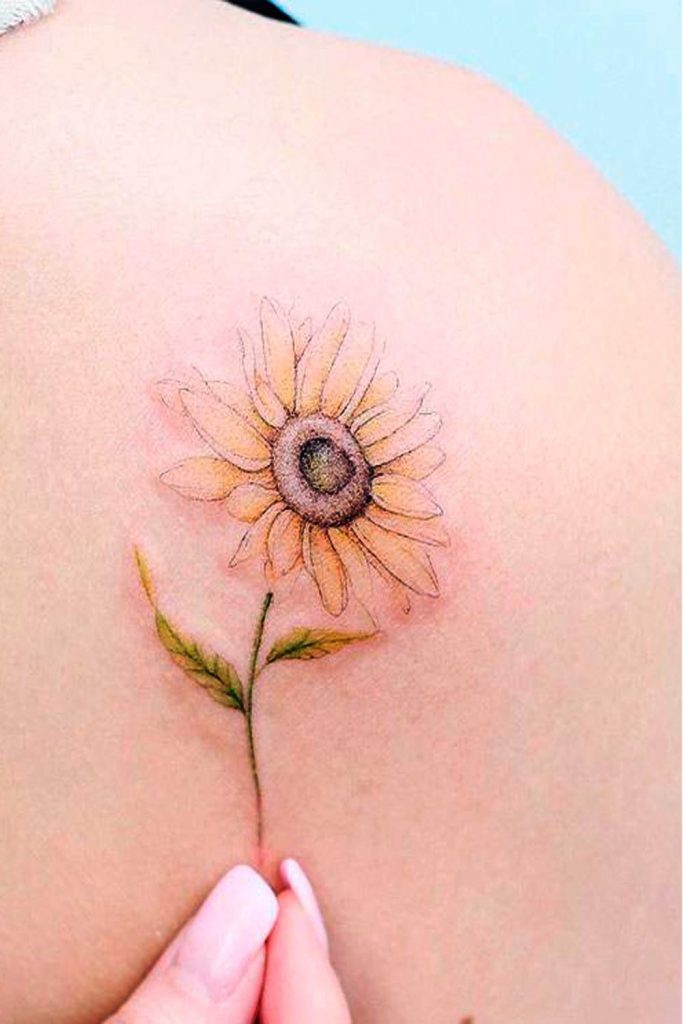 Credit photo: Instagram.com/mini_tattooer
A watercolor tattoo is a pure definition of creativity and beauty. Really thin lines and blurred colors will bring a special atmosphere to your flower tattoo.
Traditional Style Sunflower Shoulder Tattoo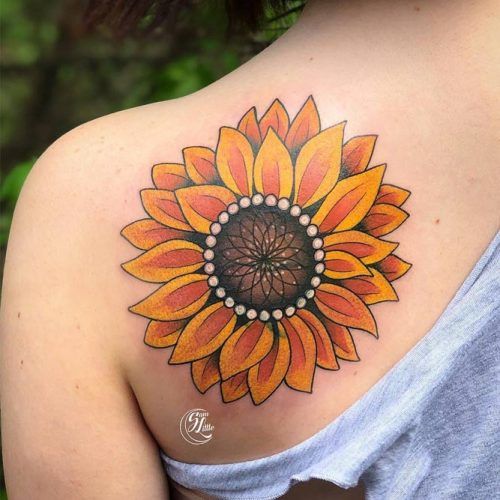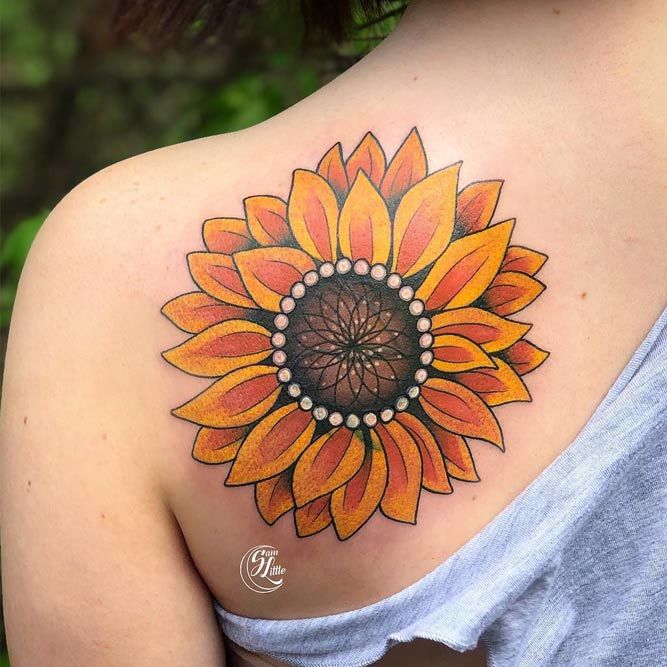 Credit photo: Instagram.com/samjlittle
The back of your shoulder is a place for creativity. You can easily cover it or it will pick through your clothes intriguing people around you. Make the tattoo colorful and bright! Bring colors to your life forever and you will love it every day.
Sunflower Thigh Tattoo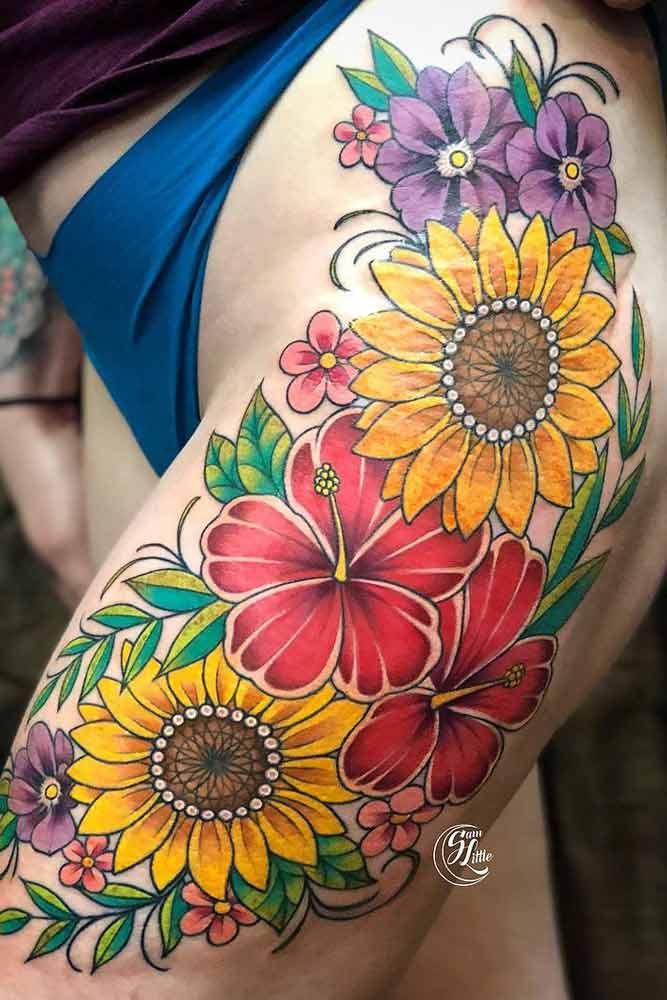 Credit photo: Instagram.com/samjlittle
Thigh tattoos usually are of a bigger size and of course more creative because of the larger space. We love how colorful you can make your tattoos here and how gorgeous it will make your body look.
Small Minimalist Sunflower Tattoo Idea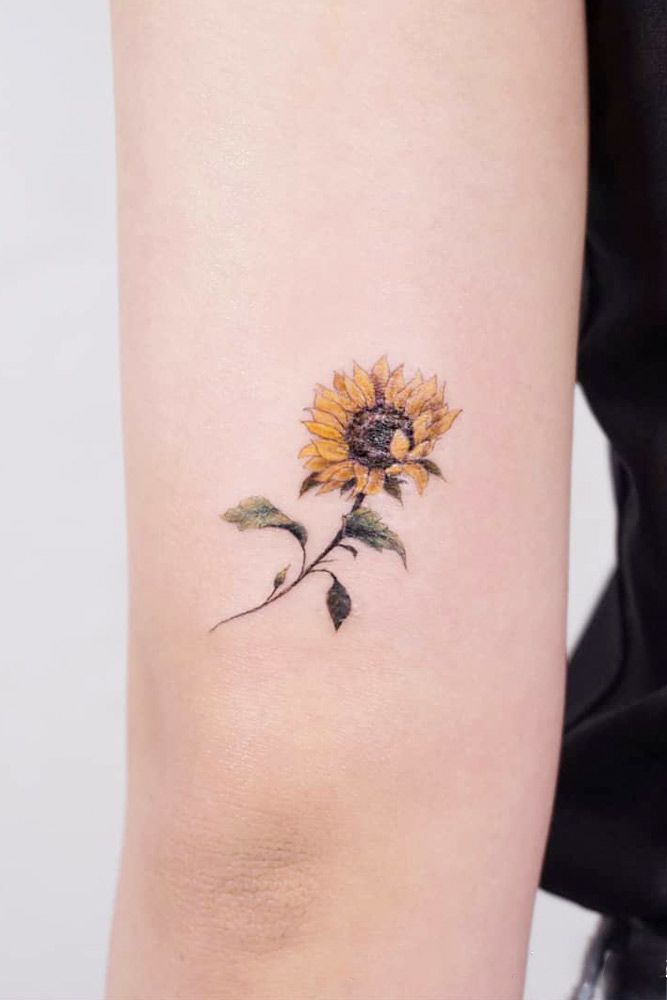 Credit photo: Instagram.com/handitrip
A small and minimalistic sunflower tattoo idea will for sure bring into life the tenderness and atmosphere that you associate with a sunflower. What do you think about such a beauty?
Small Simple Sunflower Tattoo For Leg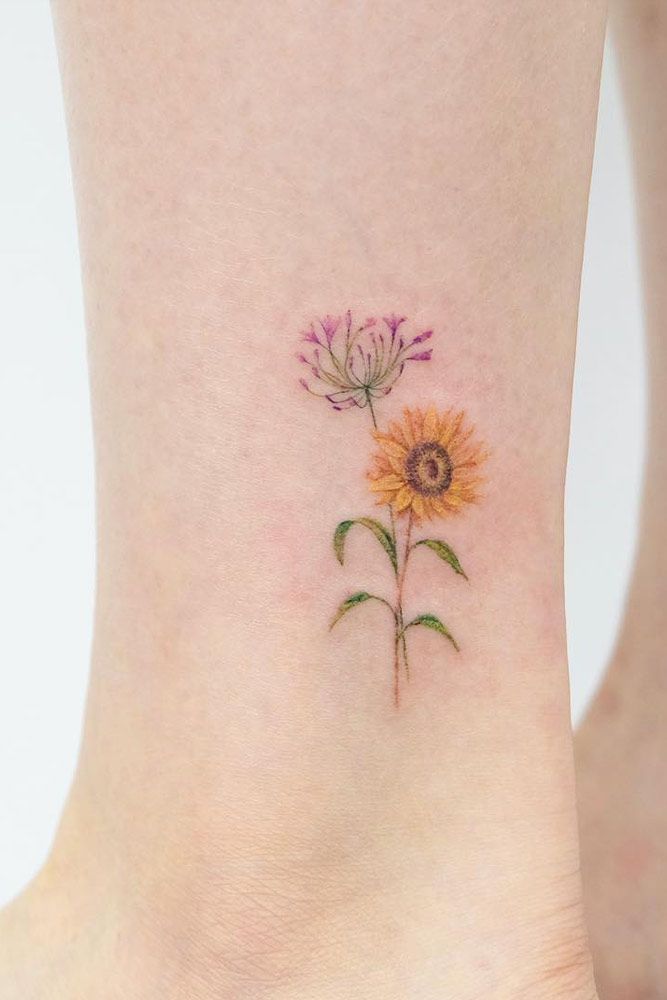 Credit photo: Instagram.com/siyeon_tattoo
The ankle tattoos look so fragile and cute, especially if they are really tiny. What do you think about placing a sunflower tattoo there?
Big Sunflower Tattoo For Arm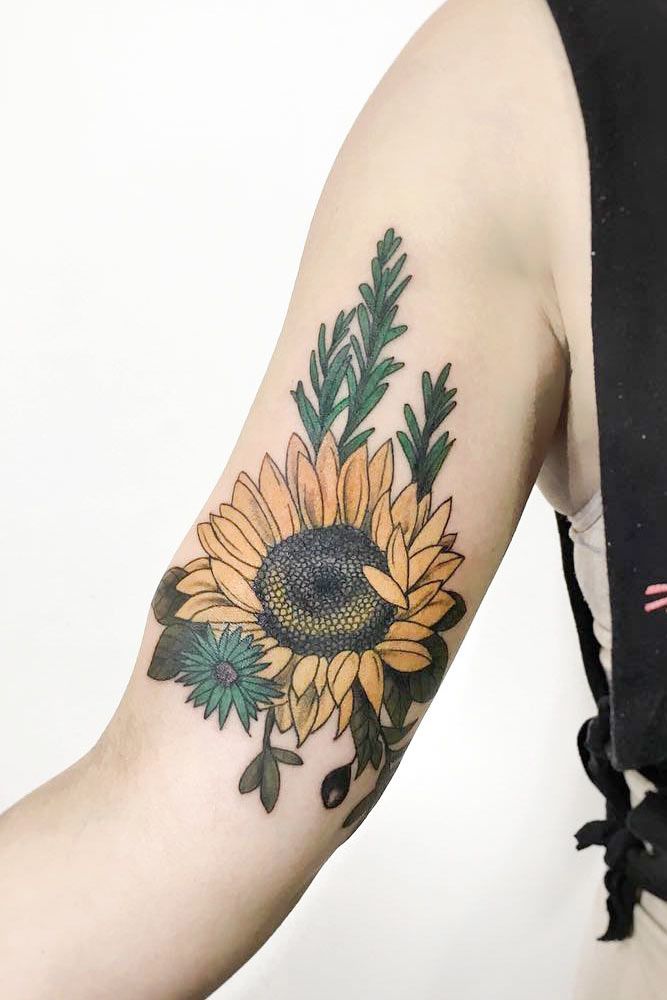 Credit photo: Instagram.com/naleak_tattoo
An arm tattoo can be of big size as well. What technique do you prefer? The massive size and ticker lines will look stunning in that placement.
There are so many various sunflower tattoo ideas that will make your heart beat faster. Have you chosen the one for yourself? We bet there is one for you for sure in this collection.
FAQ: Sunflower Tattoo
Are sunflower tattoos Basic?
Sunflower tattoo can be performed in various techniques from minimal to complex designs. You don't see people get those tattoos often. Sunflower tattoo bears a clear execution and you can tell what the artist has depicted from the first glance.
Do yellow tattoos last?
Sun exposure and skin thickness affect how well it can last. A vibrant tattoo that is frequently exposed to the sun, can only last for a few years. To prolong the durability of it, you need to put on sunscreen and keep it moisturized. Moreover, the size of it matters, the smaller tattoo is more likely to fade away faster.
Was this article helpful?