Meaningful Flower Tattoos Examples For Unique Girls
It is not a secret to anyone that these days the tattoo industry is more popular than ever. More and more people tend to decorate their body temples with tattoo art. It is a known fact that everyone has something special to dedicate to a tattoo, what is more, every tattoo is quite symbolic. When it comes to women, very often they choose flower tattoo designs to be a part of their bodies. However, not everyone knows that there is a meaning to every flower aside from the one you entitle it with. That is why today we are going to talk about the floral tattoos meaning as well as we are going to supply you with a fair share of tattoo ideas to get inspired with. Read on!
---
---
Lotus Flower
Lotus is a very beautiful flower, and we all know that. However, do you know that lotus represents life, knowledge, and enlightenment? Well, now you do. In case, you think you would like something like that to be inked on your body; we have a couple of worthy ideas in mind!
Lotus Flower Tattoo In Mandala Style
Source: dasha_sumtattoo via Instagram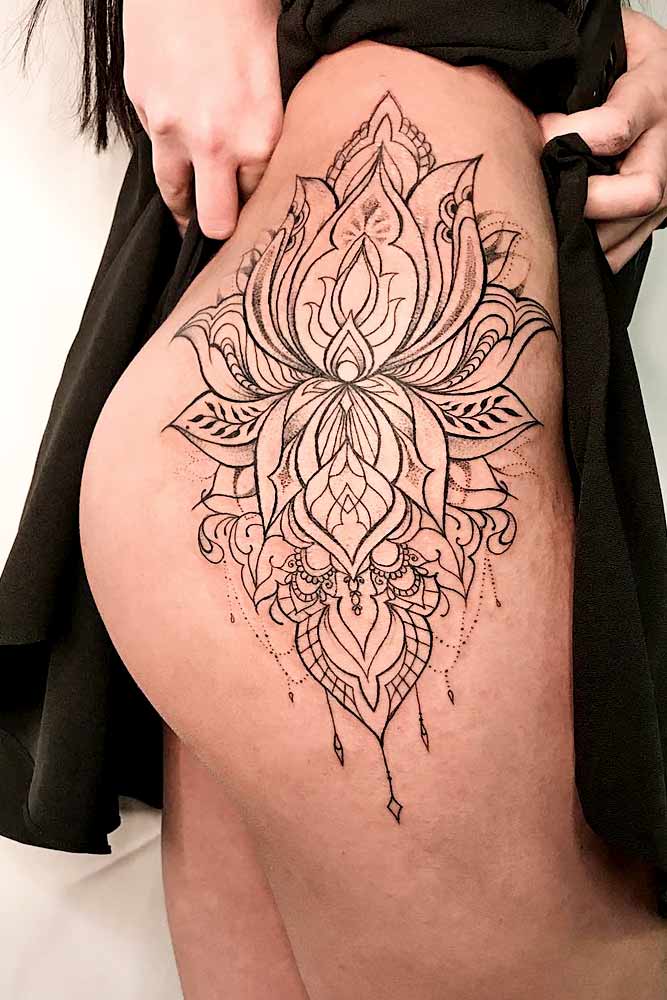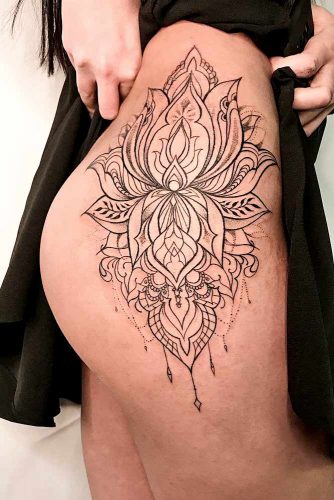 When you want to kill two birds with one stone and to have a tattoo that is stylish and meaningful at the same time, then mandala style is there for you! Lotus flower tattoo in mandala way on a thigh looks gentle and feminine, what is more, it is hidden from most people.
Outline Lotus Flower Design
Source: ira_shmarinova via Instagram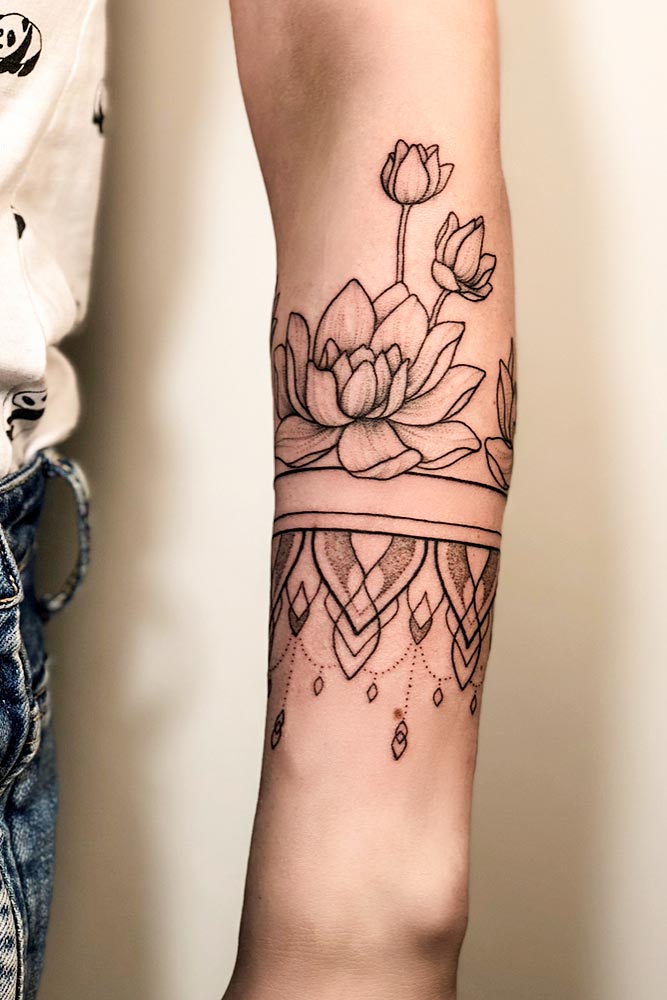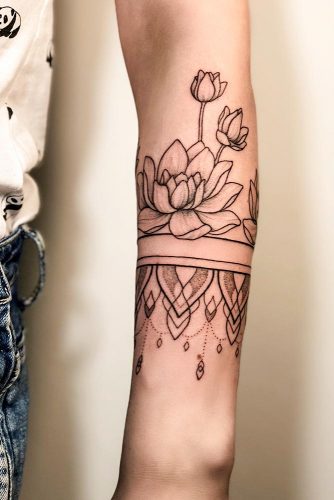 When you want your tattoo to be clearly noticeable, then you should better have it in your forearm. Lotus outline tattoo is perfectly feminine, not to mention stylish.
Colorful Watercolor Wrist Lotus Tattoo
Source: mari_ivanova_tattoo via Instagram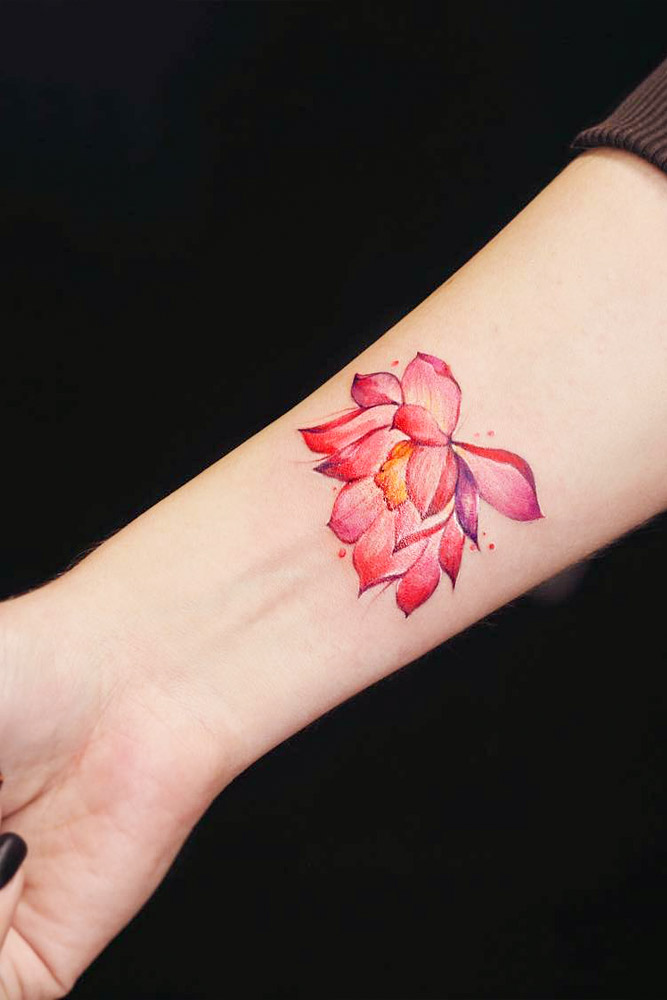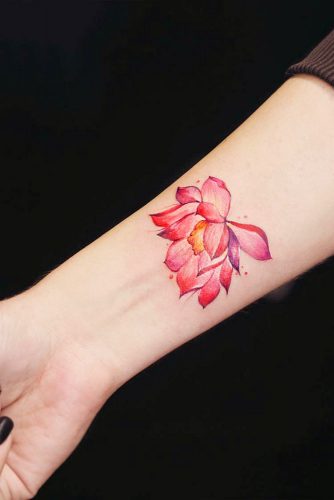 In case you are looking for a flower wrist tattoos. This colorful lotus tattoo may be that perfect one for you!
Peony Flower
Peonies are very beautiful flowers that is why women often choose this exact flower to be their tattoos inspiration. Yet, not everyone knows that apart from gorgeous look and scent the peony flower has a deep meaning behind it. The thing is that this flower symbolizes, wealth and honor, as well as love.
Thigh Mandala Peony Tattoo Design
Source: goodtattooclub via Instagram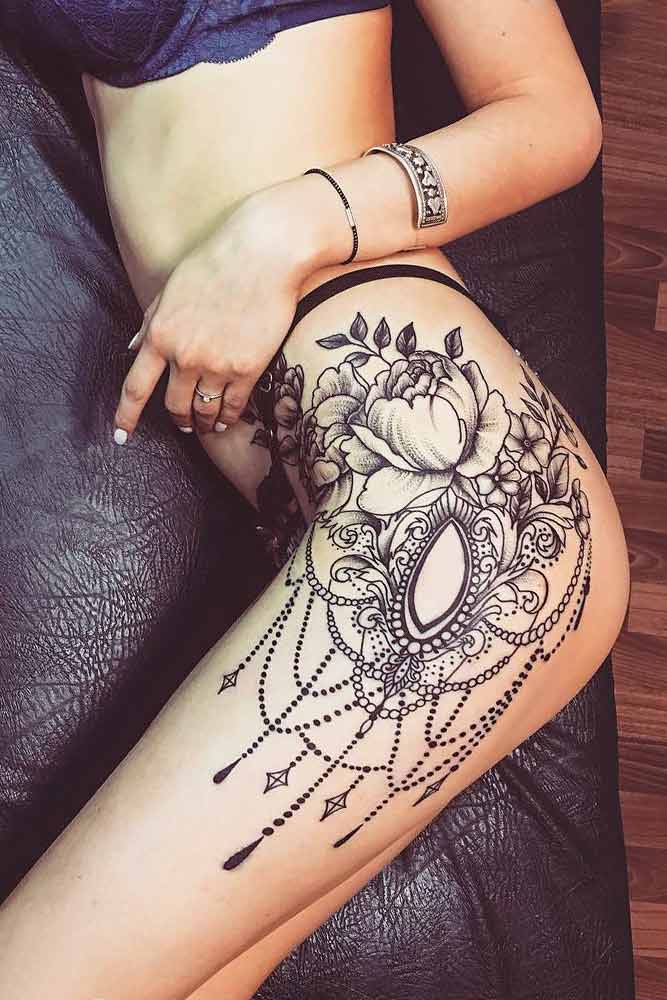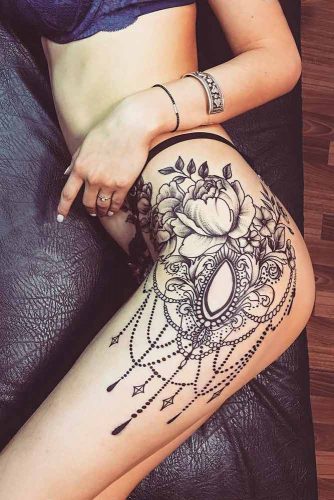 Thigh tattoos are very popular these days. And there is no wonder why, that is why if you wish to add some inked beauty to your body – we suggest you this gorges peony floral thigh piece!
Elegant Shoulder Peony Tattoo
Source: goodtattooclub via Instagram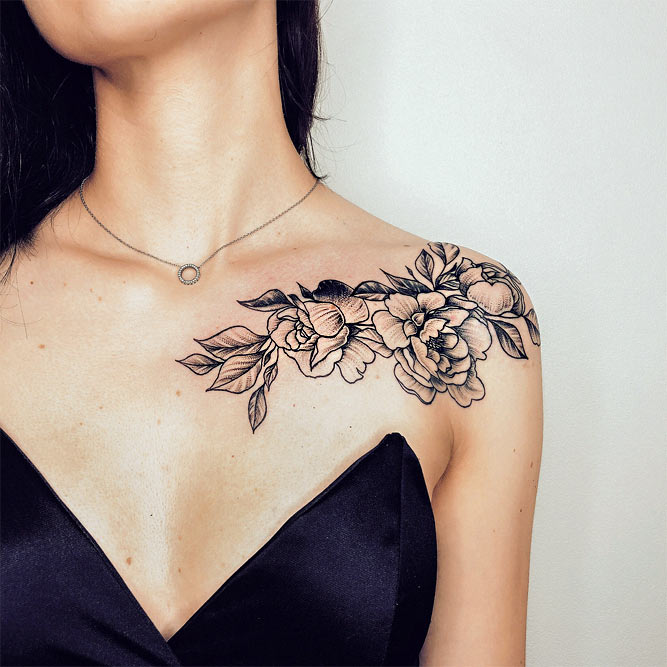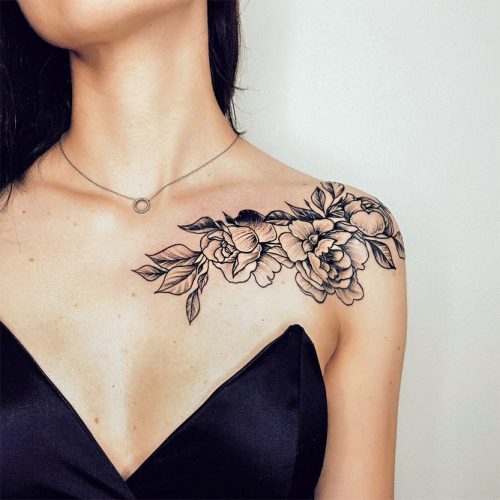 Those of you who are looking for elegant and trendy tattoo ideas for women may as well appreciate this shoulder one. It is very delicate and sweet-looking, not to mention meaningful.
Watercolor Peony Tattoo On Wrist
Source: koray_karagozler via Instagram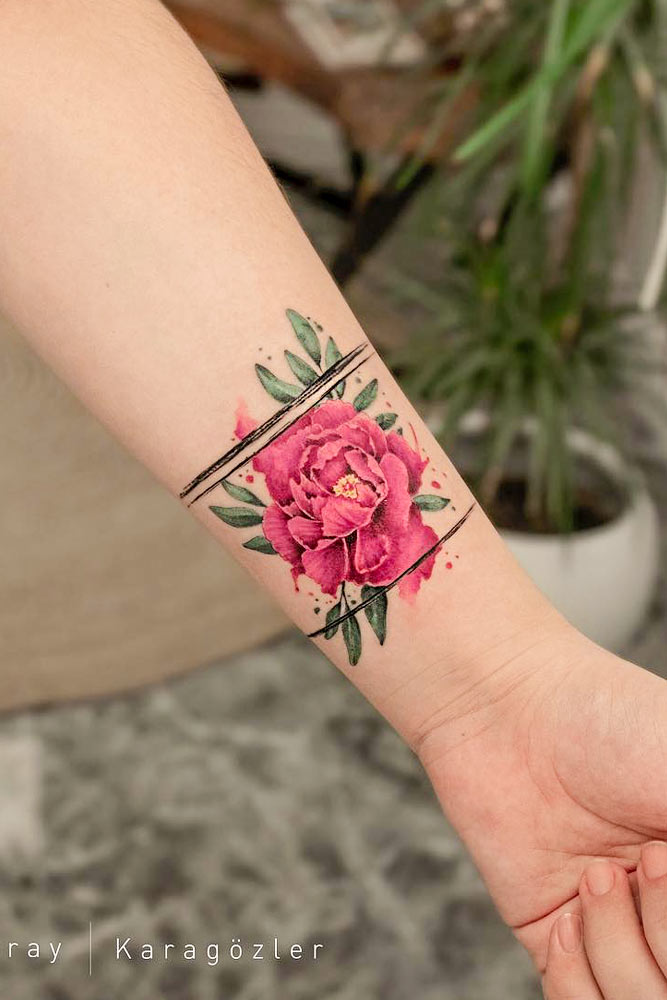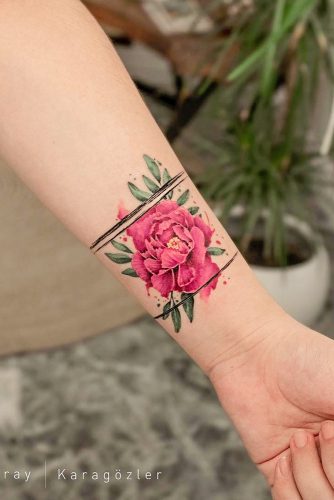 Watercolor Flower Tattoo is that one type of tattoo that is on the edge of popularity these days. With the help of such a tattoo you can not only express the deep meaning but also transfer the natural beauty onto your body since nothing expresses nature better than color!
Rose Flower
Many of you may already know that roses represent love and beauty. However, not everyone knows that roses with thorns may symbolize grief or loss. So be careful, with your tattoo choice so that you do not opt for something you do not really mean!
Feminine Thigh Rose Tattoo With Mandala Patterns
Source: goodtattooclub via Instagram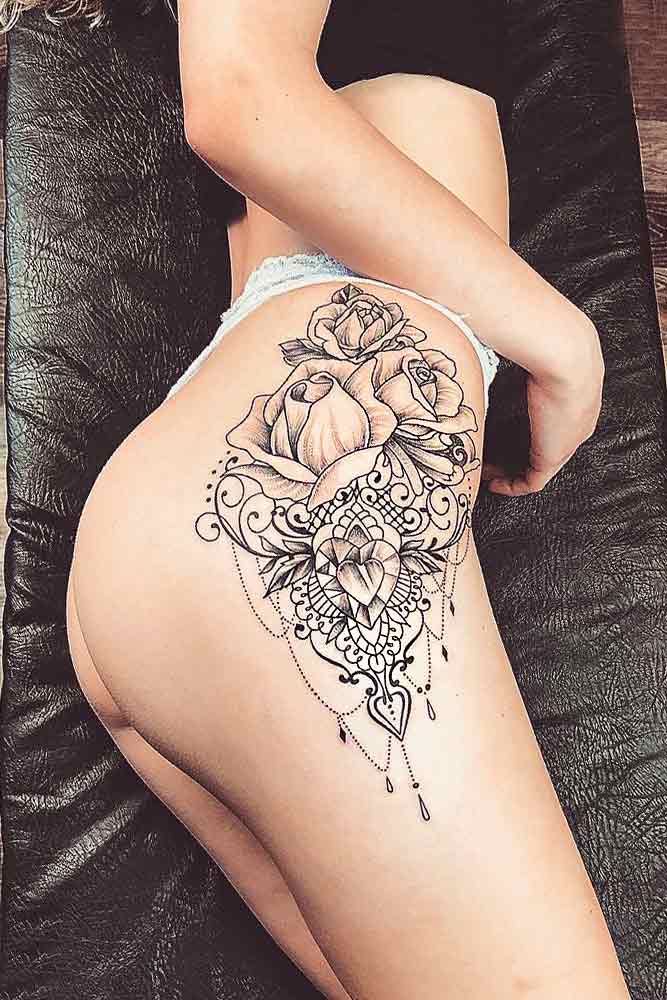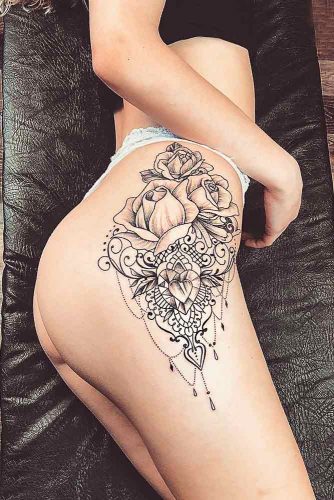 Rose Tattoo Designs are many, and they are beyond popular among women. But, if you wish to add your rose tattoo a trendy vibe, then you should surely combine it with intricate mandala pattern.
Rose Flowers Tattoo Idea With Geometric Elements
Source: goodtattooclub via Instagram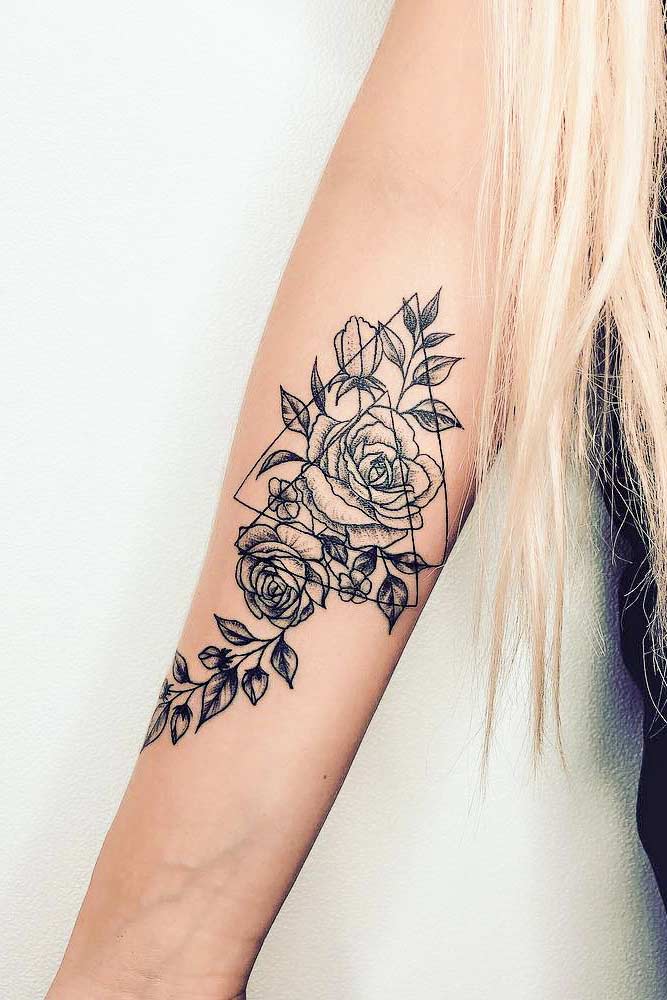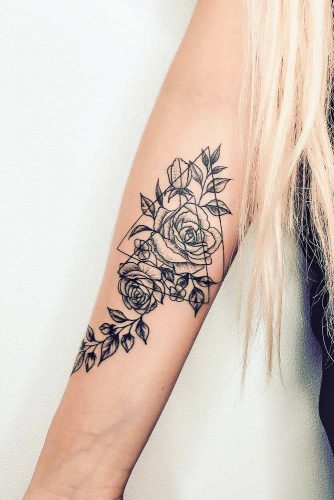 Geometrical patterns are all about strictness and simplicity, but if you combine them with beautiful flowers, the masterpiece will be created. One look at this fabulous arm rose piece will prove the point!
Watercolor Shoulder Roses
Source: mini_tattooer via Instagram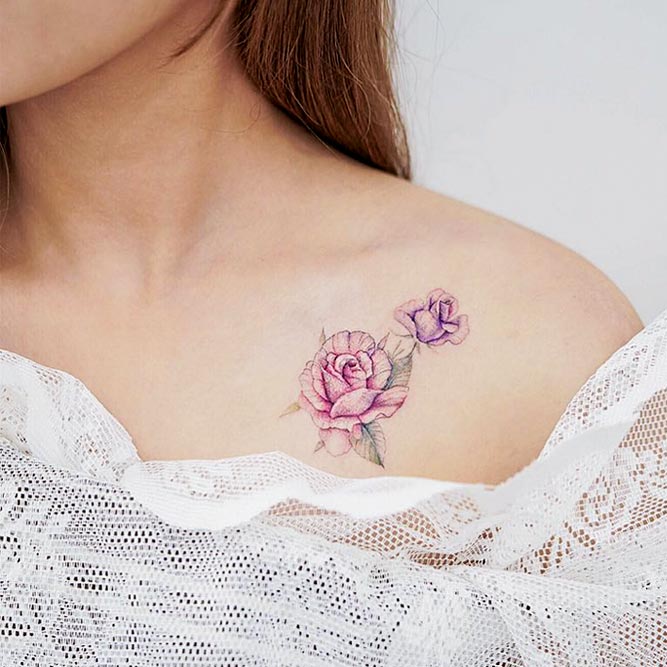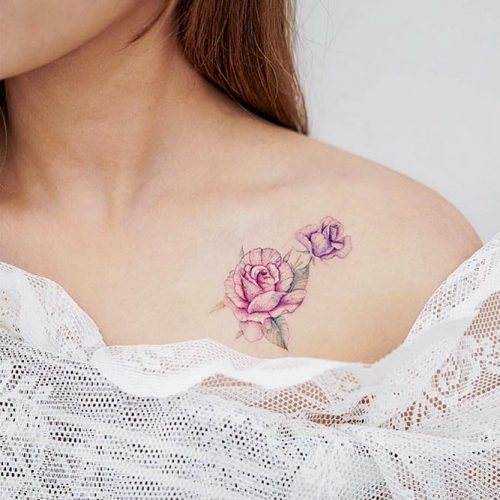 It may be true that small flower tattoos are more popular than big ones. When you have a closer look at this exquisite and petite rose shoulder tattoo, you will surely understand why. Such beauty can only be worn and created with love!
Lily Flower
Lilies are also very required when it comes to feminine tattoos. The thing is that even subconsciously ladies are attracted to this flower, and there is a perfect explanation for that. The truth is that lily flowers symbolize divinity and purity, two perfectly feminine features!
Simple Lily Flowers Tattoo Design
Source: petitcoco___ via Instagram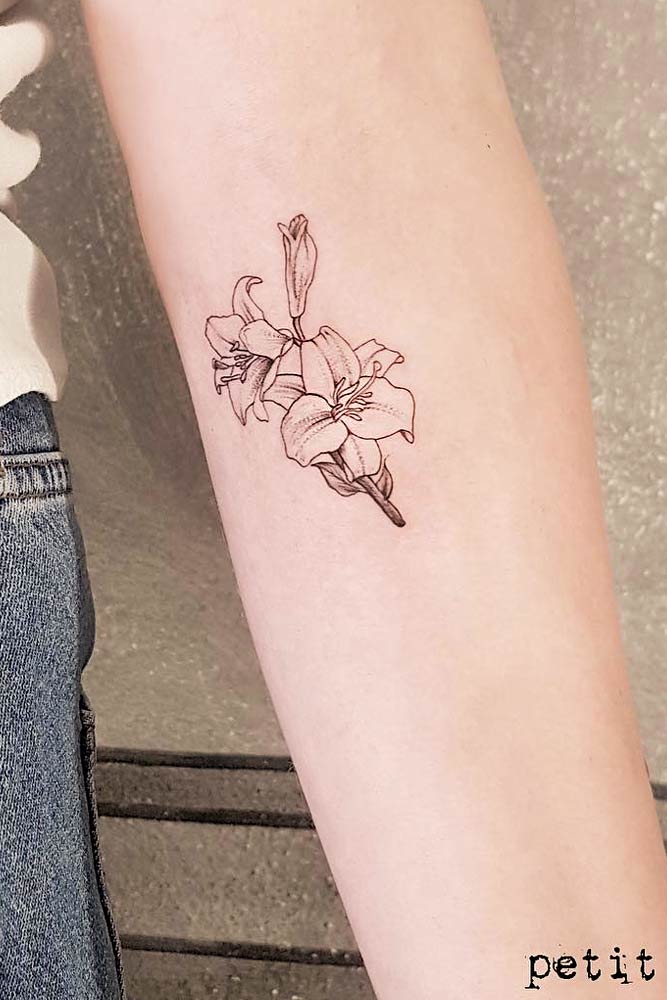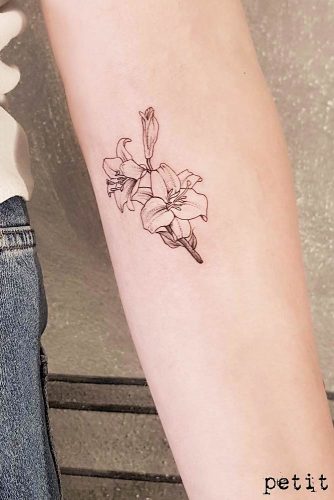 When you are looking for some simple and petite Lily Tattoo Ideas, we may have just a perfect one in mind. This pretty lily tattoo is so detailed even though it is quite small that it is difficult not to admire it.
Cute Lily Flower Tattoo For Leg
Source: missleetattoos via Instagram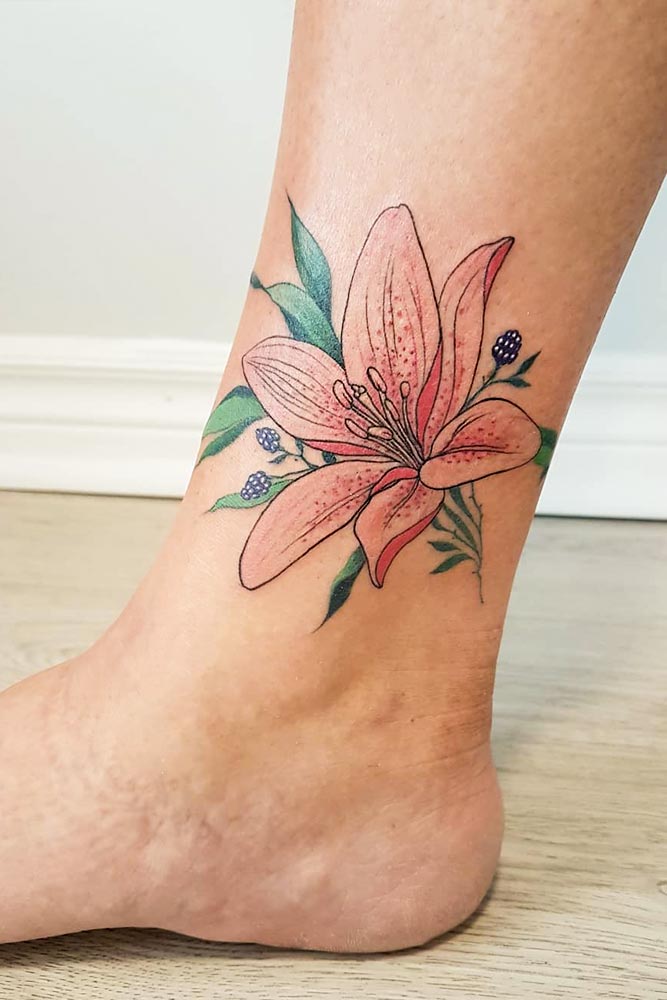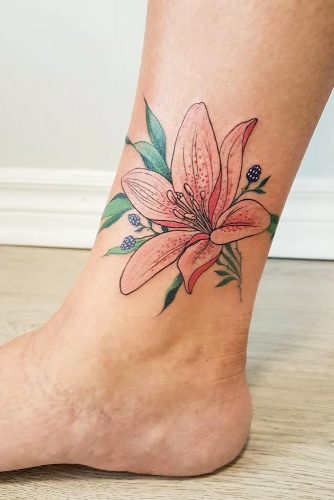 Colored tattoos are very special no matter the image depicted, but flower tattoos bear that unique and charming vibe, wouldn't you agree?
Small Outline Lily Tattoo
Source: danilina_tattoo_odessa via Instagram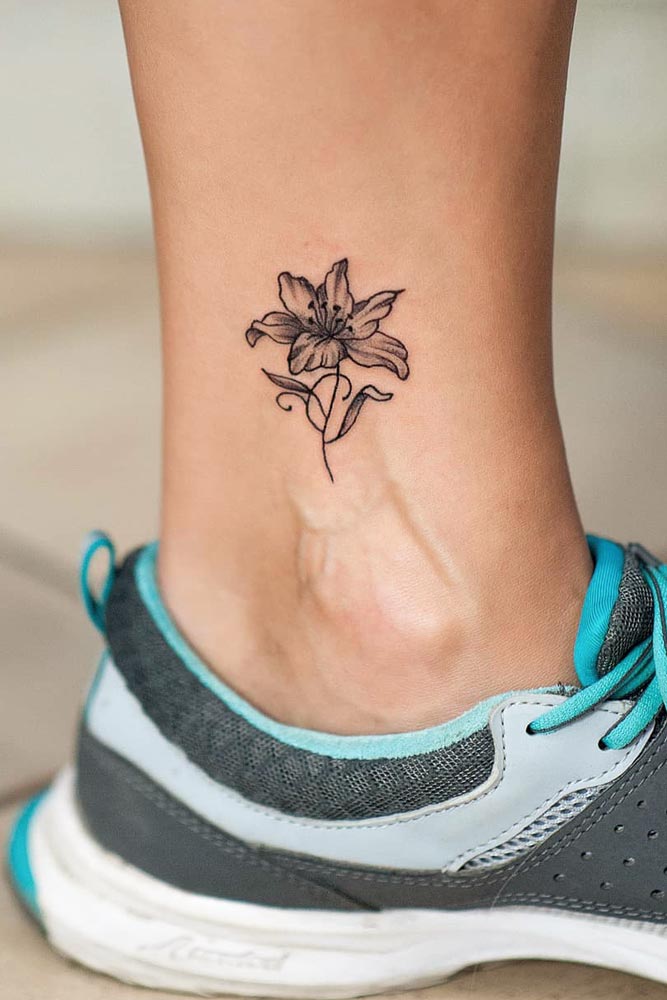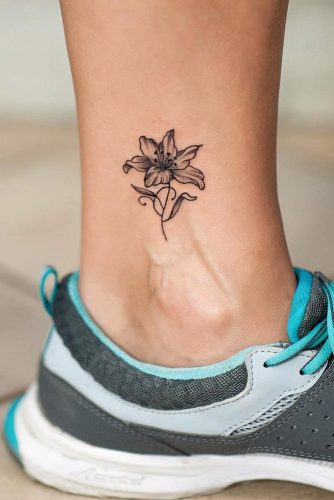 Black and white flower tattoos may lack the color, but they surely do not lack the expressiveness. Even such a small outlined tattoo is very realistic-looking and magnetic!
Poppy Flower
When you think about poppy flowers, the only meaning that comes to mind is sleep. In some cases, it is an eternal sleep, so some people choose exactly this flower to remember the lost ones. However, the poppy flower can also symbolize peace, so that it depends on your personal choice which meaning to entitle it with. In either case, it should be noted that poppy flowers look very gentle and fragile, precisely what a lady needs!
Watercolor Poppy Flower Design For Wrist
Source: mini_tattooer via Instagram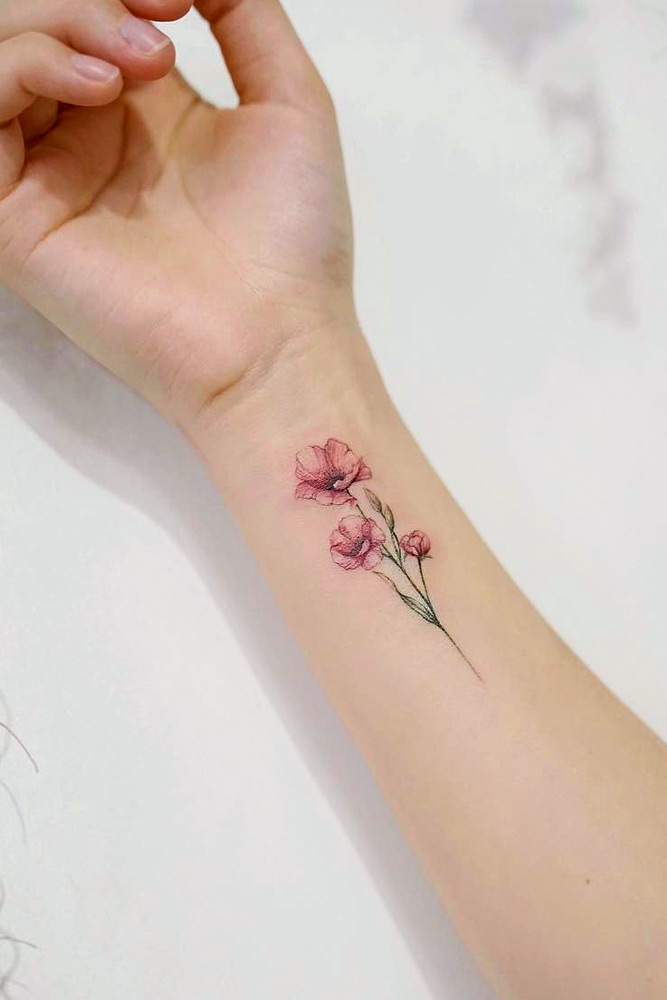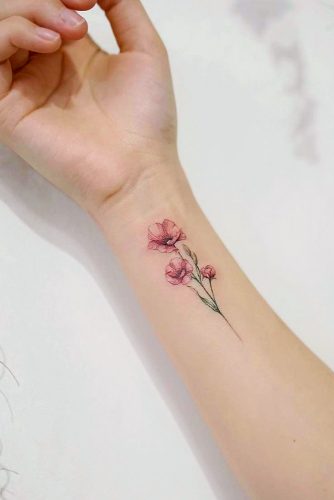 Tiny flower tattoos are always special and charming, and the poppy flower is not the exception. Such a small tattoo can hide a lot of meaning behind its fragile image.
Watercolor Poppy Flower On Arm
Source: graffittoo via Instagram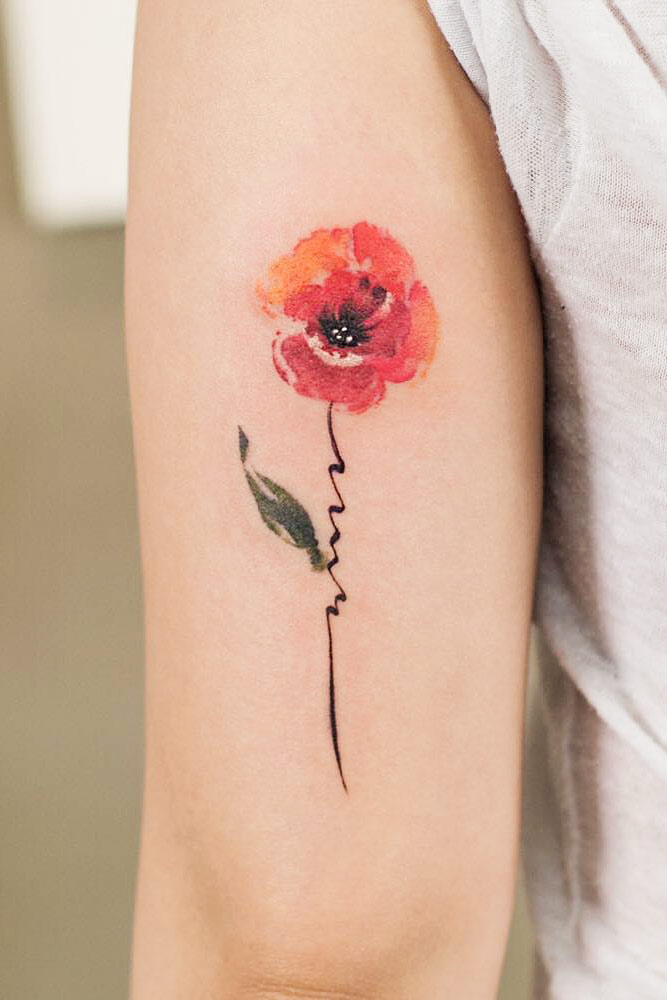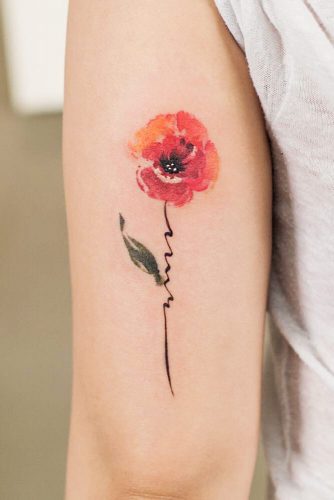 Even though all the flowers are special on their own you can always take your tattoo to the completely new level, all you need to do is to introduce your unique perception and vision. For example, this poppy image is personalized with the addition of some abstract shaping, but that does not make it look any worse, wouldn't you agree?
Black Outline Poppy Flower
Source: carinsilver via Instagram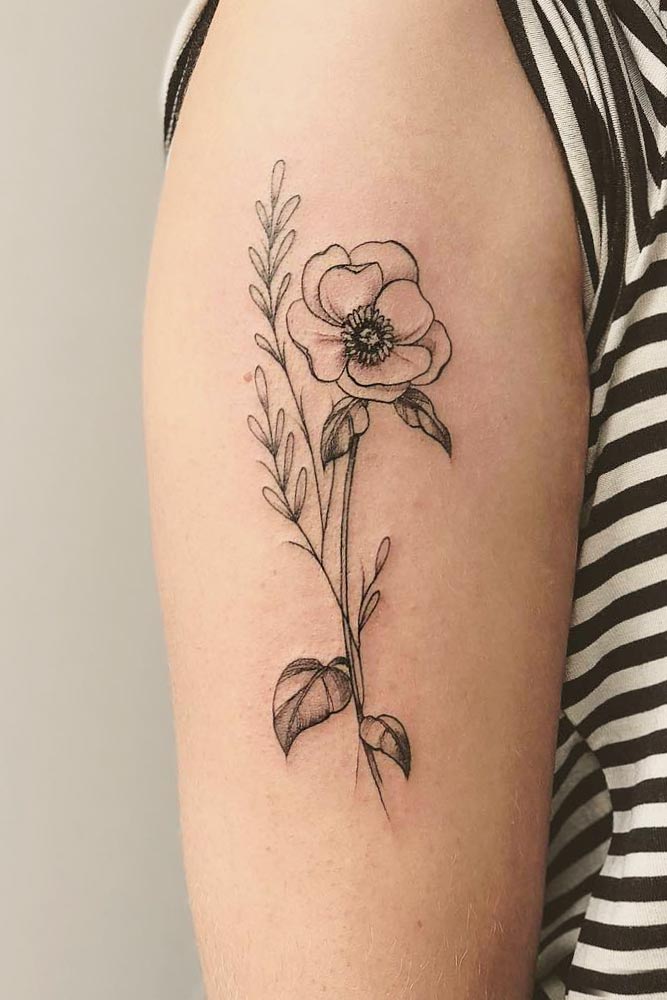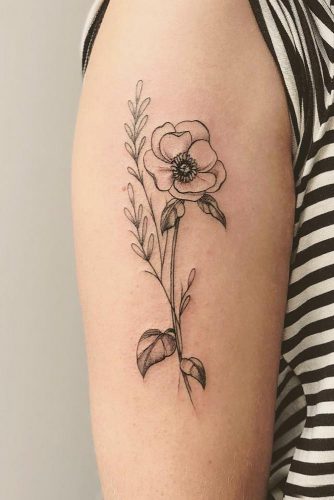 If you think that only colorful tattoos can bring out all the beauty of poppy flowers, then you should definitely reconsider your opinion. One look at this black outline poppy flower tattoo will change your mind that is for sure!
Cherry Blossom
Many people may associate cherry blossom with Japanese culture, and that would be correct. Yet, these days the tattoo art is conquering all the continents and countries that is why cherry blossom tattoos are not restricted to one area only, worry now. However, these were the Japanese that entitled cherry blossom with unique meaning. Since cherry blossom blooms for a short period of time, Japanese think it symbolizes the speed at which lives move.
Touching Watercolor Cherry Blossom Flowers For Arm
Source: tattooist_banul via Instagram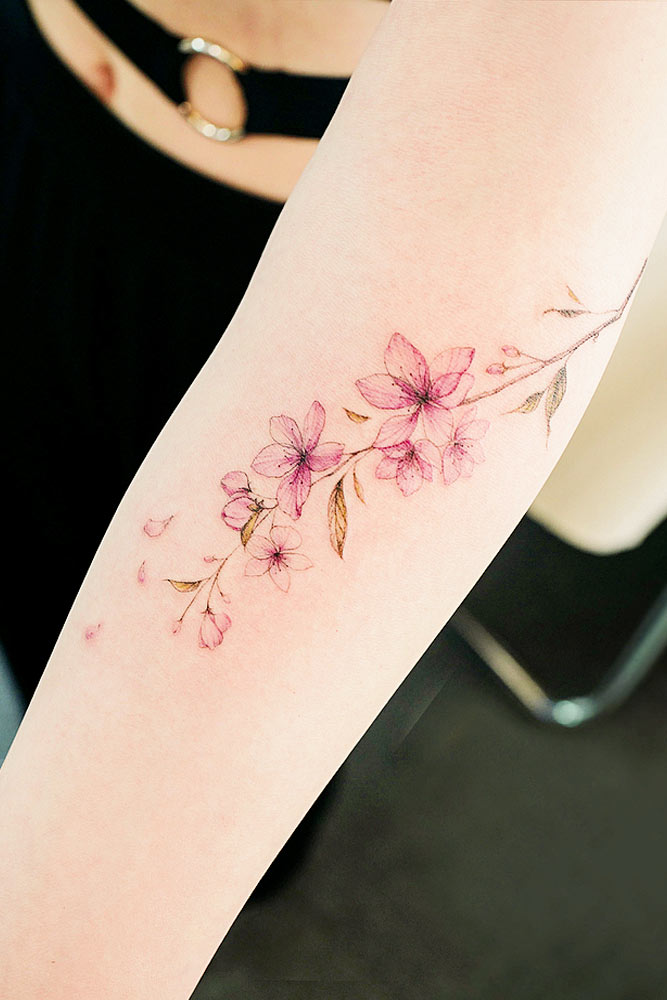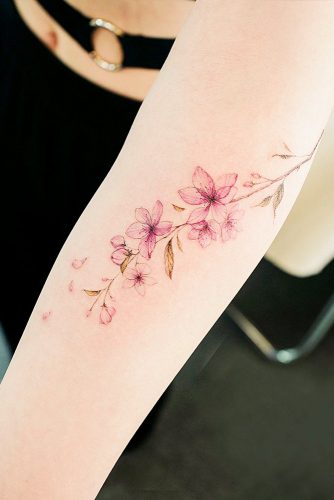 No matter the size, cherry blossom tattoos are very gentle and touching. If you are looking for a perfect beauty to decorate your arm, this may be the perfect option.
Pastel Cherry Blossom Design On A Side
Source: tattooist_banul via Instagram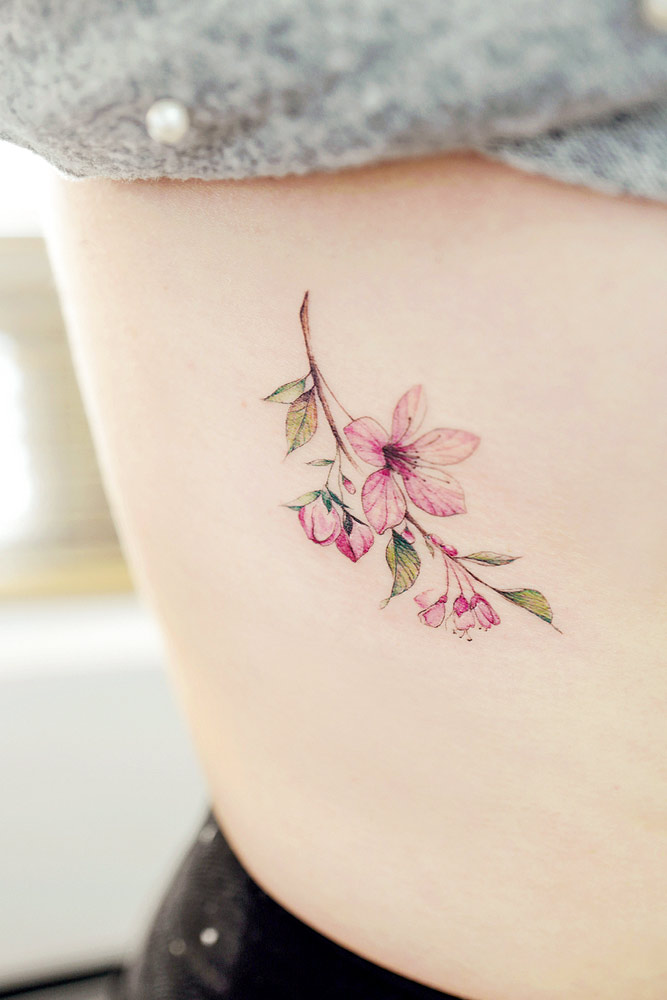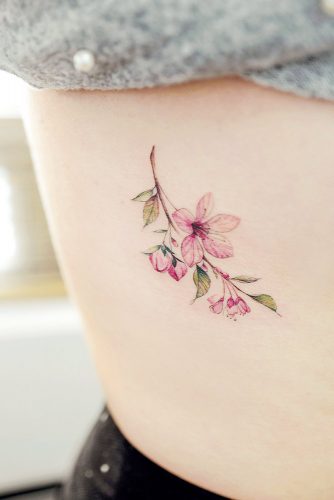 Some people care to choose their tattoos careful as well as to place them in the same manner. For example, if your tattoo is very dear t you, no matter how beautiful it is you will choose to hide it, and this side cherry blossom tattoo is the great proof to the point.
Cherry Blossom Branch For Shoulder
Source: graffittoo via Instagram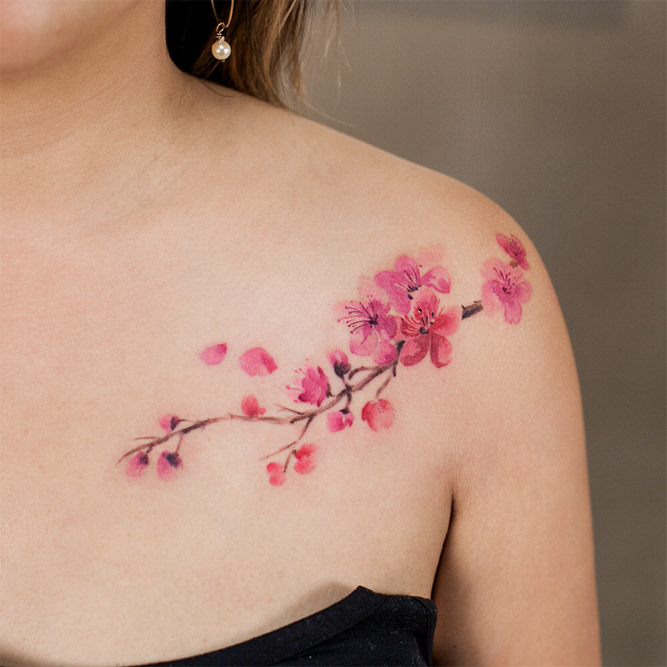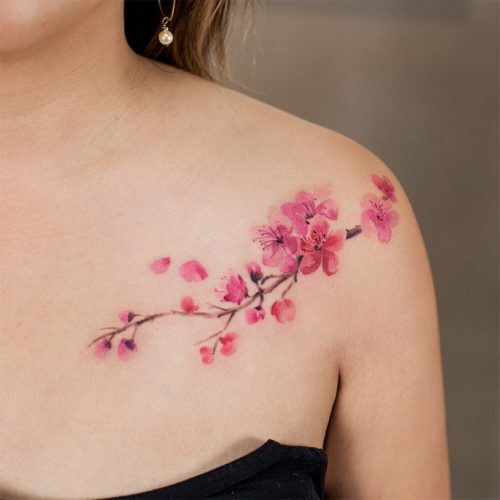 It has been already proved that the sassies tattoos are depicted on the shoulder. If you want your tattoo not only to be sexy but also beautiful beyond belief then this cherry blossom one is what you need to consider at least.
Lavender Flowers
Lavender is not only a beautiful and useful flower it is also a great inspiration for those who decide to decorate their bodies with flower tattoos. As for the symbolism, lavender is the symbol of elegance and purity is that sounds like you – you better choose your perfect design!
Watercolor Lavender Flowers In Delicate Place
Source: koray_karagozler via Instagram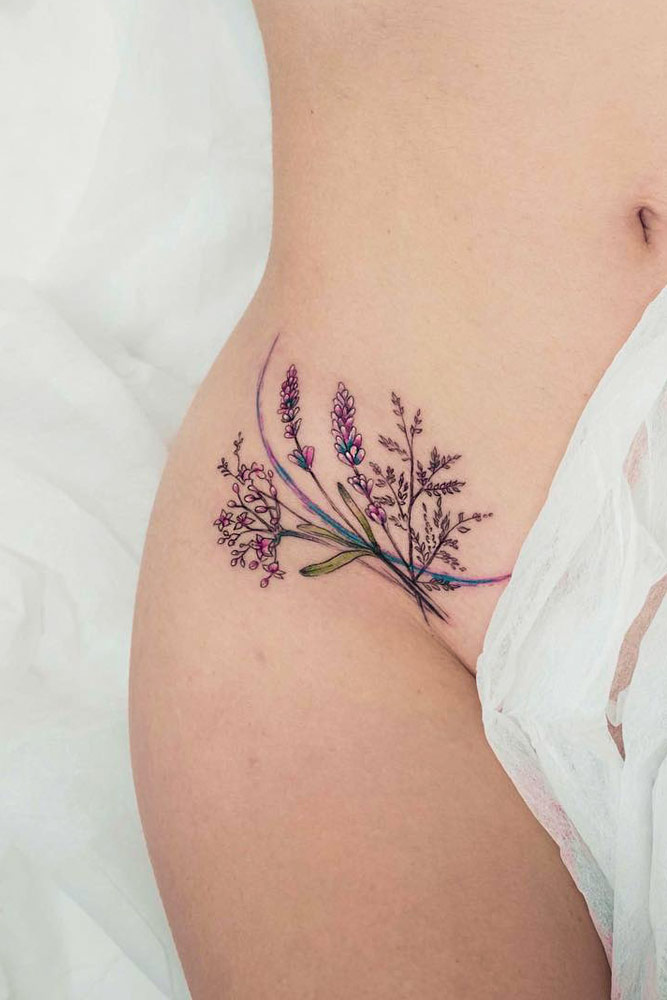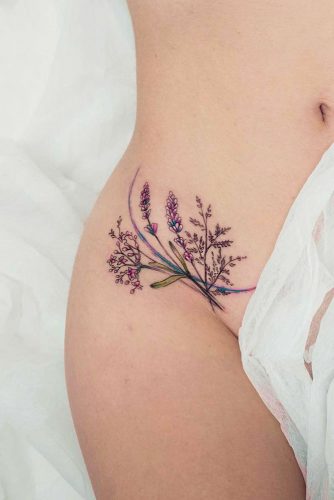 Since lavender symbolizes purity and femininity, it is only natural to place it in such a delicate part of your body.
Small Lavender Flower Tattoo
Source: mini_tattooer via Instagram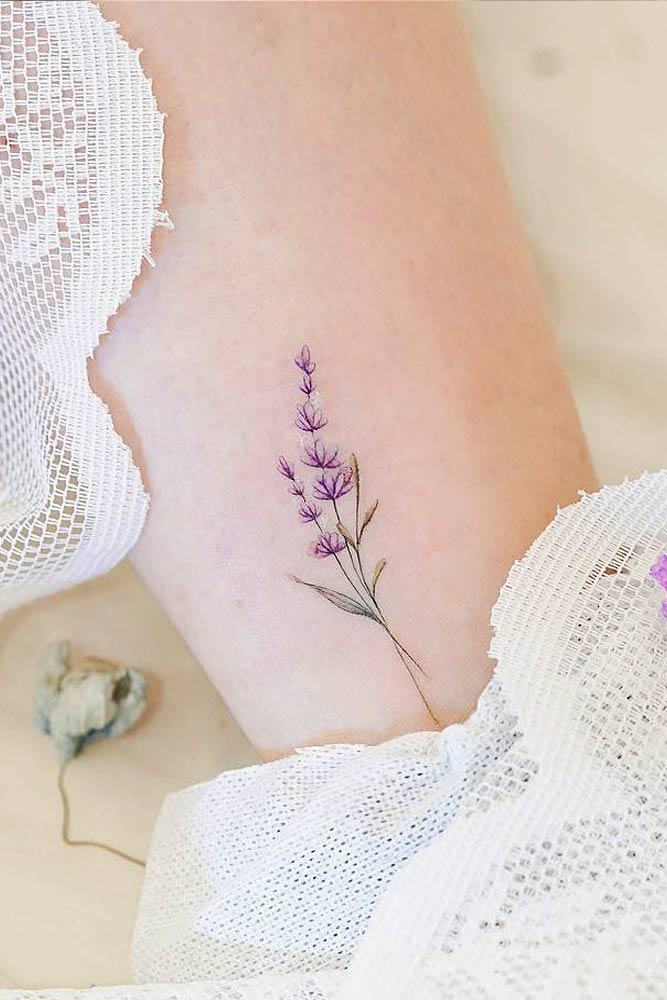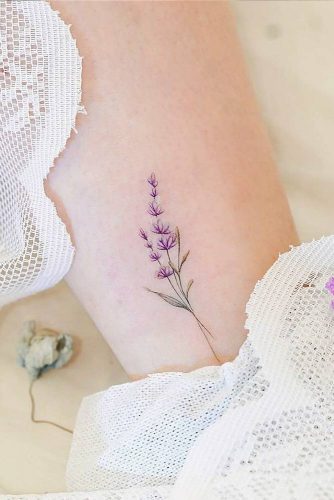 It is true that not everyone is equally comfortable with big tattoos. If you are one of those who want to just try it out on yourself but wants the tattoo to look super cute but small, this tiny lavender is exactly what you need!
Watercolor Lavender Tattoo Idea For Wrist
Source: mini_tattooer via Instagram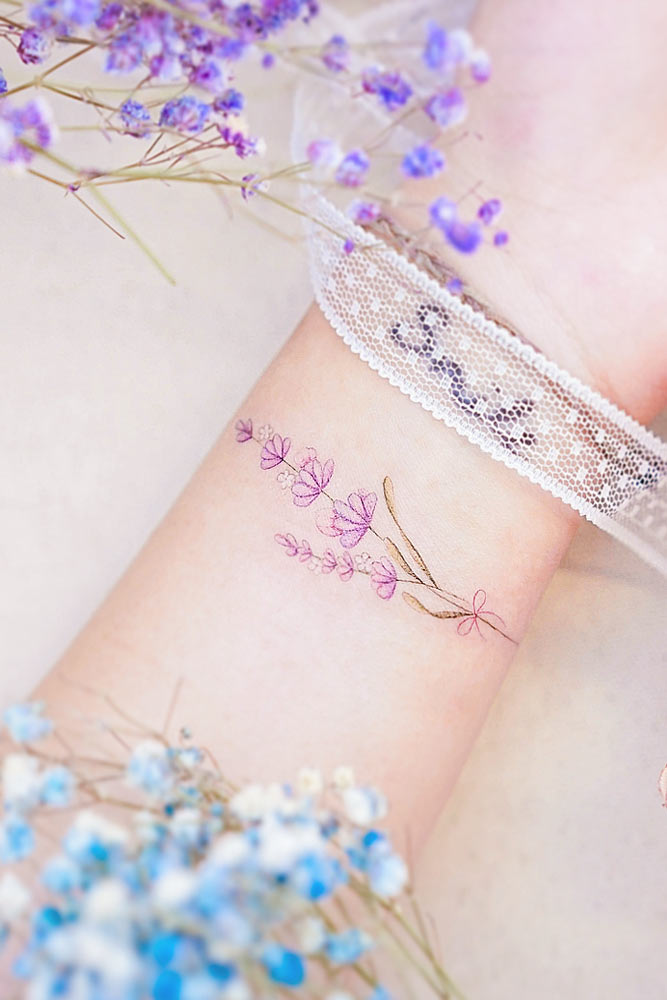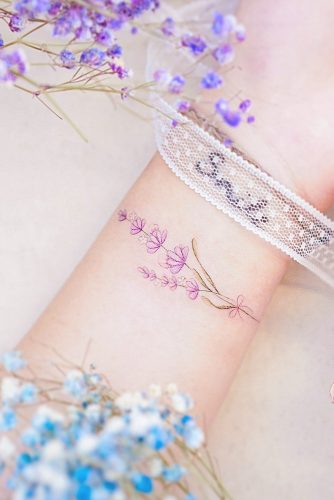 Tiny wrist tattoos are very popular these days. However, popular does not mean common, right? You may choose a popular place but decorate it with a unique image, like this lavender one!
Main photo by
tattooist_banul