These days the tattoo art is beyond popular, it seems that everyone in the world has something to say and wishes everyone to be able to understand it. Of course, very often a tattoo is just another way of decorating your body, as it is your temple. However, usually, there is always a more significant meaning behind the ink. That is why nowadays we can observe a new trend appearing – sister tattoos. It is understandable that having a sister is something that not everyone can afford but those who are lucky enough always want to celebrate the bond. There is rarely any other person in the world who will understand you better than a sister that is why committing each other to a matching tattoo art is that little thing you can do. Yet, when it comes to figuring out what you would like to have depicted on you – the difficulties may arise. That is why we think it is an excellent idea to share with you a handful of sister tattoo examples so that you can be inspired and come up with something of your very own.
Sister Tattoo Ideas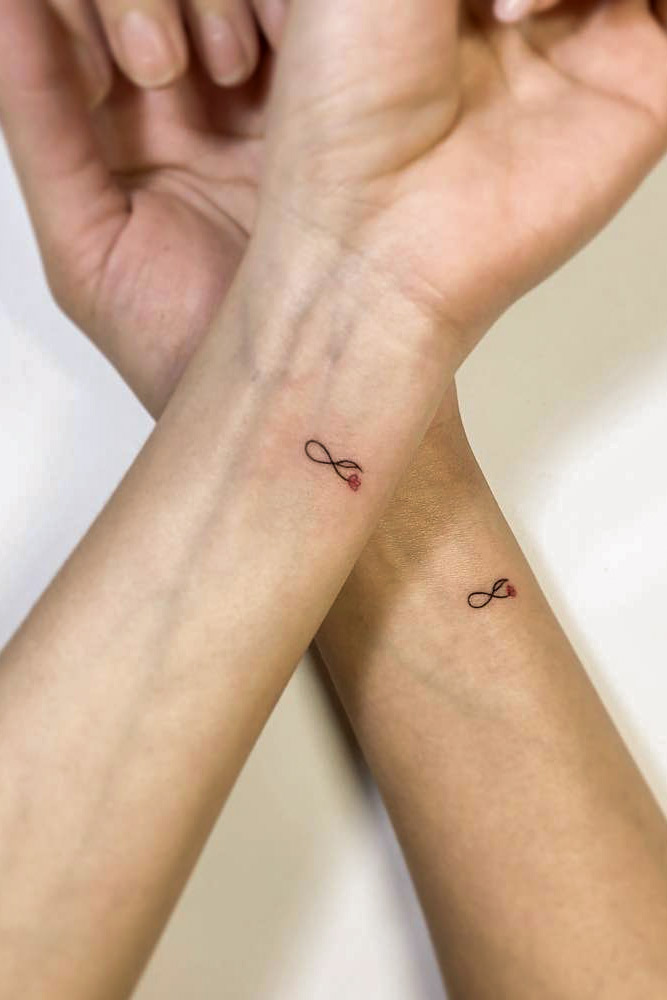 Credit photo: Instagram.com/playground_tat2
Matching sister tattoos are not only the way to appreciate the modern tattoo trends; getting matching tattoos, even though they may sometimes differ, at least in color – is the best way to celebrate your relationship with the loved sibling. Of course, the tattoo can be symbolical or can be a reminder of a particular event, but in most cases, it is all about the connection.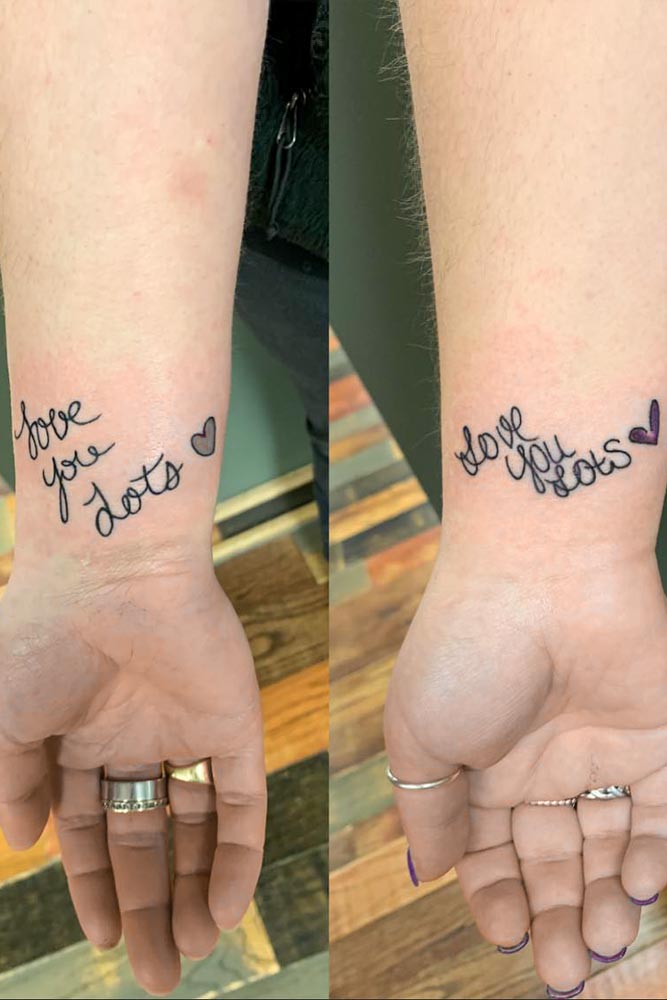 Credit photo: Instagram.com/zone13tattoo
Getting a sister tattoo is a beautiful way to show each other how much love and appreciation you have for each other. Don`t try to find crazy ideas, sometimes simple tattoos like this one are the best option.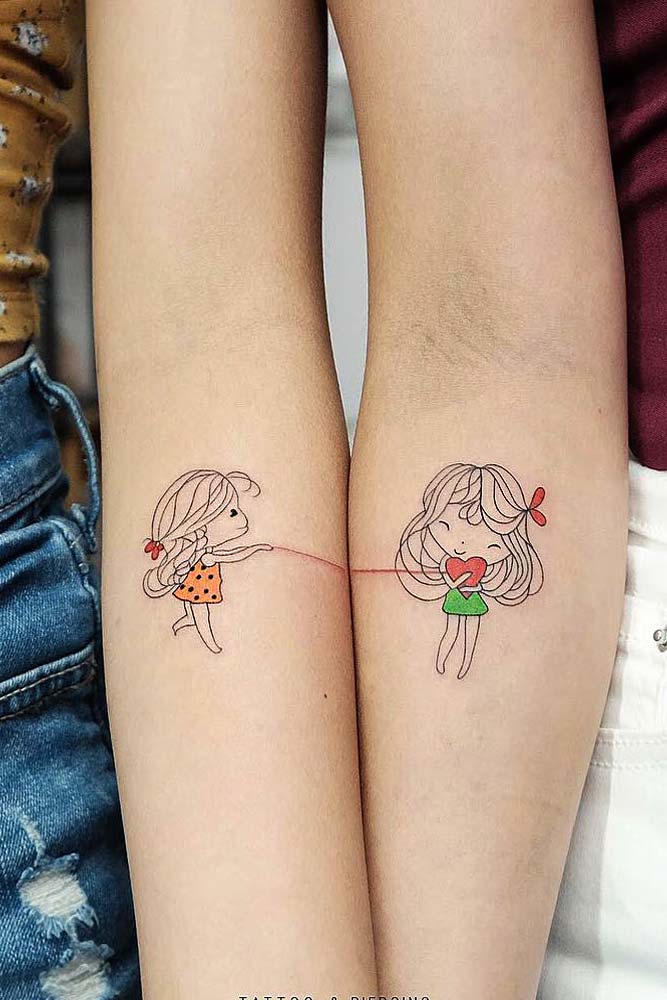 Credit photo: Instagram.com/kity.recycle
This cute idea will make hearts melt when seen by other people, don`t you agree? A special idea that will only be full when you two are together.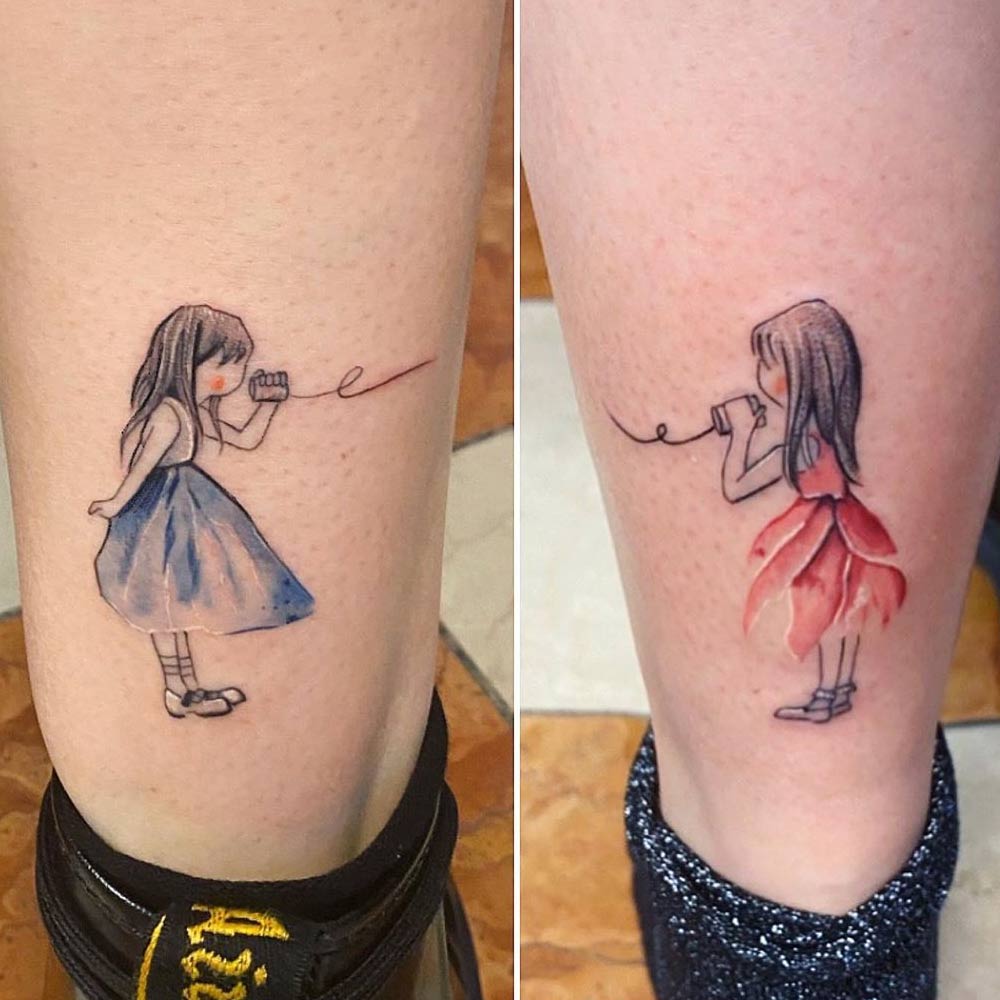 Remember the simpler times with no Internet and smartphones? If you do and you loved those times, celebrate them with a peculiar girly tattoo. Those who know will get the reference.
Credit photo: Instagram.com/francescanave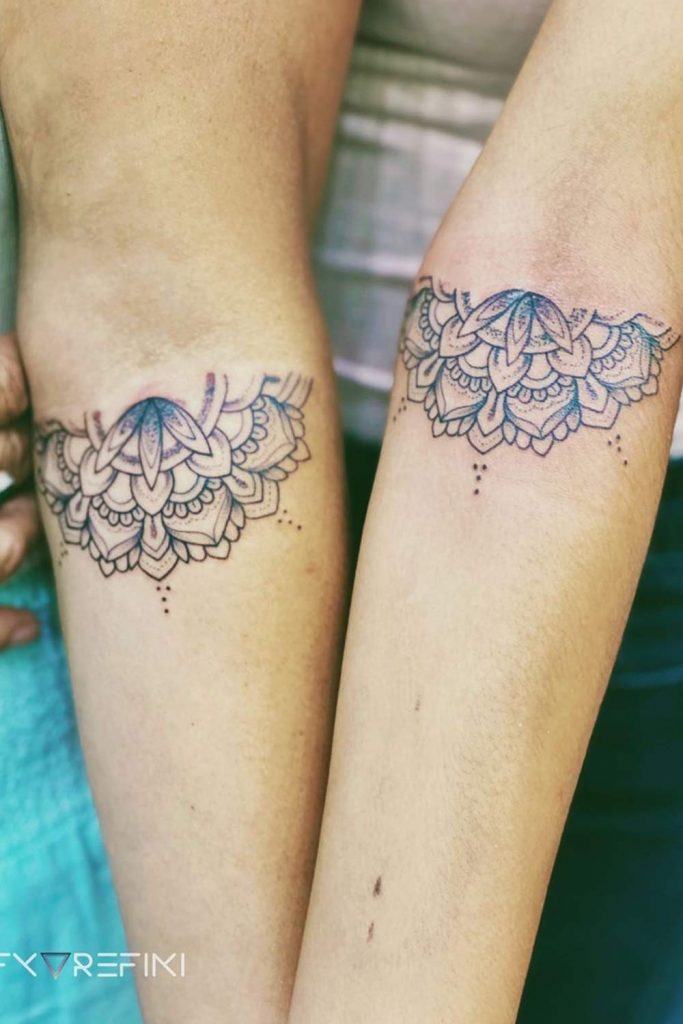 Credit photo: Instagram.com/ifyrefini
A false opinion circles that sister friendship tattoos are supposed to view that deeper meaning that you depict in it. However, if you do not want to declare your feelings, wearing your heart literarily on the sleeve, a matching mandala pattern is a stylish way out. Think about it!
Small Outline Sister Tattoos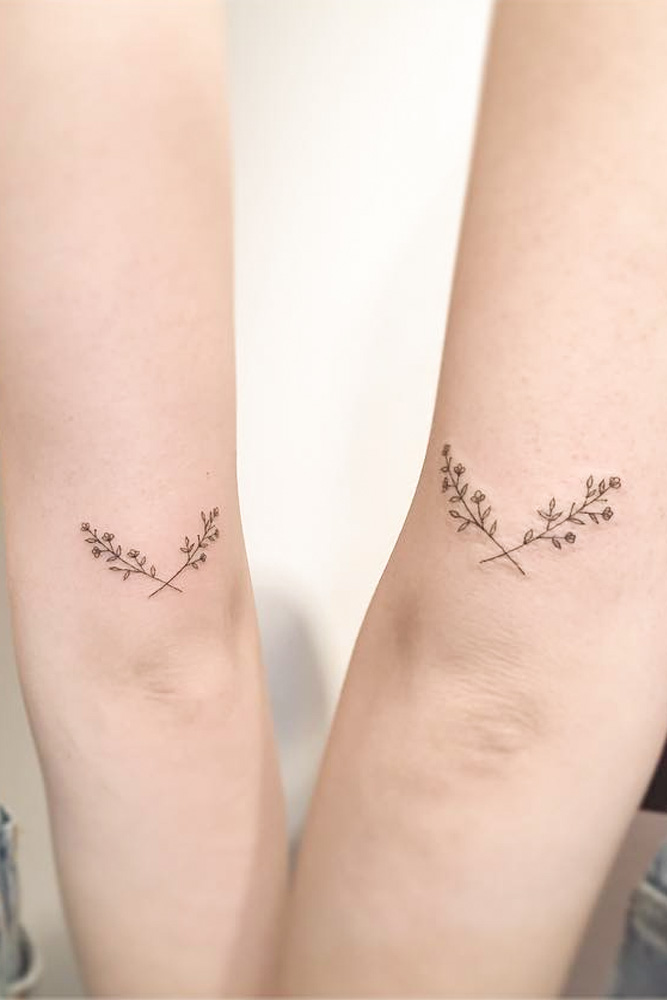 Credit photo: Instagram.com/playground_tat2
Very often those who opt for a sister tattoo are not always huge ink addicts that is why it is more than necessary to come up with something tiny but meaningful. It is true that small sister tattoos are many, but in most cases, they are something very special and particular for both. It may be your zodiac signs, your sister's name, or it can be something very abstract that only the two of you may know the meaning of.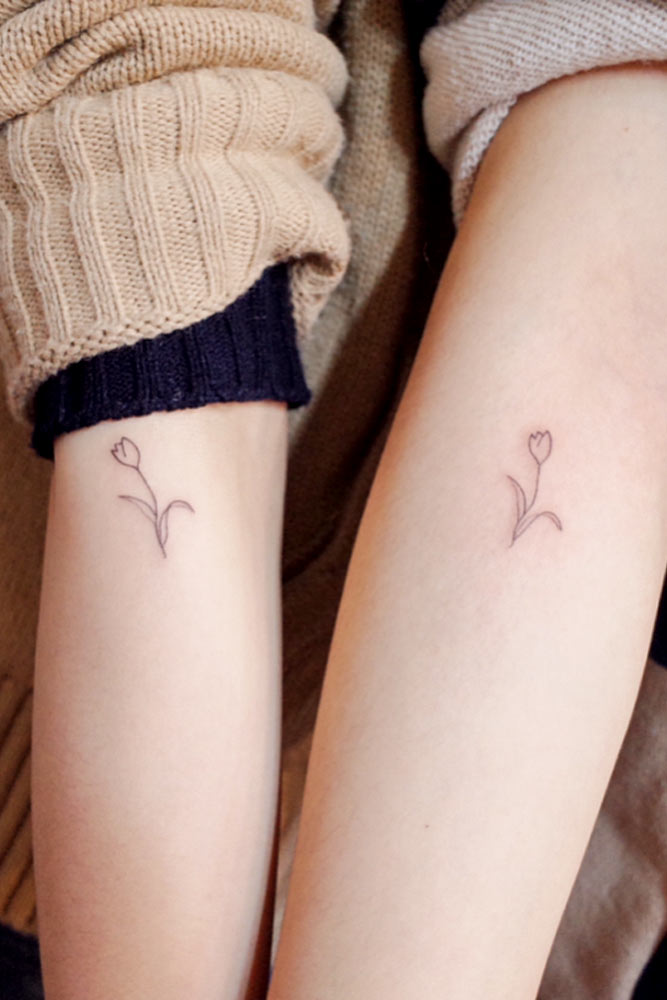 Credit photo: Instagram.com/playground_tat2
Besides, a tiny tattoo is a lot easier to cover up with a clothing item. This may seem quite insignificant since the modern world becomes more and more open towards the body ink, but for some, this may be still crucial.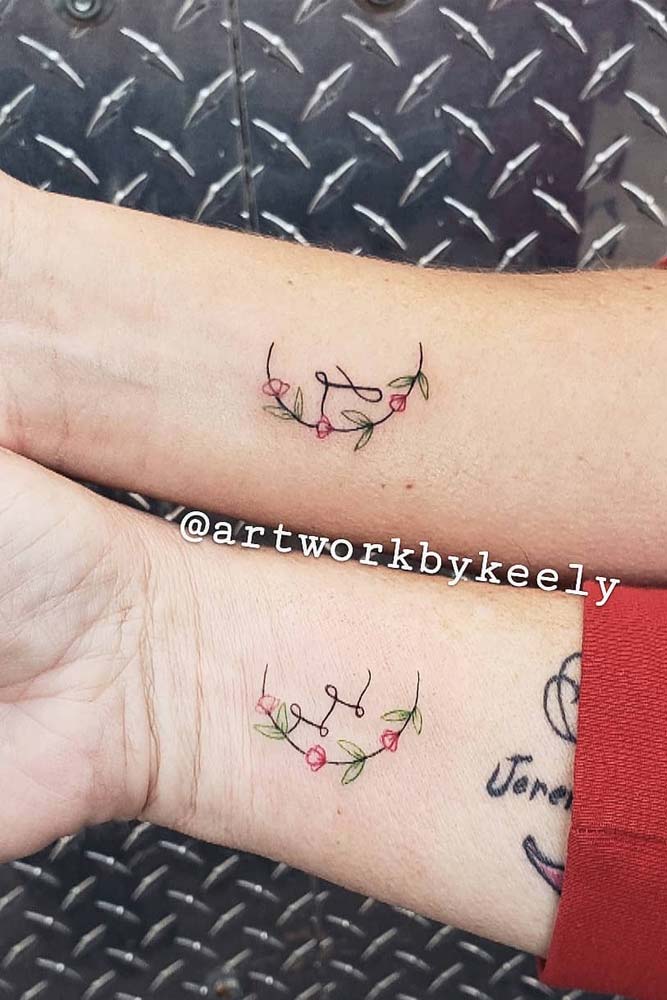 Credit photo: Instagram.com/artworkbykeely
Some people don`t want others to understand what they mean with that tattoo and if that is your case, then this outline sister tattoo is perfect for you.
Heart Tattoos Designs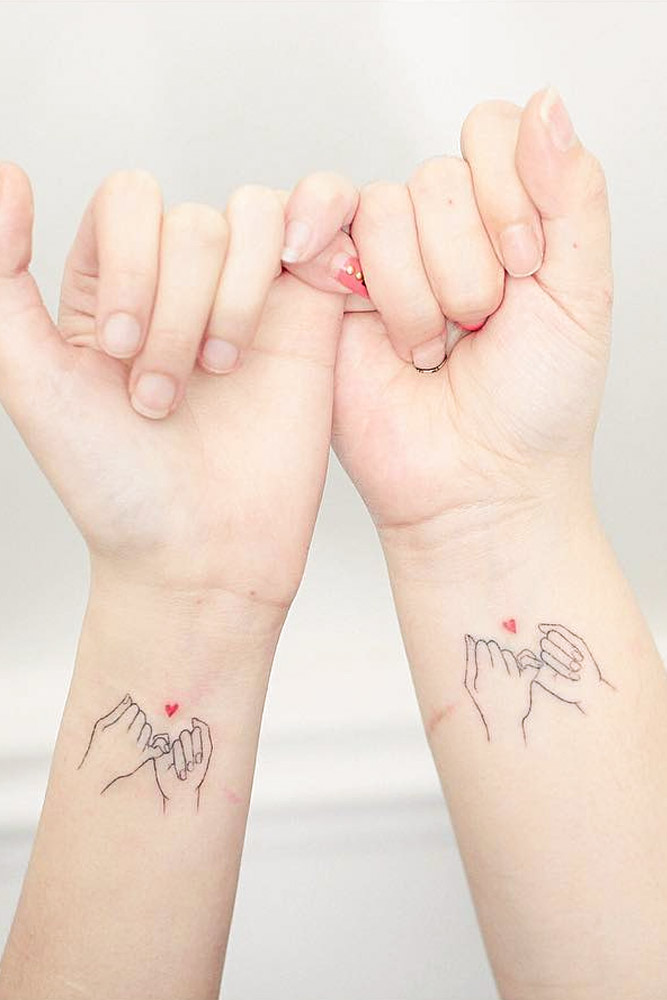 Credit photo: Instagram.com/mini_tattooer
It should be mentioned that, whether you like it or not but flowers and hearts are the most requested for designs when it comes to sister tattoos.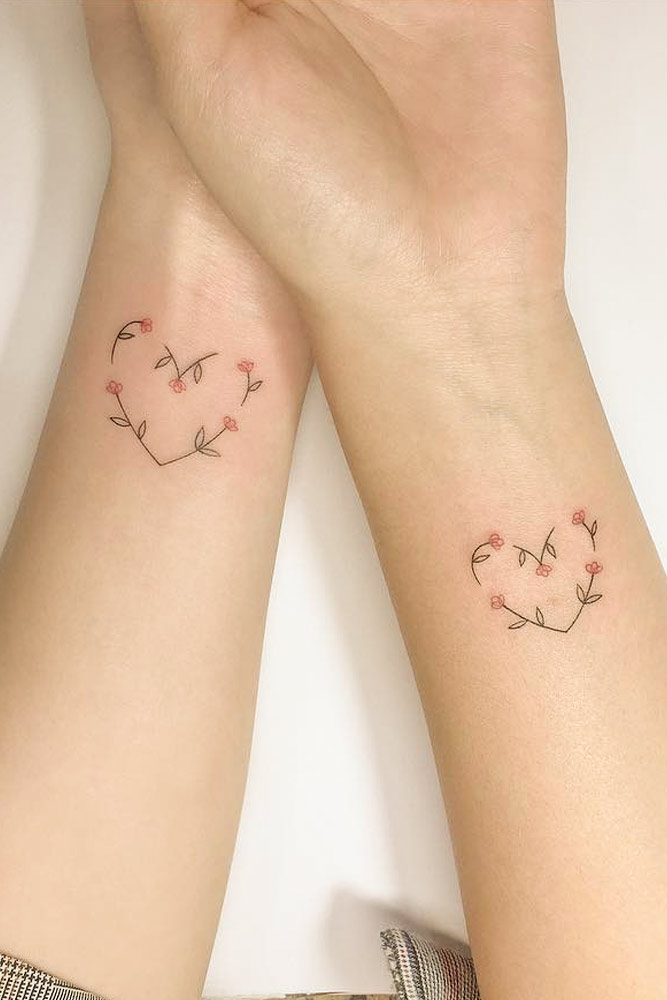 Credit photo: Instagram.com/playground_tat2
Not only the love between a man and a woman can be expressed through the heart-shaped tattoo, but sister love also fits in just as well. A cute entwined heart tattoo is a perfect symbol to state your care and devotion.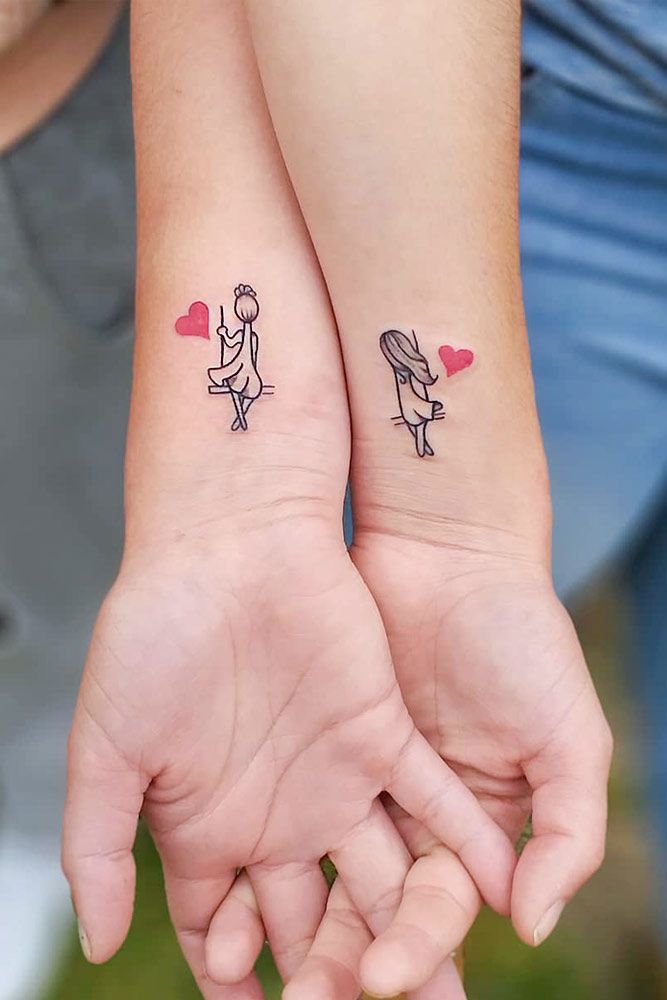 Credit photo: Instagram.com/la_tinta_de_allan
Love is what we would love to show with having such tattoos, so why don`t we put a symbol of it near a tattoo that we address to our sibling?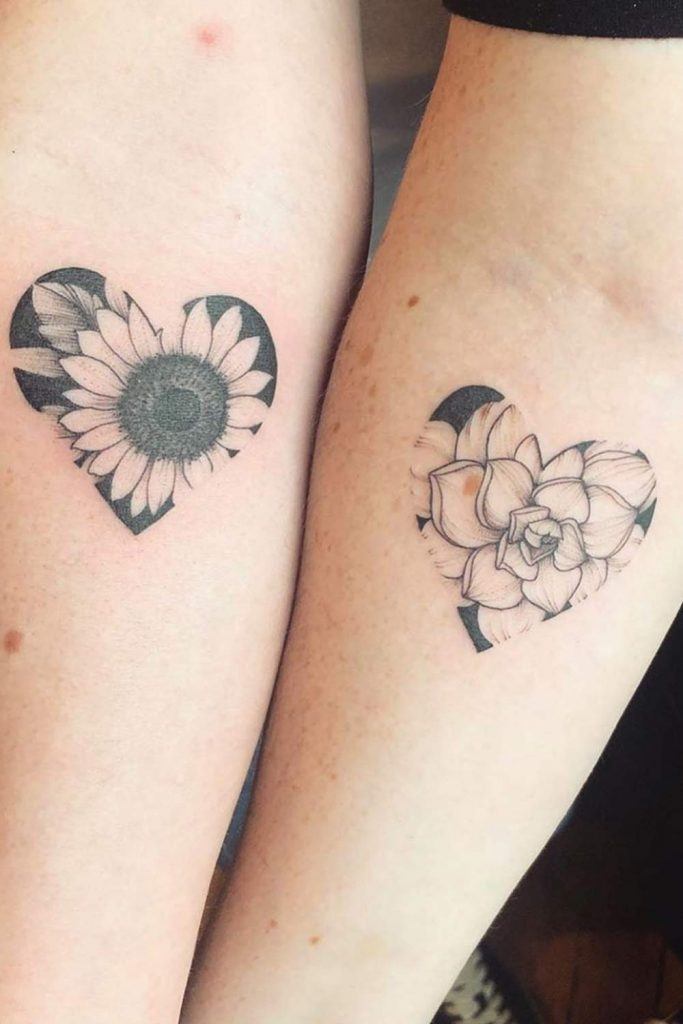 Credit photo: Instagram.com/tatuagensfemininas
Did you know that matching sister tattoos are not supposed to be identical? Well, it is time you discover the fresh horizons of ink art and express yourself the way you see fit!
Sister Tattoo Ideas With Flowers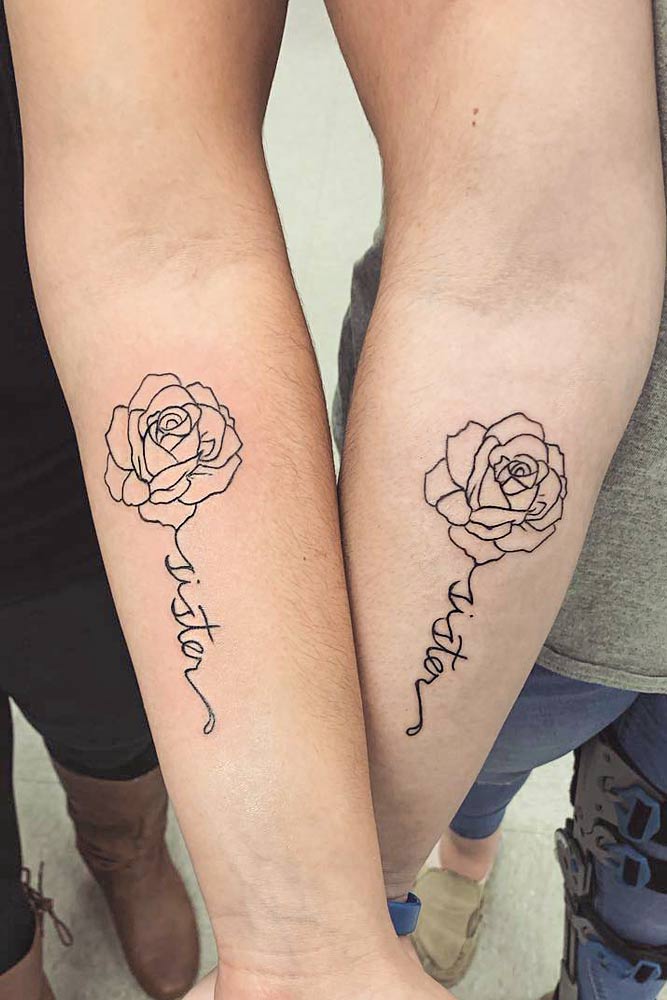 Credit photo: Instagram.com/darcy_lb
If you are looking for a creative and original idea for a sister tattoo, then think of adding a thin lined flower next to the word sister. So much tenderness and beauty.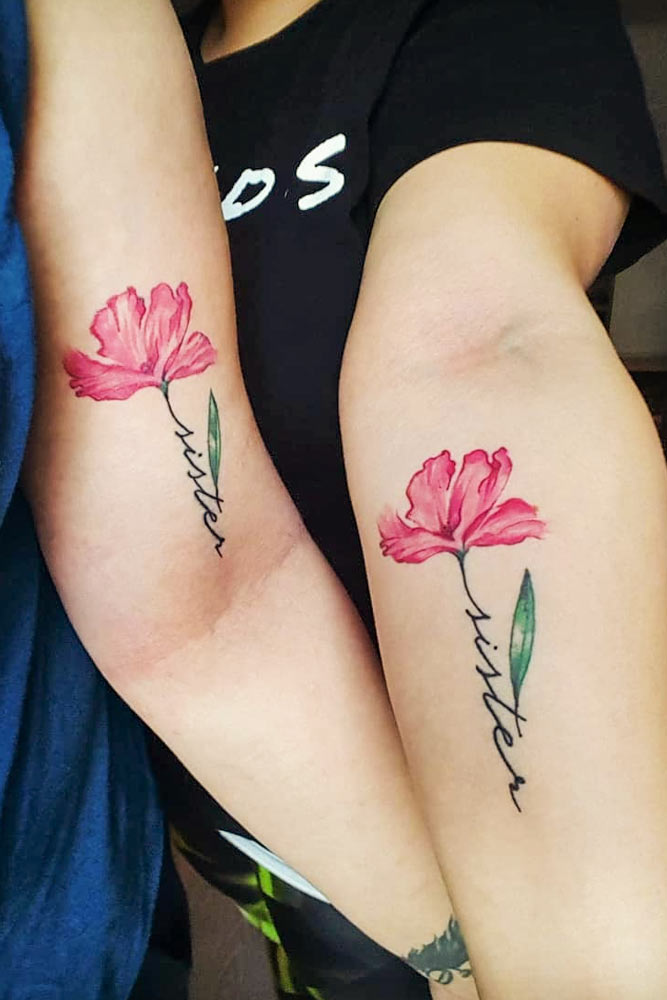 Credit photo: Instagram.com/katjahuttunen
Of course, there are some common placements, like your wrists or feet or shoulders. However, in the long run, it is all the matter of personal choices and preferences. If you want your tattoo to be easily noticed, then you should better wear it on your arm or wrist, when you want to hide it easily – then leg it is.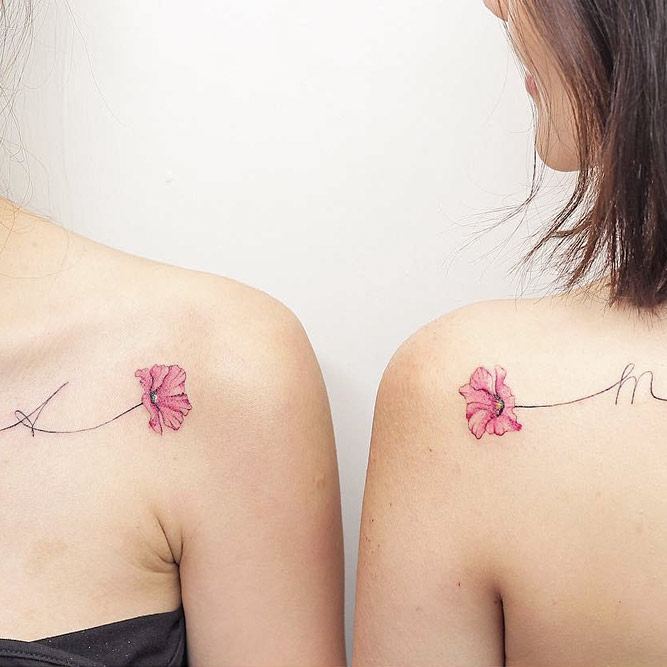 Credit photo: Instagram.com/mini_tattooer
It happens so that when you think about sister friendship tattoos, not only the design matters but also the placement. You need to think about it thoroughly where you are going to put your matching tattoo.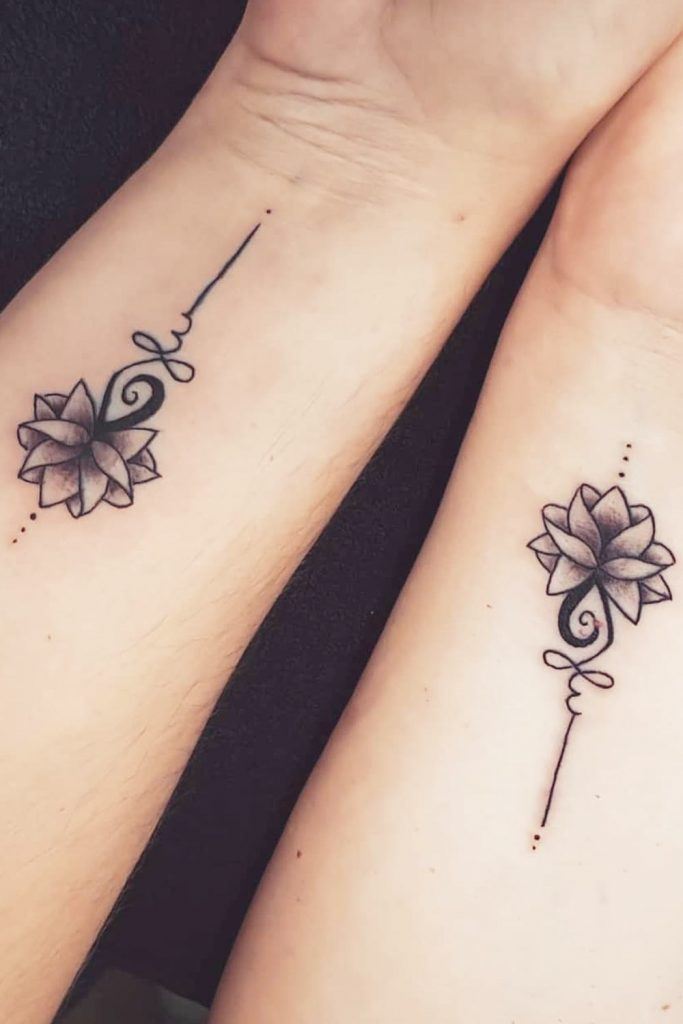 Credit photo: Instagram.com/cherryb.tattoo
We say – the simpler, the better. The fact is that simple sister tattoos are usually the most meaningful ones. If you are looking for a trendy suggestion, then a lotus flower may be what you are searching for!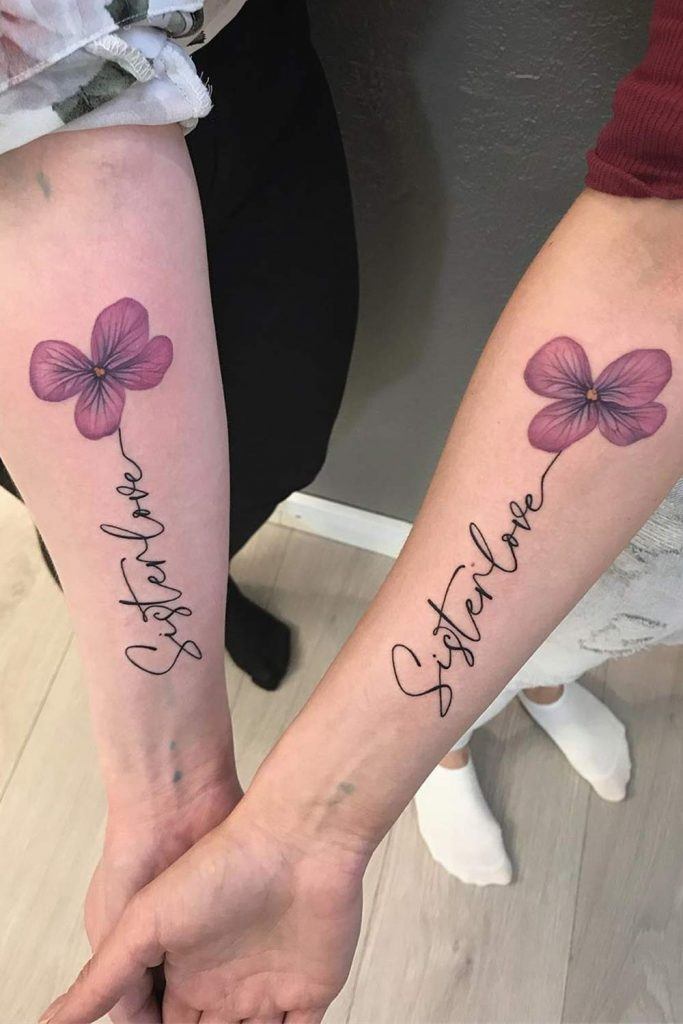 Credit photo: Instagram.com/north88ink
Sometimes the phrase you depict on your skin matters more than the picture. Sister matching tattoos stating your feelings for one another are incredible! In case you do not trust us – see for yourself!
Tattoos For Wild At Heart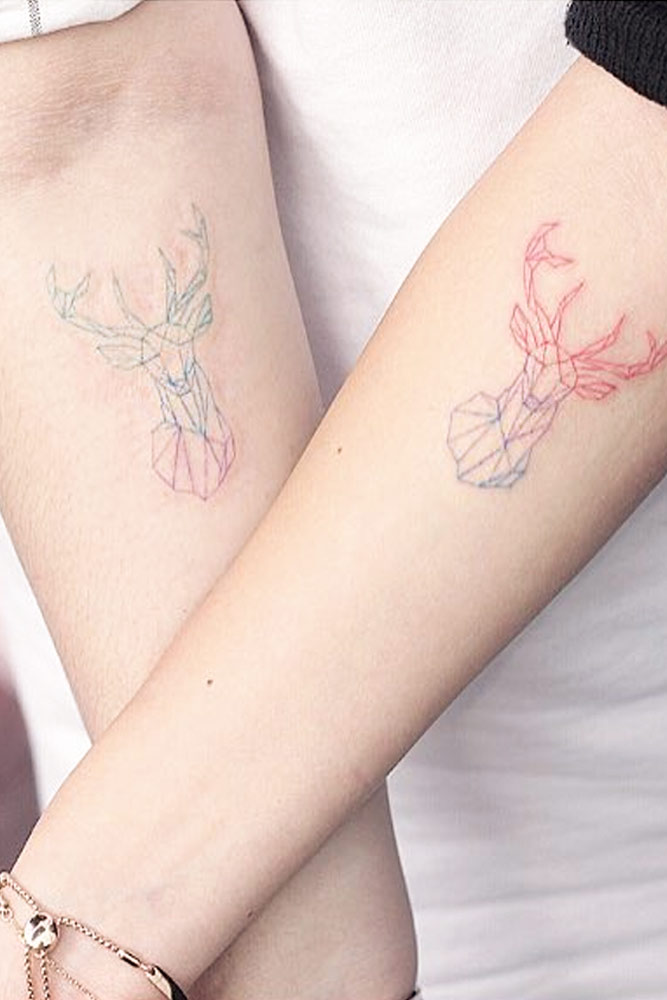 Credit photo: Instagram.com/mini_tattooer
In this set, you can see that all the tattoo ideas are in color and that is what makes them look even more unique and exquisite.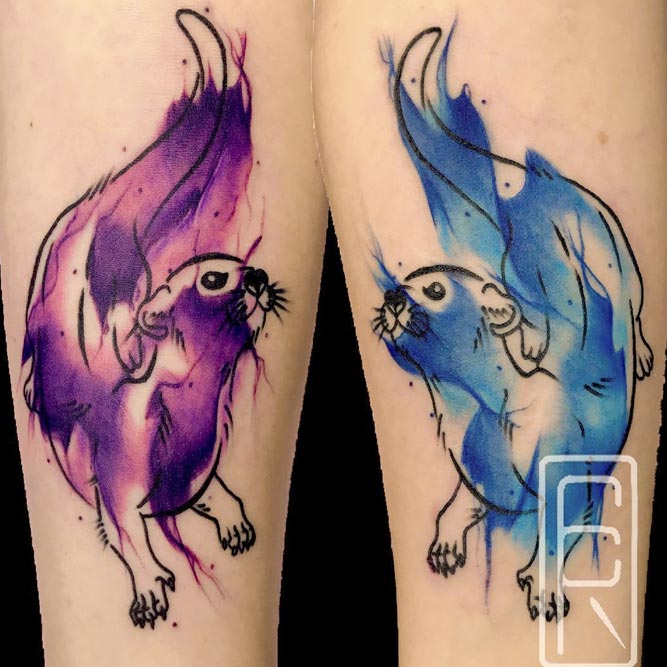 Credit photo: Instagram.com/cprtattoos
It is true that such sweet designs can represent many things that a sister tattoo is about. However, you need to keep it in mind that everything in this world has its special meaning, be it an animal or just a flower - you need to research the subject before getting it permanently inked on you and your fav sis. Who knows, maybe you will fall the victim of these tattoo ideas' charm too!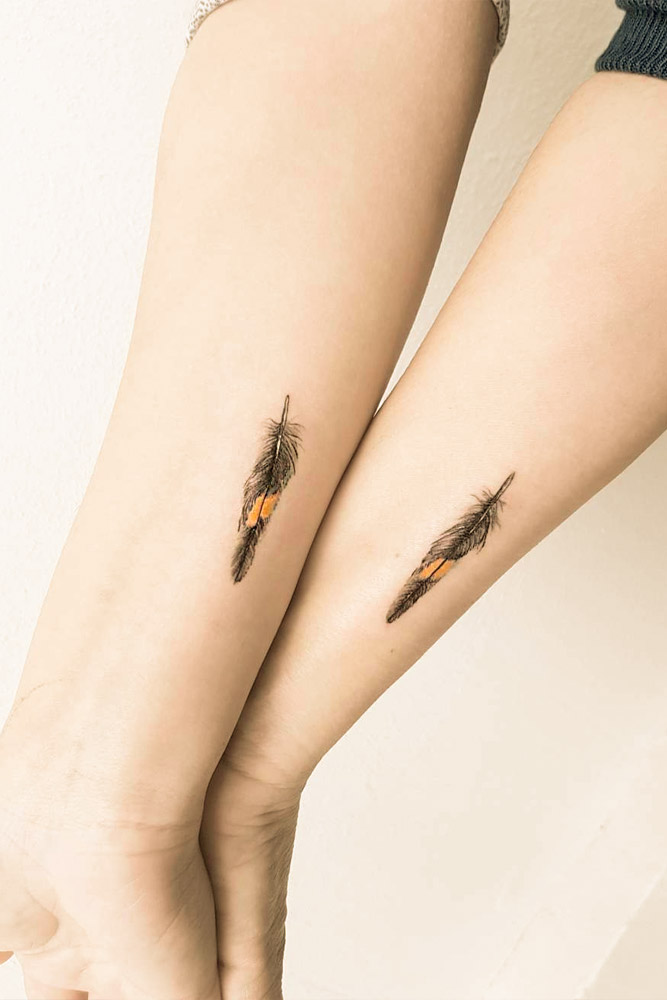 Credit photo: Instagram.com/cansuolga
Sisters are always smaller parts of something greater. For example, tiny feathers depicted on the forearm may define that you are just two tiny components of a whole - your mother.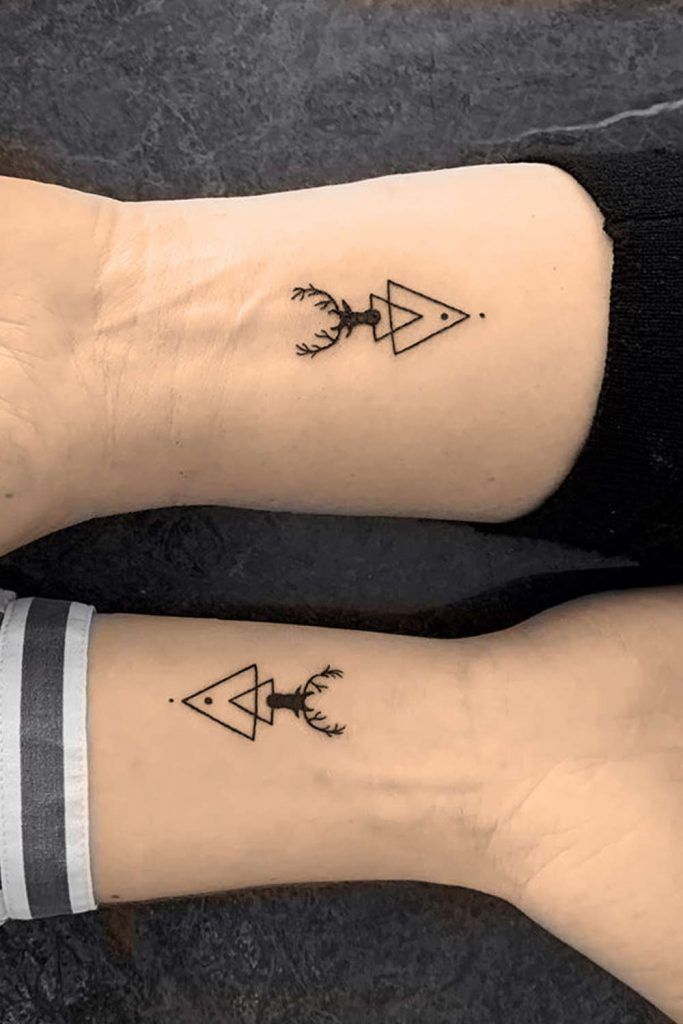 Credit photo: Instagram.com/rad.winederlust
Geometry is trending at the moment, and we suggest you make use of it. Mix the strictness of geometry with your spirit animal, and the result you get will be breath-taking!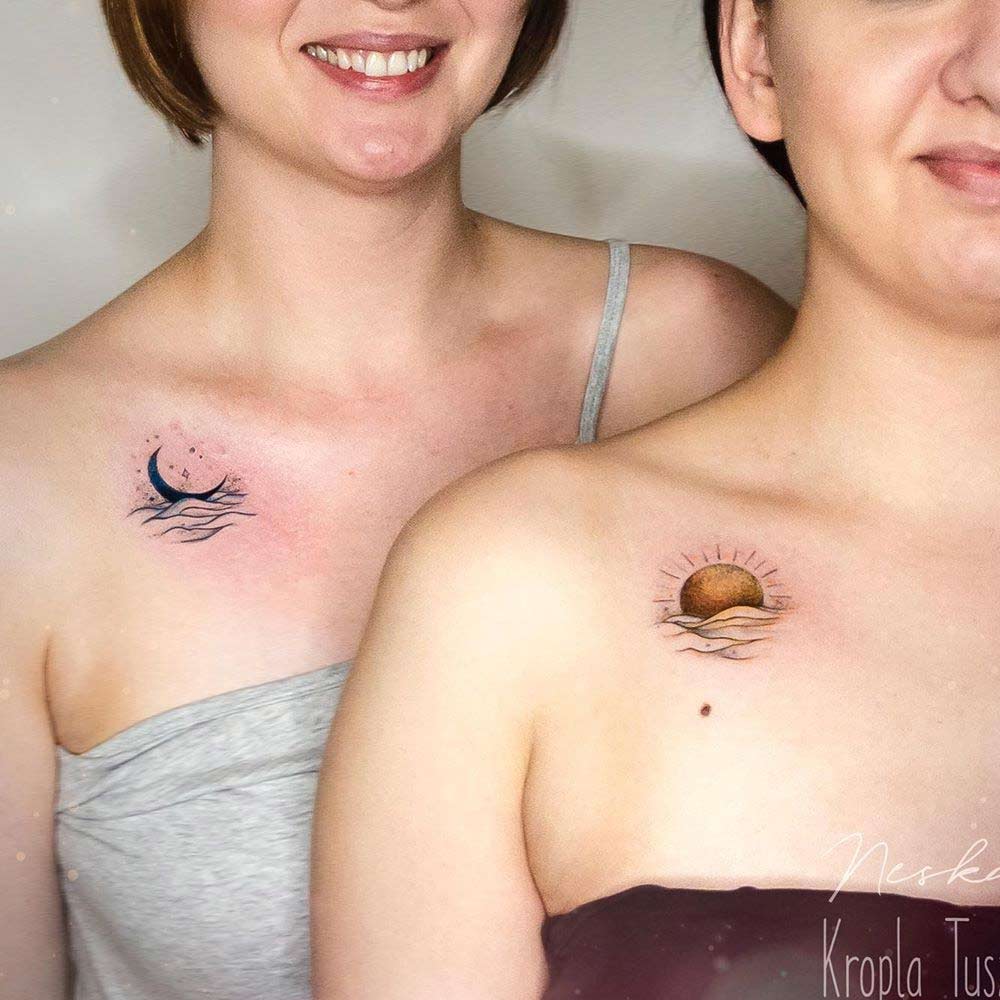 Credit photo: Instagram.com/neskatattoo
Very often, the union of the Sun and the Moon is viewed as something romantic and fit for couples in love only. We say that sisterly love deserves its share of attention, too, and inking these stellar elements on your bodies is a worthy idea.
Sister Tattoos For 3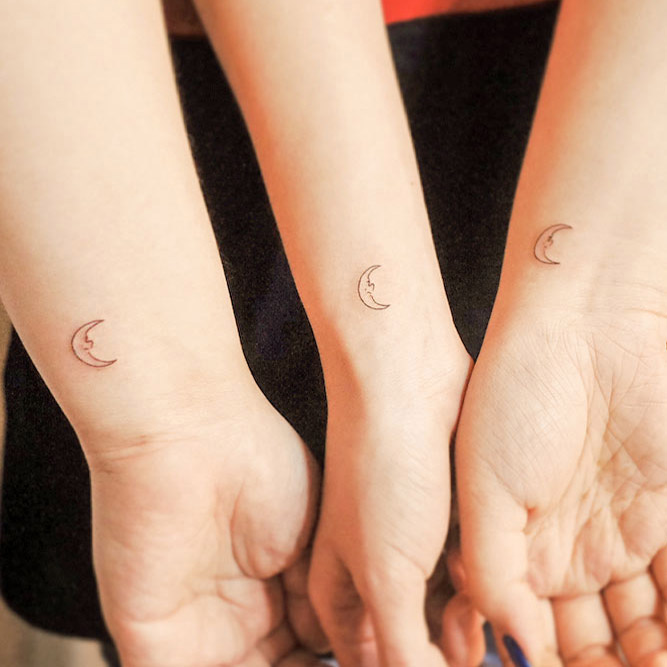 Credit photo: Instagram.com/playground_tat2
So far we have been talking about double tattoos but what if you have two sisters instead of one? Of course, if there are three of you and all of you are equally close, then you should undoubtedly celebrate the bond with sister tattoos for 3. When it comes to a triple tattoo you need to take a lot of things into consideration since even though you are close and related you need to think about everyone's lifestyle and preferences when coming up with the tattoo idea.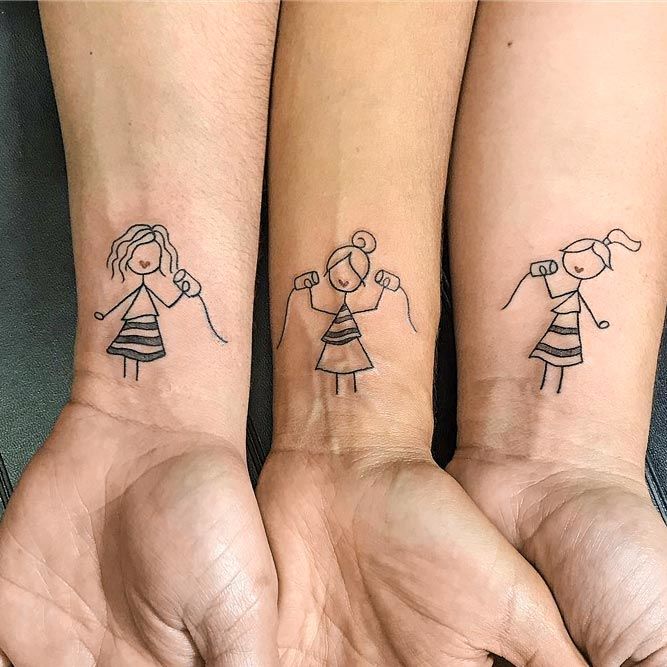 Credit photo: Instagram.com/inksaciable
If there are three of you in the family, then we have a great suggestion for you! Such a small and really cute idea with three girls will make your heart melt every time you see it on your wrist.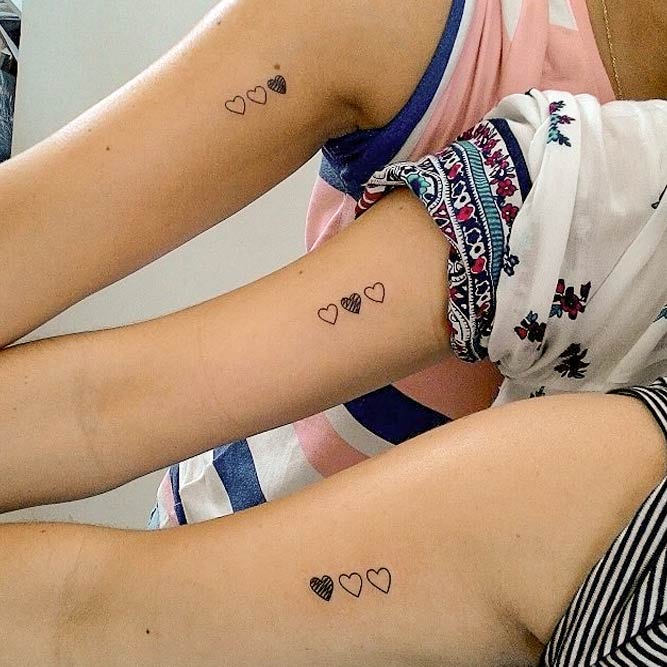 Credit photo: Instagram.com/arodinho
Very often it happens so that sisters do not want to get totally identical tattoos and there is nothing wrong with it. The thing is that even the simples tattoo idea can have smaller details change. For example, each of these triple hearts is colored in a different order; it may be your age or anything else that you would like to emphasize personally.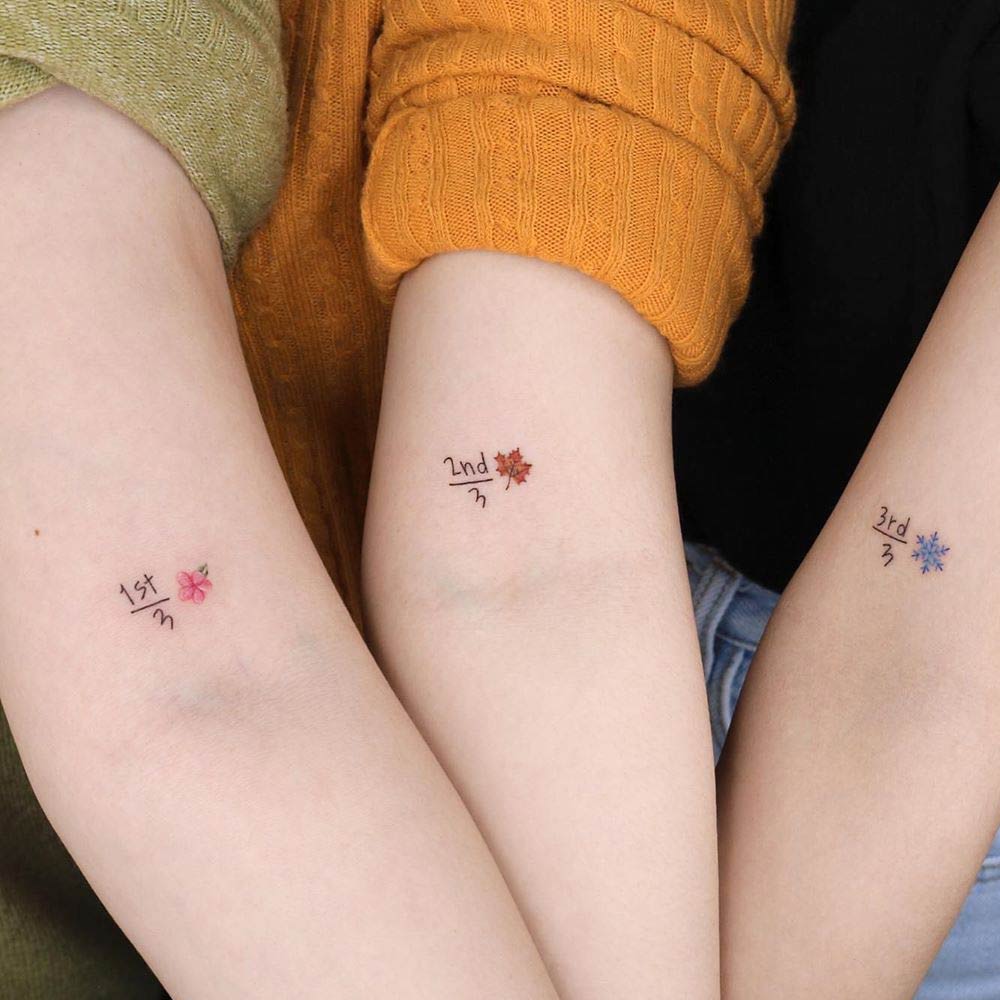 Credit photo: Instagram.com/pureum_tattoo
Sister tattoos for 3 are magical, and there is nothing you can do about it even if you wanted. In case you are looking for something special but not over the edge complex, then this may be it. Do not forget to add the season you were born in to the sketch.
The world of tattoo art is gaining huge popularity these days, but apart from individual tattoos, people opt more and more often for something called sister tattoos. That is why if you have a sibling and you love her about all to the point of getting a tattoo together, we have got a ready compilation with some exciting ideas to get inspired with!
FAQ: Sister Tattoos
What is a symbol for sisterhood?
The Celtic Sisters Knot is a symbol of sisterhood and the unbreakable, eternal bond we share with our sisters and friends. Also called triquetra that looks like a triple spiral, that symbolizes the three stages of woman. First stage depicts the youth of our childhood. Second, the mothering spirit. Third, our wisdom that we pass on to the new generations.
Is there a symbol for siblings?
It is possible to use the Trinity knot as a symbol which represents the unity of your brother or sister.