The range of tattoo ideas to replicate grows by the day. However, while some designs are more common and required, others remain in the shadows and wait for the most dedicated followers. The notion of an octopus tattoo belongs to the latter category. Unlike the fish koi tattoo, octopus designs are less widely spread but offer more room for creativity. Besides, the unique and quite symbolic meaning that the image carries can captivate even the pickiest among you. Should you be browsing for some fresh ink inspo or want to improve your knowledge in the area of symbolism – you have come to the right place!
Octopus Tattoo Meaning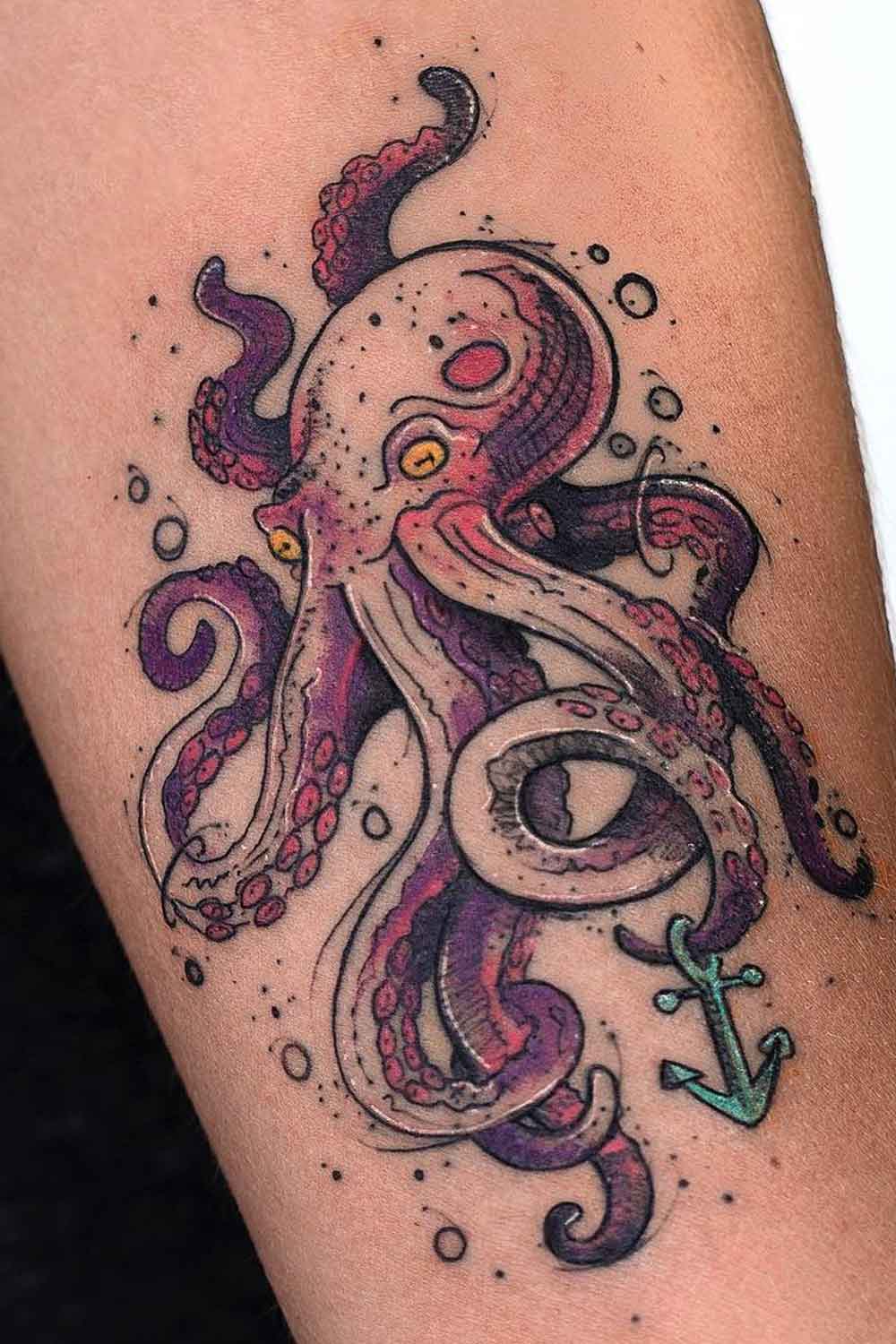 Credit photo: Instagram.com/robcarvalhoart
One of the most critical points to discover when considering an octopus tattoo as your next ink would be what it symbolizes. There is more than one octopus tattoo meaning you can encode it into your tattoo.
Octopuses are incredibly flexible and creative, so they can help you overcome any life difficulties and challenges.
Intelligence is yet another innate feature of these sea creatures.
An octopus tattoo will help you express yourself despite most stereotypes.
Even though the octopus isn't a magical creature, there is a magical vibe to what it represents. Thus, if you want to boost your sensibility and powers, such a tattoo can constantly remind you of what you are capable of.
Octopus Tattoos Origin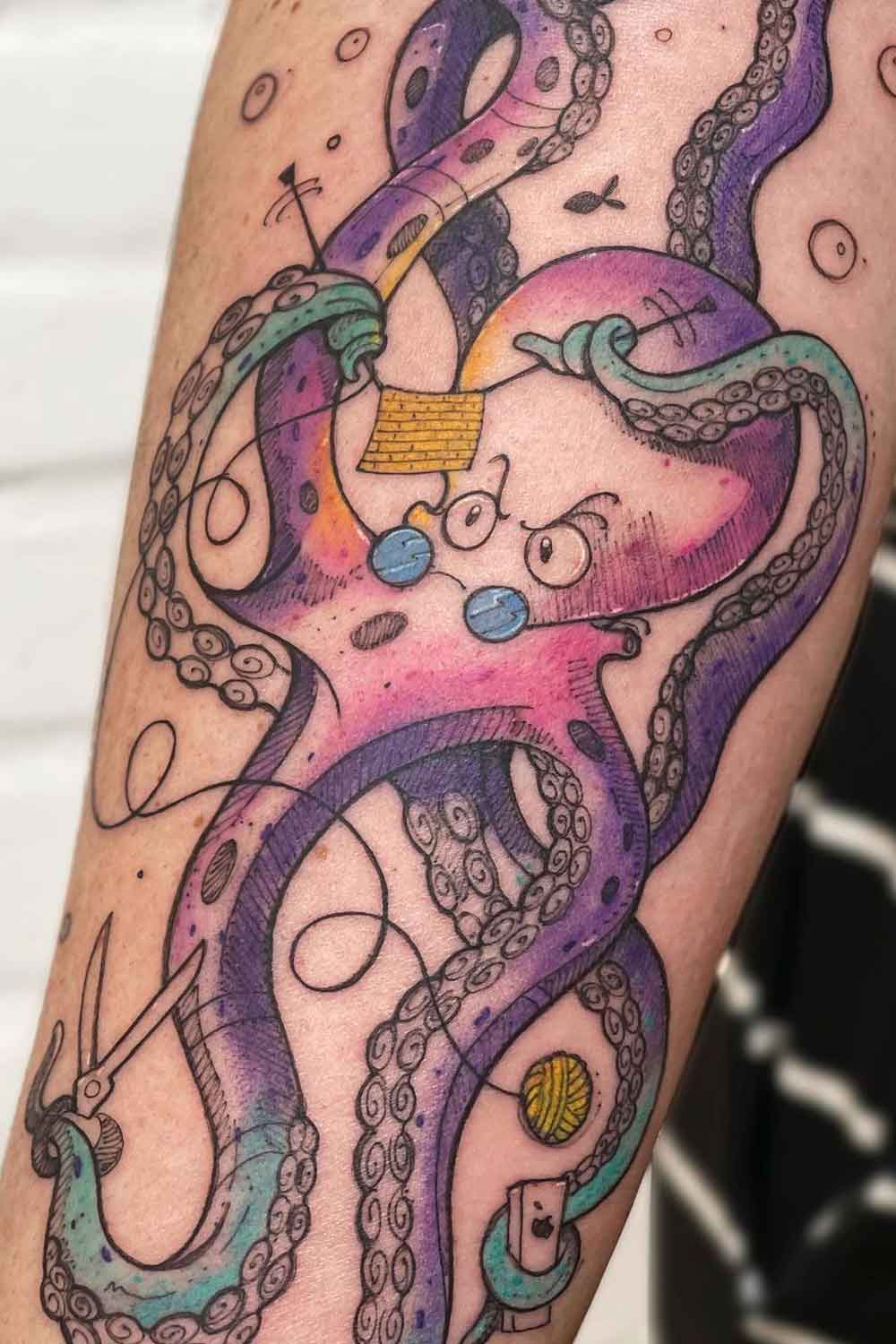 Credit photo: Instagram.com/robcarvalhoart
Where does the octopus tattoo come from? The traditional octopus tattoo originates from Japan, for the most part. Since the country is an island, all sorts of sea creatures are ever-present in its culture. Moreover, a Japanese octopus tattoo is one of the distinctive features of Yakuza gangsters. Despite the criminal touch, octopi tattoos come in all shapes and forms so that you can pick a pattern that isn't connected with the gangster vibe even remotely. The octopus image is incredibly complex and versatile, making it fit for anyone.
Octopus in Different Cultures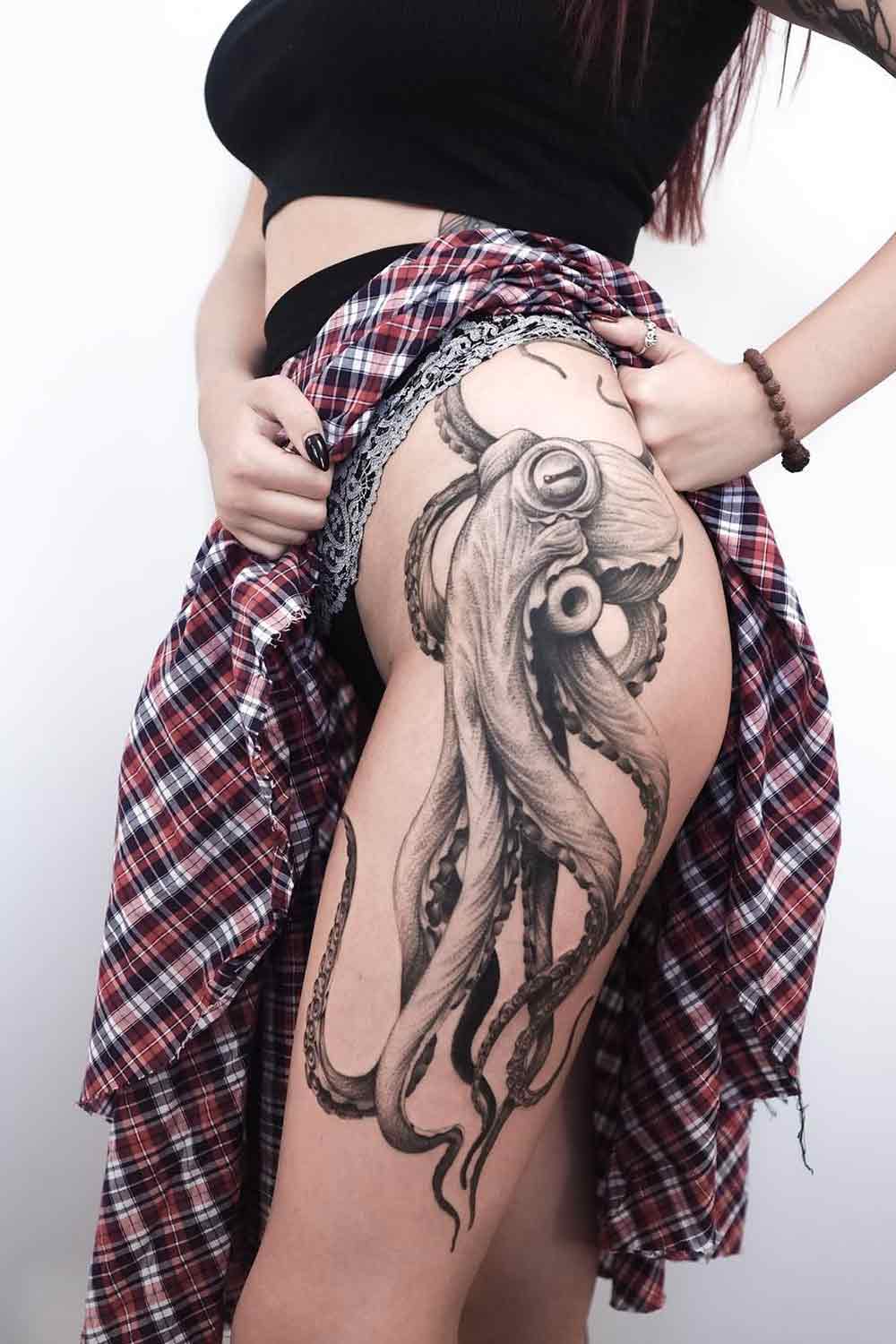 Credit photo: Instagram.com/evgenymel
We have discovered that octopus tattoo is native to Japanese culture, but there are others to discuss too. One of the most curious octopus tattoo meaning can be referred to ancient mythology. In some legends, the octopus rises as a sea creature – Kraken – that brings death and destruction, but in other myths, it is a deity. The population of Gilbert Islands used to believe that octopi could control the weather and punish the island's people for disobedience. At the same time, Pacific islands were believed to be created by an octopus god.
At the same time, a Polynesian octopus as a tattoo should serve as a constant reminder to continuously work on yourself. Yet, it does not mean you have to adopt any known connotations. You can always encode your own meaning into the design.
How To Choose Octopus Design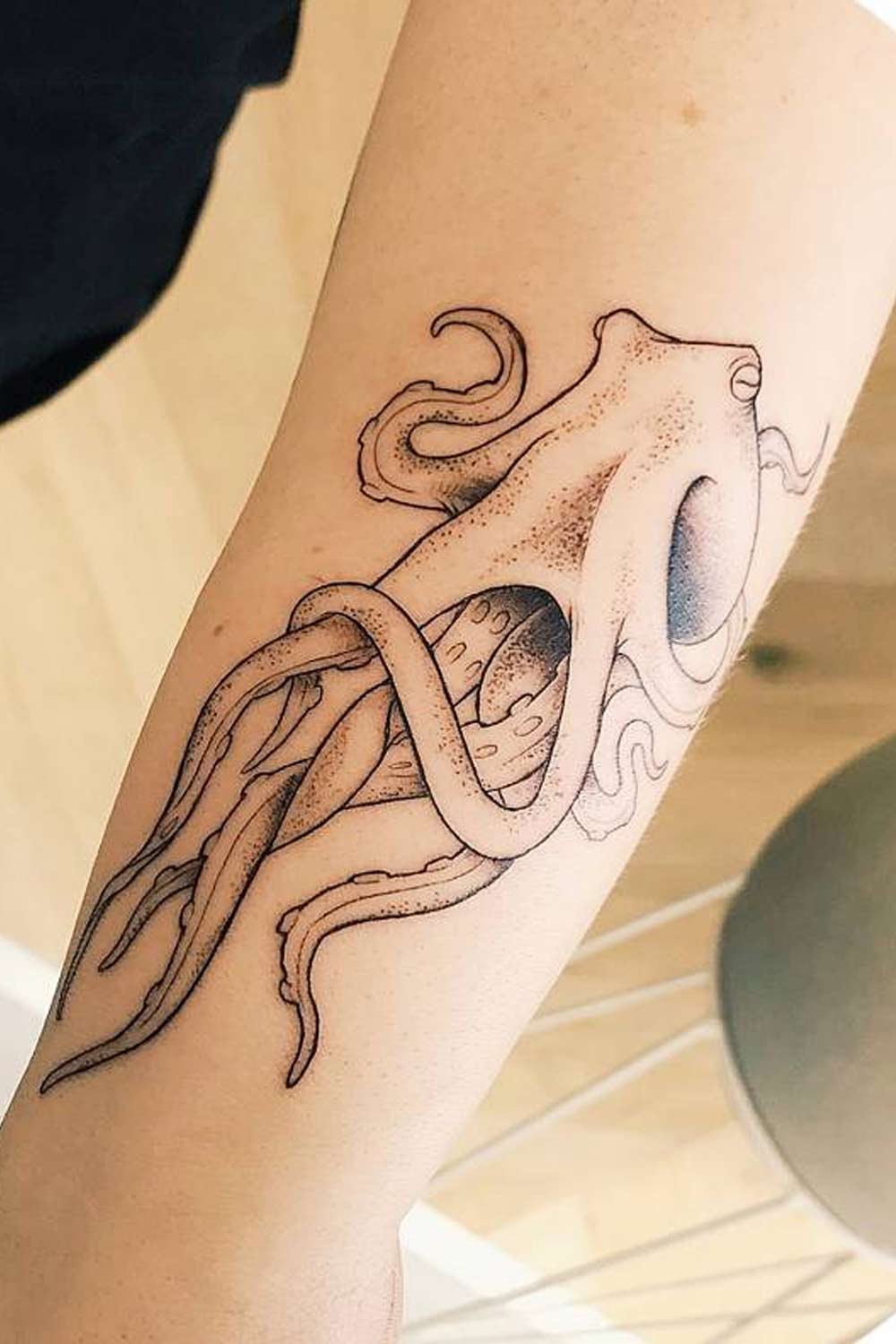 Credit photo: Instagram.com/fine.line.tattoos.melbourne
Despite various octopus tattoo meanings, the sign of it usually wakes fearful feelings. Thus, you can pick an octopus tattoo design to scare your enemies away. Yet, some octopus tattoo ideas can also be used to show off your fun and creative side. Whether an octopus tattoo arm or an octopus leg tattoo, the primary factor should be your individuality and personal preferences. The best way to decide on a tiny octopus forearm tattoo or a large octopus thigh tattoo is to rely on your own likes and hidden connotations.
Octopus Tattoo Color Ideas
Many people stick to a traditional black octopus tattoo, but colored octopus tattoo have grown in popularity too. The truth is that the colored octopus tattoo bears a deeper meaning. In nature, bright octopi are usually poisonous. That is why, in most cases, a red octopus tattoo means aggression and danger, so you may want to keep away from people with such a forearm octopus tattoo. On the other hand, ladies often prefer an orange octopus tattoo color since it stands for femininity and motherhood.
Octopus Designs Ideas For Ladies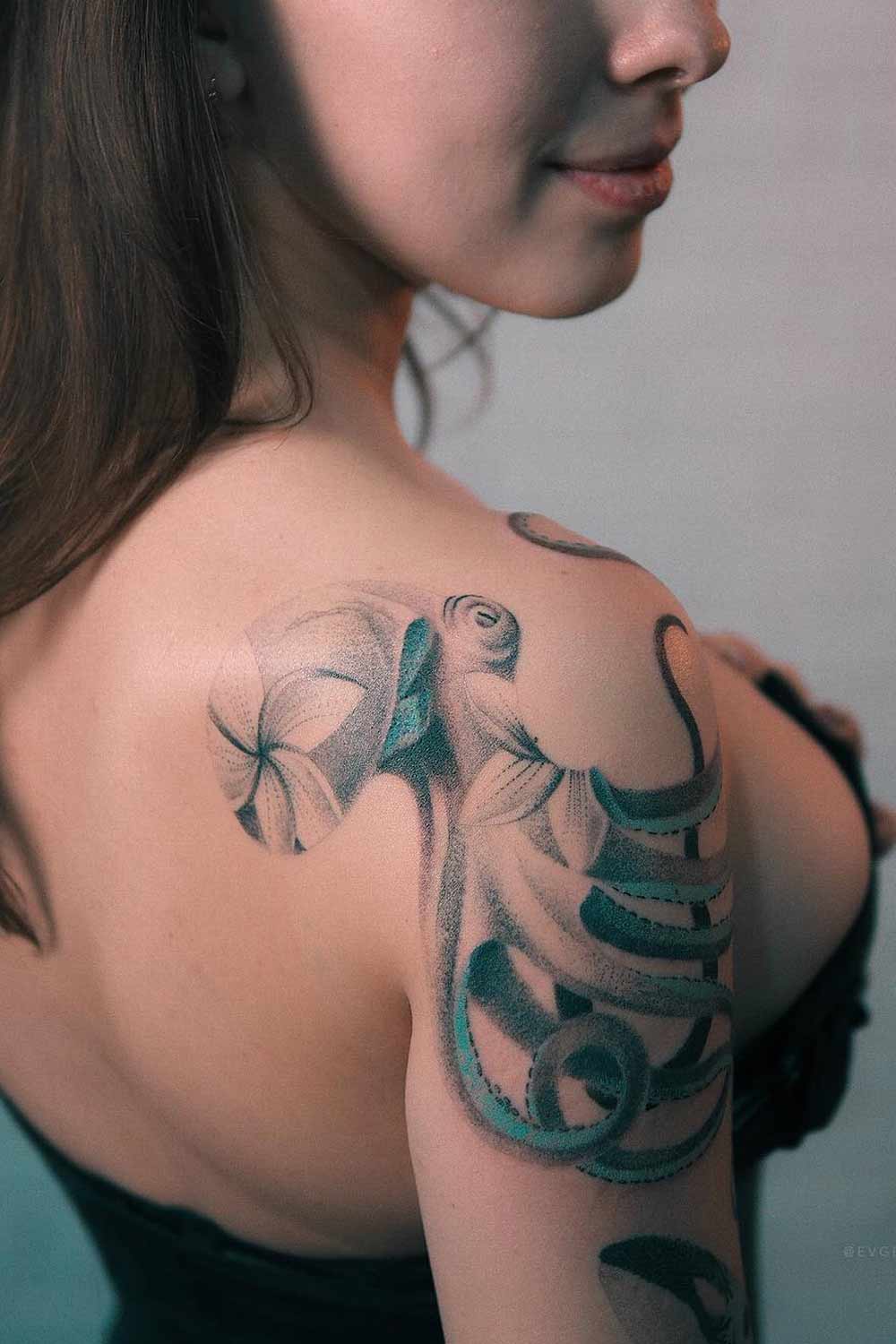 Credit photo: Instagram.com/evgenymel
Despite countless danger-related connotations that an octopus tattoo may bear, women have a deep predisposition to it. Thus, if you are looking for a lady octopus tattoo, you should realize that the number of cute octopus tattoo is excellent. However, if it is your first ink, you may want to take it easy with the size. If you are 100% sure about the design and won't regret it, you may want to opt for a thigh piece. It offers a large canvas and is also often named one of the least painful areas. Lastly, thigh octopi tattoos are incredibly sassy.
How Much Does An Octopus Tattoo Cost?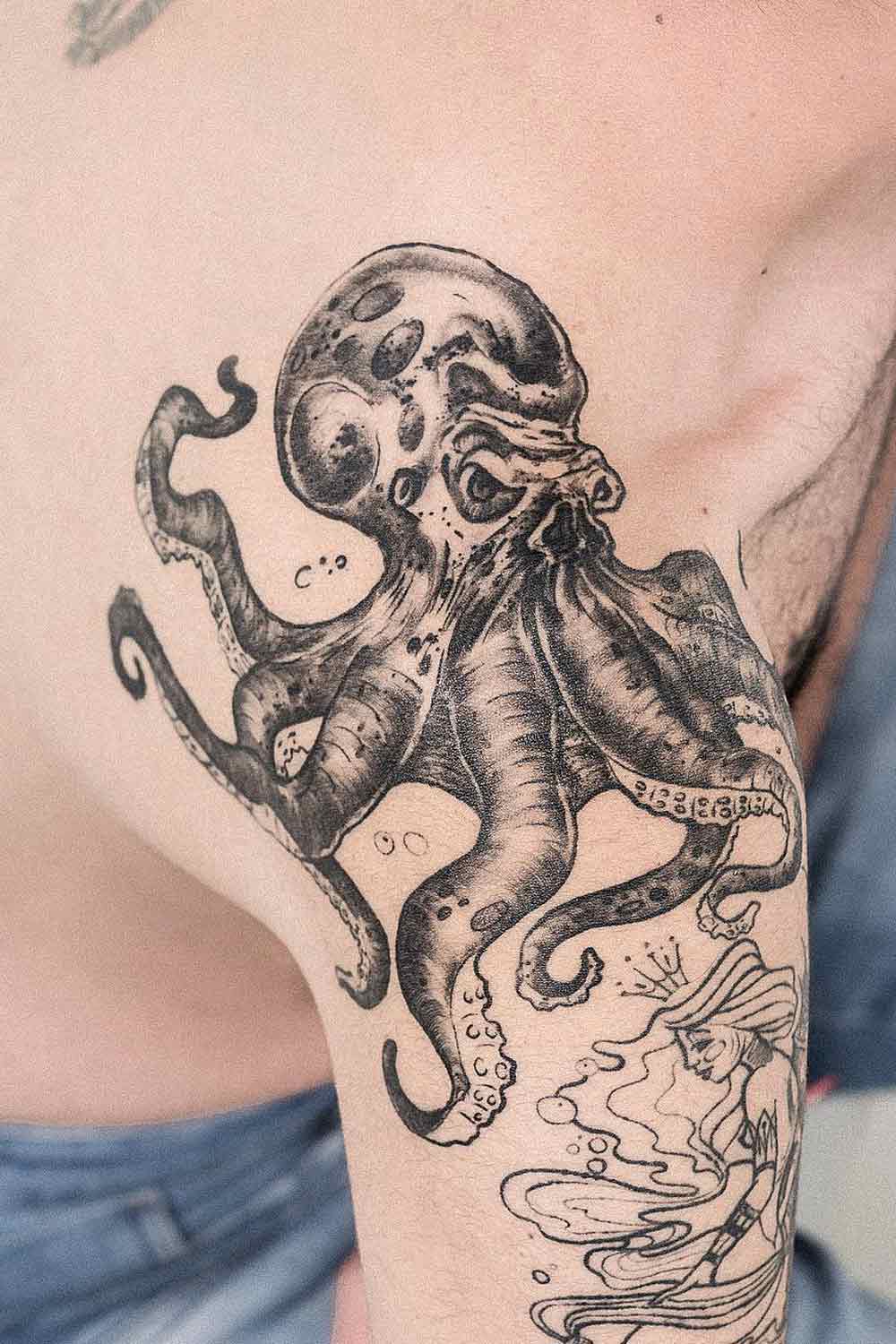 Credit photo: Instagram.com/robcarvalhoart
One of the most critical points when it comes to getting an octopus tattoo would be its cost. Yet, despite the numerous requests, it is nearly impossible to determine the precise cost of octopus ink and all the other designs. For instance, back tattoos for women and thigh tattoos, as large pieces, will cost $500+. At the same time, a minimalistic octopi ink can cost you as much as $100. Besides, tattoo salons charge per hour instead of the whole design. The prices vary between $100-$150 per hour.
New Tattoo Aftercare Tips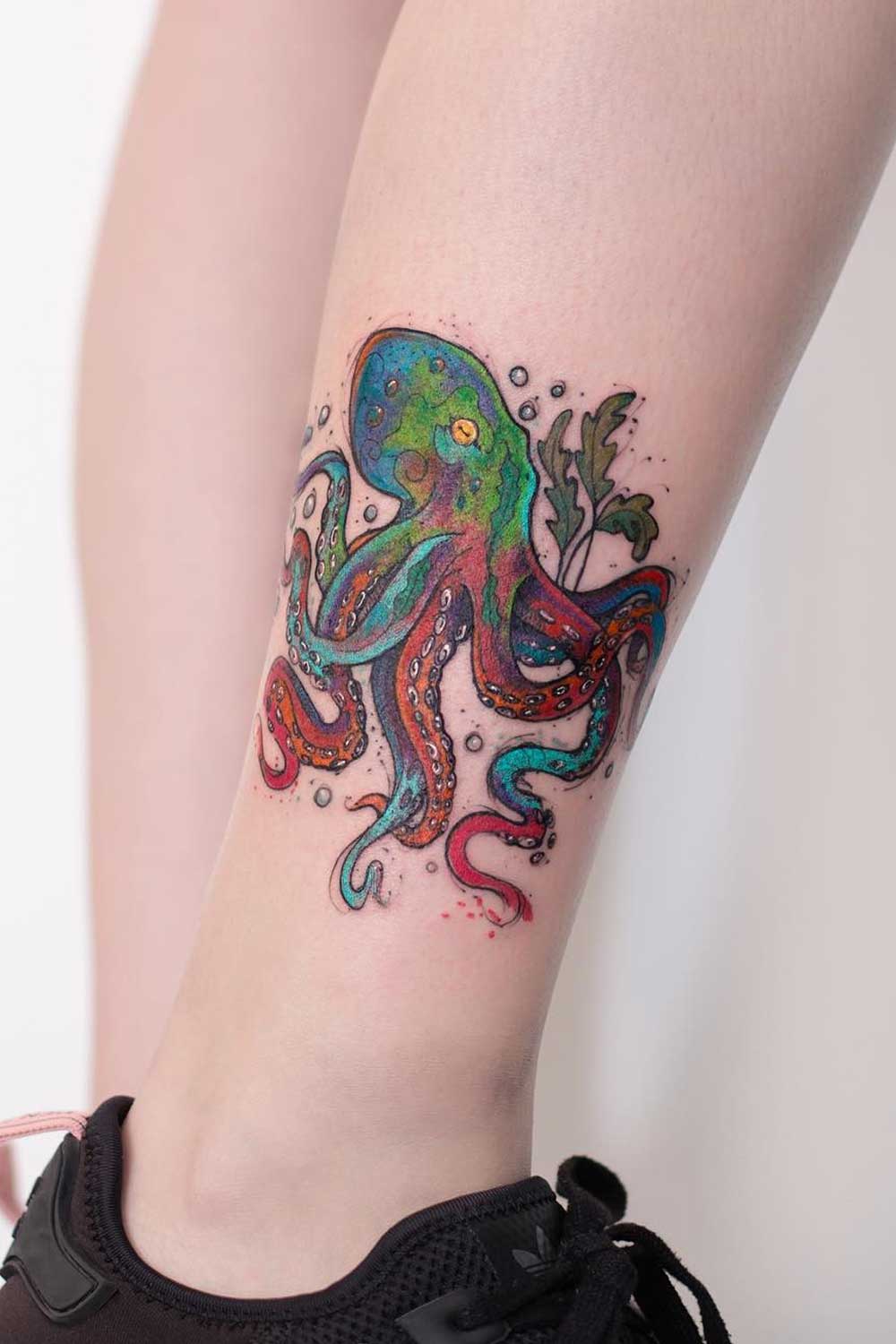 Credit photo: Instagram.com/robcarvalhoart
Despite the tattoo placement or unique design, you must be aware of how to look after getting one. Depending on how well you care for your ink, it will either heal well and look its best or turn out quite the opposite of what you have expected it to. Use these simple but practical tips to your advantage.
Keep your octopus tattoo away from the sun. Cover your fresh ink up with clothes every time you are out in the sun. Try not to apply sunscreen since it may interfere with the healing process.
Keep an open eye for the first signs of infection. If your ink looks swollen and red after a week, you may start to worry. Surely, when the design leaks pus, it is a red flag too. You should rush to the doctor's office immediately.
Keep away from peeling or scratching your tattoo, or you will have scars all over the design.
Keep away from tight clothes, they will irritate the wound, and that is not great for the healing process.
Keep away from swimming otherwise, your tattoo may get infected. Another reason to postpone going to the beach is that your ink will fade away.
An octopus tattoo is growing in popularity by the day. In case you have always dreamed about ink, you need a precise guide to point you in the right direction. This octopi ink review is precisely the manual that you require!