As tattoo art evolves, there is barely an object that can't cultivate a certain amount of inspiration. However, different flowers make up the most significant part of tattoo fashion. Whether used separately or combined with other items and themes, each flora representative bears a predefined meaning that may become a starting point for some people. Considering the mentioned factors, today we will share with you all that we have in store for a fabulous tattoo of a daisy. We will disclose meaningful details on its connotation, share a few inspiring tattoo ideas and lead you in the right direction when it comes to ink aftercare. Buckle up!
*We may earn money from affiliate links on this page. Please check out our disclosure policy for more details.
Daisy Tattoo Meaning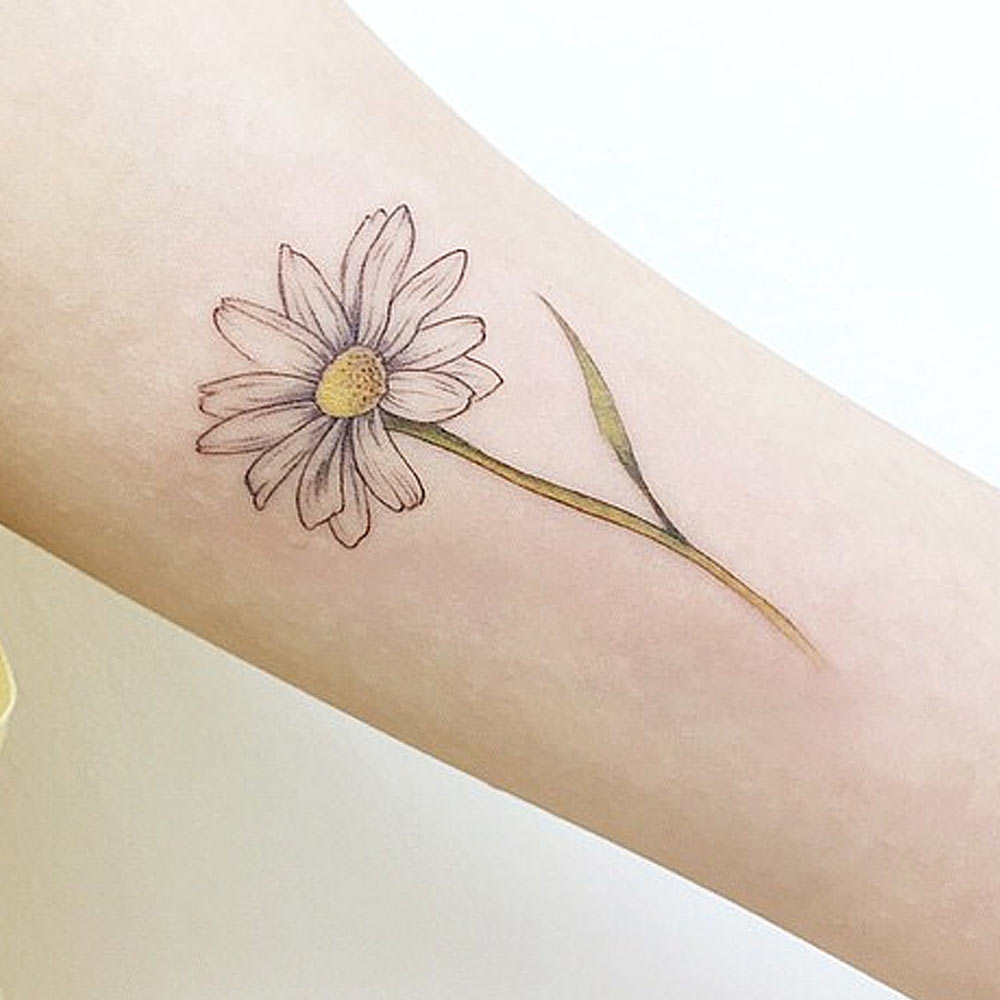 Credit photo: Instagram.com/tattooist_banul
Before you decide to commit to a tattoo of a daisy, you must know that despite its simplicity and humble appearance, the flower bears more than a single meaning. The meaning of a daisy tattoo differs from mythology to mythology, and here's what we've found on the matter:
In Celtic mythology, the gods send daisies to parents who lost their children to cheer them up. Up to this day, daisies are referred to as a symbol of parenting and motherhood.

Norse legends depict daisies as a sacred flower of the fertility goddess – Freya. Thus, a beautiful

daisy tattoo

may symbolize love and fertility.

In Roman myths, the nymph turned herself into a daisy to escape the god of seasons whom she couldn't bear to love.
There is also a popular saying – fresh as a daisy – which means that you are well-rested and ready to meet the new day. If you don't know, the flower covers its yellow center with its petals when dusk breaks.
Considering the gentle and loving daisy tattoo meaning, it is no wonder why so many celebrities choose a daisy flower tattoo to ink on their bodies. We can name such celebs as Selena Gomez, Post Malone, and Jenifer Lopez – to name a few.
Daisy Tattoo Ideas
Knowing what a tattoo of a daisy represents, you may wonder what daisy tattoo ideas are there for you to embrace. The truth is that the variety ranges from simple daisy tattoo designs to intricate daisy chain tattoos and more. Let's look closely at what the ink art has in store for you!
Simple daisy tattoo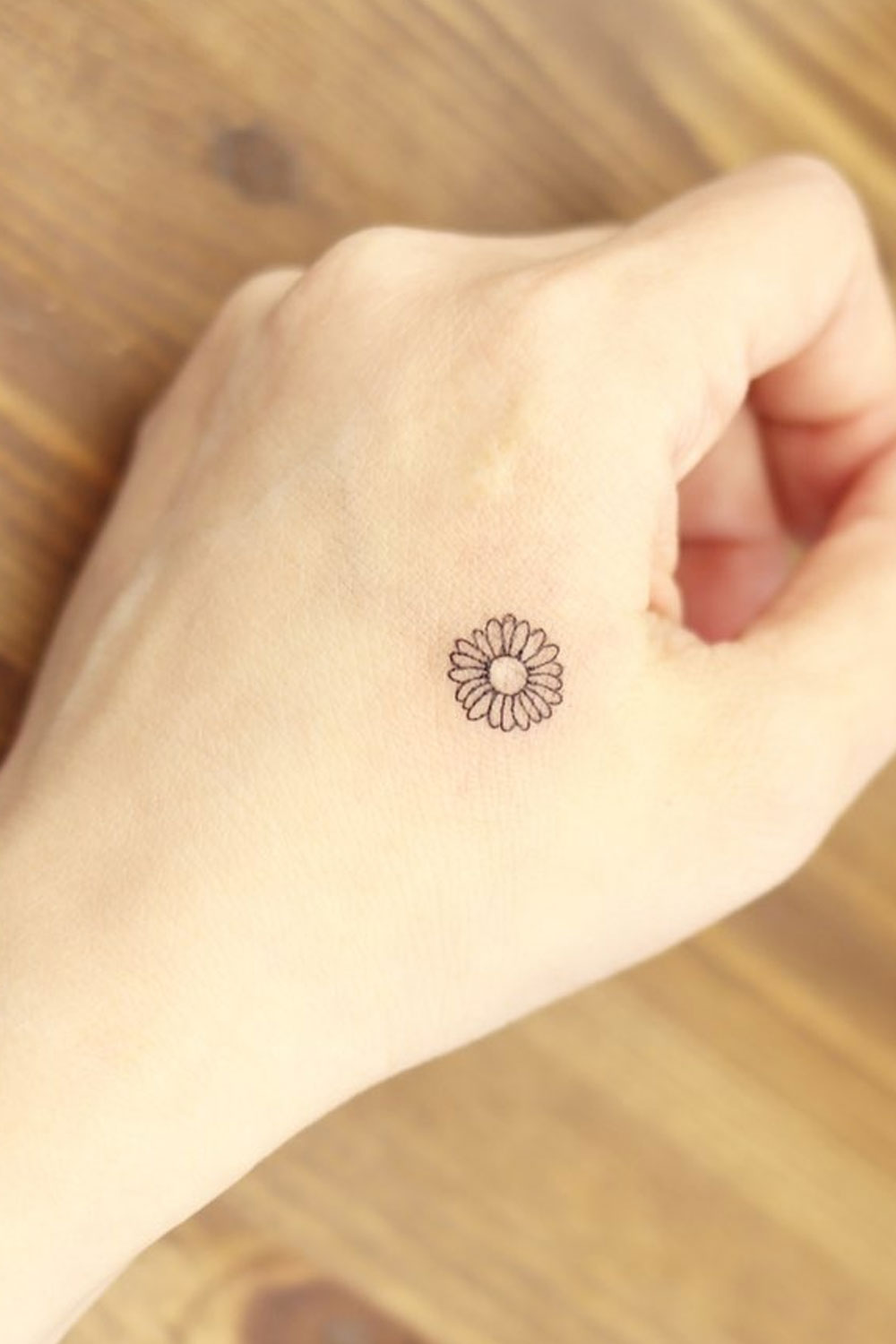 Credit photo: Instagram.com/wittybutton_tattoo
A small daisy tattoo is excellent if you are considering your first ink. While a minimalist daisy tattoo implies a lesser investment of time and means into it, it remains incredibly gentle, meaningful, and appealing to look at. The industry experts suggest you get a tattoo in black since a simple daisy tattoo may lack space for intricate color work. Besides, your neck, arms, fingers, and shoulders suffice as perfect ink locations.
Minimalist daisy tattoo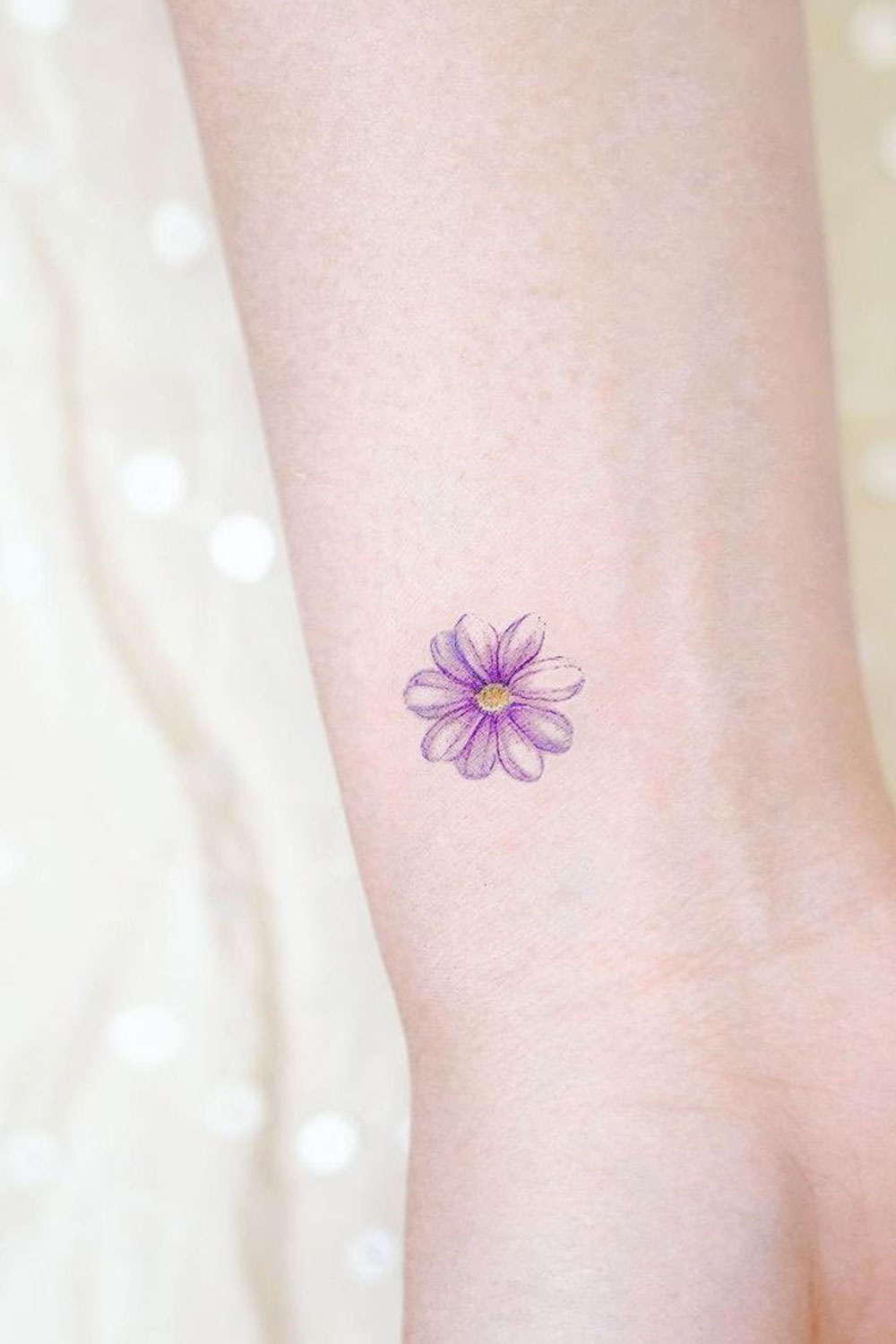 Credit photo: Instagram.com/mini_tattooer
In case you still dream about a tiny watercolor daisy tattoo, all it takes is to find a dedicated artist to make your dreams come true. Unlike regular black ink, such exquisite tattoos deserve to be placed where anyone can see them. Yet, the behind-the-ear area is often chosen for the purpose.
You should keep in mind that such delicate tattoos can be placed in the most intimate areas, such as the side of your chest or inner thigh. Besides, you can always create a unique composition, including a gentle daisy. Moreover, minimalistic designs hurt less and last longer, not to mention a significant decrease in cost.
Daisy chain tattoo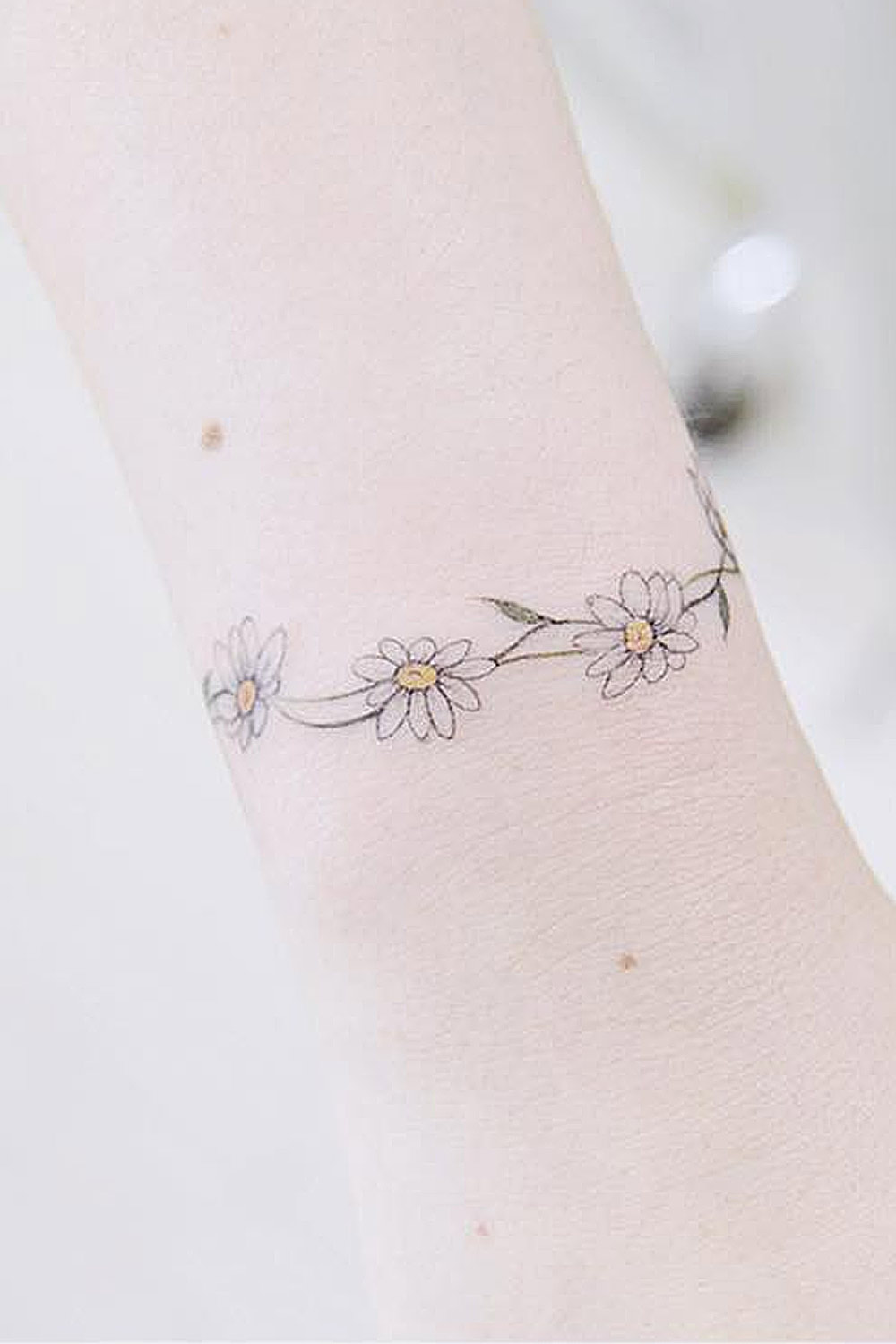 Credit photo: Instagram.com/tattooist_banul
When a single daisy tat seems insufficient, a daisy chain tattoo comes of use. The tattoo daisy chain will help you express yourself better. You can tell the whole wide world about your mood, views, and opinion. Usually, the art is placed around the wrists or ankles, but you can switch your imagination on and come up with a new placement to break the rules.
An interesting fact about daisy chains is that back in the day, Medieval knights wore those into battle to protect themselves from the dire outcome and to prophesize love and devotion.
Daisy and rose tattoo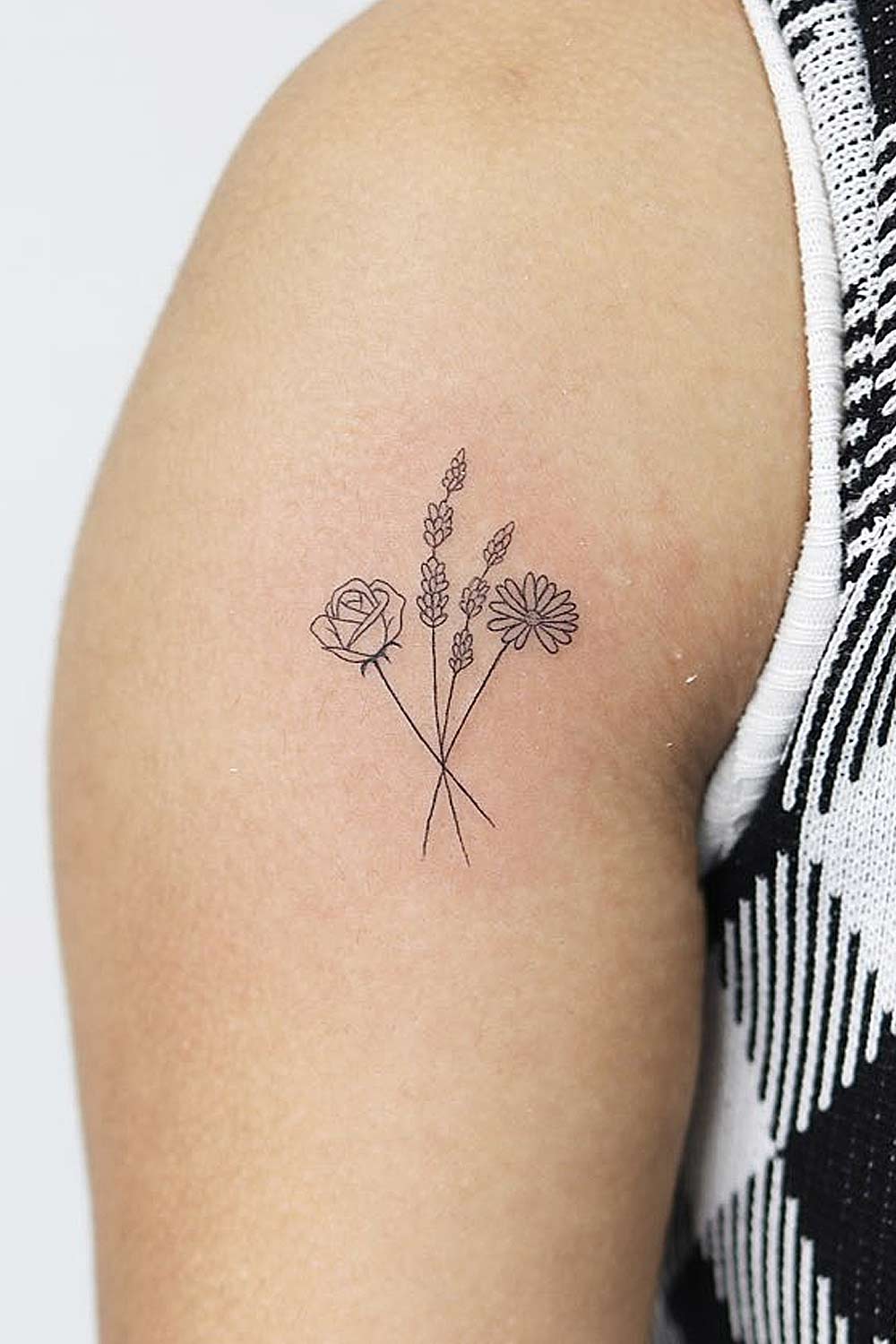 Credit photo: Instagram.com/wittybutton_tattoo
The daisy and rose tattoo is one of the most exquisite combos in ink fashion. If you decide to introduce the rose and daisy tattoo into your ink collection, you may as well tell the universe that you wear your heart on your sleeve and that you are proud of it. Thus, it is safe to claim that a roses and daisies tattoo perfectly symbolizes love, romance, and passion.
Watercolor daisy flower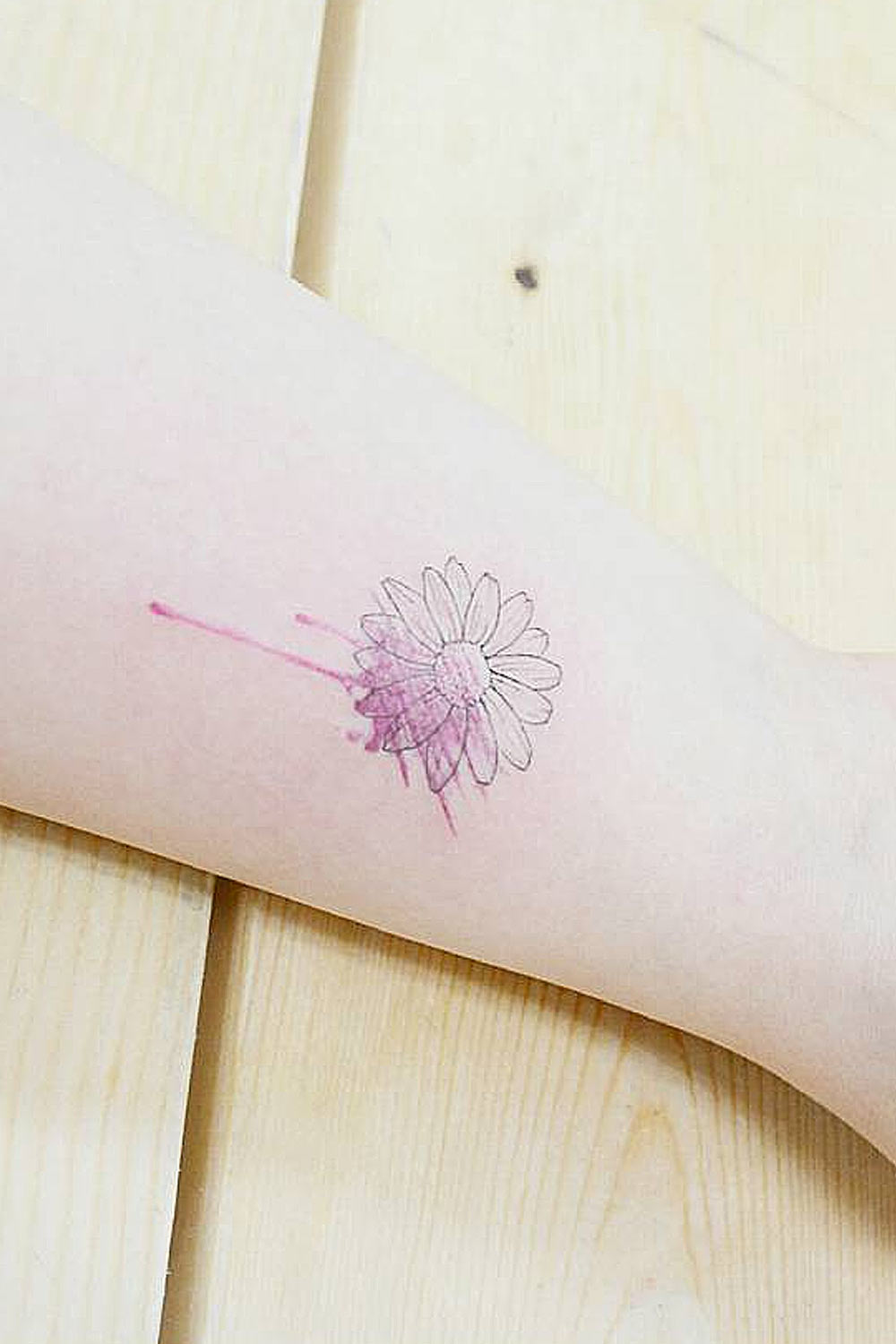 Credit photo: Instagram.com/tattooist_banul
Just as gorgeous as a daisy watercolor tattoo is, it is so intricate to fulfill. You must find a true professional to carry out the task ideally. Yet, a well-done and well-placed water color daisy tattoo is hard to miss due to its elegant and attractive flair.
Daisy Tattoo Designs With Meanings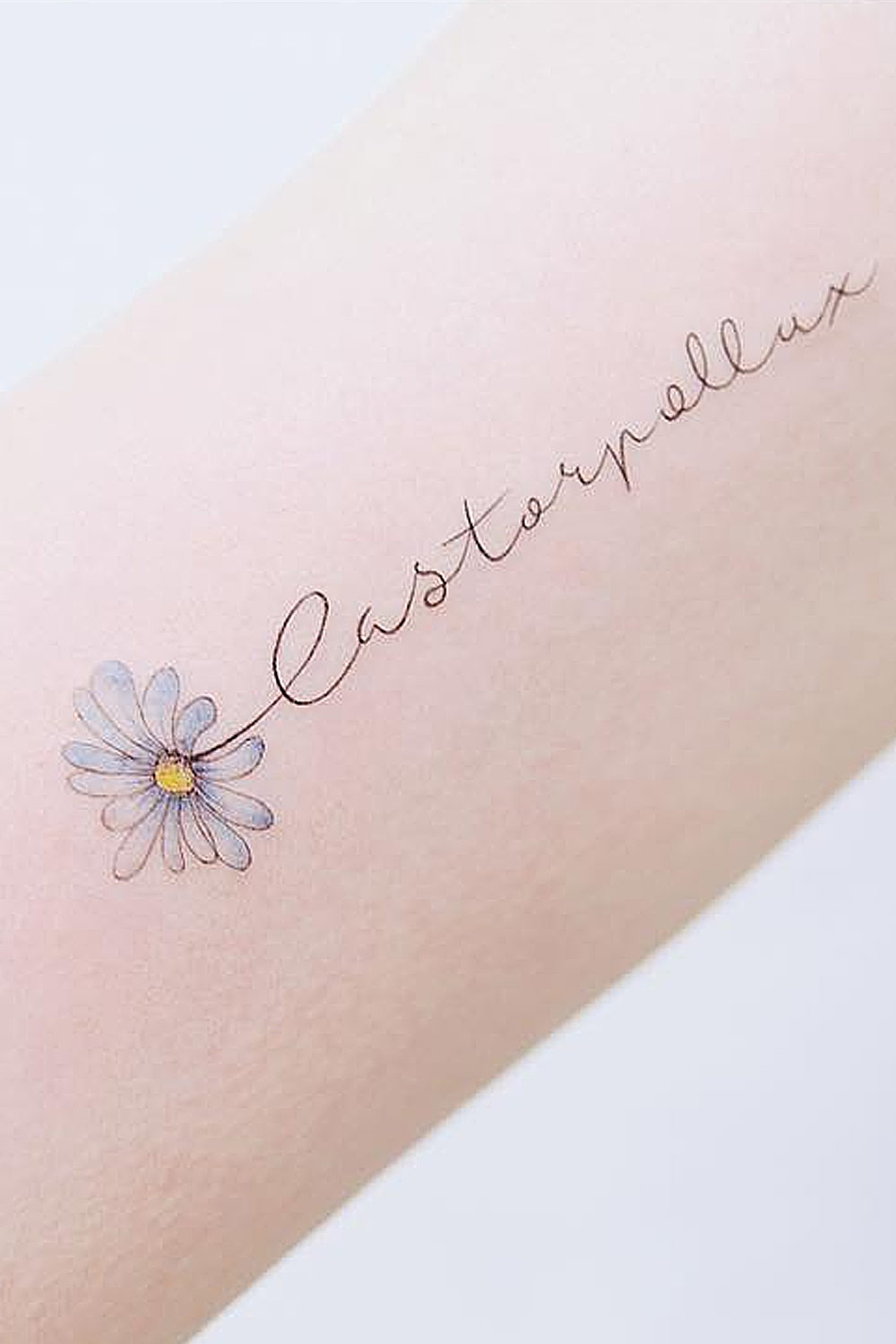 Credit photo: Instagram.com/tattooist_banul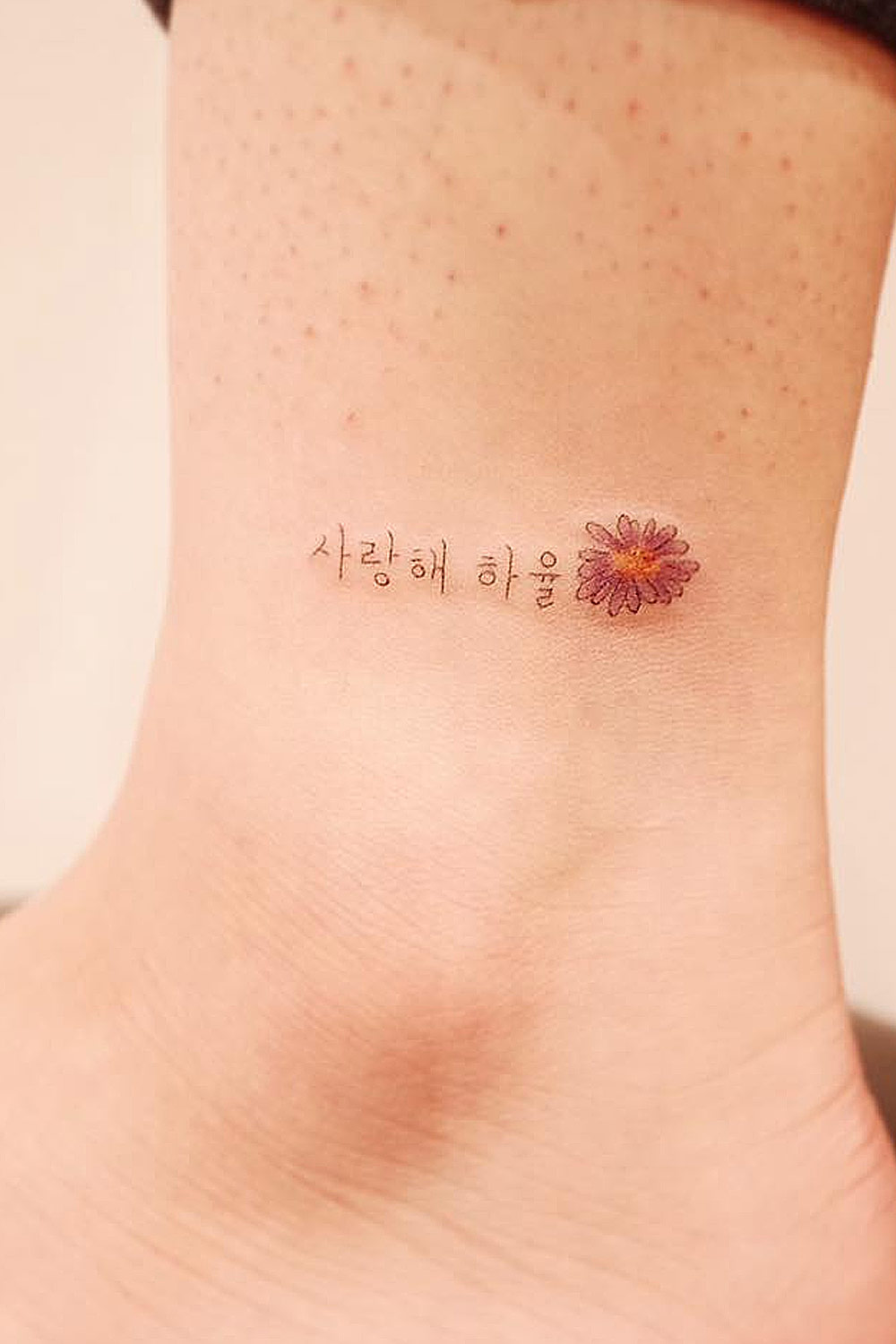 Credit photo: Instagram.com/wittybutton_tattoo
The magical pull of a delicate daisy tattoo design is challenging to resist. Should you feel the urge to ink a gorgeous daisies tattoo on your temple of a body – we have a few intricate ideas of daisy tattoos for you to brood upon. Just keep in mind – as long as you feel confident about the idea – the sky is the limit, and no one can tell you anything against it.
How to Choose The Perfect Design for Your Daisy Tattoo?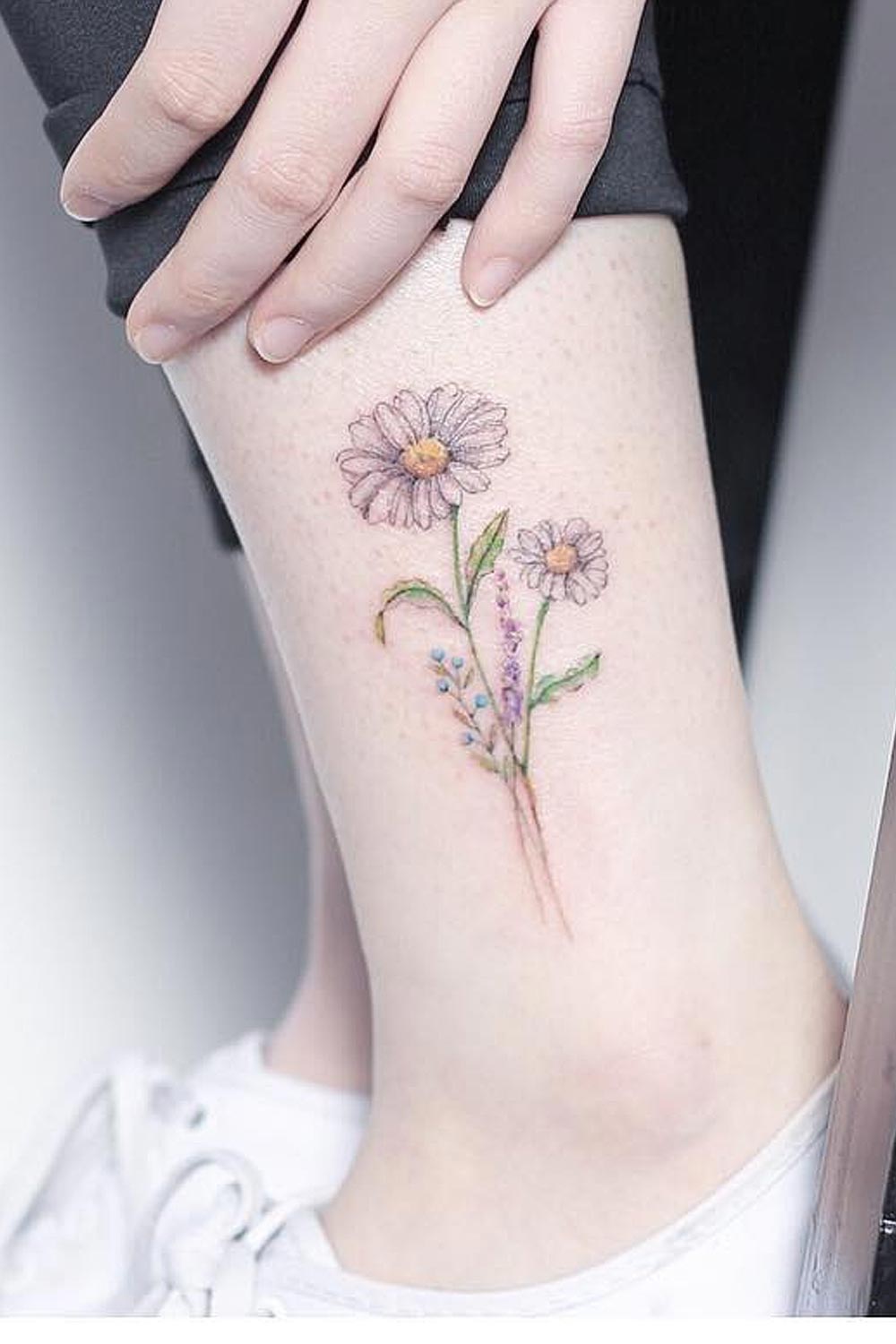 Credit photo: Instagram.com/mini_tattooer
When browsing through various daisies tattoos designs, you want yours to be as perfect as possible. To ensure that, there is a list of factors to brood upon. Once you are settled on those, you will end up with an ideal tattoo of a daisy depicted on your body:
Think about the size of the

daisy tattoos

you like and where you would like to place them.

Ask around how long it will take the ink to be finished.

Weigh out the offered cost.

Decide whether these are black or colorful

daisies tattoo designs

you wish for.

Locate the best artist who specializes in floral ink.
How Much Does a Daisy Tattoo Cost?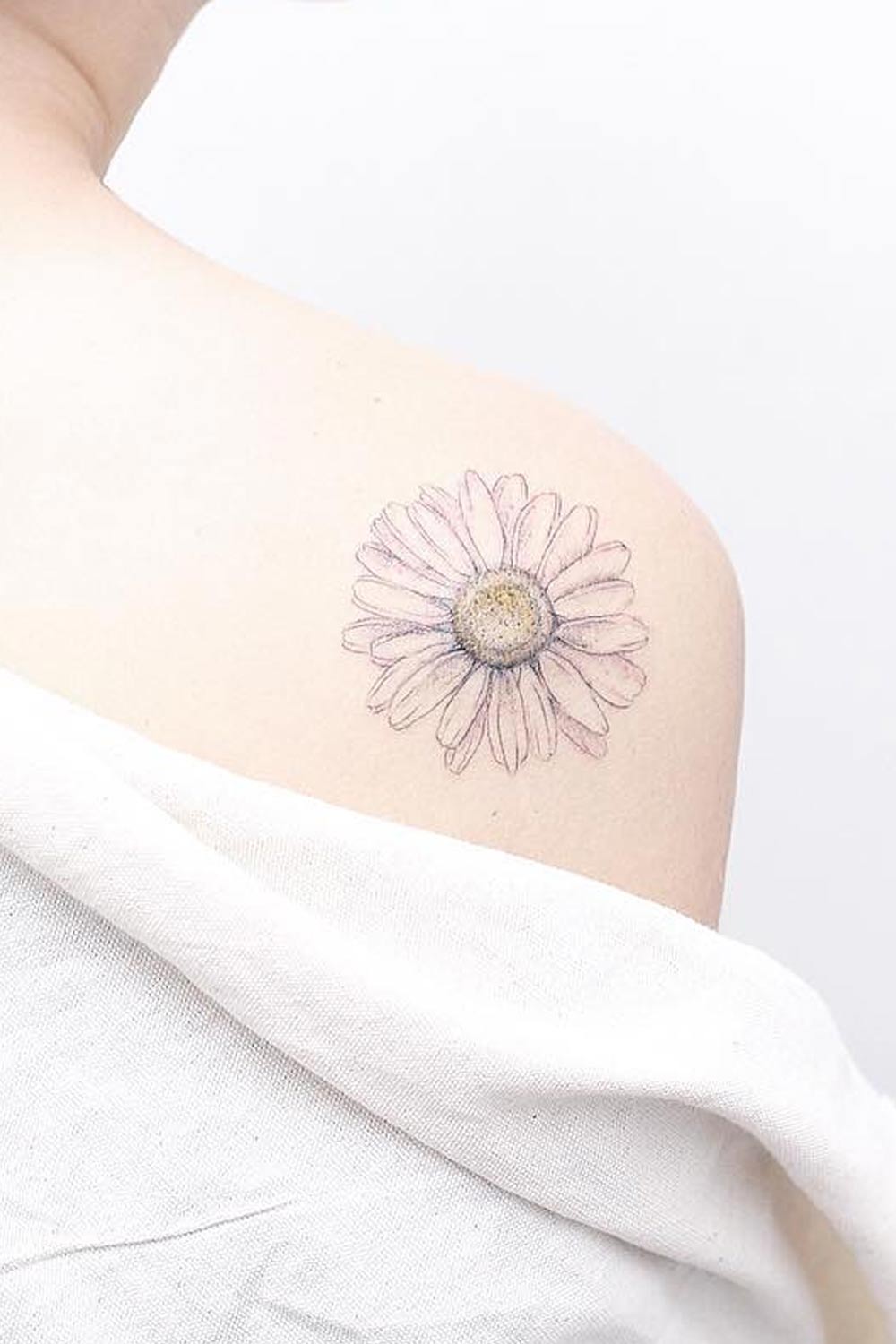 Credit photo: Instagram.com/mini_tattooer
How much do daisy tattoos cost? There isn't a one for all answer to the question. On average, a small tattoo of a daisy can cost you around $70-$300. A medium-sized art would be ranged between $300 and $700 depending upon the intricacy of the design and the expert rates. Keep in mind that some tattoo artists rate per hour, and it may cost you around $110-$180 per hour. Should you be heading for a complete masterpiece, a sleeve, or a back piece, the prices may go as high as $7000.
Aftercare Tips for Your New Daisy Tattoo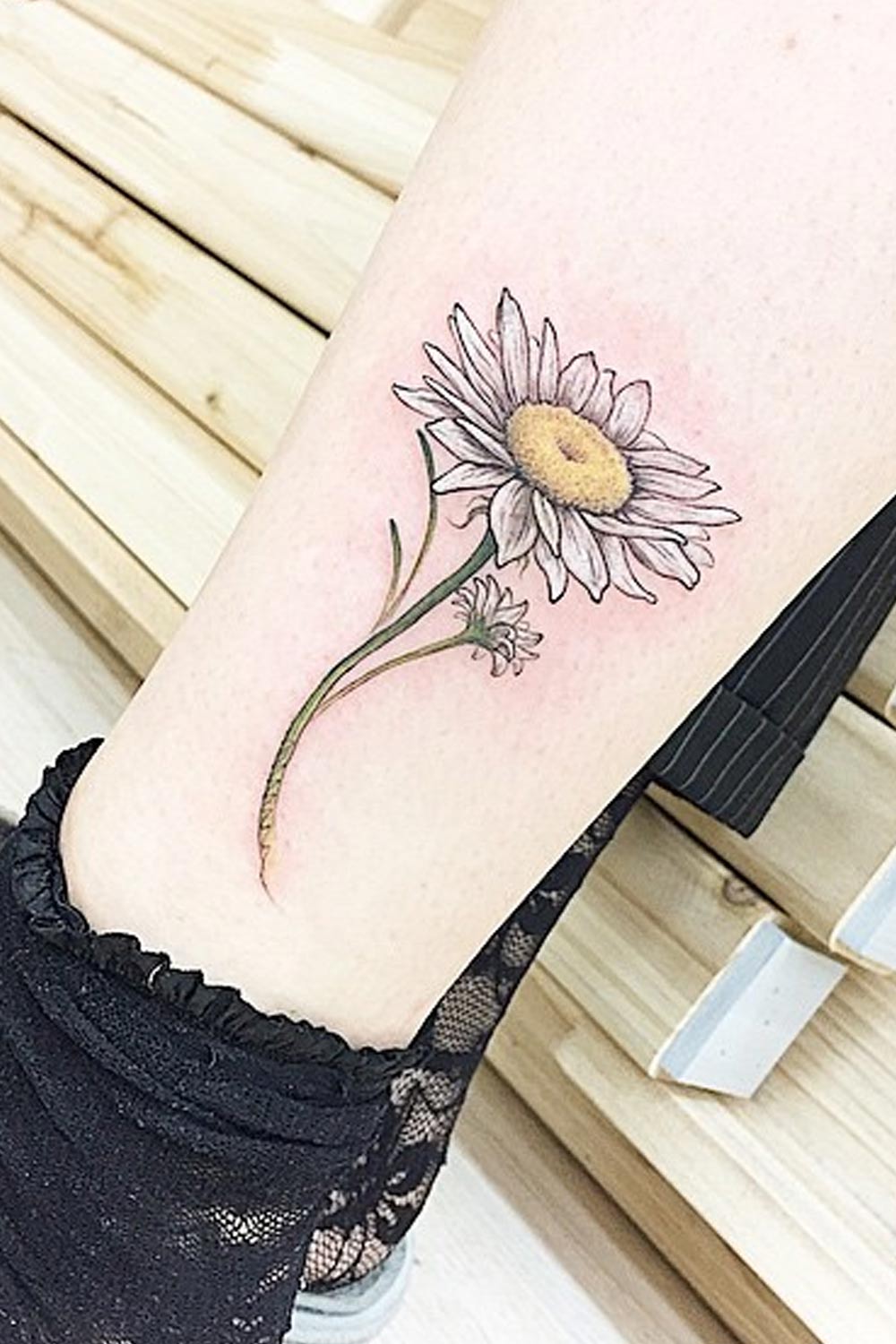 Credit photo: Instagram.com/tattooist_banul
Let's assume you have the tattoo of a daisy of your dreams. Now, you have to ensure that it lasts you a lifetime. That is why you must know how to look after your daisy tattoo. Follow these simple instructions to succeed with the goal:
Cover the art with an antibacterial ointment at least twice a day, and make sure the area is dry before you coat it with the ointment.

Don't cover up the piece with a bandage.

Wash the area with soap, as gently as possible, at least two times a day.

Make sure that your ink is not overdried and peeling off so that it compromises the color and brightness of the design. This concerns colored tattoos more than black ink.

Use reliable sun protection after the tattoo heals.
Primary things to avoid after getting inked:
Don't apply any sunblock until the design is healed.

Don't scratch your tattoo.

Don't wear restrictive clothes.

Don't go for a swim or sunbathe.
Finding the fittest tattoo of a daisy may be a challenging task. The options are many, yet once you spot your ideal art, you will feel it instantly. Hopefully, our hand-picked collection and useful background data point you in the right direction. Be sure, that a flower tattoo is a good option to beautify your body. Choose wisely!
FAQ
Where do you put daisy tattoos?
Some areas are chosen more often than others regarding a daisy tattoo. To those usually-picked body parts belong arms, thighs, feet, wrists, and ribs. However, if you think about a larger tattoo piece, you can easily go for a back design or a sleeve.
What does an upside-down daisy mean?
Very often, as opposed to an upright daisy, an upside-down one means guilt and a plea for forgiveness. An upright daisy symbolizes innocence, in case you don't know.
Was this article helpful?