Thigh tattoos look amazing on women of any age, skin tone and size. If you would like to emphasize the beauty of your body, then the idea of getting a thigh tattoo is the right one for you. There are so many tattoo ideas for women that will look fantastic. Let`s look through the ones that in our opinion will look the best and choose your amazing tattoo sketch.
*We may earn money from affiliate links on this page. Please check out our disclosure policy for more details.
Pros and Cons of Thigh Tattoo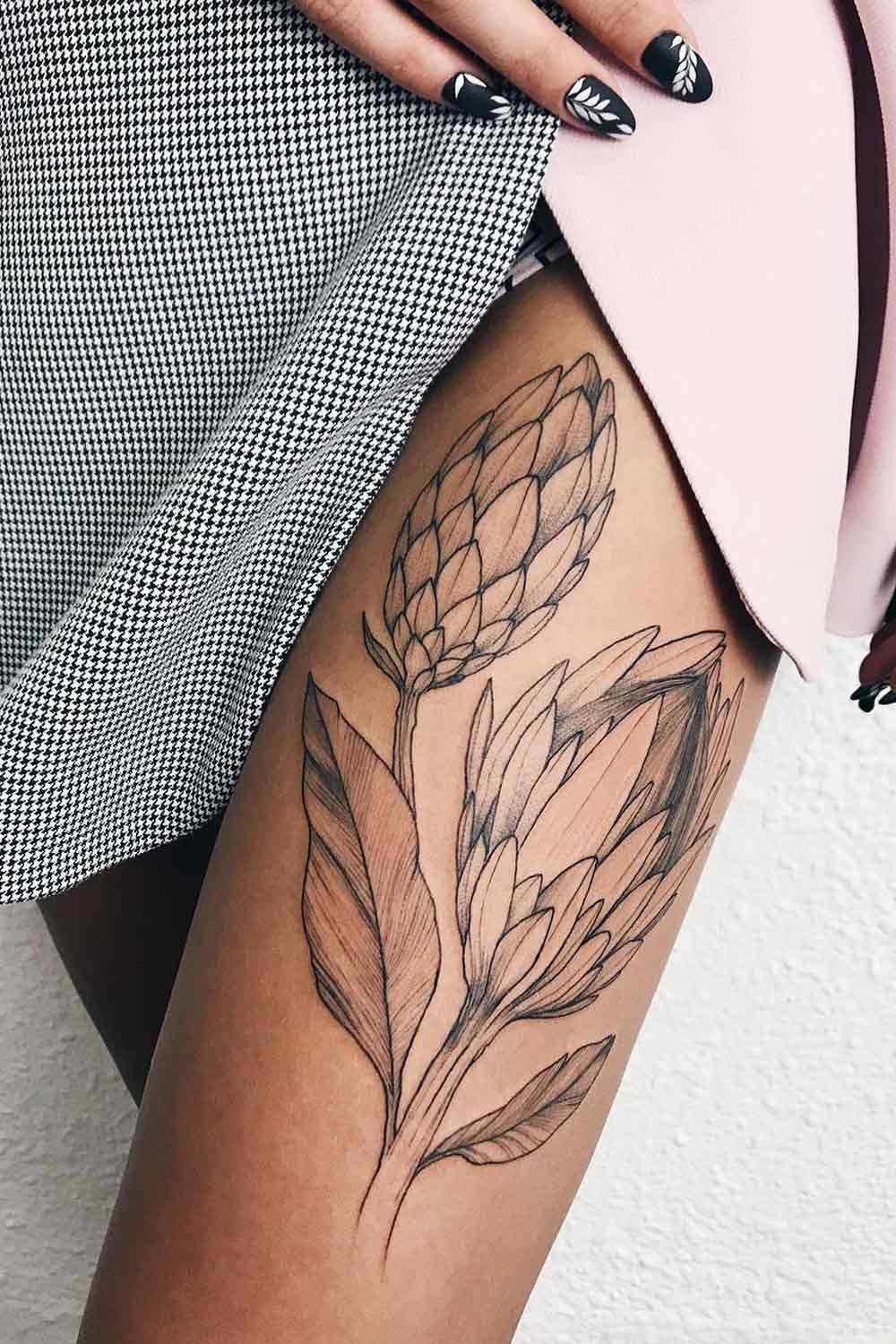 Credit photo: Instagram.com/veronicalilu
There are different reasons why people choose to get some ink. While some tats are just a work of art, others bear an emotional meaning. No matter why you decide to get a tattoo, you should be fully aware of all the advantages and disadvantages of the placement. Let's discuss some common pros and cons of thigh tattoos.
Pros:
The canvas – whether these are side thigh tattoos or front thigh tattoos, one point stands – the area offers a lot of room for experimentation. You can choose a design of any size and shape and have it successfully depicted on your body.
The secrecy – you don't usually go to the office with your thighs on full display, do you? This means that such a tattoo is among the simplest to cover up. You can keep the ink hidden from those you wouldn't like to know about it.
The pain level – tattoos hurt a lot, and that is a fact. However, some locations are known to hurt less than others. The subjective opinion circles that thigh tats hurt less than most.
Cons:
Pain sensitivity – if you are incredibly sensitive to pain, covering such a large area in ink may be close to intolerable for you.
Stretching – since your thighs are incredibly muscular, the loss or increase of muscular mass may affect how the design looks on you. However, as long as the changes are minor, you have nothing to worry about.
Pain Level of Thigh Tattoo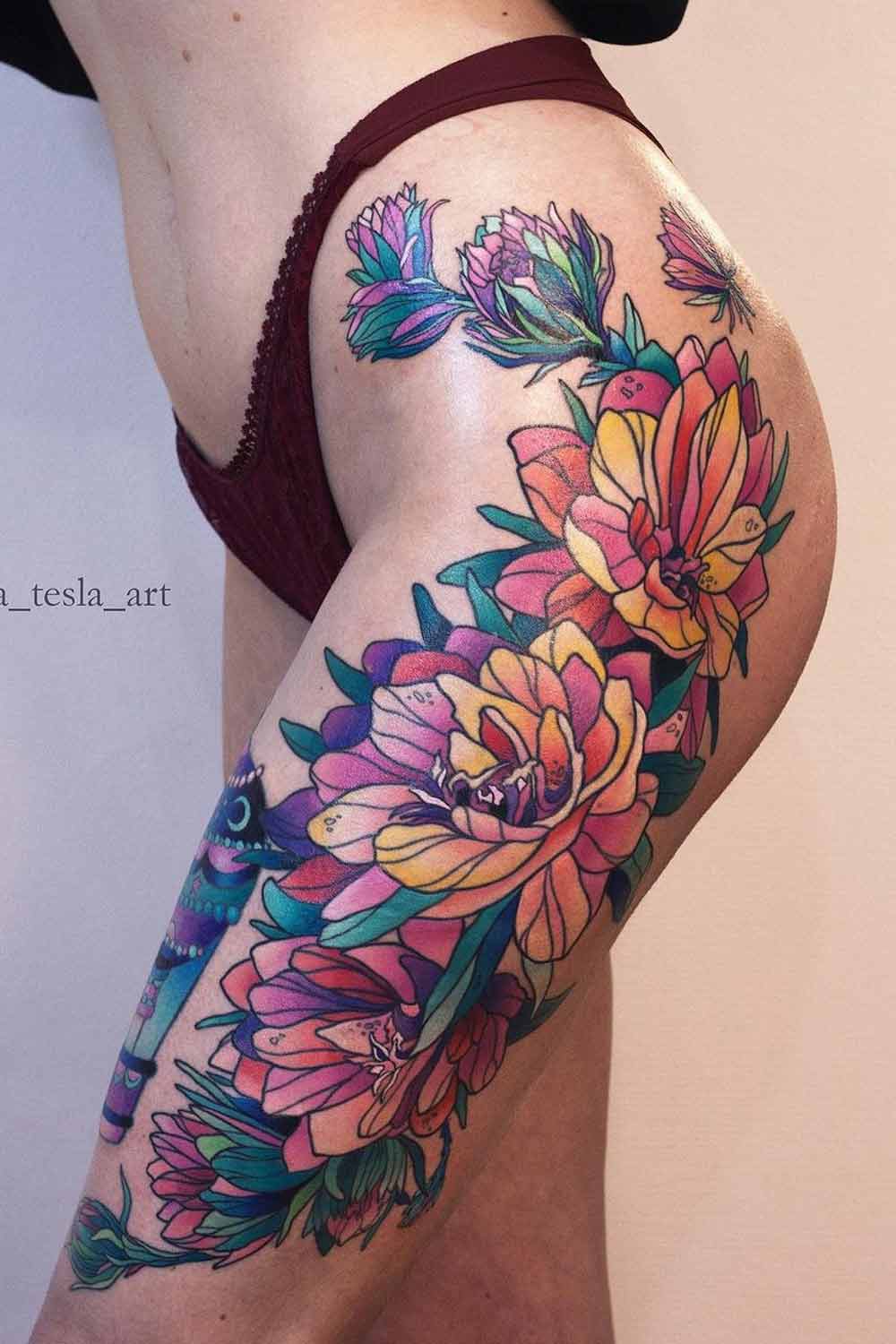 Credit photo: Instagram.com/alisa_tesla_art
If you are considering feminine classy thigh tattoos, you are surely considering the pain level of those. According to recent research, due to immense fat tissue and muscles, the area features fewer nerve endings, so it consequently hurts less. The experts claim that the front thigh tattoos for females would cause low to moderate pain. Yet, you should consider individual predisposition and tolerance to pain before you sign up for the session.
Average Cost of Thigh Tattoo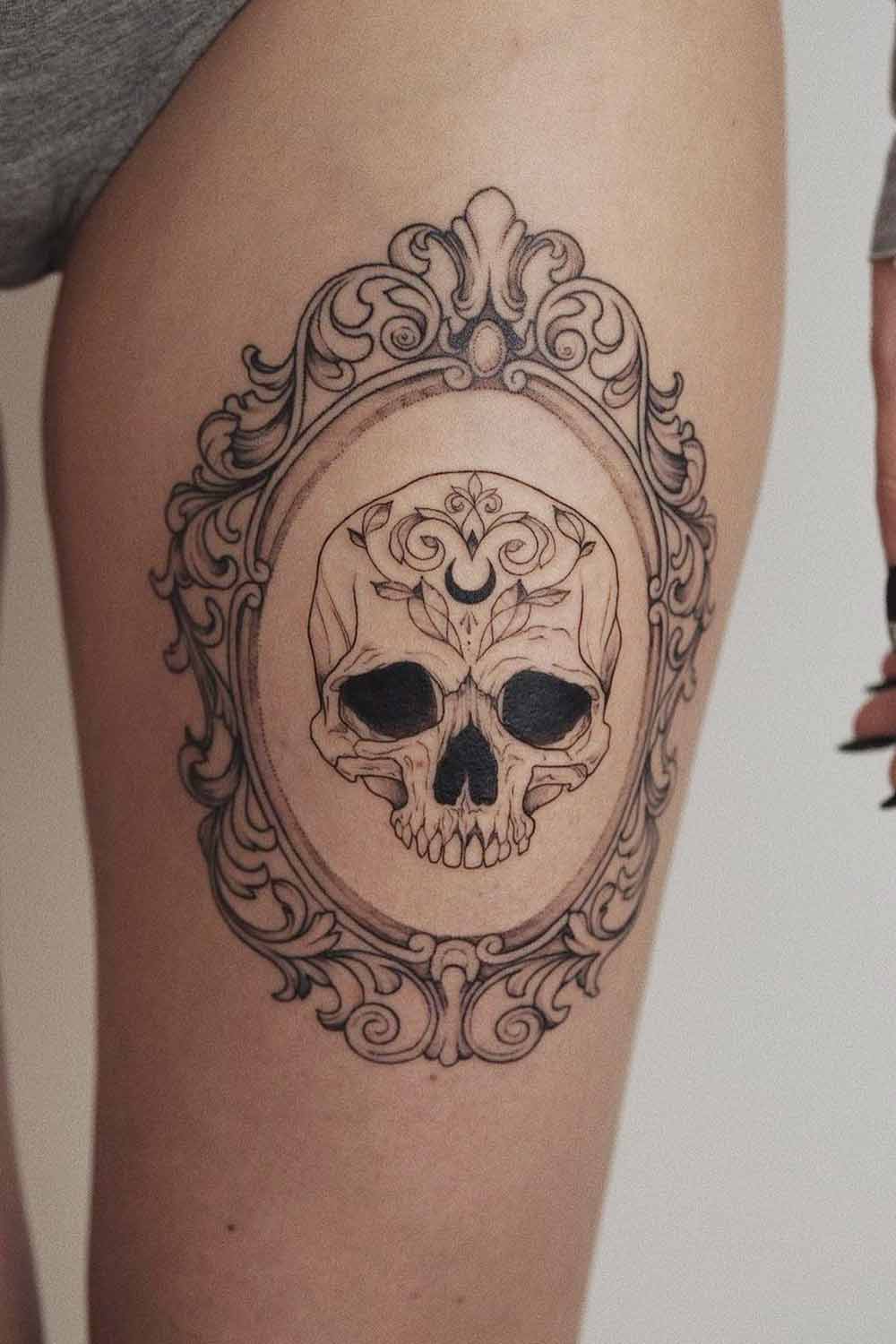 Credit photo: Instagram.com/veronicalilu
There is no precise per-tattoo rate that you can count on. A thigh small leg tattoos differ from large tattoos on the thigh in terms of product used and time spent on the design. That is why it takes a personal session with an artist to figure out how much your idea may cost you. However, according to recent research, you can count on spending $150+ on a small thigh ink. The bigger – the more expensive it will get. Besides, it would help if you kept in mind that colored tats cost more than black and white designs.
Cellulite, Stretch Marks and Losing Weight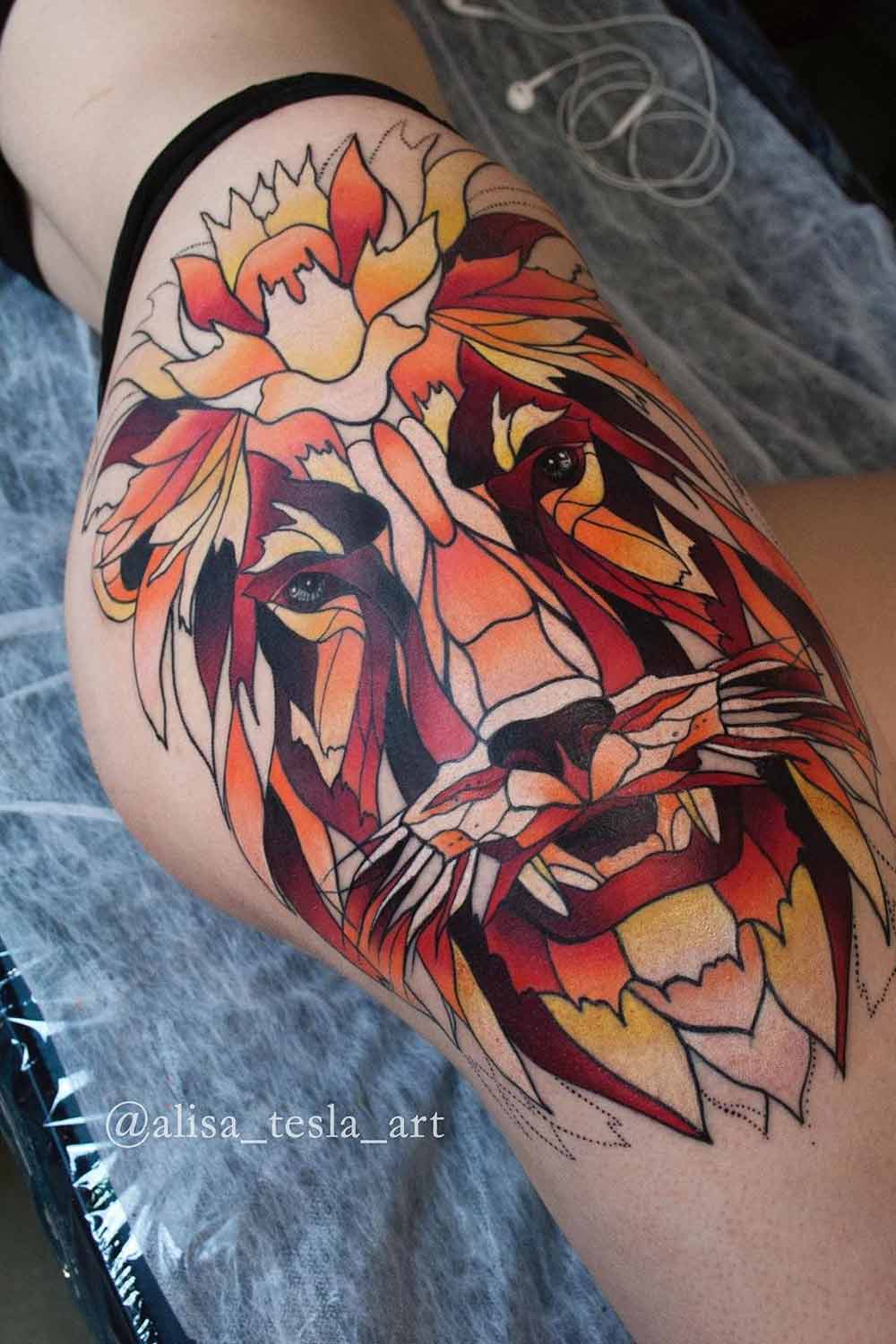 Credit photo: Instagram.com/alisa_tesla_art
When it comes to women thigh tattoos, the notions of cellulite, stretch marks, and weight loss become of vital interest. Each condition can indeed affect your tattoo and vice versa. For instance, cellulite is less noticeable when covered with abstract art, such as mandalas, floral patterns, portraits, etc. At the same time, strict lines and geometrical patterns may emphasize the condition. The same refers to weight loss. Significant weight fluctuations will have strict patterns distorted. So, you may want to consider going on a weight loss journey before getting a tattoo if that is the plant.
In case of stretch marks, they can affect any ink, especially if you go up a couple of sizes within a short period of time – think pregnancy. Yet, another side to the story is that you can cover up existing stretch marks with a well-picked design and call it a day. Summing up, it is safe to say that no matter how strong your urge to get that fancy thigh tat is, there is a lot to consider so that you love your ink as much as the day you get it.
Healing and Aftercare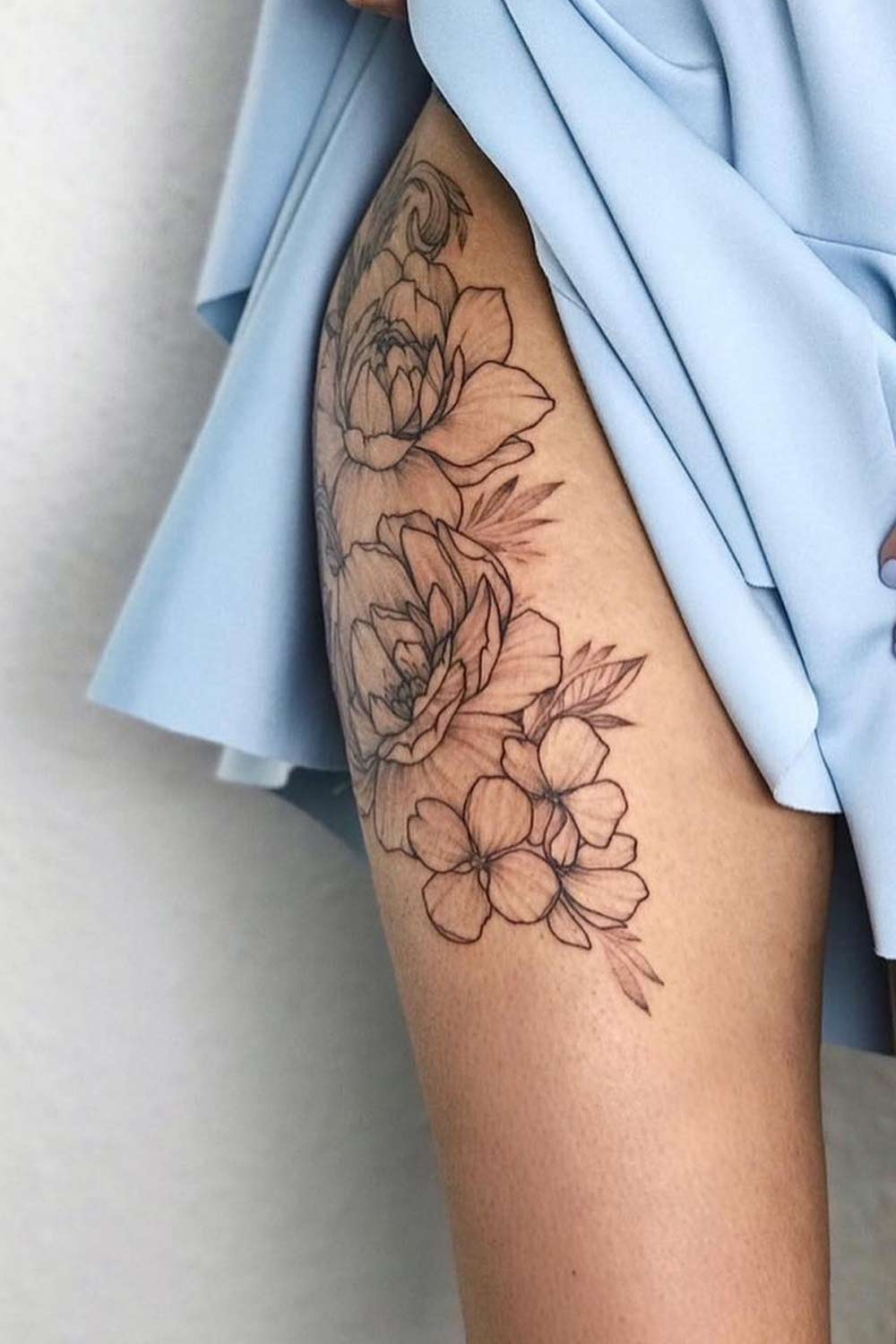 Credit photo: Instagram.com/veronicalilu
One way to ensure sexy thigh tattoos is to look after them properly. The better your tattoo heals, the better it will look on you. Whether it is upper or lower thigh tattoos, the area would be in constant contact with your clothing. Thus, you should be extra careful. Usually, it takes around a month for an upper layer of your dermis to heal and within three months for the lower ones. The best thing you can do is follow all the instructions your tattoo artist gives.
Yet, we are going to mention a few essential tips so that you stay on the safe side:
Stay away from water and sun, or at least use some sunscreen.
Keep the tattoo clean and uncovered as much as you can.
Do not scrub your tattoo.
Wear loose clothes that don't irritate the tat.
Moisturize your tattoo properly.
Rose Tattoos On A Thigh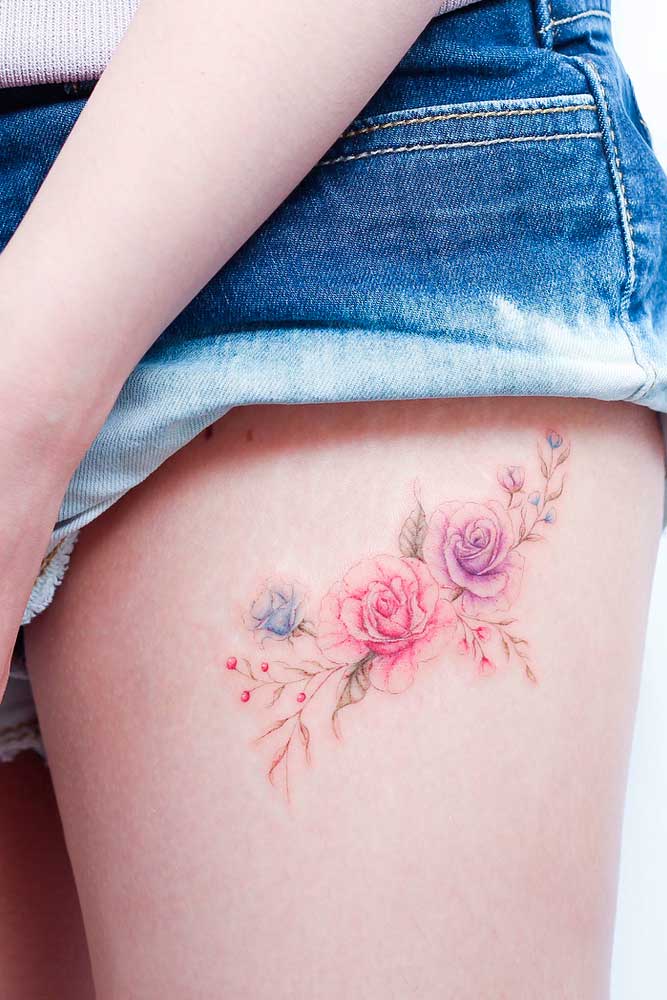 Credit photo: Instagram.com/mini_tattooer
Rose tattoos have always been the most popular choice among other floral ideas. They are truly symbolic and carry a lot of meaning for different people. Do you feel the same? So why don`t you choose roses on thigh tattoos for yourself?
A Black And White Thigh Tattoo With A Deer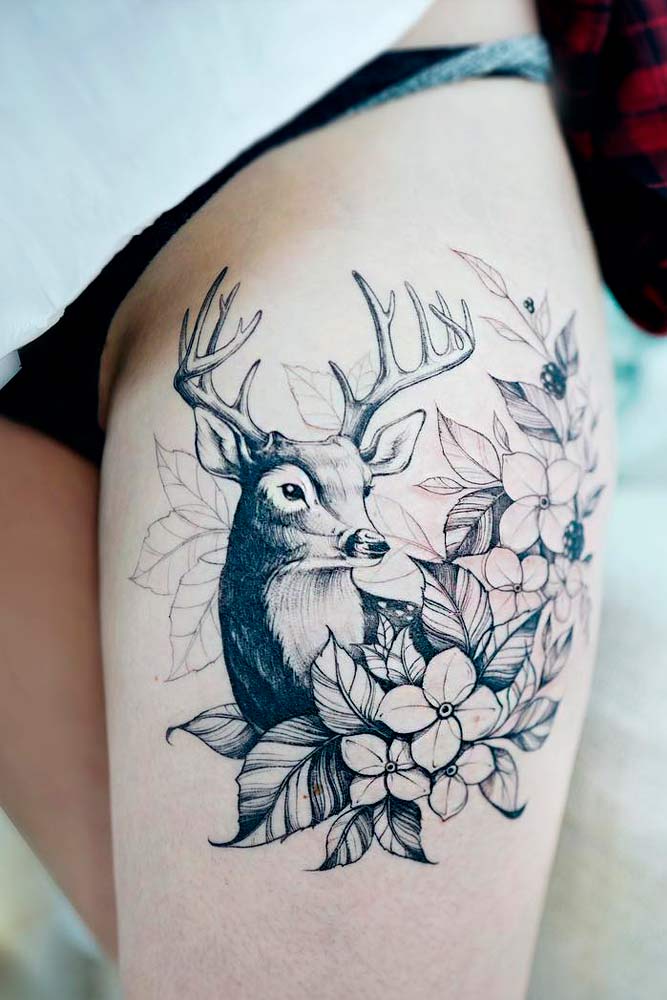 Credit photo: Instagram.com/tattooist_banul
What do you think about tattoos with animals? They don`t only look adorable, in our opinion, they carry much meaning in themselves as well. Have a look at this deer tattoo and how pretty it looks like one of the front thigh tattoos. A floral theme can be added to make the full picture.
A Small Side Thigh Tattoo With The Moon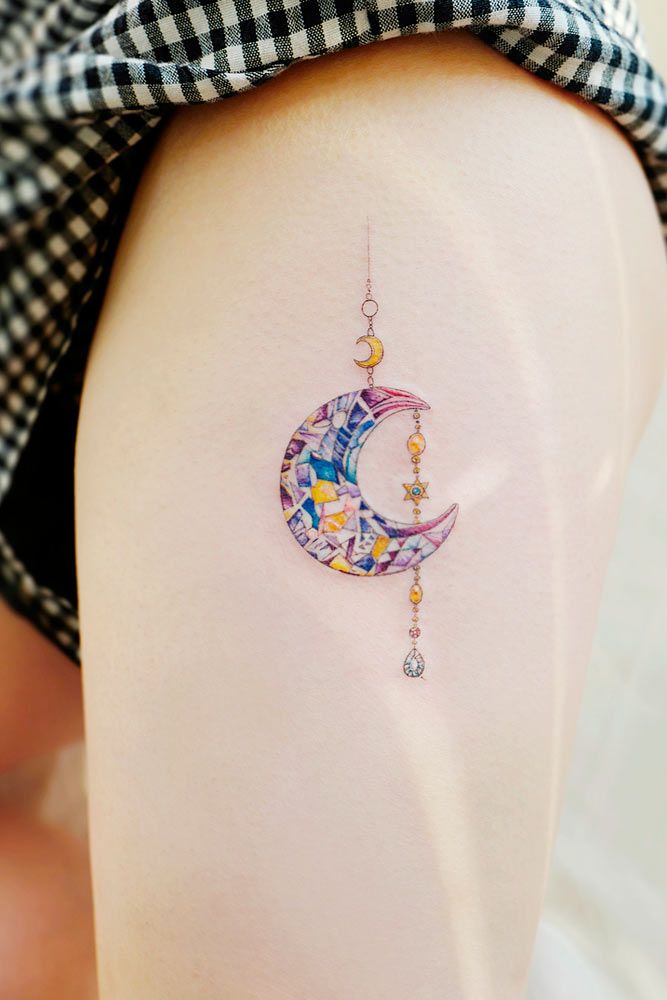 Credit photo: Instagram.com/tattooist_banul
Side thigh tattoos are usually chosen for thigh tattoos and there is nothing strange about it. Have you seen how gorgeous and flattering they look on the body? Focus all the attention on your curves and you will be impressed how many compliments you will get. This particular idea with the Moon looks great on there, doesn`t it?
A Floral Thigh Tattoos With A Flamingo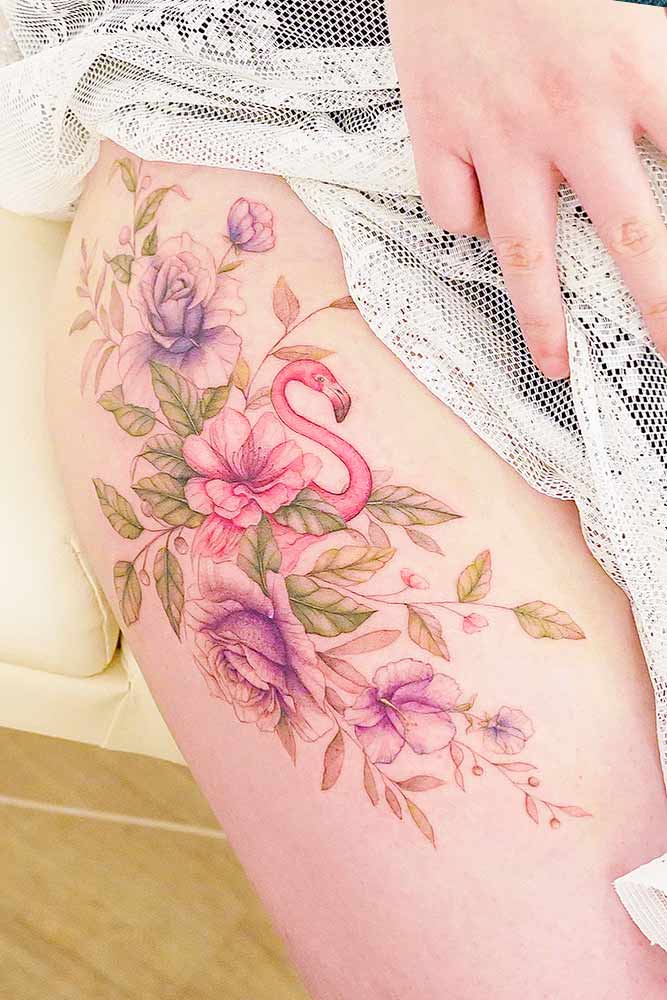 Credit photo: Instagram.com/mini_tattooer
Flower thigh tattoos are the most popular ideas. We love how they look, especially if they are done side to side with something else. Like with this flamingo. It looks truly mind-blowingly beautiful!
A Watercolor Dream Catcher Thigh Tattoo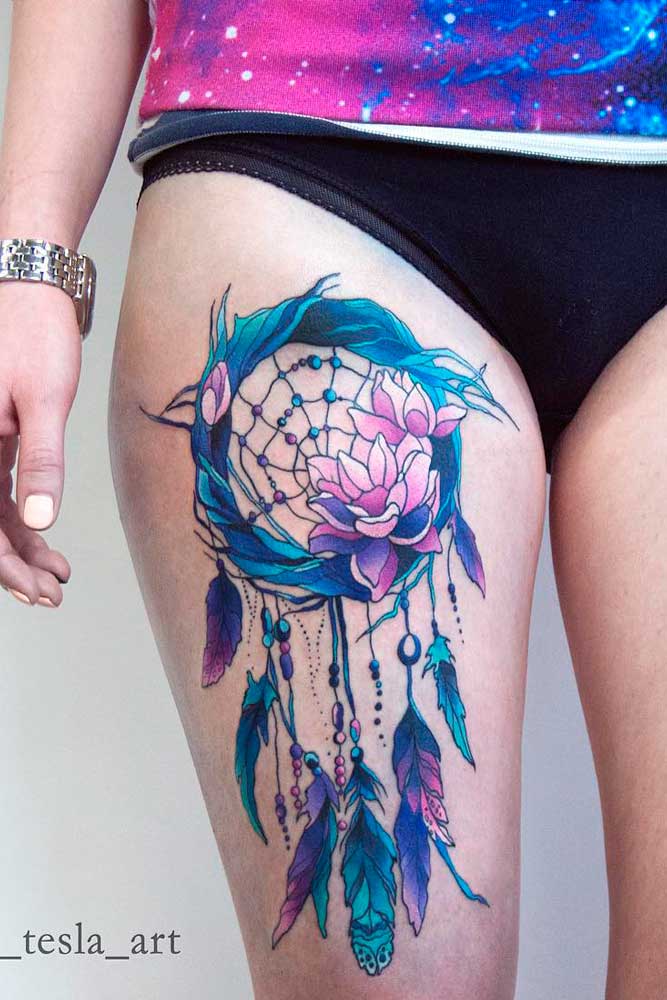 Credit photo: Instagram.com/alisa_tesla_art
Dream catchers are super popular nowadays and have a lot of meaning behind themselves. Do you have any that you would like to include? Then don`t hesitate and choose it as your front thigh tattoo. Add a watercolor technique and you will be amazed by how gorgeous it will turn out to be.
A Mandala Thigh Flower Tattoo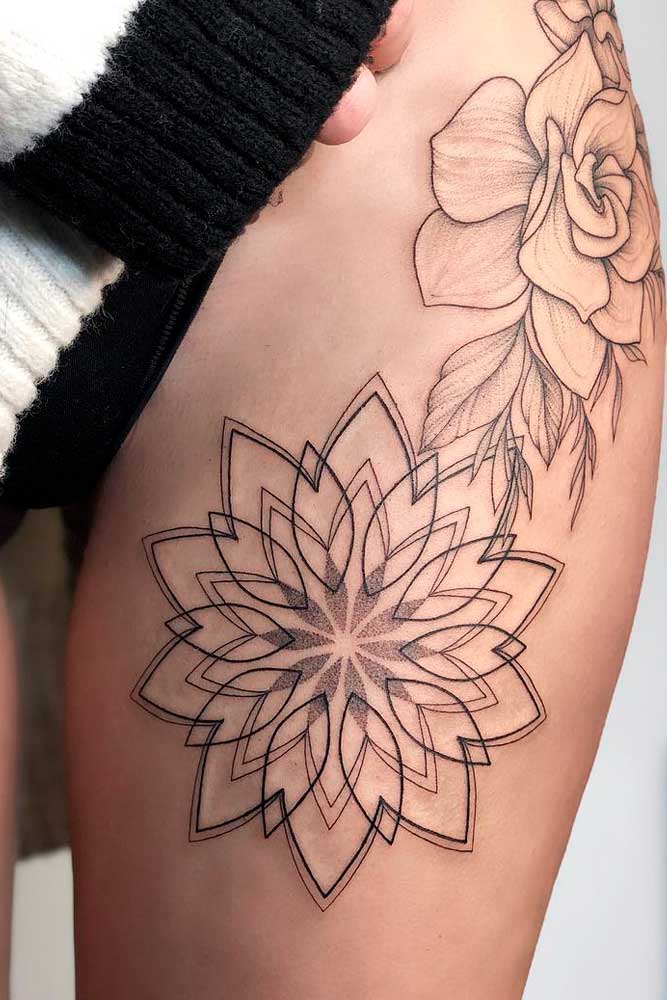 Credit photo: Instagram.com/ira_shmarinova
A mandala thigh tattoo is truly an idea that you can`t miss. Look how only thin lines can build up something unique and beautiful.
Lion Tattoos On Thigh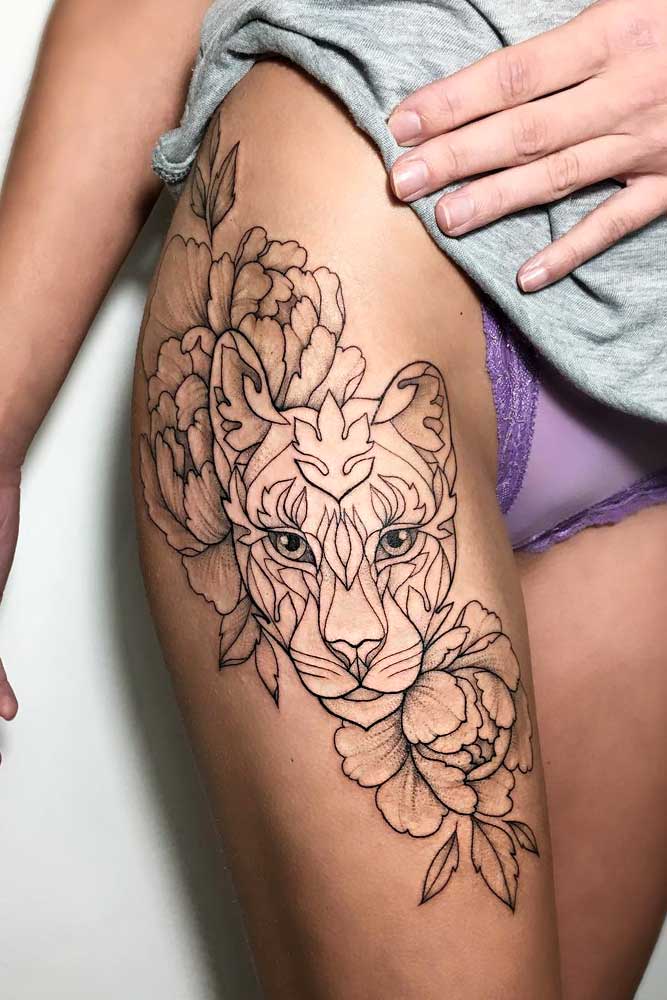 Credit photo: Instagram.com/ira_shmarinova
A lion has always been a symbol of strength and power. The king of animals pictured on your body will for sure show everyone, who they are talking to.
An Outline Elephant Tattoo For A Thigh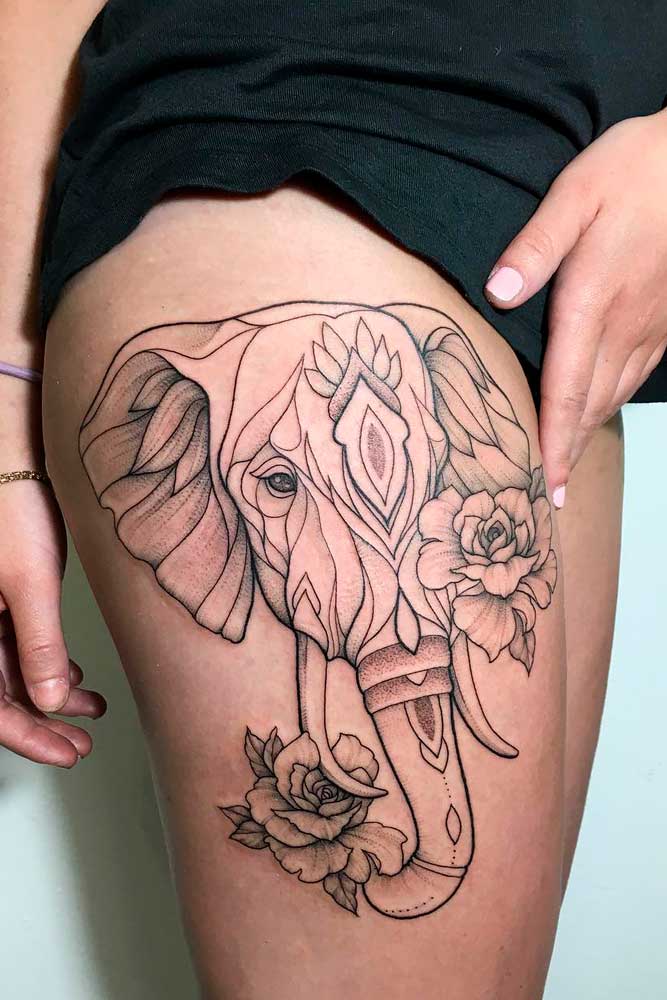 Credit photo: Instagram.com/ira_shmarinova
If you like to see more animal-based tattoos for thigh tattoos for women, then here is another one that we can`t stop admiring. Doesn`t this elephant tattoo look cute and empowering at the same time?
A Galaxy Watercolor Cat Tattoo With The Lace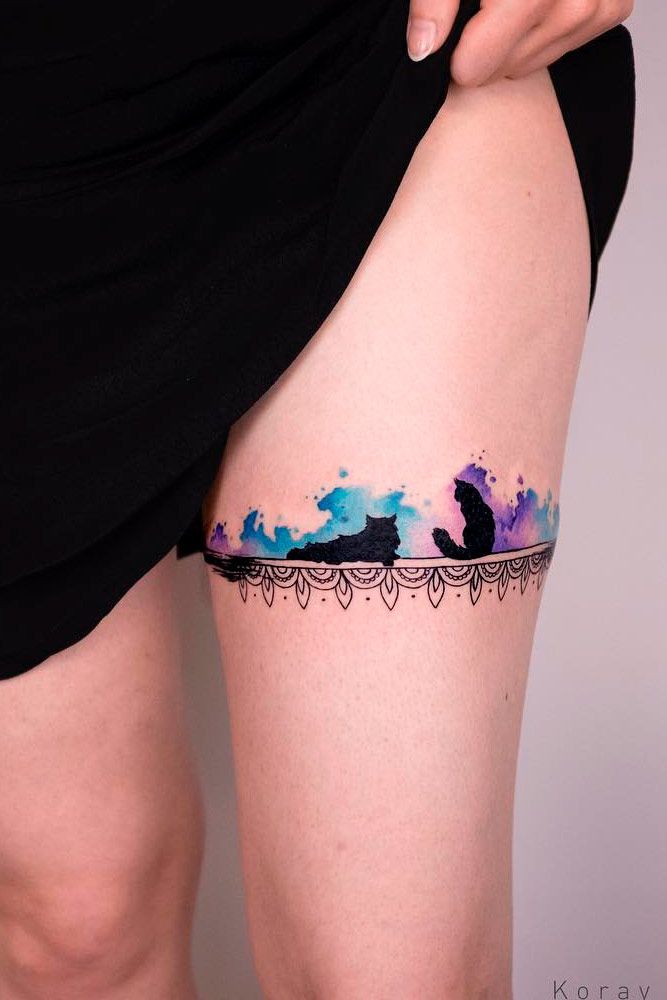 Credit photo: Instagram.com/koray_karagozler
Do you have a spirit animal? Is it a cat? If yes, then you will be amazed with this idea. A galaxy cat for a thigh tattoo will be your guardian for your whole life!
A Simple Rose Thigh Tattoo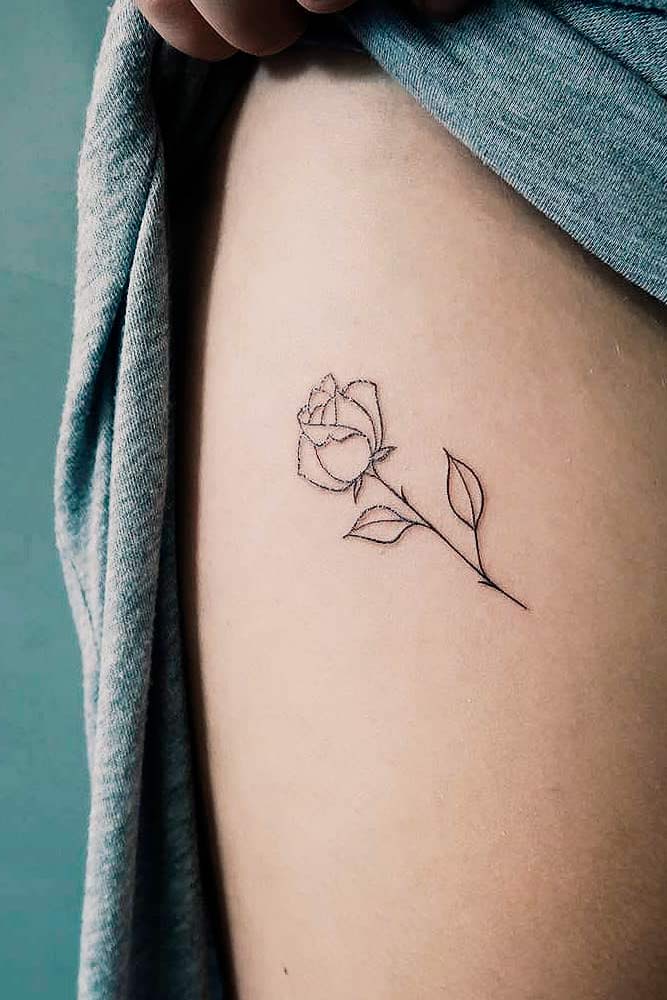 Credit photo: Instagram.com/fine.line.tattoos.melbourne
We have given you a lot of floral options already, but we haven`t mentioned small simple thigh tattoos that will also look stunning on your thighs. What do you think about such a delicate detail on your body?
A Fox Tattoo With A Dotwork Technique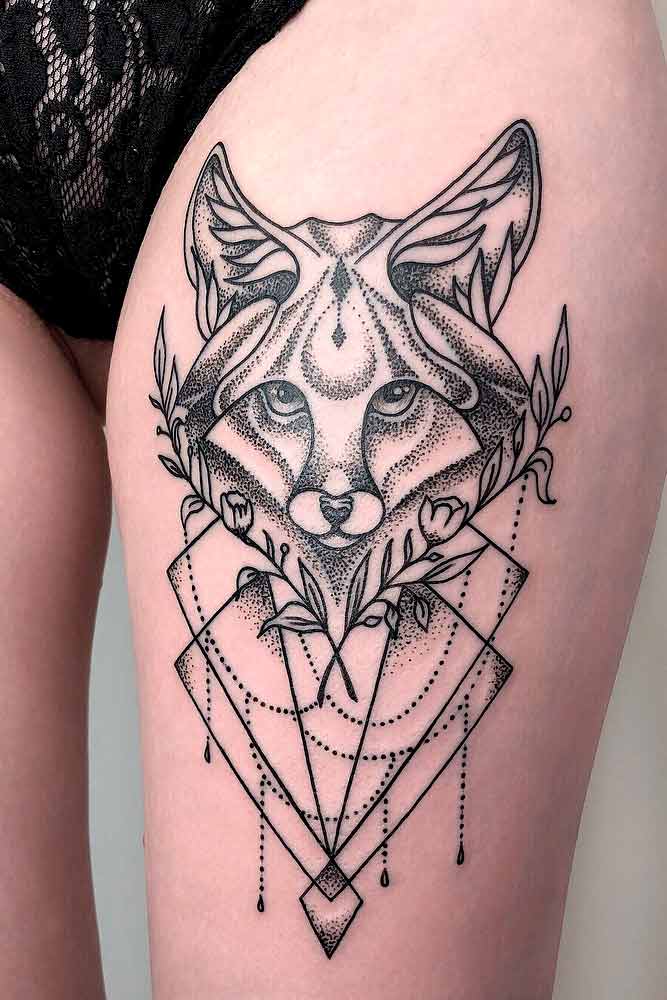 Credit photo: Instagram.com/goodtattooclub
What about foxes? Do they resemble you in any way? They will make such beautiful tattoos that you will be shocked. Add a dotwork to go with it and the effect will be phenomenal.
A Small Realistic Moon Thigh Tattoo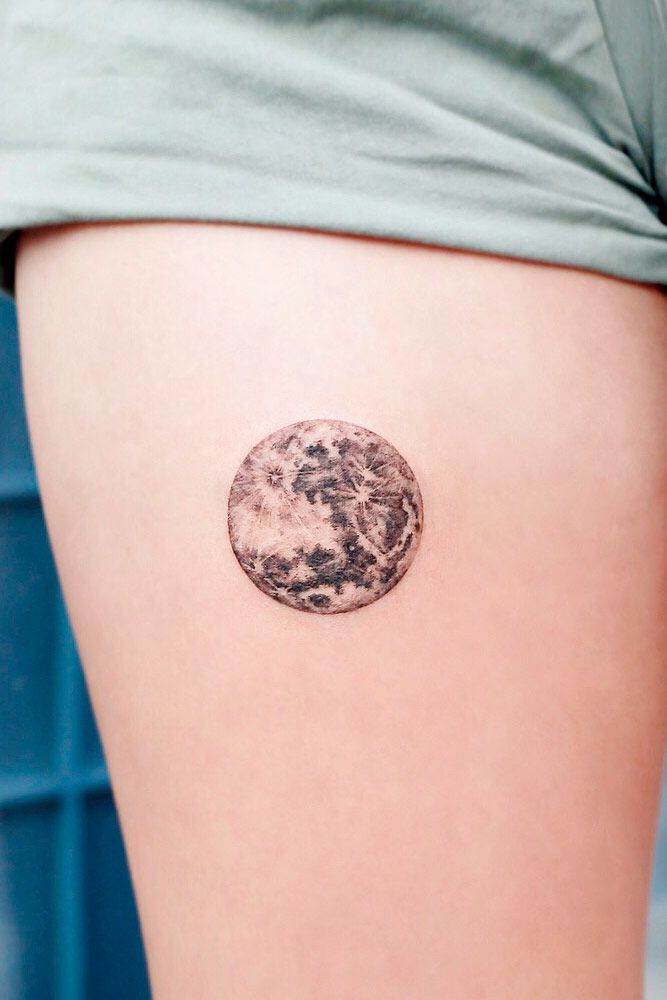 Credit photo: Instagram.com/tattooist_ida
Small thigh tattoos should definitely include astronomical ideas. From colorful galaxy tattoos to The Moon one that will be very special to your heart after you get it.
A Thigh Tattoo Design With Tiger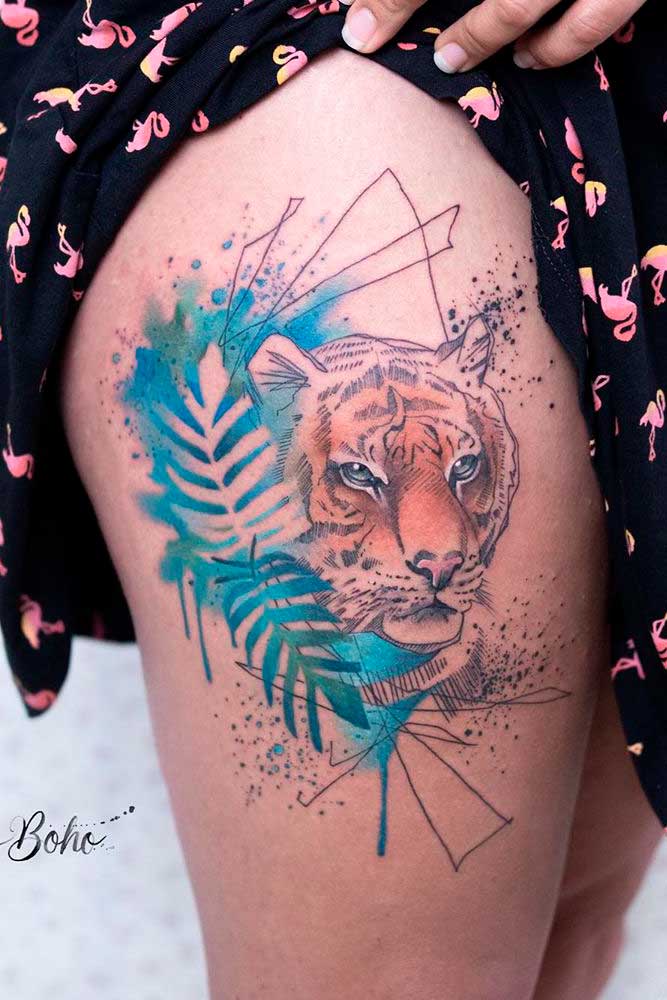 Credit photo: Instagram.com/julesboho.tattoo
We have mentioned a lion tattoo, but what about a tiger? Do you prefer this idea? We love how colorful and bright it may look with any colors that you want. One of the most beautiful tiger thigh tattoos that you may come across.
A Peacock Feather Tattoo Idea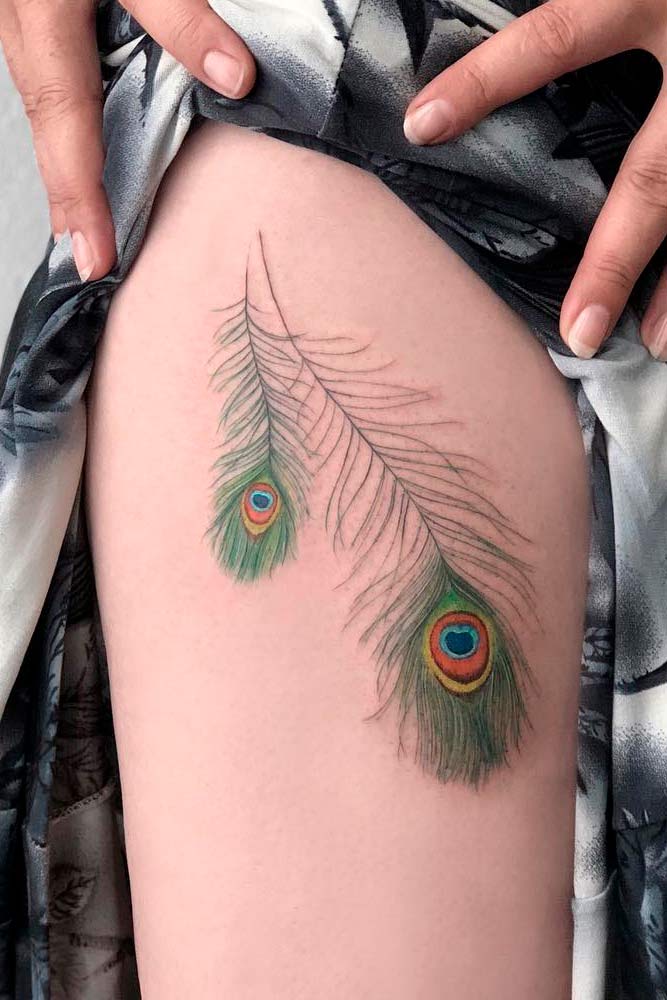 Credit photo: Instagram.com/nastyafox
Would you like some realistic ideas? Then this one will break your heart. Look how close to reality this feather tattoo looks. Such small strokes will make an amazing front thigh tattoos.
A Wolf Tattoo Design On A Thigh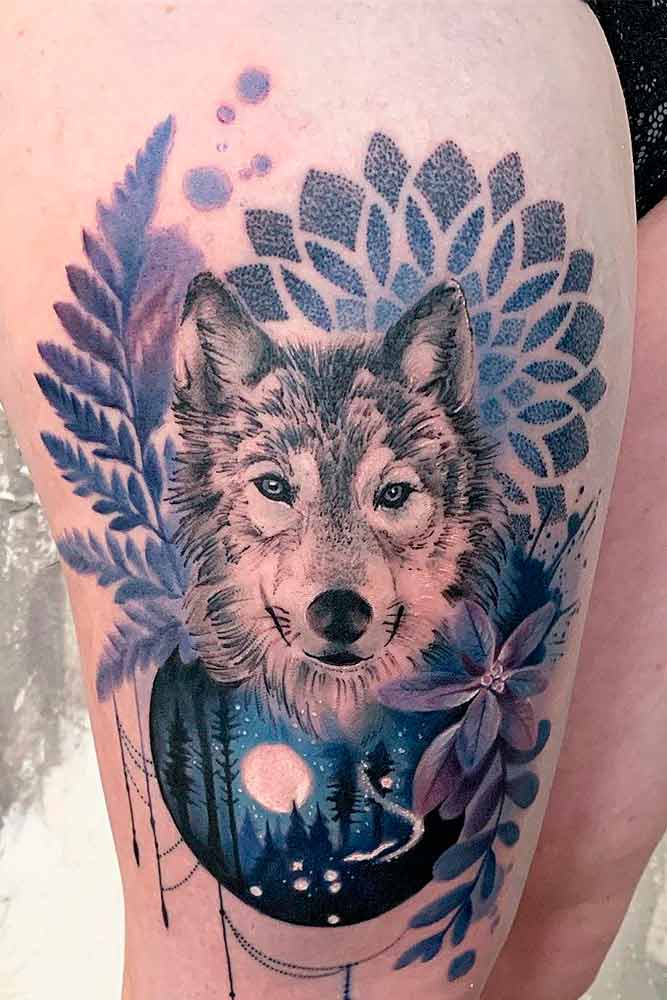 Credit photo: Instagram.com/maggiepaletta
Wolf tattoo designs can be super creative too. What do you think about this greyish blue idea? Doesn`t it look absolutely flawless?
A Floral Portrait Tattoo Design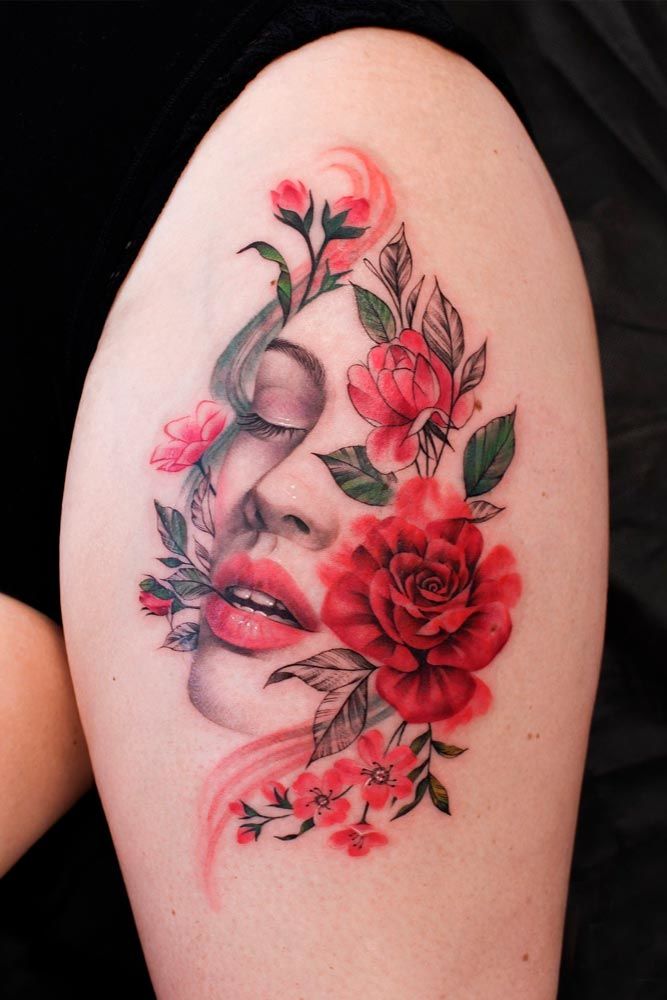 Credit photo: Instagram.com/debrartist
You could have never guessed that a portrait tattoo can look that stunning! Wow! We are truly at a loss for words. Flowers make it appear even better.
A Black And White Skull Tattoo Idea With Flowers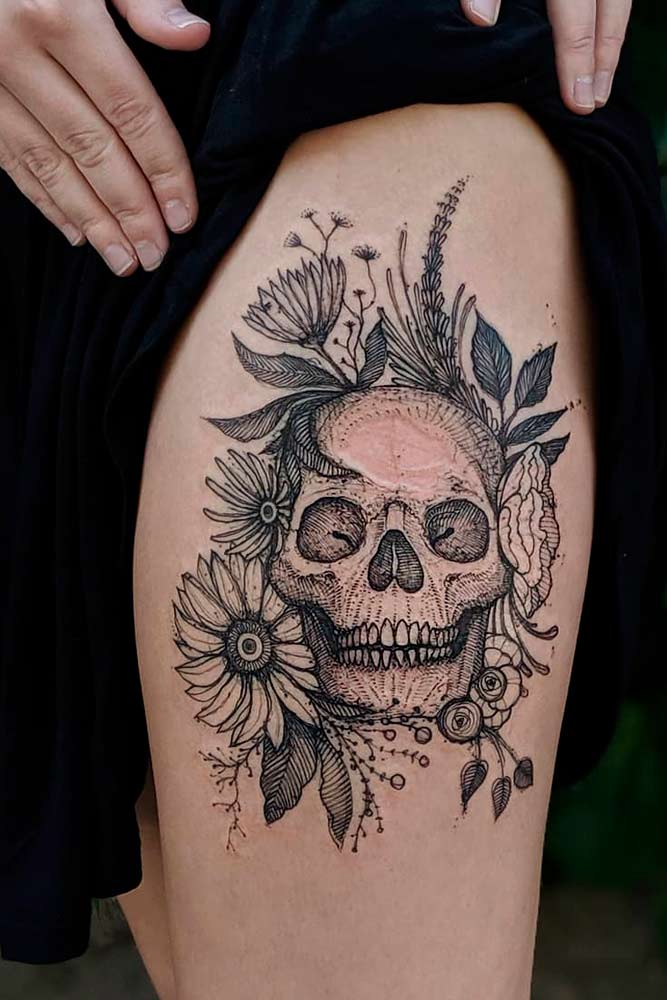 Credit photo: Instagram.com/dinonemec
Putting down two opposite ideas and combining them into something more than just a tattoo. That is what this skull floral tattoo is all about. Breathtaking, isn`t it?
A Jellyfish Whale With Geometric Elements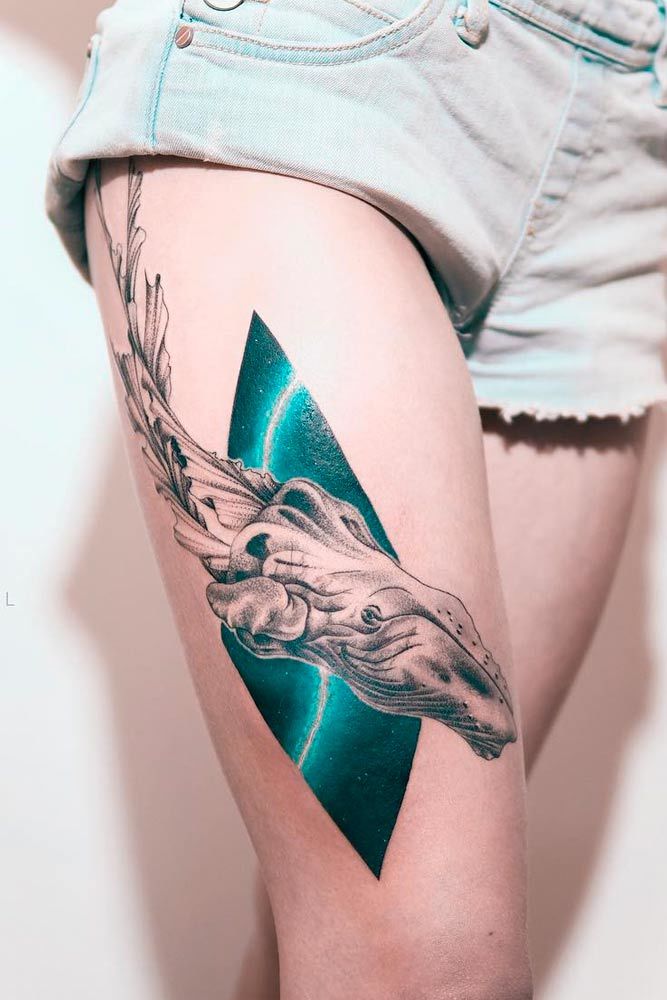 Credit photo: Instagram.com/evgenymel
Geometric elements in tattoos will never go out of style. Especially when combined with something else like this jellyfish whale. This tattoo will for sure stand out of other thigh tattoos that you have seen.
So many ideas that we can`t make up our mind on only one. What is your opinion on the thigh tattoos options that we have prepared? We hope they have helped you to make the right choice.
FAQ: Thigh Tattoos
Can you wear jeans after a thigh tattoo?
You shouldn't wear tight clothing on a fresh tattoo as it can stick to it. Better to choose looser fitting pants or shorts (but not too short) in a breathable fabric. Treat your tattoo as an open wound. You can return to wearing whatever you want after about 3 weeks.
Are thigh tattoos painful?
The upper outer thigh is one of the least painful places to get a tattoo, because there is enough fat and few nerve endings in this part of the body to make the process painless enough.
Are thigh tattoos girly?
Thigh tattoos are popular among both men and women; they are not considered exclusively feminine. Thigh tattoo is a large canvas for creativity. It is a great place to get a tattoo, if you don't want your ink to be visible, unless you show it, plus, you don't have to worry about sunscreen.