Thigh Tattoos look amazing on women of any age, skin tone and size. If you would like to emphasize the beauty of your body, then the idea of getting a thigh tattoo is the right one for you. There are so many tattoo ideas for women that will look fantastic. Let`s look through the ones that in our opinion will look the best and choose your amazing tattoo sketch.
Rose Tattoos On A Thigh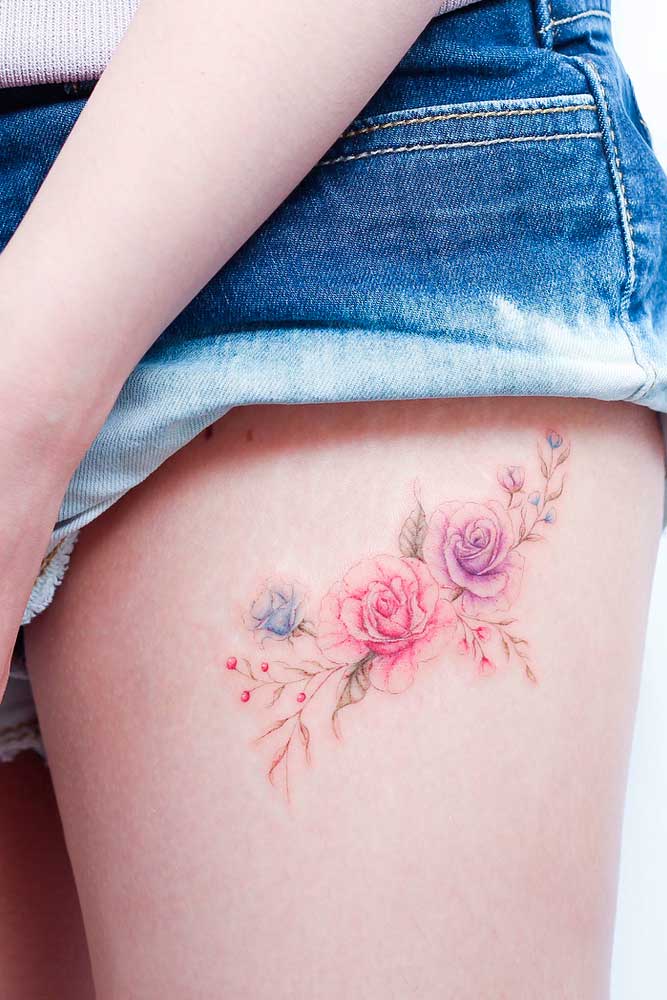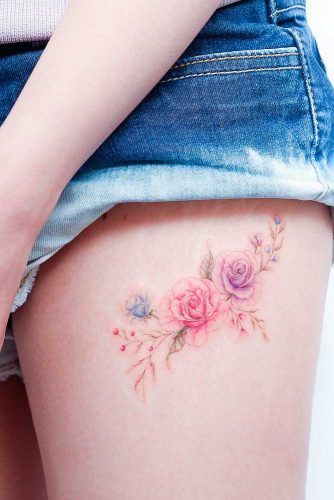 Rose tattoos have always been the most popular choice among other floral ideas. They are truly symbolic and carry a lot of meaning for different people. Do you feel the same? So why don`t you choose roses on thigh tattoos for yourself?
Source: mini_tattooer via Instagram
A Black And White Thigh Tattoo With A Deer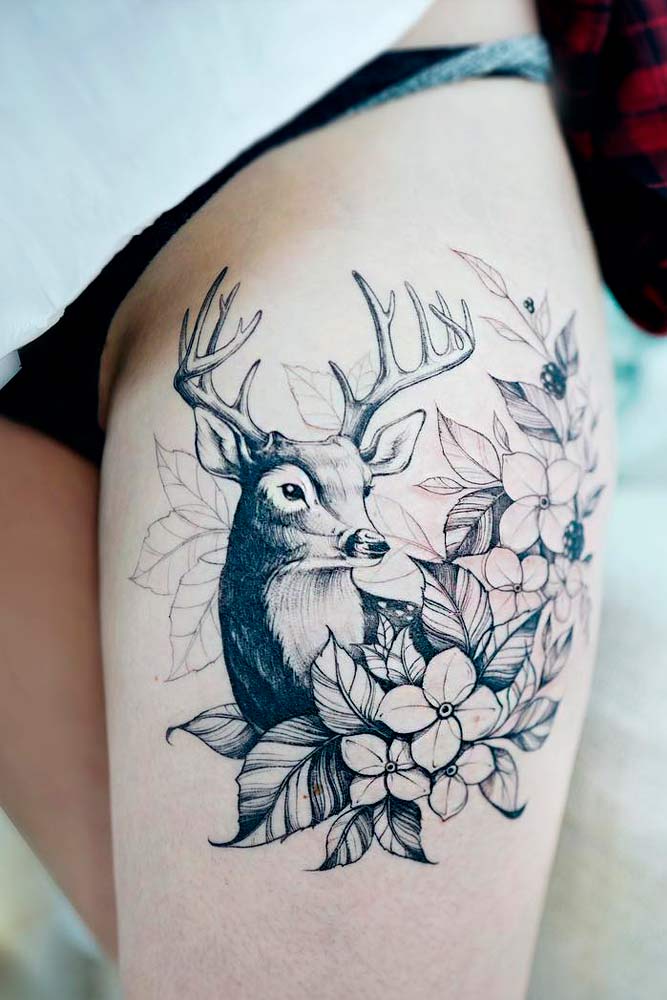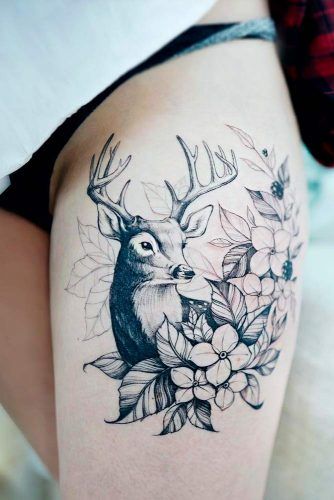 What do you think about tattoos with animals? They don`t only look adorable, in our opinion, they carry much meaning in themselves as well. Have a look at this deer tattoo and how pretty it looks like one of the front thigh tattoos. A floral theme can be added to make the full picture.
Source: tattooist_banul via Instagram
A Small Side Thigh Tattoo With The Moon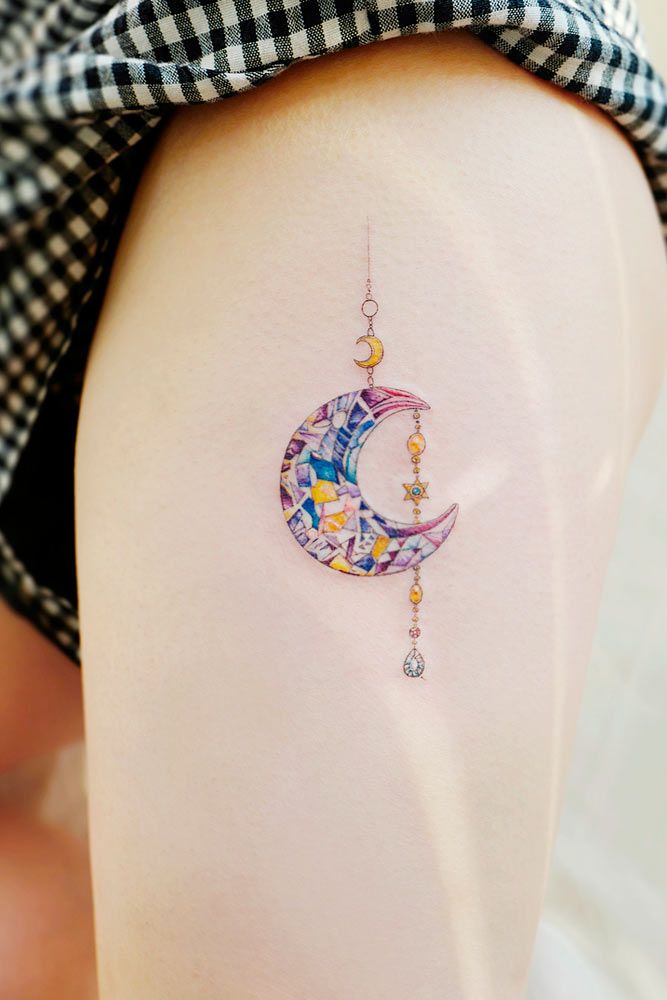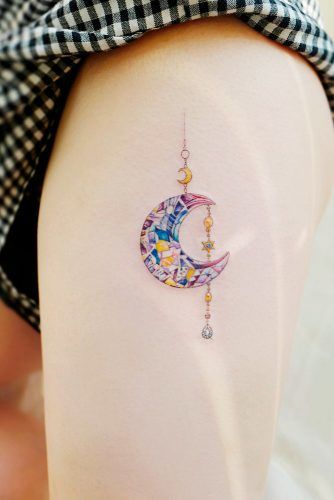 Side thigh tattoos are usually chosen for thigh tattoos and there is nothing strange about it. Have you seen how gorgeous and flattering they look on the body? Focus all the attention on your curves and you will be impressed how many compliments you will get. This particular idea with the Moon looks great on there, doesn`t it?
Source: tattooist_banul via Instagram
A Floral Thigh Tattoos With A Flamingo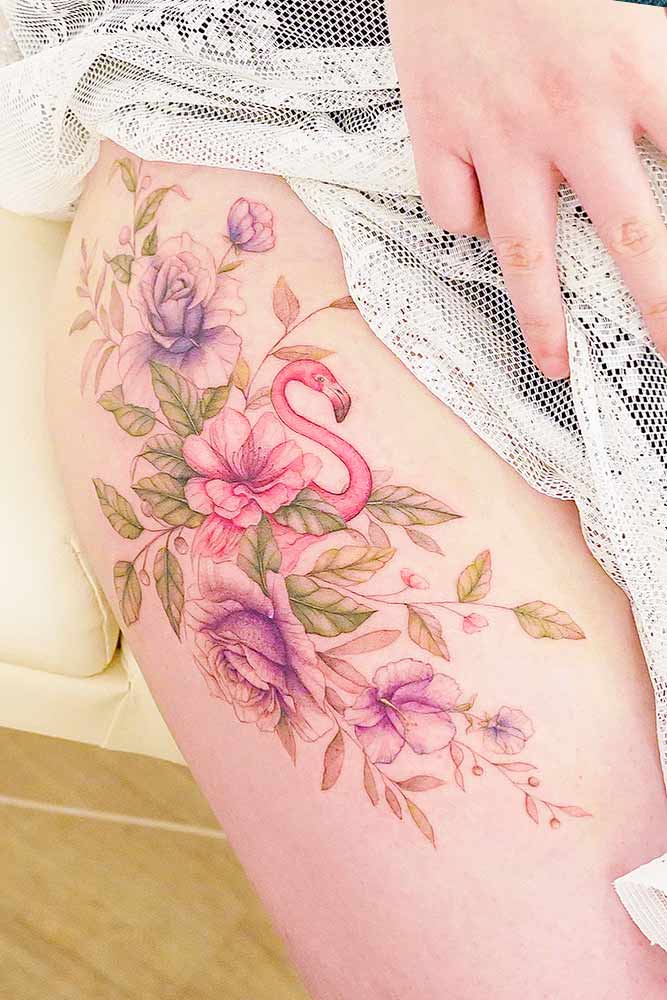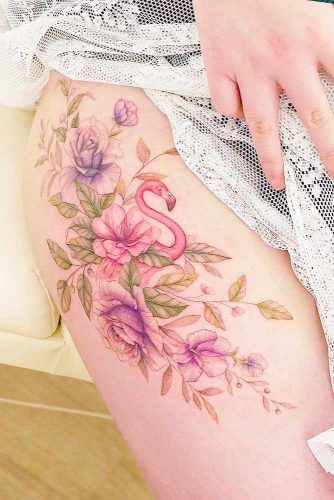 Flower thigh tattoos are the most popular ideas. We love how they look, especially if they are done side to side with something else. Like with this flamingo. It looks truly mind-blowingly beautiful!
Source: mini_tattooer via Instagram
A Watercolor Dream Catcher Thigh Tattoo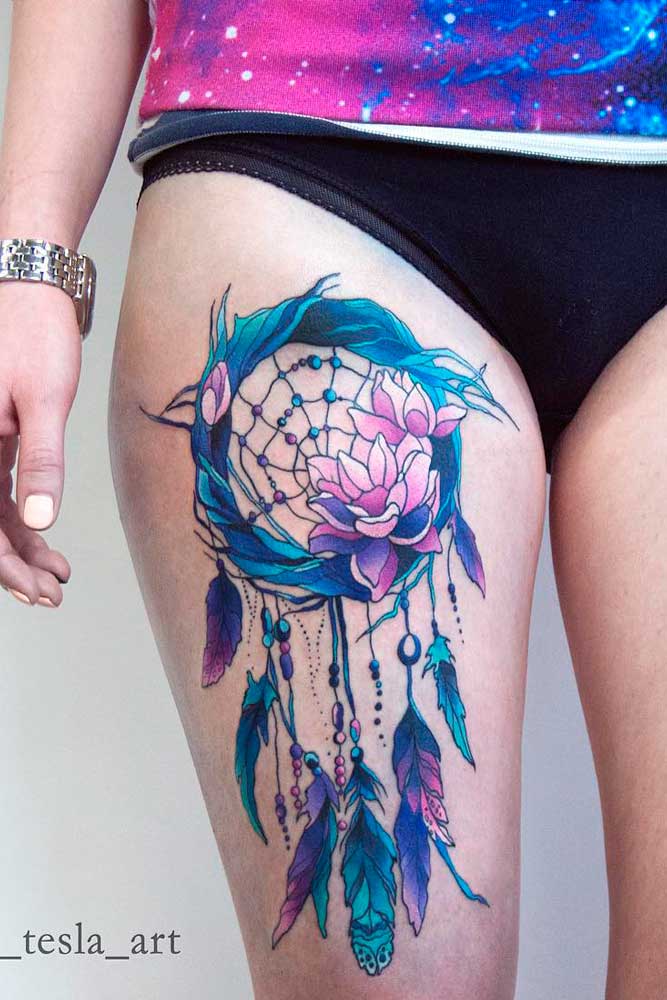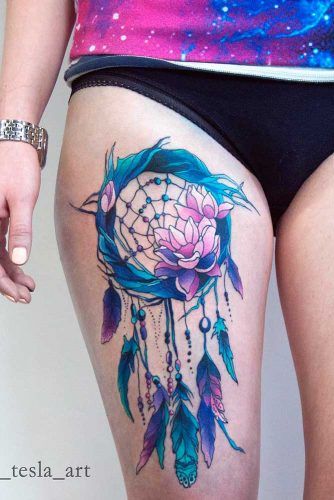 Dream catchers are super popular nowadays and have a lot of meaning behind themselves. Do you have any that you would like to include? Then don`t hesitate and choose it as your front thigh tattoo. Add a watercolor technique and you will be amazed by how gorgeous it will turn out to be.
Source: alisa_tesla_art via Instagram
A Mandala Thigh Flower Tattoo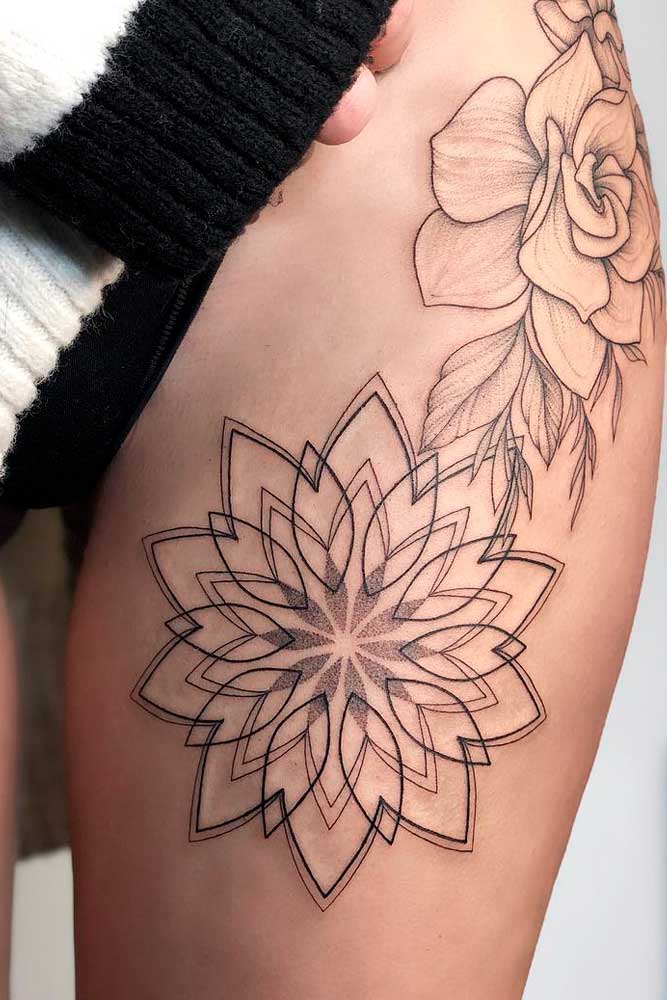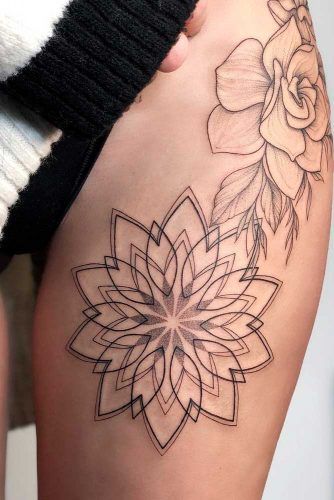 A mandala thigh tattoo is truly an idea that you can`t miss. Look how only thin lines can build up something unique and beautiful.
Source: ira_shmarinova via Instagram
Lion Tattoos On Thigh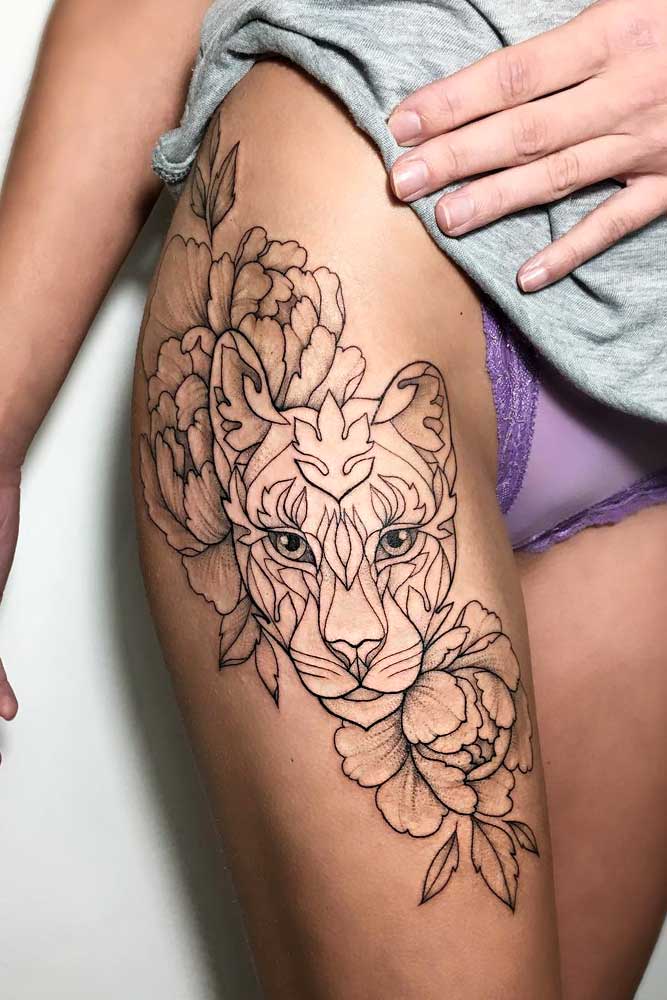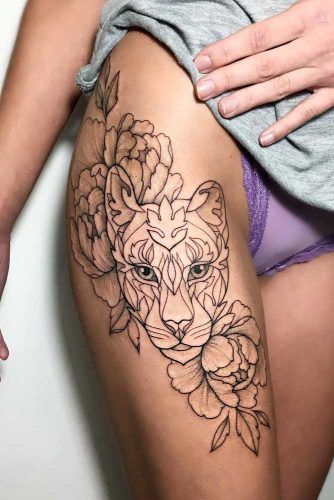 A lion has always been a symbol of strength and power. The king of animals pictured on your body will for sure show everyone, who they are talking to.
Source: ira_shmarinova via Instagram
An Outline Elephant Tattoo For A Thigh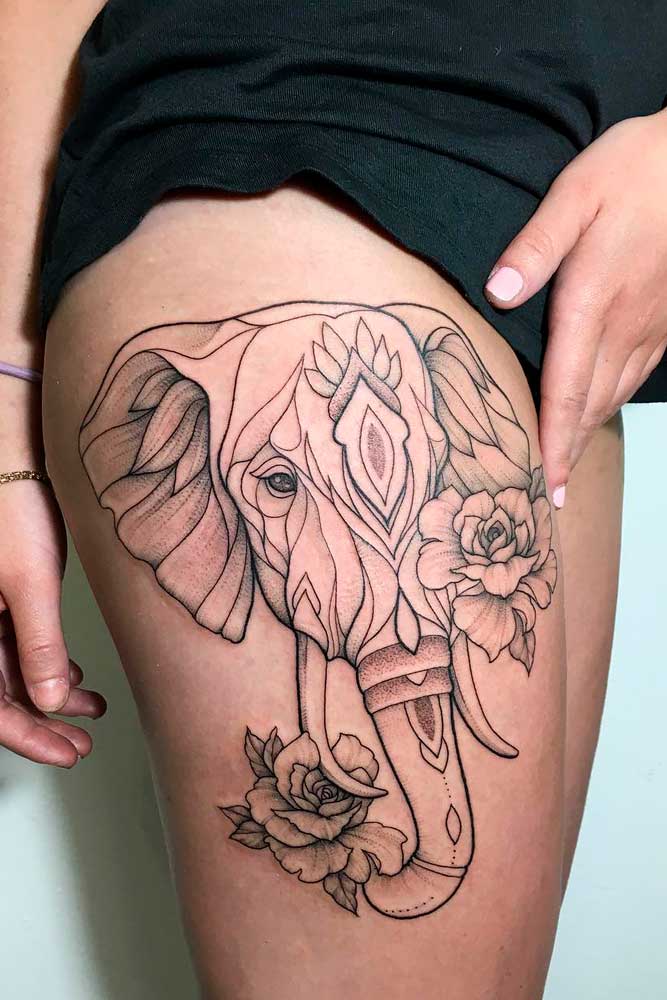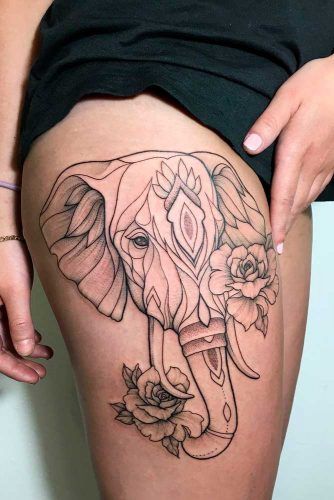 If you like to see more animal-based tattoos for thigh tattoos for women, then here is another one that we can`t stop admiring. Doesn`t this elephant tattoo look cute and empowering at the same time?
Source: ira_shmarinova via Instagram
A Galaxy Watercolor Cat Tattoo With The Lace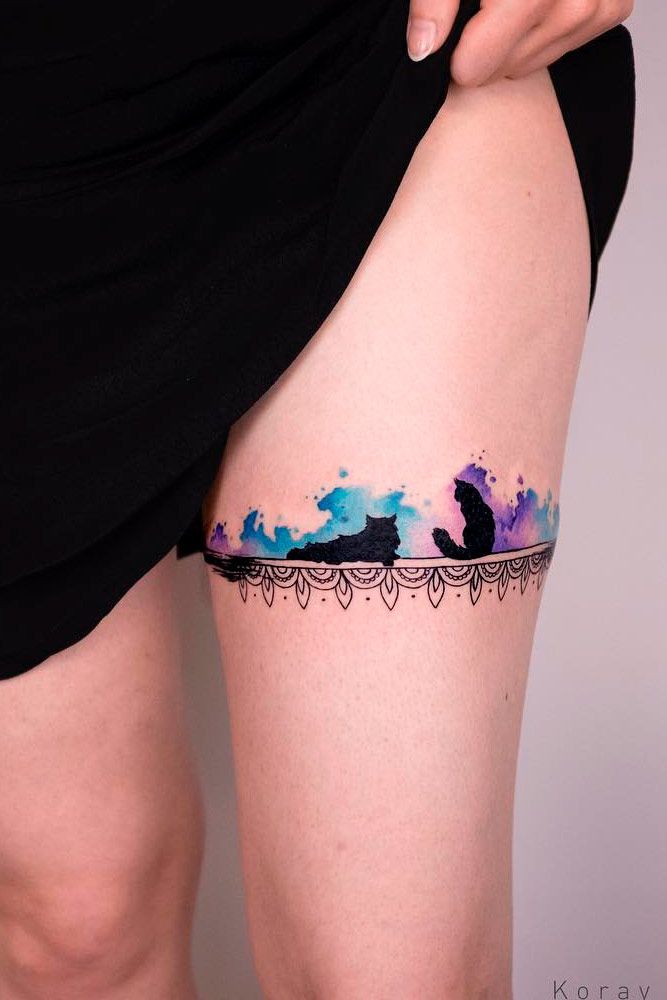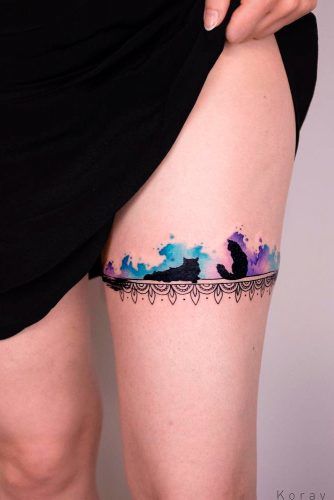 Do you have a spirit animal? Is it a cat? If yes, then you will be amazed with this idea. A galaxy cat for a thigh tattoo will be your guardian for your whole life!
Source: koray_karagozler via Instagram
A Simple Rose Thigh Tattoo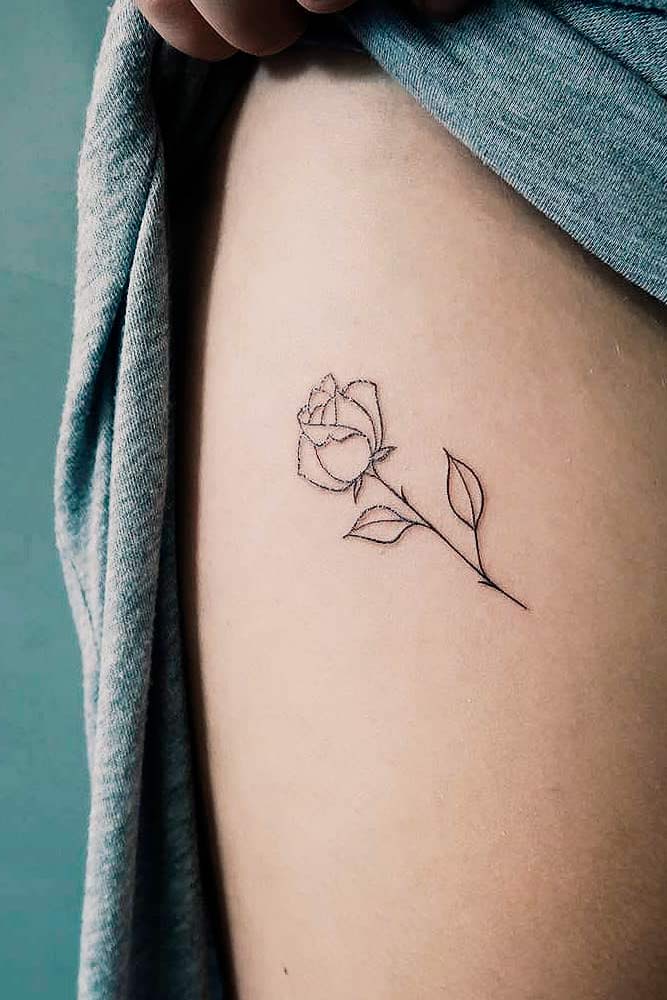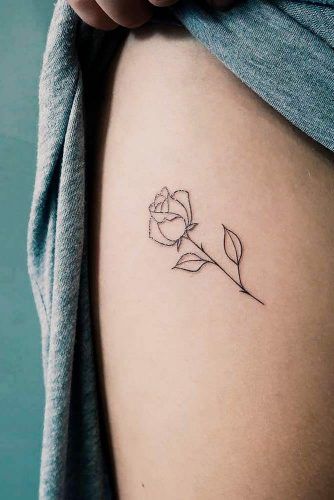 We have given you a lot of floral options already, but we haven`t mentioned small simple thigh tattoos that will also look stunning on your thighs. What do you think about such a delicate detail on your body?
Source: fine.line.tattoos.melbourne via Instagram
A Fox Tattoo With A Dotwork Technique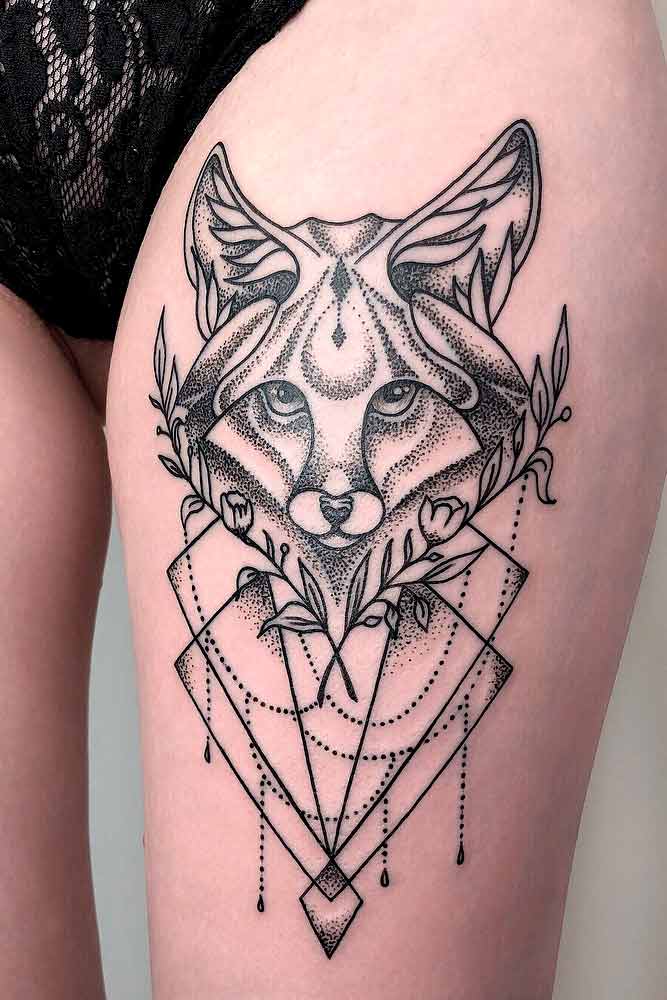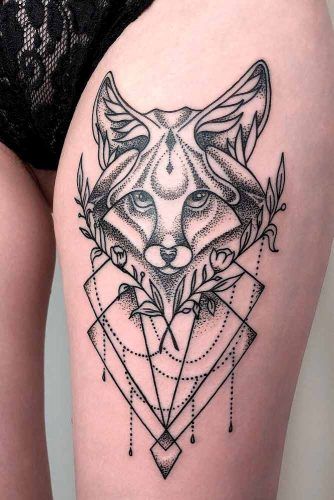 What about foxes? Do they resemble you in any way? They will make such beautiful tattoos that you will be shocked. Add a dotwork to go with it and the effect will be phenomenal.
Source: goodtattooclub via Instagram
A Small Realistic Moon Thigh Tattoo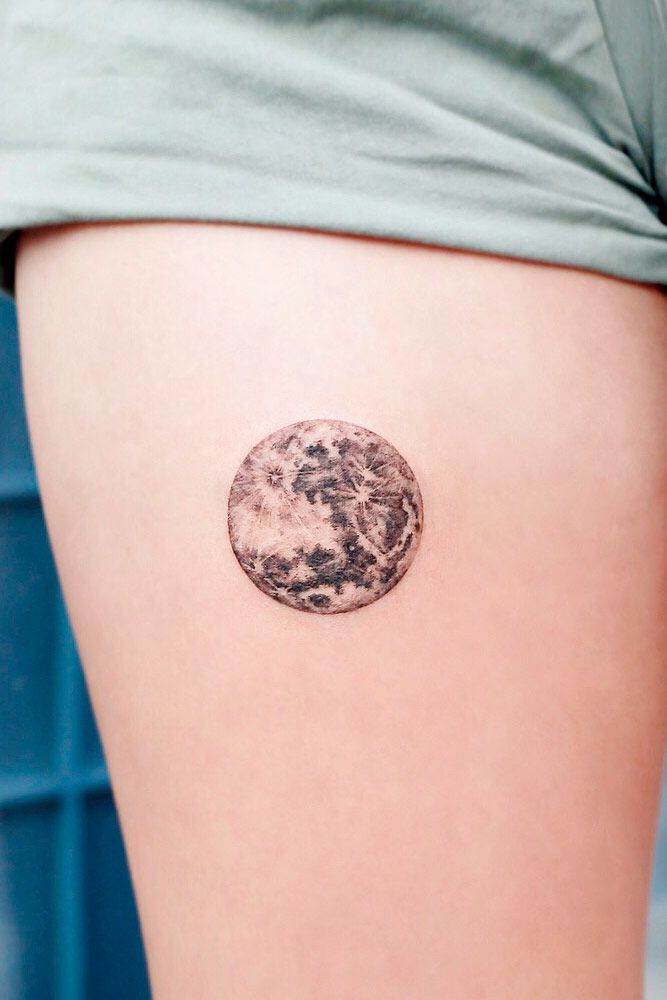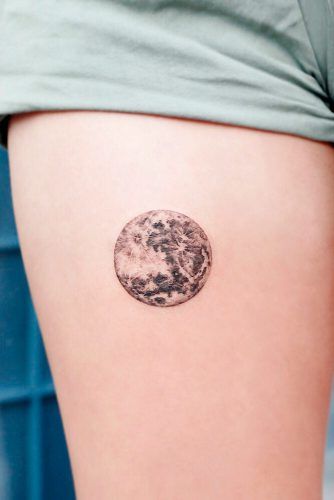 Small thigh tattoos should definitely include astronomical ideas. From colorful galaxy tattoos to The Moon one that will be very special to your heart after you get it.
Source: tattooist_ida via Instagram
A Thigh Tattoo Design With Tiger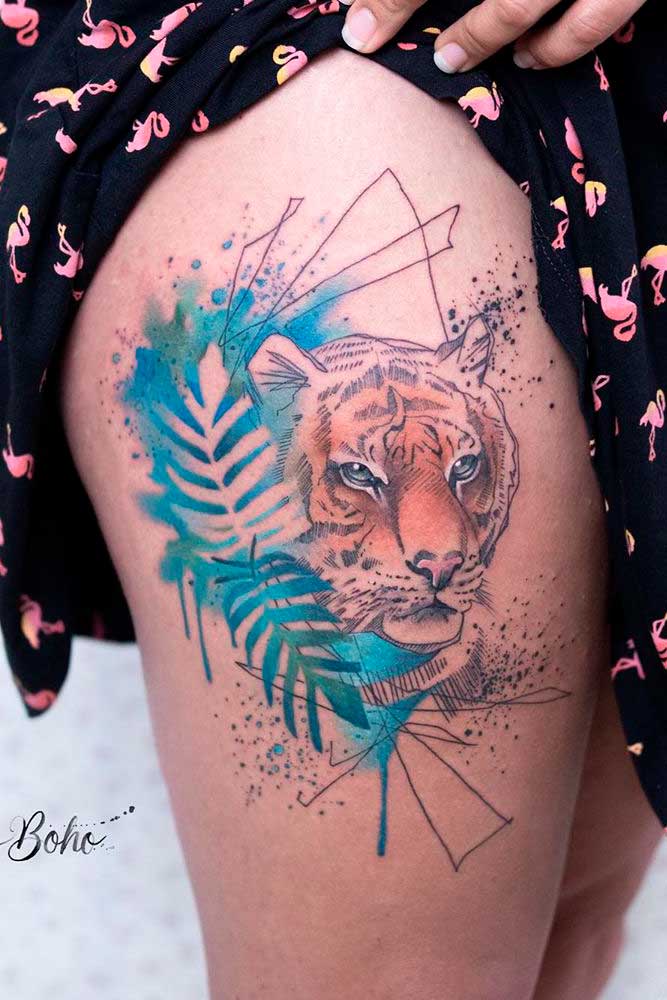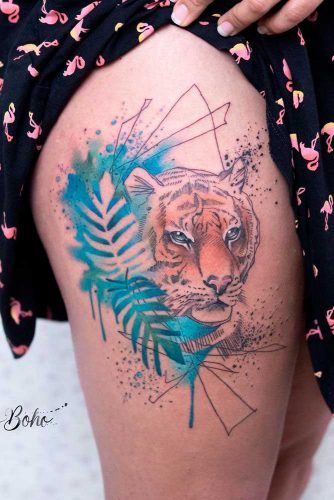 We have mentioned a lion tattoo, but what about a tiger? Do you prefer this idea? We love how colorful and bright it may look with any colors that you want. One of the most beautiful tiger thigh tattoos that you may come across.
Source: julesboho.tattoo via Instagram
A Peacock Feather Tattoo Idea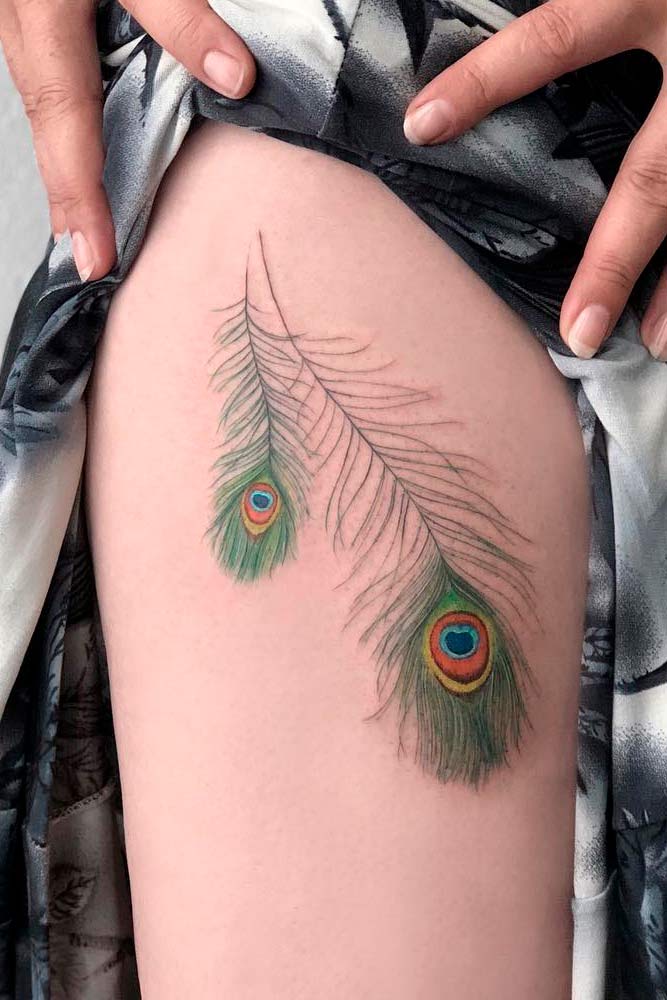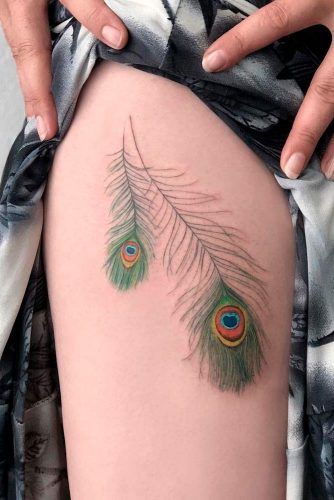 Would you like some realistic ideas? Then this one will break your heart. Look how close to reality this feather tattoo looks. Such small strokes will make an amazing front thigh tattoos.
Source: nastyafox via Instagram
A Wolf Tattoo Design On A Thigh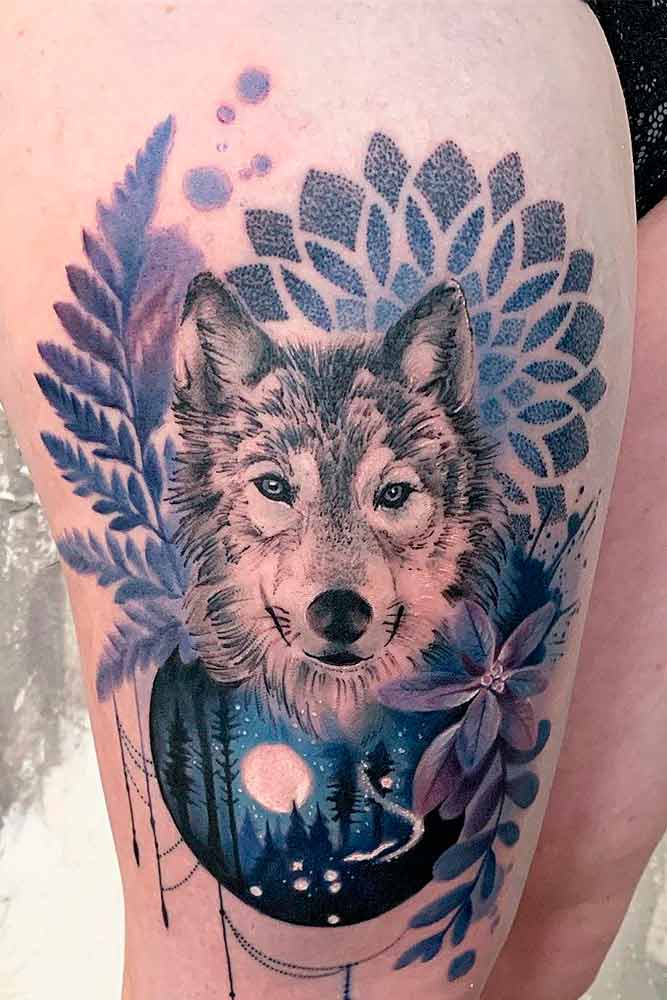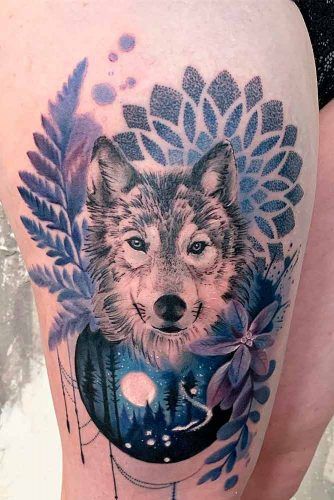 Wolf tattoo designs can be super creative too. What do you think about this greyish blue idea? Doesn`t it look absolutely flawless?
Source: maggiepaletta via Instagram
A Floral Portrait Tattoo Design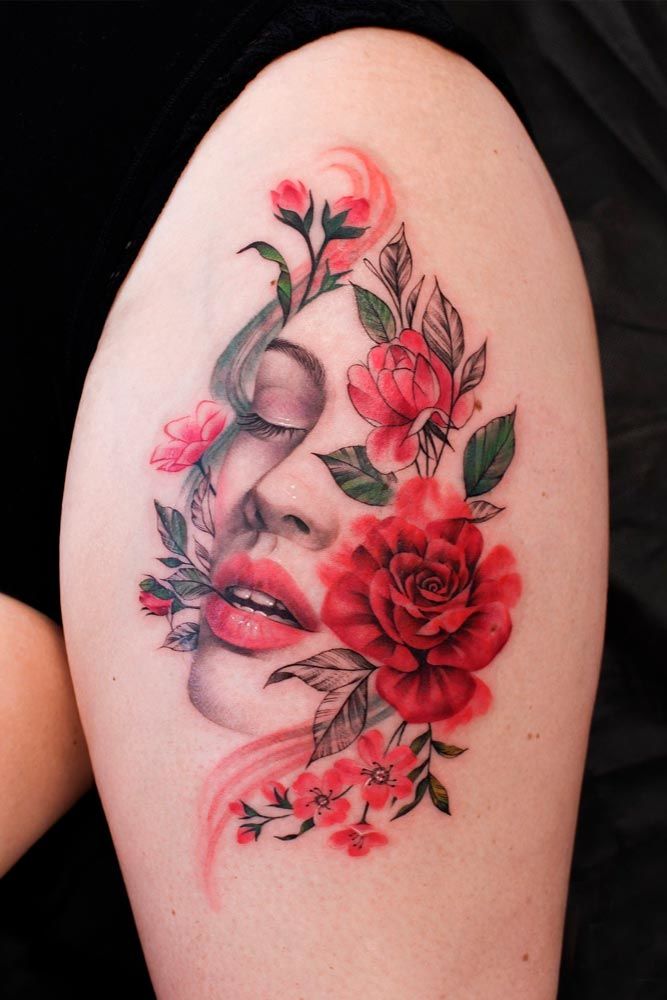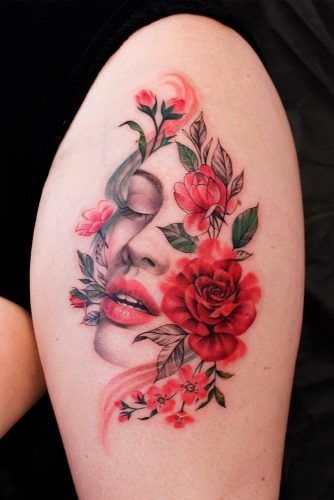 You could have never guessed that a portrait tattoo can look that stunning! Wow! We are truly at a loss for words. Flowers make it appear even better.
Source: debrartist via Instagram
A Black And White Skull Tattoo Idea With Flowers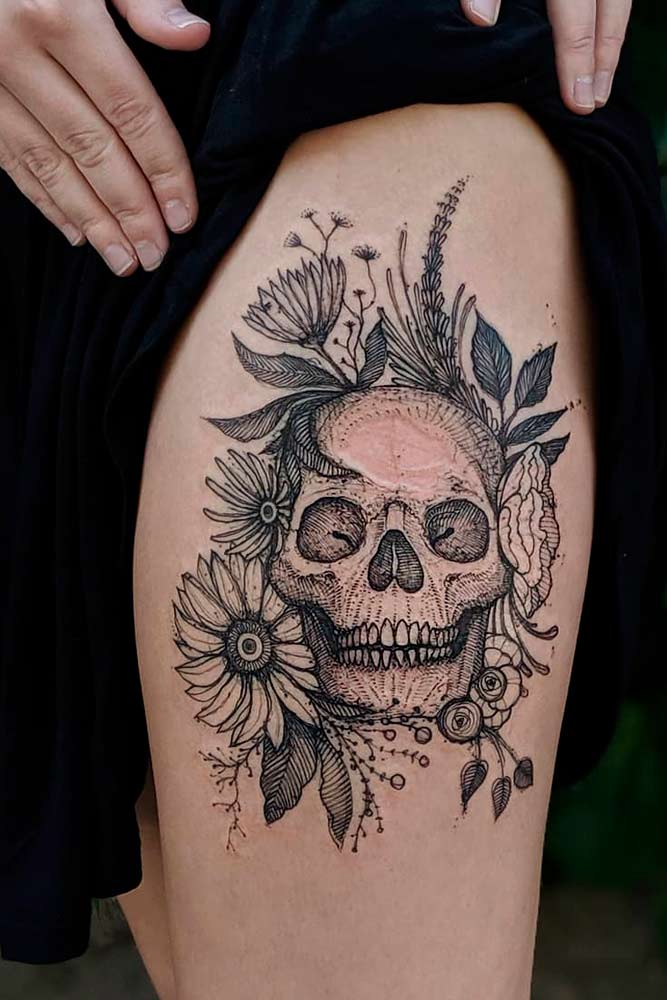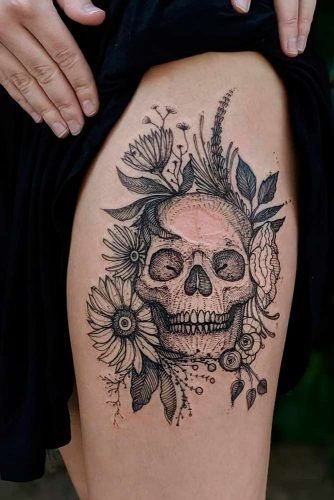 Putting down two opposite ideas and combining them into something more than just a tattoo. That is what this skull floral tattoo is all about. Breathtaking, isn`t it?
Source: dinonemec via Instagram
A Jellyfish Whale With Geometric Elements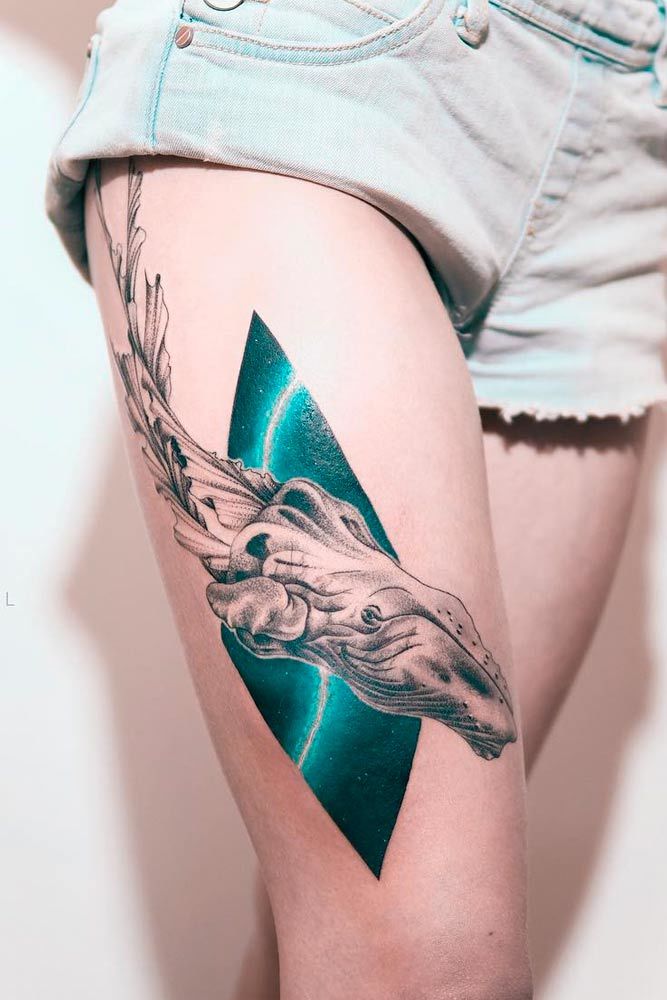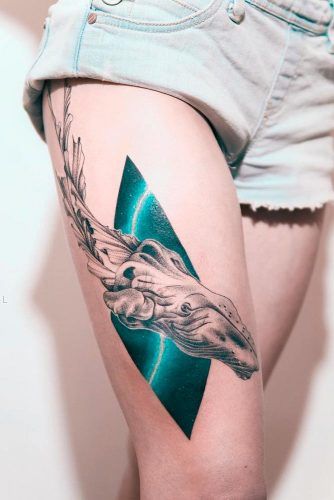 Geometric elements in tattoos will never go out of style. Especially when combined with something else like this jellyfish whale. This tattoo will for sure stand out of other thigh tattoos that you have seen.
Source: evgenymel via Instagram
So many ideas that we can`t make up our mind on only one. What is your opinion on the thigh tattoos options that we have prepared? We hope they have helped you to make the right choice.