The tattoo world is full of surprising designs and ideas that can blow your mind. However, sometimes the simplicity is all we need. Finger tattoos are the classic elegant and simple choice that will keep you happy for years. Isn`t that what everyone is looking in tattoo designs? Let`s go deeper into the ocean of inspiration we have prepared for you and your imagination. Check out our tattoo ideas that we've prepared for you, we hope we will help you to make the right choice.
*We may earn money from affiliate links on this page. Please check out our disclosure policy for more details.
What Are The Advantages Of Finger Tattoos?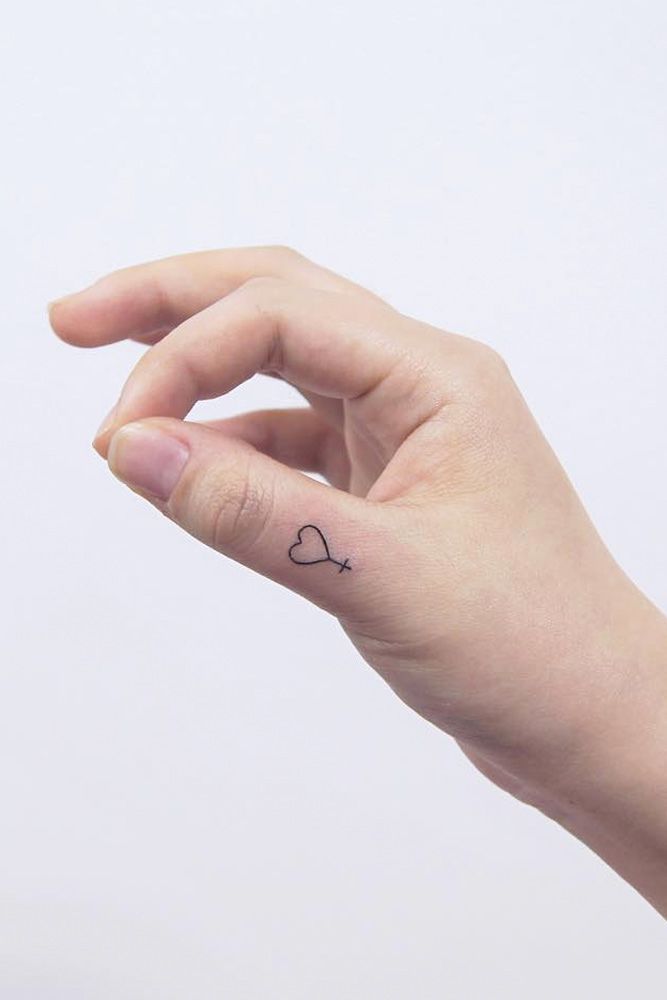 Credit photo: instagram/tattooist_dal
Of course, as everything we come by in life finger tattoos have their own advantages and disadvantages. Wouldn`t you like to know? Let` start with positive things. There will be some situations and moments in your life when you will need to cover up your tattoo. A finger tattoo is perfect for that, especially if you have it on the side of your finger. Also, they look super trendy and will never go out of style. Simple tattoos are the best options!
What Are The Disadvantages Of Finger Tattoos?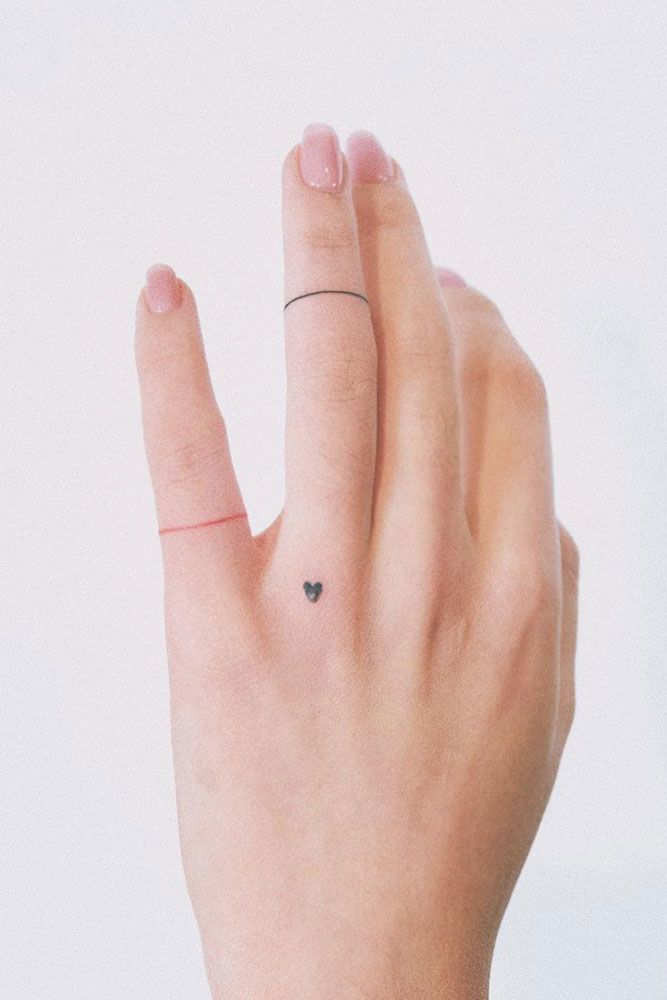 Credit photo: instagram/nandotattooer
There are also some disadvantages that you might have to face when it comes to finger tattoos. Be ready that your tattoo may fade with some time. Your hands are in constant contact with water and sunlight, which may cause that effect to the ink. In addition, you will need to renew it from time to time as ink is easily removed from places with such thin skin. Don`t also forget about the pain that can be a problem during your tattoo session. However, you should keep up with being positive and the results will be delightful.
How To Choose A Right Tattoo Design For Finger?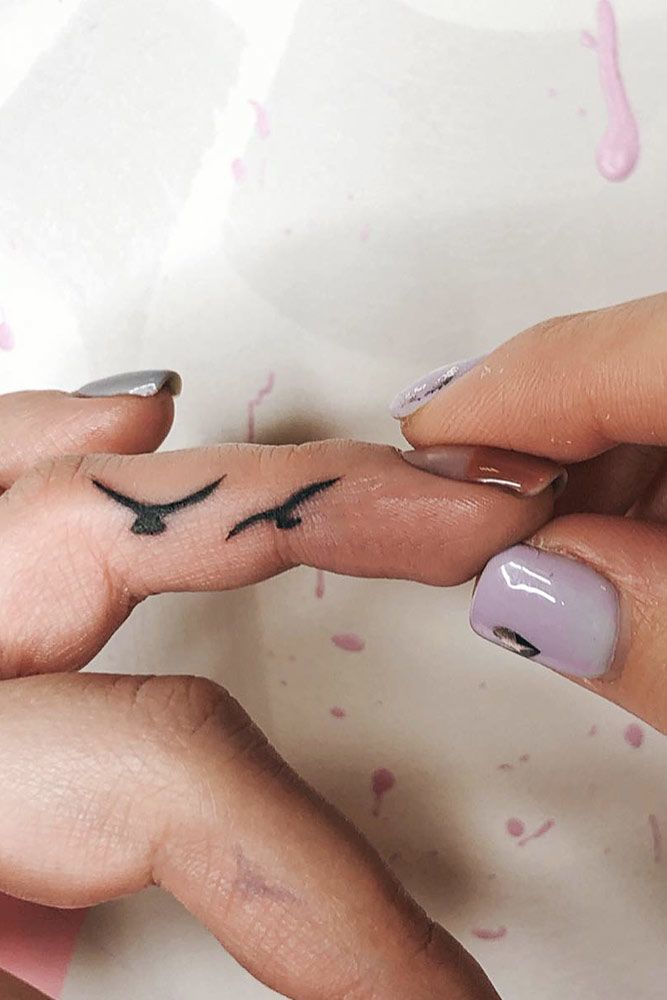 Credit photo: instagram/vivotattoo
You should for sure think twice before putting a design into your skin and that is why our next advice would be to carefully and precisely look at the options you have. Keep in mind that your space is limited at such a place, so think of something simple but beautiful that will be able to show your idea and thought that you put into the tattoo.
Here are some ideas for a finger tattoo that got extremely popular over the years: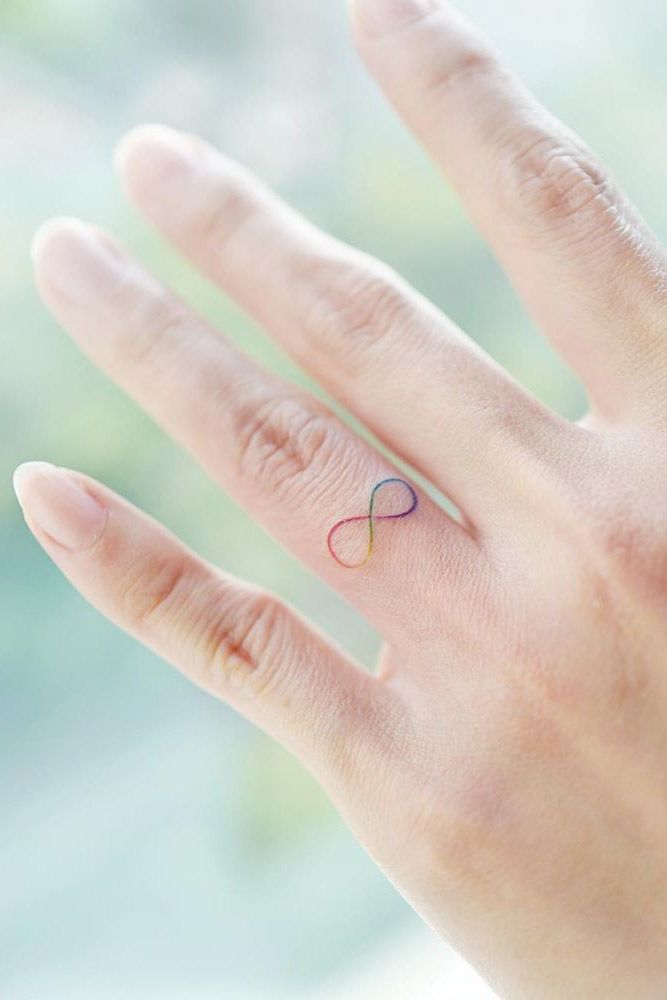 Credit photo: instagram/tattooist_banul
Lines. Lines have always been trendy in the tattoo industry. Especially nowadays when simplicity is considered to be the modern classic. Beautiful and super stylish it will be your favorite design idea.
Symbols. Symbols will not only look beautiful on your skin but will also have a beaning that will be clear and loud without being huge. We love how small things can transfer big messages.
Alphabet designs. What about alphabet designs? Put the first letter of your mom`s name for example on your finger and nobody but you will understand who you are referring too. A great idea that will never be out of style.
Animals. Animals have always been a huge part of the tattoo industry. And don`t be surprised that they are popular for a finger tattoo as well. There are so many creative ways to put them into your skin and make your favorite animal look fantastic.
Floral accents. What do you think of flowers, greenery and plants on your fingers? We think that looks amazing and we want you to know that there is so much to choose from. Anything connected with nature and what your heart desires can be on your finger.
Hearts. Hearts on fingers have won actual hearts of millions of people. Cute, romantic and symbolic they will show the world what your biggest treasure in the world is. Love.
Do Finger Tattoos Fade Completely?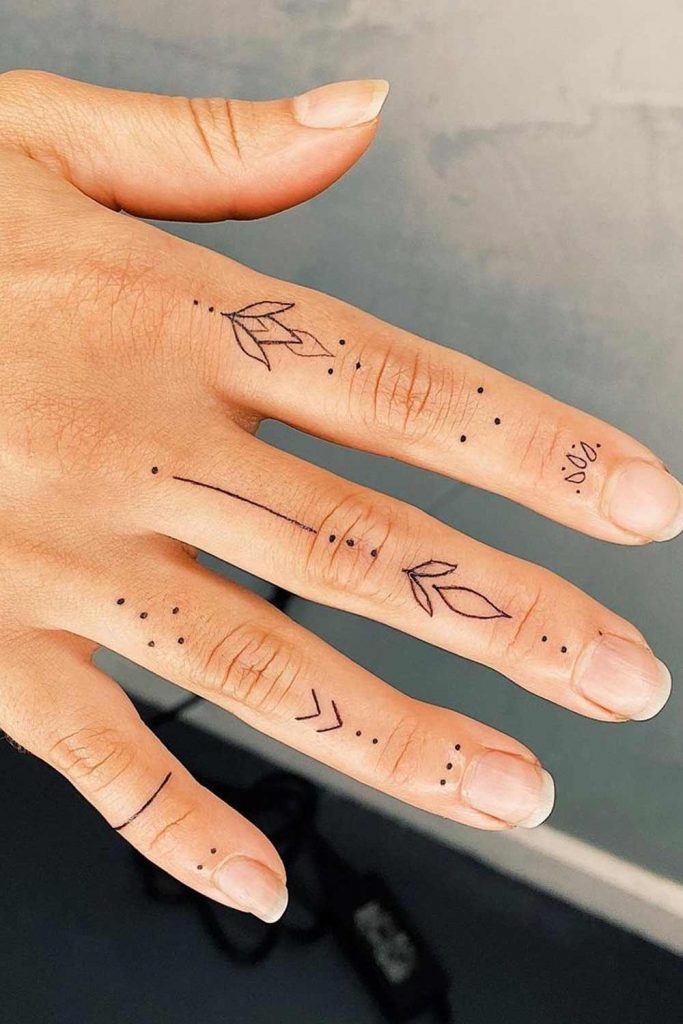 Credit photo: instagram/fine.line.tattoos.melbourne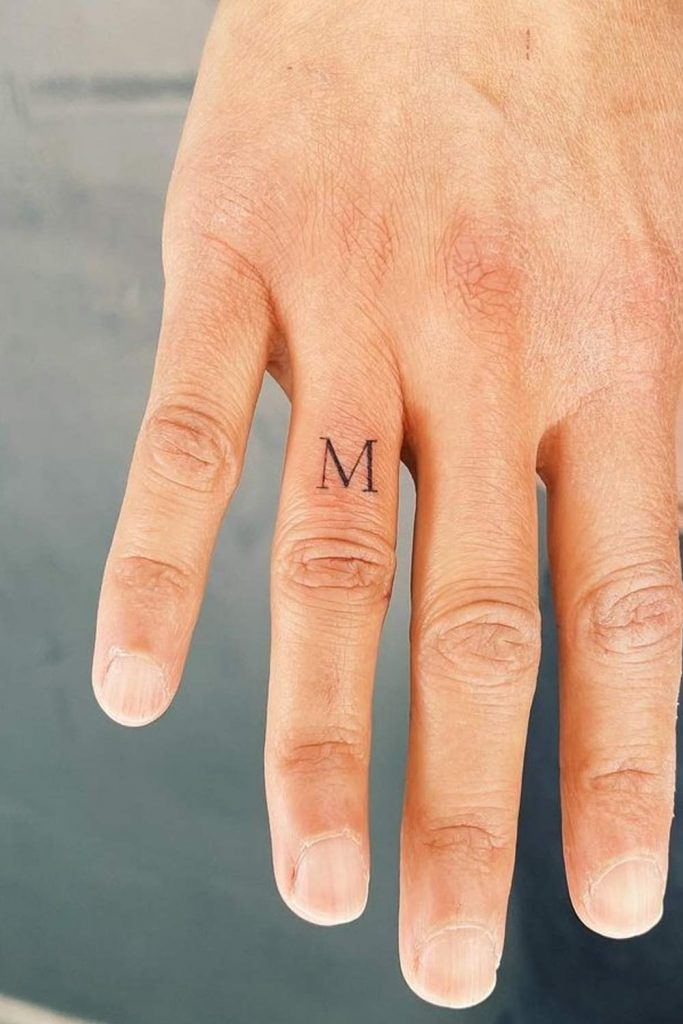 Credit photo: instagram/fine.line.tattoos.melbourne
So, do finger tattoos fade? In short, yes, they do. But the good news is how long do finger tattoos last varies depending on their placement and how actively you do things with your hands. As such, inside finger tattoos may last a bit longer than outside images since they are less exposed to damage, sun, and the like. Also, the skin on the top of the hands tends to shed more intensively than on the inside of your fingers. So, the image may disappear faster. If you can tolerate how much do finger tattoos hurt, then just ask your tattoo artist for a touch-up.
Finger Tattoos Aftercare Tips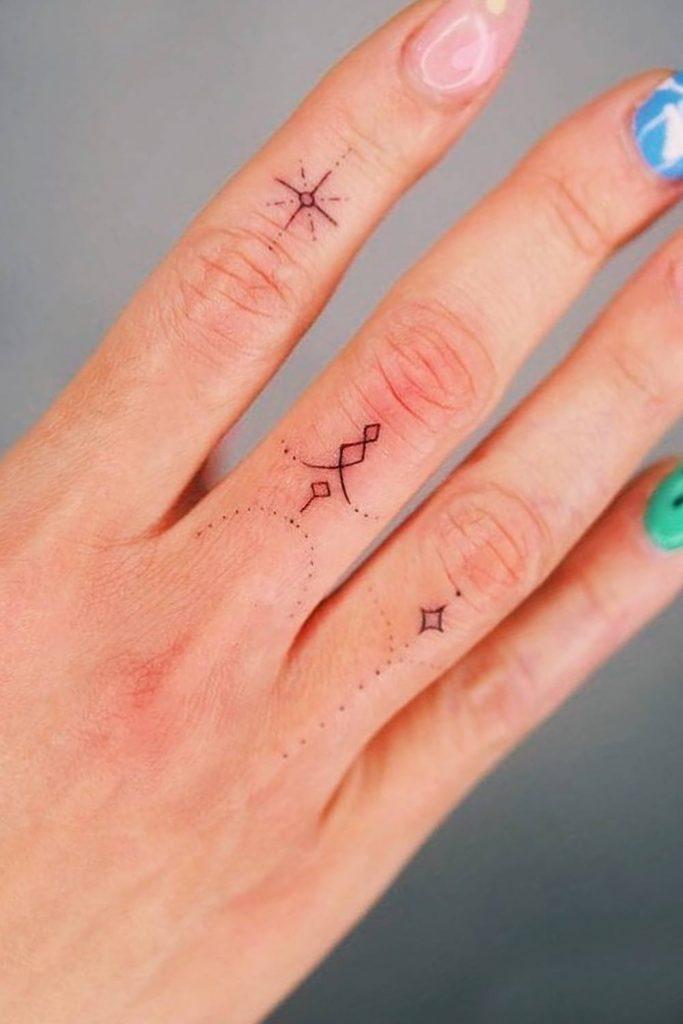 Credit photo: instagram/fine.line.tattoos.melbourne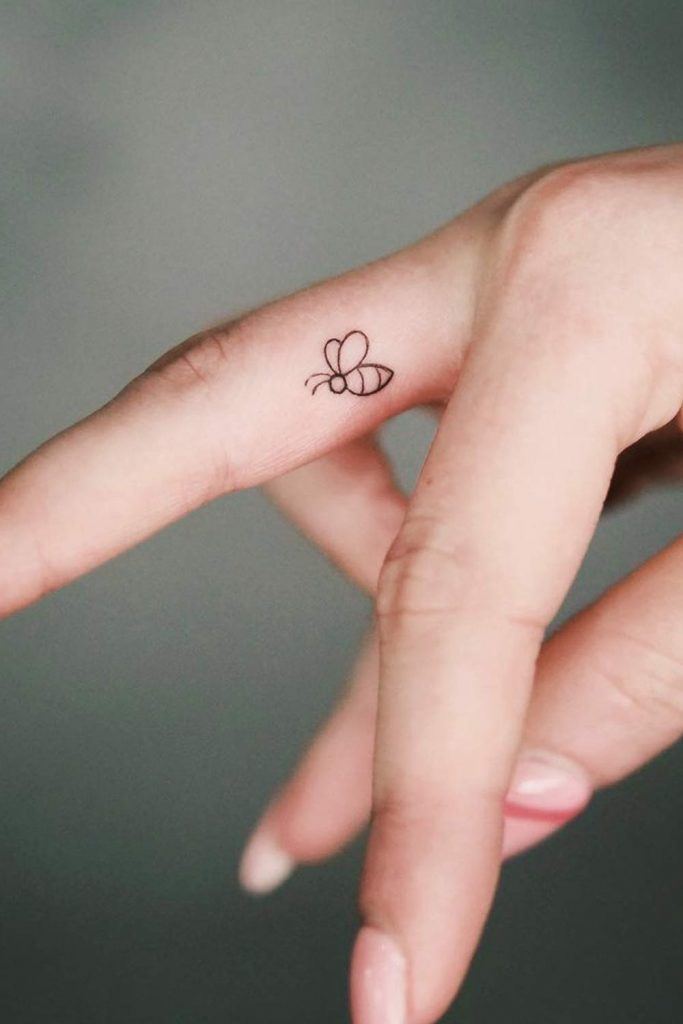 Credit photo: instagram/fine.line.tattoos.melbourne
Even when you get small finger tattoos, you should still look after them properly. This guarantees that you will get the desired inked image without introducing bacteria to the wound and getting it infected as a result. Your tattoo artist should provide you with detailed recommendations. Though, for your convenience, we have put together the main tattoo aftercare tips below:
Protect your tat with a covering for eight hours or longer after you got it inked.
Try not to touch it for 24 hours.
When washing the tattoo, water should be hot and soapy.
On the following day, you can apply an unscented lotion to moisturize the inked area.
Forget about water and sun baths for 14 days.
When peeling starts, avoid picking at the tattoo. Allow your skin to flake off on its own.
Before touching the tattoo, make sure your hands are absolutely clean.
Finger Tattoo Time Healing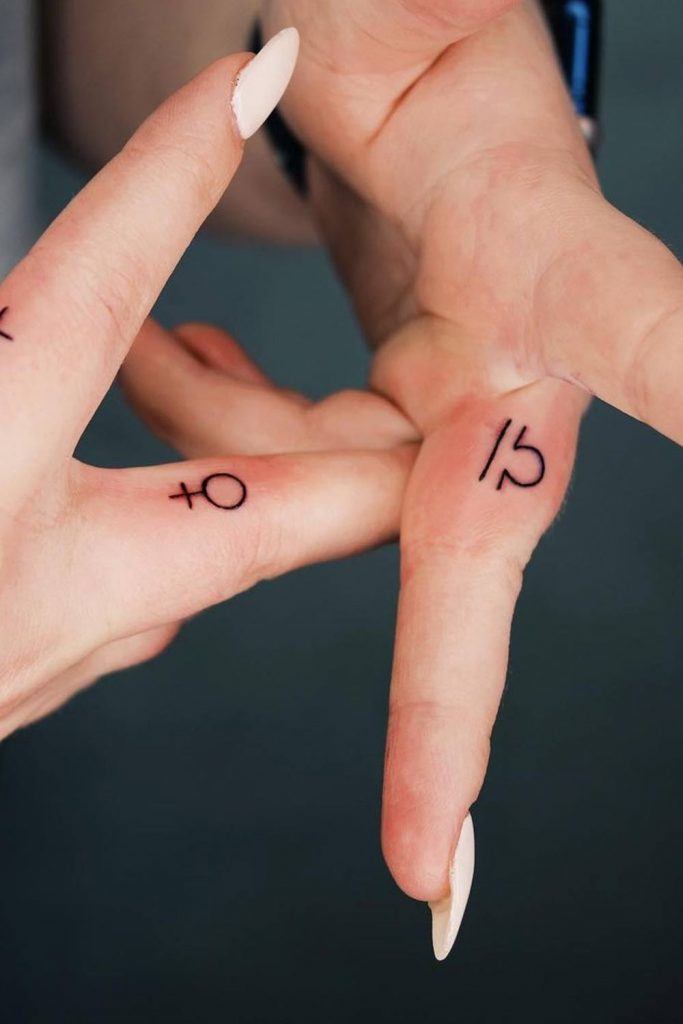 Credit photo: instagram/fine.line.tattoos.melbourne
Even if in two or four weeks they appear healed finger tattoos actually require around six weeks to completely get back to normal. So, do not ditch your aftercare routine until you are absolutely sure that the skin has healed. Otherwise, the image can distort or fade faster than expected.
An Average Price of Finger Tattoo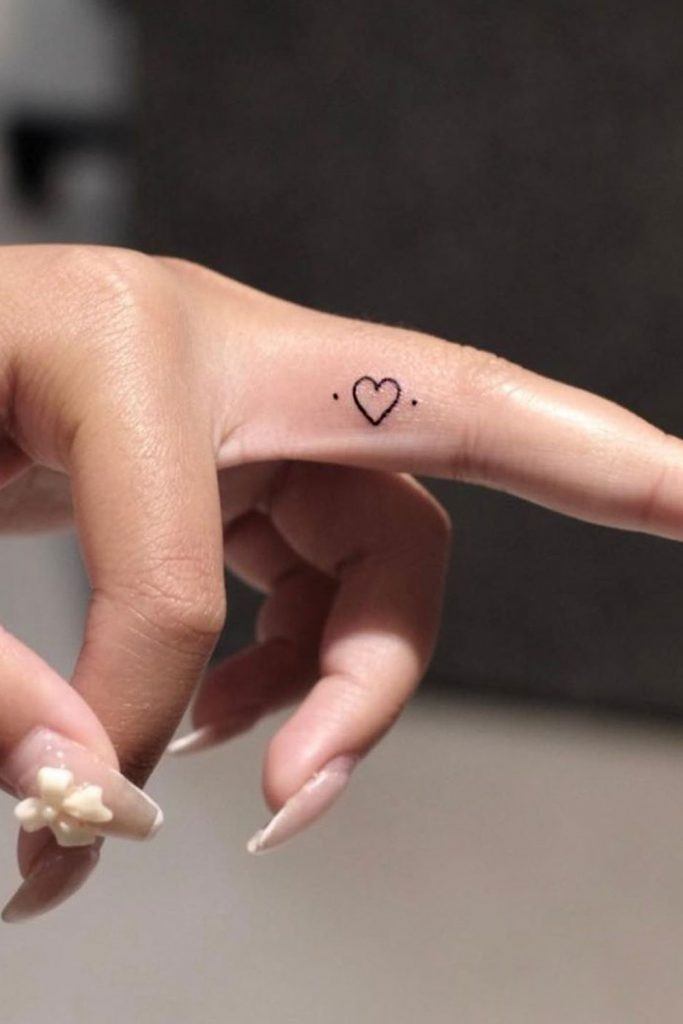 Credit photo: instagram/fine.line.tattoos.melbourne
Like for any other tattoo, the price for a finger tattoo is based on many different factors, including the location of the tattoo parlor, the skill level of the artist and the difficulty of the chosen design. With that in mind, the average cost of finger tattoos ranges from $50 if it is a small or plain image to $250 or more if you are asking for an intricate artwork.
Finger Tattoo Designs For Any Tastes
Cross Finger Tattoo Design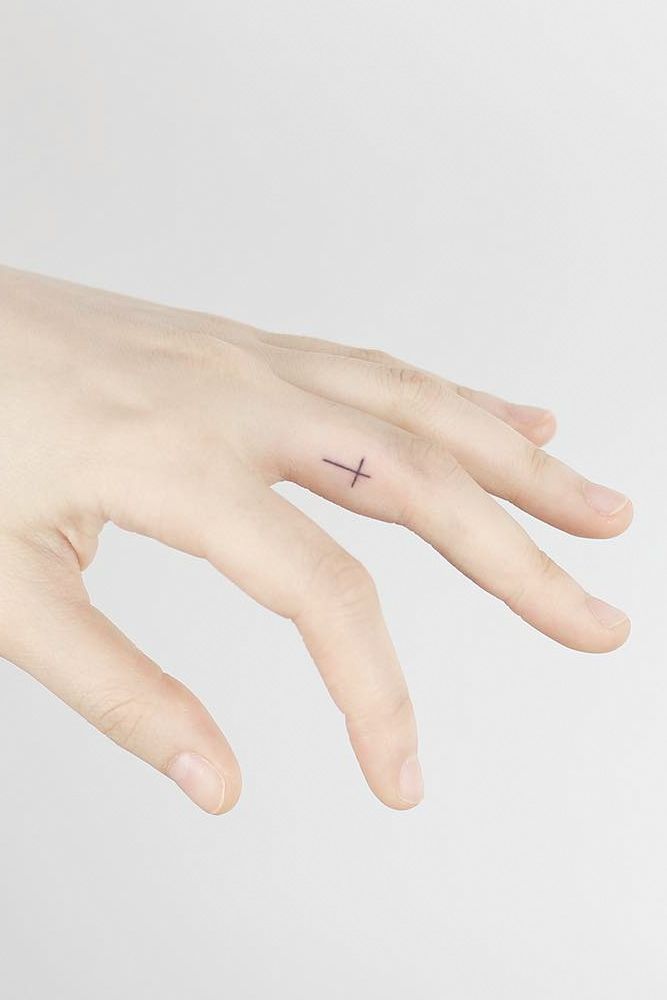 Credit photo: instagram/has__tattoo
Cross tattoos have always had a deep historical and cultural meaning. It is a popular design for both women and men. It indicates strength, belief, courage, honor, death, equality, spirit and other not even less significant things. We love how crazily significant it can be and how tender and beautiful at the same time it can look on the finger.
Sun And Moon Finger Tattoos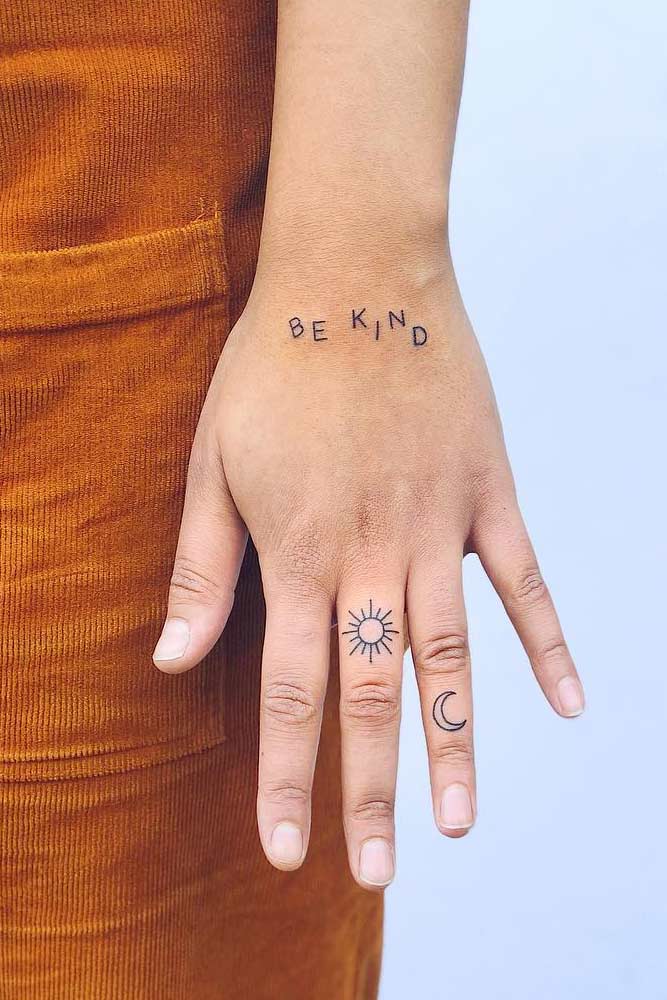 Credit photo: instagram/zaya
These tattoos are never less significant than a cross tattoo. They can have so much meaning in them also. For example that shape of a circle means the never ending circle of life. Isn`t that beautiful? The Sun has always been knows as the sign of strength, rebirth and power while The Moon is usually associated with a woman, in different cultures with a goddess. You can make these tattoos in any color your heart desires, but even just done in black ink they look wonderful, don`t they?
Snake Finger Tattoo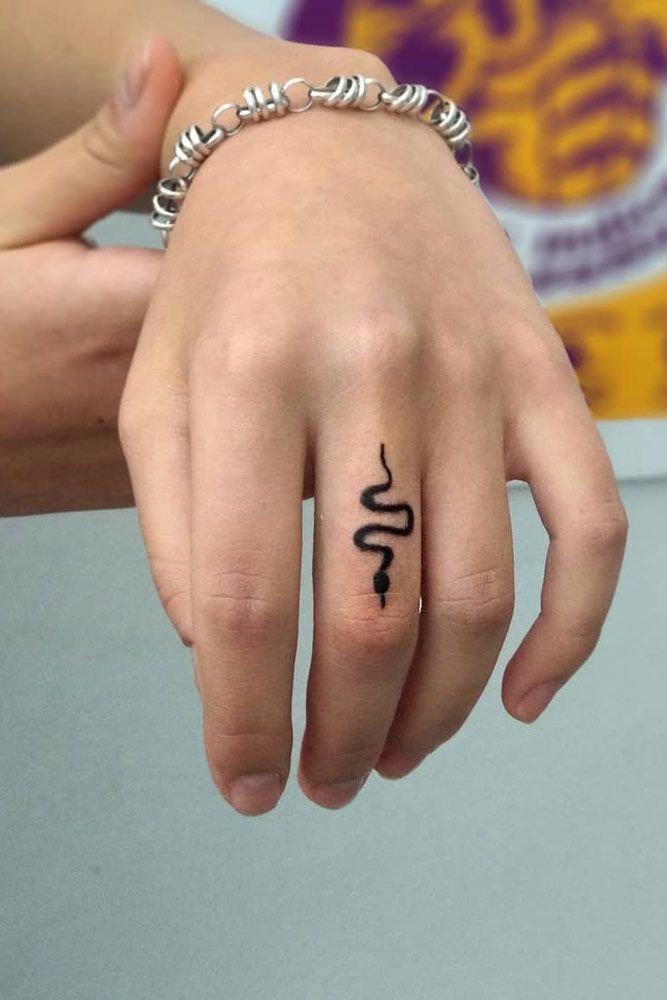 Credit photo: instagram/azulblascovich.tatuajes
Snakes are not the most pleasant creatures you can come across, although, they play a significant role in many cultures all over the world. What are your thoughts on snake tattoo? Would you like such a tattoo on yourself? If answer is yes, then you should know what meanings such a tattoo would have. Snakes represent a lot of physiological things like secrecy, sleekness, sneakiness and seduction.
Nature Themed Finger Tattoos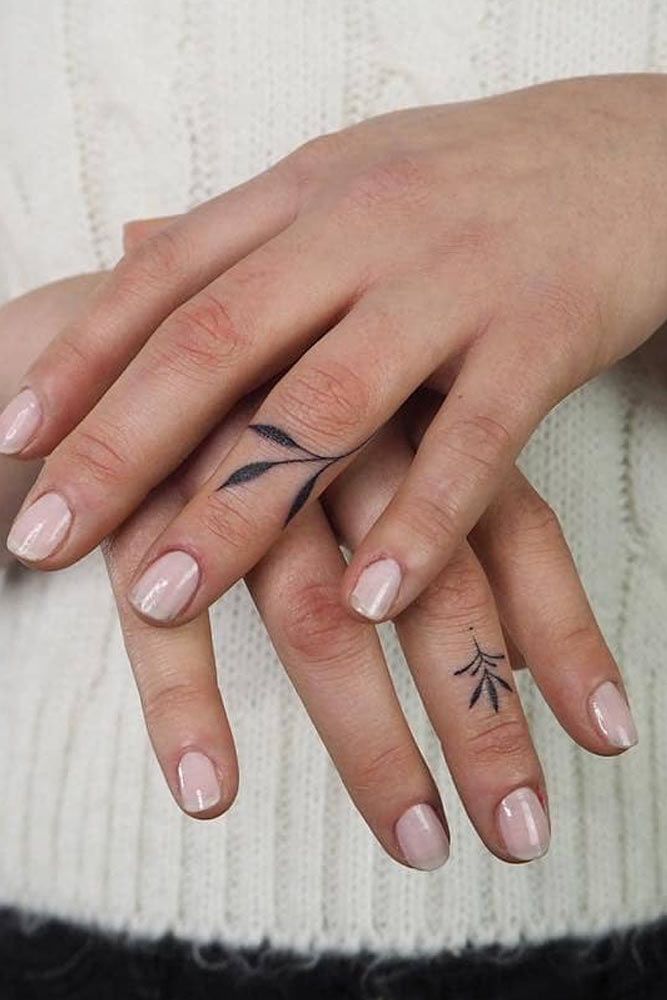 Credit photo: instagram/laramaju
Nature is all around us and it signifies so many important things. Would you like to show your appreciation of a nature with a tattoo? Pick the designs you love and make them your finger tattoos. They will look absolutely gorgeous going around your fingers or just being placed near the nail.
Cute Side Finger Tattoo With Stars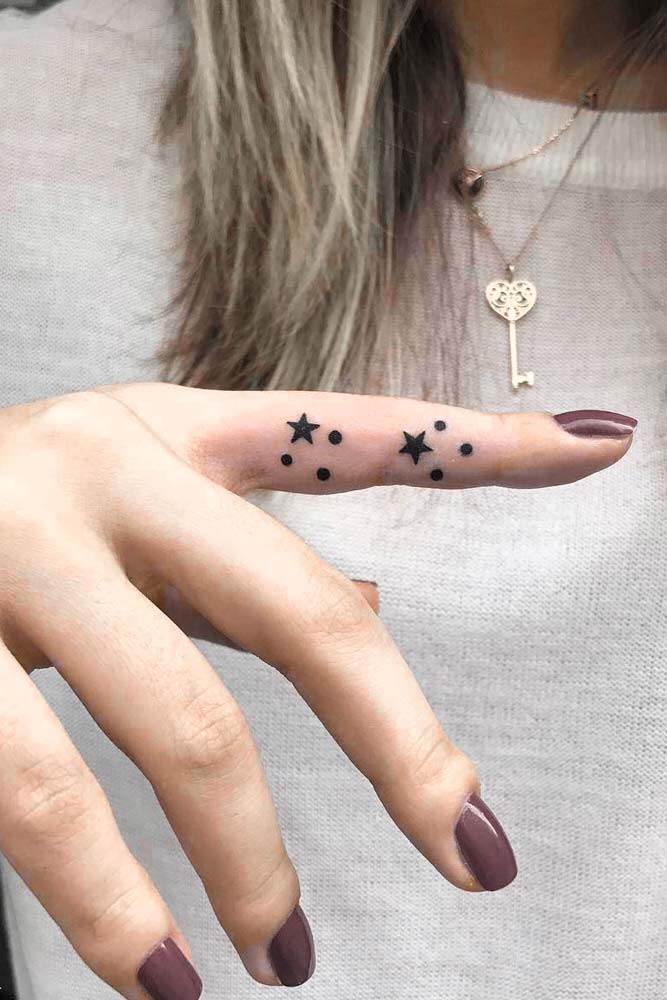 Credit photo: instagram/mugebilirtattoo
Starts haven`t lost their popularity in the tattoo industry in years and we understand why. Magnificently looking they will show other people that your mind is full of dreams and ideas that can help you reach the stars.
Cool Finger Tattoos With Flame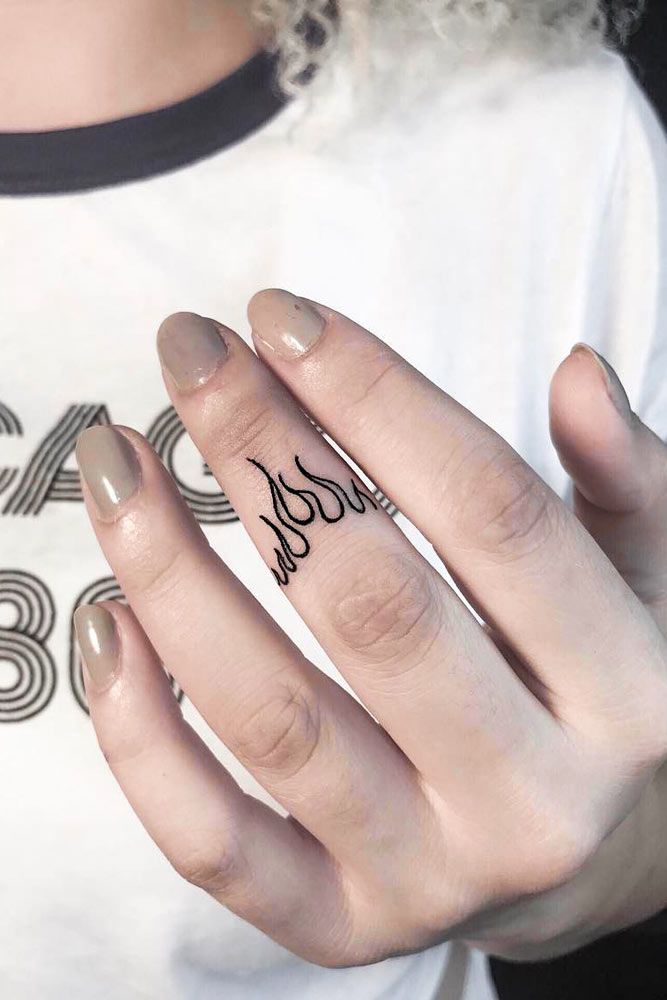 Credit photo: instagram/mugebilirtattoo
Put a fire around your finger and show everyone that no one should mess with the flame burning in your soul. Creative and really fresh looking it is an idea for people who are daring enough to experiment.
Small Yellow Ribbon Tattoo Idea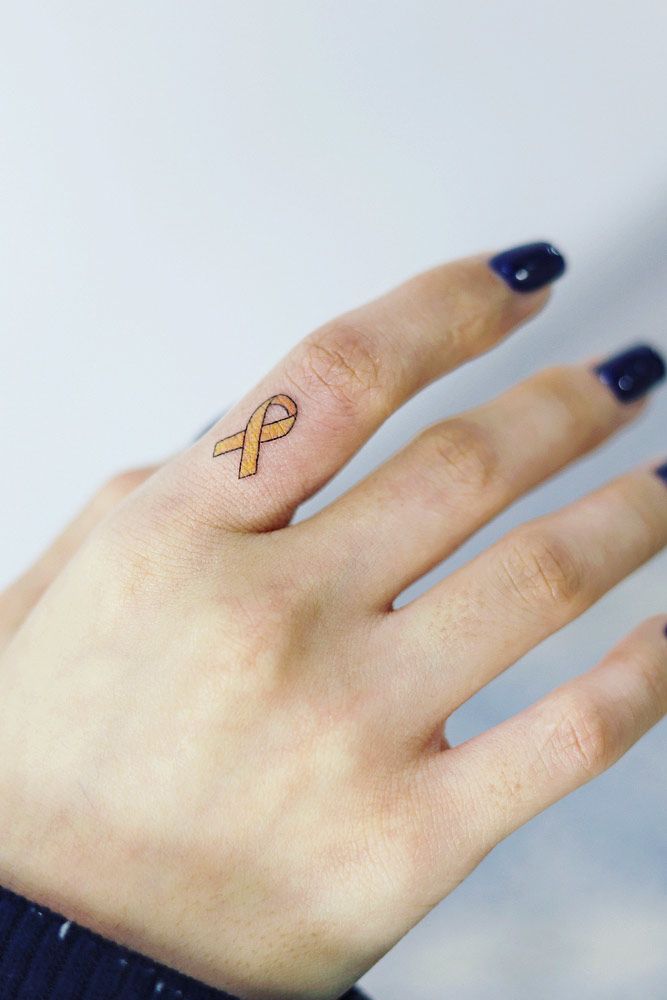 Credit photo: instagram/tattooist_dal
A tiny yellow ribbon in a bright yellow color is such a beautiful idea. Don`t you think? How does it look to you?
Finger Tattoo For Photography Lovers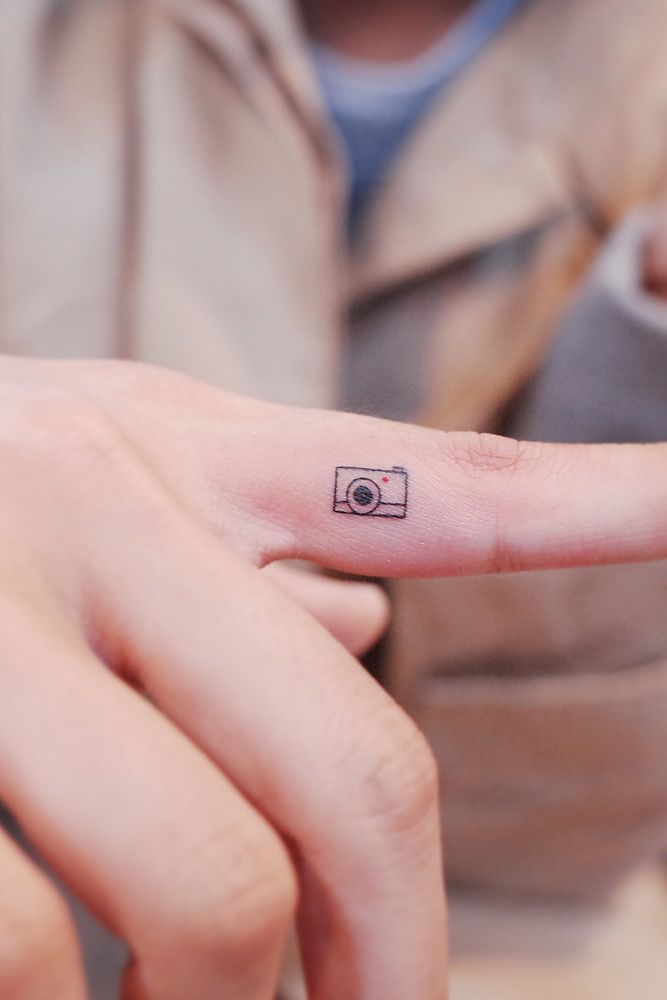 Credit photo: instagram/wittybutton_tattoo
If you can`t imagine your life without capturing moments with a camera, then why don`t you put its symbol on yourself. A great reminder that the greatest moments stay not in photos but in minds.
Zodiac Sign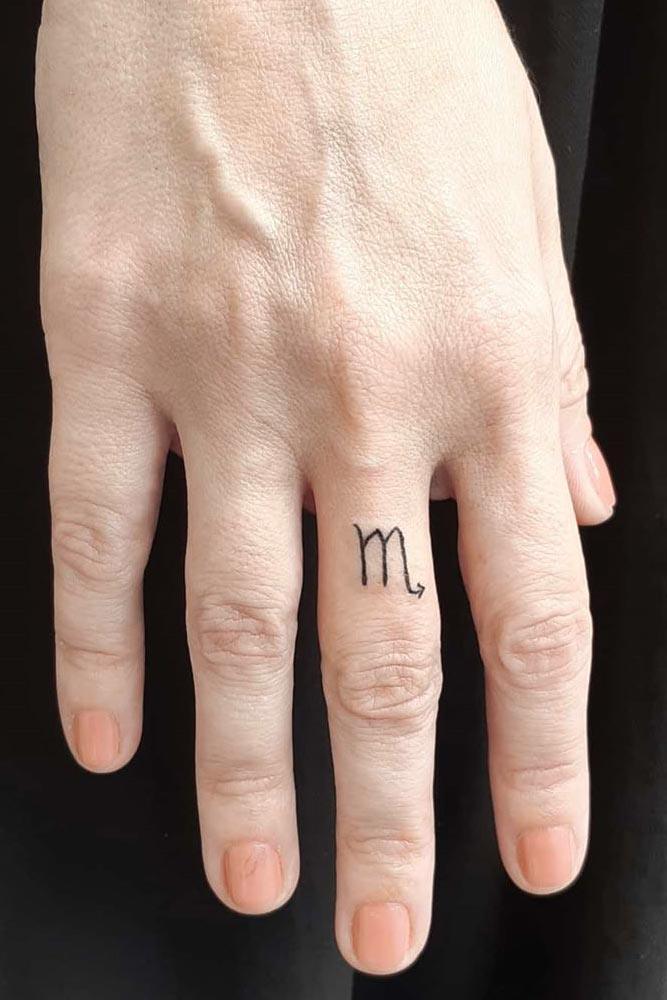 Credit photo: instagram/tomstefanelli
Many people believe that astrological signs can tell everything about those who were born under a certain sign. So why don't you let your little tatoo do the talking, showing people what kind of girl you are? By getting such a tattoo, you will show that you're proud of who you are in every way. And the very first thing people will realize looking at your tattoo would be your exquisite taste, as minimalism is so in value these days.
Minimalistic Finger Tattoos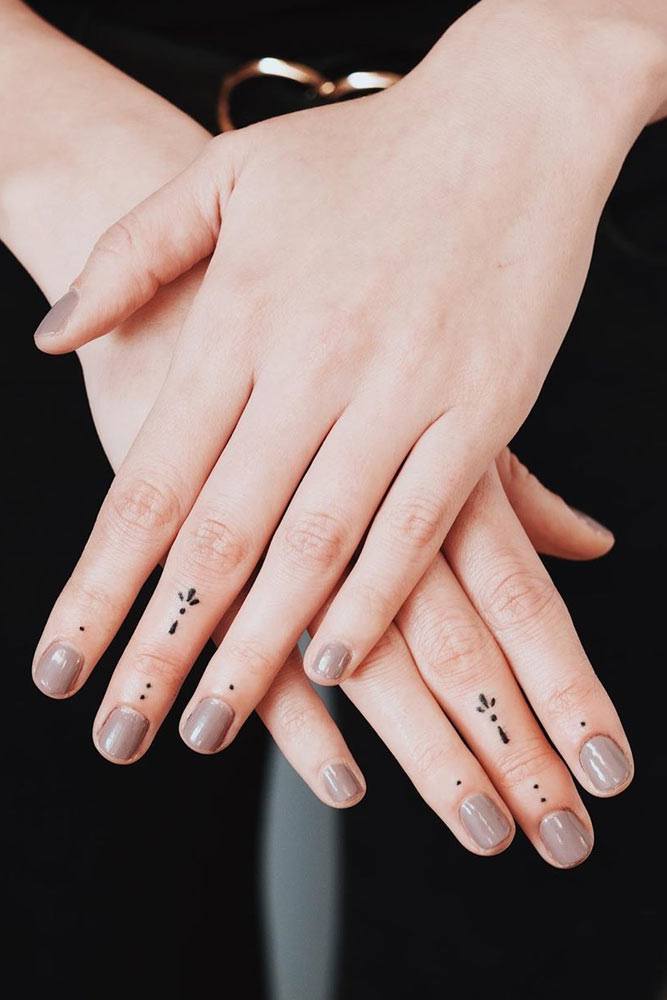 Credit photo: instagram/chloejanetattoos
While some people get finger tattoos to capture some significant word or symbol in a simple and refined way, others go for them just to embellish their hands with a creative design. And there's nothing bad about it! On the contrary, it's a pretty wise idea. Instead of putting bright makeup on or rocking your days with eye-catching hair color, you can simply get a minimalist tattoo that fits your aesthetic. Yes, such a little detail on your hands would be enough to emphasize your bright character.
Finger Tattoo With Leaves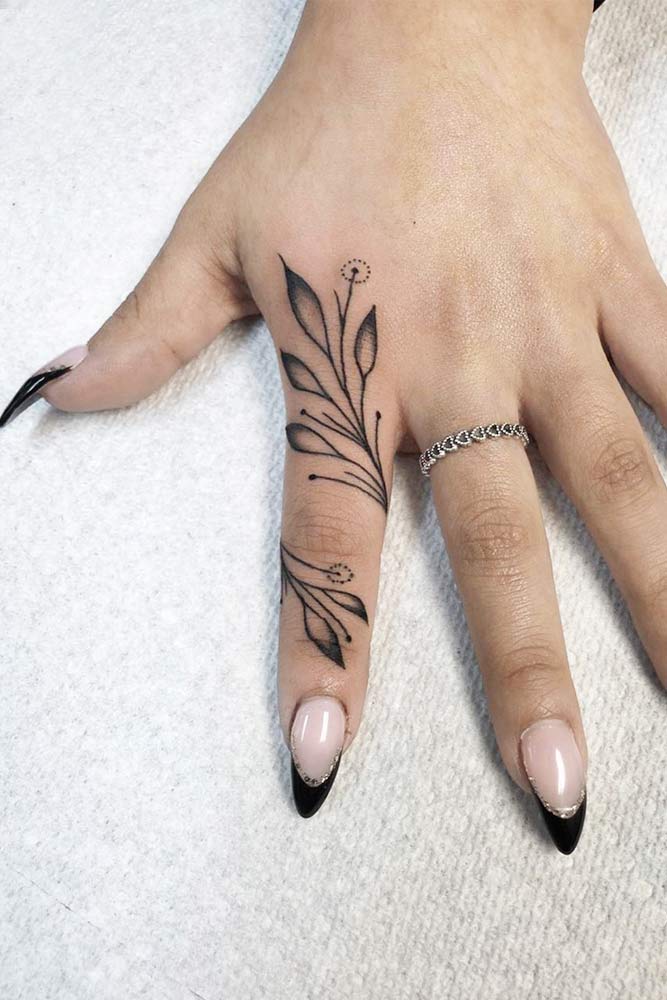 Credit photo: instagram/stefanytattoos
A woman's soul is nothing but a blossoming flower growing inside her. Therefore, a leaf tattoo that gently wraps around a finger will be a fantastic way to put your femininity in the spotlight. At the same time, a single leave is known to symbolize the beauty of life, which will appeal to many women who celebrate and enjoy their lives.
Heart Tattoo With Dotwork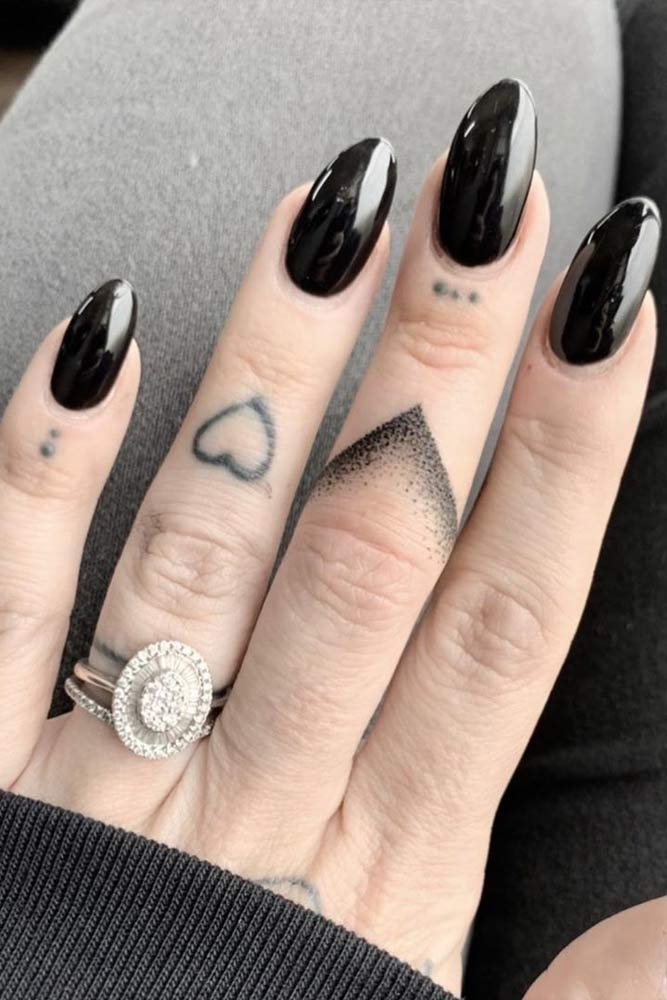 Credit photo: instagram/lightwaterinklounge
Heart tattoos are the most versatile, and therefore most impressive designs you can ever get. Being a timeless classic, they come with an endless variety of shapes and colors, which may represent passion and love or grief and loss at the same time. Whatever meaning you put into yours, you will love how modern it looks with some dotwork elements.
Simple Finger Tattoos With Moon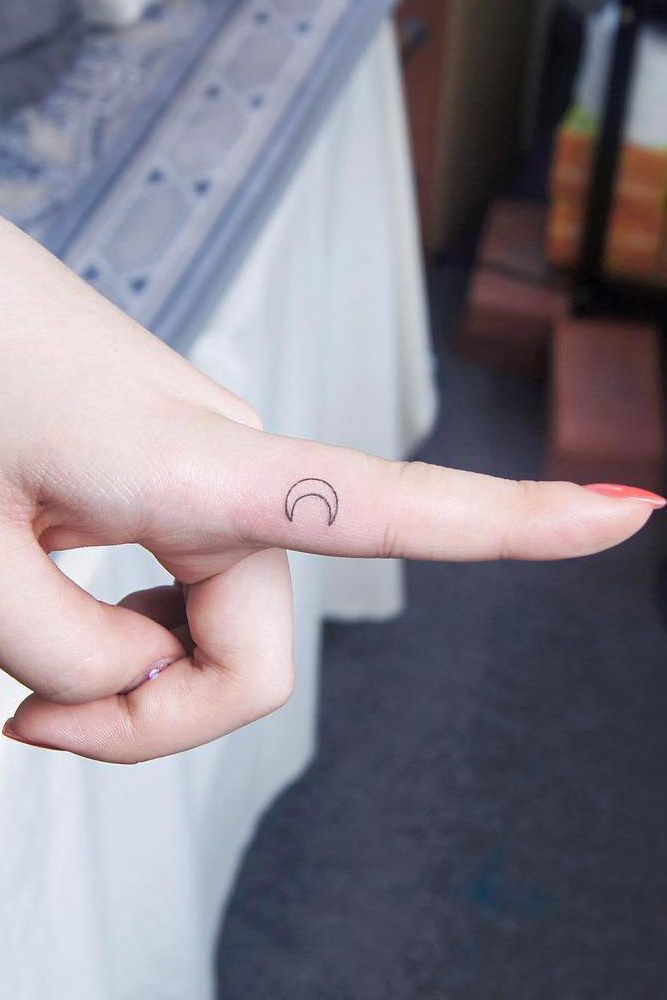 Credit photo: instagram/tattooist_dal
A moon is a beautiful symbol that can make so much sense when tattooed into the skin. What will it mean for you?
Finger Tattoo Desings With Flowers
Floral Ring Finger Tattoo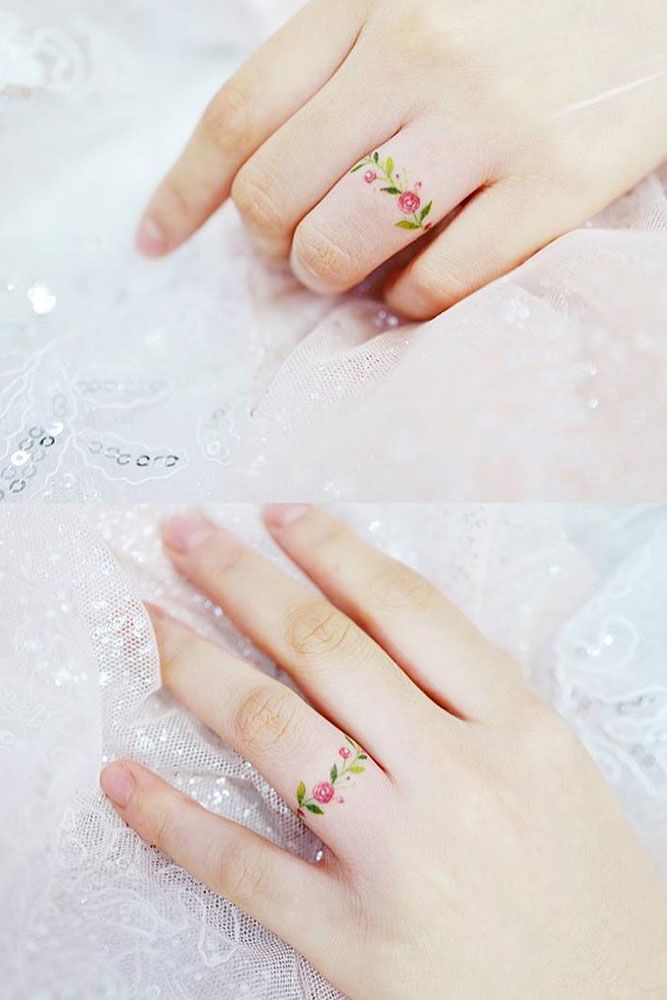 Credit photo: instagram/tattooist_banul
Ring tattoos are really popular in the tattoo culture now. Some people choose them, as the sign of their eternal love, some just love the way they look. Either way, these rings look so flawless when they are done with flowers. Don`t you think? Pick the ones you like and choose your favorite colors to go with the floral thing. You won`t regret it at all.
Cute Tattoos With Flower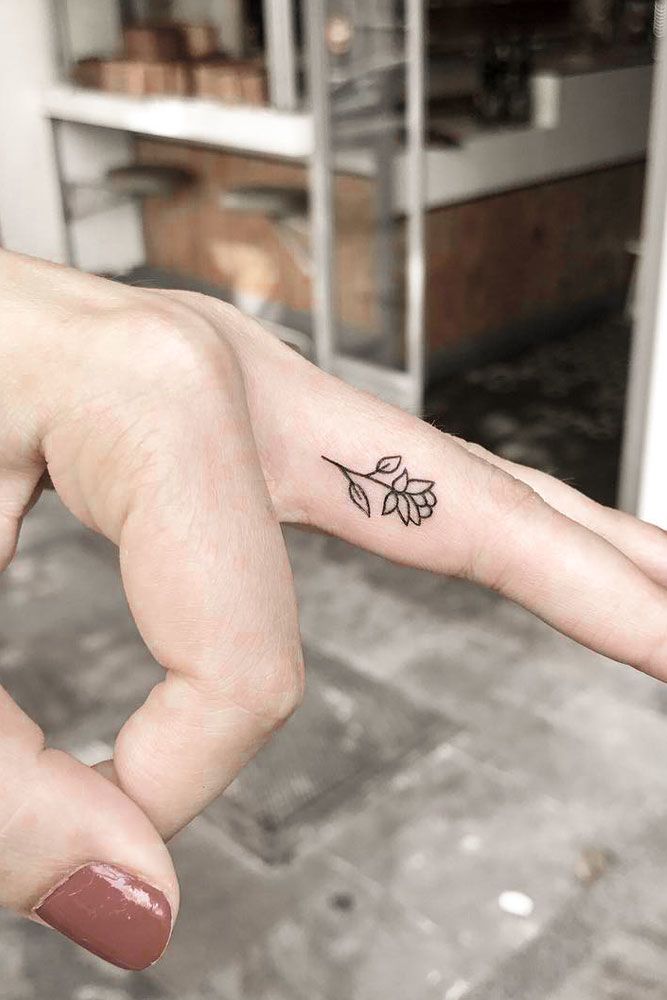 Credit photo: instagram/mugebilirtattoo
Flowers shouldn`t necessarily be done in huge tattoos. They can also be used in smaller ones, even for finger tattoos. Small and really cute this tattoo will tell a lot about you.
Big Finger Rose Tattoo Design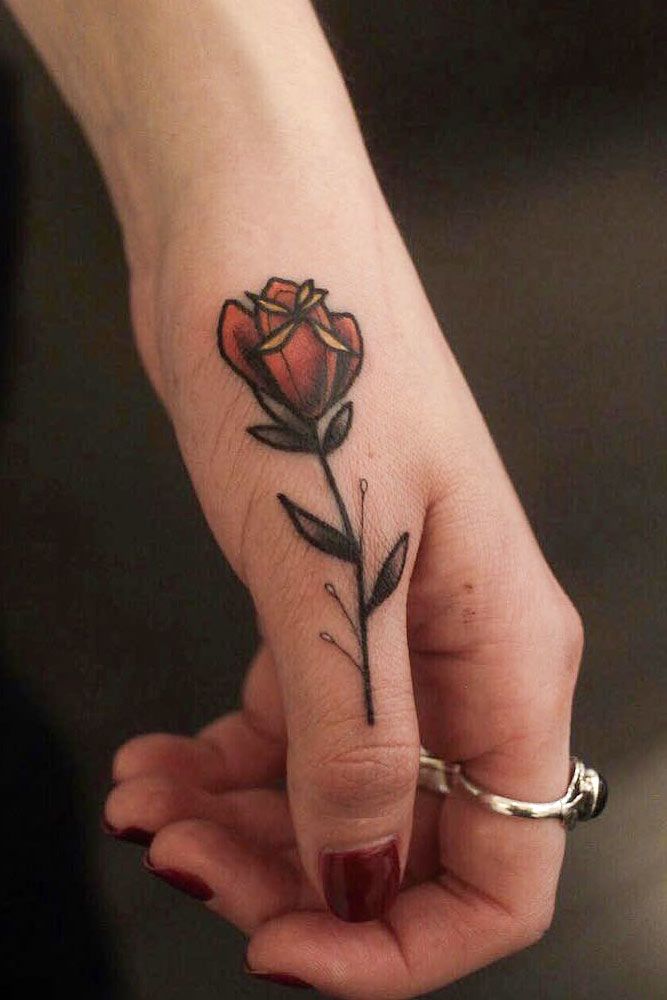 Credit photo: instagram/kwillsontattoo
If you love more massive ideas, then this rose tattoo on a big finger will be your cup of tea. Doesn`t it look stunning?
Side Finger Tattoos With Lavender Flower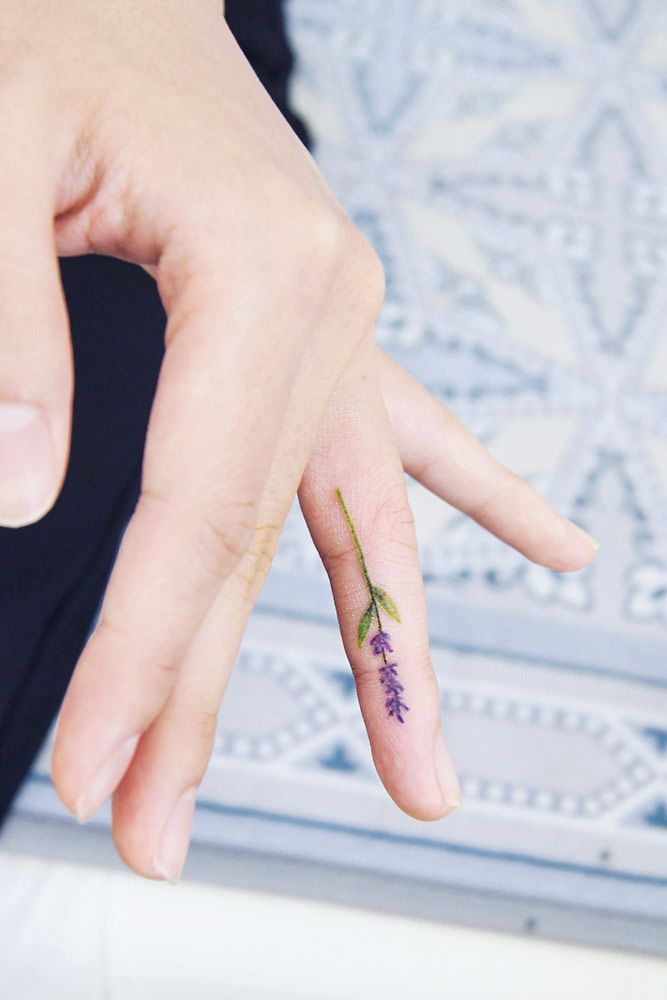 Credit photo: instagram/tattooist_dal
Lavender flower is a great type that will look interesting and fragile at the same time. We love how charming such an idea is.
Lotus Flower Tattoo For Ring Finger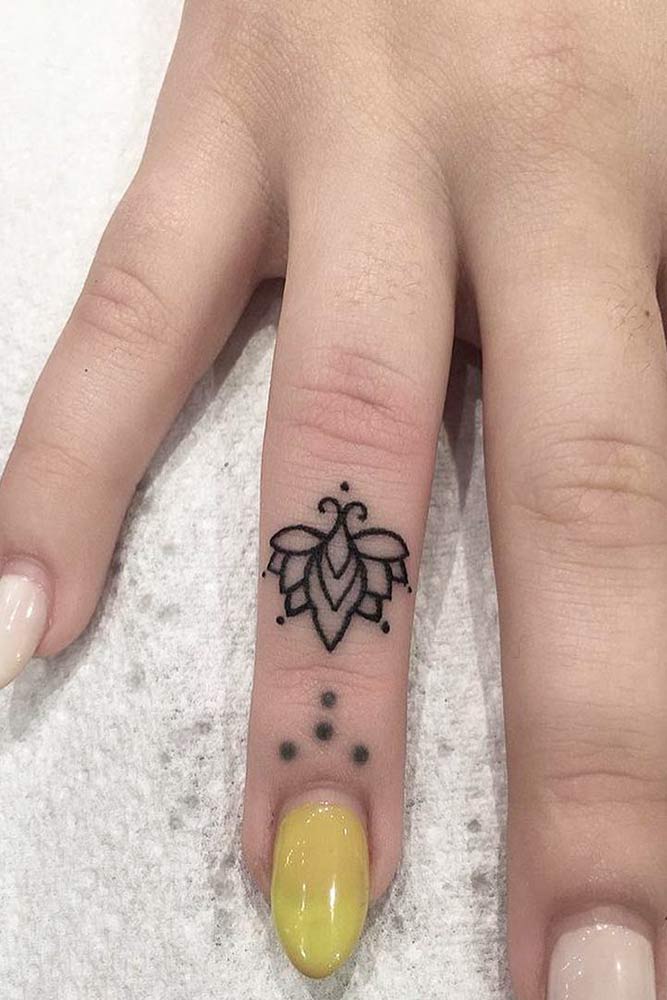 Credit photo: instagram/tattooshopbydangold
Lotus is one of the most famous tattoo design. Would you prefer it for your own tattoo story? Then don`t hesitate and put it on your finger.
Simple Dotted And Lined Finger Tattoos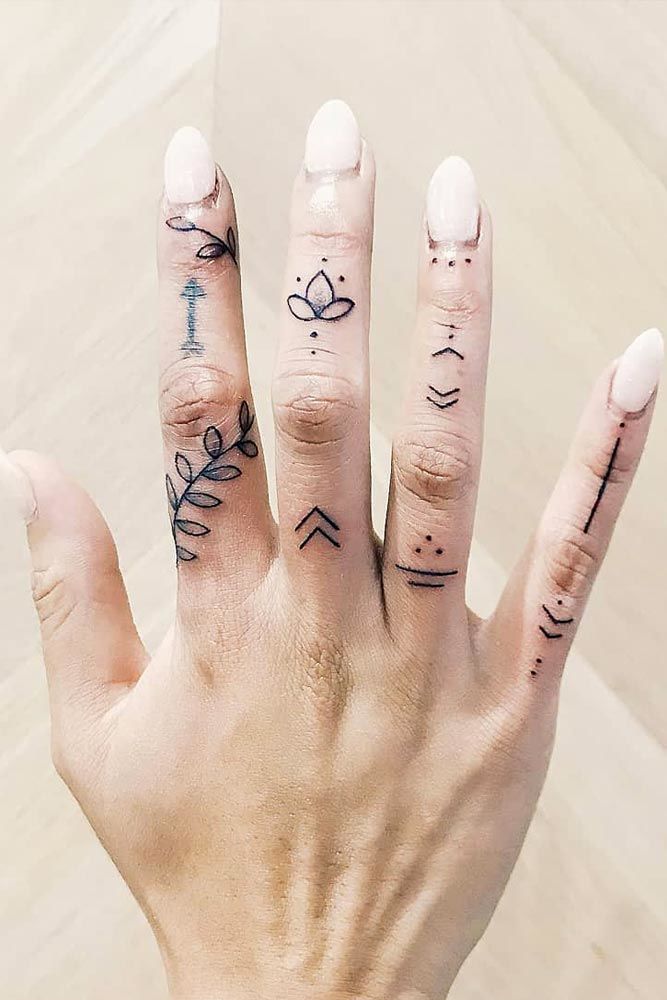 Credit photo: instagram/fine.line.tattoos.melbourne
Dots and lines mixed all together into the composition on your hand will look fantastic. Such small detailed tattoos will match other designs you have.
Matching Finger Tattoo Designs
Matching Finger Arrow And Bow Tattoos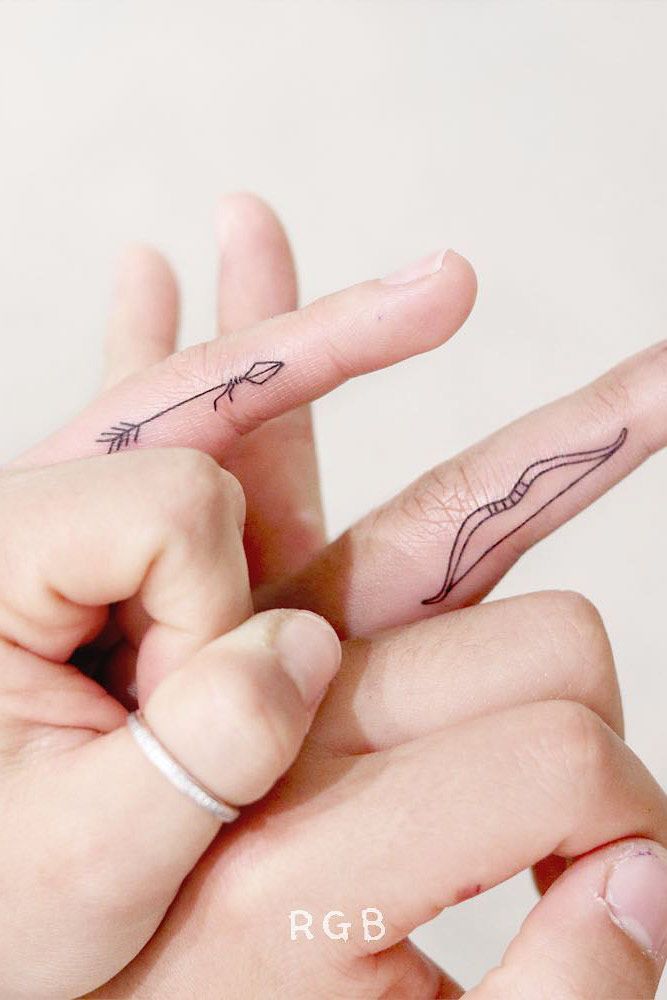 Credit photo: instagram/rgb_tattoo
Such an inspiring couple idea for finger tattoos will show how much love you have for each other for sure.
Finger Tattoos With Special Date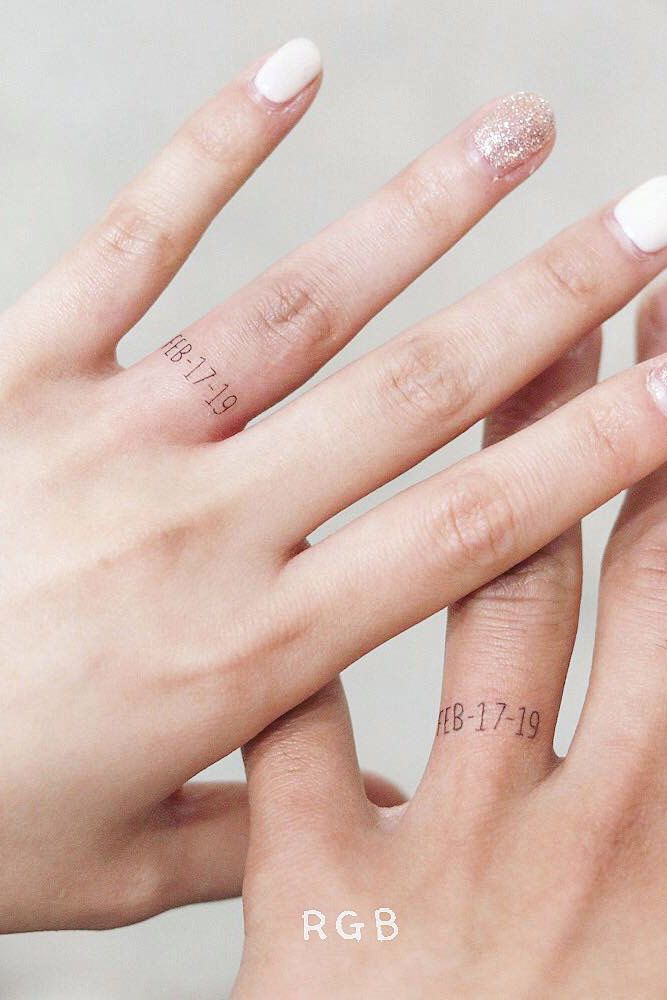 Credit photo: instagram/rgb_tattoo
If you dream of wedding finger tattoos then choose a date that forever joined your hearts together. Isn`t that a cute and romantic idea?
Meaningful Tattoo With Words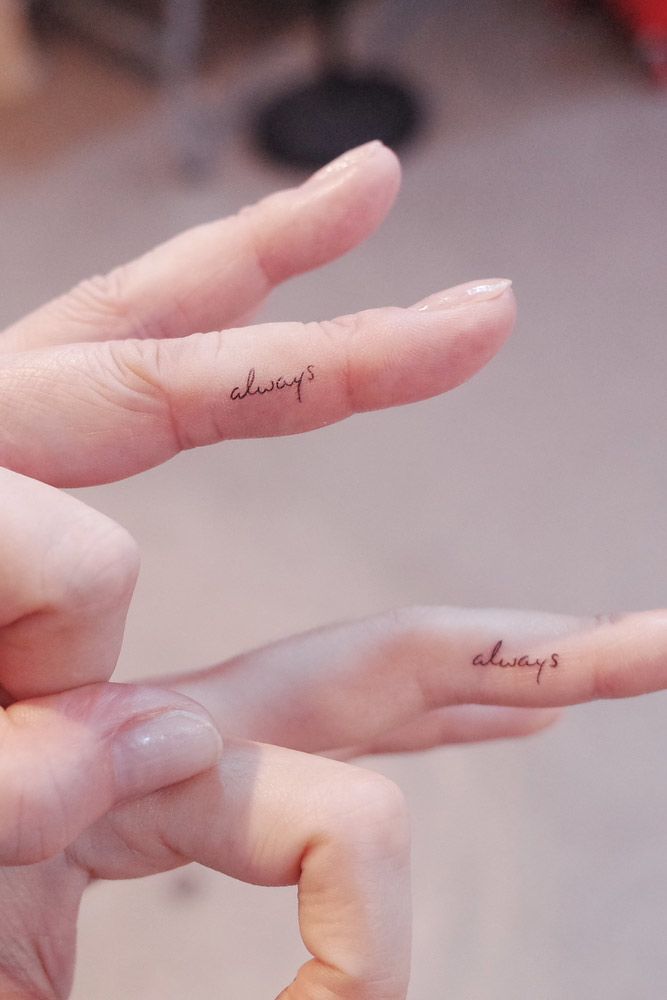 Credit photo: instagram/wittybutton_tattoo
Words are super good-looking on fingers so why don`t you choose them for yourself? Even one word can tell a whole story that you want to show. We love finger tattoos words.
Matching Tattoos With Hearts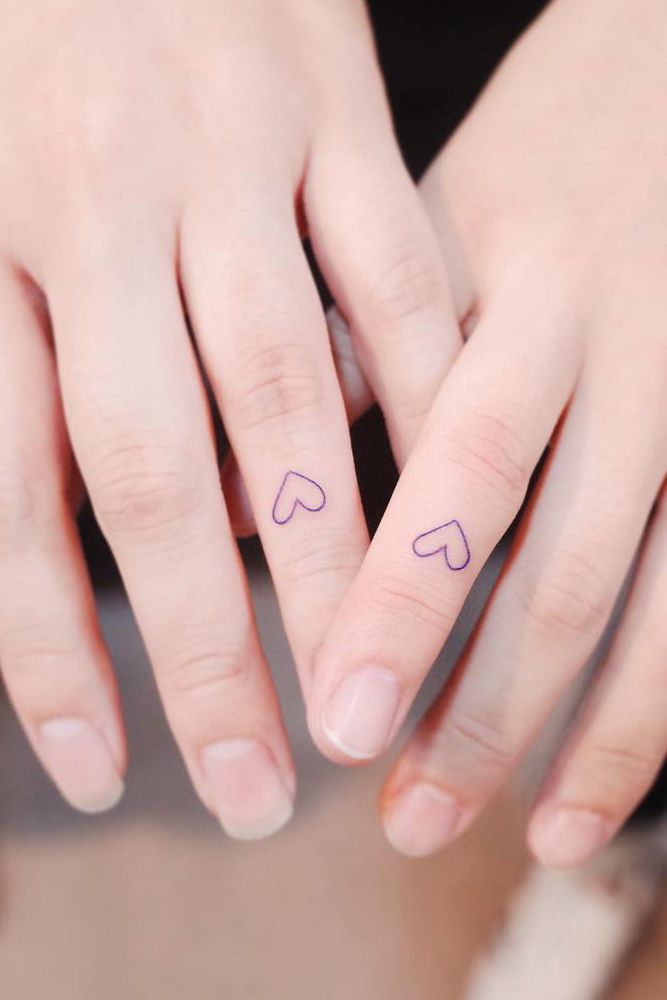 Credit photo: instagram/wittybutton_tattoo
All tiny finger tattoos should include these beautiful couple hearts ideas. We love how pretty they look on the couple.
There are so many beautiful finger tattoos that you can choose for yourself. Tiny but pretty at the same time they are a great way to tell your personal story. Choose a design with us and you won`t regret your idea for a second.
Anchor And Sun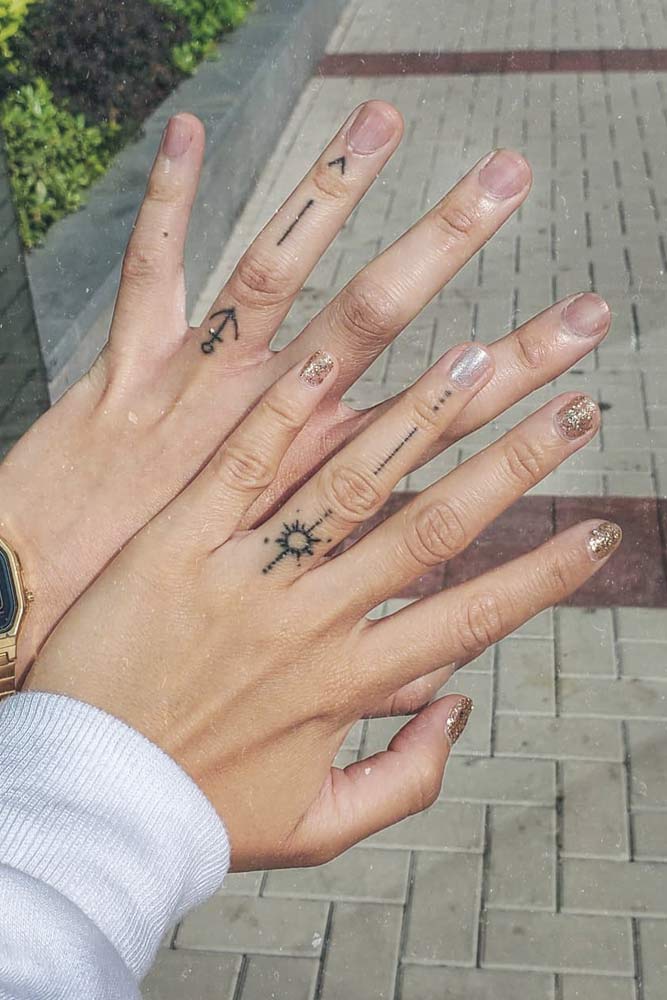 Credit photo: instagram/mikiioxo
How about a romantic take on the traditional sailor's anchor tattoo? This couple tattoo idea has a deep meaning of the long-awaited calmness and safety that people reach when they finally find their soulmates. When you really feel that you two belong together, why not drop the anchor in calm waters to see the sun rising and lighting your way every single day?
FAQ: Finger Tattoos
How badly do finger tattoos hurt?
Finger tattoos are painful. The skin there is very thin and there is less fat and more nerve endings, the needle will be penetrating close to the boned and knuckles of your fingers. That is why finder tattoos will sting and you will feel unpleasant vibrations.
Which finger is the best for tattoo?
Depends on which finger do you want to draw permanent attention to. Middle, index finger to make a statement, ring finger tattoo is a popular alternative to gold rings, pinky is a good one to place a delicate design and thumb can share a design with another thumb.
The top of your fingers between the knuckles is the part of your finger where the tattoo will last longest because, unlike the sides, knuckles, and the finger pads, this part won't experience as much movement.
How long do finger tattoos last?
Finger tattoos require systematic touch-ups (once a few years), because of the regular movement, frequent washing and lack of body fat in this area. The skin on our hands also regenerates faster than elsewhere on our bodies. you should expect to see your finger tattoo start to fade after 6 – 8 month.
REFERENCES:
A tattoo is a form of body modification where a design is made by inserting ink, dyes and pigments, either indelible or temporary, into the dermis layer of the skin to change the pigment. Source
Infinity (often denoted by the symbol represents something that is boundless or endless or else something that is larger than any real or natural number. Source
Thinking of getting a couple tattoo We ve rounded up 10 ideas for designs to try with your significant other. Source
Was this article helpful?