Tattoos are a popular trend these days. However, apart from personal tattoo ideas, there are also best friend tattoos. Of course, tattoos are permanent, and you are going to take it with you throughout your life. Nevertheless, if you value your friendship and you want to take it to the next level, that is more than a suitable option. We know how difficult it may be to pick up a proper design, that is why we have gathered the best ones for you here. All you need to do is to make up your mind!
*We may earn money from affiliate links on this page. Please check out our disclosure policy for more details.
Meaning and Symbolism of Best Friend Tattoos
Credit photo: Instagram.com/tattooist_sigak
i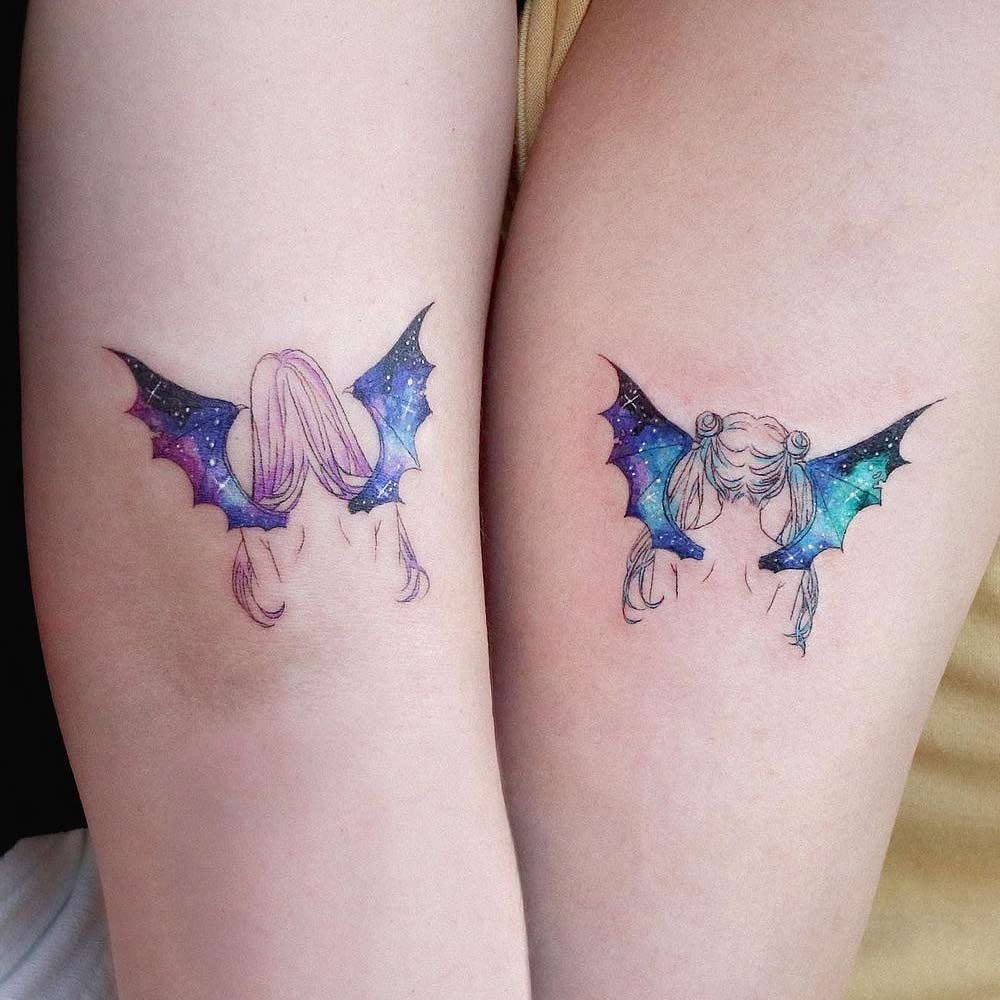 Credit photo: Instagram.com/ehae.ink
i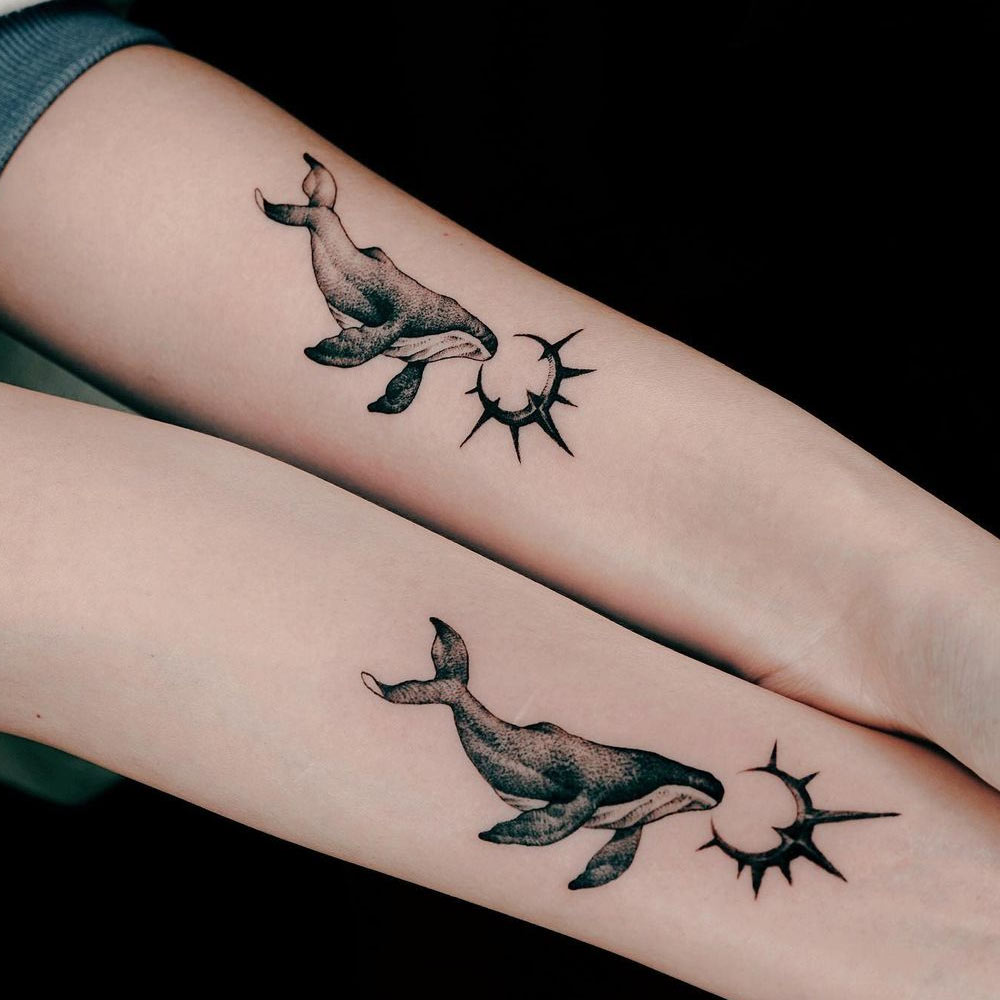 Credit photo: Instagram.com/tattooist_sigak
i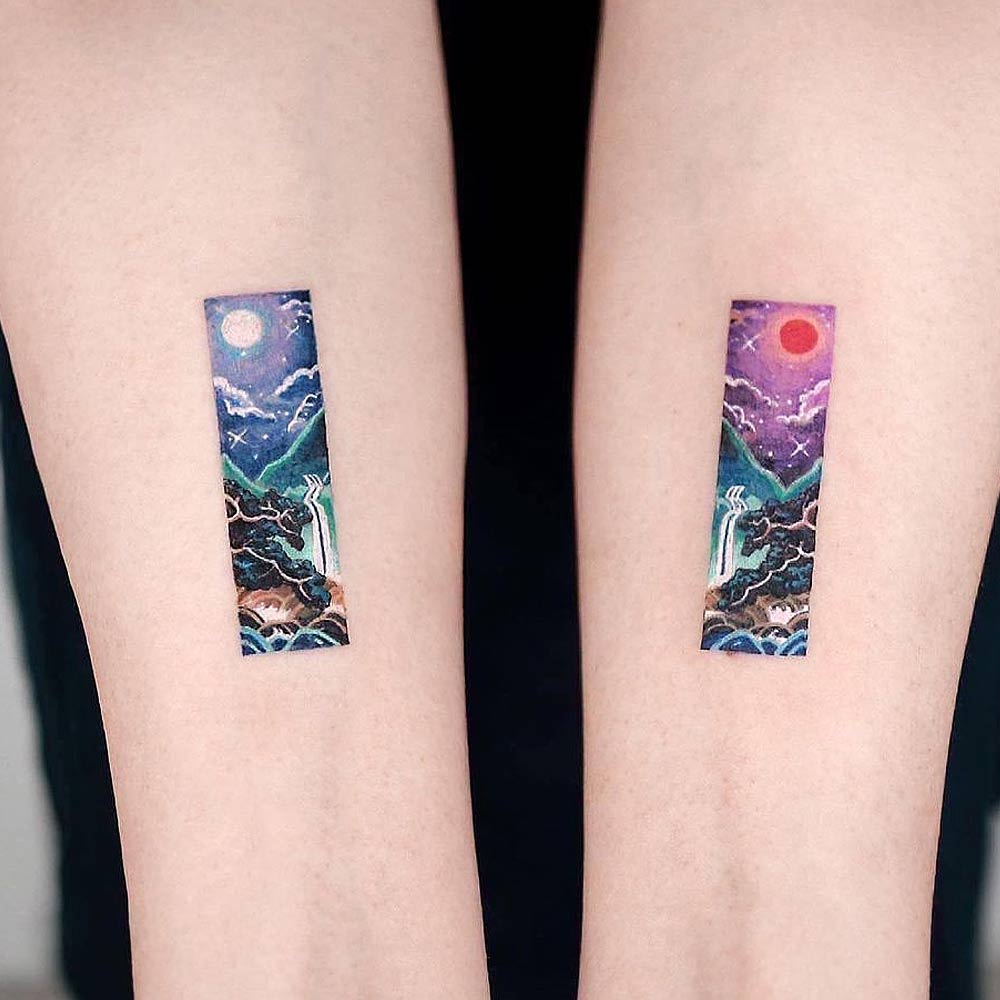 /
While the title best-friend tattoo is self-explanatory enough, it must be stressed that such ink usually bears deep meanings and symbolism that may not be easy to spot with your naked eye. The bond between two people who become friends is usually very strong. When people choose best-friend tattoos, they desire to emphasize the trust, connection, and unbreakable connection between them.
In the majority of cases, it is a particular design that reflects personal views and ideas hidden behind it. Sometimes, people decide on a pattern that represents a traditional side of friendship, that no matter the difficulties and obstacles on your way, you will deal with every challenge together. Best-friend tats can also symbolize the experiences and situations that you've shared together as well as those which are yet to come.
Should you require a more visual representation of what we are talking about, think of infinity symbols, hearts, puzzles, features, matching quotes, or anchors. You can take things as far as to incorporate initials, birthstones, and meaningful dates into your design to make it twice as special and unique.
SUMMARY:
---

Best-friend tattoos symbolize the strong bond between two friends, showcasing shared experiences and a promise of enduring friendship. Designs like infinity symbols, hearts, and matching quotes make these tattoos unique and meaningful.

---
Factors to Consider Before Getting Best Friend Tattoos
Credit photo: Instagram.com/tattooist_sigak
i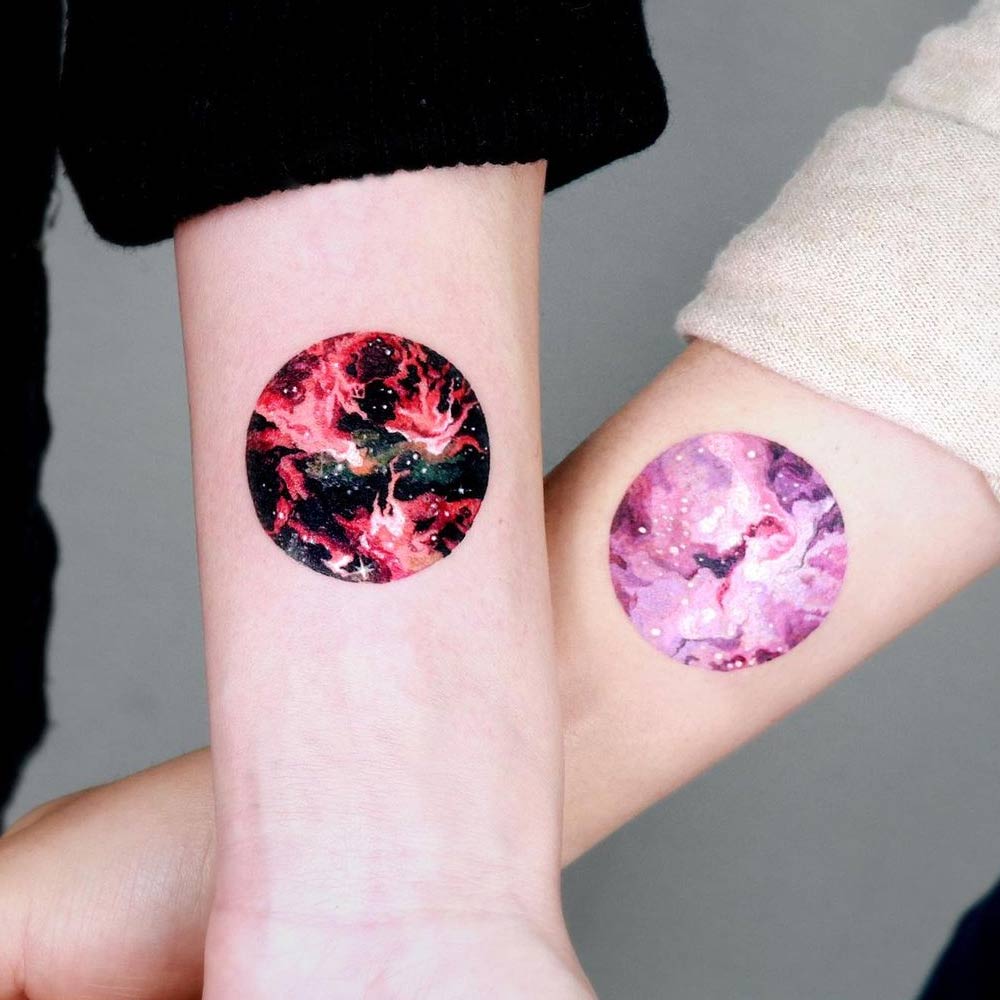 Credit photo: Instagram.com/tattooist_sigak
i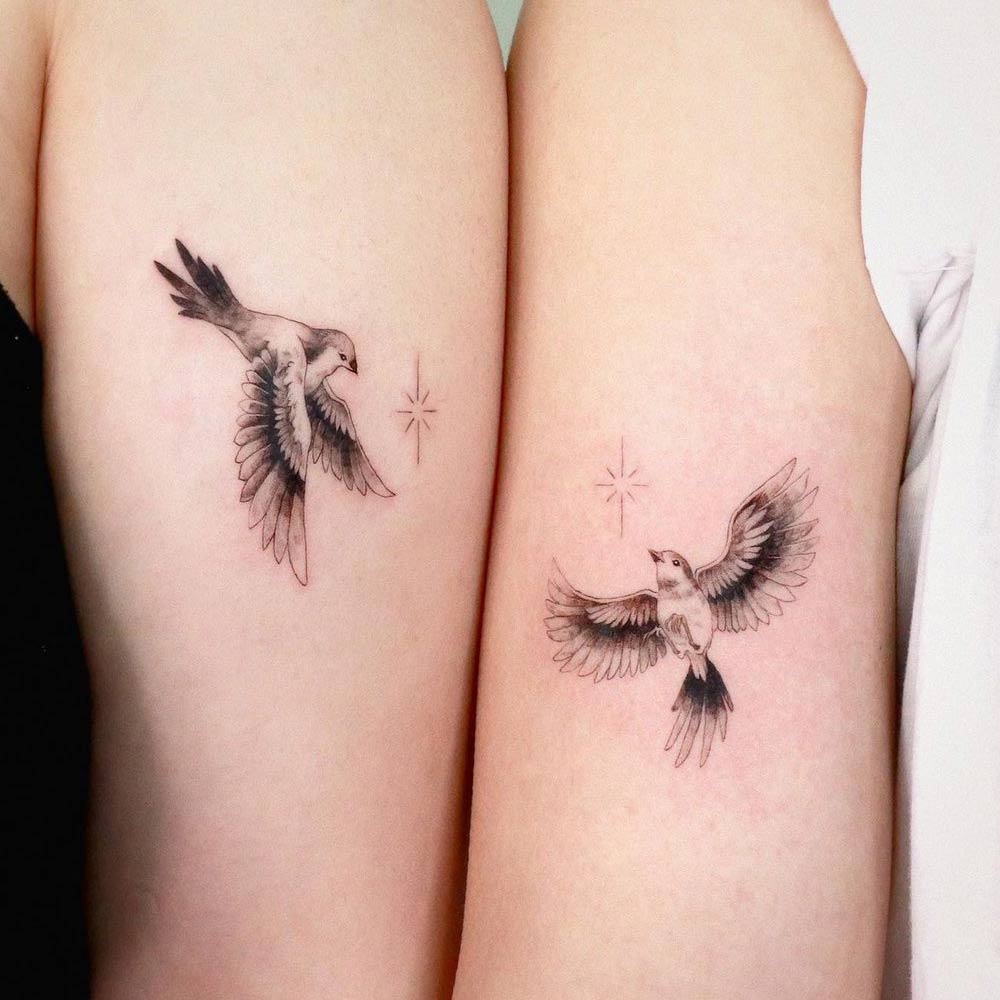 Credit photo: Instagram.com/tattooist_sigak
i
Credit photo: Instagram.com/ehae.ink
i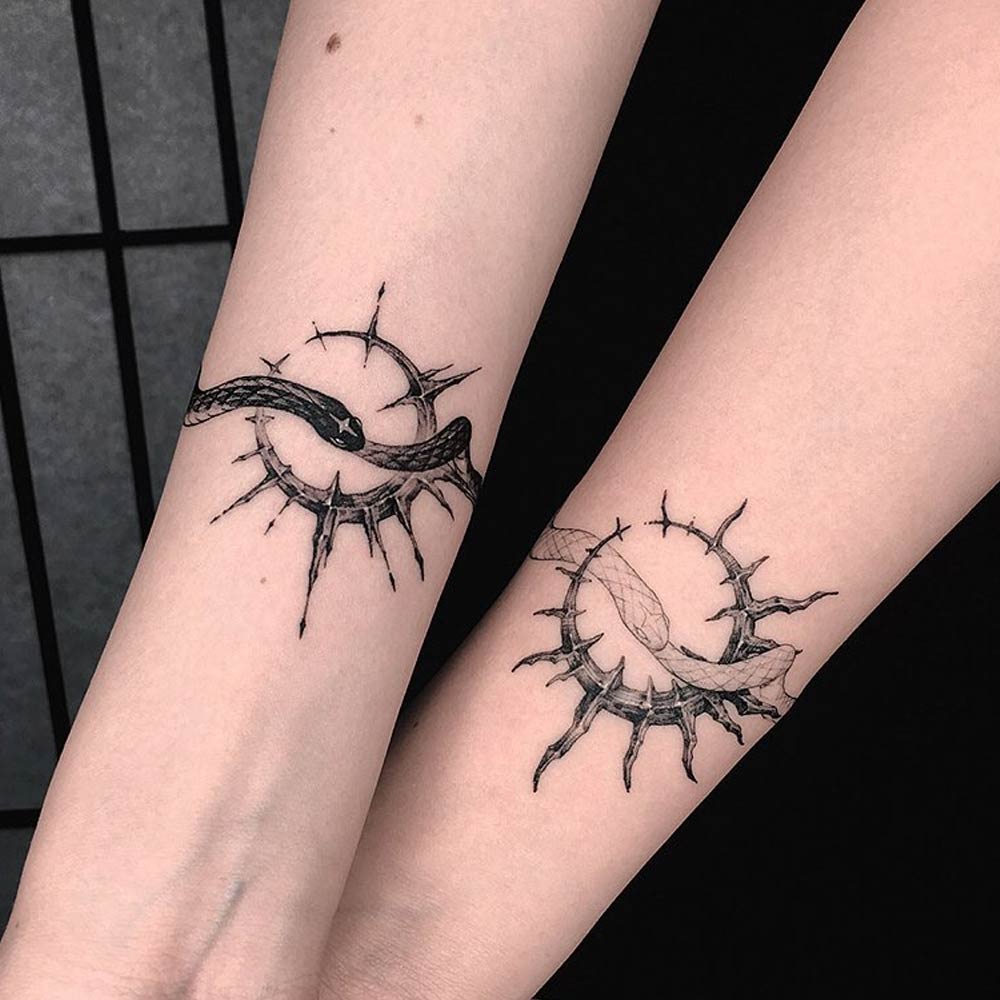 /
No matter how symbolic it is to get matching tats with your best bud, you must consider some potential drawbacks and other essential factors. Let's have a closer look at those:
Any tattoo is a commitment, if not permanent, then a long-term one. So, you must both agree on the deed and like the chosen design so that you won't regret getting it in the first place. Before you head out to the salon, discuss things beforehand, and ensure your views and ideas coincide.
Don't rush with the design. While the first thing that pops into your head may sound like a good idea at the time, think that you will have to go through life with the design etched into your skin.
The location must complement the ink but also match your needs and lifestyle. While your friend may want the ink visible at all times, you may want to keep it hidden. Discuss these matters so that none of you regrets the decision.
No matter the strength of your friendship at the moment, things may evolve over time, and you must ensure that you are comfortable with the design, no matter the future consequences.
Every person deals with pain differently. While some are more susceptible, others can withstand it without a tear shed. If either of you has low pain tolerance, you should discuss potential tattoo placements that the person would be able to deal with. Besides, completing a small-size ink may take more than a single session if you or your friend are too sensitive.
Getting inked shouldn't be a spur-of-the-moment decision. It takes two to decide on all the details. As long as the final decision is mutual, it is okay to proceed with the session.
Personalization of Best Friend Tattoos
Credit photo: Instagram.com/tattooist_sigak
i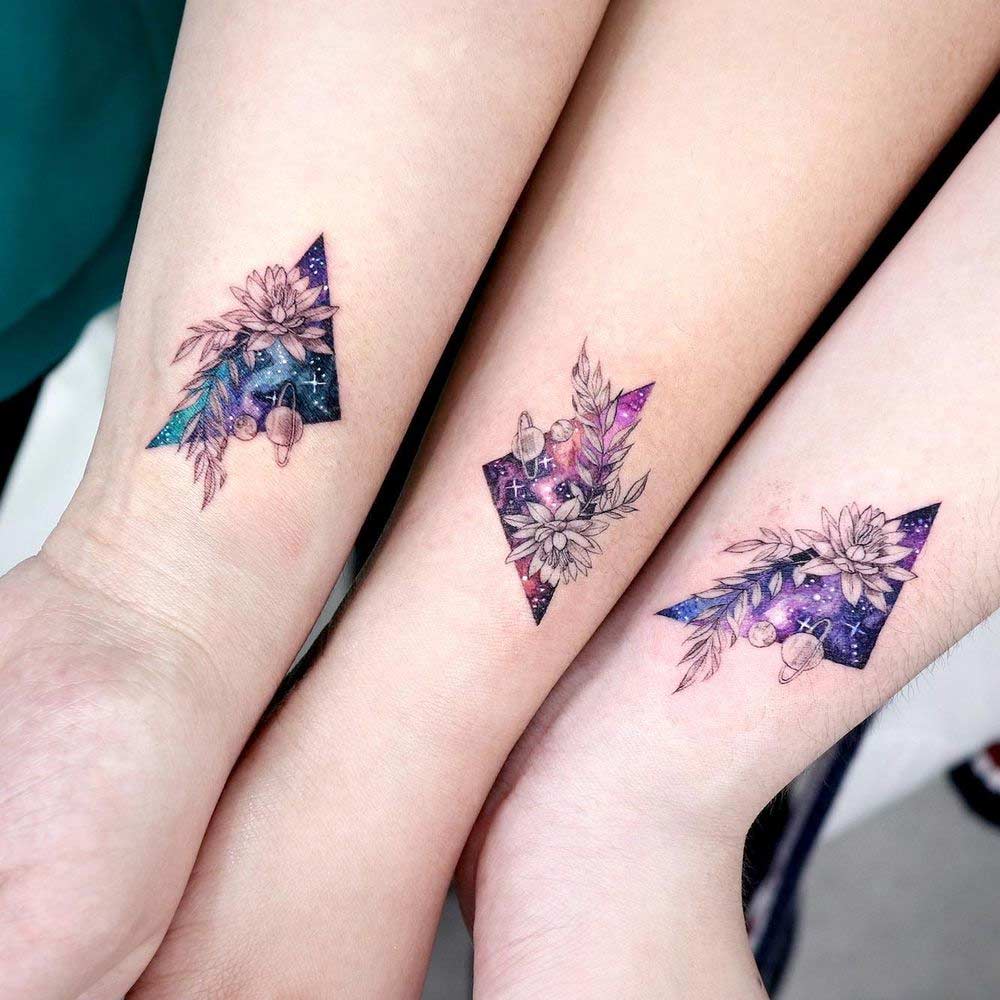 Credit photo: Instagram.com/tattooist_sigak
i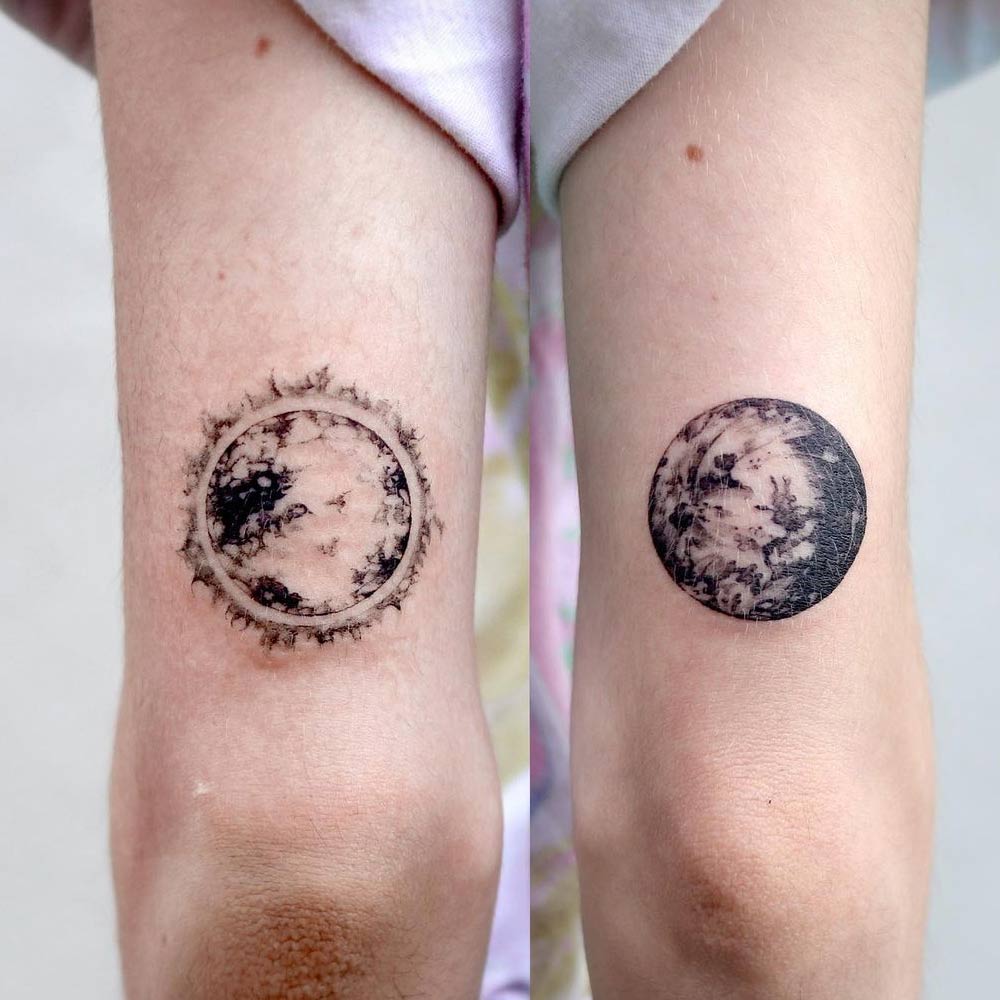 Credit photo: Instagram.com/tattooist_sigak
i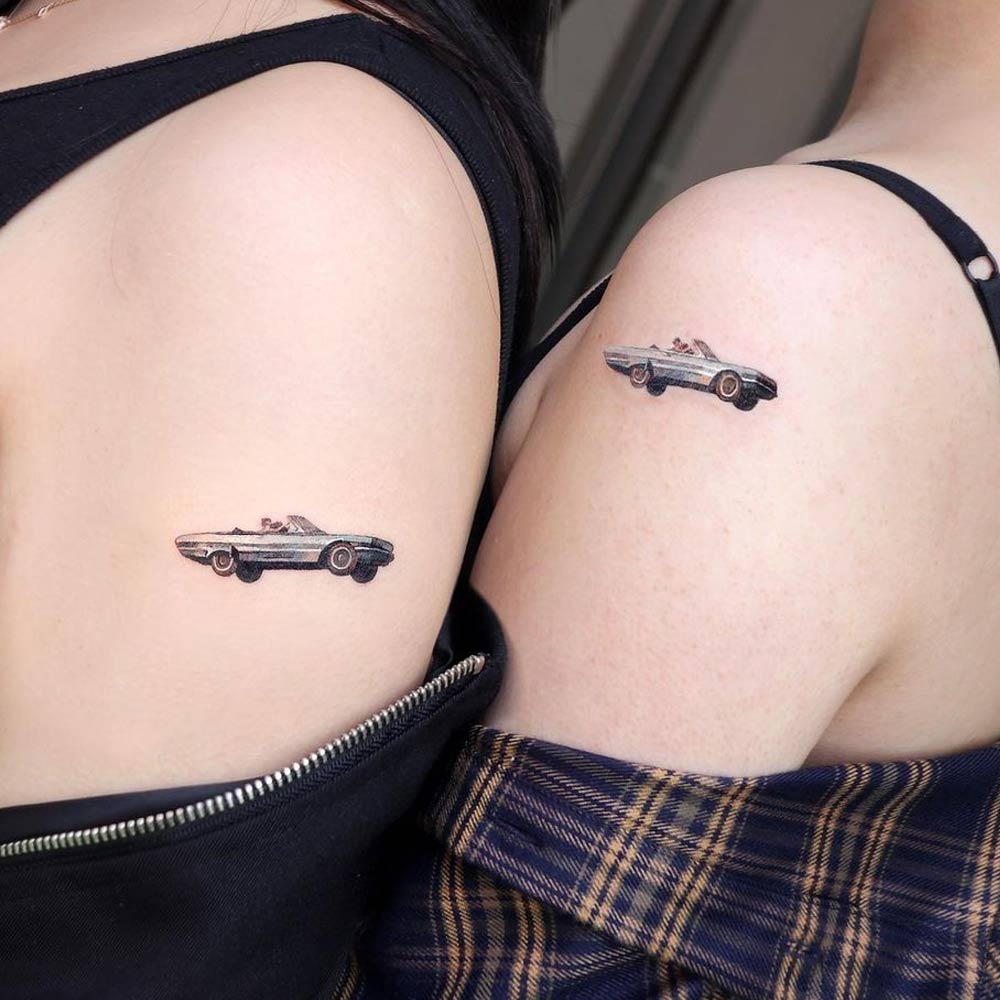 /
Best friend tattoo personalization is a critical aspect that many consider but lack a perfect idea of how to succeed with the task. You can customize your friendship ink in the following ways:
Add initials or names: you can incorporate each other's names into the design to solidify the bond between you.
Add meaningful dates: just like names or initials, significant dates will help you carry the momentous event with you throughout the years.
Find out shared symbols: you can go as far as inventing specific symbols with unique significance. While others may not notice the vital connotation these symbols hold, you will know that is what counts and what makes your tats exceptionally unique.
Introduce matching pieces: just like two people in love, best friends complete one another. There's barely any other way to stress the point than two pieces of a whole worn on your body. Whether these are puzzle pieces, two halves of a heart, or two parts of the same quote – it is up to you to decide.
Add personal elements: you don't have to wear identical designs to make them matching friend tattoo. You can play out the best parts of yourselves and play around with those elements. For instance, if one loves flowers and the other loves animals, you can ink each other's favorite symbol into your skin. The references can be as subtle or as loud as you wish.
Add unique colors and styles: one more way to customize your best friend ink is to play around with the color palette and the style of the tattoo.
Are best friend tattoos only for best friends?
What are some popular symbols or designs for best friend tattoos?
How do I choose the right tattoo artist for my best friend tattoo?
Creative Ideas for Best Friends Tattoos
Get ready to be inspired as we present the most creative and unique ideas for best friends tattoos! These tattoos go beyond the ordinary and showcase the deep bond and connection between best friends. From adorable matching designs to personalized symbols that hold special meaning, these tattoos are a beautiful way to celebrate the unbreakable friendship you share.
Small Heart Tattoos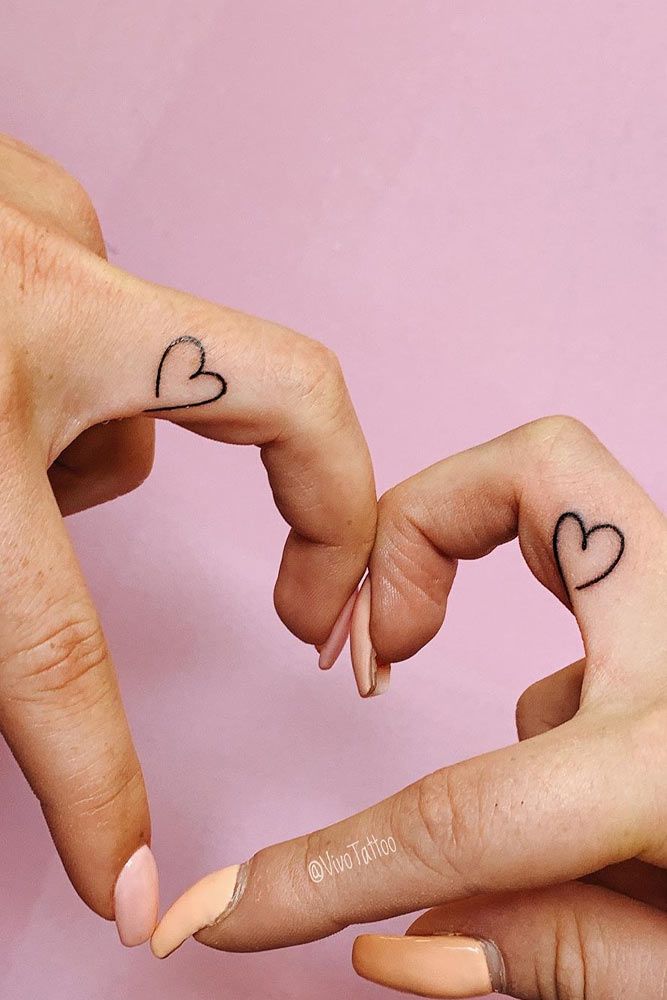 Credit photo: Instagram.com/vivotattoo
Heart tattoos are very popular when it comes to inking your eternal devotion and care to the one you love. Surely, you love your friend, that is why such a tattoo is worth considering. As for the placement, finger tattoos are also highly requested. Besides, no one will see it unless you want someone to. Think about it!
Tattoos For Nature Lovers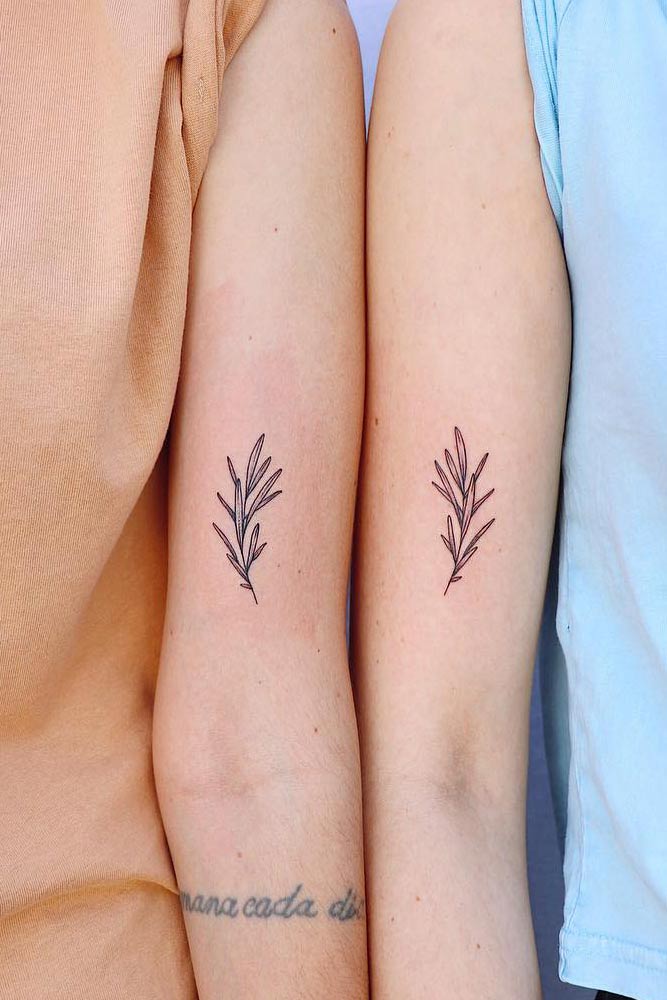 Credit photo: Instagram.com/zaya
Very often, best friend matching tattoos display not only the connection between you but also your interests and tastes. It may be an insignificant couple of leaves to someone who sees the tattoo, but there can be the whole world of memories behind it. If you care deeply about nature, then such a tattoo will be more than appropriate to consider.
Koi Fish Tattoos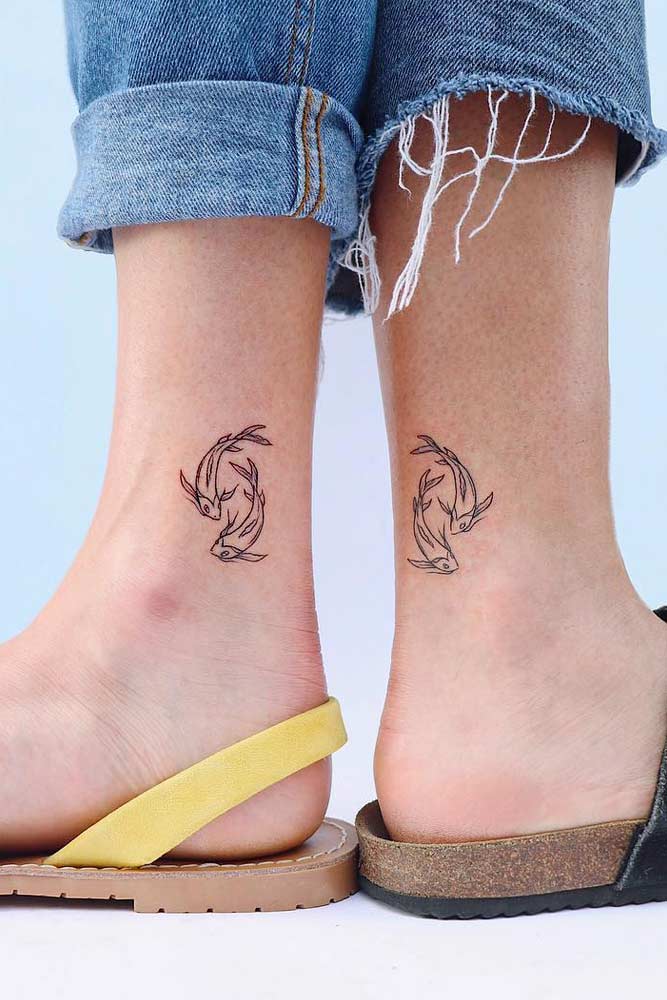 Credit photo: Instagram.com/zaya
Tattooing your arm or any other usually uncovered area may be a difficult task for some people. That is when ankle tattoos come in more than useful. For instance, such a koi fish tattoo on your and your friend's ankles looks not only lovely but also quite one of a kind. The pair of fish depicted together represents your connection no matter where you are.
Watercolor Feathers For Bff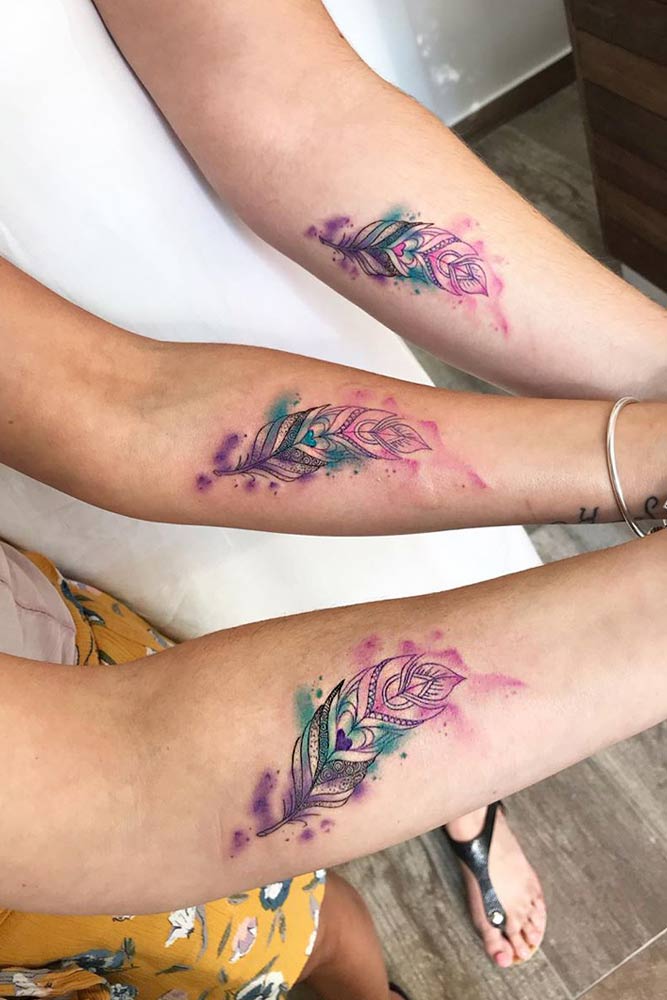 Credit photo: Instagram.com/lydinktattoo
What if there are there besties instead of two? Well, that is even better! Can you imagine how awesome you will look when presenting your tattoos together? As for what type of tattoo that would suit three different people related by strong friendship we think that a feather tattoo will do. Not only it is light and inspiring, but also the watercolor adds that authenticity and style to it.
Avocado Best Friend Tattoos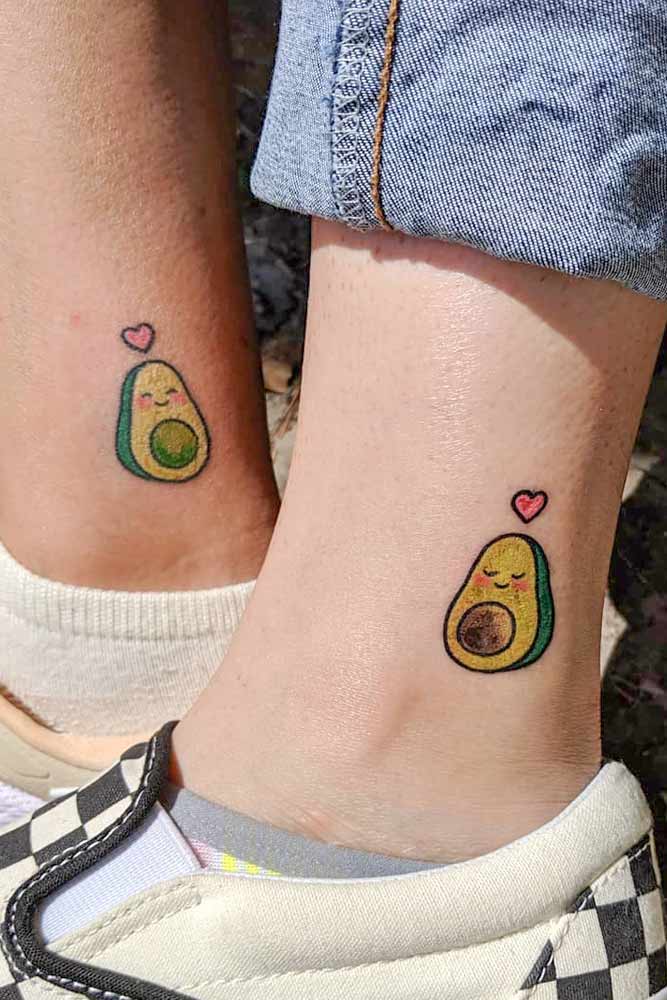 Credit photo: Instagram.com/maria.rury
Matching best friend tattoos have no boundaries or limits. If you wish your tattoo to be fun and playful but meaningful at the same time, we may have an idea in mind. The thing is that the matching avocado halves look cute, but they also represent that fact that you are two halves of one. Isn't that sweet?
Lotus Flower Tattoos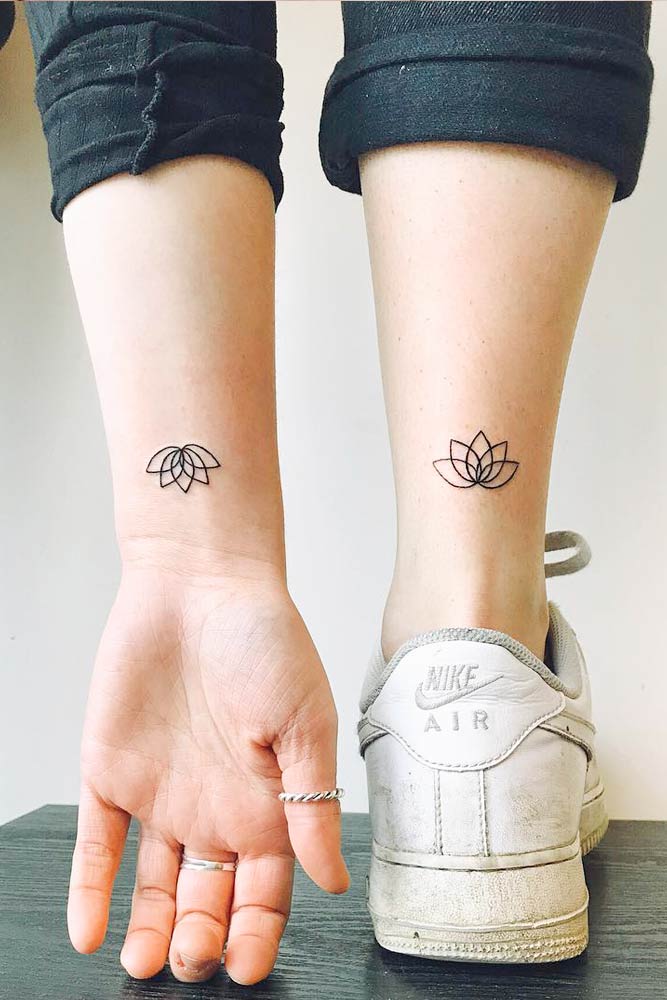 Credit photo: Instagram.com/zaya
In times when you are looking for the best friend tattoo for your girlfriend, flowers are considered in the first place. We won't make it an exception aside from the fact that it is not a regular flower you will spot in nature. The lotus flower is a meaningful symbol, and even an abstract form of it carries out the potent meaning.
Yin Yang Colorful Tattoo Ideas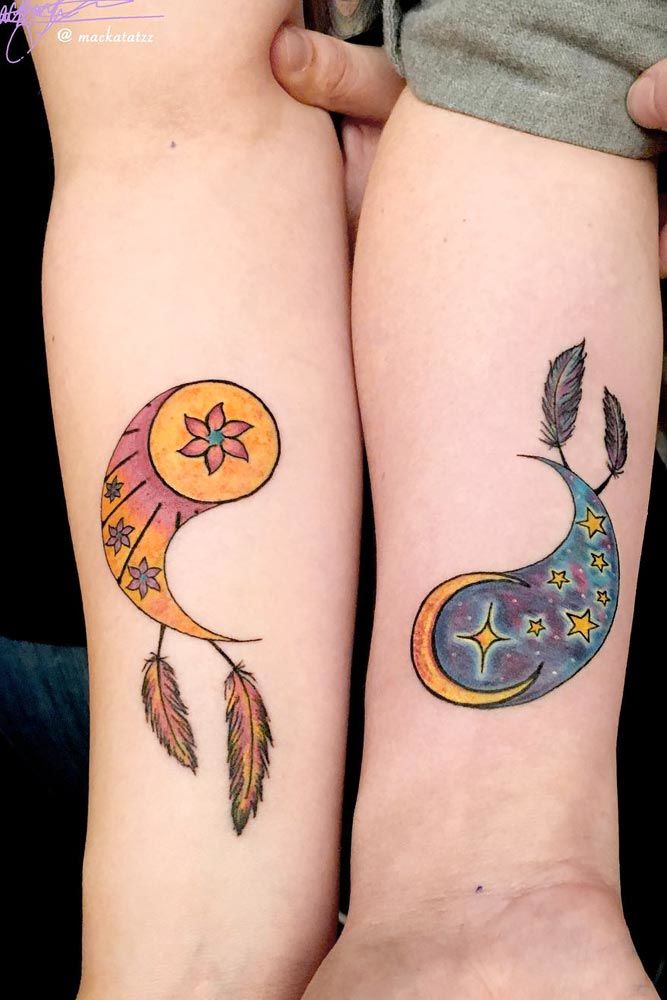 Credit photo: Instagram.com/mackatatzz
As you may already know, the Ying Yang symbol represents eternal balance and harmony. That is why it is often used as one of the best friend symbol tattoos ideas. Surely, we are no advising you to opt for a regular Yin Yang, but an altered version of it. Those who do not see you together wouldn't be able to guess that it is a part of the best friend tattoos design. In such a way, you will express yourself while still sharing a matching tattoo.
Gentle Watercolor Flowers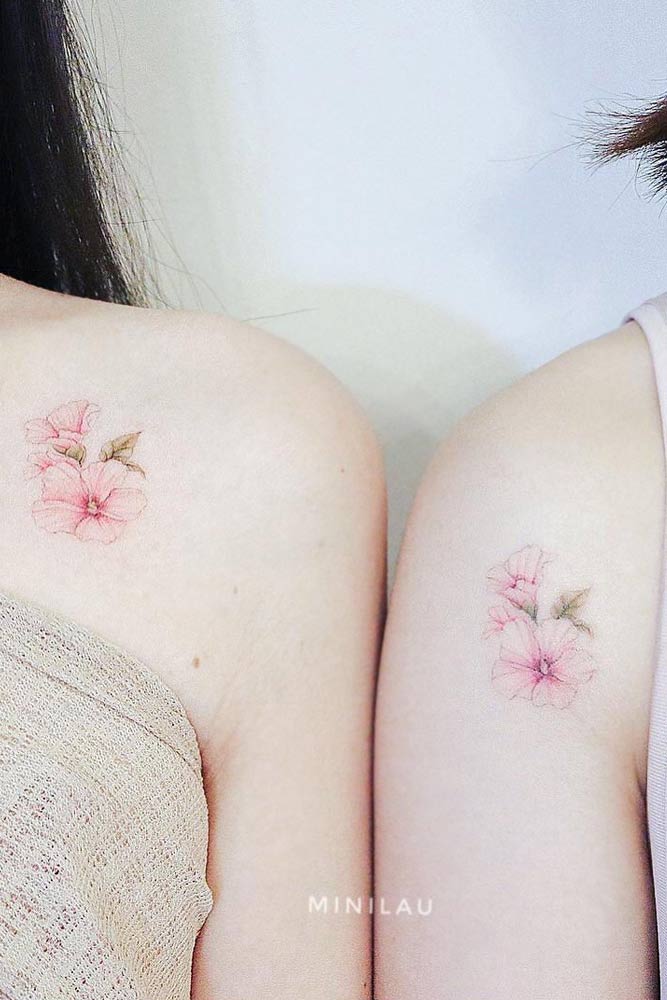 Credit photo: Instagram.com/mini_tattooer
There is a false assumption that matching tattoo ideas are always tattooed over the same area for both. Make an exception! You can share identical cute tattoos, but the placements may differ. Such an approach will only intensify your bond as well as your personality. What do you think about these super gentle and innocent flowers tattoos? We consider them irresistible!
Meaningful Symbols Tattoos For Friends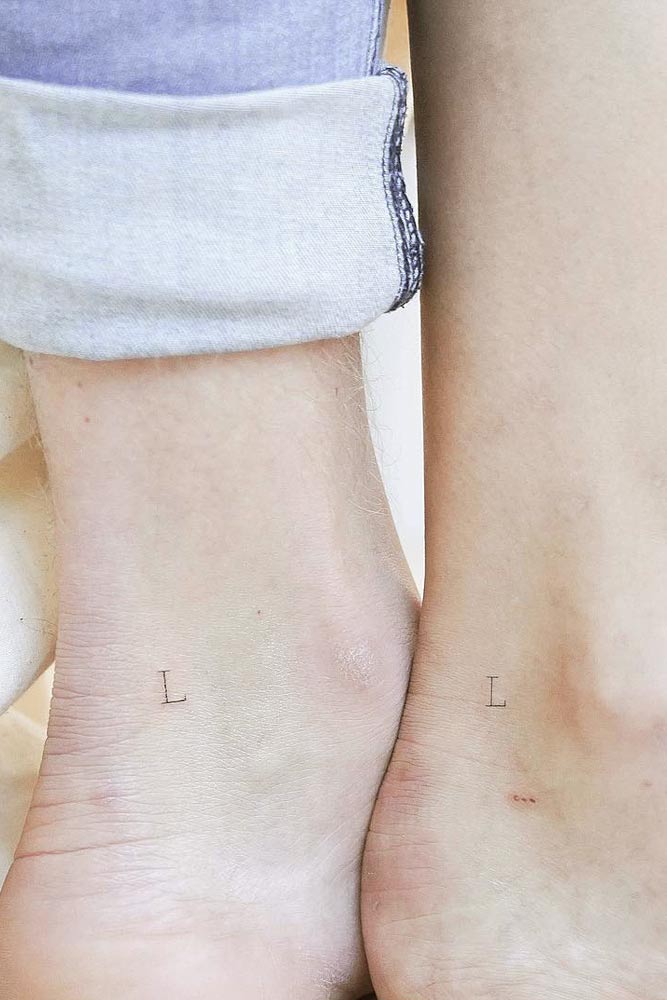 Credit photo: Instagram.com/mini_tattooer
Friendship tattoos are mostly about the meaning, not the design. You should keep it in mind. In many cases, when choosing the wrong priority, you may ruin the whole intention. That is why you need to realize that even a single letter can mean more to you than a tattooed sleeve.
The Sun And The Moon Tattoos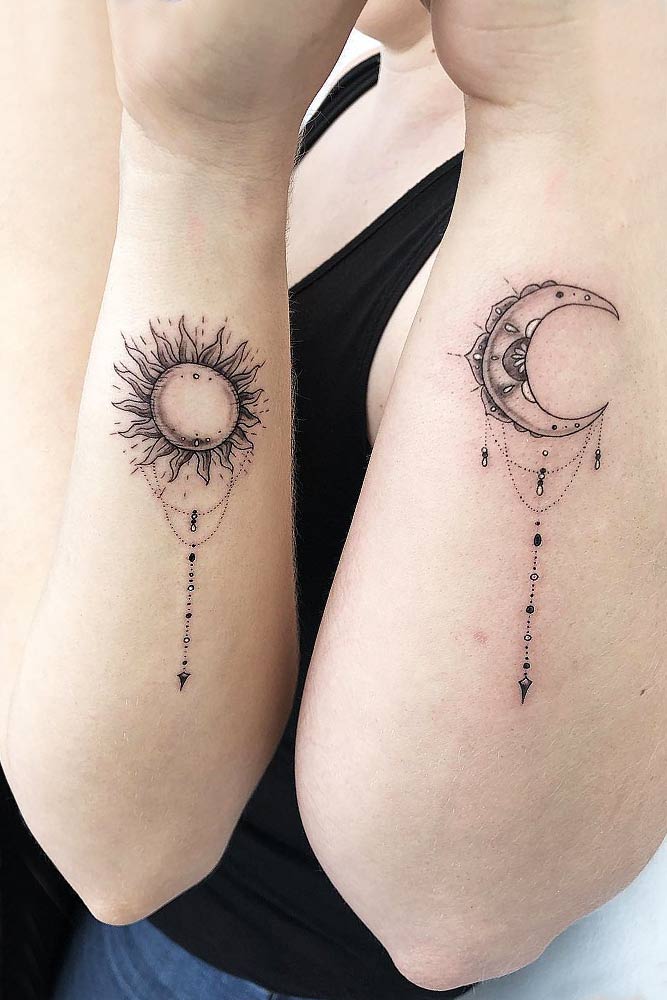 Credit photo: Instagram.com/sashaink
If you are convinced that meaningful tattoo ideas are bound to be identical – that is not true. You can follow up the same style while coming up with a different pattern. For instance, this sun and moon tattoo is the best example to prove the point. Celebrate both your friendship and uniqueness.
Wrist Tattoos For Long Distance Friendship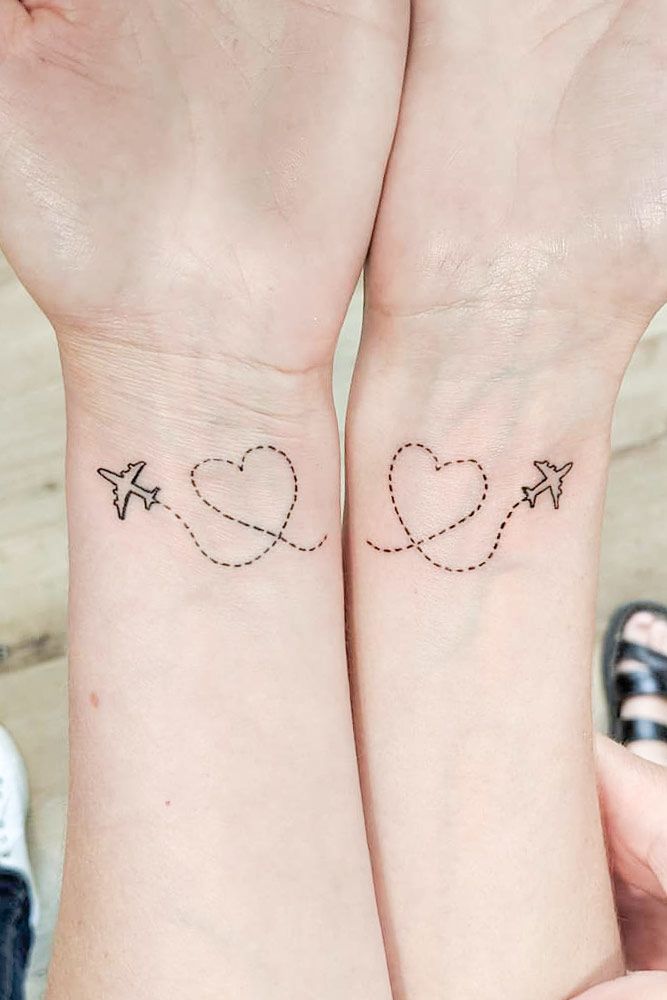 Credit photo: Instagram.com/inkerbelletattoos
Life is unexpected, and there are times when we have to part with those we value most. If it happens so that there is going to be a huge distance put between you, you can deal with it by engraving the best friend tattoos on your wrists. This heart and plane tattoo is one of those cute tattoos for girls that fit the situation.
Lettering Tattoos With Special Meaning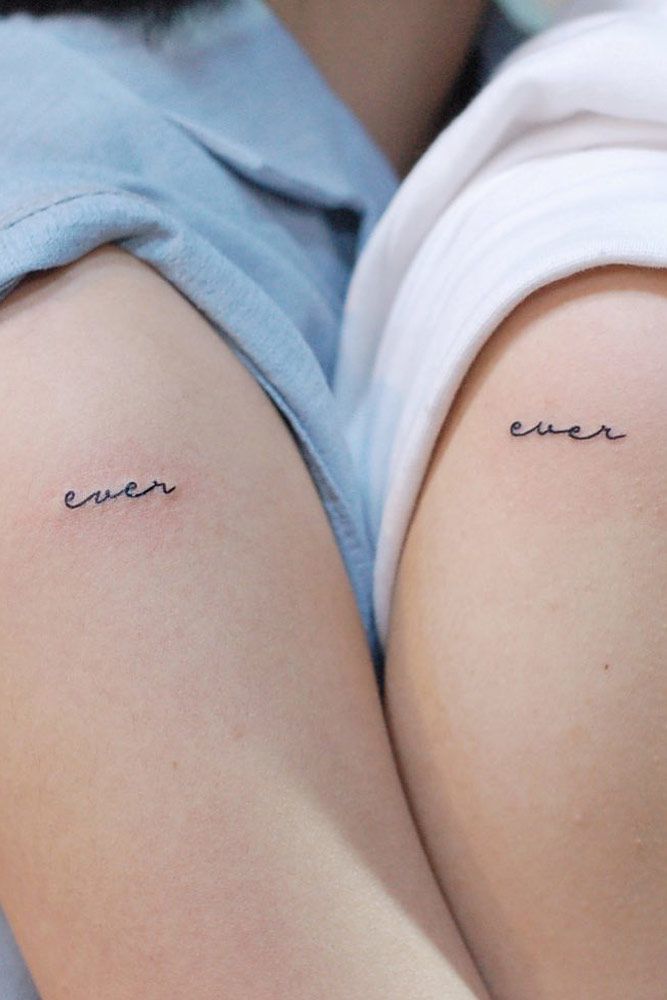 Credit photo: Instagram.com/wittybutton_tattoo
There are so many friend tattoos that it is hard to list them all. Putting down the word describing your friendship is one of many ideas that friends opt for. We offer you to make yours stand out by having it written in your friend's handwriting!
Best friend tattoos are a thing these days. That is why if you are thinking about celebrating your friendship, but have no definite example in mind – we have it covered for you! The best friends' tattoos examples are gathered in this article.
FAQ: Best Friend Tattoos
What animal means friendship?
A cute animal tattoo can also be a great idea that best friends can get. The first animal that comes to mind when we think about loyalty and friendship is of course a dog, also dolphins, horses, wolves, elephants are social type of creatures that represent faithfulness and friendliness.
What flower best represents friendship?
Among some examples of floral tattoos listed in this article, yellow rose is a well-known symbol of friendship. Other great ideas include sunflower, which represents loyalty, as well as pink tulip. Floral tattoos are a fresh suggestion that you can share with your best friends.