The tattoo fashion is gaining its popularity with every day, and there is barely anyone in the world who hasn't tried getting a tattoo or at least considered getting it once. If your body is a temple why not to decorate the walls, right? However, you must realize that a tattoo is mostly a permanent decision and you need to choose wisely when it comes to the image depicted on your body. These days, many people opt for an owl tattoo. The thing is that there is a lot more meaning behind the image of an owl than just a nice-looking bird.
Many cultures have their own interpretation connected with owls. In most of them, an owl is the bird of wisdom, skill, and connection to the underworld. That is why, if something of this does not suit you, you shouldn't blindly choose this tattoo option just because it is trendy. Yet, if you think that deep connection to the other side, strength, and wisdom have something to do with your choice; we have compiled quite a gallery of tattoo ideas to inspire with and from!
Watercolor Owl Tattoo Design On Arm
Source: sietetattoo via Instagram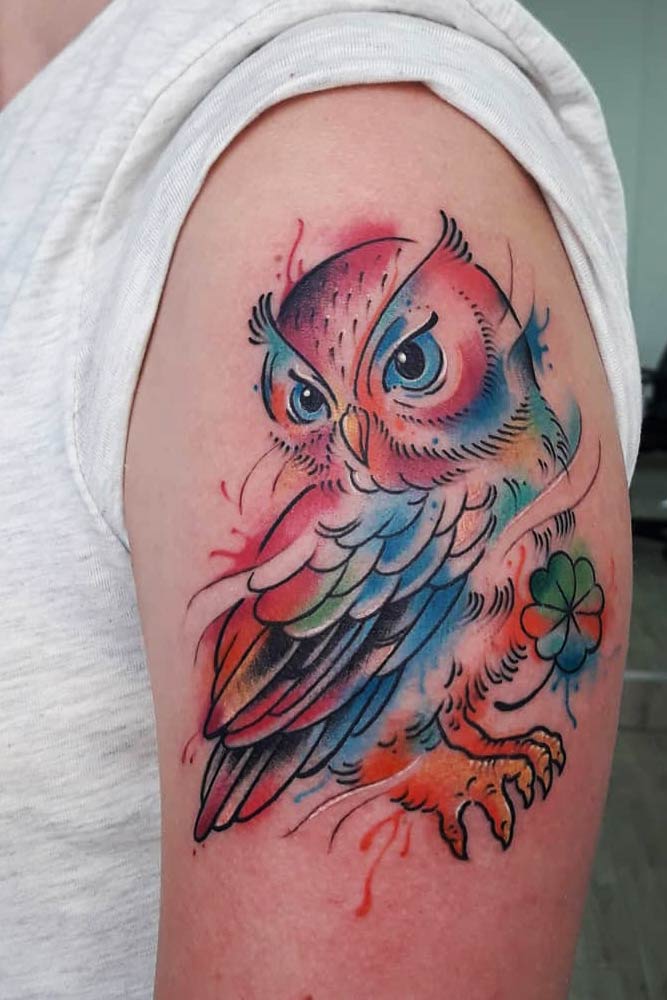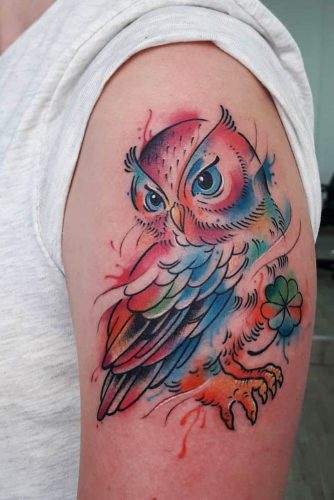 Very often people look for owl tattoos on arm and the ones with color. In case, that is precisely what you are searching for; we have a unique idea for you! An owl couldn't look cuter, right?
Mysterious Owl Tattoo Art In Realistic Style
Source: sietetattoo via Instagram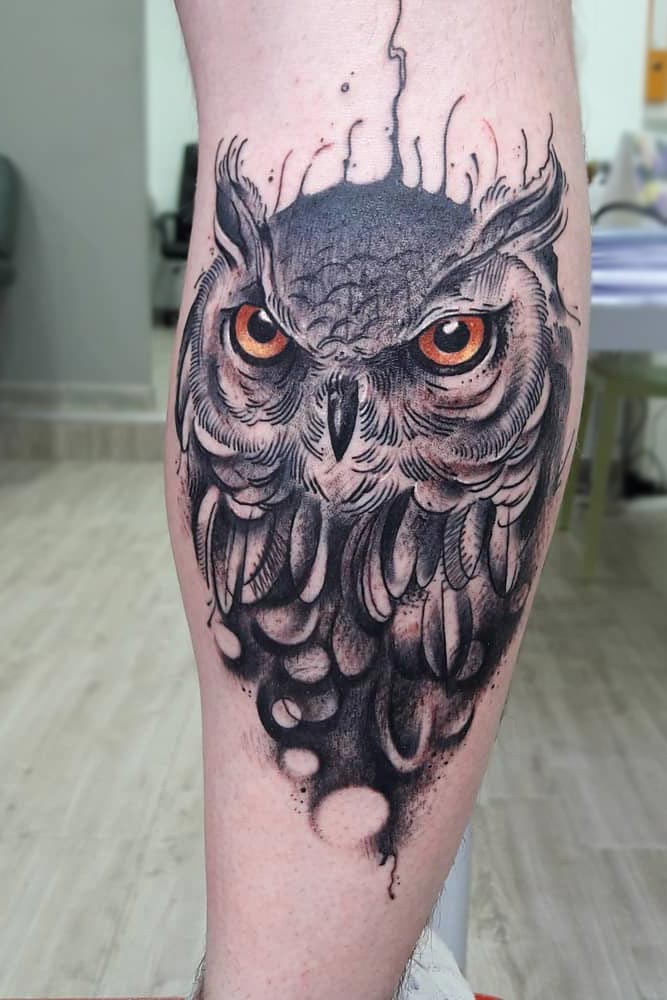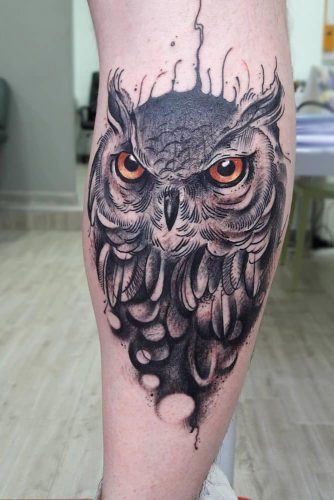 Sometimes what you are looking for isn't anything about fun or meaningless image. Mysterious owl, looking most realistic can help you express the deeper meaning behind the intention of getting this tattoo. It seems that you can drown in the depth of its eyes!
Black And White New School Owl Art
Source: xdtattooart via Instagram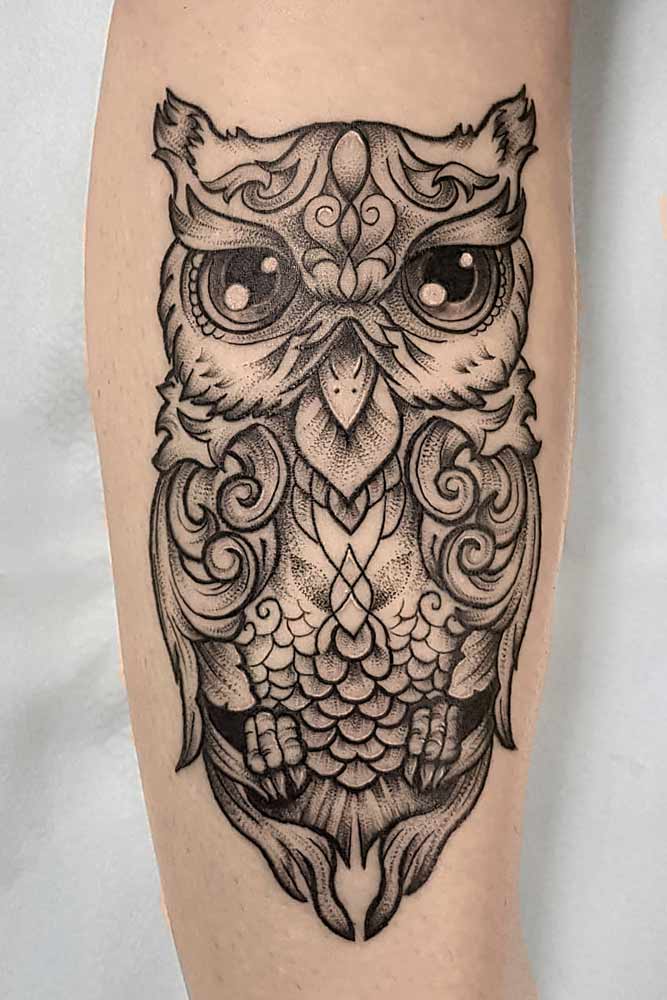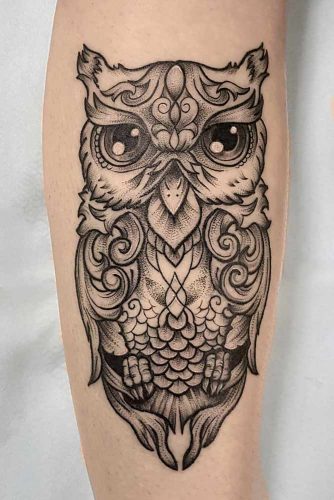 There are times when you are not a fan of the colorful tattoo but still would not mind getting one. In times like these, we can suggest you get yourself black and white abstract looking but still cute owl tattoo.
Cute Owl Design For Leg
Source: robcarvalhoart via Instagram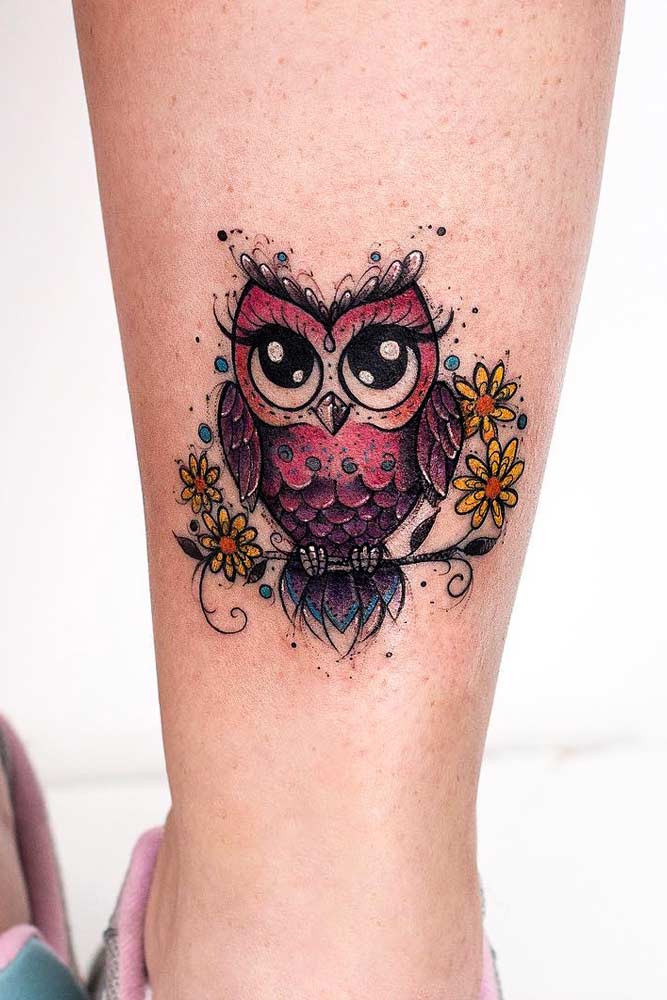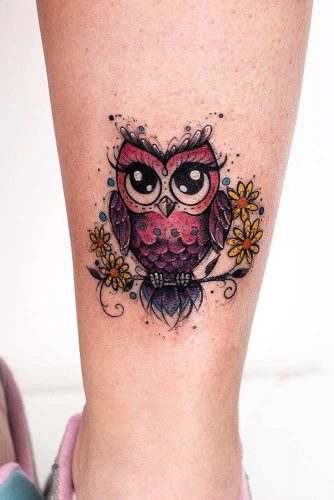 There are many girly owl tattoos, and in case you have been considering getting yourself one, we hope that this leg masterpiece will come to your taste. It is so feminine and fluffy that it is hard to take the eyes off.
Cute Watercolor Owl Tattoo Design With Dream Catcher
Source: debrartist via Instagram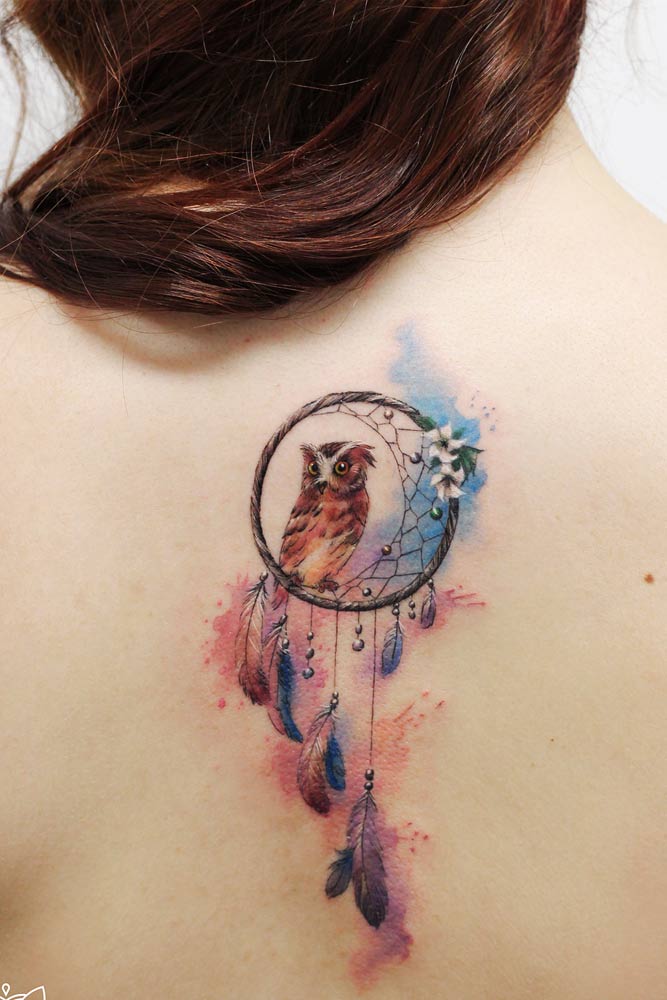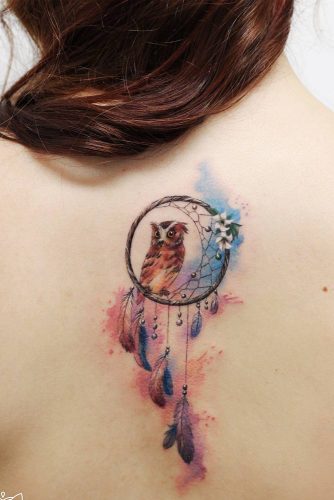 There are many myth and legends when it comes to Native Americans. In case you are a fan of their folklore then you can celebrate your devotion with a beautiful back piece involving an owl and a dream catcher. Both pieces are intense and symbolic, and they look gorgeous together.
Bright Colorful Owl Tatto Design For Back
Source: debrartist via Instagram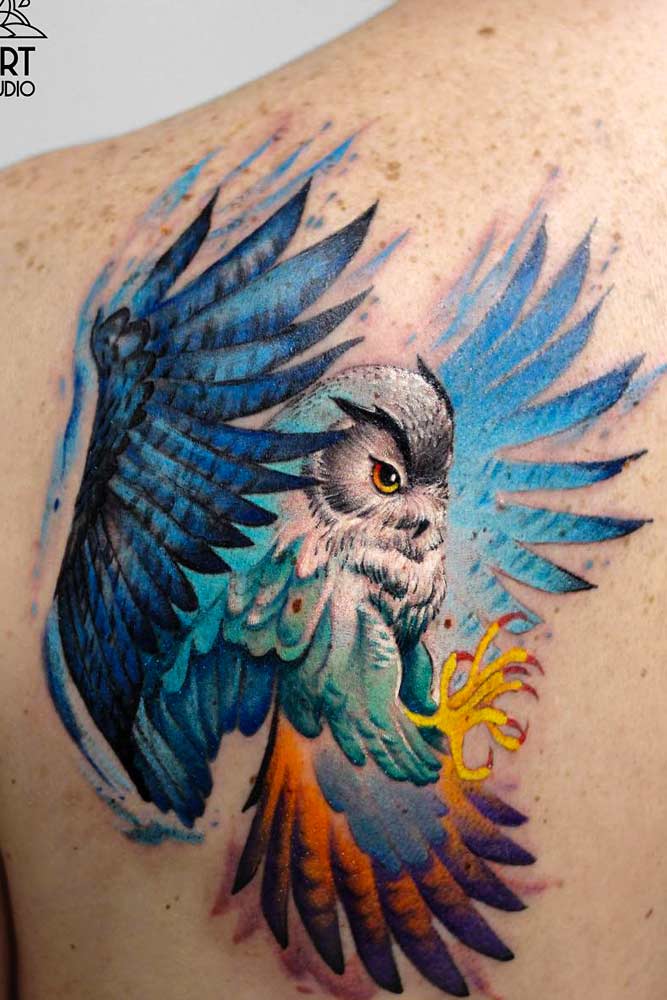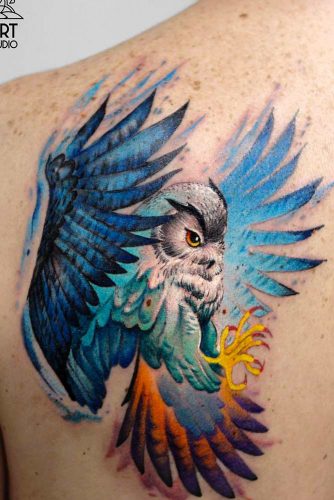 When you choose the right design for a tattoo, it seems that there is never enough of color and this back piece is the perfect example of it. Although, in order to get such a fabulous outcome you need to find a really skillful artist other it may turn out looking anything but this awesome.
Black And White Owl Tattoo In Ornamental Style
Source: patricetattoo via Instagram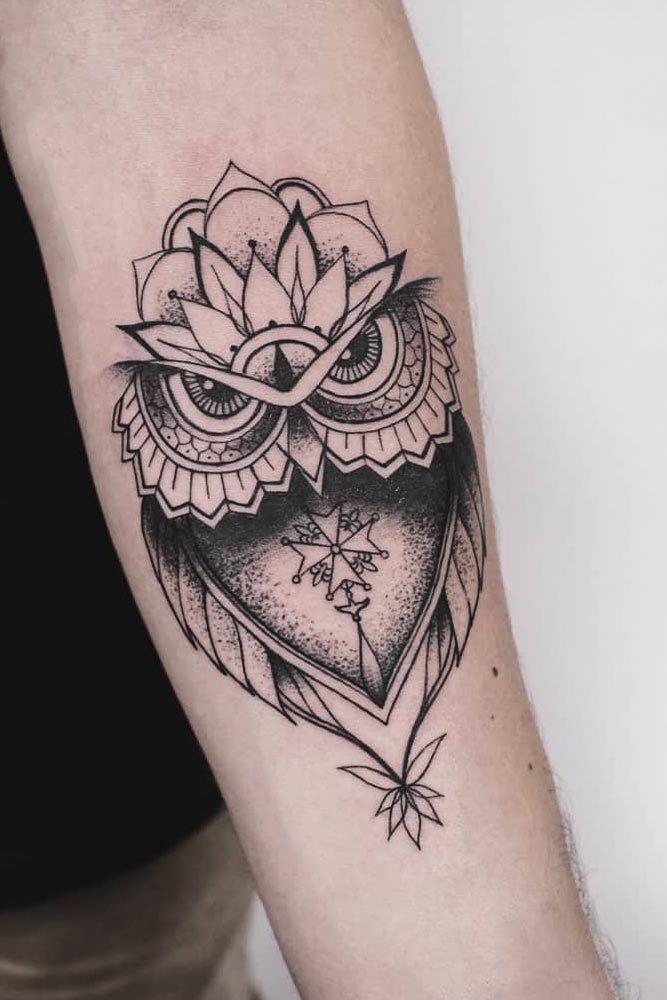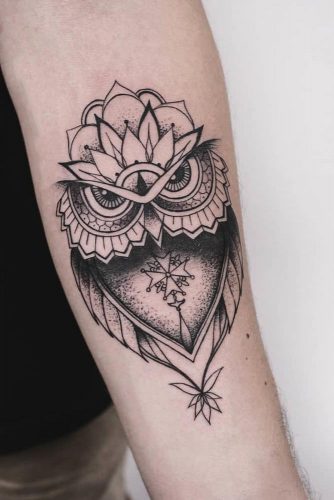 It is true that not everyone finds the same art equally attractive. If you are not a huge believer in the realistic image, you can easily opt for an own ornamental tattoo which will look not less gorgeous and may even have more significant meaning behind it.
Owl Tattoo Idea For Arm
Source: debrartist via Instagram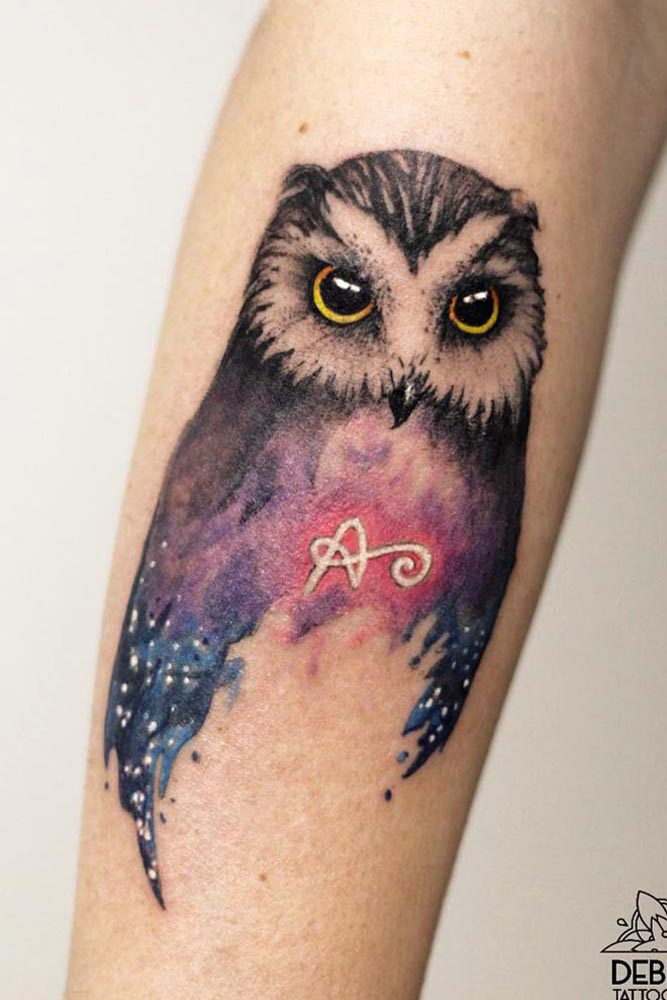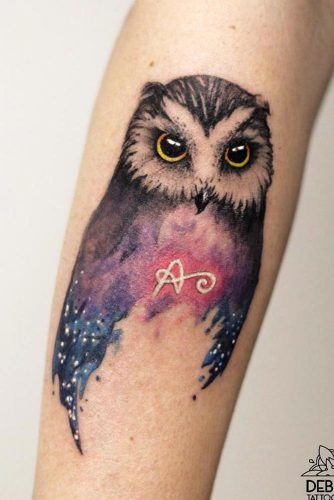 There are always ways to mix and match styles. Which means that you do not wish for an entirely black and white or fully colorful tattoo you can easily combine the two and the outcome will be breath-taking, we can assure you here!
Mandala Patterns And Owl With Lotus Flower Design
Source: iliana_rose via Instagram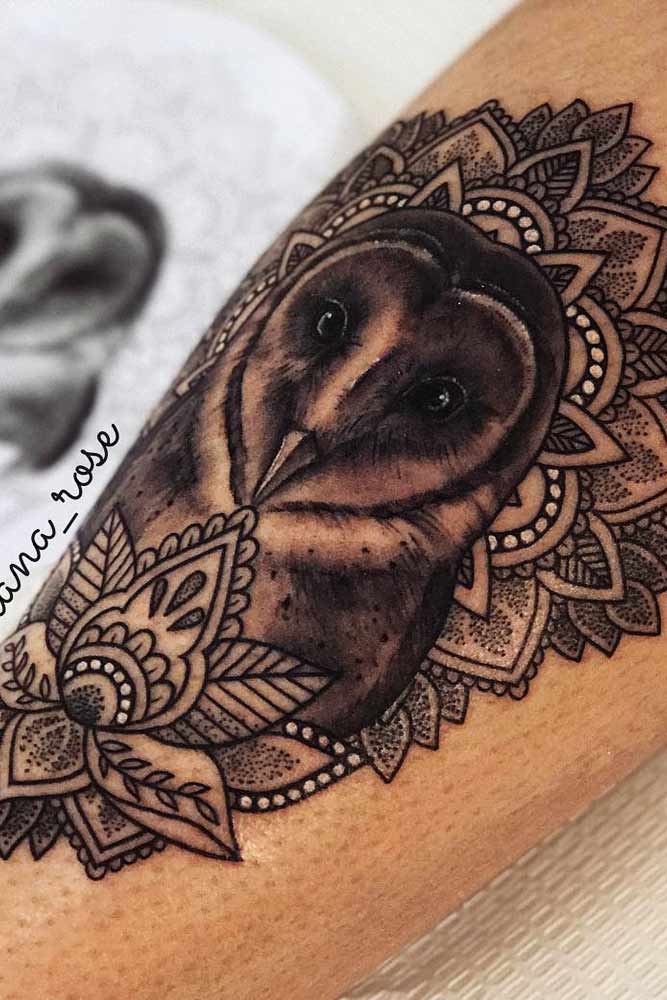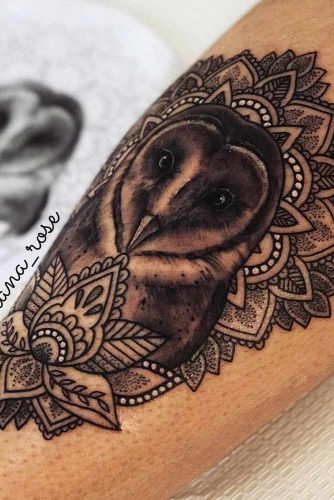 Mandala patterns are prevalent these days and not only for temporary body art. Some people prefer to stick to traditional ways of tattooing, but with the introduction of something new and this owl, tattoo idea is the best representative of the thought!
Under Breasts Geometric Owl
Source: ira_shmarinova via Instagram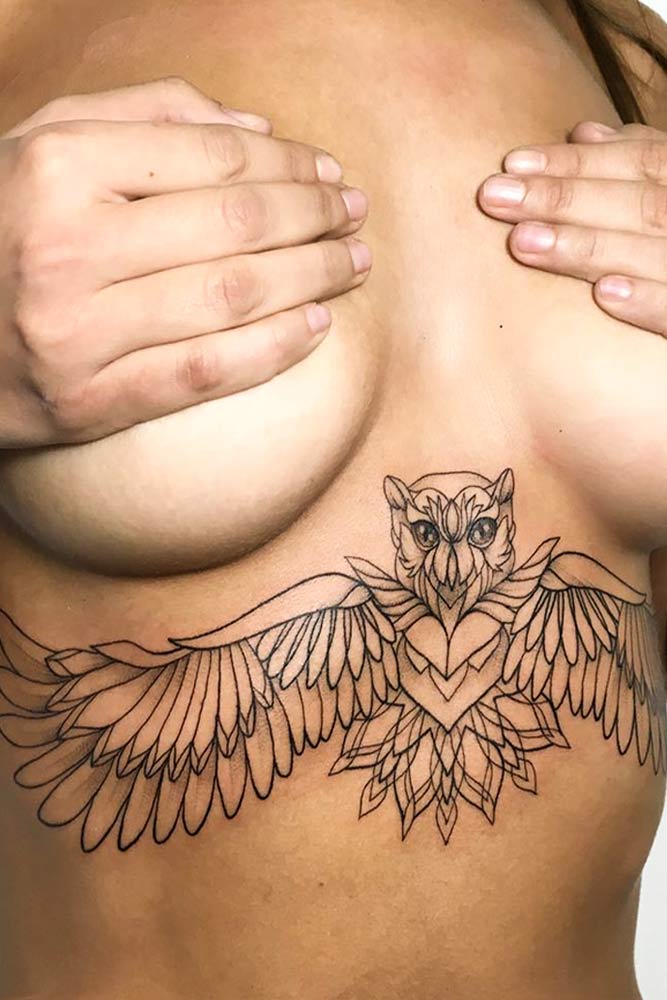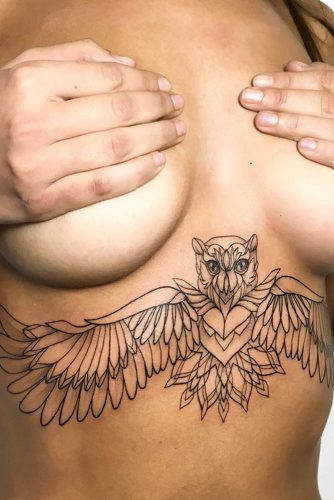 Geometric patterns are trending nowadays, and such a trend couldn't simply pass by the tattoo industry. That is why geometric patterns when it comes to tattoos are also very required. However, if you want your tattoo to be seen by only someone special you are bound to pick a corresponding placement, right under the breasts is one of best possible ones.
Geometric Owl On The Side
Source: ira_shmarinova via Instagram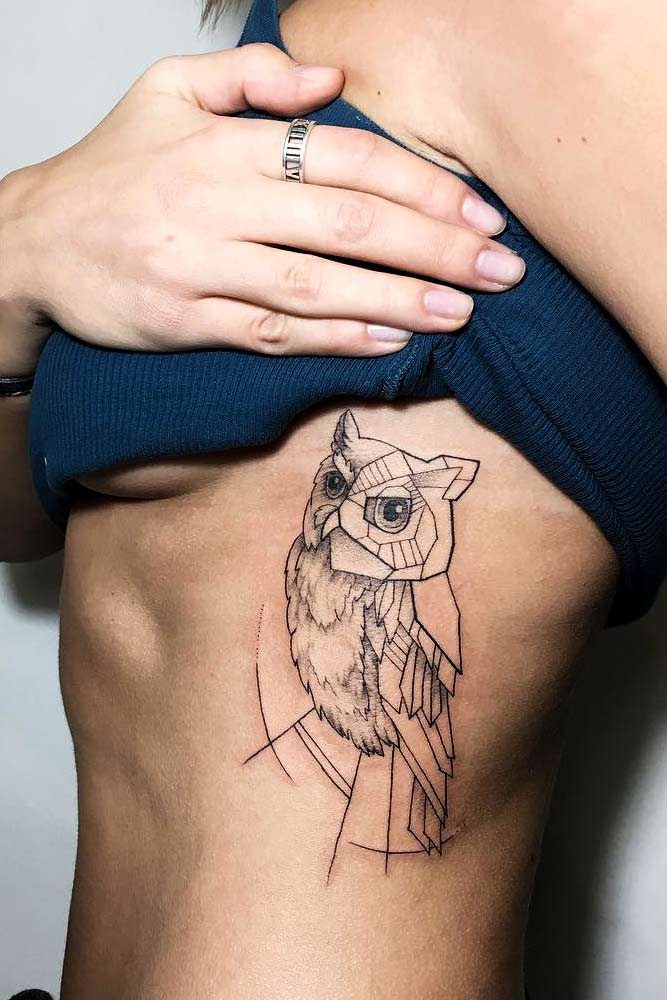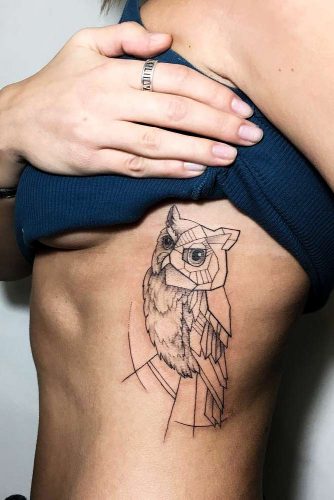 It is true that arms and legs are the most requested areas when it comes to placing a tattoo. Yet, if you do not wish to look like everyone else – choose your side for the owl tattoo to be depicted on.
Small Cartoon Owl Tattoo Idea
Source: robcarvalhoart via Instagram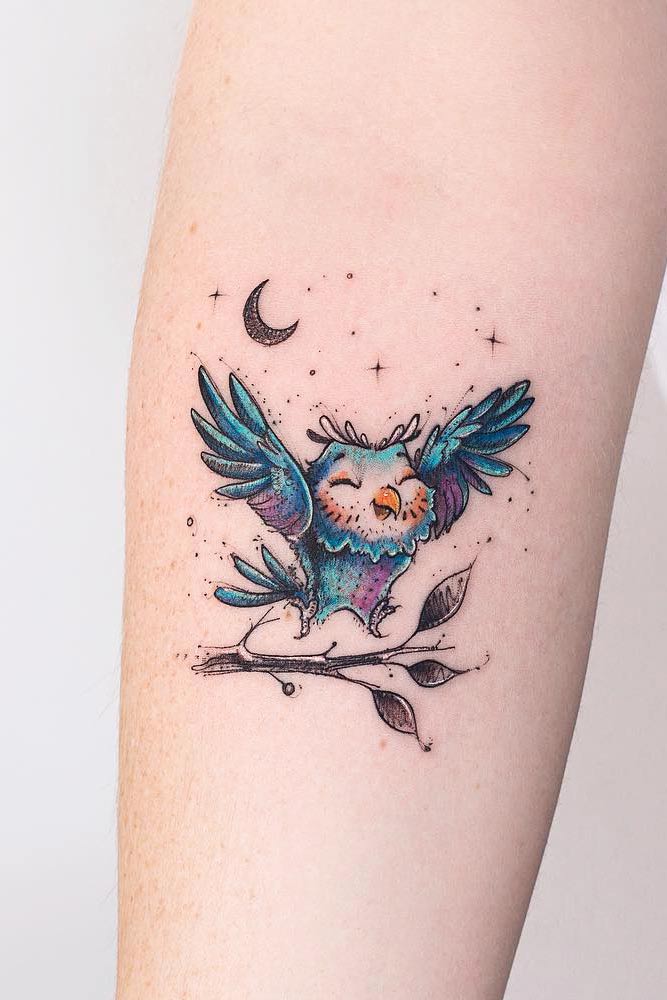 Getting a tattoo is always a serious choice, but it does not mean that your tattoos are bound to be all serious and meaningful. A sweet cartoon owl looks so adorable that no one would even dare to blame you for getting it!
Colorful New School Owl Tattoo
Source: ewasrokatattoo via Instagram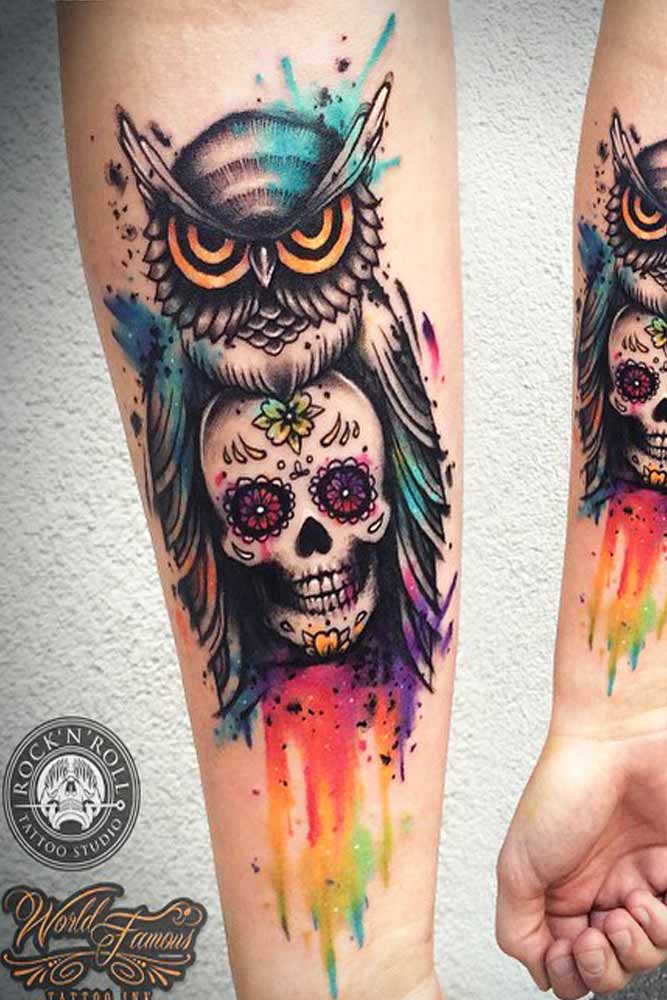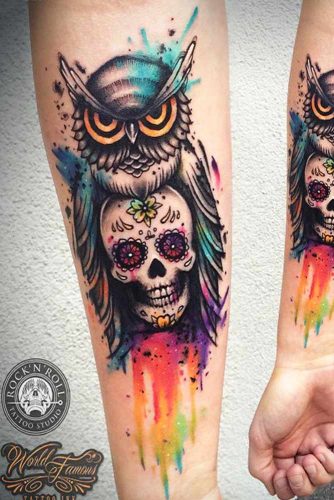 Old school is cool, but the new school is cooler, that is right. That is why a new school owl tattoo is what you need to be ahead of the trends. So many details and such an excellent outcome.
Owl Tattoo With Cherry Blossom Flowers
Source: ewasrokatattoo via Instagram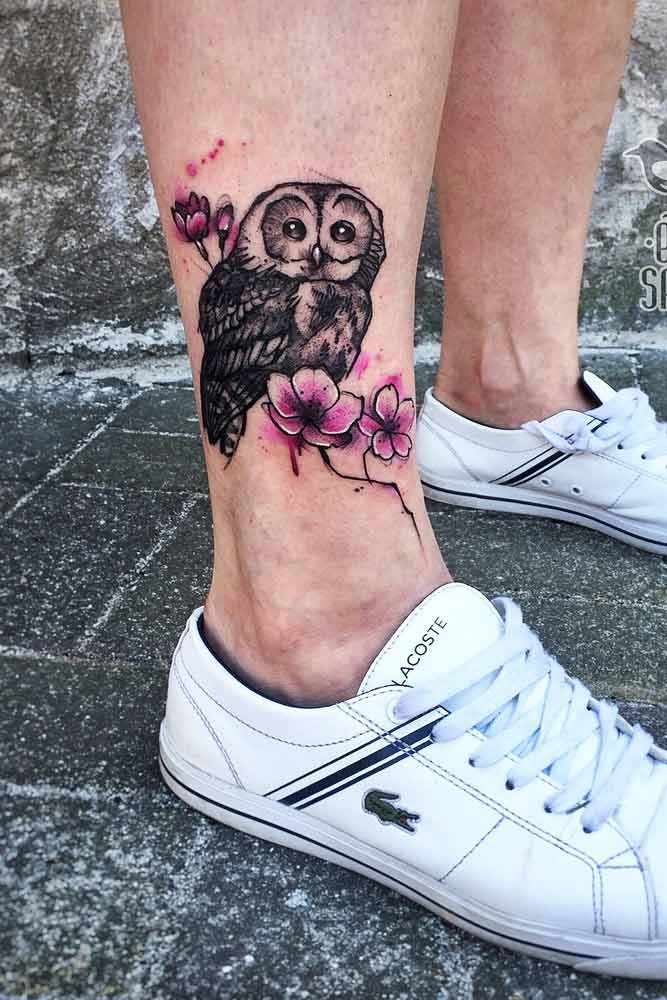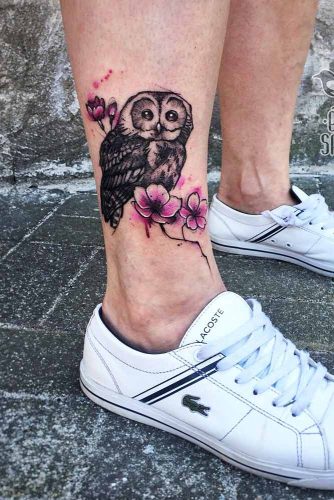 Owl tattoo designs are many, and sometimes it may be pretty difficult to come up with just one idea. That is when you learn that combing different things into one design is not always a bad idea. For example, this serious owl looks just lovely and unique together with cherry blossoms.
Colorful Owl Tattoo For Leg
Source: ewasrokatattoo via Instagram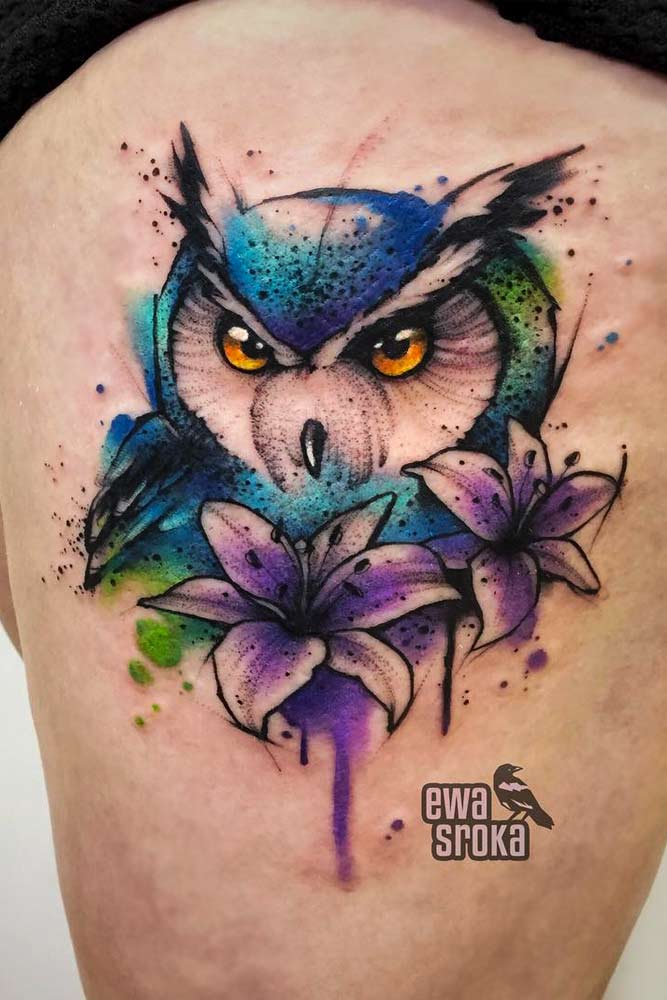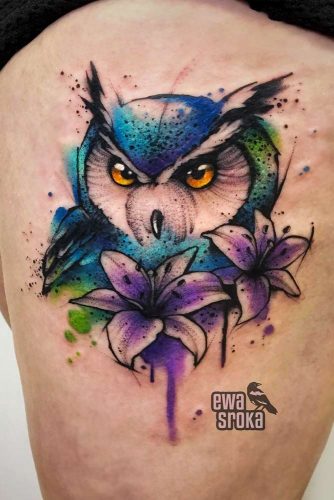 Sometimes it is not much about the design but about the color. It matters greatly that the shading is chosen correctly and it completes each detail of the design. This masterpiece here is precisely what we have in mind!
Galaxy Owl Tattoo For Back
Source: adrianbascur via Instagram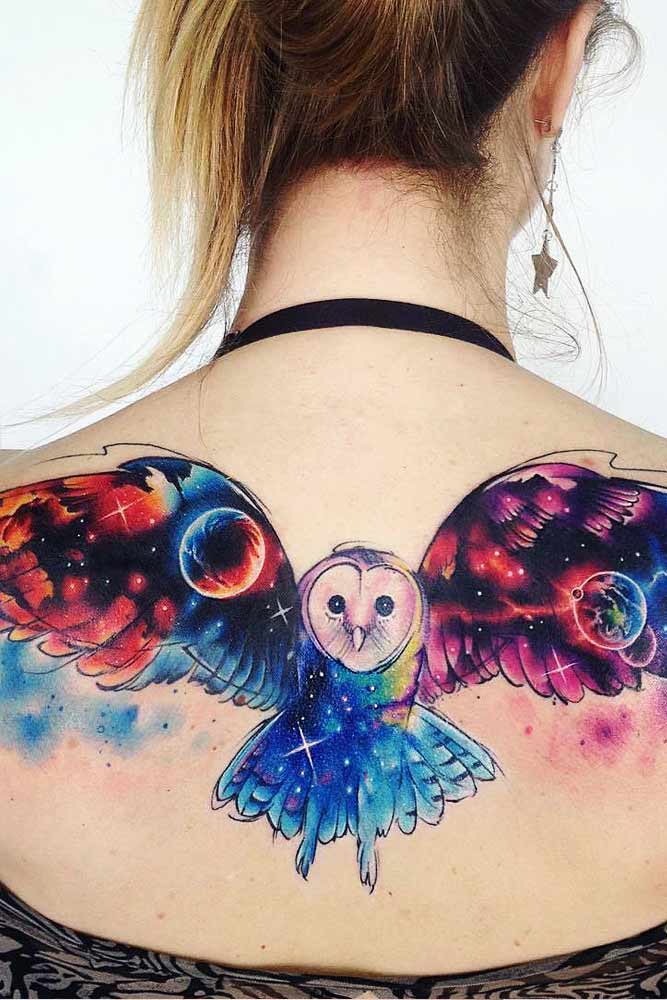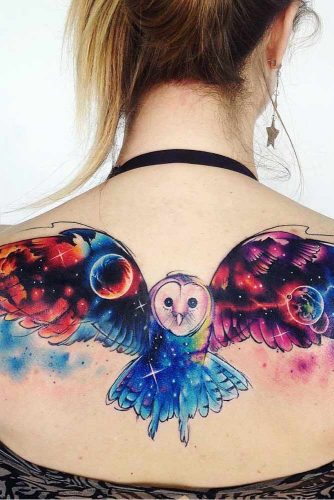 Owls are guardians of other dimensions, at least some cultures believe so if you are the same believer then this back tattoo masterpiece is what you should at least consider. The link that connects the dimensions here is the owl, and it couldn't be more symbolic, don't you think?
Cute Cartoon Owls Design
Source: robcarvalhoart via Instagram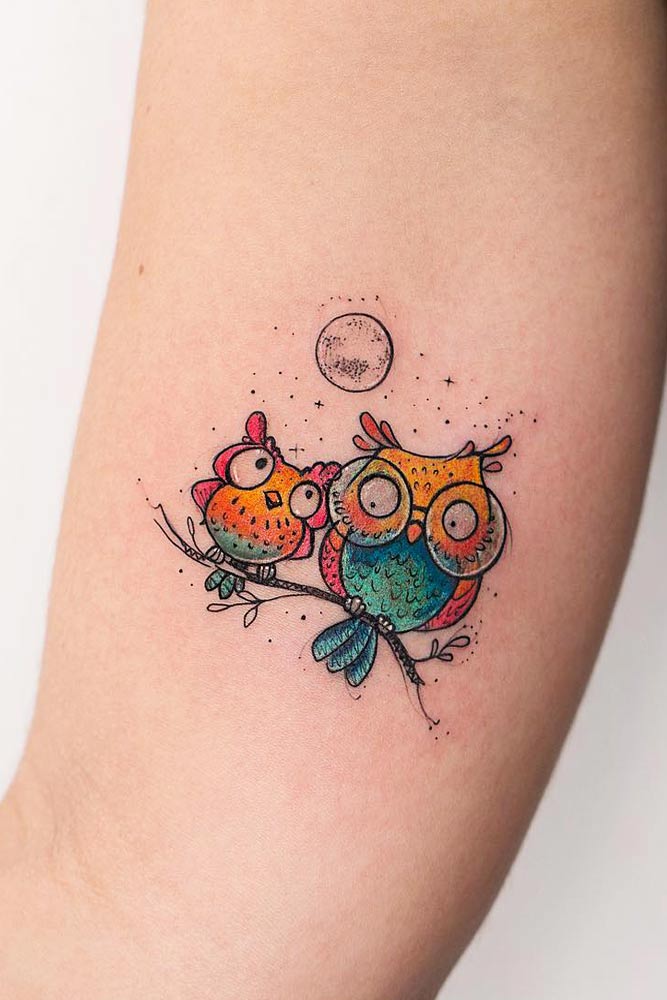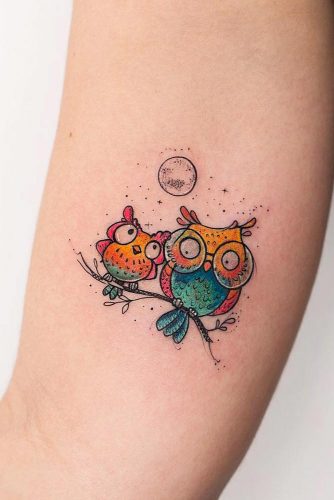 It is never too late to grow up however keeping your childhood closer is one of the main things that most people lack. A cute owl tattoo may be that exact reminder which will help you get in touch with the child inside.
Black And White Owl Tattoo Design
Source: robcarvalhoart via Instagram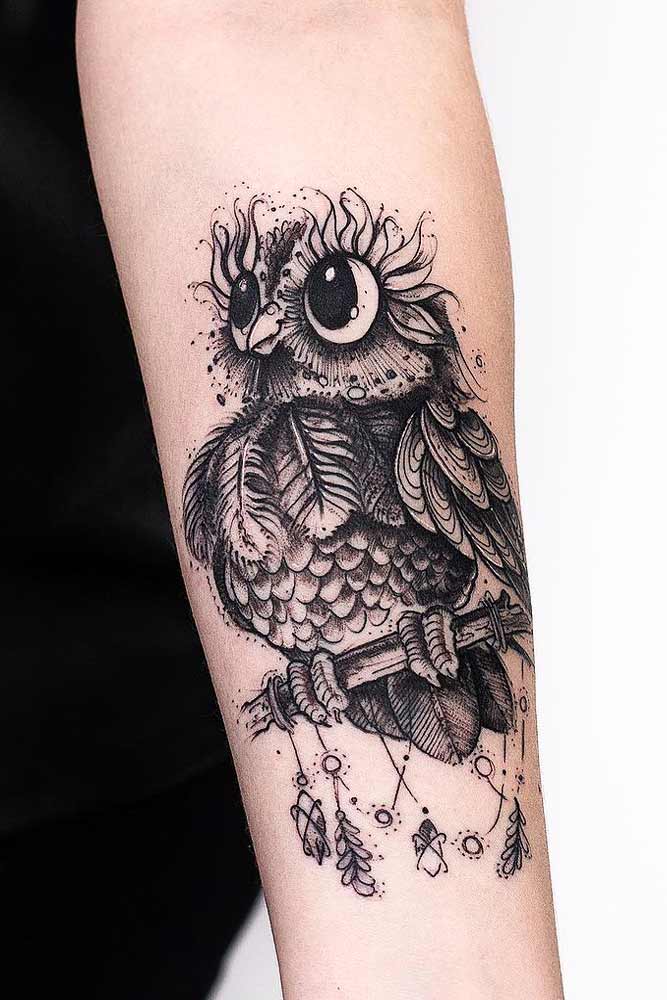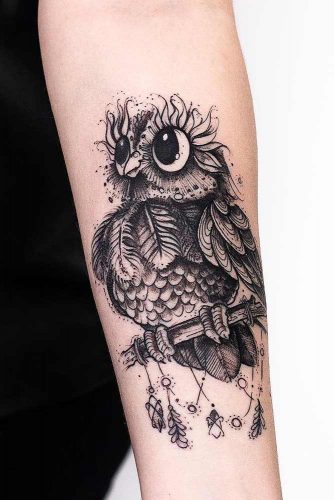 The truth is that even black and white owl tattoos can be adorable and sweet. This one idea here has so many details to pay attention to however it does not lessen that gorgeous and lovely vibe.
More Ideas For Your Owl Tattoo
Source: yershova_anna via Instagram, joho.steve via Instagram, pablo_ortiz_tattoo via Instagram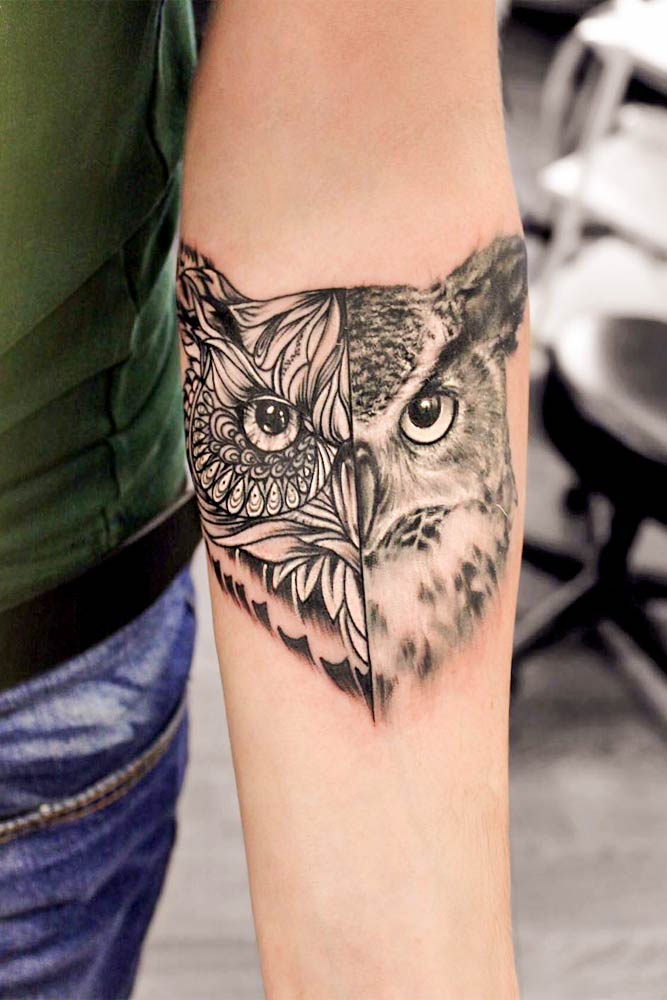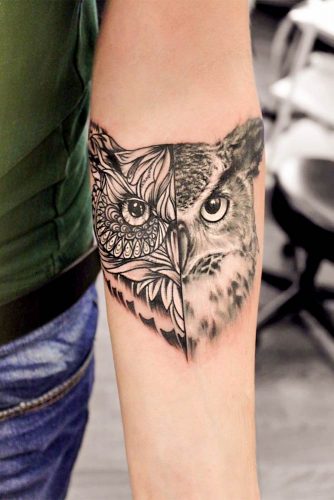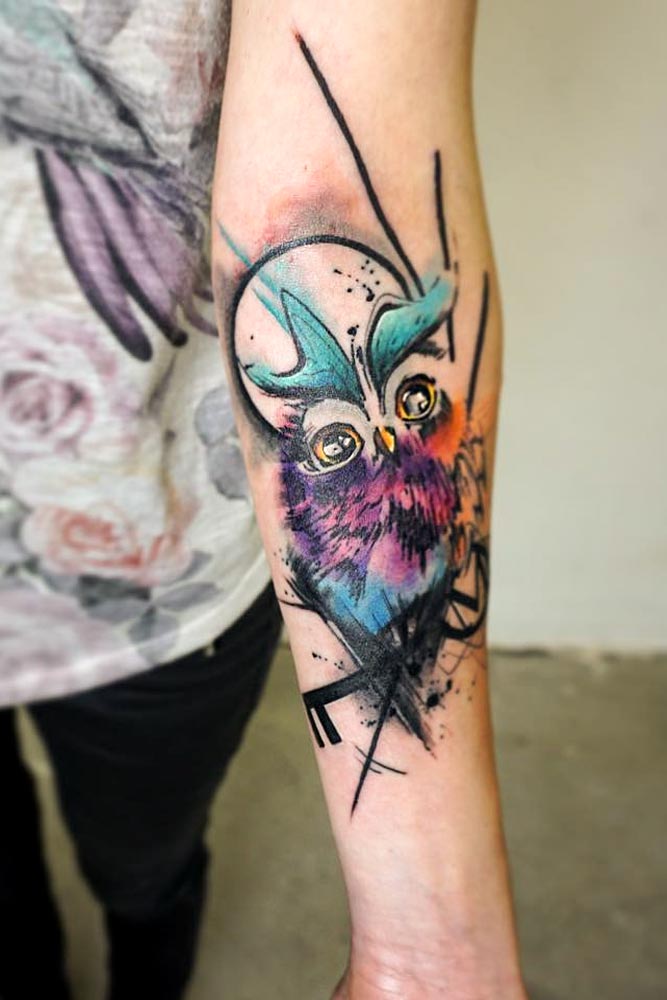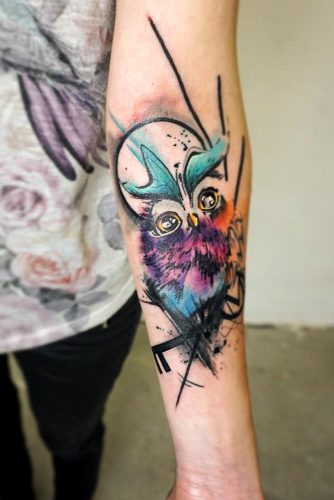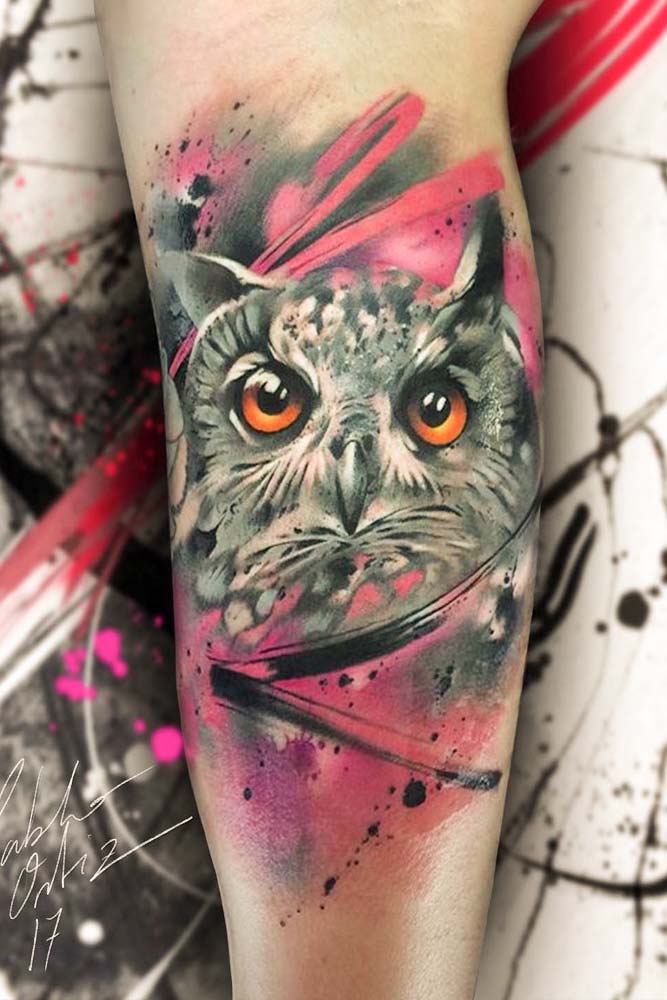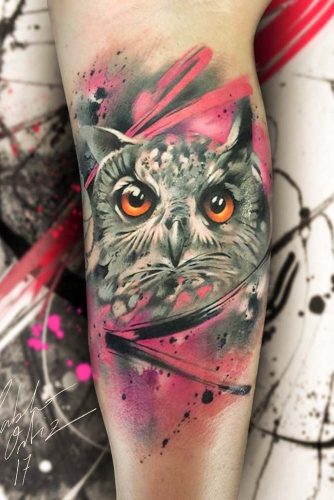 Source: yershova_anna via Instagram, alisa_tesla_art via Instagram, andrefeitoza via Instagram