With all the vastness and extensiveness of the world of tattoo ideas, you can find a grand variety of powerful symbols to etch on your body. However, a lion tattoo is one of the few that contains the regal and untamed allure of the King of the Jungle. The first thing that comes to mind when you think about lions is potency, courage, confidence, and unbendable spirit. Moreover, the magnetic appearance of these gorgeous beasts can't be denied. Considering all the mentioned facts, uncovering the ocean of mesmerizing tattoo possibilities that the image will disclose is only natural. We'll be your guiding light in the labyrinth of deep meanings and unique designs.
*We may earn money from affiliate links on this page. Please check out our disclosure policy for more details.
The Symbolism Behind Lion Tattoos
The primary lion tattoo meaning is usually connected with the notion of strength, courage, and leadership. However, the symbolism behind this creature is a lot more versatile and peculiar, so we suggest you start by unveiling the unique connotations of the lion tattoo before dedicating yourself to it:
King of the Jungle – for ages, lions have held a special position in different cultures all over the globe. Countless generations have used the emblem of a roaring lion to describe their unyielding courage and strength. Very often, the notion of a lion was placed alongside kings, knights, and even gods.
Bravery – lions are known for their impressive courage. Thus, the fearless creature usually represents one's inner bravery, especially when inked somewhere so everyone can see it. Sometimes, a lion tat serves as a personal reminder that you will be able to withstand any challenge on your path.
Resilience – lions represent strength, either physical or emotional. The fearful appearance of a lion inspires people to overcome any obstacle with confidence and peace of mind. Thus, no matter the battle you are going through, a lion tattoo will serve as a reminder of your resilience.
Authority – being a leader is a tough choice, but a person with a lion ink is surely among the authoritative ones. Since a lion is the leader of the animal kingdom, you can be the leader of your own human pack, whether it is your team, company, or family. Keep in mind that throughout the course of history, many leaders were spotted wearing lion ink.
Alternative interpretations – it is possible to depict a lion in any shape, form, or style these days. This means that your tat can acquire any meaning that you want it to. Thus, the range of options is unlimited.
What does a lion symbolize to you in a tattoo?
Anonymous quiz
Strength
Courage
Leadership
Freedom
Other
What does a lion symbolize to you in a tattoo?
Voted : 10
King of Jungle Lion Tattoo Designs
Lion tattoo designs are as versatile and requested as cat tattoos. Meaning that they can be adapted to any style and preferences. Whether it is an utterly realistic depiction or an abstract art, you can attune the ink to perfectly reflect your individuality. What's more, you can choose to emphasize the lion's ferocity, regal demeanor, or gentle nature through the style you decide on. It is possible to spice things up with various additional elements and details.
Lioness Tattoo Designs
i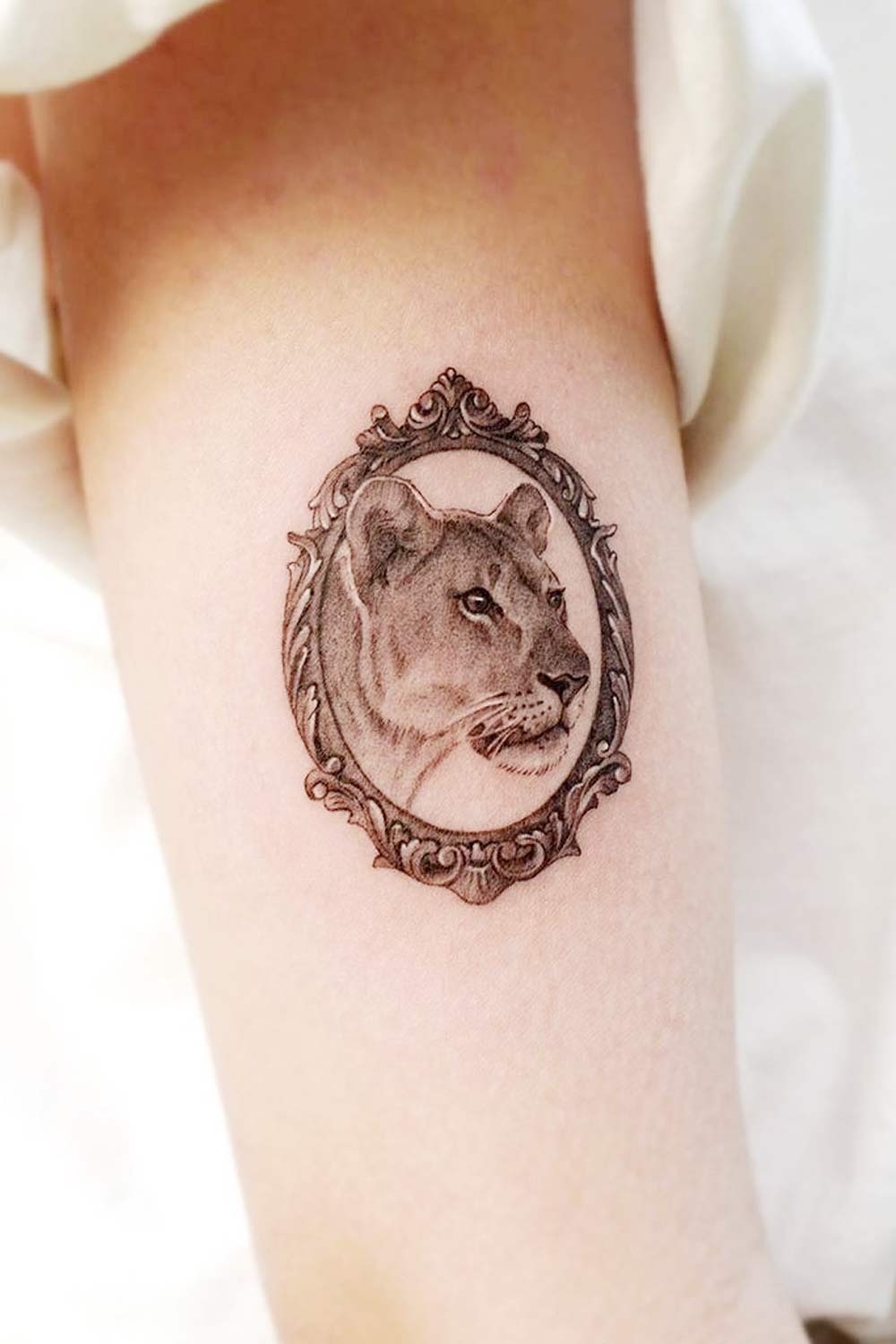 i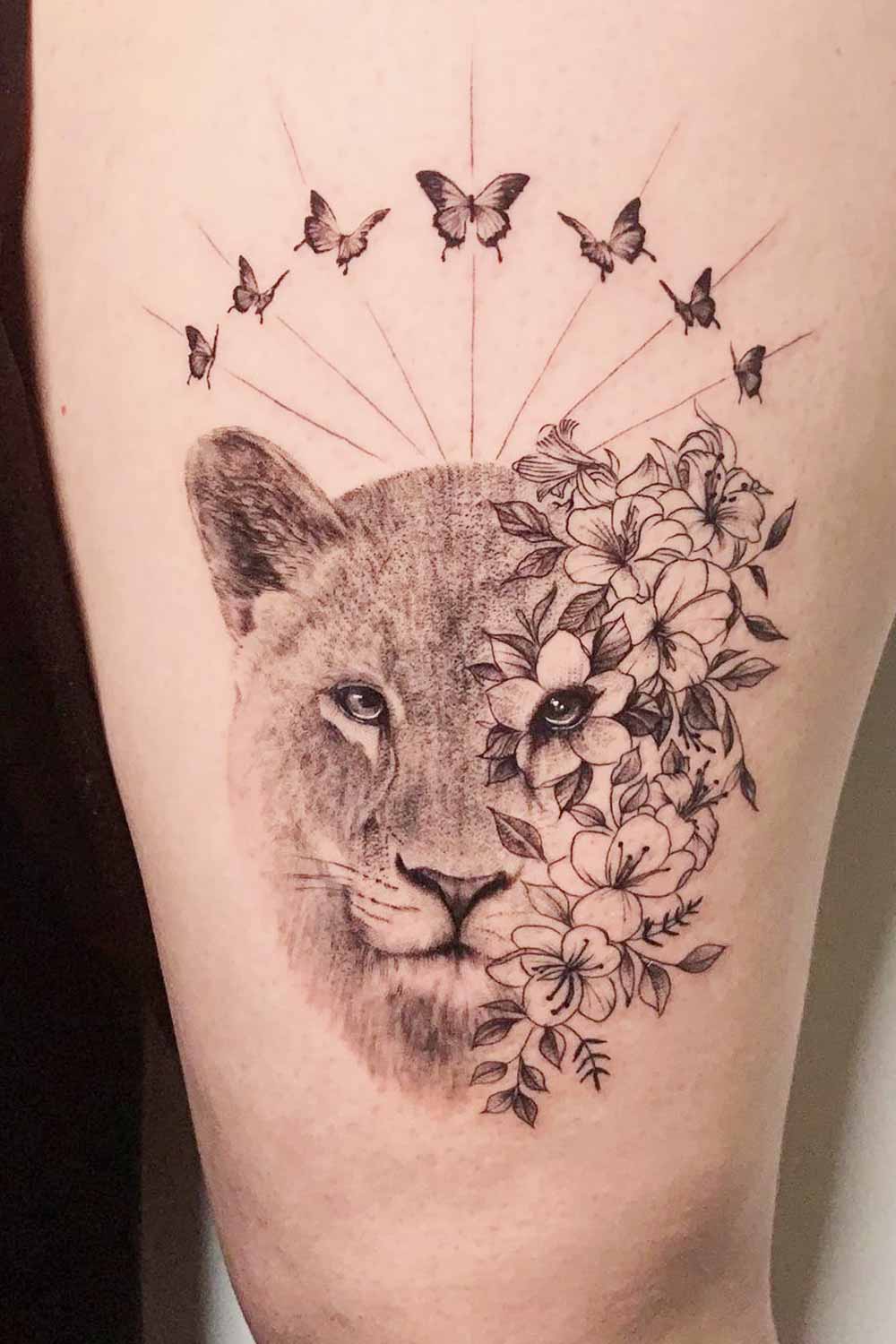 by @dairaliepa
i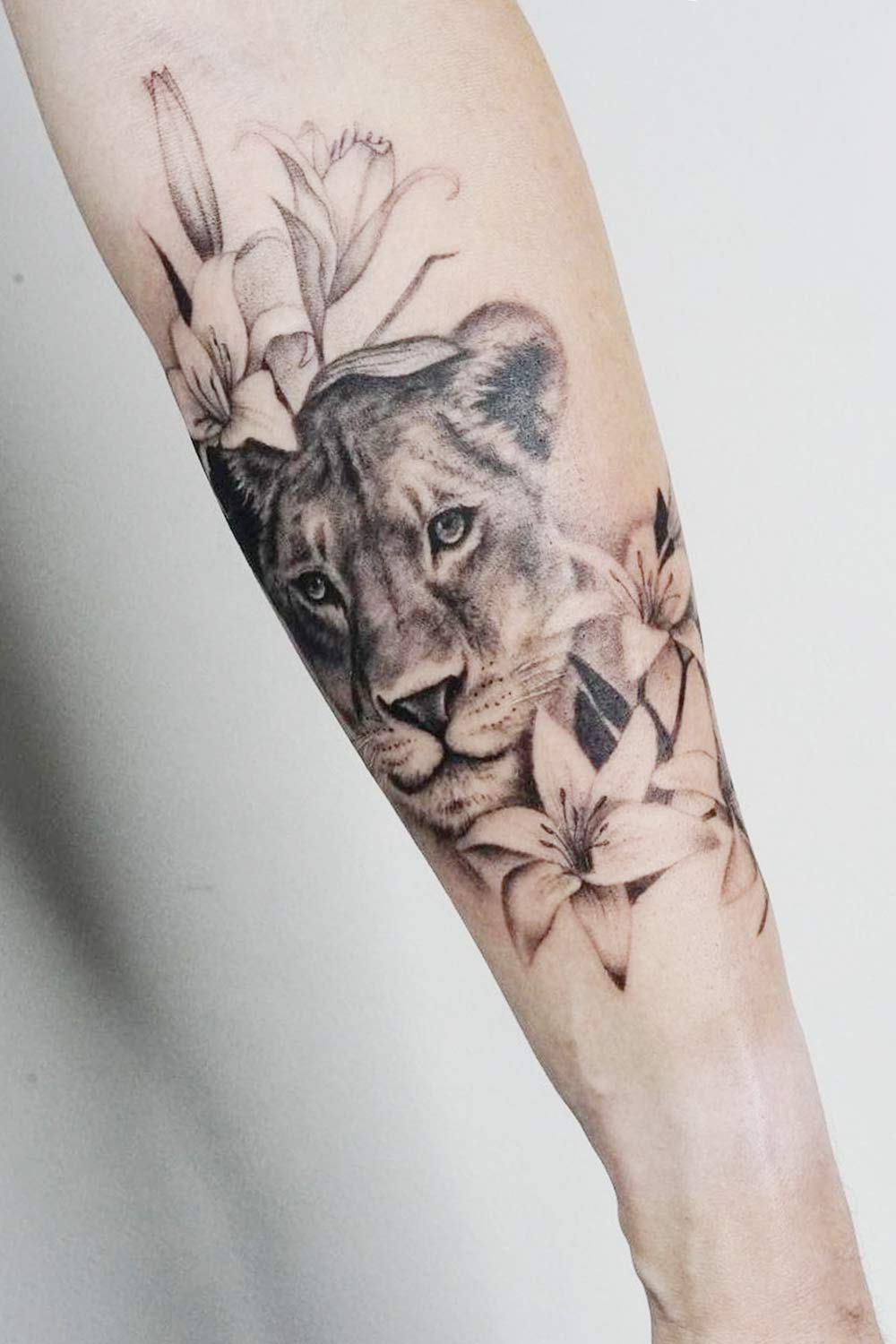 /
While the lion is the King, let's not leave the impact of the queen unattended. The goddess female lion tattoo is often designed to emphasize elegance, strength, and protective nature. A lioness is usually pictured poised and regal so that the ink reflects her gracefulness to the full extent. It matters not if you decide to channel the lioness's unwavering determination or if you are simply drawn to the visual appeal of the creature. Choosing such a tattoo will be an excellent addition to your ink collection.
Lioness with Cubs Tattoo Designs
i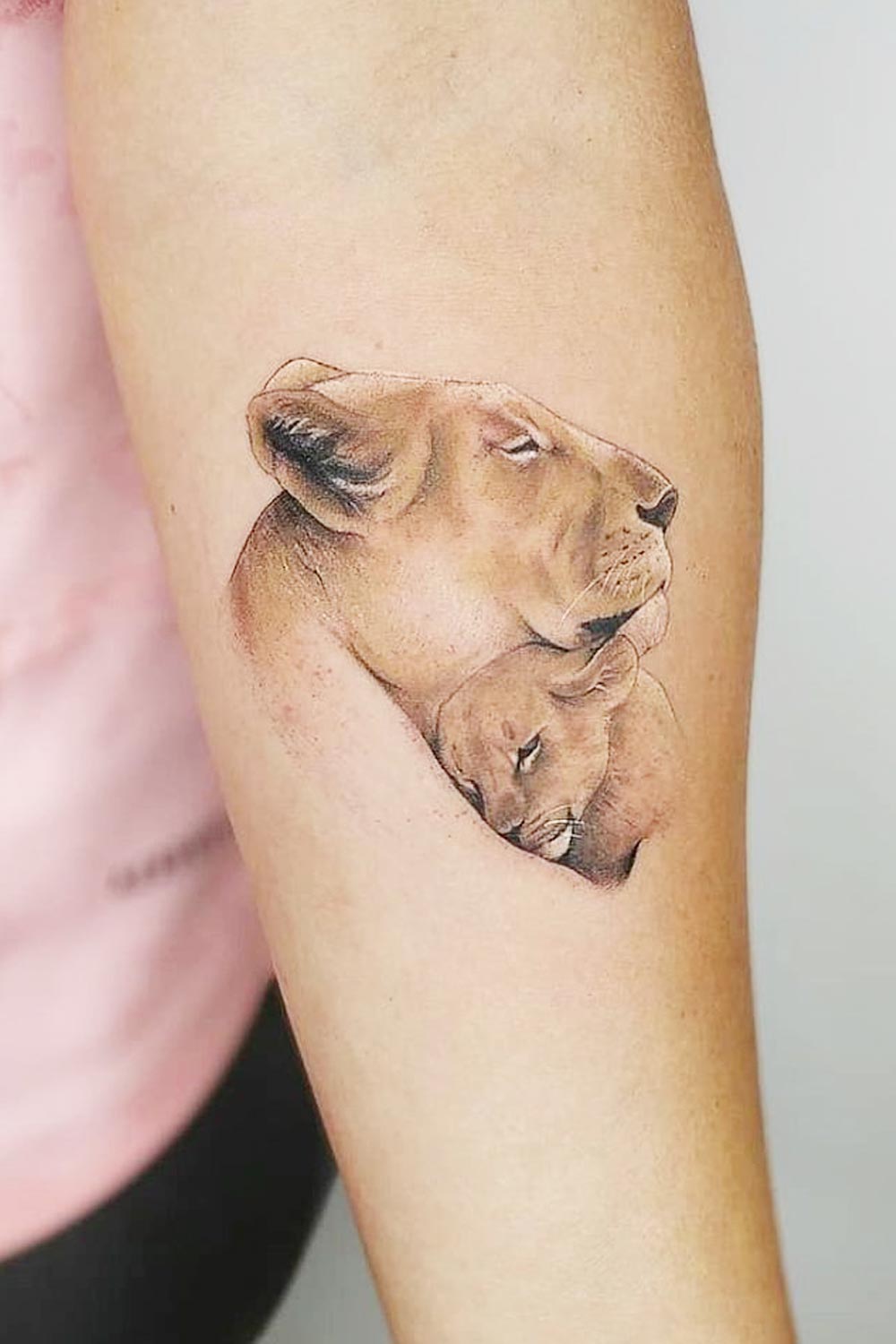 i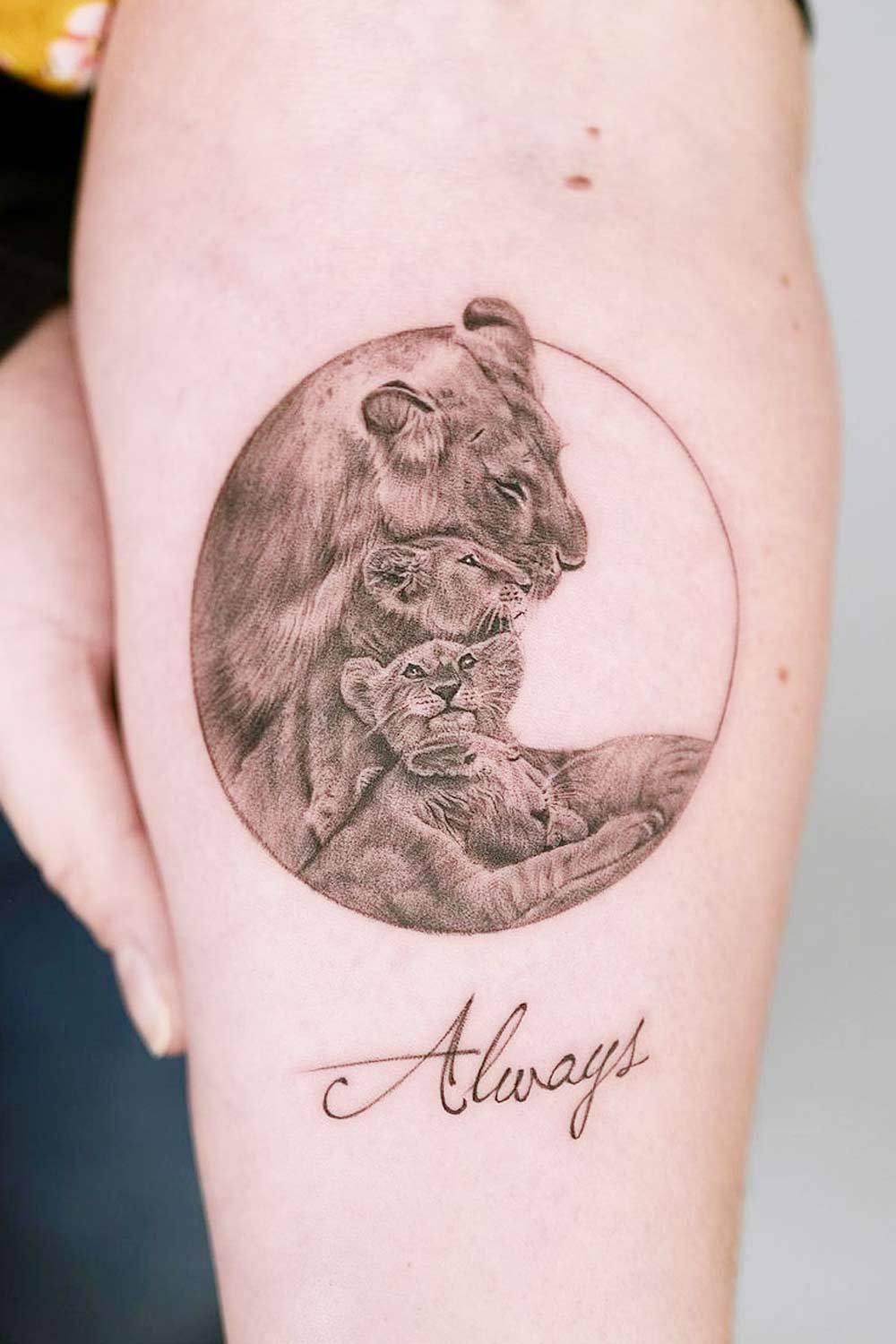 /
A lioness with a cub belongs to the most required lion tattoos for women. Such a tattoo is often reviewed as a classy epitome of maternal love, care, and protection. Observing such a tat, the first thing that comes to mind would be the feelings of tenderness and devotion. However, you should not forget about the strength, fearlessness, and loyalty that a loving mother, lioness or not, has. The unbreakable bond between the mother and child is the most powerful. Celebrating it with gorgeous ink is a worthy decision.
What's your favorite style for a lion tattoo?
Anonymous quiz
Realistic
Tribal
Watercolor
Geometric
Other
What's your favorite style for a lion tattoo?
Voted : 8
Tattoo Sleeves and Half Sleeves with Lions
If you've been dreaming about getting tattoo sleeves but have little clue about what to include in the design, we suggest you pay attention to lion sleeves. A lion-inspired sleeve is your ultimate chance to make a statement. While the sleeve offers a great canvas for experimentation, lion designs can be intertwined with other themes and patterns so that you create a completely unique and individual masterpiece etched on your body. A lion sleeve can be a full-scale tribute to the regal creature, or the lion can be one of the central pieces of the larger composition. Mixing and matching different styles and art forms with a dedicated artist at work is possible.
Meaningful Elements in Lion Tattoos
Whether you choose a lion hand tattoo or go for a larger piece, you can enhance your tat with other meaningful elements. Such a potential allows it to make the art as personal and symbolic as possible. Let's review some major details to consider as you plan your next tattoo session:
Crown – it is only natural to crown the animal kind with a corresponding attribute. The addition of a crown to a lion design will emphasize the authoritative vibe of the tattoo. A crowned lion will project the flair of utter control over your life.
Vines and flowers – floral accents are quite common regarding lion ink. Lions surrounded by flowers symbolize the harmony and balance between strength and beauty. Meaning that gentle does not mean fragile, and strong does not mean insensitive.
Geometric accents – various geometric shapes combined with a lion tat introduce the sense of modernism and contemporary projection of yourself. Besides, the symmetry of geometric patterns can stand for your thirst to find balance and harmony in life.
Dreamcatchers – infusing lion images with dreamcatchers will represent your urge to protect yourself and those around you from negativity and fears. A positive view of the future is yet another potent signal that such an ink can bear.
Mandala – intricate mandalas are often connected with the wholeness of the universe, unity, and balance. When combining such delicate patterns with majestic lions, you can expect to highlight your beliefs that we are all but smaller parts of the whole.
Features – at first glance, it seems impossible to combine lions and feathers, but artistic collaboration is possible. Moreover, such a union often stands for freedom and your desire to rise above the triviality of modern life.
Shields and armor – a lion coated with shields and armor symbolizes resilience and protection. Thus, anyone inked with such tattoos is ready to defend themselves and those they love no matter what.
These are just a few options to consider when considering getting a lion tat. However, the sky is the limit when it comes to adorning your lion ink with meaningful accents and symbols.
Tattoo Aftercare for Fresh Lion Tattoo
It does not matter if you choose a lion chest tattoo or opt for a small ankle piece –proper aftercare is of vital importance. The better you care for your fresh ink, the sooner it will heal and the better it will look. Use these simple aftercare tips to ensure the desired result:
A fresh tattoo is often covered with a sterile bandage or, sometimes, a plastic warp. It is advised to keep the cover on for at least 24 hours or the time recommended by the tattooist.
Don't touch your tattoo with dirty hands. Wash them every time with soap and warm water before interacting with your ink.
After removing the sterile bandage, cleanse the area with lukewarm water and fragrance-free soap. Apply the soap using your fingers and wash the blood and residue gently. Rinse well.
Don't rub the area after washing or at any other time, for that matter. Pat the tat dry with a soft towel or paper tissue. A word of advice: regular towels may be too harsh and irritate the wound.
Your tattoo artist will suggest a reliable moisturizing ointment to hydrate the area. Avoid anything that contains petroleum since it will clog the skin, postponing the healing process.
Overhydration isn't recommended either. You should apply only a thin product layer 2-3 times a day. Excessive moisturizing may lead to scabbing or ink loss.
Refrain from vising pools and beaches and soaking in the bathtub for too long. This may increase the risk of infection and prevent proper healing.
Stay away from the sun. Direct UV rays will cause premature ink fading, while tanning beds may interfere with healing. Should you have to go into the sun, you should apply a reliable SPF layer over your skin.
Don't scratch the area. Fresh ink will itch, but you mustn't give in to the urge otherwise, you may ruin the whole design with unwanted scabs and scars.
Use the tattoo artist's instructions as your primary guidance and stick to them unwaveringly.
In case you feel that something is off with your tattoo, it seems to be swollen, red, and infected – you should consult a specialist straight away.
A lion tattoo may be your first step on the road to becoming the true King of your realm. The image is impressively symbolic and can inspire during the darkest of times. Besides, the ability to spice things up with your individual meaning and metaphorical visualization is always on the table. Wear your best traits on the sleeve with confidence and pride.
Was this article helpful?