Find Inspiration For Harry Potter Tattoos
Harry Potter is a legendary story that has won the hearts of millions of people all over the planet. No matter what age you are now, you for sure know what we are talking about. How much magic has the boy who has survived brought to your life? How many lessons has it taught you? For sure a lot. Why don`t you show how thankful you are for the atmosphere it made you feel with a tattoo? A beautiful reminder about this literature bestseller that has changed the lives of millions. Here are some gorgeous designs and tattoo ideas for women and men graced with Harry Potter`s theme.
Harry Potter Quotes Tattoos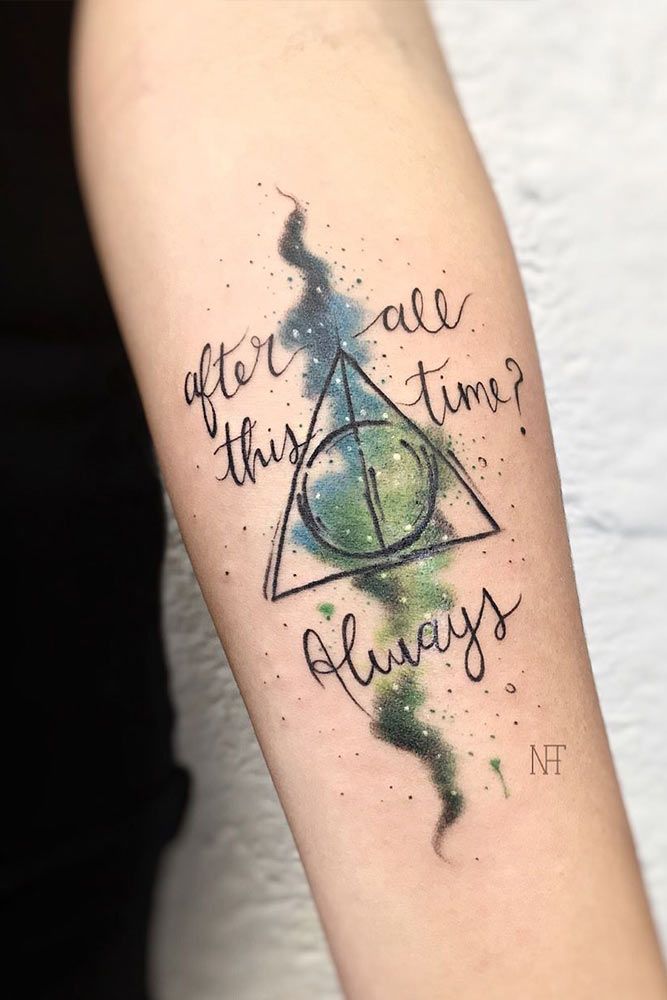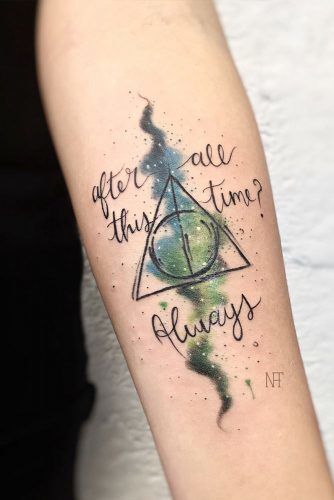 Quote tattoos have always been popular and there is nothing strange about this fact. Beautiful scripts will win your heart and make you fall in love with these fantastic ideas. Usually, people choose something really meaningful for them to put on their body. If Harry Potter means a lot to you, why don`t you choose a quote to express your love for this story?
Source: nathaliatattoo via Instagram
Watercolor Hogwarts School Design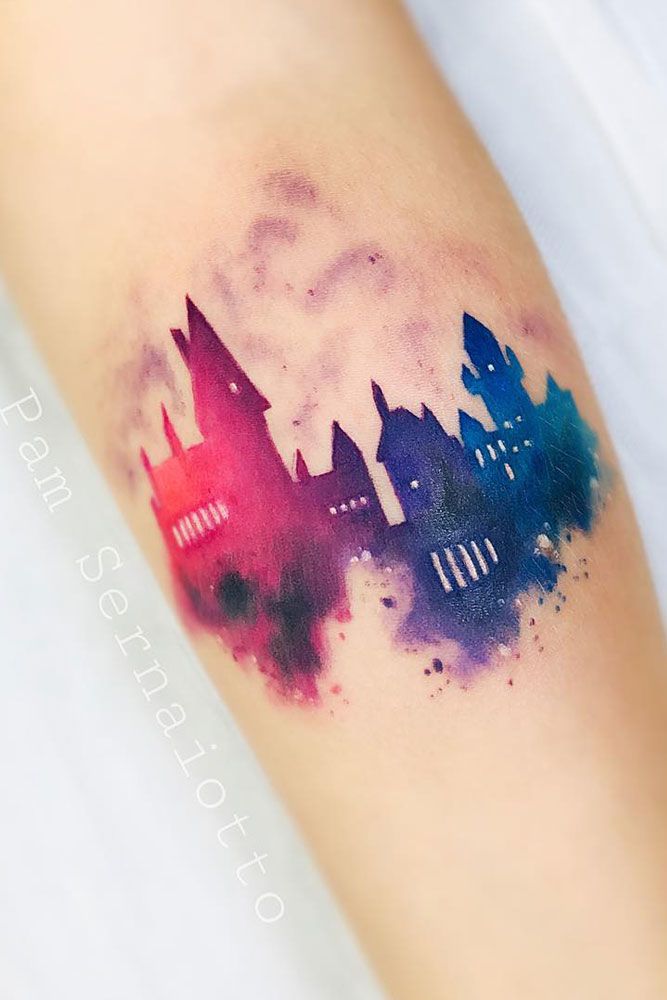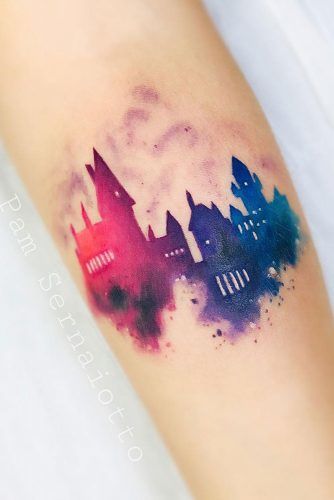 Hogwarts, a magical place where everything has happened. It will show your love to the story and express how meaningful it is for you and your memories. All the magic came from there, don`t you agree? Express that atmosphere with a watercolor technique and you will love the way it turns out.
Source: pamsernaiotto via Instagram
Hogwarts Crest Tattoo Idea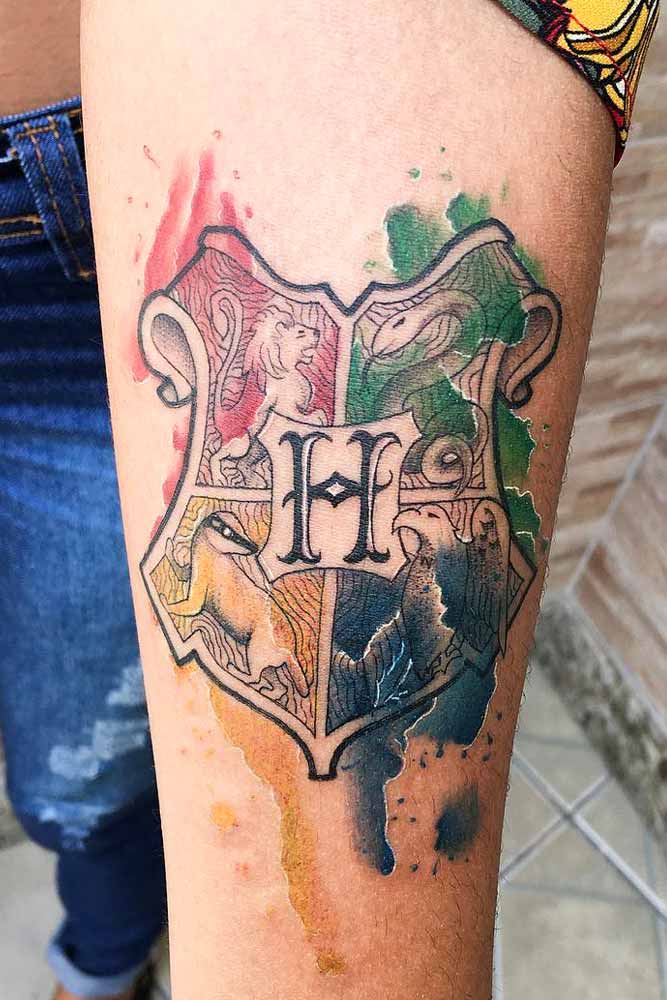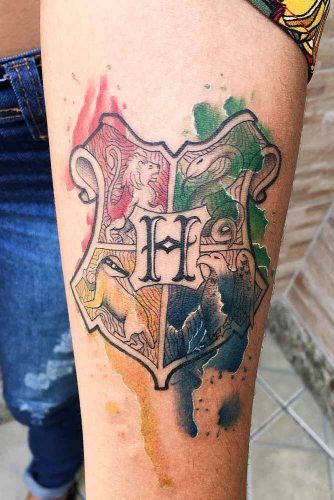 What faculty do you think you would belong to? Each of them has had something really special about it, so why don`t you picture all of them on your body? A Hogwarts crest tattoo idea is magnificent. Add colors and choose a creative technique to color the design.
Source: moreiraa_igor via Instagram
Luna Lovegood Glasses Tattoo Design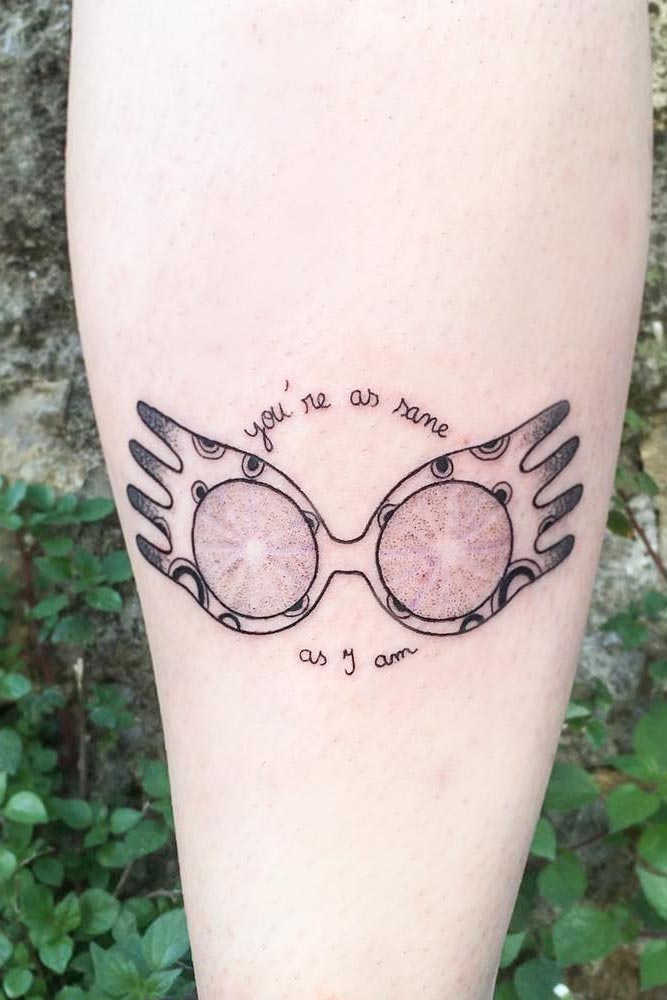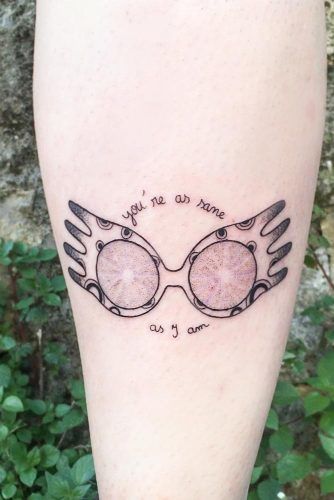 Luna Lovegood has been a positive character that has lived in her own world. There is nothing wrong with being not like anybody else and her character proves it. Do you consider yourself to be like her? Then show your alikeness with tattooing her glasses onto your skin.
Source: minora.flamingo via Instagram
Deathly Hallows Tattoo Design With Flowers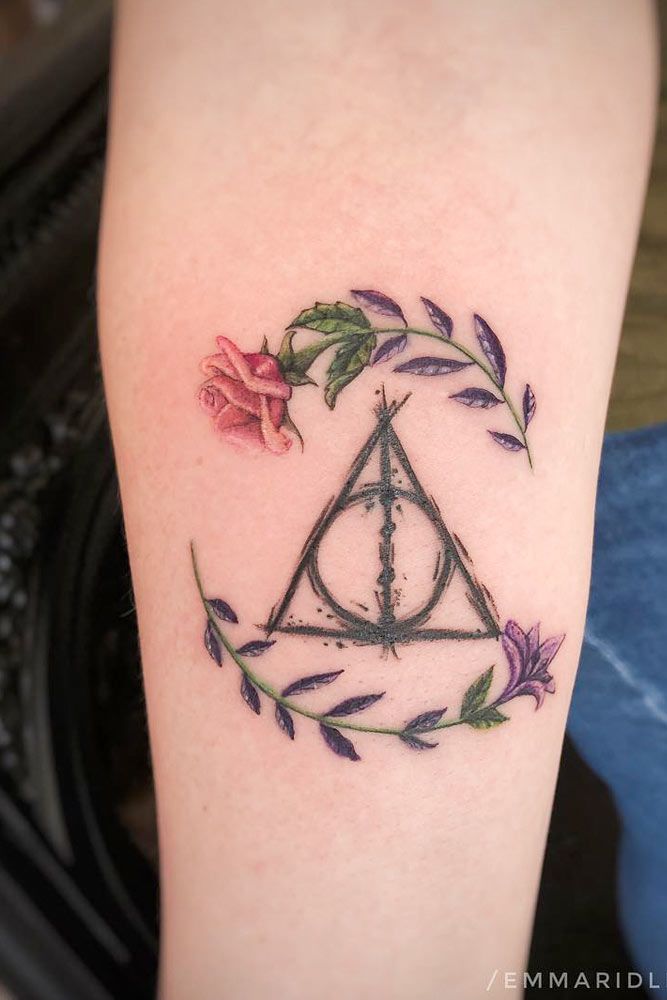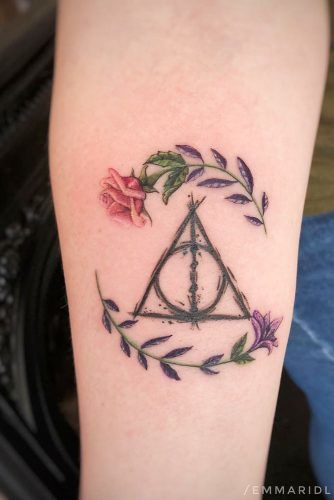 Deathly Hallows are what the whole series are about. A fight for peace and against violence and dominance of the black magic. What do you think about this idea? Make it look less brutal with adding nice flowers around the design.
Source: emmaridleytattoo via Instagram
Harry Potter Glasses And Scar Tattoo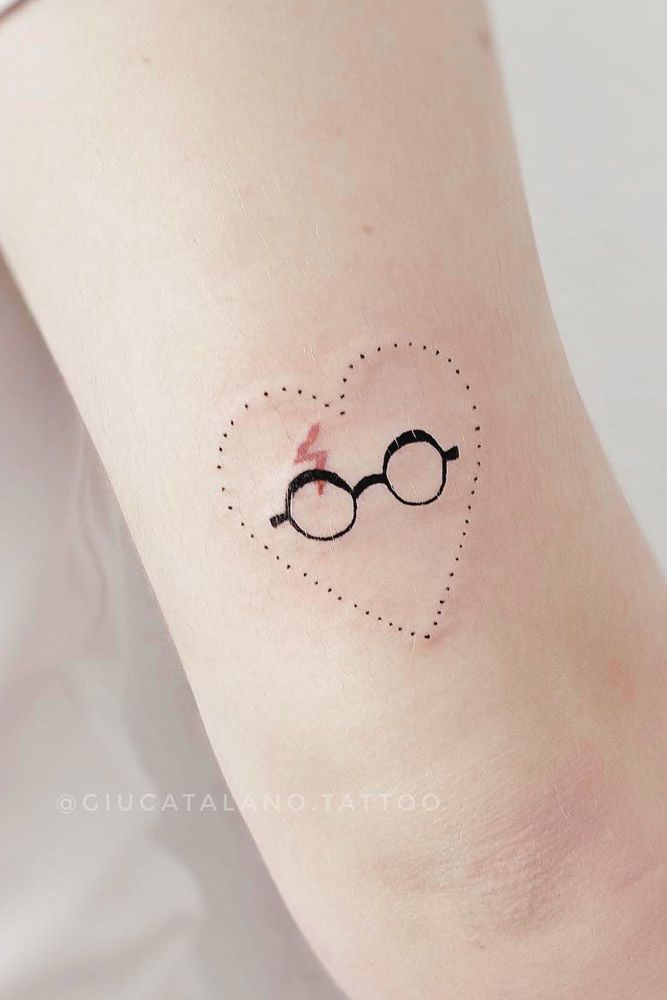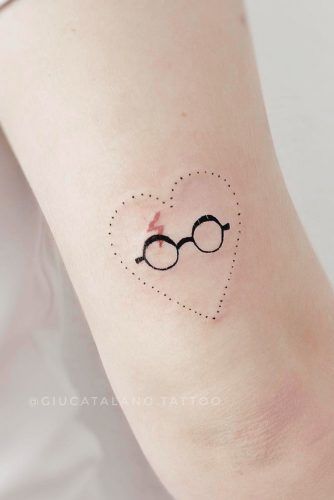 Harry Potter scar tattoos are for sure one of the most popular options when it comes to tattoos dedicated to this story. These little symbols take a little space on your skin but they tell a lot about your love for such a wonderful character.
Source: giucatalano.tattoo via Instagram
Harry Potter Snitch Simple Tattoo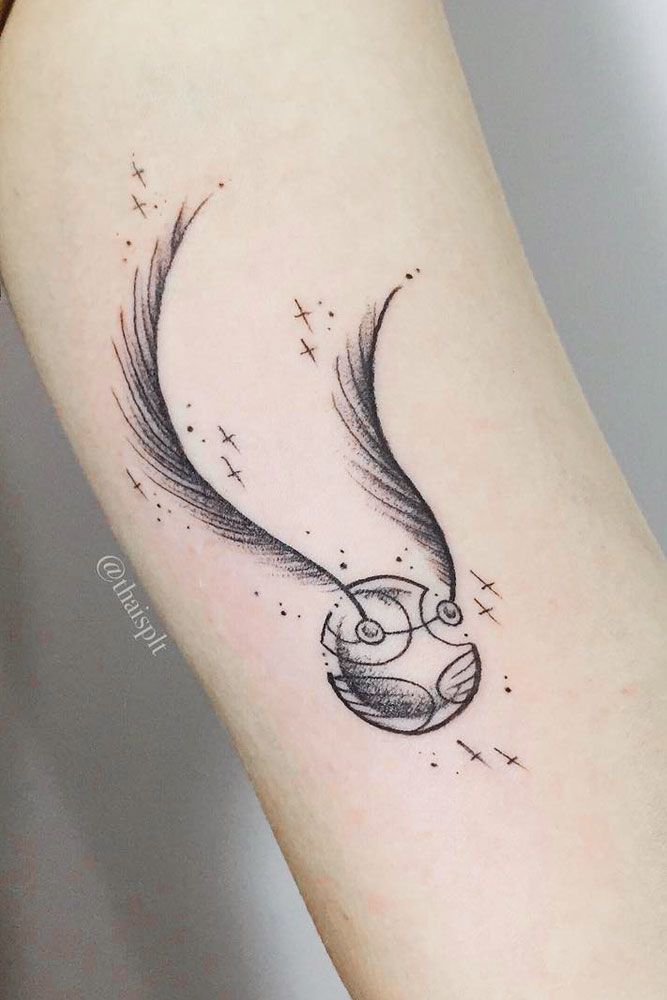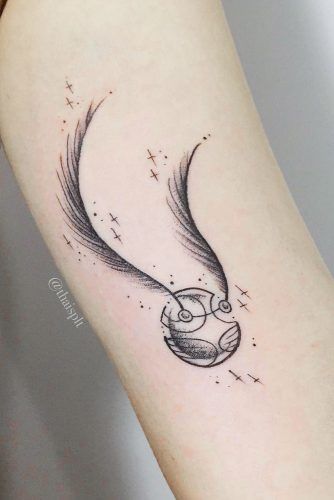 Snitch is another symbol we associate Harry Potter with. A small golden symbol will talk for itself on your skin. You don`t need to think of anything that may look too much, just choose something simple for its design.
Source: thaisplt via Instagram
Harry Potter Symbols Watercolor Tattoo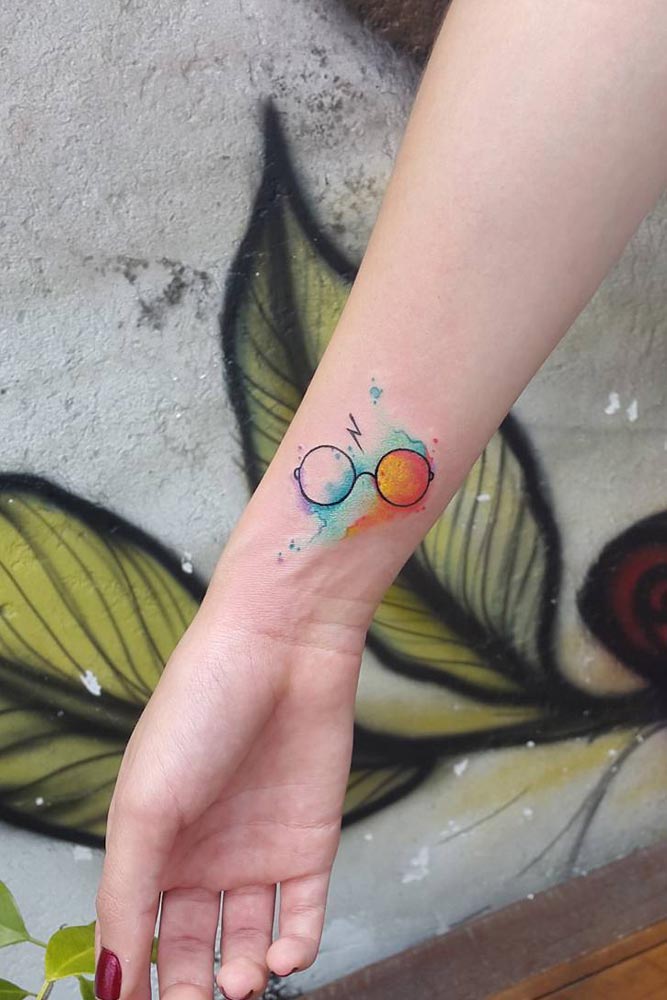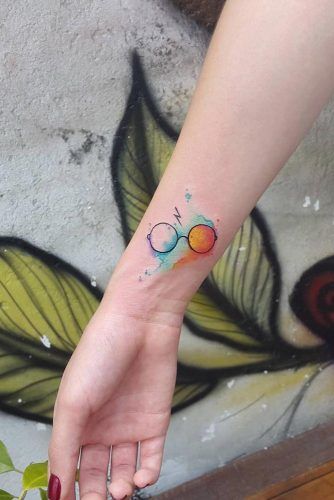 Watercolor is something we all associate with magic and atmosphere, isn`t it? Dreamy and creative it will make your Harry Potter tattoo stand out even more in the most creative way.
Source: emegarciatatuadora via Instagram
Small Simple Harry Potter Tattoos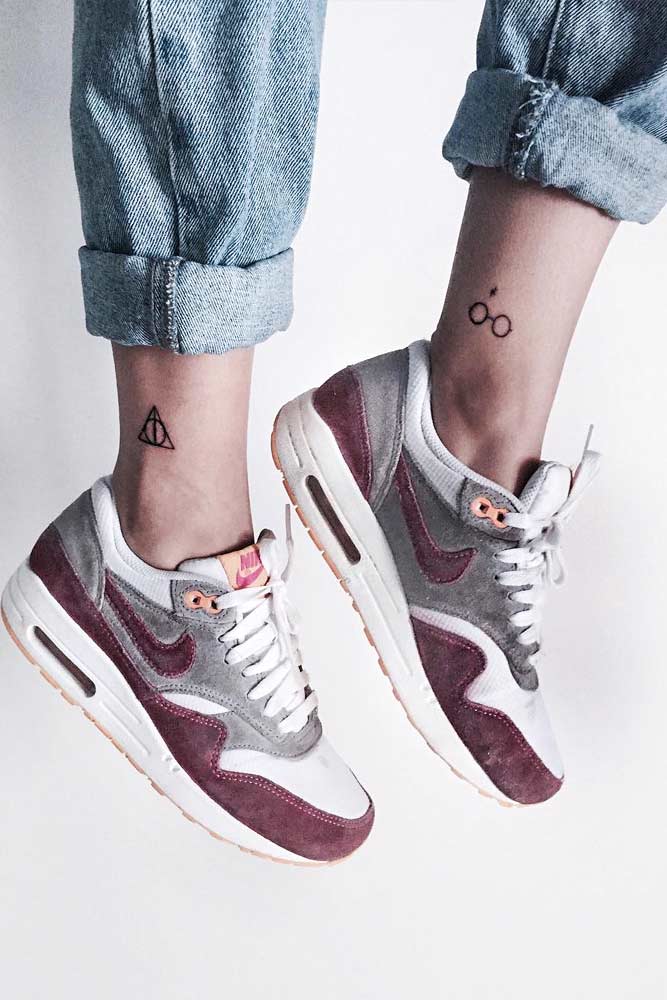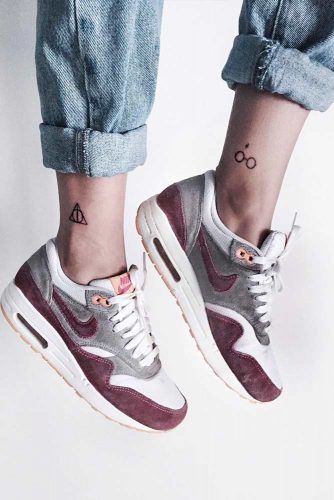 Do you prefer small tattoos instead of big ones? Of course, sometimes they can tell even more than bigger ones and it is what is so captivating about them, don`t you agree? Little but with a huge symbolism they will tell a whole opinion of yours on how much Harry Potter story means to you.
Source: julinfinity_ via Instagram
Deathly Hallows Sternum Tattoo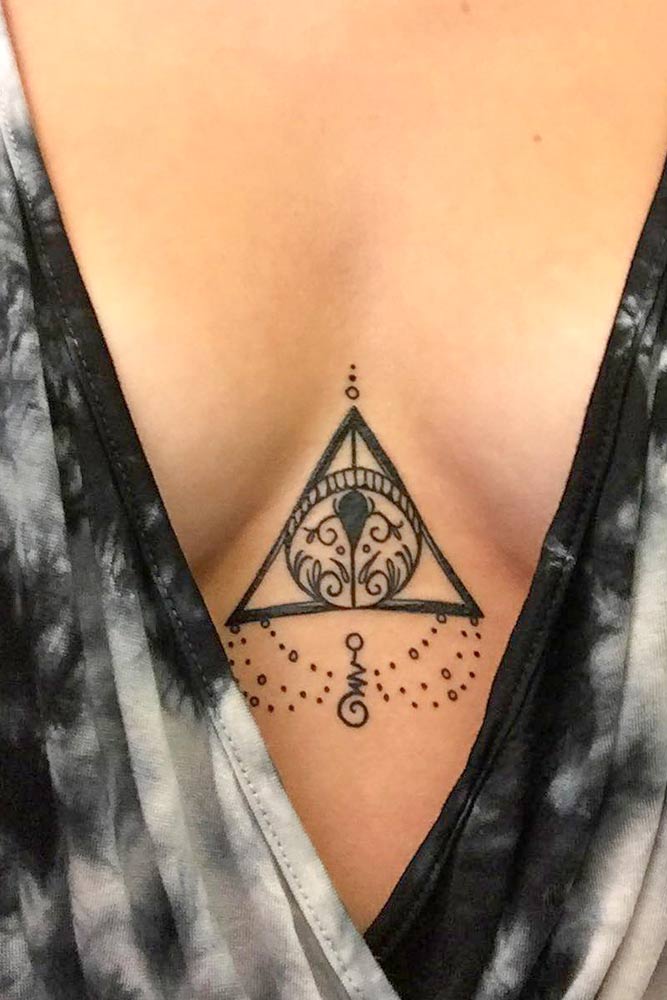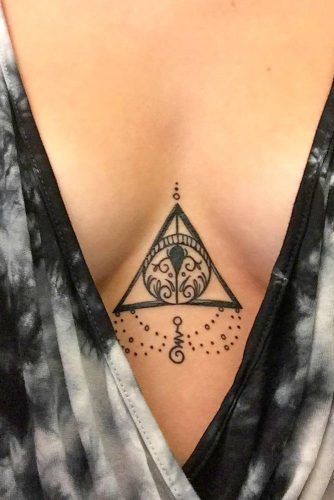 A sternum is a popular tattoo placement, as it looks not only attractive but extraordinary as well. A Deathly Hallows sternum tattoo will blow your mind when you see it with how good it looks. Why don`t you choose it for yourself then?
Source: amlgervais via Instagram
Harry Potter Couple Tattoos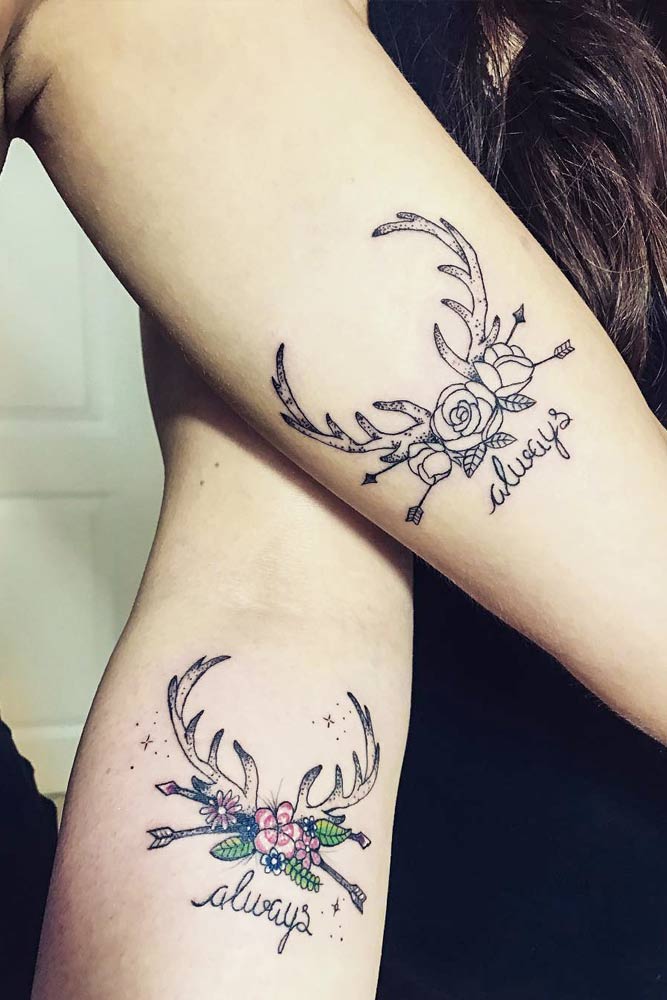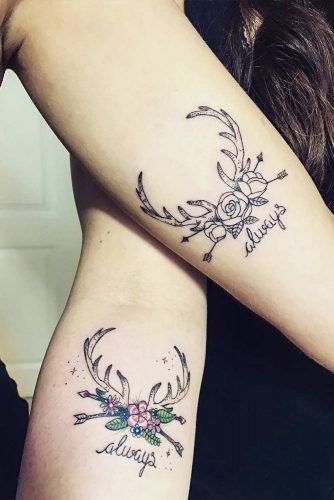 Couple tattoos are a beautiful idea to show the bond you share with your loved one. Why don`t you choose something really dear to the hearts of both of you? If you both share the love for an amazing story of kindness, fighting for peace and friendship, choose it.
Source: kimmysph via Instagram
Deathly Hallows Symbol Tattoo Design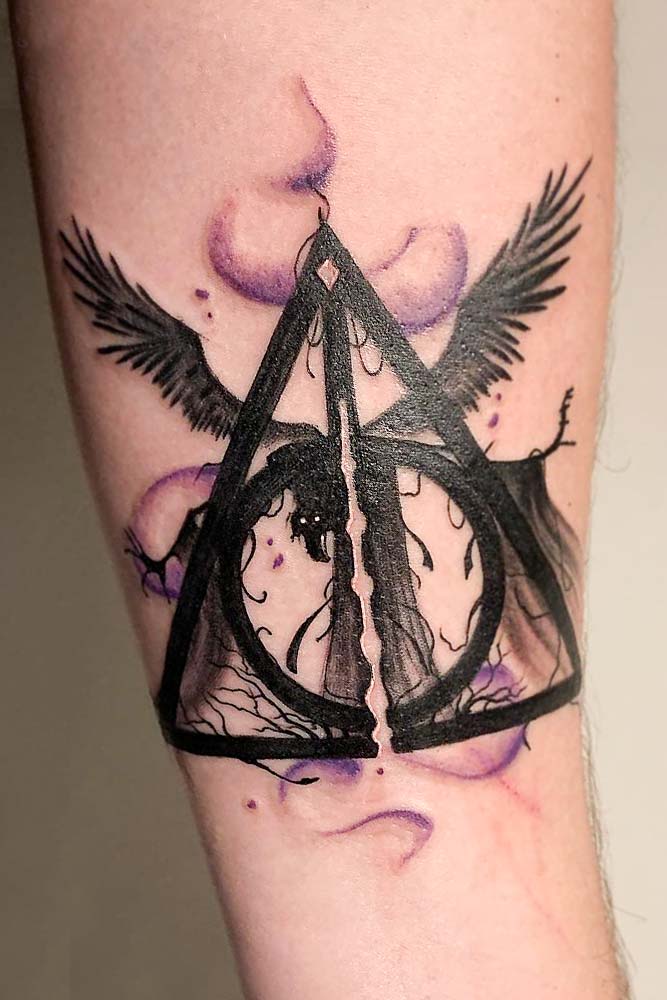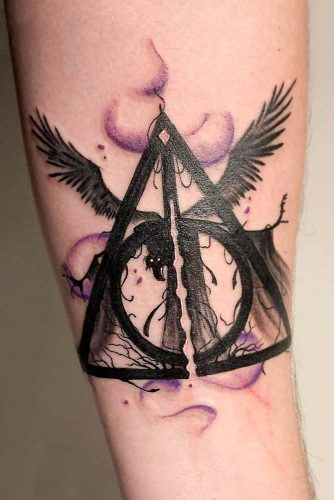 Another Deathly Hallows tattoo design we have in mind is this one. Choose darker colors to represent the symbol and add little details to complete the tattoo.
Source: sacomtattoo via Instagram
Flying Key Tattoo Idea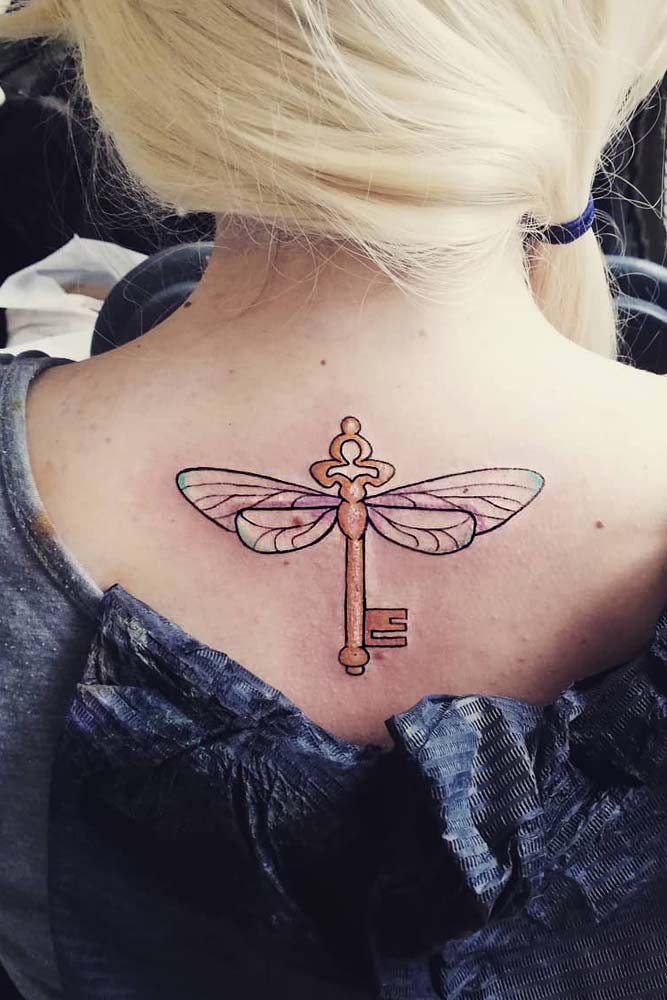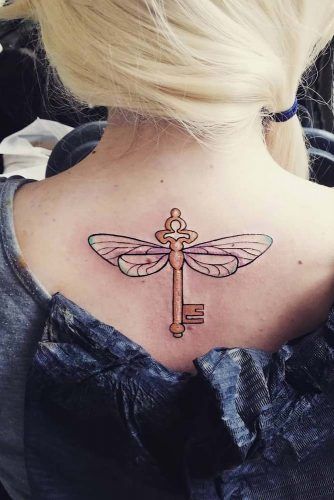 A flying key is something we all remember from the story. Are you a true fan and want to show it to the world? Choose this symbol to represent your Harry Potter passion.
Source: saltje82 via Instagram
Expecto Patronum Tattoo Design With Deer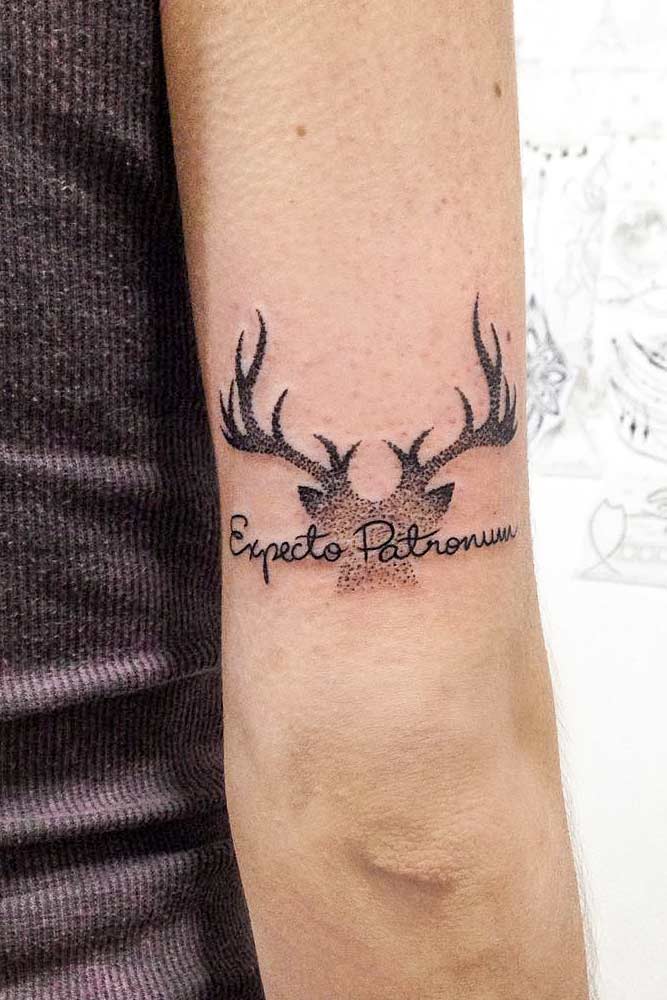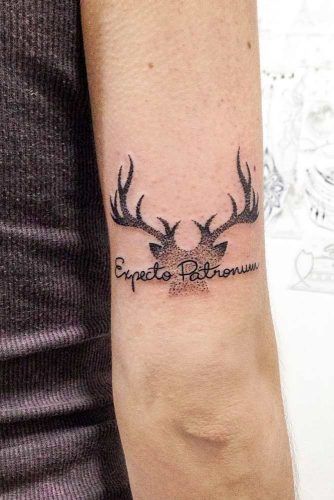 Harry`s patronus was special and represented a beautiful sign of a deer. Wouldn`t you like to choose such a special and inspiration detail for your tattoo design?
Source: tathi.campos via Instagram
Black And White Hogwarts Tattoo With Watercolor Deathly Hallows Symbol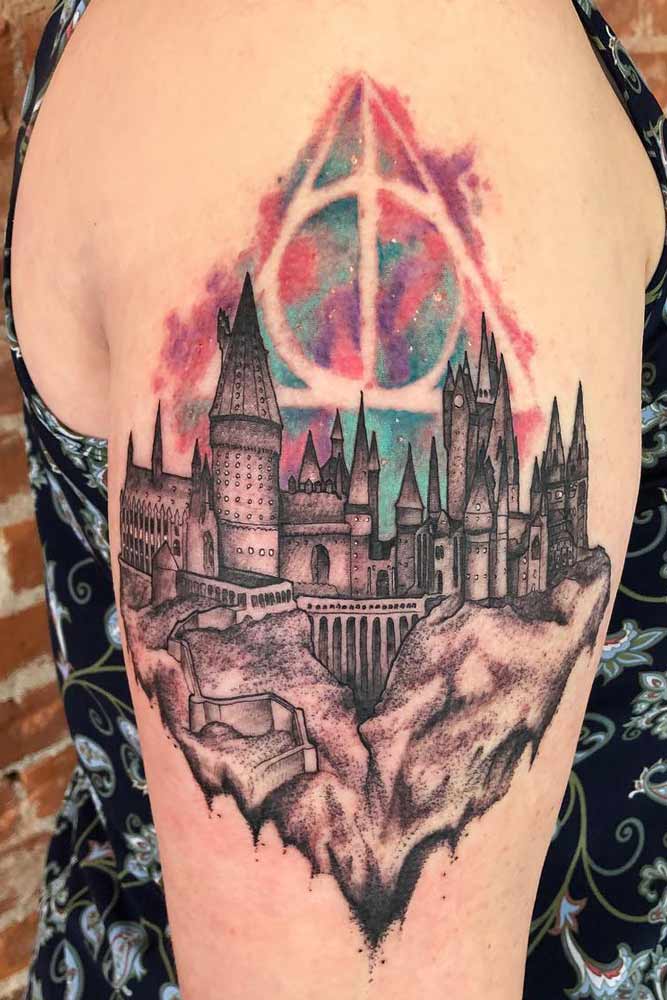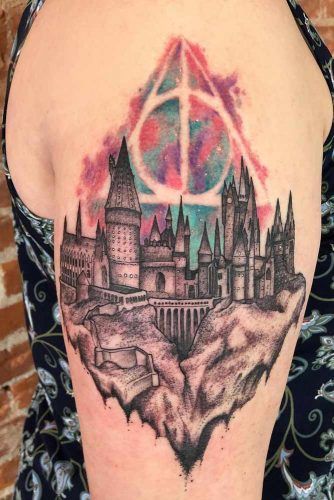 A black and white Hogwarts tattoo is a great idea that will represent the magic school in the best way. You can add a colorful detail like the deathly hallows done in watercolor to blend the design and you will love the results you will end up with.
Source: tattoosbydelan via Instagram
Deer Tattoo Design With Harry Potter Spell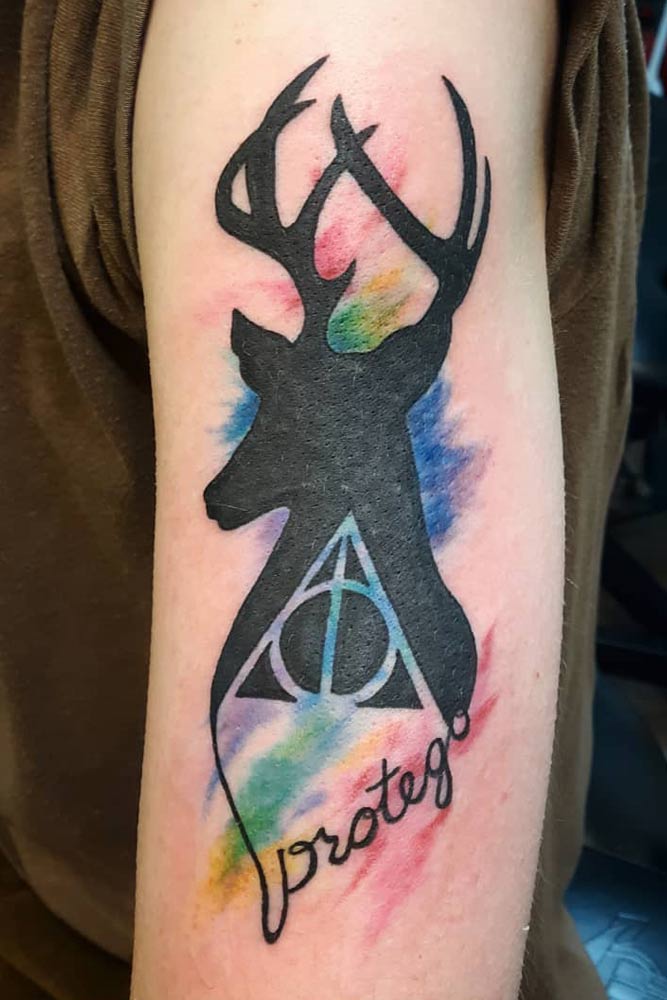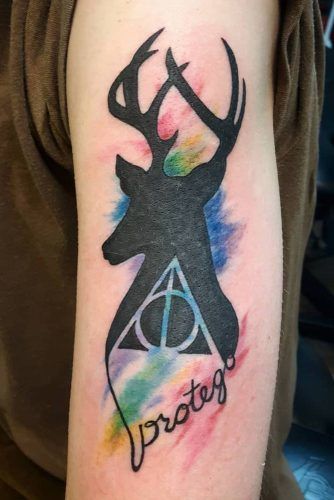 A deer was Harry Potter`s Patronus sign and also nowadays it is one of the most popular tattoo designs. Why don`t you mix both in one and add a spell that comes from the story? It will show the world that you are not only following the latest trends but that you also love the Harry Potter series.
Source: smashley.ink via Instagram
Patronus Tattoo Idea For Couple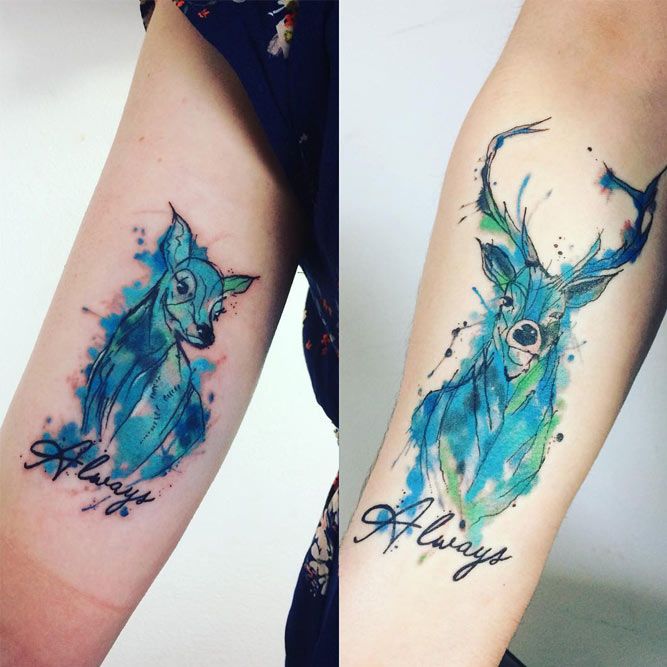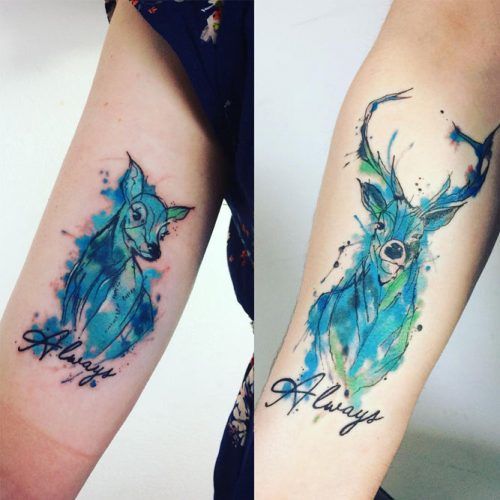 There have been different variations of patronus in the tale, we think choosing different ones in the same theme, and design will make a good-looking couple tattoo. What is your opinion?
Source: feline_sick via Instagram
There are so many beautiful ideas that will help you get inspired. What is your opinion on these design we have prepared for you? We hope they will be able to represent your love for Harry Potter.
FAQ: Harry Potter Tattoos
What is the meaning of a Harry Potter tattoo?
Harry Potter is a series of novels that has influenced lives of many people. Some associate it with warm memories from their childhood, while the others cherish the ideas of these books that laid the foundations of their worldview. Each Harry Potter tattoo has a unique and significant meaning.
What are some famous quotes from Harry Potter?
Getting a quote from Harry Potter makes a great idea for a tattoo. Surely, you have your favorite one. Here are some of ours:
"I solemnly swear that I am up to no good."
"Fear of a name increases fear of the thing itself."
"Until the very end."
"After all this time?"
"Always."
"It does not do to dwell on dreams and forget to live."
"The ones that love us never really leave us."