The speed at which the variety of fresh nail art ideas increases may feel quite overwhelming, especially if you aren't a nail artist yourself. Keeping up with all the trends is indeed a challenging task. Thus the Glaminati team decided to reach out a helping hand and share all the exciting details about popular marble nails. To take things a little further, we will share the most exceptional nail designs for you to inspire from and replicate. We say replicate since we will also provide a precise step-by-step guide so that you can get a fantastic mani in the safety of your own house!
Why are Marble Nails so Popular?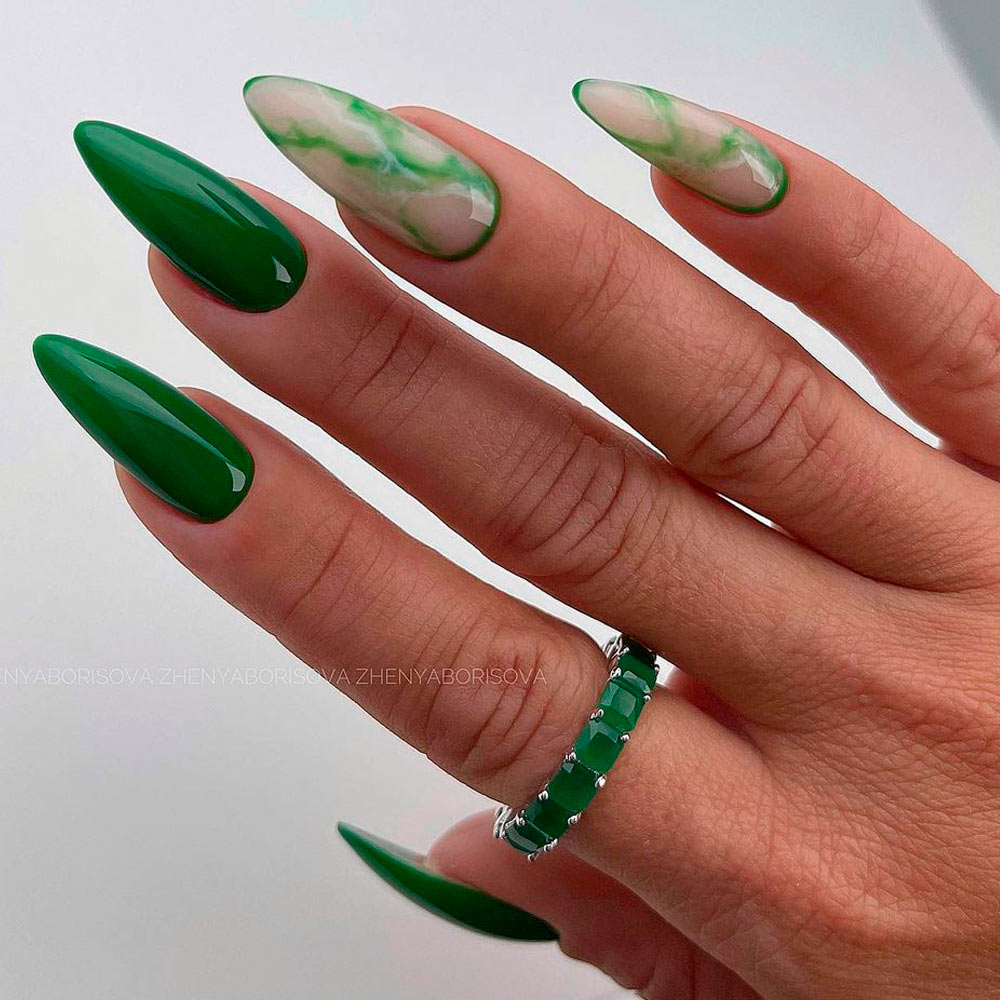 Credit photo: Instagram.com/zhenya__borisova
In case you don't know, marble nails design isn't exactly the newest idea in the industry. Marble design nails initially started as a white manicure spiced with colored strings that replicate the marble stone's natural pattern. However, the audience seemed to like the idea to a greater extent than expected, and fresh styles and most fantastic art ideas hit the market. A possible reason the trend has remained one of the most requested in the field is its immense versatility. You can play around with any color combination and come up with a design that suits your personality and mood. In this case – the sky is only the limit. Besides, the charming vibe that the pattern spreads can't be treated lightly. Once you set your eyes on it, it will captivate your mind for a long while.
How to Do Marble Nails?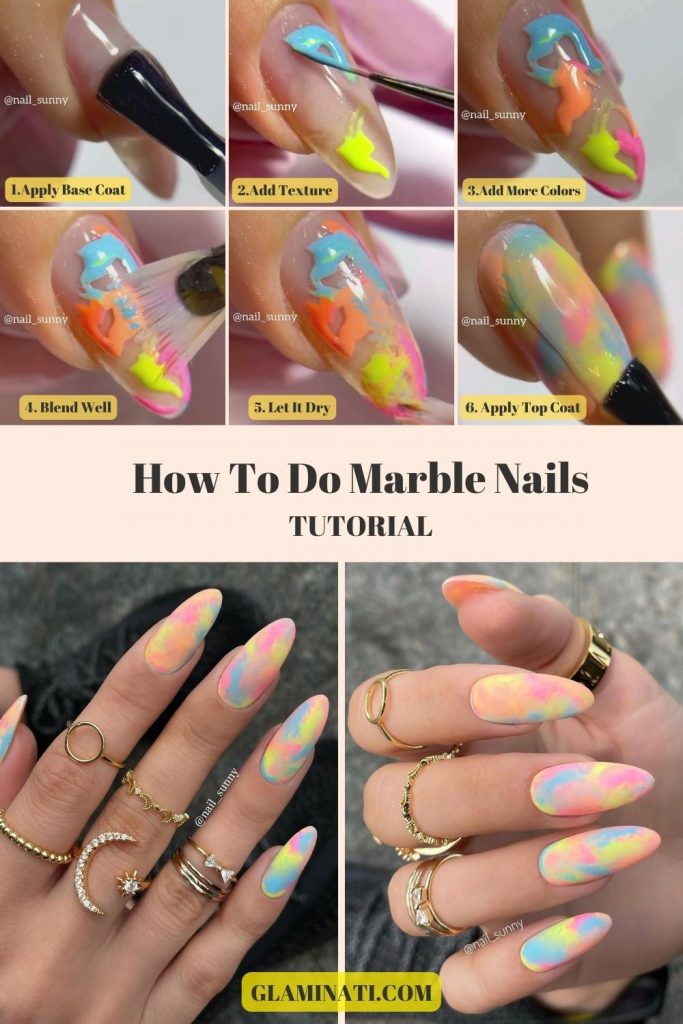 Knowing how popular the trend is, you may wonder what the creation trick is. In case you want to learn how to do marble nails in the safety of your cozy home, you have come to the right place!
Required tools and instruments:
Before you can proceed with the process of marbling your tips, you must ensure that you have all the tools and instruments ready. Browse your kit for the following items:
Base coat – can be any color you prefer or simply a nude base.
Texture color – this is the color that is a few tones lighter than the base so that when you combine them, a marble effect is achieved.
Detail polish – a contrasting shade to create the marble-like streaks.
Metallic polish – a shiny hue to add some spark to your art.
Piece of plastic wrap – for nail polish application.
Detail brush – you will need it to add definition to the design.
Top coat – the nail coat to seal in the design well.
Clean-up brush – a brush to help eliminate potential smudges. A regular eye shadow brush will suit the purpose.
Nail polish remover – the substance to dip your brush in and get rid of all the potential defects.
The process:
Start with the base coat. Cover the nail bed well with the coat so that your tips are sealed in. apply two coats at least.
Proceed with the texture coat. Place a drop of the base color and the texture shade on a clean surface. Take a piece of plastic wrap, roll it into a ball, and dip it into the two colors. Roll the ball over your nail bed to create the desired marble texture and pattern.
Take your detail brush, dip it into your detail nail color, and add squiggly lines to your design. Try to make the lines as unpredictable but good-looking as possible.
Clean the detail brush with nail polish remover and wipe it dry.
Dip the detail brush into metallic nail polish and add some finishing touches to the design.
Use an eyeshadow brush to clean up potential smudges around your nail.
Seal the design with a lasting top coat.
Ever Gorgeous Marble Nails Designs to Try
Now, when you know how to succeed with gorgeous marble nails, you may require a fair share of inspiration to point you in the right direction. Despite your color and style preferences, you will find an idea that will light up your eyes!
Nude Marble Nails
Credit photo: @zhenya__borisova
i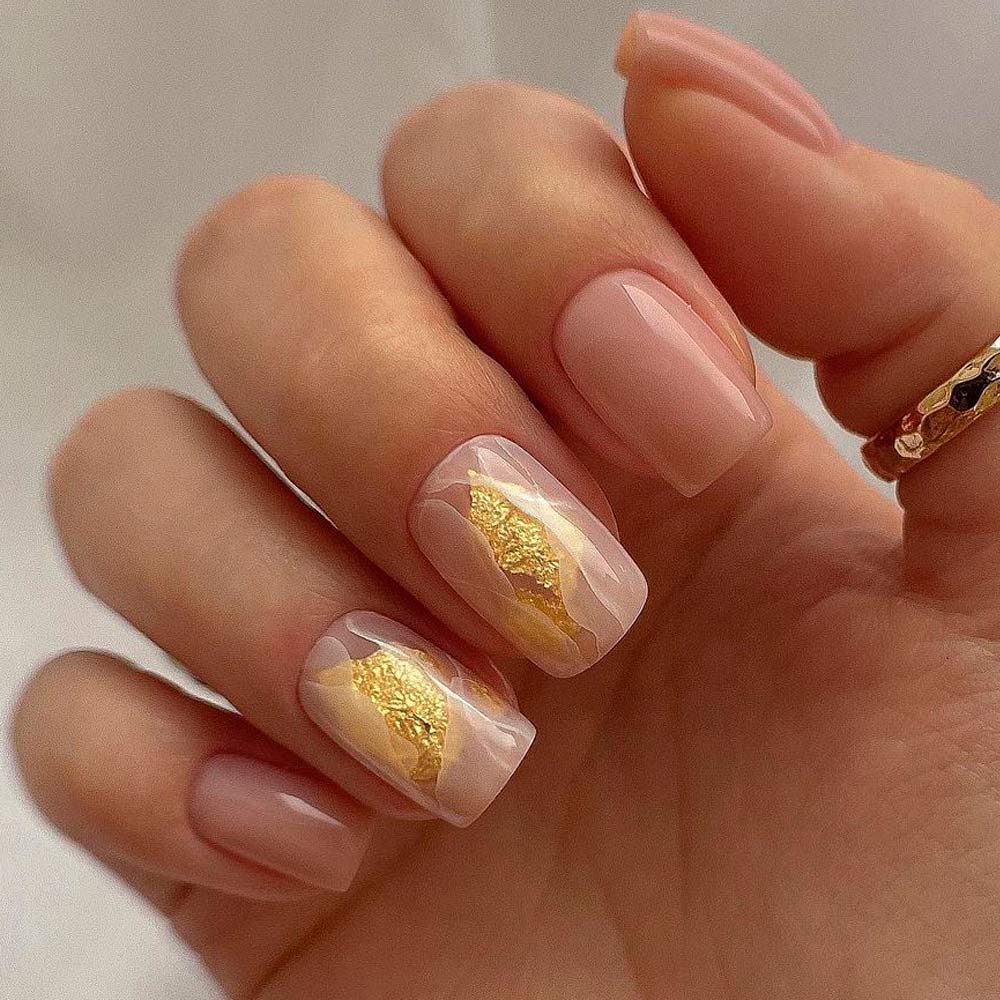 Credit photo: @zhenya__borisova
i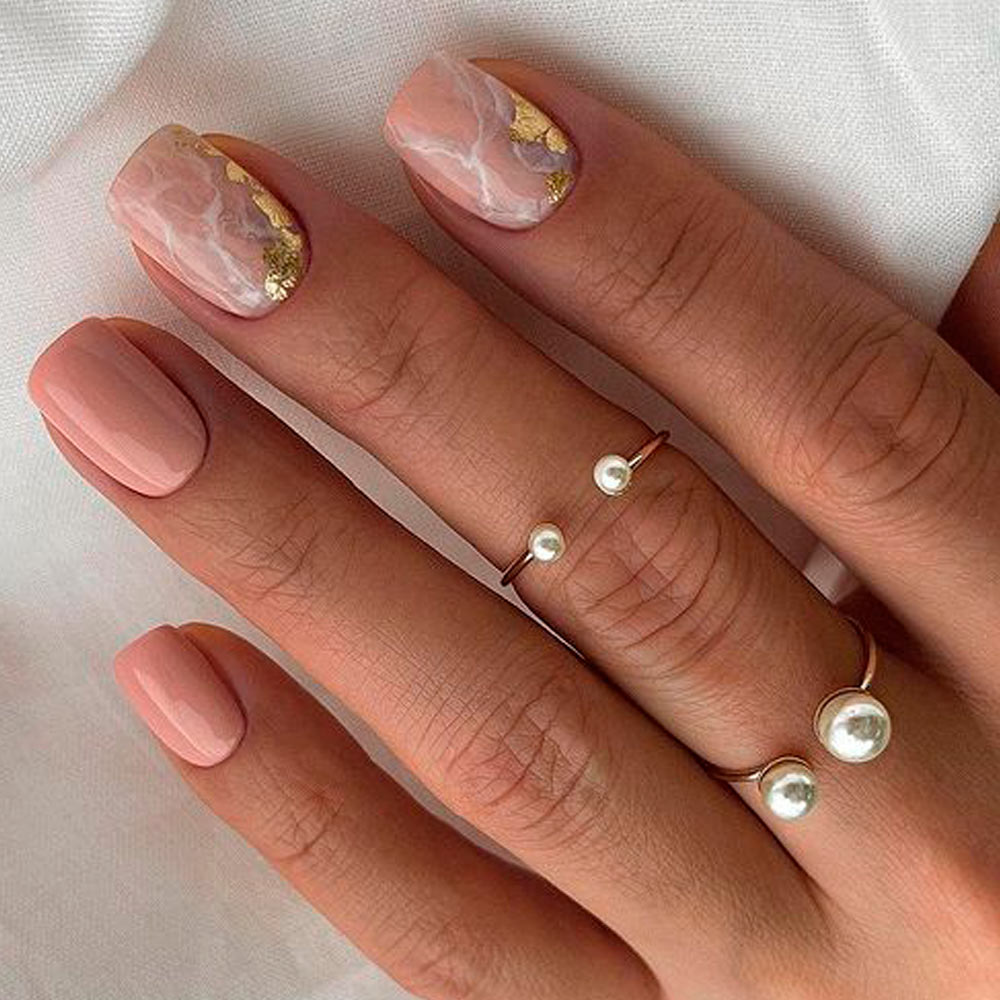 Credit photo: @zhenya__borisova
i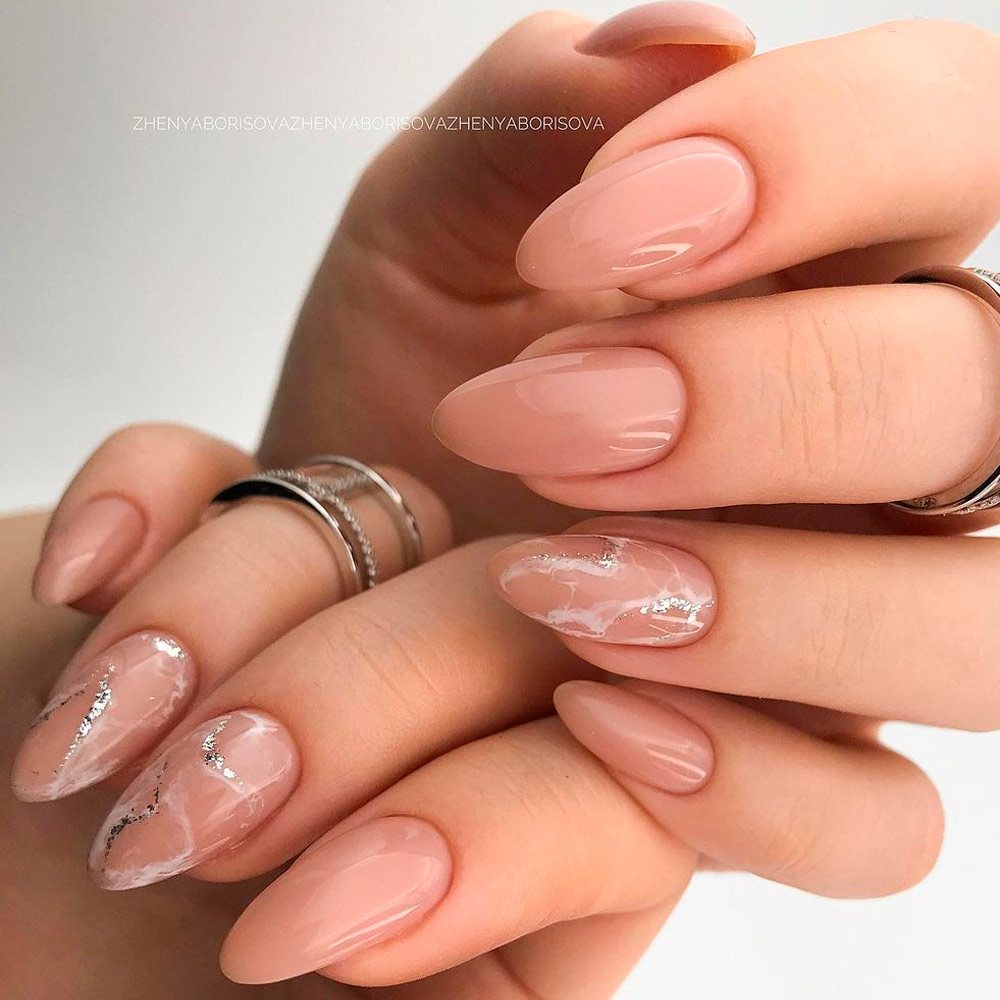 /
Coffin nails with extraordinary designs are not for all. At times, there is a dress code to stick to, but we have a loophole hidden up the sleeve. What we offer is a beautiful selection of nude marble nails. A single accent nail, two spicy accents, or full-on nude marbles – you are the one to choose!
Green Marble Nails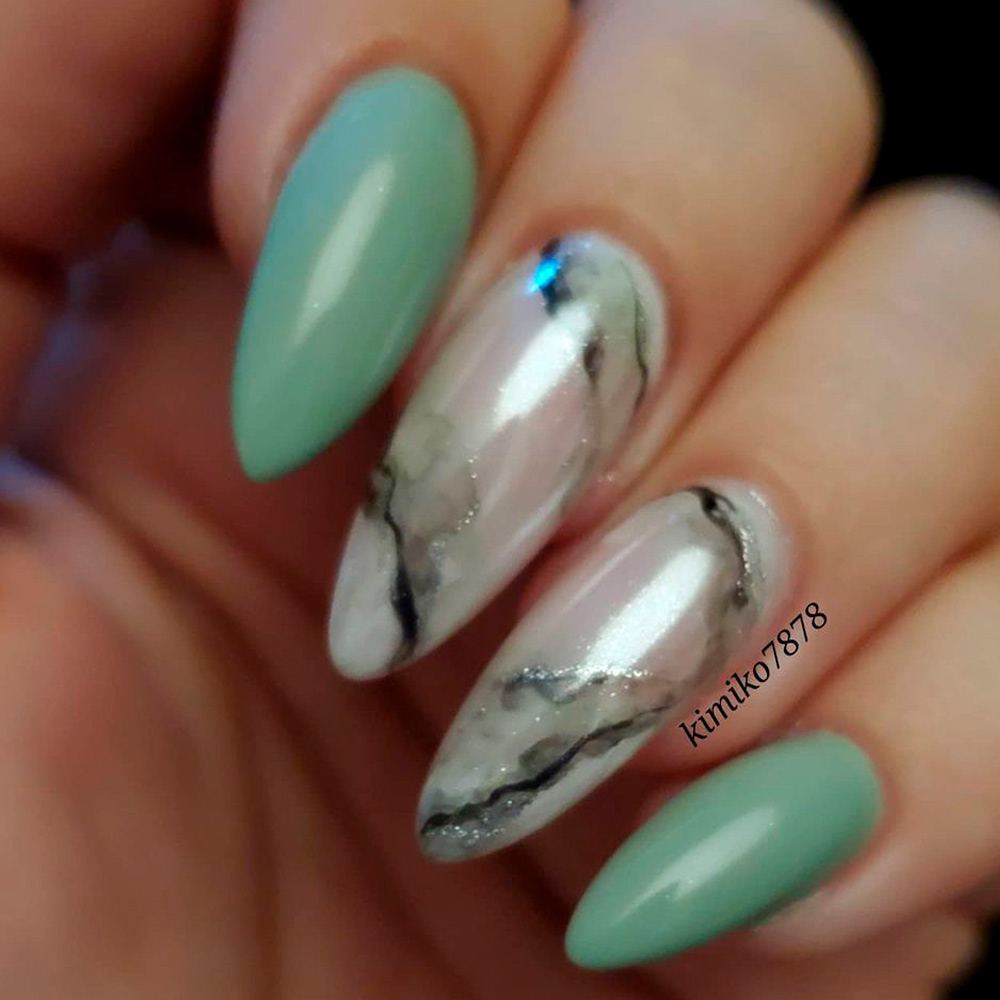 Credit photo: Instagram.com/kimiko7878
The power of acrylic nails allows it to discover new horizons on a regular basis. Let's discuss these green marble nails for a change. While a bright green hue combined with longer tips looks exceptional on its own, the negative space marble effect brings undeniable gutlessness and charm into the art.
Black and White Marble Nails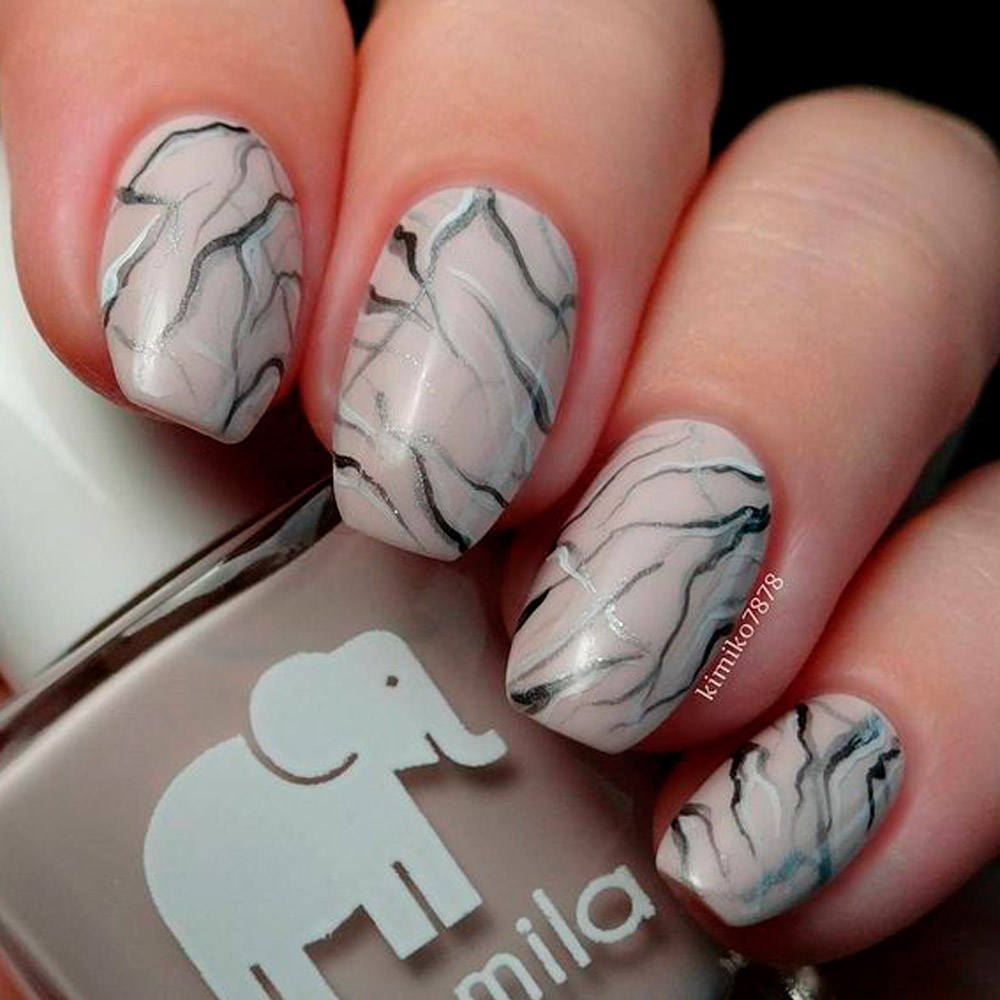 Credit photo: Instagram.com/kimiko7878
Saying "no" to the classics isn't the easiest task to accomplish. While there are many more styles to play around with, some ladies choose to sport black and white marble nails from time to time, and there is nothing wrong with it. Besides, the natural marble pattern is the simplest to replicate in the safety of your own home, not to mention its impressive flair when paired with shorter tips.
Pink Marble Nails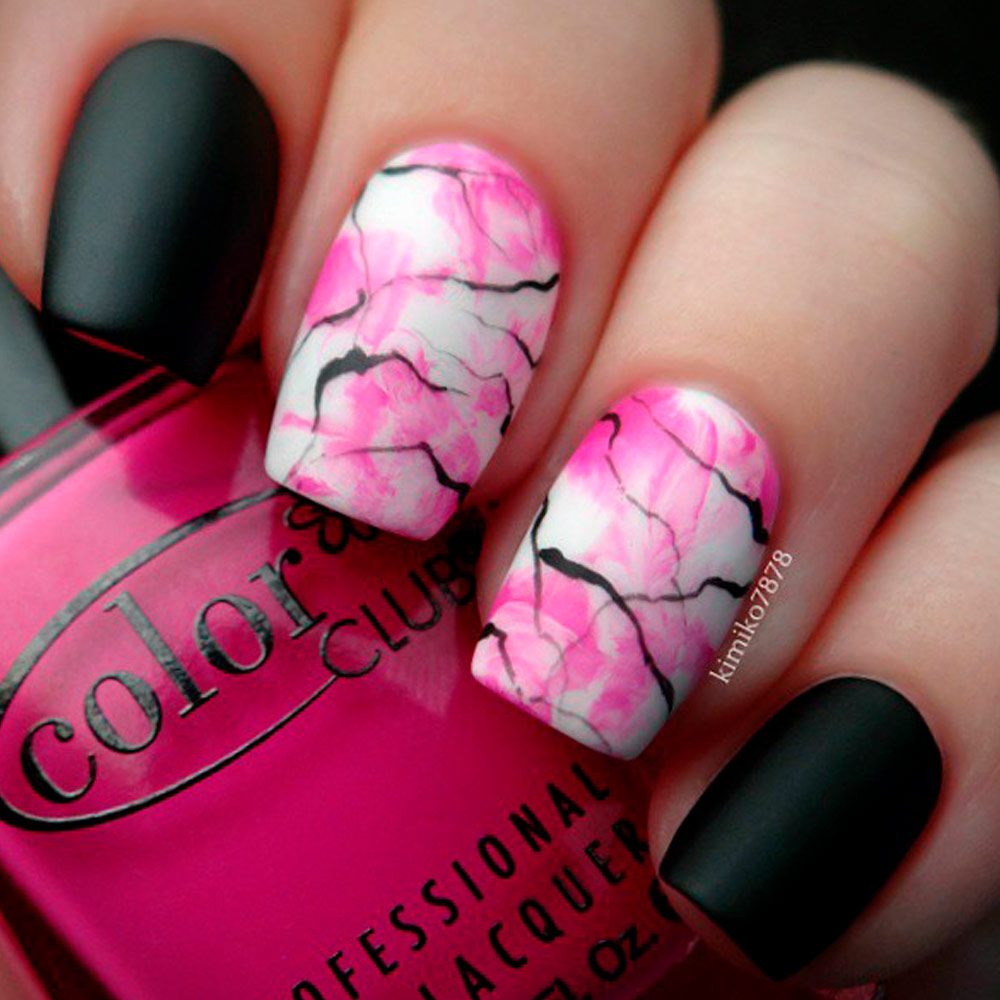 Credit photo: Instagram.com/kimiko7878
Girls will be girls, and pink marble nails remain at the top of the most requested for variations up to this day. Moreover, you can create impressive contrast by mixing a pink marble accent nail with a black matte coat. Should you decide to go for a darker pink instead, you can match it with a more neutral or lighter pink as the main color.
Brown Marble Nails
Credit photo: @zhenya__borisova
i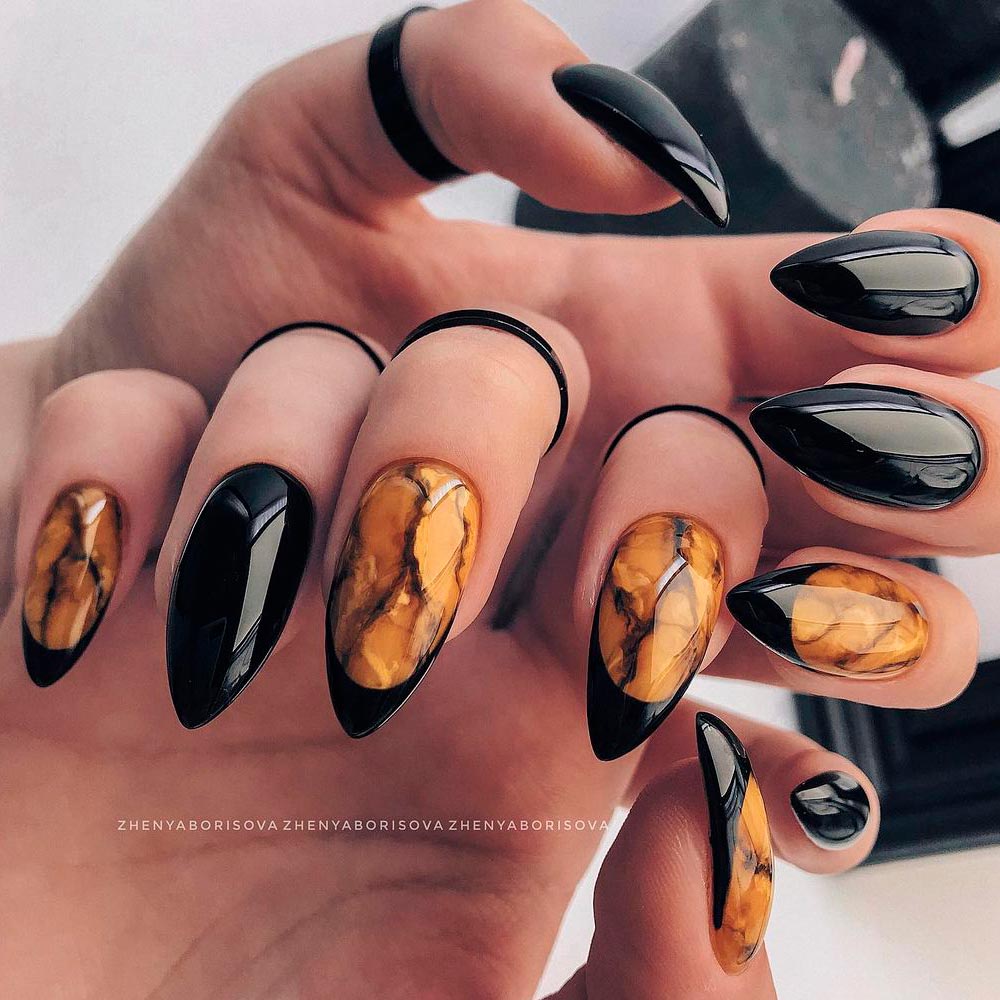 Credit photo: @zhenya__borisova
i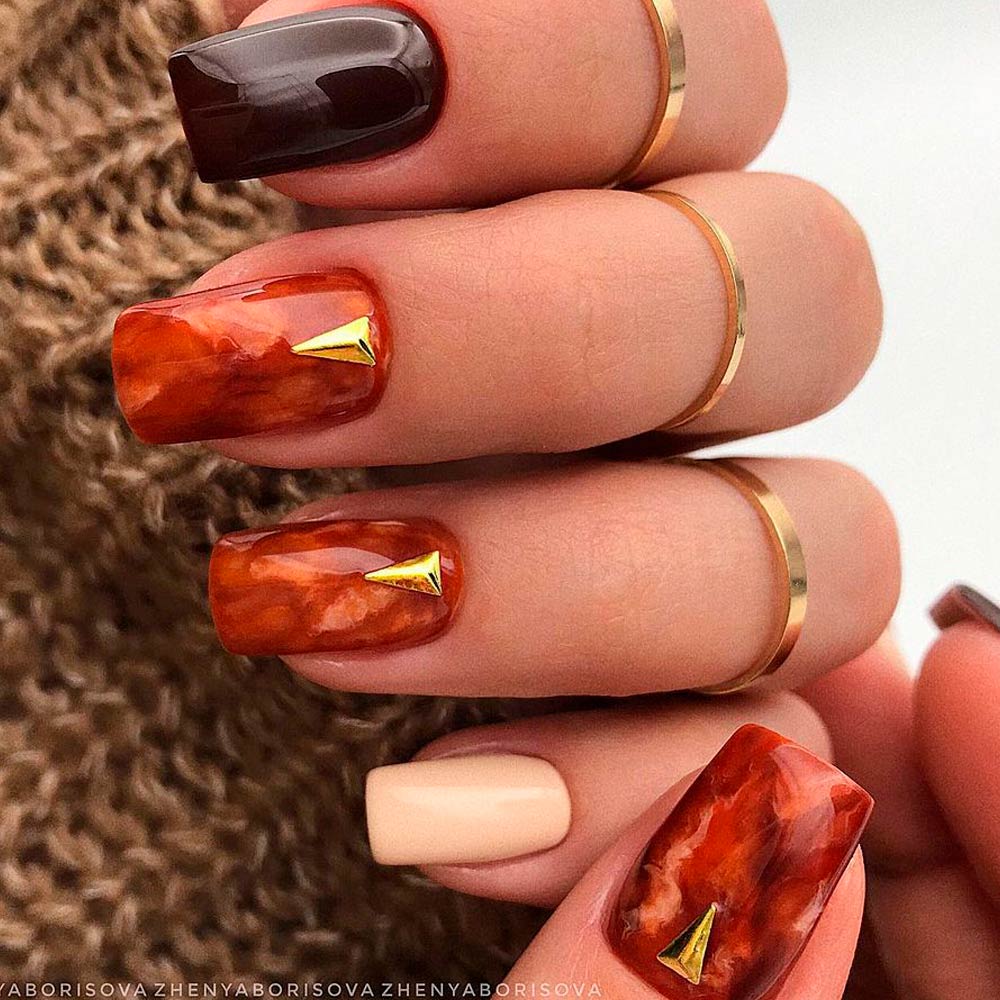 /
Some acrylic marble nails remain in the shadow, and we would say – quite undeservingly. You can succeed with a luxurious effect by asking your artist for one of these brown nails with marble. It takes a hint of gold to replicate an insanely rich and vibrant result. One look at these tips, and you will have an image of a mighty and gorgeous dragon in your mind. Close your eyes for a sec to feel what we feel!
Watercolor Marble Nails
Credit photo: @nail_sunny
i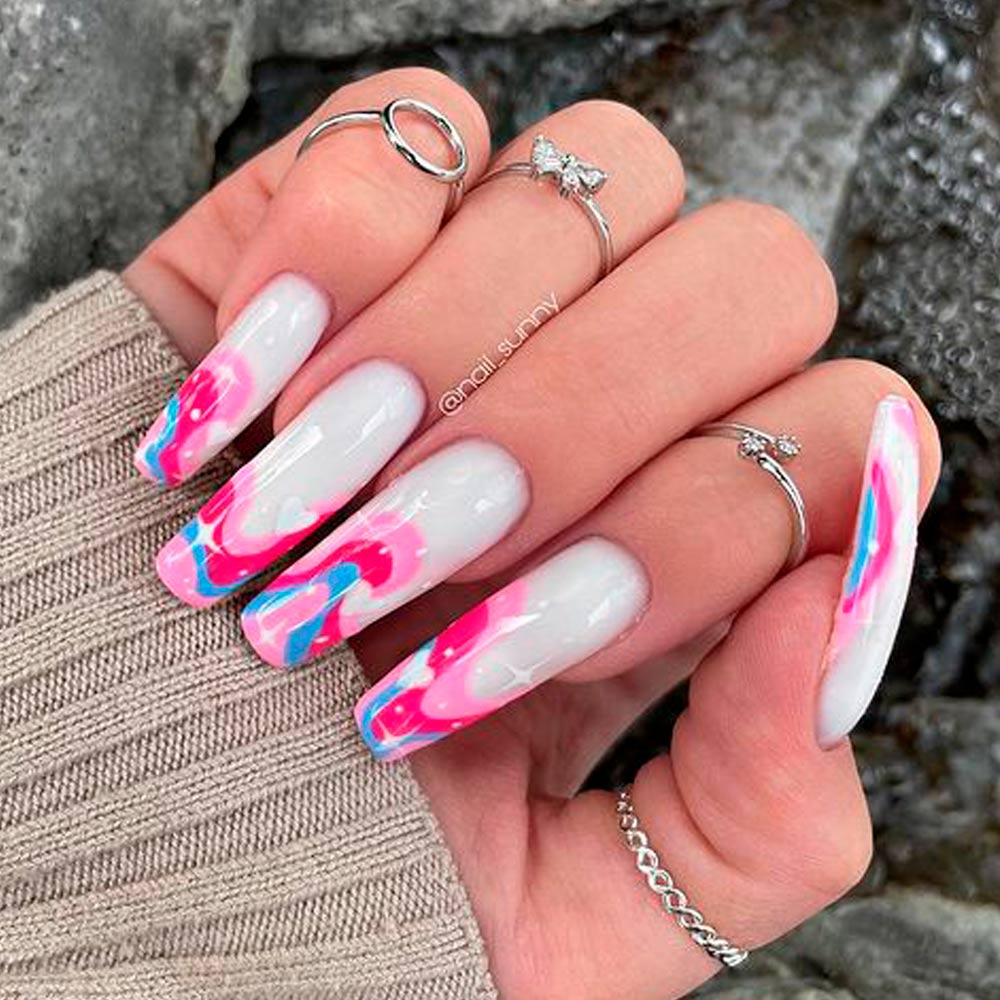 Credit photo: @nail_sunny
i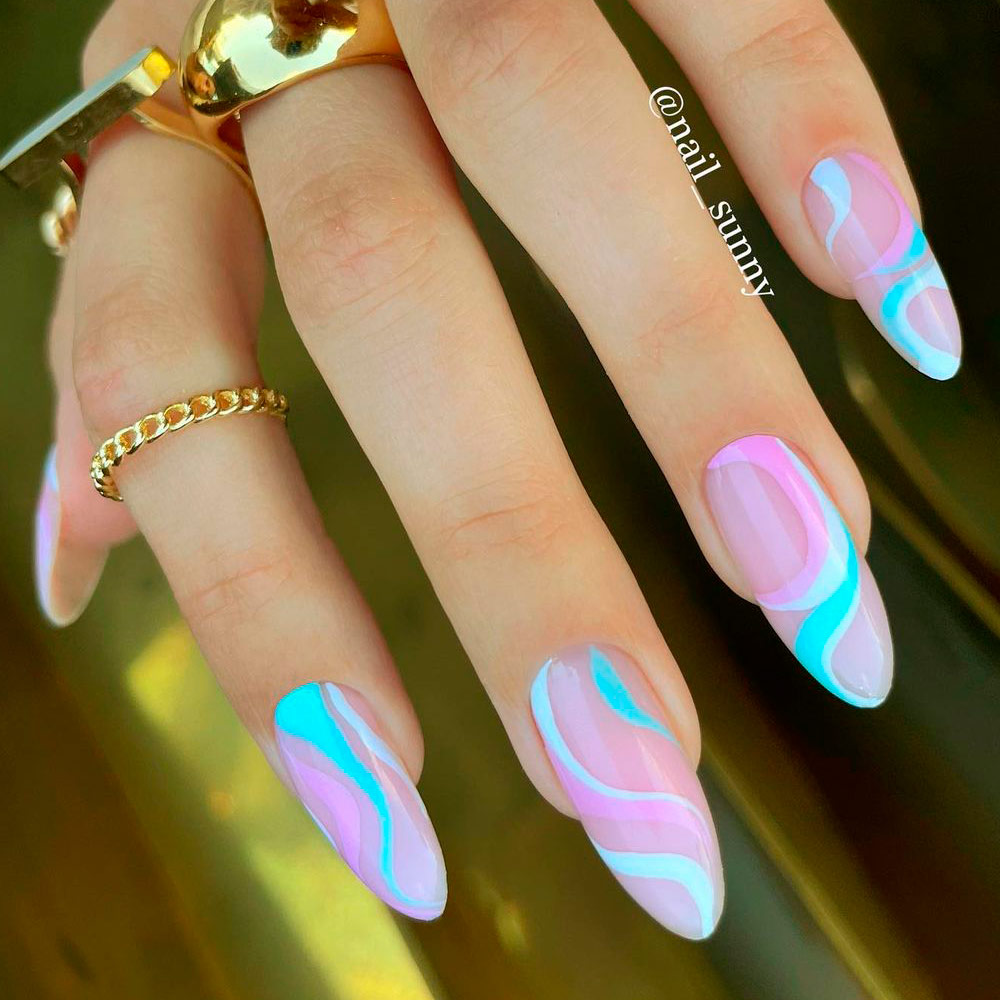 /
At times, it is hard to choose a single shade for your next mani. That is where water marble nails come in handy. The whole idea of a watercolor effect is that you mix a few different colors so that a unique, swirly pattern forms. Usually, pastel and bright hues prevail when it comes to design, but you shouldn't limit your imagination and experiment with the tones you like.
Blue Marble Nails
Credit photo: @zhenya__borisova
i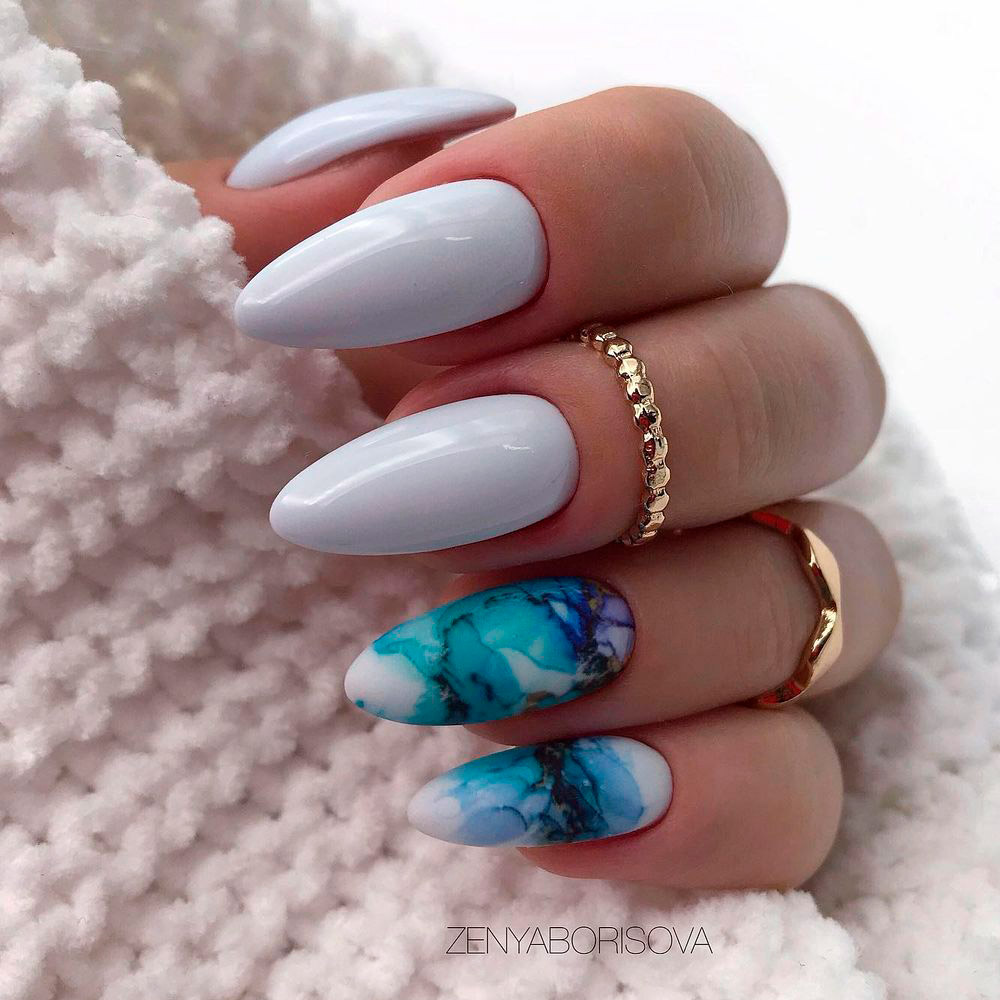 Credit photo: @nail_sunny
i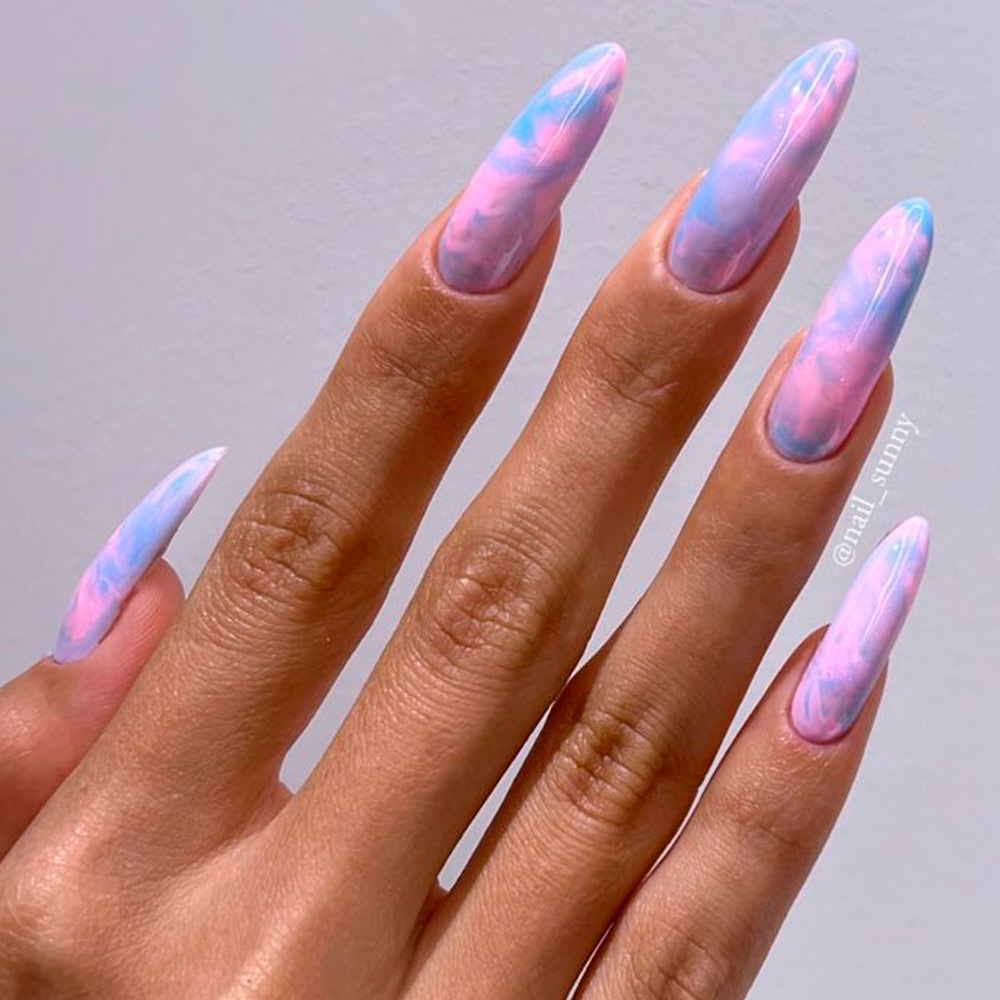 Credit photo: @nail_sunny
i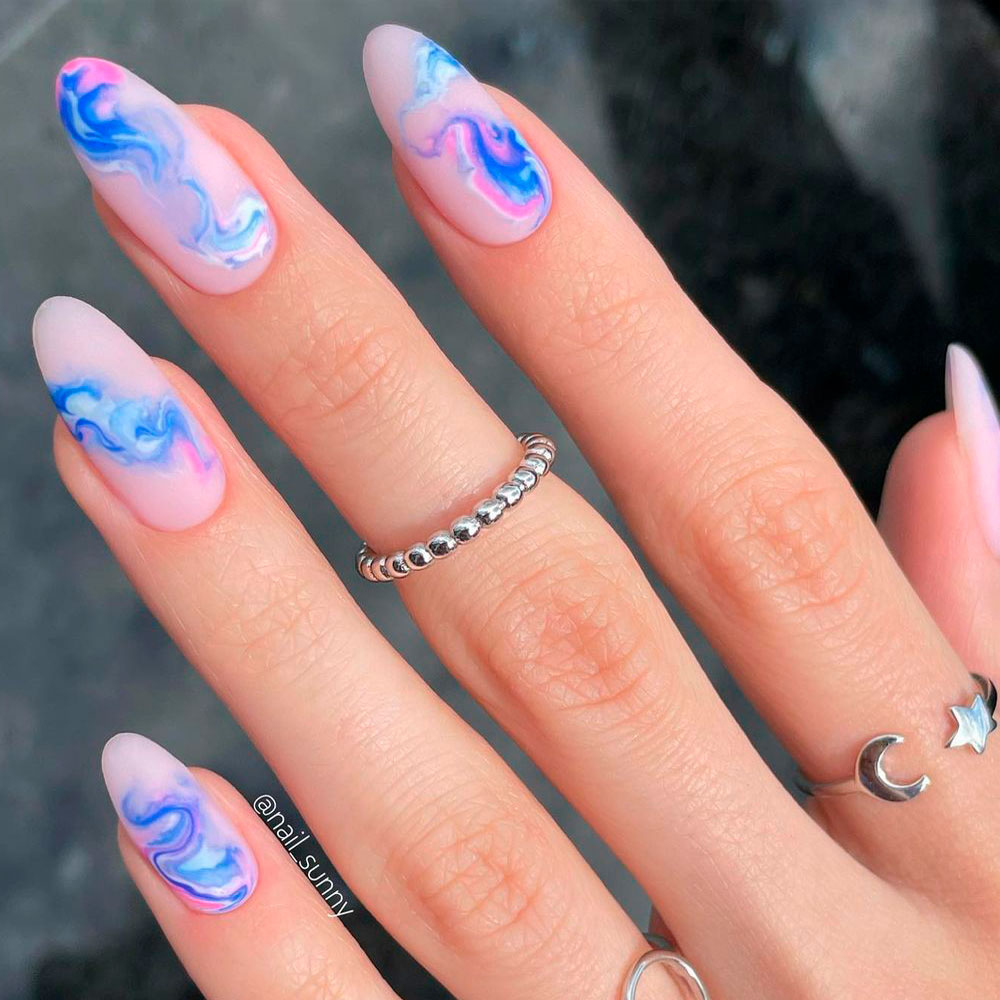 /
The captivating vibe of blue marble nails can barely be coated in words. Every design with a blue marble effect is exceptionally unique, but one thing remains – you can look at the design for eternity everyone adores blue nails!
Acrylic Marble Nails
Credit photo: @zhenya__borisova
i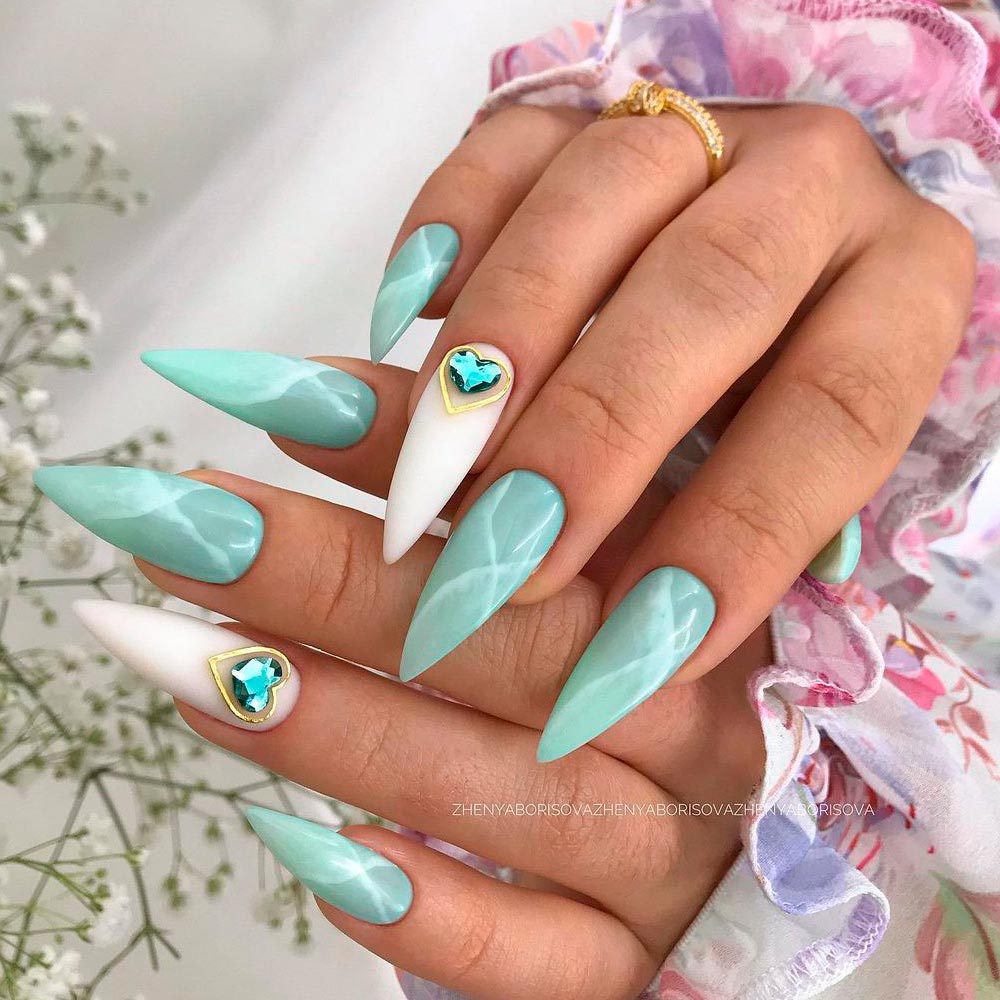 Credit photo: @zhenya__borisova
i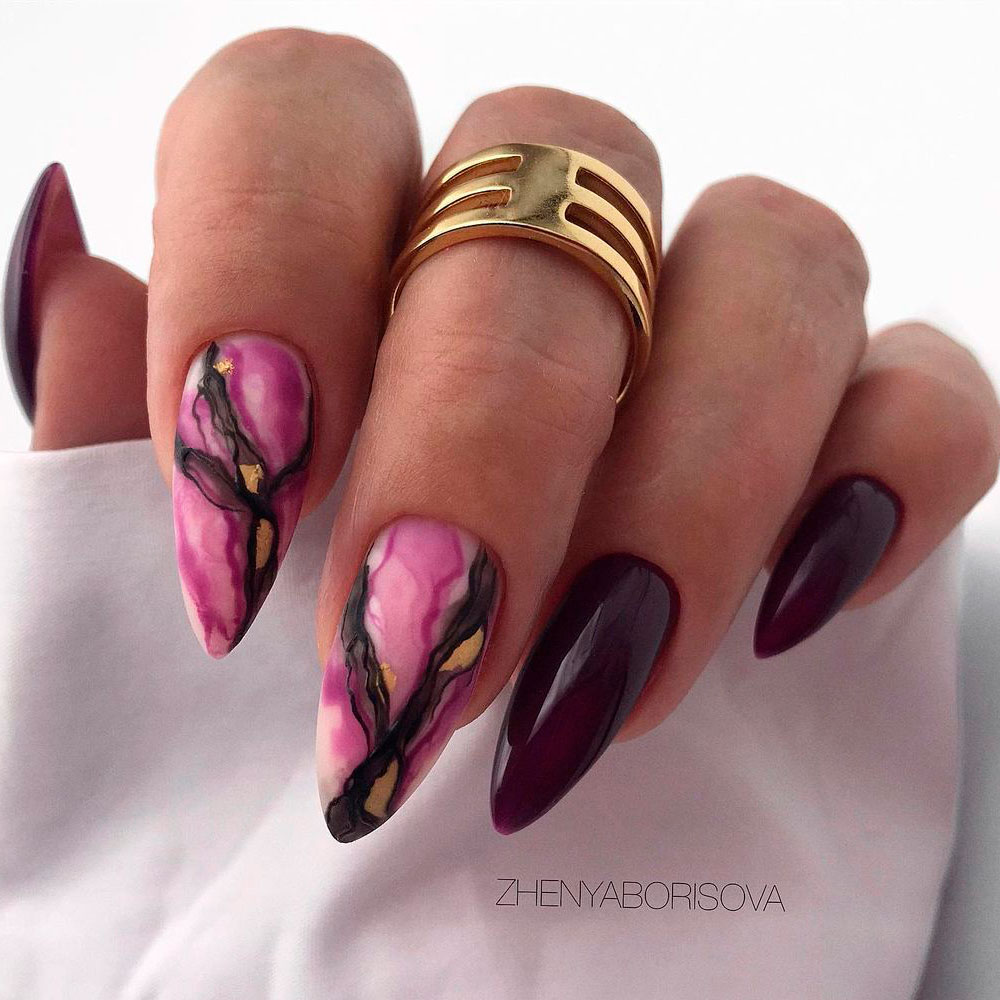 /
Marble acrylic nails deserve particular attention due to their immense versatility and undeniably stylish appeal. Contrary to popular appeal, acrylic nails aren't all extra-long and hard to implement into your everyday life. You can play around with rose gold marble nails, white marble nails, red marble nails, and any other shade or design without sacrificing your comfort. The beauty of acrylic tips lies in their durability and extended canvas to experiment with. Yet, it is always possible to create a masterpiece and take things a little further with magnificent coffin nails or edgy stilettos.
Marble nails aren't the recent addition to the compelling and captivating nail art pool. However, the number of new designs that hit the market on a daily basis is challenging to miss. Use our practical guide to replicate the fancy ideas that keep your mood up and style sharp!
FAQ: Marble Nails
Do you use hot or cold water for marble nail art?
Whether these are black marble nails or classy nudes, you have to ensure the flawless appeal of those marble swirls. If you are using regular nail polish, it is advised to dip your detail brush into the water at room temperature since cold water will make the polish dry out too fast.
Are marble nails still trendy?
Have you been dreaming about purple marble nails for a while? It is high time to replicate the design of your dreams since marble nails are the hottest hit of the season!
What nail shape is in for 2023?
2023 will go under the sign of ballerina slippers since coffin nails will be all the rage throughout the upcoming season. However, leave some room for squoval and square tips too!