Embellish Your Classy Nails with Fabulous Designs
Do you have short, classy nails, and your friends have long nails, and it makes you envy them? Well, you don't have to be jealous of long fancy manicures anymore!
With these designs for short nails, you will constantly receive compliments on your pretty nails! We all would love to have long nails, but in reality, some of us have jobs (and lives) that prevent us from having longer fingernails.
Soon your friends will be wishing they had lovely nails like yours! With some pretty shades of polish and some nail art tools, you can easily copy these looks on your own.
Dark Green Diva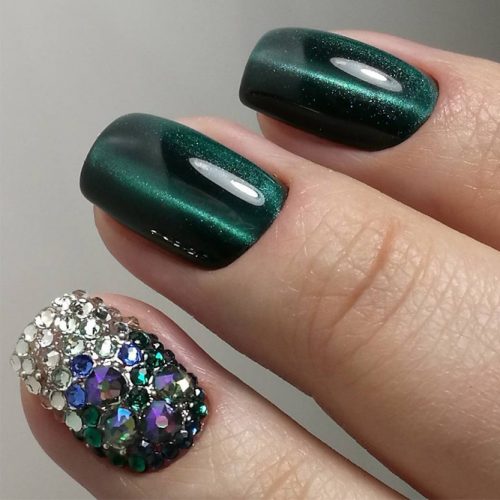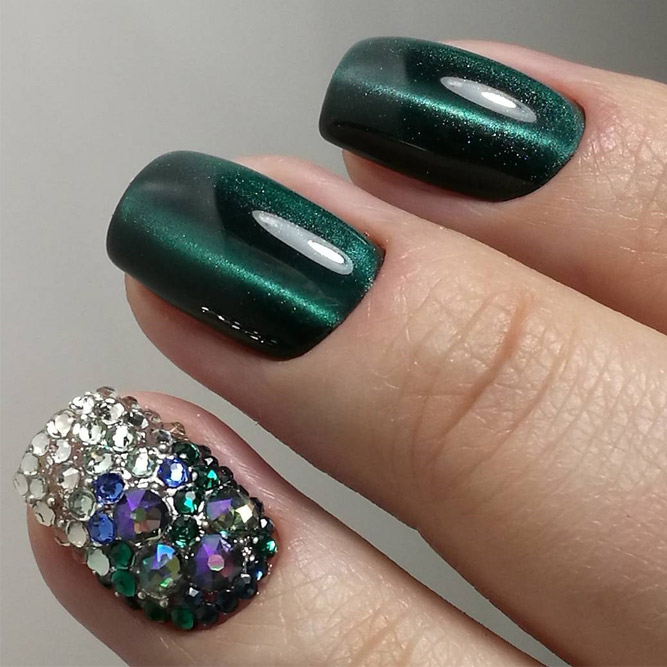 Source: samsonova_nails via Instagram
Manicure in deep green will draw everyone's attention. Pick two deep green polishes and apply them stripewise to your nails except for the ring finger. Adorn the ring finger nails with sparkling rhinestones in silver, green, and blue colors.
Sassy & Splashy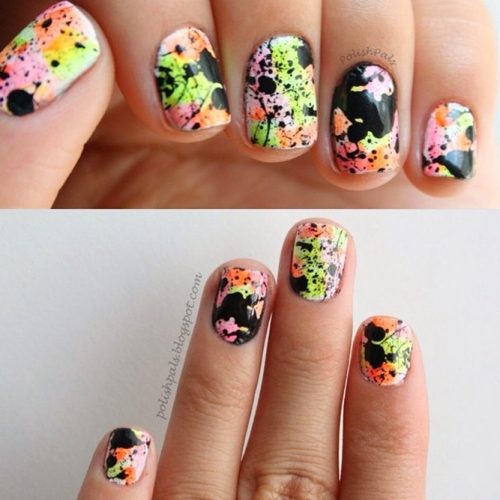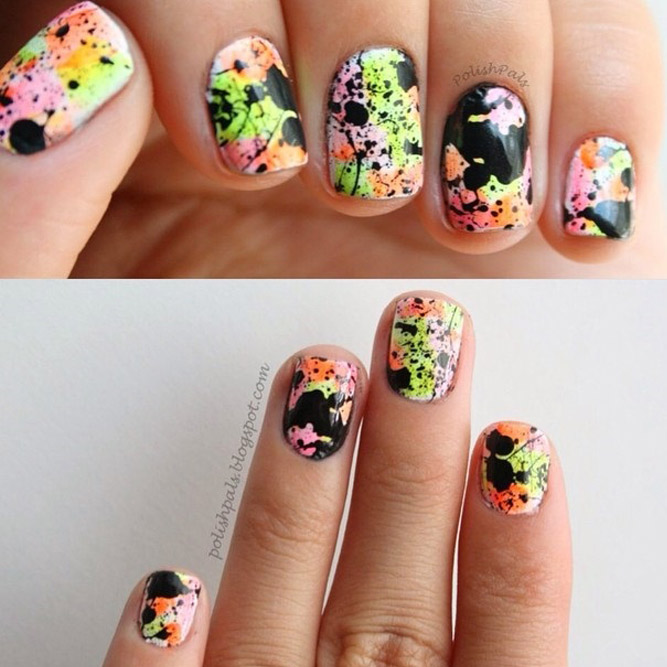 Source: polishpals via Instagram
If you love funky, abstract nail designs, this sassy splash art is perfect for you! All you need to do is choose a bright, neon shade for your base. And then swirl in some other neon splashes, once the base coat has dried. Add some black splashes for a final touch!
Musical Interlude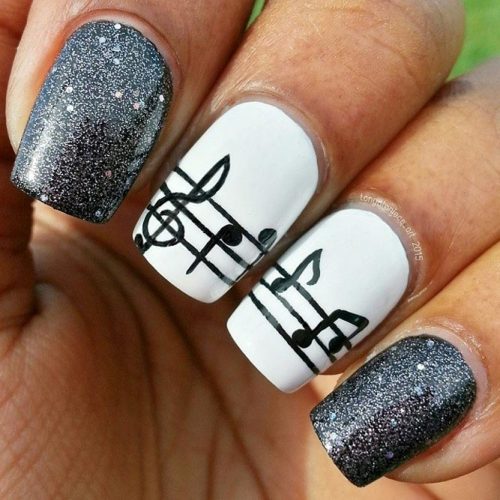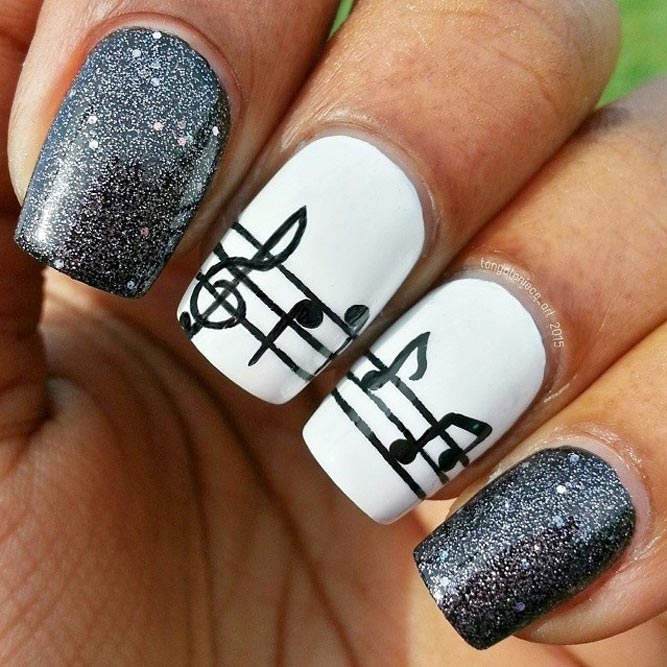 Source: tonyalaniece_art via Instagram
This classic style is perfect for avid music lovers. Dancing black music notes on a white or nude base. If you want to make it shine, paint one nail black and add some sparkling silver sequins.
Totally Tribal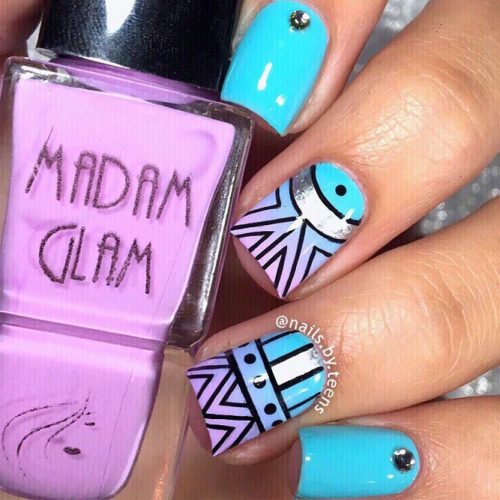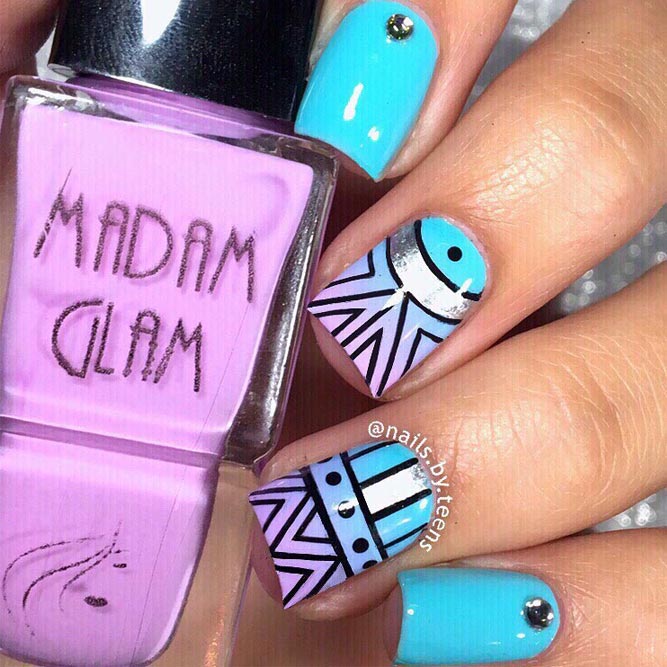 Source: nails.by.teens via Instagram
Tribal tattoos are all the rage, so why not tribal nail art? This fun and detailed design, with bold color combinations and traditional tribal designs, is perfect for shorter nails.
Tea Time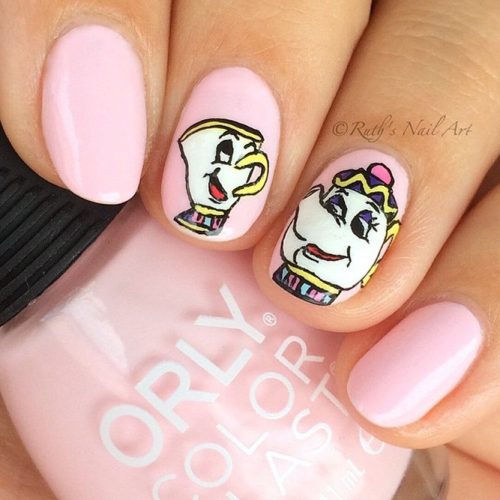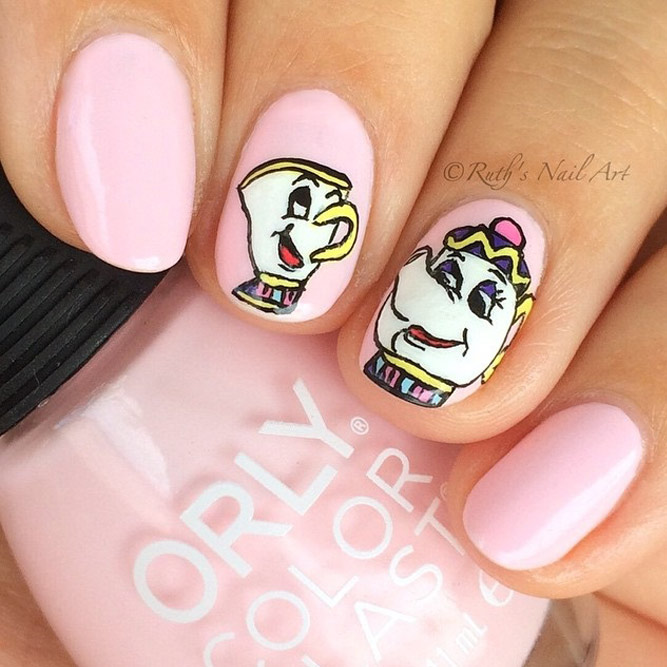 Source: ruthsnailart via Instagram
This lovely shade of pink is gorgeous on its own. However, a delicate teapot drawn on one finger on each hand is sure to be a nice accent.
Pearly White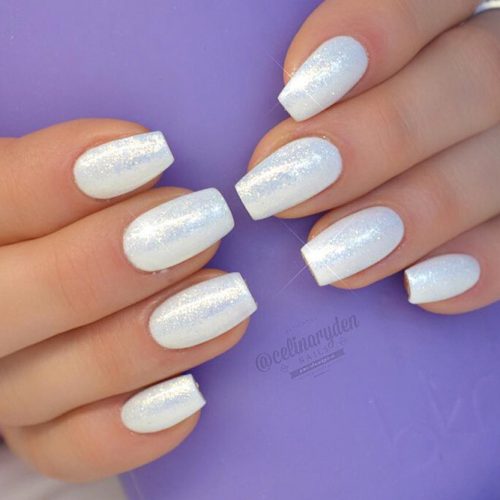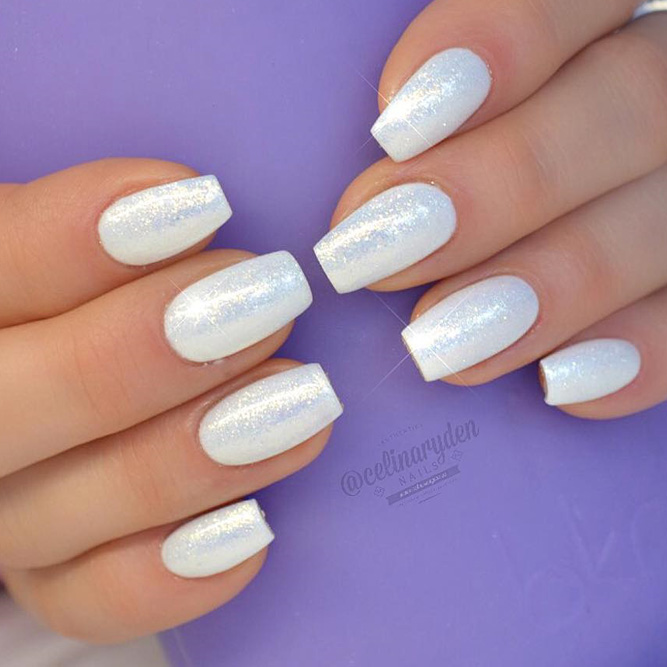 Source: celinaryden via Instagram
This gorgeous mother-of-pearl white is pure elegance. If you wish, you can add one simple design in soft pink on your finger for a sophisticated short nail style.
Fancy French Mani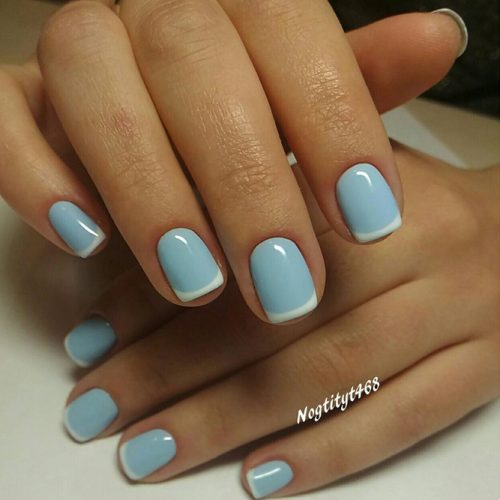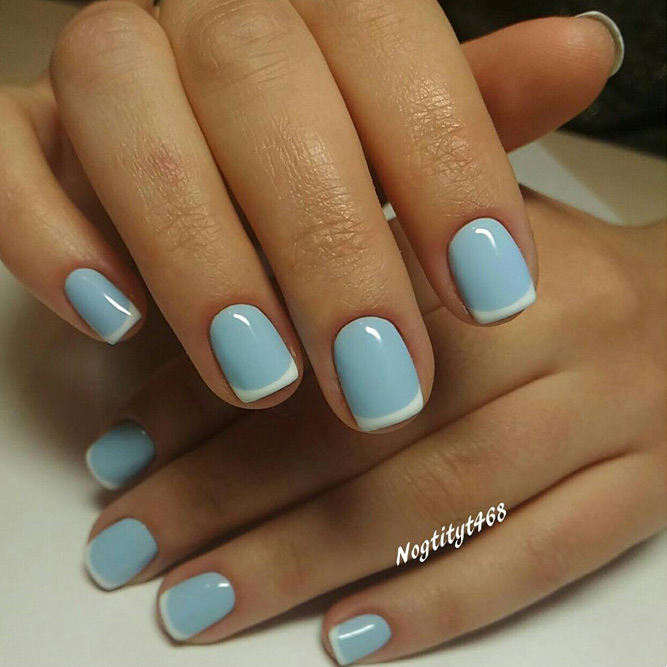 Source: nogtityt468 via Instagram
Who says you can't have a French mani with short nails? This baby blue base with thin and delicate French tips is totally sleek and appropriate for any season.
Glam Girl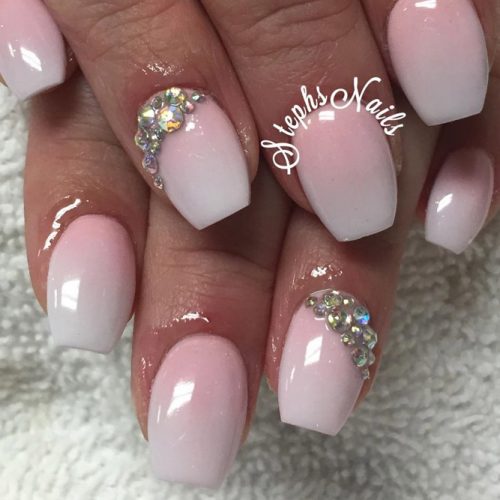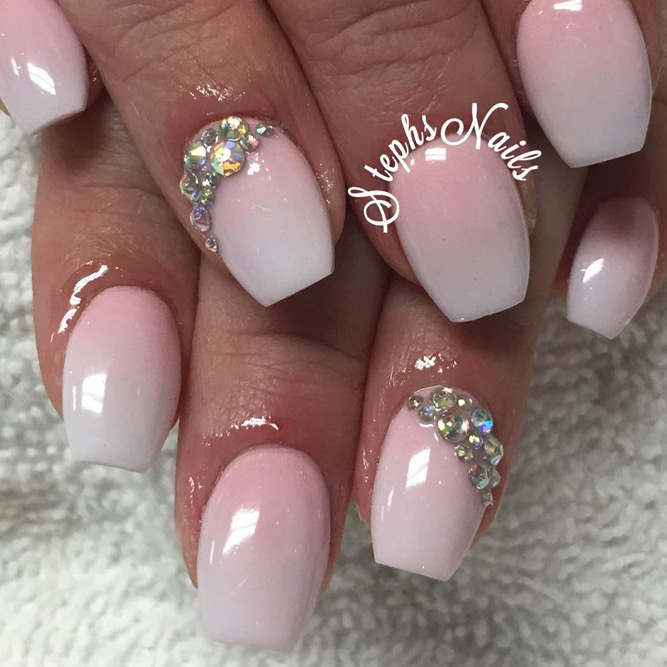 Source: _stephsnails_ via Instagram
This glamorous nude nails art with subtle shades of pink and white is stunning. Adorned with shimmery pearl and gold jewels, you will be the belle of any ball!
Quirky, Quilted Nail Art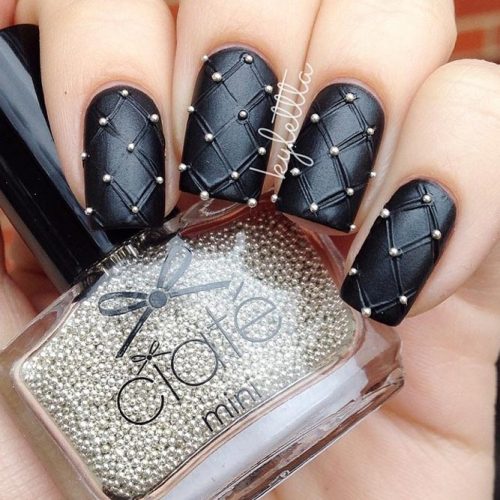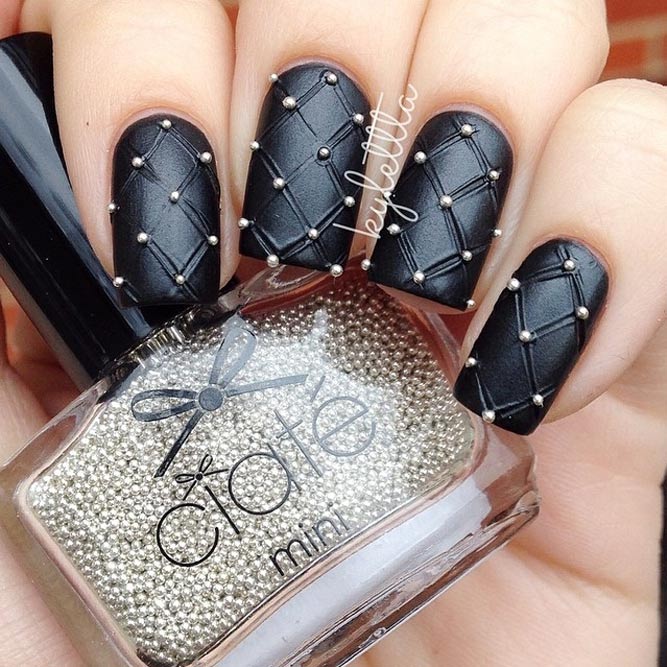 Source: kyletta via Instagram
If you prefer darker shades, it is the look for you. A deep dark shade of midnight blue or black, with its quilted design, is cool. Add some shiny white or silver studs to the diagonal quilted texture for a shimmery effect.
Yin Yang Nail Design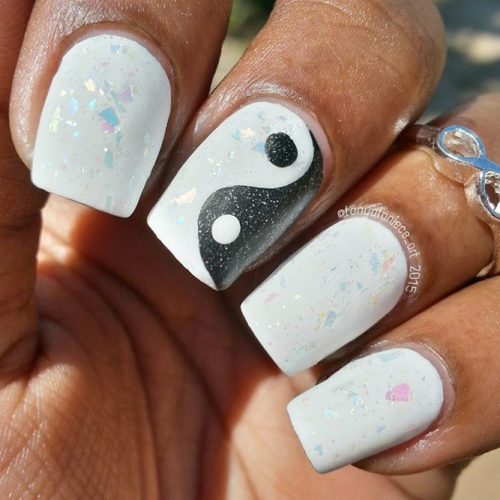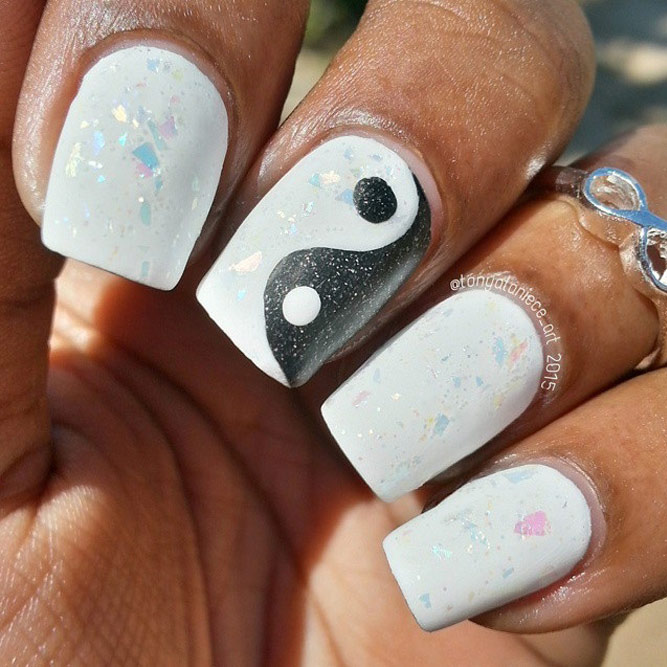 Source: tonyalaniece_art
If you love classy nail designs, this yin-yang effect is up your alley. With swirly black and white yin yang design on your ring fingers, this look is trendy, yet timeless.
Mythical Mystique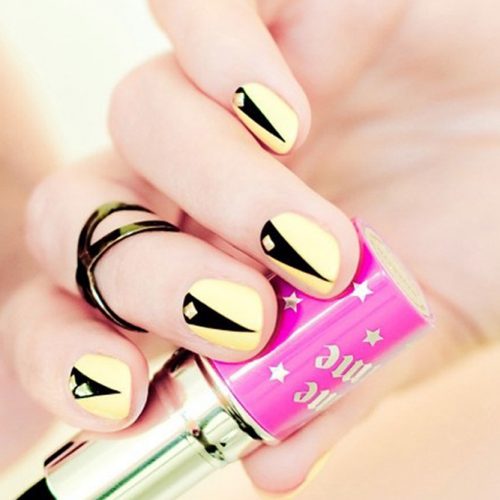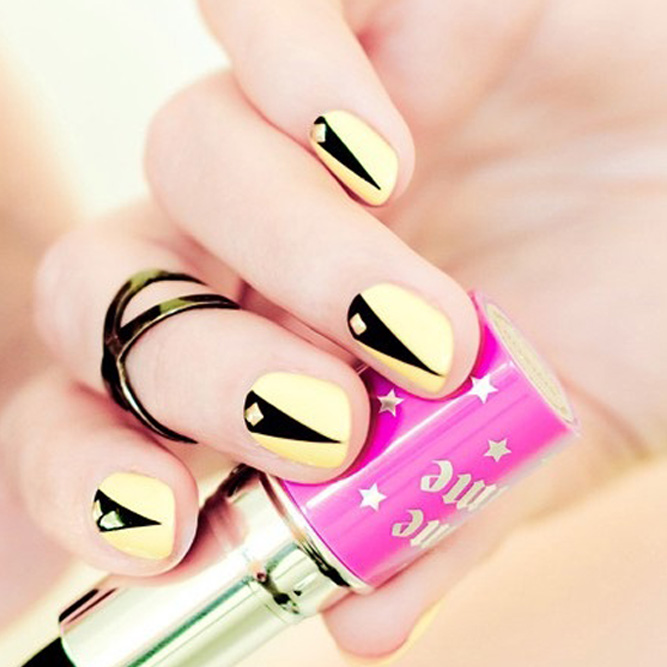 Source: so_nailicious via Instagram
For a mysterious, mystical look, paint a black pattern on each nail on top of a pale yellow base. Add a bright gold stud on each design to add some modern flair to this mythical effect.
White and Wine Swirls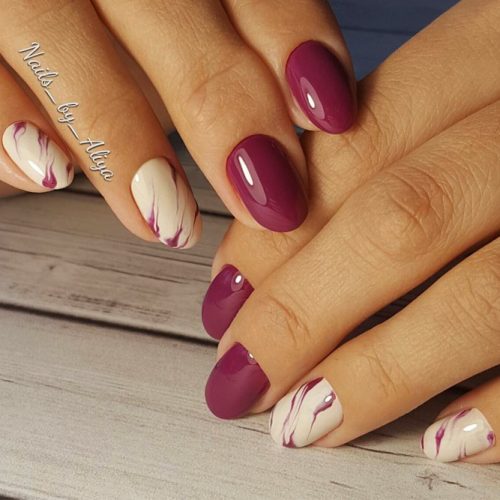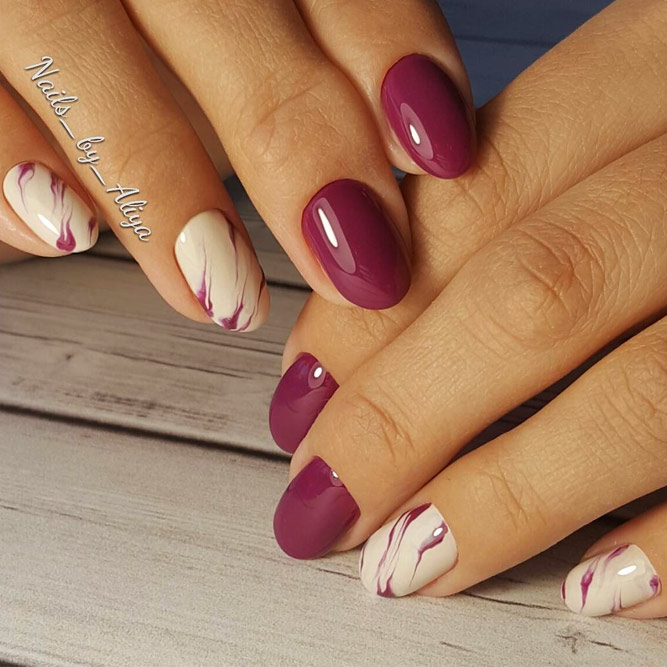 Source: nails_by_aliya via Instagram
Wine colored nails are chic and stylish. But with these delicate white swirls, they are totally captivating. This glamorous style is the perfect blend of two classic nail shades.
Sunflower Power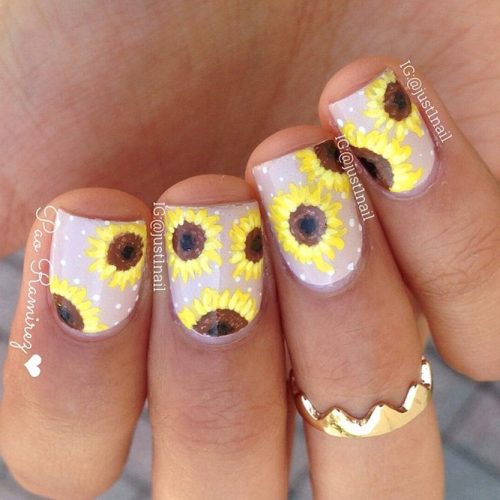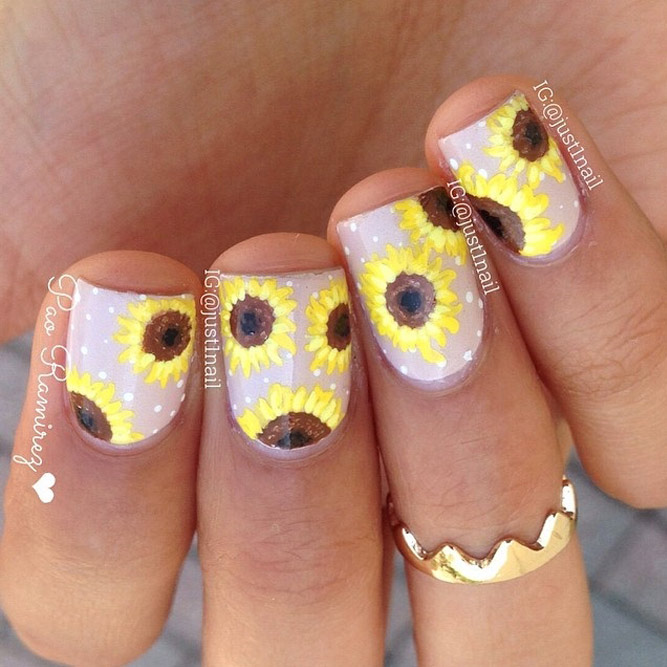 Source: just1nail via Instagram
Sunflowers are bright and cheery for any season or event. With a pretty pastel base and a few polka dots, these stunning sunflowers will brighten any day!
Minnie Mouse Nail Art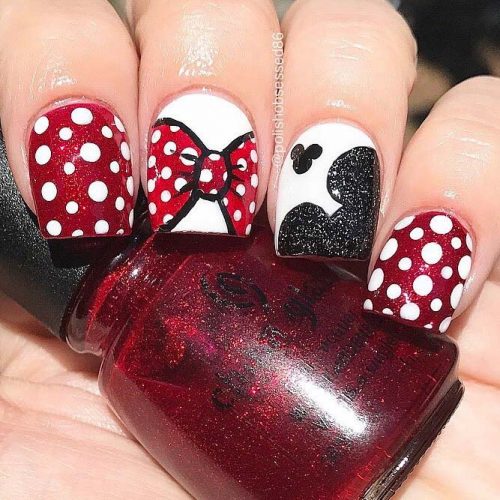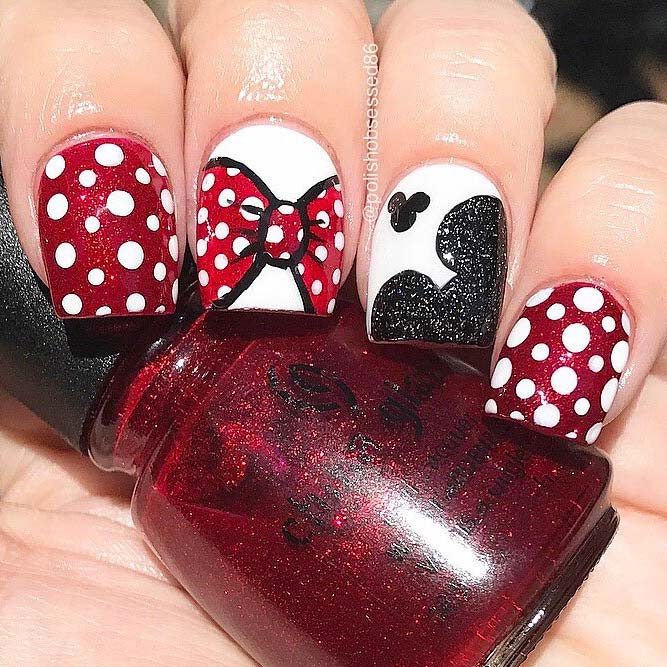 Source: polishobsessed86 via Instagram
Cartoon nails art can be classy, if you do it right. This fun polka dot design with alternating red and white nails and matching polka dots is fun on its own. But add on some black Minnie Mouse ears on one nail and a big red bow on another, and you'll have the coolest classy nails!
There you have it. These are the most fabulous nail designs that can be sported on your short nails.
White and Gold Nail Design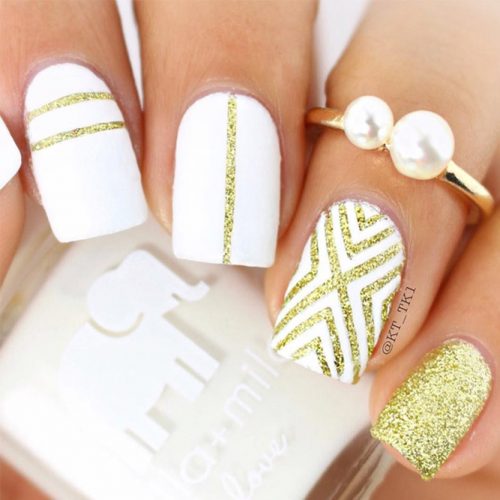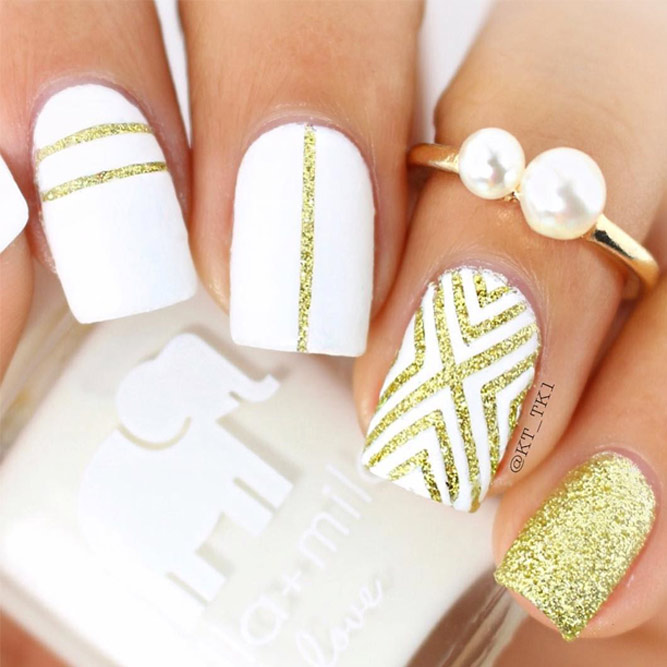 Source: kt_tk1 via Instagram
White and gold are the lovely colors for most ladies. It is the perfect combination for parties or just a normal day.
Half Moon Nail Art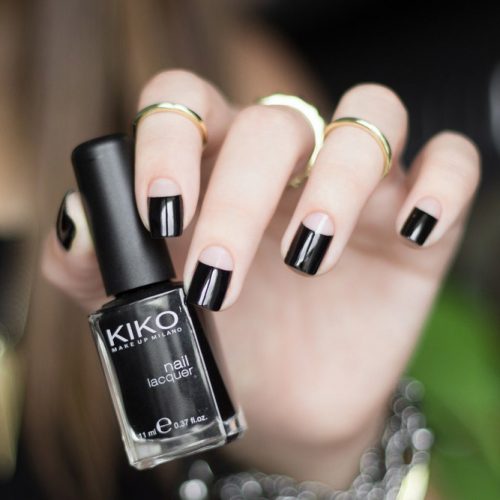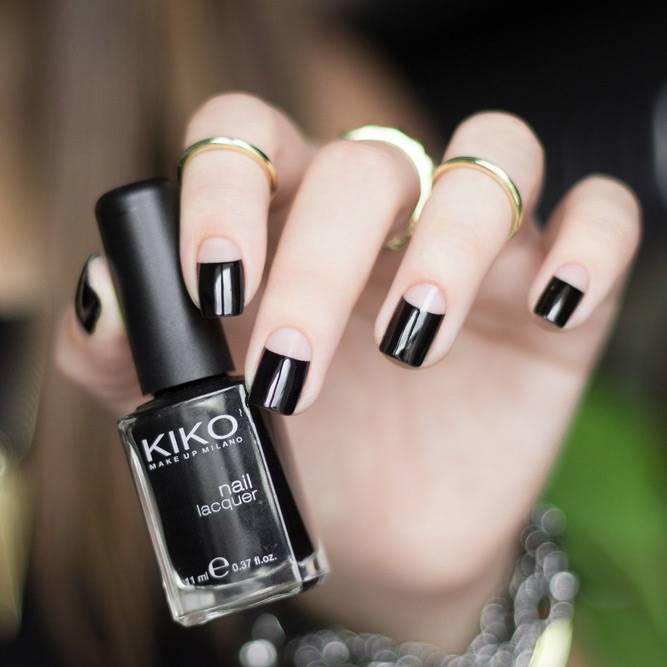 Source: Nailpolis
The half moon design is a really different kind of nail art design, but it can be simple. You could just try a bold color and then create a half moon shape with a neutral color.
Beach Nails
These nail art is perfect for days, when only thing you want to do is lay in the sun and swim in the sea. You can also try this design to refresh your old mani.
Fun Watermelon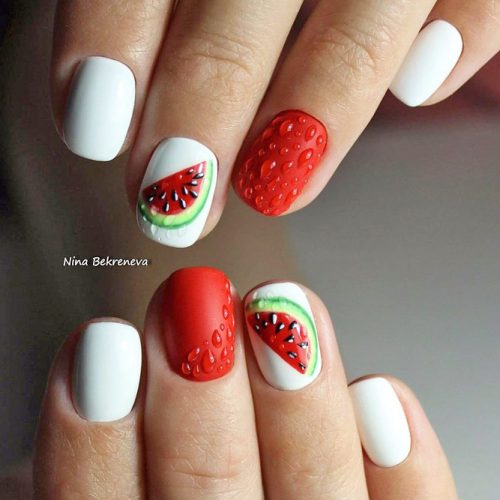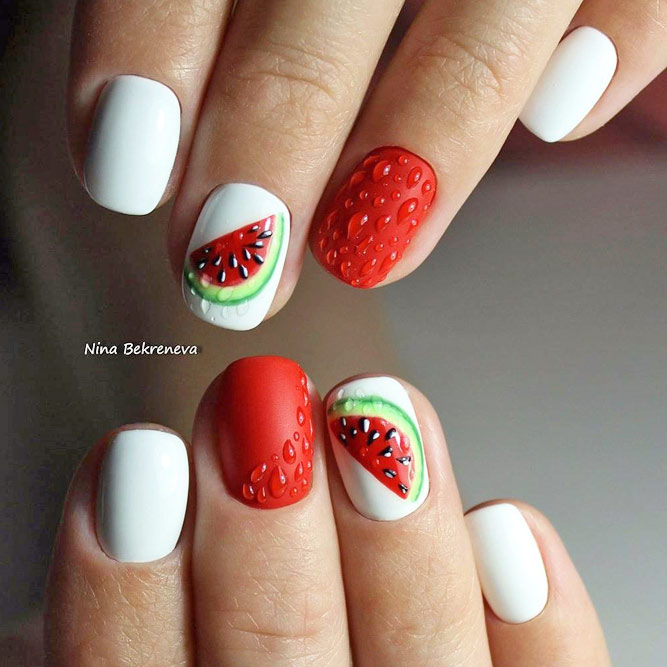 Source: ninabekreneva via Instagram
This watermelon design is bright and definitely good for the summer. It's refreshing and fruit design is well combined with the entire look.
Super Star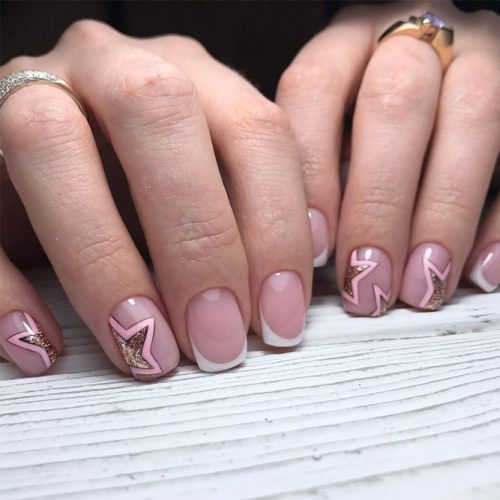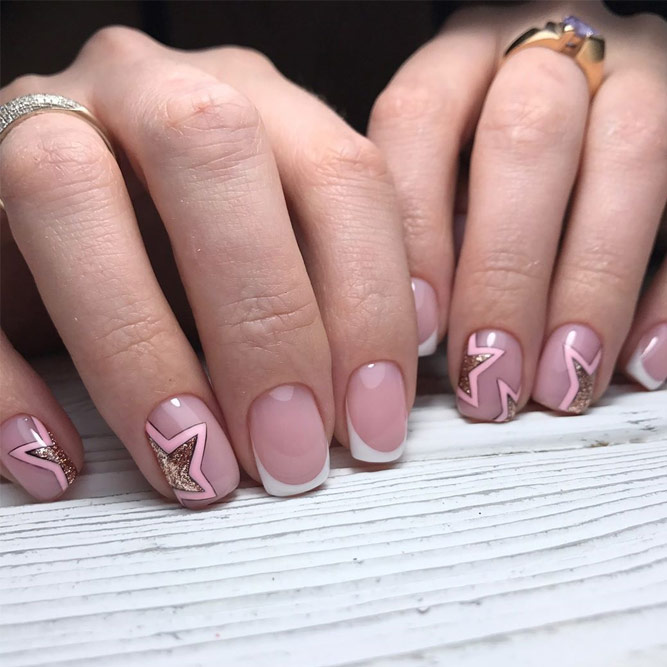 Source: kras_a_nails via Instagram
This manicure trend is seriously everywhere right now. Simple french manicure will be amazing with sparkly star designs on one or two nails.
Sweet Candy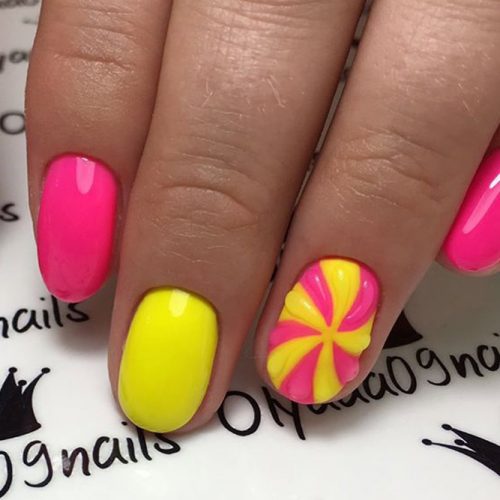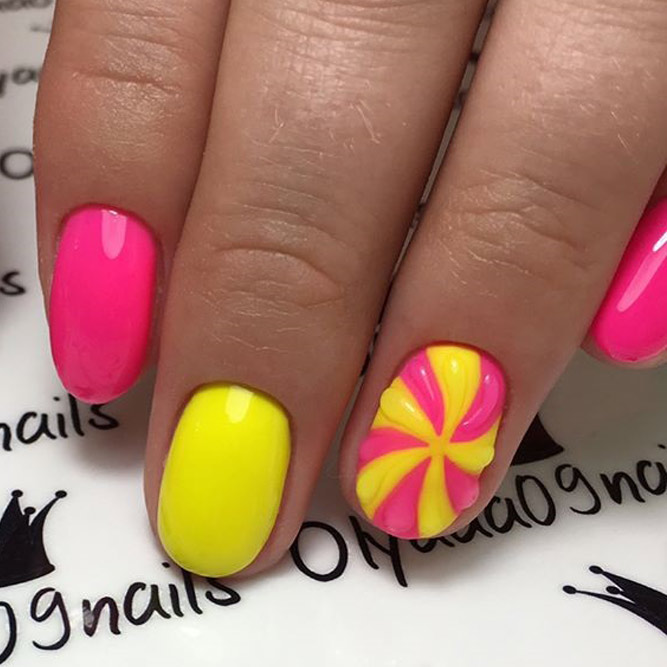 Source: olyaaa09nails via Instagram
The cool thing about this lolipop mani is that you can do all sorts of color combos. They're almost good enough to eat!
FAQ: Classy Nails
Are white nails classy?
In the summer, white color looks light and airy, while in the winter, it is sharp and elegant. Wearing a white manicure informs people you spend time and care about how you look, because it displays chips and cracks very easily. Expect to visit the salon frequently if white nails have become part of your style.
What do white nails say about you?
As you might be aware, white color represents cleanliness, freshness, or a clean slate. White nails, on the other hand, are associated with someone who is ready to move on to a new beginning. Light or baby blue nails, on the other hand, indicate that you've already been taken.
Are white nails trashy?
Because it's so easy to add designs on top of white, many nail technicians use it as a base for manicures. White, on the other hand, is a difficult color to deal with as it may easily turn garish or trashy.
Was this article helpful?