The world of tattoo art is vast and versatile. Even though there are many intricate and unique tattoo ideas, everyone wishes to know what is new on the stage. You may like tattoos, or you may not, but the chances are that embroidery tattoo is going to capture your soul with its power and beauty. Some people are not ready just yet to experiment with the art because they haven't found that particular pattern or style to follow. This is that one chance that those who doubt whether or not they should sacrifice their body canvas to a tattoo design may take and change their lives forever. Once you dive into the galaxy of tattoo art, you will never get enough of it, and there is absolutely nothing wrong with it. A classic once said that our bodies are temples, and we may just as well decorate the walls the way we like them!
What Are Embroidery Tattoos and Why Are They Are Popular
What are embroidered tattoos?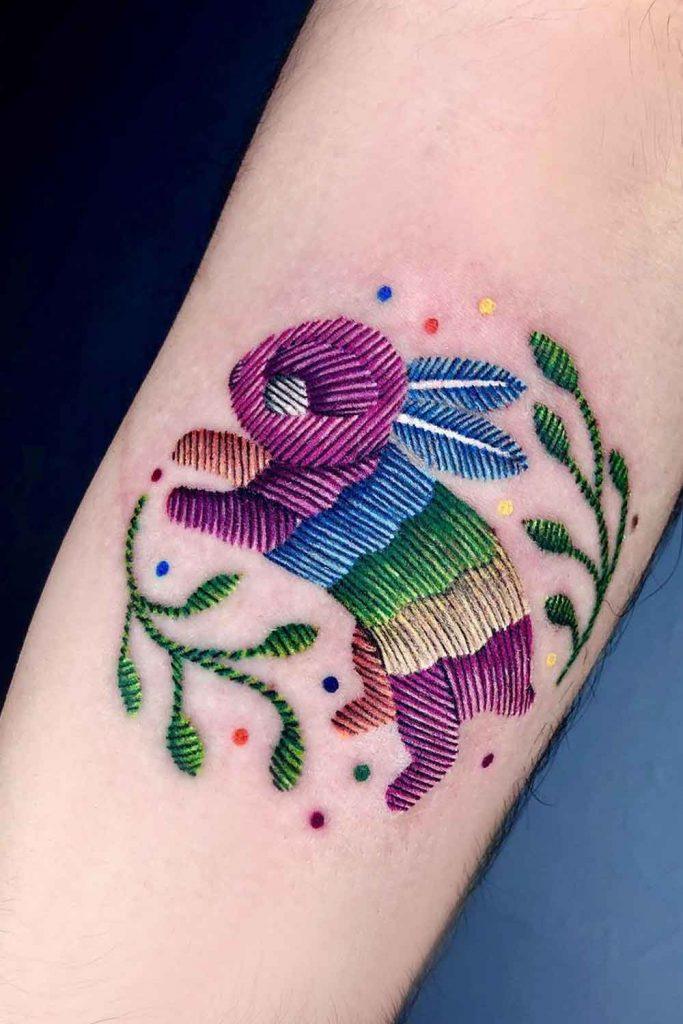 Credit photo: instagram/alicia_casale
To begin with, it should be stated that embroidery tattoos are as alive and realistic as real embroidery is. This particular style of tattoos is aimed to replicate an embroidered pattern so that every time you look at it, it seems to be cross-stitched onto your body. There is no stitching involved, even though there is also a lot of needlework required. Many artists who decided to create something so fantastic as an embroidered tattoo are usually artists in real life. The only difference is that they create their realistic paintings with the help of a needle and a bright palette of colors. Also, it needs to be accented that usually embroidered tattoos are 3D tattoos, and in order to get one done right, you need to work only with a very skillful and talented artist.
The popularity of embroidery tattoo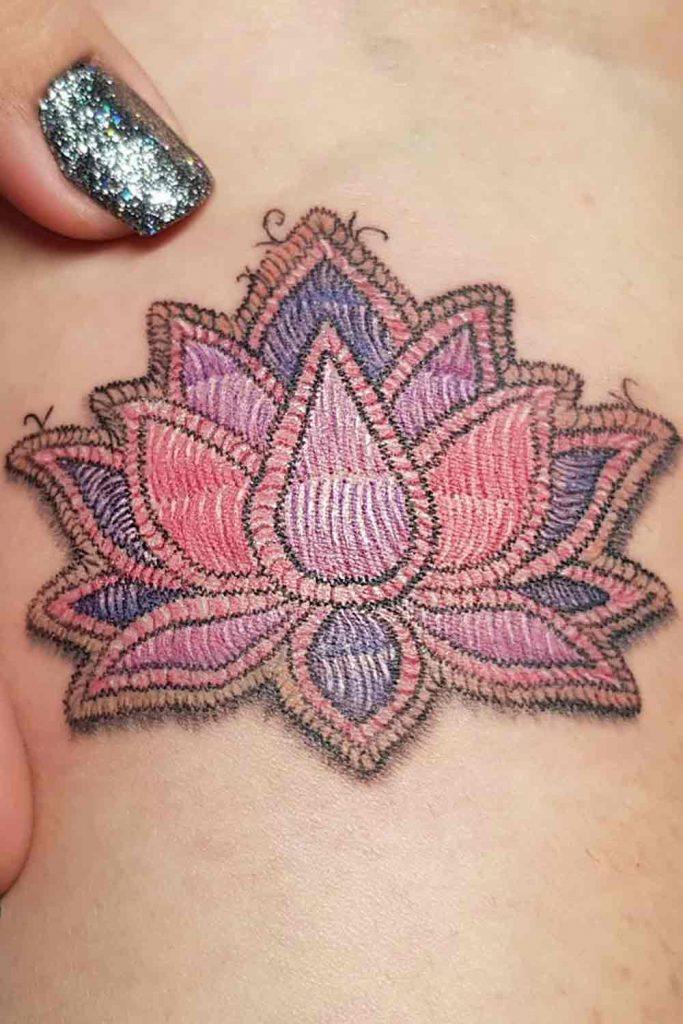 Credit photo: instagram/nofi_ink
Some people think that tattoo art is a new art stream, the art of rebels. However, no matter how surprising it may sound, even 5000 years ago, in Egypt, many priestesses were known to decorate their bodies with tattoos as well. Of course, these weren't embroidered tattoos that the priestesses covered their bodies with, but the fact remains. If we date as far back as thousands of years ago, it is only natural to assume that the means that ancient tattoo artists possessed were simple and basic, but these days the things are entirely different.
These days the art of body decoration gets to the new level of incredible, and that brings such modern trends as embroidery tattoo in. Famous artists all over the globe are experimenting with the stream, and it is gaining popularity all over the social media by the day. If you want your tattoos to stand out from the rest – this is your golden opportunity!
What you should know before getting an embroidered tattoo?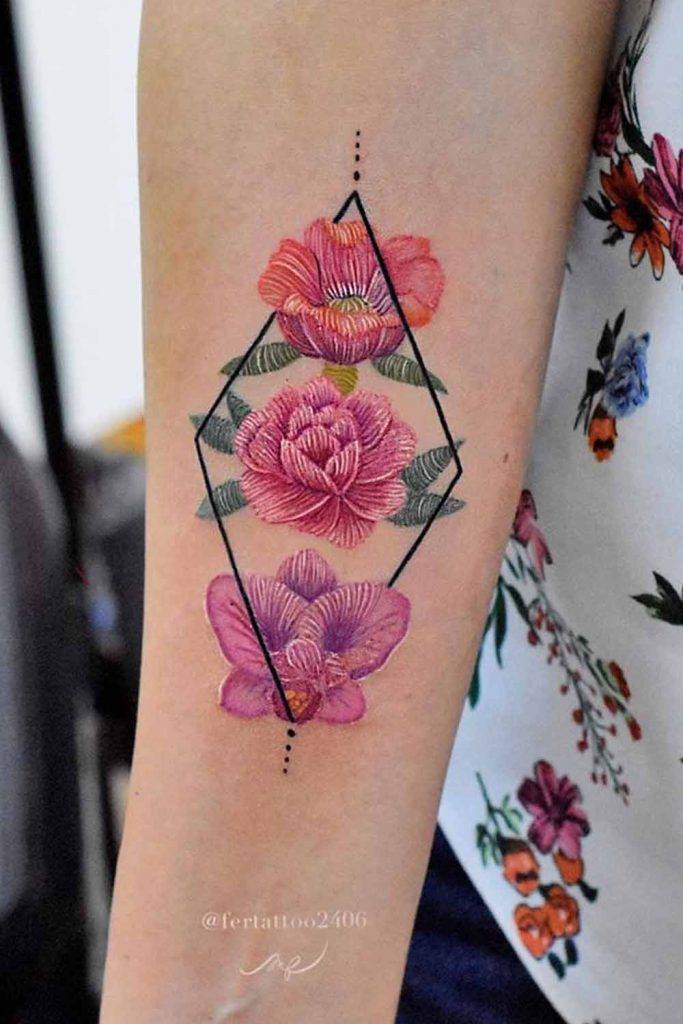 Credit photo: instagram/fertattoo2406
The stitched tattoo is not that different than any other tattoo type, that is why you need to take all the necessary steps you would if you were to tattoo something simple on your body. However, since the trend is quite fresh, you need to make sure that the artist you book your appointment with knows precisely what you have in mind, and he or she can complete it seamlessly.
It is always advised to get in touch with a tattoo artist in the first place so that you can discuss all the details, minor and major ones so that there are no secrets left, and all the questions are granted with a complete answer.
Bright And Beautiful Embroidery Tattoo Designs For Your Next Ink
Embroidery Tattoo Designs For Arm
We have talked some time about the theory, and not it is time we get to practice. If you are still having some doubts about the matter or embroidery tattoos, these fantastic tattoo embroidery designs for arm will surely help you make up your mind!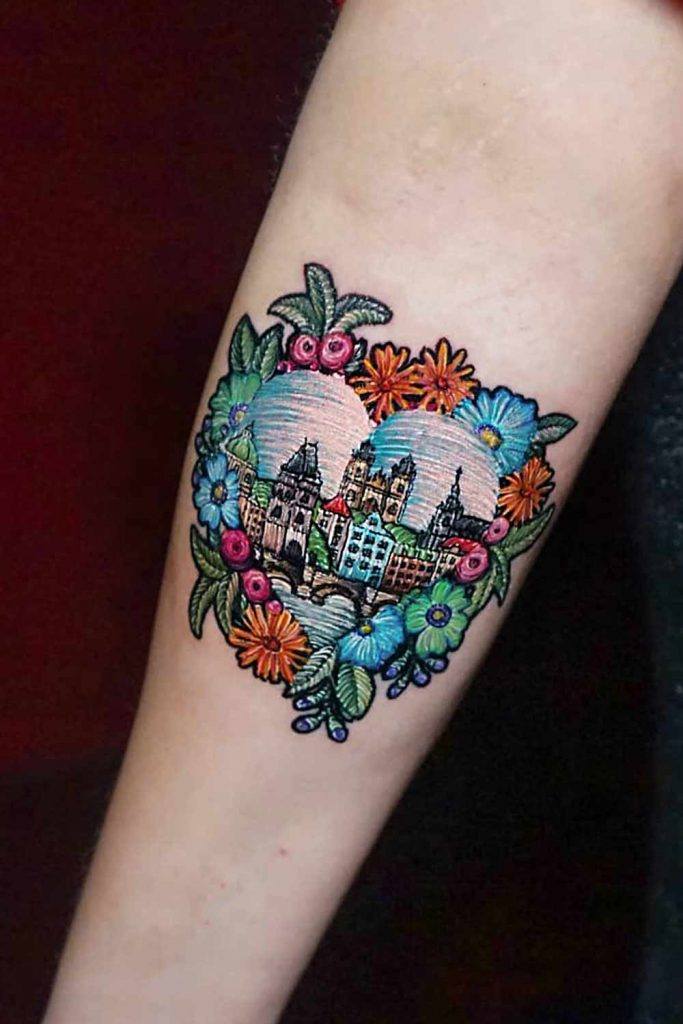 Credit photo: instagram/ksuarrow_tattoo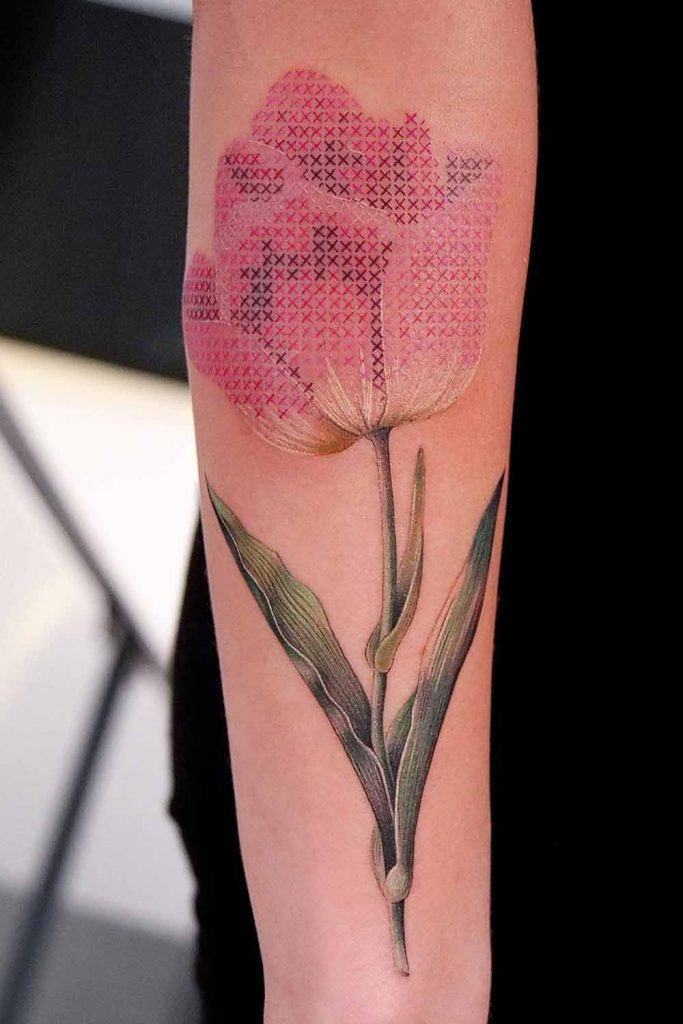 Credit photo: Instagram.com/evakrbdk, Instagram.com/atelier.eva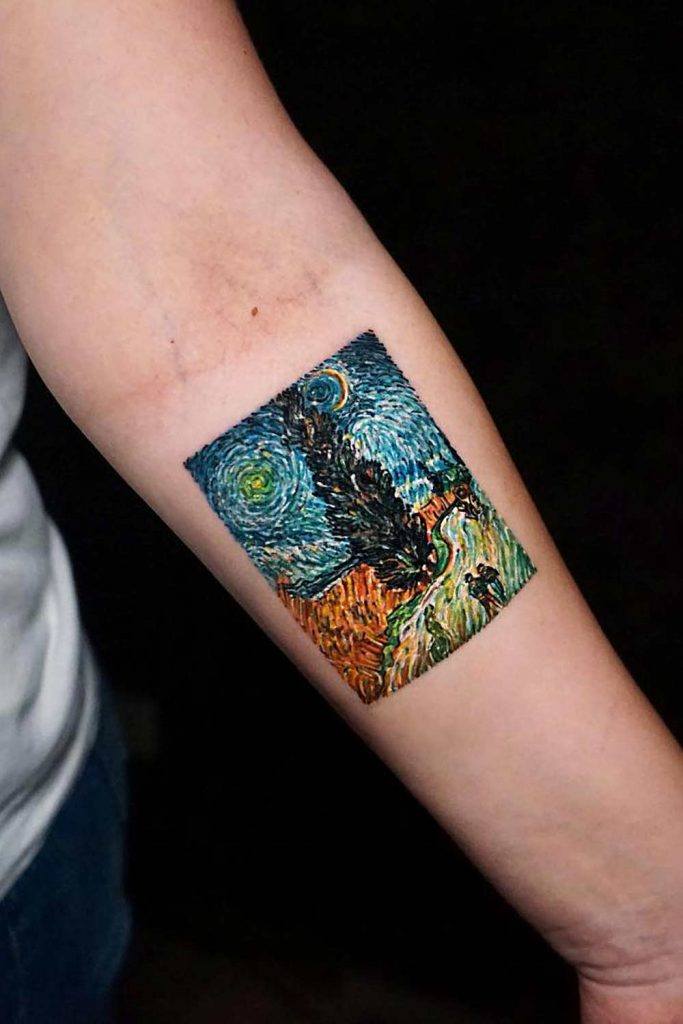 Credit photo: instagram/ksuarrow_tattoo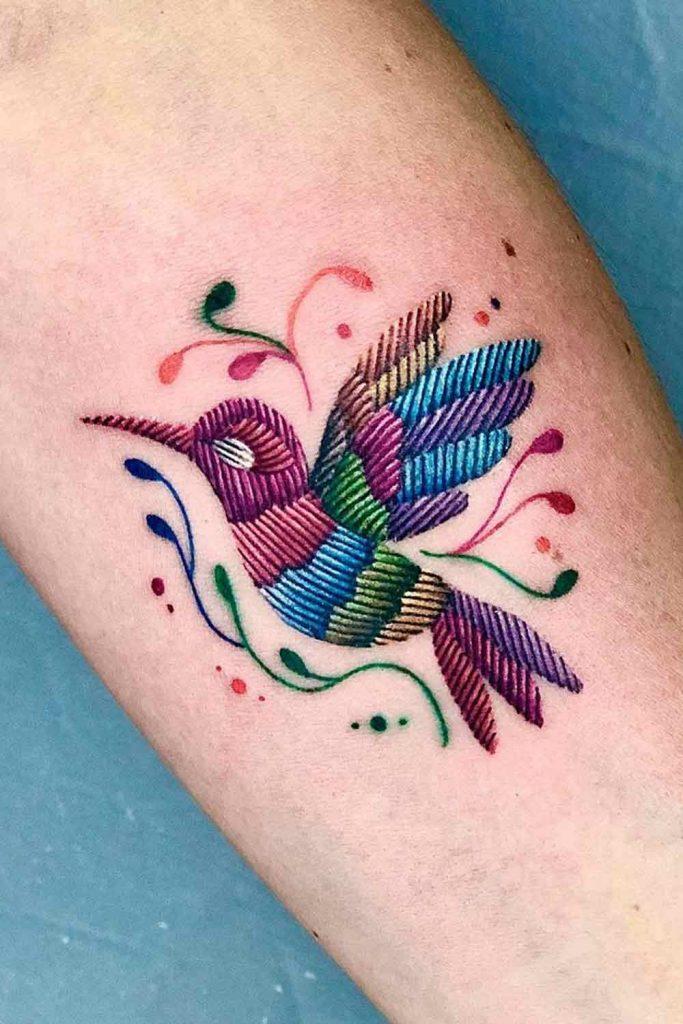 Credit photo: instagram/alicia_casale
Embroidered Tattoos On Legs
There is a list of the advantages of getting a new tattoo on your legs. First of all, there is a lot of room to devote to that new masterpiece of yours. Secondly, it is easy to hide from the prying eyes. Thirdly, these embroidered leg pieces are breath-taking!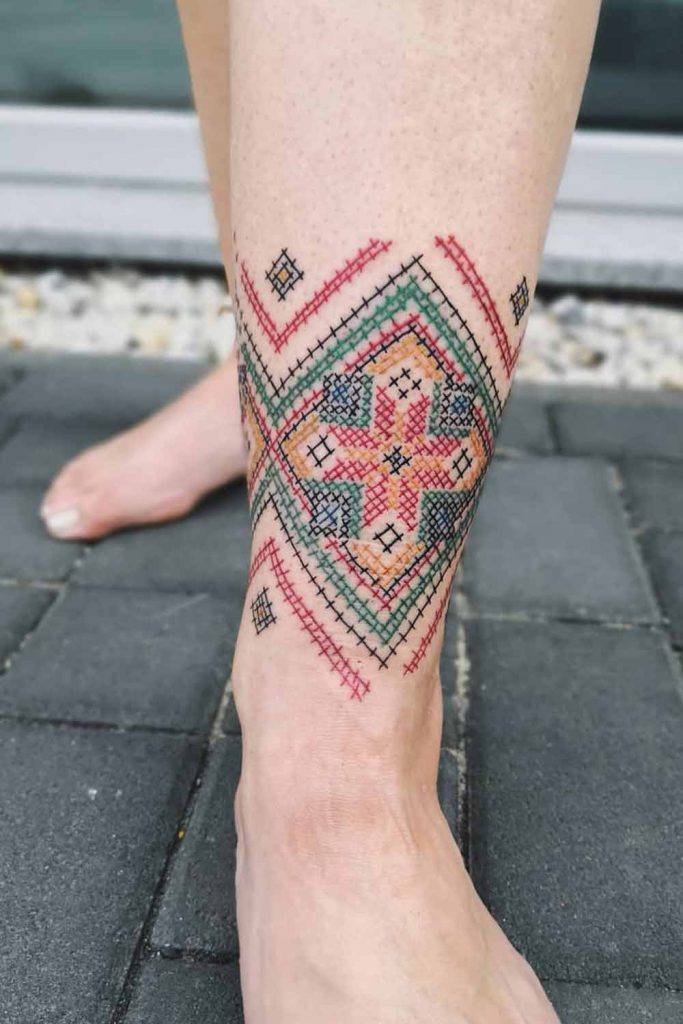 Credit photo: instagram/moona.autumn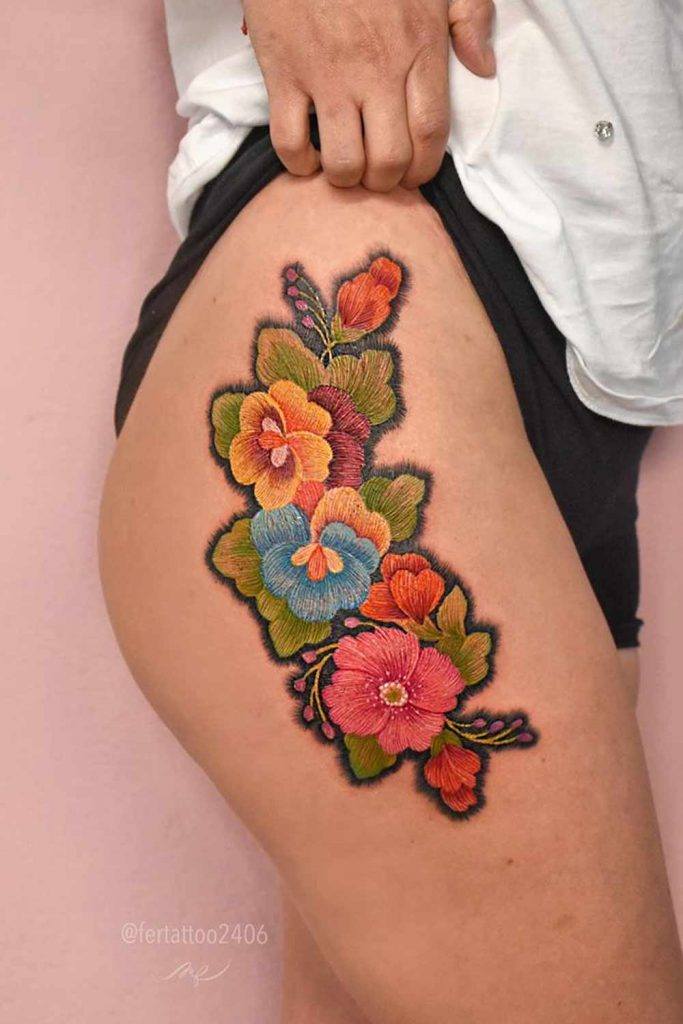 Credit photo: instagram/fertattoo2406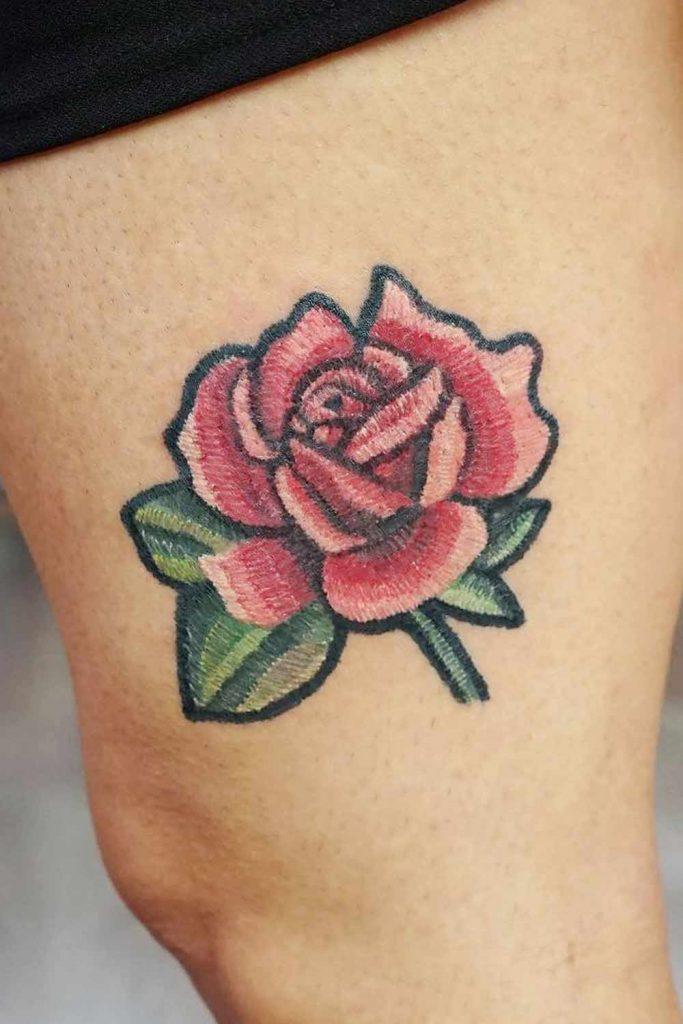 Credit photo: instagram/ksuarrow_tattoo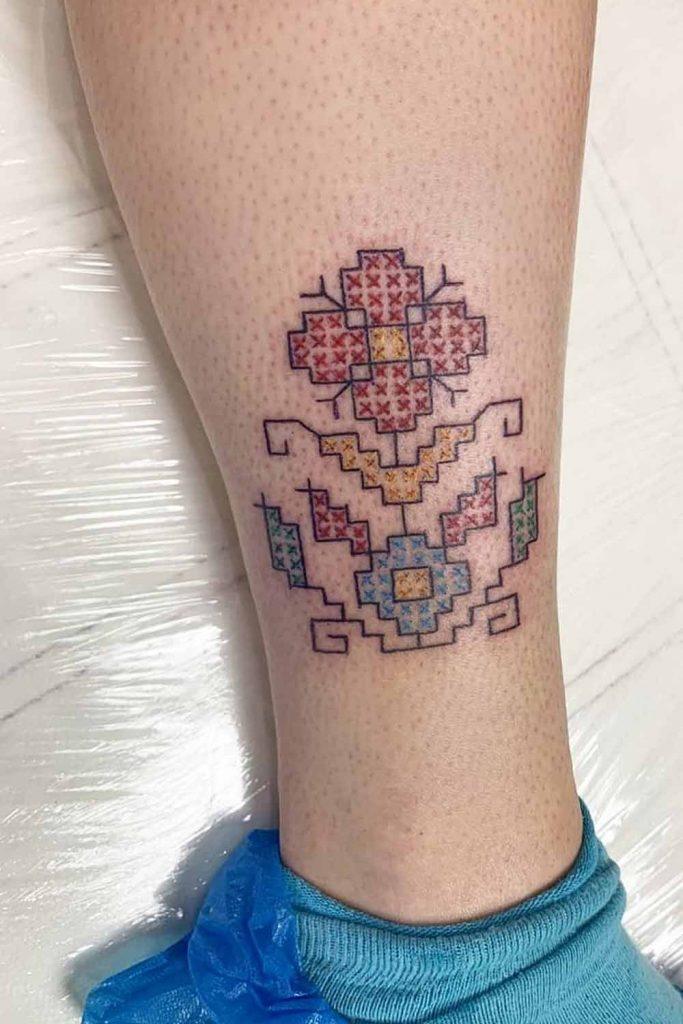 Credit photo: instagram/viks.art
Embroidered Tattoos For Back
More and more ladies are opting for impressive back tattoos that usually have a lot of meaning hidden behind them. If you are a bold and thoughtful woman, then a colorful and trendy back tattoo is yet another adventure to take, don't you think?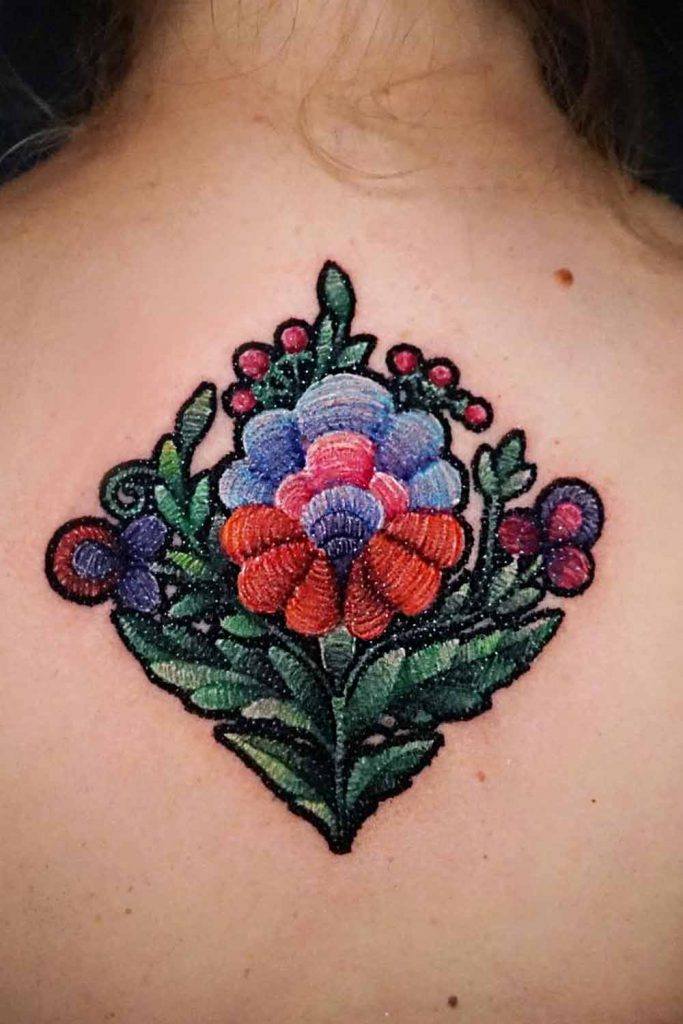 Credit photo: instagram/ksuarrow_tattoo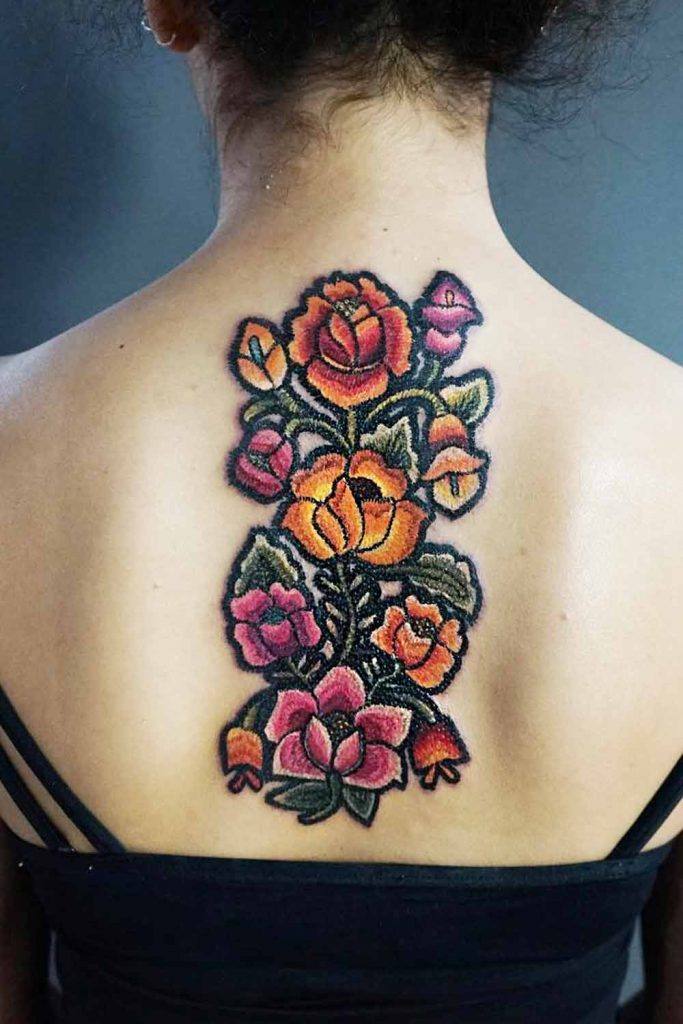 Credit photo: instagram/ksuarrow_tattoo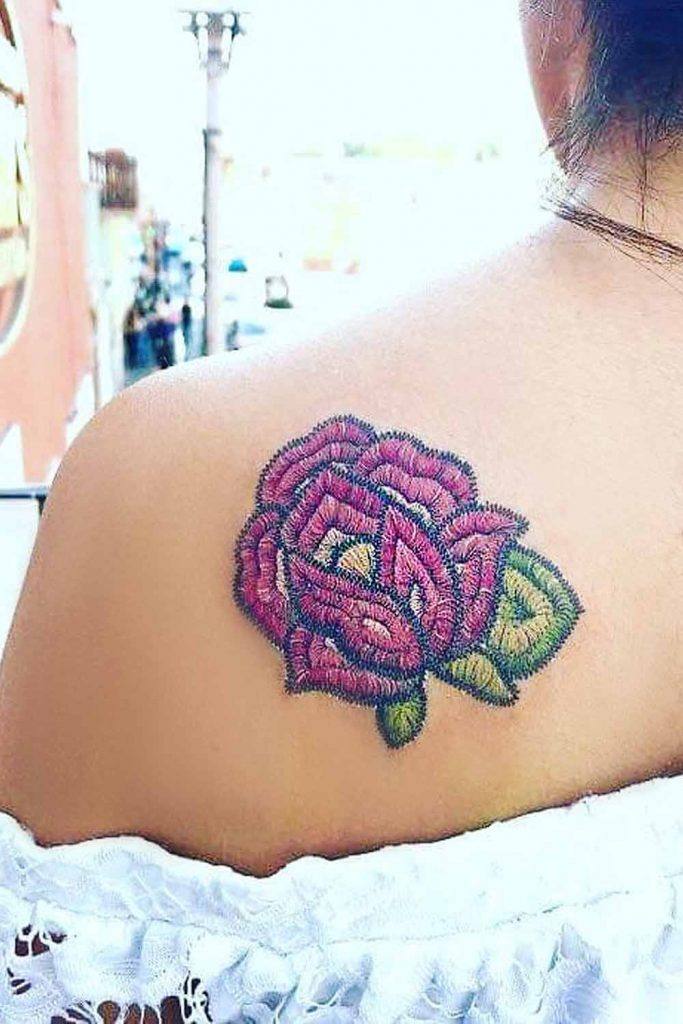 Credit photo: instagram/septimoarteciney
All the tattoo art fans rejoice, there is a new guy on the block! Embroidery tattoo is a trend that is making its way into fashion slowly but gradually. If you do not want to miss anything, you should hurry up and read the article!
FAQ: Embroidery Tattoo
Who invented embroidery tattoo?
The invention known as embroidery tattoo belongs to Eduardo `Duda'Lozano, a Brazilian tattoo artist based in São Paulo.
How long do embroidery tattoos last?
It usually takes around 2 weeks, but there are reports that it can take up to 3 weeks. This time is enough to enjoy a tattoo and consider whether to make its design permanent or replace it with another design in a few weeks.
Do embroidery tattoos hurt?
Your tattoo will be very red and painful in the first days after tattooing, and depending on the size, it can feel more painful for up to a week.
REFERENCES:
A tattoo is a form of body modification where a design is made by inserting ink, dyes and pigments, either indelible or temporary, into the dermis layer of the skin to change the pigment. Source
A tattoo is a kind of body modification where ink is inserted into a sub-layer of your skin to stain it permanently in an artistic fashion or design. Source
Was this article helpful?