A flower crown is a popular accessory that is used to embellish women's hairstyles. Today this accessory is often chosen for complementing a festival or a wedding image. But the tradition of wearing flowers in one's hair is deep-rooted.
For example, in ancient Greece, women wore flowers in their hair to honor their gods. Later on, the flowers began to signify respect and achievements – think about the laurel leaf and Julius Caesar. Then there were times throughout history when flowers symbolized celebration, love, and fertility. And today hairstyles with flowers add some boho vibes to our image.
Now let's discover cute floral accessories to adorn your hair.
Wedding Flower Crown For Beautiful Brides
Source: enczaphotoprops via Instagram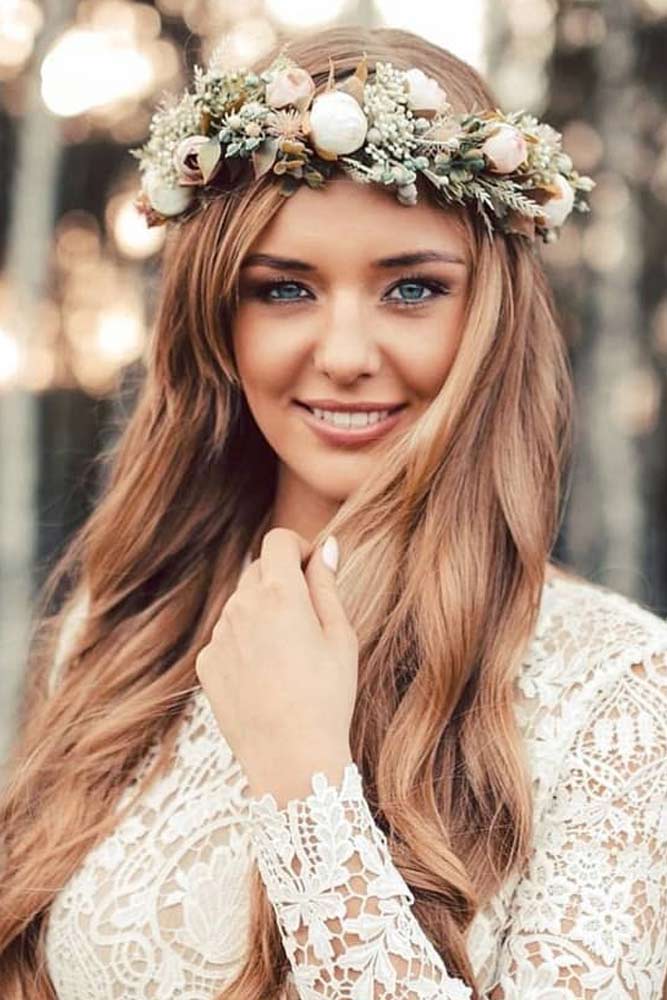 Brides often wear a flower crown to their wedding ceremony. The model in this picture has a hairstyle that blossoms because her locks are accented with beautiful blooms. It is a nice idea to add a floral arrangement that makes a statement to a big-day image. And her half updo opens her pretty face.
Boho Flower Crown Design For Bride
Source: officiallyquigley via Instagram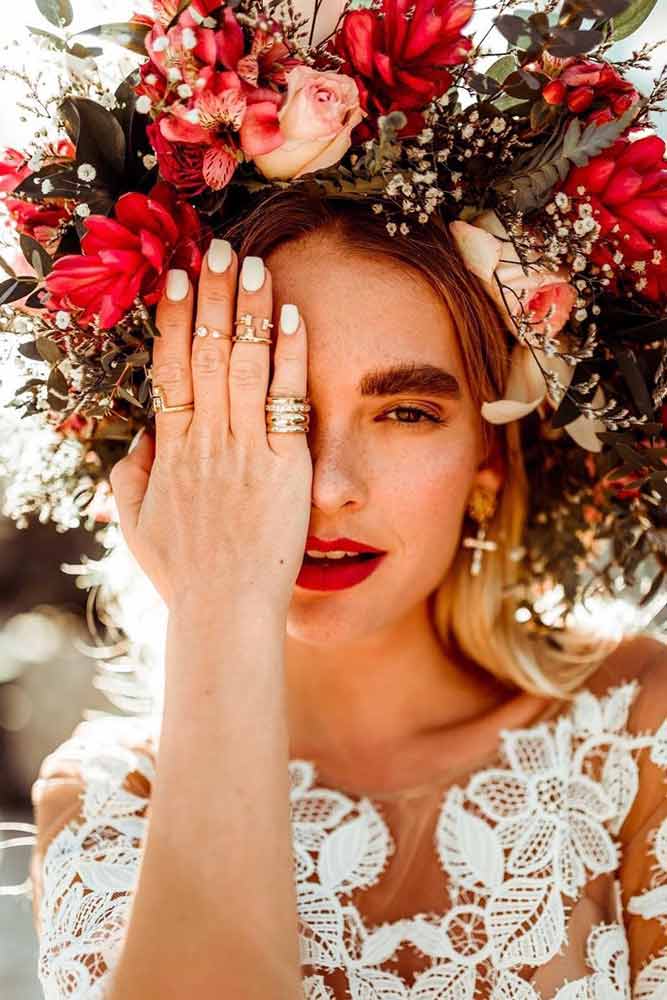 Some women choose to have a themed wedding, for example, bohemian. If that is what you prefer, consider embellishing your hairstyle with a floral accessory like the one in this picture. This model matched the accessory with her makeup. Her lipstick is in the same hue as the big red flowers.
Simple Bride Crown Design
Source: sarahvdesigns via Instagram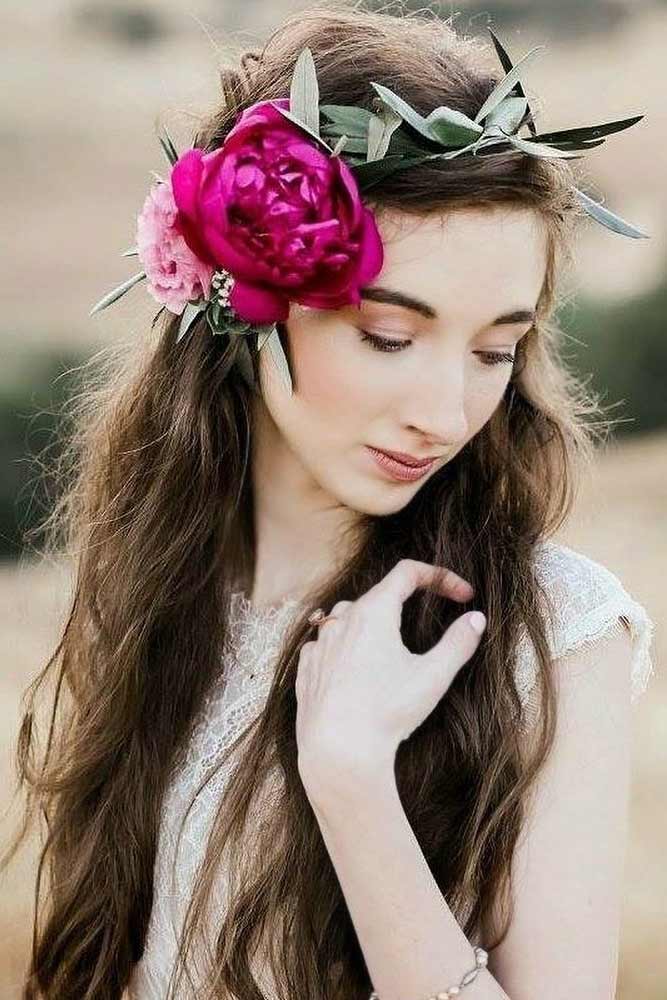 Stylists picked a simple floral accessory for this model's bridal image. White flowers are a classic choice. It's something that you cannot go wrong with. And whites are spiced up with several beige flowers. The ensemble remained subtle against this model's hair color. What we mean is that it would look screaming if her hair color was dark.
Flower Crown Design For Cute Bridesmaid
Source: sheerrosedesign via Instagram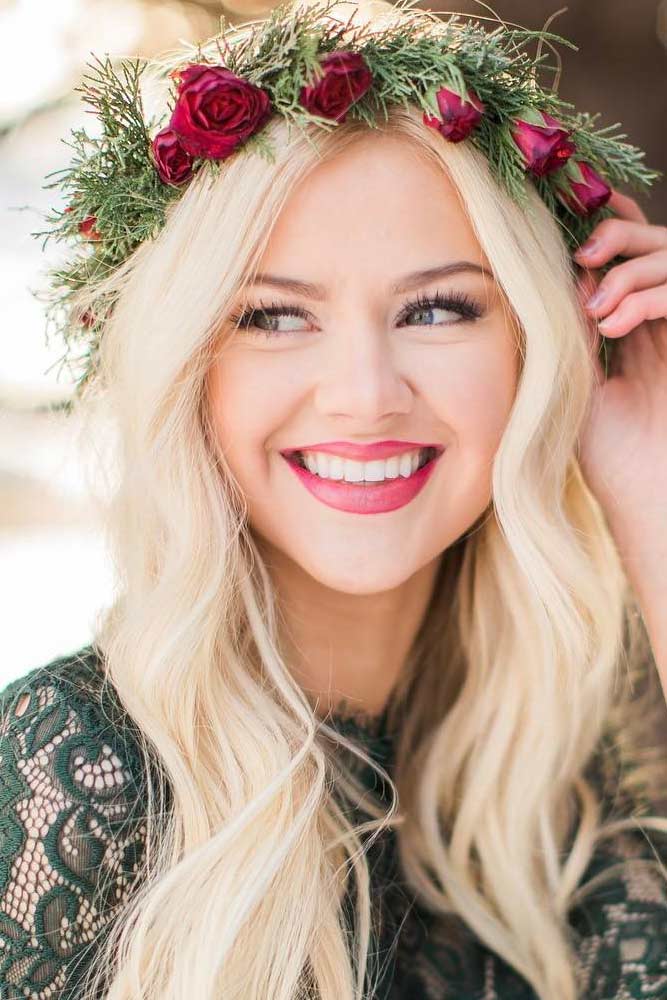 You can go for a bridesmaid image like this if the theme of your friends' wedding ceremony is dark green and ruby. This model has a dark green dress on, and the hair accessory is made with a green base and ruby floral accents. Her ruby lips really play up her look.
Simple Flower Crown For Bridesmaids
Source: emilyroseflowercrowns via Instagram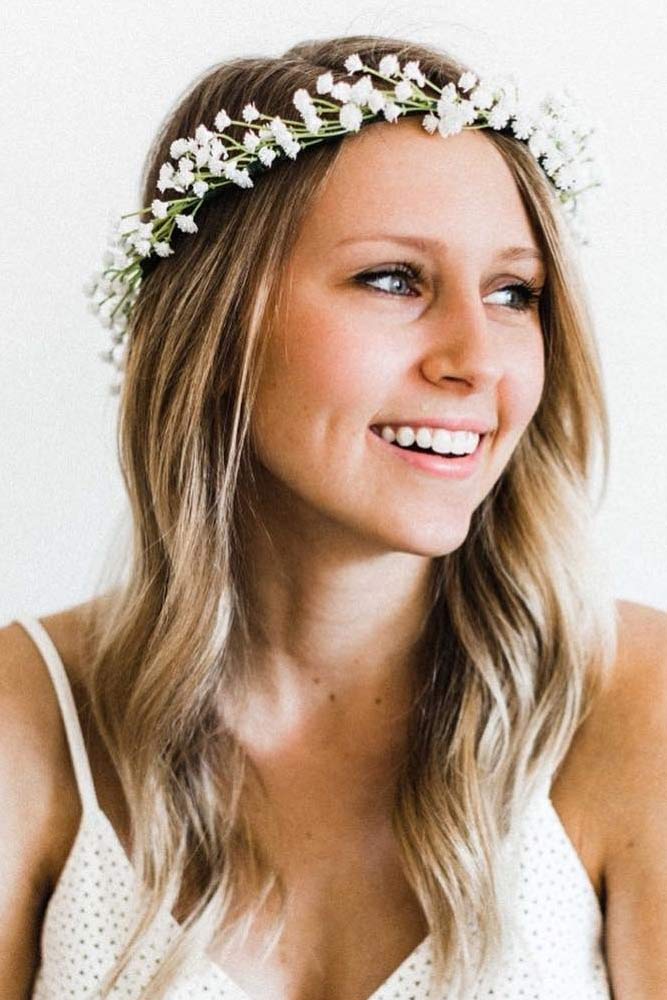 In this picture, the model wears a simple floral accessory and looks super adorable. Do you wonder what types of flowers will work best for creating a floral crown? Well, you can use any kinds of flowers, but you should consider just several things – their size, longevity, and smell.
The smell factor is obvious. If you hate the smell of the flowers, you won't be able to wear them for even 5 minutes. Then you might have a headache or even become dizzy and sick.
As for the size, too big flowers can simply overwhelm the accessory. When combined, flowers may become too heavy to wear. So, pick smaller flowers to be on the safe side or combine small and several big flowers.
If you use natural flowers, make sure they are very fresh. Otherwise, the flowers won't last for much time, and even sprinkling them with water won't help.
Perfect Flower Crown Accessory For Bridesmaid
Source: twigandbloomyxe via Instagram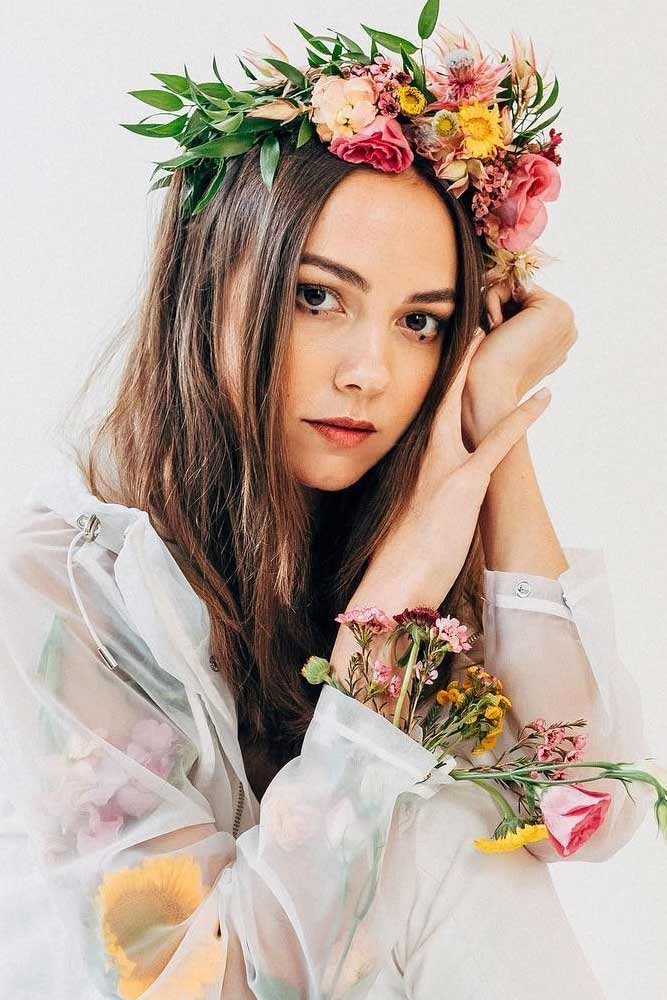 Brides often ask their bridesmaids to put on subtle colored outfits for the bride to be the only woman who stands out from the guest crowd. But bridesmaids also play an important role in the ceremony, so they should be noticed, too. A greenish floral accessory like the one in this picture will do just fine for your bridesmaids.
Flower Crown Design For Beach Photo Shoot
Source: warnercollective via Instagram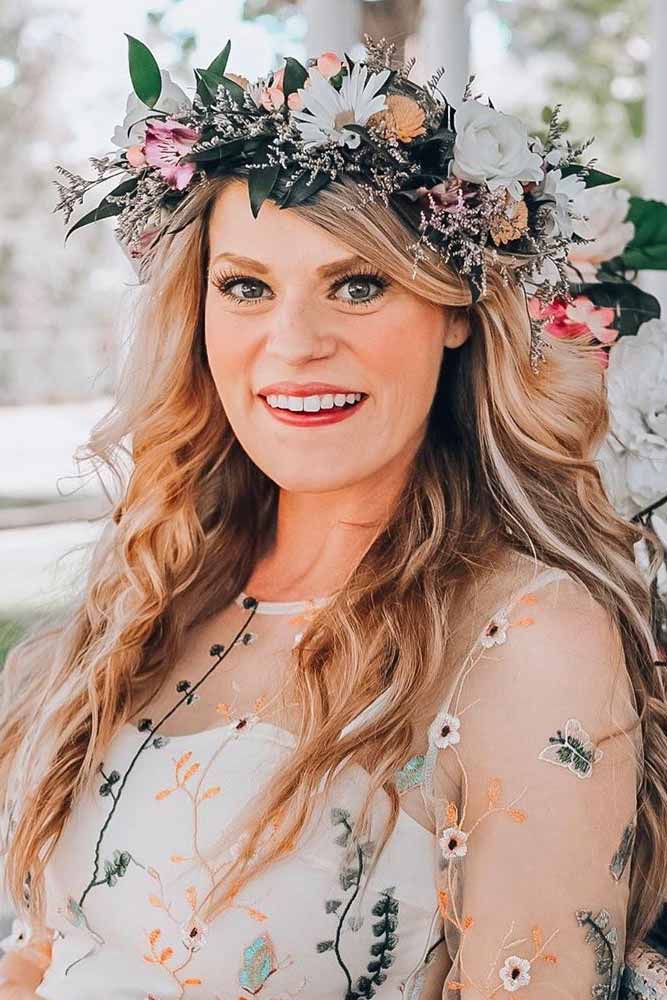 This model has a flawless image with her dress and floral accessory complementing each other perfectly. Light pink flowers truly match her dress. This image is romantic and ultimately elegant.
Tropical Flower Crown Design For Summer Queen
Source: janay.marie via Instagram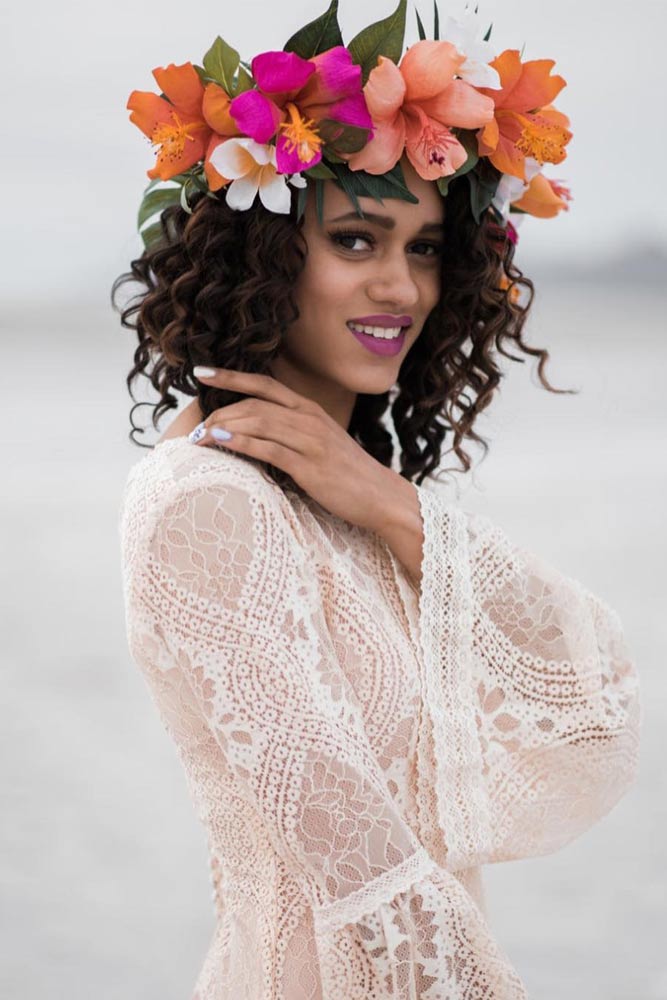 This tropical look is oh so stunning, ideal for a vacation somewhere close to the sea or ocean. This model chose to incorporate large flowers in the accessory. As a result, her facial features look fine and delicate against this massive accessory.
Floral Crown Design For Summer Time
Source: jordanleftwich via Instagram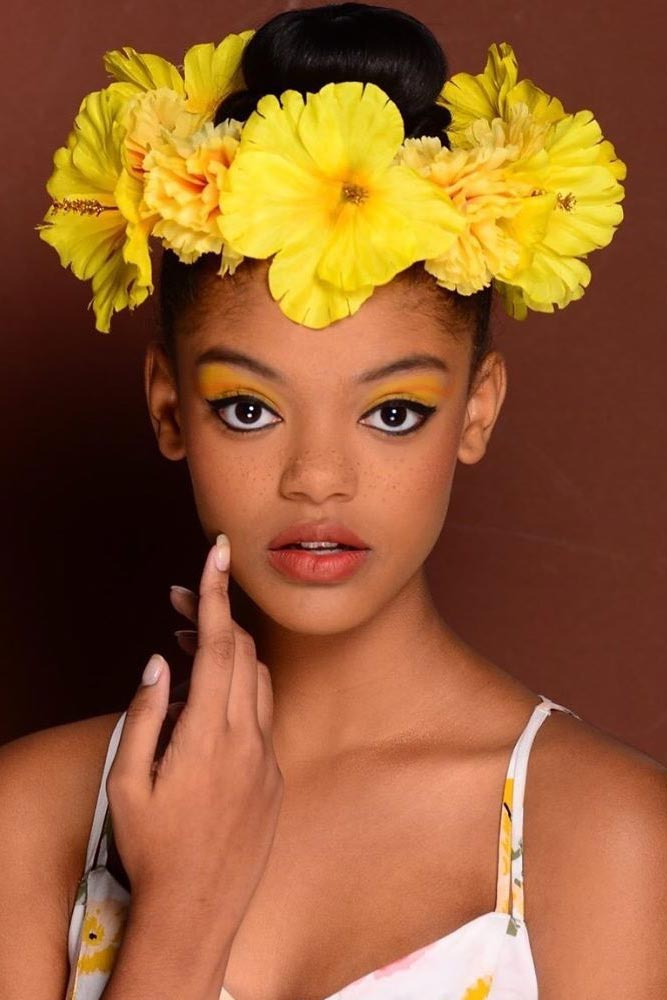 This bridesmaid wears a subtle yellow dress and a bright flower crown headband of a big size that does all the talking. Slight waves like you see in this picture pair so well with such an adorable accessory.
Fake Flower Crown For Any Occasion
Source: connieandlunastudio via Instagram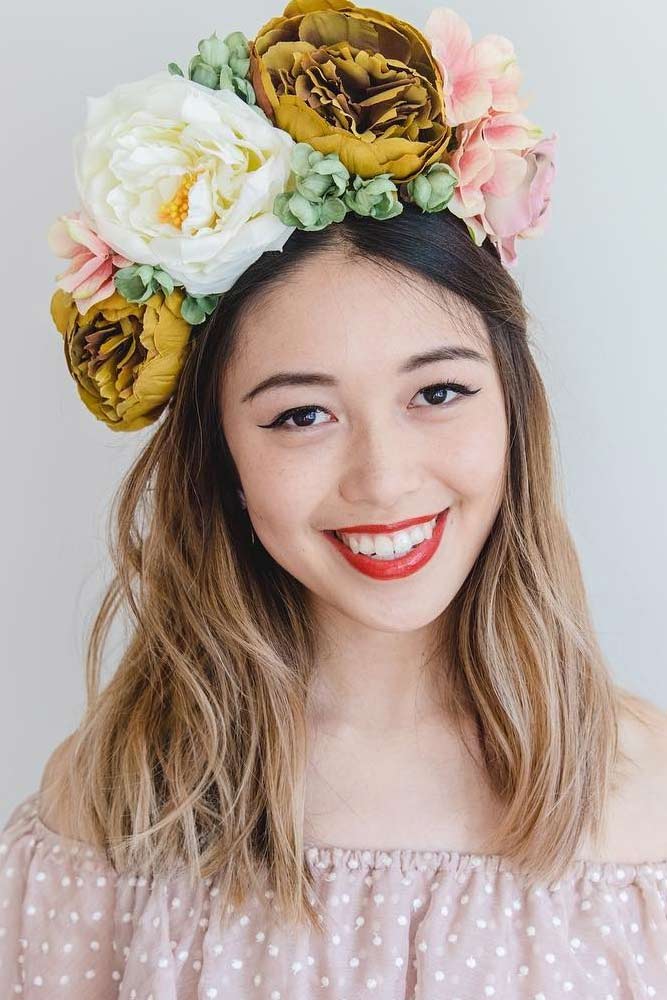 This model has a fake flower crown in her hair. The accessory consists of big white flowers with smaller peach flowers. How to make such an accessory with fake flowers? Follow the steps:
Grab some floral wire, make it circular. Place it on your head to learn if that wire fits. It should be a bit loose. If there is any extra length, cut it off. Using floral tape, tape the shut of the circle.
Pick the flowers and greens. It's better to begin the crown with some nice greenery to cover the plain wire. This will be the basis for the crown. When the greenery is in place, use the floral tape to tape it to your accessory.
Now add the flowers you have picked. Every flower must have the 3-inch stem or longer. If the stem turns out to be too long, you can always cut it off using wire cutters or scissors. With the floral tape that you have, attach every stem to the accessory. And spare no tape – the more you use, the sturdier the construction will be. Voila! The textured and pretty accessory is ready.
Red Roses Crown For Perfect Photo Shoot
Source: plazi via Instagram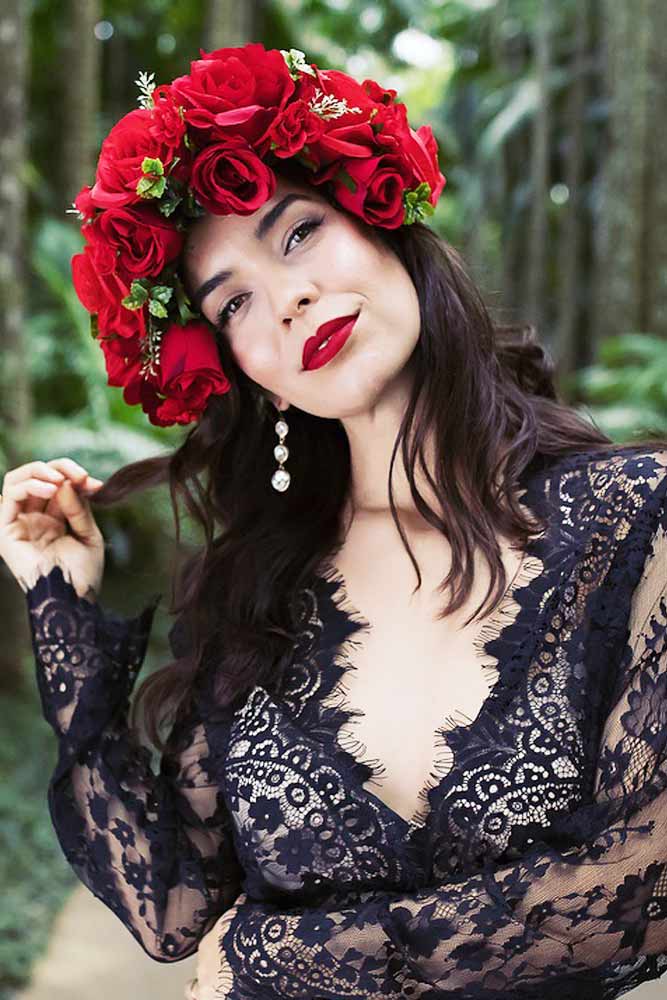 Just look at these juicy vivid red garden roses. These flowers look miraculously beautiful against this model's dark tresses. Her lipstick color matches the roses. And overall, this vintage image is stunning.
Burgundy Rose Crown For Real Queen
Source: afuarida via Instagram
This model seems to be the real fan of burgundy. Just look at this beauty with her burgundy shirt, manicure and floral accessory in the same hue. And the most amazing thing that it is not too much!
Wild Flowers Crown Design
Source: lindy.photography via Instagram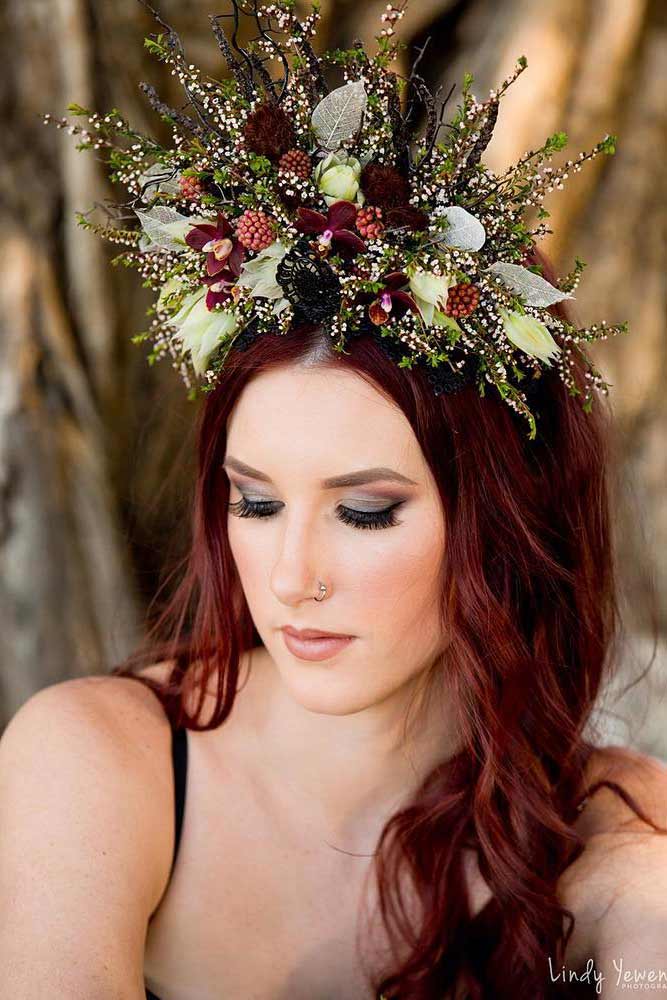 Stylists wanted to create a fall image for this model and, in our opinion, they succeeded. This model's burgundy hair color, as well as fresh flowers and berries in her hair, are reminiscent of this dreamy season.
Hibiscus Flower Crowns Designs
Source: ocean_dreamerr via Instagram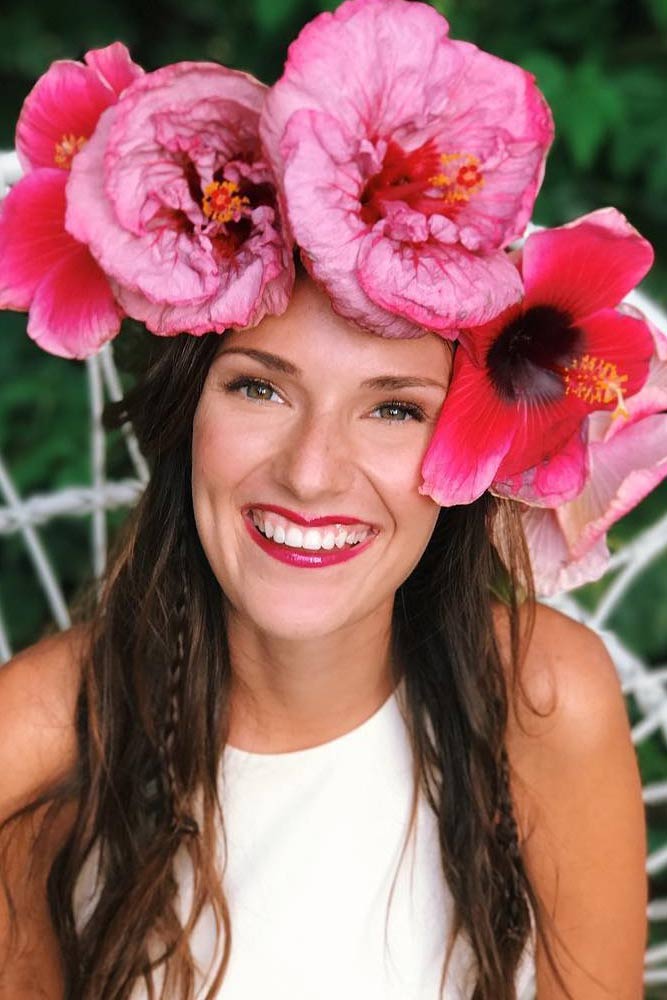 Hibiscus flowers are associated with femininity and glory. And it is not surprising because once you look at these gorgeous flowers the word glorious is the first thing that comes to the mind. This model appears exceptional with this bright accessory.
Baby Breath Crown Design
Source: aleksandra_wed via Instagram
Baby Breath is often paired with some other flowers. But here you see the example when these flowers stand out wonderfully on their own. These tiny flowers create a practically ethereal look.
Simple Flower Crown Design
Source: fdl_floraldesign via Instagram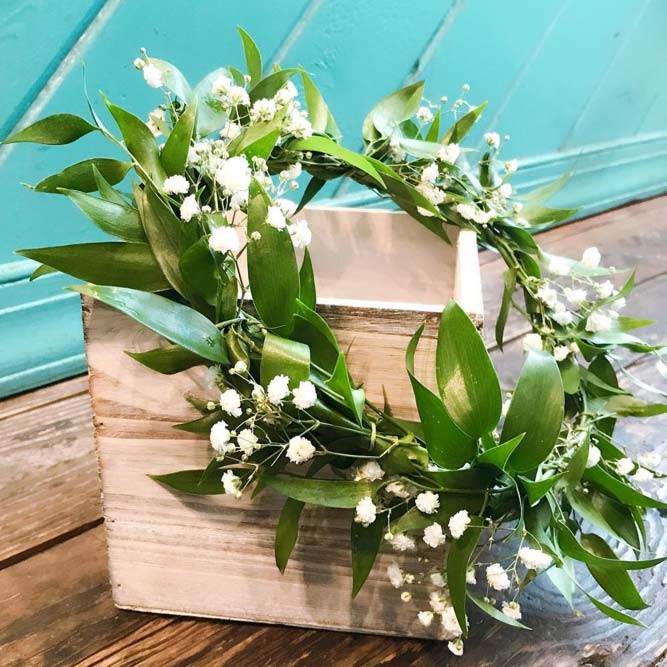 This hair accessory will work great for a flower girl at a wedding ceremony. It's romantic, and such a crown won't steal attention from the bride. Flower girls tend to wear cute pastel dresses to emphasize their young age. You can wear one too with the accessory like in this pic.
Soft Flower Crown For Girls
Source: serenitywedding via Instagram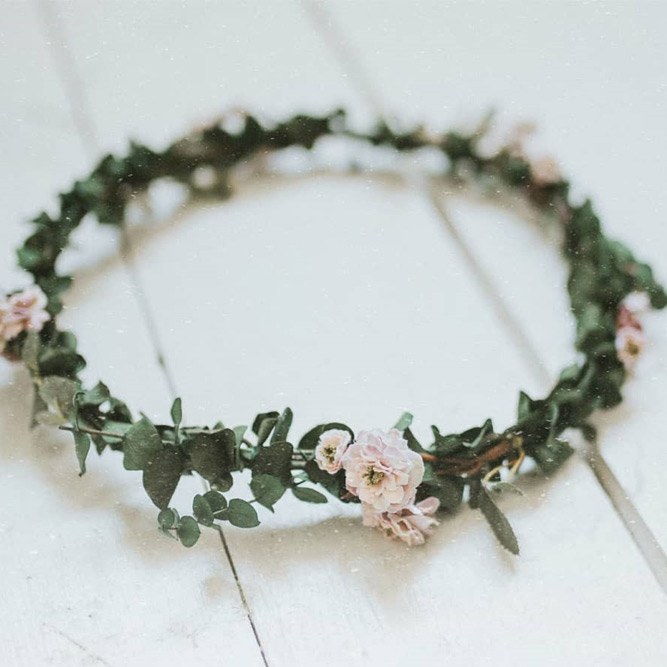 This floral accessory is done in soft pastel shades. It would be perfect for a little girl. If you have a family photo shoot, you can ask if your daughter wants to put on such a pretty crown.
Minimalistic Flower Crown Design
Source: missstevimarie via Instagram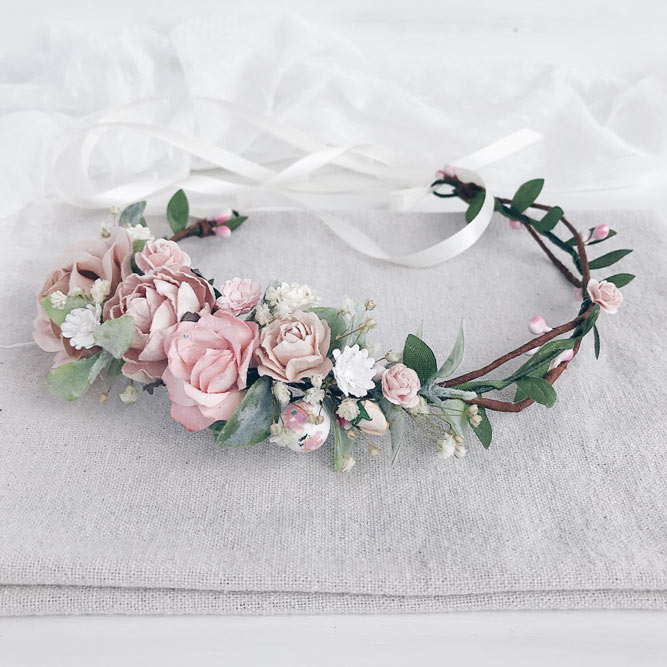 It's a green take on a traditional floral crown accessory. And it is truly sophisticated, in our opinion. With such an accessory, you can let the dress do the talking.
Do you like these cute ideas on how to wear floral crowns? More inspo is waiting for you on our blog.