Sexy Short Haircuts For Women To Keep Up
Glaminati.com team created the collection of short haircuts for women that can inspire you to finally get your hair chopped off. We know that it is a huge commitment and most women hesitate to go short even if they really wish to. Well, and their doubt is understandable.
But we can assure you that there is no need to fear going short. To the contrary, get excited to embrace your new image. Maybe it is something you were looking for.
In fact, we will advise you one thing. Consult with your hair stylist. Ask him or her which haircut will work best for your facial features and character. A professional can say all that by casting just one glance at you.
And in the meantime, explore the looks that won't leave you indifferent.
Short Bob Hairstyles
Source: emmachenartistry via Instagram, jenschmierer via Instagram
There are times when going too daring is not your cup of tea, and long cuts require too much attention. In times like this, short bob haircuts come simply irreplaceable. Not only they are classy, but there are also hundreds of looks to pick from. For instance, if you crave some gentle and romantic look, we suggest you opt for a jaw-length bob and style it according to the mood. Be it a messy sort of mood or a polished one – the choice is yours!
Mohawk Haircut Ideas
Source: pink_nouveau via Instagram, bottleblonde76 via Instagram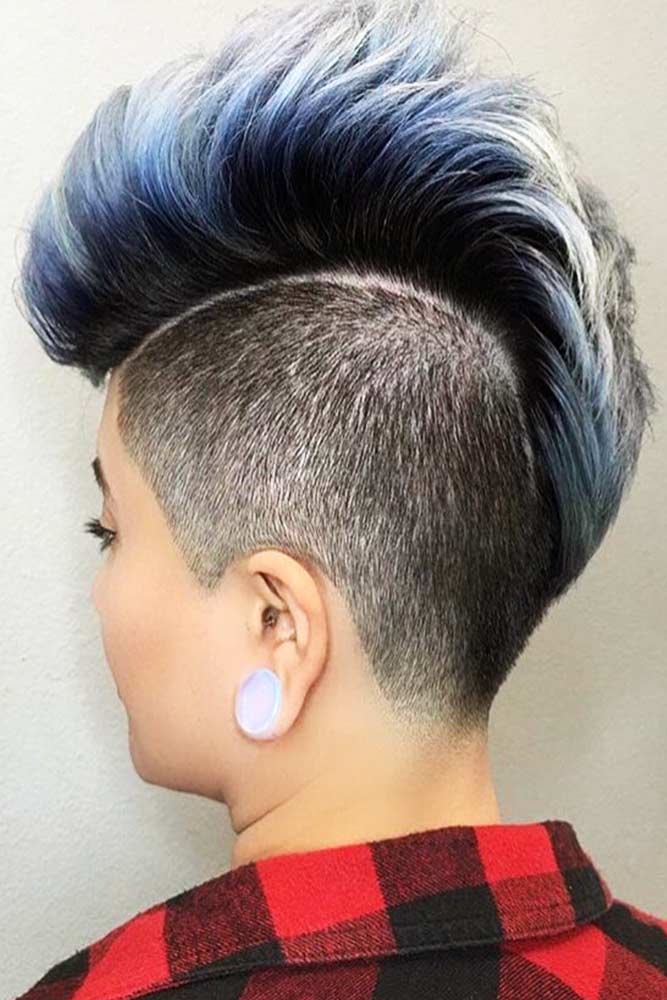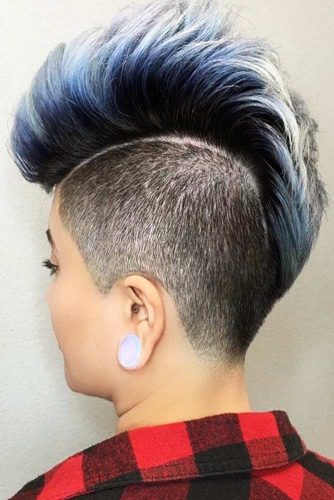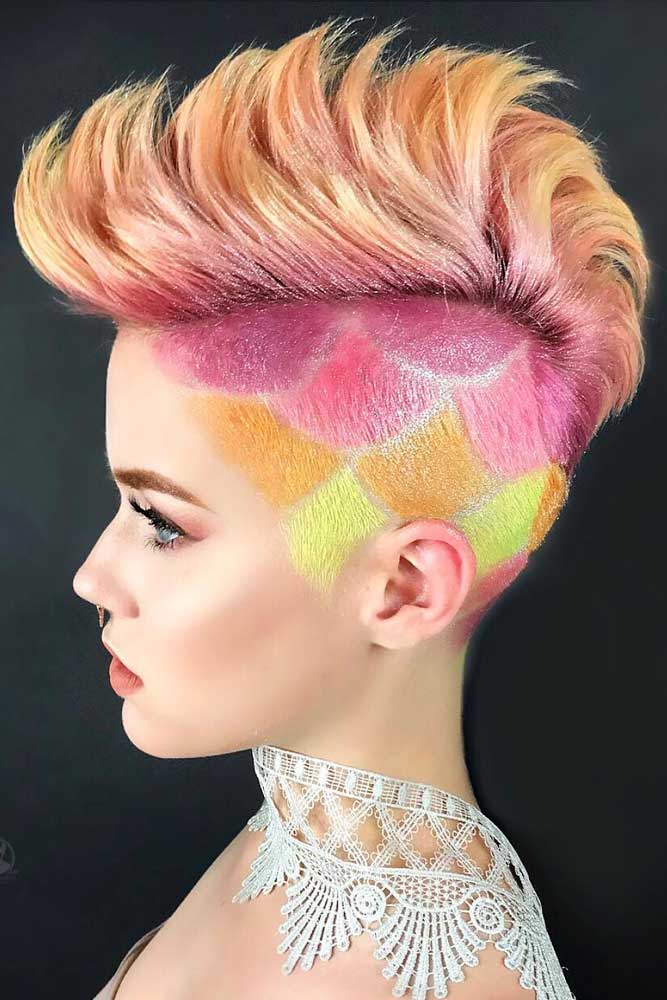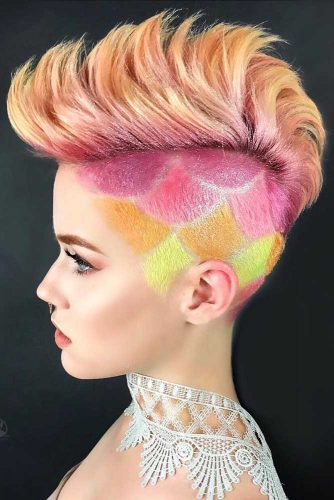 In times when you wish there were some more edginess to your hair, Mohawk it is. The fact is that a classy Mohawk requires the sides to be shaved, while the thin strip of your hair runs from the front of your head to the back. Mohawks require volume, and thus if you choose this type of this short hair, you may get ready to spend some time on fixing it every morning. On the bright side, no pun intended, you can get as experimental with the colors as you like. Besides, many womens short haircuts these days are decorated with fancy patterns on the shaved sides.
The Best Pixie Haircuts Ideas From Instagram
Source: jordan_shugart via Instagram, lexinedeluca via Instagram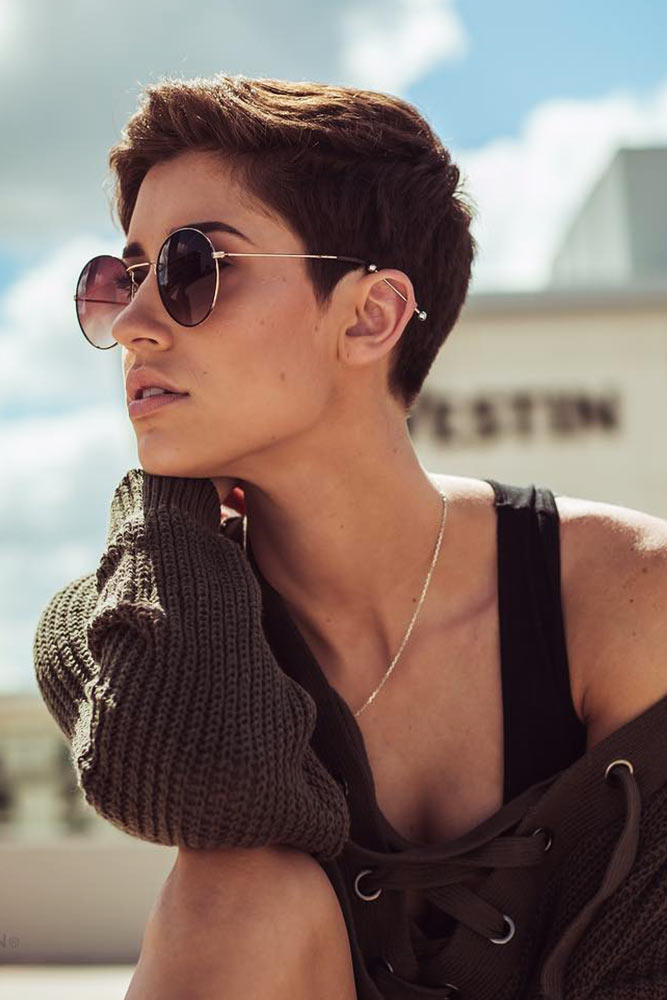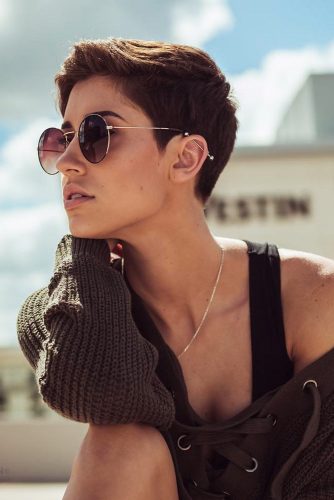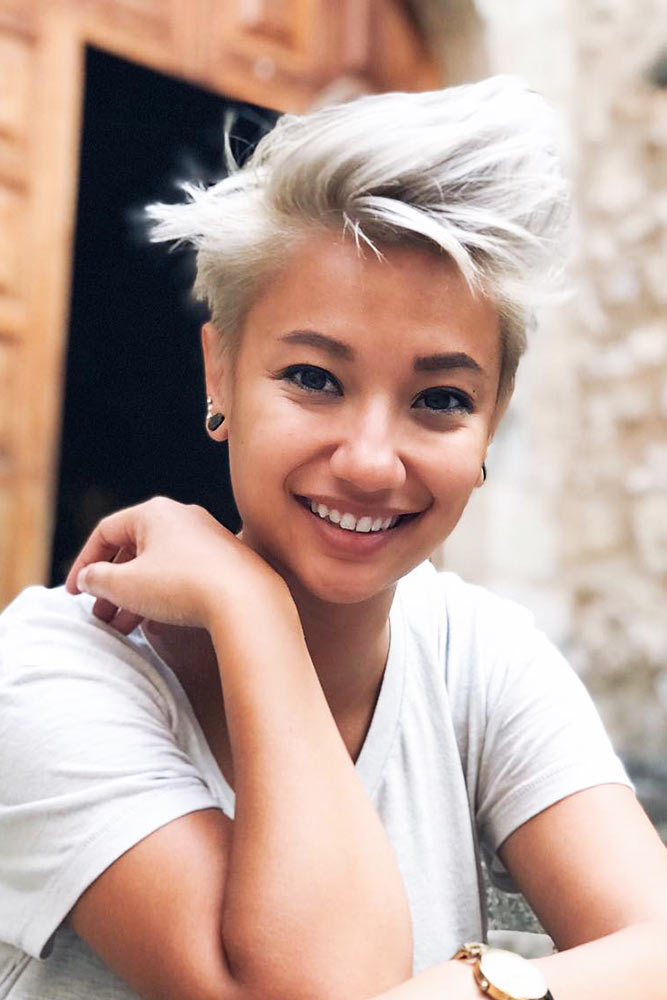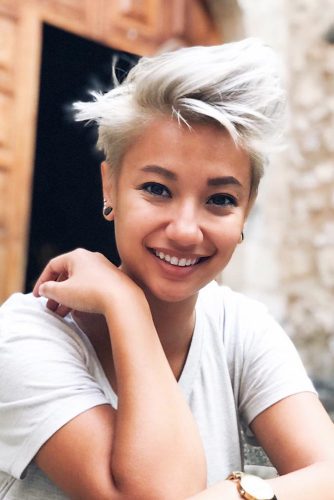 Those of you who are always on-the-go, need a cut that is easy to manage, we know that. Nevertheless, every woman wants her hair to look stylish and cared for. That is when short pixie haircuts come in. The fact is that the number of pixie variations is almost unlimited. This means that no matter thick or fine hair you have, you can always find the cut that will complement it most. What is more, playing around with various dyeing techniques and a pixie is pure fun!
High Afro For Curly Hair
Source: makaylamclovin via Instagram, rhondivasboutique via Instagram
Some consider it a curse the other would kill for it. In case you have not the slightest idea of what we are talking about – these are the curls. Sure, tight curls are difficult to manage as well as to style. On the other hand, for those with straight hair, curls are easy to get without the long-term use of curling iron. The best way to solve the curly girls' dilemma is to opt for cute short haircuts that complement the structure most. The thing is that many bobs, as well as pixies, come in more than useful for those who want to tame their curls.
Buzz Cut Hairstyle Ideas
Source: ryabchik.moscow via Instagram, lulu_iglesias via Instagram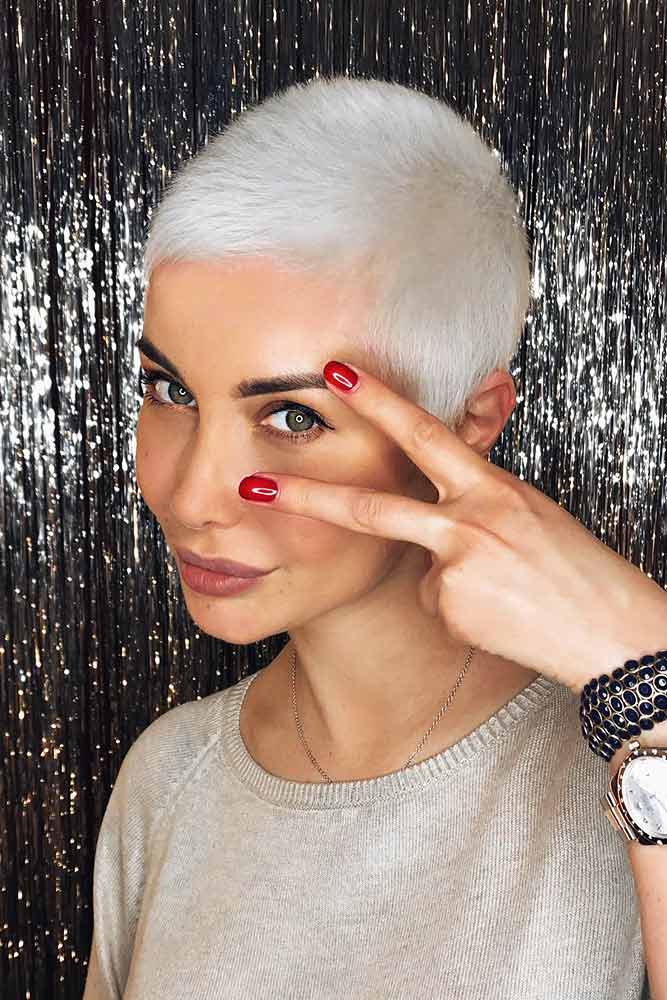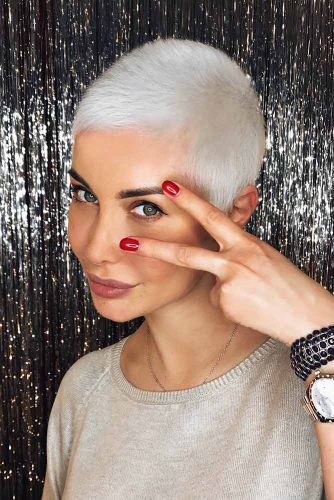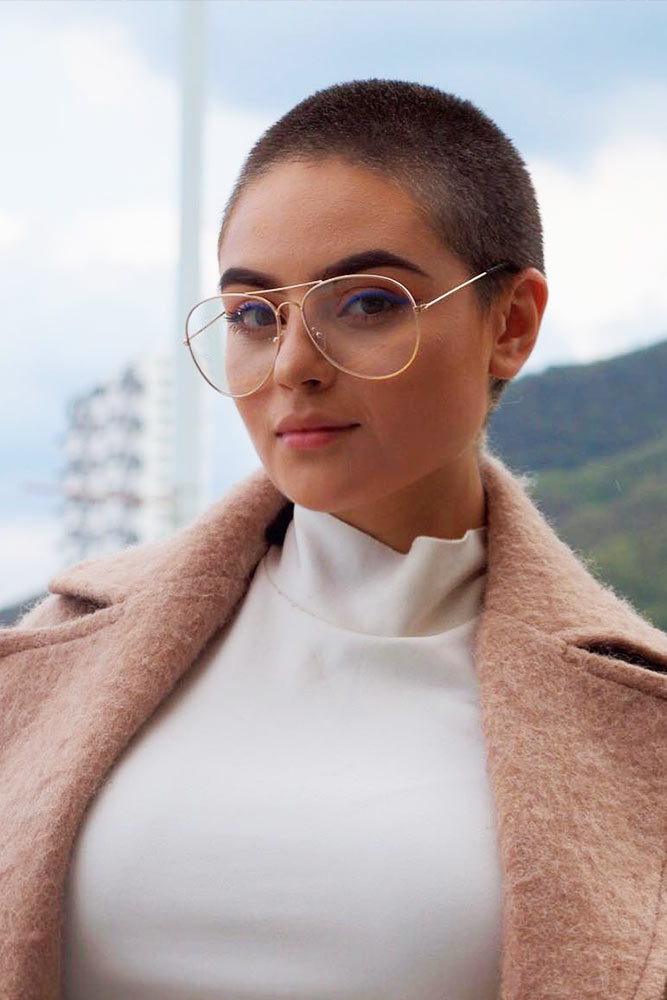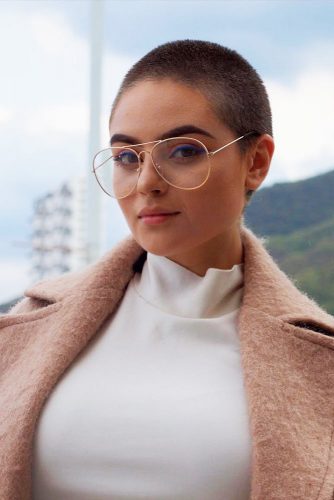 Very often when you hear about a buzz cut, you imagine a male soldier. However, that is not the only case when the cut come in more than handy. The truth is that more and more women these days prefer to clip their hair short and get over with it. Clearly, very short haircuts for women require the lowest maintenance there is, but that does not mean that they come in one shape for all. You would be surprised by the number of variations a skilled hair-dresser can come using different hair dyes as well as special designs and patterns.
Perfect Short Haircuts Matching For Your Face Shape
Round Face
Source: pmsalon.blond via Instagram, salsalhair via Instagram
Many ladies get disappointed when choosing the perfect haircut, they discover that it does not suit them at all. Such a thing may happen if you pick the haircut that is not beneficial to your face shape. The thing is that round faces almost have no angles, and that means that a cut that will take care of that is a must. Short womens haircuts with piecey layers, curtain bangs or regular bangs will do. The more angular the cut looks, the better it will complement your face, we say you consider all sorts of pixies or bobs with bangs.
Square Face
Source: omeulook via Instagram, chrisjones_hair via Instagram
A square face is a complete opposite of a round one. This means that instead of creating angles, you need to soften those you already have. That is why piecey layers are no good in this case. You need to opt for softer and deeper layers instead. Anything that smooths out those angles will fit you perfectly. Side-swept medium-length bob is one the short haircuts for thin hair that also complement square face shape.
Triangular Face
Source: curtosqueamamos via Instagram, jejojejo87 via Instagram
The trick with the triangular face is that it is too wide on top and too narrow at the chin. Such a face is tremendously flattered by the cuts that mask away the widths on top and broaden the chin part at the same time, short layered haircuts. Side bangs and deep layers are your best friends here. Usually, layered pixies are the best to help you deal with such shape effectively.
Oblong Face
Source: andrewdoeshair via Instagram, strength.n.dignity_31 via Instagram
While oval face shape is considered to be the perfect one, oblong face is a little further from the idea. As you can judge by the name, such face defines too much length which should be visually shortened with the help of haircut. A suitable cut will make a face look more proportional, and that is the key to the flawless look. In most cases, the bangs deal with the task more than well. Pixie cut is one of the best short haircuts for oblong face.
Oval Face
Source: anaa.favaron via Instagram, christinaperez93 via Instagram
To tell the truth, there are almost no limits when it comes to oval face shape. There is barely a cut that wouldn't flatter you. That is why you can easily sport any cut starting with very short haircuts and ending with short haircuts with bangs. However, piecey pixies with a side bang and some layering are the hottest trends of this season, keep it in mind.
To tell the truth, there are almost no limits when it comes to oval face shape. There is barely a cut that wouldn't flatter you. That is why you can easily sport any cut that you like most with a face shape like that.