It wouldn't be a secret is we told you that there are many types of dresses, you definitely know it already. However, what you may not know is the fact that not all the dresses fit all body shapes in the same way. While some dresses may look magnificent on you, the others – not so much. If you still wonder what you should do about it – you have come to the right place! We happen to know all about the most modern dress types, and we know which ones will fit you best!
What Is The Most Flattering Dress Style? How Choose Types Of Dresses For Your Body Shape?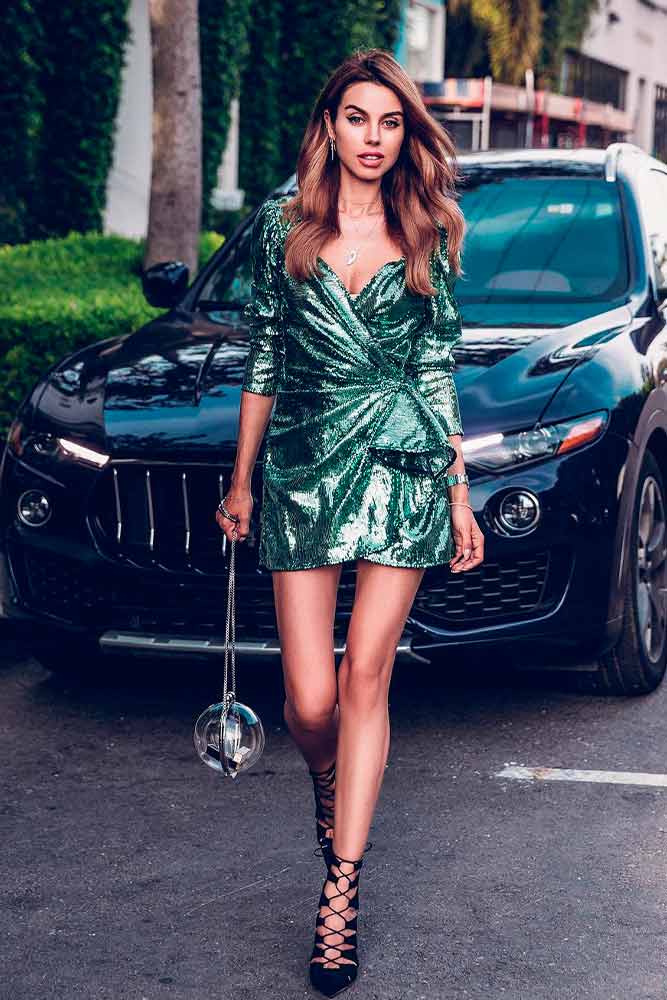 Credit photo: instagram.com/vivaluxuryblog
Of course, at times it seems that the best types of dresses that you should try on are the trendiest ones. However, in real life, the rule does not always apply. The truth is that even the most fashionable outfit can look bleat and unattractive as long as it does not highlight your best features. The best way to accent your prominent features is to wear a dress that compliments your body shape. It is time you get to know what dresses are the fittest for all four body shapes!
Best Dress Types For Hourglass Body Shape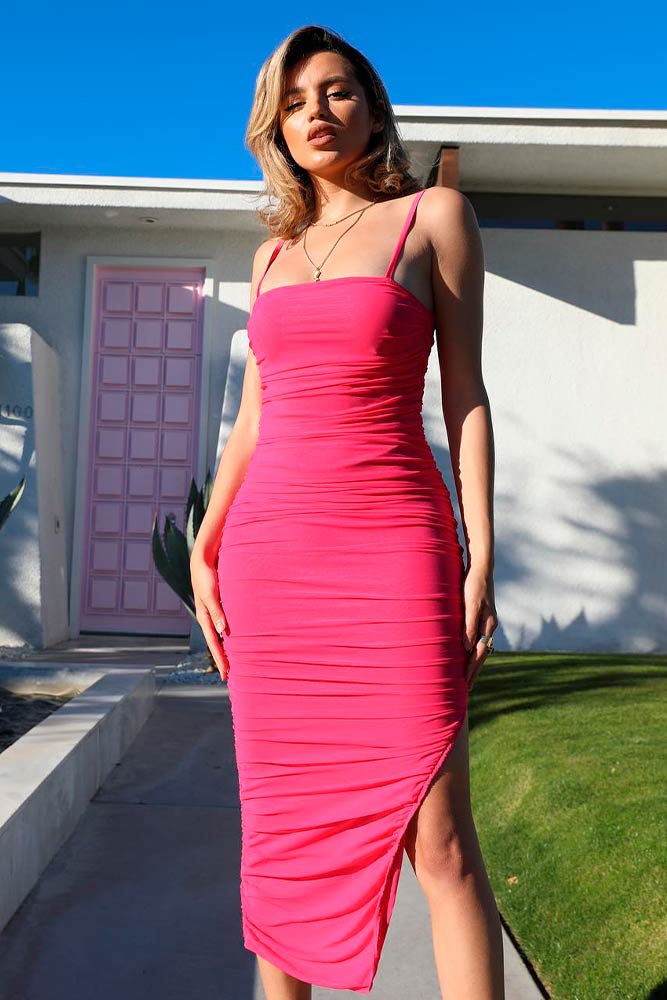 Credit photo: instagram.com/val.mercado
Some say that the hourglass figure is the most balanced one. If you have this figure, then your hips and bust are well-proportioned, and your waist is well defined. When it comes to countless clothing styles, it is advisable that you put on those items that emphasize your waist for the most part. This can be dresses with V-necks, wrap dresses with belts, open necklines, cinched-in waistlines. However, it is essential that you keep away from anything shapeless and oversized, baby doll dresses are not for you too.
Best Dress Types For Pear Body Shape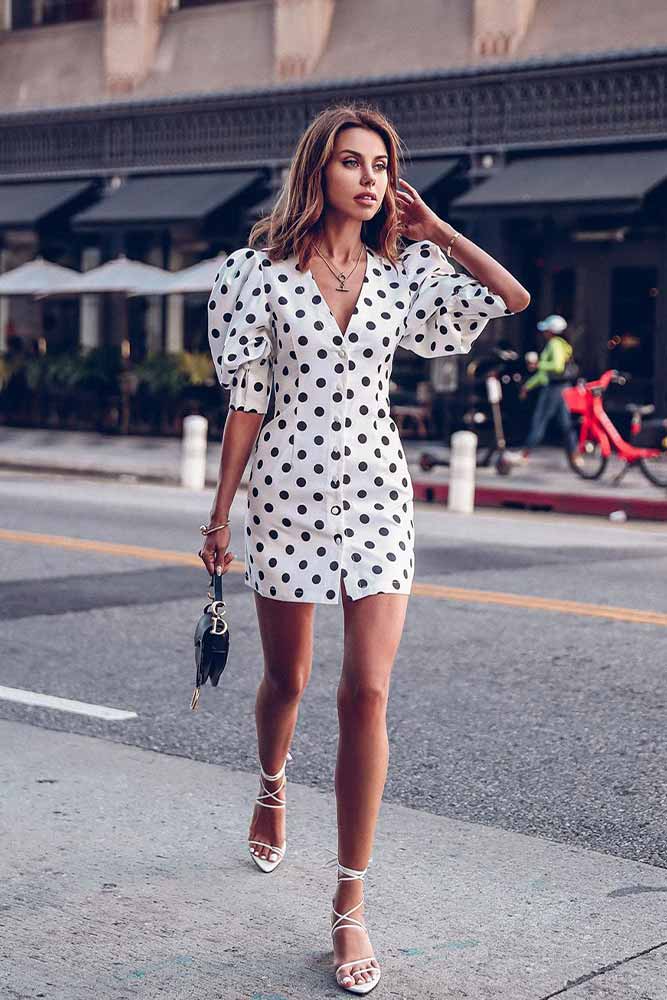 Credit photo: instagram.com/vivaluxuryblog
Women with a pear shape tend to have larger hips and a tiny upper body. This means that you need to dress in such a way that you balance your upper and lower body. Thus, anything that adds some more volume to the bust area is preferred. Think about dress styles with lots of details in the bust area, strapless tops, fitted open necklines, A-line skirts, and V-necks. Yet, it is best to keep away from short hemlines, poofy skirts, and shapeless styles.
Best Dress Types For Athletic Body Shape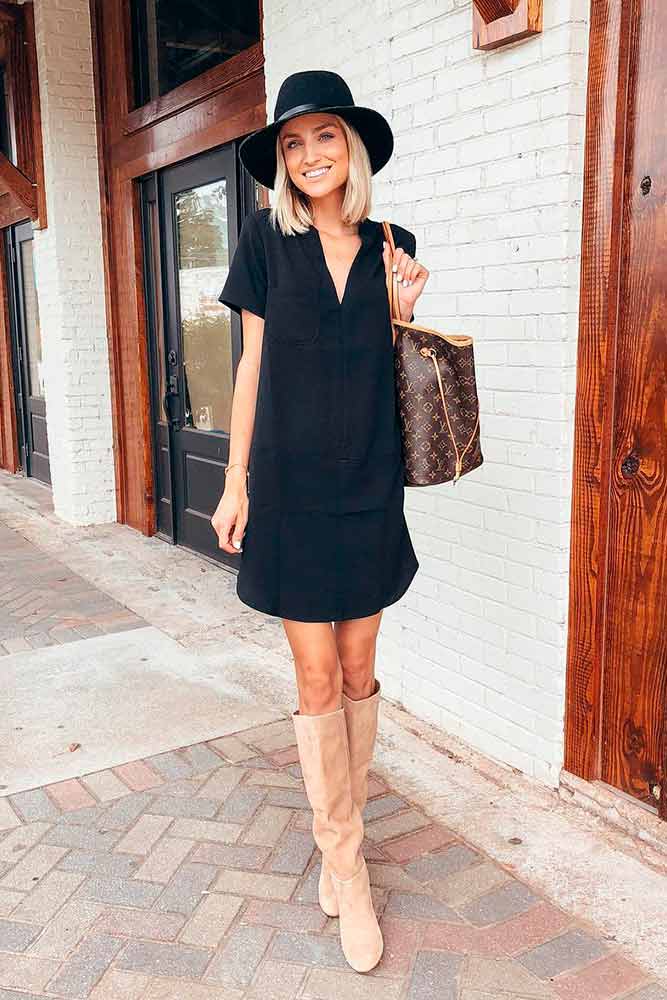 Credit photo: instagram.com/littleblondebook
The athletic body shape is, at times, referred to as an inverted triangle. As you may have already guessed in this case, your hip area is smaller when compared to the upper body. Once again, your task is to dress in such a way that you bring in some balance to the shape and make it look more hourglass-like. To succeed with it, you need to introduce such items as A-lines, halter tops, thick straps into your wardrobe. Ruffles and other decorative elements in the hip area will fork out fine too. However, it is best if you keep away from such dress types as hemlines, strapless dresses, and stretchy fabrics since they may result in making your bust area look even bigger, and you surely do not want it.
Best Dress Types For Apple Body Shape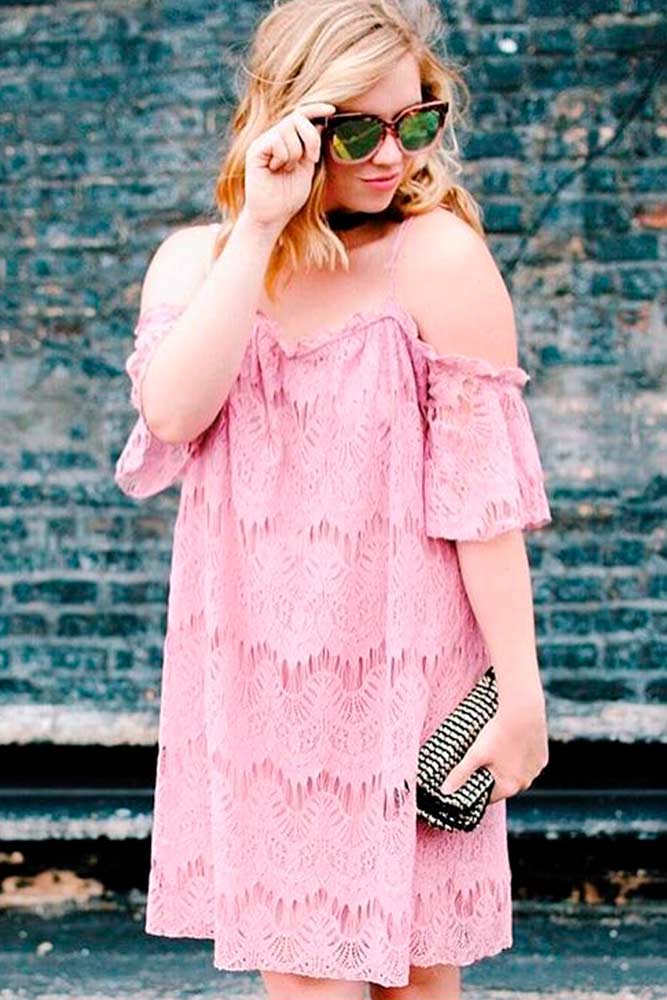 Credit photo: instagram.com/tjmaxx
If you are looking for sexy dresses for women with an apple body shape, there is a list of things to consider. Women with such a body shape tend to be a little heavier in their midsection, and any dress that distracts the attention from that part of your body would be the best one. Think about belted dress styles, wrap dresses, swing dresses, full skirts, and an empire waist are the things to look for in a dress fit for an apple body shape. At the very same time, anything that can attract attention to your midsection should be avoided at all costs. Fitted tops, natural waistlines, and horizontal lines are a big 'no' for the shape.
Types Of Dress For Any Occasion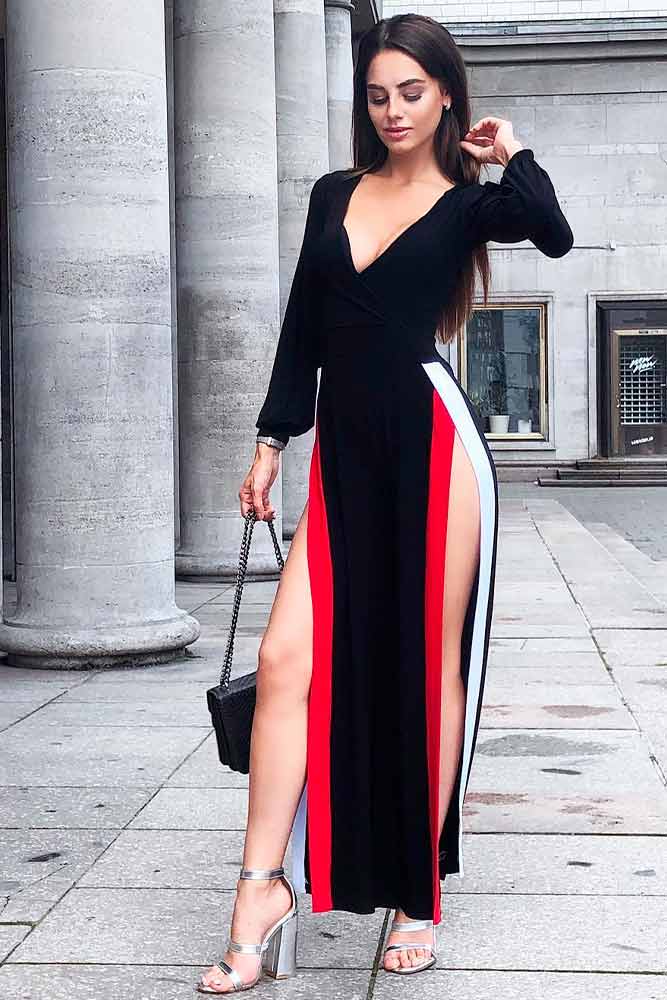 Credit photo: instagram.com/veronika_klimovits
Now, when we are aware of what dress may accent your figure best, it is time we discuss all the types of dresses there are and occasions that they would be best-fitted to!
Maxi Dress With Deep Decollate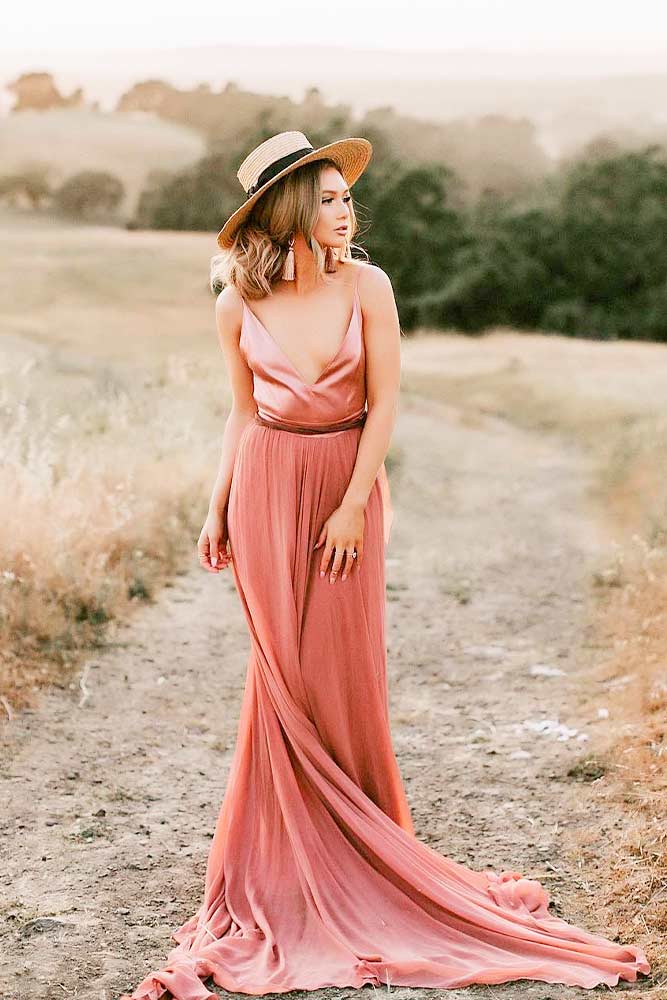 Credit photo: instagram.com/stephanie_danielle
The fact is that maxi dresses are often considered to be formal options, but that is not the case. If you choose a long, flowy dress with a heavy print (or without one) and a deep decollate, we would say that it is a more casual option. A day out at the beach or in the city is the perfect occasion for such a dress. You can always spice the look up with a piece of hanging jewelry and a pair of your favorite sandals.
Asymmetrical Dress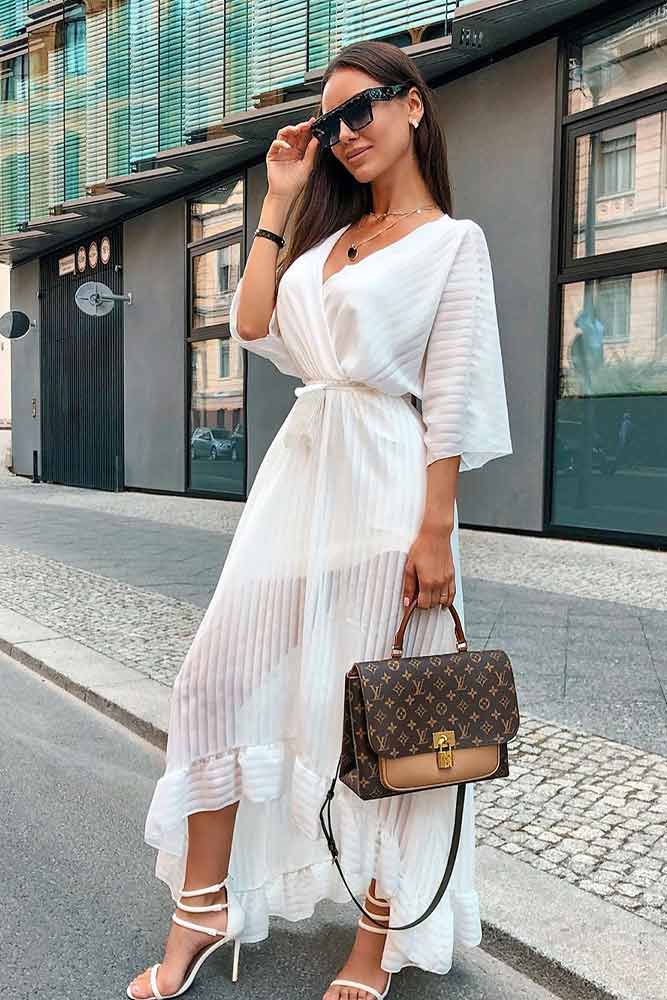 Credit photo: instagram.com/veronika_klimovits
In case you do not know, some gowns for women are uniquely versatile, and the asymmetrical dress is on the list. If you are not sure of how formal the event will turn out to be, this dress is merely irreplaceable. First of all, different length in the front and back, or on the sides, depending upon the type you choose, will be flattering to all body shapes and occasions. To put it simply, such a dress is a must-have in every closet!
Bright Sundress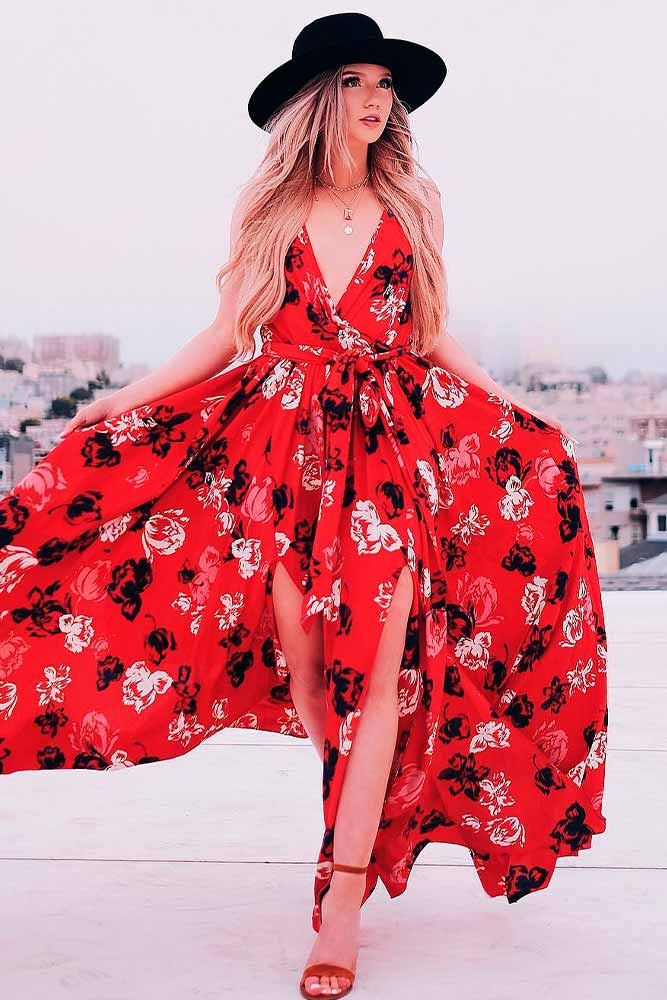 Credit photo: instagram.com/stephanie_danielle
If you are looking for long dresses for women to be worn during the summer, then a sundress is the one you need. Very often, these dresses are quite bright and casual. The dress is made for summer. It is made of cotton in the majority of cases too. Usually, it is a sleeveless dress, with a wide neckline and shoulder straps. The range of options to pick from is incredibly impressive.
Midi Sweater Dress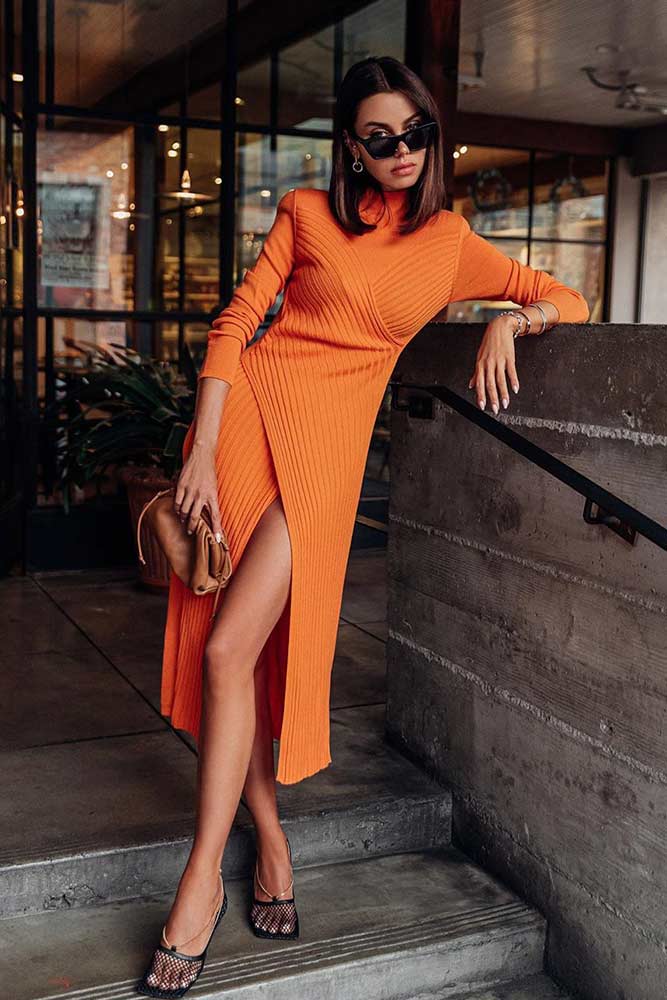 Credit photo: instagram.com/vivaluxuryblog
It is safe to state that a midi dress length is a universal one. You can easily fit it to both formal and informal occasions, not to mention the fact that there always a silhouette that will fit your shape best. However, a sweater dress is a more casual midi dress variation. You can easily pair it with OTB or your fav sneakers, depending upon the season you are wearing it.
Slip Dress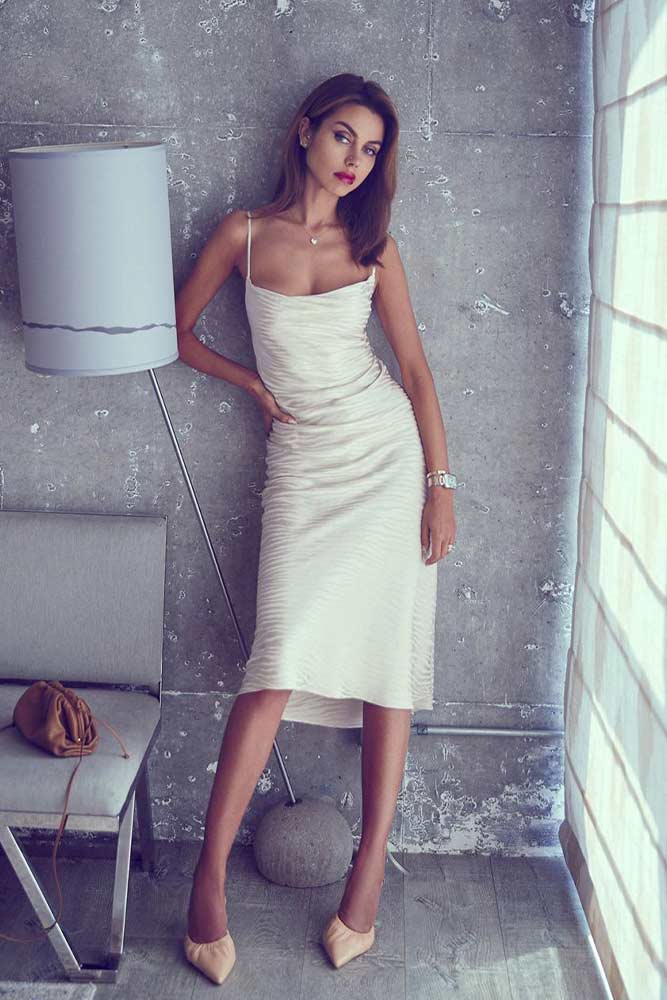 Credit photo: instagram.com/vivaluxuryblog
It is hard to add a slip dress to cute dresses for women since it is a more sexy and edgy variation of dresses that we know them. The fact is that usually, this is a silky dress that looks like an undergarment. The fitting shape and spaghetti straps are usually a must. You can match it with a pair of feminine heels or daring boots, depending upon your intentions. If you are feeling that it is a little bit too revealing, you can always put on a T-shirt underneath.
Wrap Halter Dress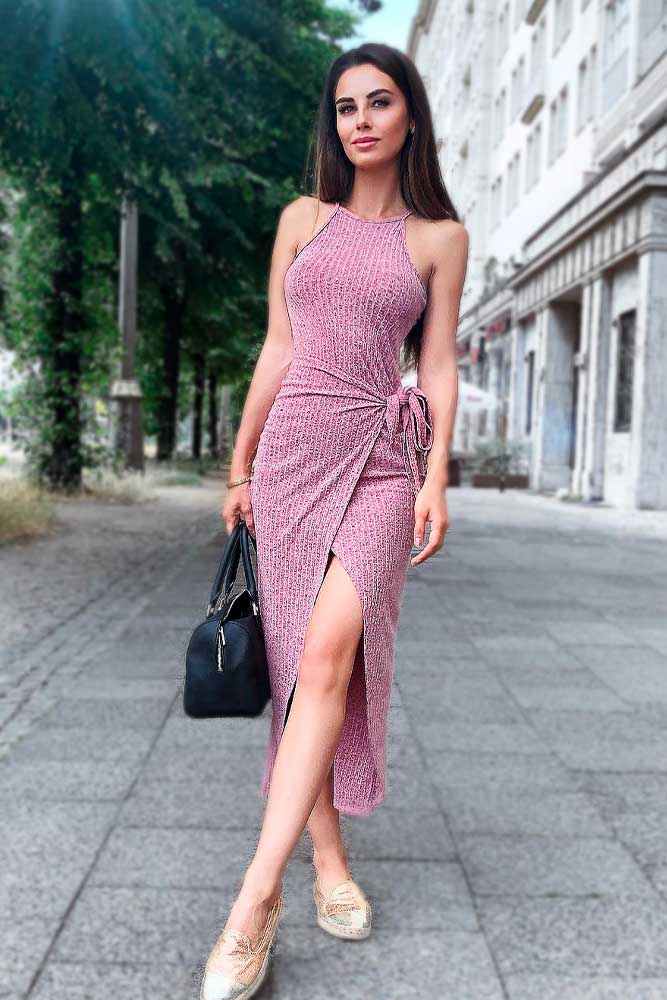 Credit photo: instagram.com/veronika_klimovits
There is a bunch of advantages to a halter dress. First of all, it is great for summer since it is made of light fabrics and it comes without sleeves. Secondly, it is one of the great dresses for those who want to show off their slim shoulders. It is a tight dress so it will flatter your curves as well.
One Shoulder Dress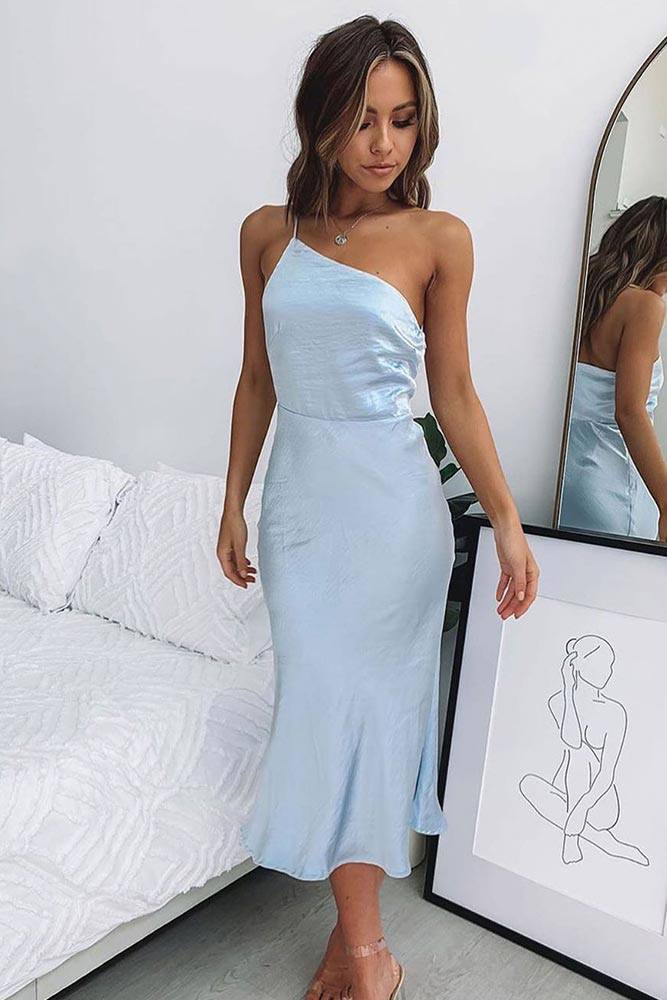 Credit photo: instagram.com/beginningboutique
It is time we discuss fashion dresses fit for fancy events. It is hard to say that a one-shoulder dress will fit strict formal requirements, but it will look gorgeous in a semi-formal environment. One-shoulder that remains bare adds that feminine and gentle touch to the wearer so that many adoring glances will follow you.
Mermaid Dress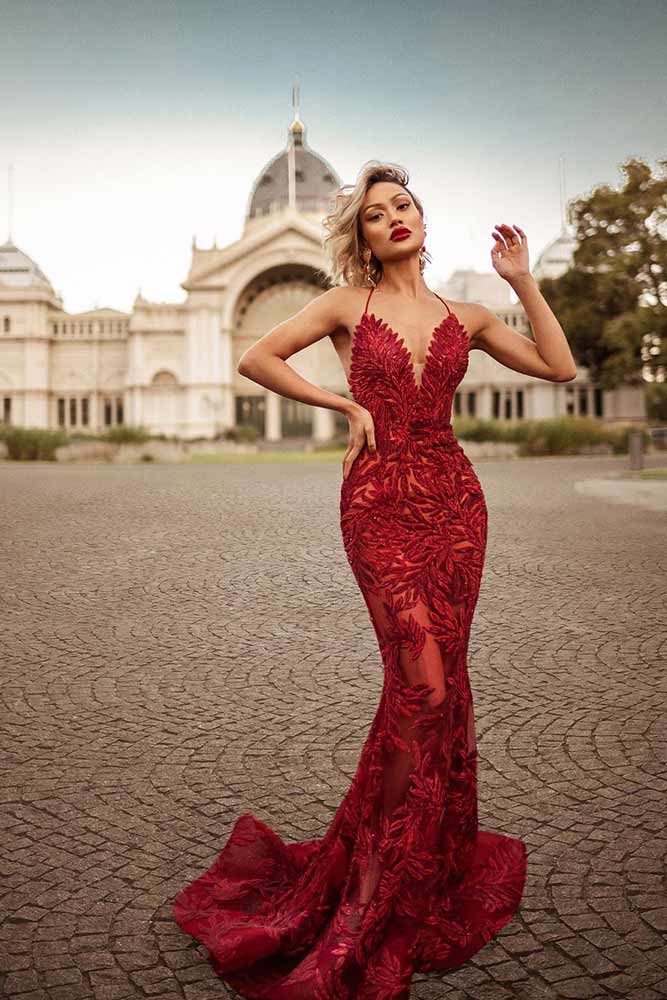 Credit photo: instagram.com/micahgianneli
If we are talking black-tie occasion dress designs, then a mermaid dress is the one to discuss. Just as the name suggests, it is a straight dress that enhances your figure from the top to your calves. That is when all the fun begins since the skirts stars to flare from there, like a mermaid tail. There is one thing to remember, even though the dress fits most body shapes, pear and hourglass figured women could wear it tight to emphasize the curves, while for other shapes, it is advised to have the dress a little loose around the hips and waist.
Shift Dress With Long Sleeves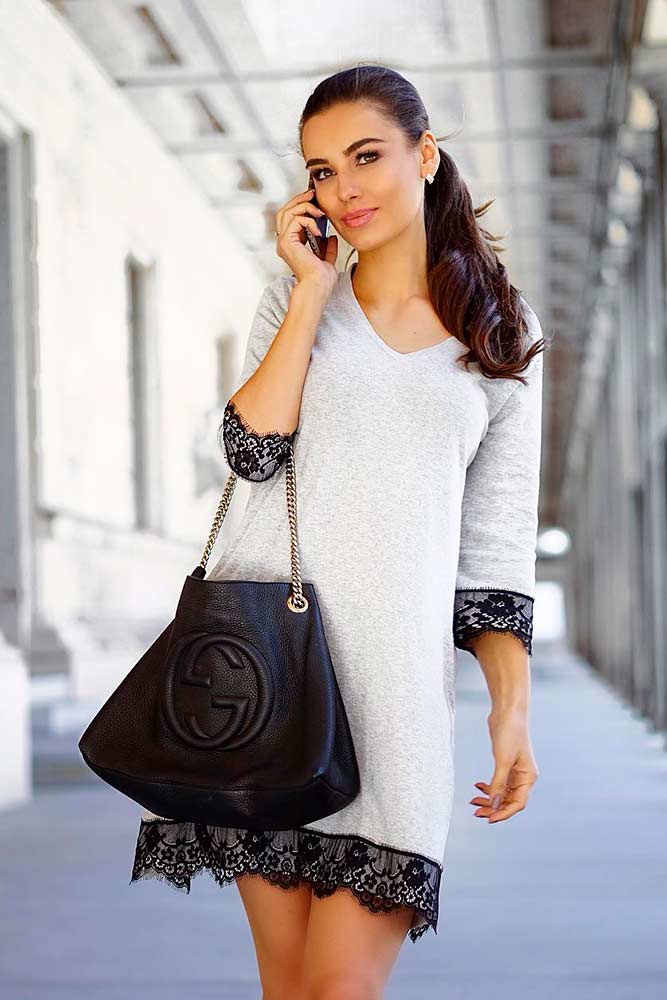 Credit photo: instagram.com/veronika_klimovits
Another section of casual dresses for women features short dresses. Shift dresses were a massive thing back in the 60s, but the times returned. It is one of the best types of dresses for body shapes that appear to be too straight. Besides, there is a limitless amount of options as for what to match the dress with.
Mini Tight Dress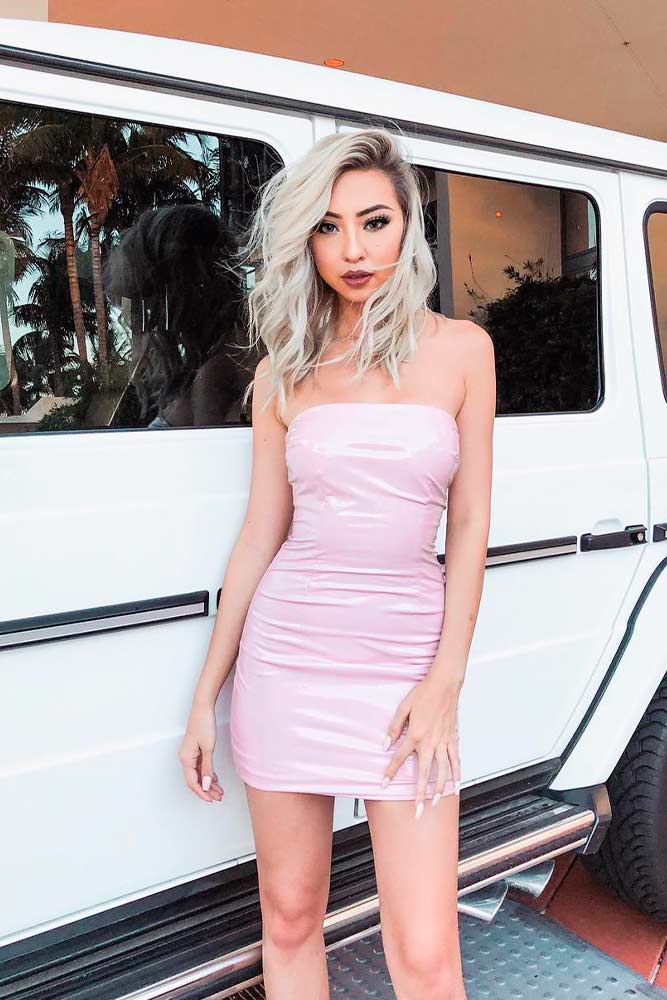 Credit photo: instagram.com/hilisaa
If you are a short dress type of girl with gorgeous legs, then a mini dress is the one to consider. Of course, it is hard to incorporate the dress into your daily look, but a night out is one of the great occasions to show your new dress off.
Off The Shoulders Mini Dress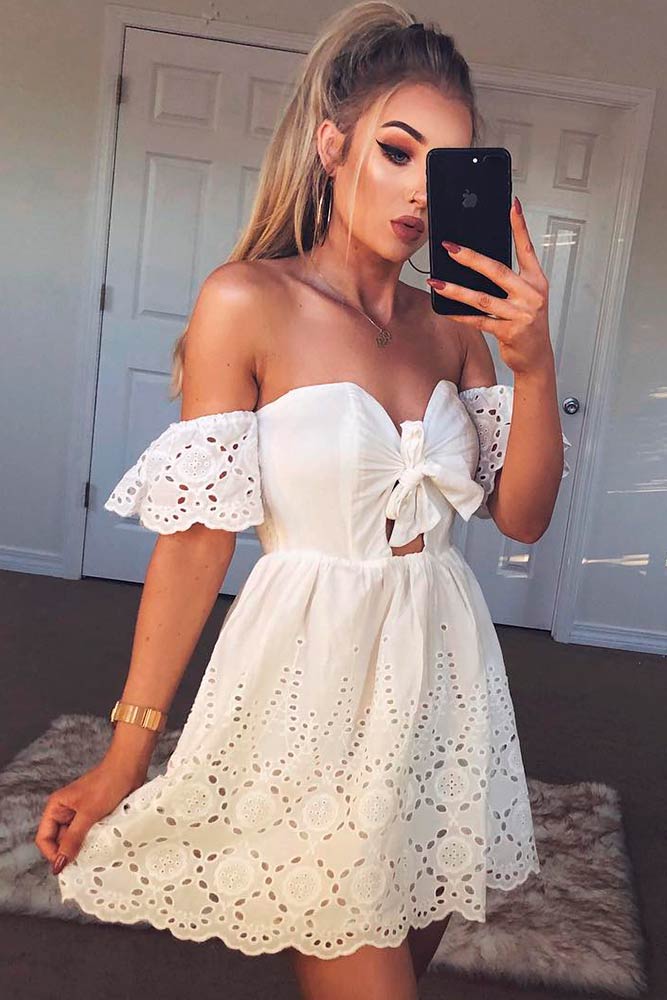 Credit photo: instagram.com/okaspen
The truth is that going strapless in not for everyone. However, at the same time, there is always that temptation to show more of the skin. In times like this, off the shoulder dress designs come merely irreplaceable. While covering your biceps, you have your shoulders bare. Such a dress can be fitted into a casual stroll around or a romantic dinner with those you love.
A-Line Dress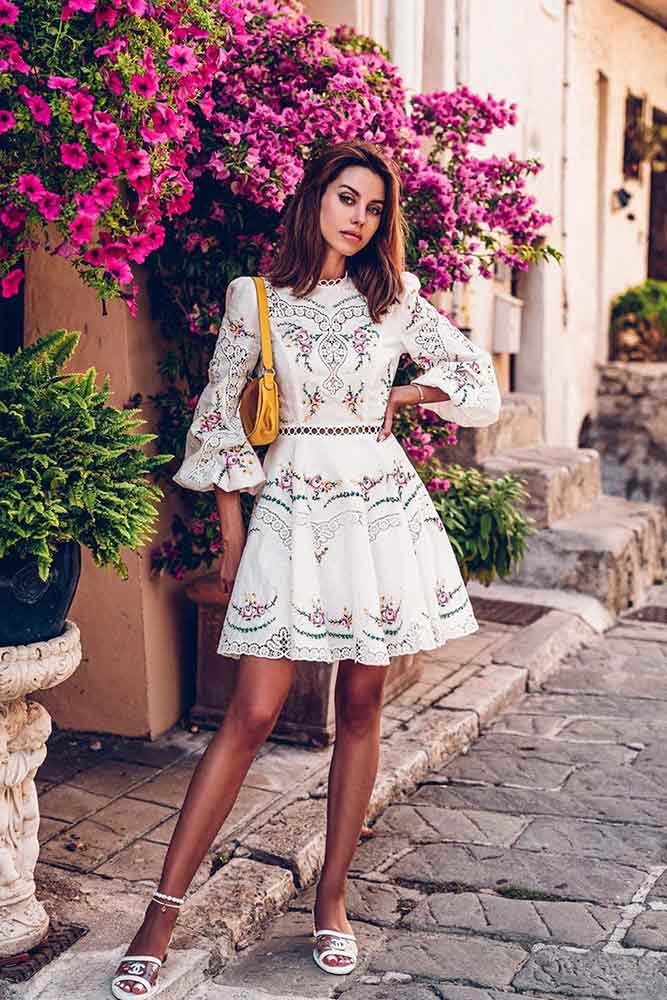 Credit photo: instagram.com/vivaluxuryblog
There is that one dress design that is more versatile than the others. What we have in mind is an A-line dress. It is hard to go wrong with this one, no matter the type of your figure. This dress is all about the skirt and the way it flares out. The top part can be chosen according to your goal, while the bottom is flattering in any case.
Shirt Dress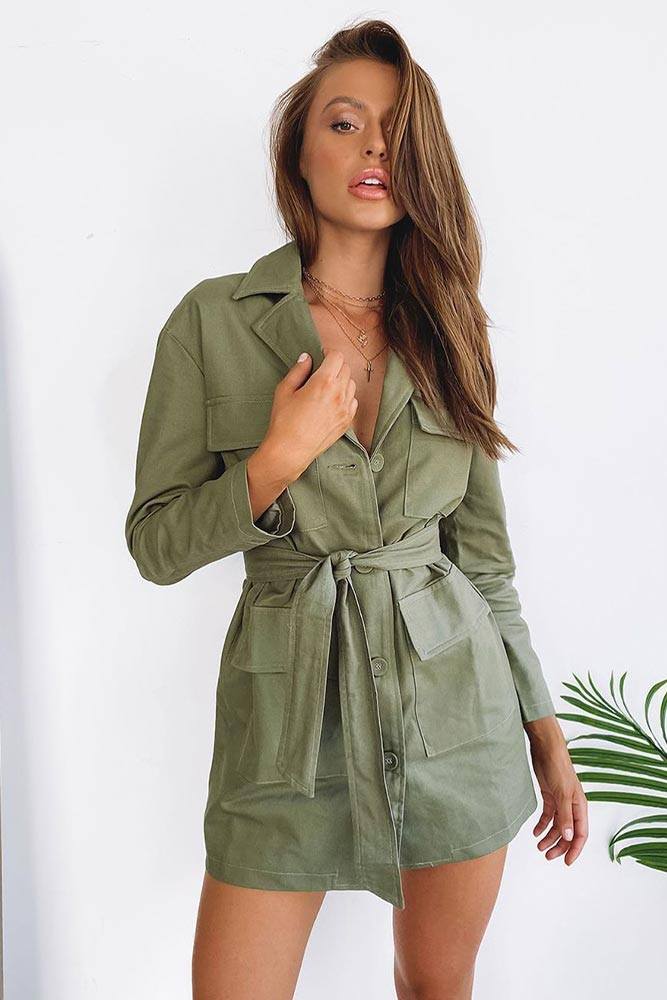 Credit photo: instagram.com/beginningboutique
Just as many types of girls there are – so many types of dresses. If it is something extra casual that you are looking for, we couldn't think of anything better but a shirt dress. The dress looks exactly how it sounds – an extended shirt. Surely, there are many textures and lengths, not to mention colors that you can pick from. However, you need to remember that the dress is a 100% casual type.
Wrap Mini Dress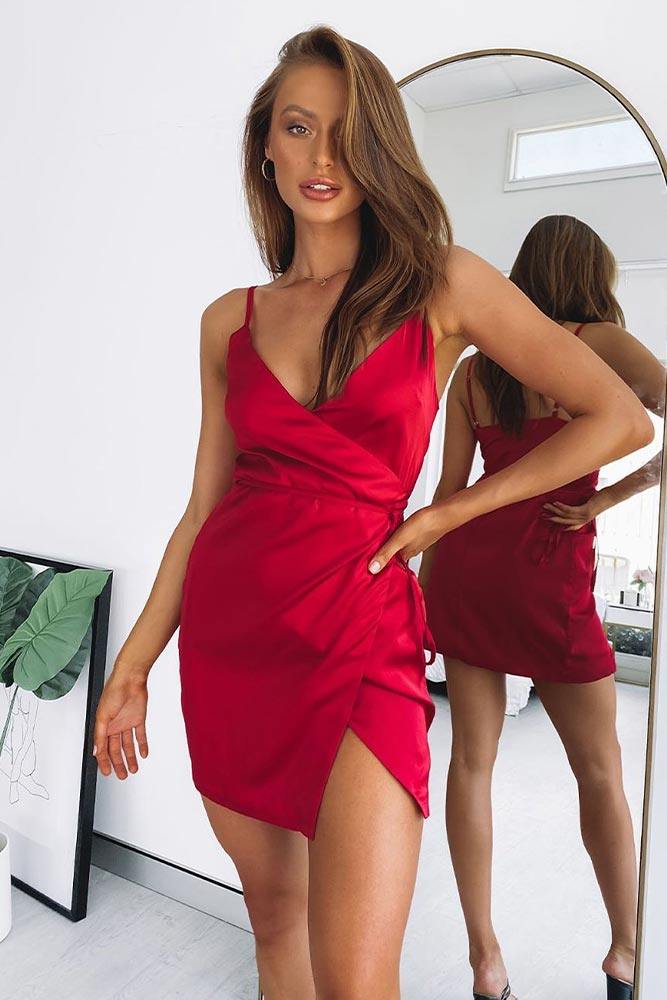 Credit photo: instagram.com/beginningboutique
Wrap mini dresses are the best dresses for ladies with athletic body shape. It is not just that they are gorgeously sexy and feminine, it is about the way they can balance your figure. Such a dress is designed to create an hourglass figure illusion, and that is what makes it so attractive for many.
Tent Dress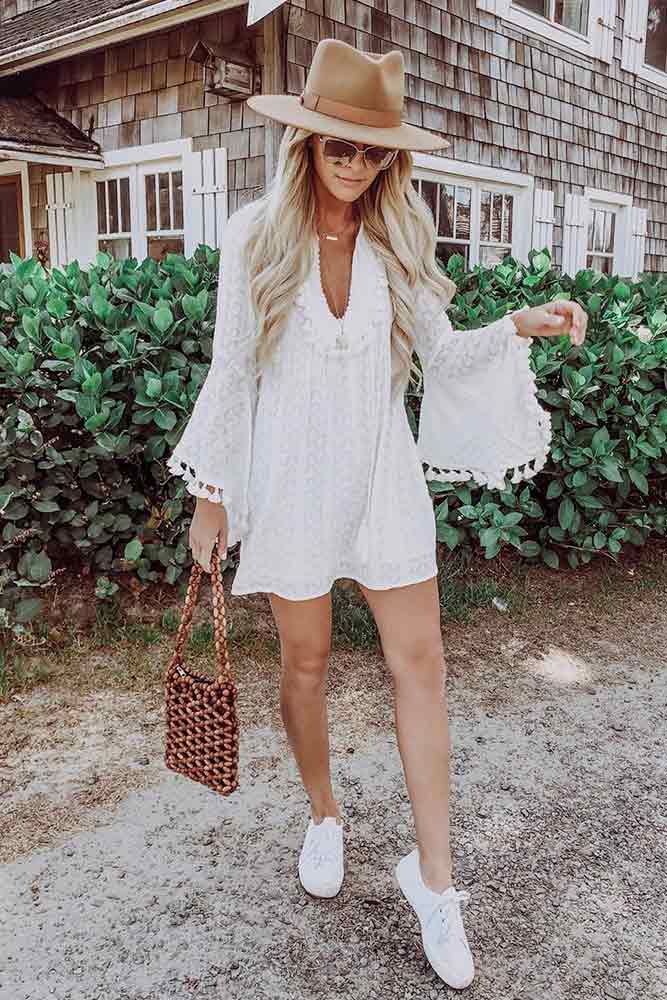 Credit photo: instagram.com/emilyrosehannon
Tent dress is a dress for women who are not aiming to enhance their features. It is a perfect summer and beach dress when the only thing that you need is something that will keep you fresh and stylish looking. It is light and short, so it is definitely not fit for formal wear.
Smock Dress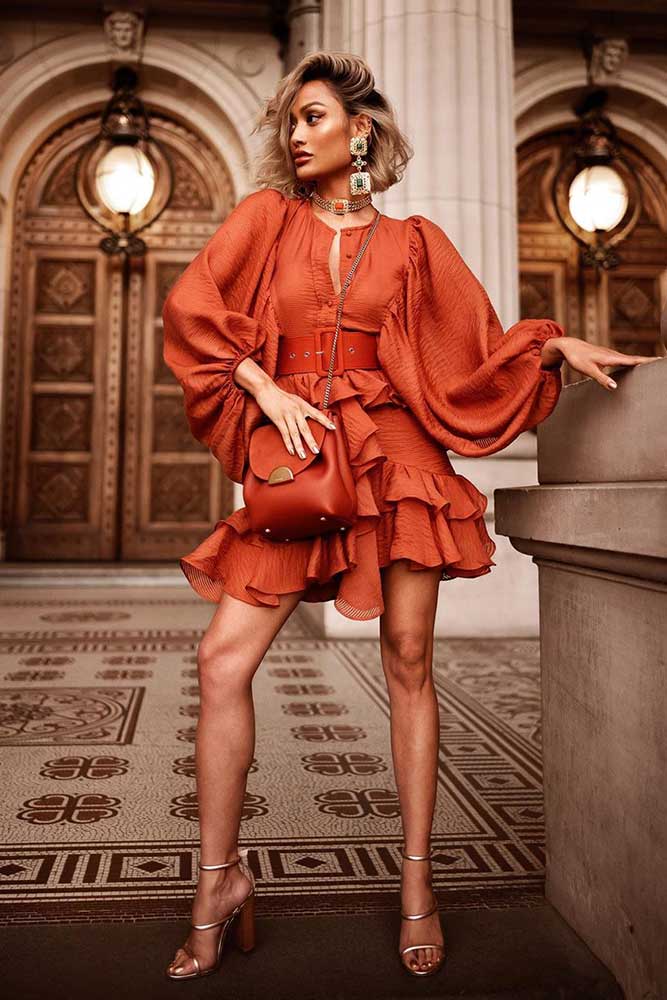 Credit photo: instagram.com/micahgianneli
In many cases, women in dresses look absolutely flawless, and at times, it makes you wonder how do they do that. However, there is rarely a grand secret about the issue. All you need is a dress that you can put on without looking and properly choose the dress type for your figure. The smock dress is one of those rush dresses that you can have in your closet is a stylish emergency. It is comfy and fashionable besides, there is a vast range of items to pair it with too.
Cocktail Dress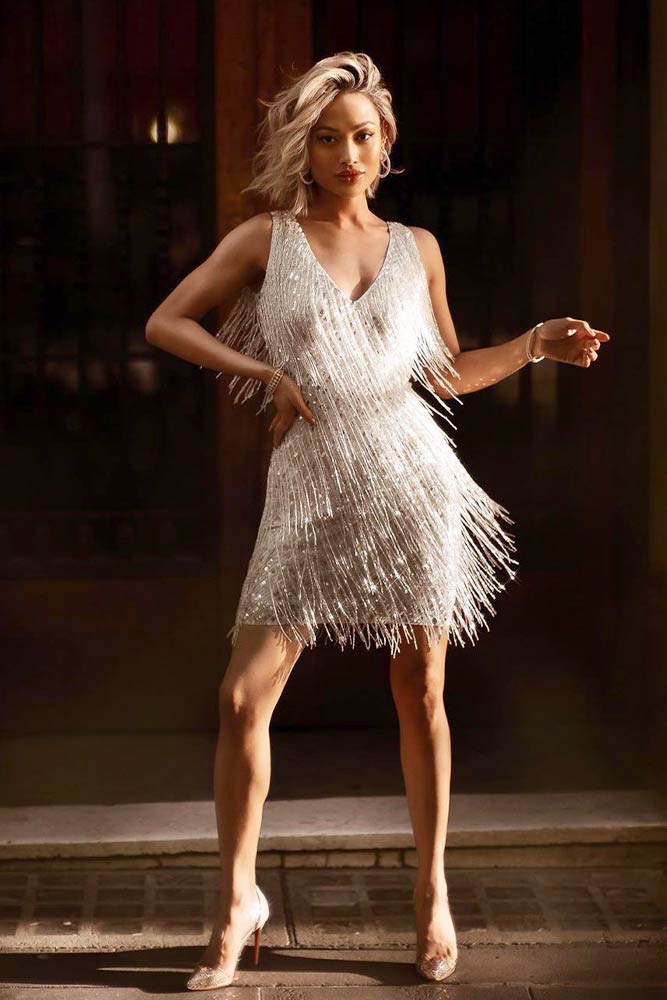 Credit photo: instagram.com/micahgianneli
Very often, when we hear about a cocktail dress, it is hard to imagine which environment it would ft best. We say that it is something you choose for a semi-formal event. This type of dress is supposed to be that perfect mixture of casual and formal, so that midi length is always the best one. As for the rest, you need to decide upon the details according to your preferences and body shape.
Pouf Dress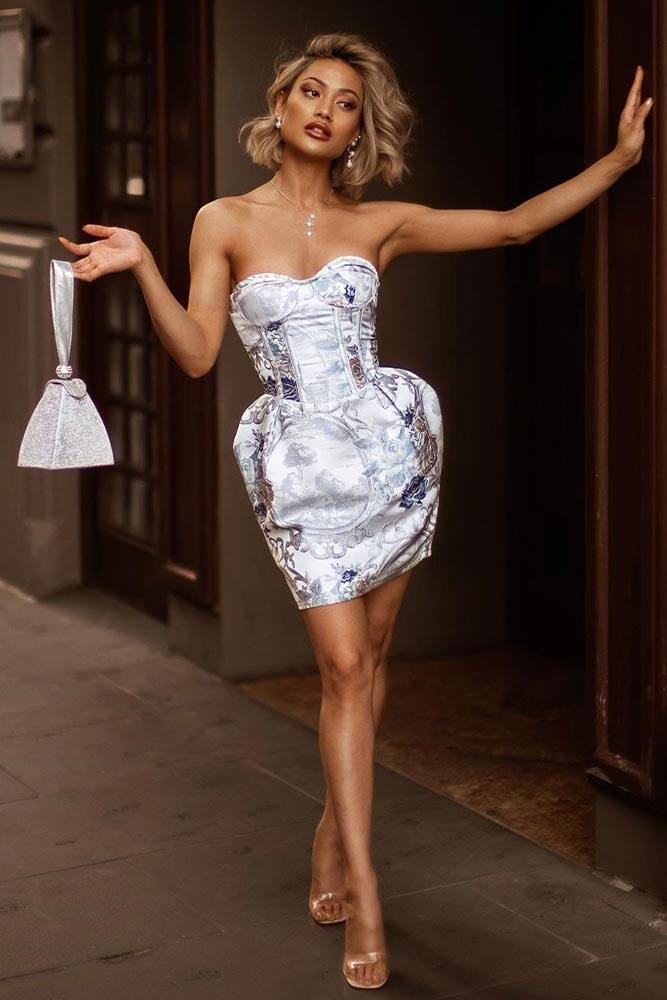 Credit photo: instagram.com/micahgianneli
A pouf dress is the one with a hemline that is turned inwards. Due to such a design, the dress looks like a balloon. In fact, such dresses were insanely popular during the 50s, but nowadays you can rock such a dress too. You can either wear it with a string of pearls and girly heels, or you can turn your rock vibe on and throw a leather jacket on.
Bodycon Dress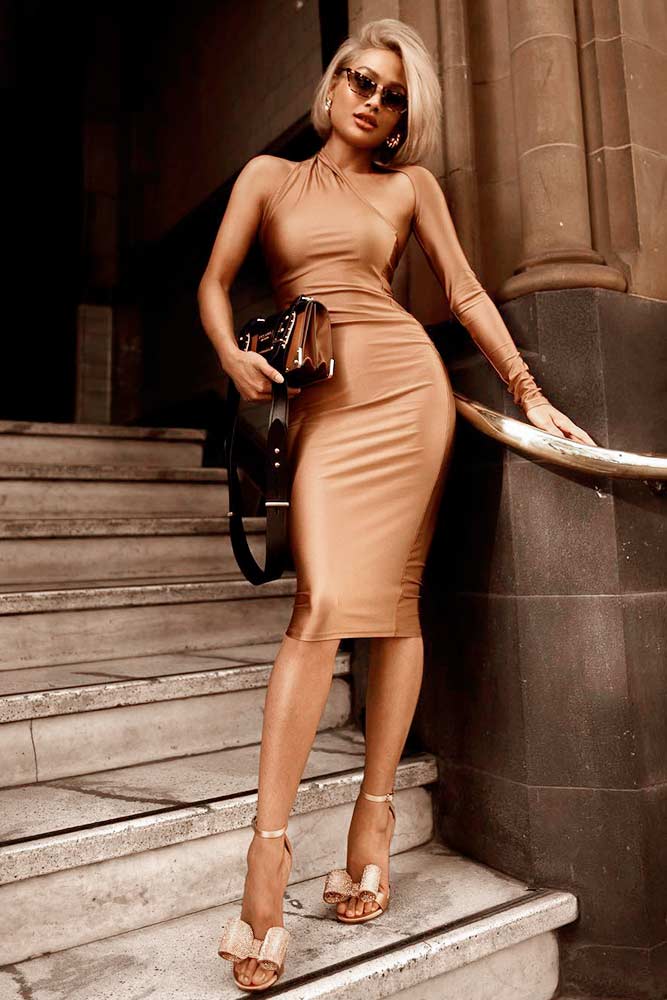 Credit photo: instagram.com/micahgianneli
Depending upon the types of women there are, it is easy to say that every dress is something like a personal representation of tastes and preferences. If you know that your hourglass figure is outstanding and you wish to show it off a little, then a bodycon dress is the one to help. Very often, these are tight-fitting dresses made of stretchy materials that fit your figure like a glove. There is nothing better for a girl's night out or a fancy dinner at the restaurant.
Dresses are gorgeous and feminine, no matter the types. Some types of dresses indeed suit certain figures, but there is always a loophole to use. The more information you possess, the easier it will be to look flawless!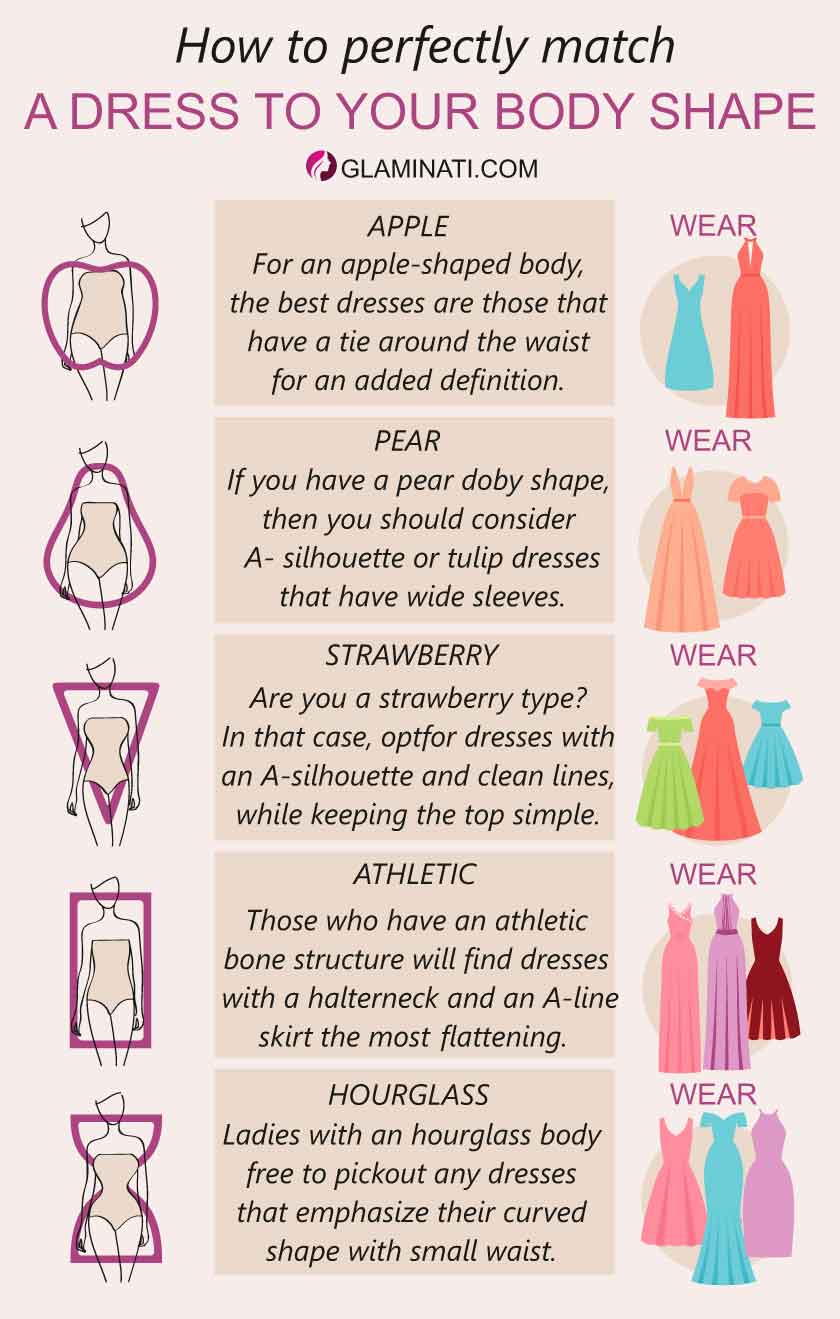 FAQ: Types Of Dresses
What kind of dresses are in trend?
Mid-length skirts, feminine pink hues, rich velvet fabric, sizzling off-the-shoulder tops, stylish athleisure, beautiful statement sleeves, stripes and embroidered patches are some of the latest fashion trends. Midi skirts can be worn anywhere and at any time. They're comfortable to wear, fashionable, and sophisticated.
Which dress is best for birthday girl?
Long-sleeved Autumn Green Birthday Dress.
Birthday Dress in Pink Satin.
Birthday Dress with Hot Pink Beads.
Birthday Dress for Children in the Style of a Ball Gown.
Birthday Dress with Bright Yellow Embroidery.
Birthday Dress with Crushed Bodice.
Which dress is suitable for slim girl?
You can wear the saree in the traditional way. However, the way you wear the pallu should draw attention to your slim waist. Kurtis, anarkalis and frock-style dresses with empire waists should be avoided by ladies and girls with thin bodies.
REFERENCES:
*
Certain outfits flatter certain body types, weather and occasions, so it can be overwhelming to try and tackle the choices alone.
*
A sundress is a dress intended to be worn in warm weather.
*
A dress (also known as a frock or a gown) is a garment traditionally worn by women or girls consisting of a skirt with an attached bodice (or a matching bodice giving the effect of a one-piece garment)