Coffin nail designs have been a big hit for the last couple of years. Now they are probably on the peak. Every celebrity fashionista has been slaying this nail shape, starting from the Kardashians to Rihanna and Queen B. Throughout the history of the coffin nail shape, also called ballerina nails, its designs evolved. Both summer and winter nail trends can be adjusted to the coffin nail shape, and this is the coolest part about them.
Colored Coffin Nails Designs
Black Coffin Nails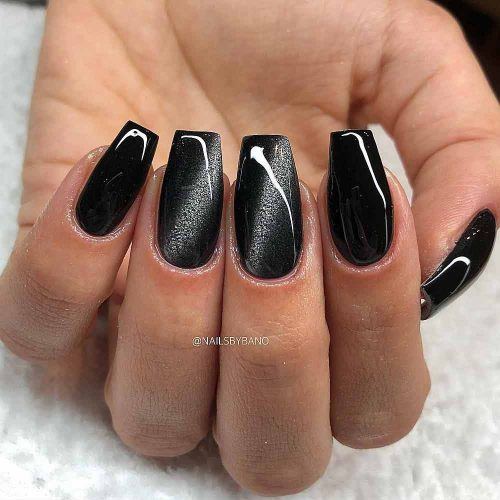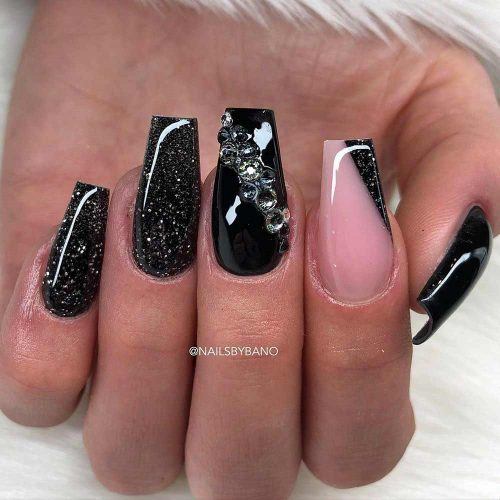 Source: Instagram/nailsbybano, Instagram/solinsnaglar, Instagram/nailsbybano
It may be hard to imagine, but fancy nails are not always all about intricate designs and a variety of shades. At times a mere black cat-eye accent nail is all that matters. Besides matte black mani with a glossy French tip will add that exquisite taste to that fantastic outfit of yours.
Nude Coffin Nails Designs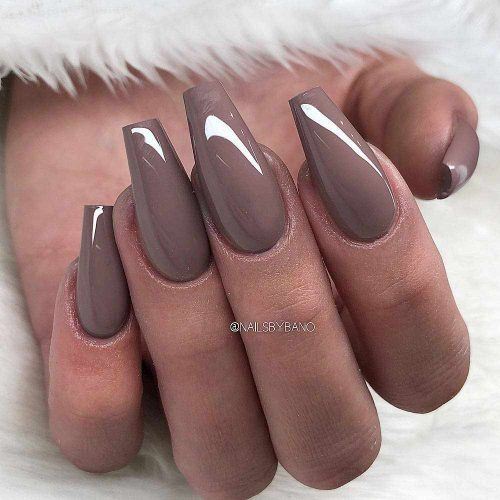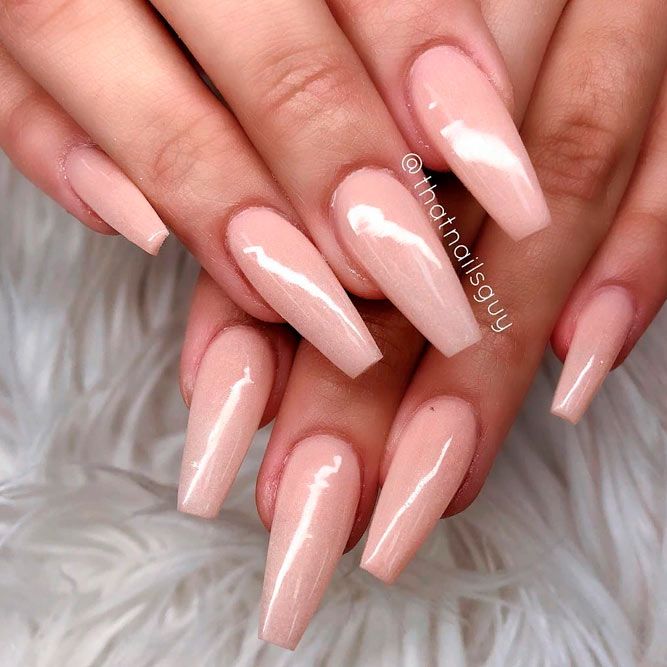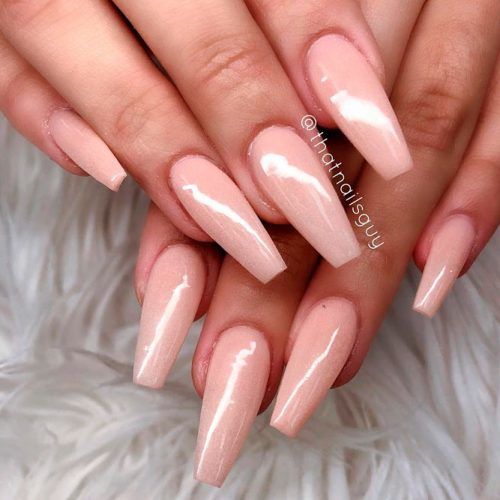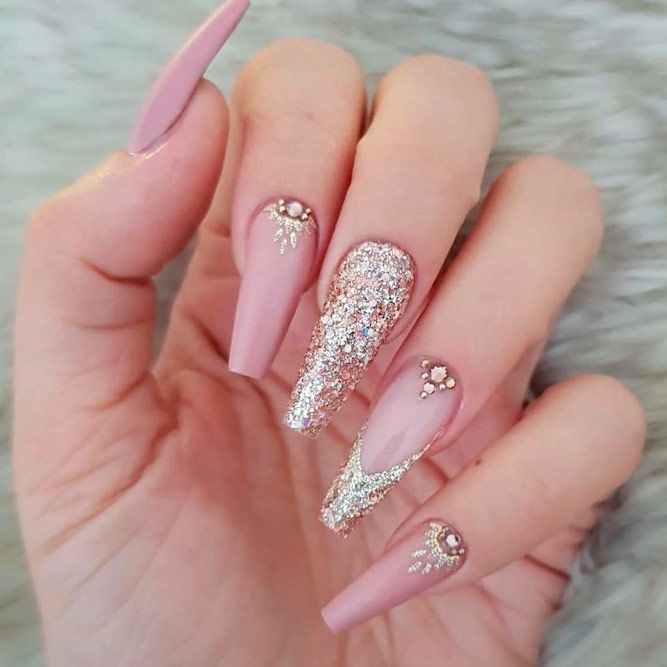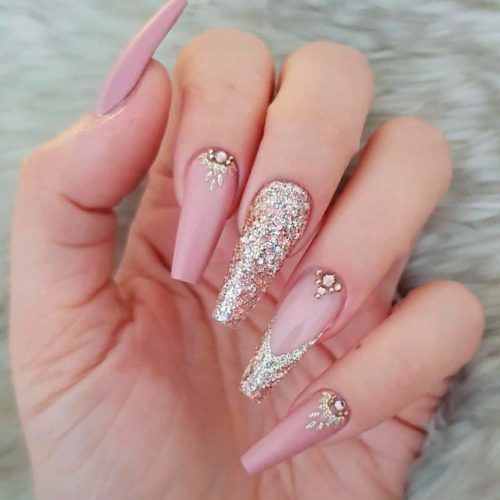 Source: Instagram/nailsbybano, Instagram/thatnailsguy, Instagram/getbuffednails
Who could have thought that edgy ballerina nails can look so gorgeous covered by nude nail polish? Nevertheless, the sleek vibe this manicure sends can't be anything but admired.
Whether it's because of your buttoned-up job or you're simply tired of vibrant colors on your nails, but you feel like going for something more low-key and neutral? Pastel nails in dusty pink color are a perfect option that will ideally suit both the formal and casual ambiance while still making your manicure look wonderful. If you think that a solid color would come out rather plain, we assure you that on long coffin pastel nude nails design is unnecessary, as the shape does the job.
Burgundy Coffin Nails Designs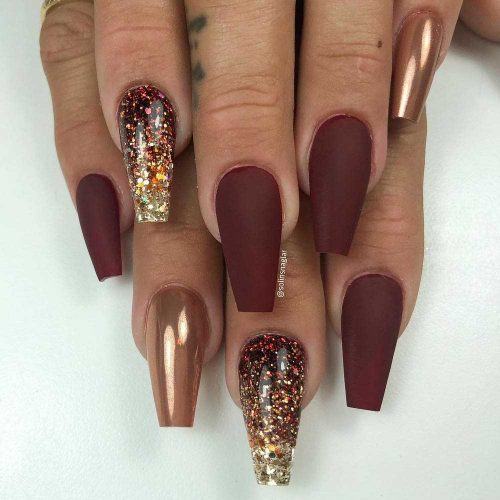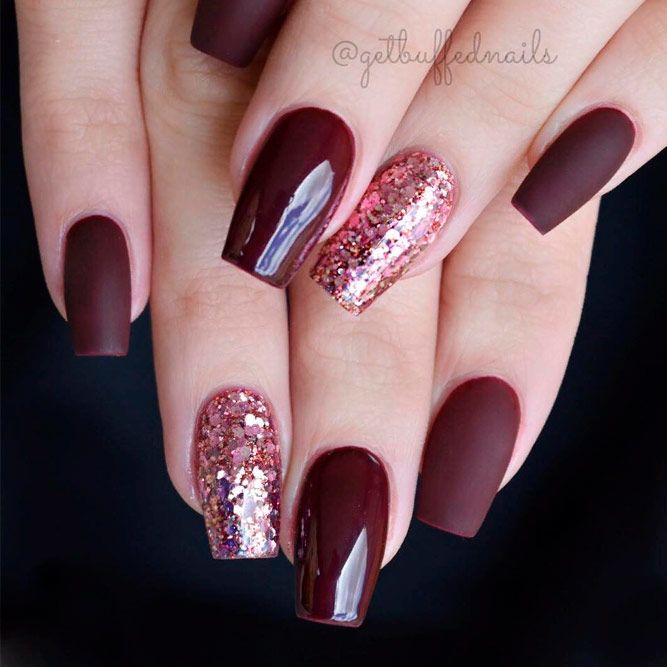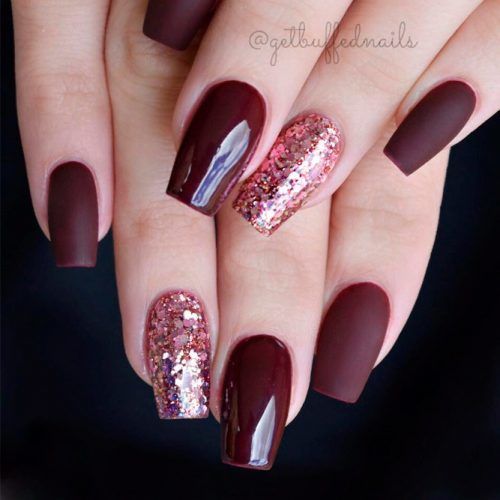 Source: Instagram/merlin_nails, Instagram/solinsnaglar, Instagram/getbuffednails
Some may consider coffin burgundy nails a little too much. However, if you have a relish for a bold and dramatic style, this is a perfect choice to show off your inclination into the extravagant side. You may also play around with finishes pairing a glossy appearance with a matte one. For a dose of regal air, highlight your ring finger nails with a pink glitter accent.
It is hard to state that burgundy nails belong to cute coffin nail designs because they belong to the royal nail art category. It rarely matters the mixture, this deep-wine shade is so magnetic and rich that it is difficult to resist it!
Marble Nails Designs
Source: Instagram/nails.xmxnx_, Instagram/nails.xmxnx_/, Instagram/loveeffectnails
In the whole wide versatility of coffin nail designs, it is easy to get lost. So easy it is to crown one pattern and neglect the others. However, we just know it – no matter your personal preferences, you will not be able to pass by a manicure idea with a marble stone pattern involved. Are we right?
We cannot overstate enough how outstanding white coffin nails appear. This color of pure innocence gains a daring and saucy flair when sported on such a bold shape. The white color can also be a perfect canvas for various nail designs, especially when you draw inspiration from nature. Add a flowing pattern to a couple of nails, and you'll get an amazing marble effect. For a glamorous touch, embellish the marble nails with two parallel lines of gold striping tape. Marbleous!
So that you or your nail tech would have enough space to create beautiful coffin nail designs, you shouldn't necessarily go with an extended length. Short coffin nails also allow such adornments as gold glitter, rhinestones and raised nail designs, so why not to try combining all of them in one manicure? If this still doesn't seem enough for you, a couple of matte nails will put a period to this rich design.
French Coffin Nails Designs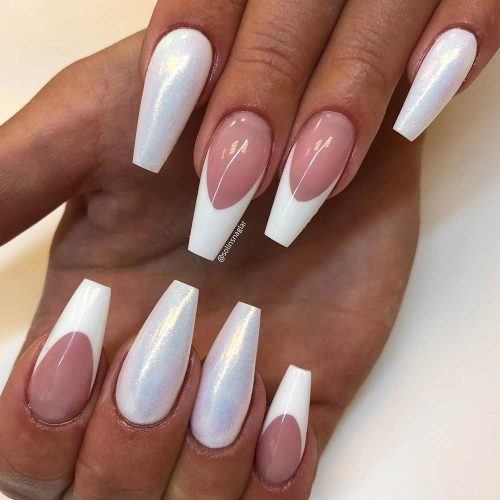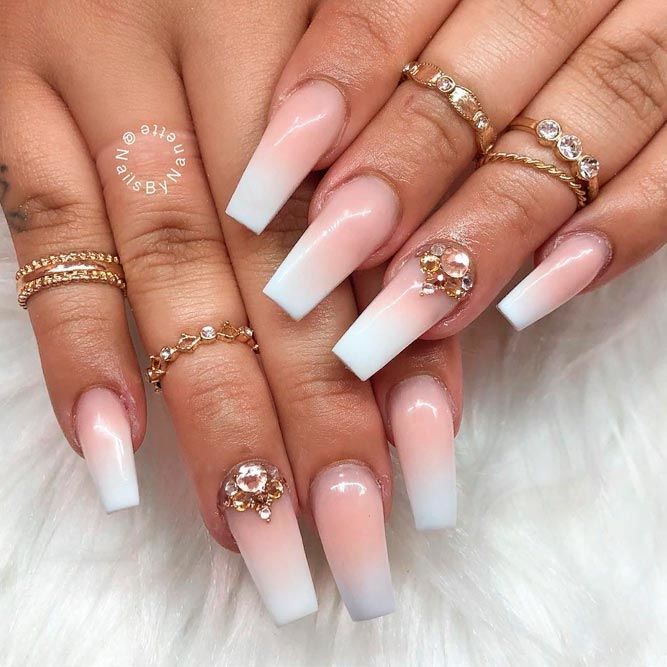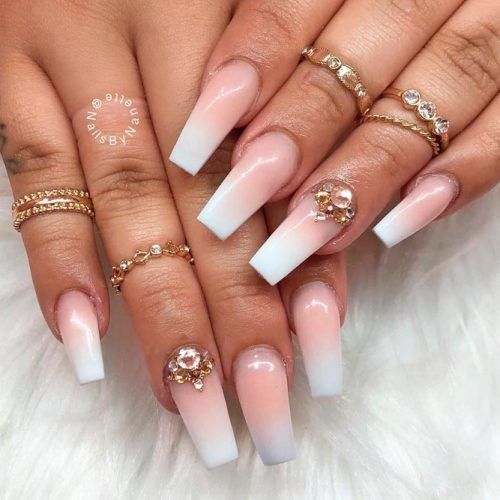 Source: Instagram/solinsnaglar, Instagram/mrtrungnguyen, Instagram/nailsbynanette
Some nail designs for coffin nails are just as refined as the shape itself. However, it does not mean that modernistic touches can't be added. For instance, a pearly white accent will complement your elegant look better than anything else. At the same time, leopard print tips will fit in a casual environment flawlessly.
French manicure is timeless. It comes in different shapes, lengths and even colors. Thanks to such sheer versatility, basically every beauty can find a style to match her tastes and needs. Here's a modern take on a classic French mani. It starts off with a nude pink shade at the bottom of the nails and melts smoothly into milky white tips, which makes it a gold standard of ombre nails. Optionally, you can adorn your French manicure with gold rhinestones and jewelry to match.
Coffin Nails Designs With Stones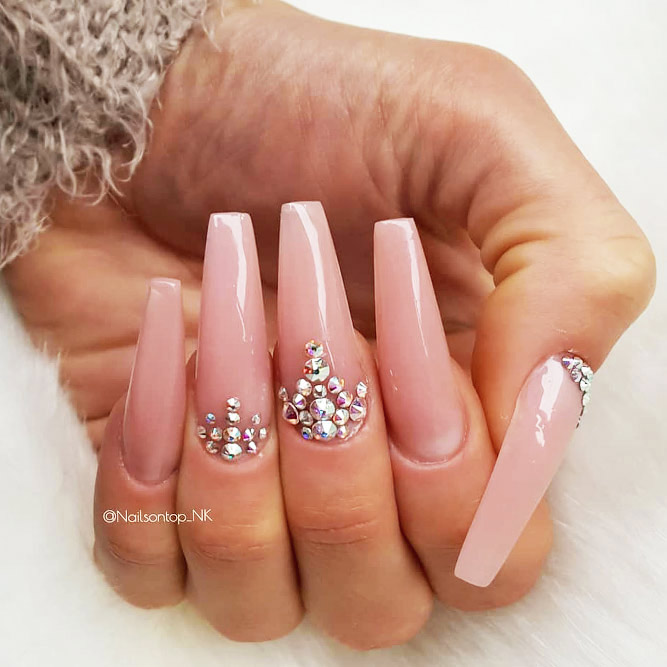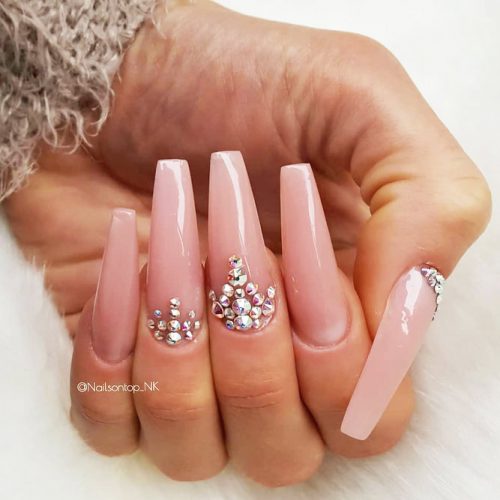 Source: Instagram/nailsontop_nk, Instagram/riyathai87, Instagram/aymehnails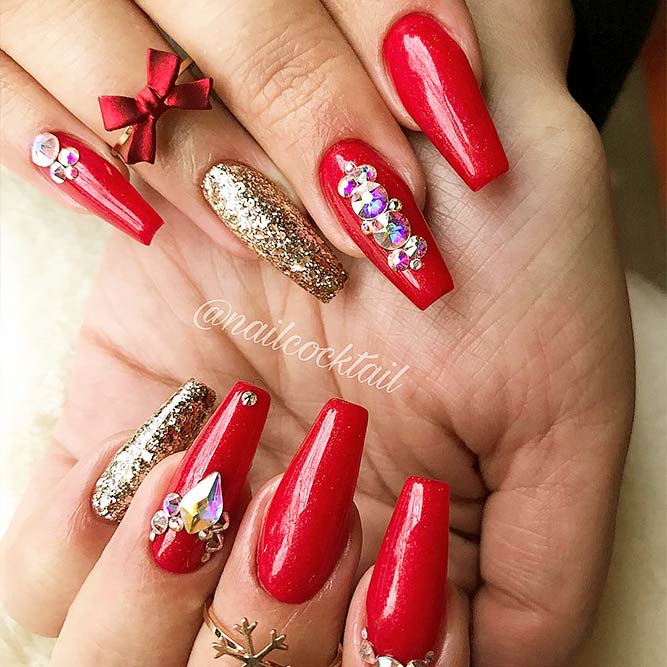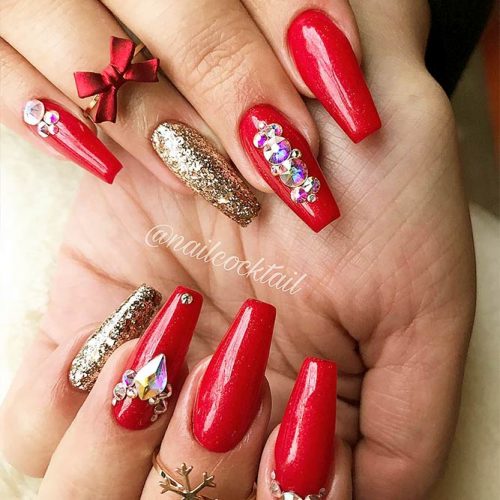 Source: Instagram/riyathai87, Instagram/nailcocktail, Instagram/taraasnaglar
Rhinestones are always a great embellishment for coffin nail designs. Thanks to an extreme versatility, they offer you countless design options, which range in color, shape and size. Rhines can be used to create a striking contrast with the base nail color as well as to echo it. Being sparkly nails gain a glamorous and luxurious feel, which balances out a bit rough and fierce coffin nails look. Note though that gems should not necessarily be the only design element of the manicure. They can enhance the creative pattern or elaborate nail art on your nails.
Glitter Coffin Nails Design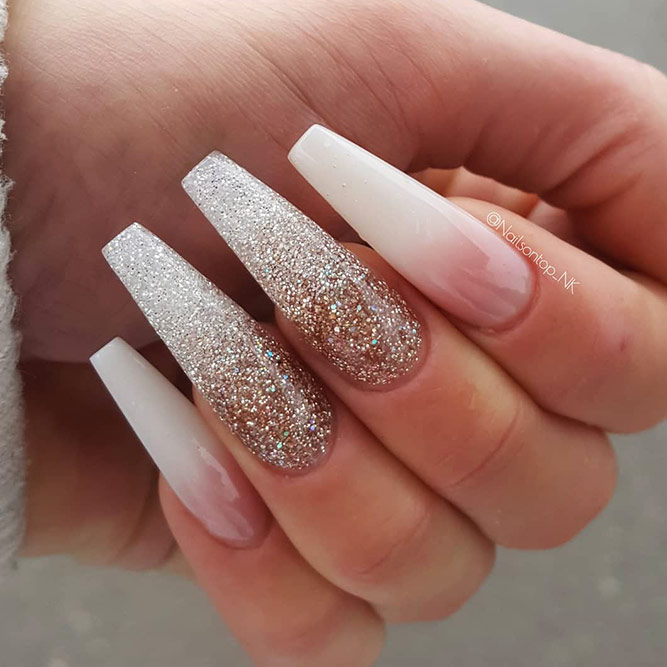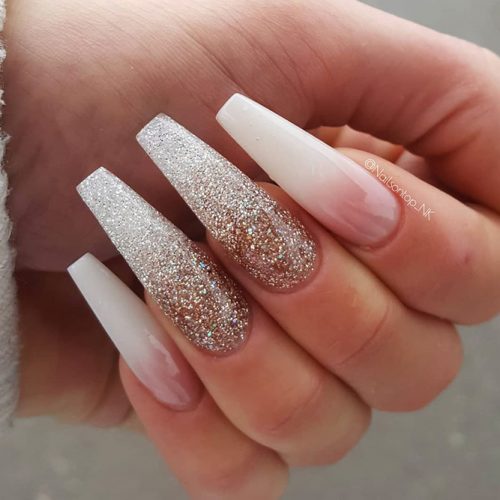 Source: Instagram/theglitternail, Instagram/theglitternail, Instagram/nailsontop_nk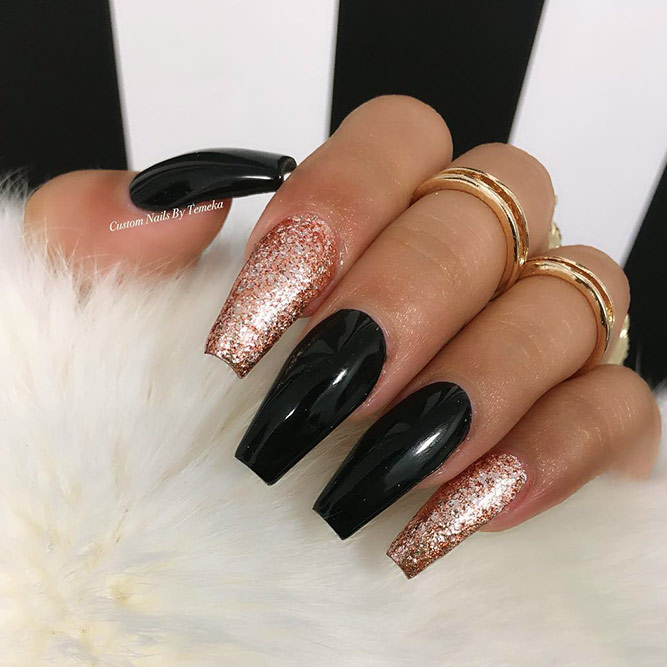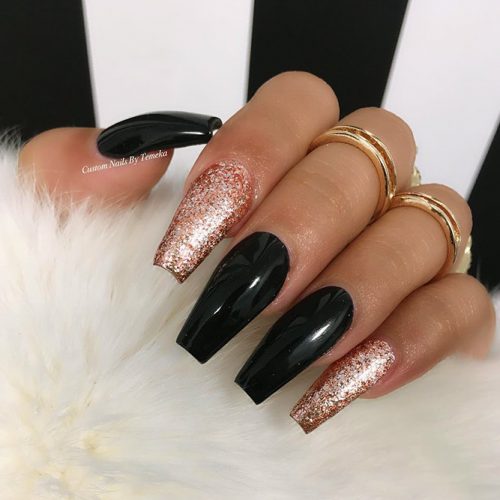 Source: Instagram/nailsontop_nk, Instagram/customtnails1, Instagram/customtnails1
You may think that glitter coffin shaped nails are less snazzy than those with rhinestones. Yet, it often depends on the amount and density of the sparkles, not their type. Unlike studs, going with glitter allows you to cover the whole nail with it without looking kitschy. What's more, glitter offers you more control, as you can vary its intensity. At the end of the day, a prominent shape is what really makes your manicure stand out whereas all the coffin nail designs only work as an enhancement.
Matte Coffin Nails Design For Beautiful Look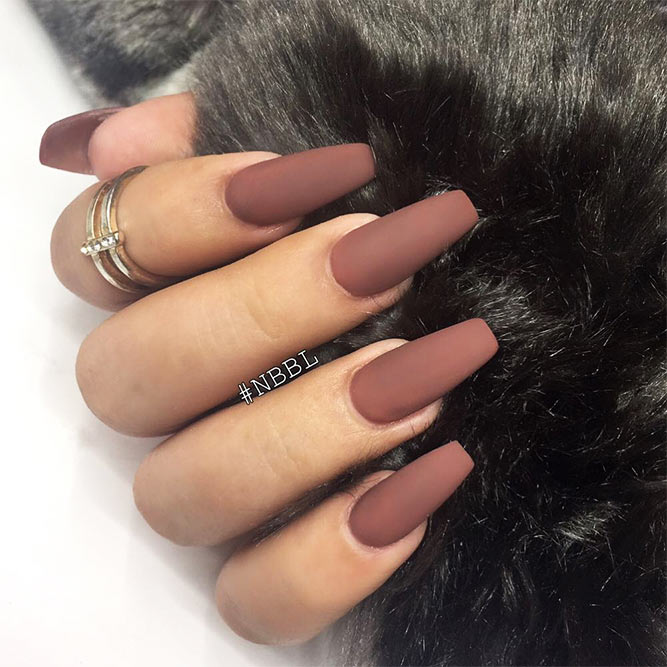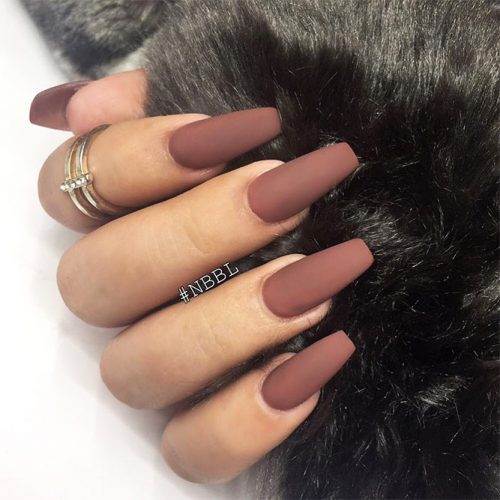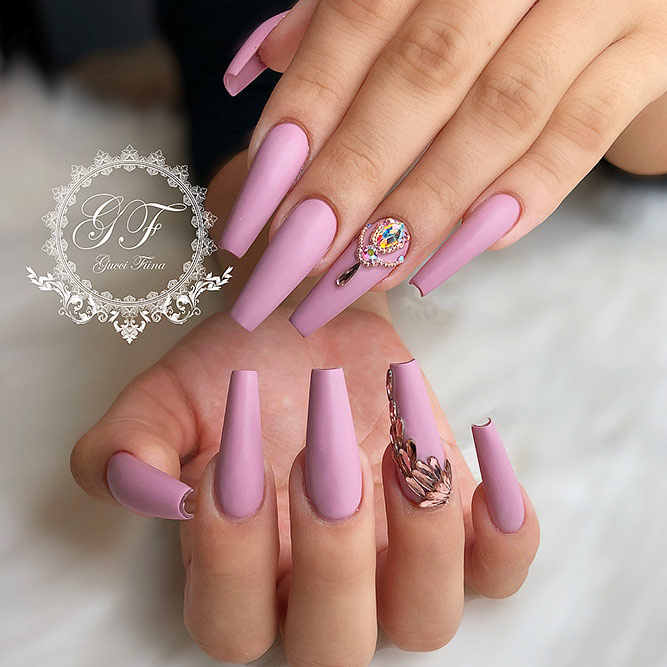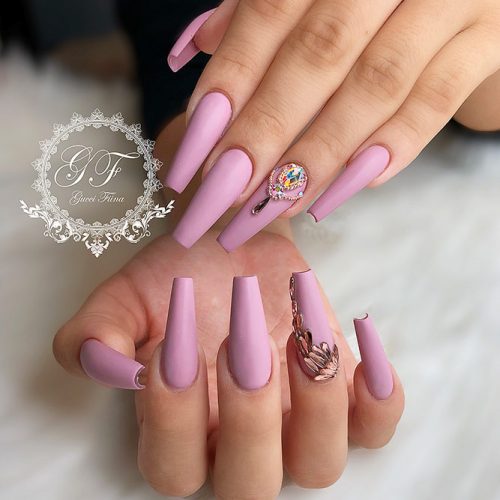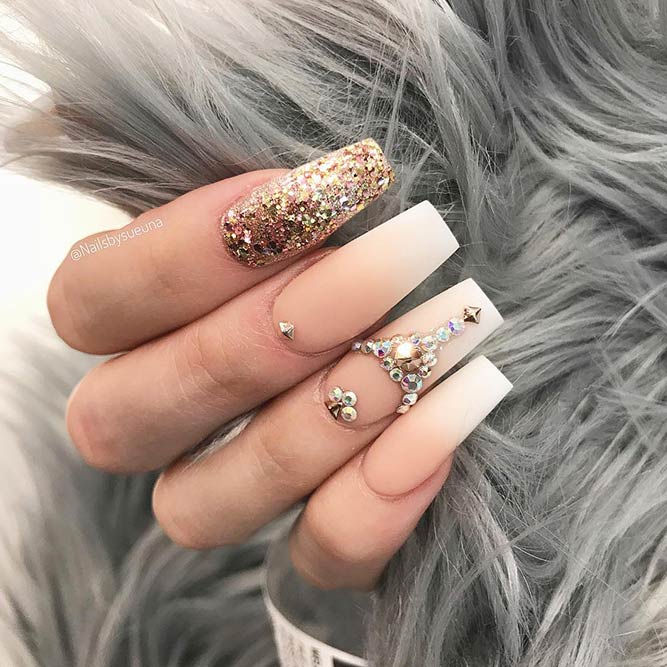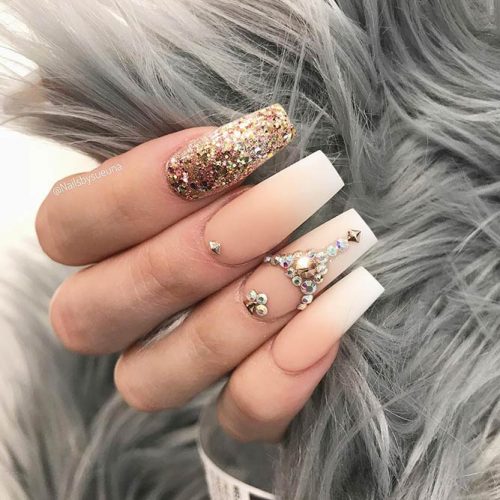 Source: Instagram/nailbarandbeautylounge, Instagram/fiina_naillounge, Instagram/nailsbysueuna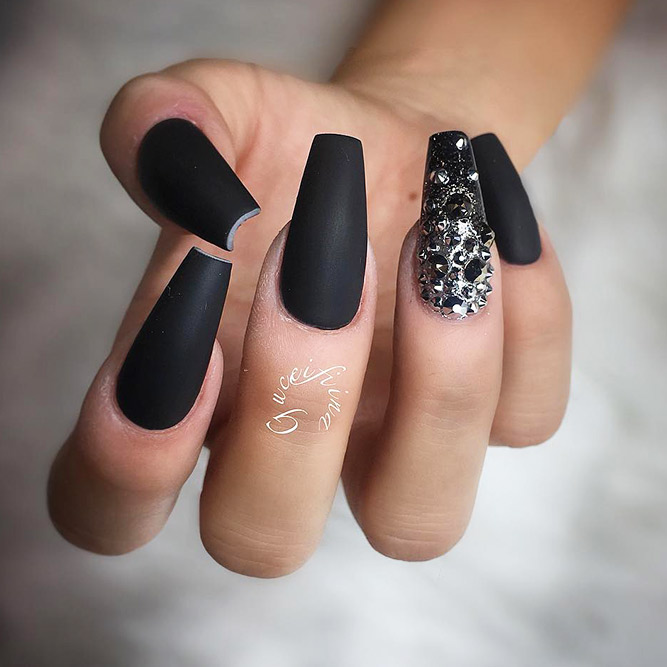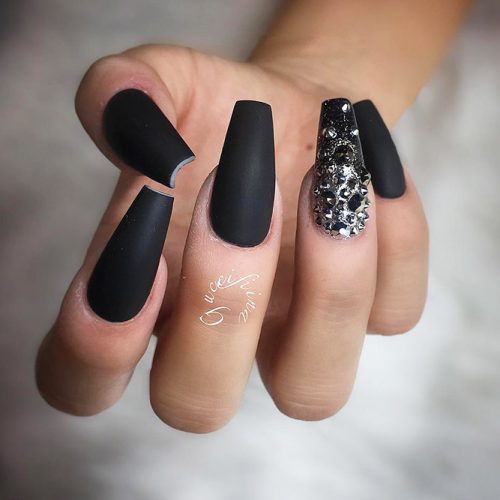 Source: Instagram/fiina_naillounge, Instagram/fiina_naillounge, Instagram/nails.xmxnx_
Although we tend to gravitate to a more dewy and glossy finish in makeup during cold months, our nails instead become matter. Matte nails came into vogue quite a long time ago. However, they're definitely very much here to stay. Painting your coffin-shaped nails with matte nail polish is a fashion statement that can't be overlooked. Thus, you may want to skip on additional decoration or at least, keep it simple.
And, of course, options for the bravest ones. If you really want your manicure to stand out from the crowd, try these ideas. What can be more creative than a geometric design combined with a transparent base and matte finish? Go for a white or pink floral design on a nude base for a kind of more elegant look. Colorful foil designs are also a great match to your coffin shape nails.
REFERENCES:
Nail art is a creative way to paint, decorate, enhance, and embellish the nails. It is a type of artwork that can be done on fingernails and toenails, usually after manicures or pedicures. Source
Artificial nails, also known as fake nails, false nails, fashion nails, nail enhancements, acrylic nails, nail wraps, or nail extensions, are extensions placed over fingernails as fashion accessories. Source