By:

Glaminati Media

| Updated:

10/31/2018
White Coffin Nails Designs For Any Occasion
The white coffin nails trend is all the rage today. Let's look closely at this trend.
Overall, coffin nails are also referred to as ballerina nails. They are called like that because this nail shape resembles either a ballerina shoe or an actual coffin.
Usually done on longer nails, the ballerina shape is very convenient. Firstly, it grants much space for nail art. And secondly, this shape is less prone to breakage, comparing to other shapes.
Ballerina nails look exceptional when painted white. Read on to discover the most popular ideas.
White And Pink Ombre Nails With A Marble Stone Design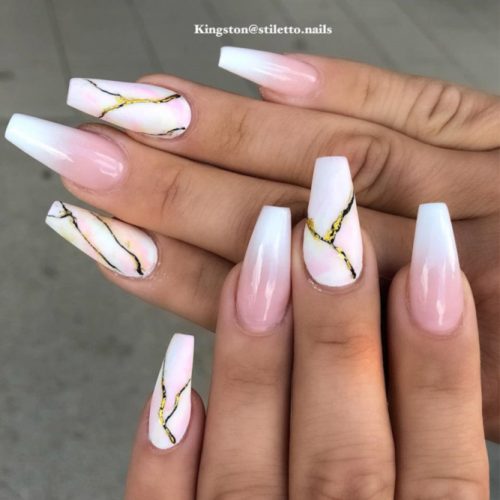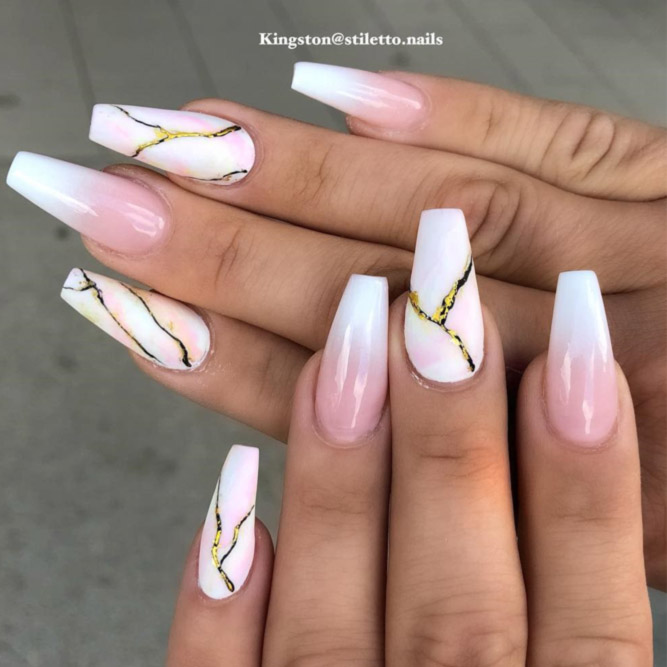 Marble nail designs are ideal if you are looking for an elegant and classy look for an event such as a wedding or other formal occasion. This design for white coffin nails combines white and pink ombre nails with a white and gold marble design that is the epitome of elegance and grace. And this design is simple enough so that you can easily duplicate it at home. All you need is pale pink nail polish and white polish for the ombre nails. Plus, the same white polish with gold and black glitter for the marble stone design on the other nails. Mix and match these two designs for a sleek and sophisticated look.
Easy White Coffin Nail Design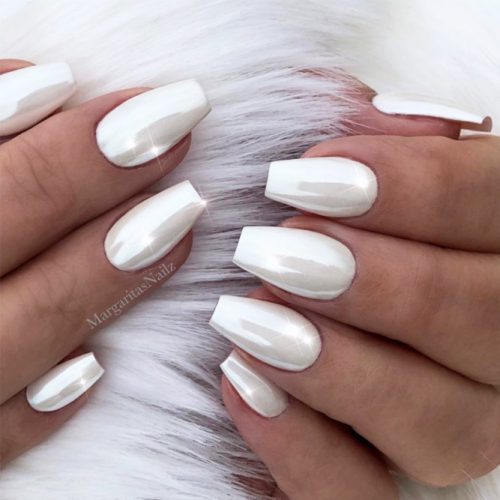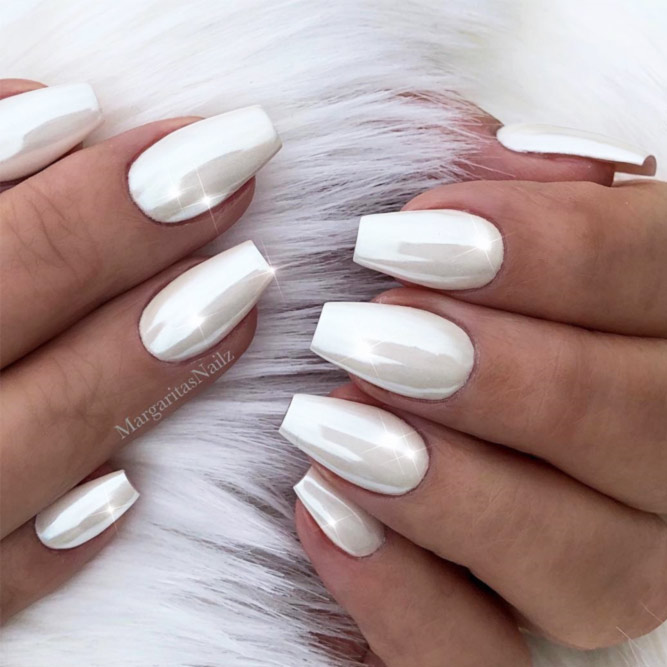 Those who are not a fan of super long nails will love this look. It's simple yet elegant. So, it can be worn as an everyday look or for a special occasion such as a prom or wedding. All you need is shiny white nail polish. It's that simple. This is a smooth and classic look for those who prefer easy nail designs for white nails. And the length is perfect as it is not too long nor is it extremely short. The moderate length and simple design is very chic and feminine.
White Coffin Nails With Silver Rhinestones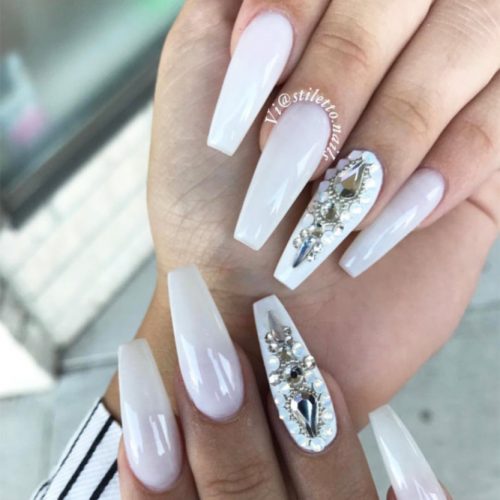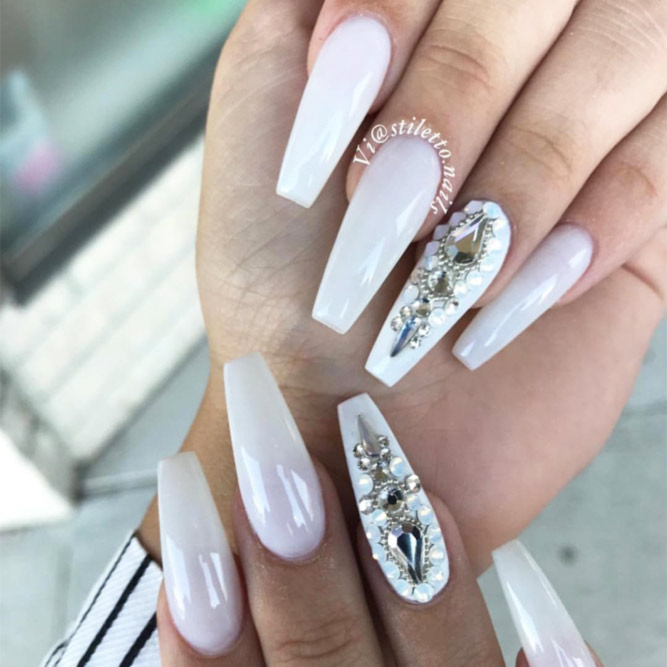 Rhinestones are always a fun way to dress up any nail art. But you don't need to go over the top and adorn every nail with gems. Paint all of your nails white and allow them to dry. Then create a pretty design with silver rhinestones on your accent finger to bling it up a bit. This look is perfect for a girls night out or if you just love rhinestones. And it looks stunning on long coffin nails!
Long White Coffin Nails With Flowers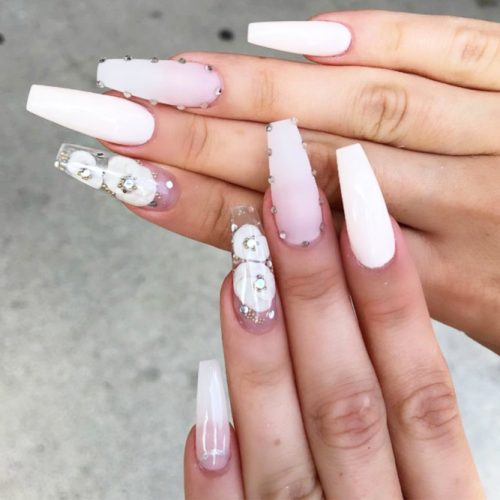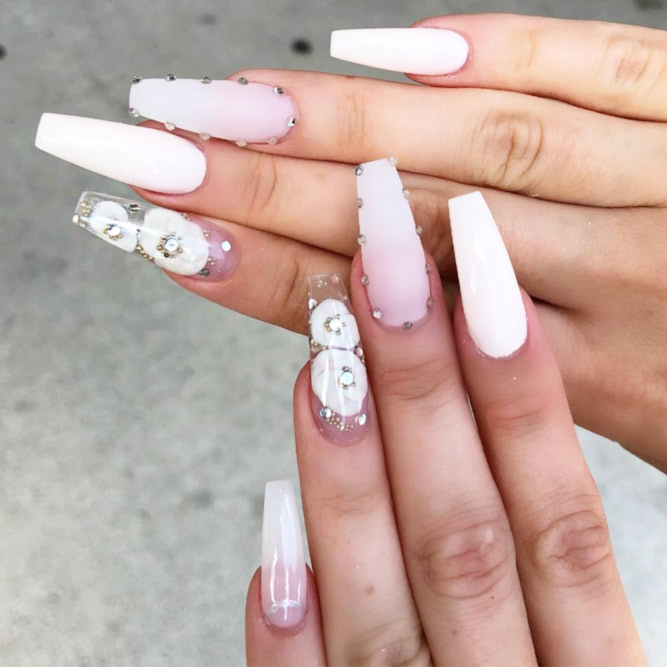 If you are looking for a dainty, feminine look for your white coffin nails, flower nail designs are always a great way to add a bit of a girly vibe. This look is especially stunning on long coffin nails. Matte nails are the rage right now as matte colors give a smooth and refined finish to any style of nail art.
Paint a white and pink matte ombre design on some of your nails and then leave one nail clear for the floral design of your choice. If you so desire, you can place some tiny gemstones on another nail to give this look a bit more bling. This look is very girly and chic and perfect for going out with girls or on a date with that special someone.
White Coffin Nails With A Glitter Accent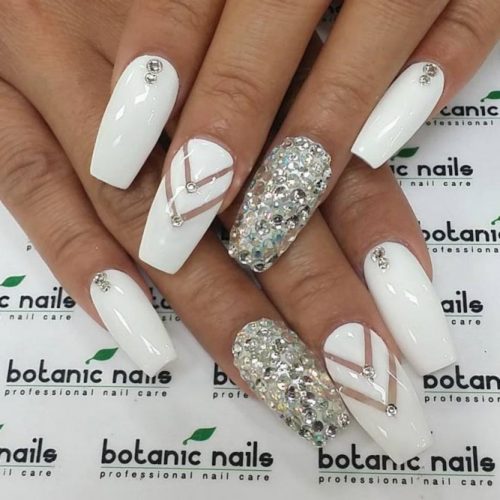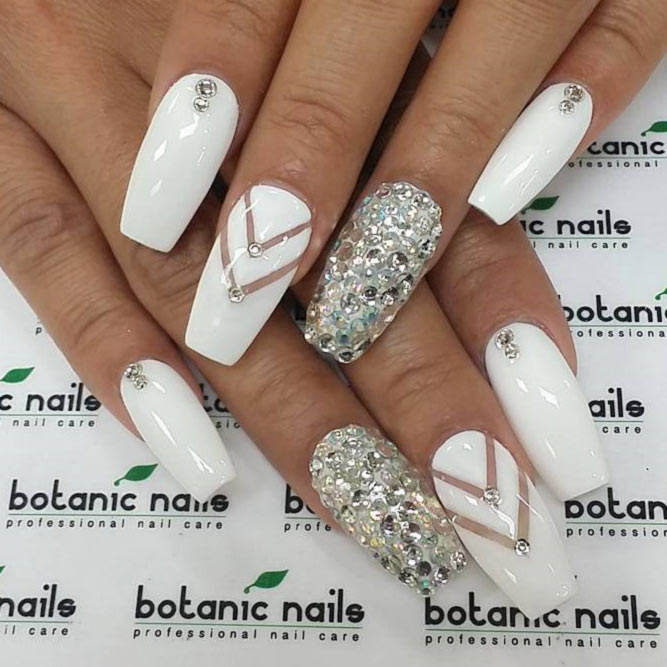 Glitter nails are always a fun choice for coffin nails. And glitter looks especially stunning on white coffin nails. Paint all of your nails white except for your accent finger. If you want, you can create a geometric design on your middle finger and place a single rhinestone on your other nails. On your accent finger, use glitter nail polish and then fully adorn that nail with rhinestones. If you love bling, then this is the look for you!
White Coffin Nails With Blue Marble Stone Patterns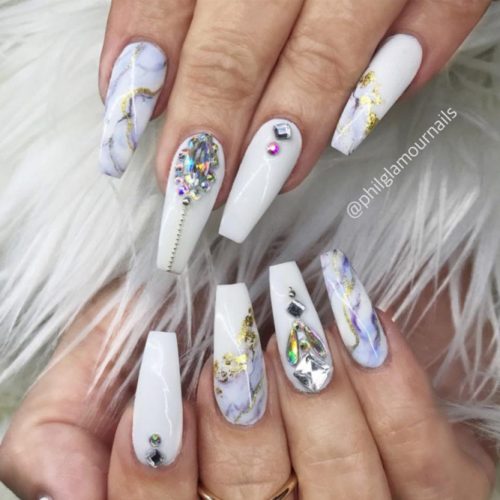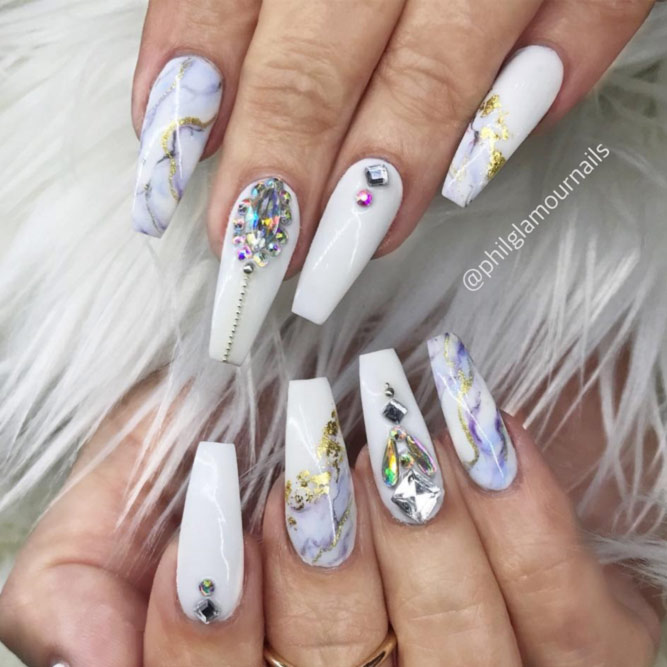 If you love marble nail art, then you will flip for this blue marble stone design. Marble nails are so much fun, but they are also very classy. You can mix and match nail art designs for coffin nails by painting one or two of your nails in blue and gold for a marble stone art design. Add some rhinestones in gold, blue and silver on one nail. And just place a few gemstones on the other nails not to take away from the accent nails. This look is playful yet elegant and will work for any occasion.
Long White Coffin Nails With Gold Stripes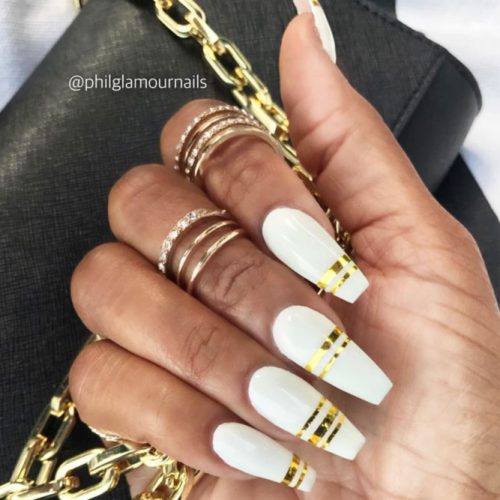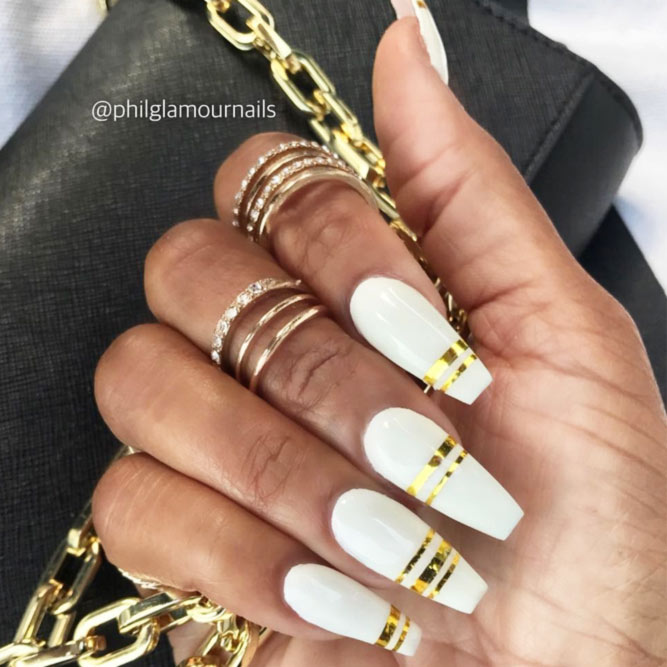 White and gold is such a pretty color combination. And with the right jewelry, you can totally rock this white and gold combo for long white coffin nails. Paint your nails with white nail polish and then use gold nail art tape or paint two gold stripes on each nail to give it almost a French manicure finish that is glamorous and chic. This look is great for every day or something special. So, if you love gold, then don't hesitate to try this classy nail art design.
Matte Nails With A White French Manicure Design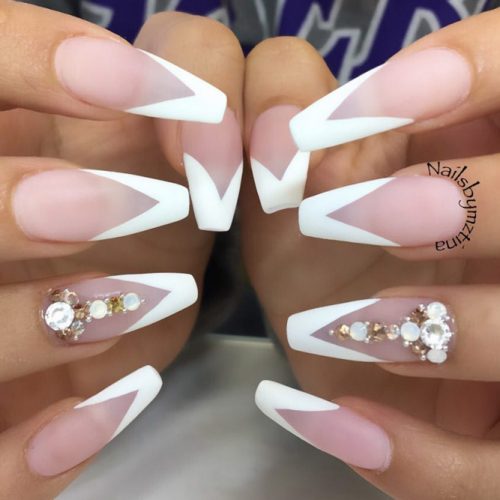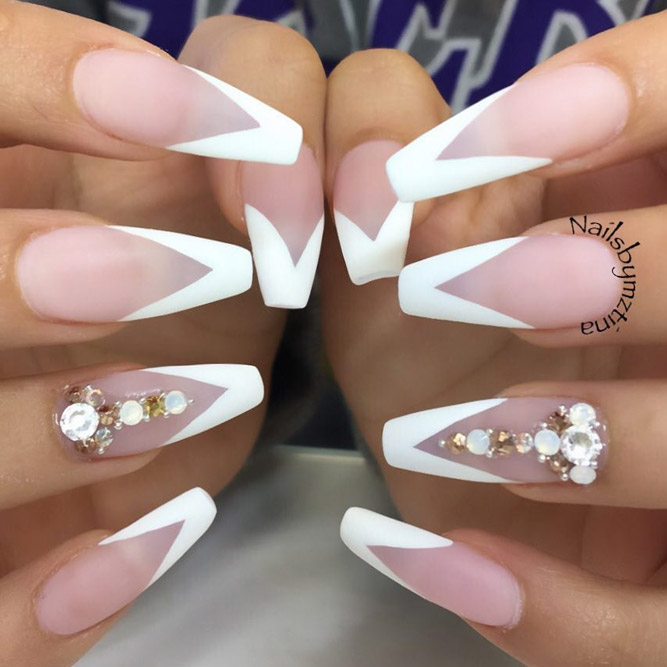 If you are a huge fan of the French manicure, then you will love this look for pink and white coffin nails. French manicures are a form of nail art that will never go out of favor. So, you can't go wrong with this timeless and elegant style.
Paint your nails with a nude or pale pink base. And then paint the tips in a geometric matte white design for a look that's glamorous and sophisticated. Matte nails are so stylish and great for a clean and polished look. And French manicures look even more stunning on very long coffin nails. So, if you want a lovely look for your long nails, this could be the ideal choice for you.
Mixed Design With Ombre And Stone Marble Art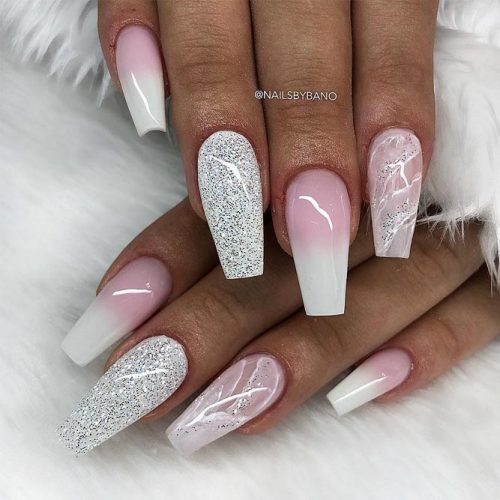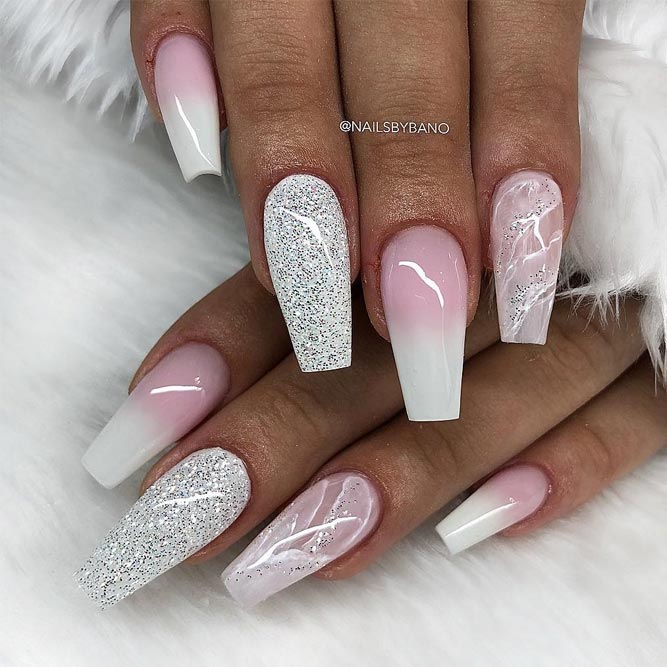 Ombre nails are very big right now. And when you see this look, you'll know exactly why. Use pale pink and white polish to create an ombre design on your pinky finger, middle finger and thumb. Then use pretty silver glitter nail polish on your accent finger. Finally, paint your ring finger pink and create a white and silver stone marble design. Mixing and matching nail art is very popular now. So, this look will be sure to catch everyone's eye as it is stylish and chic!
Transparent Nails With White Patterns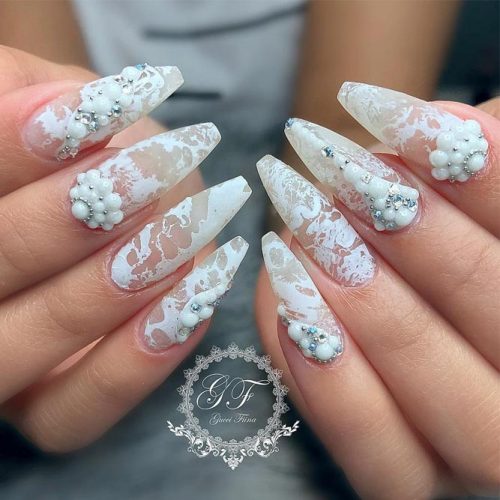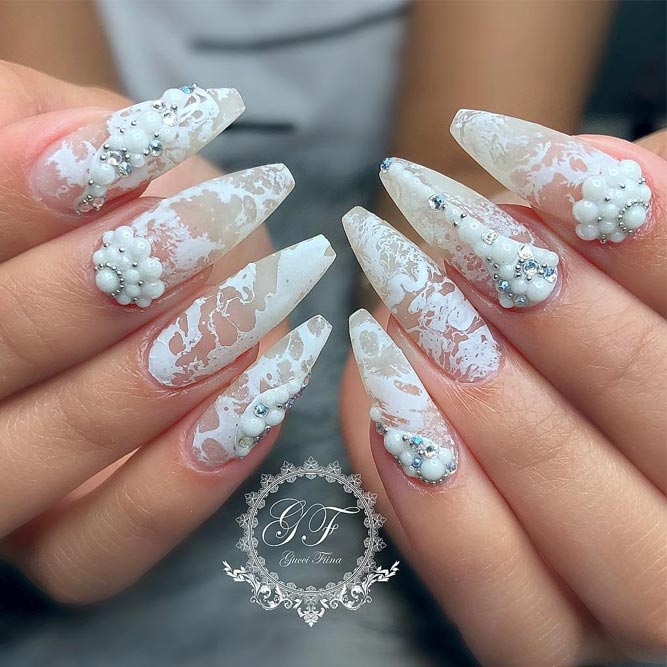 If you want a really cool and unique look for white coffin nails, this 3-D nail art with clear nails and white polish is a lot of fun. Paint your nails with clear polish and then do a marble art design with white polish. You can use rhinestones to bling it up a bit. And you can even do a pretty floral design out of white gemstones on one finger. This awesome look for long coffin nails will make you the envy of all your girlfriends!
Cute White Coffin Nails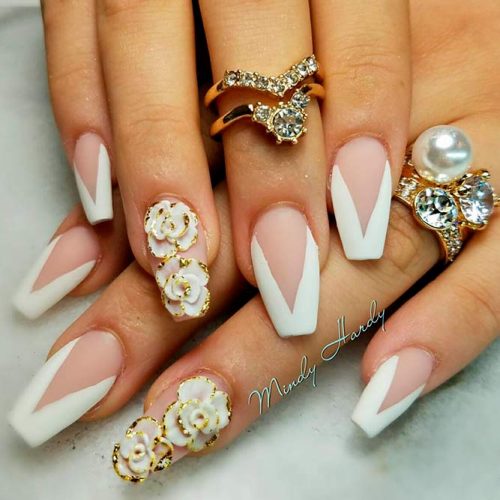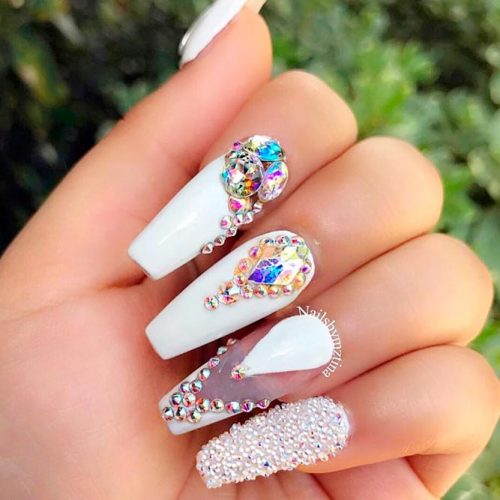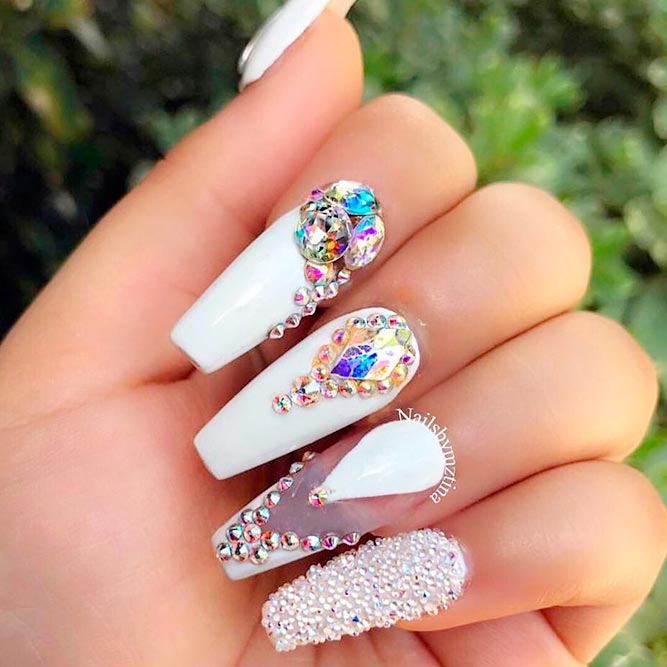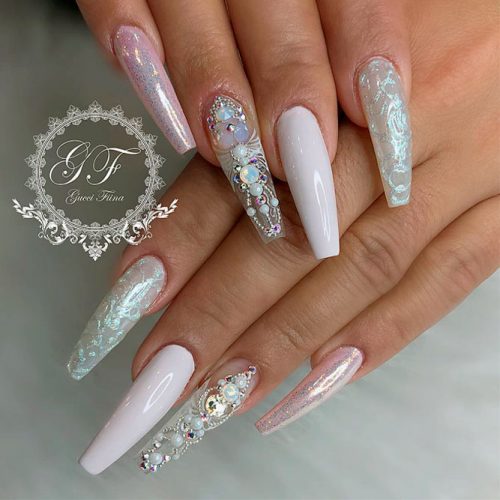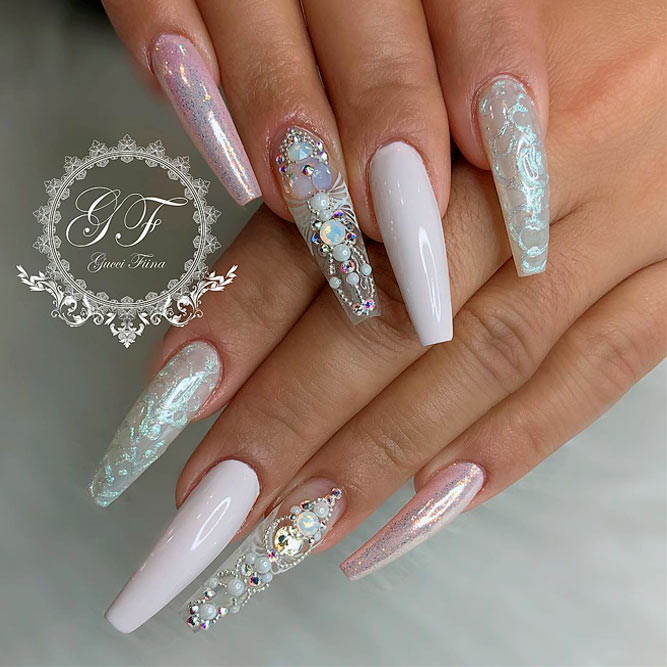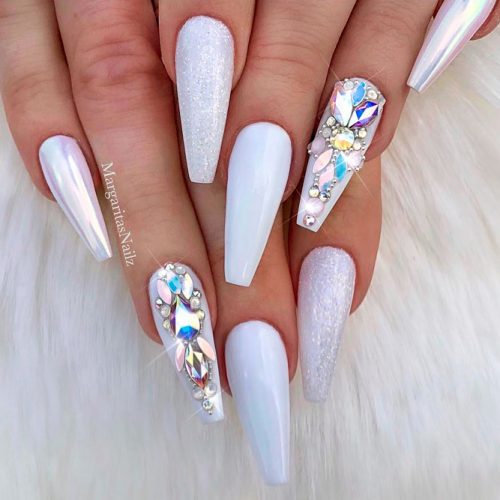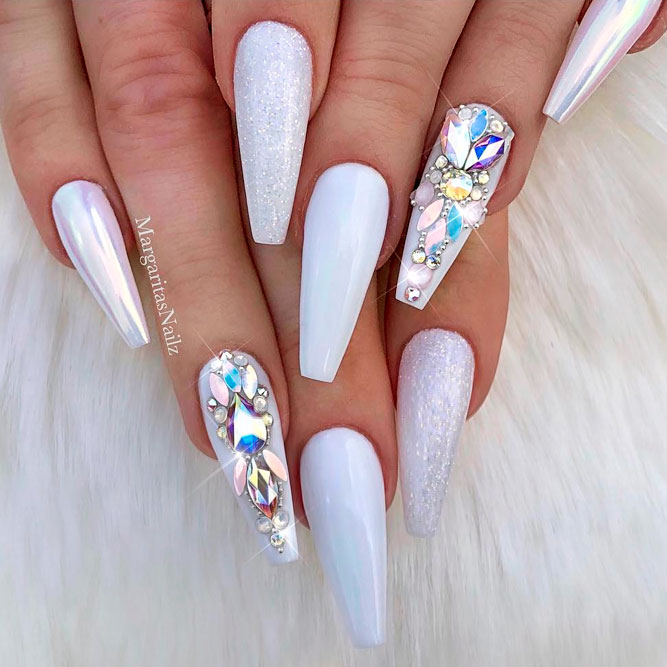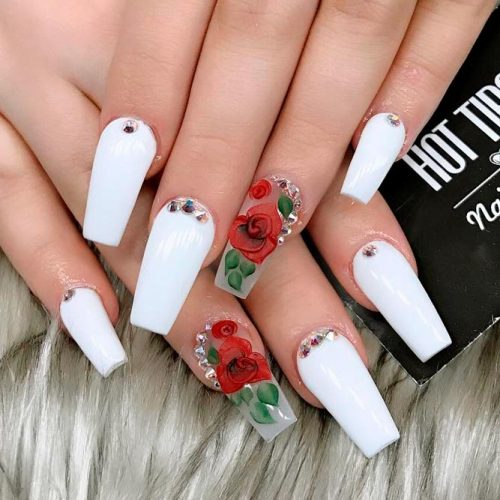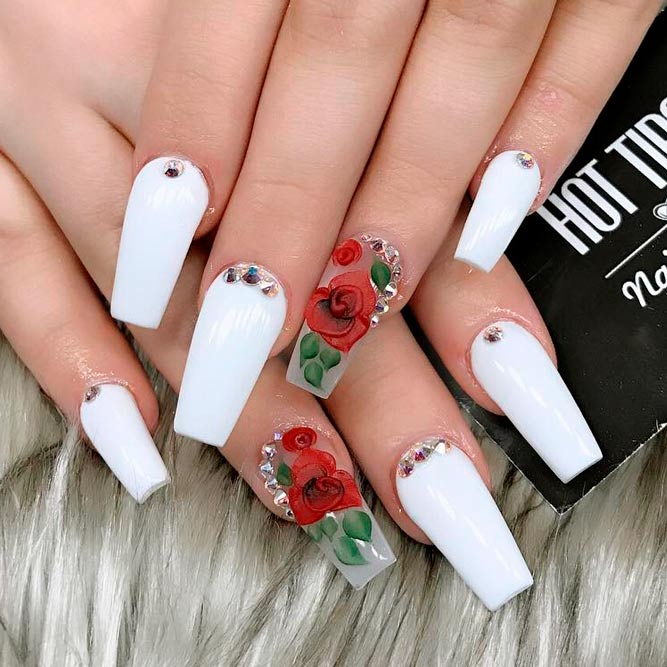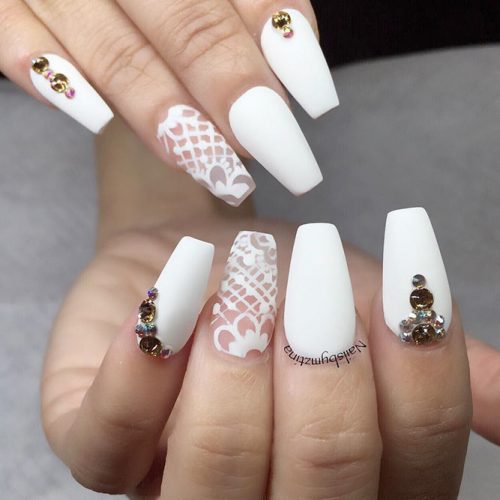 White nails are something you should try at least once in your life. You can either keep them plain white or decorate with some intricate pattern, but it's a must for your trendy look.
Amazing Designs for Coffin Nail Shape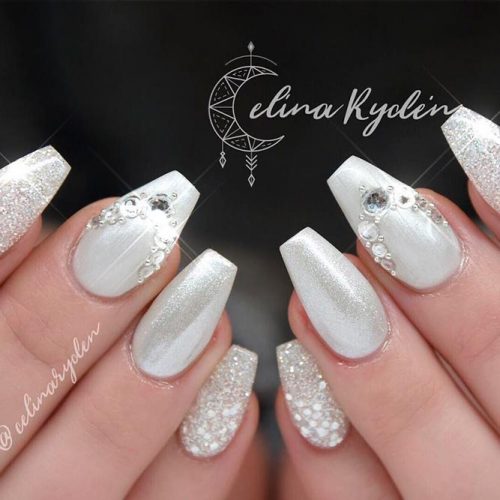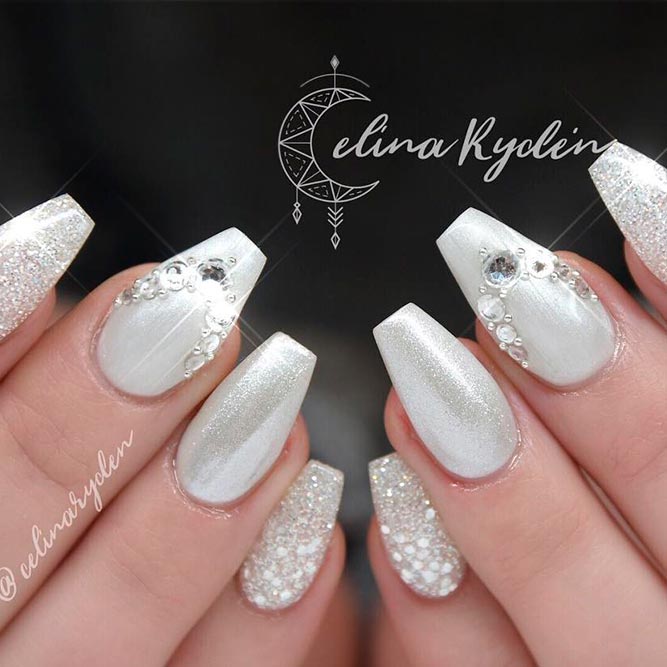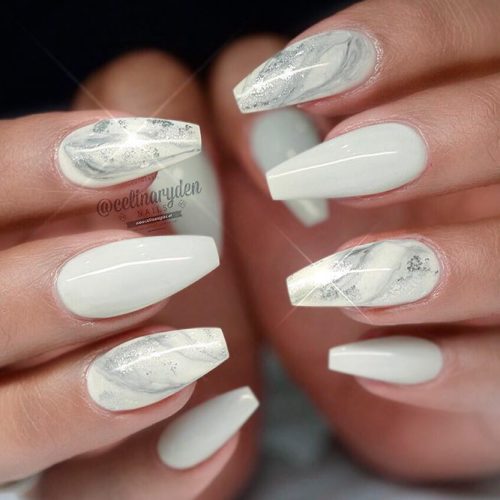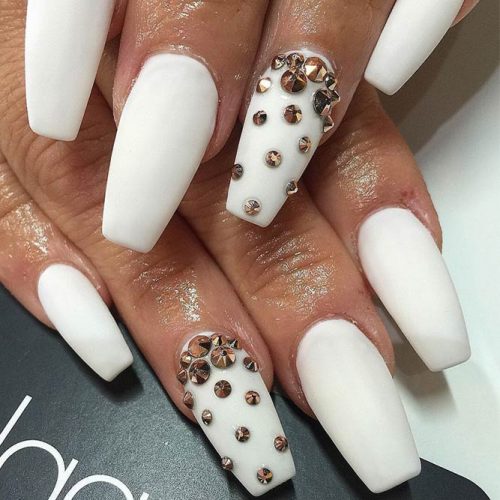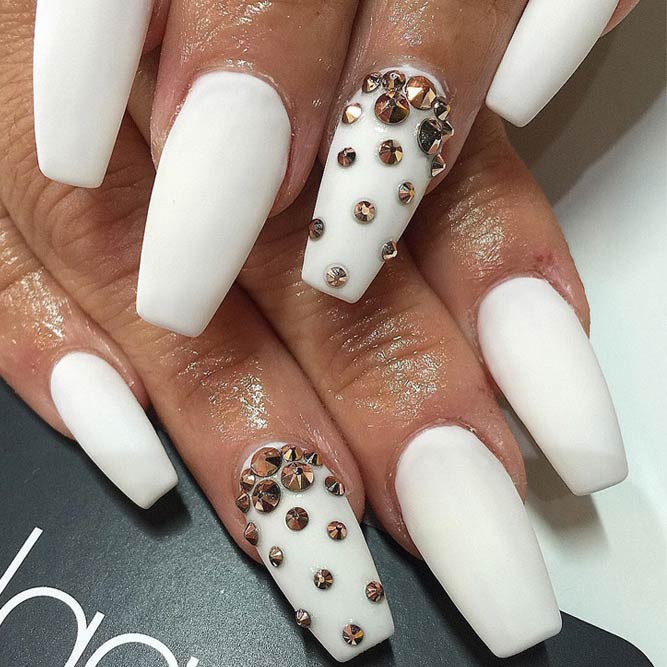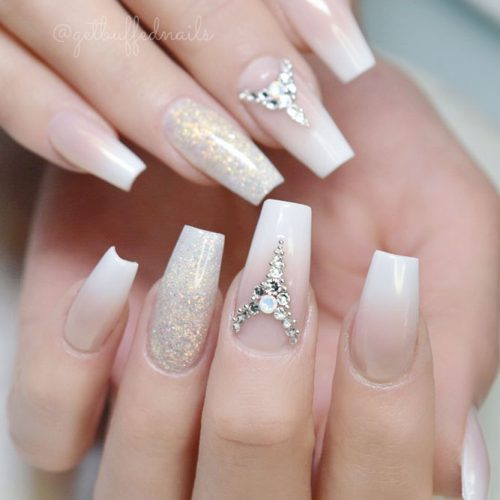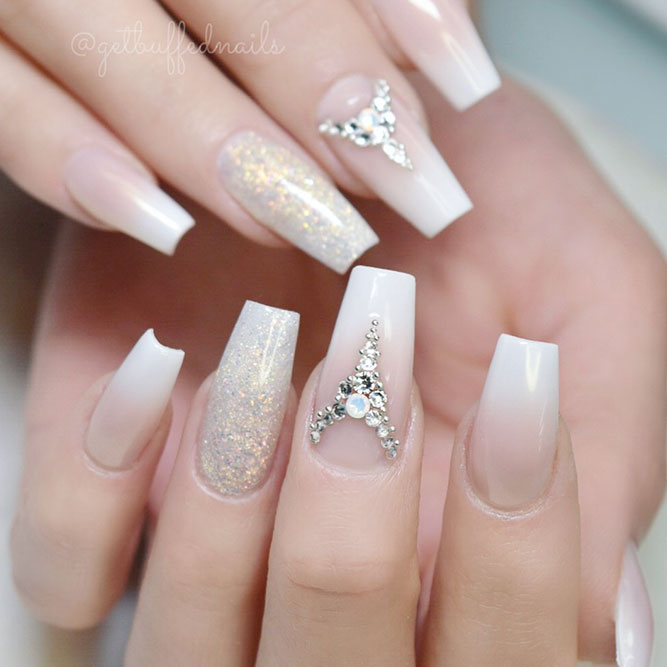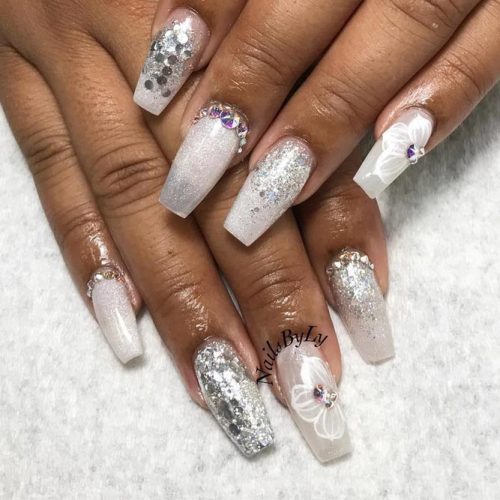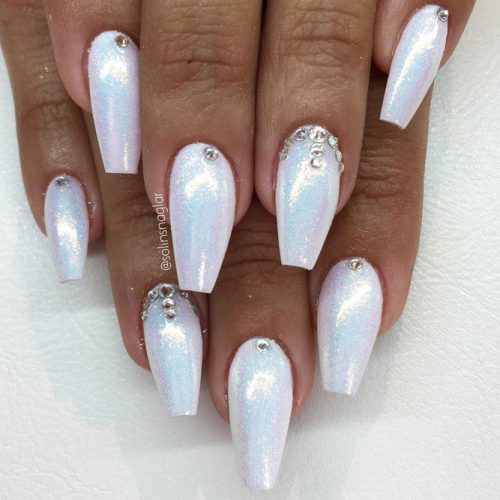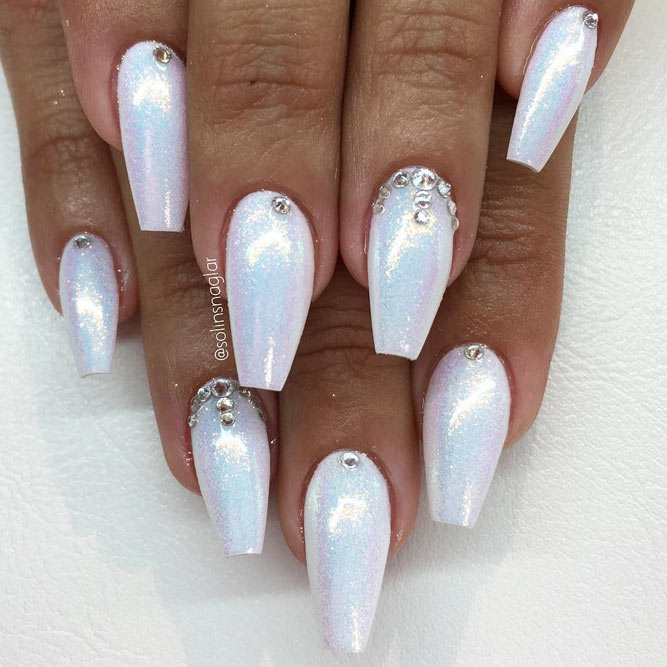 Shaping your nails coffin like will grant you additional attention. But if you combine them with pearl nail polish and stylish French tip, there will be no running away from amazed gasps!
Beautiful Coffin Nail Ideas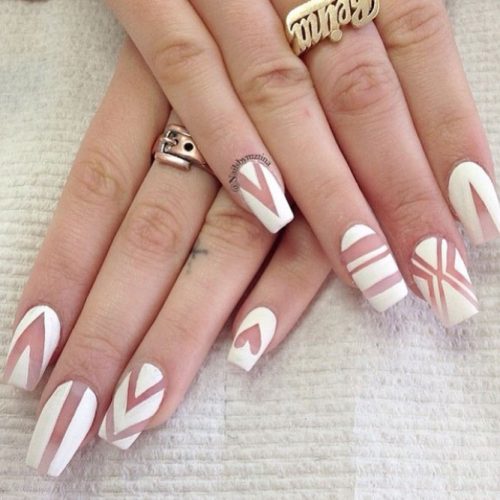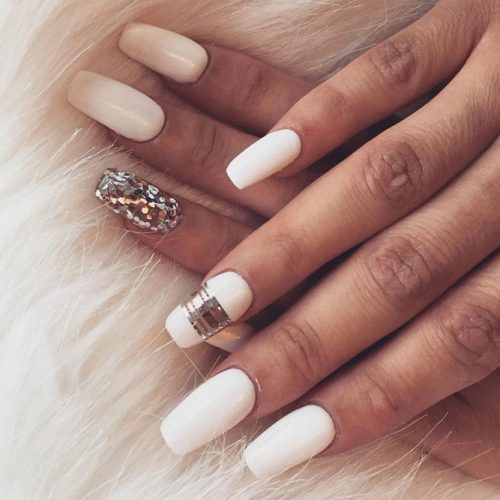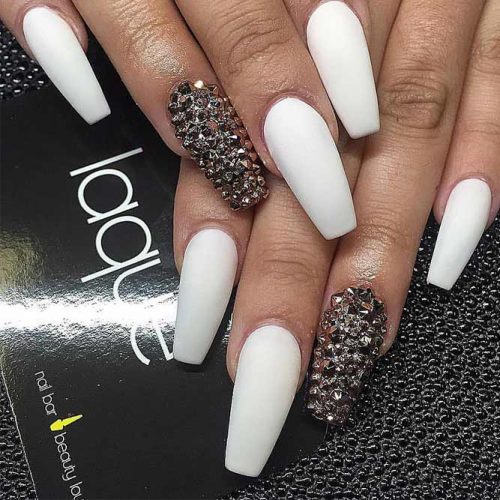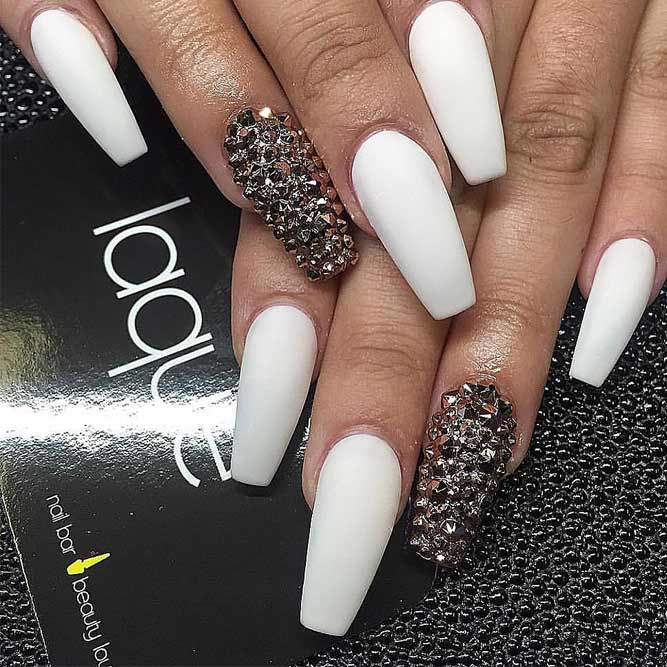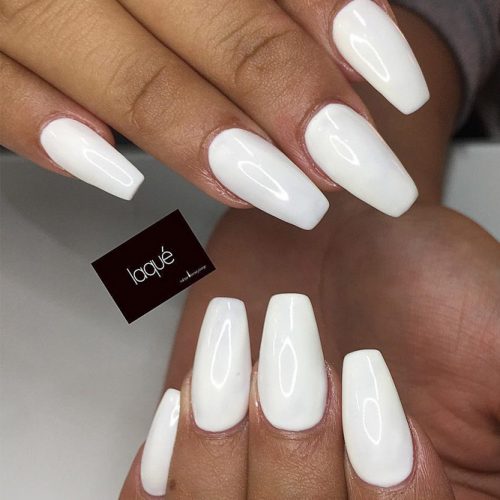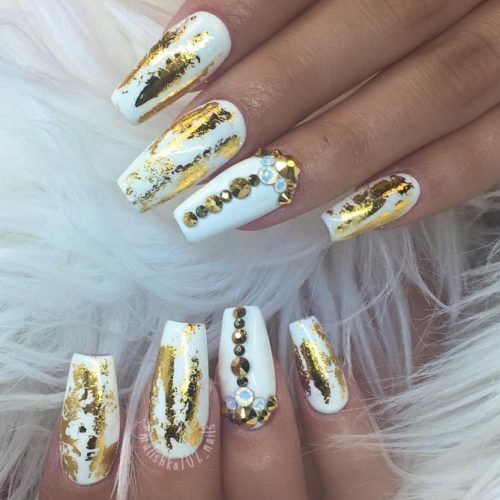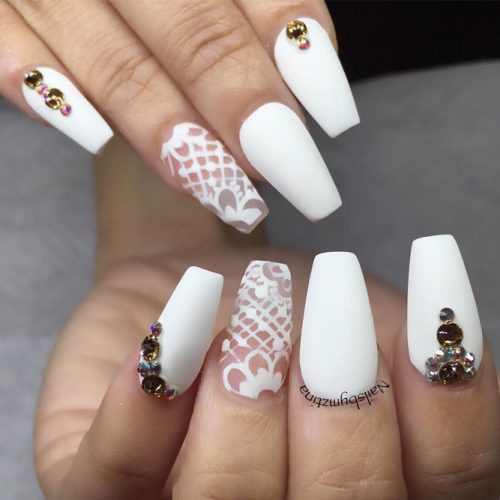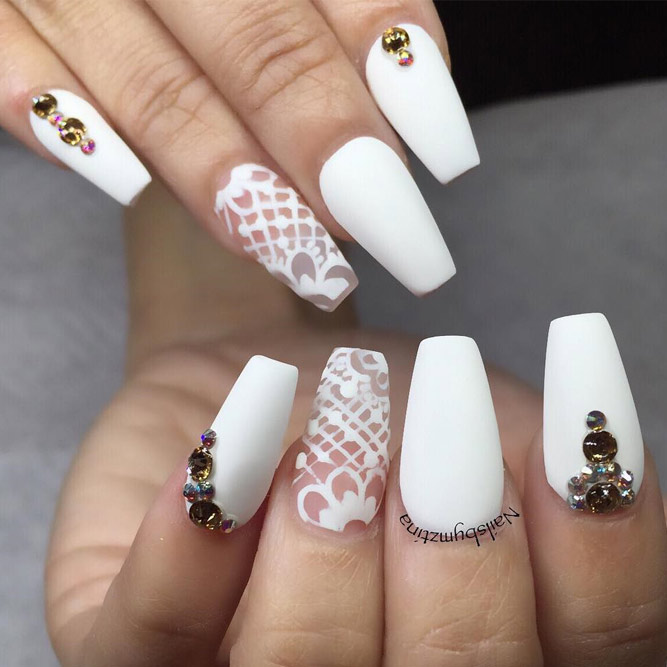 Where is white there goes black, right? This gorgeous combination of colors will never go out of fashion. As well as the mixture of polka dots and stripes. For a bolder look combine all four!
Gorgeous White Coffin Nail Designs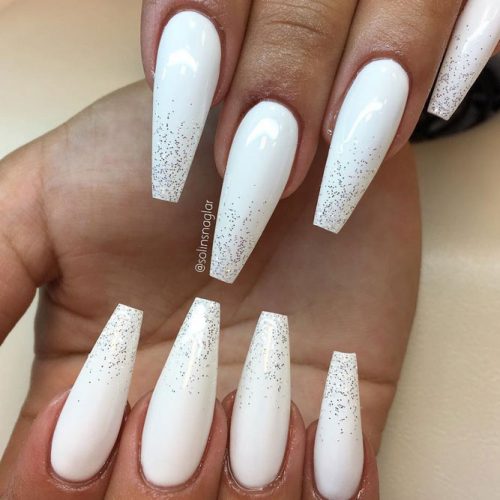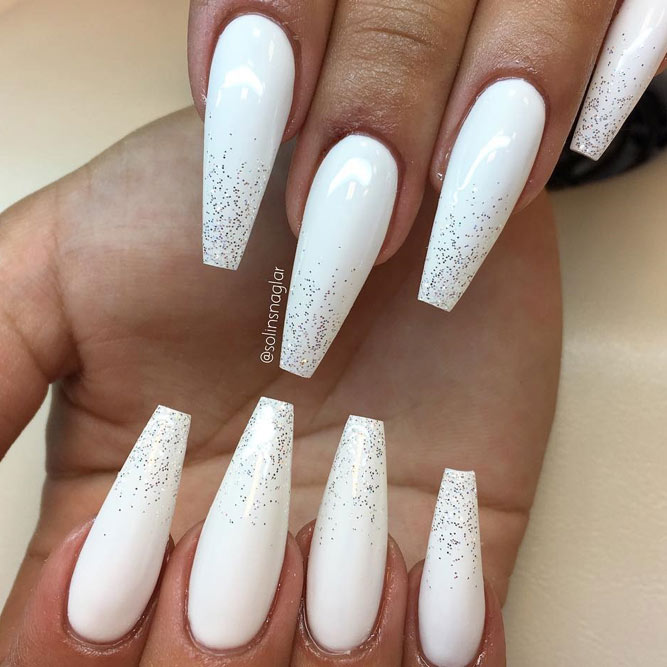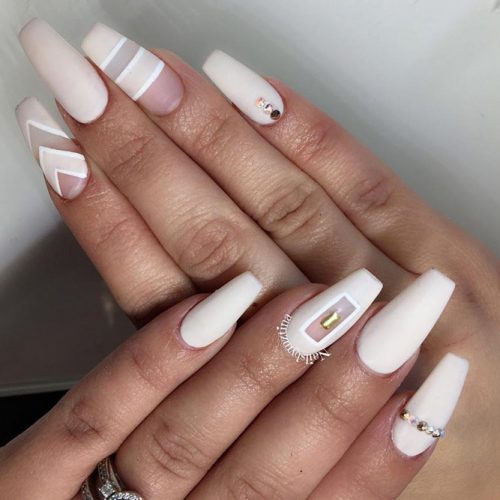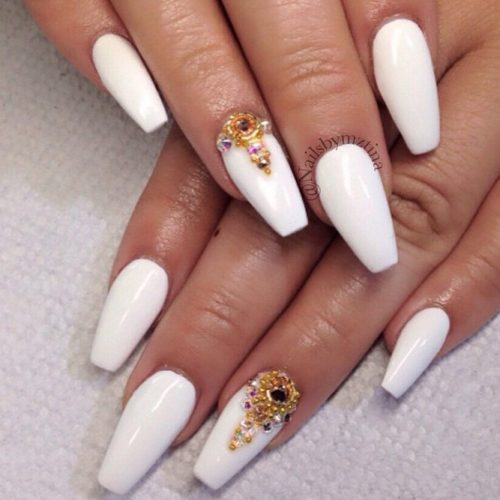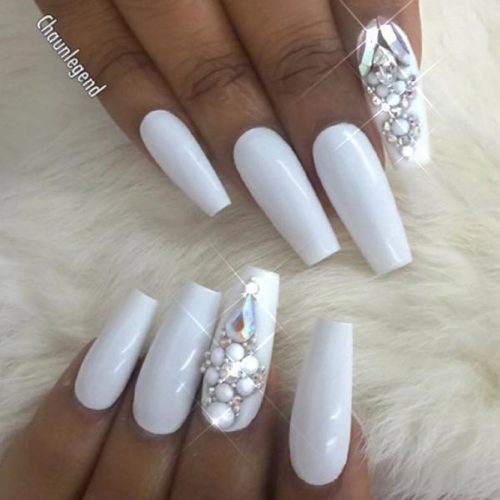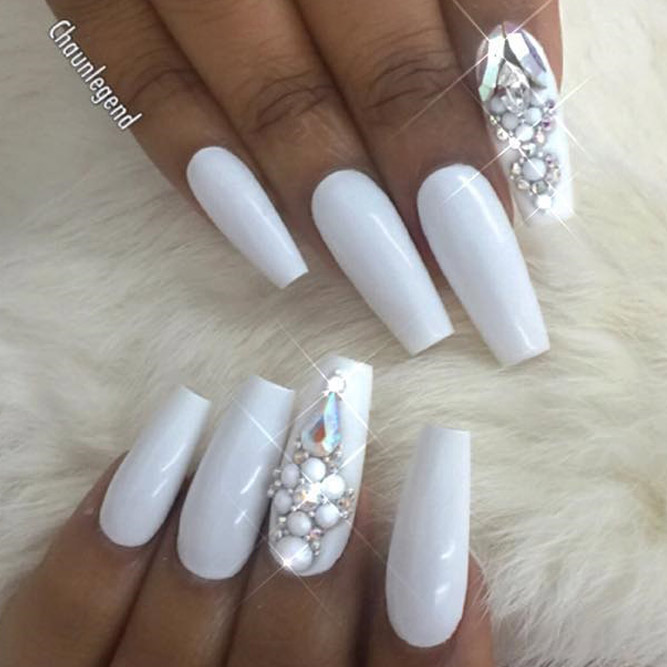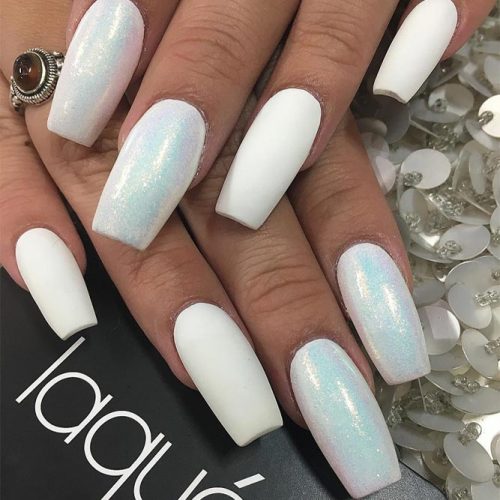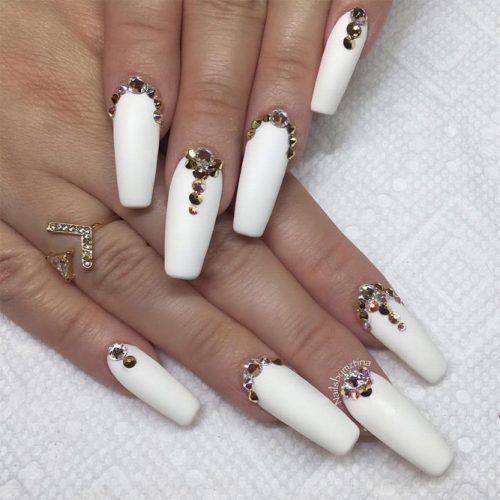 Sometimes the lesser is the better. And pure white nails are the perfect example of it. White gloss emphasizes the shape in the best imaginable way, don't you agree?
Stunning White Coffin Nail Designs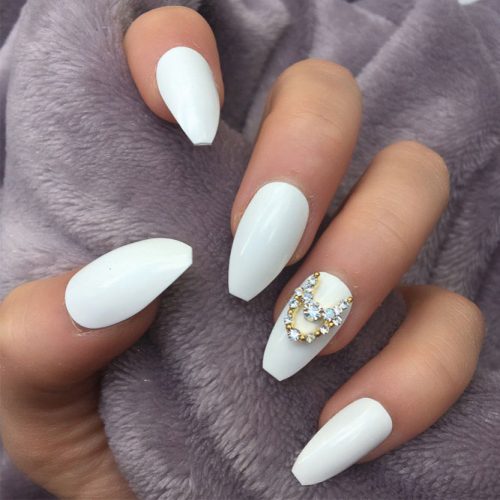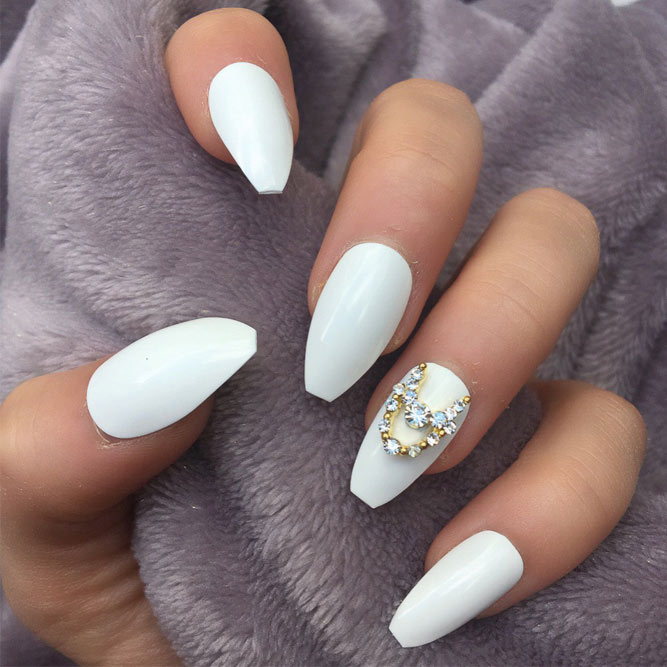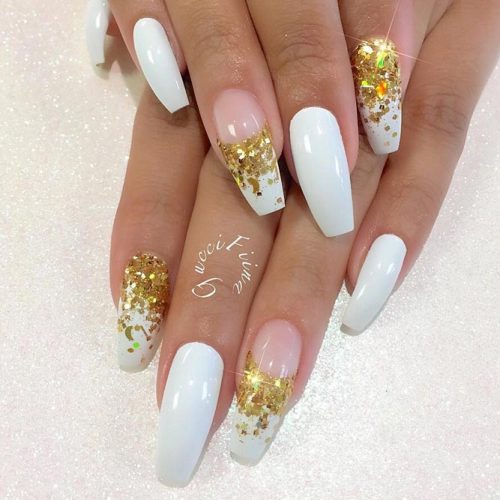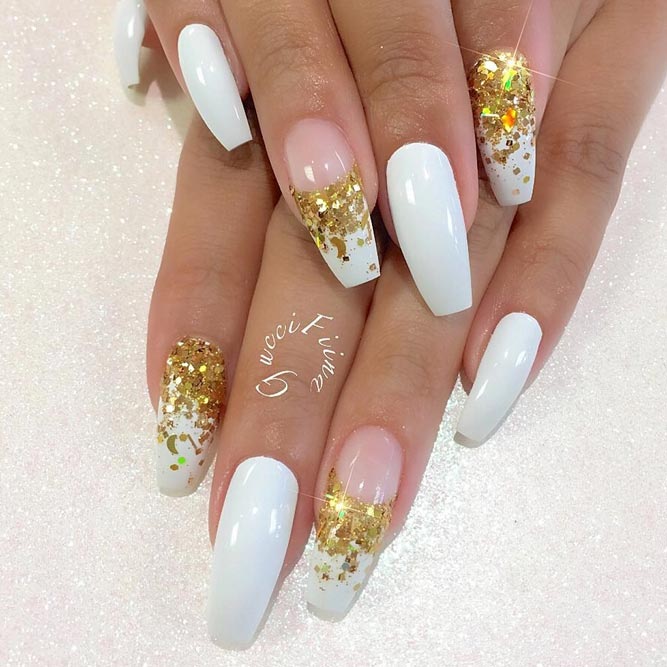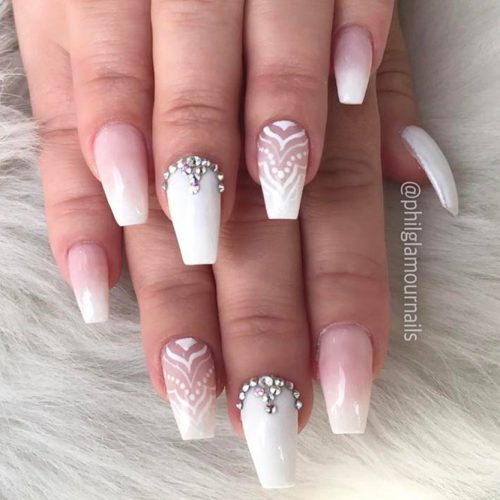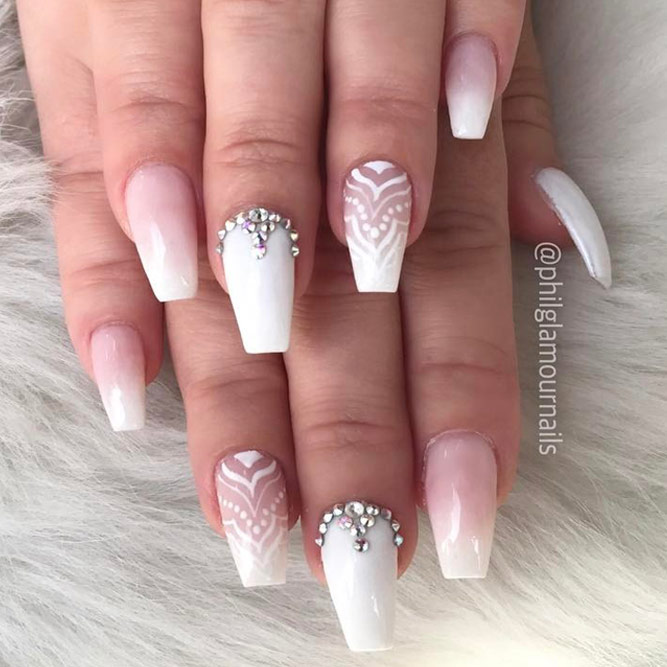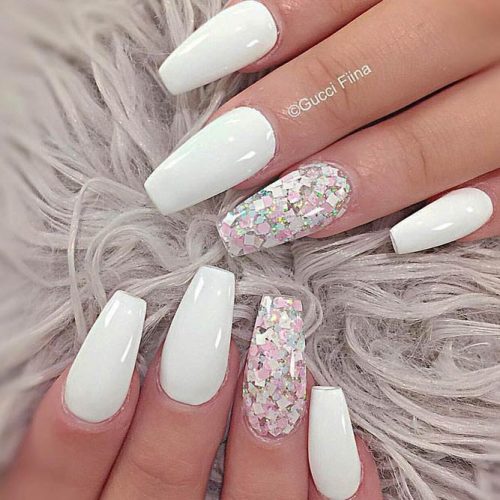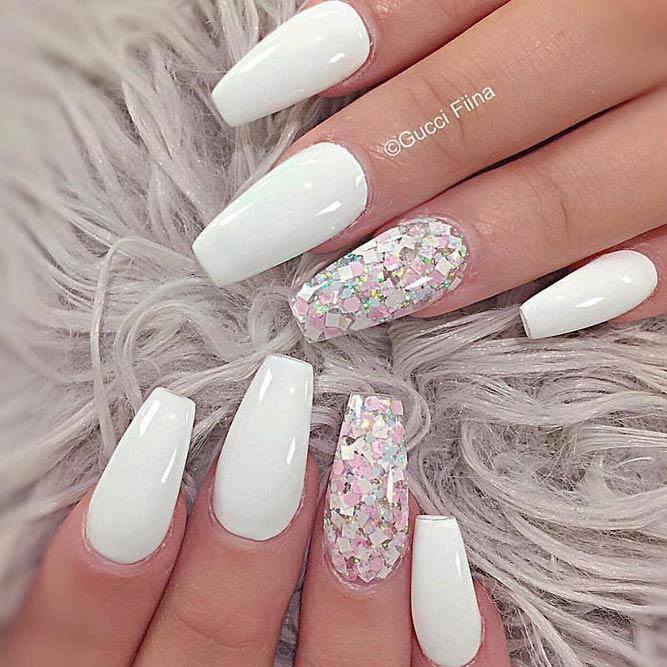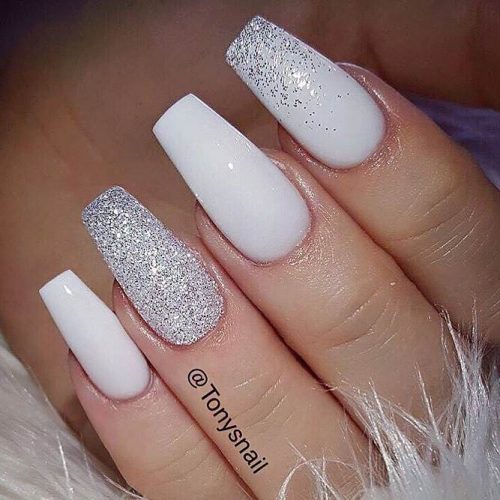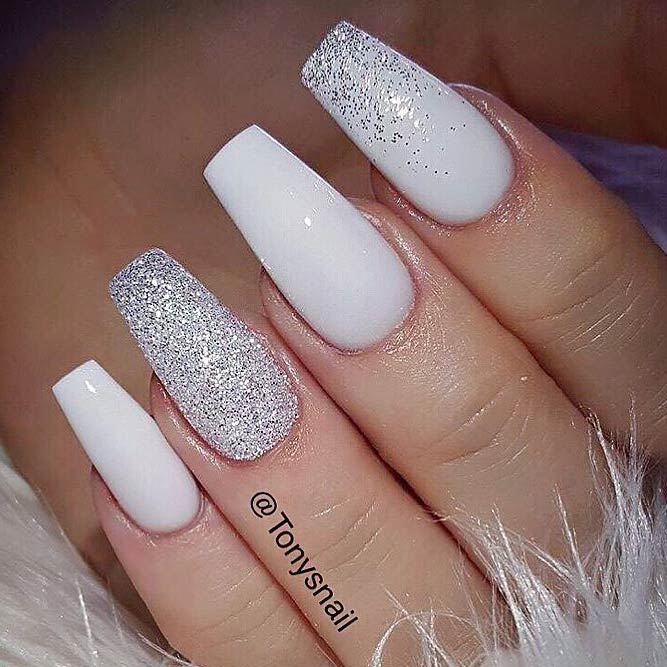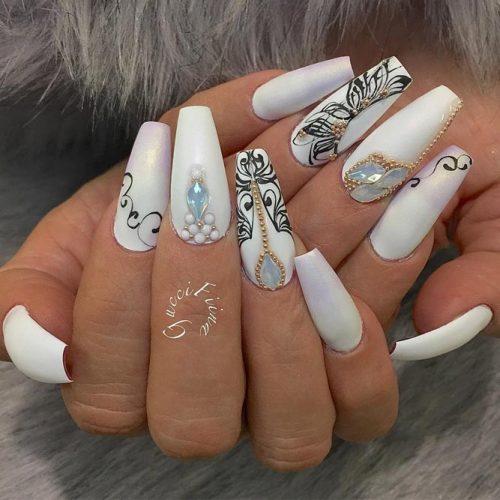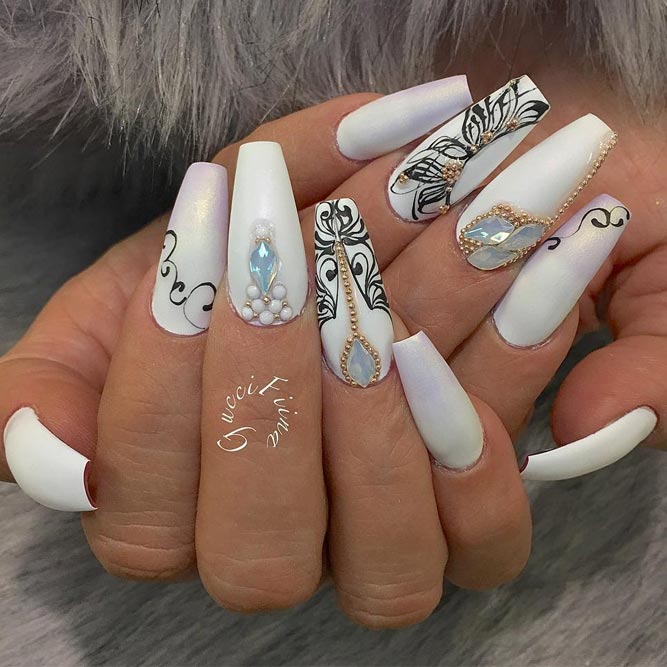 You can choose different styles for coffin nails. The longer length means there is plenty of space for amazing designs and art.
White but Colorful Designs for Every Day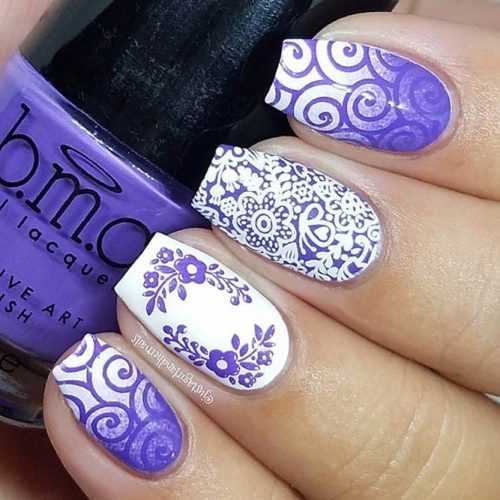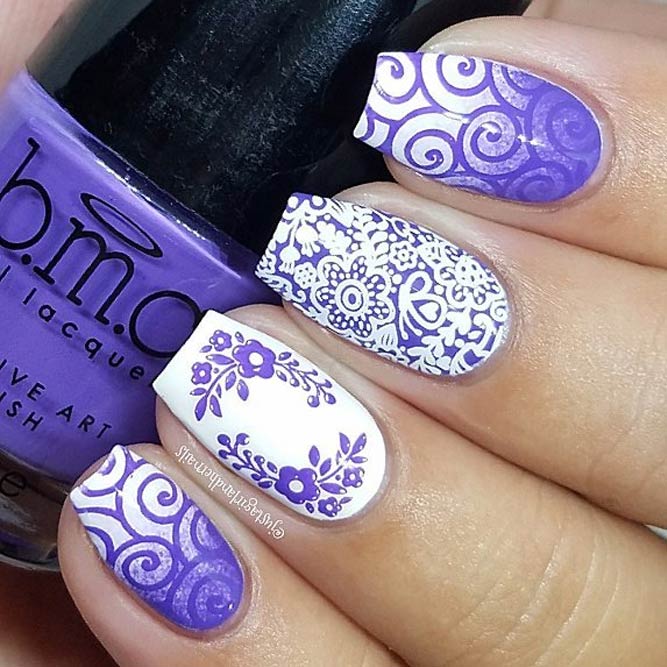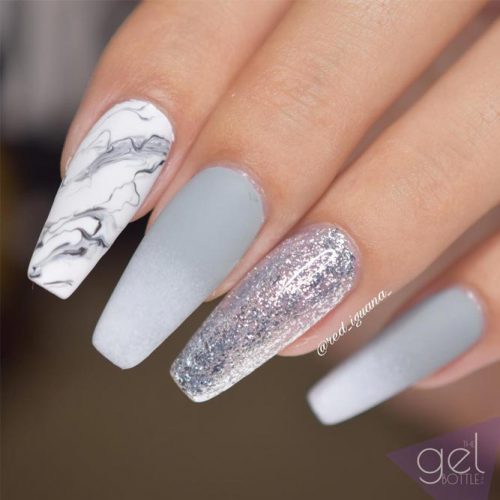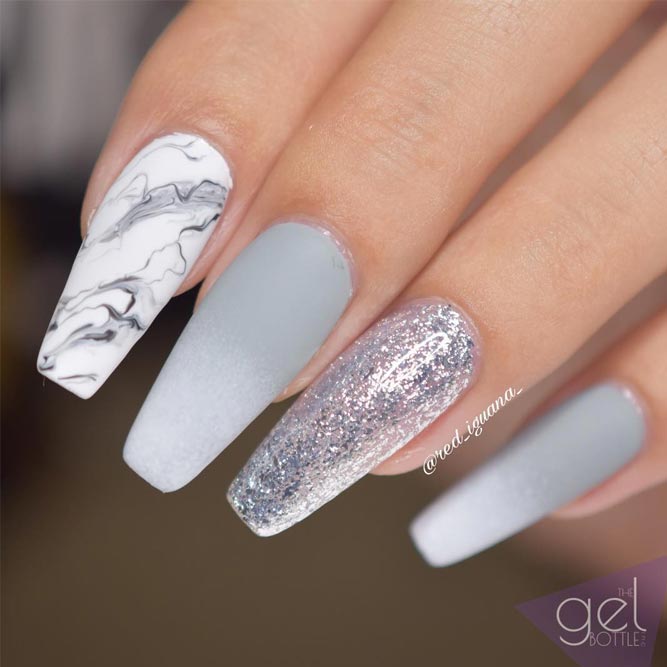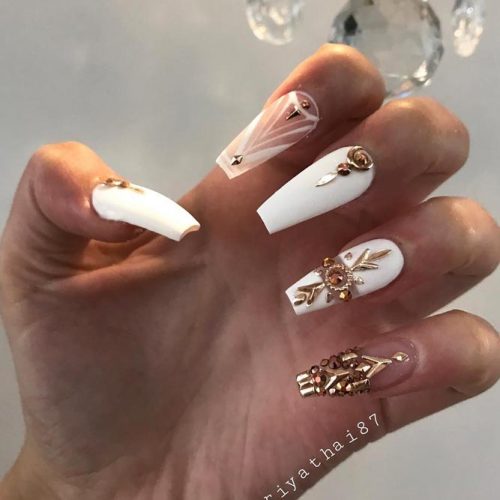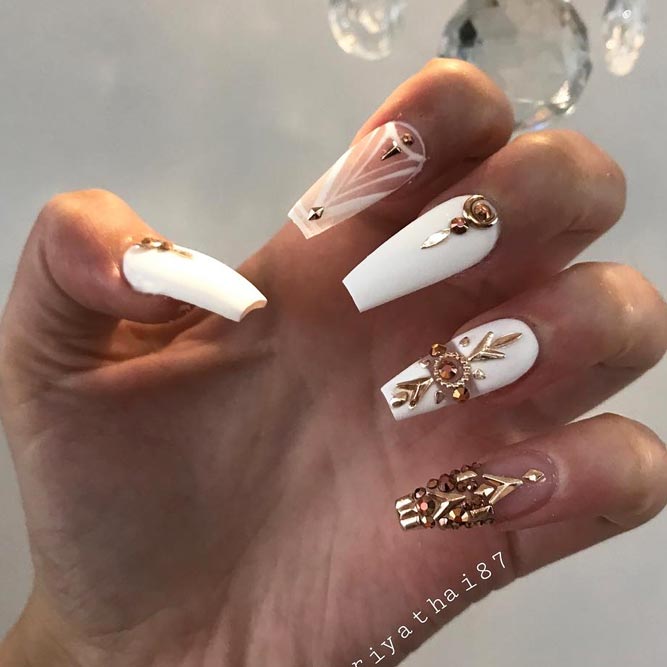 Main photo by nailssbysaga