The white coffin nails trend is all the rage today. Let's look closely at this trend.
Overall, coffin nails are also referred to as ballerina's nails. They are called like that because this nail shape resembles either a ballerina shoe or an actual coffin.
Usually done on longer nails, the ballerina shape is very convenient. Firstly, it grants much space for nail art. And secondly, this shape is less prone to breakage, comparing to other shapes.
Ballerina nails look exceptional when painted white. Read on to discover the most popular ideas.
Simple White Coffin Nails Designs
Easy White Coffin Nail Design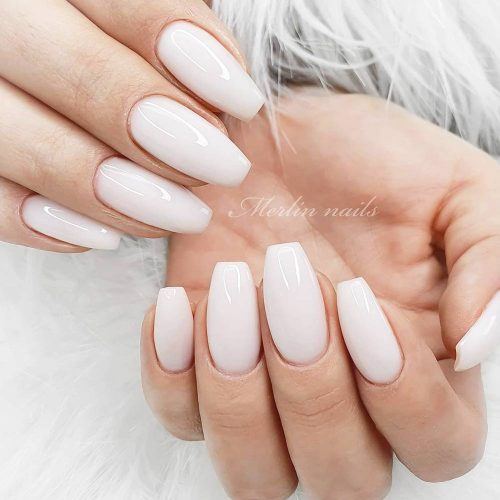 Credit: Instagram/merlin_nails
Those who are not a fan of super long nails will love this look. It's simple yet elegant. So, it can be worn as an everyday look or for a special occasion such as a prom or wedding. All you need is shiny white nail polish. It's that simple. This is a smooth and classic look for those who prefer easy nail designs for white nails. And the length is perfect as it is not too long nor is it extremely short. The moderate length and simple design is very chic and feminine.
Easy French Fade Coffin Nails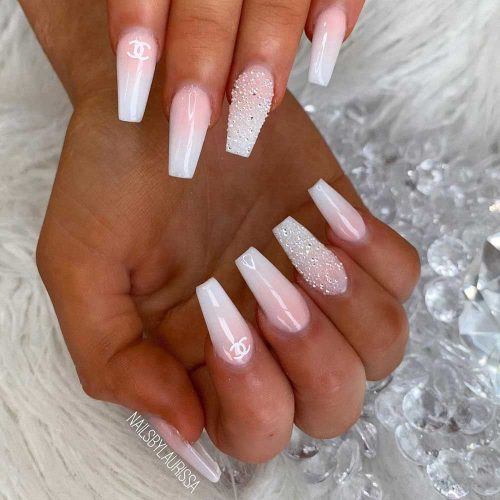 Credit: Instagram/solinsnaglar
Sometimes, painting coffin-shaped nails white is more than enough, as they already look bold thanks to the shape and length. Thus, if you want something nice and easy to accentuate your claws, simply cover them in white. However, if you like, you can give an elegant and stylish feel to even such a low-key manicure. Instead of painting it in solid white, go for French ombre matte white coffin nails, which is a perfect example of what it's like when classic trends pair with modern ones. Besides, because your white coffin nails are so long, the transition between the shades will appear very subtle and smooth, thus creating an impression of one color fading into another.
Holographic Shimmer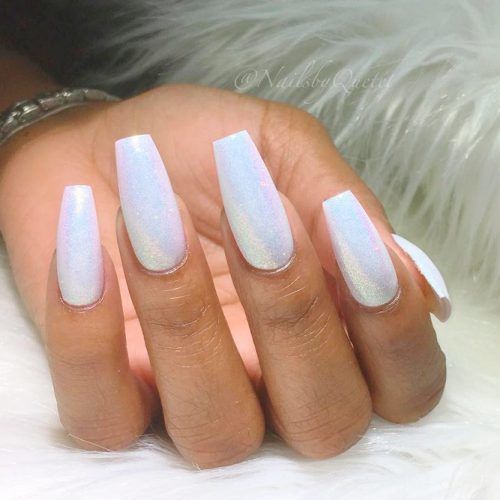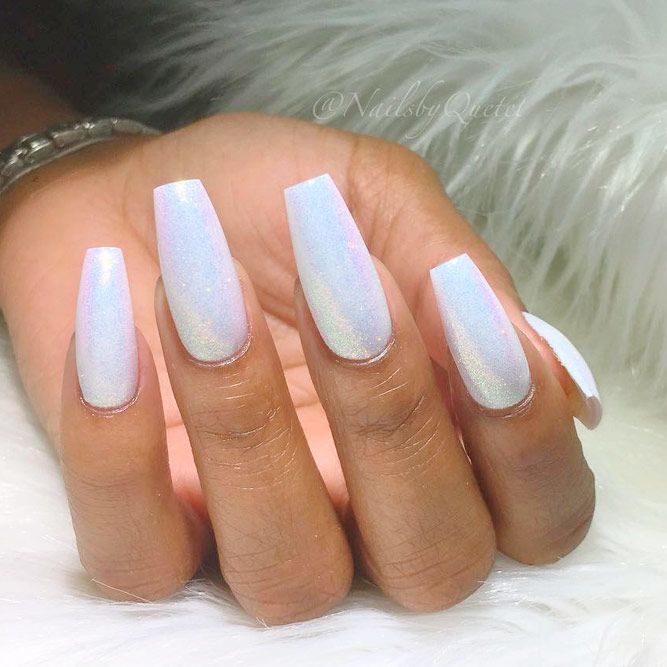 Credit: Instagram/nailsbyquetel
If you want a simple yet elegant manicure with a quirky turn, white coffin nails with glitter or shimmer are your best way to go, especially if you opt for a holographic finish. White coffin nails look bold and dapper while iridescent shimmer adds dimension and movement to them thanks to the play of color and light. Actually, holo sparkles can spruce up any manicure, including blue, black, red, pink and white coffin nails. Its main advantage is that it's not overpowering, so the color below it remains quite noticeable and the manicure looks appropriate for any situation, from a night out with friends to a dressy event.
Pure White Coffin Nails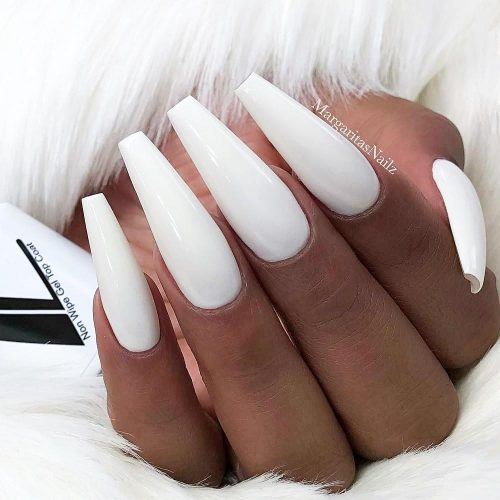 Credit: Instagram/valentinobeautypure
There are some occasions when you don't want your nails to stand out too much. Or, you can just be not in a mood for elaborate nail design. And this is when a simple white manicure comes into play. Besides, for white nails coffin shape already becomes the necessary enhancement, so you can simply get away with it. Such a mani perfectly complements any outfit, be it a cocktail dress or jeans and a T-shirt. Also, this is a wonderful solution in case you opt for short coffin white nails instead of long ones.
Classic French Coffin Nail Design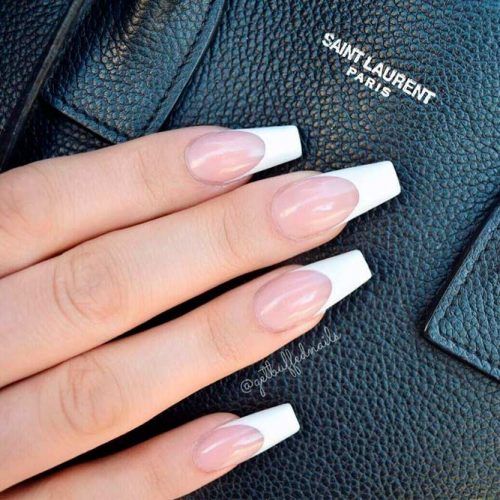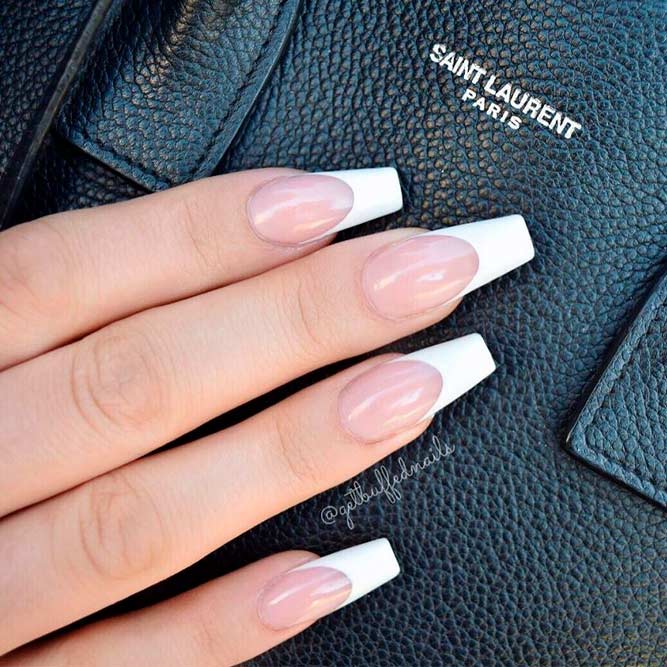 Credit: Instagram/getbuffednails
The French manicure is always a good idea for colorful, black and white coffin nails. It's classic and elegant, so even such a prominent nail shape as coffin looks sophisticated and chic. In case you have a white-collar job and you need a nail color solution to abide by the office dress code rules, then it's hard to think of a better idea than the French mani. Though, you don't have to sacrifice the shape to suit the professional environment. You can just go for short coffin nails instead. They look appropriate for any ambiance while showing off your fashion savviness.
White Coffin Nails With Rhinestones
Fancy White Coffin Nails Designs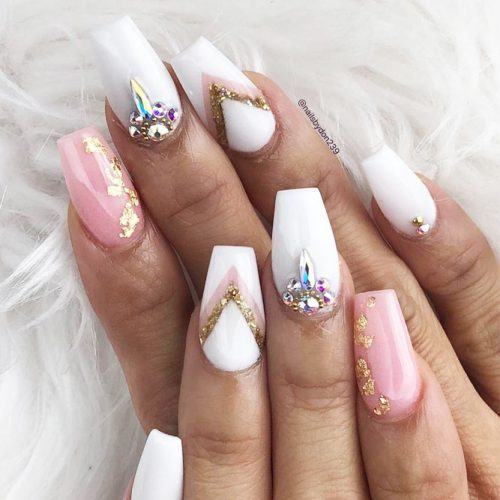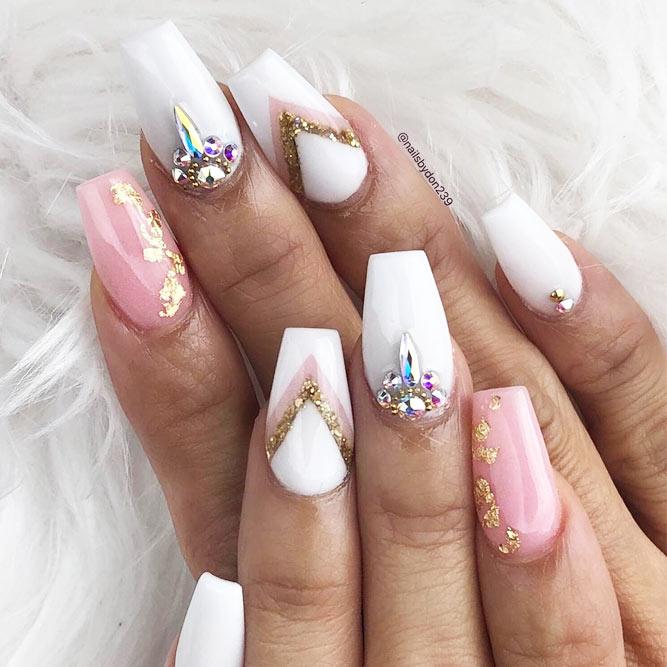 Credit: Instagram/nailsbydon239
One of the main advantages of coffin shaped nails is that they present a lot of room for experimentation. If you are looking for a mixture of elegant and bold manicure, then the combination of white and pink spiced up with rhinestones is something to consider.
White And Gold Crystals Nails Design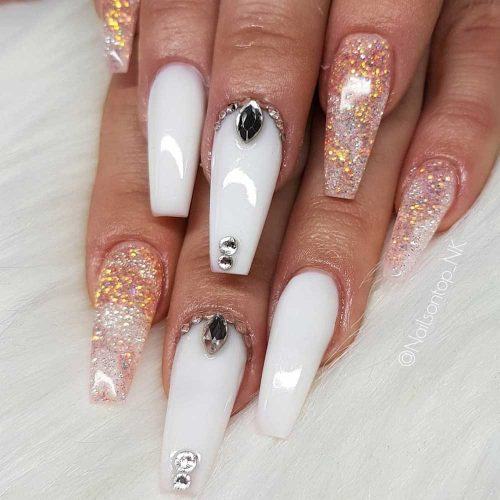 Credit: Instagram/nailsontop_nk
Some ladies love to add that noticeable bling to their look with the help of properly chosen manicure. If you belong to the category, then we have something special in store for you. The truth is that white nails are super elegant by their nature, but crystal accent nails are what bring drama and bling to the scene. What do you think?
White And Rose Gold Nails Design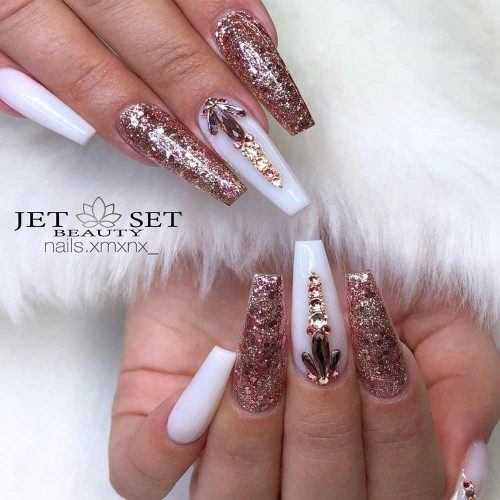 Credit: Instagram/nails.xmxnx_
There are times when you think of your coffin shape nails as a fresh canvas to let the nail artists experiment with. We think the same. That is why, if you think that white in its regular tone is not the one you need, think of its rose gold variation.
White Coffin Nails With Silver Rhinestones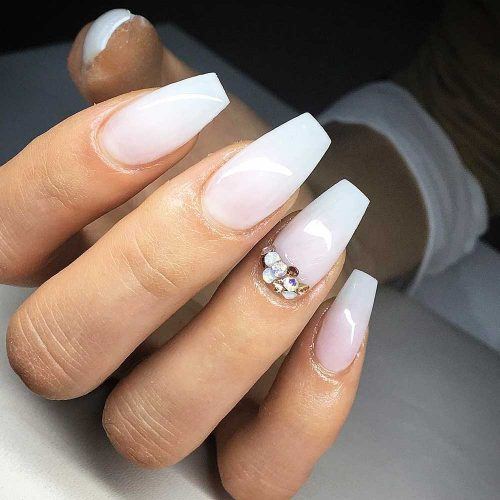 Credit: Instagram/merlin_nails
Rhinestones are always a fun way to dress up any nail art. But you don't need to go over the top and adorn every nail with gems. Paint all of your nails white and allow them to dry. Then create a pretty design with silver rhinestones to bling it up a bit. This look is perfect for a girls night out or if you just love rhinestones. And it looks stunning on long coffin nails!
Long White Coffin Nails With Flowers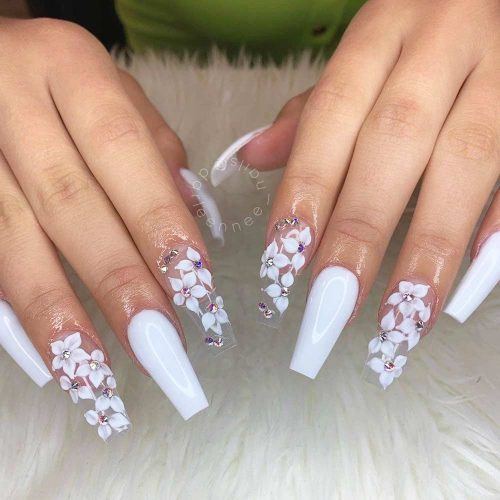 Credit: Instagram/darleennee_nails
If you are looking for a dainty, feminine look for your white coffin nails, flower nail designs are always a great way to add a bit of a girly vibe. This look is especially stunning on long coffin nails. Matte nails are the rage right now as matte colors give a smooth and refined finish to any style of nail art.
Paint a white and pink matte ombre design on some of your nails and then leave one nail clear for the floral design of your choice. If you so desire, you can place some tiny gemstones on another nail to give this look a bit more bling. This look is very girly and chic and perfect for going out with girls or on a date with that special someone.
White Coffin Nails With A Glitter Accent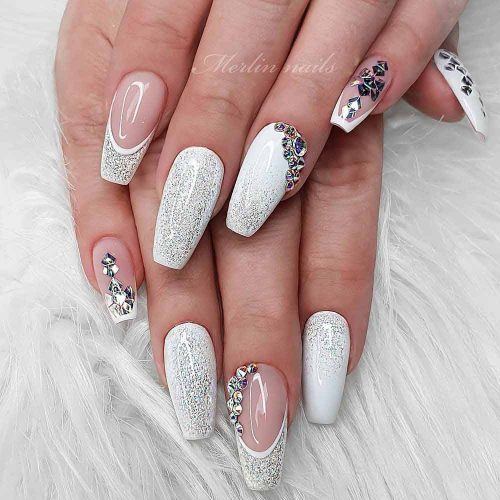 Credit: Instagram/merlin_nails
Glitter nails are always a fun choice for coffin nails. And glitter looks especially stunning on white coffin nails. Paint all of your nails white except for your accent finger. If you want, you can create a geometric design on your middle finger and place a single rhinestone on your other nails. On your accent finger, use glitter nail polish and then fully adorn that nail with rhinestones. If you love bling, then this is the look for you!
White Coffin Nails With Blue Marble Stone Patterns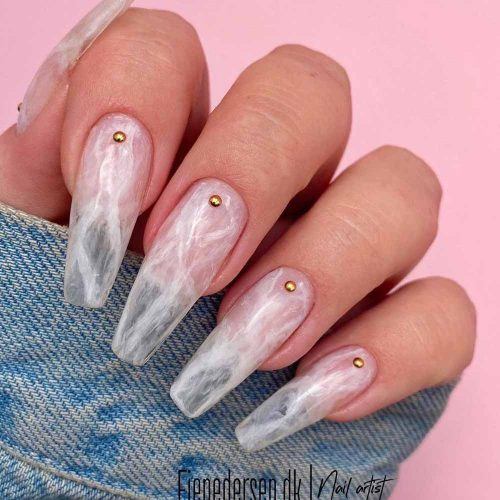 Credit: Instagram/fiepedersen.dk
If you love marble nail art, then you will flip for this blue marble stone design. Marble nails are so much fun, but they are also very classy. You can mix and match nail art designs for coffin nails by painting one or two of your nails in blue and gold for a marble stone art design. Add some rhinestones in gold, blue and silver on one nail. And just place a few gemstones on the other nails not to take away from the accent nails. This look is playful yet elegant and will work for any occasion.
The truth is that such a manicure is clearly worth a real queen!
Matte Nails With A White French Manicure Design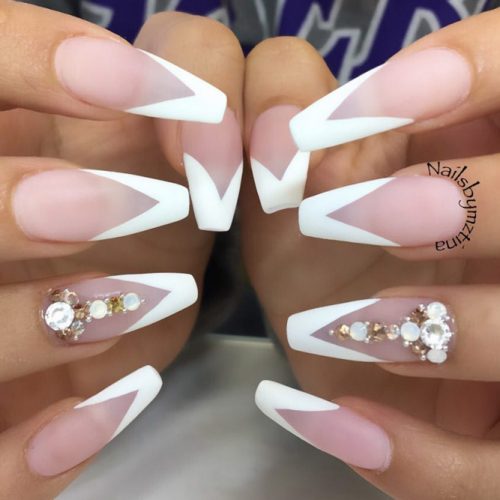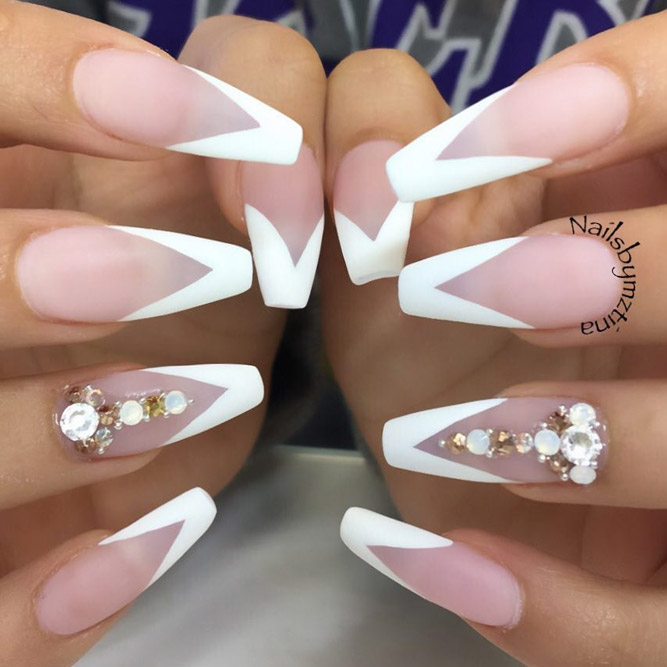 Credit: Instagram/nailsbymztina
If you are a huge fan of the French manicure, then you will love this look for white and nude nails. French manicures are a form of nail art that will never go out of favor. So, you can't go wrong with this timeless and elegant style.
Paint your nails with a nude or pale pink base. And then paint the tips in a geometric matte white design for a look that's glamorous and sophisticated. Matte nails are so stylish and great for a clean and polished look. And French manicures look even more stunning on very long coffin nails. So, if you want a lovely look for your long nails, this could be the ideal choice for you.
Glam Rhinestones Nail Art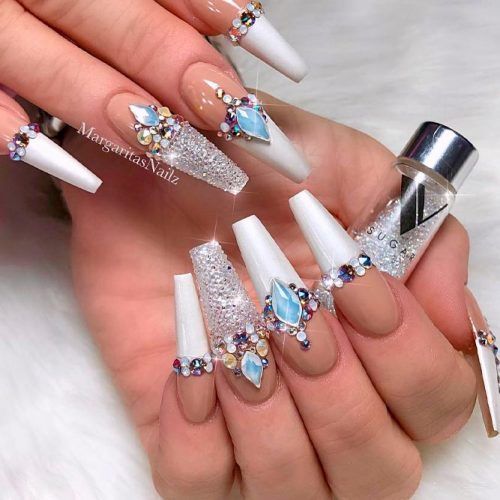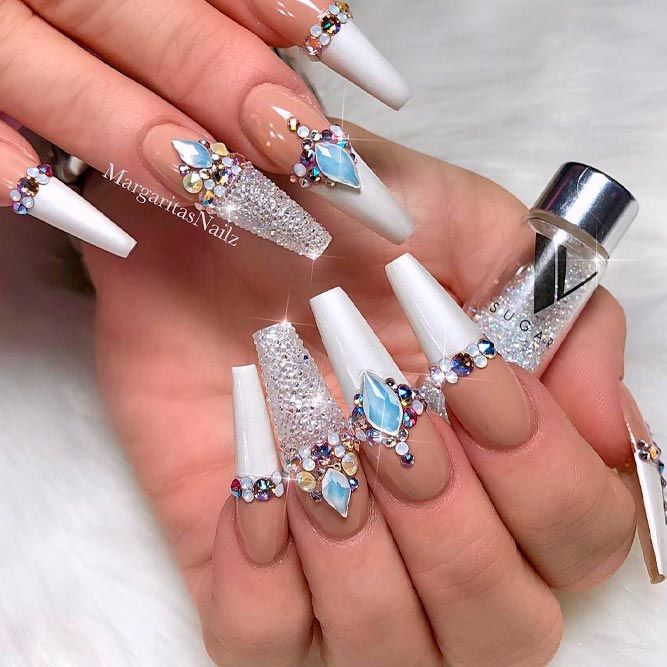 Credit: Instagram/margaritasnailz
White coffin-shaped nails become a perfect canvas for various art designs that feature rhinestones. They provide enough space to implement your most creative ideas. Besides, thanks to the defined shape, it's much easier to layout elaborate patterns. You can use them not only to accentuate one or a couple of nails but also to cover up the whole surface. Yet, so that it won't come out overly flashily, we'd recommend going fifty-fifty with white nail polish. To pull off this nail design, cover half of your nails with white varnish while painting the nail beds in nude. For a finishing touch, attach multisized rhinestones to disquise the border between white and nude.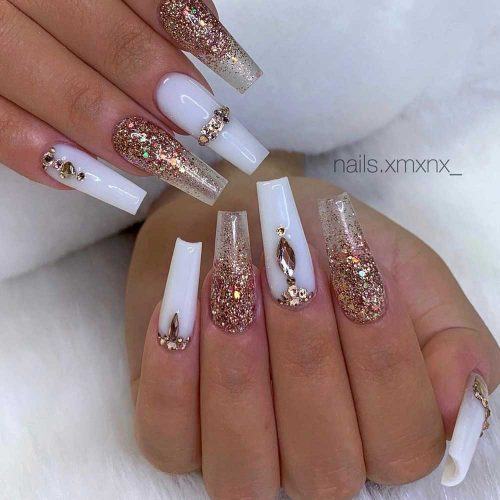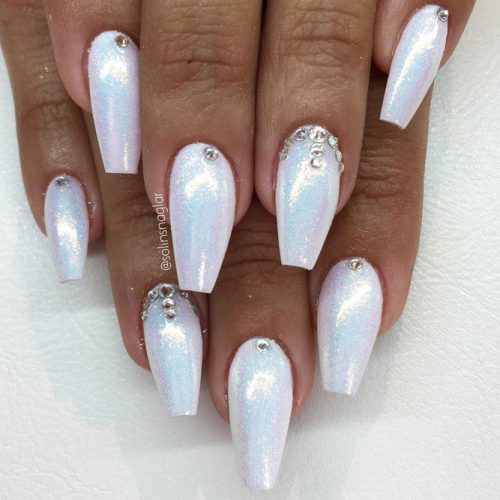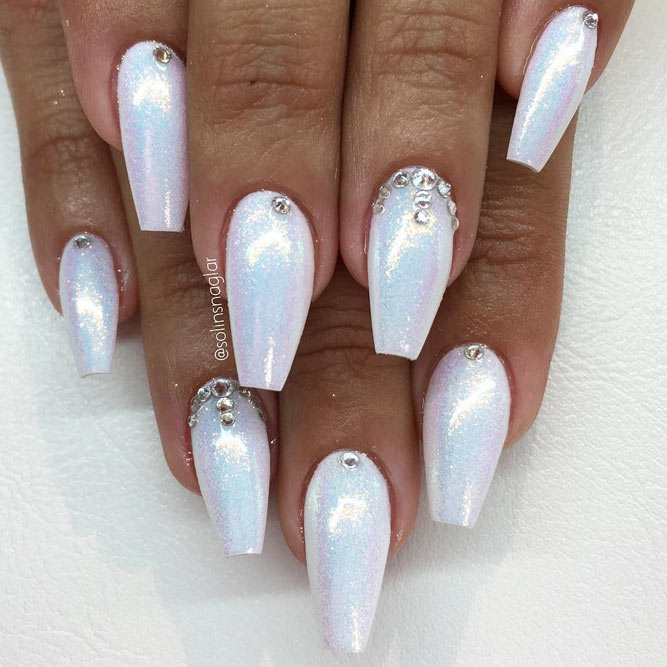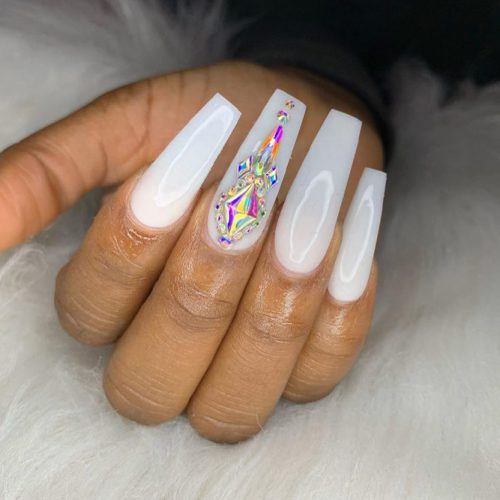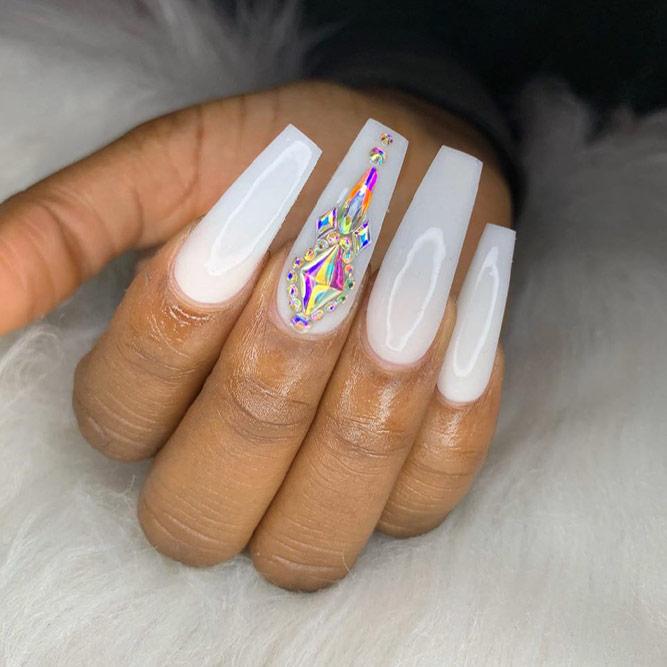 Credit: Instagram/nails.xmxnx_,Instagram/solinsnaglar, Instagram/brinaileditt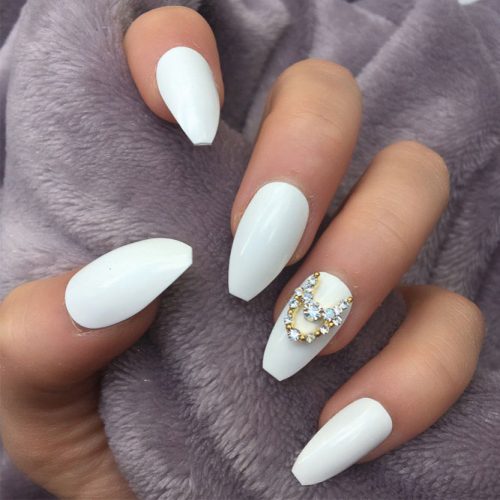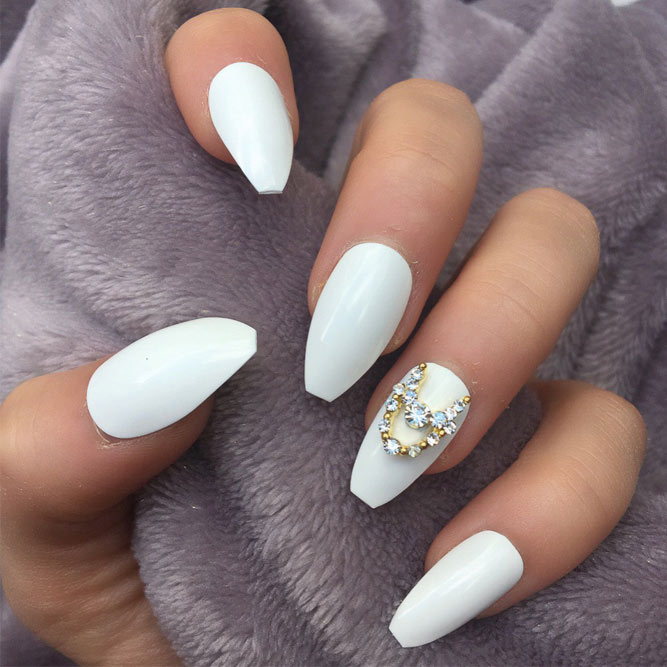 Credit: Instagram/philglamournails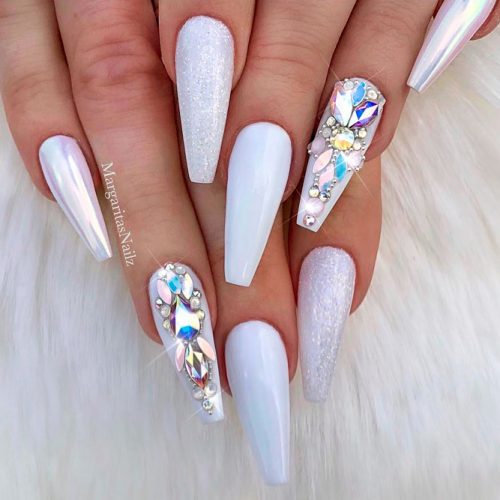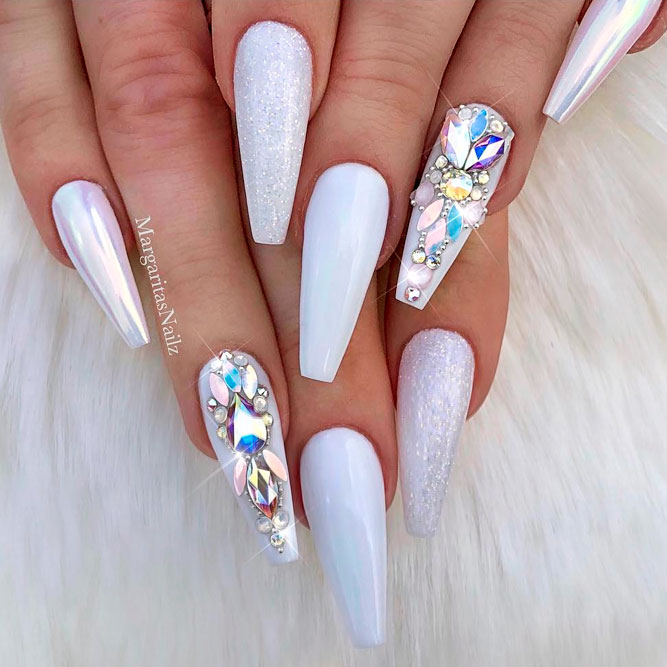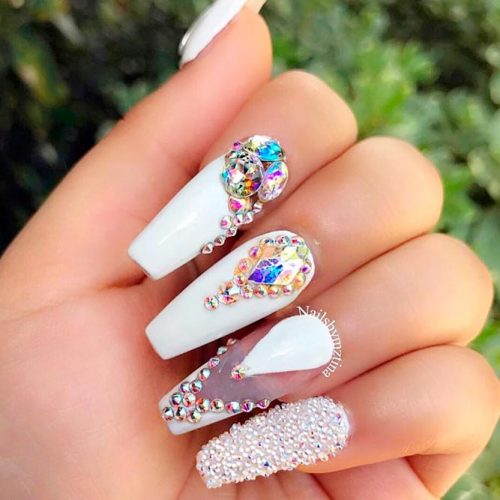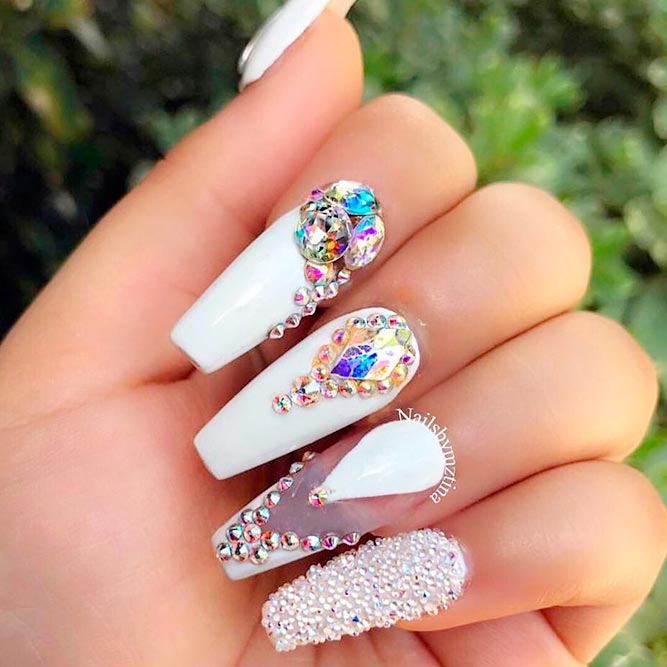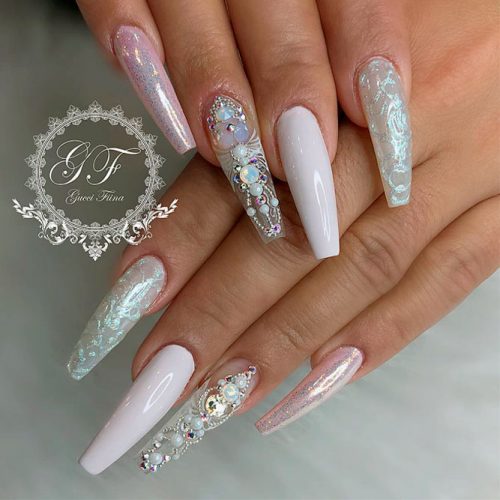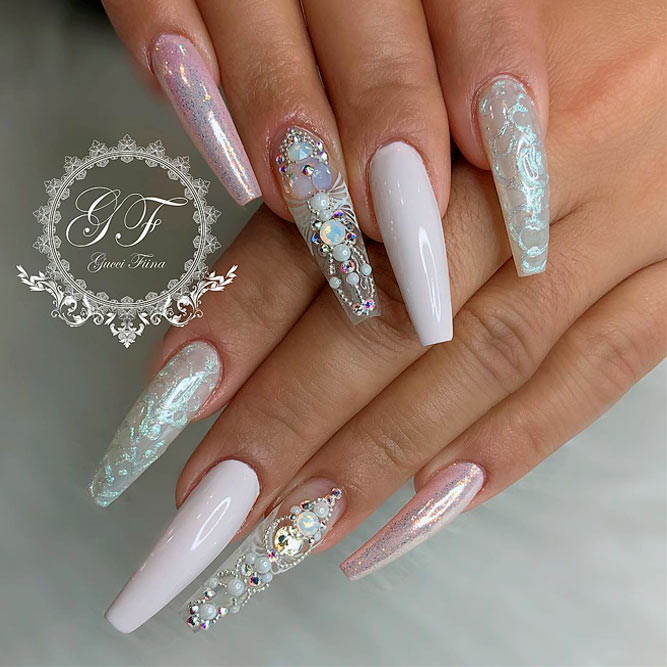 Credit: instagram.com/margaritasnailz, instagram.com/fiina_naillounge, instagram.com/riyathai87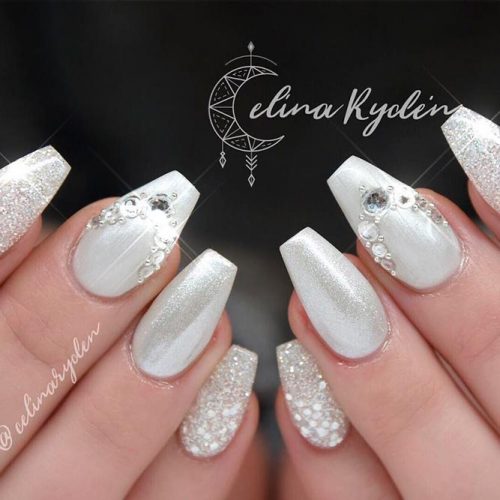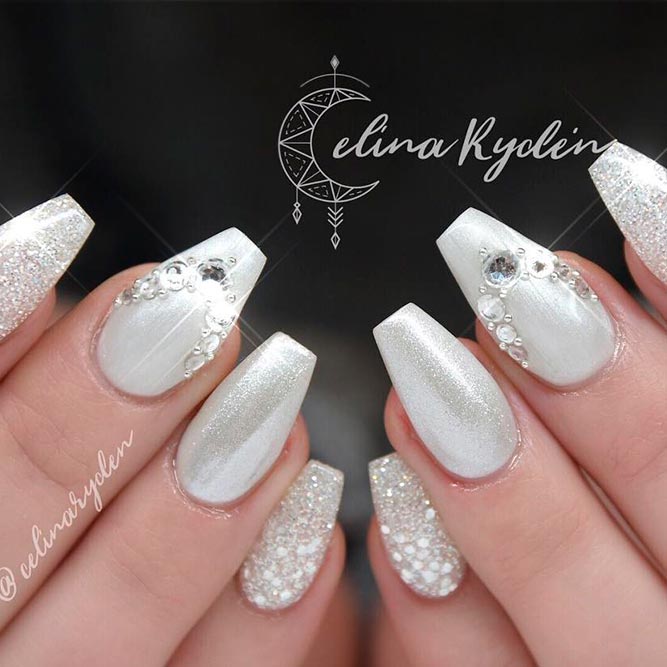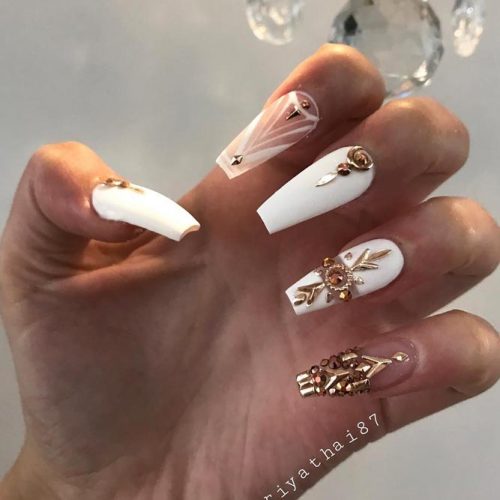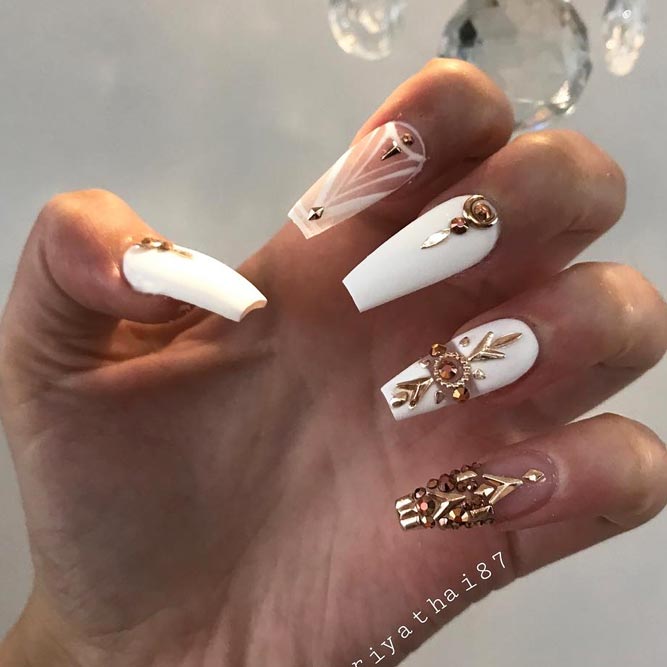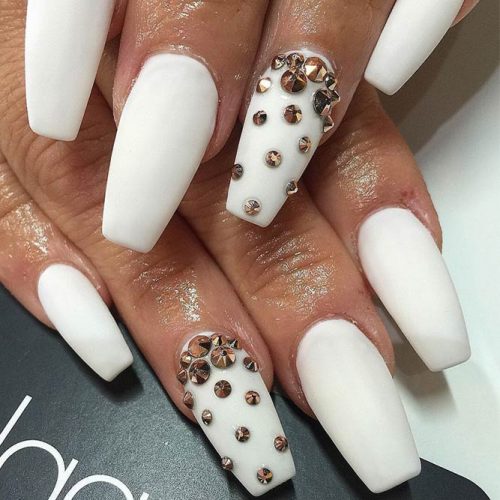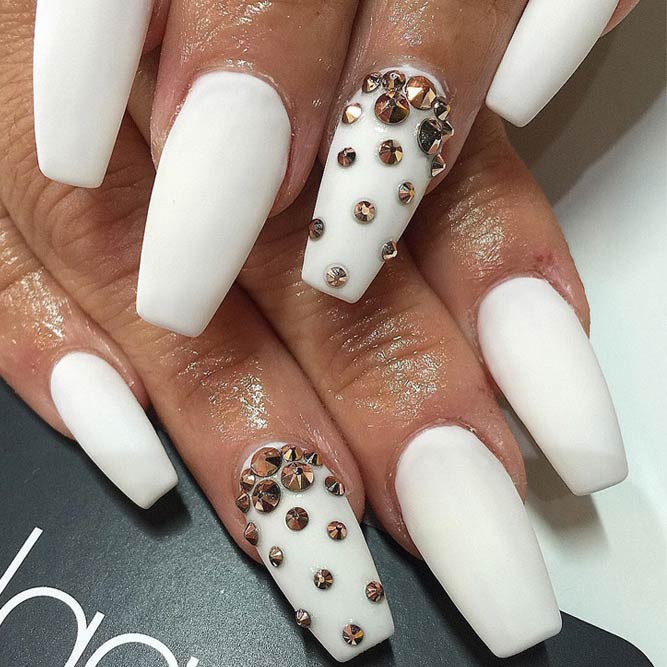 Credit: Instagram/celinaryden, Instagram/ninahottips, Instagram/laquenailbar
A quick way to gloss over your white coffin nails is to add rhinestones to them. These sparkling gems can make any manicure shine brighter than a diamond. Besides, they allow you to get either an elegant and low-key mani by accentuating only one or a couple of nails or showy and glamorous by adorning every finger.
White Coffin Nails With Sparkly Accents
White And Silver Coffin Nails Design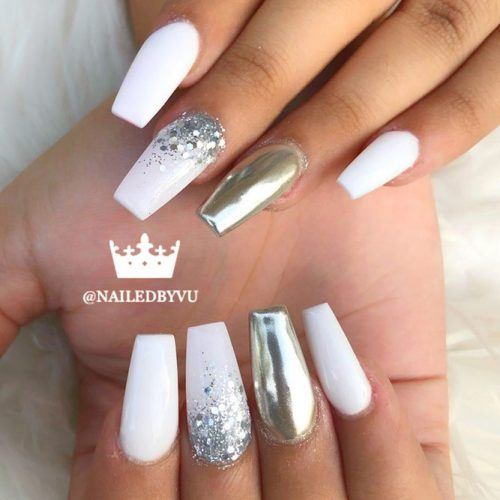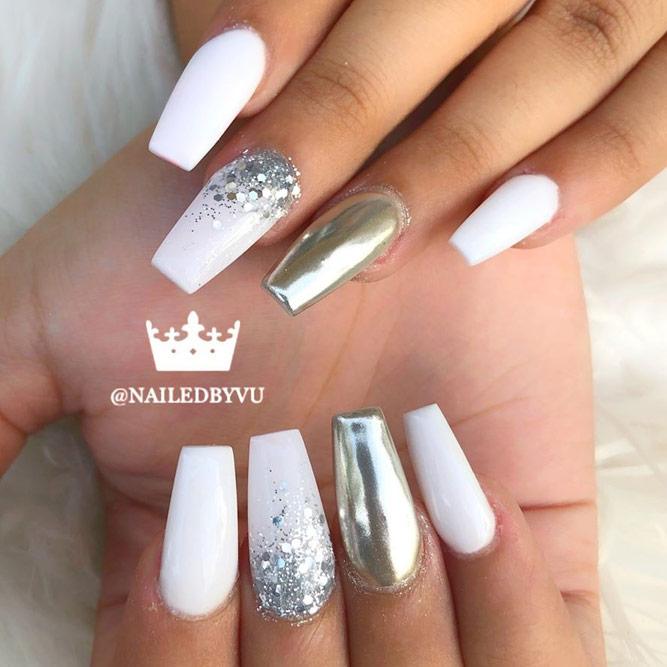 Credit: Instagram/nailedbyvu
You may love your long coffin nails, but you are not a fan of all the golden sparkling embellishments. What should you do about that? We think that a pinch of silver sparkles and a good old silver metallic accent finger will solve your dilemma!
White And Pink Glitter Nails Design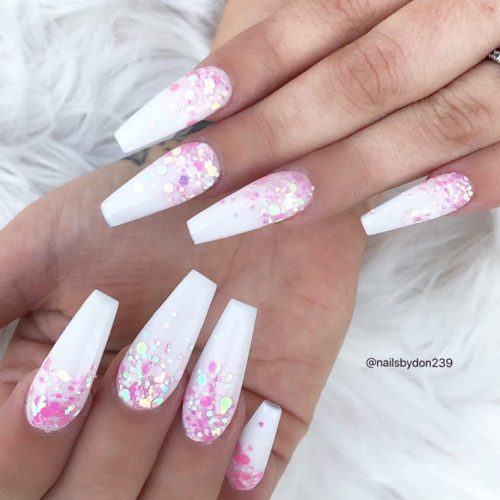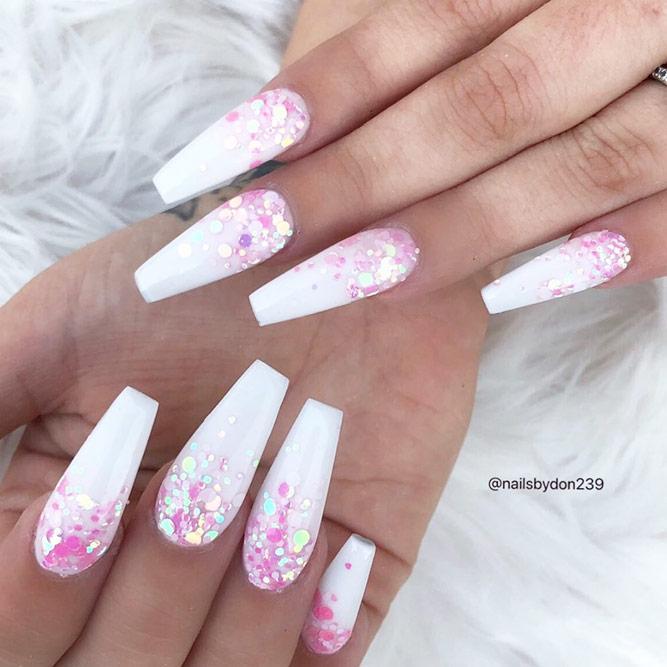 Credit: Instagram/nailsbydon239
It does not matter what some people say, but all ladies adore feminine nails arts. If you are looking for something gentle and cute to add to your collection, then this incredible combo of pure white and light pink is what you need. The transition that is barely there makes this nail art simply exquisite and other-worldly.
Mixed Design With Ombre And Stone Marble Art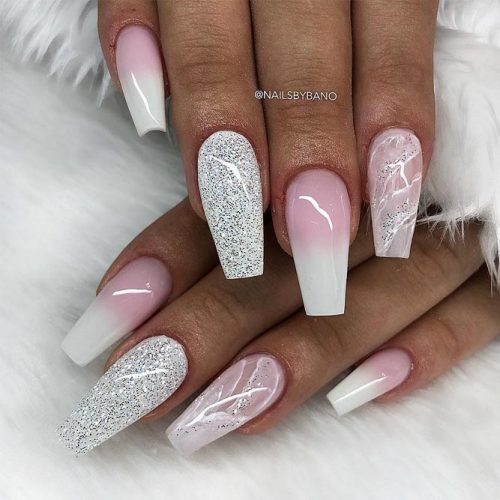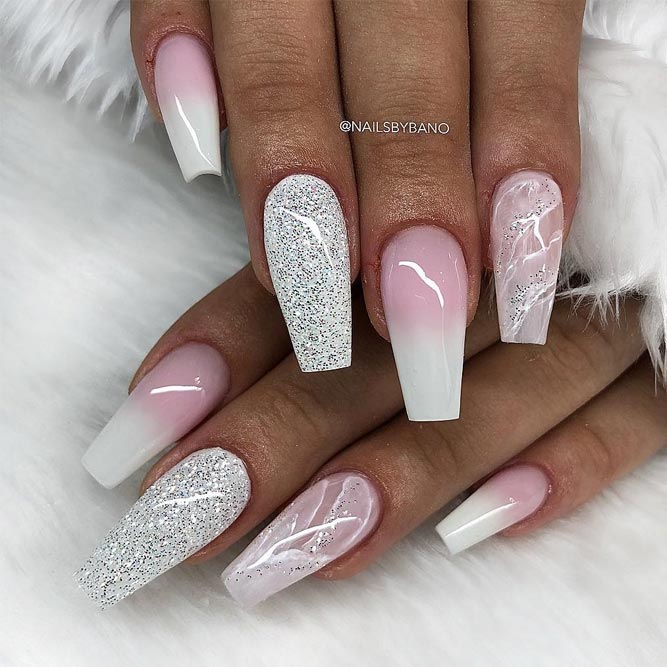 Credit: Instagram/nailsbybano
Ombre nails are very big right now. And when you see this look, you'll know exactly why. Use pale pink and white polish to create an ombre design on your pinky finger, middle finger and thumb. Then use pretty silver glitter nail polish on your accent finger. Finally, paint your ring finger pink and create a white and silver stone marble design. Mixing and matching nail art is very popular now. So, this look will be sure to catch everyone's eye as it is stylish and chic!
Sparkly Glitter Designs For Coffin Nail Shape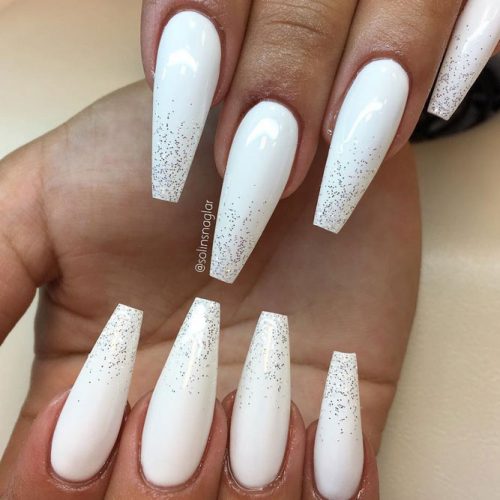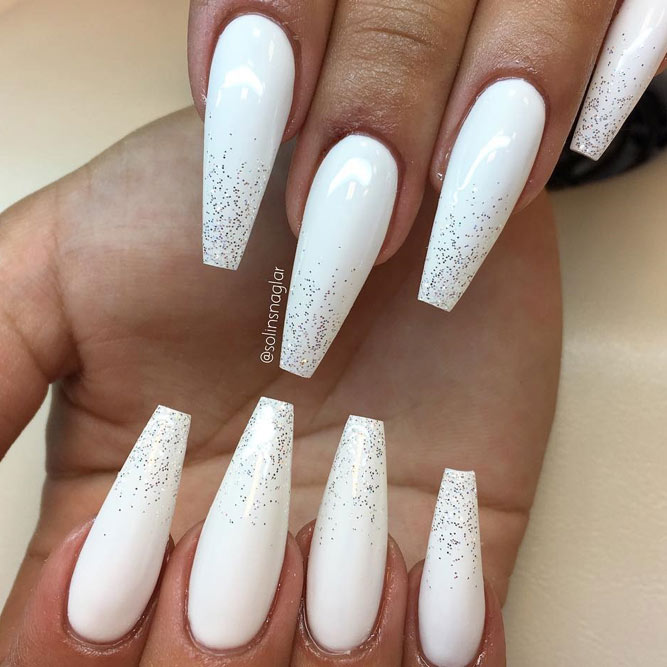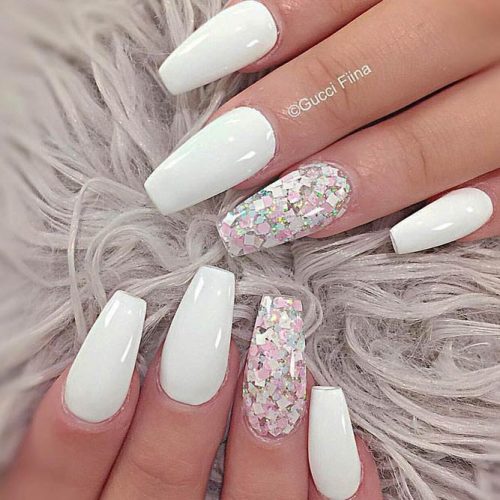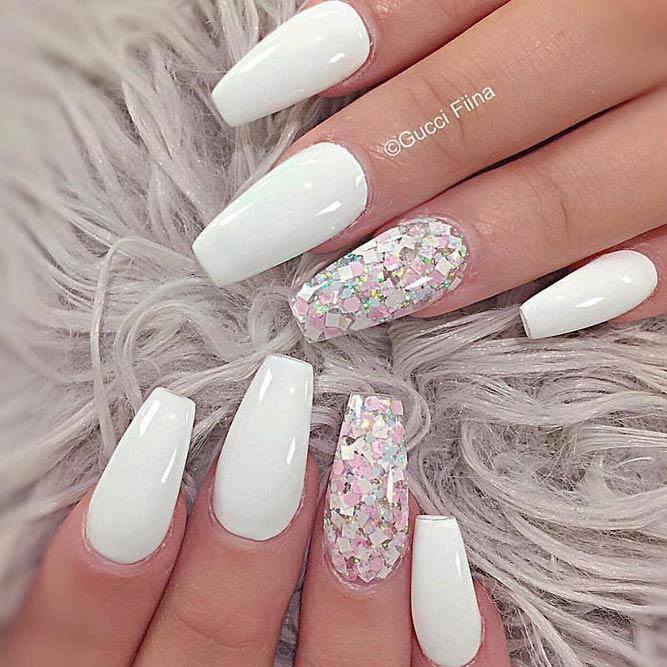 Credit: Instagram/solinsnaglar, Instagram/fiina_naillounge
Thanks to the fact that all embellishments flatter white nails, you can set free your imagination and decorate your mani to your taste. However, if you want to give it a glamorous and fancy touch, go for a sparkling glitter nail design applied over the white base.
Patterned White Coffin Nail Art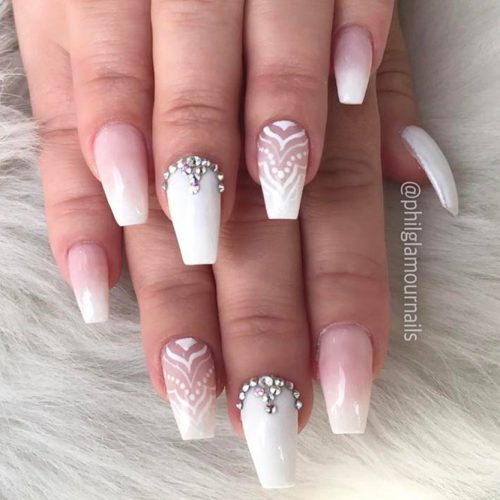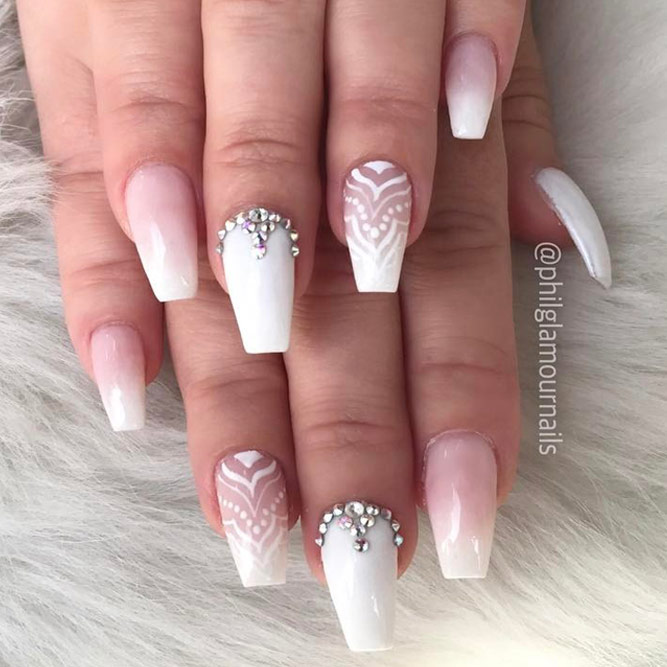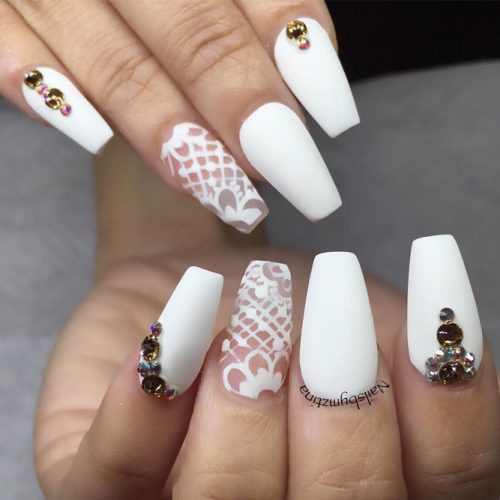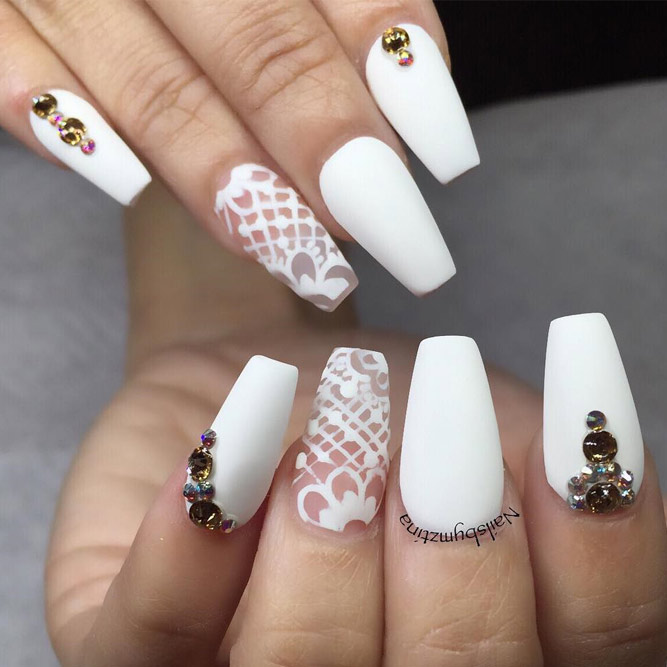 Credit: Instagram/philglamournails, Instagram/nailsbymztina
Enchanting Mandala Nail Design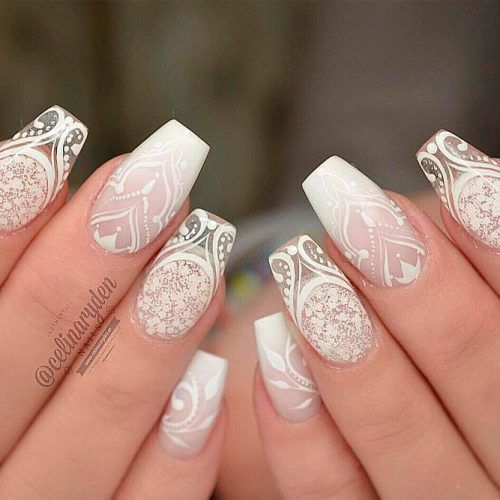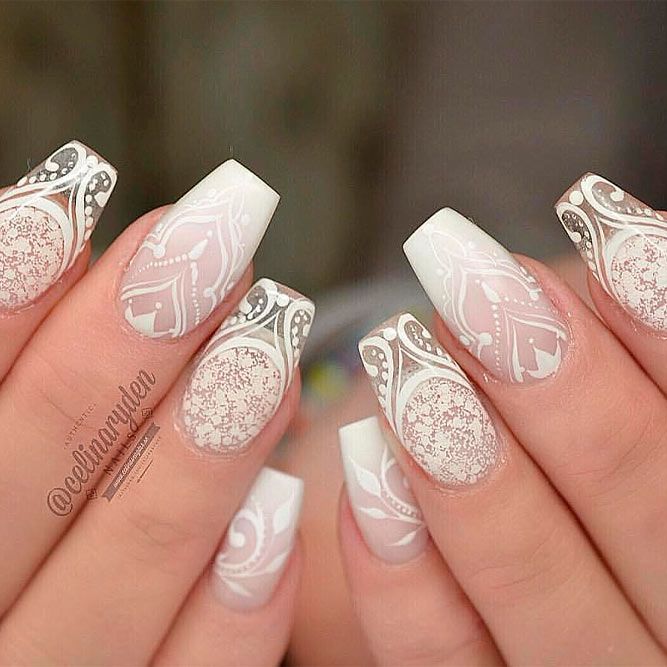 Credit: Instagram/celinaryden
What is the attraction of mandala? Their sophisticated design with a myriad of elaborate details creates a really impressive image. All patterns are unique and can't be replicated, which makes each mandala special and even mystical. They work as a perfect adornment for our bodies in all senses and a manicure is no exception. Thus, complementing your white coffin matte nails with mandala pattern makes up hypnotizing mani design that will suit any ambiance. However, it will appear most flattering when pulled together with a boho look. What's more, if you're not skillful enough to paint intricate mandala, you can get away with a minimalistic pattern. It won't become less dreamy because of the lack of complex lines.
Accentuated White Coffin Nails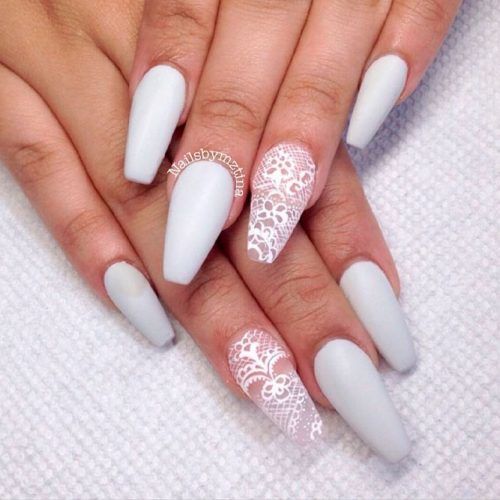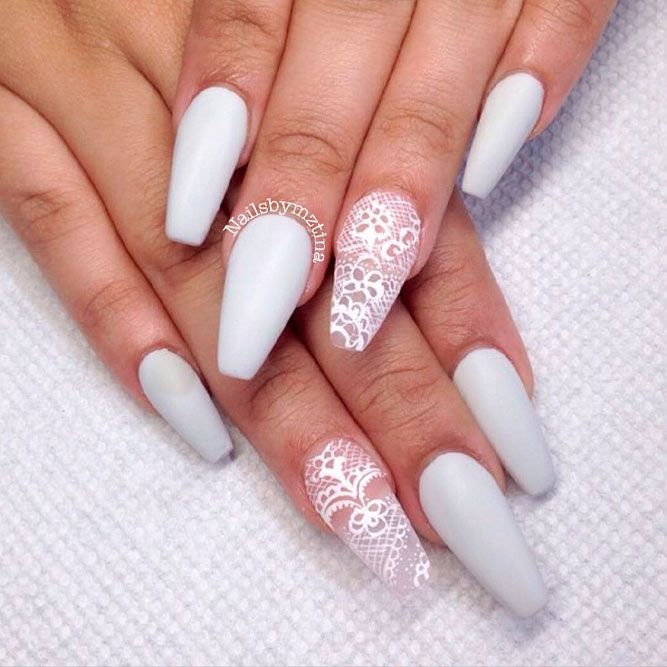 Credit: Instagram/nailsbymztina
As we mentioned earlier, painting your coffin nails white gives you complete freedom in terms of your attire and event you are headed at. However, you may want to turn your mani up a notch. To give it a flattering twist, accentuate one of your nails with white lace nail design. It will still look elegant and refined, yet showing off your good taste and attention to details.
Clear Nails With White Geometric Pattern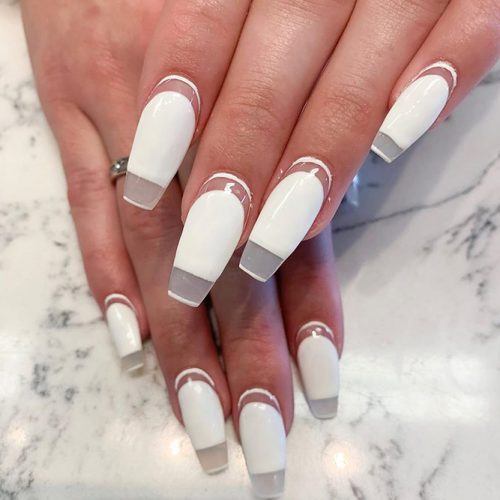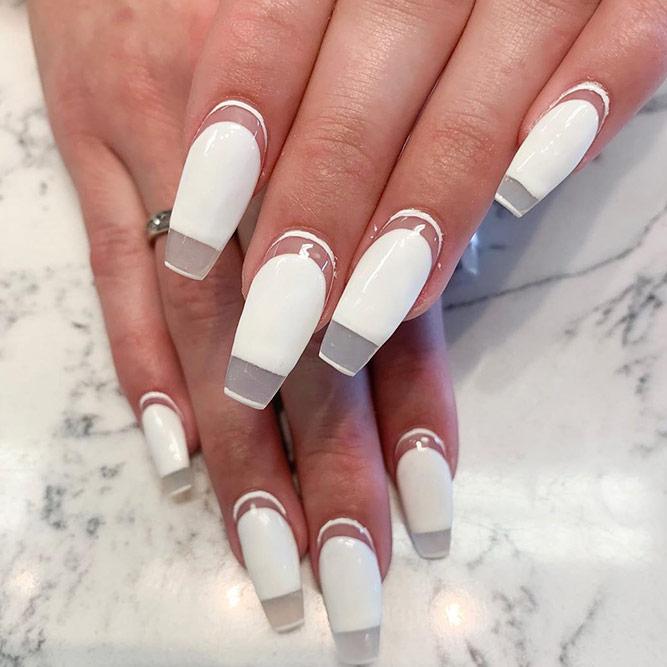 Credit: Instagram/wndys.beauty.loft
Coffin shaped nails are a perfect canvas to give your imagination whole freedom of action. Thus, it would be a real crime to waste this opportunity. Adorn you mani with sophisticated nail art design to give it your personal flair. You may try out to apply white geometric pattern over a clear base, which is all the rage lately. In this way, you will get such an outstanding manicure that people will just grab your hands to take a closer look.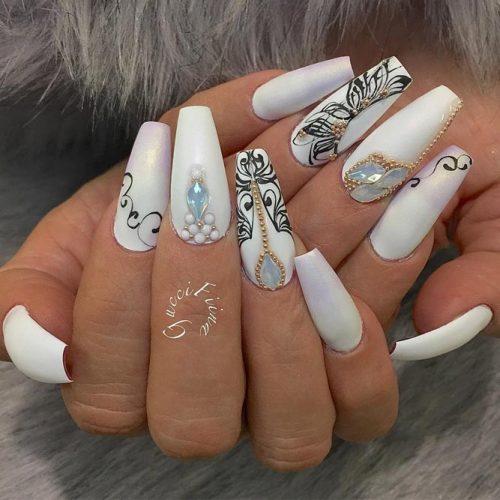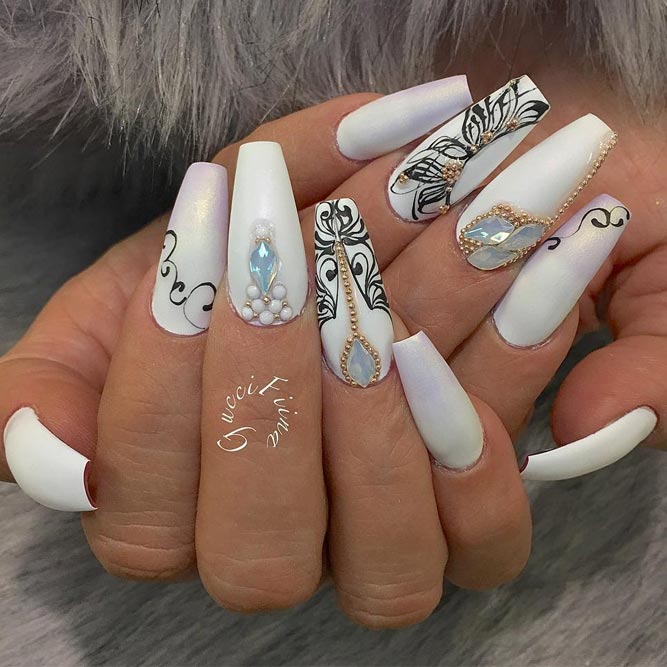 Credit: Instagram/fiina_naillounge
Marbled White Coffin Nail Art
White And Pink Ombre Nails With A Marble Stone Design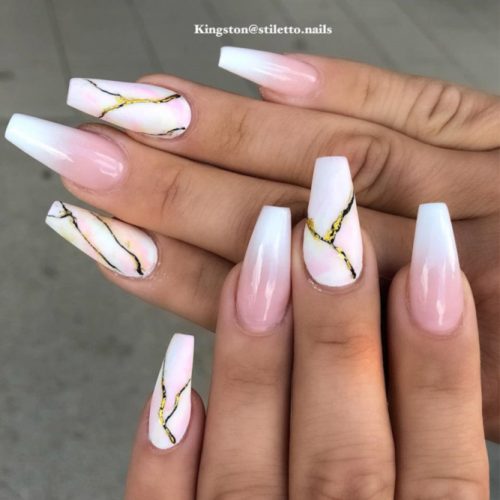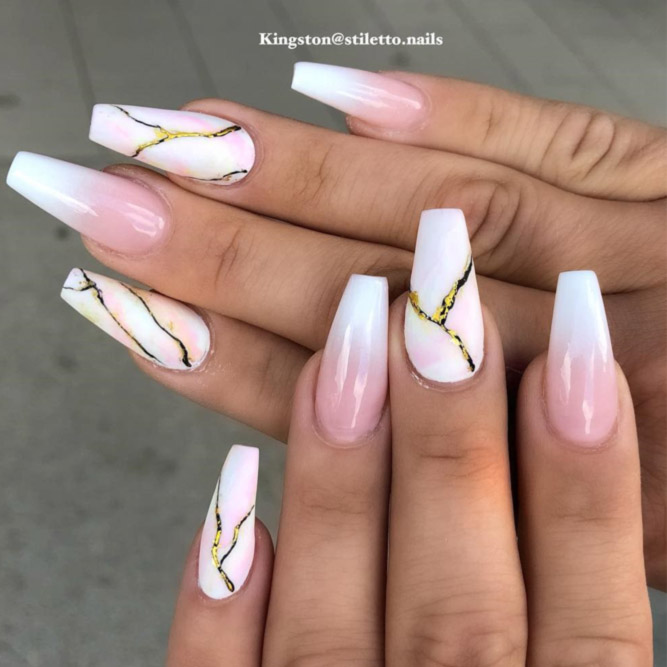 Credit: Instagram/stiletto.nails
Marble nail designs are ideal if you are looking for an elegant and classy look for an event such as a wedding or other formal occasion. This design for white coffin nails combines white and pink ombre nails with a white and gold marble design that is the epitome of elegance and grace. And this design is simple enough so that you can easily duplicate it at home. All you need is pale pink nail polish and white polish for the ombre nails. Plus, the same white polish with gold and black glitter for the marble stone design on the other nails. Mix and match these two designs for a sleek and sophisticated look.
White Coffin Nails With Colorful Marble Art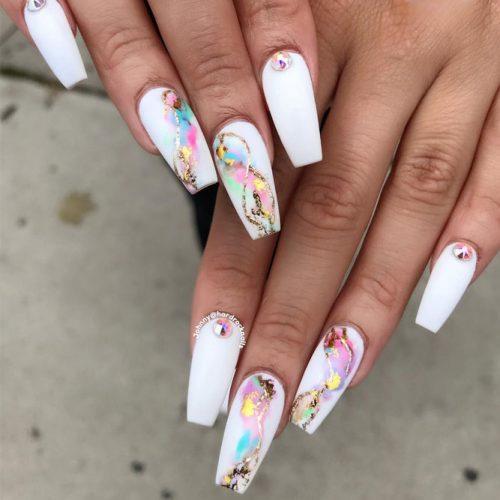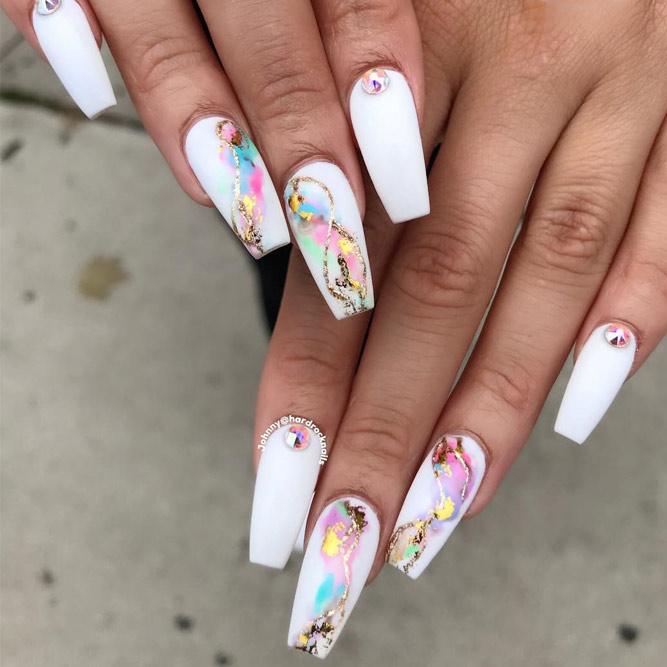 Credit: Instagram/johnny_hardrocknails
We wouldn't lie if we said that marble stone patterns have been in fashion for a while now. However, where regular marble designs seem too boring, colorful substitution comes in. The mixture of these white matte coffin nails with bright marble accents is merely breath-taking!
Transparent Nails With White Patterns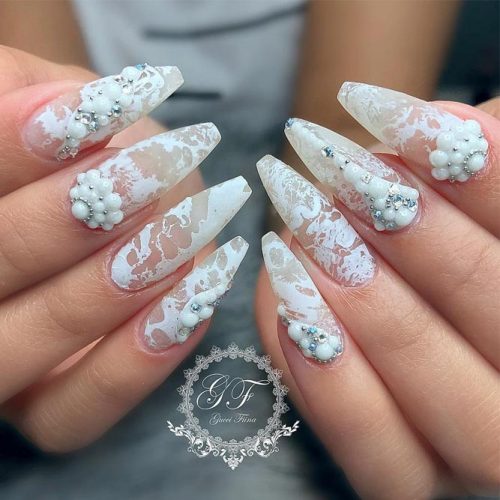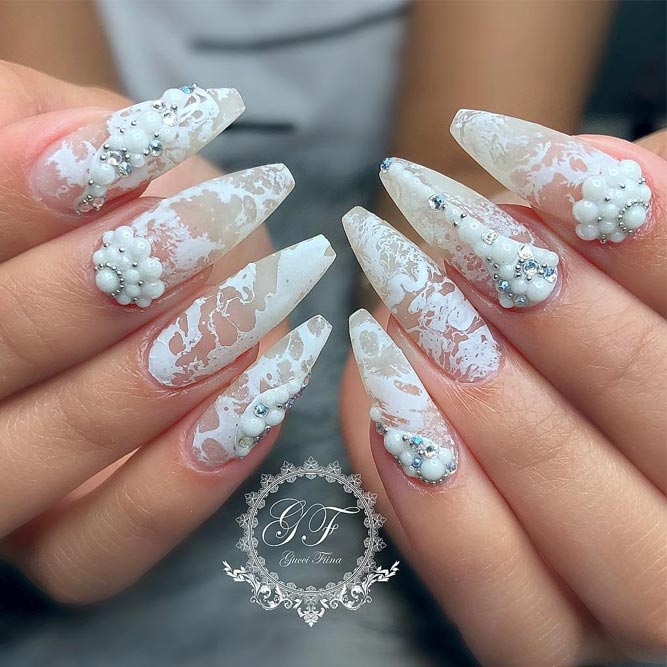 Credit: Instagram/fiina_naillounge
If you want a really cool and unique look for white coffin nails, this 3-D nail art with clear nails and white polish is a lot of fun. Paint your nails with clear polish and then do a marble art design with white polish. You can use rhinestones to bling it up a bit. And you can even do a pretty floral design out of white gemstones on one finger. This awesome look for long coffin nails will make you the envy of all your girlfriends!
White And Gold Nail Design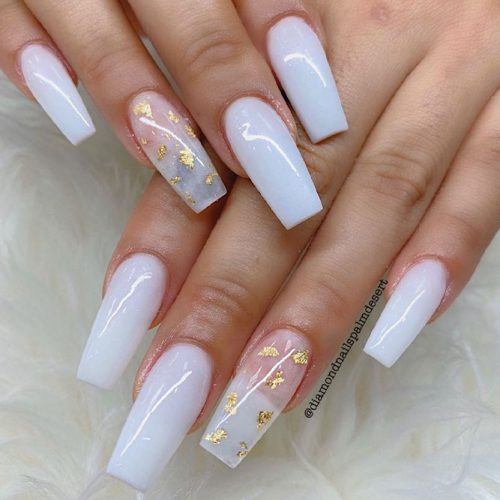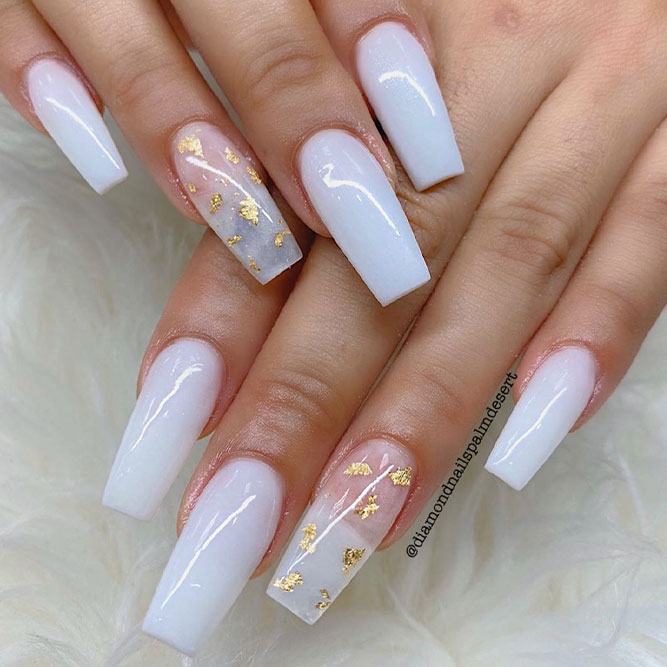 Credit: Instagram/diamondnailspalmdesert
Pairing white and gold coffin nails turns into an exceptionally attractive manicure. These two colors flawlessly compliment each other giving your nails a royal air. Yet, this mani doesn't look gaudy, so you can flaunt it on any occasion and use to complement any outfit. For a dazzling glare, add some shimmer and rhinestones to random nails. It is actually very hard to overdo it, so don't limit your imagination.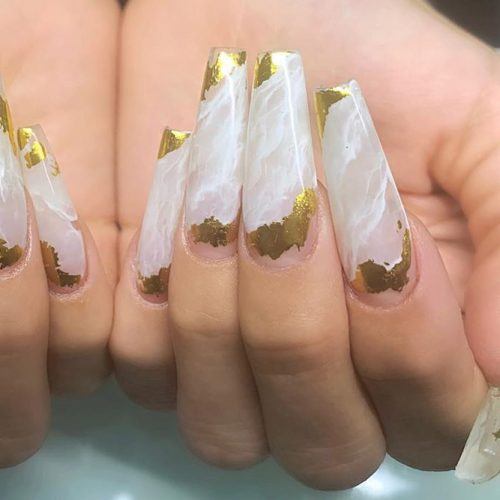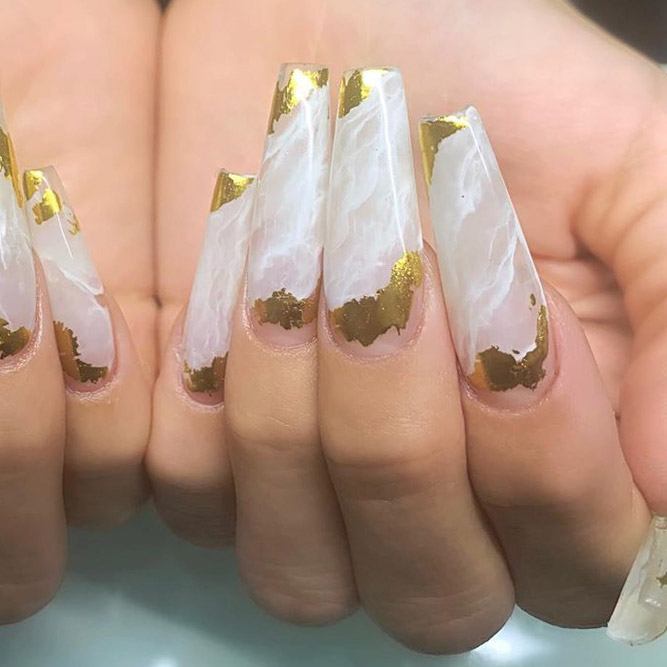 Credit: Instagram/clawzbybrit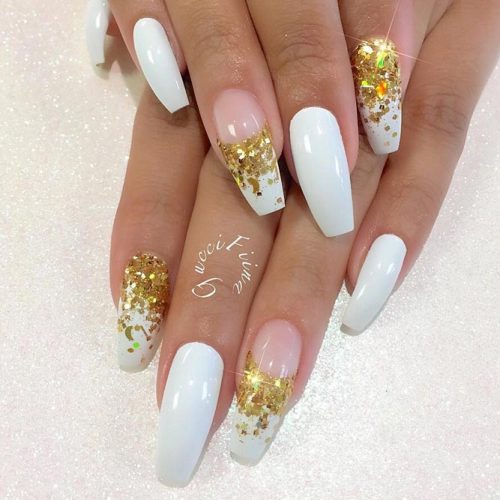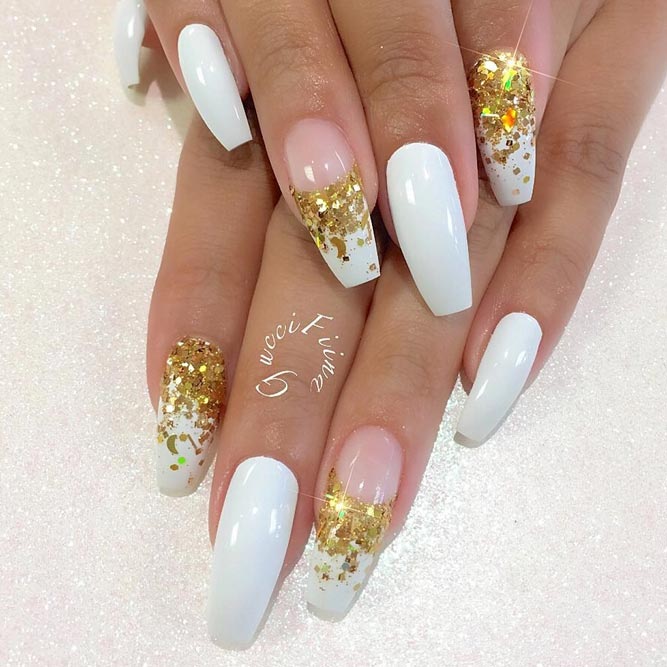 Credit: Instagram/fiina_naillounge
Long White Coffin Nails With Gold Stripes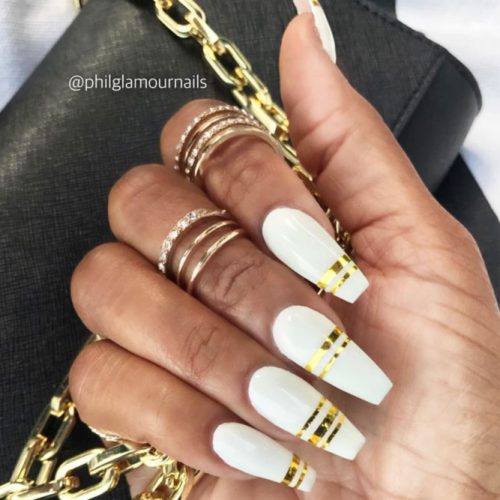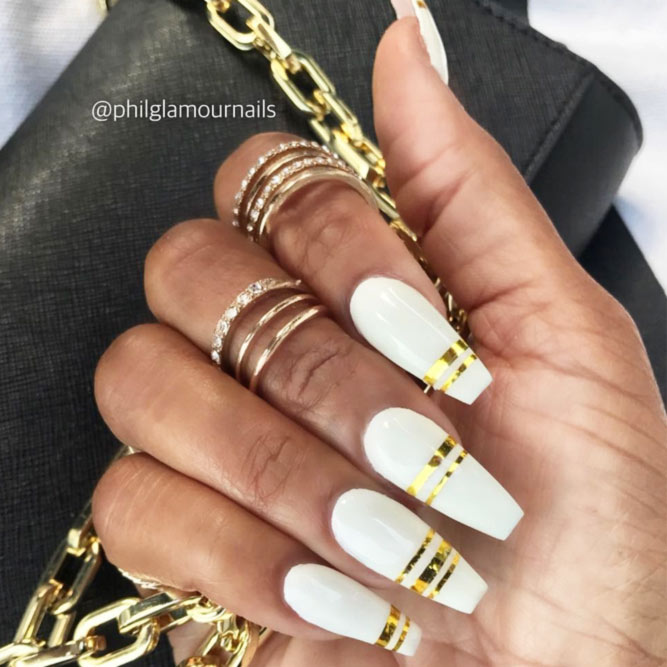 Credit: Instagram/philglamournails
White and gold is such a pretty color combination. And with the right jewelry, you can totally rock this white and gold combo for long white coffin nails. Paint your nails with white nail polish and then use gold nail art tape or paint two gold stripes on each nail to give it almost a French manicure finish that is glamorous and chic. This look is great for every day or something special. So, if you love gold, then don't hesitate to try this classy nail art design.
White But Colorful Designs For Every Day
Credit: instagram.com/justagirlandhernails, instagram.com/red_iguana_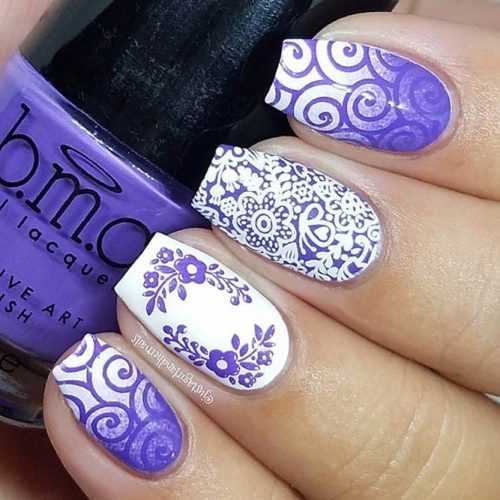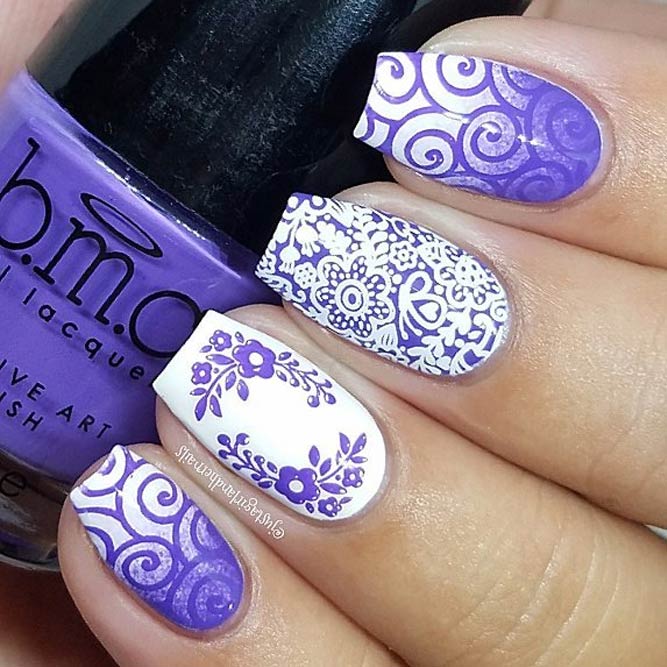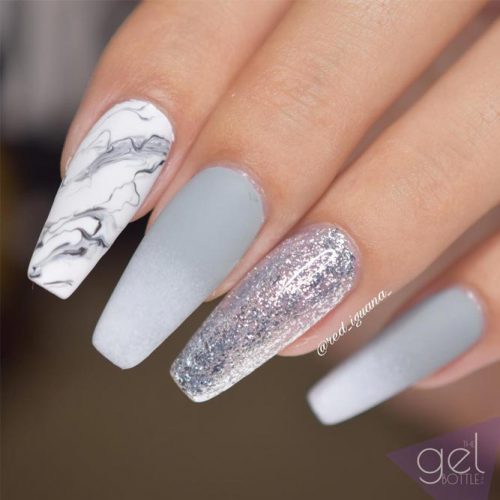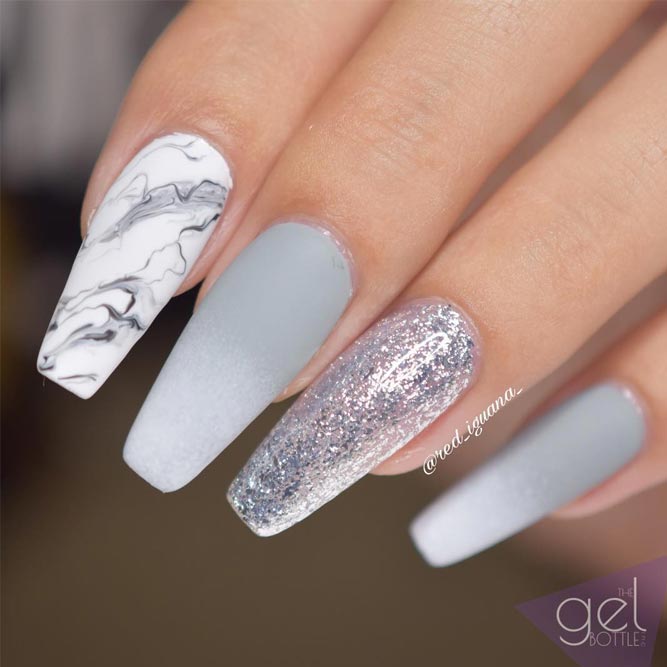 One of the best things about white coffin nails is that they allow you to add any color to them without looking offbeat. Thus, embellish your nails with colorful designs to spruce up your everyday mani this instant. Just keep it simple so that the white base still remains prominent.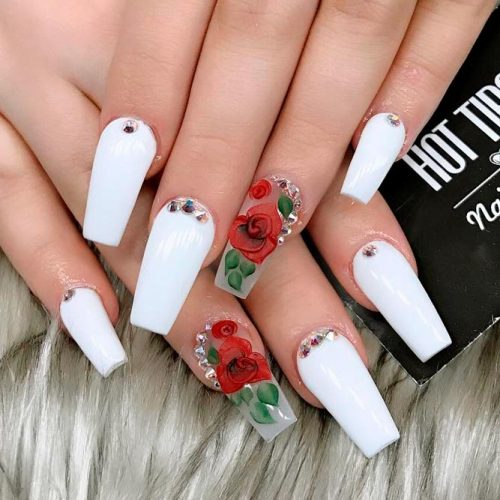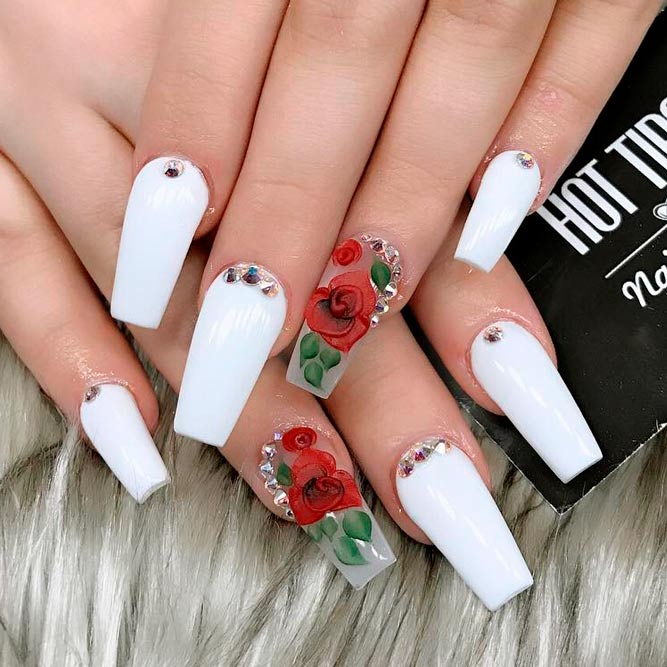 Credit: instagram.com/nailsbymztina
Frozen Coffin Nails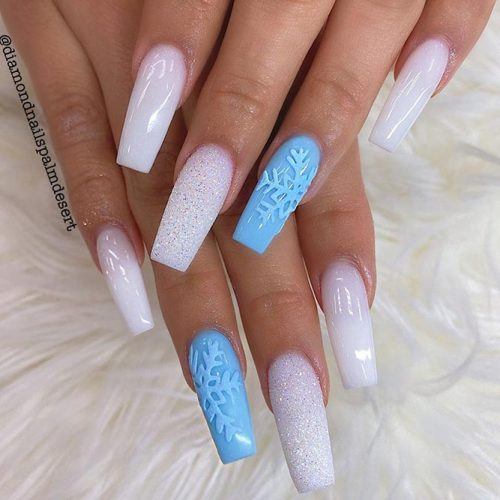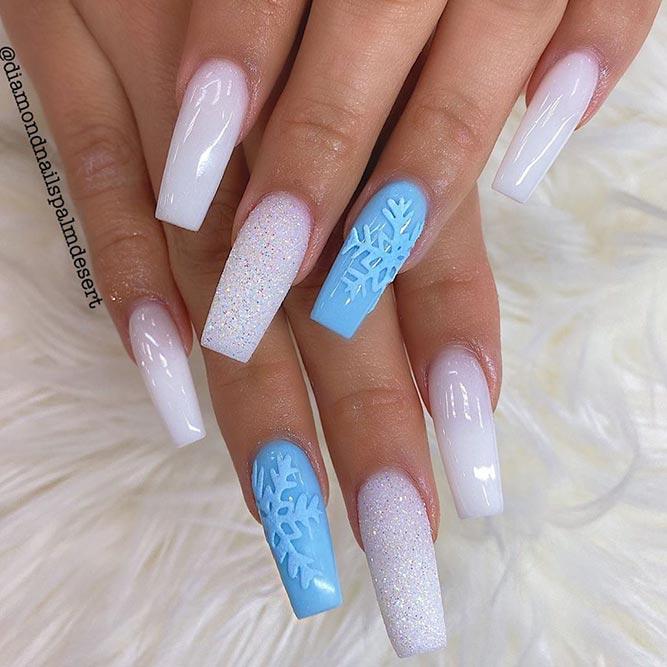 Credit: Instagram/diamondnailspalmdesert
What was your favorite cartoon when you were a kid? What about know? The animated movie Frozen produced by Walt Disney has conquered the hearts of many girls all around the globe no matter their age. And of course, it has given plenty of inspiration for various nail designs. This Frozen-inspired manicure features an ice-white base complemented with white sparkling nail art beads that remind of snowflakes reflecting the light. In case for some reason you don't want to go for completely white color, blue and white coffin nails also make up a perfect Frozen-themed mani.
Sparkly White And Pink Nail Art Design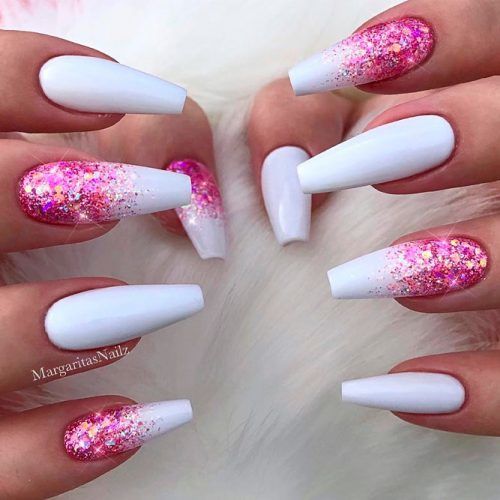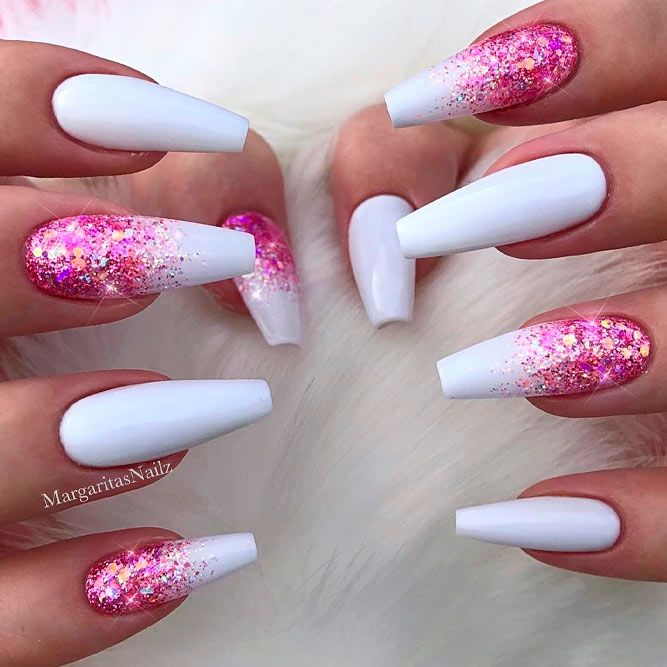 Credit: Instagram/margaritasnailz
One of the biggest advantages of painting your nails in white color is that it allows you to adorn them whatever you like. You can play around with finishes, textures and colors without the risk of looking flashy. That said, pink and white coffin nails make up an amazingly balanced combination. To keep up with the ongoing fashion trends, apply the glitter using some different techniques. For instance, pink and white ombre coffin nails look more eye-catching and dazzling than plain ones. If you want something less girlie and more dramatic, go for red and white coffin nails, which also appear very bold yet tasteful.
FAQ: White Coffin Nails
How long do coffin nails last?
Normally, good acrylic nails done by a professional are supposed to last around three weeks before they need to be filled and around six to eight weeks before they need to be replaced. But this can vary depending on multiple factors like how well you take care of them.
How Much Do Coffin Nails Cost?
The manicure prices can range from $30 to over $100. The factors that define the cost are: what materials are being used, adding design, qualification of your nail tech as well as the location of your salon.
REFERENCES:
Nail art is a creative way to paint, decorate, enhance, and embellish the nails. Source
Artificial nails, also known as fake nails, false nails, fashion nails, nail enhancements, acrylic nails, nail wraps, or nail extensions, are extensions placed over fingernails as fashion accessories. Source
A manicure is a cosmetic beauty treatment for the fingernails and hands performed at home or in a nail salon. Source
Was this article helpful?