You can't call yourself a true fashionista if you haven't considered green hair as an option. Inspired by celebrities, this vivid hair color has become one of the most popular requests made in the colorist's chair of the latest. Unusual and eye-catching, it instantly makes you stand out from the crowd and pass for one of the most fashion-savvy gals in the area. The multitude of green shades allows almost anybody to choose the color that would fit their preferences and tastes. So, would you like to know more about dyeing your hair green and the options you have? Our guide will provide you with everything.
How To Find Out If Green Hair Works For Me And How To Get It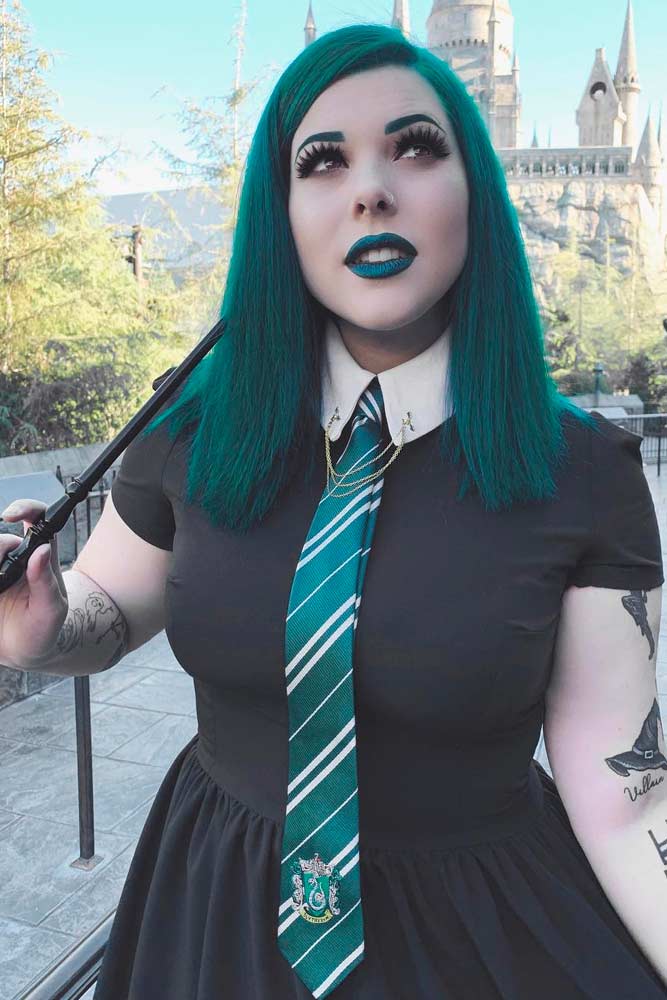 Source: dreronayne via Instagram
Of course, we can't say that the green hair color is ultimately for everybody. To succeed in dyeing your locks in such shade, the best option would be to pay a visit to your hair colorist. Otherwise, you can damage your hair and end up with something inexplicable on your head instead of the desired shade. The thing is the stylist will have to lighten your hair so that the color comes out clear and even. Thus, bleaching will take place, and nobody but you knows how easy it is to mess it up. The professional colorist will determine the right ratio of the formula for bleaching and dying, the longevity of the process and the number of times you have to lighten your hair.
Besides, not every hair type works equally well to be dyed into the green. If your locks are too dark, maybe, you should consider another trendy color solution. In case you've already had your hair dyed recently, it's a good idea to wait for a while until it recovers from the previous procedure or ideally grows out. For damaged hair, bleaching isn't an option at all.
Green Hair Color Upkeep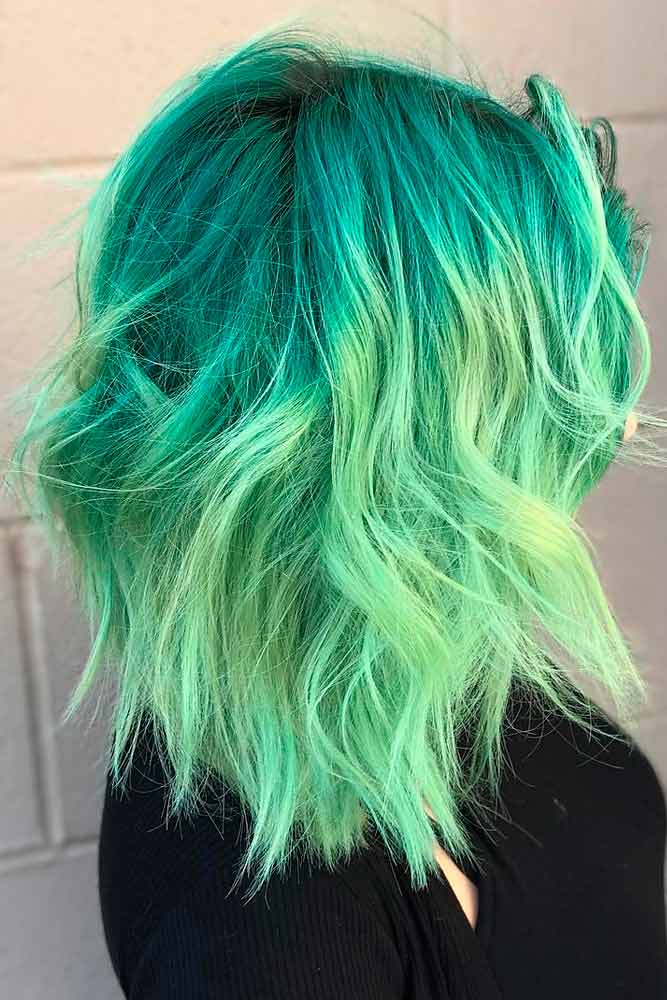 Source: emmajeanhairpainter via Instagram
Like any other bright hair color, green can fade quickly and easily if not taken care properly. Hence, keep in mind that you will need to change your hair care routine quite drastically. First, you'll need to cut down on washing your hair often, reducing the number of times to once a week. If your hair needs an instant refresh, employ dry shampoo. Then, you should start using special color-depositing and custom-colored hair products, such as conditioners. Finally, take care to protect your hair from heat and UV lights.
Best Ideas For Green Hair Shades You Want To Try
Now that you know how to get and maintain the perfect green hair color, it's time to draw some inspiration from the best coloring ideas.
Neon Green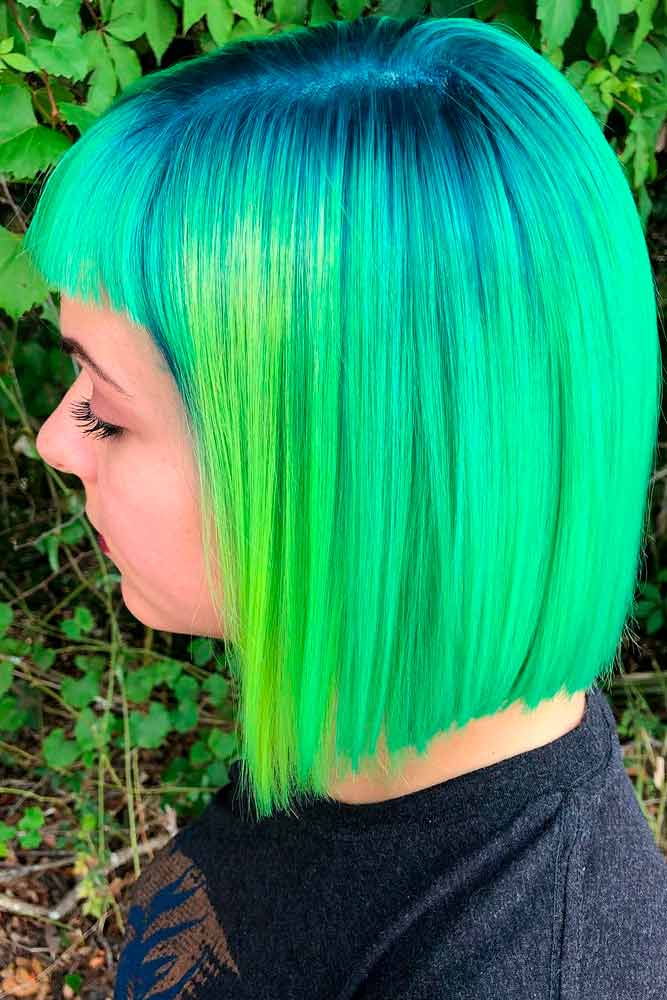 Source: emmajeanhairpainter via Instagram
Neons have made a huge comeback as a fashion trend. They're featured in clothes, makeup, and hair, of course. Neon green hair looks flamboyant and futuristic. So, you can rest assured that with such a hair color, you won't go unnoticed.
Emerald Green Hair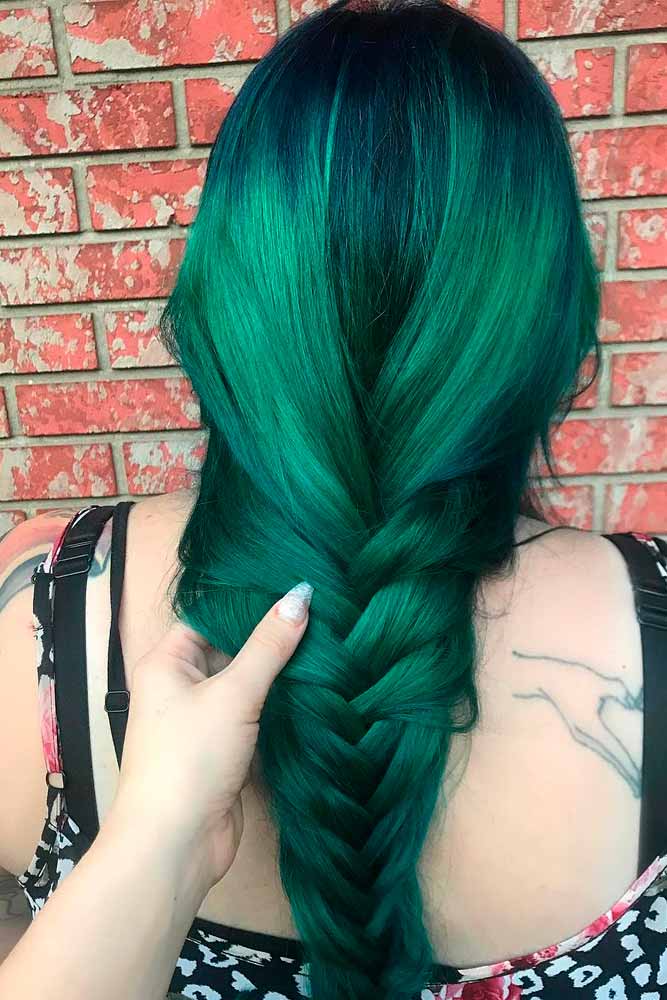 Source: emmajeanhairpainter via Instagram
Emerald green hair has a number of benefits. Along with an amazing deep gemstone shade, you get a low maintenance hair color. You won't need to retouch the regrowth frequently, as it grows out looking quite natural.
Mint Green Hair Shades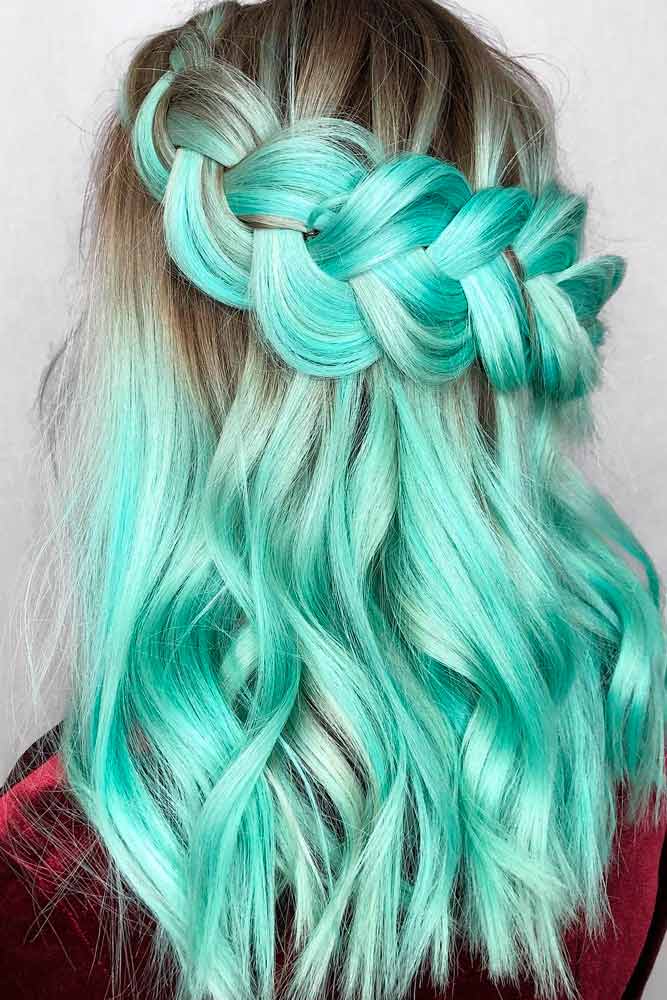 Source: page.paints via Instagram
You want your locks to look breezy and refreshing? Then the mint green hair color is your way to go. To pull it off, you should have your natural locks bleached to platinum blonde first. Only then you can paint them in this light pastel green.
Olive Green Hair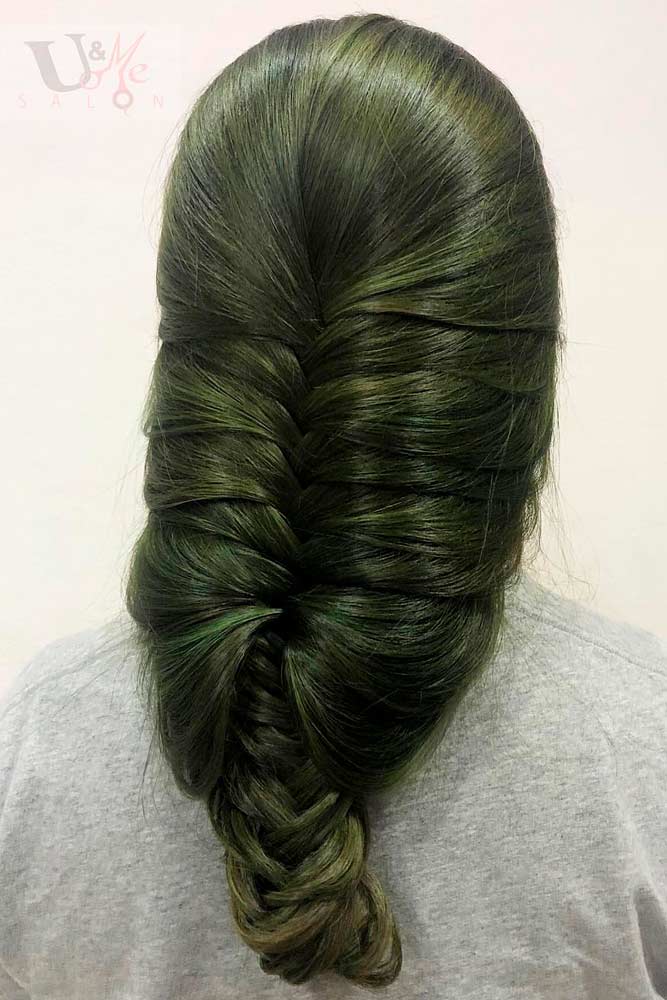 Source: unme_salon via Instagram
If you're looking to really stand out from the crowd, take a glance at such an unconventional hair color as olive green. It's rare and unique, which is why we believe that it's highly underrated.
Dark Green Hair Shade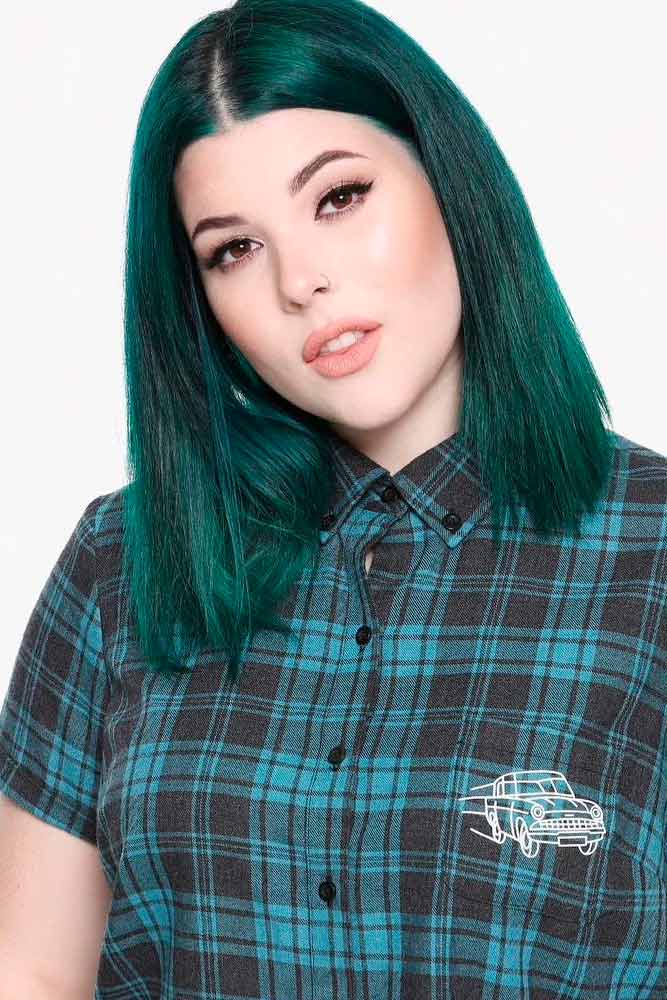 Source: dreronayne via Instagram
Dark green hair will appeal to you with its deceiving play of color. Depending on the light, it may vary from almost black to vibrant green. A true chameleon shade for mysterious ladies.
Lime Green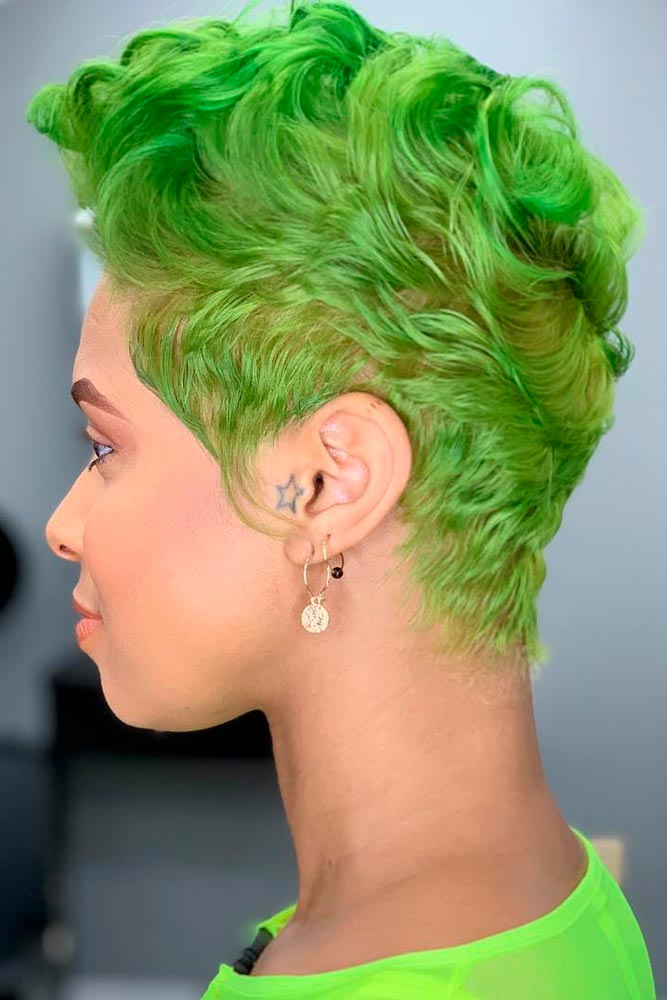 Source: patrice_bowie via Instagram
For daring and fashion forward girls, the lime green hair color is a sure bet. Only looking at it makes your mouth water. Can you imagine how satisfying it is to flaunt such a juicy shade? This pixie cut looks perfect with such a bright hair color.
Pastel Green Hair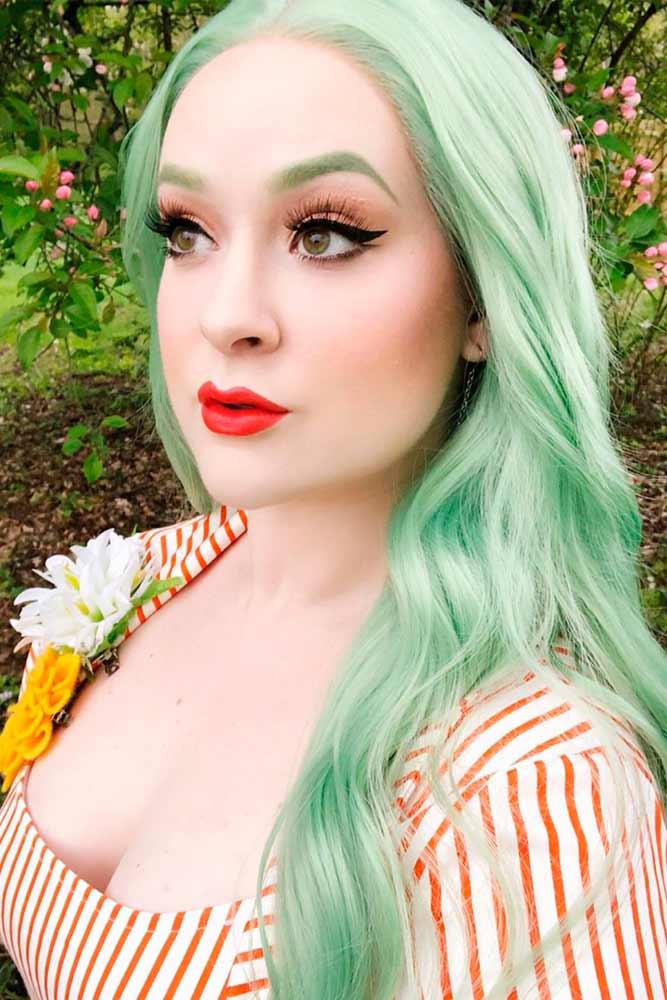 Source: misskmichael via Instagram
Surprisingly or not, but you'll find the pastel green hair color extremely suitable for any season. It perfectly matches the frosty winter and gloomy fall fitting into their chilly mood. Yet, it echoes nature awakening in blooming spring and refreshes as a tall glass of ice cold water on a scorching summer day.
Bright Green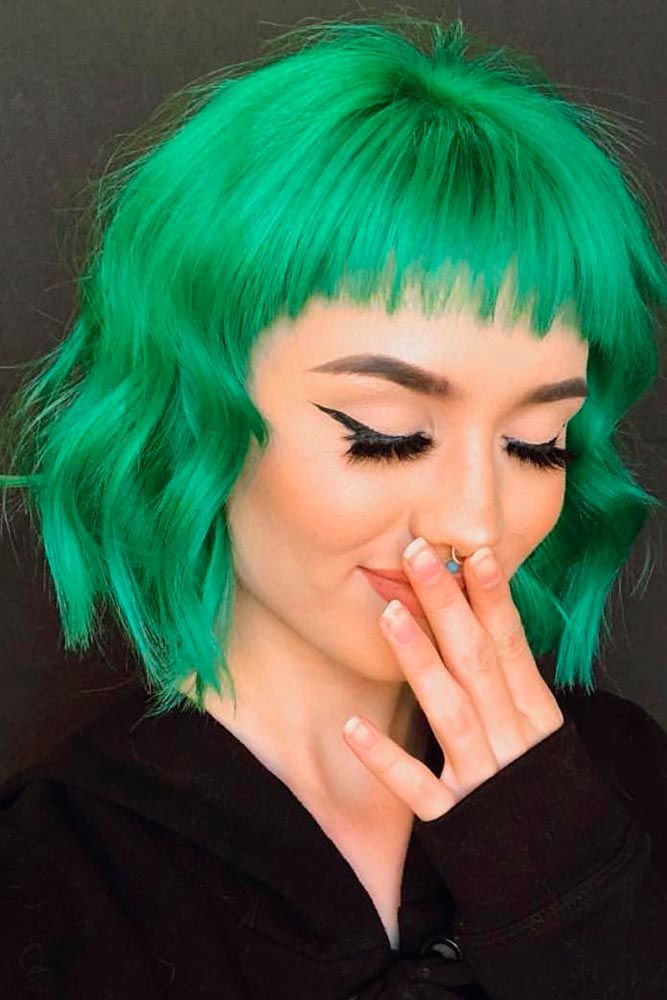 Source: foxxy.locksy via Instagram
Although it's so vivid and bold, this bright green hair color never crosses the border to become kitsch. A piecey choppy fringe and blunt or inverted bob styled in relaxed waves add to this crispy color. Short haircuts look super extraordinary with green color!
Forest Green Hair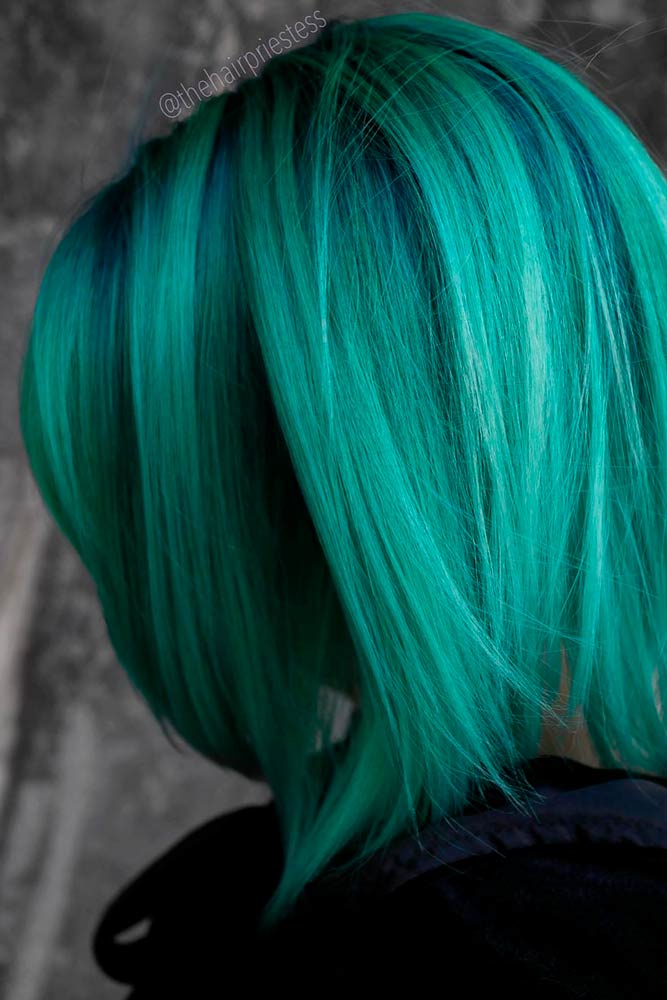 Source: thehairpriestess via Instagram
Do you know what a forest looks like when the tree trunks are covered with moss so that it seems that even the air is green? Although being damp and swampy, the ambiance that prevails there is calming and meditative. And this forest green hair color ideally conveys the atmosphere.
Dark Green With Bright Highlights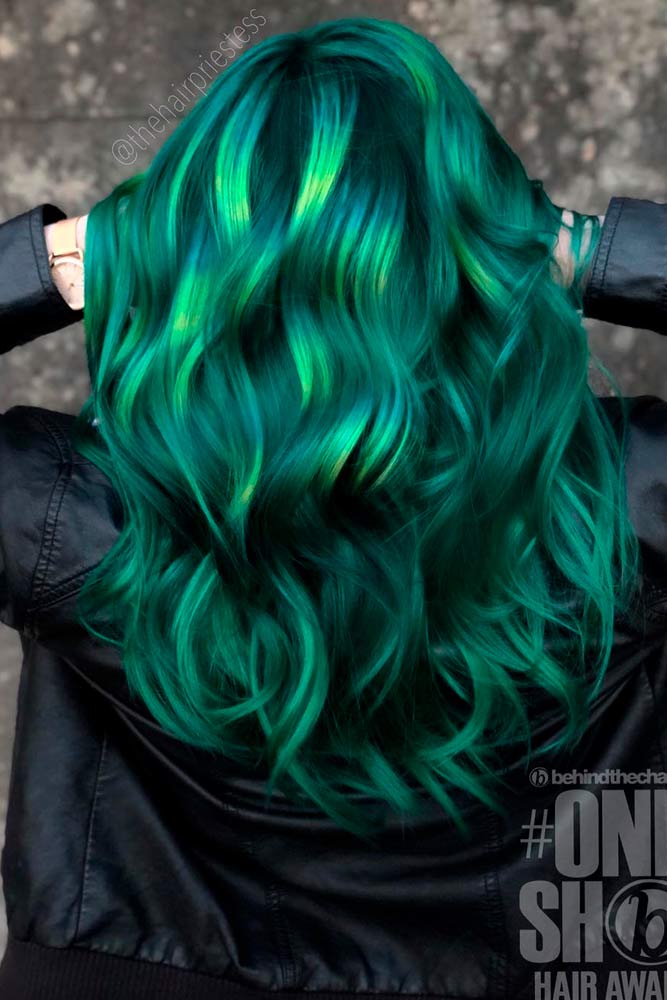 Source: thehairpriestess via Instagram
If you want to play around with different shades of green, you're so welcome to do so. When painting bright lime highlights in dark green hair, you achieve a so-called shimmering ribbon effect, which adds dynamics and movement to your hair color.
Bold Green Ombre Hair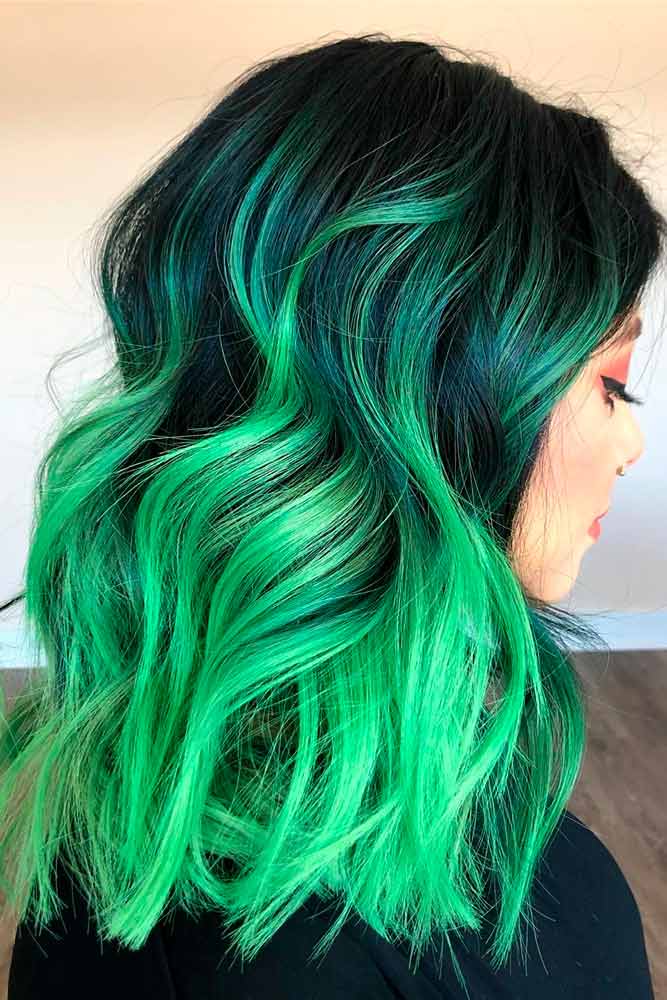 Source: hairbyowlz via Instagram
Here's another way to combine several green shades in one hair color. The green ombre hair color is a popular hair trend that doesn't seem to disappear anytime soon. So, you can dye your locks applying this amazing technique and be sure that they will keep up with fashion.
Black And Green Ombre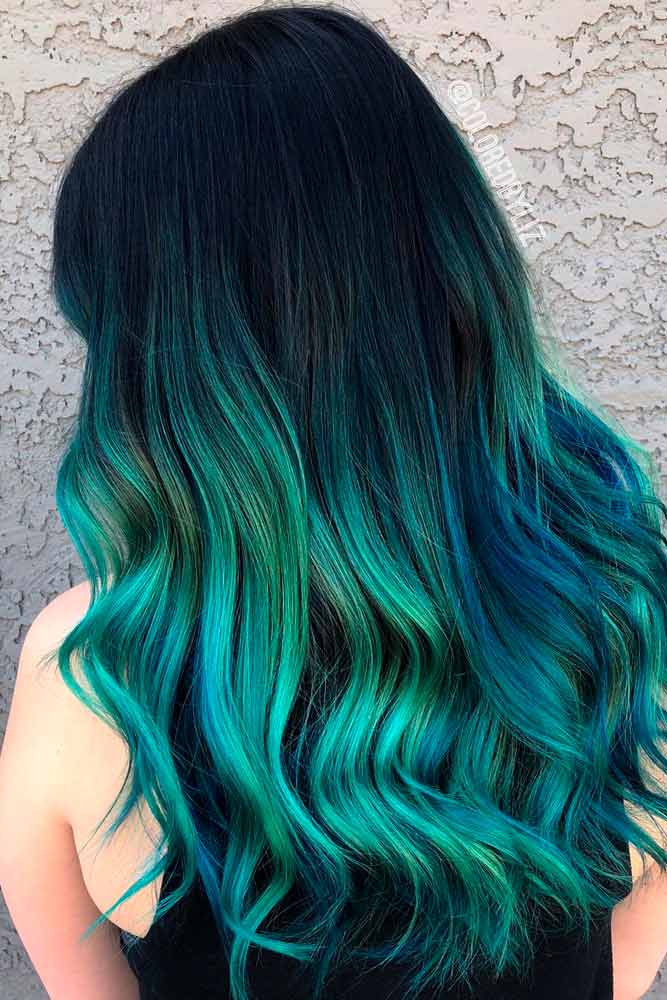 Source: coloredbyliz via Instagram
It's a common fact that black is a perfect accompaniment for basically any hair color and green is no exception. Black and green hair comes out both edgy and low-key, which makes it a dress code friendly option.
Blue And Green Balayage Hair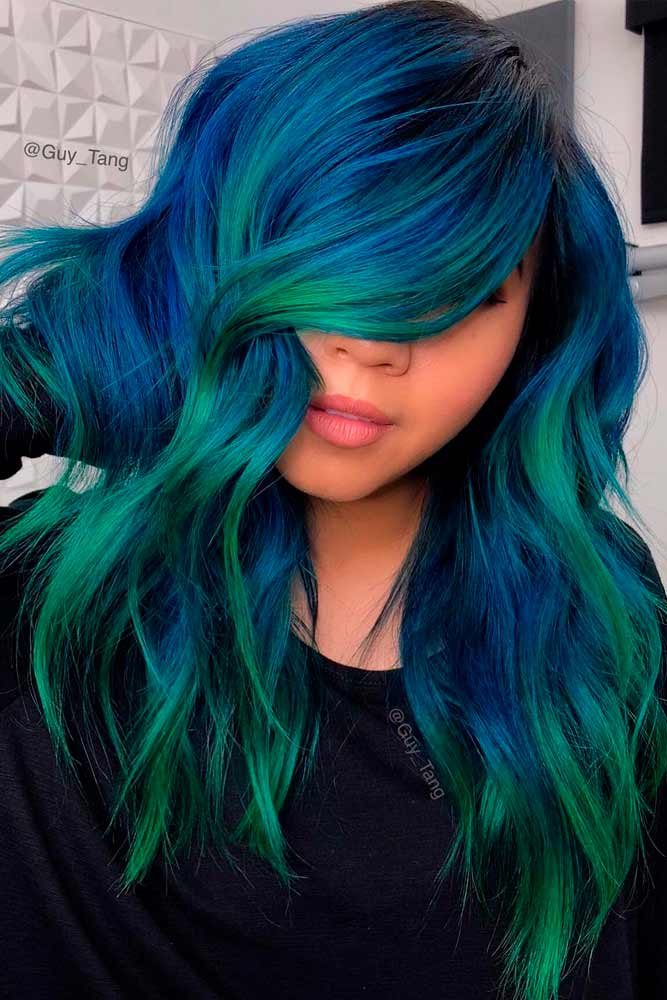 Source: guy_tang via Instagram
Balayage is another popular hair coloring technique that allows you to mix several different shades. The blue and green hair colors are literally meant to be teamed together. They seamlessly blend into one another creating an impression of raging ocean waves.
Pink And Green Balayage
Source: butterflyloftsalon via Instagram
Though, it's not necessary to combine related colors using the balayage technique. If you feel that you'll be able to pull it off, you can try mixing opposing colors, such as pink, green and purple hair shades. If that's too much for you but you still want an eye-catching hair color, go with something less distant on the color wheel. For instance, purple and green hair shades make up an incredible combo.
Gothic Mermaid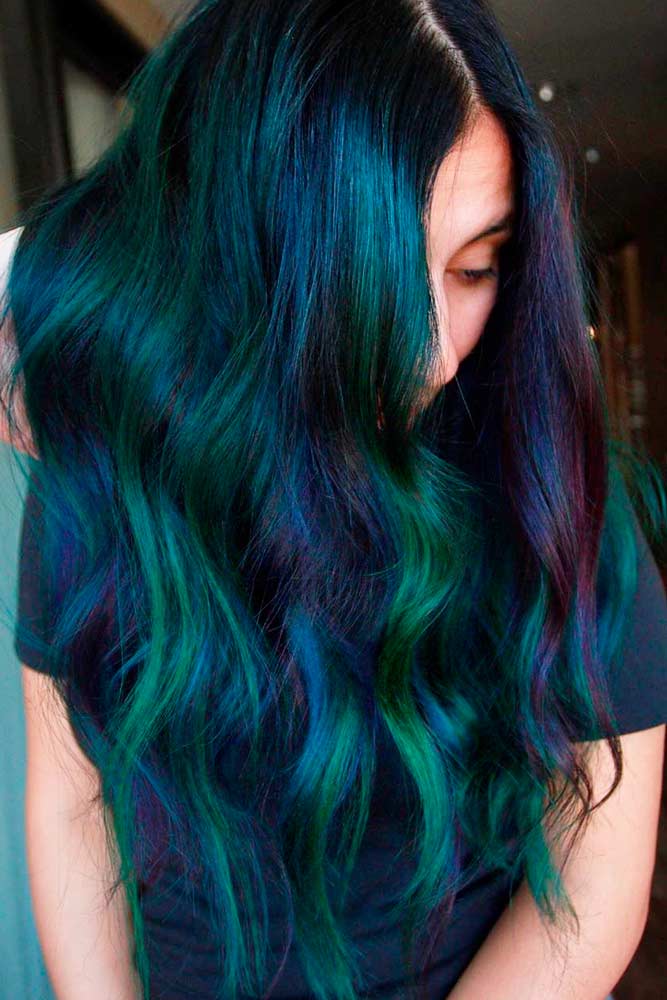 Source: makeupbyfrances via Instagram
We find mermaids exceptionally attractive because they're so mystique and elusive that you barely believe in their existence (joking, sure thing). However, our mind draws a very vivid picture of these unearthly creatures when we think of them. What would mermaid's hair look like? We're almost sure that it would combine such shades as green, blue, purple and black. Being a bit complex and gothic hair color, it fully pays you off with the compliments you get.
Two-Toned Parted Hair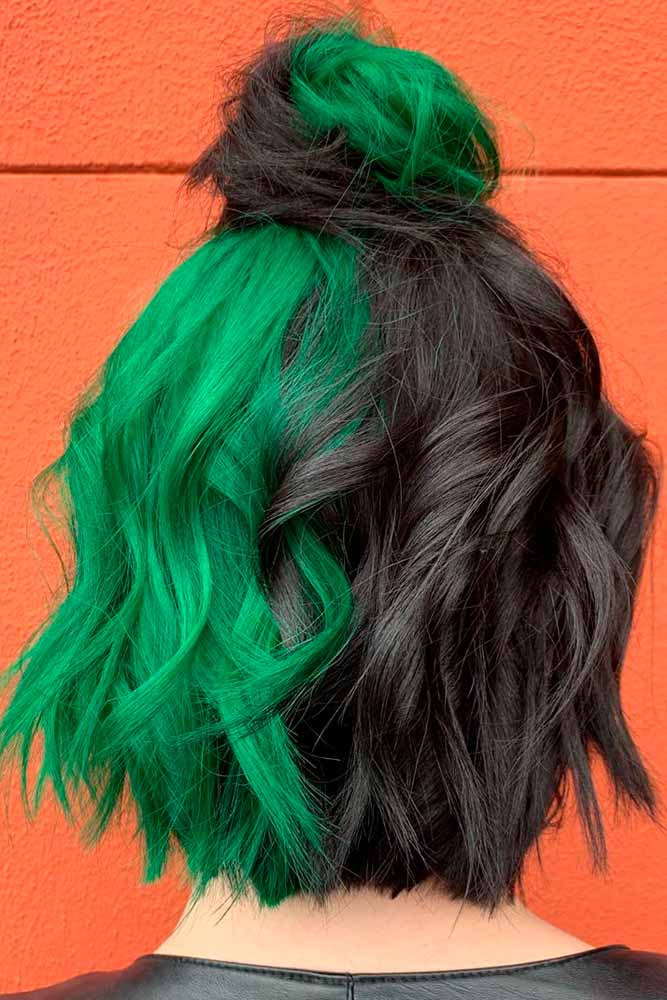 Source: cosmo.kenzie via Instagram
Maybe, you're inspired by the Australian singer Sia but want to bring a colorful change into her stage look? Or you simply enjoy being in the spotlight? One way or another, this two-toned parted black and green hair won't leave you unnoticed for sure.
Everybody goes green. No matter how you understand this phrase but green hair color is arguably a must this season. So, ensure your hair colorist will have free time to book an appointment.