To tune in to the upcoming season, it's important to create a special mood. If you want to surround yourself with cozy and warm things, you should not forget about the manicure. Color-wise, you can try switching ultra-bright shades to something more delicate and comforting. Opting for the mauve color is a good idea, taking into consideration that with a hue like that you can easily sport bright and nude nails in one mani. So, pour yourself a cup of your favorite herbal tea or freshly brewed coffee and let's get mauve.
Style And Elegance: What Color Is Mauve?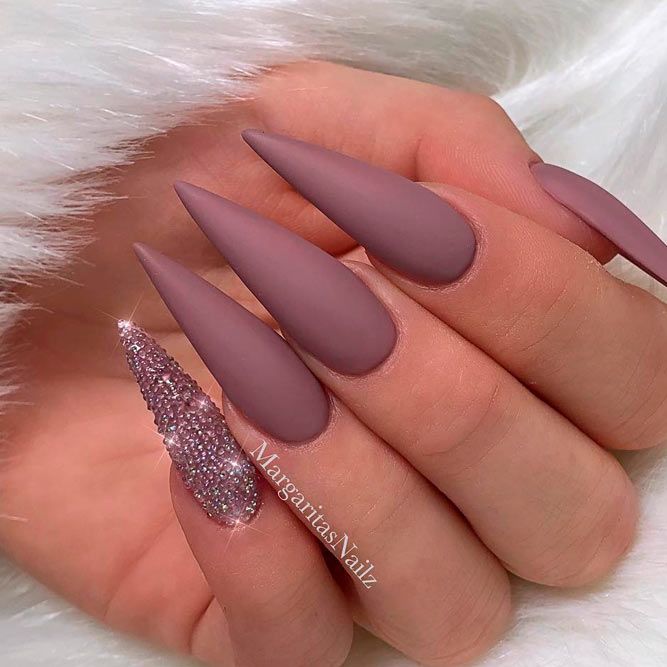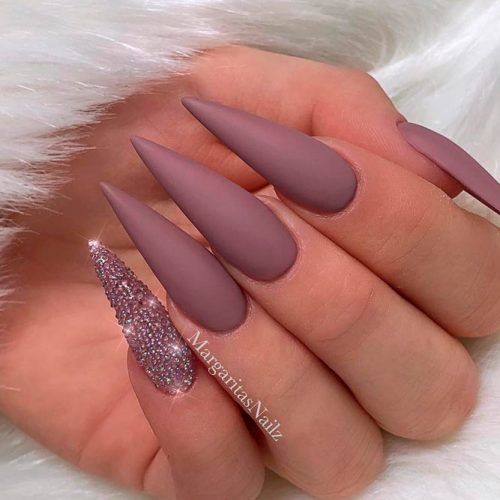 Source: margaritasnailz via Instagram
Trying to work out what color is mauve, you will most likely come out with the definition that this is a pale purple color with a grayish undertone. The shade takes its name from the light-purply hued flower, a mallow, which is called malva in Latin and mauve in French. Its appearance as a color is dated back to the late 1700s. Nowadays, the shade is highly popular among women. It signifies femininity and youth and especially preferred by romantic people. As a nail polish, this earthy-tinted hue suits perfectly every skin tone and its versatility allows creating the flawless muted-colored mani.
Berry Mauve And Glitter Ombre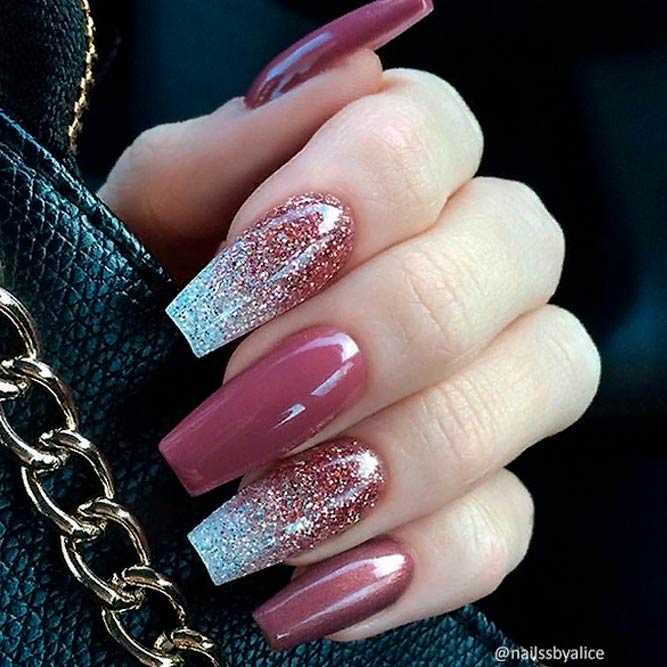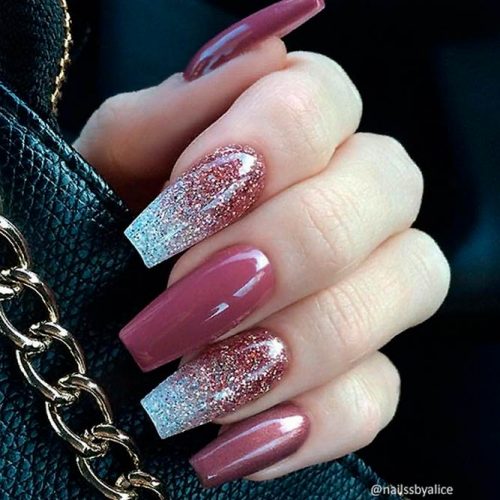 Source: nailssbyalice via Instagram
For the occasions when you need to look stunning and low-key at the same time, it's reasonable to opt for nails of moderate berry mauve color. For an enchanting touch, spark a couple of acrylic nails with glitter ombre. As for the length, stick to the rule: the longer, the better. It's easier to create a gradual transition on longer nails.
Mauve-Pink Nails With A Sweater Pattern Accent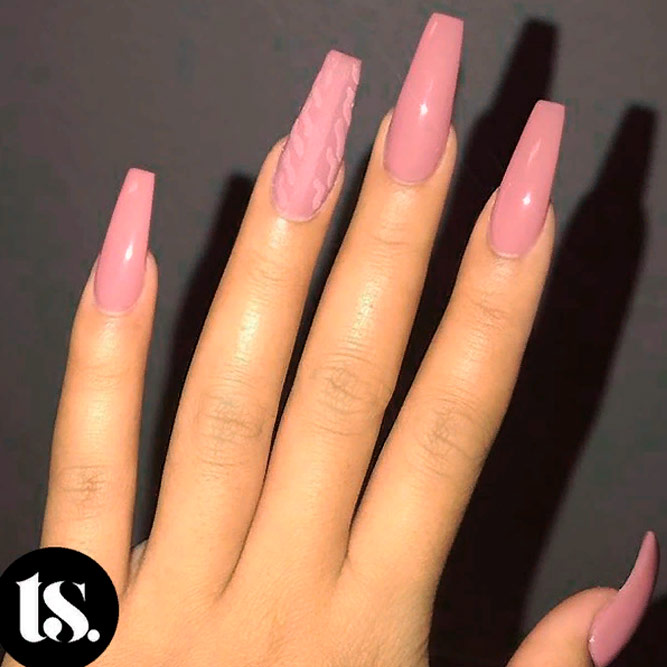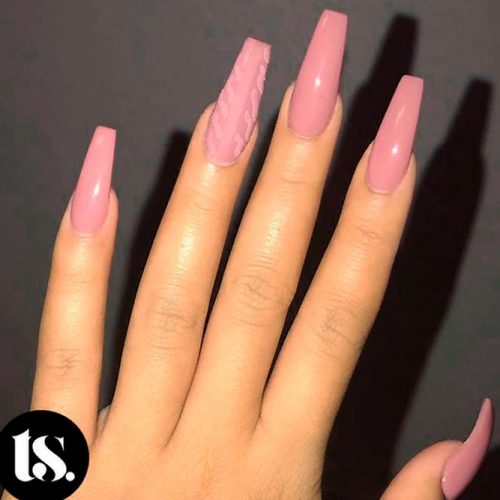 Source: tiffanysem_ via Instagram
Can you think of another way to create the snuggest manicure design than accentuating one of the nails with a sweater pattern? We don't. No, wait! You can color it all in the tenderly mauve pink hue for the ultimate coziness.
Light Mauve And White Glitter Nail Design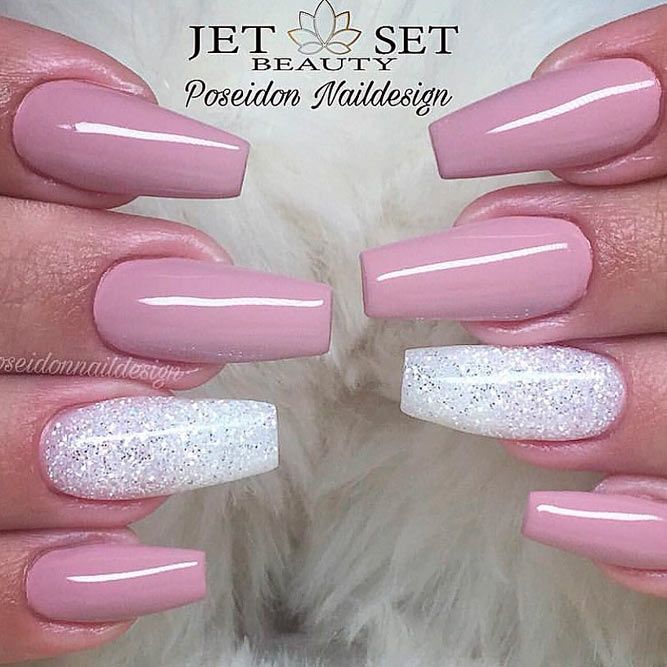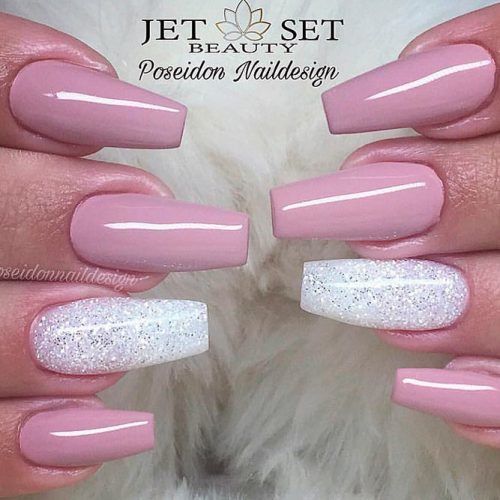 Source: jet_set_beauty_nails via Instagram
You have got to agree that light mauve is an outstanding color. It can fir both edgy as well as neutral nail art designs. If the bolder look is your cup of tea, then we suggest you combine the shade with white glitter accent nail. The corresponding of the hues will add that significant accent that many are looking for.
Dark Mauve Purple And Rose Gold Glitter Nails Design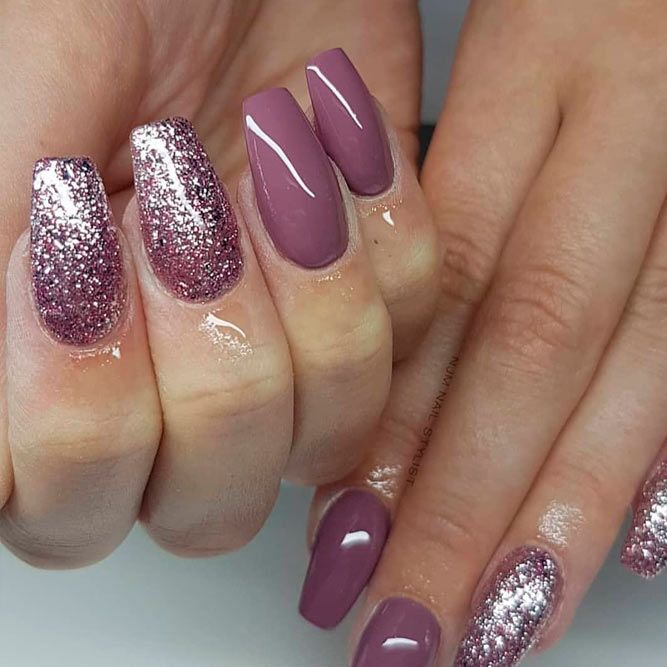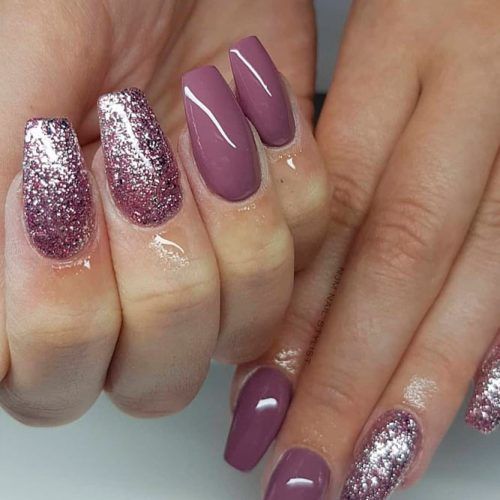 Source: njmnailstylist via Instagram
Are you ready to shine bright like a diamond? Cover your nails dark mauve purple nail polish. To create an even more contrastive look, use sparkly polish as the accent nails base. The fantastic look is granted!
Pink Mauve And Dusty Purple Nails With Elegant Pattern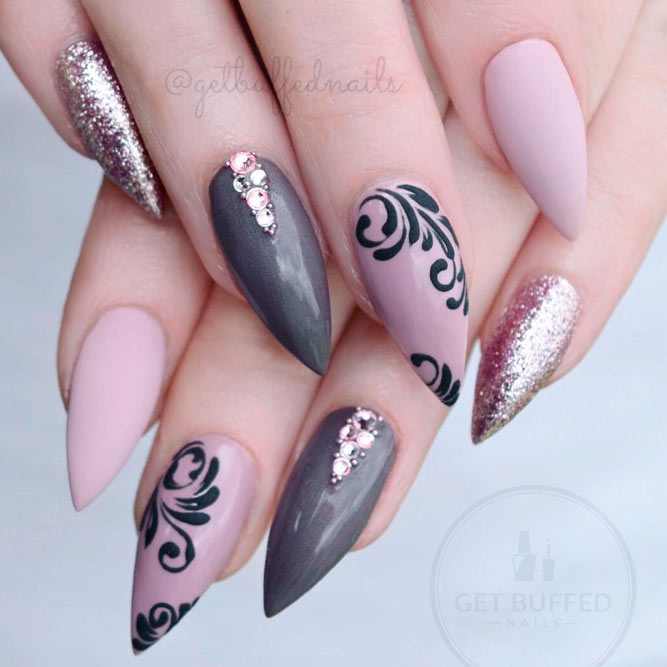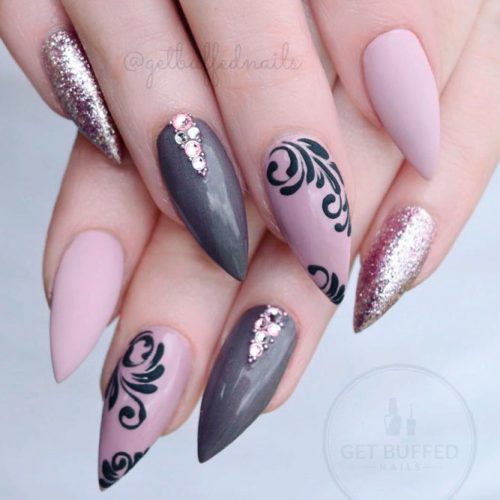 Source: getbuffednails via Instagram
This sophisticated stiletto nails design would be highly appreciated by daring and exempt ladies. It combines multiple colors (pale pinkish-mauve and dusty purple), design elements (rhinestones and elegant art pattern), textures (glitter and cream) and finishes (glossy and matte). Not every girl would manage to pull off this complex look, only the most extravagant ones.
Elegant Glitter Ombre With Light Mauve Nail Polish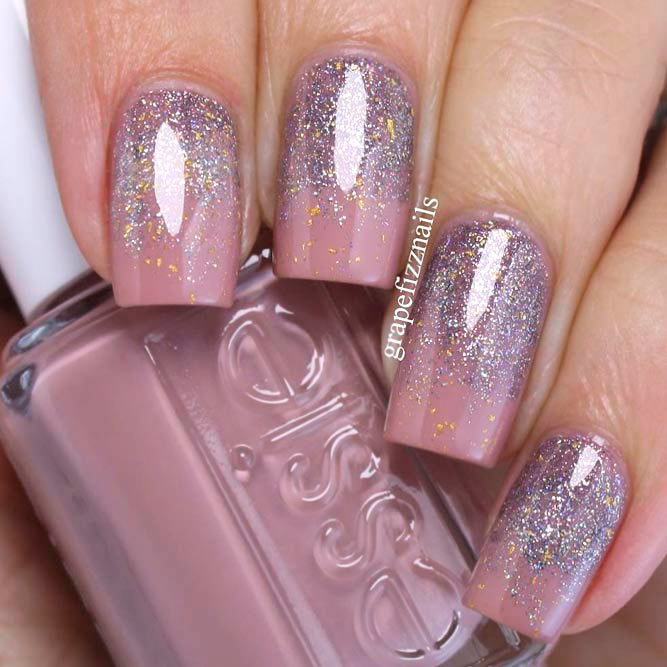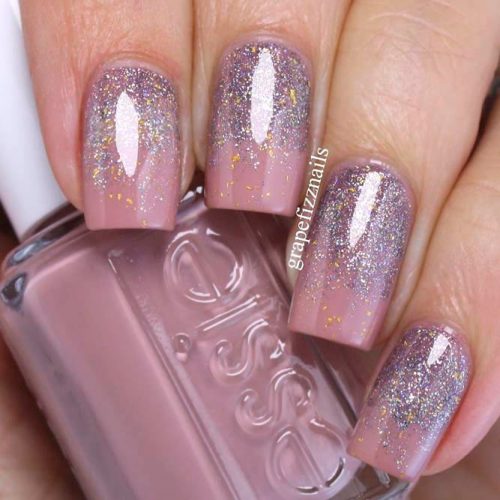 Source: grapefizznails via Instagram
This combo is so elegant that may be harnessed to almost any, even the most formal event. Use a light mauve color nail polish as the base coat and create a subtle ombre effect with dark-purple and gold glitter. Don't forget to secure everything with a glossy top coat to even out the layers.
Soft Mauve Fade With An Accentuated Finger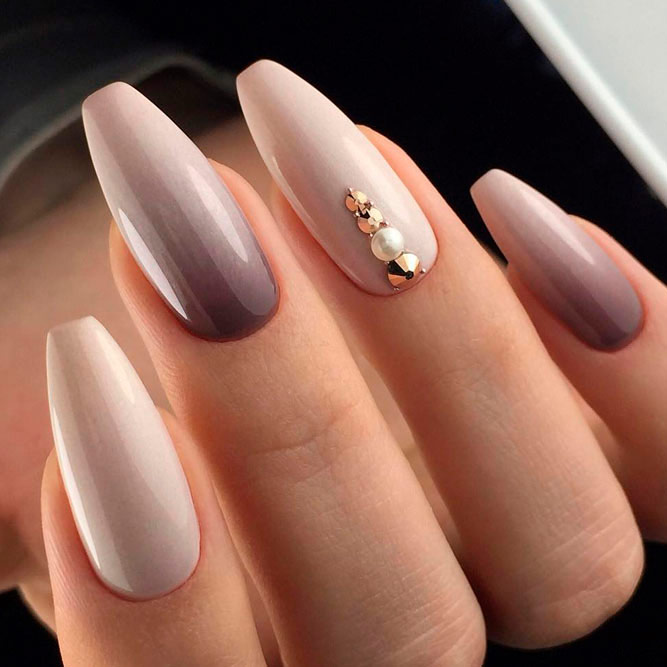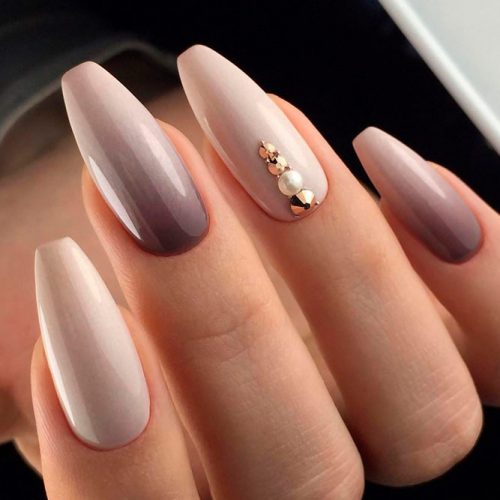 Source: mariapro.nails via Instagram
The mauve color can be paired with plenty of other shades. Thinking of nude tones, there's no doubt that beige is an absolute leader. Achieve a superb look with a buttery-beige to brownish-mauve fade and petite rhinestones as an accent.
Matte Mauve And Lilac Glitter Nails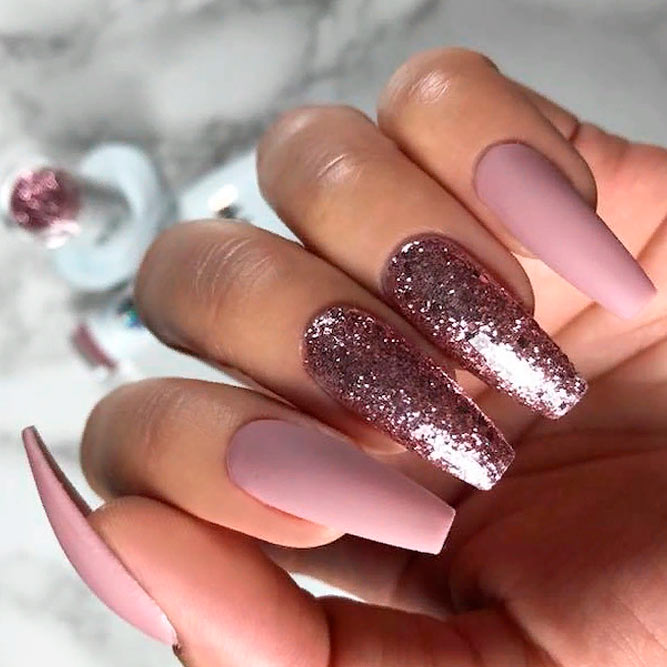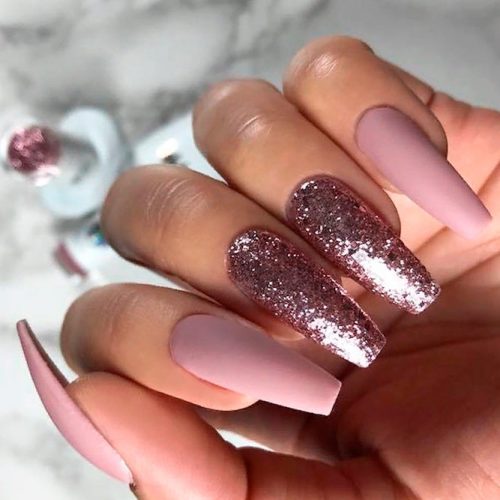 Source: riyathai87 via Instagram
Even if you always choose a totally girlie manicure, sometimes, you may feel the need to spice it up a bit. That's when this combination comes into play. Partner pinkish-mauve nail polish with a matte finish and dense lilac glitter with metallic effect.
Matte Tribal Nail Art Design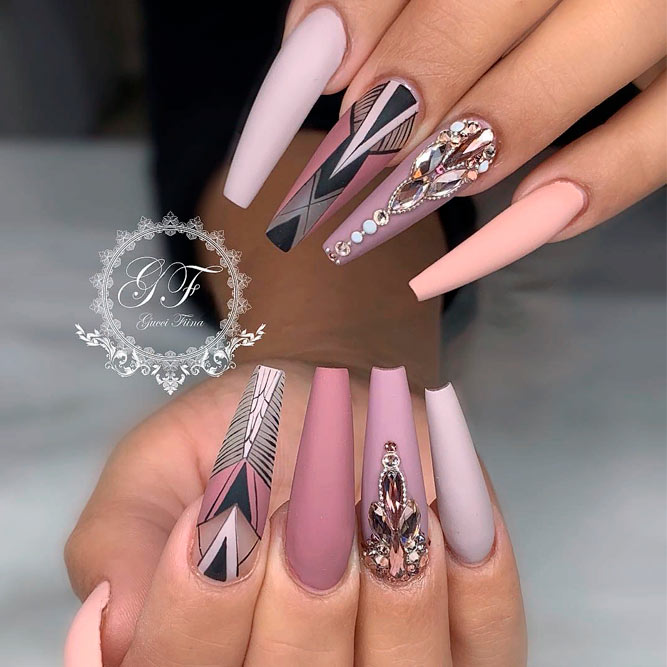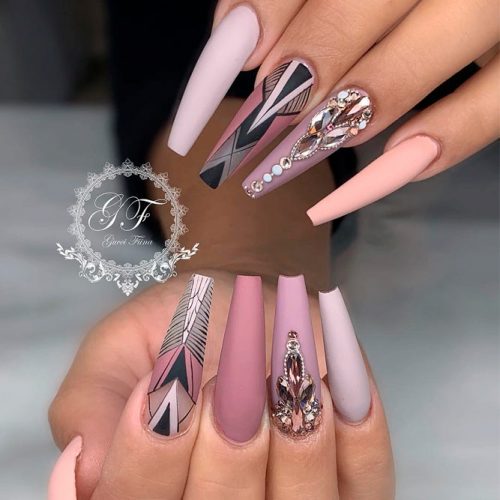 Source: fiina_naillounge via Instagram
This nail design brings us back to basics. Tribal elements in manicure are totally on trend right now. It includes gems, rhinestones in our case, tribal ornament and several shades of mauve, of course.
Elegant Mauve Nails With Gray Accentuated Finger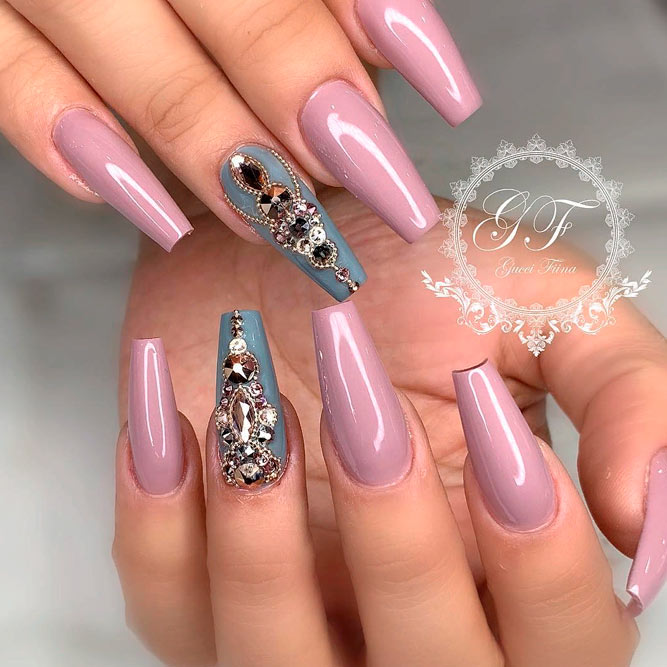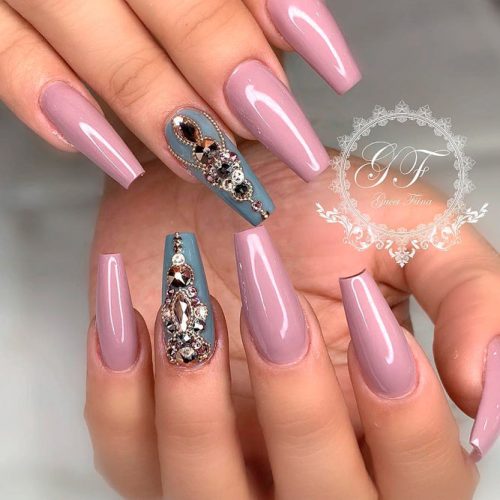 Source: fiina_naillounge via Instagram
Accentuating only one finger is a really good practice – notably a ring finger. Some people give a special meaning to it, while others just adore the elegant touch it attains. Paint all your nails with solid mauve varnish except for the ring fingers' ones. Create an exquisite glamorous design using rhinestones of different sizes and placing them on the gray base coat.
Bling Metallic Mauve Nail Design With Sandy Art Pattern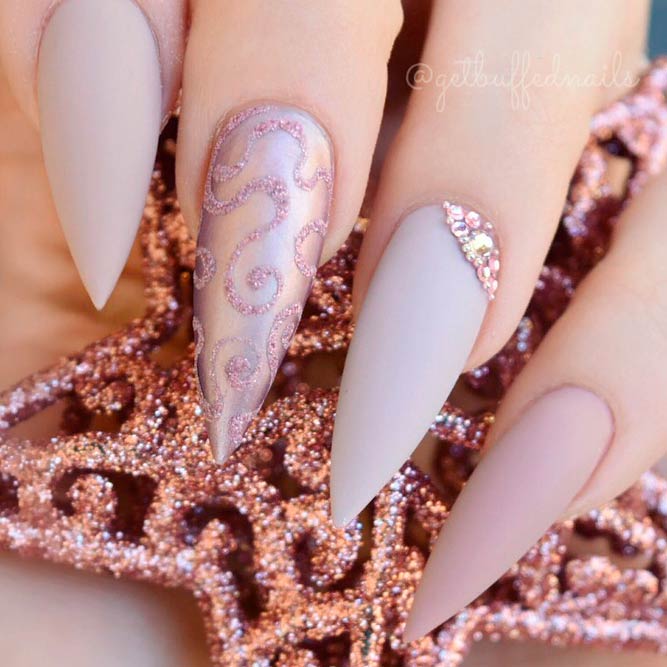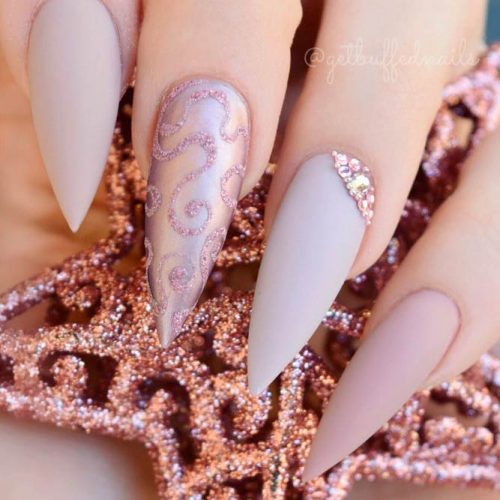 Source: getbuffednails via Instagram
Stiletto nails look incredibly bold by themselves, thus excessive dressing may be way too much. Something subtle and sophisticated, like the combination of matte mauve nail polish with the sandy pattern on the metallic base coat, is more than enough. If you really feel thirsty for the bling, add a tiny rhinestone design to one of the nails at the most.
Charming Mauve Nails With Tiny Rhinestones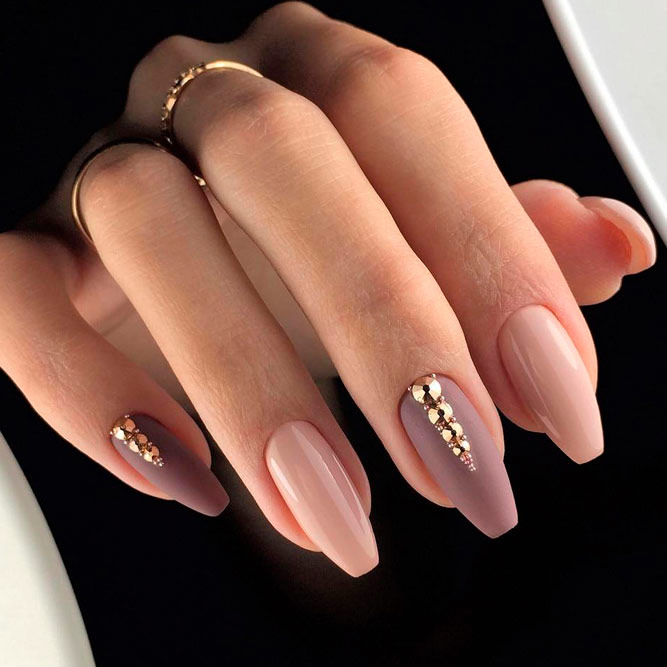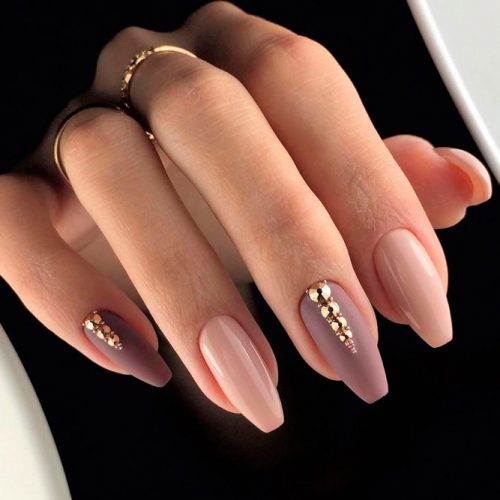 Source: mariapro.nailsvia Instagram
Coffin nails are probably even more striking than the stiletto ones. So we also don't recommend making them too ornate. You can play around with colors and finishes though. Go with two complementing shades, like mauve and beige, and give one of them matte finish, while leaving the other glossy. Also, it's okay to decorate a couple of nails with tiny rhinestones of different sizes.
Luxury Long Mauve Nails With Sparkly Accents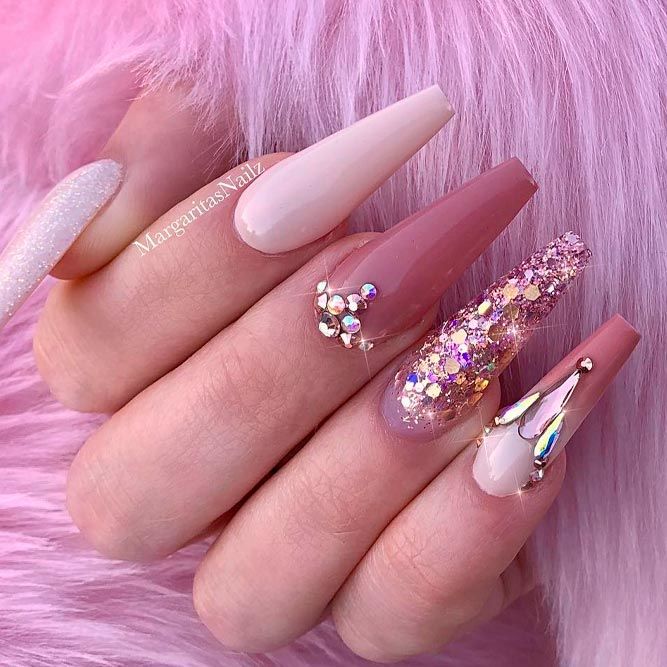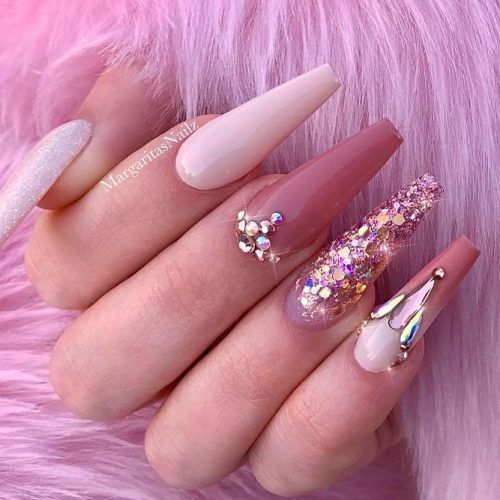 Source: margaritasnailz via Instagram
Well, if you do decide to embellish your lengthened coffin nails with decorative items, keep it as moderate as possible. We suggest you choose the mauve of various tints as the basic color. Apply rhinestones of different sizes and shapes to a couple of nails on each hand. Finish up the design with sparkly glitter on the ring fingernails. A luxurious manicure is ready!
Glitter Stars Nail Art For Mauve Mani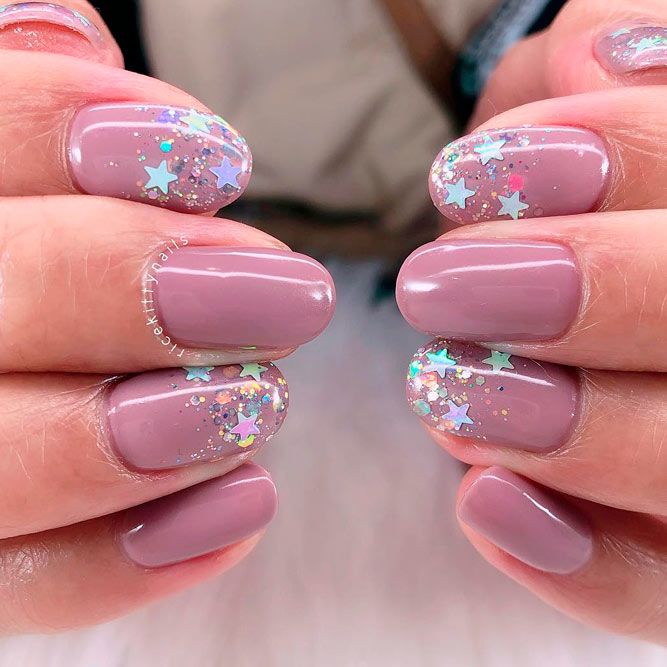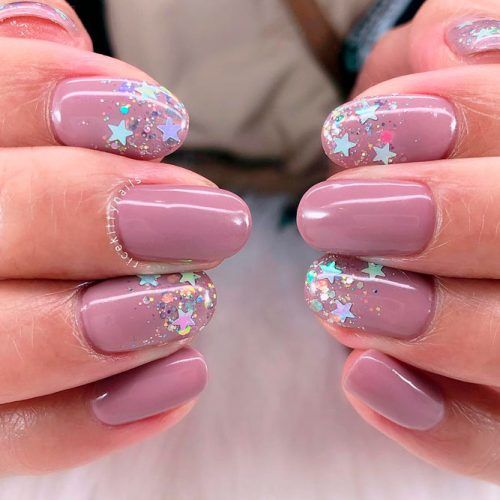 Source: ricekittynails via Instagram
In case you are looking for a trendy mauve nail art to fit in your reserved everyday style, we may have a suitable idea in mind. The fact is that dusty mauve is adorable neutral while sparkly and starry ombre accent makes it fancy and one of a kind. Do not worry – you are not crossing any lines here!
Laconic Holographic Nail Design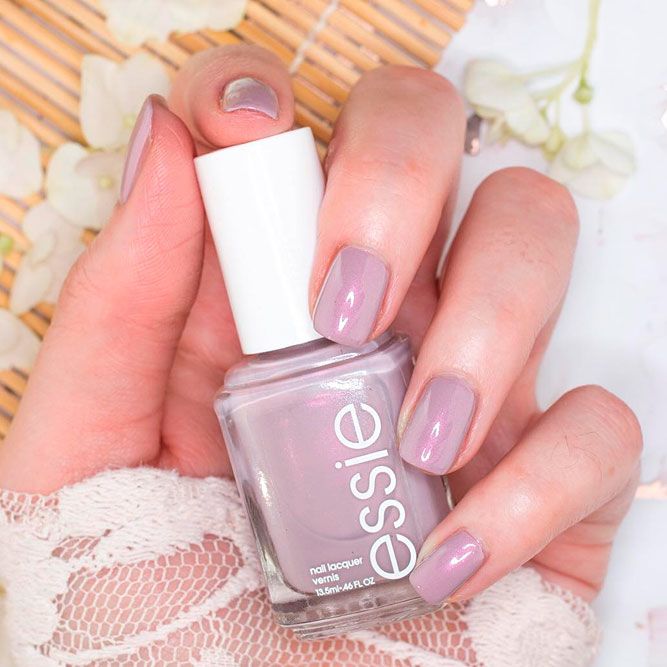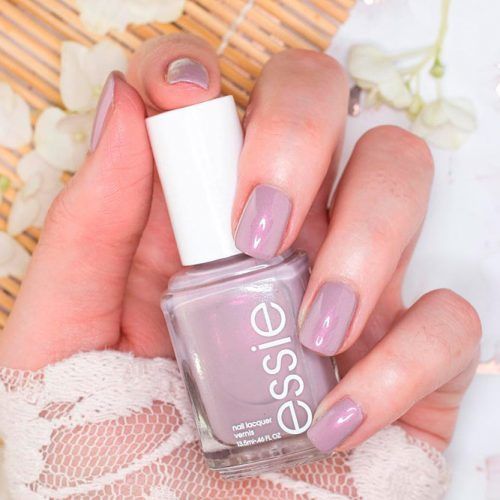 Source: chroma_nails via Instagram
Very often, laconic manicure fits well the definition of an outstanding manicure. If you think the same then this holographic mauve nail polish will steal your heart!
Stylish Geometric Pattern With Gold Accents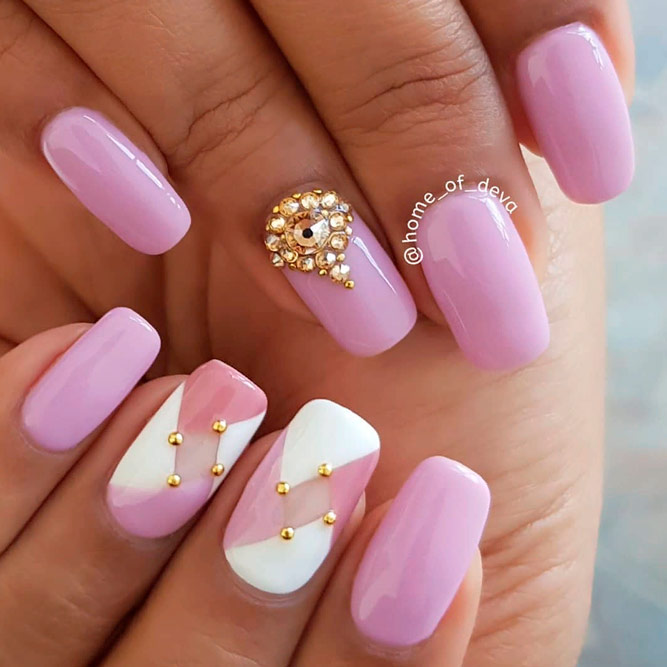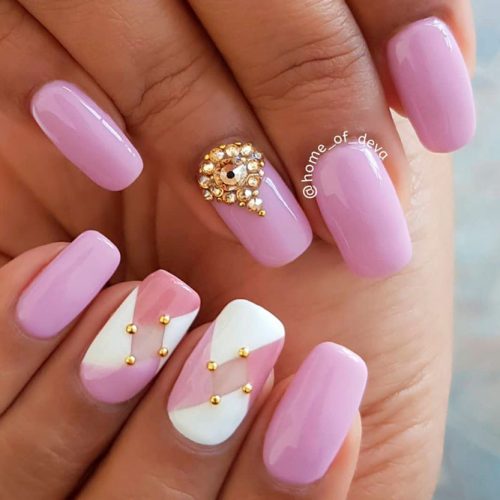 Source: home_of_deva via Instagram
A really good way to emphasize your geometrically defined squoval nails is to create a linear pattern on them. If you're looking for really flattering color combinations, match a cool-toned lilacky-mauve shade with milky-white. As a cute accent, add several micro gold beads to the nails with the pattern on one hand and gold rhinestones to a random nail on other hand.
Matte Mauve Nails With Textured Dream Catcher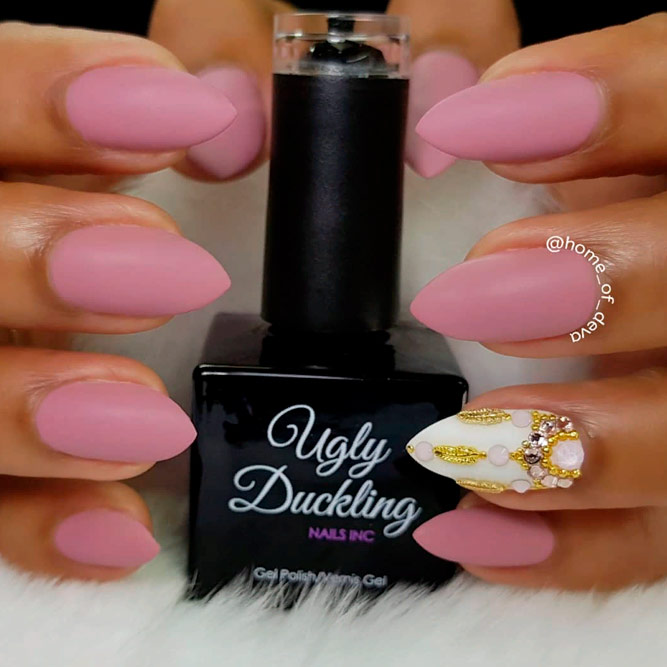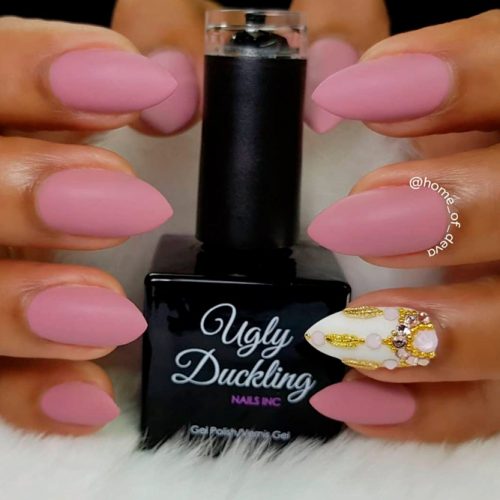 Source: home_of_deva via Instagram
The dusty mauve color looks amazingly swanky on the mountain peak nails. To give the design even more edgy look, accentuate the ring finger nail with a textured dream catcher on a white base coat.
Two Mauve Shades Combo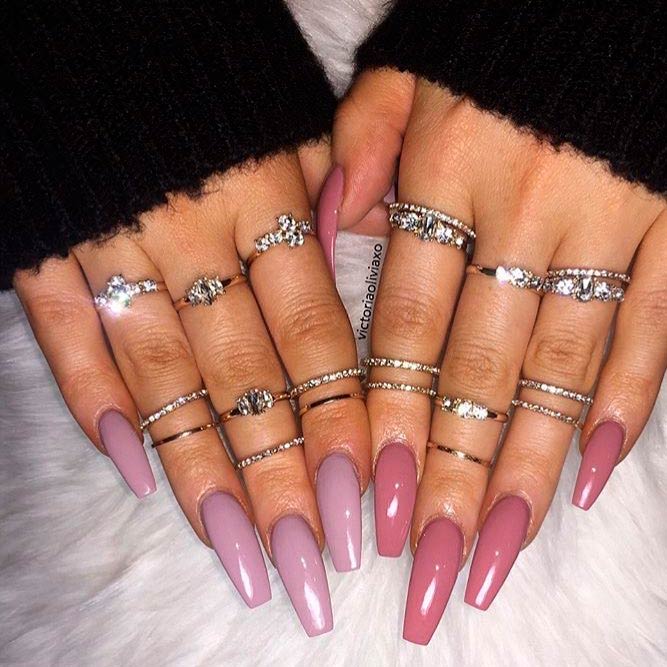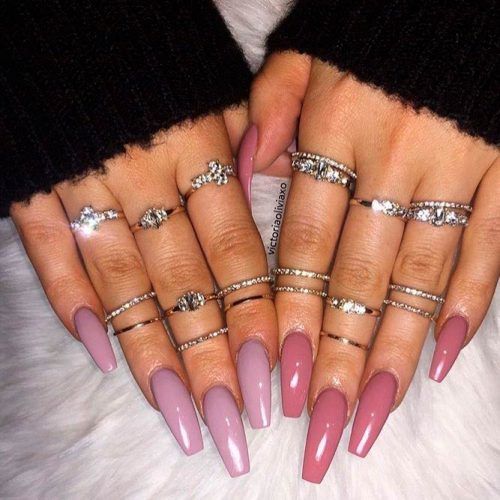 Source: victoriaoliviaxo via Instagram
Choosing between two favorite shades is a tough task; we know the dilemma. Luckily, these days there is an easy way out – all you need to do is to combine the shades in one mani. You do not necessarily need accent finders, just base coat two hands with different tints of the same mauve. As simple as that!
Matte Smokey Nail Art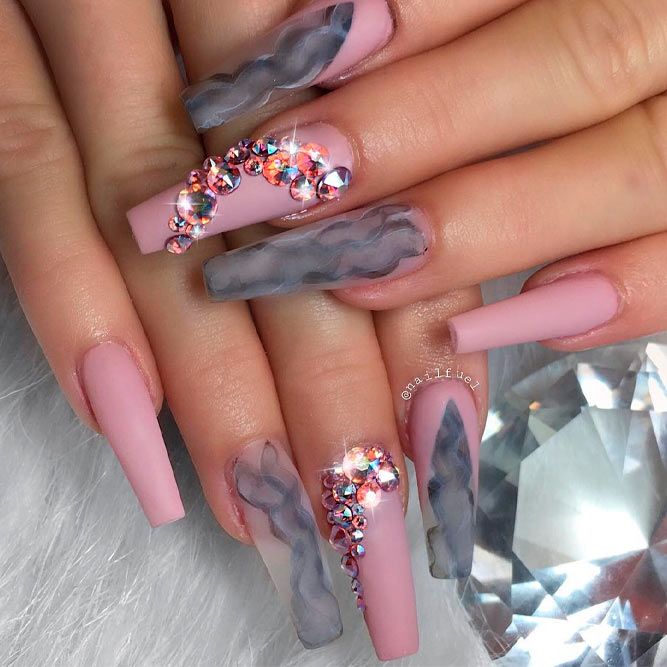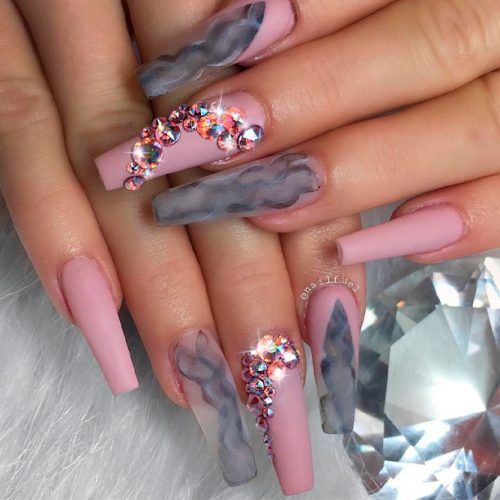 Source: nailfuel via Instagram
For those of you who are in love with extraordinary nail art – we have got something special at store. It may seem quite usual to spice up your nails with intricate rhinestone patters, but adding smokey effect to the design is something fresh. Why not give it a try?
Matte Mauve Stilettos
Source: margaritasnailz via Instagram
We all know that stiletto shape is pretty daring on its own so there is rarely anything extraordinary required to spice it up. However, introducing some bling into the matte design may be that one thing that is still missing. See for yourself!
Mauve Glitter Nail Design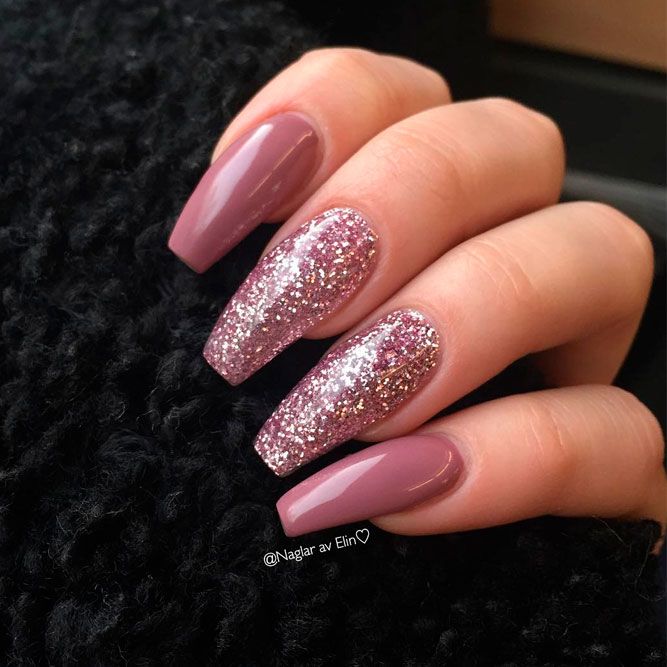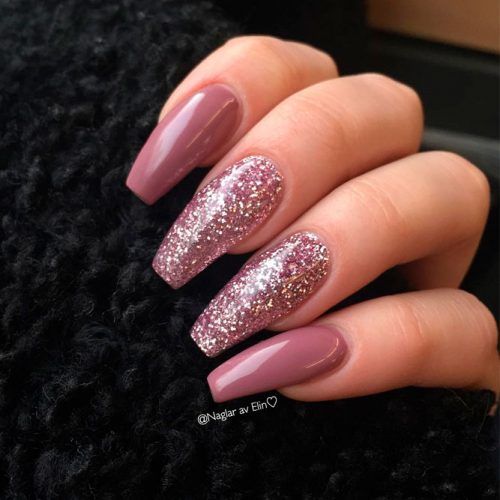 Source: naglaravelin via Instagram
We will easily agree that not all of you may equally appreciate matte nail art. That is why we have something glossy and sparkly to offer! This nail art is so simple and so sweet at the same time that it is hard to resist!
Mauve And White Nail Art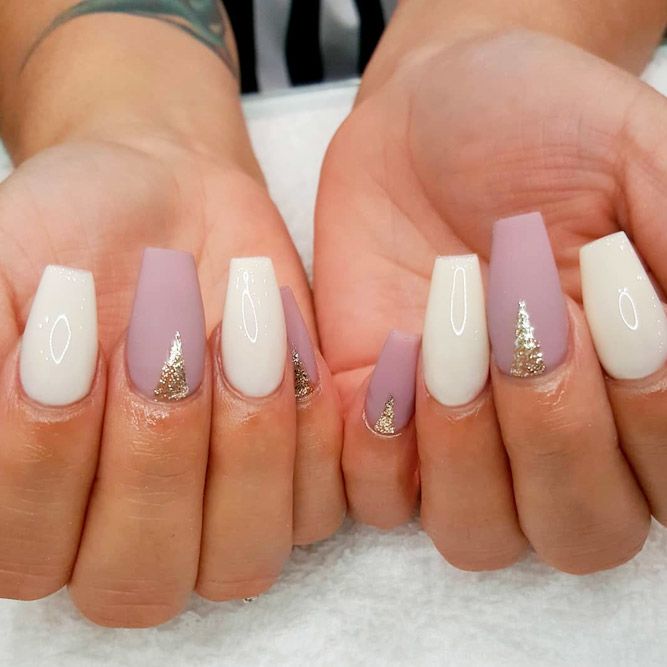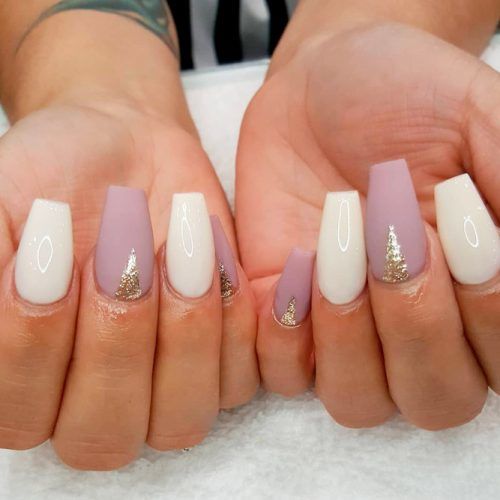 Source: nails.n.makeupbynessa via Instagram
In case you decide to bring the subtle side of mauve out, we have an idea to share. The combination of mauve and white is beautiful beyond belief on its own. Nevertheless, sparkly gold element take the design to the new level of gorgeous!
Accented Mauve Nails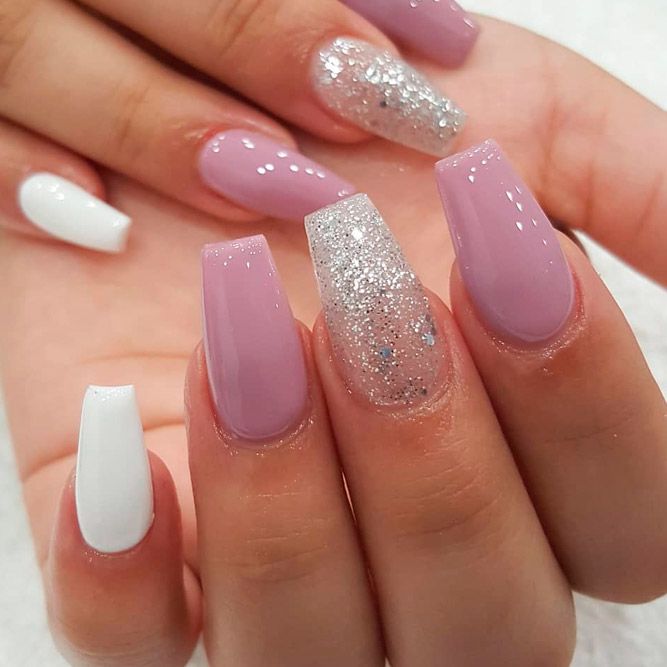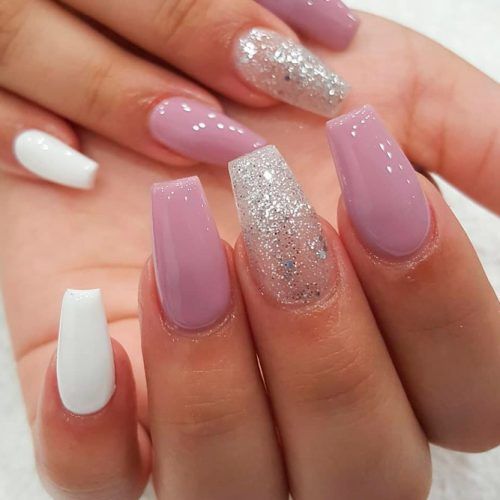 Source: nails.n.makeupbynessa via Instagram
When one accent is not enough, it is time you use two! We are not joking here. All you need to do is to use a white accent finger combined with glittery one to take the manicure to the point of extra fabulous!
Mauve is a very versatile shade that may be employed in many different combinations. Be it a lovely pastel color or a smoky purply mauve, your nail design will come out outstanding. And we hope that our nail design ideas have given you the inspiration to try them out yourselves.